---
The Lufthansa First Class Terminal experience is literally unbeatable. The second we stepped off the Hotel Kempinski shuttle we were welcomed by our personal assistant who verified our boarding passes and immediately escorted us through security.
The terminal just has a small entrance way and seating area as passengers get checked in, and then just past that is the security checkpoint. The great thing about the security checkpoint is that there's never a line since it's just for passengers using the terminal. The security agents are all wearing suits and do everything in their power to make the experience as pleasant as possible.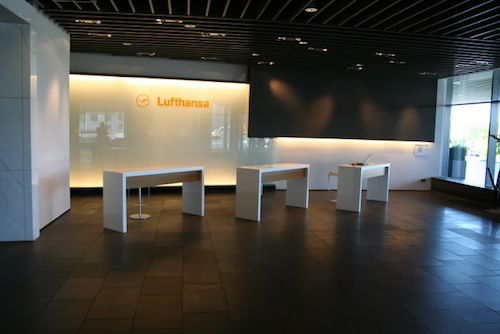 Lounge entrance
Case in point, less than two minutes after entering the terminal we were through security and comfortably seated in the lounge area. Is there any other airport experience in the world that can compete with that? It takes the hassle out of the airport experience.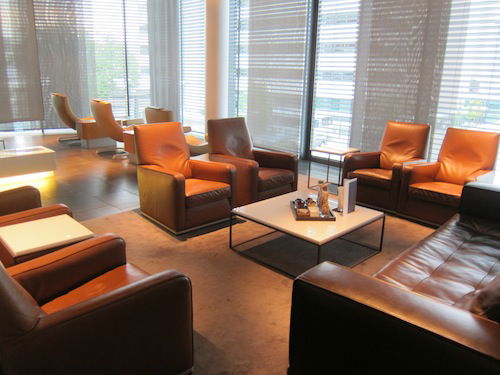 Lounging area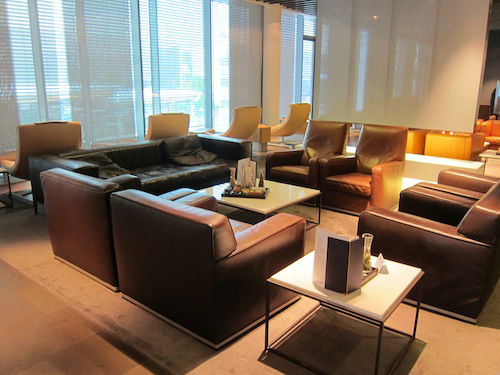 Lounging area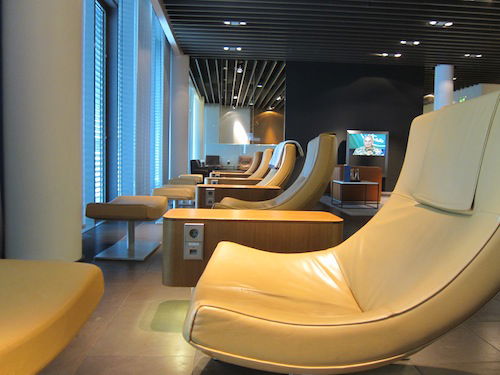 Comfortable seats
For those that have never been in the First Class Terminal before, it's entirely disconnected from the rest of the airport. The only way to get to a flight from there is to be driven in a luxury sports car or van (tough life, I know!).
The lounge has plenty of seating areas with comfortable couches and chairs, private office suites, a dining room, a bar, a cigar lounge, sleeping rooms, and amazing shower and bath suites.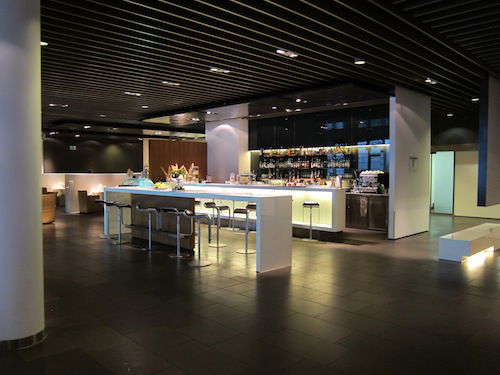 Bar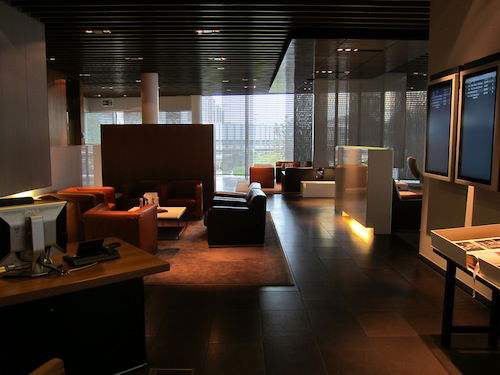 Lounging area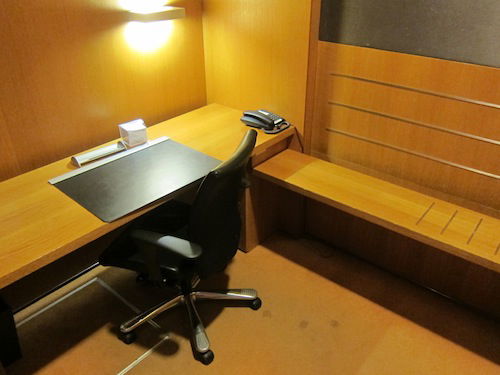 Office suite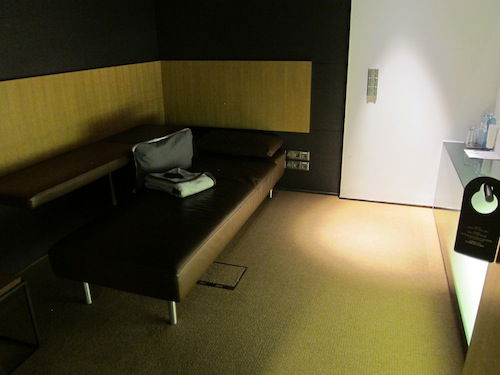 Sleeping room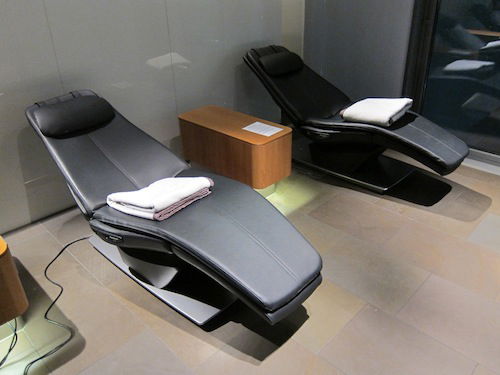 Cradling recliners
The best part about the experience is how hassle and worry free it is. You don't have to worry about when your flight leaves, because your personal assistant gets you when your flight is ready for boarding, to escort you to your Porsche or Mercedes driver that will take you to the plane.
Anyway, given that it was around 5:30PM by the time we settled into the lounge, our first order of business was to have dinner, since our flight was at 10:45PM and we still wanted to enjoy our meal aboard.
We took a table in the dining room, where a waiter approached us immediately to offer drinks.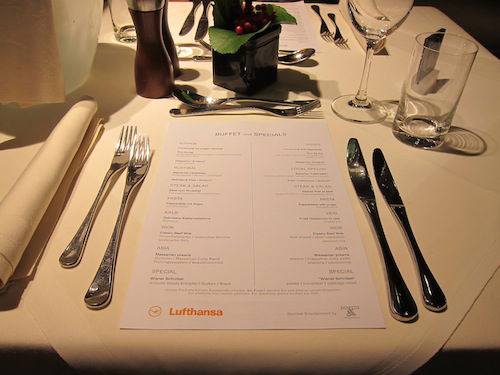 Table setup
The First Class Terminal has an impressive buffet spread and a la carte menu.
I had a look at the buffet spread and it looked amazing, so I went with that. Our waiter constantly kept our beverages topped off too. I took a little bit of most of the options and a German pretzel (no meal in the First Class Terminal is complete without it).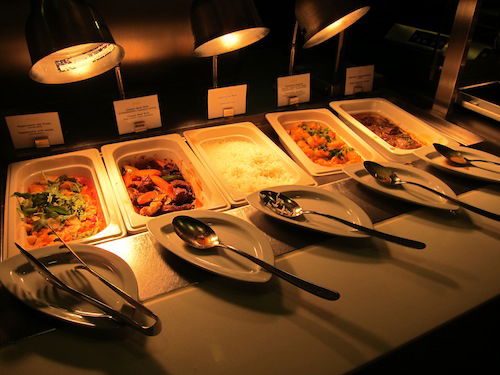 Buffet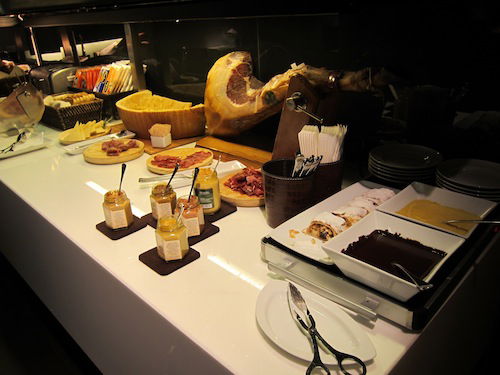 Buffet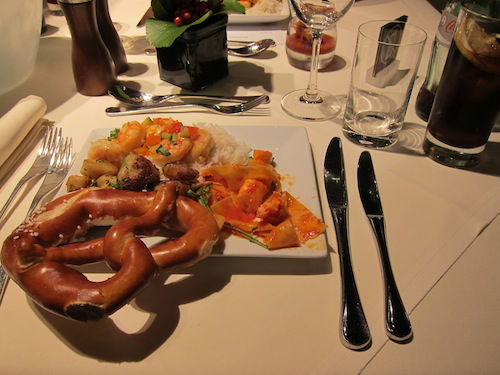 Dinner
The dessert selection was equally impressive, so I kinda went to town with that (though that pastry is my friend's).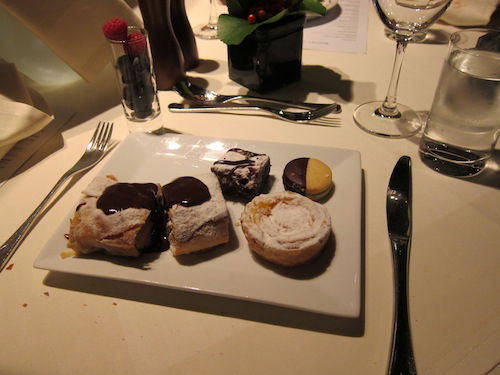 Dessert
After a nice meal we sat down on one of the couches and got some work done. A couple of hours later while roaming the first class terminal an ice cream freezer caught my eye. I wasn't hungry in the slightest, but the novelty of having made to order ice cream in an airline lounge was too much to pass up, so I had one scoop of stracciatella and one scoop of champagne truffle ice cream. Combined with some sprinkles and almonds it was quite amazing.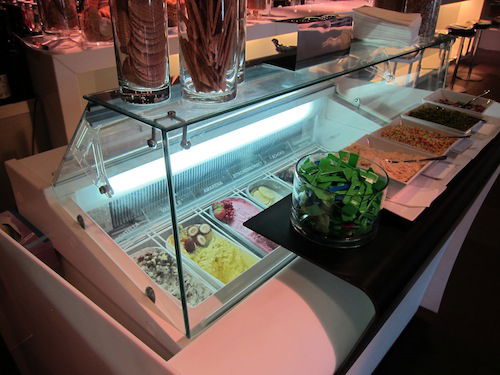 Ice cream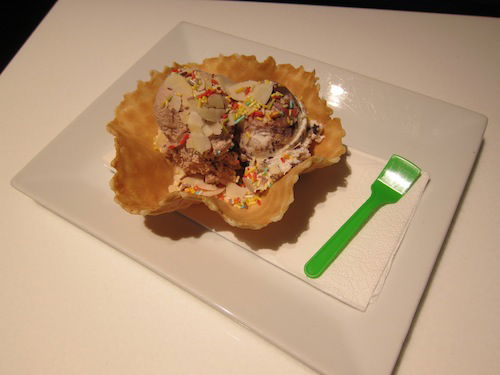 My selection
At around 10:15PM our personal assistant advised us that our flight was ready for boarding and asked us to gather our belongings. She escorted us down the elevator where we had to clear passport control. By clearing passport control I simply mean that two immigration agents handed us our passports without any sort of a wait.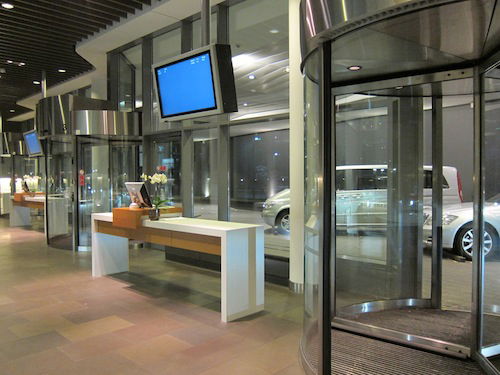 Departures lobby
At that point our personal assistant introduced us to our driver for the evening, who would be driving us to our plane. There was one other first class passenger in the lounge that would be on our flight, so he hitched a ride with us in a Mercedes S500.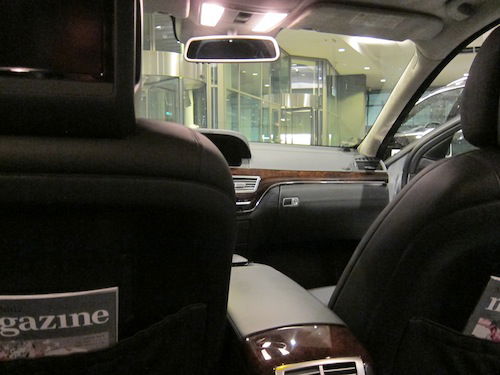 Mercedes interior
For an airplane geek there's nothing quite as exciting as driving across the tarmac and parking right next to a massive 747 and then being escorted aboard.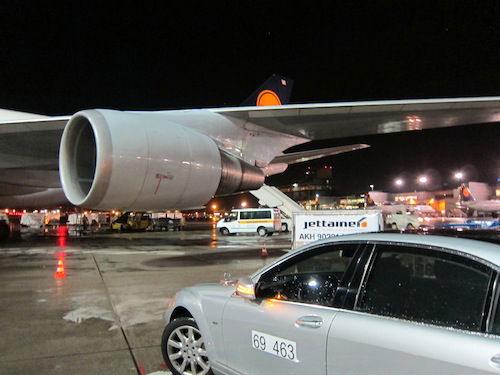 The excitement never wears off!
We parked to the left side of a 747 and then our driver helped us with our bags and walked us to the gate's elevator, where we were brought to the door. At that point the driver introduced us to the crew, and the crew took it from there. I could tell right away it would be a great flight.