---
I had emailed the hotel in advance to set up a car transfer to the hotel. A Mercedes transfer to the hotel cost 2,000THB (about $65USD) and took about 40 minutes. For what it's worth, a Toyota Camry transfer was offered for half as much.
At the airport there was someone waiting with a Westin sign, who helped us with our bags and directed us to the waiting car.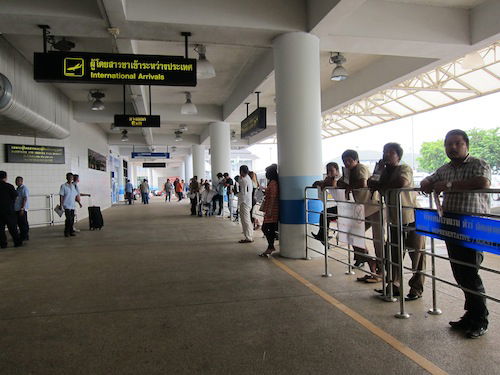 Airport arrivals area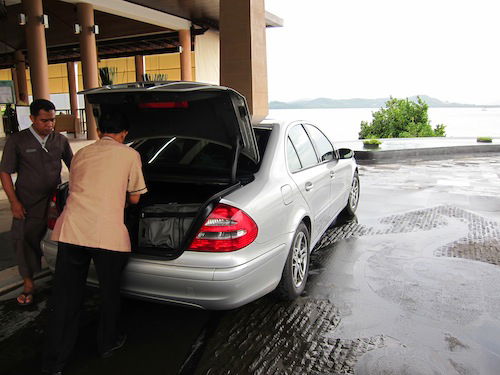 Car service
Upon arrival at the hotel we were helped with our bags and directed to the open air lobby. One of the agents asked us to take a seat as we gave him our passports and credit card.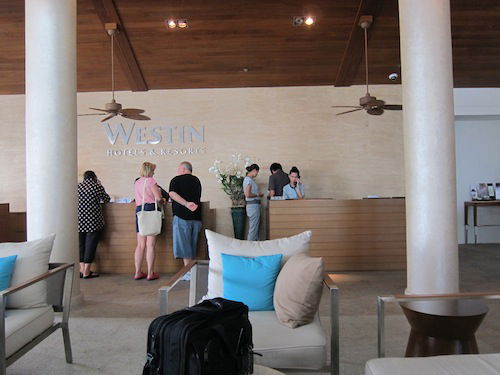 Lobby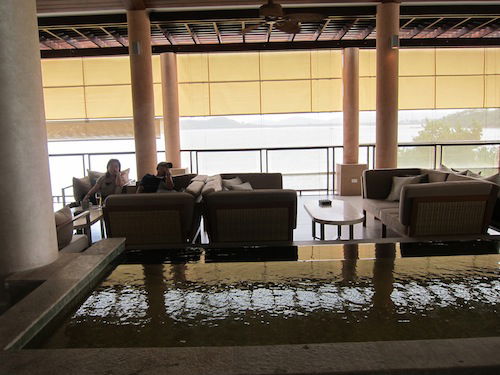 Lobby
We were offered cold towels and some sort of lemongrass tea as they processed our check-in, which took forever. The agents were very friendly, though we sat there for about 20 minutes before getting our room keys.
The lobby overlooks Siray Bay, which frankly looked pretty dirty — certainly not somewhere I'd want to swim!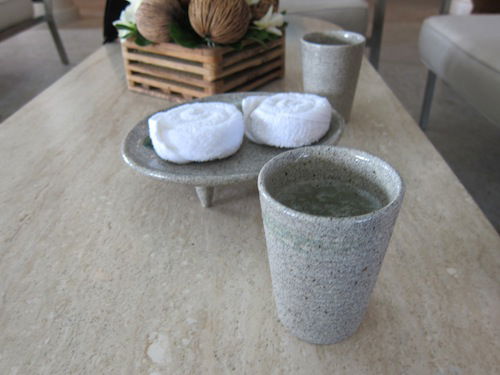 Cold towels and tea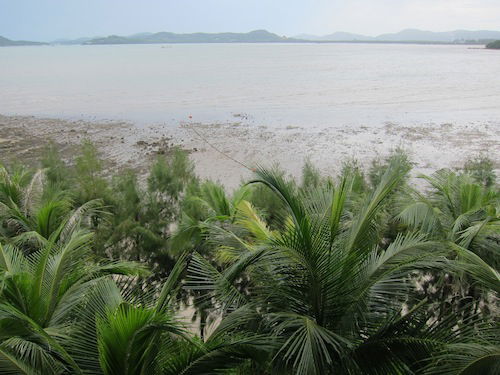 Siray Bay
Our rate was about 3,500THB all-in (about $112USD) per night for our two night stay and they had upgraded us to a splash suite.
Before heading to the room we took a quick tour of the hotel. First we walked down to the beach. The hotel offers guests free non-motorized watersport activities, though both the beach and the water weren't all that appealing. I'm not much of a beach person so that's fine by me (I'm more for lounging around a pool than at a beach), though this definitely isn't a place to stay if you want a beach destination.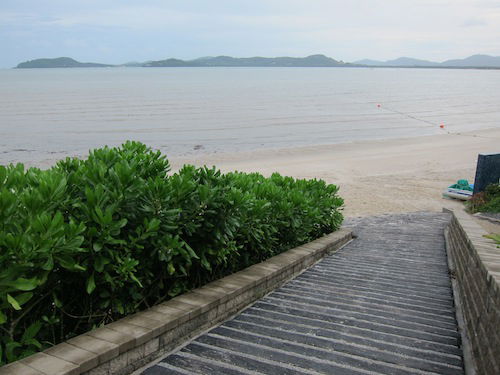 Beach
Rooms and villas are located along the whole property on several levels with varying levels or privacy.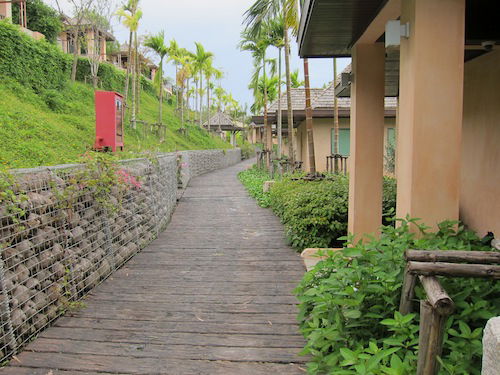 Walkway
The pools at this hotel are really nice. There's one main infinity pool overlooking the bay.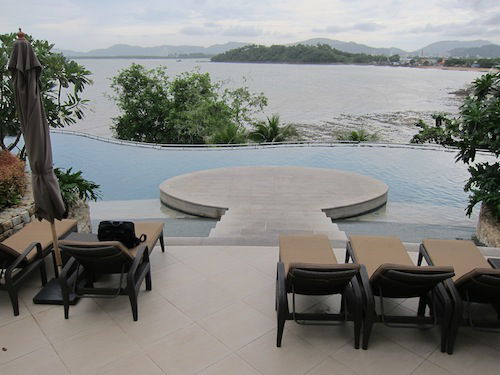 Pool
Just above that was what I assumed was a hot tub, though it was actually a cold… well, mini-pool. I'm not totally sure I understand the purpose.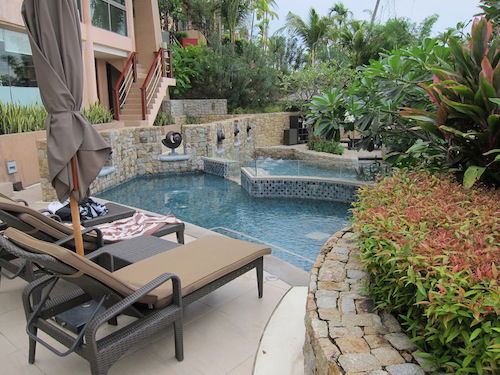 Pool
Then over on the right side was another pool, which seemed to be occupied mostly by kids when I was there.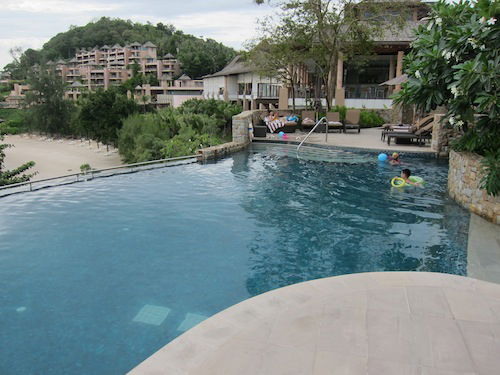 Pool
We were driven to our room in a golf cart up a steep hill. I'm kind of surprised these golf carts can drive up these steep hills, since at times the incline was about 15-20 degrees.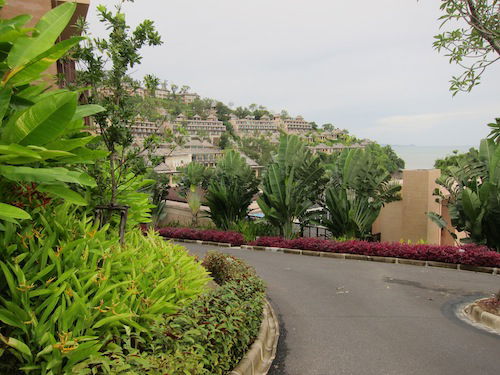 Walkway to room
We were assigned room 4221, which was located in a small room "cluster."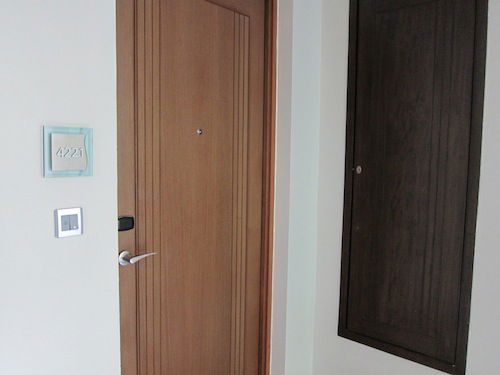 Room entrance
The suite itself was beautiful. Upon entering was the dining room and living room. The dining room featured a table with four chairs, and the living room featured a pull-out sofa and armchair facing a flat screen TV.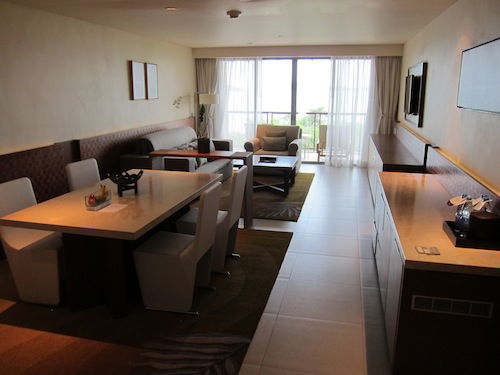 Suite living room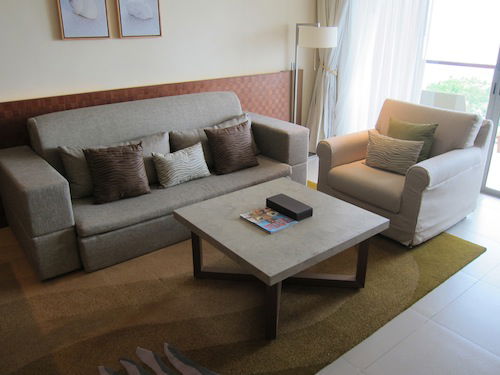 Living room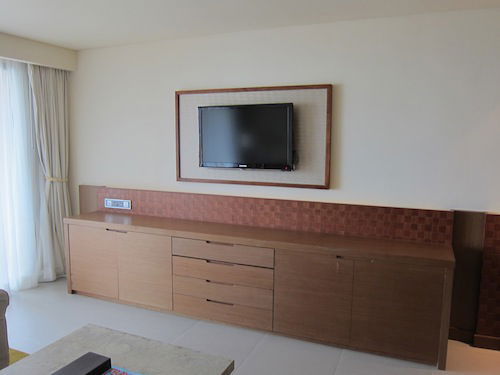 Living room TV
There was also a half bath right at the entrance.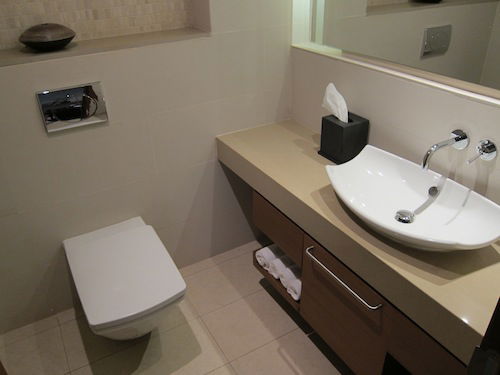 Half bath
Outside the living room was a balcony with furniture boasting a great view of the resort and bay.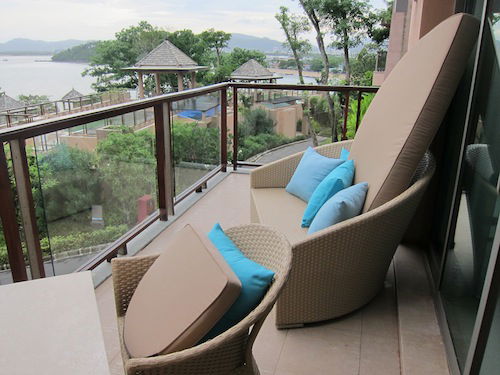 Balcony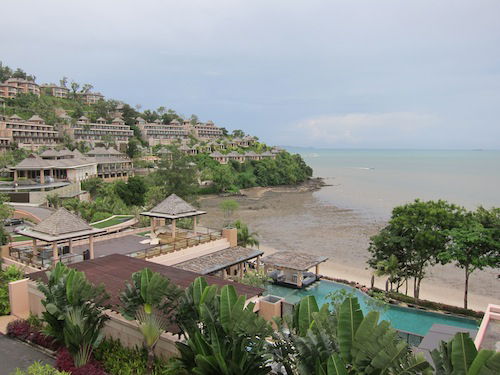 View from balcony
Next to the living room was the bedroom featuring a Westin Heavenly Bed. I love Westin Heavenly Beds, so having one of these in Asia where beds are usually a bit too hard for my liking was awesome.
The bedroom also featured a couch and balcony with equally good views.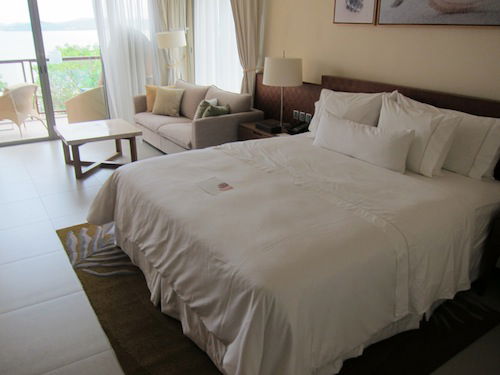 Bedroom

Bedroom couch
The bathroom featured a sink, bathtub, shower, and bathroom, all with Westin bath amenities. While the bathtub had a huge window, it overlooked the road, so I doubt anyone could take a bath without closing the curtains unless they were into that kind of stuff. Kind of eliminates the concept of a bathtub with a view.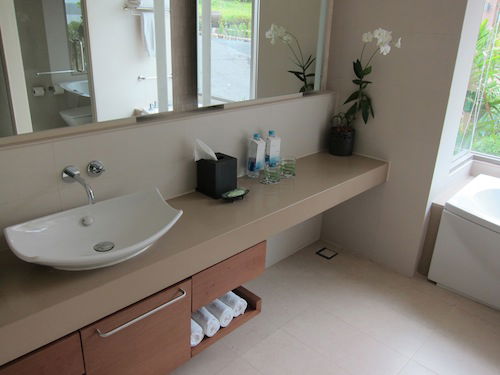 Bathroom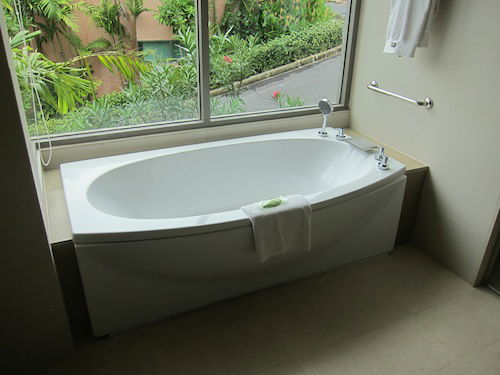 Bathtub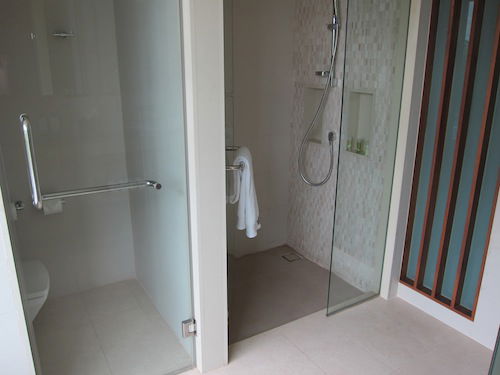 Shower
On the whole I thought the room was spectacular. Not only was it nicely appointed, but for the rate we paid this was an amazing upgrade (and seems to be their standard Platinum upgrade based upon availability).
One other thing worth noting is that the room had a ton of free bottled water. I counted at least 16 bottles.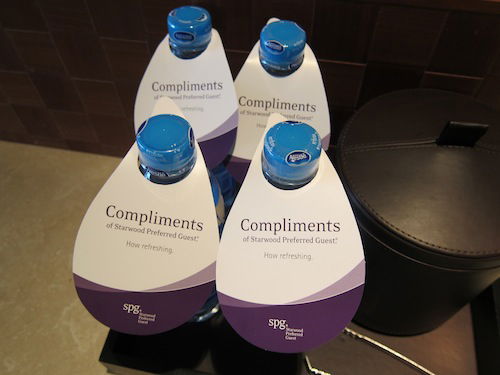 Bottled water
The hotel boasts a Westin Spa, which I found to be overpriced. One of the things I love about traveling to Thailand is reasonably priced massages. I realize when you stay at western hotels you pay western prices on things, so I think my price expectations are pretty reasonable. In Thailand I'm used to seeing hour-long massages go for $60-70 per hour on average at western hotels (similar to the prices at the Le Meridien Kaoh Lak, where we stayed immediately after), though at the Westin they were about 50% more expensive than that.
I ended up getting one massage and it was mediocre at best. The treatment rooms weren't nice and the staff seemed to have adopted a bit of a "lazy" attitude. For example, part of the massage was a facial, so after applying the cream the masseuse left the room for what must have been 10-15 minutes instead of doing a neck or shoulder massage. I'm not paying $2/minute to have cream sit on my face. Anyway, I doubt I'd return to the spa, though that's only one aspect of the resort.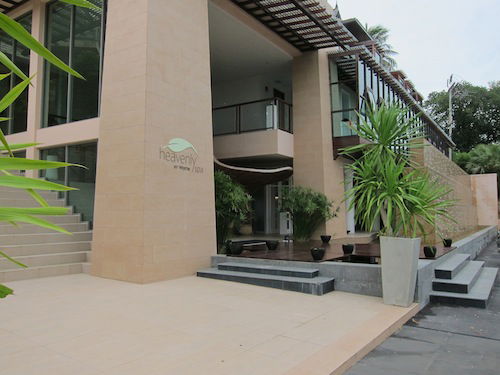 Spa
While the hotel doesn't have a club lounge, they do offer Platinum members free happy hour every evening from 6PM to 7PM at the MIX Lounge. As I mentioned earlier the hotel is located on a hill, and the MIX Lounge is located at the very "top" of the resort. So as much as I ate on this trip, I'm pretty sure I lost weight due to the amount of step climbing I had to do.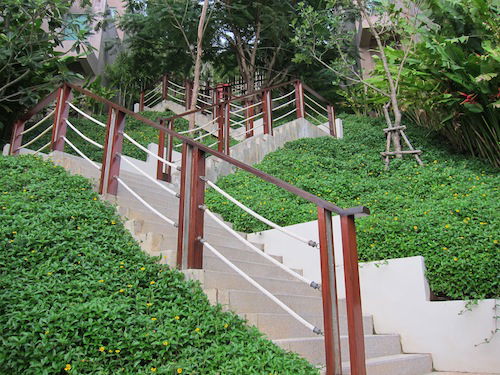 Steps
At the top of the resort (where I believe most of the villas are) is yet another pool right next to the MIX Lounge.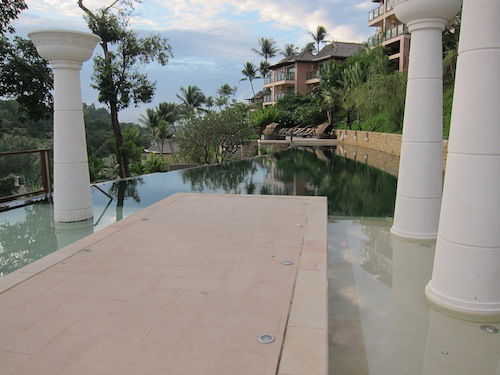 Pool
The MIX Lounge does offer great sunset views, though both nights we were there it was very crowded, so I suggest coming early, because at around 6:30PM there was no more seating available and people were turned away. The lounge features live music (think karaoke at best). While they have an extensive drink menu, the one from which Platinum members can order for free is much more limited (no Pina Coladas, Strawberry Daquiries, etc.).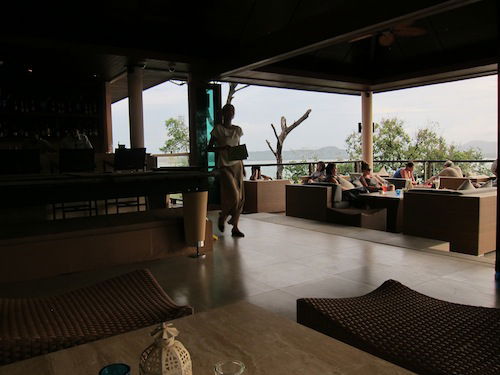 MIX Lounge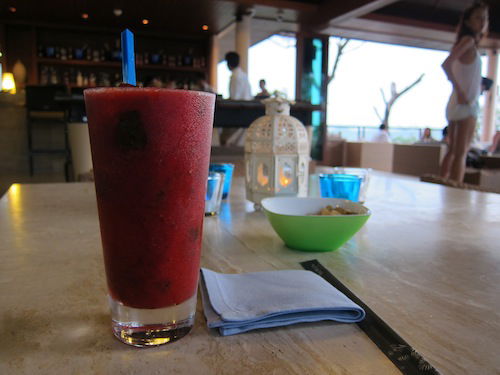 Drink in MIX Lounge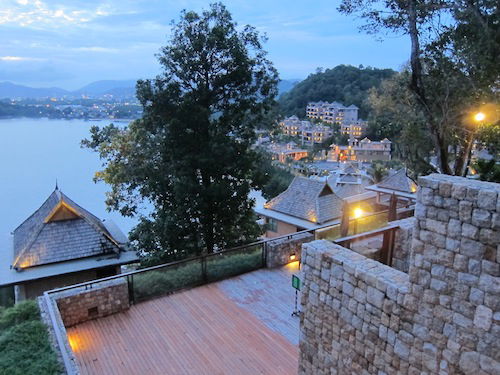 View from bar
Platinum members also get complimentary breakfast at Seasonal Tastes, the biggest of the hotel restaurants. The restaurant offered both indoor and outdoor seating, though because the temperatures were still moderate in the mornings we ate outside.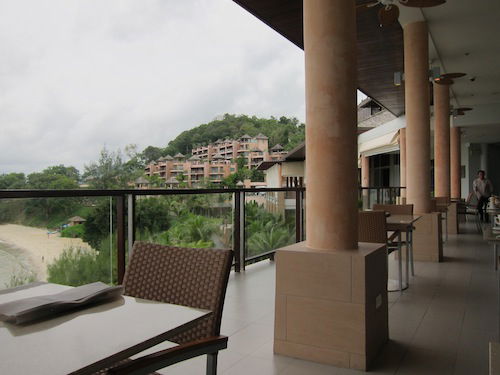 Outside dining at Seasonal Tastes
The breakfast spread was phenomenal. They had everything you could possibly want from western to Asian options. They also had Thai iced tea which I highly recommend (you have to order it through a waiter). The service in the restaurant was a bit lackluster, however, as very rarely were plates cleared or drink refills offered without specifically requesting it. While they were friendly, most of the employees I interacted with didn't come across as all that "genuine."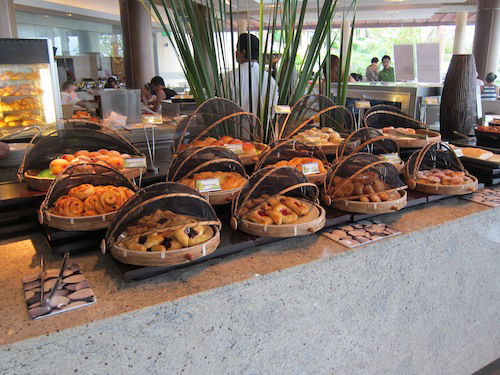 Breakfast spread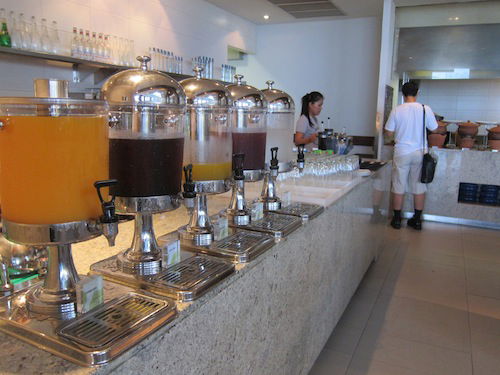 Juice selection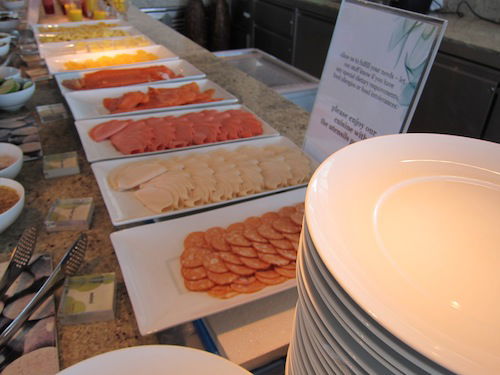 Breakfast spread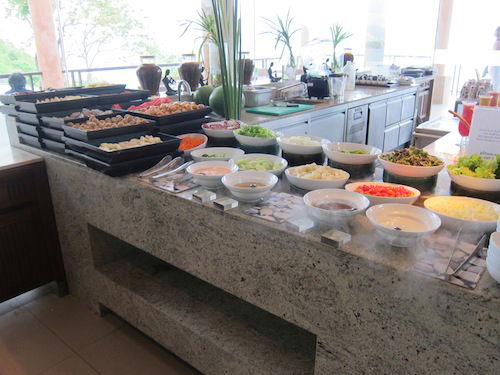 Breakfast spread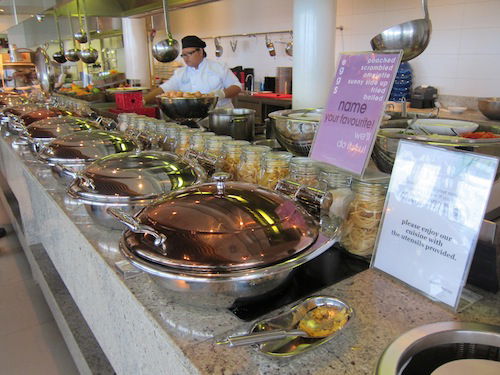 Breakfast spread
One night we had dinner in EEST Restaurant, which serves food from all over Asia. We had chicken satay to start, and then I had a chicken fried rice dish as my main course. Both were very good.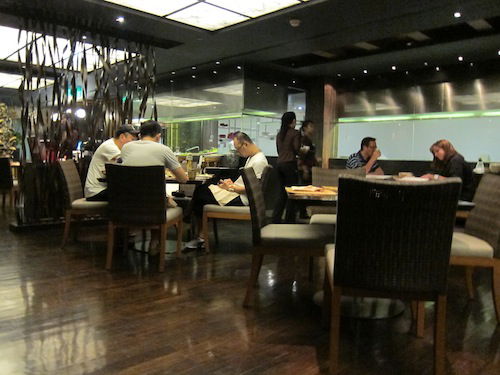 EEST Restaurant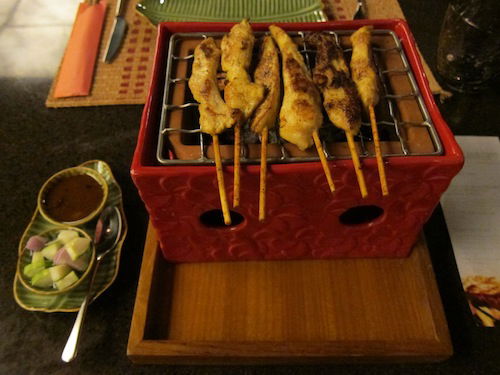 Satay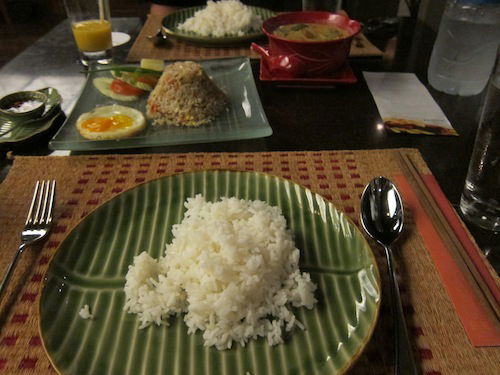 Main course
None of the dessert options interested us, so we went over to the Italian restaurant for dessert. Prego is an open-air restaurant so I was happy we didn't have our entire dinner there, as it was quite hot. That being said, it was well worth it for the dessert, which was delicious.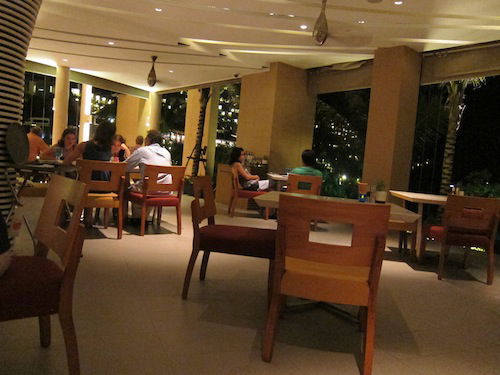 Prego Italian Restaurant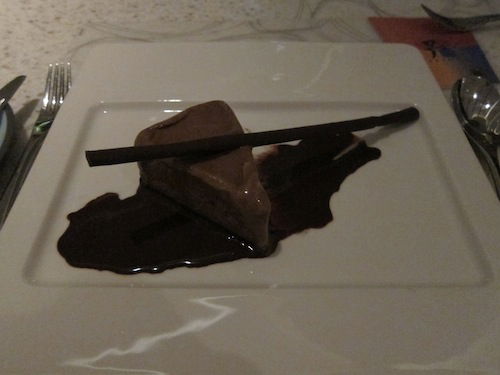 Dessert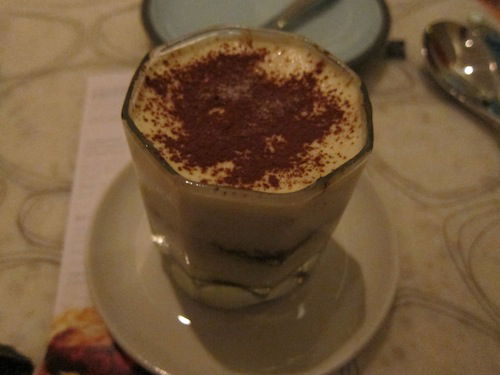 Resort at night
The property itself really is quite stunning given the setting on a hill, especially at night. For $112 per night, the hotel was an absolute bargain, especially with the upgrade we received and free breakfast. This is by no means a beach hotel, though it is a fun place to just hang around. The room was great, especially given the Westin Heavenly Bed, and the grounds were really well maintained.
Would I return? I'd certainly consider returning for two days (though not longer). At the same time there are a lot of amazing resorts out there, so I don't see myself returning anytime soon. I'd still (moderately) recommend the hotel, though, especially if you're a Platinum member.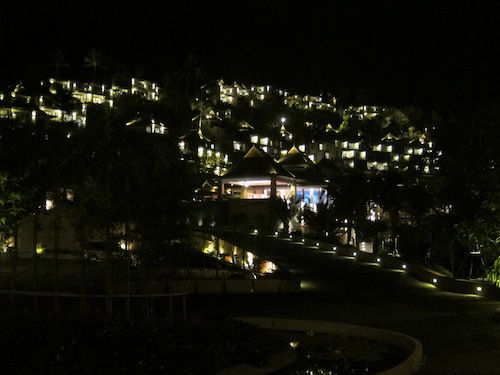 Resort at night