---
As we deplaned from our Phuket flight there was an agent standing in the jet bridge holding a sign with our names on it. She introduced herself and explained she would be escorting us to the first class lounge. Usually they pick you up in a golf cart, though the walk was short so we were escorted by foot.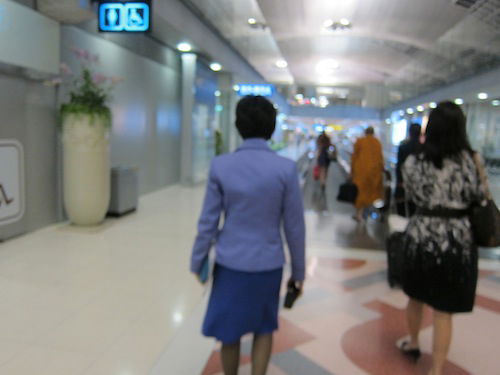 Escort to the lounge
After clearing security we were brought to the reception of the first class lounge, where our boarding passes were examined.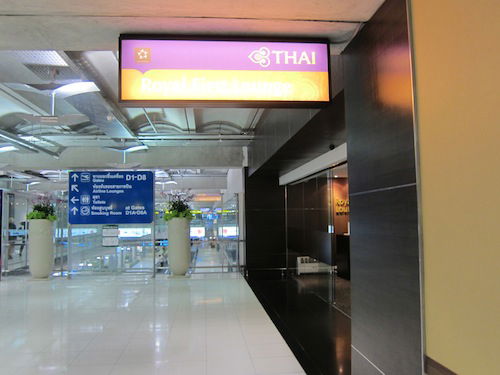 Lounge entrance
The Thai first class ground experience is one of my favorites in the world. The first class lounge consists of a main seating area which looks like any other lounge, but then also about a dozen semi-private "living rooms" which are offered first come first serve.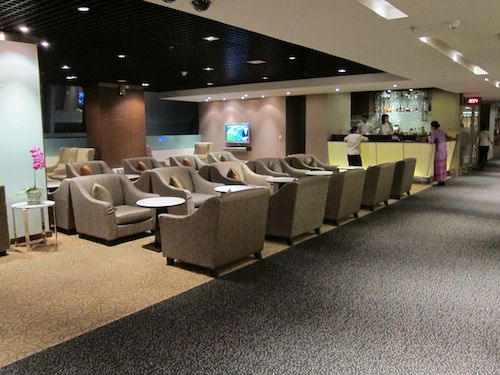 Thai Airways First Class Lounge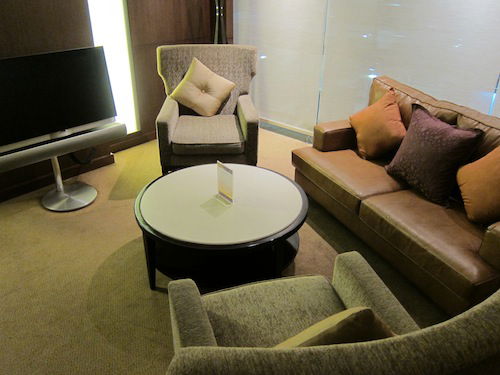 Private "living room"
The lounge was empty so we were given a "living room" and the service immediately began. Some might argue the service is a bit over attentive, since the staff to guest ratio must be something like 4:1 at times. There's almost always a server standing outside of your living room waiting to see if you want anything, and if they don't hear from you every three minutes they come to check that you're still alive. 😉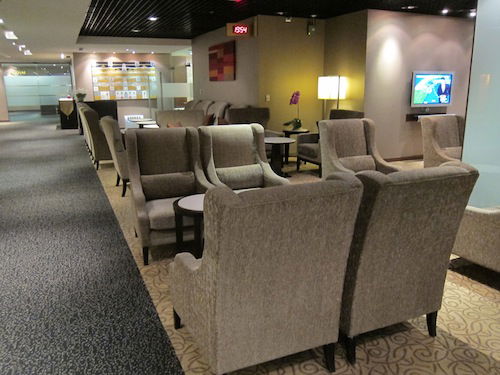 Lounge
As far as the food options go, the lounge has both a menu and a display buffet. You can't actually take anything from the buffet, but one of the dozen or so waitresses manning the buffet will take down the order for whatever option you point at and bring it to you.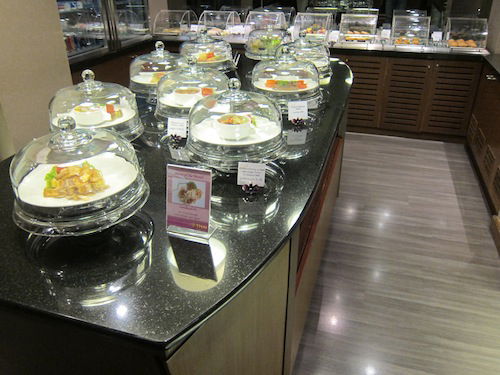 Buffet
One of my favorite features about Thai first class is the hour-long full body massage that first class passengers get. My friend and I both set up appointments for 9PM, so I quickly hopped in the shower to freshen up.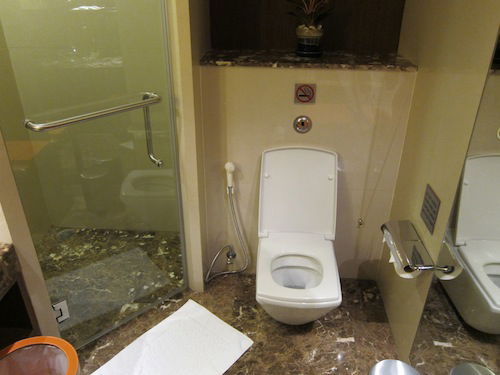 Shower room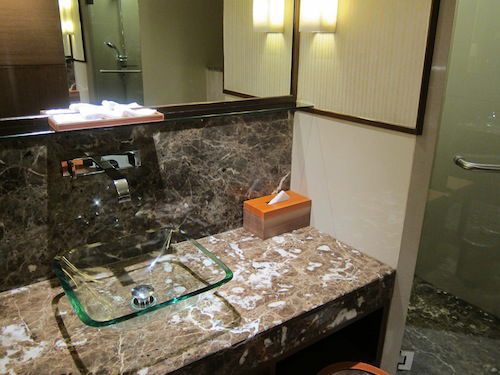 Shower room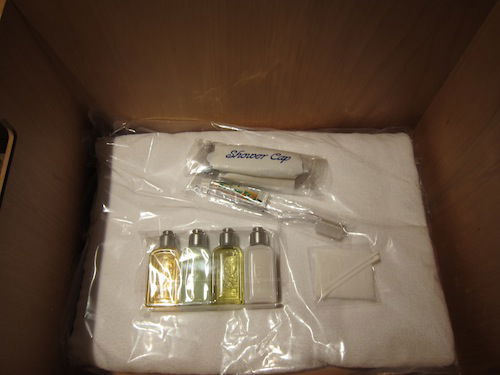 Toiletries
One of the servers escorted me to the spa reception, where I was offered a cold towel and beverage. I was asked to fill out a health form, and then moments later my masseuse emerged.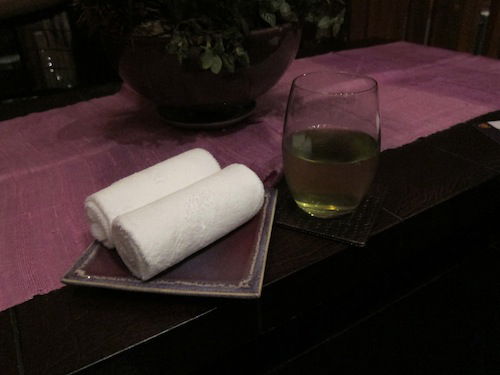 Pre-spa treatment cold towels and drinks
They have really nice private treatment rooms, each equipped with a shower and some even equipped with a bathtub. The masseuse brought me into the room and had me take off my clothes and put one of those fishnet underwear garments on. I don't know what purpose they really serve, since it's not like they cover anything or keep anything in.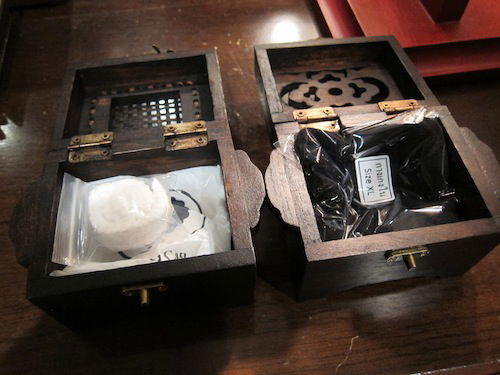 Underwear
As usual, though, the spa treatment was spectacular. After an hour I was brought into the post-treatment room, where I was offered tea and cookies and waited on my friend.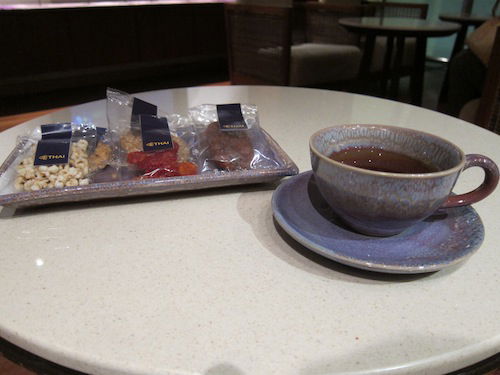 Tea
Once back in the lounge my friend and I were a bit hungry, so we ordered some delicious Thai food.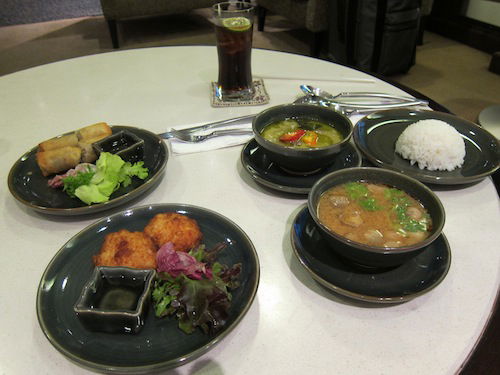 Dinner
For dessert we had chocolate lava cake.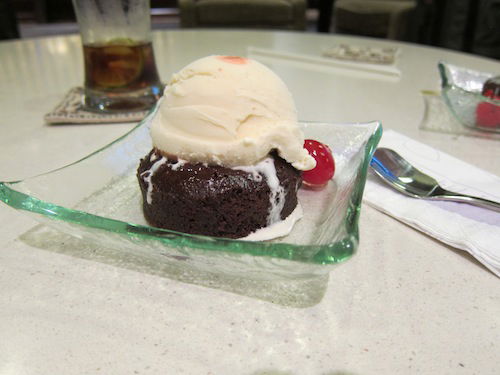 Dessert
After catching up on some email an agent approached us at around 11:30PM and advised us it was time to head to the gate. Our gate wasn't far away so once again we weren't driven in a golf cart. Being escorted along with us was a young American couple. I know y'all are FlyerTalkers, so just admit it. I saw your Continental Gold Elite tag, you taking pictures of the cabin, not to mention the route you're flying. Admit it!
Boarding was finishing up by the time we got to the gate, though nonetheless our escort got us right to the front of the line and onboard.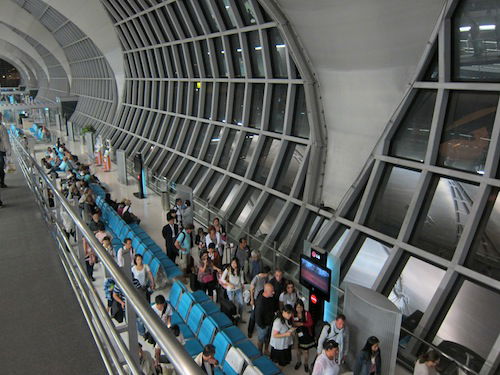 Departure gate
Thai 930
Bangkok (BKK) – Paris (CDG)
Friday, August 5
Depart: 12:05AM
Arrive: 7:05AM
Duration: 13hr
Aircraft: Boeing 777-300ER
Seat: 1G (First Class)
For those of you not familiar with Thai's product, it's worth noting that Munich was actually our final destination. Thai had award space on the nonstop flight to Munich, so why did we route through Paris? Because the Bangkok to Paris route is consistently operated by Thai's leased 777-300ER aircraft. These are planes they lease from Jet Airways, and it has one of my favorite first class products. It's the same one I flew on Turkish from London to Istanbul a couple of years back.
With that out of the way, I was once again looking forward to flying this plane.
As soon as we reached the door we were welcomed by an almost overly friendly crew. I think people assume that flight attendants at the major Asian airlines consistently provide excellent service, though many (including me) find Thai to be a bit inconsistent. What makes them different than most other Asian airlines is that they don't fire their flight attendants at the age of 30. So in international first class you usually have "senior mamas" working (I use that term endearingly). Well, they were certainly senior mamas in first class on this flight, or more accurately one senior mama and two senior, erm, daddies? Nevermind, that just sounds weird.
Anyway, as soon as we reached our seats in the first row we found headphones and a Rimowa amenity kit already waiting for us at our seats.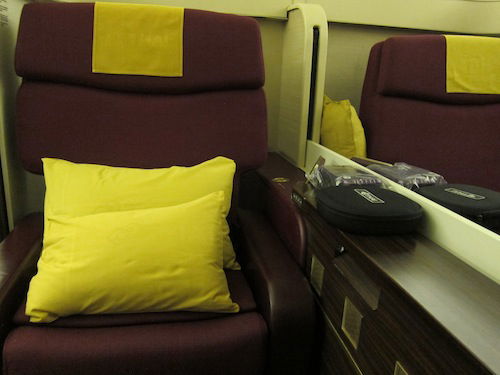 Suite 1G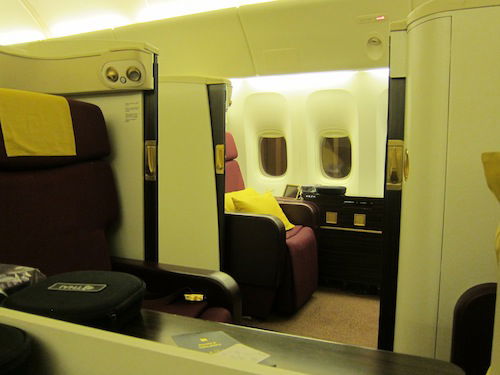 View of suites 1A and 1D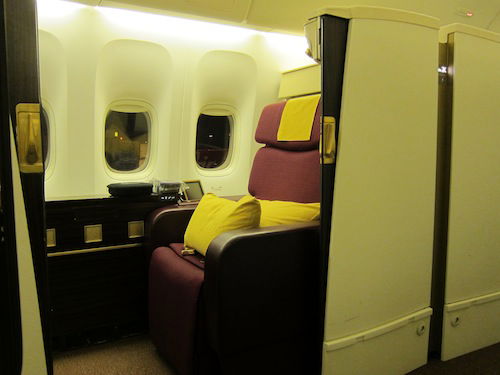 Suite 1K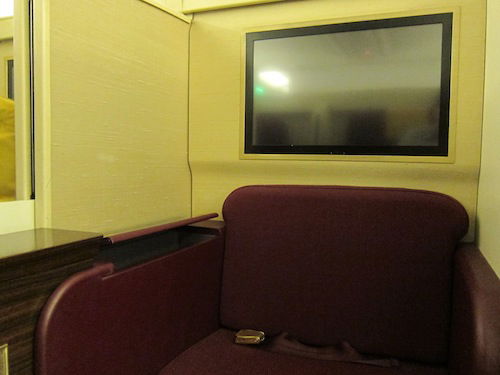 Ottoman and screen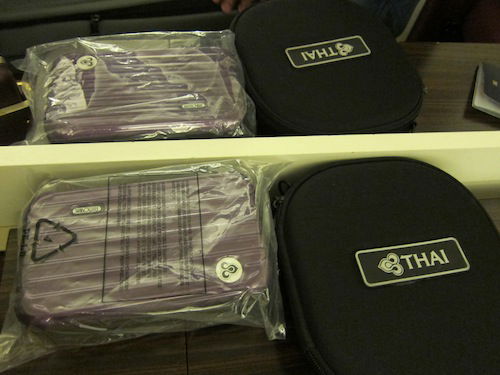 Rimowa amenity kits and headphones
As soon as we settled in one of the flight attendants introduced himself and said he'd be taking care of us. This guy was quite possibly the friendliest flight attendant I've ever had. I'm almost tempted to say he was creepily friendly, though I think he was just one of those really nice people. Not only did he have a huge smile on his face every time he interacted with passengers, but he also had such a nice way of addressing passengers (and extending every syllable as much as possible).
He first offered us hot towels followed by pre-departure beverages. I went with Dom, which the flight attendant proudly served.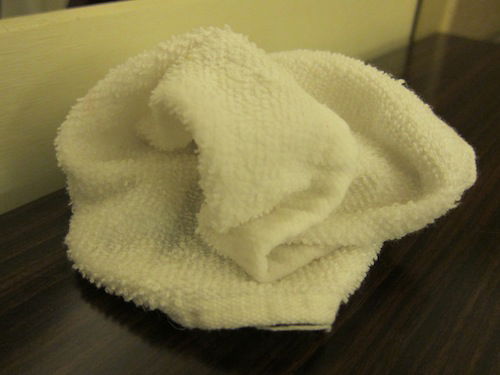 Hot towel

Champagne
Shortly thereafter we were offered pajamas and slippers. I immediately changed into the pajamas, since I was just about ready to sleep.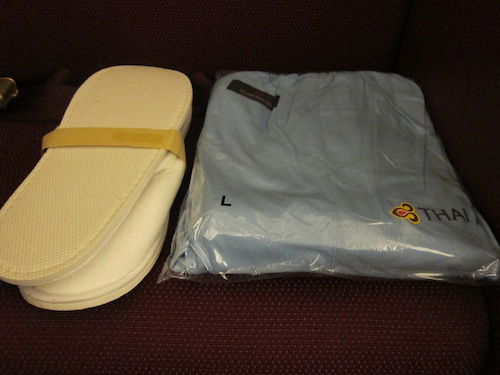 Pajamas and slippers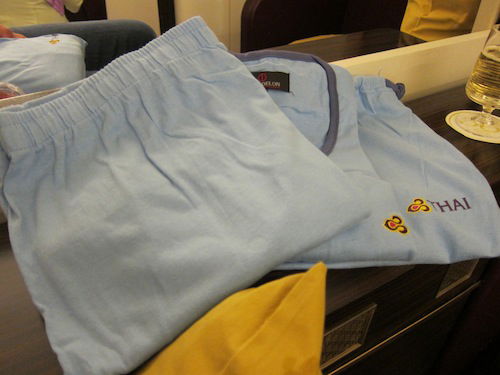 Pajamas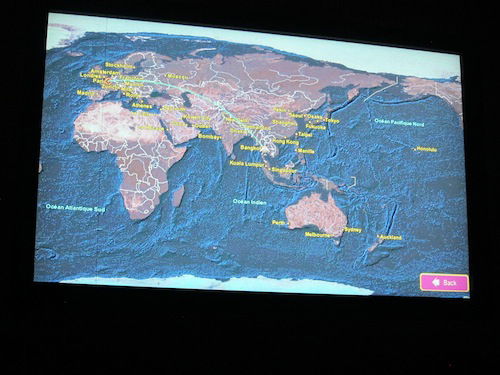 Flight path
The door closed right on time with a full load in first class, consisting of my friend and I, the American couple seated behind us, and four older French men in all the window seats.
Shortly before pushback the captain advised us of our flight time of 11hr45min, advising us we would have an on-time arrival in Paris.
We quickly pushed back and taxied to the runway, and after a long takeoff roll were airborne.
As we climbed out I started playing around with the entertainment system, which featured dozens of movies, TV shows, CDs, etc. While it's not quite as good as Singapore or Cathay Pacific's in-flight entertainment, it's still very good.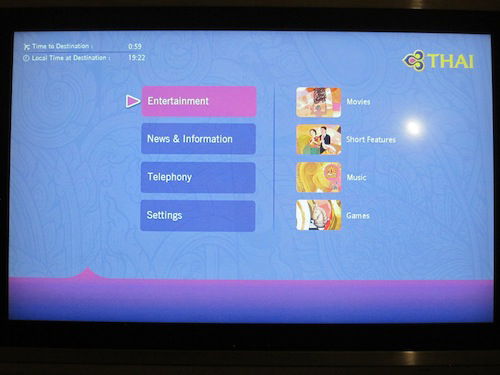 Entertainment system
As we climbed through about 10,000 feet the seatbelt sign turned off and the flight attendants sprung into action, starting with a beverage service. I went with a Diet Coke with lemon.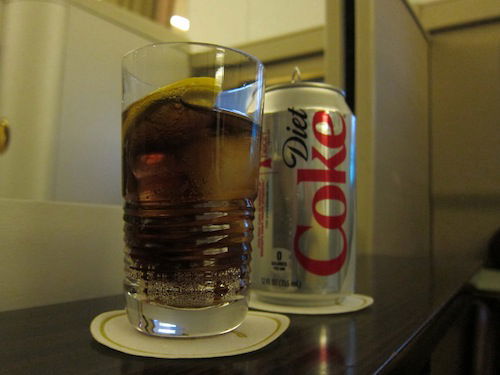 Diet Coke with… lemon
Shortly thereafter the menu and wine list was offered, which is always presented in a nice folder.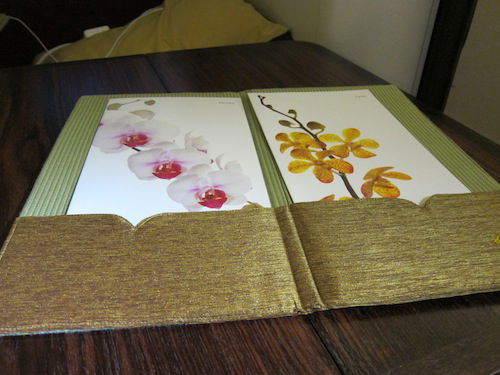 Menu
The dinner menu read as follows: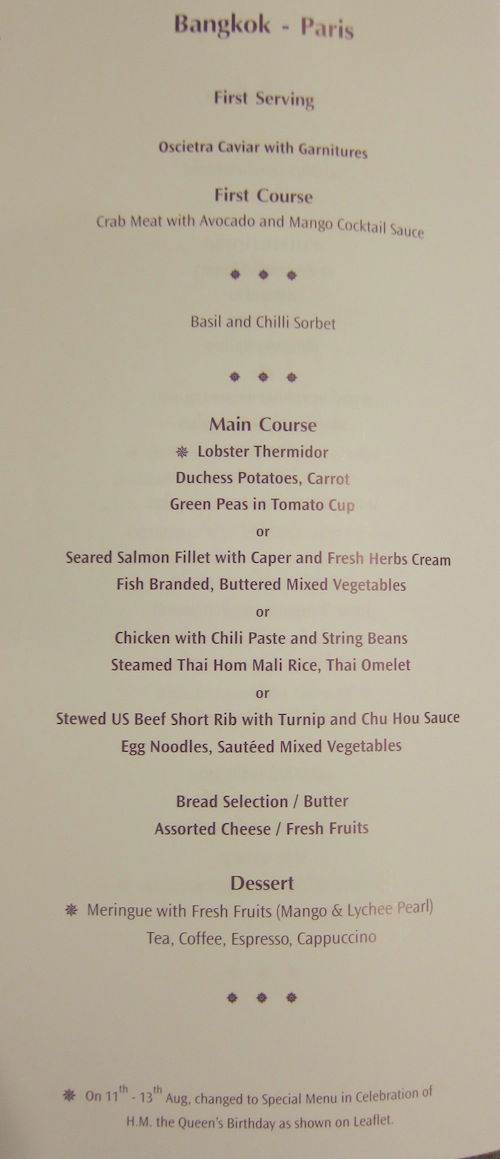 Menu
And the wine list read as follows:
White Wine:

Chassagne Montrachet Le Divin 2008

Grand Enclos Du Chateau De Cerons 2008

Red Wine:

Nuits-Saint-Georges 2008

Chateau Belgrave 2007

Chateau Pedesclaux Pauillac 2007

Champagne:

Veuve Clicquot Rose Vintage 2004

Dom Perignon Vintage 2002
The flight attendant working my aisle was just amazing. He set my table with such precision, always making sure everything was aligned perfectly. Whenever he would place something on my tray he would put his hand out after the plate was set and say "please enjoy."
The first course was caviar, which was served with the typical accompaniments. The breadbasket was also offered, consisting of garlic bread, assorted rolls, and pretzel bread. I went with some garlic bread and pretzel bread.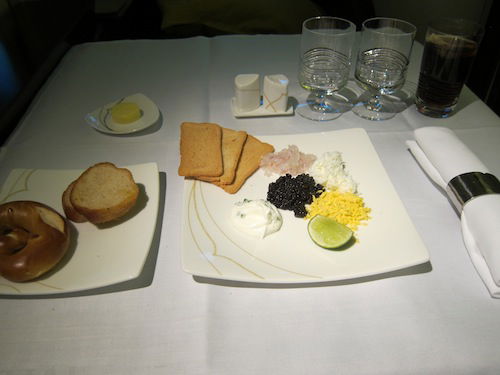 Oscietra caviar with garnitures

The appetizer, which was tasty, consisted of crab meat and avocado.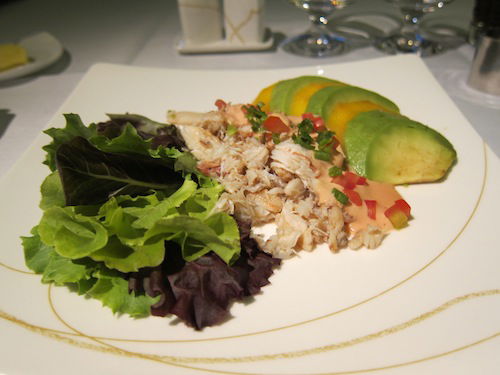 Crab meat with avocado and mango cocktail sauce
For the main course I had the salmon fillet, which was alright. Certainly not memorable by any stretch of the imagination, though it was edible.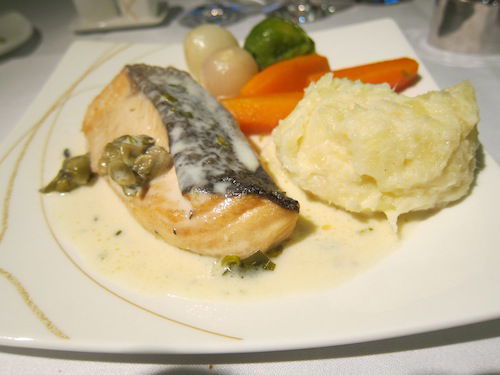 Seared salmon fillet with caper and fresh herbs cream and mixed vegetables
My friend had the lobster thermidor, which he enjoyed.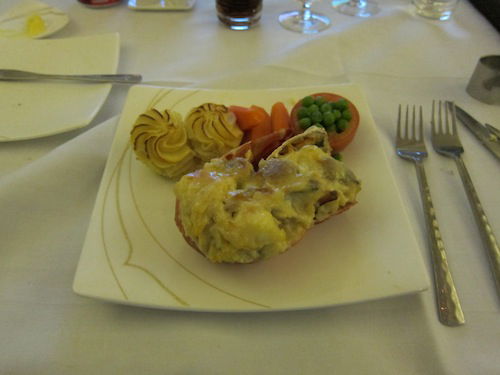 Lobster thermidor, duchess potatoes, carrot green peas in tomato cup
After dinner a cart was brought around with cheese and fresh fruit. I went with some fruit.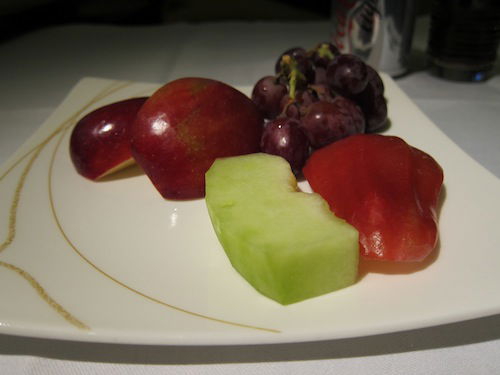 Fresh fruit
For dessert was meringue with fresh fruits. While the mango balls were fun (hey, it's kind of cool when they pop in your mouth), I wouldn't have minded something a bit sweeter or another option. After dessert individual bottles of Evian water were also offered.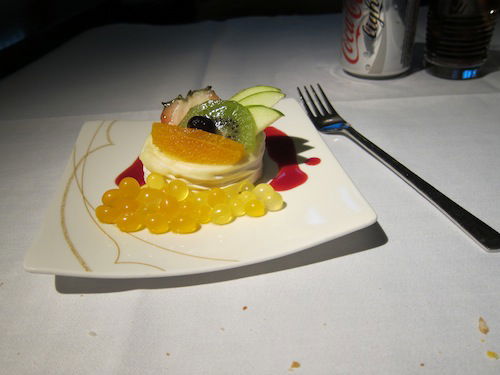 Meringue with fresh fruits
The entire meal service took about 90 minutes, and the service throughout was spectacular. While Thai's food is fine, it's far from being the best in the sky. Singapore, Asiana, and ANA all have better first class meals in my opinion, just to name a few. That being said, it's not the food that sets Thai apart, but the overall experience, including the ground service.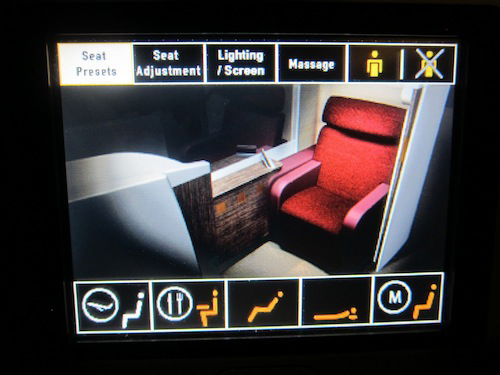 Seat controls
With just under ten hours to go to Paris I decided to place my seat into the fully flat position and get some rest, since I'd be driving the following day in Germany. Each suite has a special monitor with all the seat controls that's pretty intuitive, and it took about 30 seconds to get the seat in the fully flat position.
While the seat itself was comfortable, my biggest complaint about Thai first class is that they don't have comforters, but rather only pillows and blankets. They're the only quality international airline I know of that doesn't offer them, so it's a bit disappointing. Yes, first world problems.
I got a solid six hours of sleep, and woke up about four hours out of Paris. I decided to watch a few sitcoms and even ordered a White Russian to make my flight a bit more enjoyable.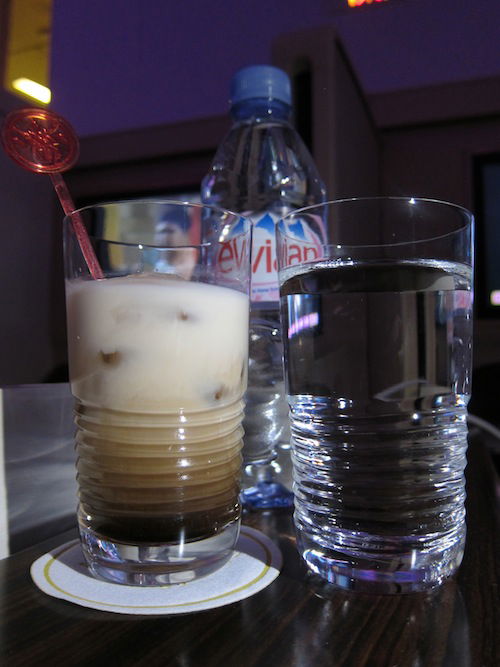 White Russian
About 90 minutes out of Paris the breakfast service began. The menu read as follows: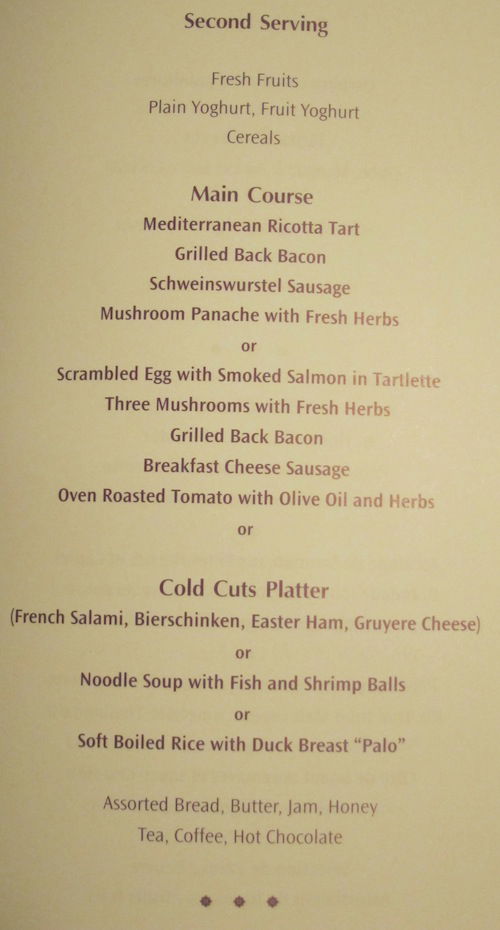 Breakfast
Service started with a choice of juices, and I went with a glass of orange juice. Shortly thereafter the trays were set and items were offered from the breadbasket. I went with a croissant and pastry.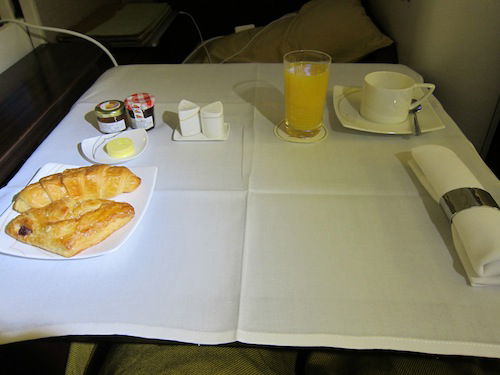 Breakfast setup
Shortly thereafter a cart was brought through the aisle with cereal, yogurt, and fruit. I went with a bowl of muesli.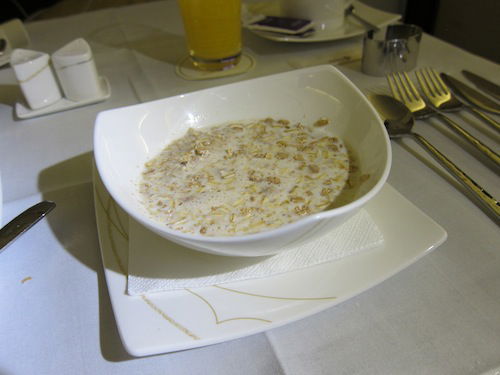 Muesli
Then for the main course I went with the ricotta tart, which, like most egg dishes on airlines, was alright.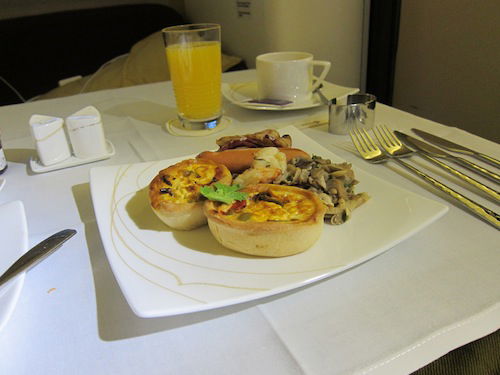 Mediterranean Ricotta Tart
After my tray was cleared I decided to head back to business class for a few minutes to see how full the cabin was. It was only about half full, which surprised me, given how full first class was. The business class cabin consists of flat bed herringbone seats.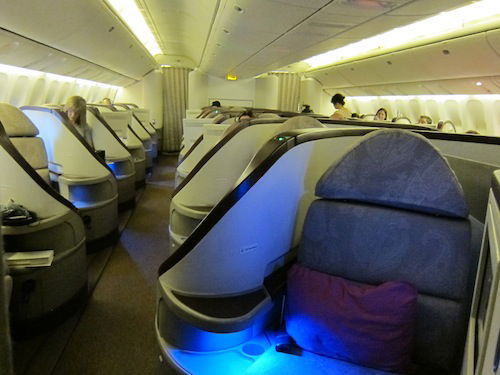 Business class cabin
Between the business and first class cabins is a small bar setup where they usually place drinks and snacks between meals.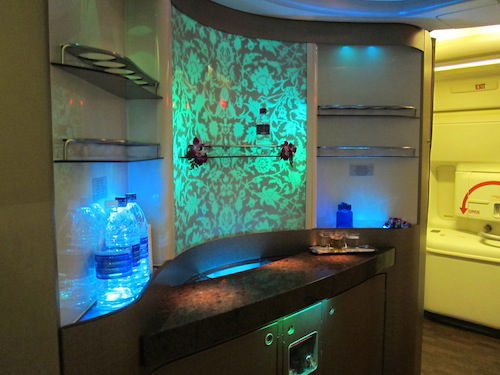 Business class bar
About 30 minutes before landing the captain came on the PA to advise us that we were 30 minutes out of Paris and would be commencing our descent shortly.
Within a few minutes the flight attendants were through the aisle to offer each first class passenger a flower. That's the first time I've ever had that happen on Thai, and I'm not sure if these were used as decorative flowers during the flight or what, but it was a nice touch.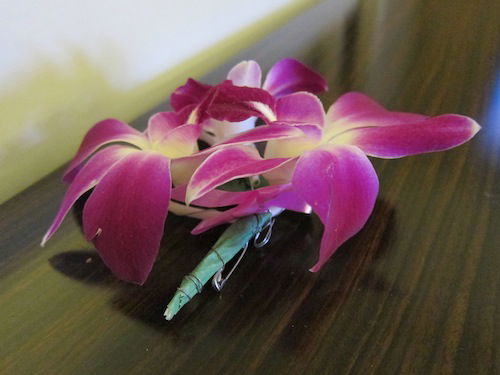 Flower
The seatbelt sign was switched on 20 minutes out, as there was quite a bit of chop on our final descent.
After a smooth touchdown and long taxi to the gate we arrived right on-time. Despite having worked for 13 hours the crew was all smiles as they bid us farewell, after another enjoyable Thai Airways flight.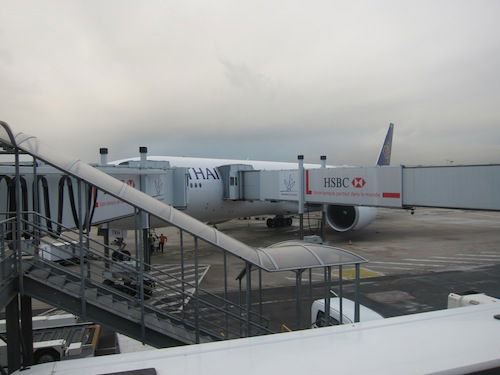 Plane upon arrival
Reality quickly hit when we found ourselves in the terminal of one of my least favorite airports in the world.