---
At the security checkpoint the line was actually substantially longer for first and business class than for coach, so we got in the coach line. Security took about 20 minutes and also a bit of arguing with the agent over answering silly questions, though we were through about 10 minutes before boarding was supposed to begin.
Past security terminal 4 is an absolute dump, since all the shops, lounges, and dining options are before security.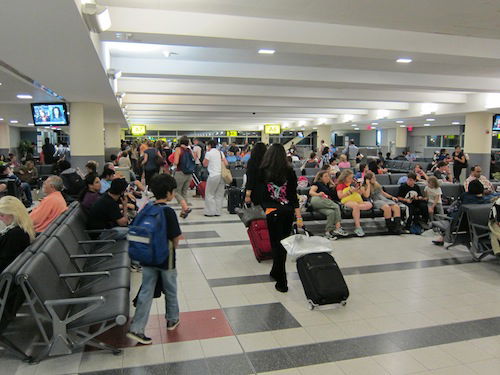 Gate area
Despite the crappy terminal there's just something exciting to me about the anticipation of getting on a Singapore Airlines flight. I don't know what it is, but there just aren't very many airlines that I look forward to flying as much as Singapore. Tonight it wasn't necessarily for good reason, though.
30 minutes before departure boarding was announced at gate A7, starting with first and business class. There were TSA agents on the jet bridge doing security checks, though by avoiding eye contact with them I wasn't selected.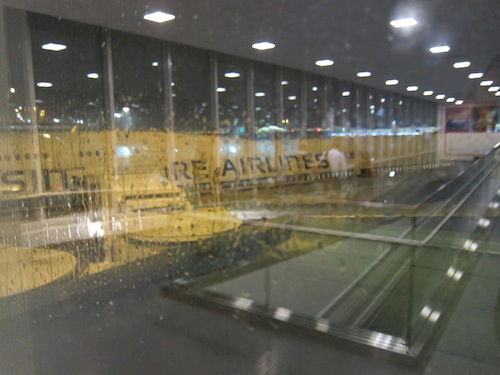 Plane
Singapore Airlines 25
New York (JFK) – Frankfurt (FRA)
Tuesday, July 26
Depart: 9:25PM
Arrive: 11:15AM (+1 day)
Duration: 7hr50min
Aircraft: Boeing 747
Seat: 3C (First Class)
Boarding was through door 2L, and as soon as I showed the agent my boarding pass she directed me to my seat, 3C.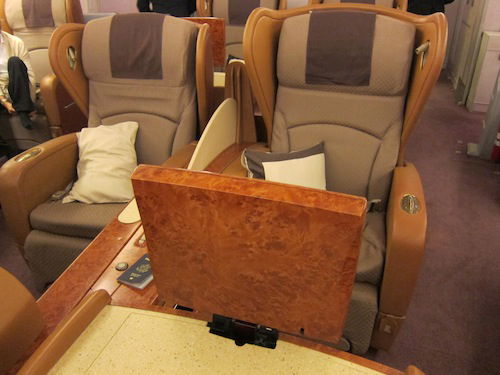 Seats 3C & 3D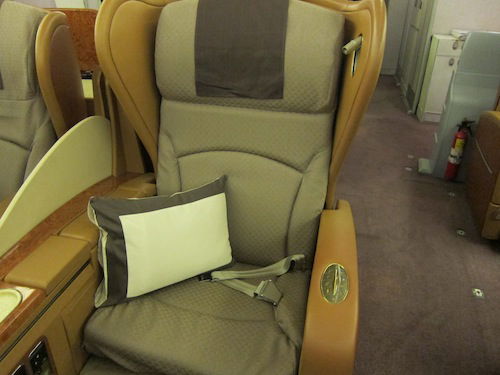 Seat 3C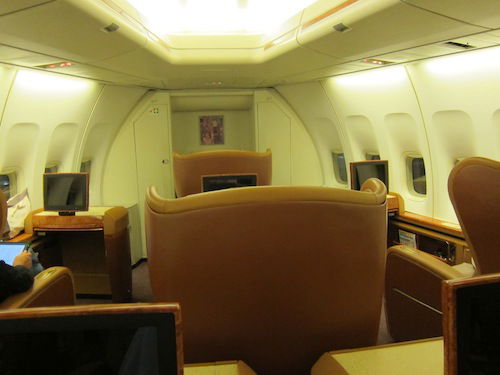 View from row three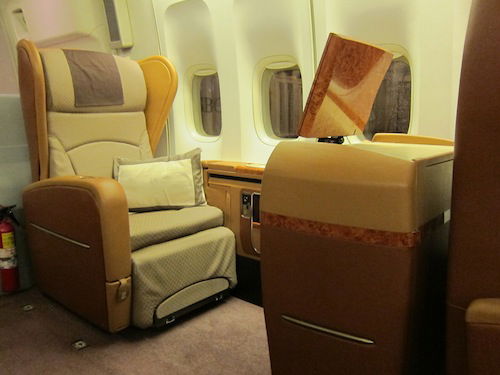 View of seat 4A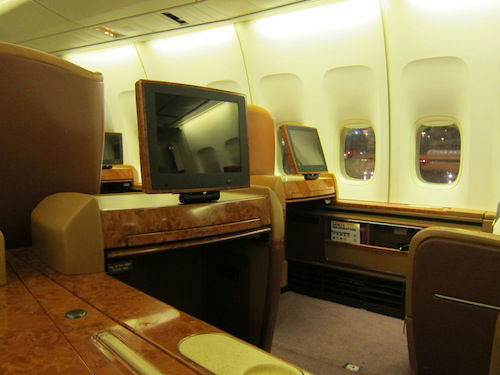 View looking right
As soon as I stowed my bag the crew commenced the usual Singapore Airlines "performance." First the leading stewardess and leading steward introduced themselves, and offered us pre-departure beverages. I asked for a glass of Krug, though was informed they were only serving Dom pre-departure. I reluctantly accepted. Oh, the horror. 😉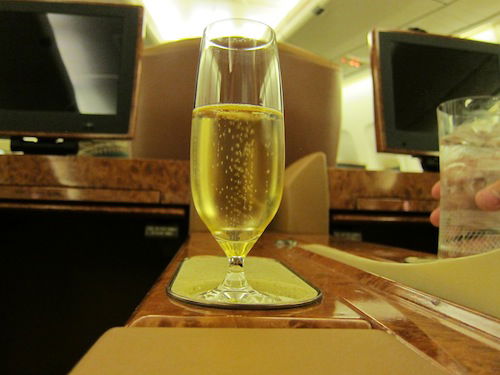 Pre-departure Dom
I was then offered a hot towel along with pajamas, amenity kits, slippers, socks, eyeshades, the menu and wine list, and a bottle of water. I do love Singapore's pajamas and amenity kits, though I slightly preferred the amenity kits they used to have about a year back with full sized bottles of Bvlgari cologne.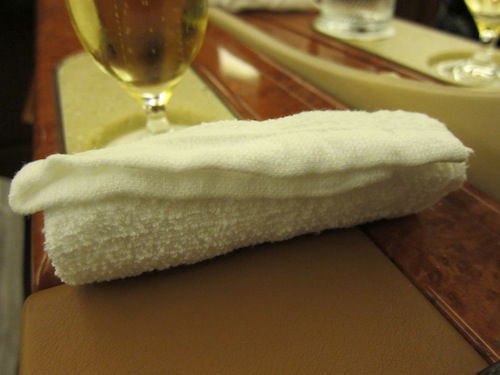 Hot towels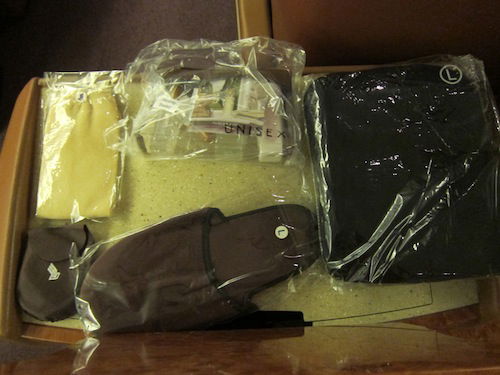 Amenity kit, pajamas, slippers, socks, and eyeshades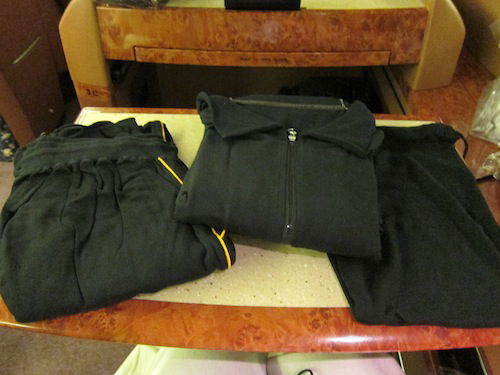 Pajamas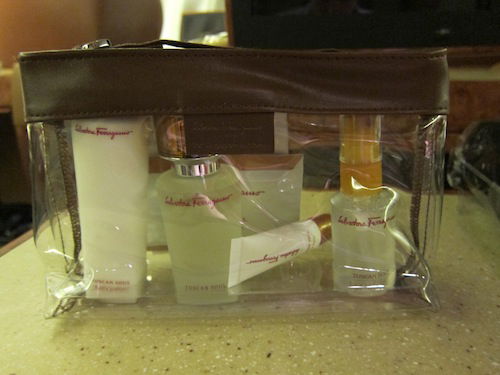 Amenity kit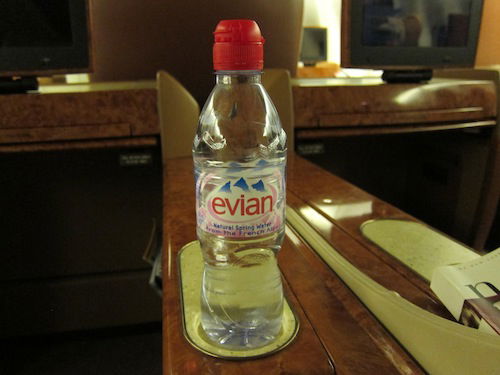 Bottled water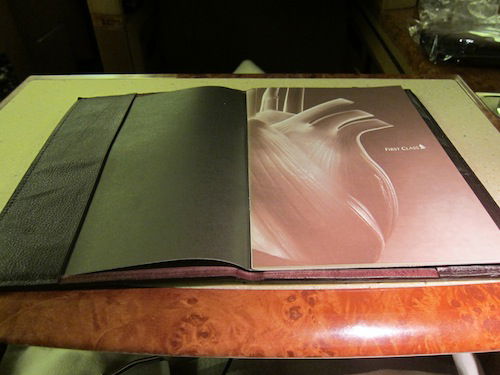 First class menu
The cabin was still fairly empty up until shortly before boarding was complete. There was a German guy seated across from me and an older Asian lady (with an Olive Garden bag!) seated one row forward.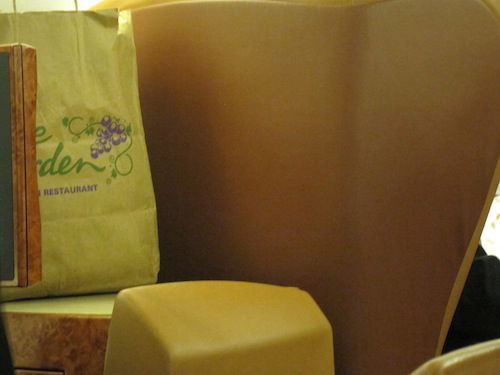 Olive Garden bag in first class
Shortly before boarding finished up a group of about nine ladies and a guy in a suit entered the first class cabin very loudly.
About four of them settled into first class (along with the guy in the suit) while the others had blue (business class) and green (economy class) boarding passes. I was a bit puzzled, as it hadn't phased me who they were. The German guy seated across from me shook his head, leaned over, and said "what pigs. The people in their country are starving but they're flying first class and drinking champagne."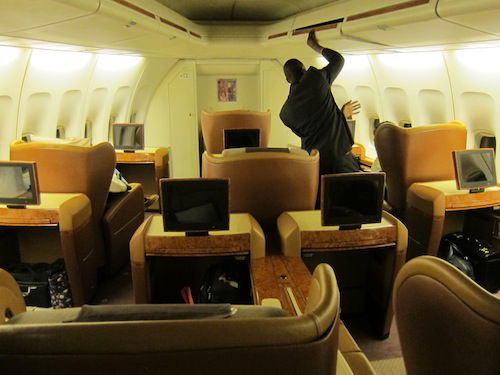 Security guard storing bags
That confused me even more, as I still had no clue who they were. As it turns out it was the first lady of Zimbabwe, and after doing some research I realized just how bad of a person she apparently is.
Anyway, as departure time rolled around the captain came on the PA to introduce himself and advise us of our flight time of 6hr40min. He advised us there would be a departure delay of about 30 minutes due to thunderstorms, but that our very short flight time should mean we could expect an on-time arrival. Singapore Airlines first class is one of the few places where I don't want a quick flight!
I took the opportunity to change into pajamas and started watching an episode of Two and a Half Men on the KrisWorld entertainment system. In the meantime the crew took dinner orders. We were also asked whether we wanted to be woken up for breakfast, though we both declined due to the short duration of the flight.
The dinner menu read as follows: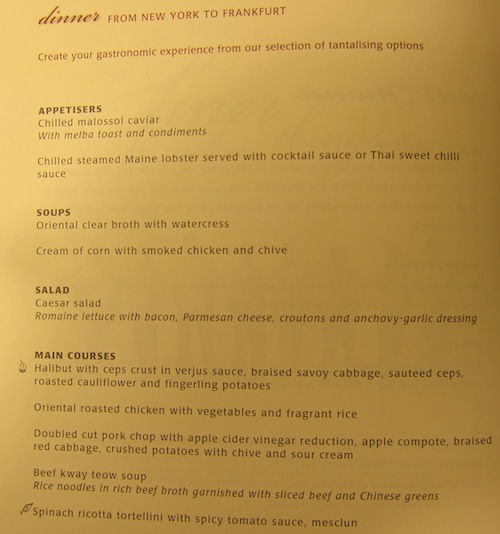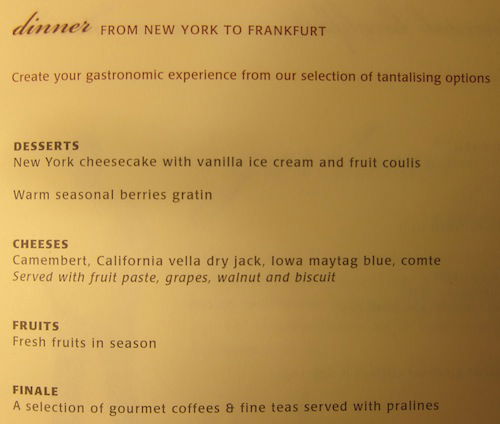 And the wine list read as follows: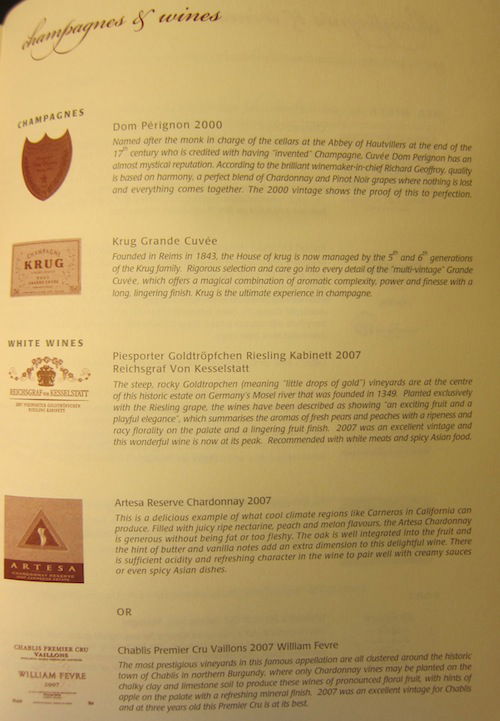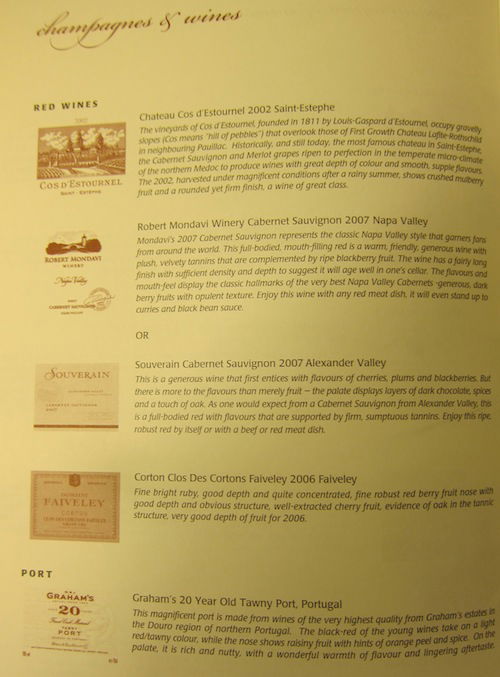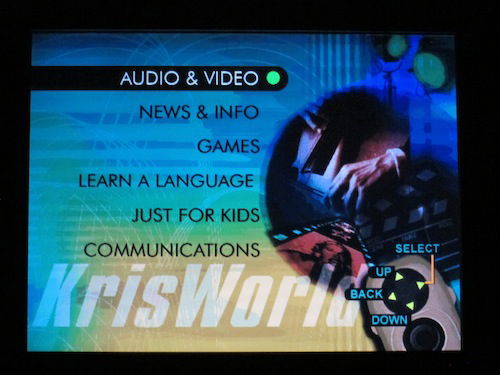 Entertainment system
My friend tried out his seat to make sure it was fully functional, though unfortunately his legrest wasn't working. He brought this to the attention of the flight attendants, and they kind of just had a blank look on their face. They had him stand up and played around with his seat controls for about ten minutes, before advising us to move back a row to the two center seats in row four. That seems like an acceptable solution.
My friend then decided to test out his new seat, and what do you know, the recline was broken. Once again they had him stand up for about ten minutes as they played with his seat, before deciding there was nothing they could do.
They suggested we sit together in row three for dinner and then move to row four to sleep. It's a bit disappointing when you fly an airline like Singapore and twice in a row seats don't work, especially since the plane sits on the ground in New York for over 12 hours, so if there were any reported seat issues there would have been plenty of time to fix them.
The most disappointing part of the entire interaction was that the in-flight service manager didn't once apologize or show any concern. He kept walking by without batting an eyelash.
Anyway, we did push back at around 10:30PM and started a fairly quick taxi to the runway, where we were number four or five for takeoff.
We had a long takeoff roll and there was quite a bit of chop on the way out, so the seatbelt sign stayed on for nearly half an hour.
At that point the service slowly began, though it was almost 75 minutes before we got our first drinks, which is entirely unacceptable. I think the big issue with the flight was the in-flight service manager. Without exception on every Singapore flight I've been on in first class, the in-flight service manager has personally introduced himself to the first class passengers and talked to them for a couple of minutes. Not only did he not do that, but he was the most lackluster crewmember aboard. He didn't once smile or say "my pleasure" or "your welcome."
Anyway, about 75 minutes into the flight I was offered a Diet Coke with mixed nuts.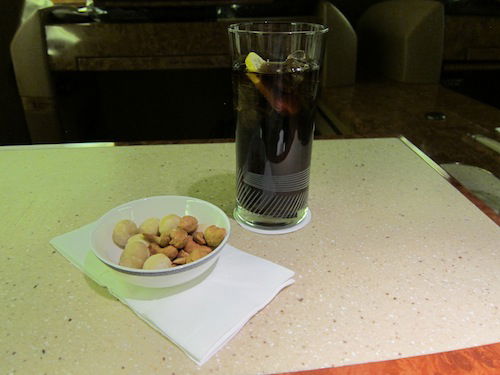 Diet Coke with mixed nuts
Within about 15 more minutes I was offered my appetizer, which was caviar. As usual it was beautifully presented and tasted good. Bread was offered with it, including Singapore's amazing garlic bread.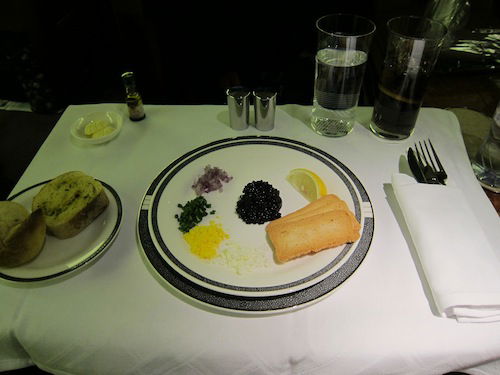 Chilled malassol caviar
The next course was a cream of corn soup with chicken, which was tasty.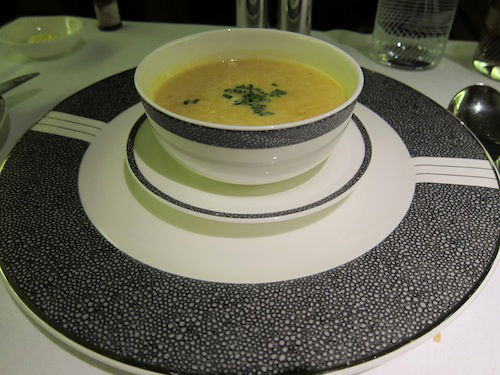 Cream of corn soup with smoked chicken and chive
Then a Caesar salad was served, which was also quite good.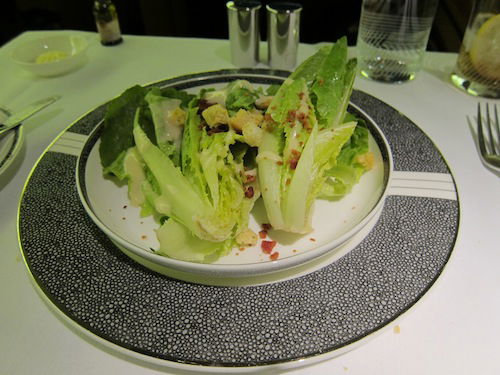 Caesar salad
My friend pre-ordered the lobster thermidor through Singapore's "Book the Cook" program, though I hadn't pre-ordered anything.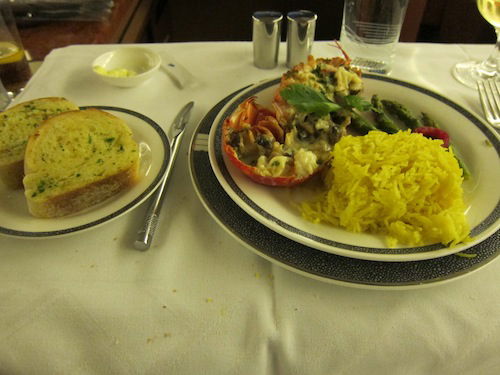 Lobster thermidor
None of the options on the menu interested me all that much and I knew I wouldn't be very hungry by the time the main course came around, so I ordered the spinach ricotta tortellini.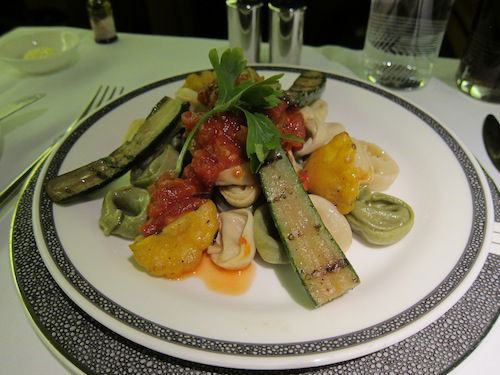 Spinach ricotta tortellini with spicy tomato, mesclun
It was definitely one of the most underwhelming meals I've had in international first class, and could have very well been a frozen TV dinner based on how it tasted. And I know some of you are probably saying "well what do you expect from a pasta dish?" You'd be surprised, I've had some really, really good pasta dishes in the sky.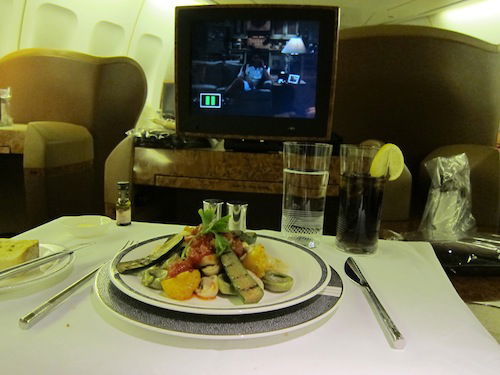 Hey, at least it's a good TV dinner…
The dessert was cheesecake with ice cream. I have absolutely zero complaints there!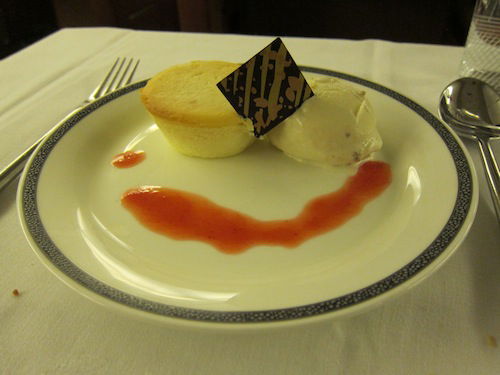 New York cheesecake with vanilla ice cream and fruit coulis
To finish off the meal we were offered coffee/tea and pralines. I just went with a praline.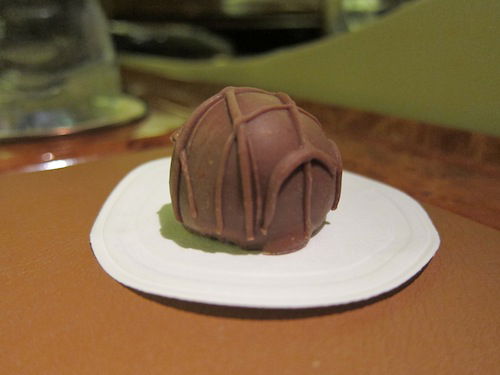 Praline
Overall the crew was decent. I've always thought of Singapore Airlines as being on a whole different level, and this flight certainly didn't make me feel that way. The service was at a leisurely pace throughout dinner which I like, though the crew could have been a bit more attentive in providing refills.
Given the slow pace of the dinner service we had just under four hours to go until Frankfurt, so the crew made our beds. While Singapore's first class product on their 747s is a couple of generations behind, it's still quite comfortable, especially with the bedding. The only awkward part was the first lady's security guard who was seated across from us and constantly glared over, given that he was "monitoring" the cabin.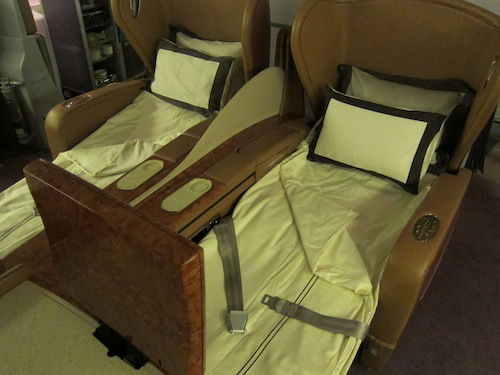 Beds
I woke up about 30 minutes prior to landing in Frankfurt. I sure as heck wasn't hungry, so just went with a glass of orange juice. Singapore serves legitimately freshly squeezed orange juice, which I wish more airlines would do.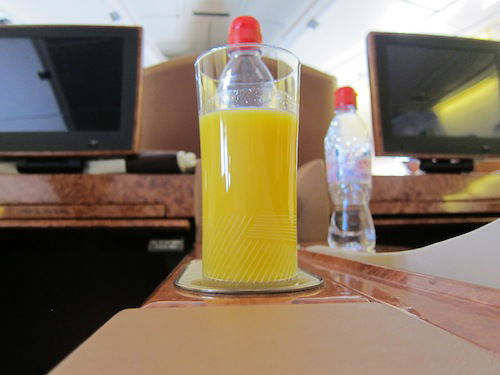 Orange juice
While I didn't have breakfast, here's the breakfast menu for those of you that are interested: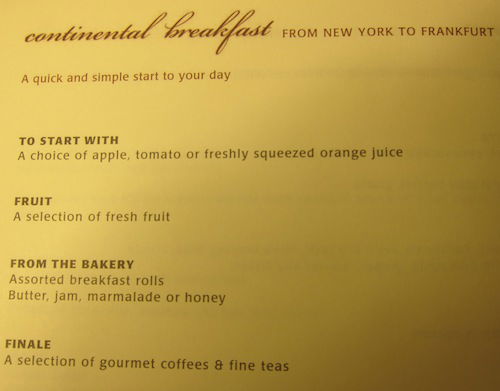 At this point the captain came on the PA to advise us of our slightly delayed arrival, thanking us for flying Singapore Airlines.
The crew prepared the cabin for landing, and there was no sort of "goodbye" or "thanks for flying with us" as we descended, which is usually the role of the in-flight service manager.
As we taxied to the gate the Zimbabwe "party" was already up before the seatbelt sign was turned off, with all the people in their party from coach and business coming forward to help the first lady.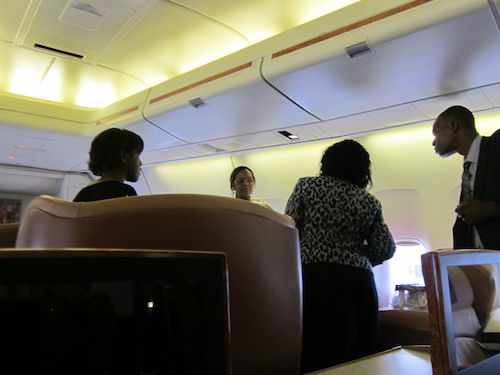 Entourage
So while Singapore was good, they weren't great. And given that I had beyond phenomenal crews on my Lufthansa and Thai flights, it turned out to be the most underwhelming longhaul segment of the trip, especially compared to my previous Singapore Airlines experiences.