---
We left Le Meridien in Khao Lak at around 3PM and made it to the airport at around 4:30PM after a smooth ride. Once there our porter helped us with our bags to check-in.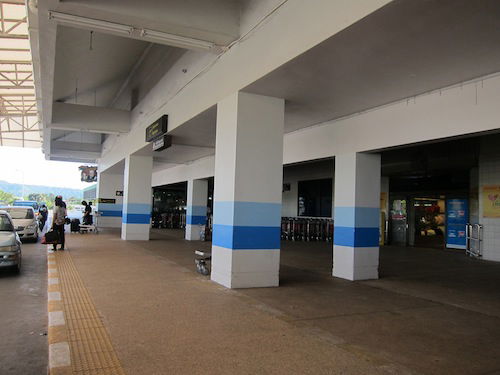 Phuket Airport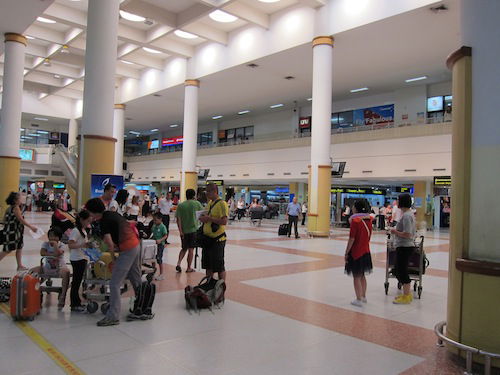 Phuket Airport check-in hall
There was no queue at check-in so within a few minutes we had our boarding passes all the way to Munich (via Bangkok and Paris). I knew the flight from Phuket to Bangkok would be operated by a 747, which features first class, business class, and coach. They only sell coach and business class, though, so I asked about the possibility of getting a first class seat (which would still only have business class service). The agent happily obliged and put us in seats 1J & 1K.
Since our connecting flight was in first class we were offered an escort to the lounge. Thai Airways has the most phenomenal ground service in Bangkok, so I was happy to see they somewhat extended that service to connecting first class passengers in Phuket.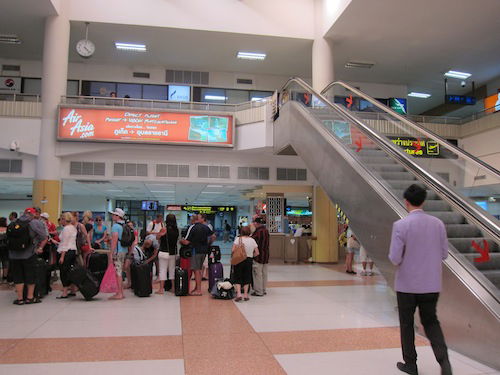 Enroute to immigration
Our escort walked us through immigration right past the queue and to the immigration office, which it seemed that passengers don't usually see. I especially loved the carpet below.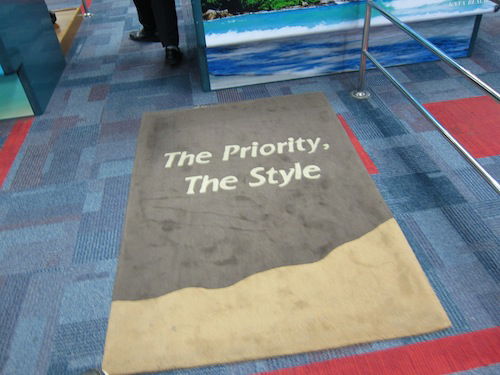 My kind of immigration carpet
Then he escorted us through security, which was also hilarious. Instead of just getting us straight to the security belt line, he literally cut everyone with stuff already on the belt and had us place our stuff right at the beginning. We got some dirty looks, of course.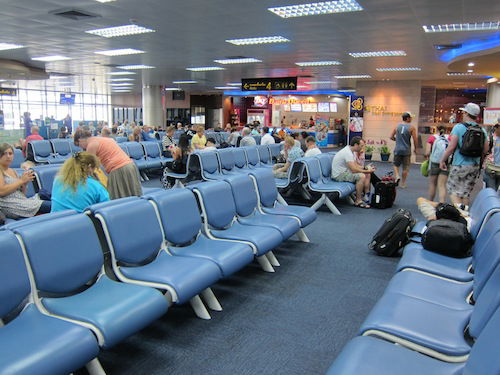 Terminal
Once airside the lounge was maybe a two minute walk away. Upon entering we didn't have to show the agents anything and were invited to sit down in a special area for first class passengers. Hell, we even got dirty looks from the business class passengers.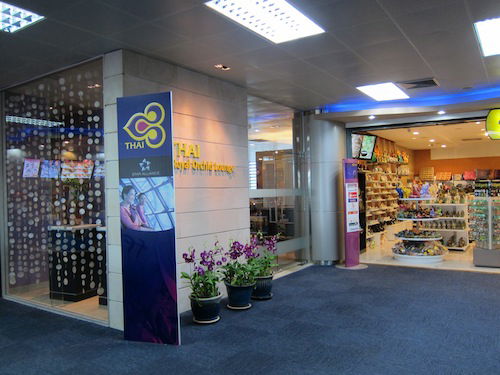 Lounge entrance
The lounge itself was reasonably nice and not very crowded, with pretty colorful furniture.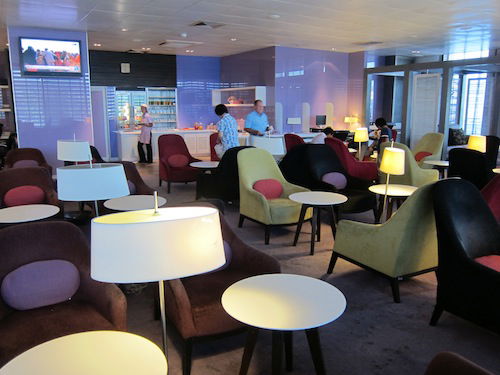 Lounge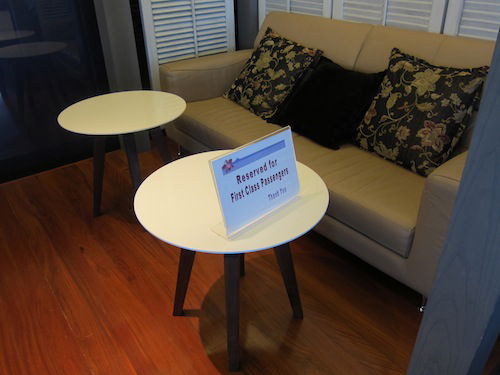 First class area
The snack selection was decent, consisting of finger sandwiches, pad thai, fresh fruit, rolls, etc.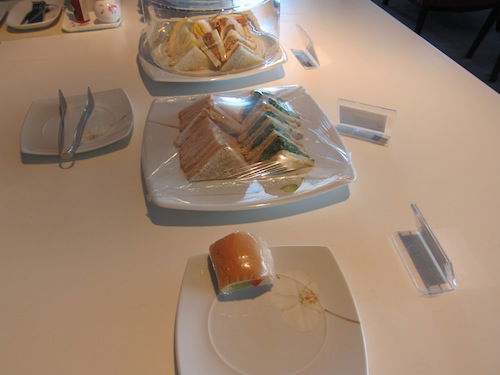 Sandwiches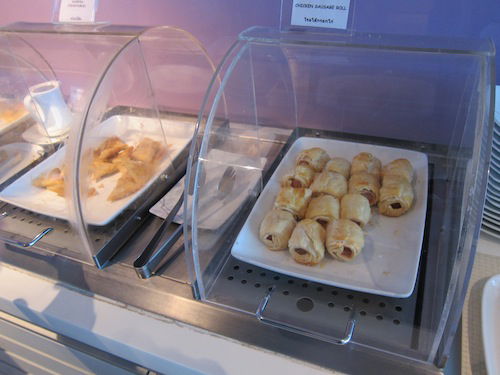 Hot snack selection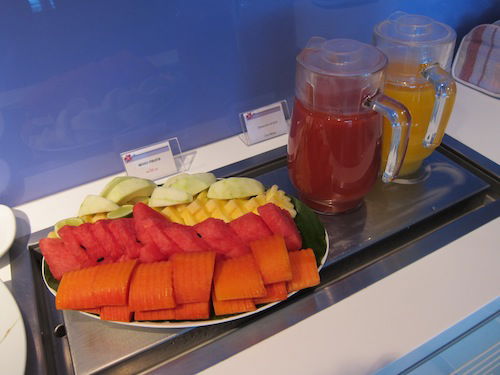 Fruit and juice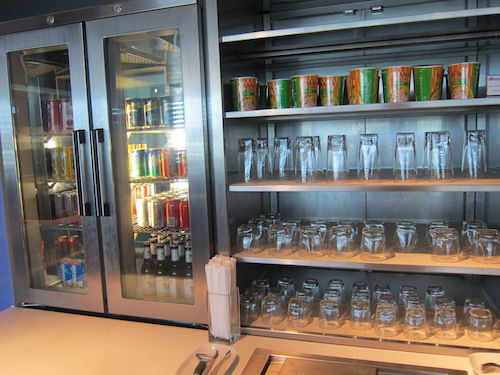 Drink selection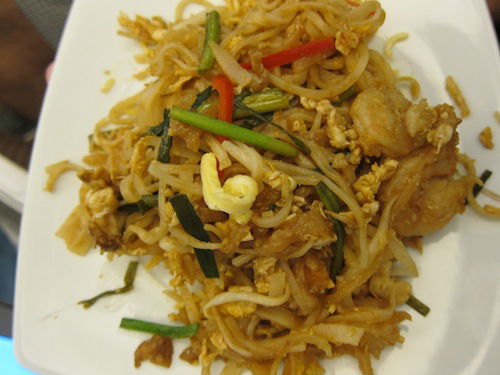 Pad thai
Shortly before 6PM we headed to gate nine for boarding. Boarding was in full swing so it was rather chaotic.
As we walked down the jet bridge I was really excited to see that our plane had Thai's old livery, which only a couple of planes still have. That meant our aircraft would feature Thai's really old product, which I enjoy.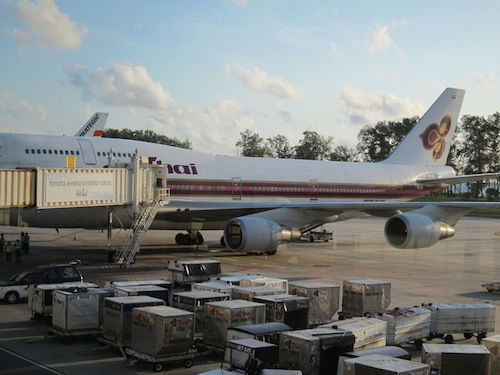 Retrojet!
Thai 218
Phuket (HKT) – Bangkok (BKK)
Thursday, August 4
Depart: 6:25PM
Arrive: 7:50PM
Duration: 1hr25min
Aircraft: Boeing 747
Seat: 1J (Business Class)
Once onboard we were greeted by some very cheery flight attendants who directed us to our seats in the nose.
Since we were boarding through door 2L we got to walk through business class, which is pretty interesting on this aircraft. The right side of the business class cabin is the galley, so if you're seated in the center section you face a wall to your right. This also means that the aisle is incredibly wide.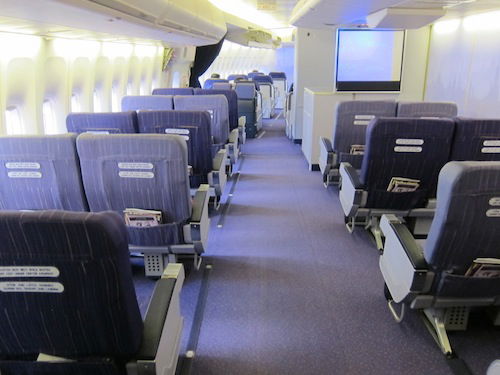 Business class
Thai's first class on the old 747s consists of 14 seats, and while the product is well over a decade old, it's an unbeatable product for a flight of this length. The recliner seats have some of the best padding of any seats in the sky, and there's something nostalgic about flying a plane like this.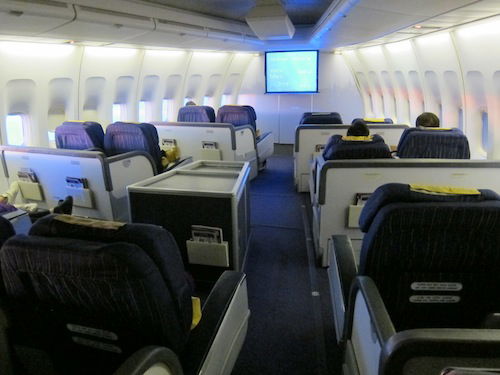 First class cabin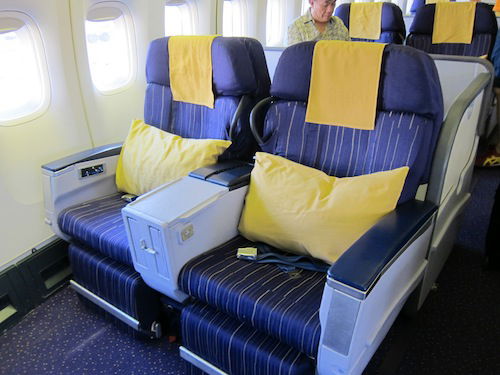 Seats in row one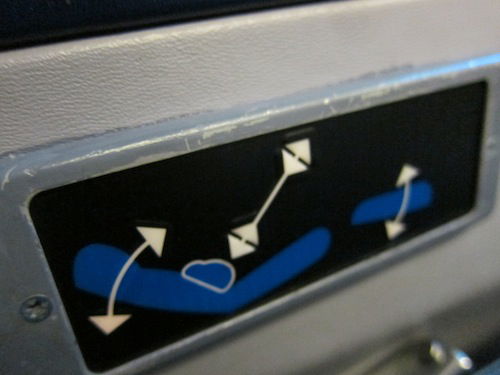 Seat controls
Once settled in we were offered pre-departure beverages. I went with iced tea.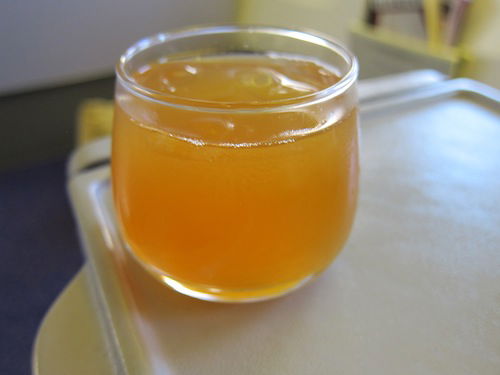 Pre-departure iced tea
As departure time rolled around the captain came on the PA to welcome us aboard and advise us of our flight time of 1hr5min.
Out our right window was a Strategic Air Airbus 330, which is the first time I've seen the airline. Based on some research it appears as if they're a charter airline based in Australia.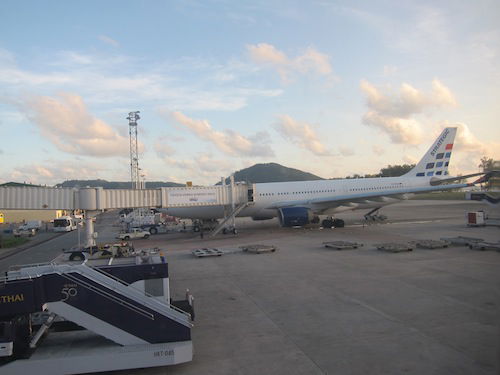 View from window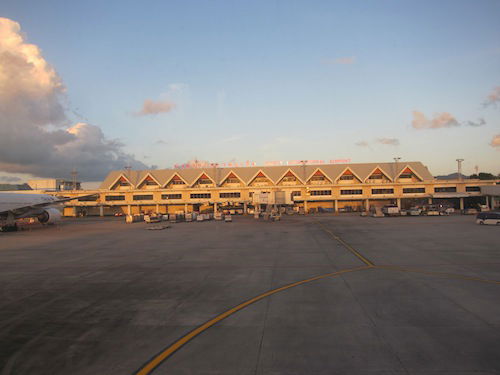 Airport terminal after pushback
After about a two mile taxi to the runway we had a fast takeoff roll thanks to our light load.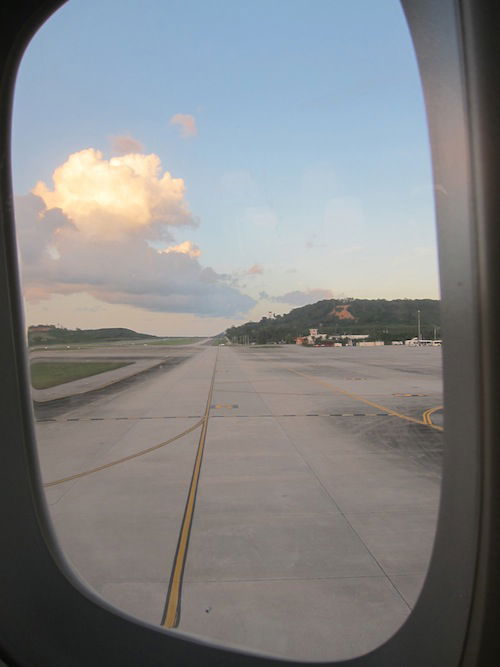 Taxiing to runway
The view as we climbed out was stunning, given that the sun was setting and weather was beautiful.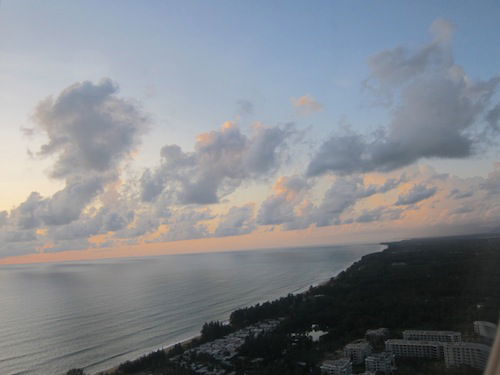 View on climbout
As we climbed through about 20,000 feet the seatbelt sign was turned off and service began. As it turned out the entire business class cabin stayed empty and all the business class passengers were seated in the first class cabin. Most interesting to me was that a Strategic Air flight attendant in uniform was seated in first class. Wonder what she was flying from Phuket to Bangkok for.
As on the outbound, the meal was mostly inedible, though I was saving my appetite for the first class lounge and flight to Paris. I did have a cup of tea after dinner with dessert, though.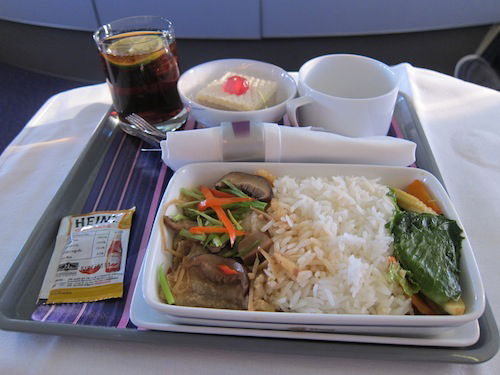 "Dinner"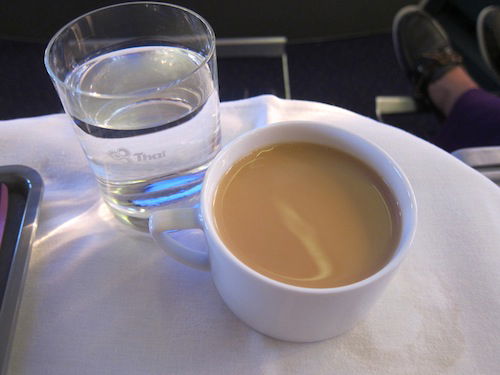 Tea
What was different than the outbound is that this crew was engaging, charming, attentive, and full of smiles. We started talking to them and mentioned we were flying to Paris. One of the flight attendants responded with "ohhhh, you are flying our 777-300, which we are VERY proud of." Crews make or break a flight, and they certainly made this one!
Despite no real in-flight entertainment besides the airshow projector on the bulkhead, the sunset views out the window were better than even the best in-flight entertainment system.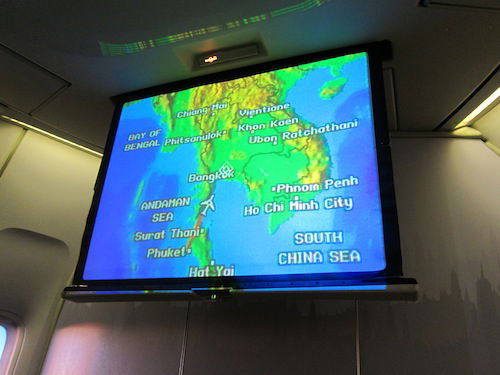 Old fashion air show
We began a smooth descent and about 20 minutes before landing the seatbelt sign was turned on. With a "smooth as silk" landing and quick taxi we made it to the gate, where the real flying fun was about to begin.