---
After a 45 minute train ride from Munich we made it to the airport at around 10:15AM, a little under 90 minutes before our flight.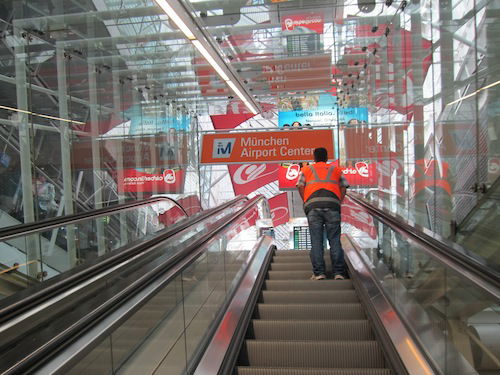 Airport entrance from train station
We proceeded to the other end of the terminal where Lufthansa's partitioned off first class check-in is located. One thing I love about many airports in Europe are the flight status boards that still have the "flipping" letters and numbers instead of being electronic.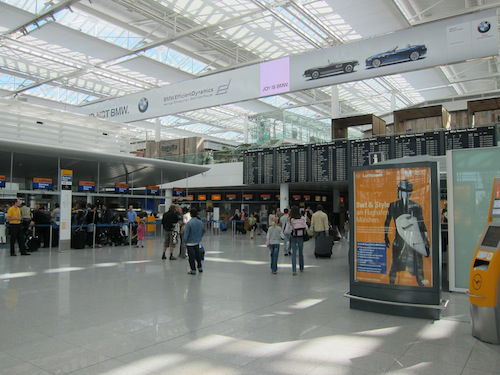 Terminal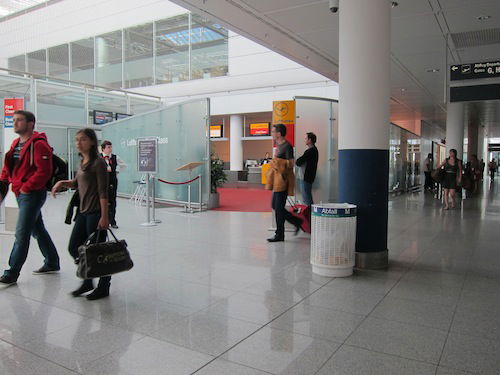 First class check-in
There was no line at first class check-in and we were promptly helped by a friendly agent that checked our bags all the way to Chicago, which was our final destination for the day, since we were flying from Munich to Frankfurt to Chicago (we wanted to connect through Frankfurt so we could go to the First Class Terminal and also fly the 747 instead of an Airbus 330 given the superior product).
There's a dedicated security entrance from the first class check-in area, where there was virtually no line.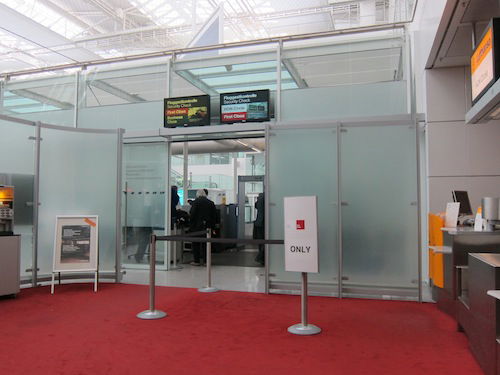 First class security corridor
Once through security we proceeded straight to the first class lounge, which was only a few minutes away.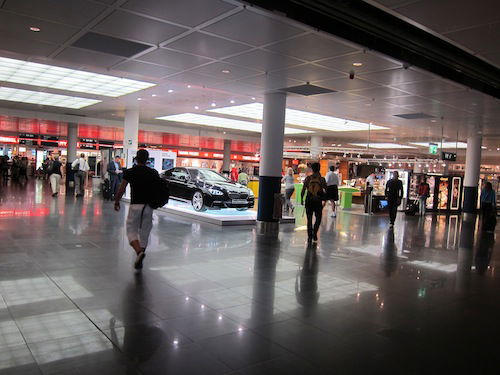 Terminal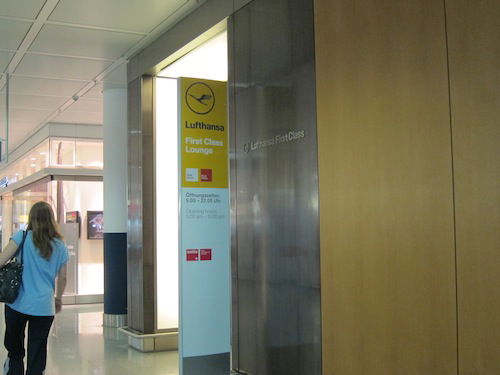 First Class Lounge entrance
We were greeted at the entrance and informed of the "great news," which was that our flight was leaving from the gate right by the lounge. To "normal" people that might sound like good news, though to me it certainly wasn't. If you leave from a remote stand Lufthansa drives you there in a Mercedes or Porsche, so I was secretly hoping that would be the case. Oh well, we knew we'd get our car ride in Frankfurt at least.
The first class lounges are all designed in a similar fashion. The Munich one isn't especially big given how many people it accommodates, so it was quite crowded given that it was "rush hour."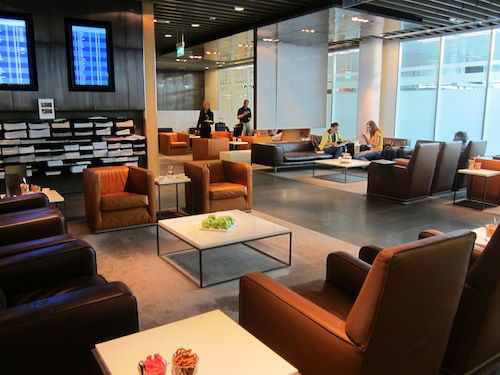 Lounge seating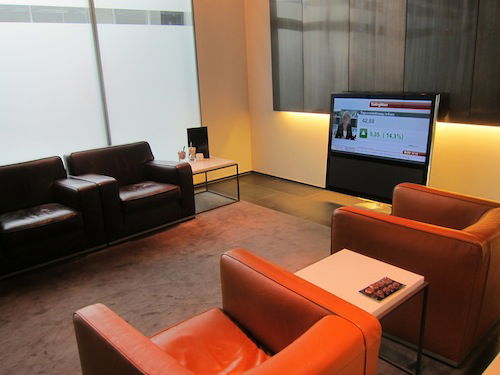 Lounge seating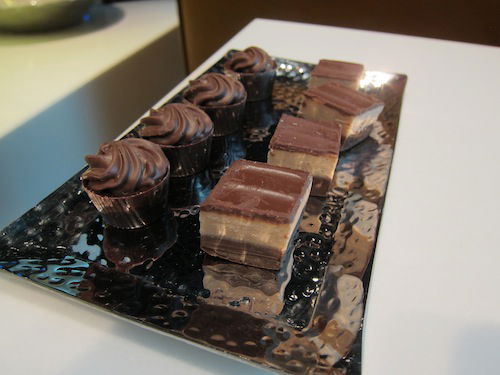 Sweets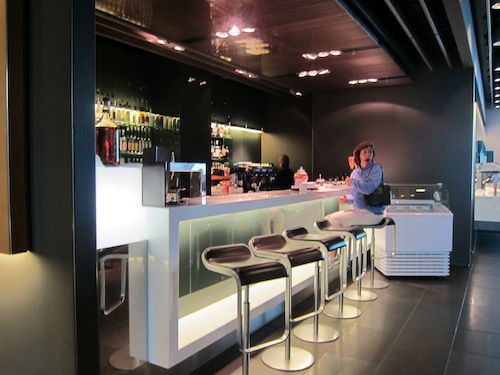 Bar
Since we hadn't had breakfast we grabbed a table in the restaurant. We were approached within a minute by a waiter offering us drinks. I went with freshly squeezed orange juice.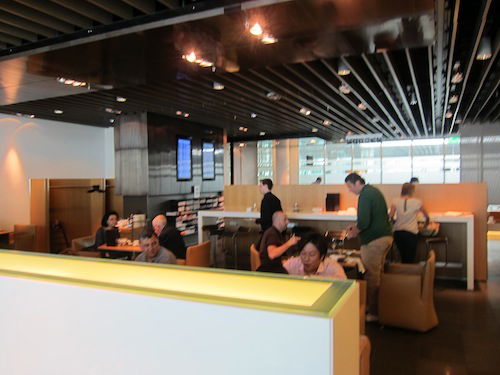 Restaurant
The breakfast buffet is probably a bit better than what you'd find in the club lounge of a nice hotel, with several cold options, pastries, breads, and also eggs.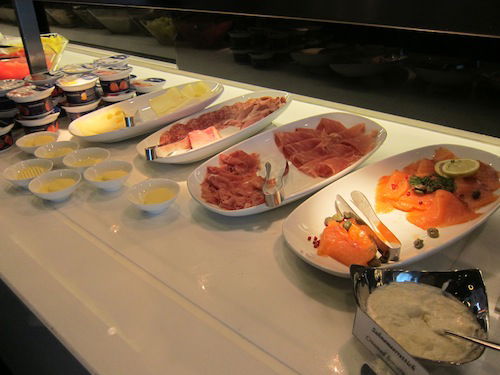 Breakfast spread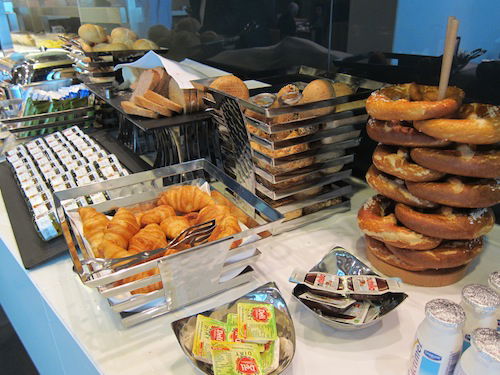 Breakfast spread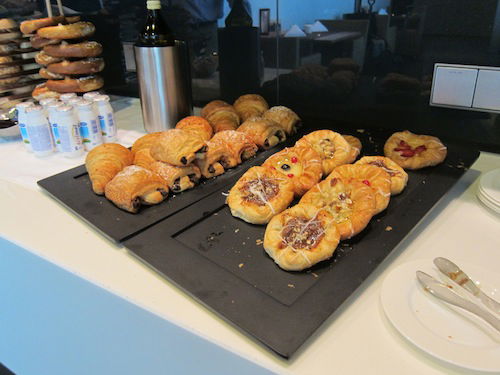 Breakfast spread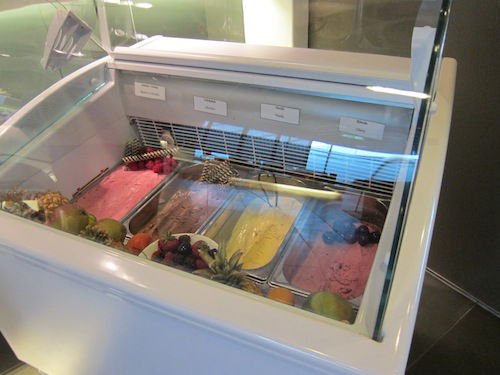 Ice cream
I went with muesli with blueberries and strawberries and was just going to go with a croissant on the side, though couldn't resist the pretzel that was at the buffet. After all, it would be one of my last on the trip!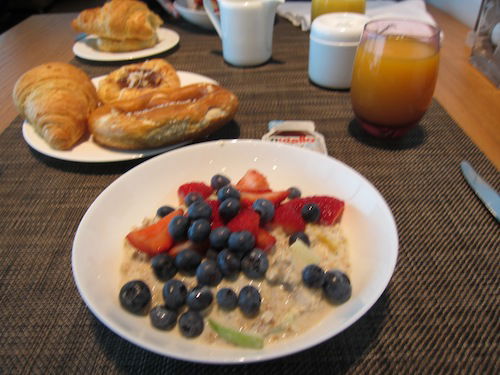 Breakfast
After breakfast we headed over to to our departure gate at around 11:10AM, as boarding was scheduled to begin. As it turns out the flight was delayed by a bit and the inbound aircraft was just arriving, so we headed back to the lounge for a few minutes. I guess there's at least some benefit to leaving from a gate close to the lounge.
Once there the agent apologized profusely for not checking on the status of the flight again, though promised to monitor closely and let us know when the flight was ready for boarding, which was about 10 minutes later.
As we headed back down to the gate, boarding was underway and our boarding passes were quickly scanned.
As I walked away from the podium, though, the gate agent stopped me and said my bag was too big.
The funny thing is that I've flown well over 100 segments in international premium cabins, and not once have I been stopped, despite most airlines having insanely low baggage allowances. I'll admit I have a standard sized US carry-on that's usually stuffed,so in a way I've been surprised that I've never been stopped. It's probably a function of being in a premium cabin.
I've always found Lufthansa to be pretty good about looking the other way when it comes to cabin baggage for first and business class passengers. Heck, I remember checking in at the First Class Terminal once where the agent said that I could carry on three bags if I wanted to, since she thought it would be easier for me (and they weren't small bags either).
Anyway, the agent asked what my final destination was, and I said Chicago. I showed her my boarding pass with the flight number, and while she didn't say anything, her colleague's eyes got wide and he said "he's in first class, just let him go."
She didn't listen and still printed a checked bag tag for me and told me to leave my bag at the jet bridge. I pushed back a little bit, and at that point she told me to ask the flight attendants, and if they said it was okay I could take it aboard.
So I simply covered up the tag and boarded as I usually would and there weren't any issues. There were even empty bins as we pushed back.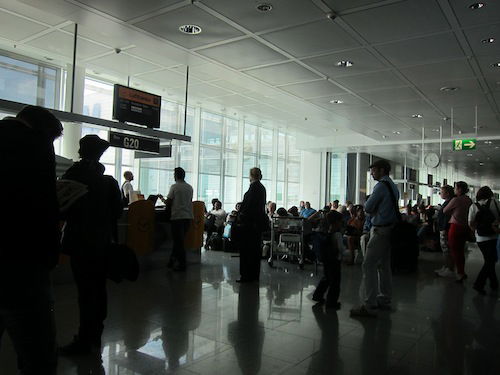 Gate
Lufthansa 111
Munich (MUC) – Frankfurt (FRA)
Thursday, August 11
Depart: 11:40AM
Arrive: 12:55PM
Duration: 1hr15min
Aircraft: Airbus 320
Seat: 5C (Business Class)
At the door the flight attendants were handing out Milka Nussini chocolates to all passengers.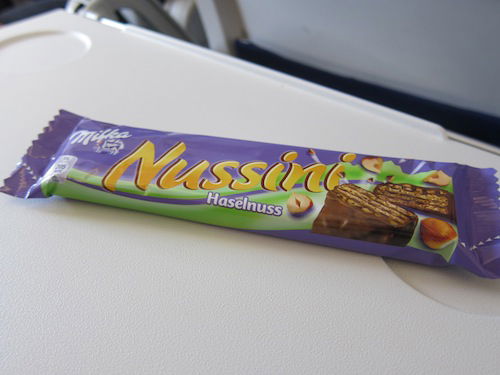 Chocolate

Air Canada 777
Boarding finished up fairly quickly and the captain announced our flight time of one hour, anticipating an on-time arrival despite our late departure.
We taxied to the runway quickly and were airborne in no time with amazing views of the beautiful countryside.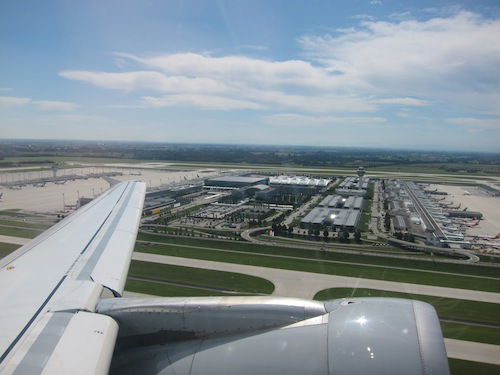 Shortly after takeoff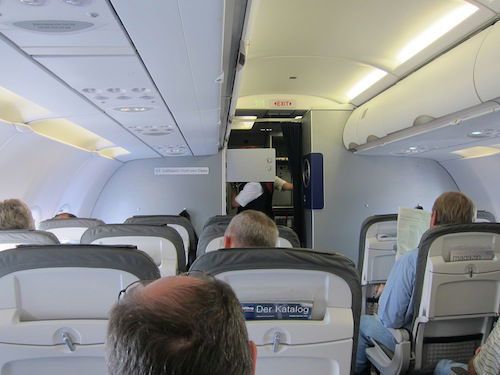 Cabin after takeoff
As we climbed through about 10,000 feet the seatbelt sign was turned off and meal service began.
I've gotta say, Lufthansa's intra-Europe meals have gotten borderline inedible, and that's coming from someone that used to like them. The only part of the meal that was decent was the dessert, and even that wasn't great.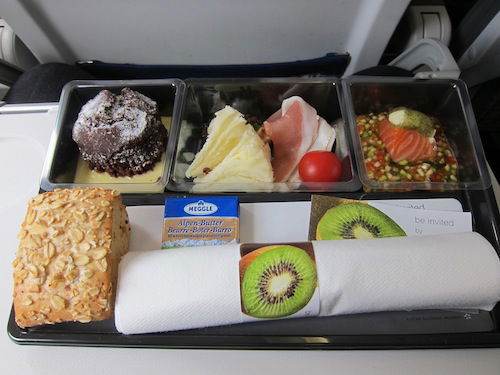 Snack
Just around the same time that all the passengers had been served meals we began our descent, and 30 minutes later touched down in Frankfurt, where we taxied past a bunch of 747s before making it to our gate in the A concourse.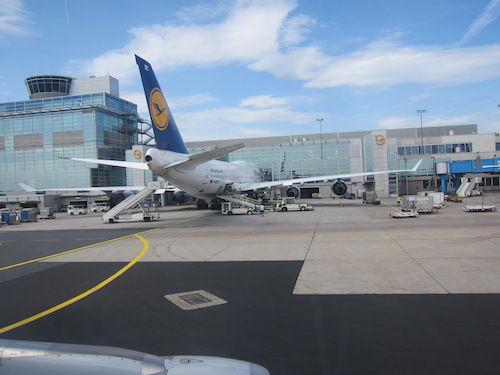 Nice bird!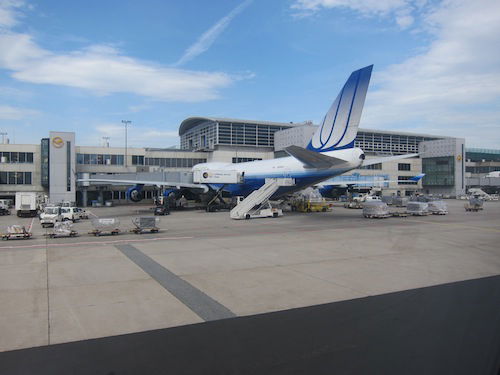 Another nice (though more senior) bird!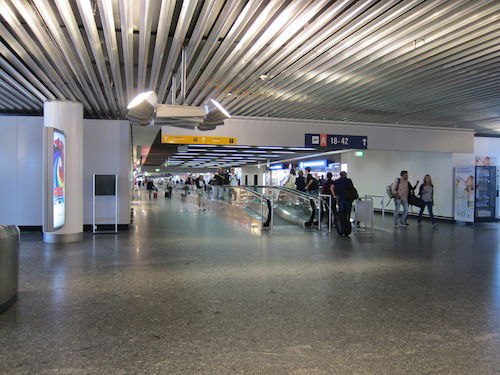 Frankfurt terminal
This is where the real fun begins!