---
British Airways 48
Seattle (SEA) – London (LHR)
Tuesday, December 11
Depart: 6:10PM
Arrive: 11:20AM (+1 day)
Duration: 9hr10min
Aircraft: Boeing 747-400
Seat: 1A (First Class)
I don't think I can properly express how excited I was to fly British Airways first class. It's not that I had extremely high expectations, but rather that I was embarrassed not to have flown it before, and figured it was a product I had to try.
What were my expectations going in? Well, I've always assumed British Airways' first class is like a really good business class product. They cram 14 seats into the nose of the 747, compared to eight on Lufthansa and nine on Cathay Pacific and Thai.
As a matter of fact I've always thought the new first class product looked a whole lot like Cathay Pacific's new business class product. I also assumed the food would be good though not great. After all, this is a British airline. 😉
Upon boarding I was greeted at the door by the lovely Scottish CSD (customer service director), who pointed me towards the nose and apologized that she couldn't escort me to my seat.
I was surprised to find that right behind first class was World Traveller Plus, British Airways' premium economy product. Apparently there was a last minute equipment swap, as we were originally scheduled to have the 747 with more business class seats (where premium economy is behind business class).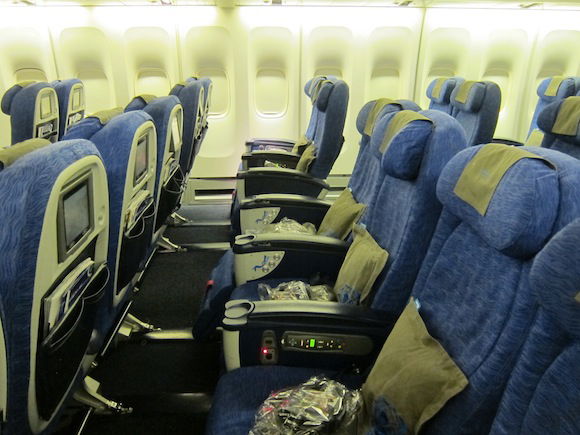 World Traveller Plus
I tried to snap a couple of pictures as I walked into the first class cabin, and got some weird glares from the crew. There was a couple with a baby in row two blocking the aisle, so I stood there for a minute waiting till they made room for me to pass by. The couple asked the crew if they could have seats in row one, though the crew explained those were reserved for Executive Club elite members, and that they could ask the passengers up front to switch if they wanted to. I pretended not to overhear that, and went about my business. 😉
My first impression of the cabin was actually extremely favorable. Yes, the nose is crowded with 14 seats, but damn the new product is extremely stylish. I had seen pictures before, though I don't think they did justice to it. I'm not usually one impressed by style, but this was seriously the most elegant cabin I had ever seen.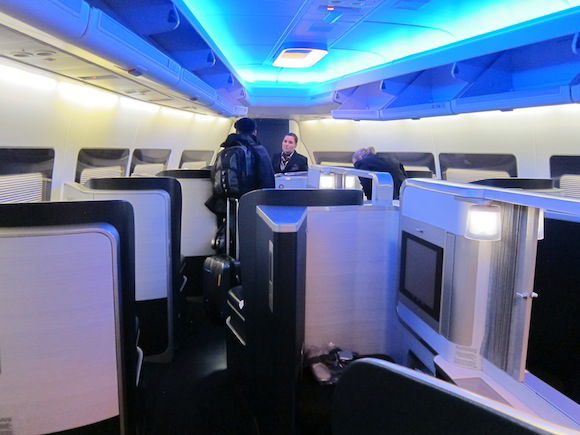 British Airways first class
The two sets of center seats seemed really tight and exposed, and I wouldn't choose to sit in them. Lufthansa has one pair of center seats on the 747, while Cathay Pacific has a single seat. Meanwhile British Airways has four.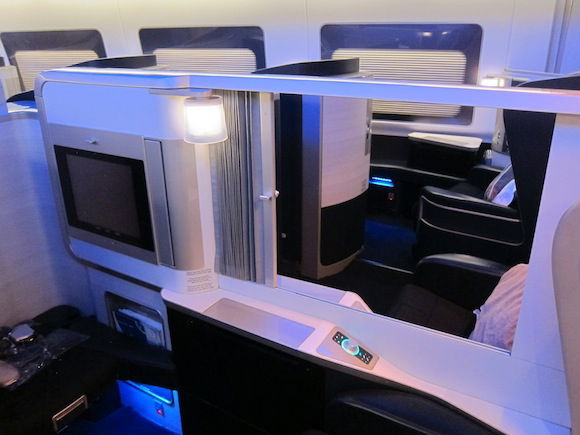 Center seats in row four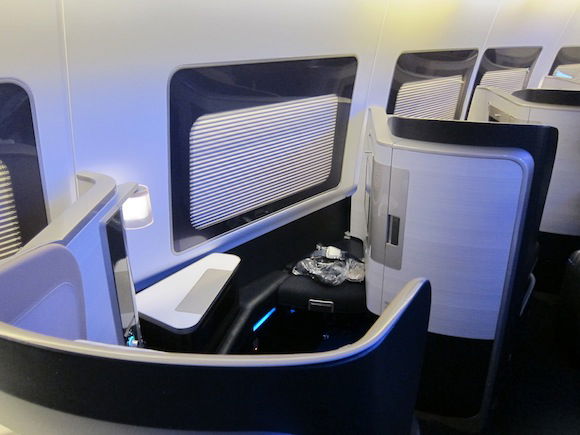 Seat 4A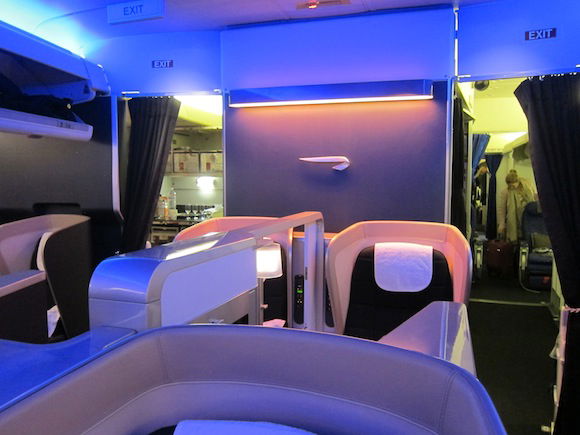 View of first class cabin from the front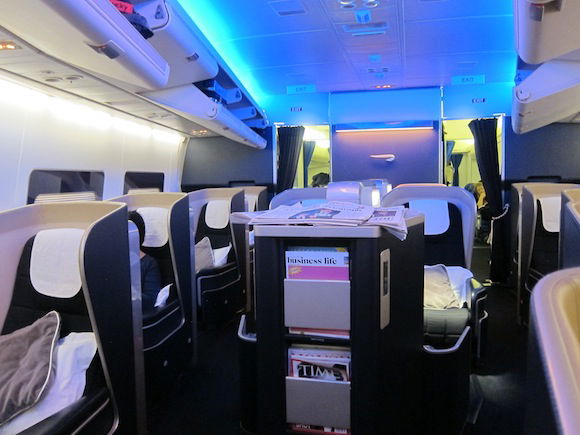 View of first class cabin from the front
I settled into 1A and explored the seat a bit. There's a pretty cool window shade feature which adds to the stylish feel of the cabin. By the seat is a lamp, the seat controls, and a small compartment with remote control. There were also two pillows on my seat.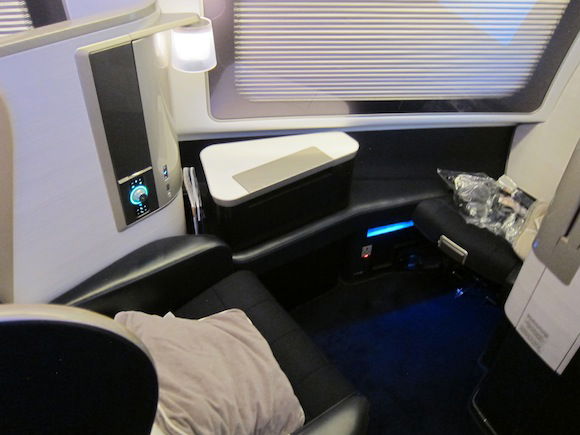 Seat 1A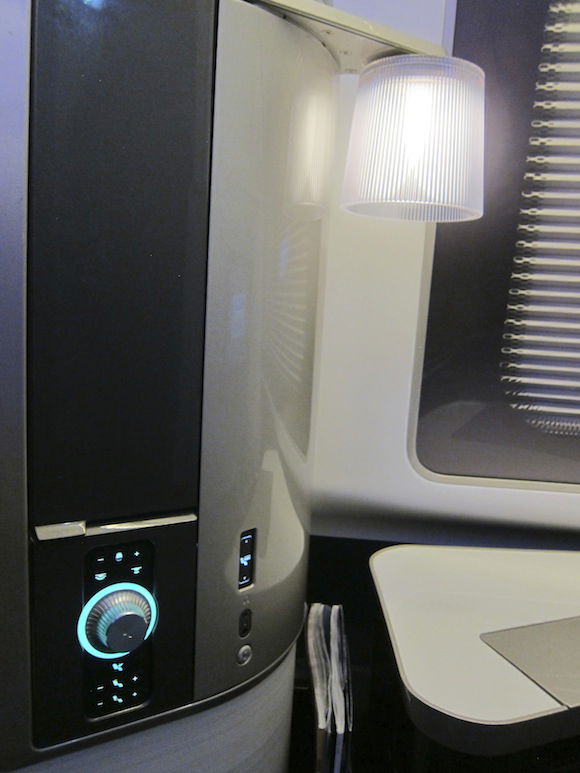 Lamp, seat controls, and a compartment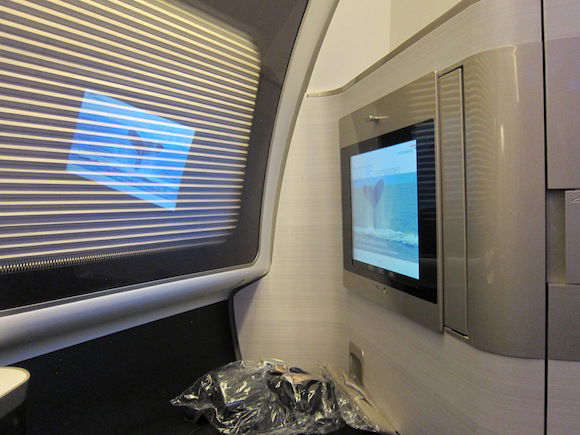 Seat 1A
There was also a set of slippers, headphones, and a blanket on the ottoman of the seat.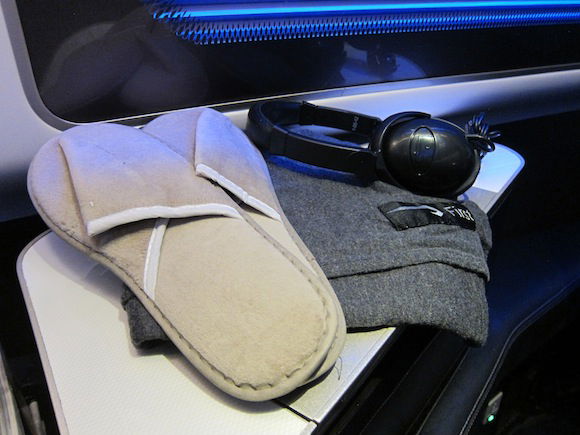 Slippers, headphones, and blanket
By the front of the seat was a narrow closet for coats.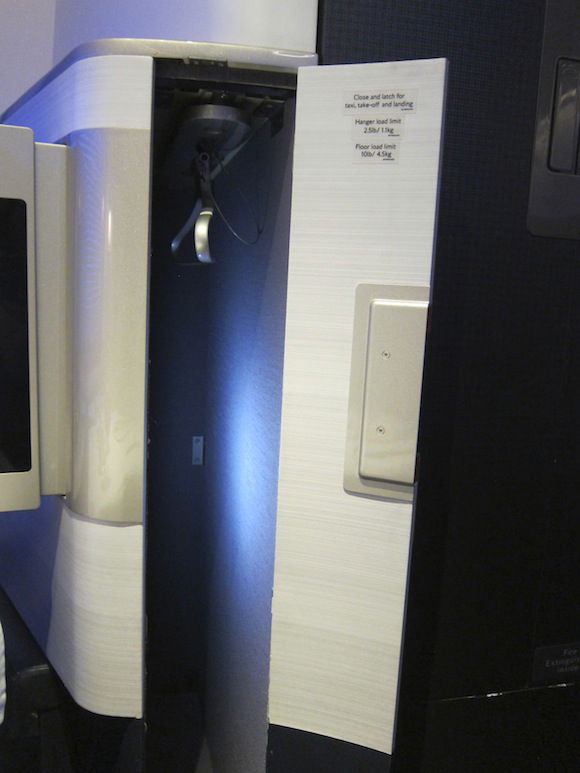 Coat closet
Once I was settled in the crew slowly began their service. I was first offered a pre-departure beverage and requested a glass of champagne, which was Laurent-Perrier.
I was then offered pajamas and an amenity kit. I consider myself to be a pretty tough pajama critic given that I wear them about 90% of my life (the joys of being a stay at home blogger), and British Airways' are probably my favorite. They're comfortable, light, and have "FIRST" written in big letters on the front. What more could one want? 😉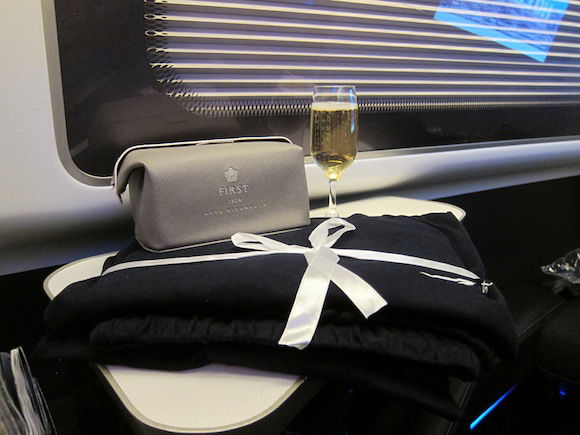 Champagne, amenity kit, and pajamas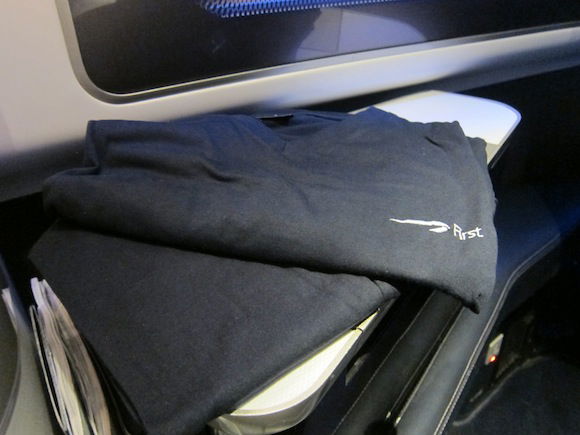 Pajamas
The amenity kit was also quite nicely stocked, though more than anything else I liked the case it came in (which is the part of the kit I actually use long term).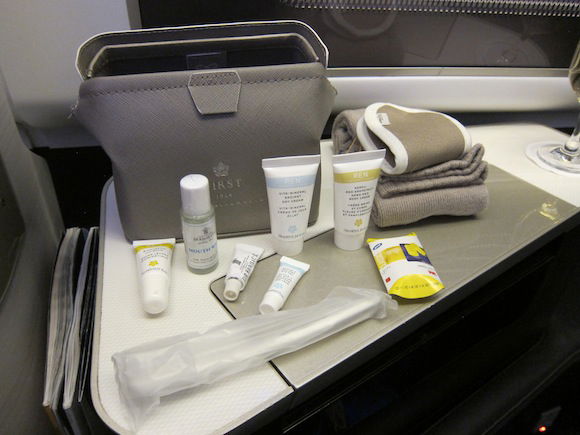 Amenity kit contents
At the beginning the crew was cold as could be. No smiles, and as I was taking pictures one crew member asked if it was my first time in first class (though she didn't say it in an especially condescending way, she asked more out of curiosity). They really warmed up as the flight progressed, though, as I'll get into in a bit.
After being settled in for a few minutes I was offered a menu. British Airways has the most compact first class menus I've ever seen, which might sound like a complaint, but I actually kind of liked it. It was a single small booklet containing the menu and wine list. Compare that to Lufthansa's 22" menus and wine list, where you get a new menu with each service. Since I keep menus, British Airways' compact menus certainly worked well with my limited carry-on space.
At around 8:10PM the captain came on the PA to introduce himself, apologize for the delay, and inform us of our flight time of 8hr51min, anticipating an arrival in London shortly before 1:30PM.
One thing I love about flying British airlines is the announcements. I don't know any other airline that announces which terminal you're flying to as if it's your destination. As we departed the CSD welcomed us aboard our service to "London Heathrow terminal five." I also love how Brits put "the" before the flight number, so it's really "welcome aboard the BA48 with service to London Heathrow terminal five." Pure awesomeness.
As the door closed the first class cabin was half full with seven seats taken, so it was a nice light load.
We began our fairly long taxi to runway 16L, which is located on the other end of the airport, where we had a rather quick takeoff roll.
There was some turbulence on the climb out, and I took the opportunity to play around with the entertainment system, where I decided to watch some sitcoms. You can control the entertainment system either by touching the screen or with the remote.
It's worth noting that British Airways recently changed their policy so that the entertainment system is now available during taxi and takeoff as well, which is great. The actual selection was quite good, though I didn't like how they "bundled" some shows. In other words, some sitcoms had three shows in a single video, so if you wanted to see the second or third episodes you had to fast forward through the first one(s), instead of just being able to pick which ones you wanted.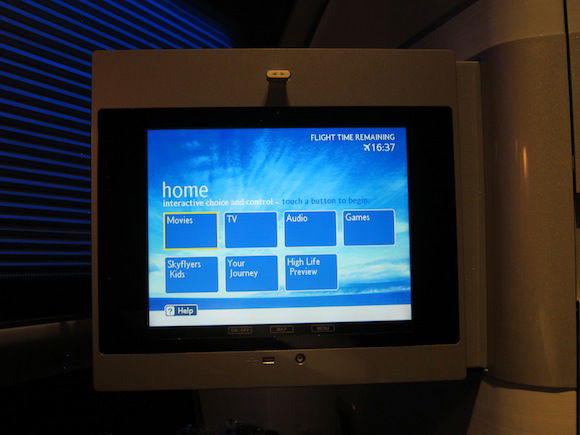 Entertainment system
About 15 minutes after takeoff the seatbelt sign was turned off and crew sprung into action.
The CSD, Alex, welcomed aboard each first class passenger with a hand shake, and was quite charming. She commented about how she loves laying over in the US and "supporting the US economy" (with shopping).
At this point one of the other flight attendants took meal orders. The dinner menu read as follows: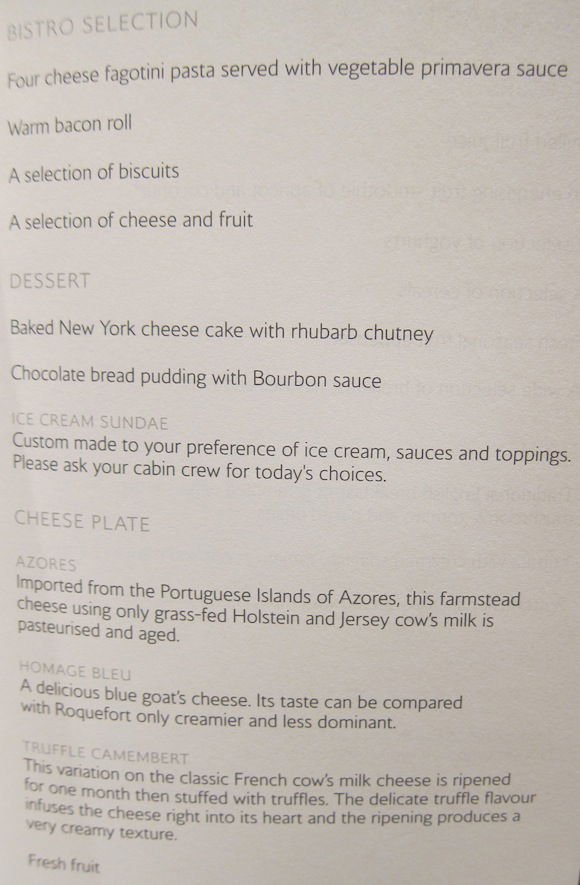 And the wine list read as follows: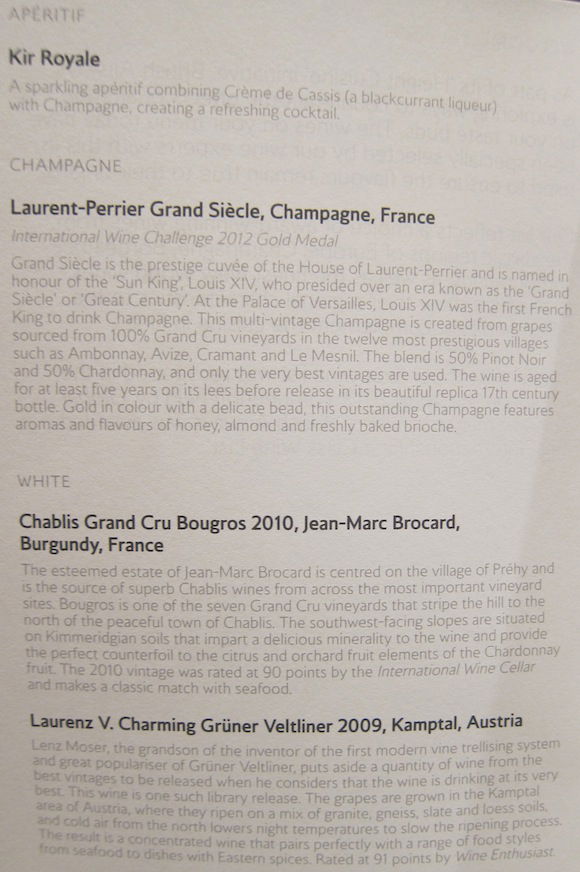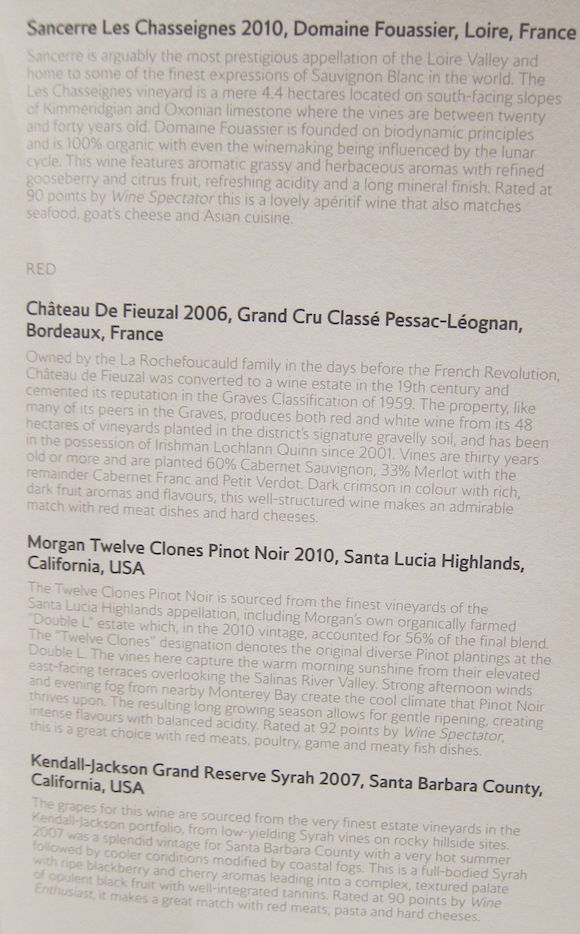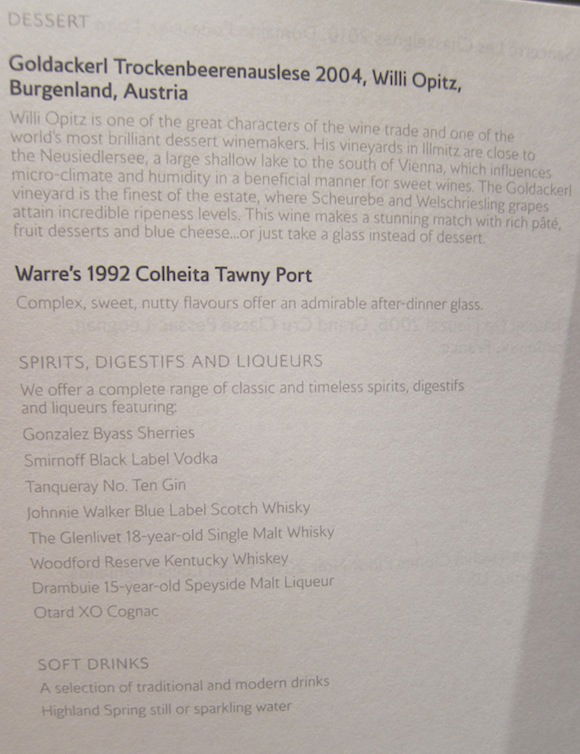 I ordered a Diet Coke to drink, which was served with mixed nuts.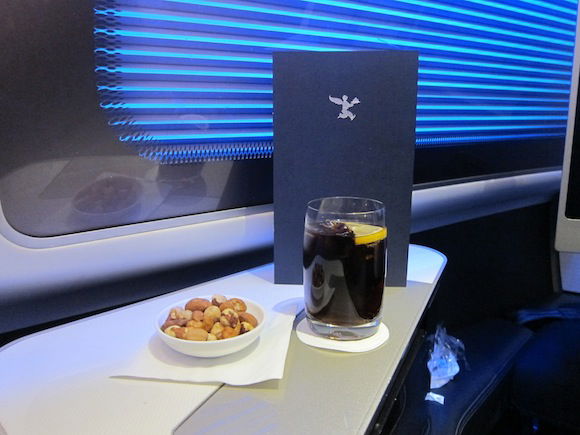 Menu, Diet Coke, and mixed nuts
At that point the table was set and bread was offered from the bread basket. I also ordered a Kir Royale to go along with my prosciutto canapé.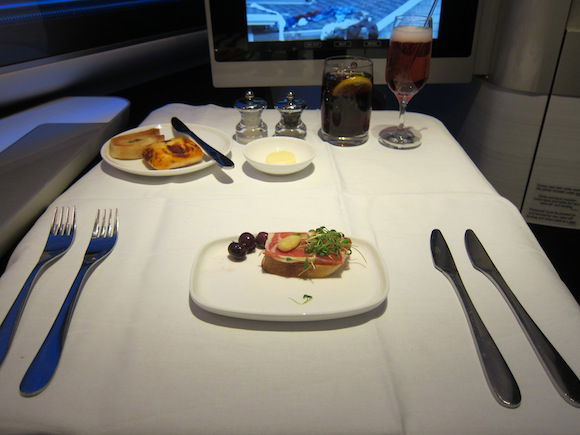 Prosciutto canapé
The first course was poached lobster, which was probably the highlight of the meal (okay, except for dessert).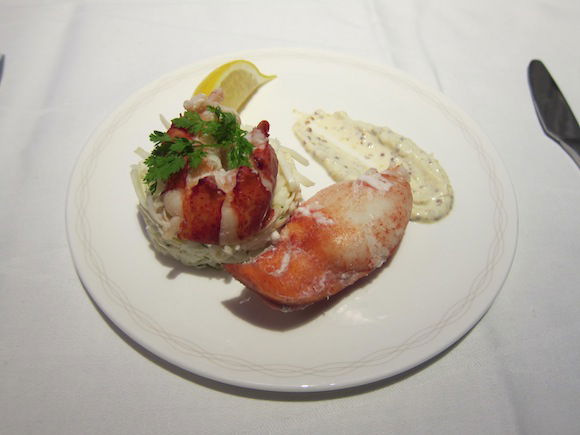 Poached lobster and shaved fennel and creamy Pommery mustard dressing
The second course was a tomato and mozzarella tart. It tasted a bit like a combination of pizza and quiche, and tasted good (though didn't feel especially "first class" compared to the caviar and salmon offered by other airlines).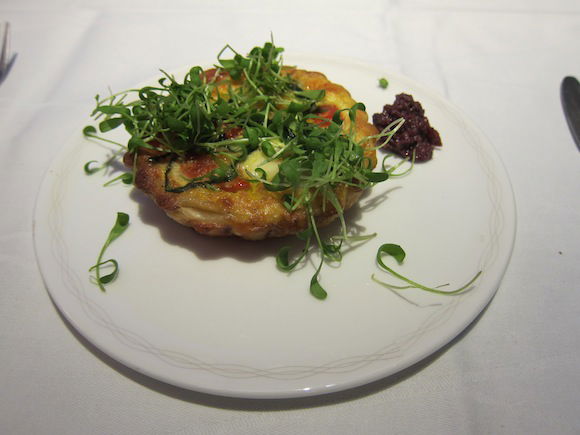 Warm vine tomato, mozzarella and basil tart with olive tapenade and micro basil
I was pretty full at this point but also wanted to save room for dessert, so ordered the Asian chicken salad. Definitely not a very "first class" entree, but I was curious to see what it tasted like. I assumed it would at least be well executed since it is international first class, though I can't really say it was.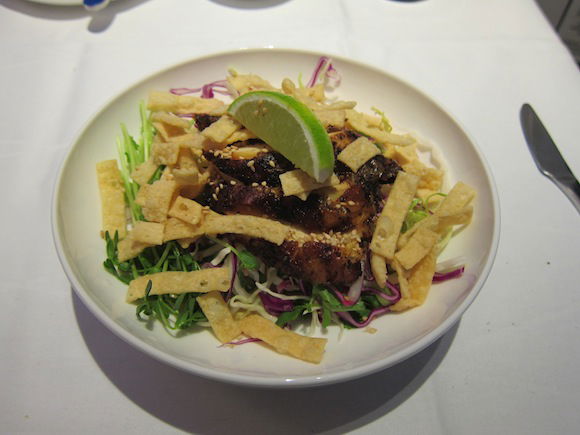 Roasted breast of chicken and Asian coleslaw salad with wontons and Asian dressing
I struggled a bit with dessert, since I've heard good things about the ones British Airways serves. The chocolate bread pudding sounded good, though the ice cream sundae did as well (more than anything I wanted to see how it compared to those of US airlines). Per the flight attendant's suggestion I tried both, since she said they had plenty.
I only had a couple of bites of the bread pudding, which was pretty "eggy," though still tasty.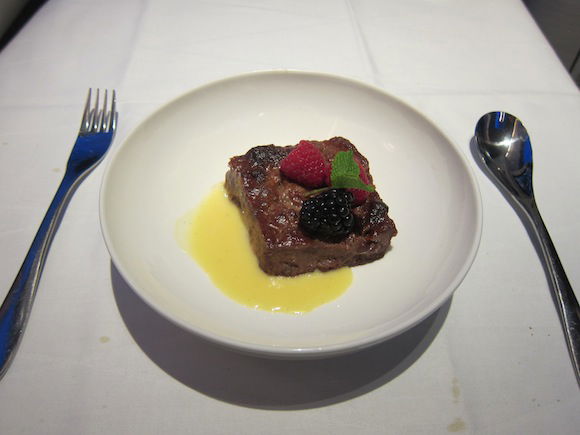 Chocolate bread pudding with Bourbon sauce
The real highlight was the ice cream sundae, which I think might just have those of US airlines beat.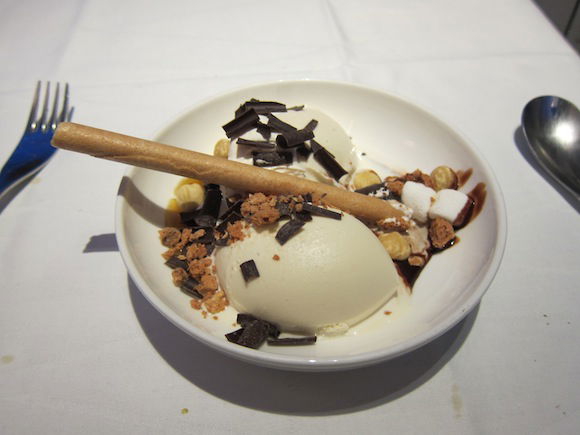 Ice cream sundae
Dinner was done about two hours into the flight, interestingly enough without a single hot towel service. I'm not sure if British Airways just doesn't have hot towels or if my crew just didn't offer them, but I was a bit surprised. At this point I requested turndown service, which the crew quickly took care of.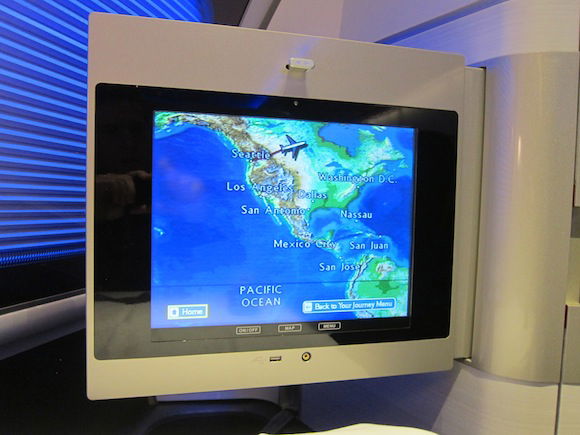 Location after dinner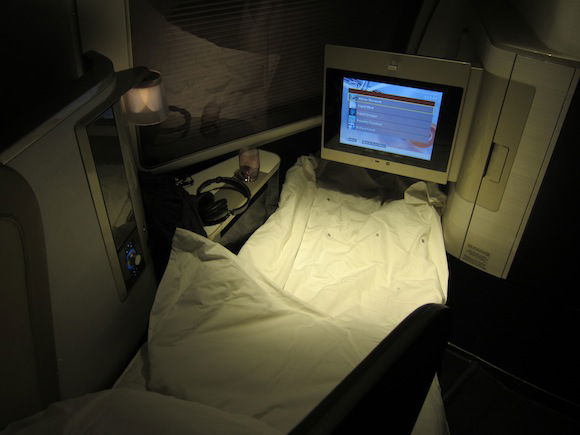 Turndown service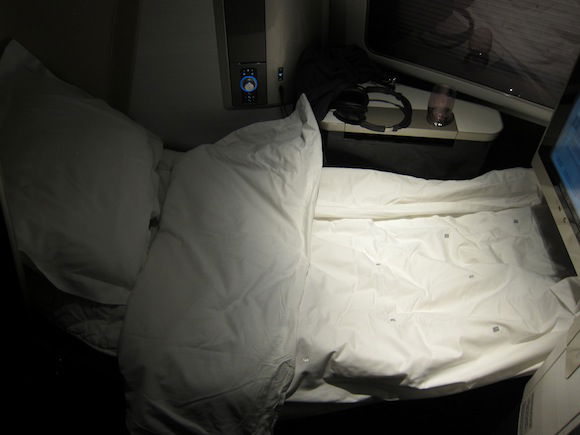 Turndown service
While the bedding was comfortable the seat wasn't especially well padded or wide in the reclined position, and definitely felt more like a really comfortable business class bed than a leading first class bed.
The other thing worth noting about the seat that's truly mind boggling to me is that there's no storage. Literally zero storage. Nada. None. Even Cathay Pacific's business class has ample storage, so I'm not sure how that's the case.
Anyway, I slept well for over four hours, and woke up about 90 minutes out of London.
Within about 10 minutes the crew took meal orders for breakfast. The menu read as follows: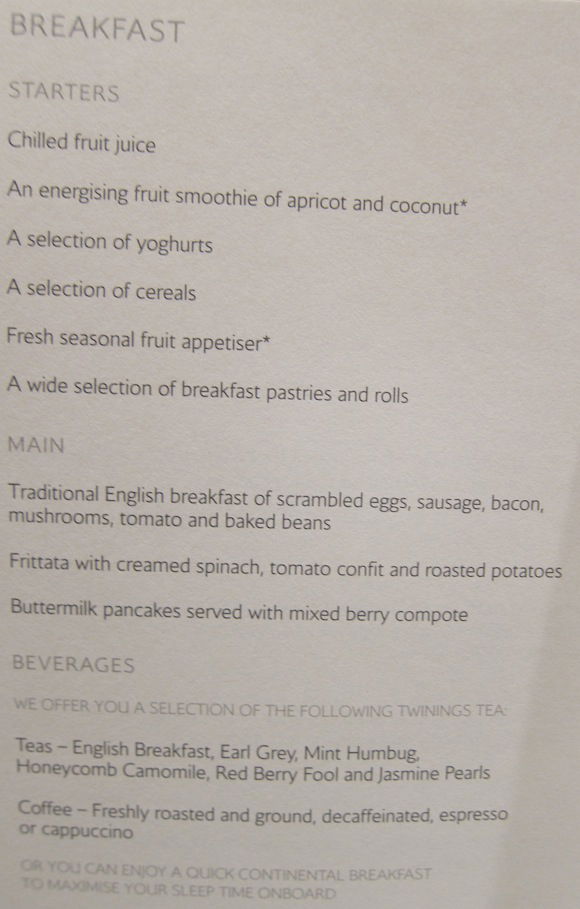 I ordered some fruit, yogurt, and the pancakes. To drink I had a glass of orange juice and English breakfast tea (apparently in England it's simply called breakfast tea… who knew?).
The fruit tasted fresh and was varied, and the strawberry yogurt tasted good as well.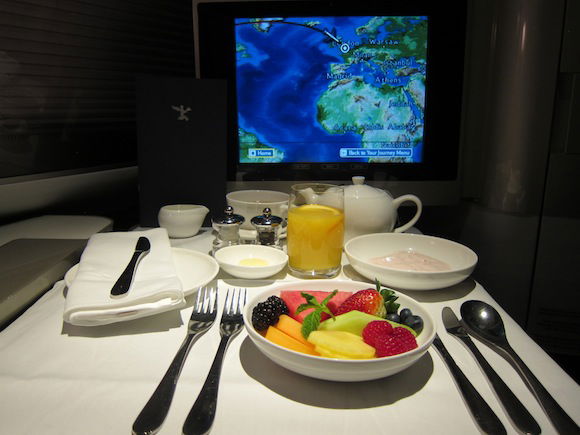 Fresh seasonal fruit appetizer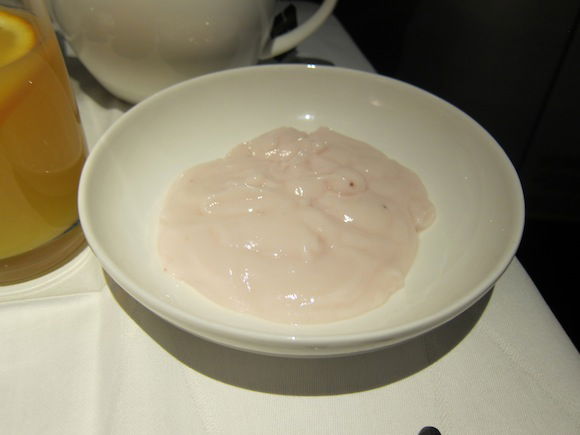 Strawberry yogurt
There were also a variety of breads in the bread basket, and I selected some toast and a croissant.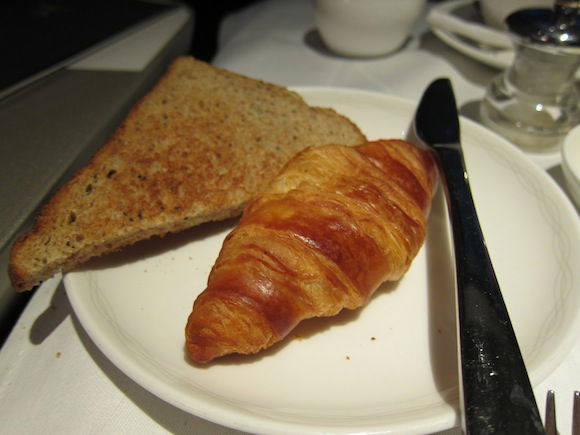 Toast and croissant
For the main course I had pancakes with fruit compote, though I'm convinced they were actually scones. Look at how girthy those monsters are!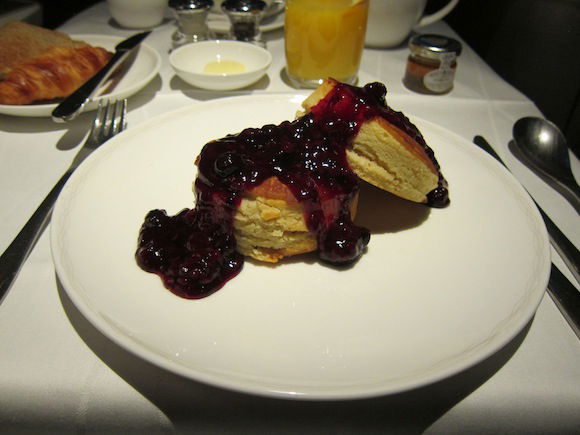 Buttermilk pancakes served with mixed berry compote
My friend woke up as I finished breakfast and wanted the pancakes as well, though the (in the meantime) friendly flight attendant said "you snooze you lose, can you believe they only cater one of those for a 14 seat cabin?"
And over the flight the crew definitely warmed up. I'm not sure if it was just that they were stressed during boarding or if it was because we were nice to them, but by the end of the flight they were awesome.
Just one small example. As we began our descent the toddler in row two walked up to my seat and kind of just stood there and stared at me for a good two minutes. The flight attendant looked at him and said "say hi to Mr. Lucky he's going to Dubai." Impressive she knew, since we hadn't discussed where I was headed. And for that matter I had never been addressed by name up until that point.
About 30 minutes out we began our descent, and had an uncharacteristically direct approach into Heathrow. Shortly before the final approach the cheery CSD, Alex, once again made a round to bid everyone farewell.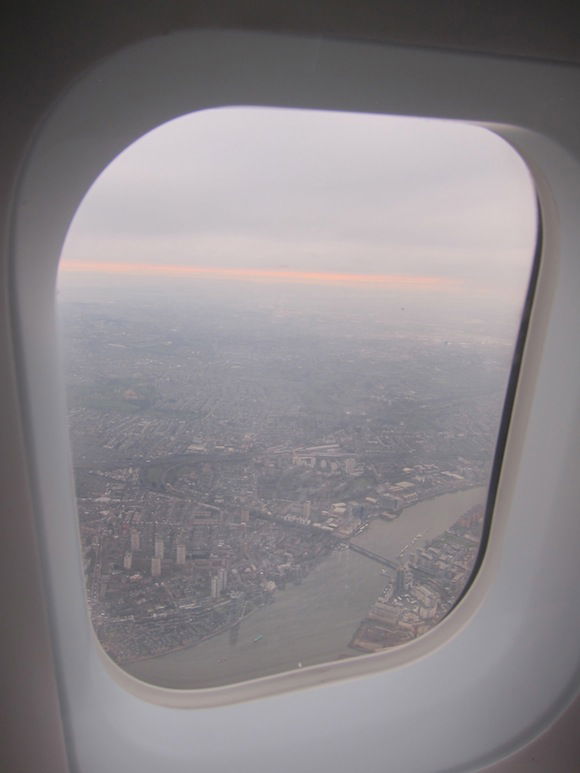 Approach into Heathrow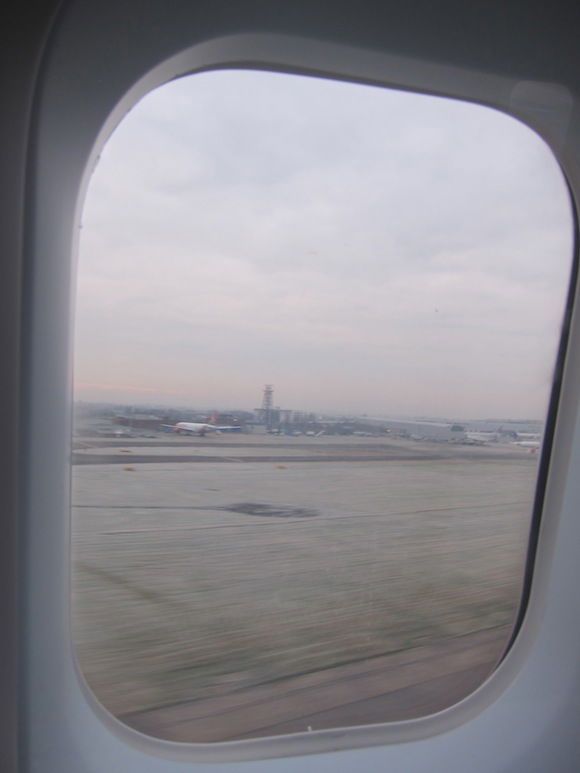 Final approach into Heathrow
We touched down right around 1:30PM into a foggy Heathrow, and quickly taxied to terminal five. We were about two minutes from pulling into our gate when the first officer came on the PA to inform us that our "stand" was still occupied, though he assured as that they'd "have [us] in the stands shortly." That was rather surprising given that we were, ya know, two hours late, but oh well.
He said it shouldn't be more than a few minutes. After not moving for 10 minutes we began taxiing around terminal five, as another aircraft needed to access the alleyway and we were blocking them. So we probably taxied a mile aimlessly about Heathrow. Then we came to a stop again. And then we taxied to the other side of terminal five once again to make room for another aircraft. After waiting for about 40 minutes we finally made it to our arrival gate just minutes after the 777 occupying the gate pushed back.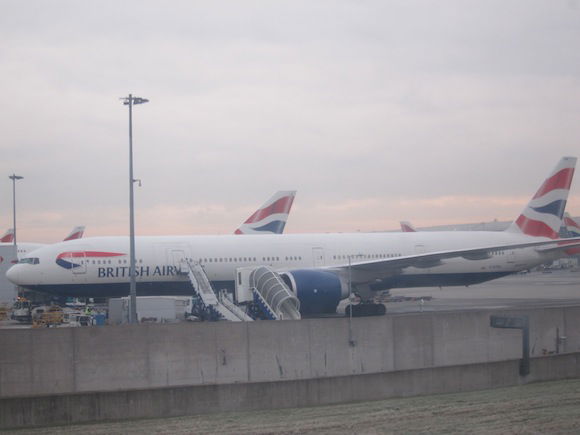 777-300ER parked at terminal five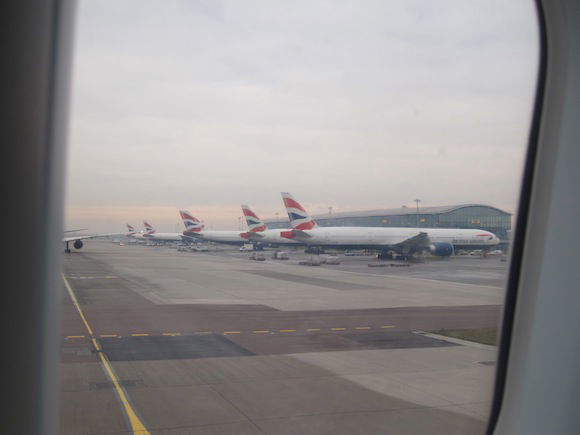 Terminal five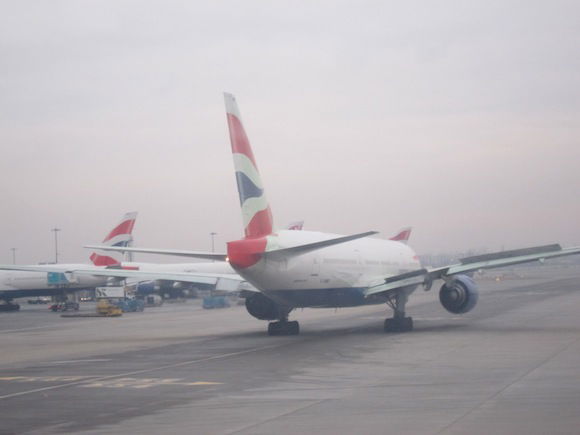 777 we were waiting for all along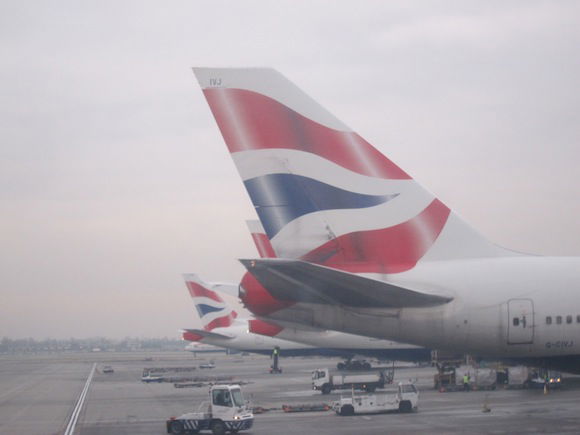 Pulling into our stand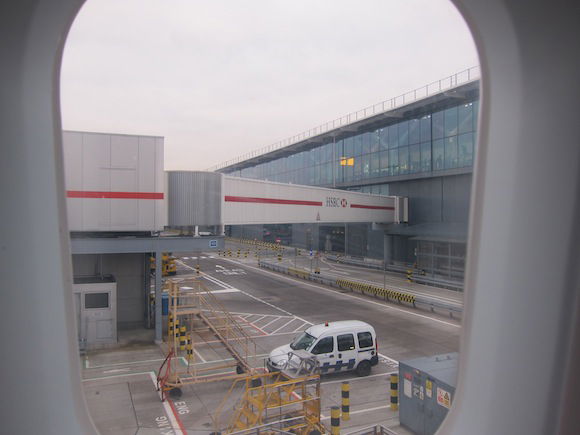 Parked at our gate
The funniest part of the filght was actually after the seatbelt sign was turned of. Door 2L was being used to deplane, which is located behind World Traveller Plus. That's no big deal, I don't mind waiting a couple of minutes to deplane, though the CSD insisted first class passengers be the first off the plane. So we were literally dragged with our carry-ons past the World Traveller Plus passengers. And let me say, walking through a full aisle with bags is no easy challenge. It was made only more awkward by the CSD loudly saying "pardon us, first class coming through." Hah…
Little did I know at this point that our day was about to get much better.
So how do I rate/sum up British Airways first class? Well, I think my expectations were spot on – it's a really nice business class product, maybe the best in the world. Among European airlines it's probably also among the best first class products. Then again, among European airlines only Swiss, Lufthansa, Air France, and British Airways have a first class cabin (as far as I know). I'd rate Lufthansa and Swiss better than British Airways in terms of their first class products, while it has been over five years since I've flown Air France first class.
That being said, there's some mystery element to British Airways first class that makes me really like it, though I can't quite describe it. The cabin is extremely sexy/sleek/stylish. Maybe it's the lure of traveling into/out of London, which is an amazing city though horrible airport (though terminal five is nice at least). Or maybe it's just the lure of how you can't use miles for British Airways first class without paying fuel surcharges. Does the fact that you have to actually pay for the product create a perception of it being better?
Let me say this – if you are using American miles for a first class award ticket to Europe, I definitely think it's worth paying the premium in fuel surcharges to fly British Airways over American.
To those of you that have flown British Airways first class, what are your thoughts?