---
ZRH isn't half bad compared to FRA, but it's not the most fun airport to transit either. Upon deplaning I headed down the escalator and had to take a train to the main terminal. Unfortunately the train runs rather infrequently, so half of the passengers from my flight were at the platform by the time the train arrived. On the other end I headed towards the connections sign, and after walking a while found the right concourse. I headed through security, and was told to leave my belt on, despite wanting to take it off (since I know it sets off the metal detectors in ZRH). As expected I got the full pat down, which really pisses me off. It's not like the TSA, where they hardly touch you, but instead they fully grab you just about every place known to man. It pisses me off every time.
On the other side of security I realized there was no lounge in that gate area, so I had to leave security again. I headed to the closest Senator lounge, since I really just wanted to check my email. At this point I was sweating, since the terminal was hot as hell and I was wearing a coat and long pants.
The agent at the front desk of the Senator lounge could best be compared to Carol Beer based on her attitude. If you're not familiar:
https://www.youtube.com/watch?v=_3mswfndknU
It was funny when an older American couple walked into the lounge and the husband loudly proclaimed "see, the air conditioning is broken." Nah, it's not broken, that's just how hot they like to keep the airport.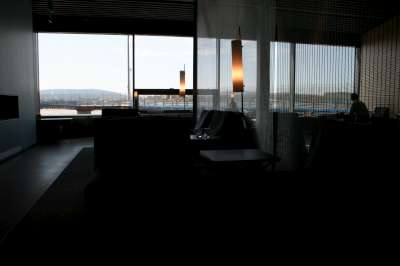 Senator lounge
Within about 20 minutes I headed back to security, and this time insisted on taking off my belt to avoid the "royal" treatment yet again. On the other side of the terminal I was genuinely delighted to find out that my flight was leaving from a remote gate. Great, from a private international first class cabin to a Greyhound station! 😉
Of course remote gates (scratch that, any flight out of Germany/Switzerland) means boarding is a complete free-for-all, so I just waited until basically everyone was aboard, although I was sweating like crazy in the meantime. Eventually they wrapped up boarding and I got on the last bus.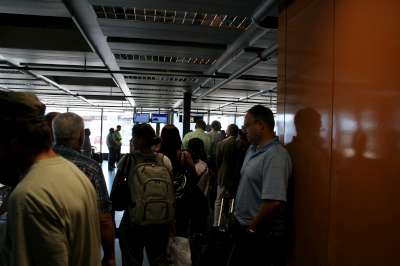 Hot gate area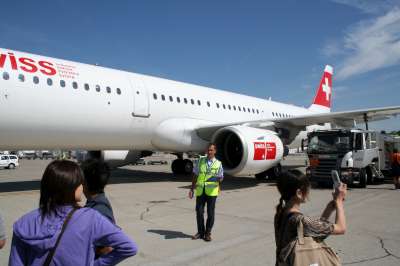 A321 to LHR
The queue to board the plane could best be compared to a line for a ride at Disney World.
Swiss 0332, ZRH-LHR, 321
Monday, August 17
Depart: 12:05PM
Arrive: 1:00PM
Duration: 1hr55min
Seat: 3C (Business Class)
Once aboard the maitre de cabin pointed me to my seat. The window seat was already taken, and I was quite peeved when I saw that the person in the window not only had carry-ons bigger than mine, but also took up the space under his seat and the entire space under the middle seat. I stored my bag in the overhead bin.
As boarding finished up he suggested I move to the empty row in front of us, which I did. As the door closed bottles of water and towelettes were distributed to business class passengers, followed quickly by Swiss chocolate.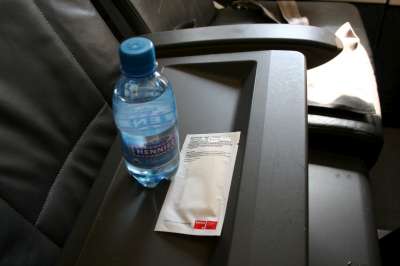 Water and towelette
Boarding finished up right on time, although we didn't move for nearly 20 minutes without so much as a peep from the flight deck. Eventually we pushed back and started taxiing, but we came to an abrupt stop just near the runway. After a few more minutes the captain came on the PA, welcomed us aboard, and explained that we were originally delayed because they had to remove a bag from the plane, but they were just informed that they forgot to detach a headset from the nose gear, so they were sending out a car to remove it now. Oops!
It did in fact only take a few minutes, at which time we were cleared for takeoff immediately.
As soon as the seatbelt sign was turned off, service began. First there was a round of drinks, followed by the lunch service. Since this flight was only about 1hr15min in the air, service was nonstop. The flight attendant was extremely professional as well, as he memorized everyone's name in business class.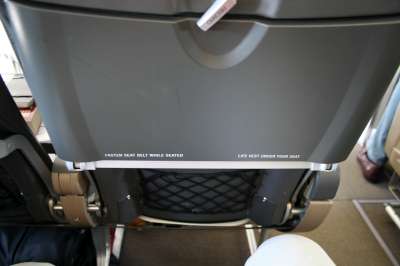 Crappy intra-Europe business class!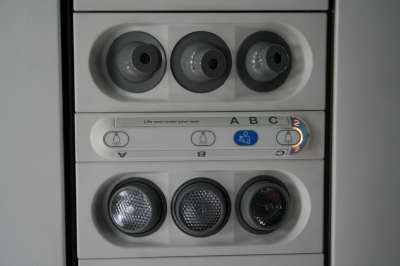 AIR NOZZLES!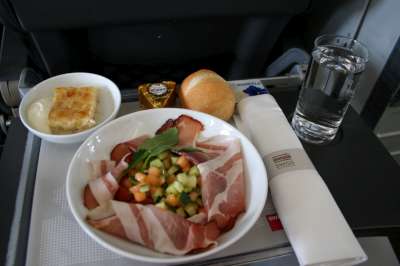 Lunch
While the services offered in intra-Europe business class are impressive, I would take a United domestic first class seat with zero service over this any day of the week. The business class seats are just normal coach seats with the middle seat blocked. It's just far too uncomfortable, especially after getting off an international first class flight.
As we approached London the captain informed us that we were put in a holding pattern, although that didn't last for more than ten minutes. Soon enough we were cleared to land, and after a quick taxi made it to London right on-time (see, US airlines aren't the only ones that pad their schedules like crazy).
Would someone please remind me why the hell I chose to connect at LHR? It's simply the worst airport in the universe. After walking what seemed like a 5K race I made it to the connection bus. No, this wasn't your average quick transfer bus. The ride was long enough for me to actually expect a meal service and after a while I was fully expecting to be driven all the way to Istanbul.
Then I finally make it to terminal 3. Almost there, right? Wrong! I get in the flight transfer line, although it's ridiculously long (and there's no premium line either). It's hot, I'm tired, and I simply don't want to stand still. So instead of waiting I decide to go through immigration, go to the check-in counter to get my boarding pass, and then go through security faster thanks to Fast Track.
This did indeed work out faster. I went to the immigration line, and there was a UK/EU line and a non-UK/EU line. I went up to the lady working there at the end of the line and asked her which line was faster (I have both a German and US passport, so I could go with either, and I really couldn't tell which was shorter due to the weird snaking of the lines). She tells me I need to use the line for my passport, and I said "yes, so which line is faster" (yeah, I was trying to have fun with her). She then says "sir, you don't understand, you can only use the line based on your citizenship." Eventually she gives in and tells me the non-UK/EU line is faster, so I take that one.
Within five minutes I'm at Turkish Airlines check-in, where I was immediately helped. The agent gave me my boarding passes and I explained to her that my brother should be arriving shortly (since his flight was due into LHR 30 minutes after mine). She was confused at first, but eventually understood. She also asked whether we needed a limo service in Istanbul. One of the nice things about Turkish Airlines is that they offer their first class passengers a limo service both to and from the airport in Istanbul.
I had arranged this in advance, but it seems like they didn't do it properly. This wasn't a problem, but she confirmed they would meet us at the plane upon arrival.
I zipped through security, and five minutes later found myself in the Singapore Airlines Silver Kris Lounge. There I was invited into the first class section, which was totally empty (the Singapore Airlines Suites effect, as I'll call it). I asked the agent to let my brother know I'm here whenever he arrives, which she agreed to.
The lounge was fine, nothing special really, especially for a Singapore Airlines first class lounge. Ultimately I wasn't interested in food or anything else. All I wanted was internet and a shower, and they met both of those needs.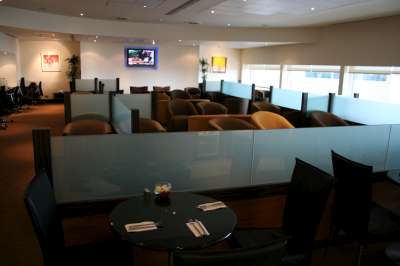 First Class Silver Kris Lounge LHR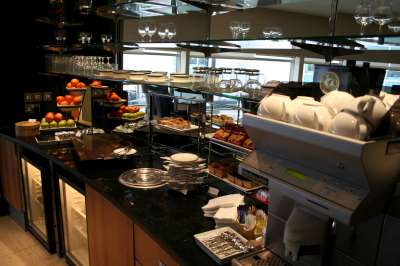 First Class Silver Kris Lounge LHR Snack Selection
My brother arrived 30 minutes after I did, and it was nice to see him, even if about 12 hours late. We talked about our flights, and it seemed like we both had good experiences (although mine was better, and I'm sticking to it). 😉
Since we were the only ones in the lounge there was no bartender, so my brother asked the lady at the front desk for a glass of champagne. Throughout our stay she had a great sense of humor, so she later not only brought him a glass of champagne, but….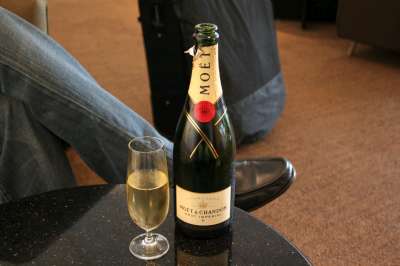 That's what I call attentive service!
At around 3:30PM we decided to head towards our departure gate, and were happy to have left early. Initially our flight was supposed to leave from gate nine, which is right near the lounge, but we quickly learned that it was leaving from a gate on the other side of the terminal. So after a 15 minute walk we did make it to our gate, right at boarding time.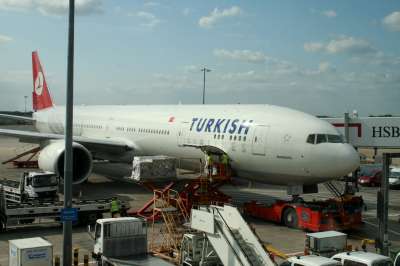 777-300ER taking us to IST
As boarding time came around there was all of a sudden a mad rush to the rather narrow boarding area. I hadn't heard an announcement for boarding, so I wasn't sure if there was something they knew that we didn't. There were literally 200 people scrunched up in a small space. At that point one of the gate agents made an announcement telling everyone to be seated immediately.
Shortly thereafter boarding was announced, starting with first and business class. As we were trying to board a passenger came up behind my brother and said "excuse me, I'm in business class." Oh no he didn't….
Turkish 1992, LHR-IST, 77W
Monday, August 17
Depart: 4:30PM
Arrive: 10:20PM
Duration: 3hr50min
Seat: 2G (First Class)
Upon boarding we were immediately escorted to our seats in the first class cabin. I was shocked when I entered the cabin, as it was easily the most private one I've ever seen. It's worth pointing out once again that the Turkish 777-300ERs are being leased from Jet Airways, so all the seats are their designs.
The cabin has eight seats in total, and my brother and I had the two center seats in row two. We were informed that we would once again be the only two passengers in first class. Two for two!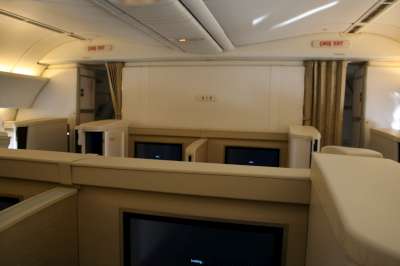 View from my suite

My seat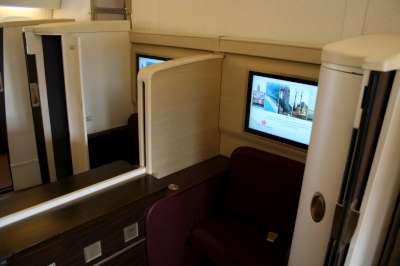 Talk about privacy!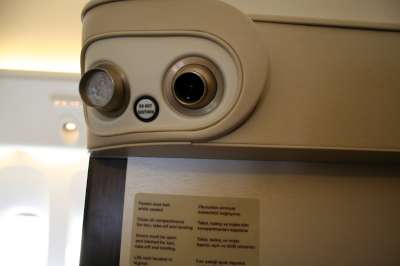 AIR NOZZLE!
The coolest thing had to be that each seat had doors which could be closed. Talk about ultimate privacy!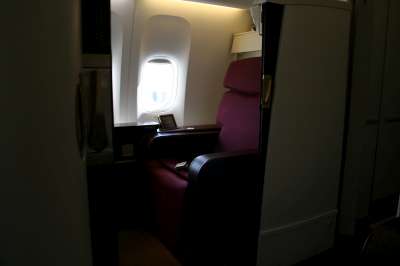 Suite 2K
As soon as we settled in we were offered a choice of hot and cold towels, and we both went with hot towels.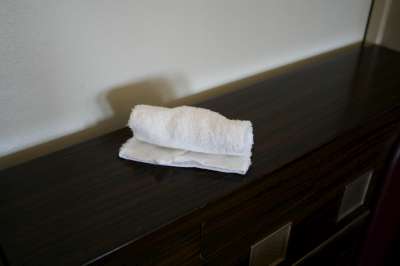 Hot towels
We were then offered a selection of juices. My brother was saddened by the lack of pre-departure champagne. The drinks were accompanied by a bowl of warm nuts.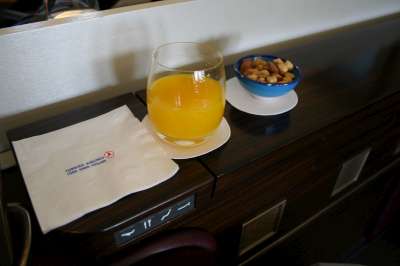 Pre-departure orange juice and nuts
We were then offered noise canceling headphones, an amenity kit, shaving cream, and a razor.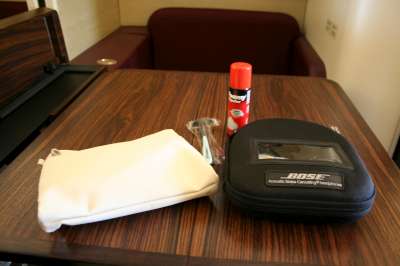 QC2's, amenity kit, and shaving stuff
I was happy to see that the items in the amenity kit were from Bulgari.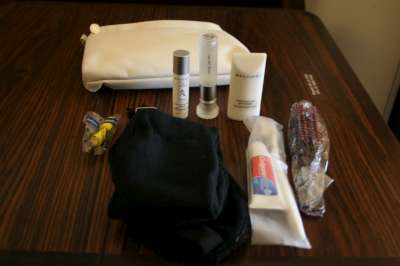 Amenity kit contents
Shortly thereafter menus were distributed.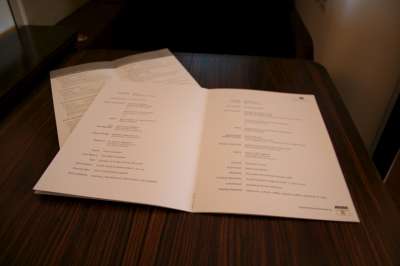 Menus
Departure time quickly approached and the doors were shut. We indeed had the cabin to ourselves. The flight attendants prepped for a manual safety demo, and I just started laughing. We each had a flight attendant doing a "private" safety demo for us, and I just couldn't stop laughing. What made it even funnier for me was that the flight attendants would never make eye contact with us (probably to avoid laughing as well), so they were acting as if they were doing the presentation for 100 people.
For about 30 minutes after our scheduled departure time we didn't move, without so much as an announcement from the cockpit. Nearly 45 minutes after our scheduled departure time we pushed back, only to start a long taxi to the runway followed by a long queue. Eventually the captain came on to introduce himself, although he didn't even mention the delay, let alone apologize for it.
After a quick takeoff roll we were airborne and on our way to Istanbul. The seatbelt sign stayed on for at least 20 minutes, but once it was turned off the flight attendants sprung into action.
Service started with another round of hot towels (hey, after touching so many nuts it only seemed right).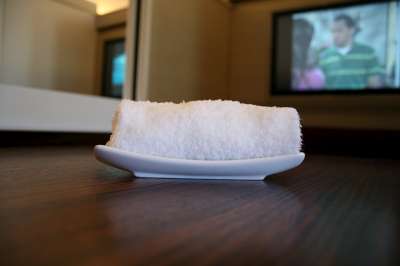 Hot towel
At that point the flight attendants asked us what we wanted to eat and drink. The menu read as follows:
welcome on board
welcome drink
salted mixed nuts

after take off
assorted canapées

hors d'oeuvres
selection of Turkish "meze"
tabbouleh / marinated shrimps
"pastirma" air dried beef / Turkish style fresh artichoke in olive oil
or
buffalo mozzarella & sundried tomatoes
grilled vegetables / pesto

salad
Mediterranean salad with feta cheese and grilled artichokes

special from Turkish cuisine
beef "kulbasti"
Turkish style grilled beef fillet
creamy eggplant puree / rice / grilled tomato and green pepper

chicken selection
grilled chicken breast with fresh herbs
pan-fried vegetables / potato puree

pasta
home made rigatoni
creamy parmesan sauce
sauteed broccoli and zucchini

cheese
assorted cheese

fresh fruit
fresh fruit platter

desserts
chocolate & hazelnut mousse cake

freshly brewed
espresso, Turkish coffee, regular coffee, selection of teas

ovenfresh
ovenfresh bread selection

Turkish desserts
"fistikli kadayif, kalbuda basti" / clotted cream
I'm a HUGE fan of this type of food, so I was excited, despite not being all that hungry.
First came the canapés, which were delicious.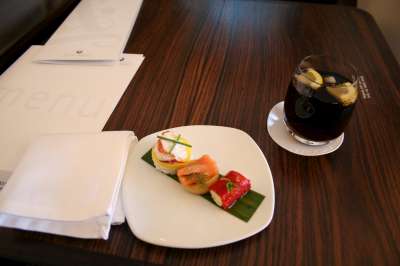 Canapés
Then the table was set. Overall the presentation was great. I loved the rose, but the stem was wrapped in tin foil. It seems to me like they could improve the presentation on that just a bit.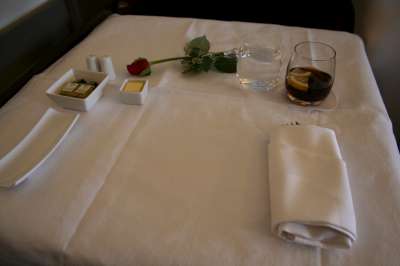 Table set-up
For the first course I went with the tomato and mozzarella. Simply delicious.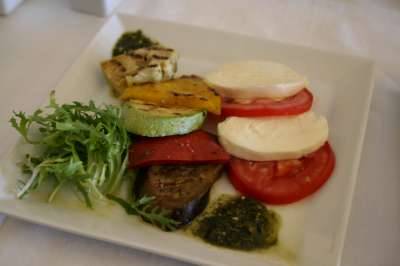 Buffalo mozzarella & sundried tomatoes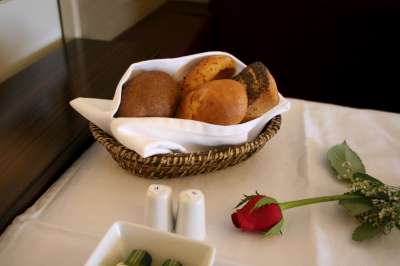 Bread basket
Then came the salad. Once again, fantastic.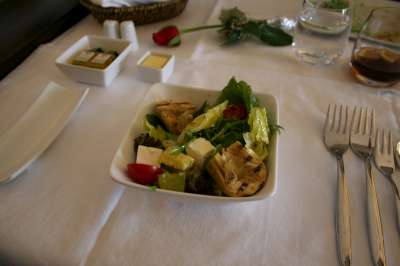 Mediterranean salad with feta cheese and grilled artichokes
My brother went with the steak for his main course, while I went with the pasta. I know pasta isn't all that creative, but I had a steak on Swiss and wasn't all that hungry. My brother enjoyed his steak, but I have to say my pasta dish was probably in the top five pasta dishes I've had anywhere in the world (including Italy), let alone on a plane.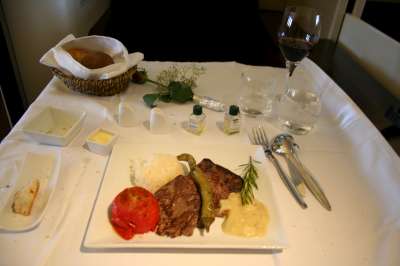 Beef "kulbasti"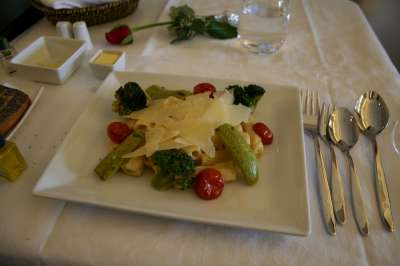 Rigatoni
Then came the cheese cart. I passed, since I was saving some room for dessert.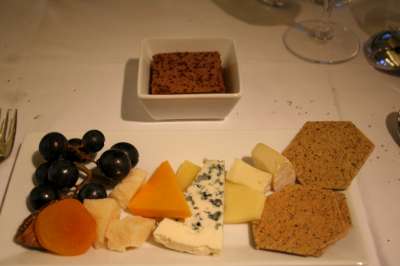 Cheese
For dessert I went with both the mousse and the Turkish dessert. Both were incredible.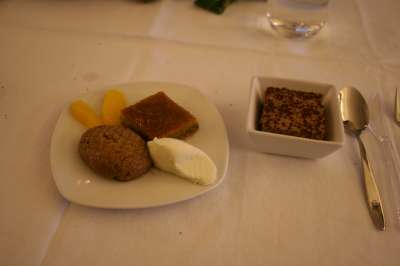 Dessert
My brother ordered a Turkish coffee, and he was a bit surprised by how thick it was.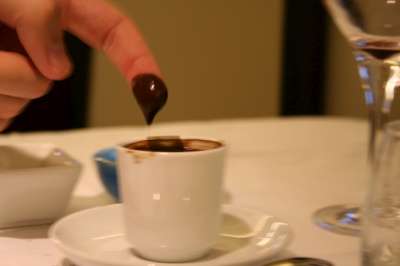 Tar or coffee (after a single sip)?
The meal was truly delicious. As far as the service goes, all I can say is "meh." The flight attendants were friendly, although they were unpolished and seemed to lack the confidence to serve a first class cabin. We had two flight attendants taking care of us (that's a 1:1 ratio), yet our glasses were frequently empty and we always had to ask for refills.
After dinner there was about an hour to go to Istanbul, so we decided to try out the suites (although we'd be doing that more comprehensively a couple of nights later on our Istanbul to Hong Kong flight).
I watched a couple of sitcoms, while my brother started to watch a movie. We closed the doors, which does indeed make for a private experience.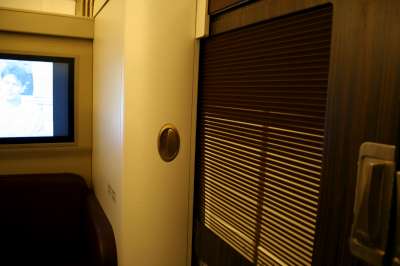 Closed doors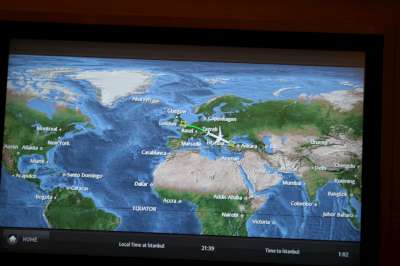 Our progress
Before we knew it we were beginning our initial descent, and the flight attendants brought us one last treat — a small cheesecake square and a chocolate covered strawberry.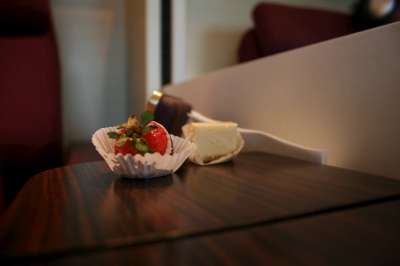 Post-dessert
At this point the flight attendants were advised to prepare for landing, and we began a gradual descent, which ended with our not-so-gradual landing. It was by far the roughest landing I've experienced in the million or so miles I've flown. Not only was the landing rough, but as we were at maybe 30 or 40 miles per hour the pilot all of a sudden slammed on the brakes, bringing us to a complete stop on the runway, as the plane cradled back and forth a bit as a result.
As we got to the gate we thanked our flight attendants for a pleasant flight, and at door 2L were met by two people holding a large sign with our last name on it. They introduced themselves and said they'd be taking us through immigration. They helped us with our bags and pointed us towards the golf cart waiting for us right at the gate. This turned into quite an adventure, since the terminal was packed and immigration wasn't far away at all.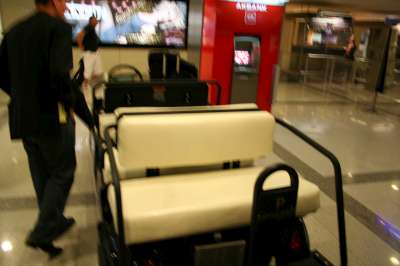 Golf cart
We were driven to immigration, where they took care of our visas and waved us through in no time. They escorted us to the lower level, where a very nice Mercedes S class was waiting to take us to our hotel.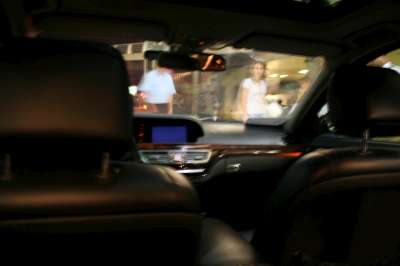 Transfer car
Not only was the car nice, but so was the driver, and he knew how to drive. I don't even want to guess how fast we were driving, but after a long couple of days we were at the InterContinental Ceylan Istanbul in no time.
To be continued….