---
Hotel markets don't get much cheaper than Warsaw in winter, so I booked the Hotel Bristol, a former Le Meridien which was recently rebranded as a Luxury Collection property. My travel agent friend booked the hotel for me through Virtuoso, which came with breakfast, a room upgrade on availability, and a one-way airport transfer. The room upgrade was a moot point since I'm a Starwood Platinum member and get that anyway. The breakfast came in handy since as a Starwood Platinum I'd have to give up 500 Starpoints to get free breakfast, so I could instead get it through this.
And the one-way airport transfer was a nice added amenity as well. Typically the retail value of the Virtuoso special amenity is ~$100, be it in the form of a hotel credit, a free lunch/dinner for two, or something similar. So this was definitely the "cheapest" amenity I've seen through American Express Fine Hotels & Resorts or Virtuoso (both offered the same amenity). Then again, my rate was only420 PLN (~$132USD), so I wasn't exactly paying a ton here.
I emailed the hotel to try and arrange the complimentary airport transfer, and requested to be picked up from my LOT flight. When I emailed the hotel my flight details I received the following response:
Dear Mr. Schlappig,

Thank you very much for your e-mail and interest shown to our hotel.

With regards to your request I would like to kindly inform you that we would be happy arrange an airport transfer for you on FEBRUARY 02nd 2013 (flight LO # 136 arriving at 19:00 p.m. from Istanbul).

Our benefit for you as a Virtuoso VIP is complimentary only for one way transfer (from the Bristol hotel to the "OKECIE" international airport).

The cost for pickup transfer from the airport to the Bristol hotel by hotel limousine Mercedes "E" or "S" class amount 110 PLN (eqv. approx. 27 EURO) plus 5 % hotel commission.

We would be more than happy to arrange your trasportation from the "OKECIE" airport at the cost 30 PLN ( approx. 7 EURO) plus 5 % hotel commission (difference between standart rates for transfers from & to the airport).

All charges can be added to the hotel bill.

If you accept above offer please confirm your flight details, the price and payment method.

If you have any other questions, remarks or requests please do not hesitate contact our Concierge departmant.

Best regards,
____________
I found it incredibly cheap that they wanted to charge me an extra seven Euros for the transfer from the airport, given that the restriction wasn't clarified anywhere and that this was already the least "valuable" hotel amenity I've received through Virtuoso. I also found it kind of funny that they included the hotel commission in the email.
So since the travel agent that booked this is also a friend of mine and I like to share my stay experiences with him, I forwarded the email to him and simply wrote "Cheapest. Hotel. Ever." in the body. Little did I know he'd actually forward that email to the sales manager. She apparently apologized to him and said that was an error, and that the transfer is supposed to be valid in either direction, so they honored that.
Anyway, the driver was waiting for me right outside baggage claim and was extremely friendly. I was a bit surprised that the Mercedes he drove me in had 387,000km+ on it. Typically I expect a newer car when arranging a Mercedes transport through a Luxury Collection property, though I guess it kind of reflected the market in Warsaw a bit.
The drive to the hotel took only about 15 minutes, and he asked me how long I was in town for. I told him just a night, and he responded with "perfect, Warsaw nothing to see we were destroyed during the war, you can see it all in one day." Hah! He did point out all the landmarks as we passed them and injected his own humor. He also explained that the Hotel Bristol's location was great, right on the edge of the old town. Perfect, despite the freezing temperatures I figured I could at least do a bit of sightseeing in the morning before my flight.
Once we made it to the hotel I was immediately addressed by name by the bellman and escorted to check-in. I quickly got the impression that just about everyone at the hotel was aware of the email I sent to my travel agent friend, as everyone addressed me by name.
The lobby was gorgeous and almost felt like it was out of a movie set, given how empty the hotel was.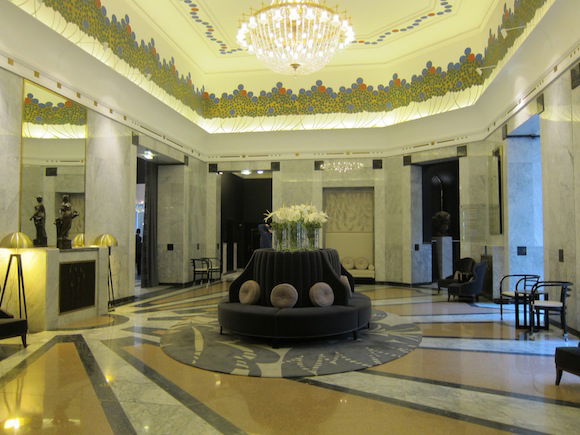 Lobby
Reception was located to the left, and once again I was immediately addressed by name.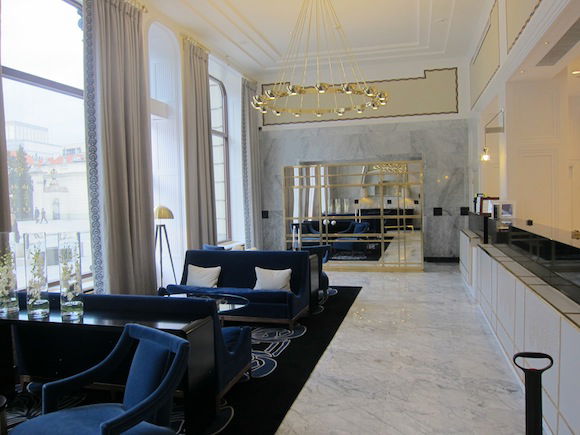 Lobby
My check-in was processed quickly and I was informed that I had been upgraded to a suite on the top floor. I was escorted to my room via the retro elevators, which were both awesome and creepy at the same time. During the elevator ride the associate apologized again for the confusion over the car transfer.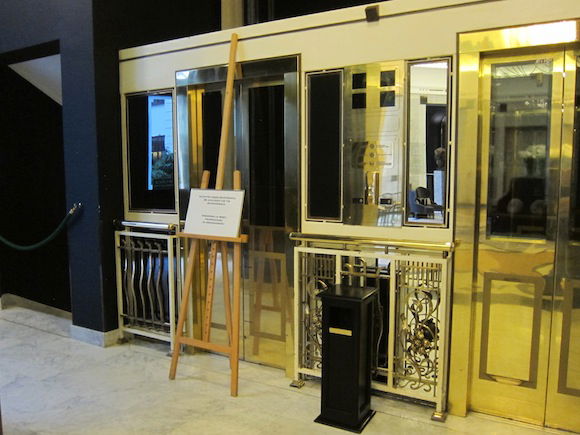 Elevators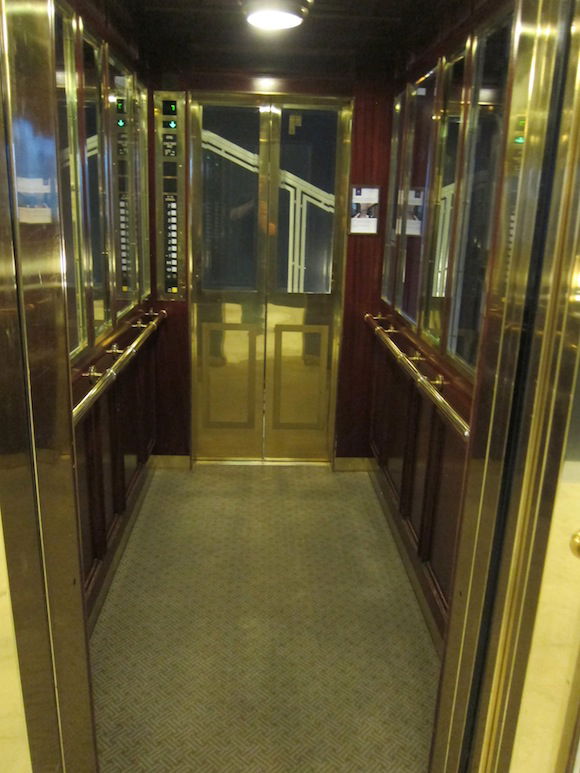 Elevators
The hallways were beautifully decorated, and room 743 was about halfway down the hallway on the right.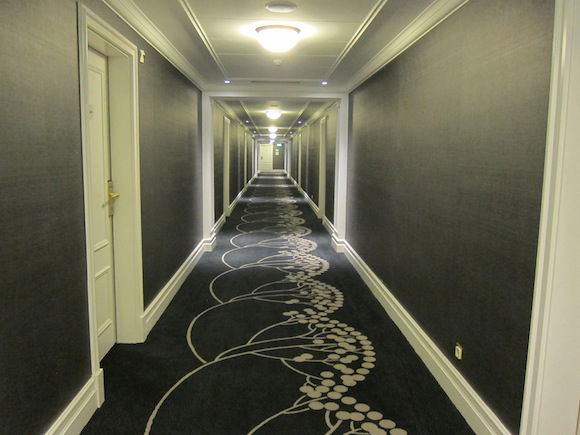 Hallway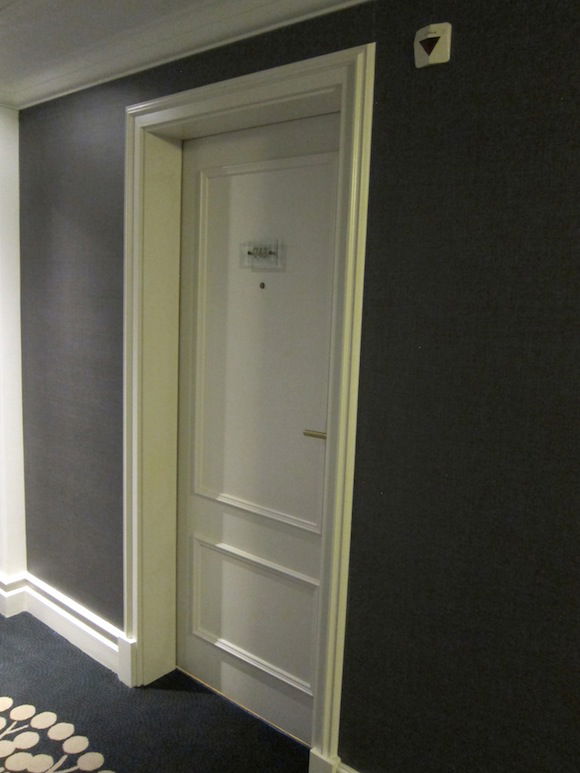 Room entrance
To the left of the entryway was a guest bathroom.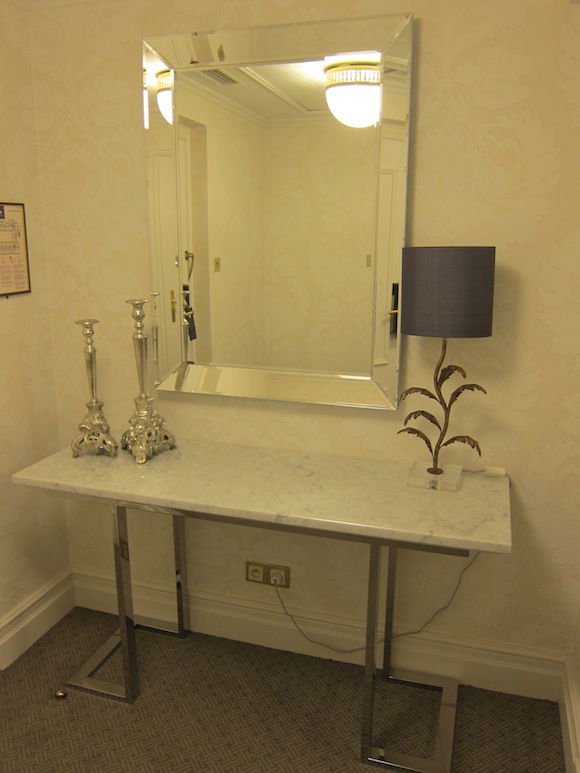 Entryway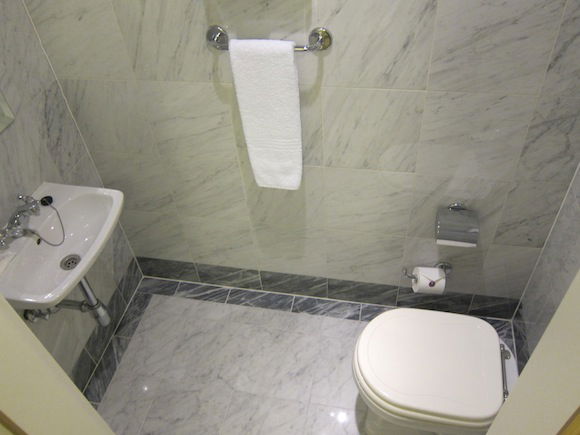 Guest bathroom
Past that was the living room, consisting of a couch facing a flat screen TV, and two chairs with ottomans.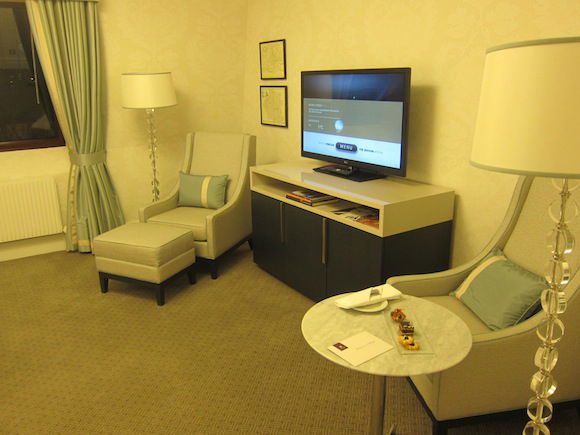 Living room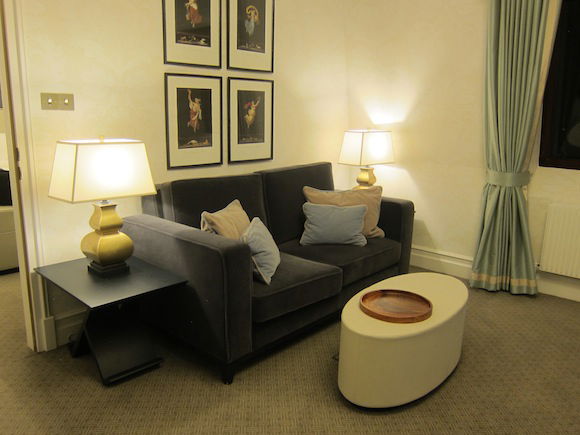 Living room
On the table was a welcome note and plate with some sweets.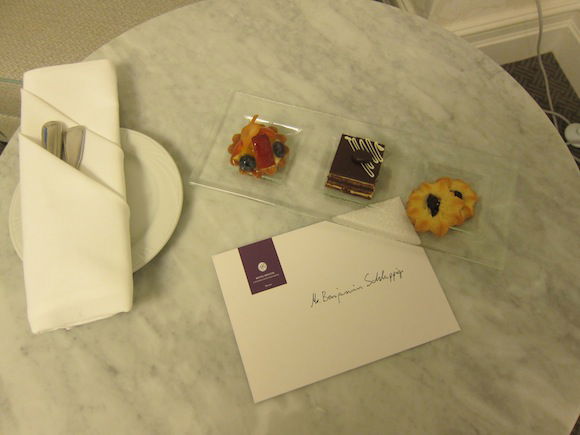 Welcome gift
Past that was the small bedroom, which featured a queen bed.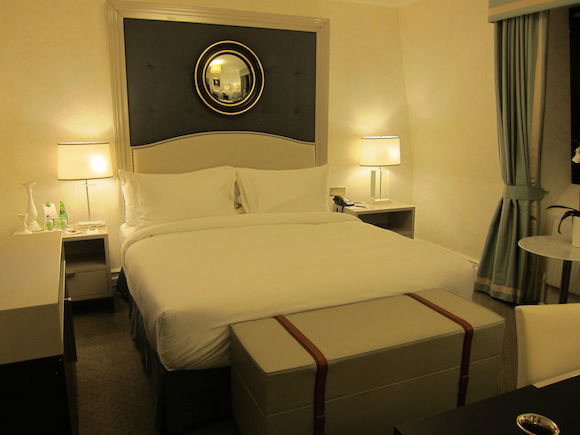 Bedroom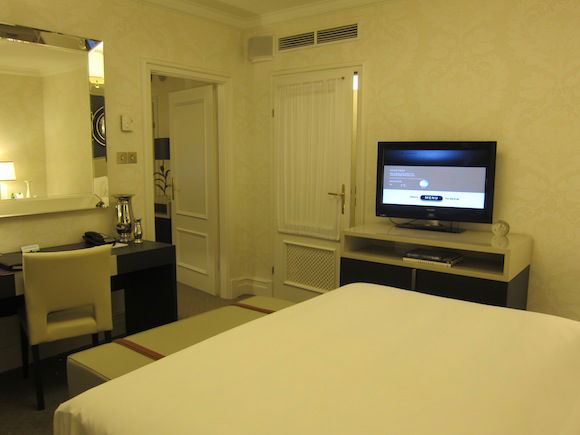 Bedroom
That's also where the desk was located. I found the lack of outlets near the desk to be a bit odd.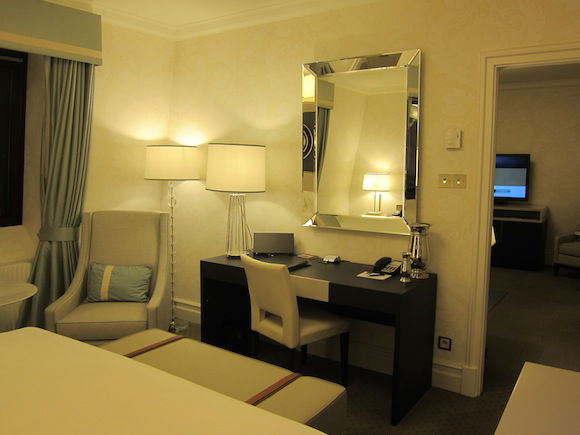 Bedroom
Next to the bedroom was the bathroom, which consisted of a single sink, toilet, bidet, and shower/bath combo. It certainly wasn't a "premium" bathroom that usually comes with suites.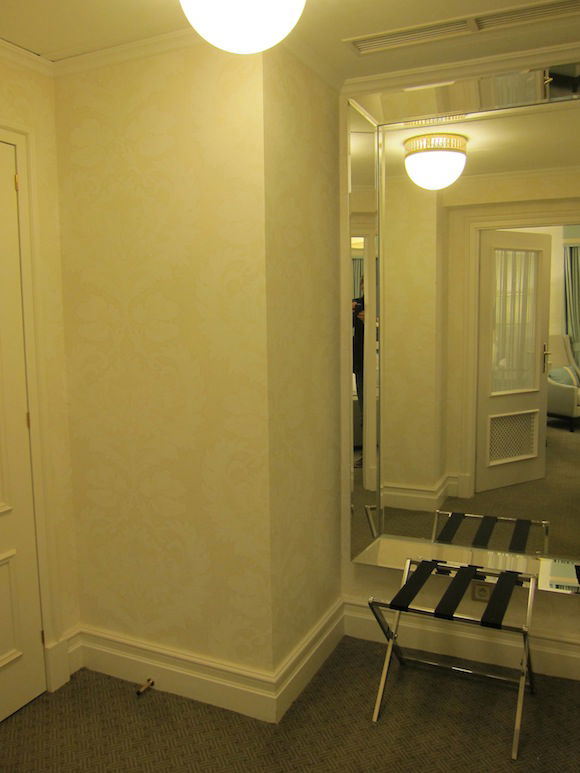 Walkway to bathroom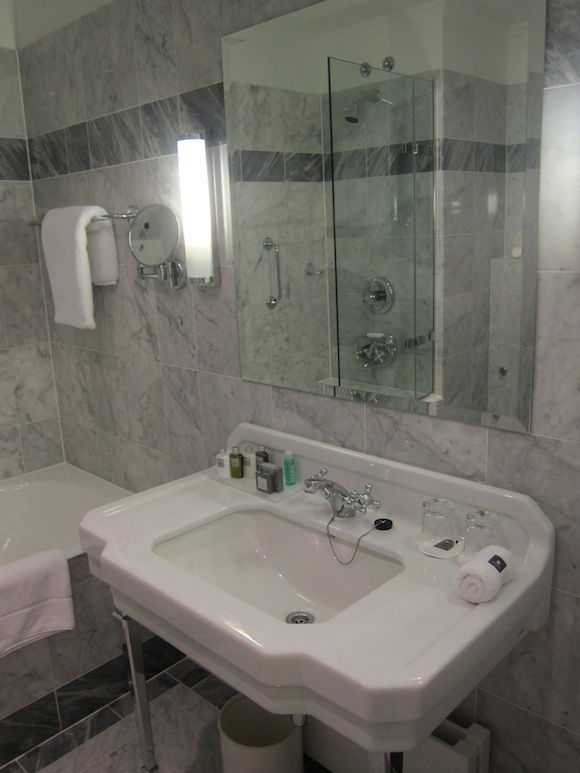 Sink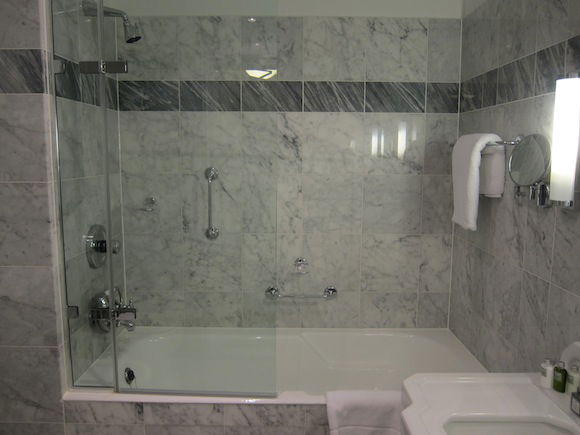 Shower

Toilet/bidet
All the toiletries were "The Green Deep" branded.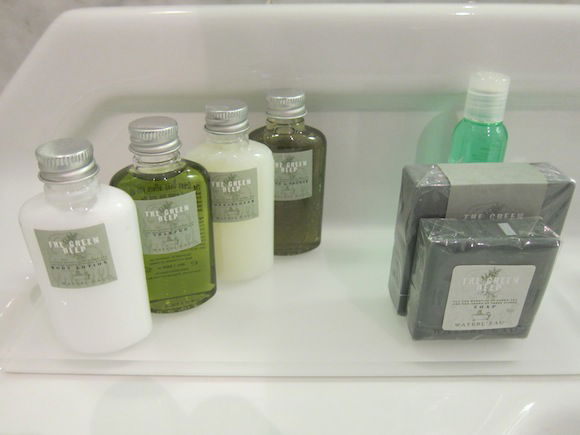 Toiletries
The room also boasted beautiful views of the surrounding city.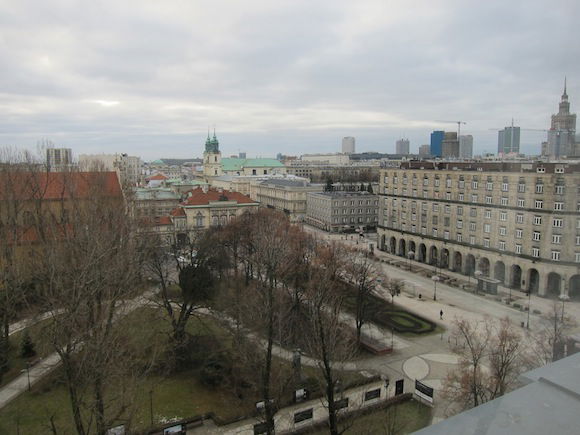 View from the room
There's one thing I have to note, and there's no "good" way to say it — the hotel smelled like onions. The whole hotel, from my room, to the lobby, to the restaurant. I don't know what it was, but it sure was pungent!
I caught up on email for a couple of hours the evening of my arrival, went to bed, and woke up at around 7AM.
In the morning I checked out the pool and gym, which are located on the basement level.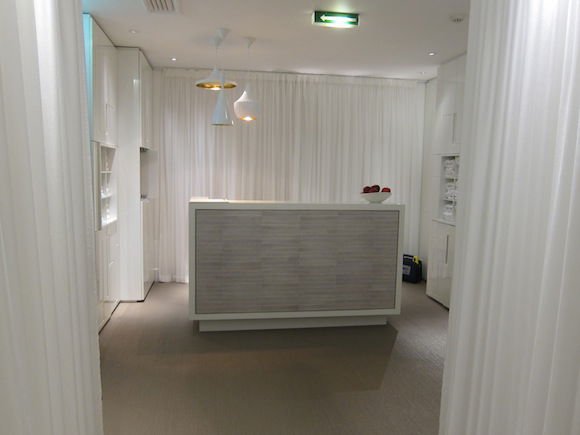 Pool/gym entryway
The gym featured outdated equipment and was on the small side.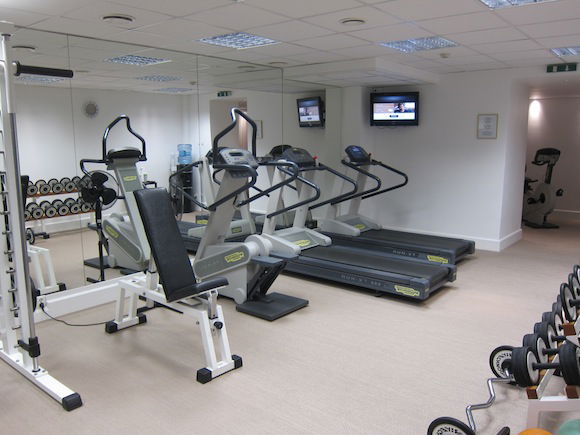 Gym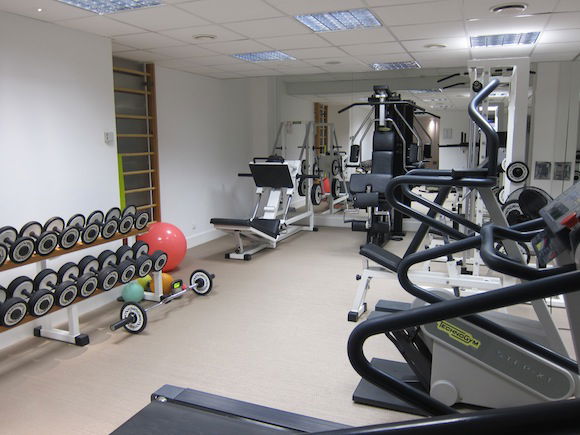 Gym
And the pool was actually nice, except it had both a chlorine and onion odor, and that was more than I could handle (not that I was planning on swimming anyway).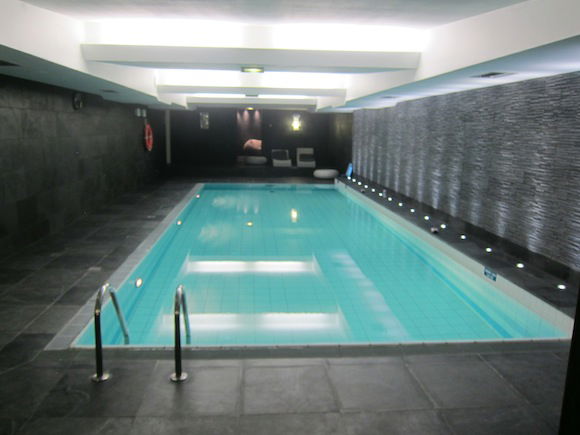 Pool
Breakfast is served in Marconi Restaurant from 6:30AM till 10:30AM, and consisted of an extensive buffet.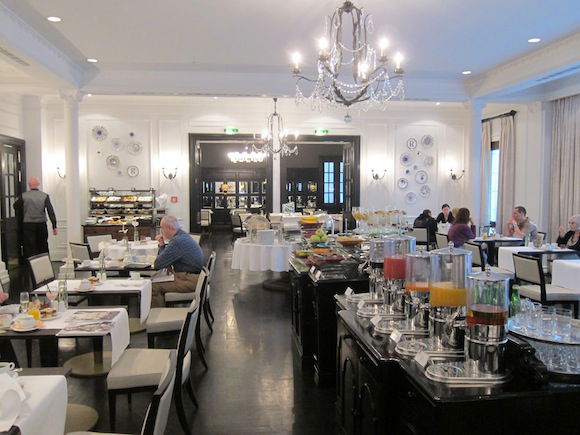 Marconi Restaurant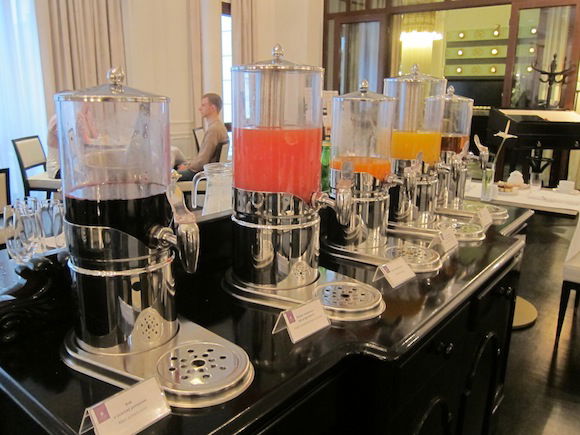 Breakfast spread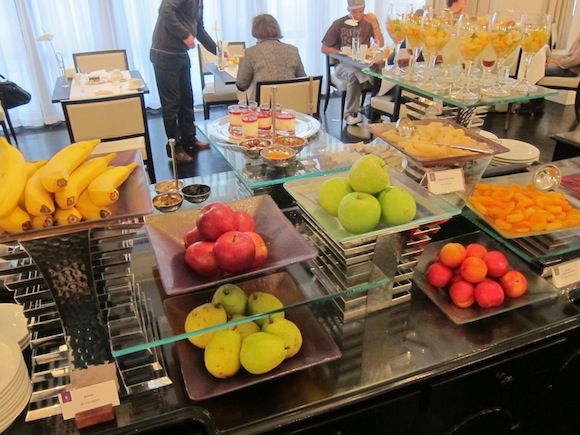 Breakfast spread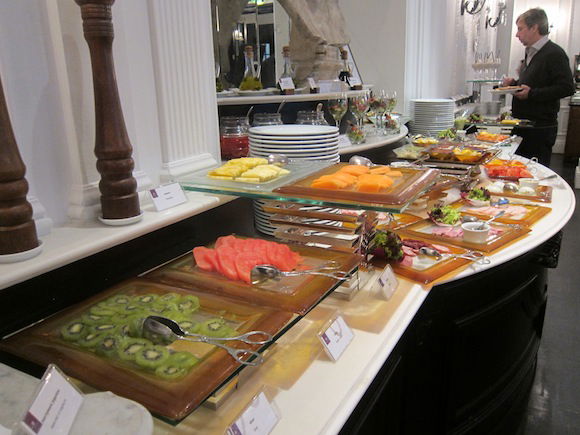 Breakfast spread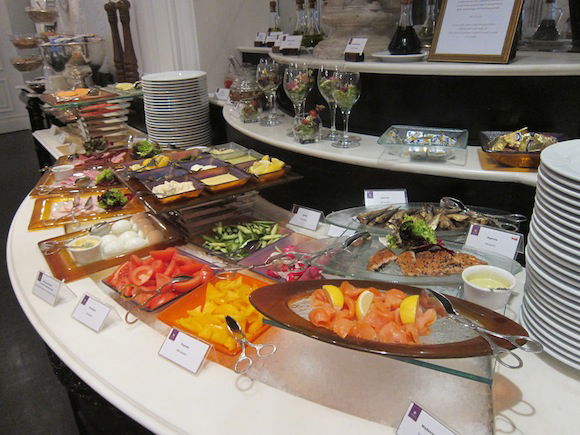 Breakfast spread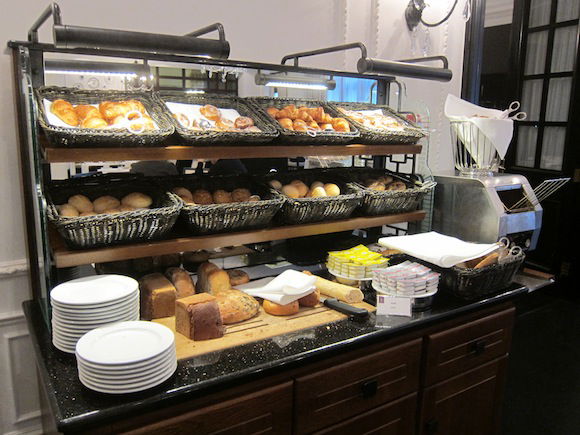 Breakfast spread

Breakfast spread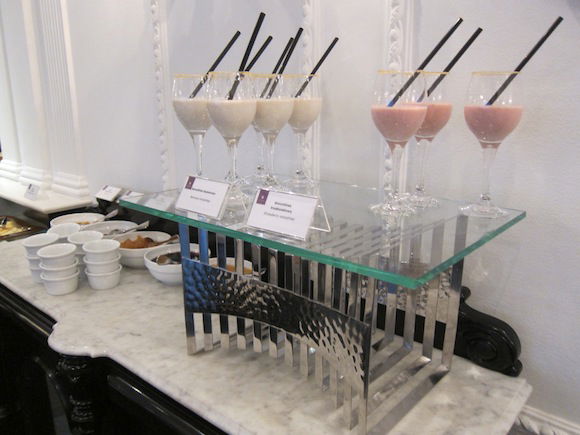 Breakfast spread
After breakfast I walked around the old town for about an hour and actually quite enjoyed it. I wished I had the entire day as I think I could've seen most of the "highlights" of Warsaw in a day. As a result I'm happy to have seen Warasw for a little bit, though there are cities higher on the list of places I'd like to visit before I return.
Physically I thought Hotel Bristol was beautiful. It was classic without feeling shabby. The employees I interacted with were all friendly and enthusiastic, and perhaps even overly-apologetic regarding their communication. That being said, the onion odor throughout the hotel made the stay somewhat less pleasant.
How you can use points for a stay at Hotel Bristol Warsaw

Hotel Bristol is a category four Starwood property, and won't be impacted by the March 5, 2013 Starwood category changes.
If you can find cash & points availability, this property costs 4,000 Starpoints plus $60 per night if booked before March 5, 2013, and starting March 5 it costs 5,000 Starpoints plus $75 per night. An outright points redemption at this property costs 10,000 Starpoints per night, with the fifth night free.