---
After a great stay in Istanbul, it was time to move on to my favorite city, Hong Kong. Upon our arrival in Istanbul we had arranged to be picked up at the InterContinental at 9PM to be driven to the airport courtesy of Turkish's complimentary chauffeur service for first class passengers. While we were in the lobby at 9PM, we didn't see a car waiting for us. At 9:15PM we had the hotel concierge call to follow up, and as it turned out the car was waiting since 9:05PM, but we just didn't know he was for us. Oops.
This time our ride was a BMW 5 series, which got us to the airport within about 30 minutes.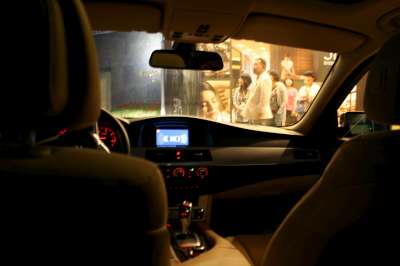 Ride to the airport
As we pulled up to the airport we had two people waiting for us, one younger lady in a red dress and one older guy with a baggage cart. Impressive coordination on their part! They helped us with our bags, and within moments we were inside the terminal. I was surprised by how nice the airport was.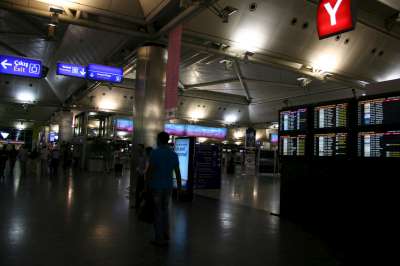 IST
As we entered the terminal we first had to place all our bags through an x-ray machine. Once that was done we were escorted to first class check-in, where there was once again no line. Not only were we helped immediately, but they didn't even have to print our boarding passes — they were pre-printed!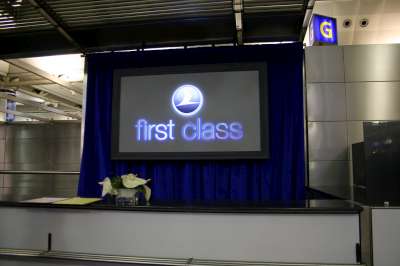 First Class check-in
We were escorted through security and immigration, and on the other side were driven in a golf cart to the Prime Class lounge. This was the point in the trip that I started to realize that "Prime Class" actually seems to be a contracted VIP ground service, which I guess Turkish uses for their first class passengers. I might be wrong, but that's the impression I got.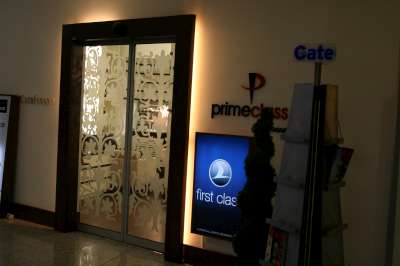 Prime Class Lounge
While the lounge was quite small, it was impressive.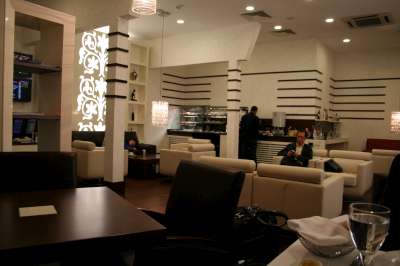 Prime Class Lounge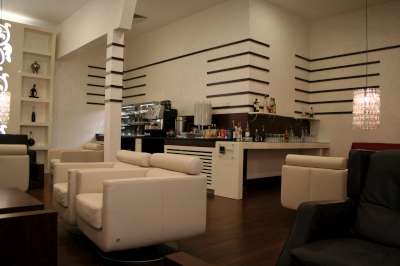 Prime Class Lounge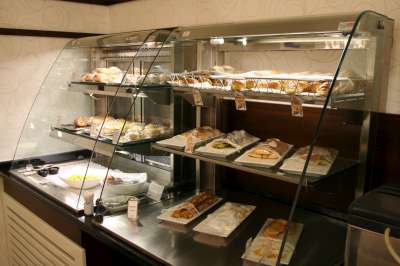 Snack selection
Inside we were urged to sit down at a table and have dinner. While we didn't really want to eat given the big dinner aboard, the table was set too nicely to say no.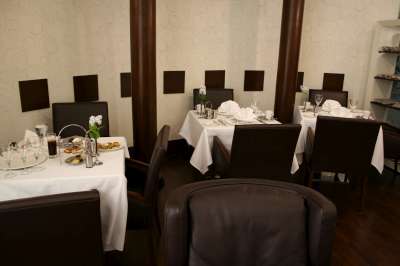 Dinner tables
The table already had bread with all kinds of dipping sauces, appetizers, desserts, and a menu. Within moments our "waiter" came by to take our drink orders and ask what we wanted from the menu. We weren't all that hungry, so we asked to share an order of the mushroom pasta from the menu.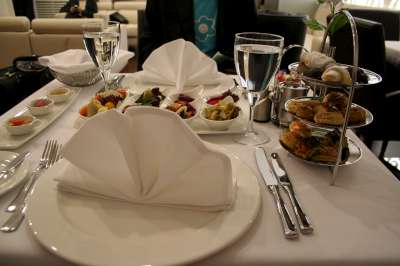 Table set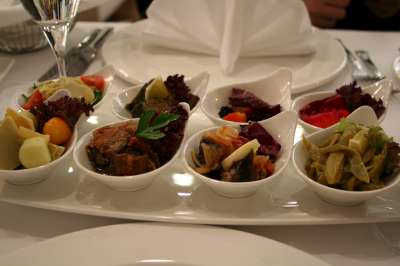 Appetizers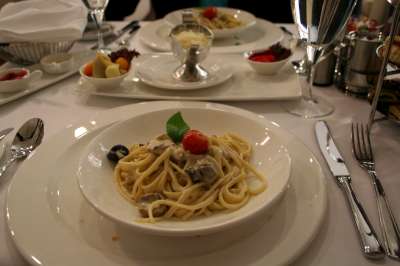 Main course
The food was truly spectacular, and the service was attentive. Solely in terms of airport dining, I would argue this lounge outdoes the Lufthansa First Class Terminal in Frankfurt (although I realize that's a bold statement).
After dinner we moved over to the couches, which were a bit more comfortable. While wireless internet was free, it required sending an activation code to one's cell phone, which is kind of impractical. We were also given a survey about the ground services. Notice the AWESOME first class ticket jacket. 😀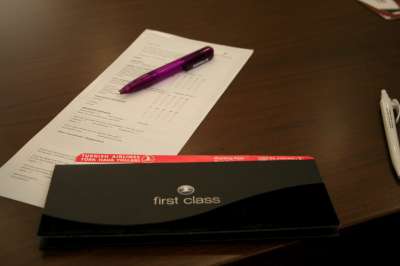 Ticket holder!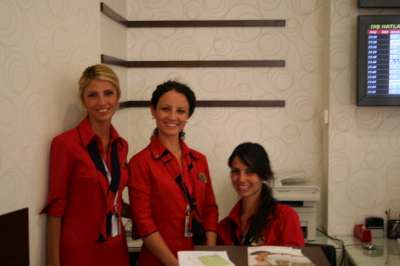 The "escorts" (middle one took care of us throughout our stay)
While the lounge is small, it was never crowded. I took the pictures towards the end of our stay there, given that there was only one other person in the lounge at that point. As I was taking a picture, that guy asked if I wrote trip reports. As it turns out it was a fellow aviation nut. We talked until his flight was ready to go, as he was heading to Bangkok.
The funniest moment had to be when his flight was ready to board. His escort fetched him to tell him the flight was ready for boarding, and since we were in the middle of talking he said "can you give me two minutes please?" She responded "actually no, sorry. The plane is waiting just for you." Now that's what I call service. 😀
Our departure time had come and gone, yet we weren't fetched yet, but we were assured that we would be called when they were ready for us. Right around midnight they indicated they were ready for us to board, at which point we were driven to the gate in a golf cart. They certainly did a good job, since there wasn't a single person at the gate when we arrived. For a moment I was afraid we had missed the flight.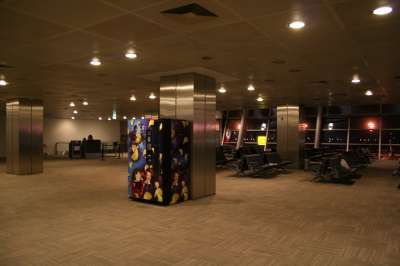 Empty gate for our flight to HKG
We were literally escorted to the door of the plane, at which point the cabin crew took over.
Turkish 0070, IST-HKG, 77W
Wednesday, August 19
Depart: 11:50PM
Arrive: 2:40PM (+1)
Duration: 9hr50min
Seat: 1D (First Class)
We were directed to our first class seats, only to once again discover that we had the cabin to ourselves. That makes three "private" cabins in a row! We were immediately offered pre-departure drinks and hot nuts, followed by amenity kits, menus, and slippers.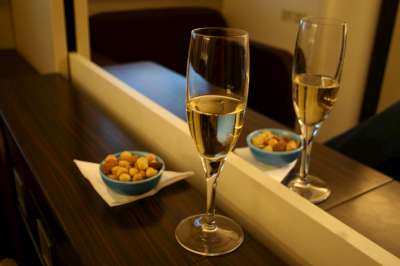 Pre-departure drinks… that's literally how full they served them…. huh?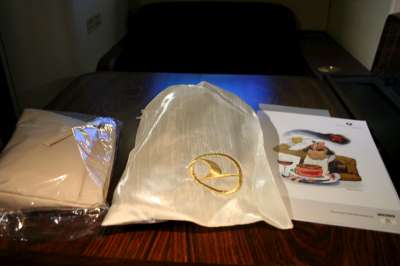 Slippers, amenity kit, and menu
Today we were served by two twenty-something year old guys. While they were friendly, they yet again weren't particularly polished.
As we settled in the captain came on the PA and explained that we were running late because there was a problem with the cargo door. Hmmm, that's comforting. Given that this flight has a 0% on-time rating, I have to wonder whether they have mechanical issues every day, or what the normal excuse is. He also announced our flight time would be 9hr55min, which was longer than our block time. In other words, we'd be arriving in Hong Kong way late.
Given that we had comfortable seats and were in no rush upon our arrival in Hong Kong that was fine with us. At a little bit after 1AM we finally started our taxi, and after an extremely long takeoff roll were airborne and on our way to Hong Kong.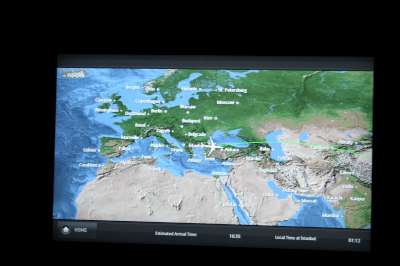 On our way!
The seatbelt sign was turned off shortly after takeoff, and dinner service began. The menu read as follows:
welcome on board
welcome drink
salted mixed nuts

after take off
assorted canapées

hors d'oeuvres
herbed chicken breast / white eggplant
cherry tomatoes / roasted pine nuts

or

salmon carpaccio

salad
mediterranean salad

soup
potato leek soup
olive croutons

catch of the day
grilled sea bream
tomato and black olives salsa with zucchini
sautéed potatoes

spring lamb
grilled lamb chops
oven roasted red peppers
potato gratin

Asian style
chicken tikka
ratouille
steamed rice

pasta
home made mushroom ravioli
sauteed fresh mushrooms / cherry tomatoes
parmesan

cheese
assorted cheese

fresh fruit
fresh seasonal fruit

sweets
chocolate souffle
ganache sauce

tiramisu

coconut ice cream
marinated berries

Turkish desserts
selection of traditional Turkish sweets
"samsa, hosmerim, sam tatlisi" / clotted cream

ovenfresh
ovenfresh bread selection

freshly brewed
espresso, Turkish coffee, regular coffee, selection of teas
The dinner service began with the same canapés we were offered on our London to Istanbul flight. I had a Diet Coke with lime with dinner.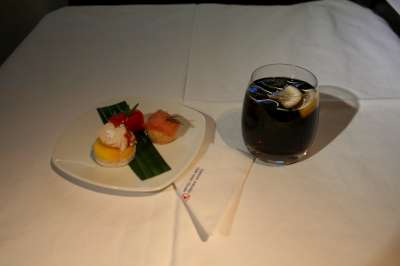 Canapés
Next came the appetizer, and I chose the salmon, which was delicious.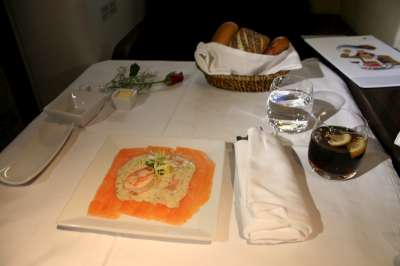 Salmon carpaccio
The salad was then served. I'm really digging Turkish's food!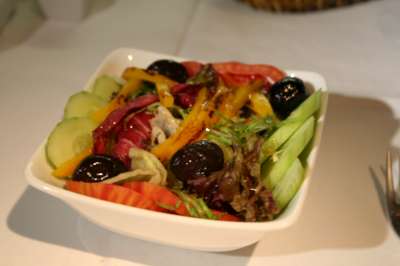 Mediterranean salad
Next came the soup. Again, I was a fan.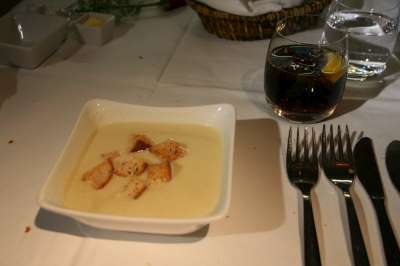 Potato leek soup
While I passed on the caviar, my brother didn't. He was served a full, unopened can as shown below. Not sure whether the caviar presentation was great or awful (really depends on how you look at it, I guess).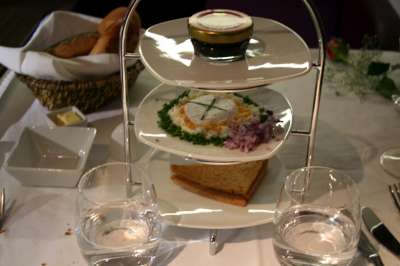 Caviar
By this point I wasn't all that hungry, thanks largely to the dinner in the lounge. I went with chicken for my main course, while my brother went with lamb. I wasn't a huge fan of the chicken, as it was dry and somewhat tasteless.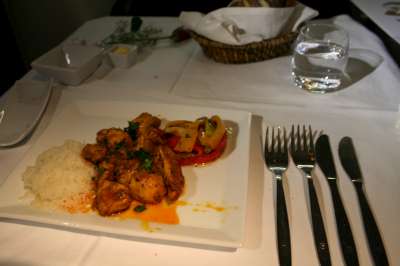 Chicken tikka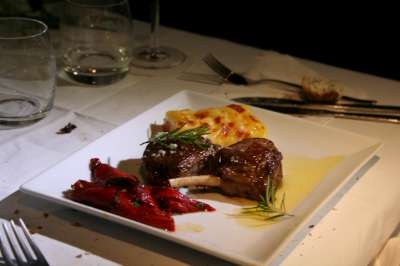 Grilled lamb chops
Of course I always save room for dessert. I'd argue Turkish has some of the best desserts in the sky (although in all honesty I rarely have desserts I don't like in international premium cabins).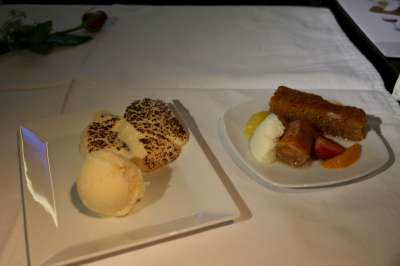 Dessert
Lastly, to finish off the dinner service, we were served pralines and some sort of gummy things.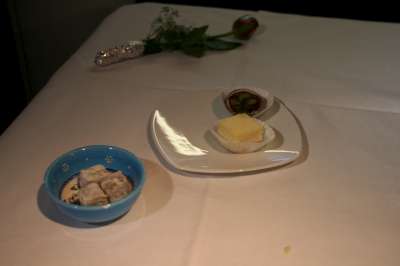 Post-dessert
Dinner was served at a relatively good pace, although the attention to detail wasn't there, especially given that we had a 1:1 crew:passenger ratio. Glasses were often empty, my brother and I were often served courses at different times, and they just weren't particularly attentive. There's no excuse for such mistakes in international first class when there's a full cabin, let alone when it's empty. Nonetheless the meal was one of the best (and biggest!) I've had in the skies, so count me as a HUGE fan of Turkish food.
In my opinion, a ten hour flight is the perfect length. After dinner we had eight hours to go, so I figured I would get six hours of sleep and wake up for the pre-arrival meal with two hours to go. With massive suites and artificial stars on the ceiling, it was tough not to fall asleep, added to the fact that it was 3AM in Istanbul.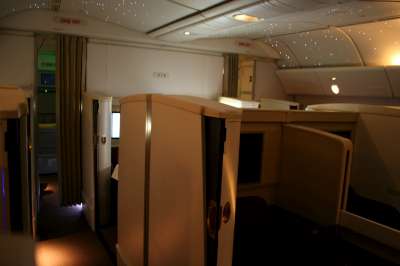 Cabin
At this point we were given our pajamas and our beds were made.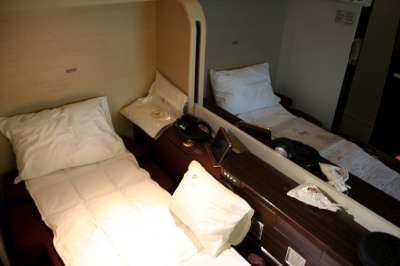 Beds fully made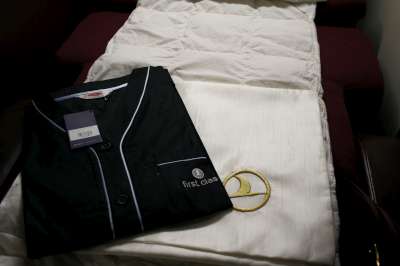 Pajamas
The bed was one of the most comfortable I've flown in, especially with the door closed and the air nozzle at full power. I slept a full six hours, and woke up about two hours out of Hong Kong. At this point our flight attendants tried to serve us breakfast, but we asked if they could wait about 30 minutes (given that there was no rush).
I watched a couple of sitcoms, at which point we had breakfast.
Before landing or any time you like

fresh juices
freshly squeezed orange juice / fresh carrot juice

smoothie
avocado-vanilla energizer

fresh fruit
fresh fruit platter

yoghurt
granola yoghurt

cereals
home made muesli / cornflakes

"Demel" jam
strawberry / apricot

honey

cheese and cold cuts
selection of cheese and cold cuts

made to your order
cheese omelette
herbed sauteed tomatoes
panfried potatoes

or

potpouri of "börek"
Turkish style cheese and spinach puff pastries
scrambled eggs
grilled green pepper / cherry tomato

or

caremalized apple pancakes
orange sauce

ovenfresh
ovenfresh bread selection / croissant / Danish Pastry

freshly brewed
espresso, Turkish coffee, regular coffee, selection of teas
The breakfast was fresh and delicious, not to mention varied. The first course was cheese and cold cuts. Just as I was starting that course, the flight attendant plopped a fruit plate down on my tray as well. This is an example of the lack of attention to detail. Couldn't he wait till I was done with the first course to serve me another one? This isn't coach, after all.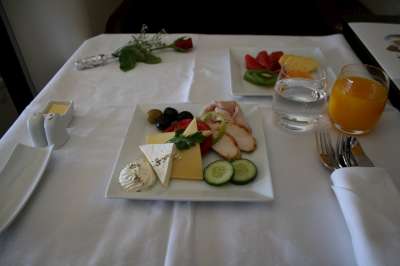 Fruit and cheese/cold cuts
Next came muesli, which was delicious.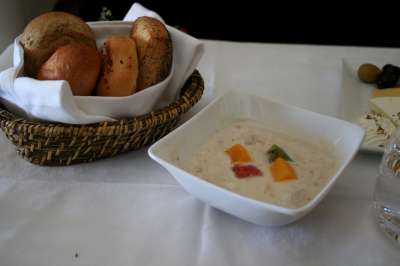 Muesli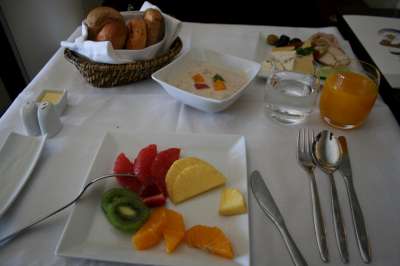 Fruit plate
I ordered the omelet as the main course, and I've gotta say, it was the best omelet I've ever had in the skies.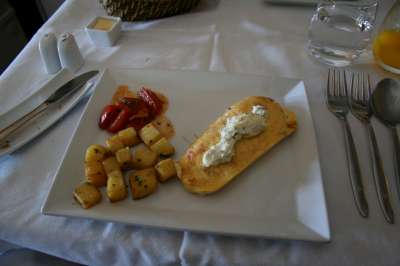 Omelet
As breakfast finished up I changed out of my pajamas. Shortly thereafter we began our descent into Hong Kong. Eventually we touched down with a rather firm landing, and after a 15 minute taxi made it to our gate.
We thanked our flight attendants and were the first off the plane. While there were people waiting to meet the plane, we didn't see a sign with our name on it (not that we were necessarily expecting one). We walked towards immigration, but after walking quickly for about five minutes we saw a guy chasing after us. As it turned out he had been waiting for us. He told us to wait, and he ran back to the gate. In the meantime about 2/3 of the plane passed us. Eventually he met us in a golf cart and drove us all the way to immigration. Nice service, although a bit late. Fortunately it still ended up saving us time.
The immigration lines were short and minutes later we were on the Airport Express headed to Kowloon.