I had scheduled this trip to have a one night stopover in Vienna, which is one of my favorite cities in Europe. I was deciding between the two Luxury Collection properties in the city to get a head start on elite qualification for the year.
The Hotel Bristol and Hotel Imperial, are just a couple of blocks apart. Both had availability for my dates, with the former being a category 5 property and costing 35,000 points per night, and the latter being a category 6 property and costing 50,000 points per night.
Hotel Imperial is widely considered to be one of the top hotels in Vienna, so I figured it was worth spending the night there. For review purposes you can't beat a one night stay at a nicer property, so you can experience it without paying an arm and a leg.
After making the booking I went online to see what kind of a suite upgrade it would offer me with a Platinum suite night award, and it seemed that one of the options was an Elisabeth Suite.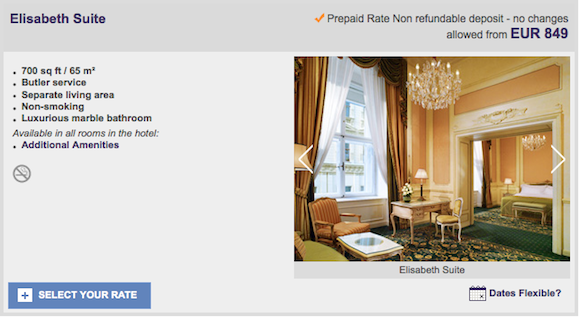 Elisabeth Suite description
This is a named suite, meaning it wouldn't ordinarily be part of the Platinum upgrade "pool" day of arrival, so I decided to use a suite night award to confirm the upgrade. It confirmed five days out, which I was delighted about. I did find the following email offering me a further upsell pretty funny, though: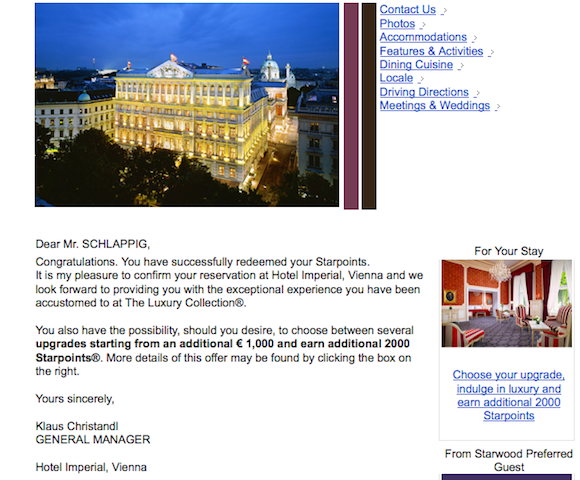 Not sure 2,000 Starpoints is all that much of an incentive here…
Upon my arrival the weather in Vienna was pretty interesting. There was snow on the ground, though it was 50 degrees outside, so it was oddly pleasant.
Once at the hotel I was welcomed by the bellman (who the guy at check-in joked has been at the hotel since it's pre-opening 140 years ago) and directed to check-in.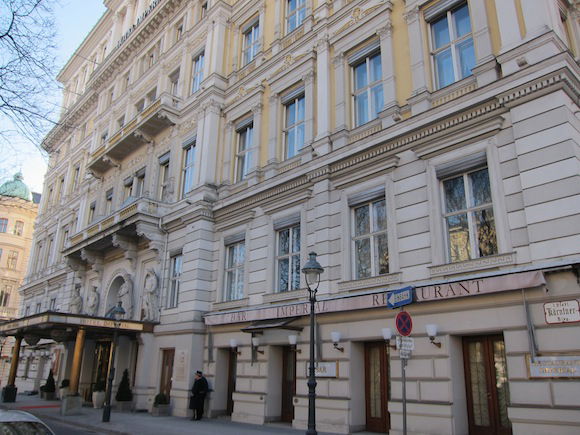 Hotel exterior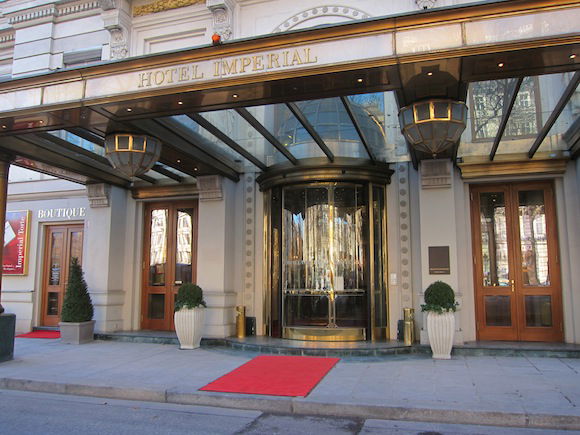 Hotel entrance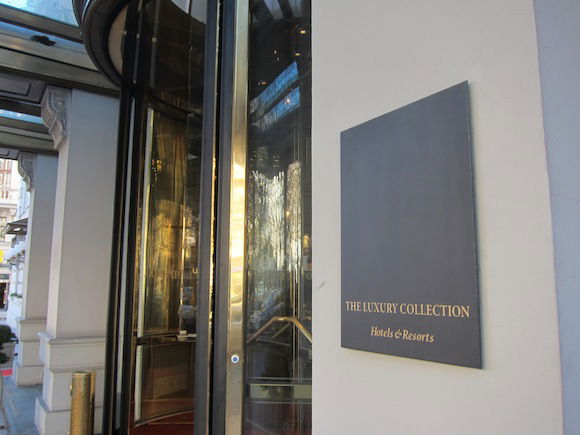 Hotel signage
The lobby is extremely "classic.". It was small enough so that it felt uncomfortable walking in and out, as all eyes were on you.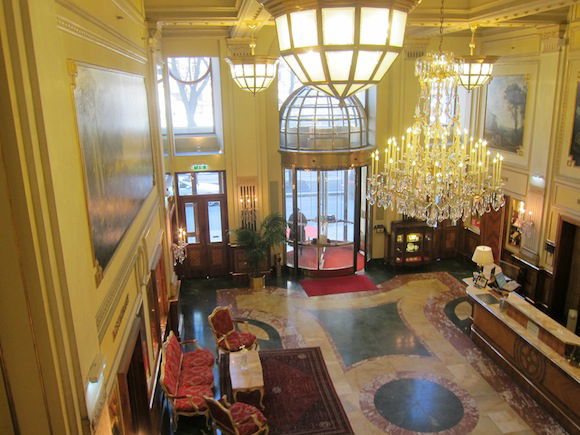 Lobby
I had heard that service at this hotel was pretty snooty/cold unless you're an uber-VIP, so I think I lucked out with the guy I got at check-in, who was overly friendly (while I can't say the same about the other employees I encountered).
He welcomed me, confirmed I had used my suite night award for the Elisabeth Suite, and gave me the choice of Platinum amenities (I selected breakfast, which is served in Cafe Imperial). He then walked me to my room, which was 078 on the first floor (and that's European first floor, as in one floor above the ground level).
The hallways felt like they were a bit past their prime, though I must say the room was in immaculate condition.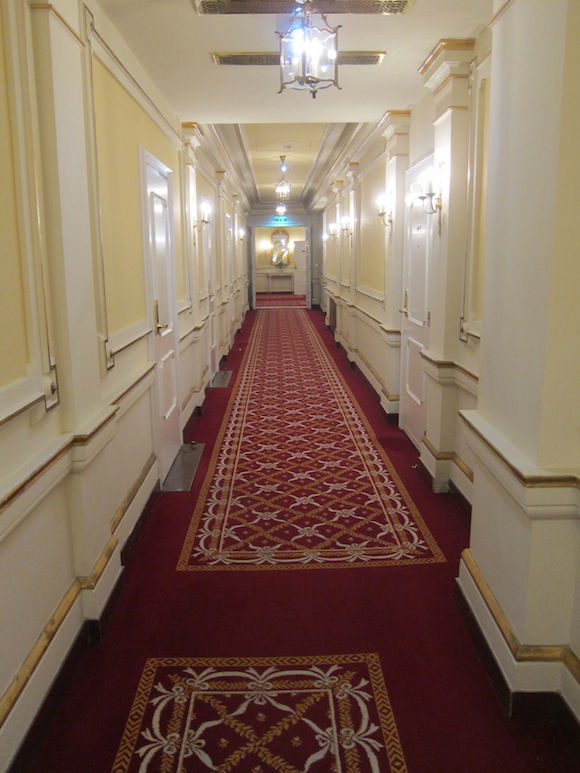 Hallway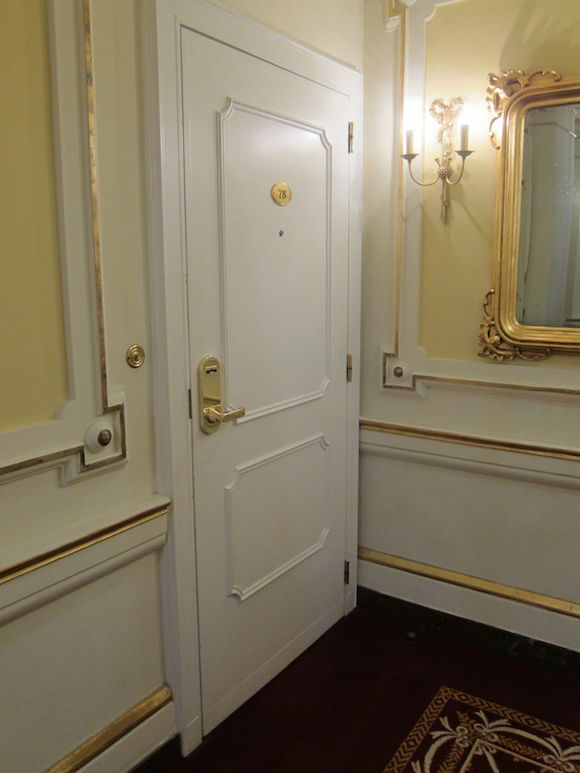 Room entrance
At the entrance was a large foyer and guest bathroom with toilet and sink.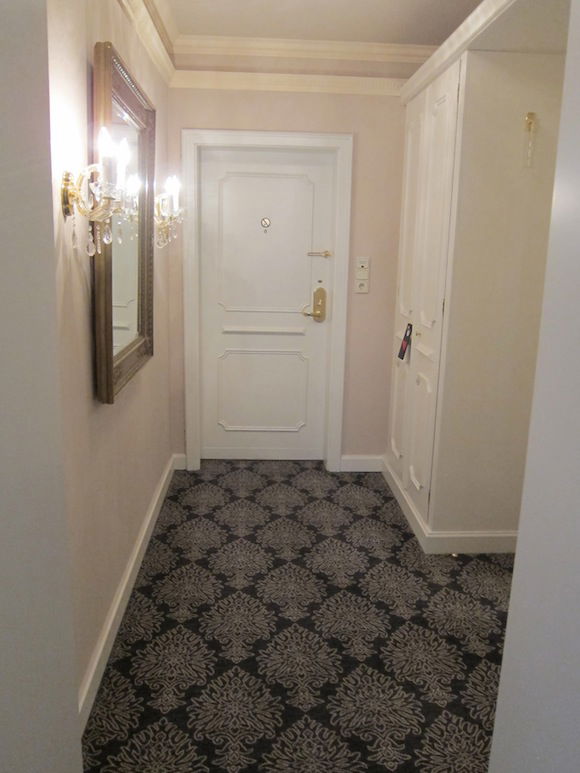 Foyer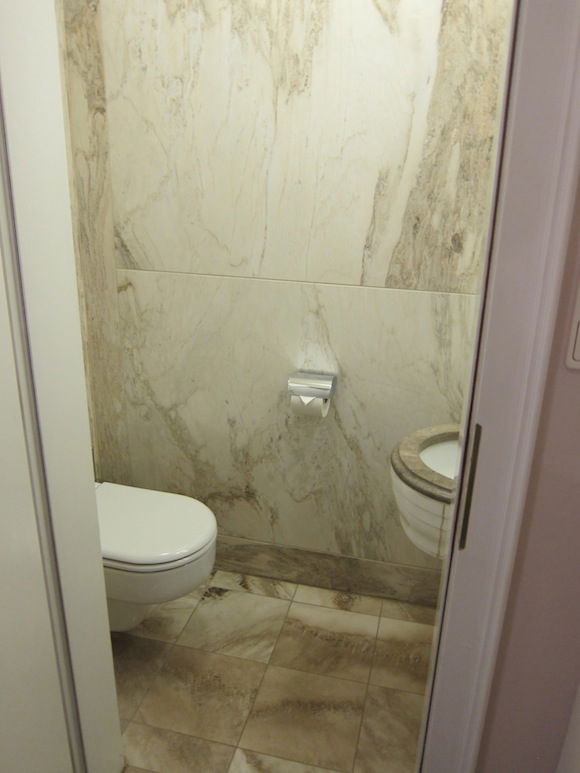 Guest bathroom
Then a separate door lead to the living room, which featured a seating area with a small couch and two chairs. There was also a desk near the window.
I usually love modern so I can't say I really liked the decor, though I knew that full well coming into my stay, and I must say that it was at least "mint condition" classic, which I often don't find to be the case at older hotels.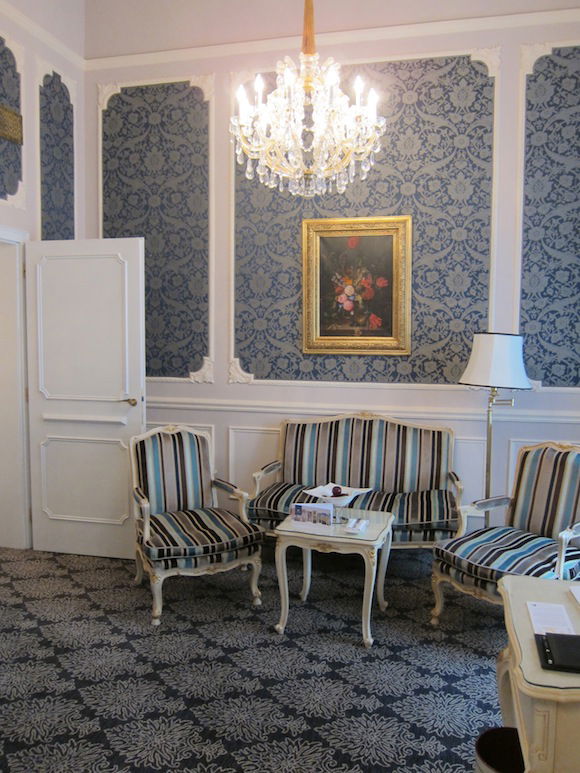 Living room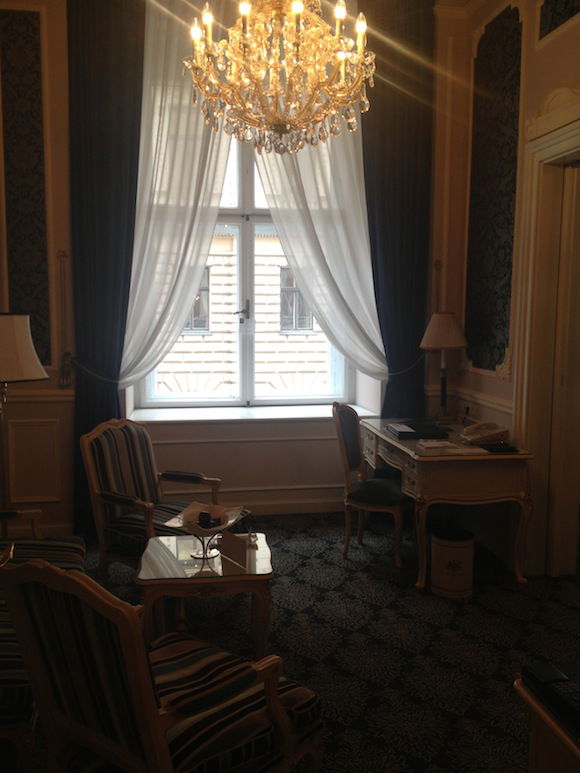 Living room
There was also a welcome gift sitting on the table along with a printed card.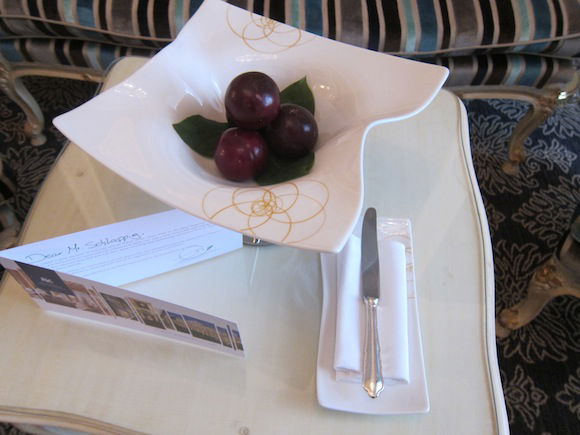 Welcome gift
The downside to having a room on the first floor is that the views sucked, and looked directly into the building right across the street. As a result I had my shutters closed for most of my stay, since people across the street could look directly into my room. The shutters are controlled electronically and take a good couple of minutes to shut.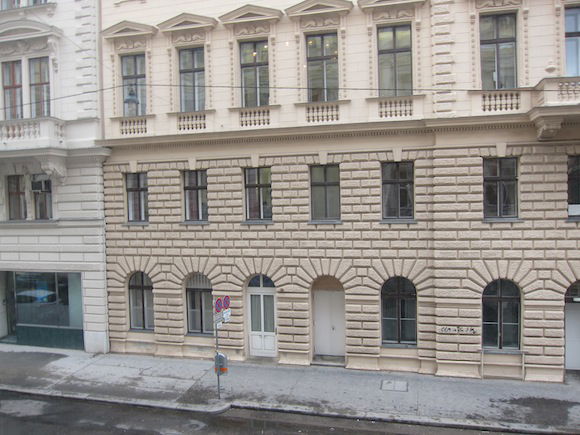 View (or lack thereof) from my room
The living room was separated from the bedroom by a faux sliding door. I say "faux" because I don't think the door actually moved, but rather was just decorative. Or maybe it was stuck. Who knows.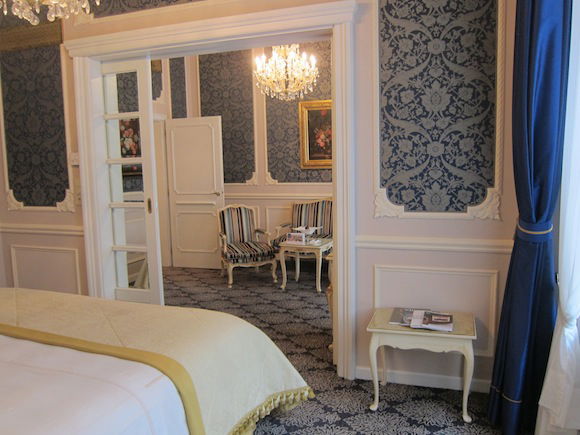 Bedroom looking towards living room
The bed was extremely comfortable with great bedding too.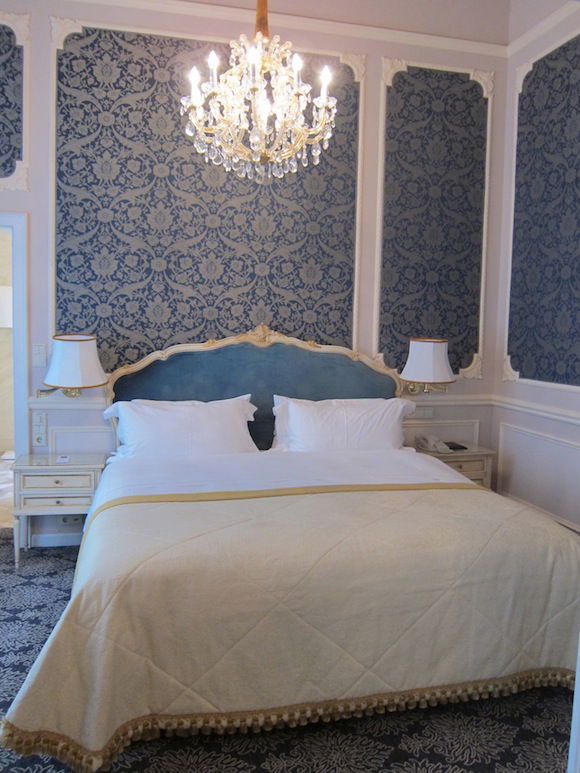 Bedroom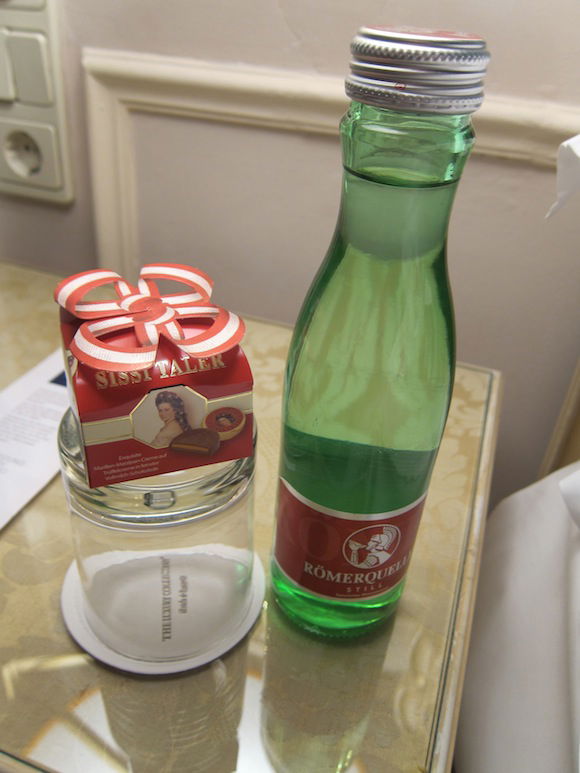 Turndown service water and chocolate
Then there was the bathroom, which was massive, with double sinks, a tub, a walk-in shower, toilet, and bidet. It was stocked with Bulgari amenities, which are my favorite.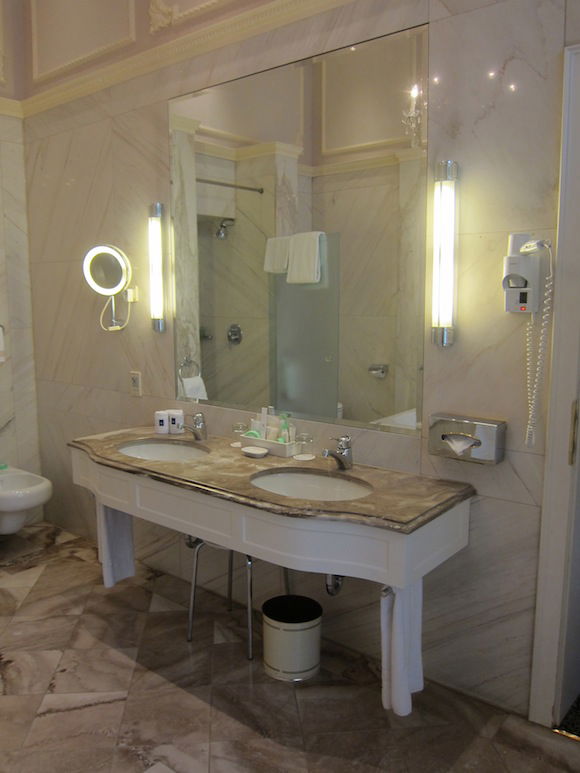 Double sinks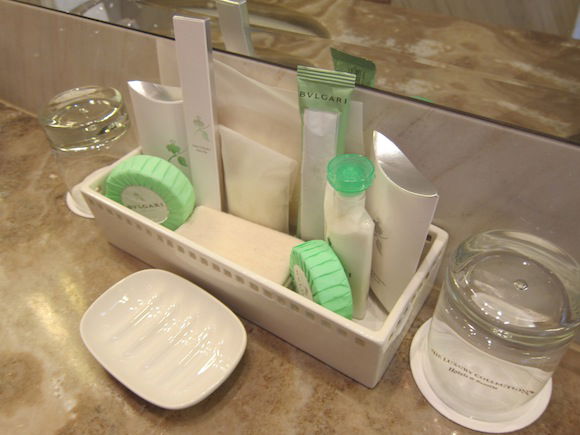 Bulgari amenities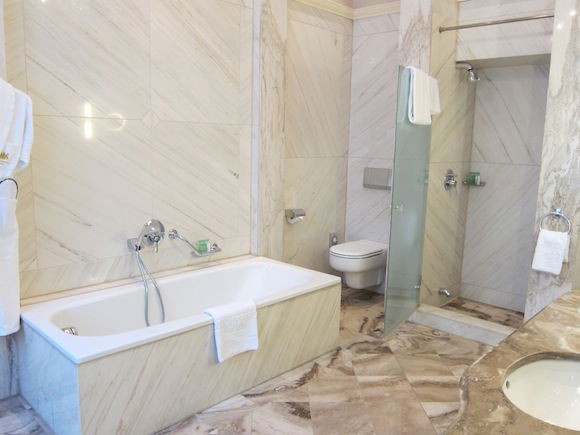 Bathtub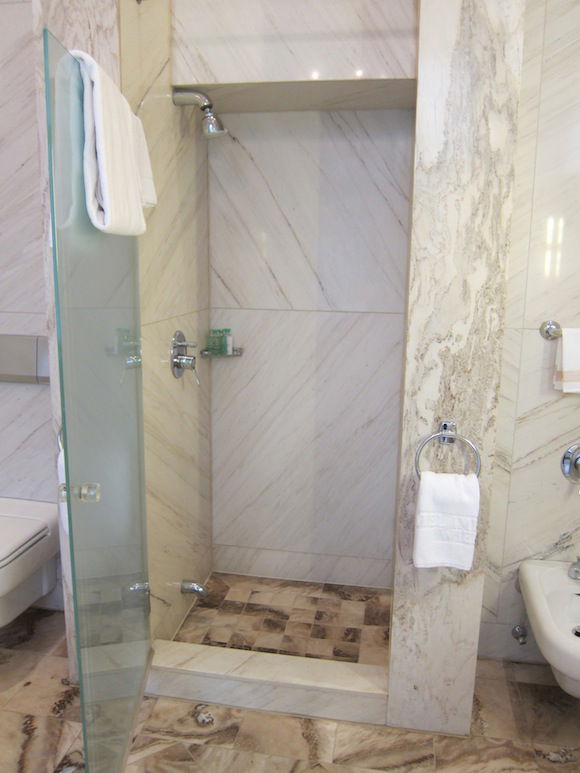 Shower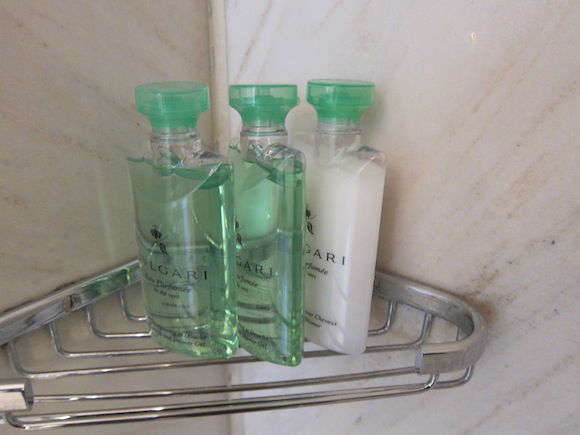 Bulgari shower amenities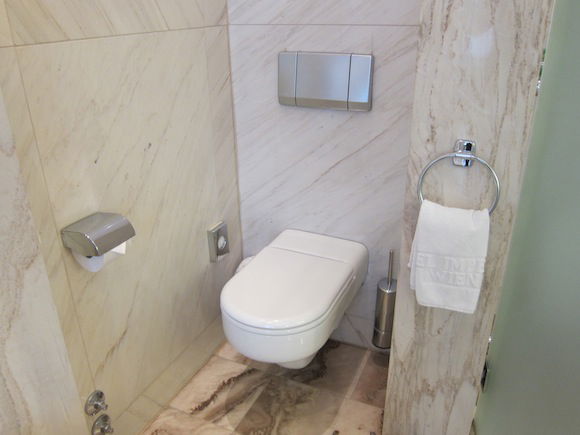 Toilet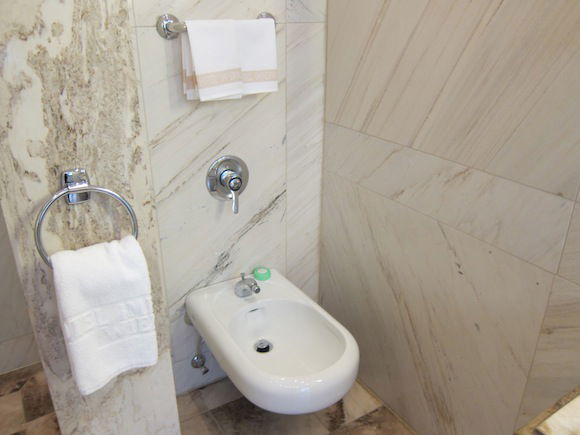 Bidet
And of course to go with the theme of the rest of the room, the bathroom also had a chandelier. That's three for three.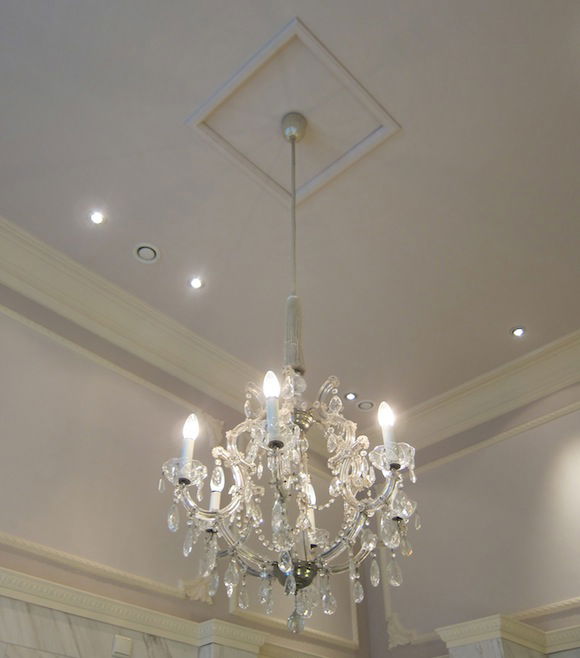 Bathroom chandelier
While the Wi-Fi is usually 29 Euros per day, it was complimentary as a Platinum guest. The speed was reasonably good, better than I've found at most ancient hotels.
As far as the hotel's other facilities go, there's a business center on the first floor. Most importantly it had bottled water, and I must have grabbed about a dozen from there since there wasn't enough in the room.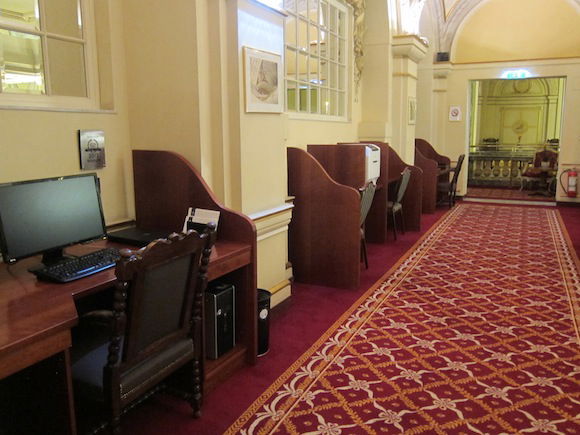 Business center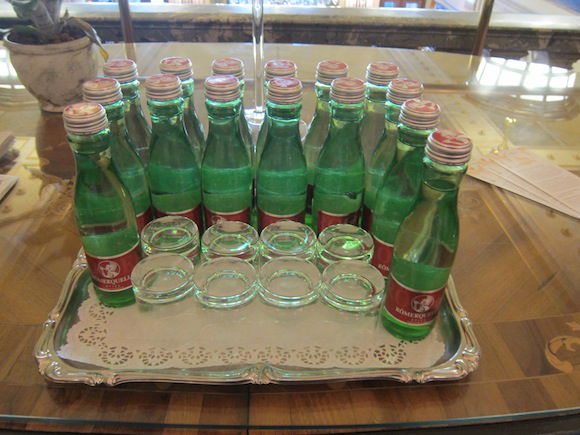 Bottled water
There's also a gym on the sixth floor, which can be accessed by taking the elevator to the fifth floor and taking the staircase up from there. The gym was tiny and the treadmill was broken, which was disappointing. Again, it had plenty of free bottled water, which is a plus.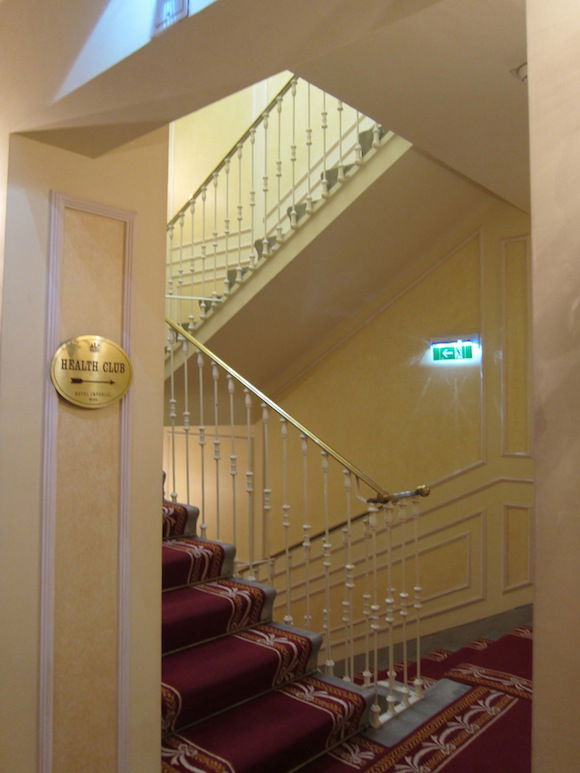 Walkway to gym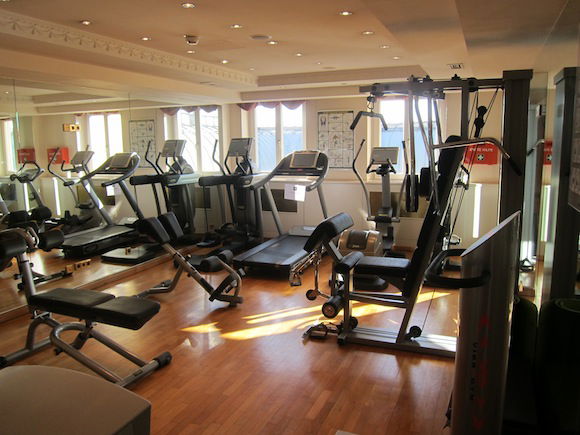 Gym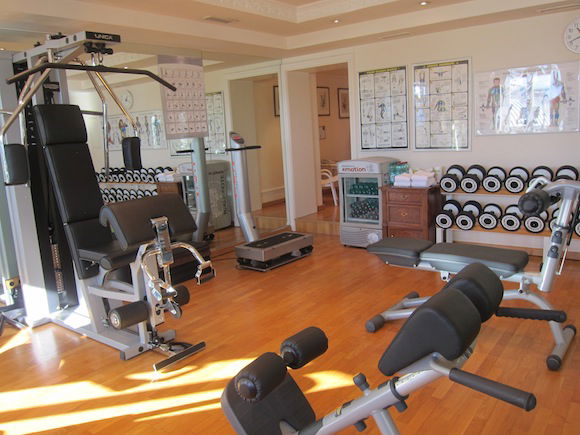 Gym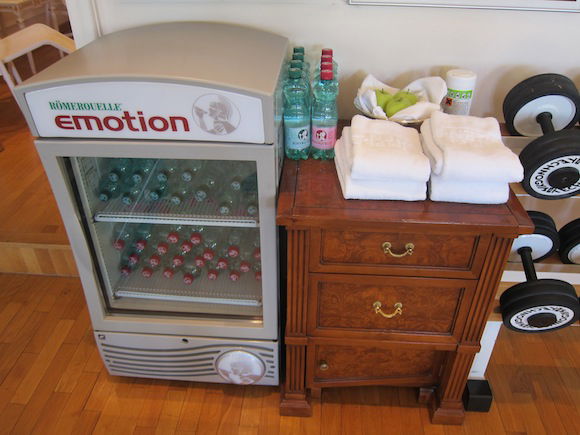 More water!
I spent much of the afternoon and evening strolling Vienna, as the weather was gorgeous. It was in the 50s with snow still on the ground, so a beautiful setting. And the hotel does have a very good location for walking around Vienna, as it's not far from the main pedestrian zone.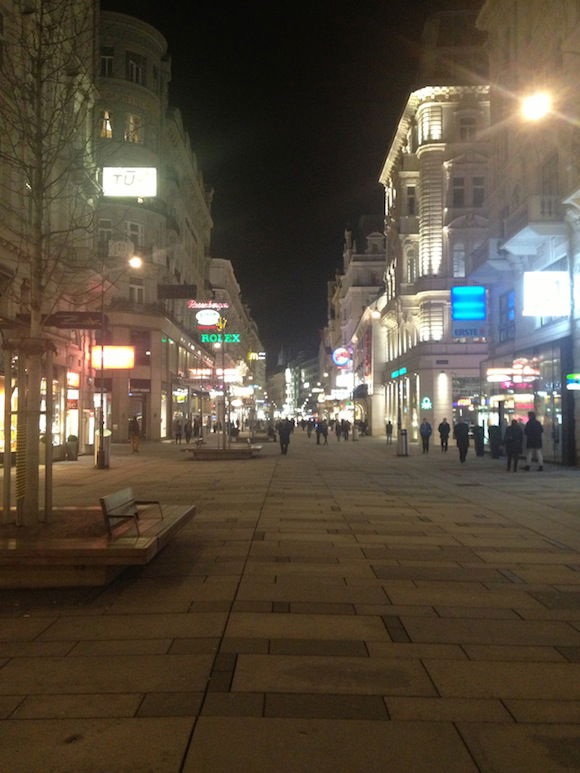 Vienna at night
The room's keys are interesting in that they have what's essentially a heavy paperweight attached to the end of them. It later occurred to me that I was probably supposed to leave it with the front desk whenever I left, though I never thought of doing that.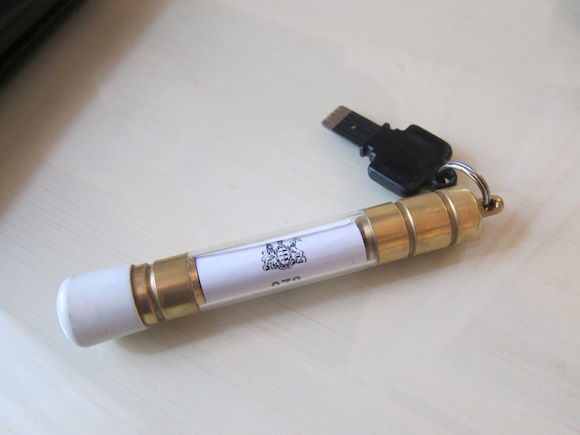 Room key
In the morning I had breakfast at Cafe Imperial, which is open daily from 7AM till 11AM for breakfast. The restaurant is super old-fashioned, and actually reminded me of the restaurants in the villages in Germany where much of my family live. Good memories.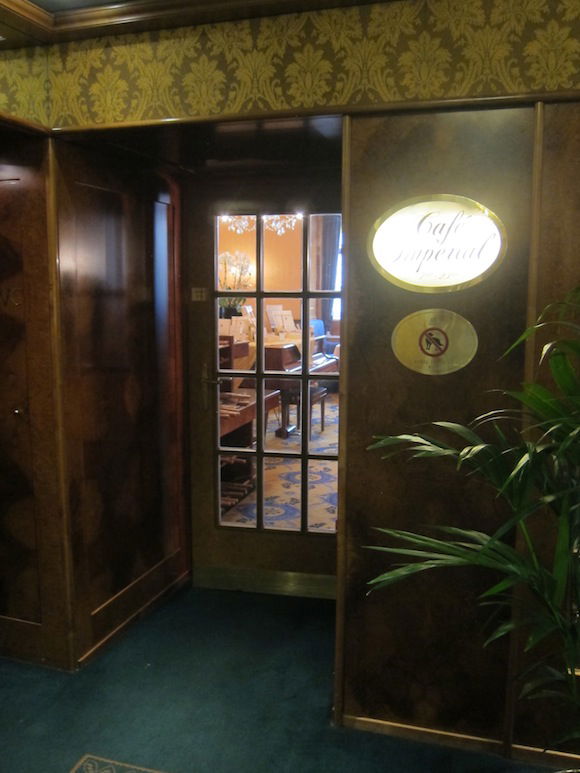 Cafe Imperial entrance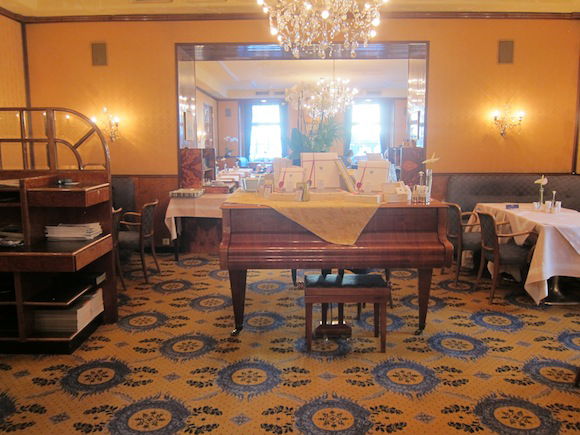 Cafe Imperial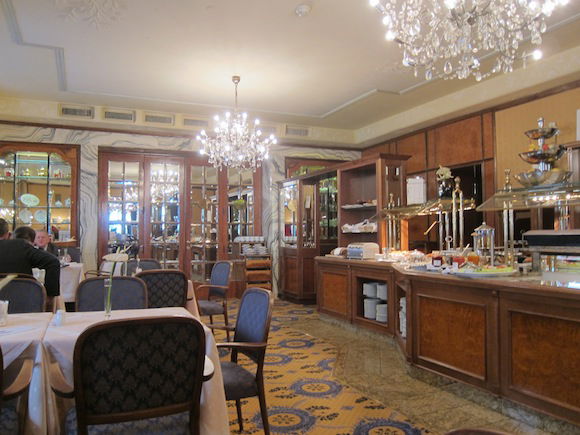 Cafe Imperial
The spread was really good, with fruit, all kinds of fresh breads and pastries, cheese, meat, cereal, muesli, yogurt, etc. There was even champagne. On the whole it was a pretty unbeatable Platinum breakfast.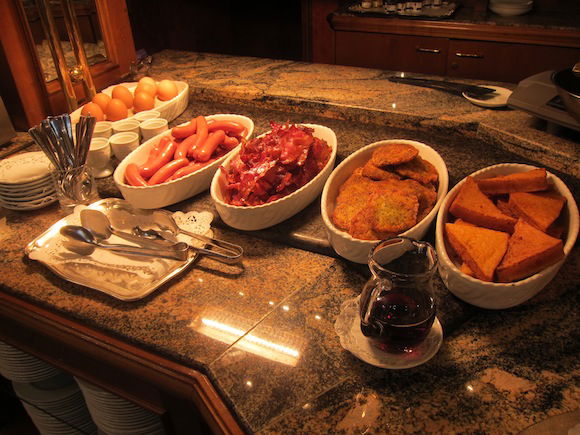 Buffet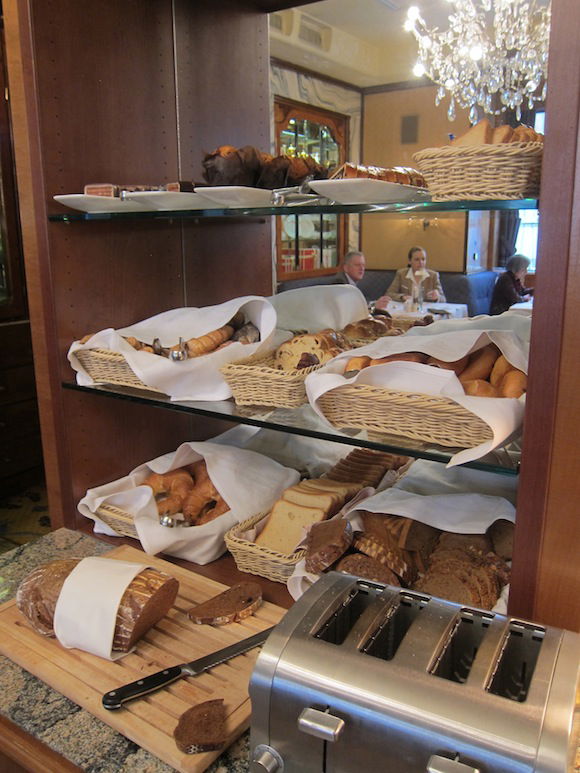 Buffet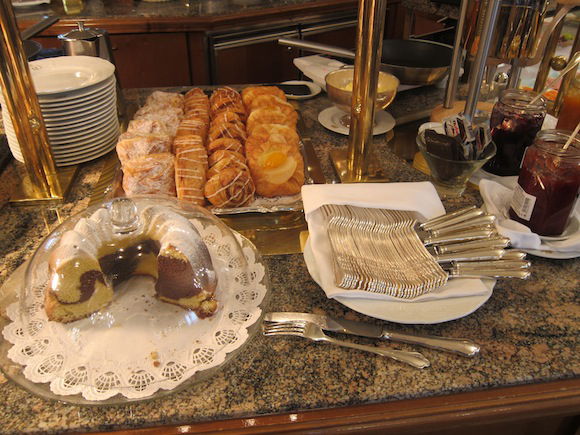 Buffet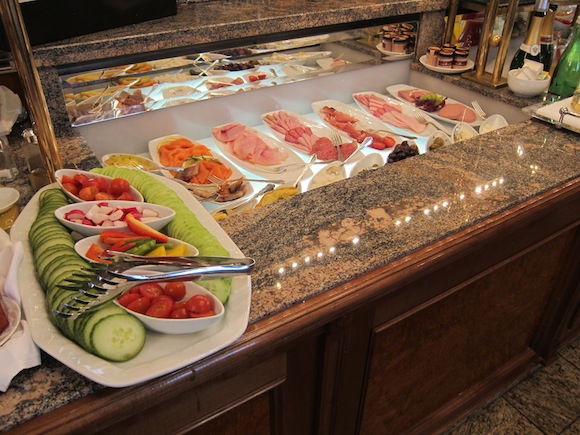 Buffet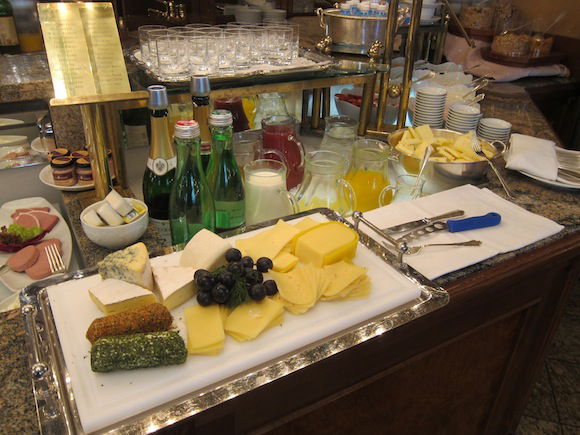 Buffet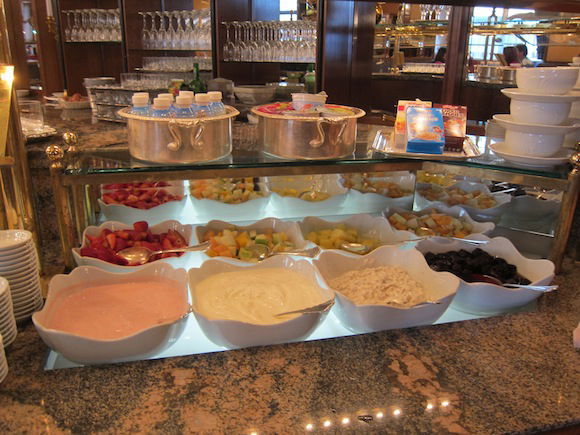 Buffet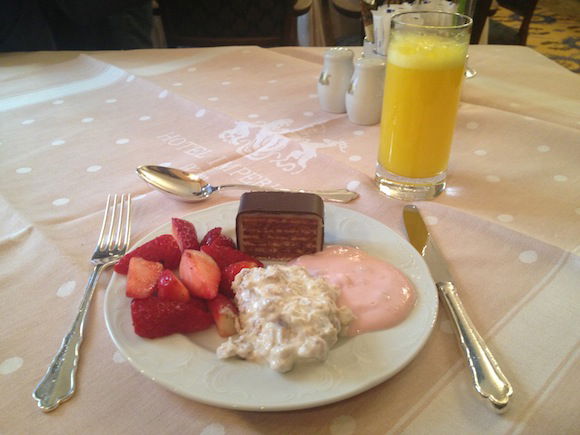 Breakfast
I'm really happy I spent a night at this hotel. It really isn't my style, given that I prefer modern hotels, and I must have been the youngest guest by about 40 years. There was also something just a bit uncomfortable about the hotel, given that there's no way to walk through the lobby without getting glared at. Service at the hotel was a bit "uppity" for the most part, but I think that's to be expected at high-end European hotels.
That being said if you're into classic hotels and don't mind paying the high price for them, this is definitely a solid option in Vienna. And I must say the Platinum treatment was excellent (though I did use a suite night award), so they get points for that as well. I feel more comfortable at Le Meridien so would probably return there, especially since I loved the room I had with a balcony. Or maybe I'll try the Hotel Bristol, given that it seems to be a cheaper version of the Hotel Imperial, to see how it compares.
How you can use points for a stay at Hotel Imperial Vienna
Hotel Imperial is a category six Marriott property, meaning a room costs 50,000 Marriott Bonvoy points per night.
There are several ways to earn Marriott points. One of the easiest was is through credit card offers:
Best for Marriott perks
Get platinum status for being a cardholder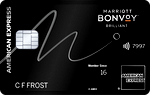 Marriott Bonvoy Brilliant® American Express® Card
Best for business travelers
Earn up to 2 free night awards every year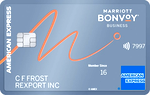 Marriott Bonvoy Business® American Express® Card