---
I got to Warsaw Airport at around 10:20AM for my 12PM departure. I couldn't help but chuckle at the fact that they plastered a massive 787 advertisement on the outside of the terminal. They've gotta be regretting that at this point!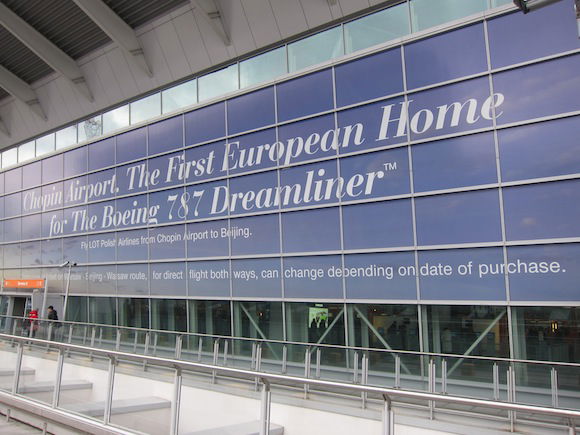 Terminal exterior
The check-in area was larger and more modern than I expected for Warsaw. Fortunately when I checked in at Istanbul Airport the previous day I had already been issued my boarding pass for my flight to Chicago, so I could head straight to the security checkpoint.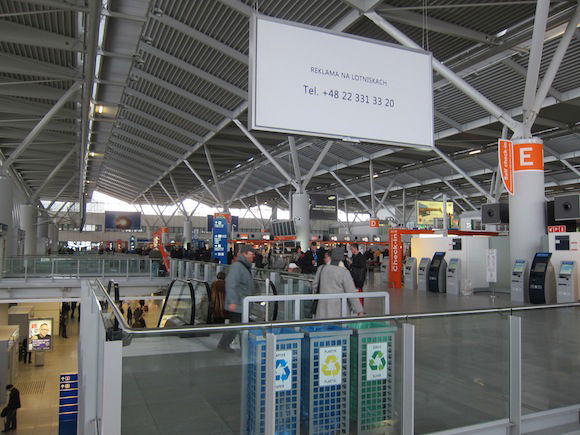 Check-in area
The security checkpoint was towards the back center of the terminal, while at the back right of the terminal was a business class security checkpoint. The agent verifying eligibility to use the business class line was a bit thrown off by my boarding pass since it wasn't issued on a traditional LOT boarding pass (in Istanbul they used generic card stock), and must have stared at it for a good minute before allowing me to enter.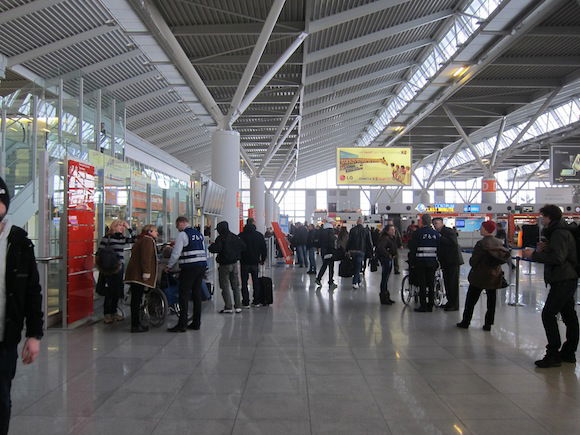 Departures area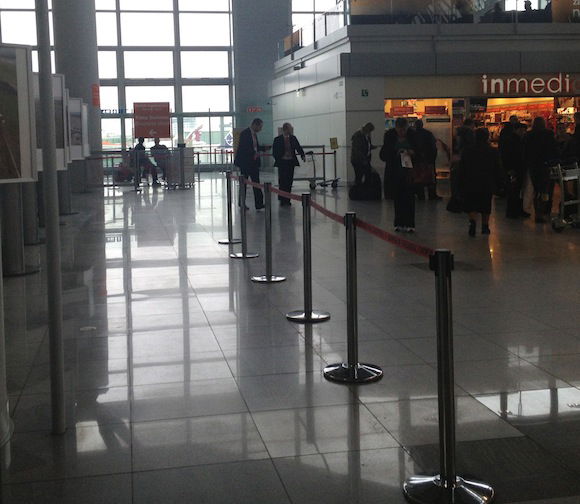 Business class security queue
Security was quick, and I followed the signage towards LOT's lounge, which was easy to find.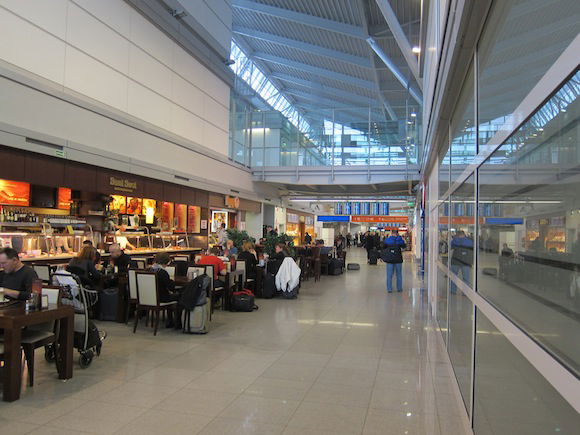 Airside terminal
It was located up a level from the main terminal, and as a quick reminder, there are a couple other options available in Warsaw for anyone with a credit card with lounge access.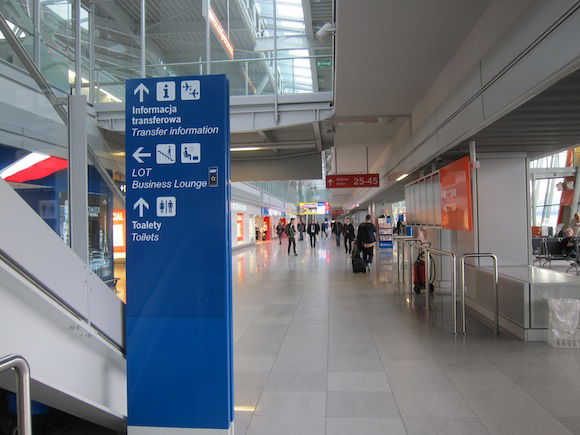 Signage for lounge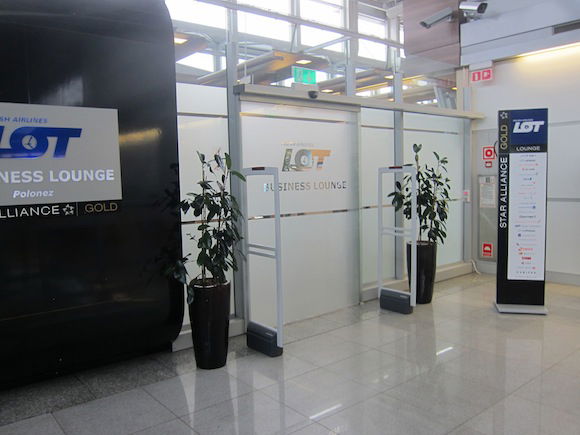 Lounge entrance
I was welcomed by the two agents at the desk, who were once again thrown off by my boarding pass, claiming they had never seen one like it before. They promptly admitted me nonetheless, and reminded me to leave some time for passport control, given that the lounge is located in the Schengen portion of the terminal.
The lounge was empty and spacious, if not a bit oddly decorated, with very neutral furniture and artificial plants on the walls.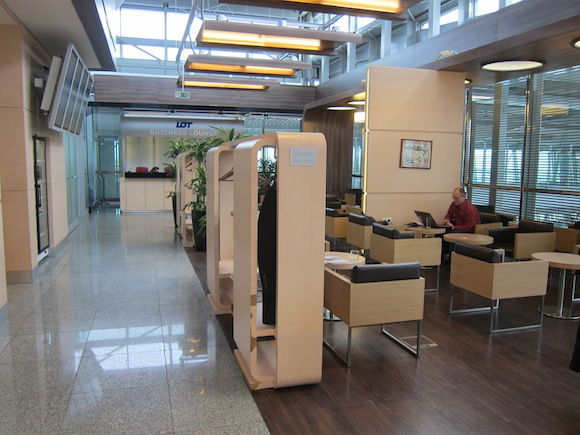 Lounge seating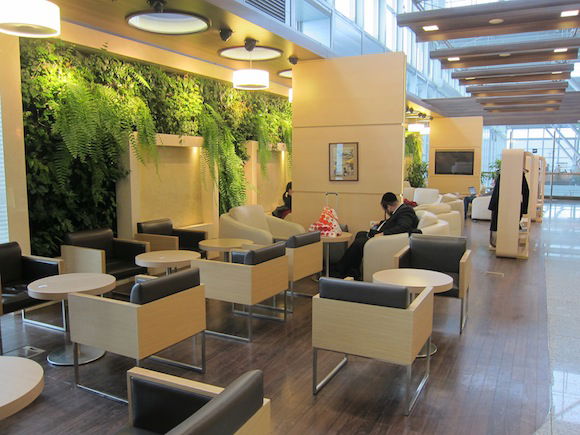 Lounge seating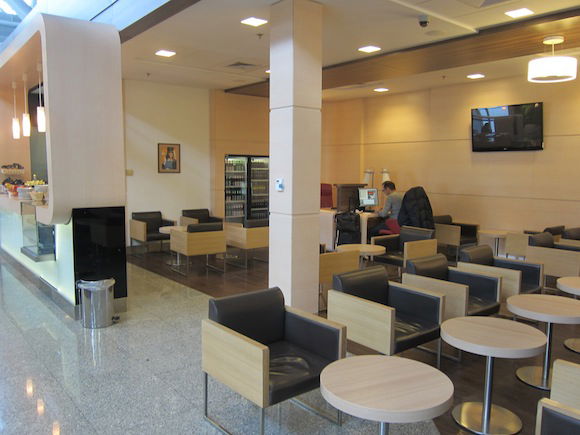 Lounge seating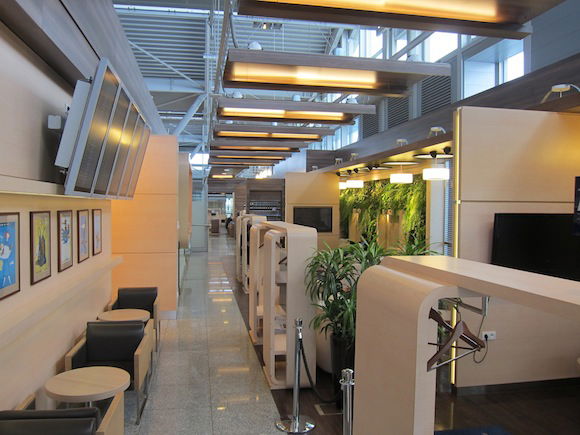 Lounge seating
There were a few workstations with PCs, though the Wi-Fi was pretty fast so there was no need for them.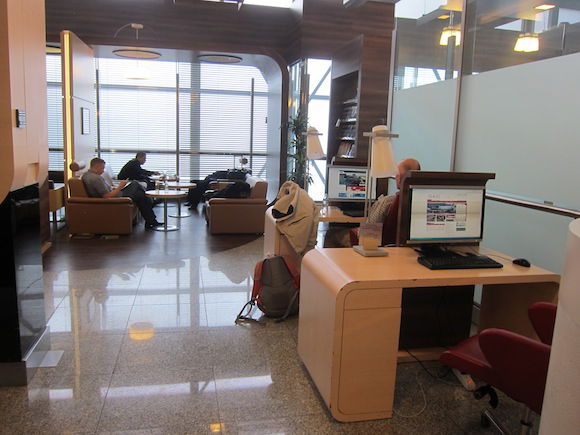 Lounge workstations
At the very back of the lounge was a special roped off section for HON Circle members, which reminded me a bit of the first class seating in the Thai Airways lounge in Phuket. Definitely more style than substance to it, but hey, if you rack up that many miles you deserve it!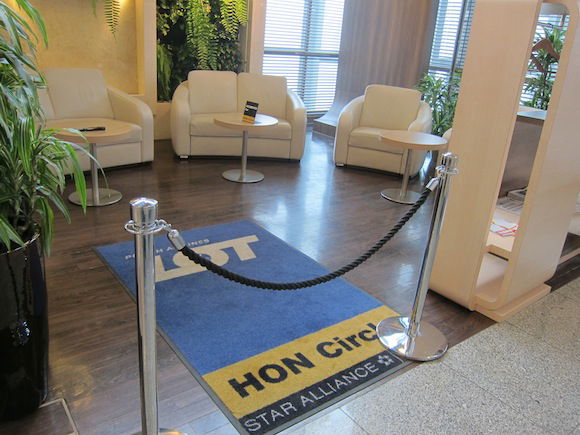 The food spread was a bit disappointing, with nothing more than some muffins, croissants, rolls, yogurt, apples, and packaged chocolate bars.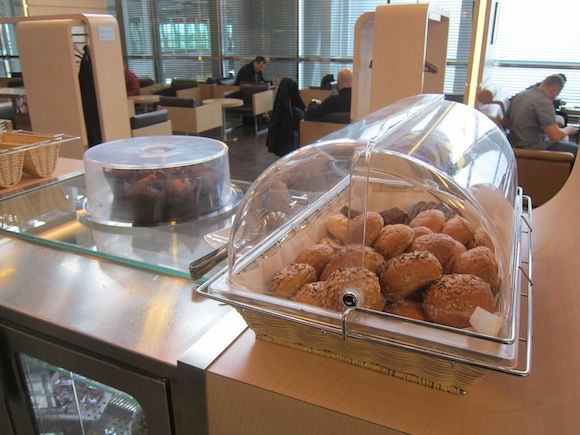 Food spread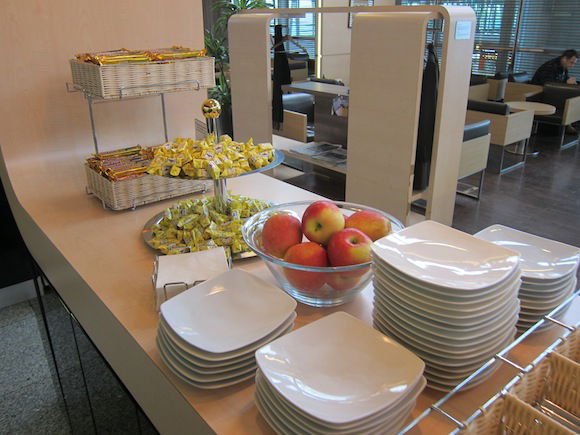 Food spread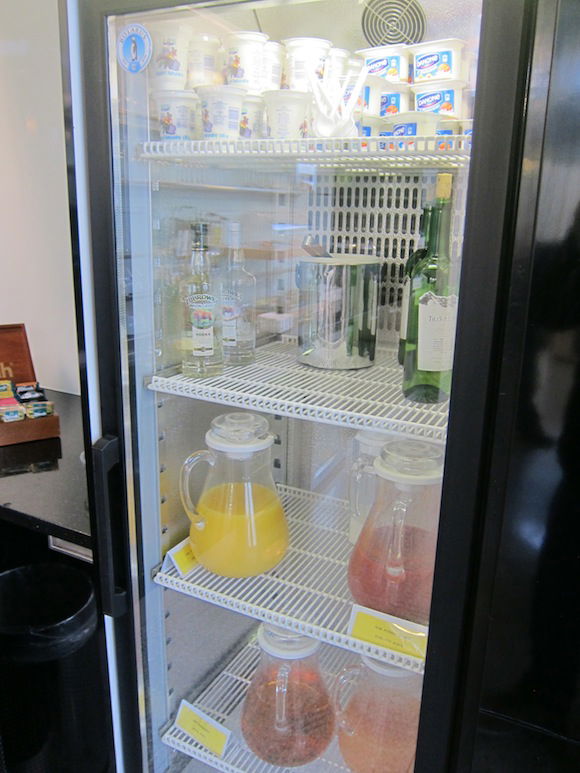 Food spread
On the plus side the liquor selection was pretty good.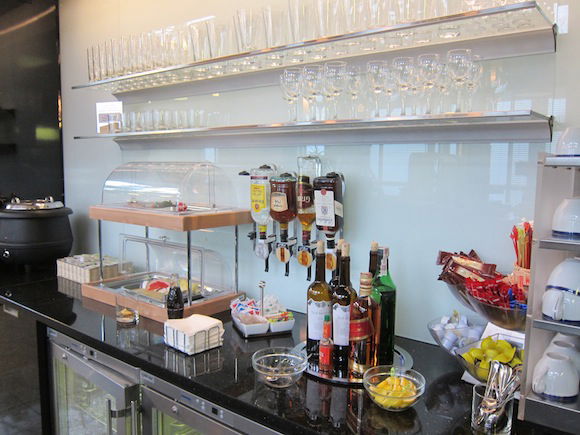 Booze
After spending about half an hour in the lounge I headed towards immigration control and gate 14, where my flight would be departing from.
The queues at immigration control were quite long, though I noticed something strange. There were five sets of immigration counters, each with two windows. The first four sets of counters were labeled "all passports," while the fifth counter was labeled "all passports" on the left window and "diplomats" on the right window. Yet no one was using the left window.
This was one of those cases where I felt like social influence was getting the best of us. Everyone would look at the window but no one would actually go there. Because we all assumed that everyone else must know something we don't or else we wouldn't be waiting in another queue unnecessarily. I made the decision to try my luck with the line, and sure enough I was promptly processed. At that point a damn near stampede of people moved to the same line. Kinda funny how that works…
When I arrived at the gate it was chaotically busy, and felt a whole lot more like an A380 gate than a 767 gate. And even though boarding hadn't even been announced yet, everyone was already crowding the entrance to the jet bridge. It's not that they were pushing or anything, but they all just formed a big mob with no place to squeeze through.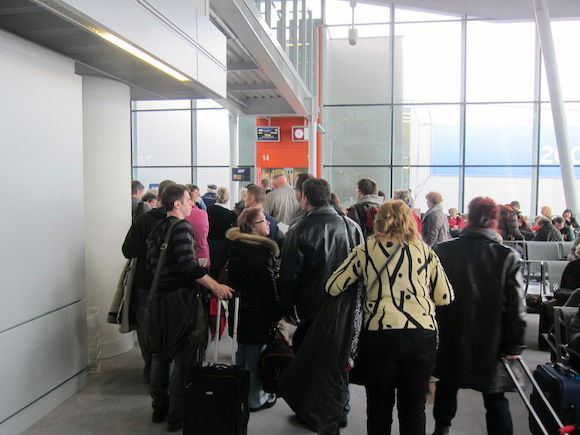 Gate area
Within a few minutes of arriving at the gate my name was paged, so I tried to make my way to the podium. The problem was that there were 200 people standing between me and the podium, and they left no space to squeeze through. When I said "excuse me" and tried to walk through they wouldn't make room, thinking I was trying to cut them in line (if you can call it that). So the lady at the entrance to the gate ended up having to shove me through the mob to the podium. As it turns out they just wanted to make sure I was actually going to make the flight, given that my boarding pass had been issued the previous day in Istanbul.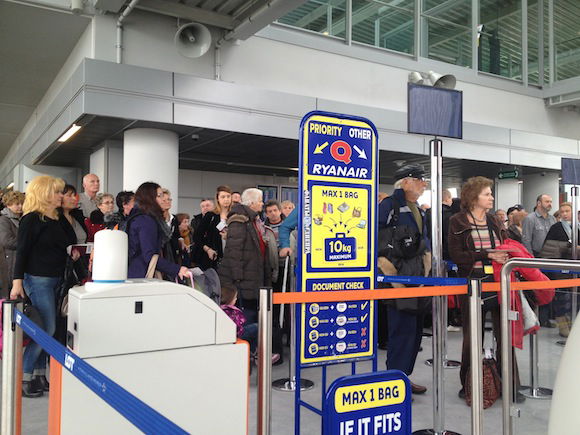 Gate area
At around 11:30AM boarding was called, starting with business class. And while they called business class first, there wasn't actually any way for those passengers to make it to the front of the line, as no one would make room. Quite a cluster$%*& alright!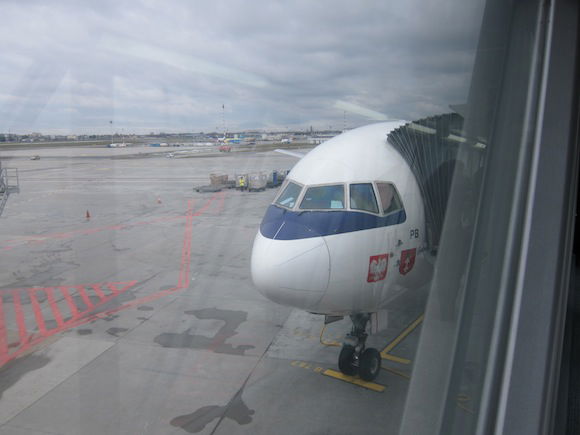 767 bound for Chicago!
And while it wouldn't be the 787, I was still quite curious what was waiting me aboard my LOT longhaul flight…