While Turkish Airlines has an excellent business class soft product, unfortunately their seats leave a lot to be desired.
The good news is that in 2019 Turkish Airlines will introduce an all new business class seat, which will debut on their new 787-9 aircraft. The airline has 25 Boeing 787-9s, as well as 25 Airbus A350-900s on order, and they should receive the first of each of those next year.
Turkish Airlines hasn't revealed much about their new business class seats, other than to say that they'll each feature direct aisle access, and that they'll be private.
While the seats as such haven't been revealed, Turkish Airlines has shared the seatmap for their new 787-9s, which give us a general sense of what to expect.
As I wrote about the seatmap at the time:
There will be 30 business class seats, presumably between doors one and two, which matches the density you'll find on airlines that have reverse herringbone seats in this space; that should give you a sense of the real estate per seat
Seats will be in some sort of a staggered configuration; I don't think the seatmap is completely accurate in it showing alternating rows of 2-2 and 1-2-1, but rather I think that's just how the seatmap displays it, when in reality there will be one seat along each window and two seats staggered in the center section
Anyway, Turkish newspaper Hürriyet has a long story about Turkish Airlines, and it also talks about the new business class seats. I'm using Google Translate to read it, so I can't guarantee I'm getting the full picture, though it contains the below pictures: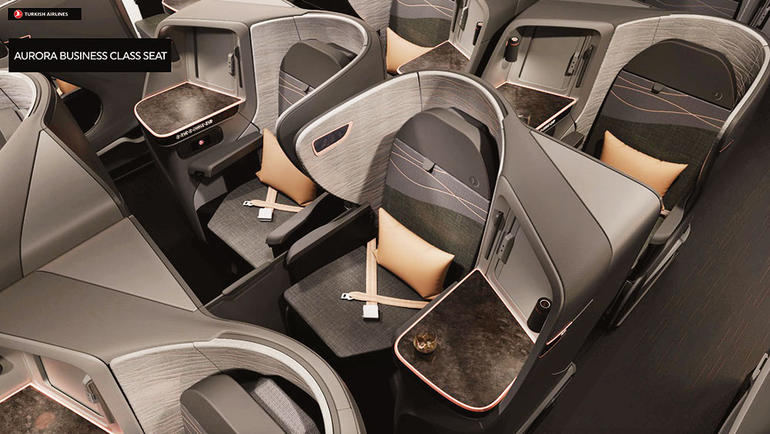 Based on these pictures having the Turkish Airlines logo and also having cabin finishes that I'd expect Turkish Airlines to have, it sure seems to me like these could be the new Turkish Airlines business class seats.
This staggered configuration has direct aisle access from every seat, and the seats are certainly fairly private (Turkish never said they'd introduce doors in business class, and these are much more private than their old seats).
This seat may look familiar, and that's because it appears to be a modified version of Singapore Airlines' new 787-10 business class seat. Singapore Airlines is using the 787-10 primarily for regional routes, but not surprisingly they chose a very good product for these planes. This is a seat designed by Stelia Aerospace, and it looks like it's based on the Stelia Solstys III seat.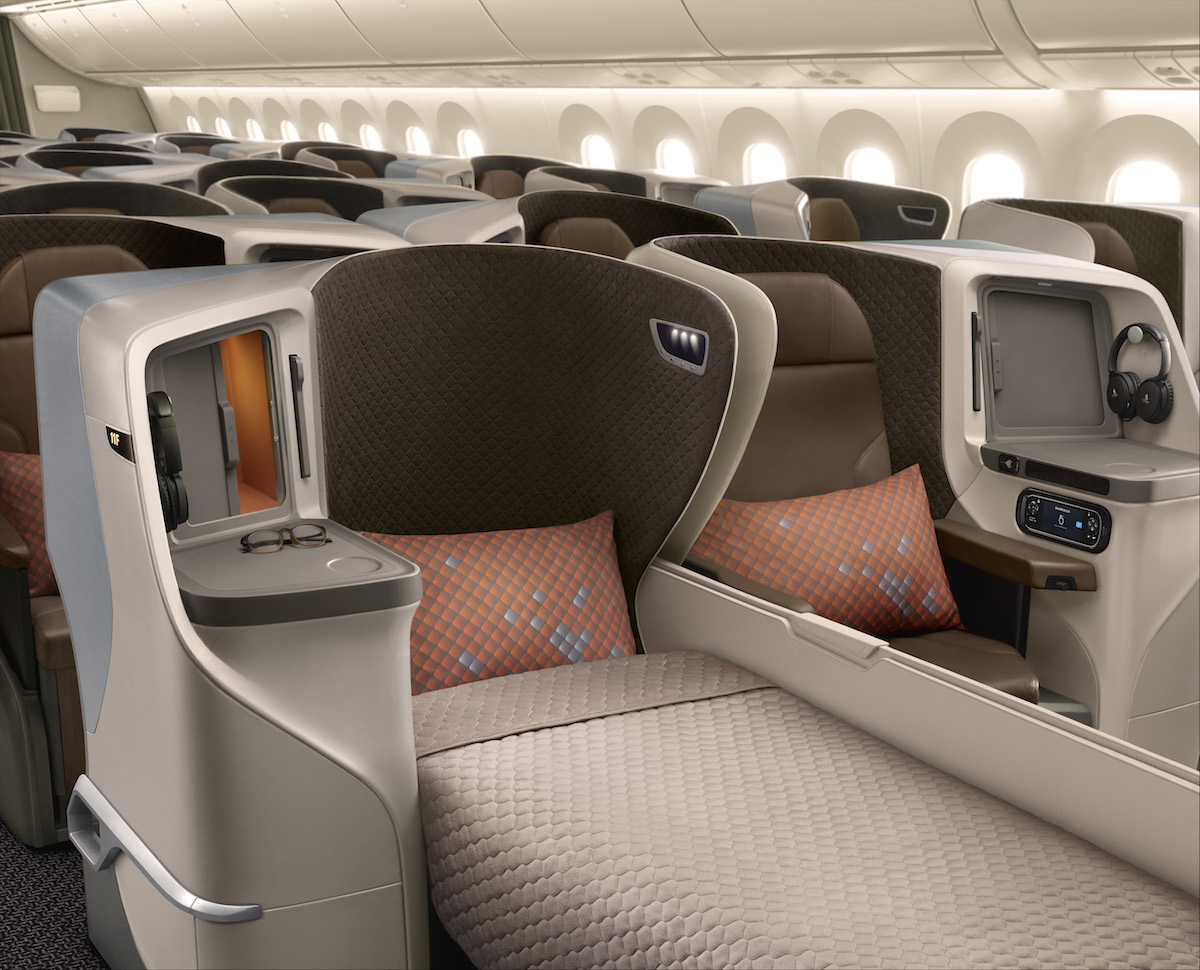 So yeah, I can't guarantee this is actually Turkish Airlines' new seat, though if I were a betting man I'd say it's more likely than not that it is. It's also about what I'd expect from Turkish. I wasn't expecting them to introduce a groundbreaking new seat, especially since they don't plan on reconfiguring existing planes with these seats.
Rather I was expecting them to introduce something that represents a significant upgrade, which this most definitely is. When combined with Turkish's industry leading business class food, I'd say this would make for a very nice experience.
Do you think this is Turkish's new business class seat, and if so, what do you make of it?
(Tip of the hat to No Name)