Hello from Boston! I just wrapped up my trip to Germany with my parents, and on the return we flew Lufthansa's Airbus A380 first class from Munich to Boston. My gosh, what a treat this flight was, especially since I managed to snag us four first class award seats, so we had half the cabin to ourselves!
While I'll have a full trip report soon, in this post I wanted to share some initial impressions of the flight.
Lufthansa's first class hard product is a bit better on the A380
Lufthansa only recently reactivated its Airbus A380s, and what a treat it is to see the whale jet flying again for Lufthansa!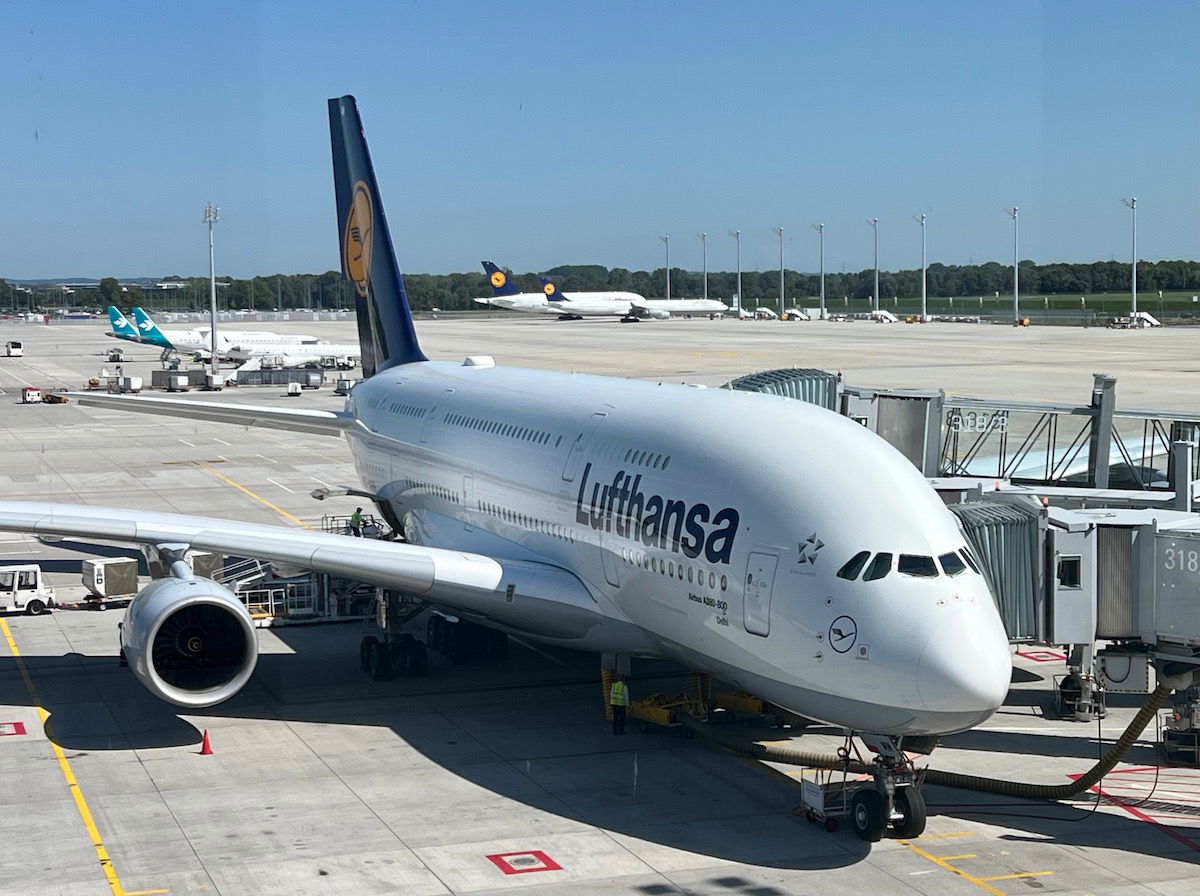 Until Lufthansa's new first class product is introduced, the airline is incredibly consistent with its first class hard product. The airline has the same seats on the A380s, A340s, and 747s. The A380 and A340 cabins almost look identical, while the 747 cabin is just configures a bit differently, given that it's in the nose of the plane.
I do have to say, I really enjoy Lufthansa's first class product on the A380. For one, the A380 is a pleasure to fly, given how quiet the aircraft is.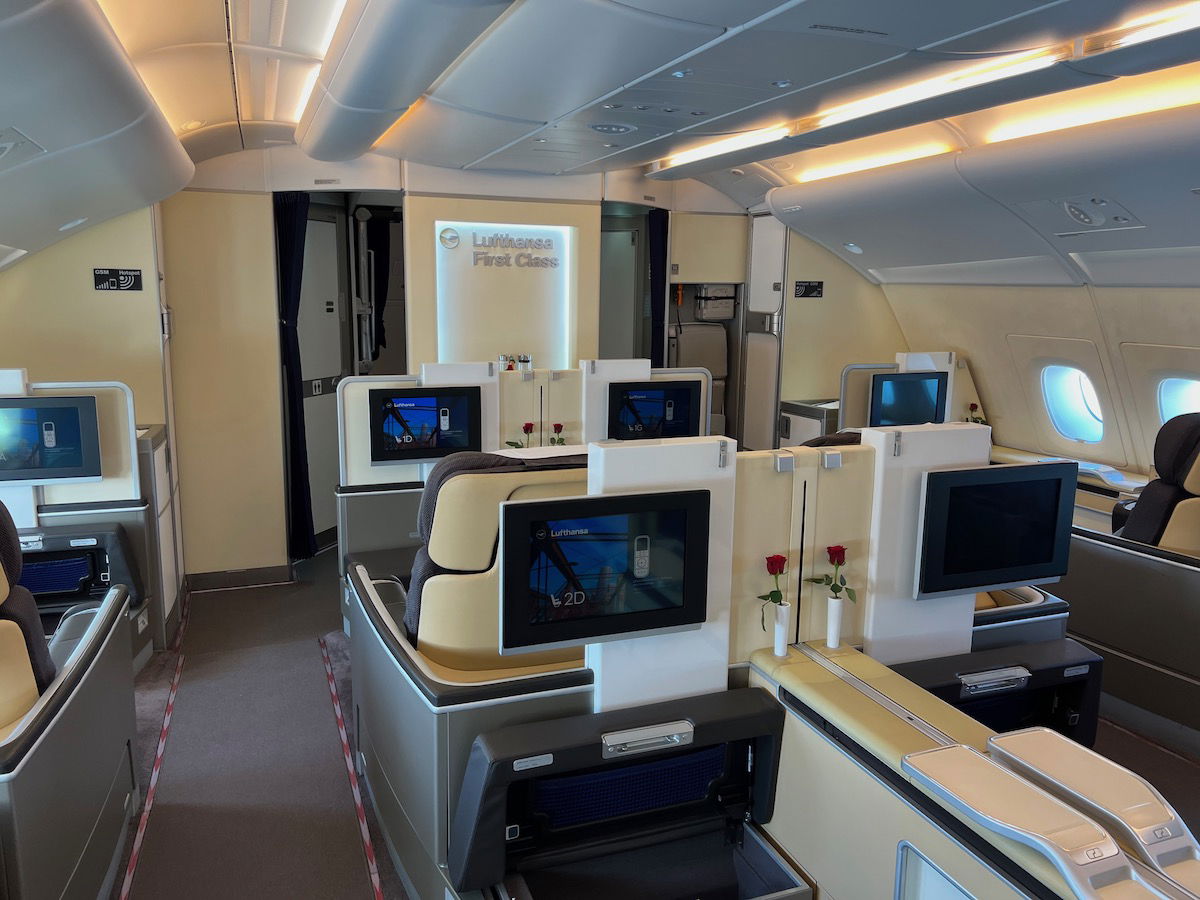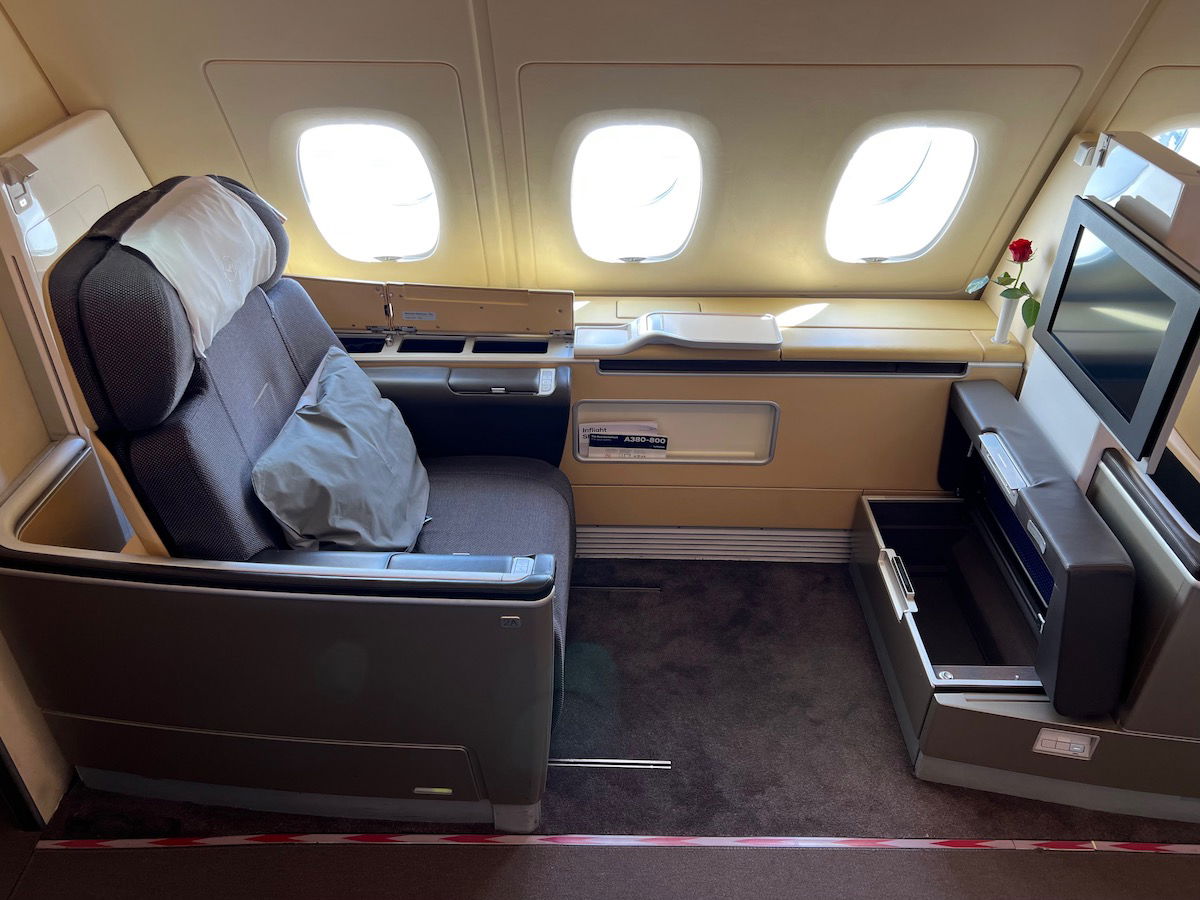 Furthermore, the A380 has much nicer lavatories than you'll find on Lufthansa's other aircraft, and they even have urinals (which… I always found to be an unusual feature).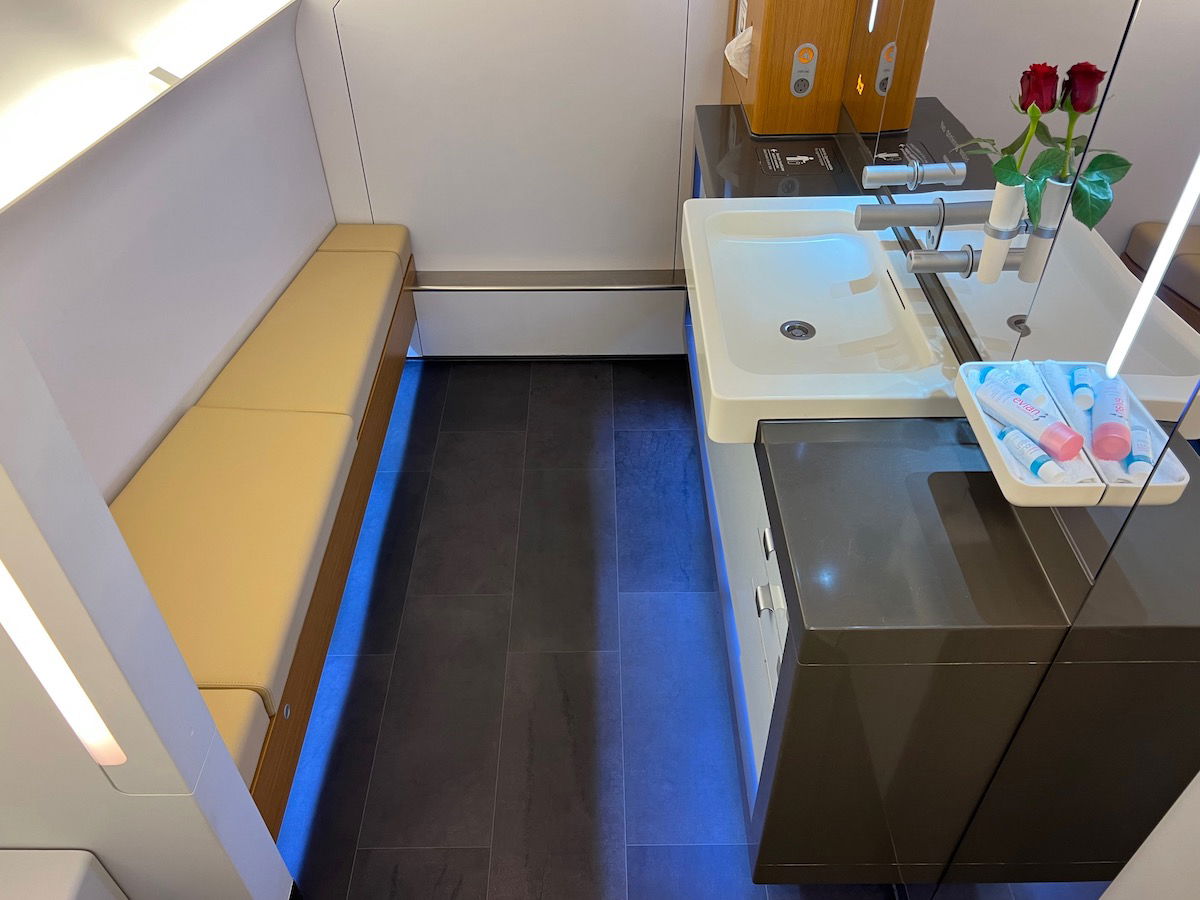 I also love how the Airbus A380 has a tail camera, which you won't find on other Lufthansa aircraft with first class.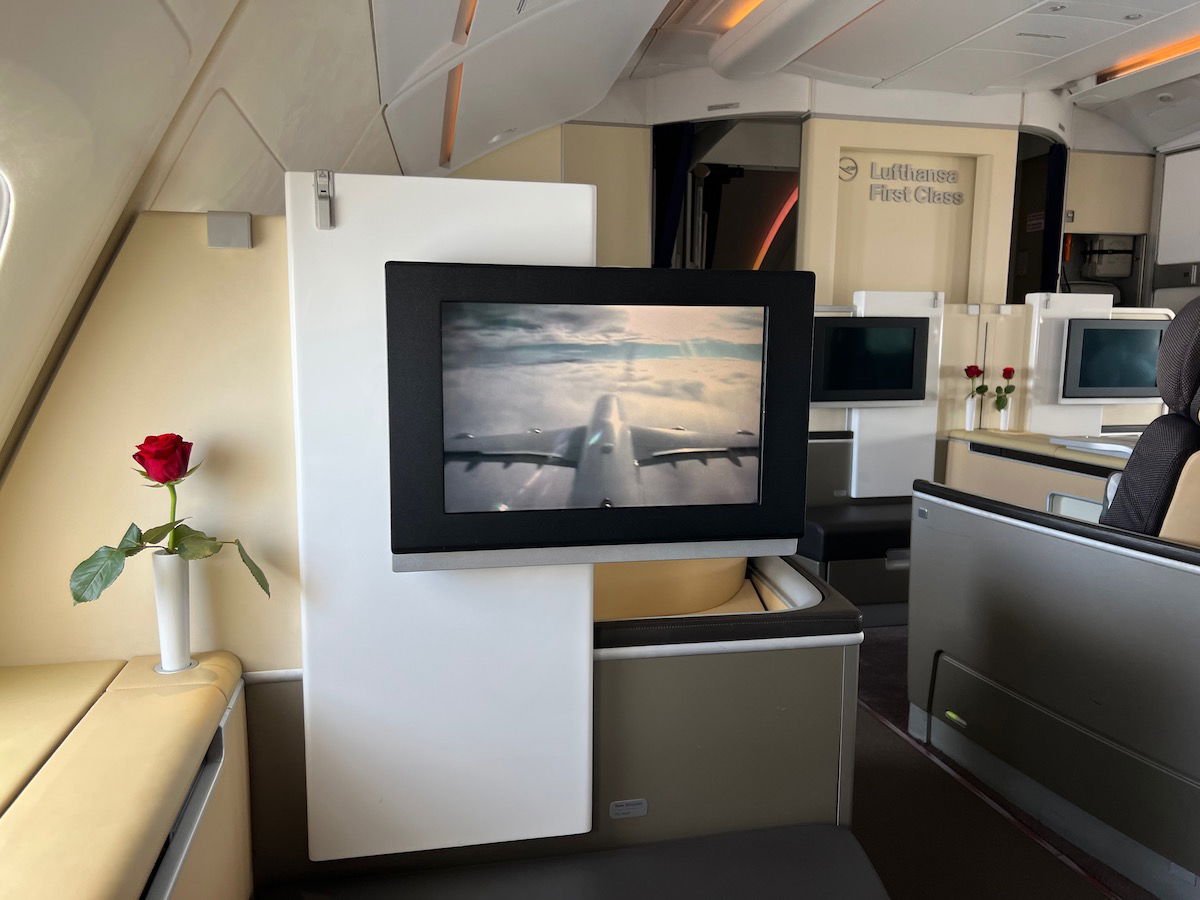 While Lufthansa's seats aren't very private, the bedding is excellent, and I find this to be one of the most comfortable beds in the sky.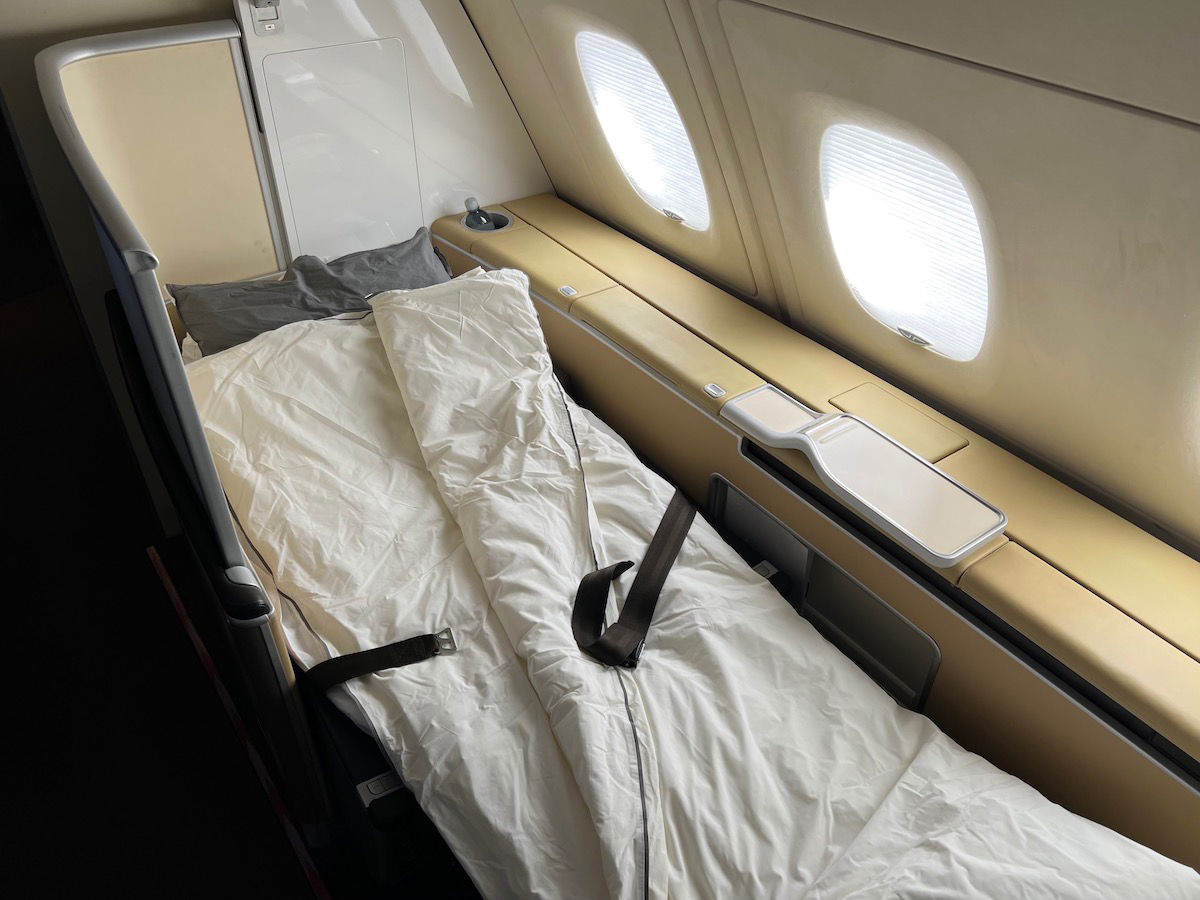 Like on Lufthansa's other aircraft, the entertainment on the A380 is cutting edge… if it were 2007. The entertainment is awful, both in terms of the selection, and in terms of the quality of the screen. Fortunately Lufthansa offers free Wi-Fi in first class, so I consider that to be a fair tradeoff.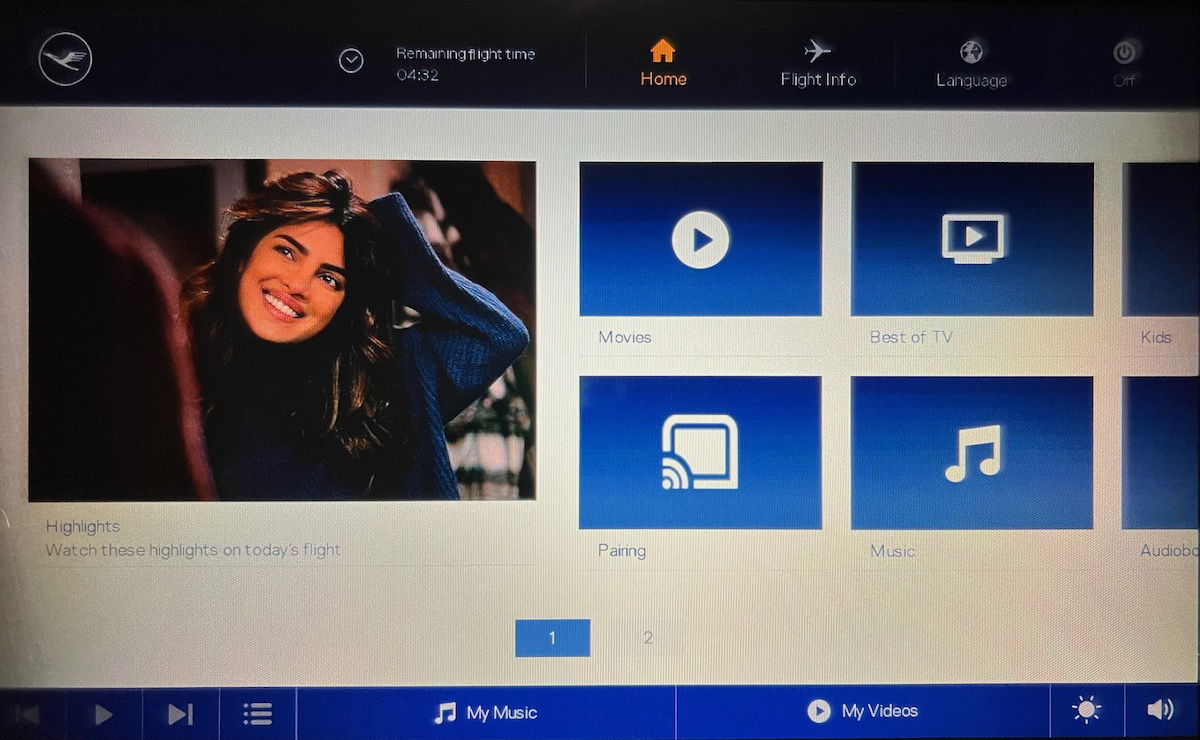 The service & food on this flight were great
I find Lufthansa to be quite consistent with service in first class, and crews usually range from good to excellent. I have to say, the crew on this flight couldn't have been better. The two flight attendants working first class were fabulously friendly and attentive, and took such good care of my family. They were among the most professional Lufthansa flight attendants I've ever had.
Heck, even the captain came to the upper deck during boarding to greet each first class passenger. I find that happens maybe every 10 flights or so, and it's always a cute touch, so I guess the stars really aligned on this flight in terms of service. I couldn't help but ask the captain a few questions about his thoughts on the return of the A380, and he was happy to chat for a moment (we were delayed quite a bit due to late connecting passengers).
Not only was the service good, but the food on this flight was among the best I've had on Lufthansa. For one, the champagne selection was exceptional, which wasn't the case on my previous Lufthansa flight. The rose champagne on offer was Laurent-Perrier 2007 Grande Cuve Rose Alexandra.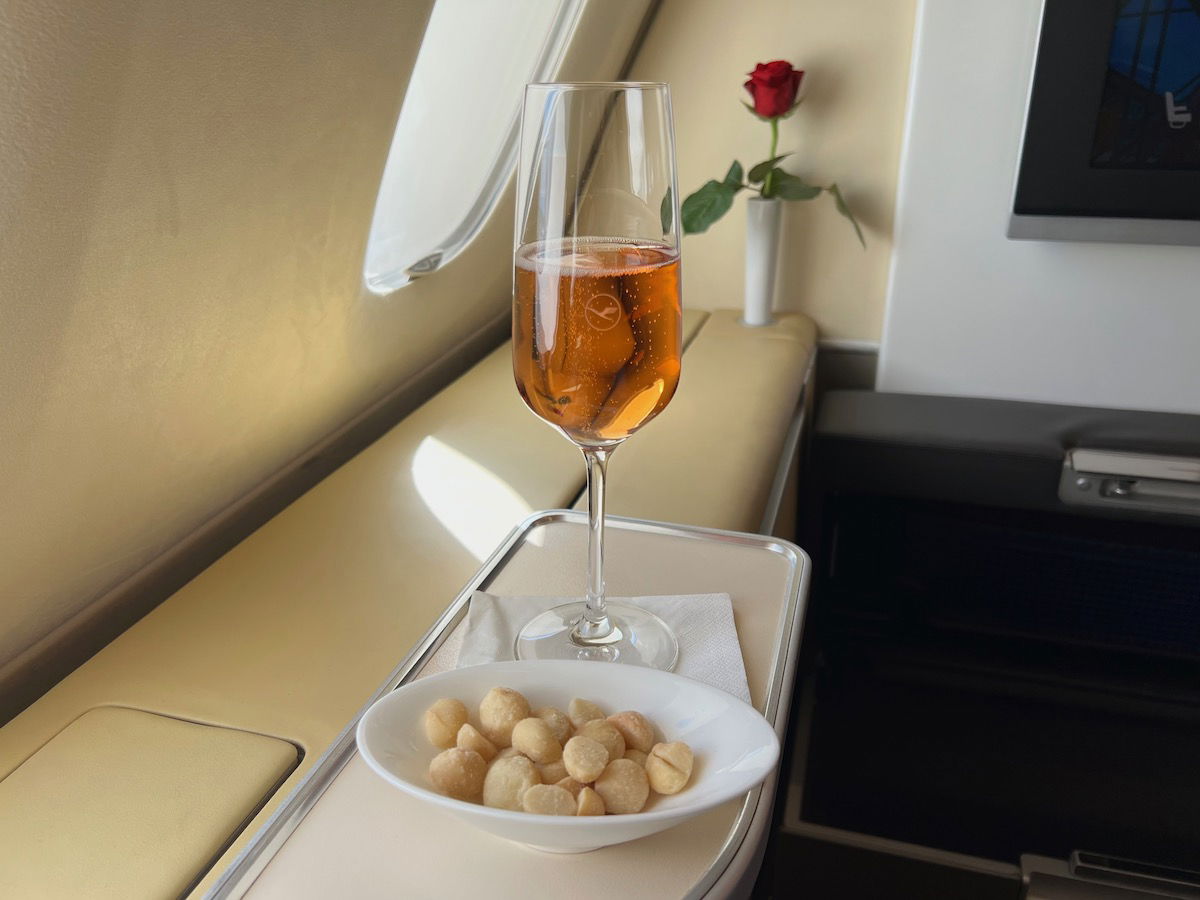 There was also Laurent-Perrier Grand Siecle, which I enjoyed.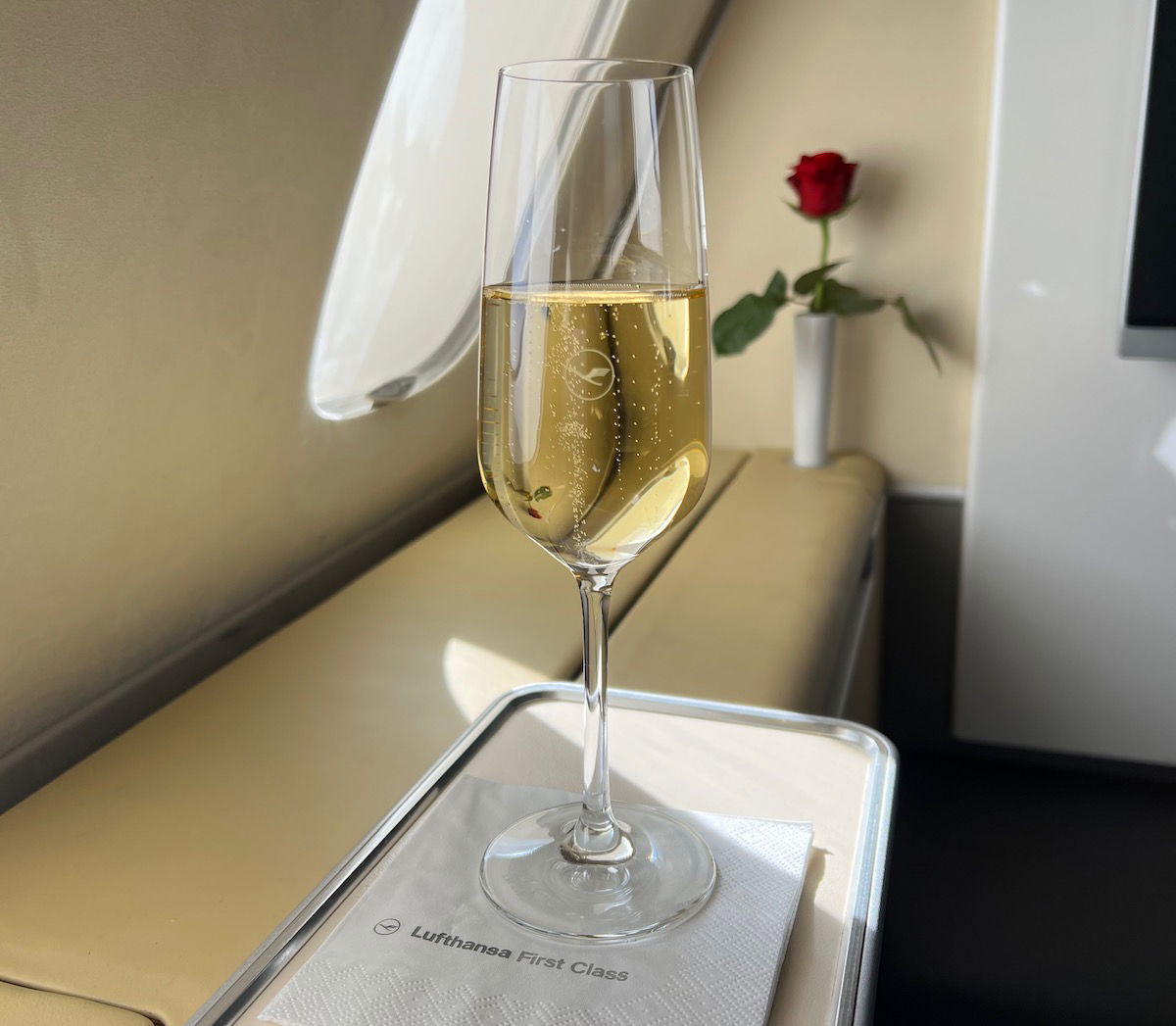 The meal was quite good too, and started with caviar, and a delicious appetizer trio of chicken, tataki salmon, and carrot rolls.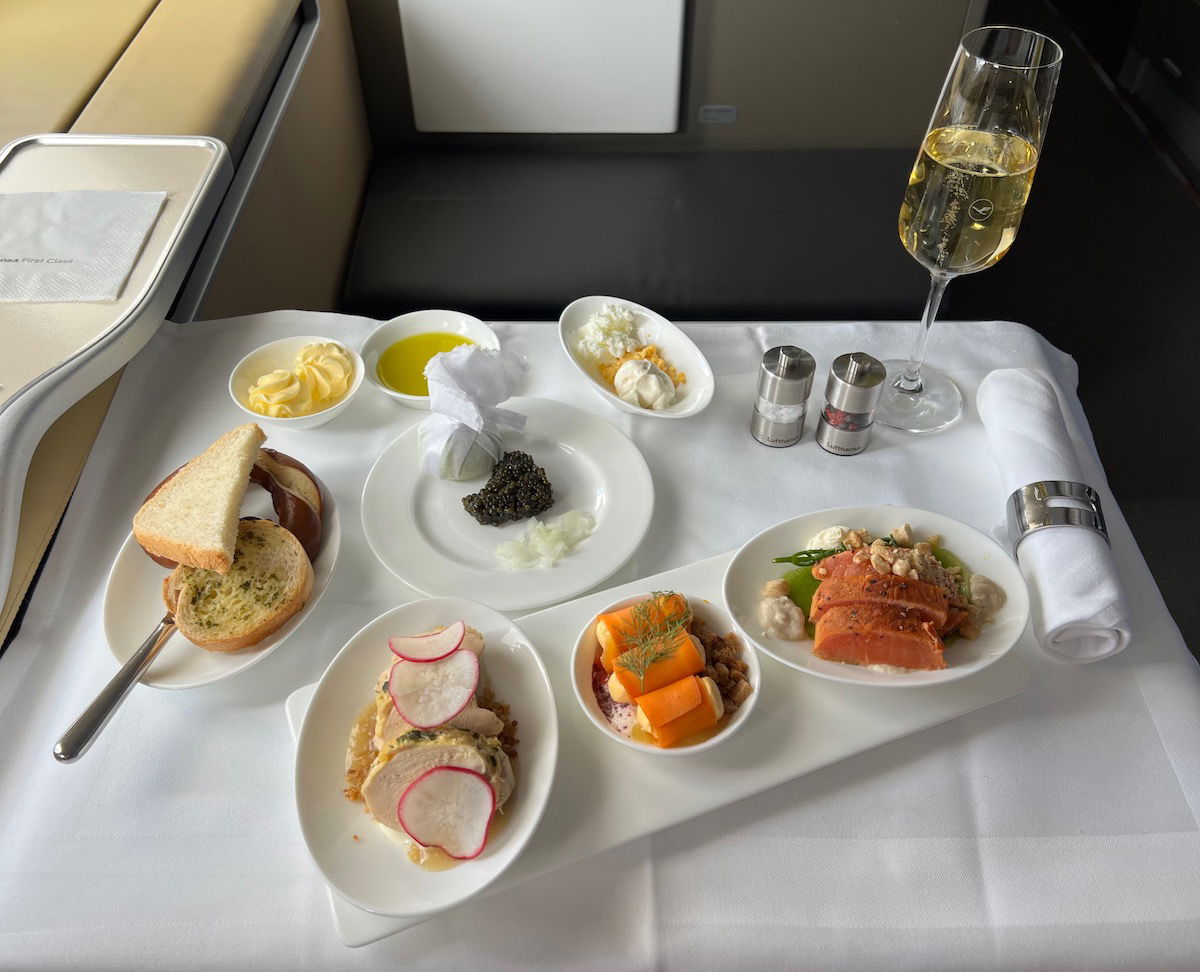 For the main course, I mixed things up (that's right, I didn't have fish!), and ordered the pecorino ravioli, which was one of the best ravioli dishes I've had on a plane.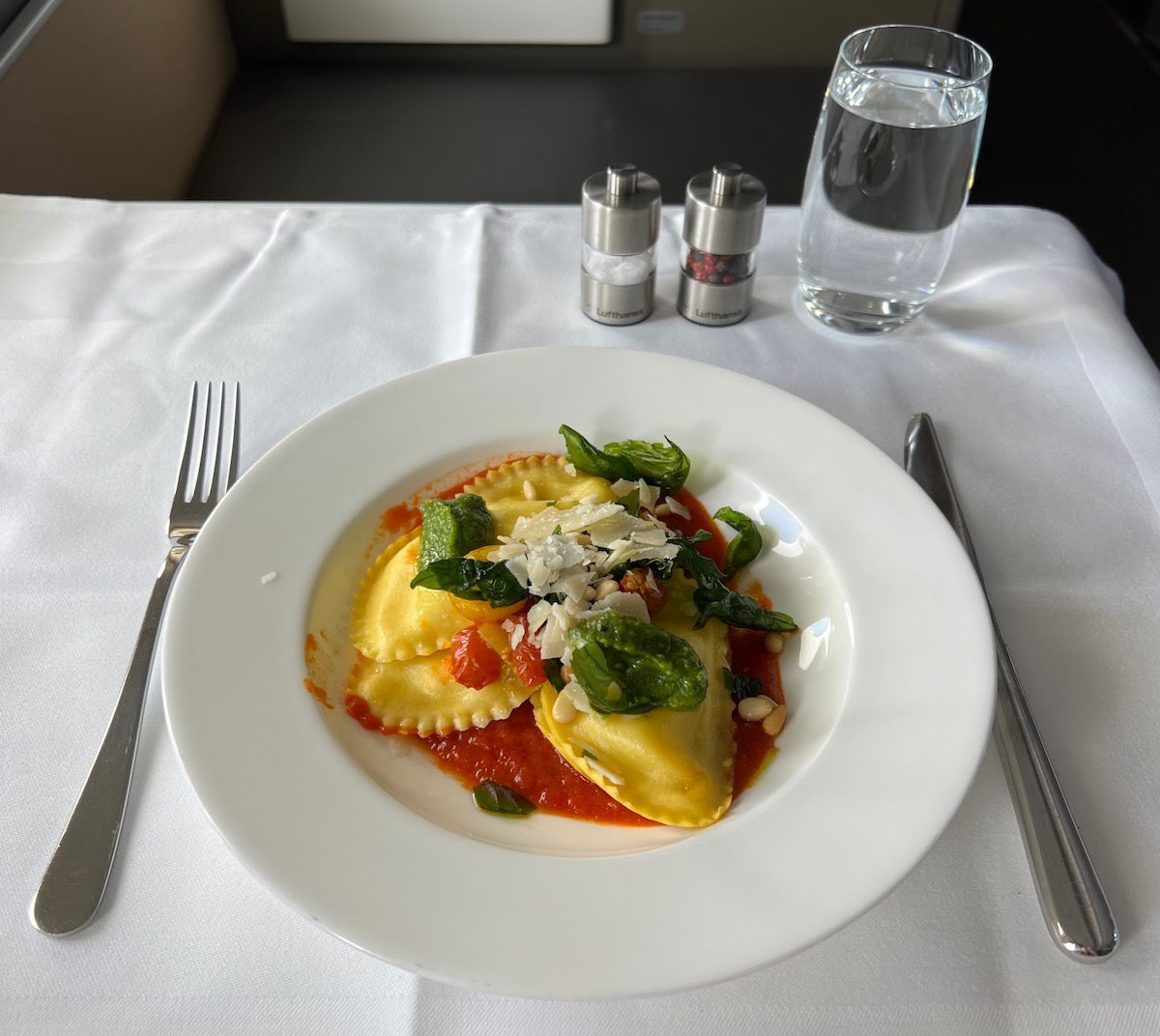 Then for dessert I had a tarte tatin with vanilla ice cream.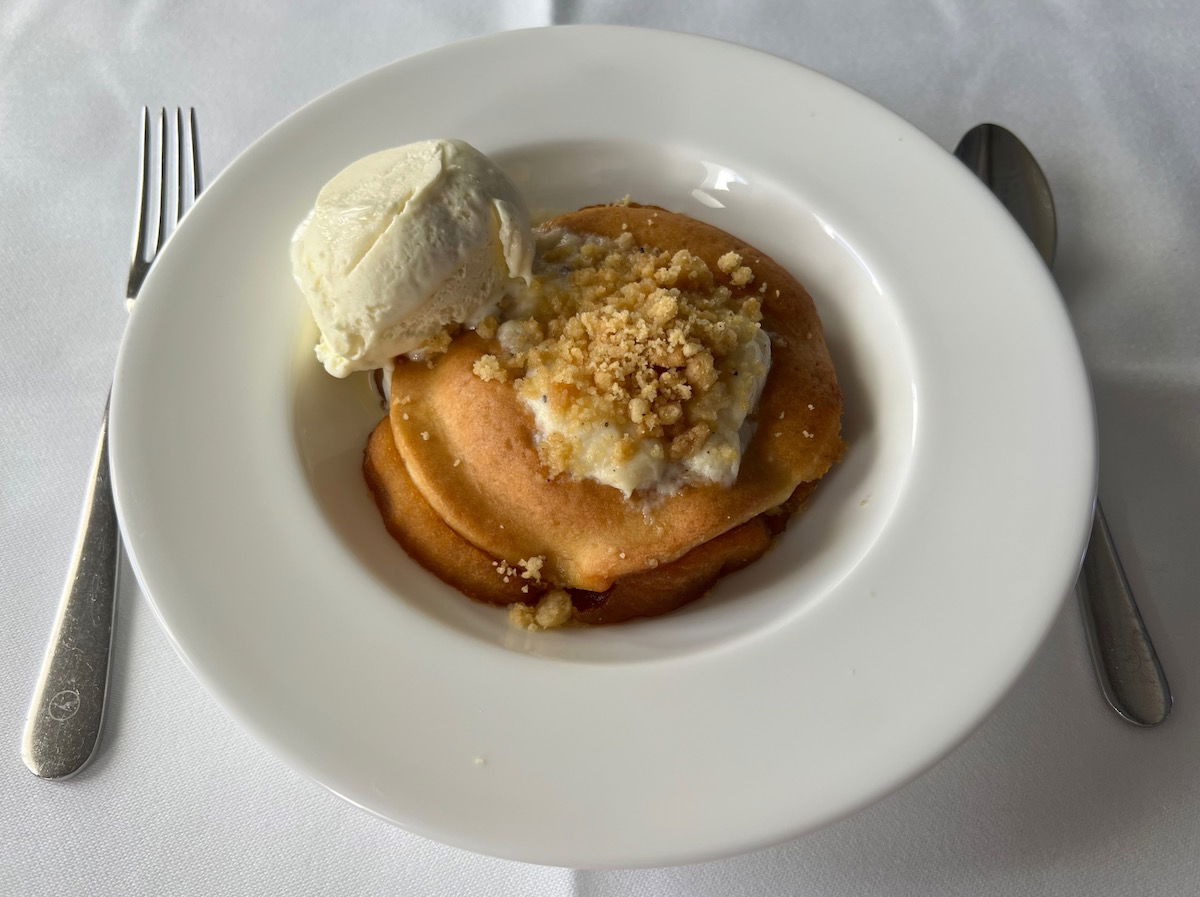 For the pre-arrival meal I asked for the beyond meat burger, which was surprisingly well executed for being served on a plane.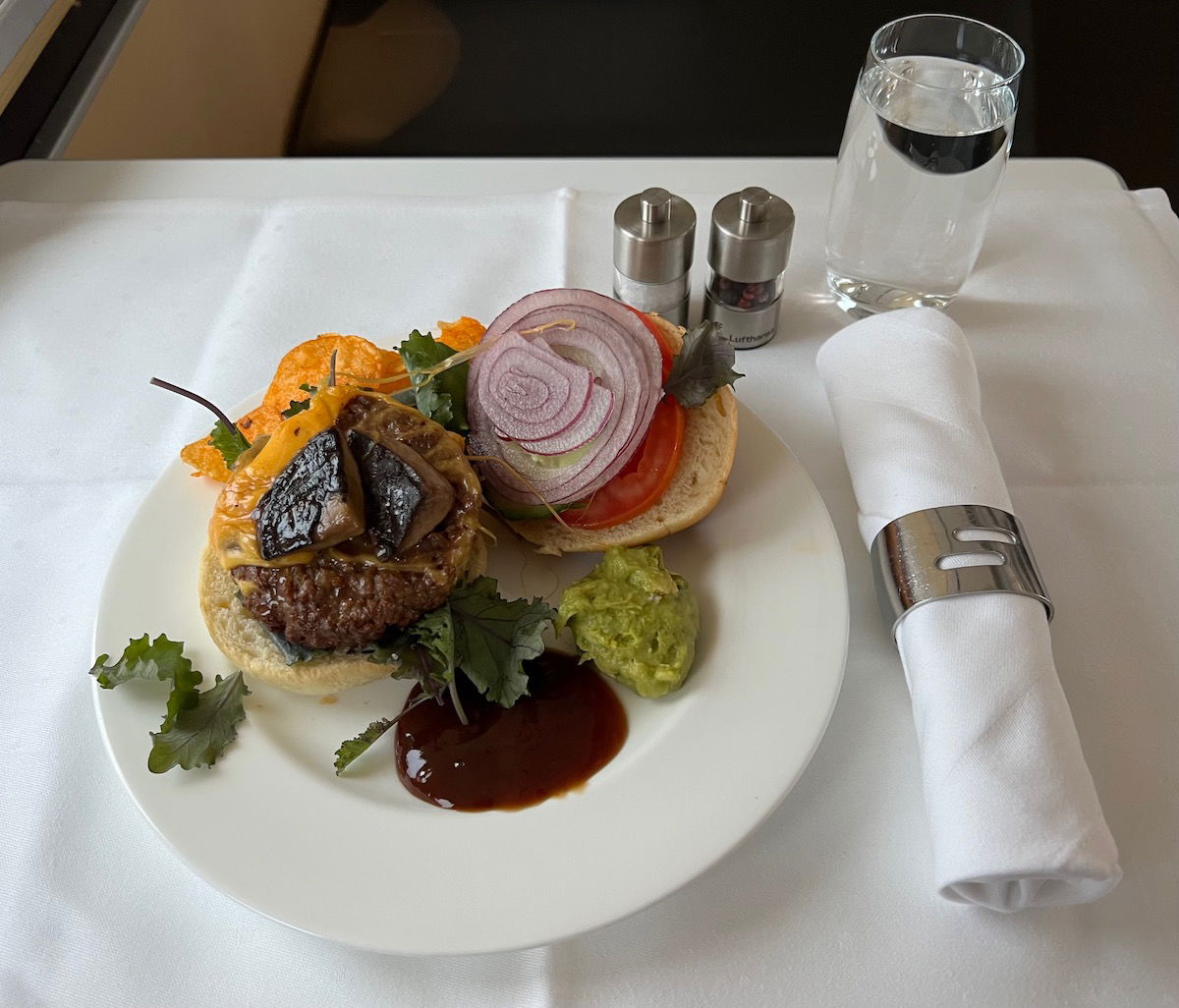 The real treat was sharing the experience with loved ones
What made this flight the best, though, was being able to share it with my mom, her partner, and my dad. I managed to snag four award seats a bit under a week before departure (there were even more award seats than that available!), so locking that all in with miles was awesome.
Flying first class alone is fun, but seeing family and loved ones enjoying a great experience is even more enjoyable. We all had the best time imaginable, and didn't want the flight to end. I'm not exaggerating when I say that it's a flight I'll never forget, since it's rare you get to have memories like that!
While there are better hard products out there, Lufthansa first class is the most readily available first class product across the Atlantic using transferable points. There are no fuel surcharges, award space regularly opens up within days of departure, and there are often multiple seats.
Bottom line
We had an excellent flight in Lufthansa's A380 first class. The hard product was as expected, though the soft product was among the best I've had on Lufthansa, with a lovely crew, top notch champagne, and good food.
I'm happy to see Lufthansa continue to expand its first class footprint, since it's great for those of us looking to redeem miles. That was especially true on this flight, where I managed to book us four first class award seats.
What do you make of Lufthansa's A380 first class?