In the interest of full disclosure, OMAAT earns a referral bonus for anyone that's approved through some of the below links. These are the best publicly available offers (terms apply) that we have found for each product or service. Opinions expressed here are the author's alone, not those of the bank, credit card issuer, airline, hotel chain, or product manufacturer/service provider, and have not been reviewed, approved or otherwise endorsed by any of these entities. Please check out
our advertiser policy
for further details about our partners, and thanks for your support!
Over the weekend I finally had the chance to check out the Chase Sapphire Lounge Boston, which opened in May 2023. The lounge is run in partnership with Airport Dimensions, which operates existing airport lounge group "The Club." Chase is still fairly new to the airport lounge game, so I was excited to see how its lounges stacked up to Amex Centurion Lounges and Capital One Lounges.
Well, I'm happy to report that the Chase Sapphire Lounge Boston is spectacular, easily the best lounge in the world that can be accessed with Priority Pass (with some restrictions). The lounge has gorgeous decor and views, delicious food and drinks, and some cool amenities. I can't wait to see this lounge portfolio expand over time.
Chase Sapphire Lounge Boston location
The Chase Sapphire Lounge is located in the Terminal B to Terminal C connector at Boston Logan Airport. The lounge is between gates B39 and B40, so it's more in Terminal B than in Terminal C.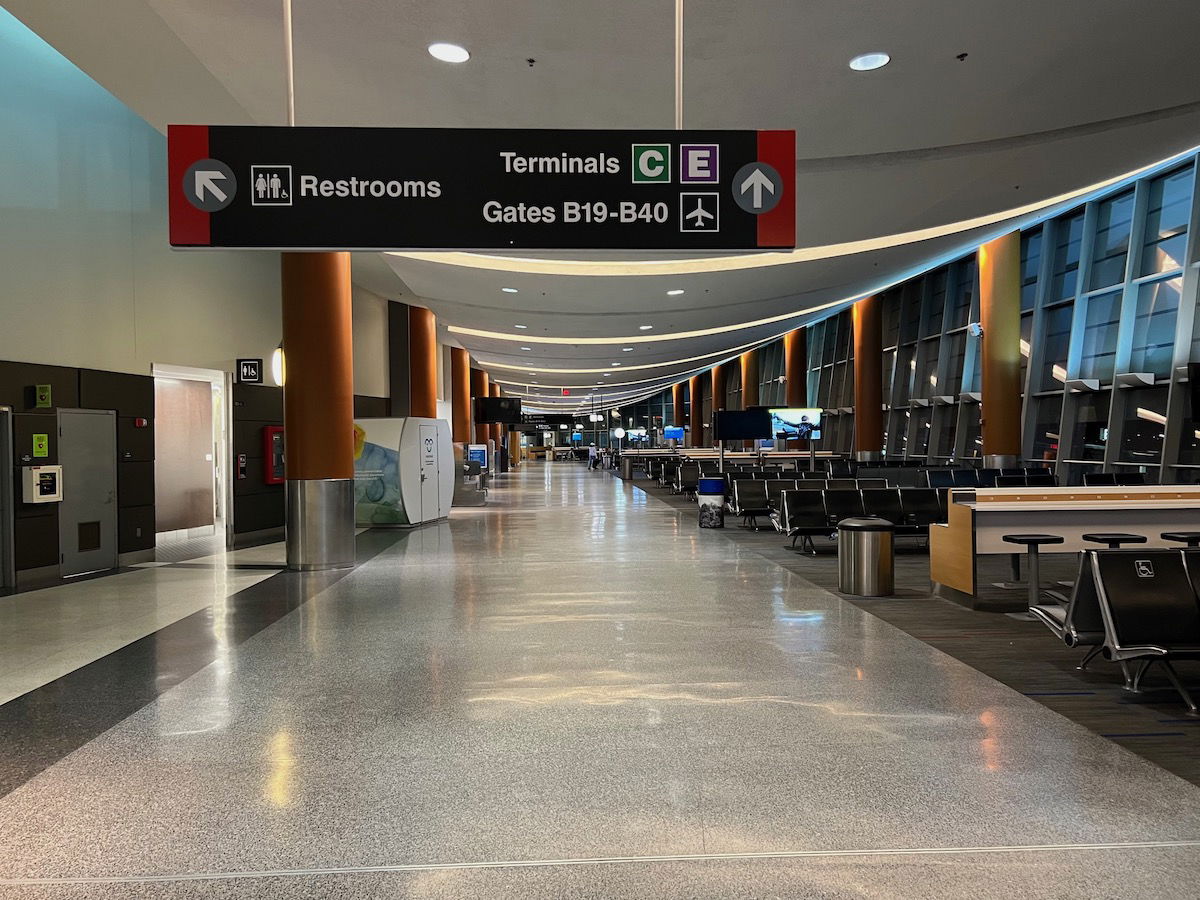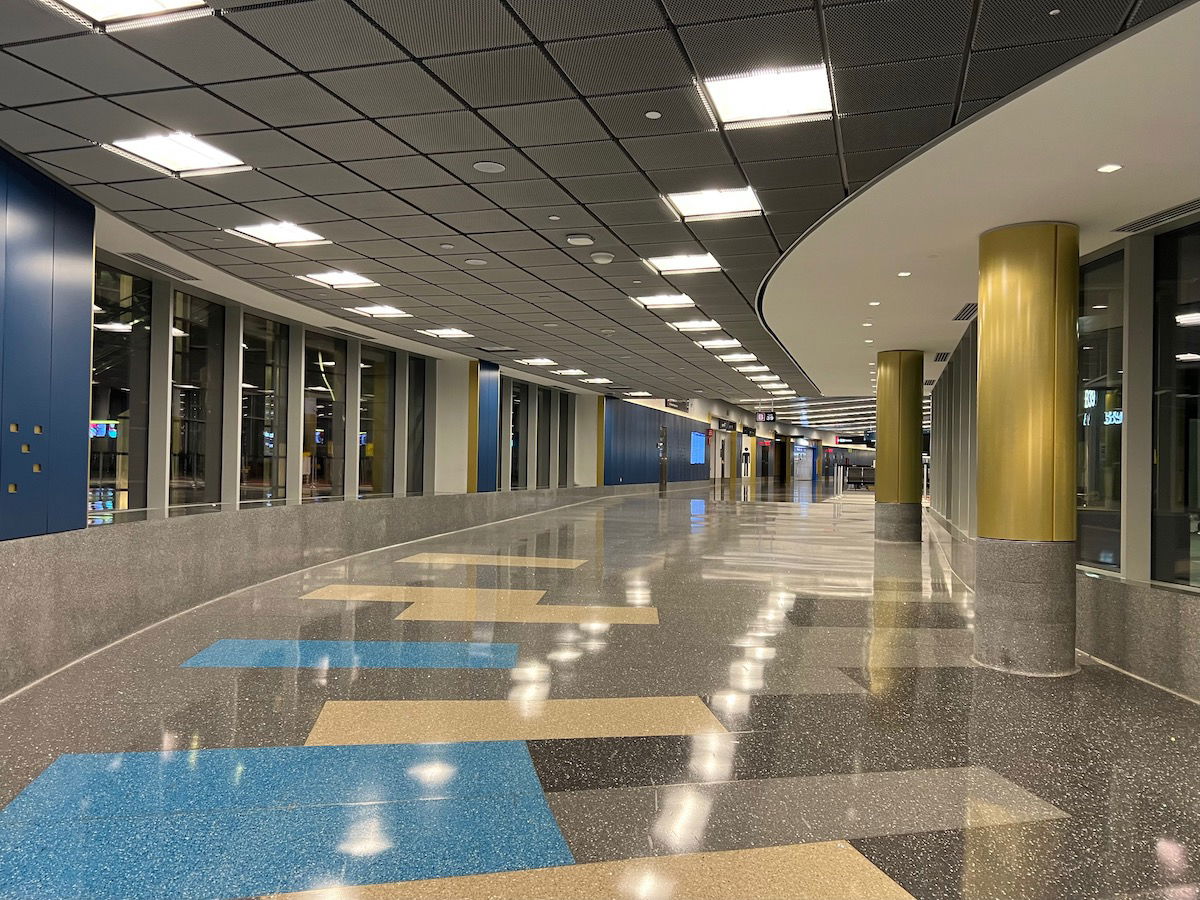 It can be really easy to miss the lounge, and I even walked by it the first time by accident.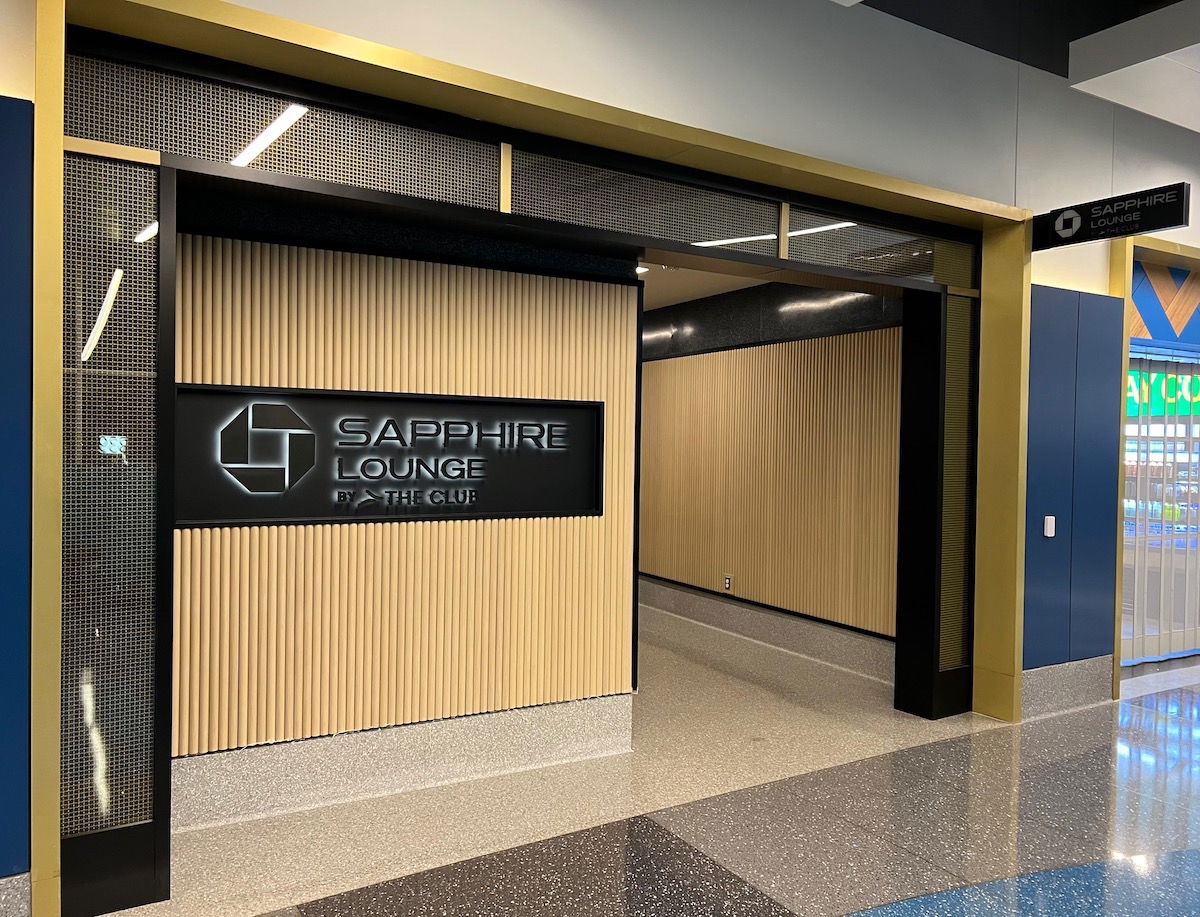 The lounge is located on the fourth floor, two floors above the terminal, and there are two elevators leading up there.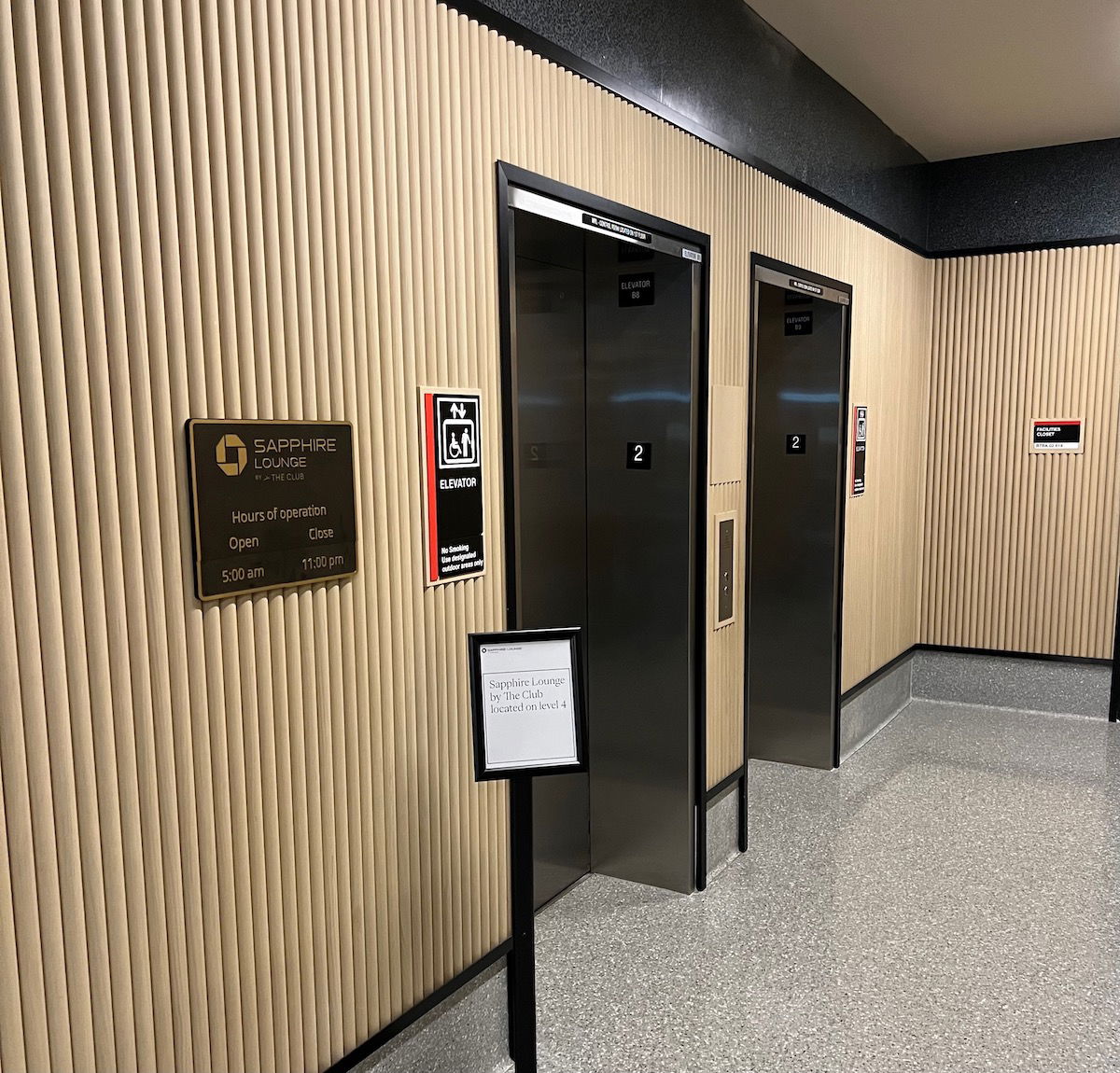 In terms of terminal layout at Boston Logan Airport, note that Terminal B, Terminal C, and Terminal E, are all connected airside. Meanwhile Terminal A isn't. Terminal A is used by Delta, so unless you're flying on Delta, you should be able to visit the Chase Sapphire Lounge airside.
However, it could potentially be quite a trek, so be ready for that. Even walking from the "low" gates in Terminal B (where my American flight was departing from) to the lounge was quite a hike, so factor in some extra time.
Chase Sapphire Lounge Boston hours
The Chase Sapphire Lounge Boston is currently open daily from 5AM until 11PM, covering a vast majority of the departures from the airport. For what it's worth, I visited the lounge right at opening time.
Chase Sapphire Lounge Boston entry requirements
The Chase Sapphire Lounge Boston is a Priority Pass lounge, though it works a bit differently than other Priority Pass locations. Here are the Chase Sapphire Lounge Boston entry requirements:
Those with a Priority Pass membership through the Chase Sapphire Reserve® Card (review) can access the lounge an unlimited number of times, with up to two complimentary guests; this also applies to those with the Ritz-Carlton Credit Card, which is no longer open to new applicants
Those with a Priority Pass membership issued through any other means can access any Chase Sapphire Lounge in the United States once per calendar year at no additional cost (that's one visit across all lounges, not per lounge), and guests aren't complimentary; subsequent visits, as well as guests, will be charged an entry fee of $75
If you don't have a Priority Pass membership, you can outright buy access to the lounge for $100 per person per visit, subject to availability
Chase Sapphire Lounges are only accessible within three hours of departure, unless you're connecting, in which case you can access it earlier
So as you can tell, while all Priority Pass members can visit this lounge once, those who have a membership through Chase's premium cards get unlimited visits.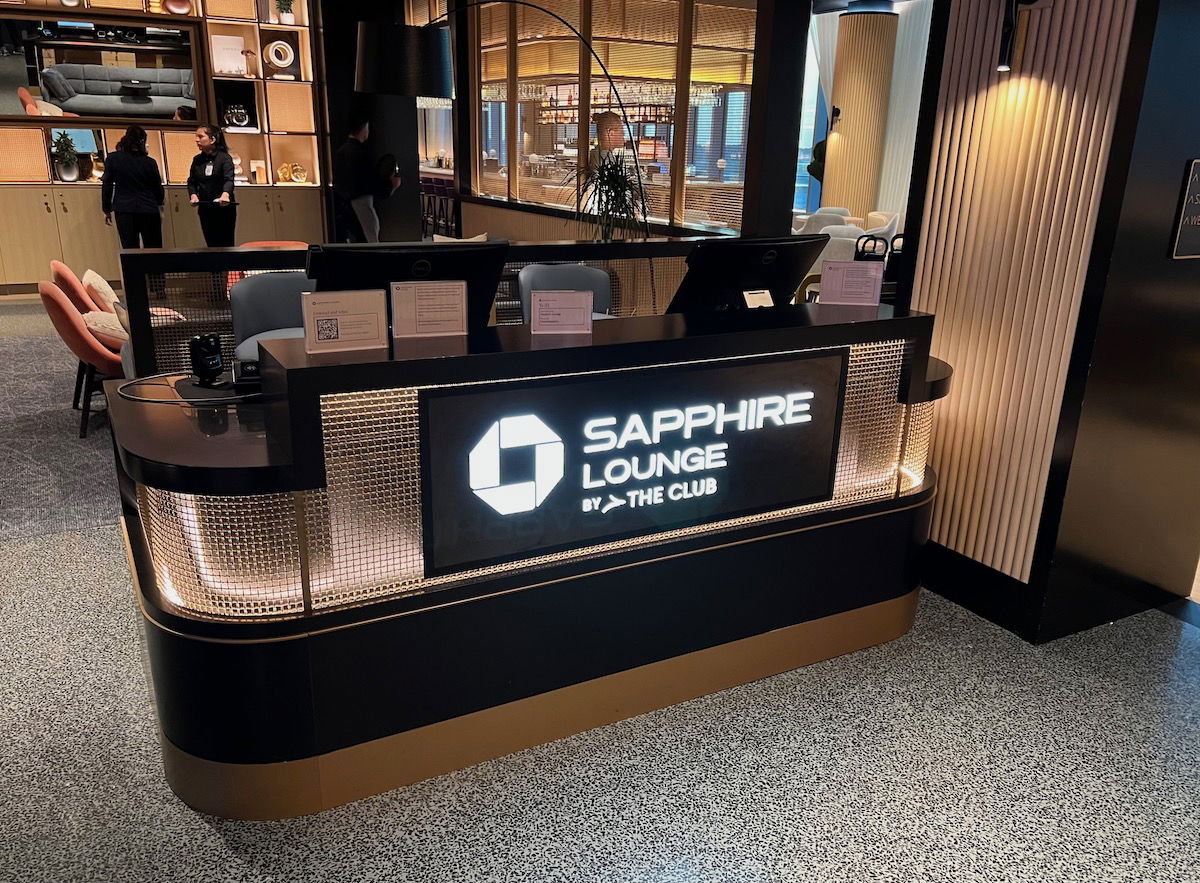 Chase Sapphire Lounge Boston layout & seating
The Chase Sapphire Lounge Boston is 11,640 square feet, so it's a pretty good size. While this is of course a personal preference, I loved the decor of this lounge, and think Chase has both Amex and Capital One beat on that front.
When you enter the lounge, there's a fairly small sitting area immediately behind the two podiums where people are scanned into the lounge.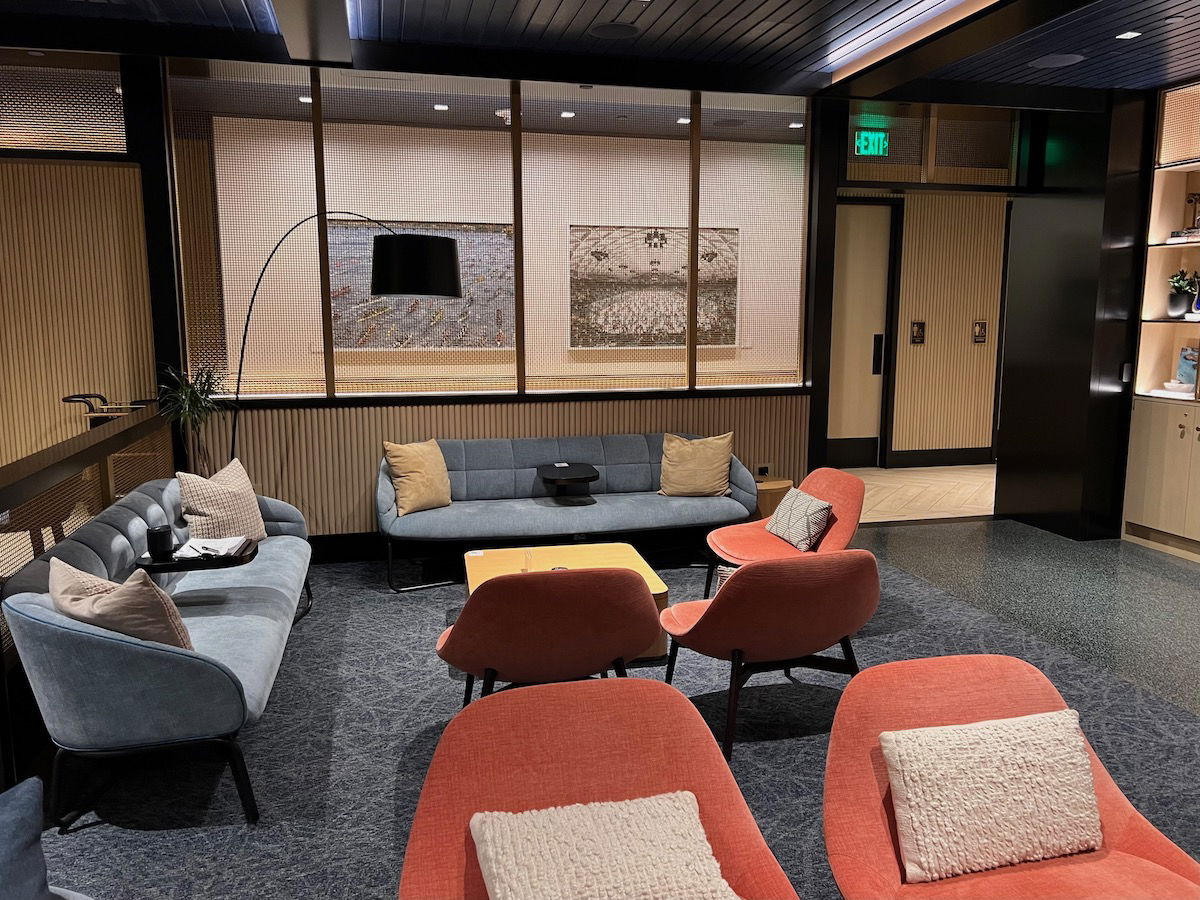 Most of the lounge is along one long corridor, with windows throughout. Let's start at one end of the lounge, and work our way in the other direction. When you enter the lounge and turn right, you'll see the main dining area, consisting of several cafe-style tables each seating four people, as well as some communal tables.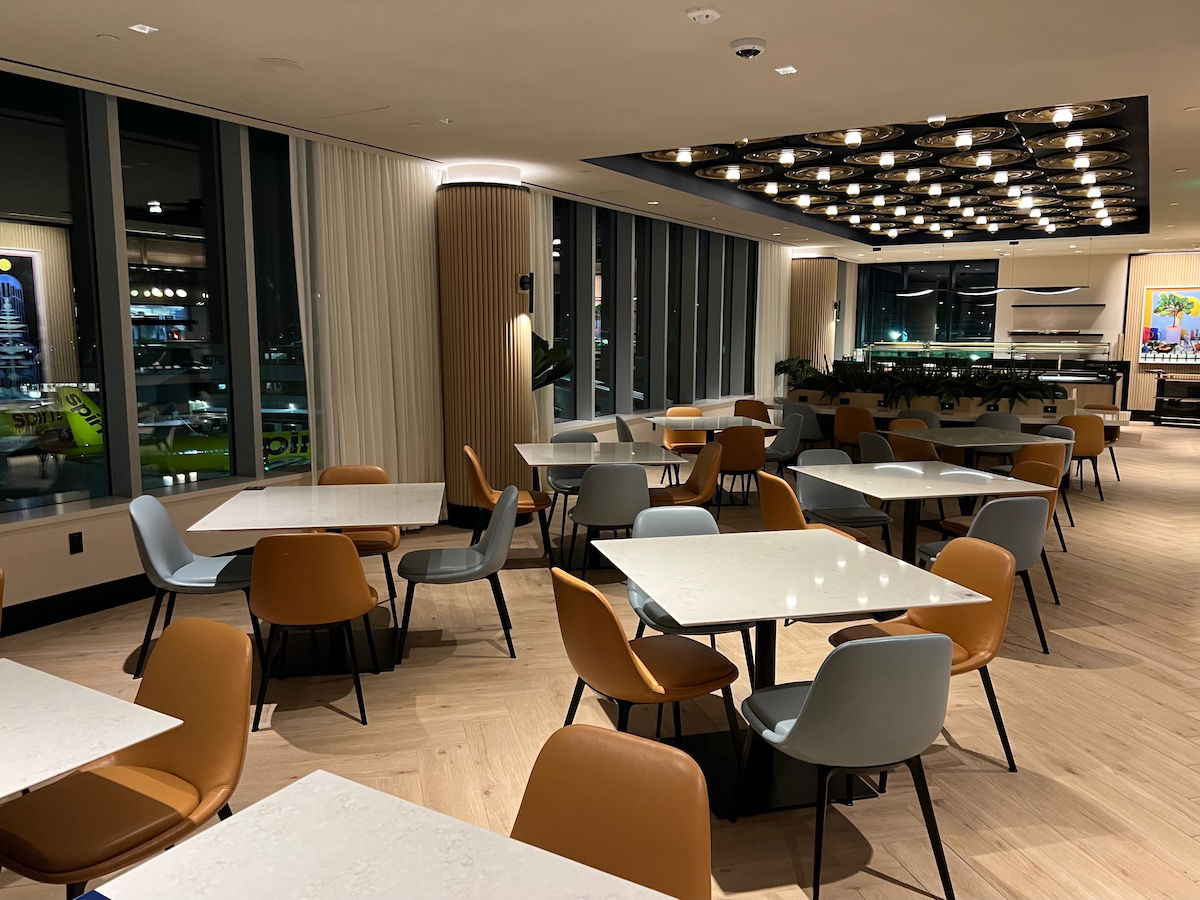 Then there's an area with even more tables, as well as some traditional lounge chairs along the windows.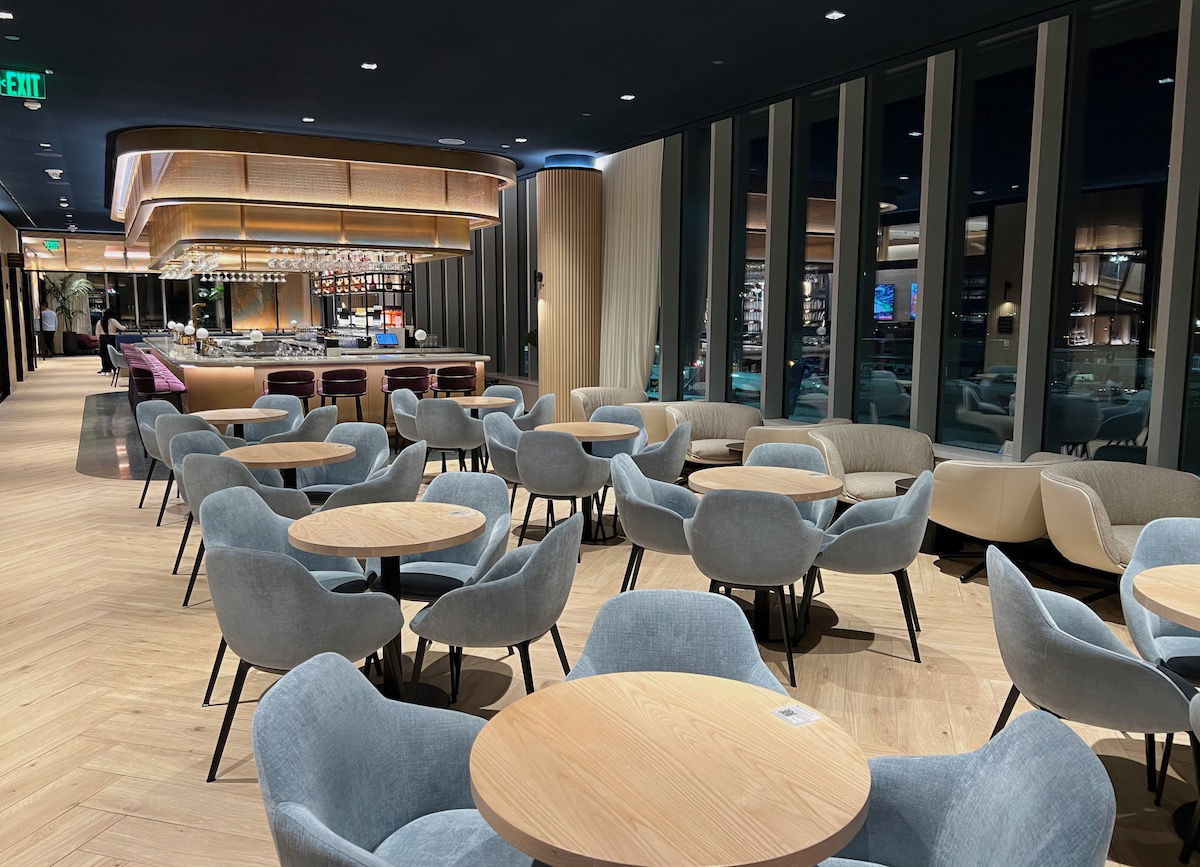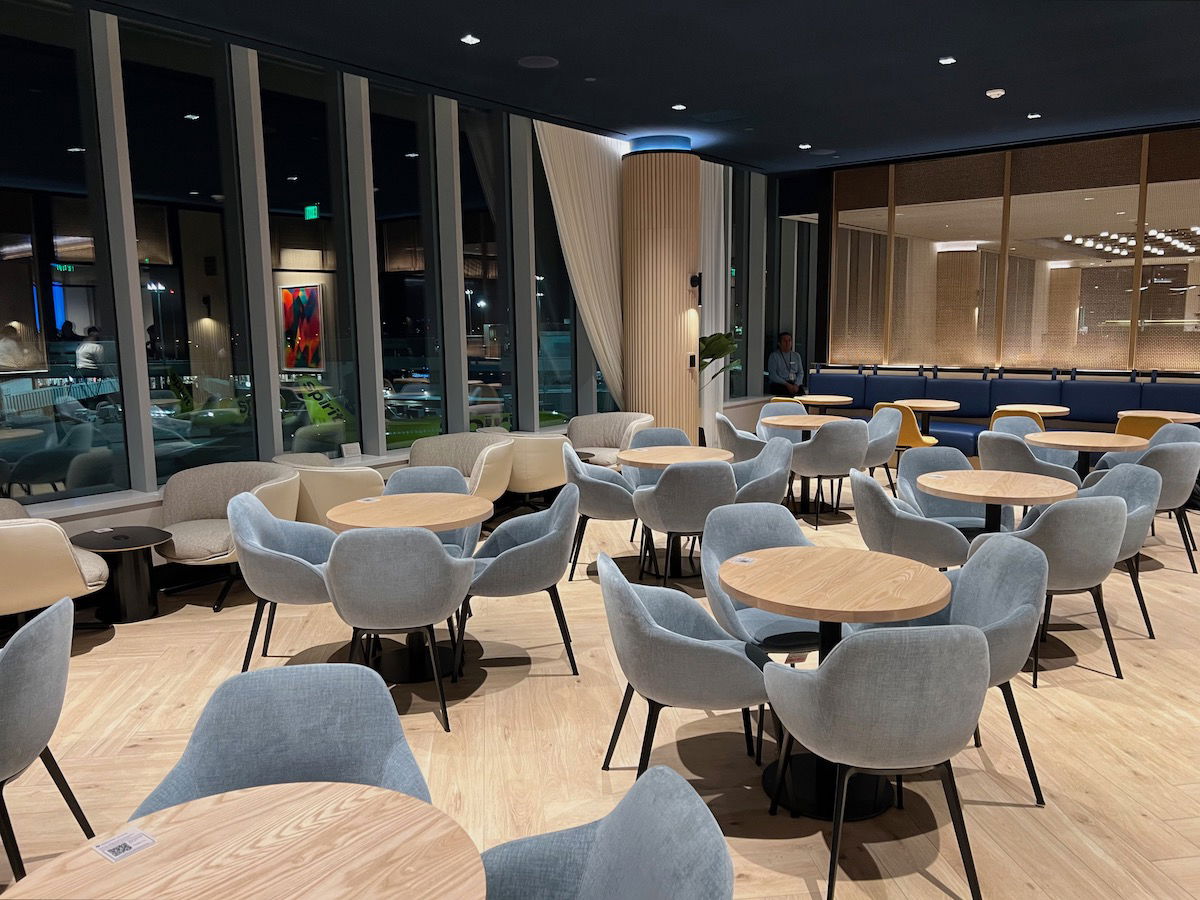 The centerpiece of the lounge is the gorgeous bar, with dozens of high-top chairs. This has to be one of the most elegant bars we've seen in an airport lounge in the United States, as it actually looks like what you'd expect in a nice restaurant, rather than in an airport lounge.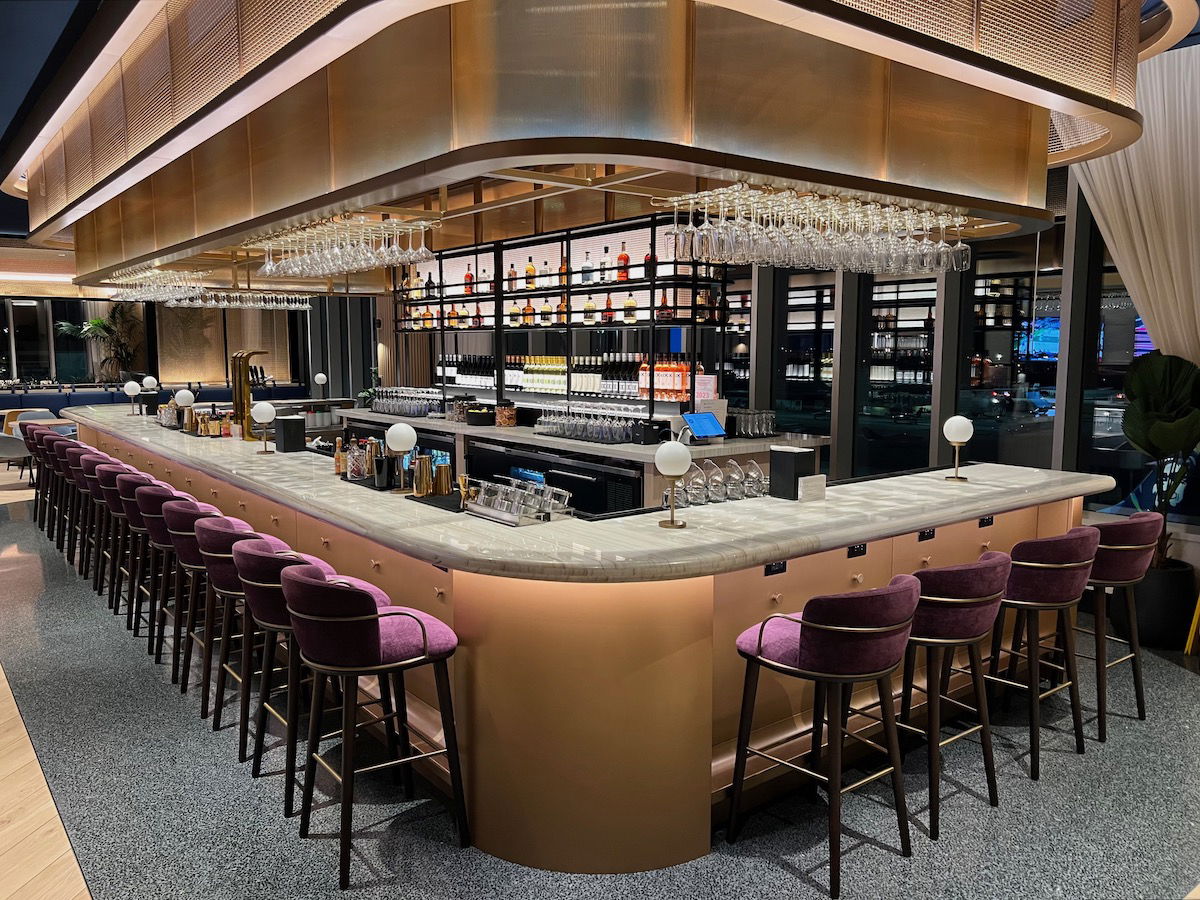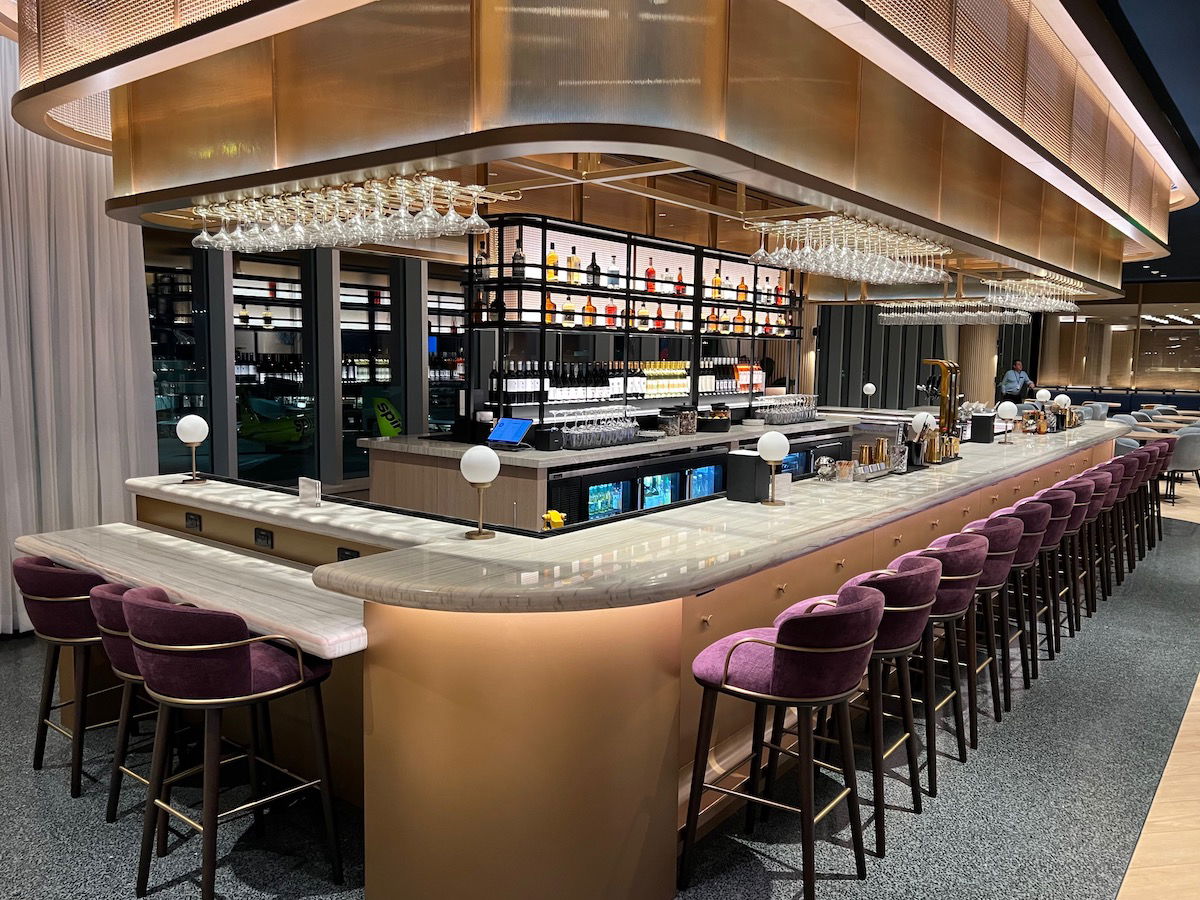 Across from the bar is the taproom, serving beer. This area has a variety of booths and tables with chairs.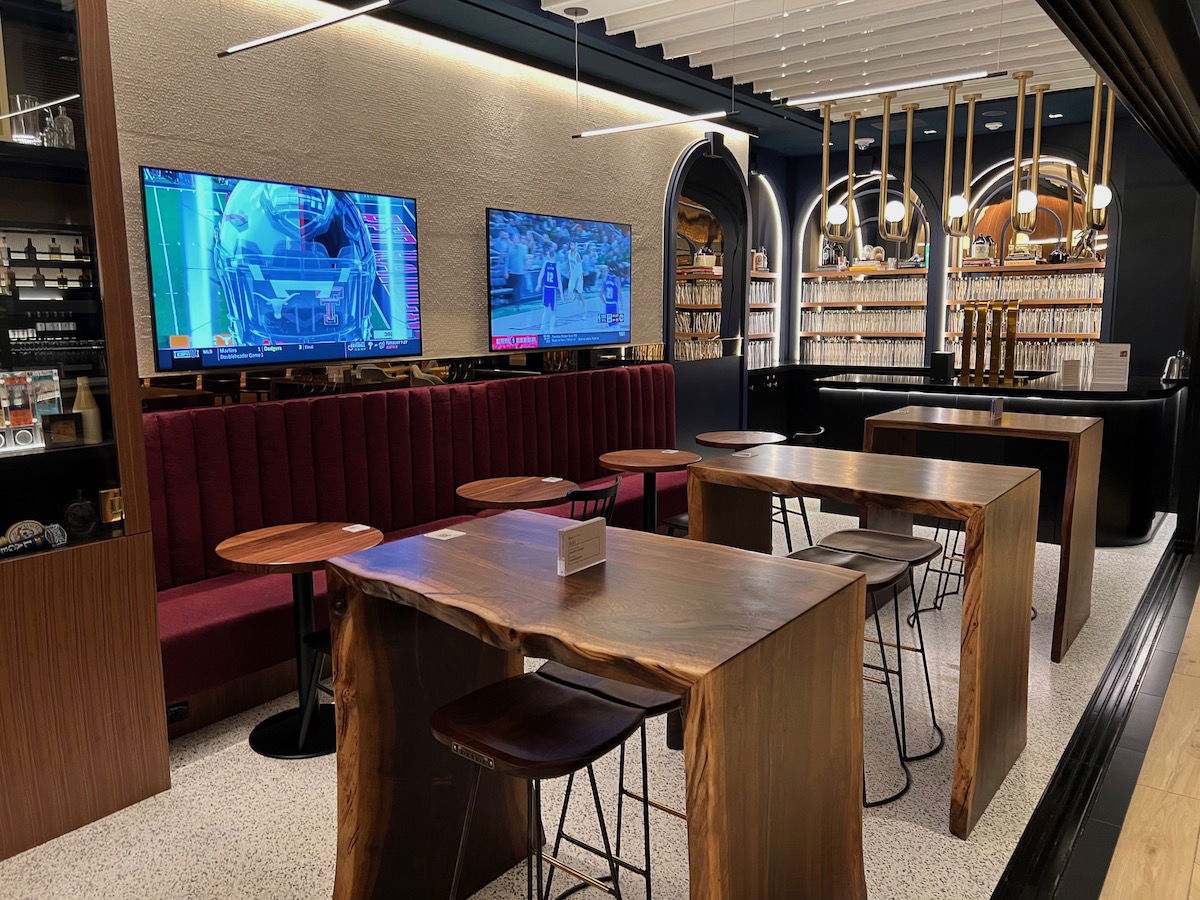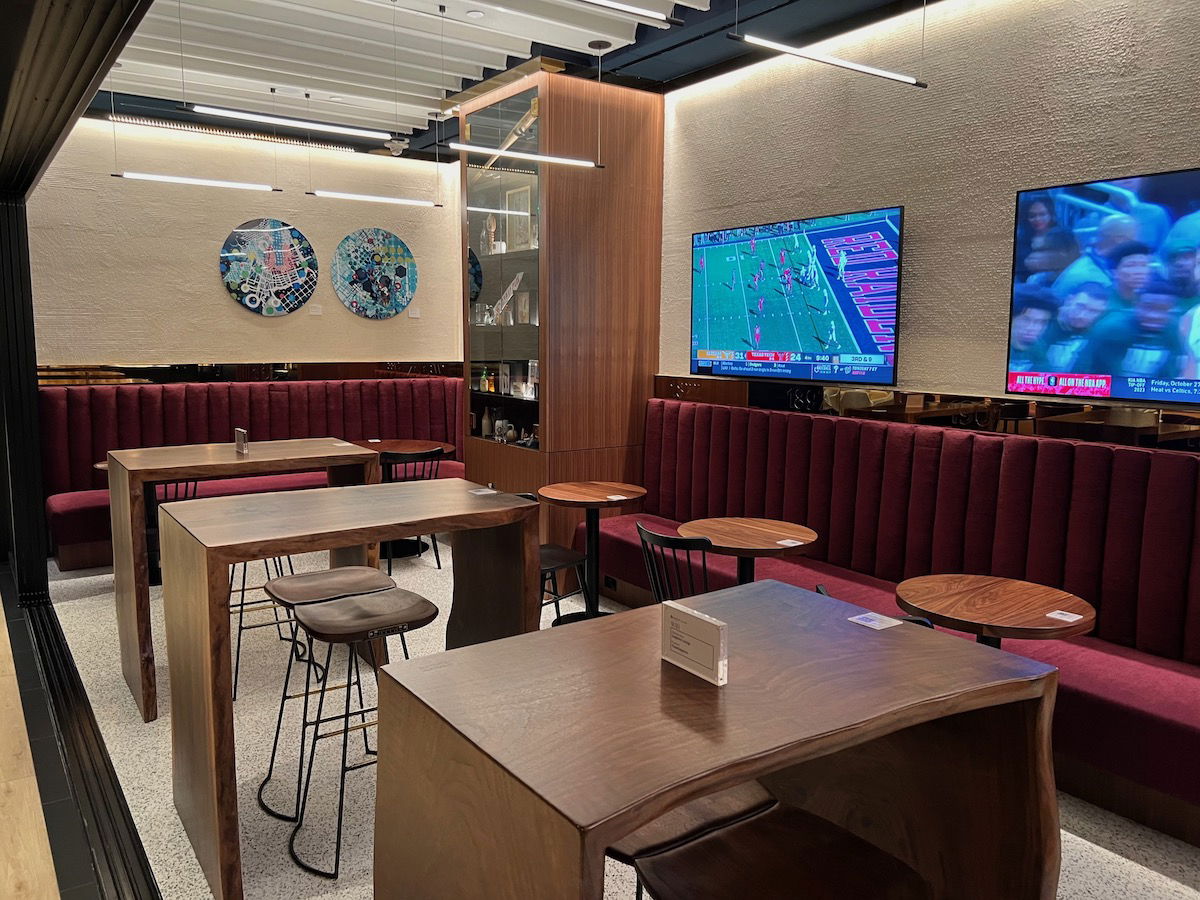 Past the bar is even more seating, with long padded benches, sofas, tables, chairs, and more.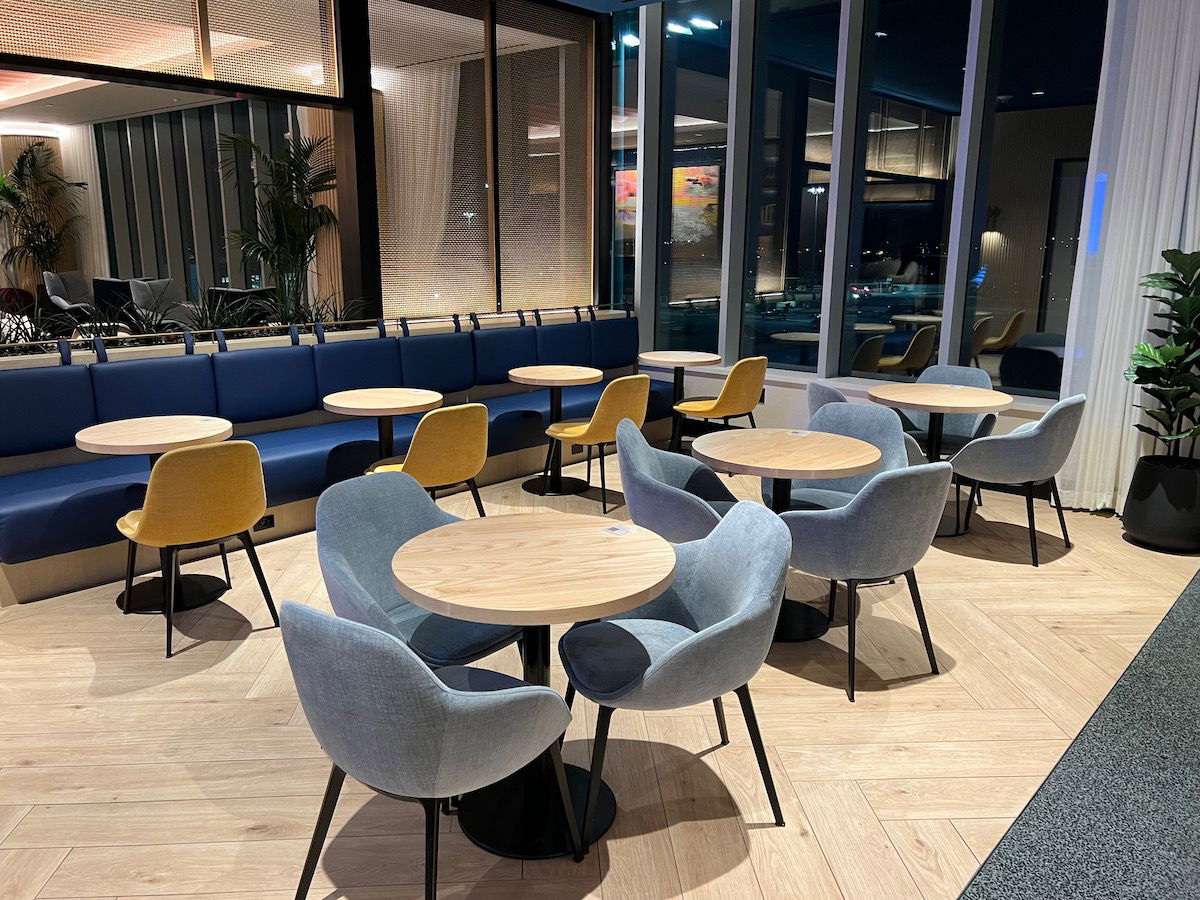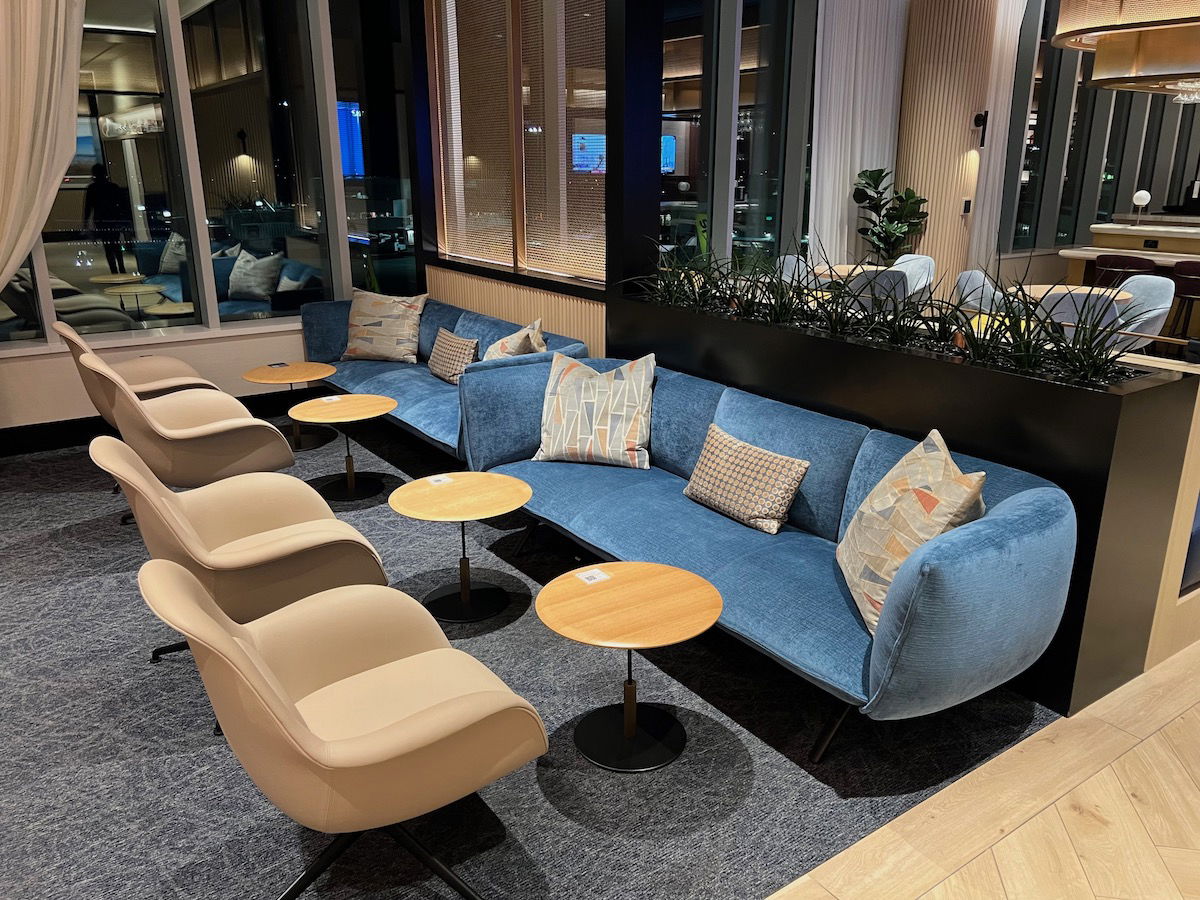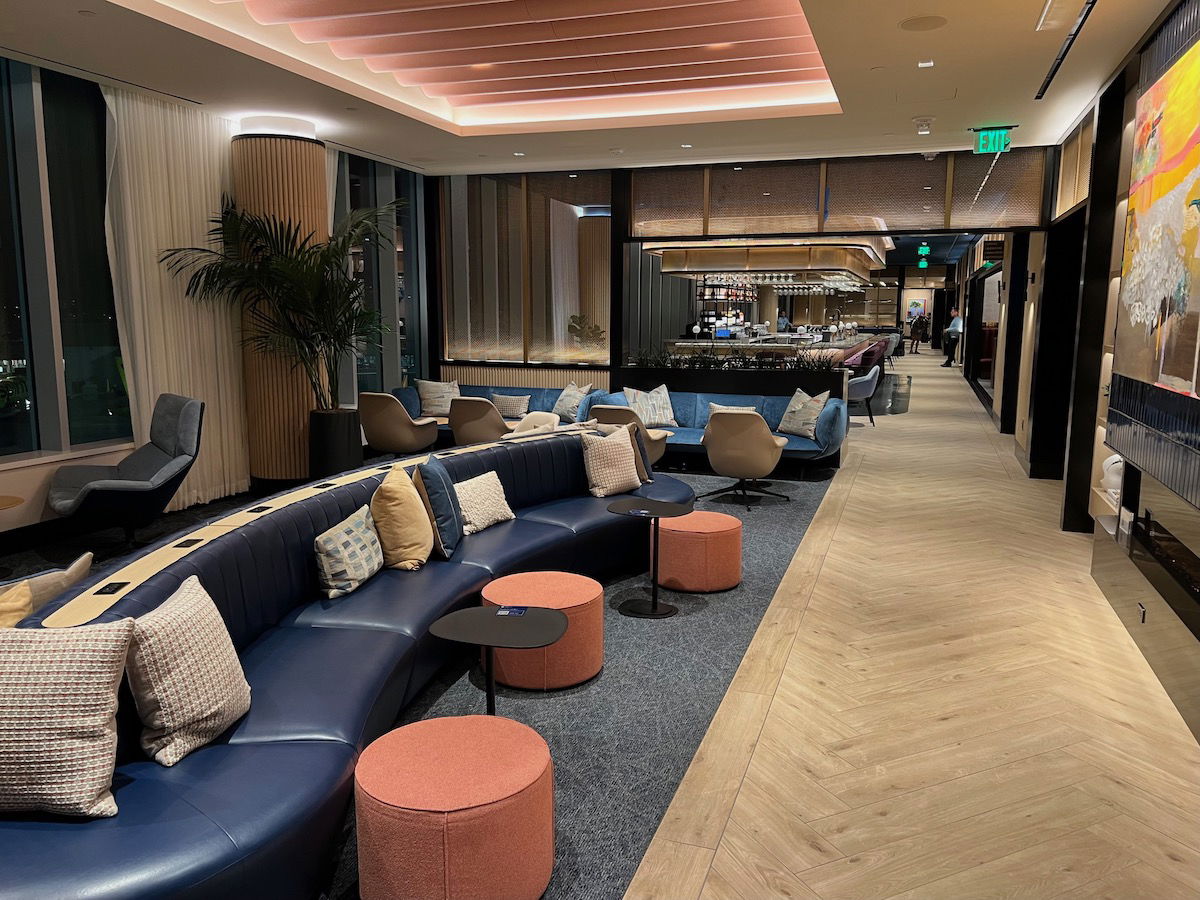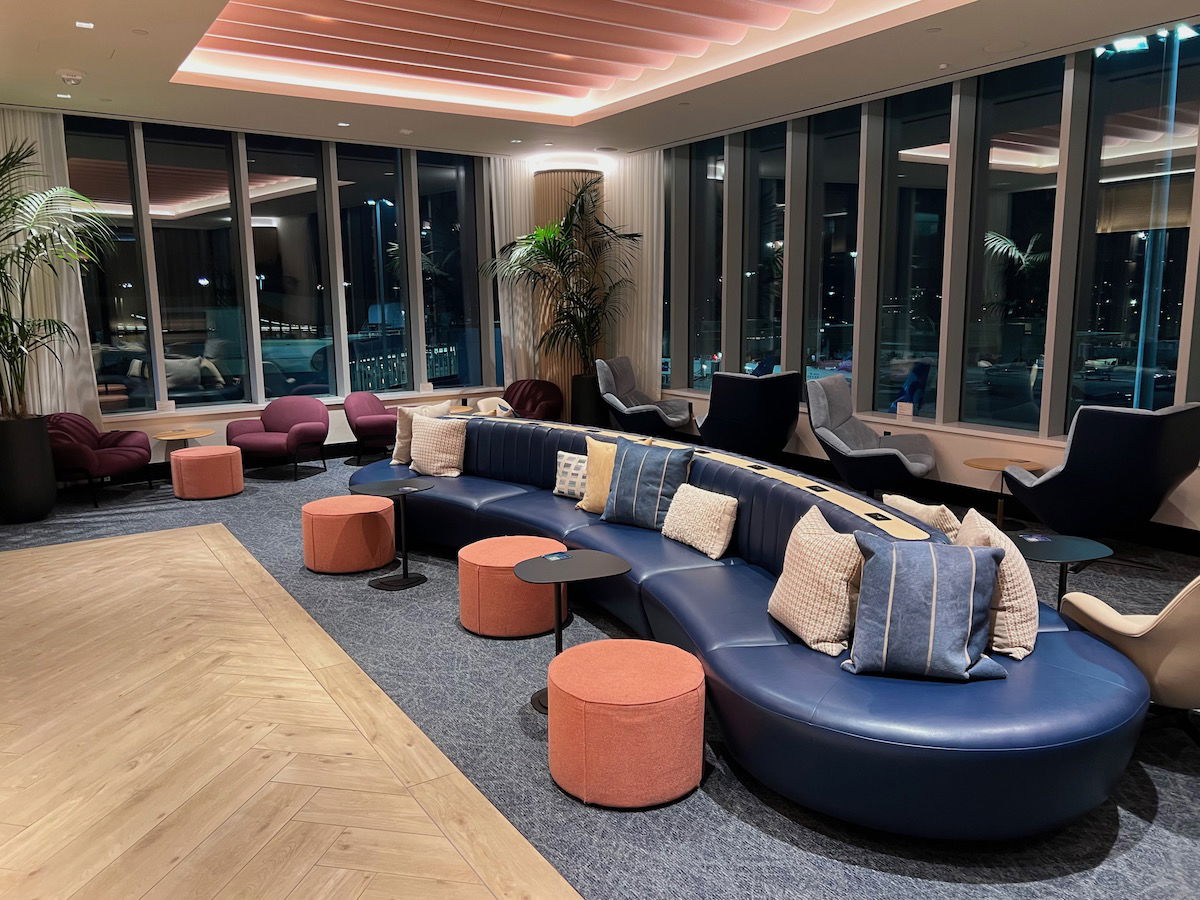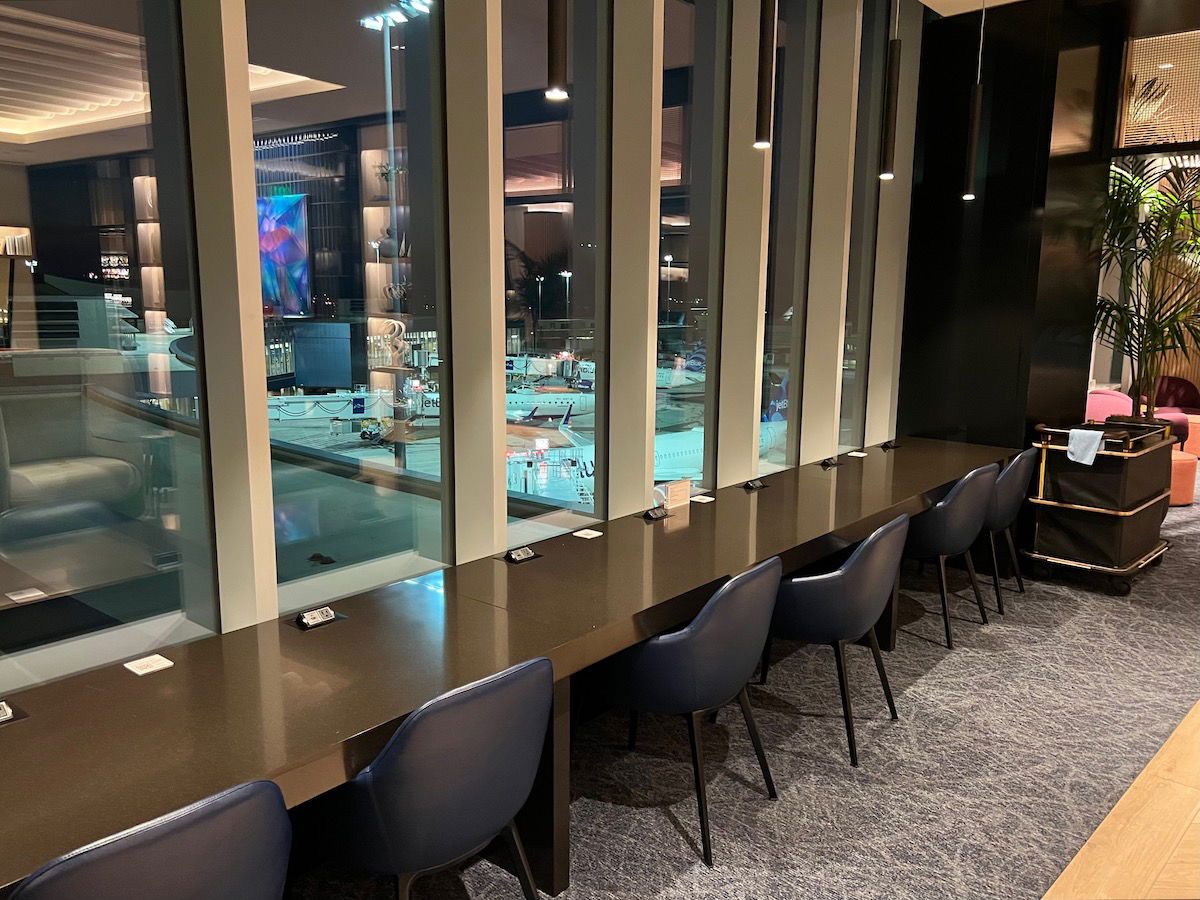 Last but not least, there's a room off to the side with a couple of booths, some semi-private chairs, and some other seating.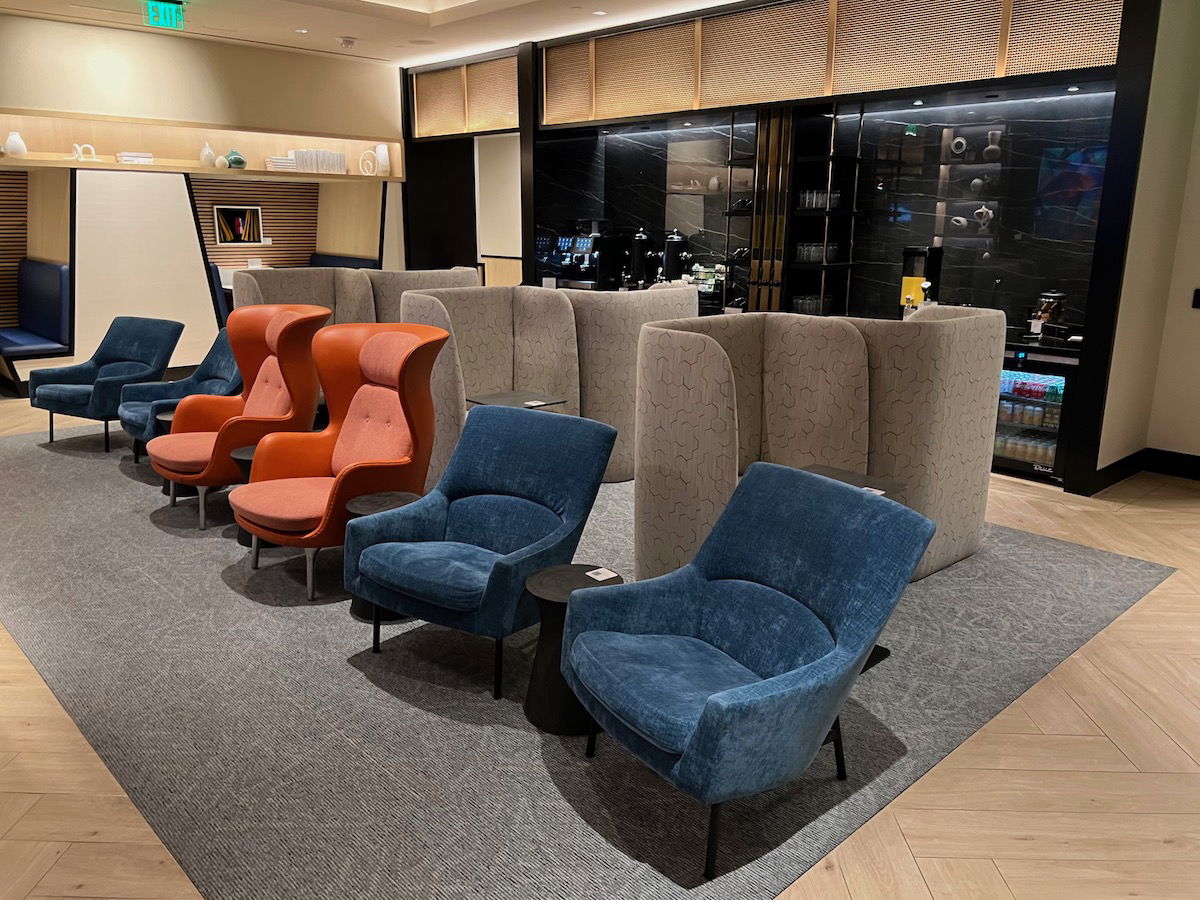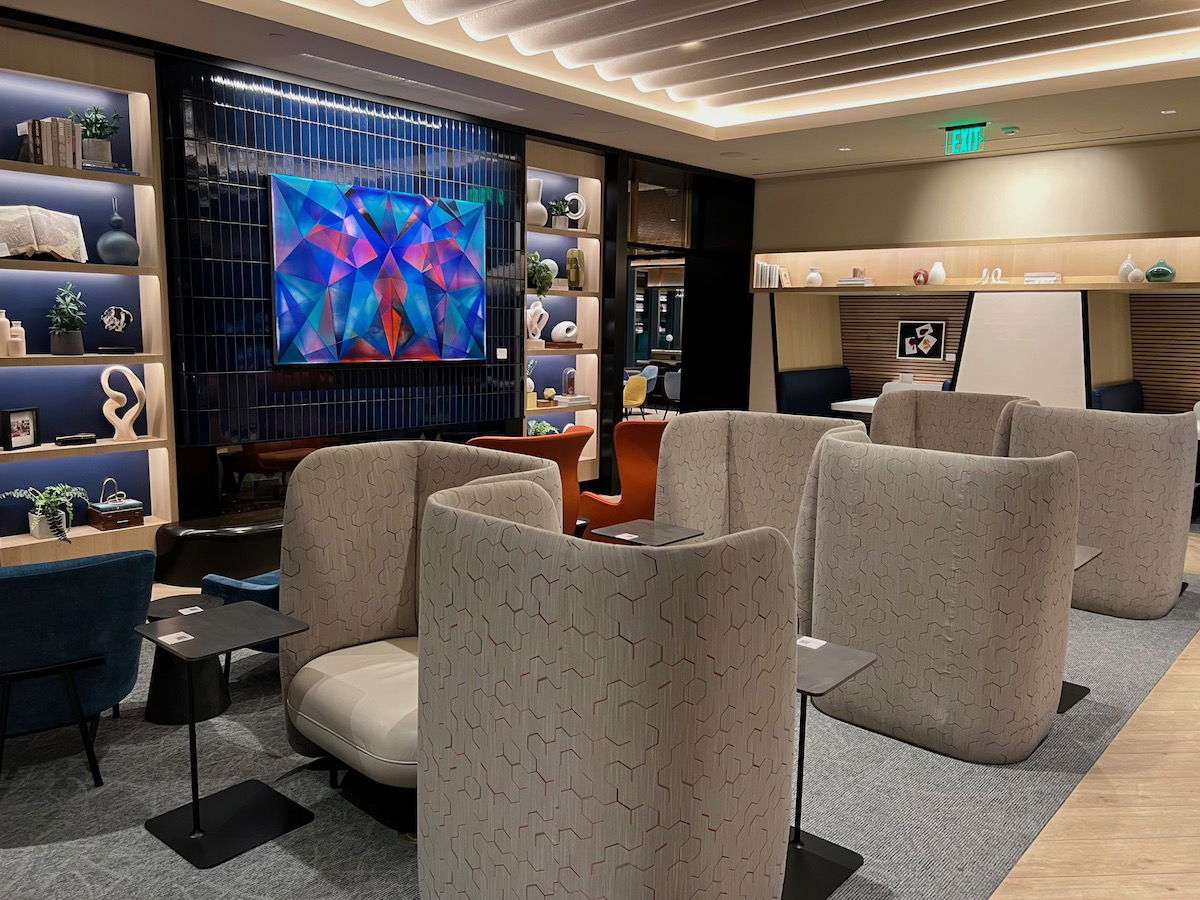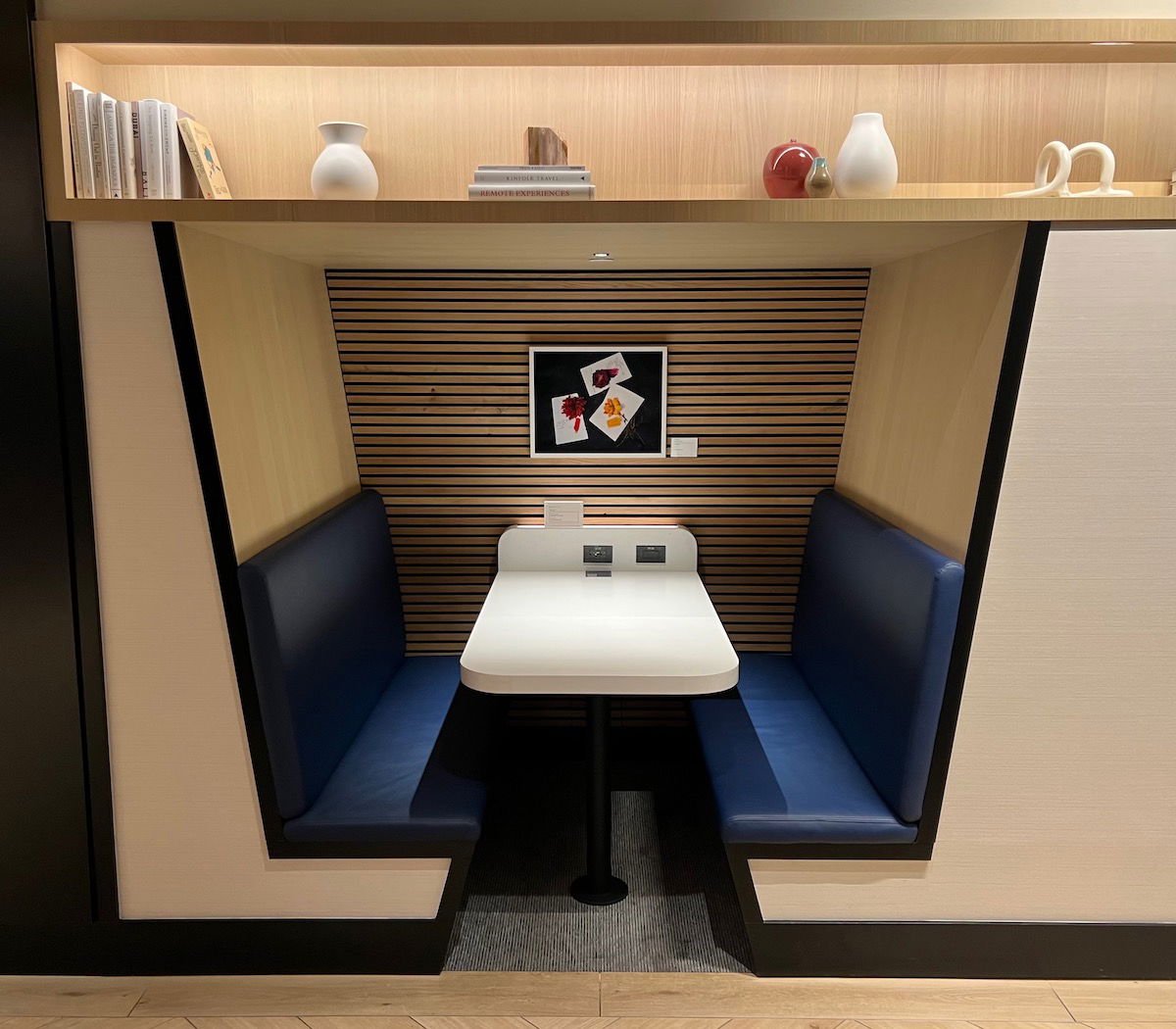 There's also a play area for kids off to the side of this space.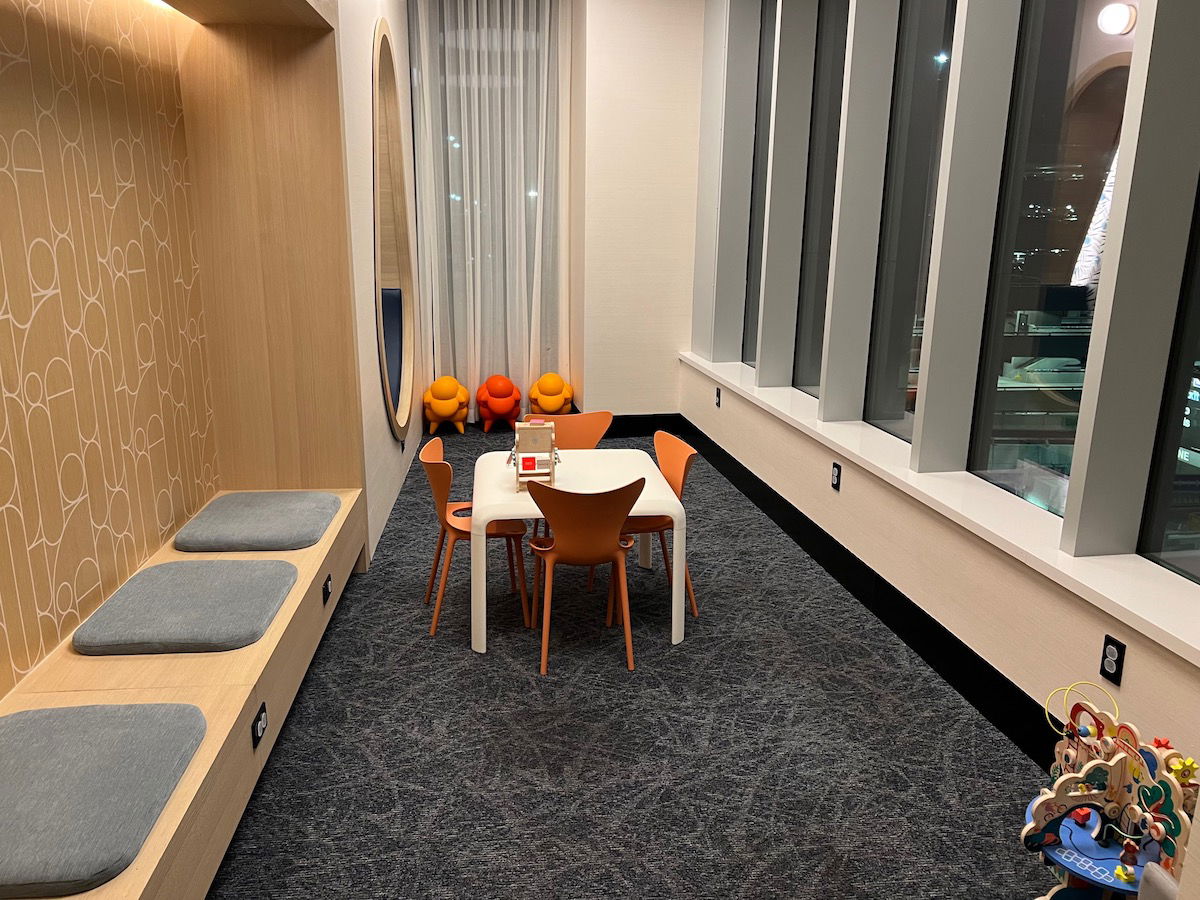 For us avgeeks, another awesome thing about the lounge is the views. The lounge has breathtaking views of the apron and runway, so plane spotting opportunities don't get much better than this.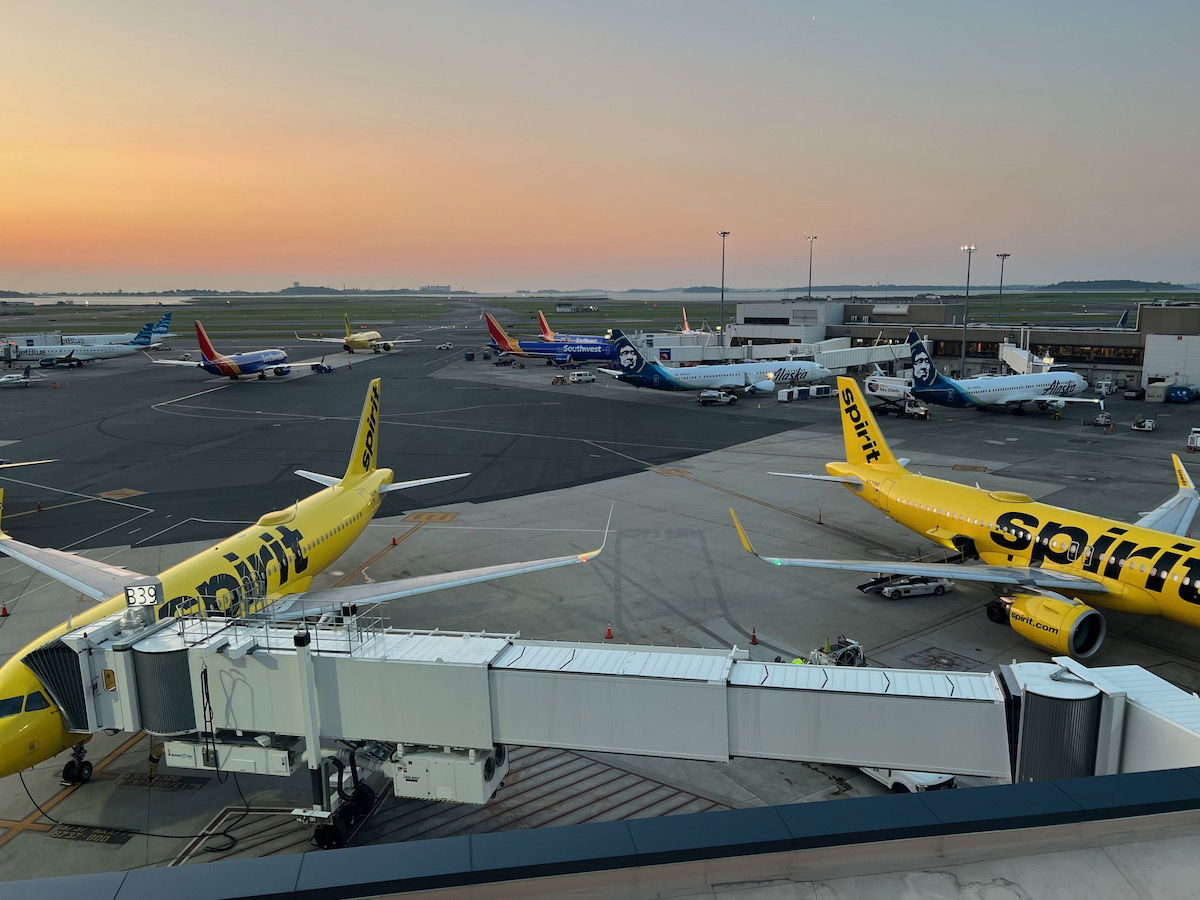 Chase Sapphire Lounge Boston food & drinks
The Chase Sapphire Lounge Boston probably has the best dining concept of any credit card lounge in the United States. The lounge has a buffet with individually plated dishes, plus a menu you can order off of. Personally I prefer individually plated dishes to buffets where you serve yourself, because some of the behavior I see at buffets disgusts me.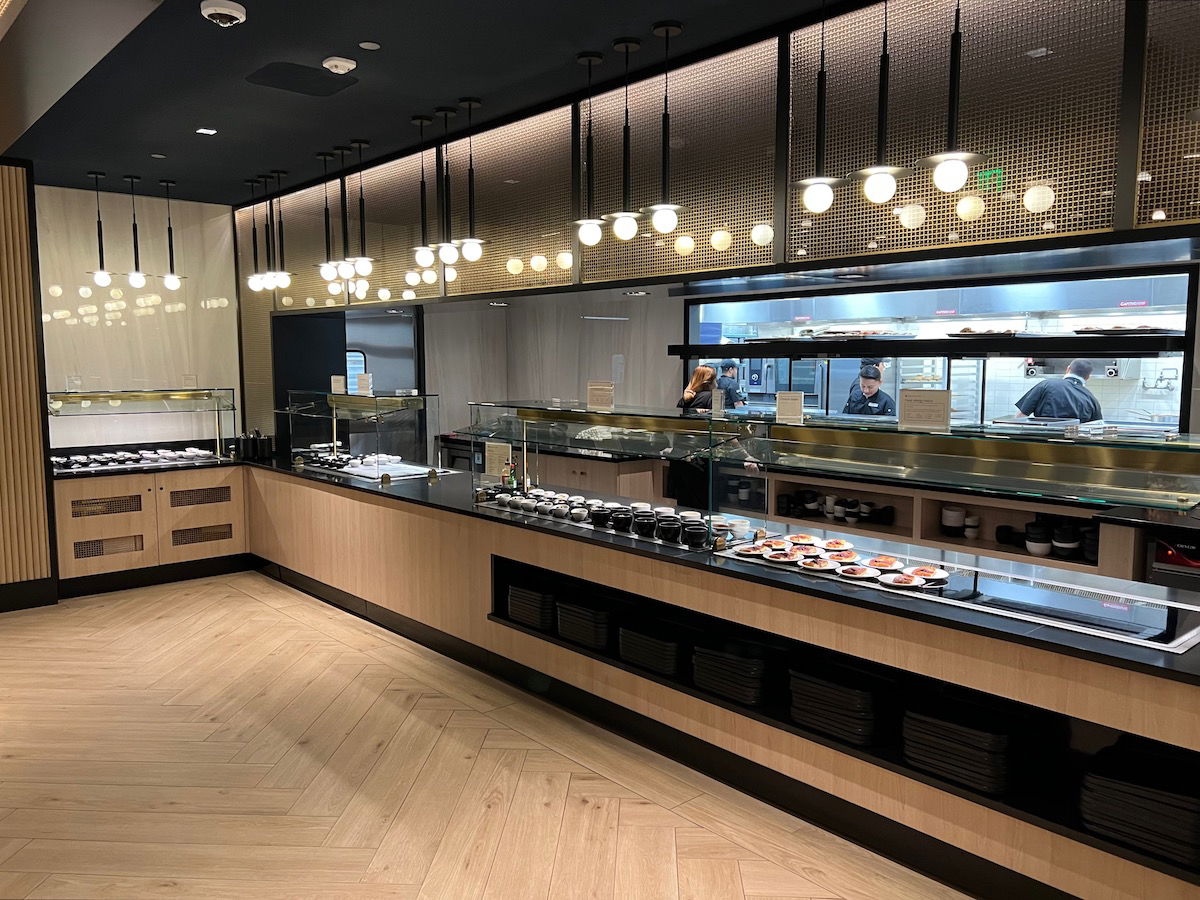 So, what was available at the buffet during my visit? I was there over breakfast, and options included chia cocoa oatmeal, yogurt parfaits, orange açaí smoothies, french toast, tofu scrambles, breakfast hash, potato pancakes, and grilled gem salad.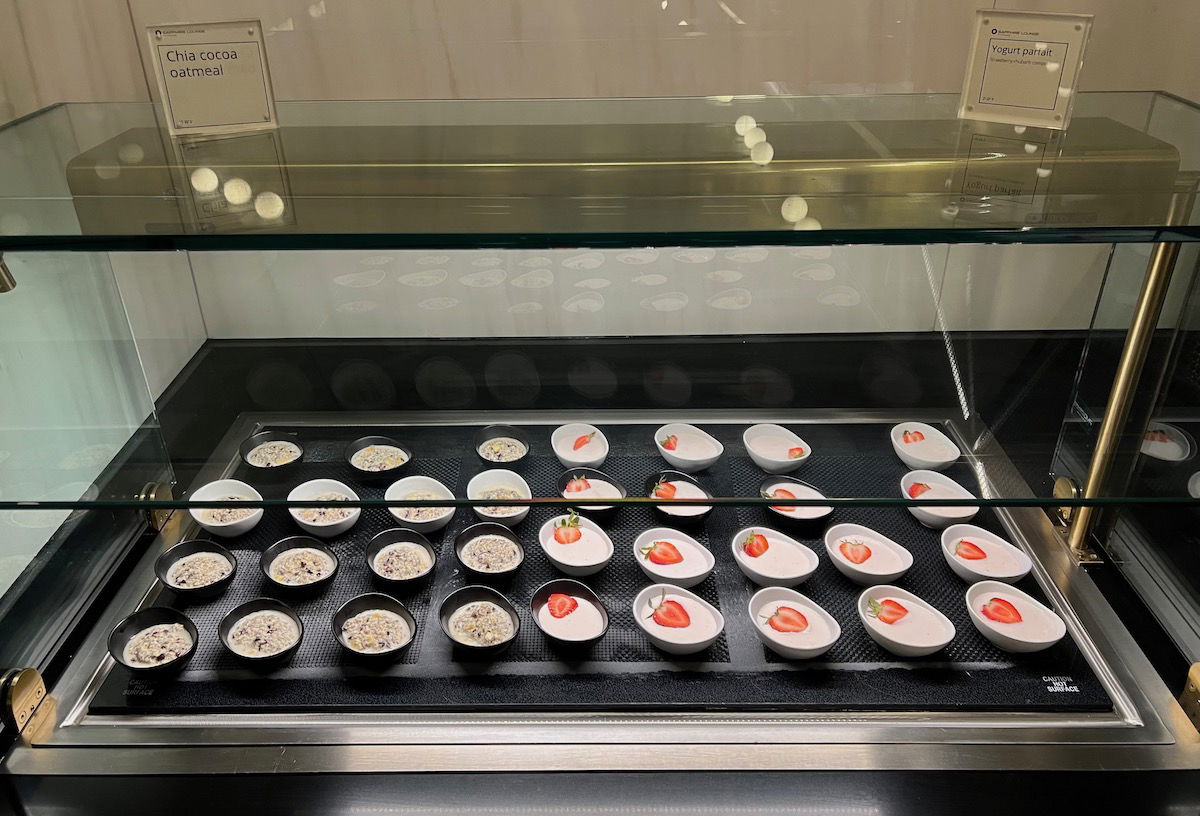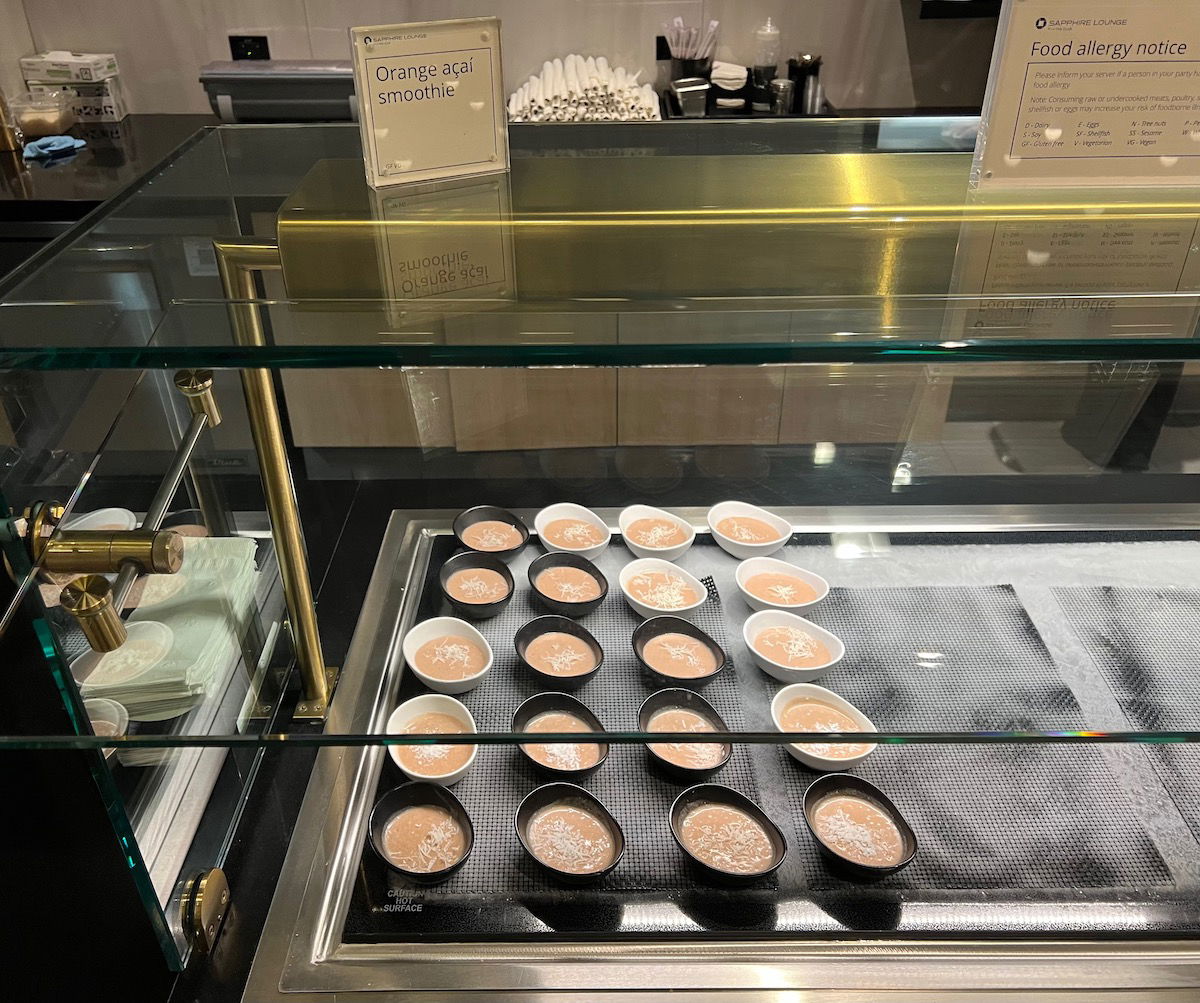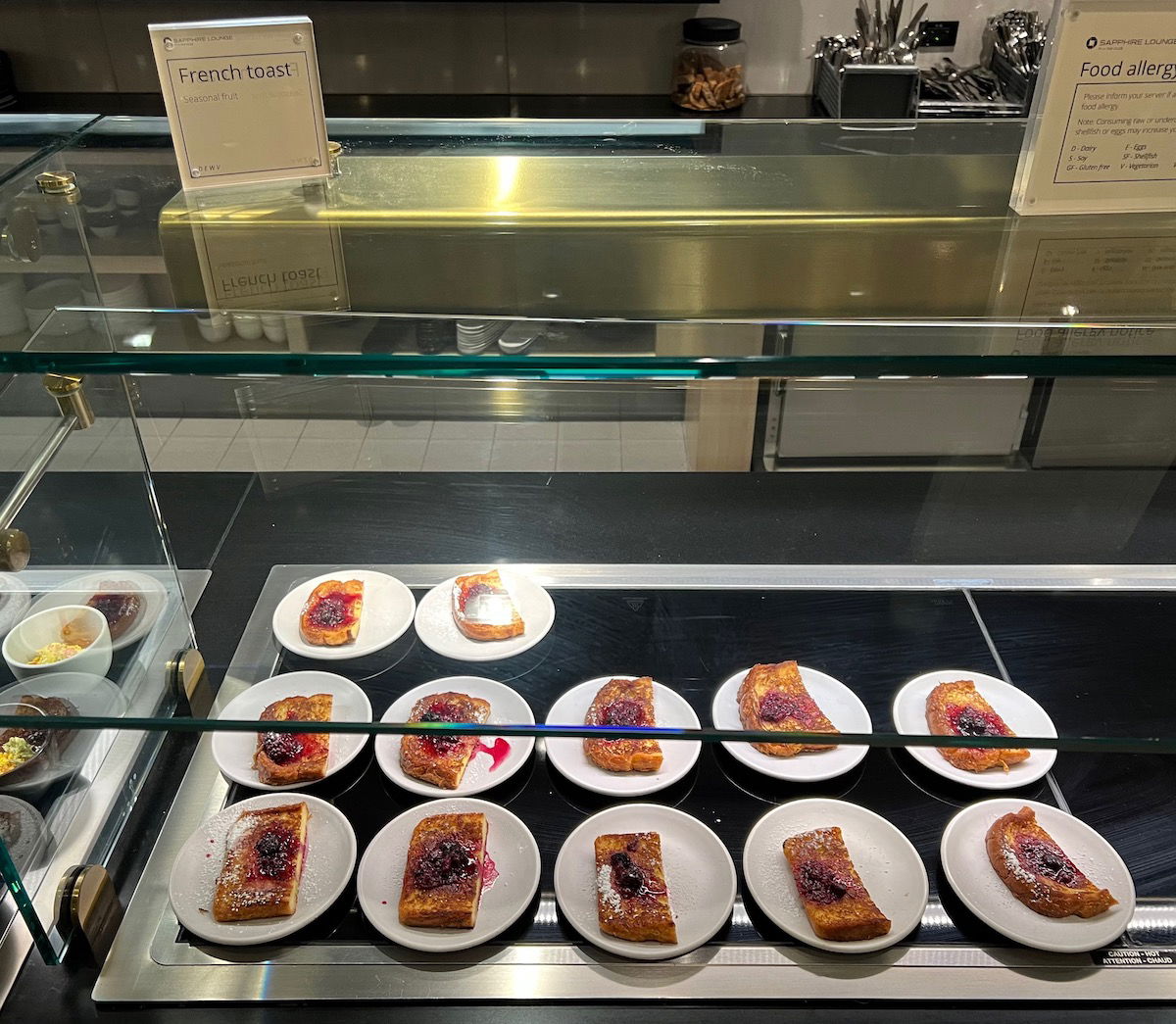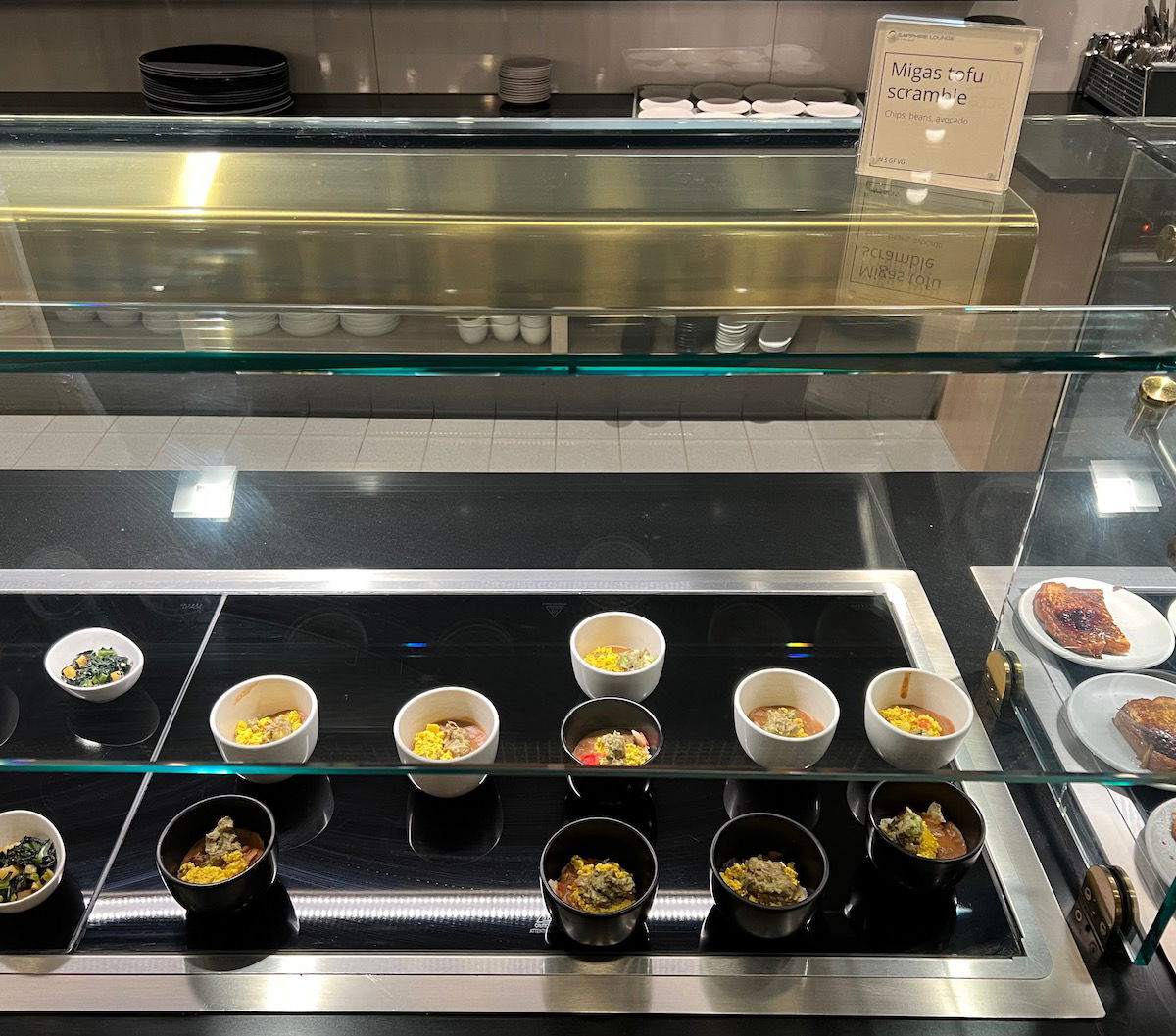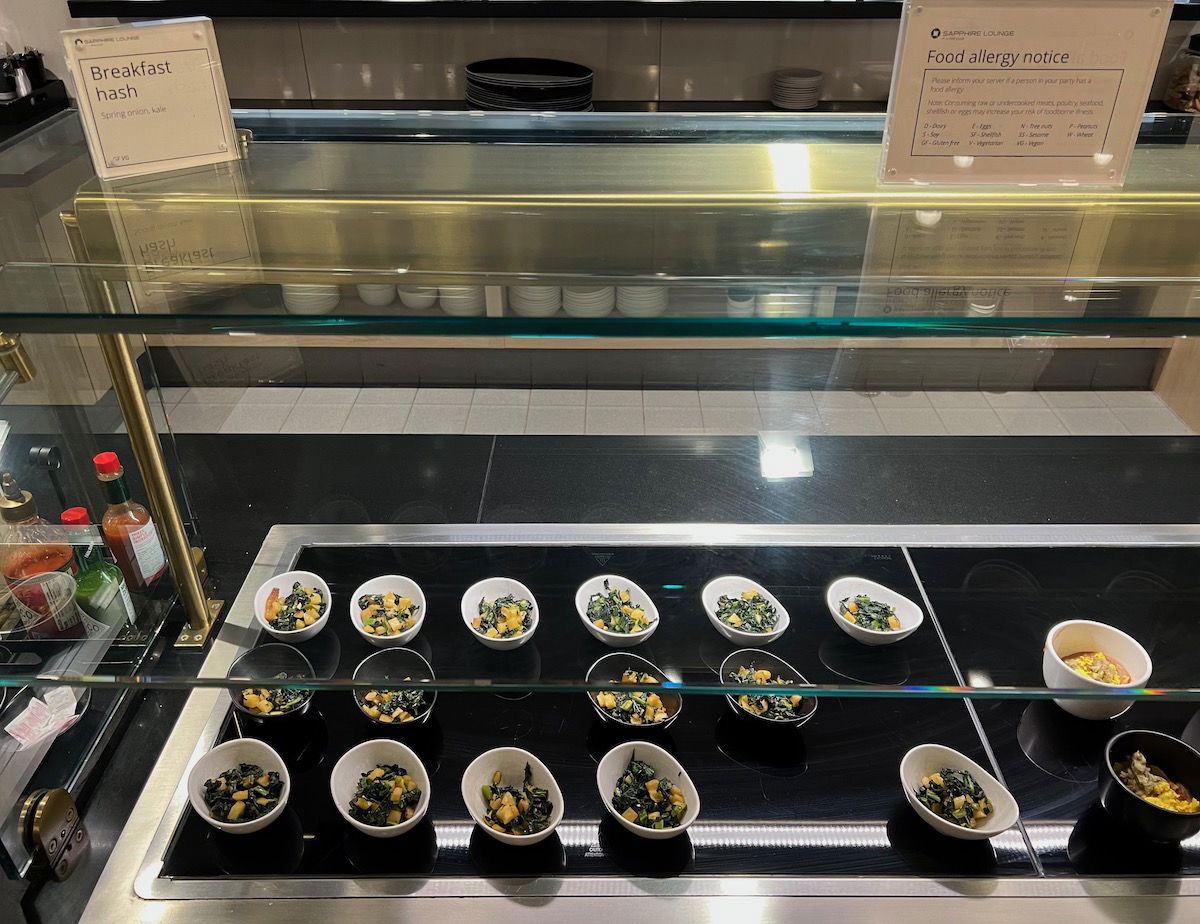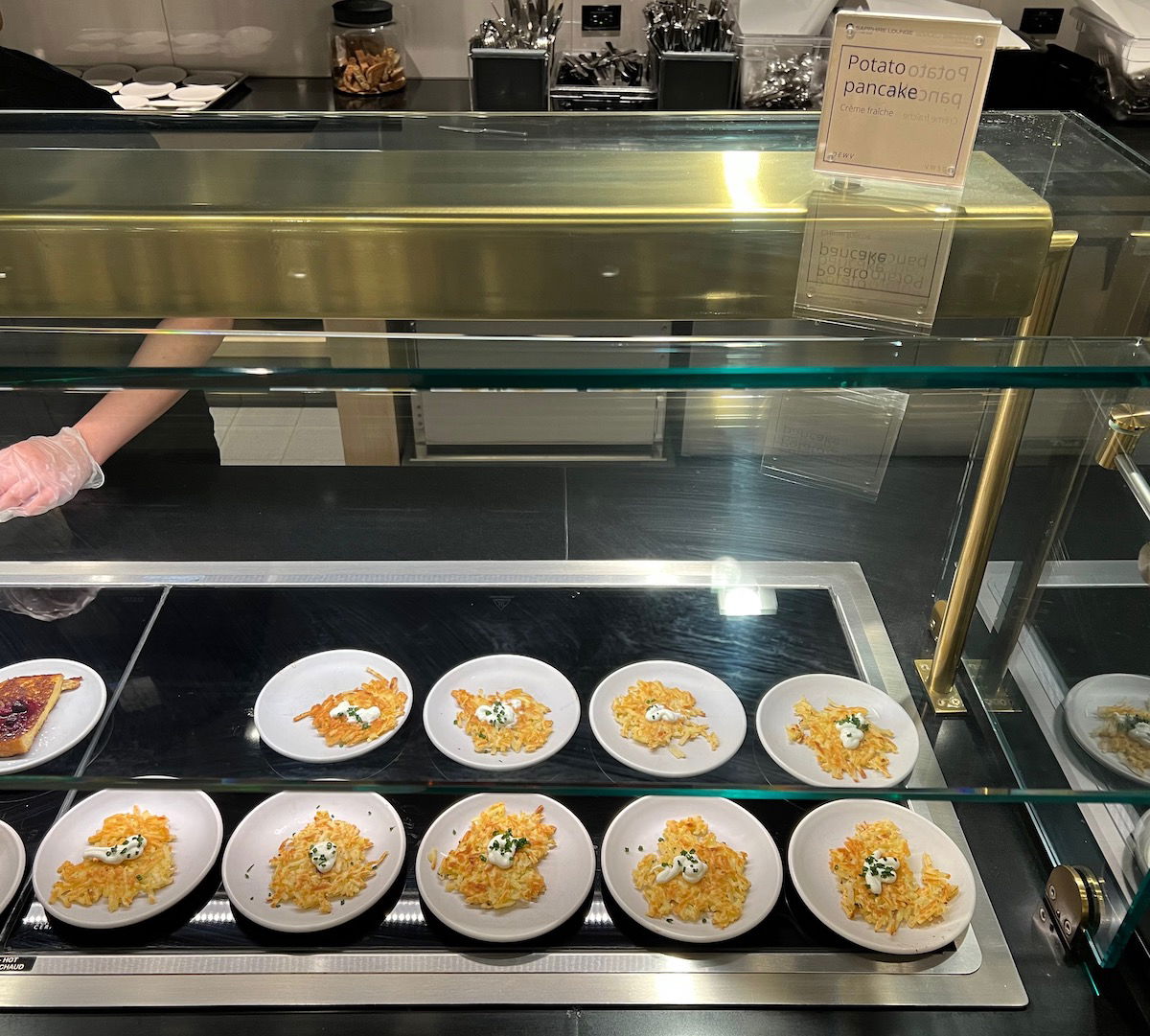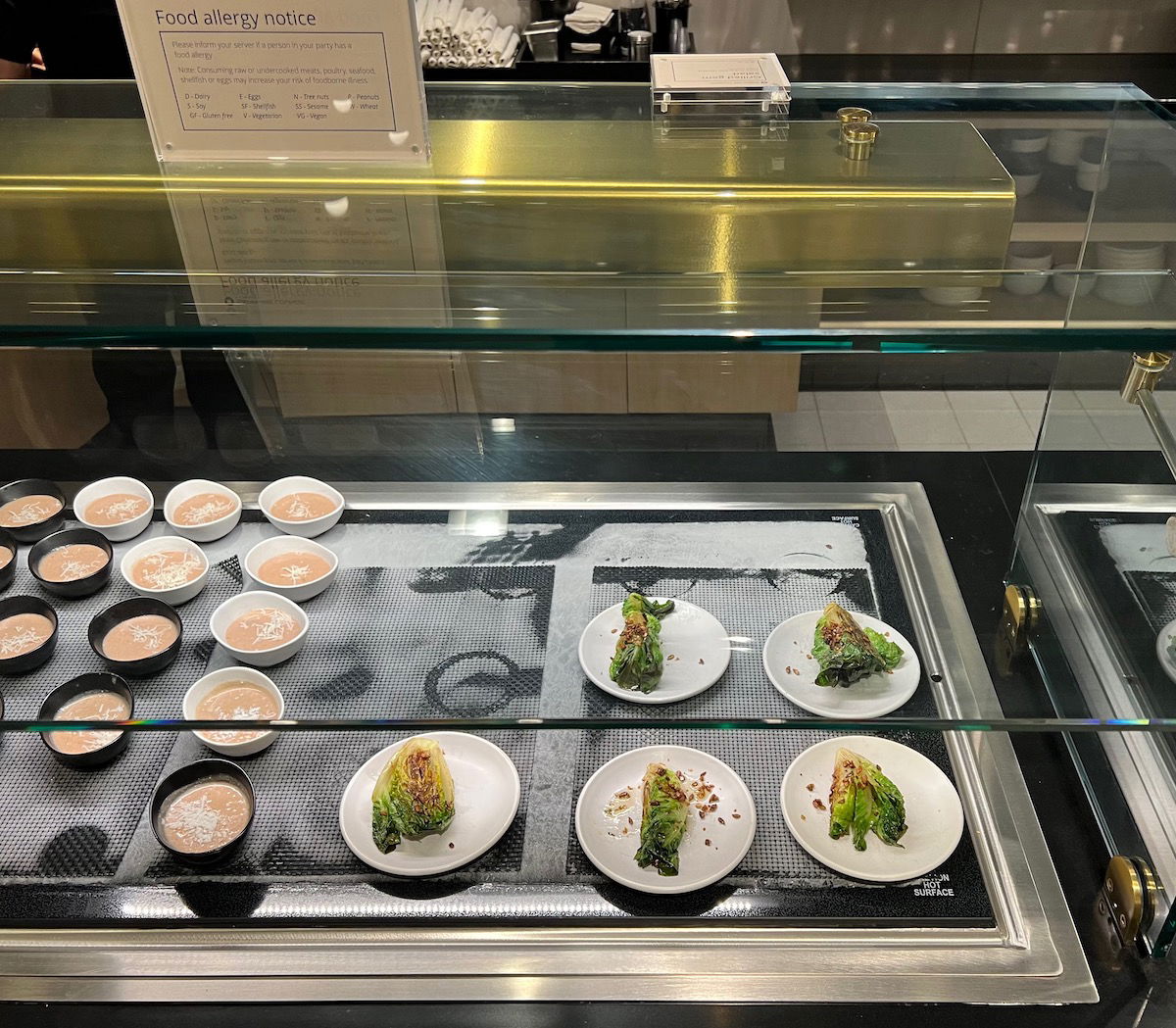 On top of that, there were a variety of pastries and bread, including plain and chocolate croissants, cranberry, blueberry, and butterscotch pecan scones, and strawberry, blueberry, and corn muffins.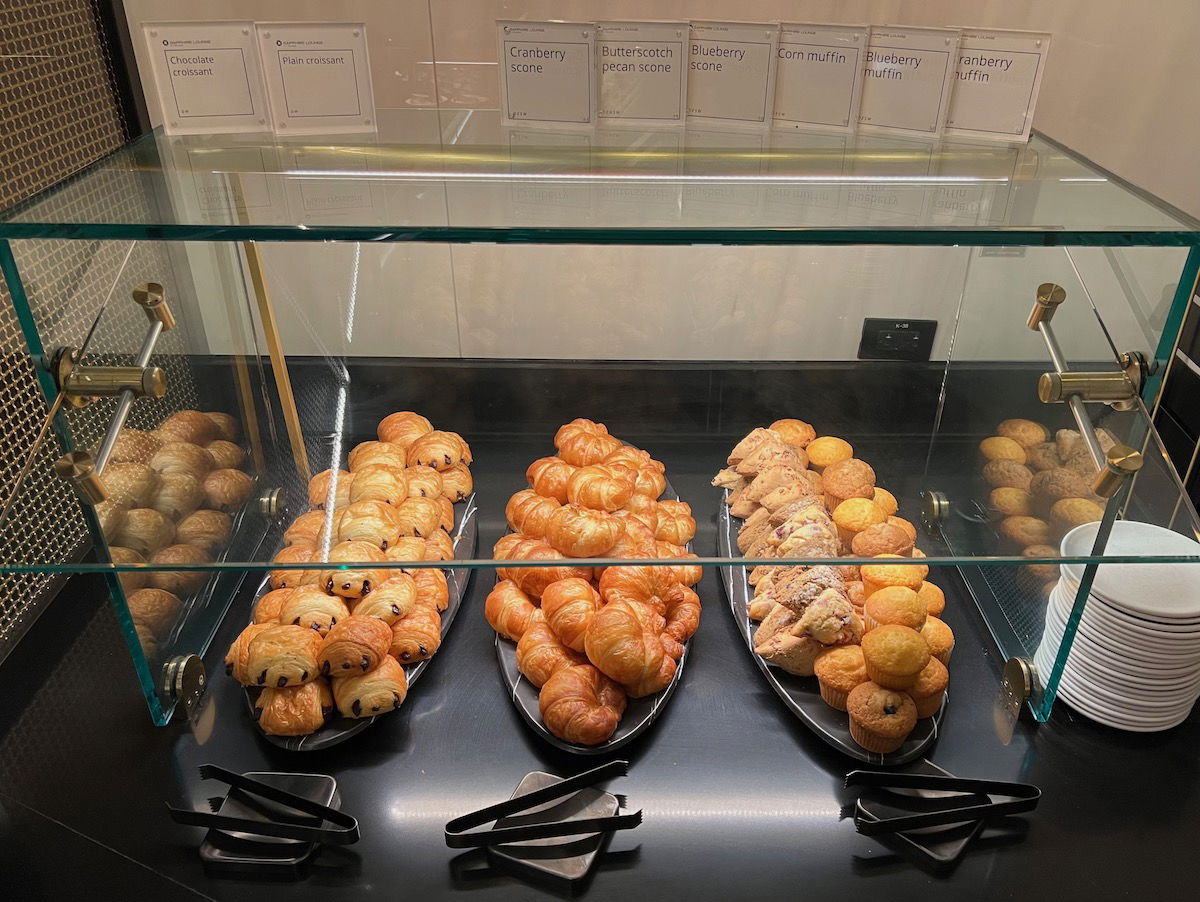 There are trays at the buffet so that you can easily serve yourself multiple of these little dishes. The quality of the buffet options was excellent, in my opinion.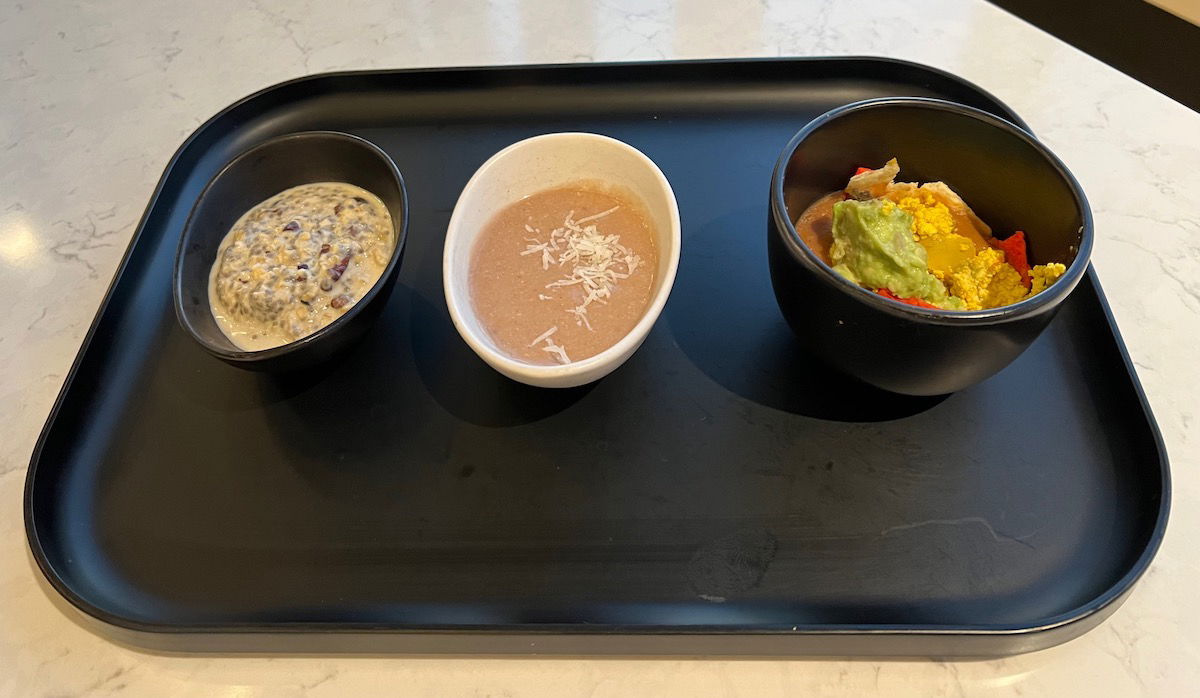 There are stickers with QR codes throughout the dining area of the lounge, where you can order from the menu. The process of ordering is quite simple.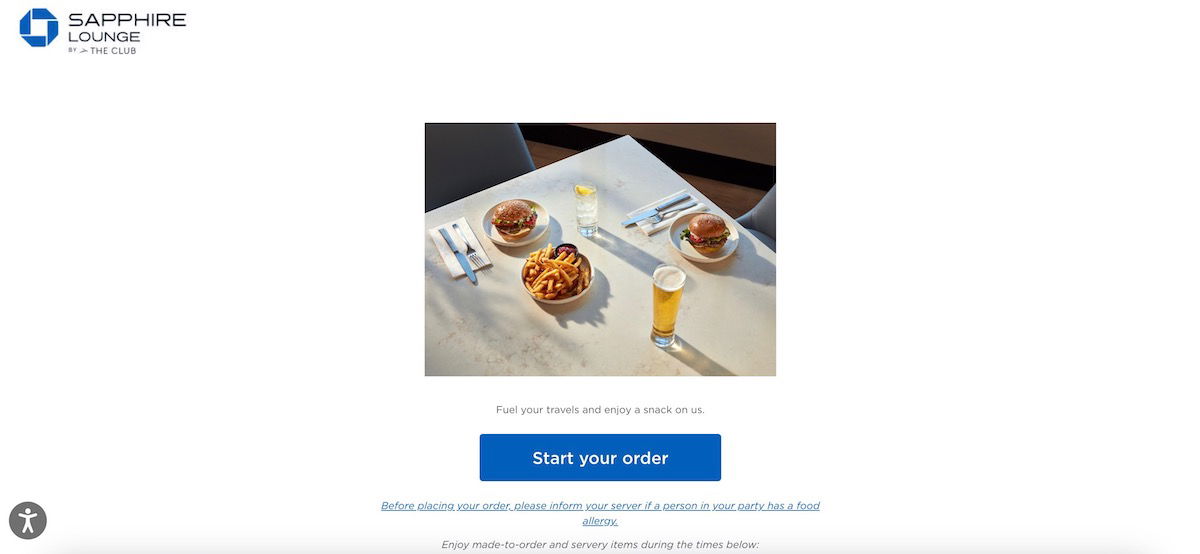 The breakfast ordering started at 5:30AM (30 minutes after opening), and options included an omelet, eggs benedict, egg and cheese bao, shakshuka, and croque madame.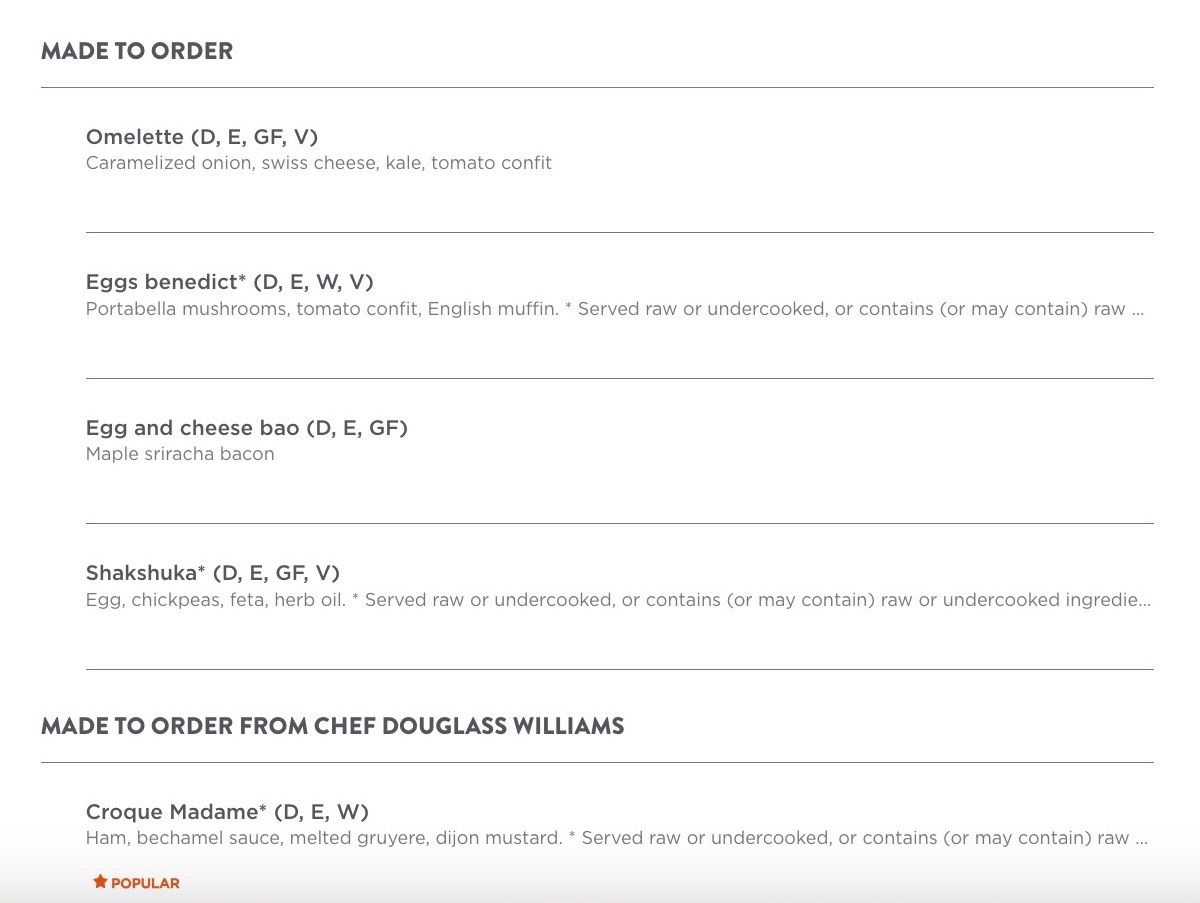 The QR code you scan knows what table you're at, so you just need to enter your name and then submit your order.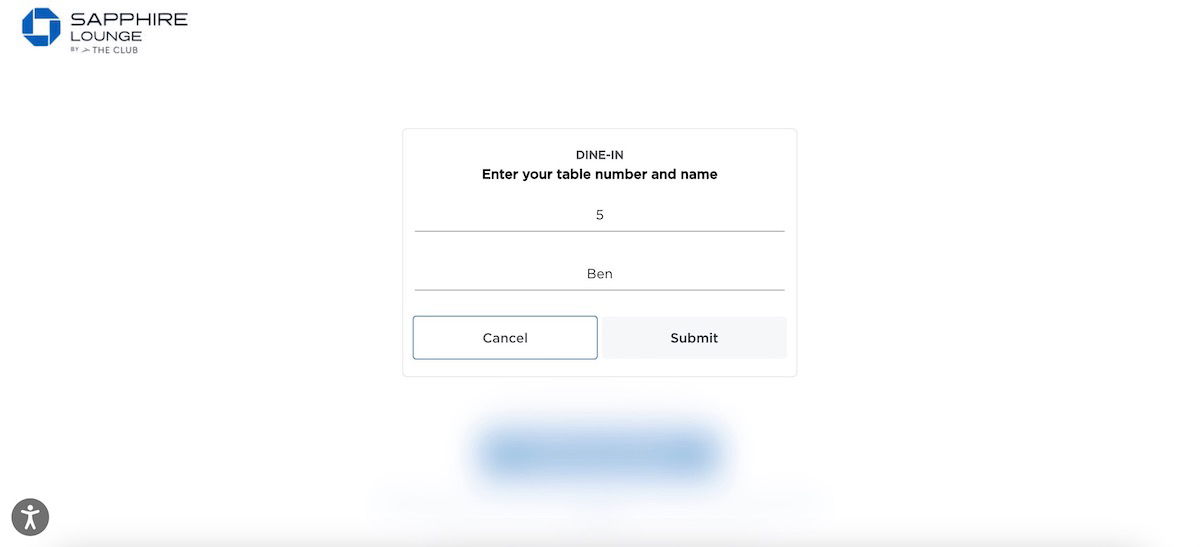 I decided to order the shakshuka, and it was brought out within 10 minutes or so.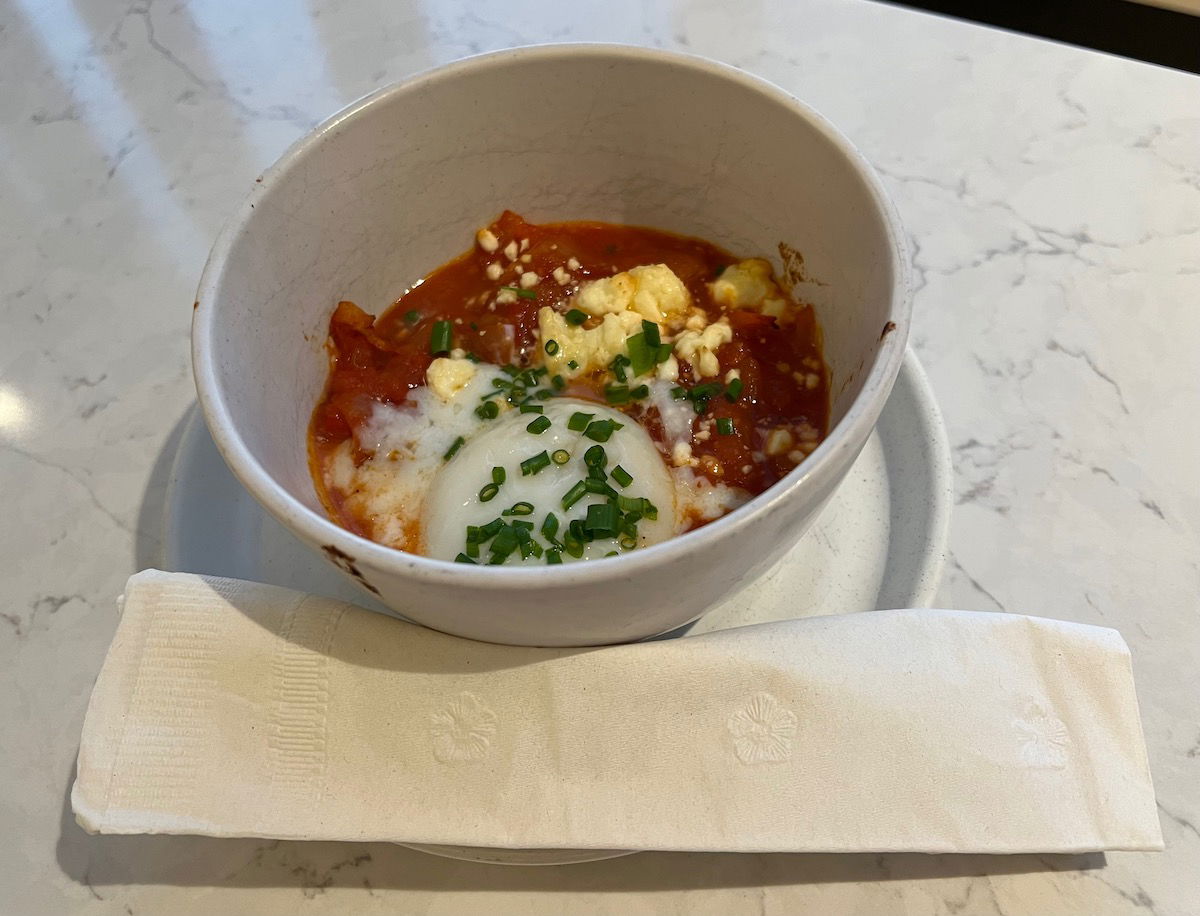 The lounge also has a couple of drink stations, which have drip coffee from Massachusetts Atomic Coffee Roasters, as well as an espresso machine. There's also water and juice, cans of soda and other soft drinks, and biscotti.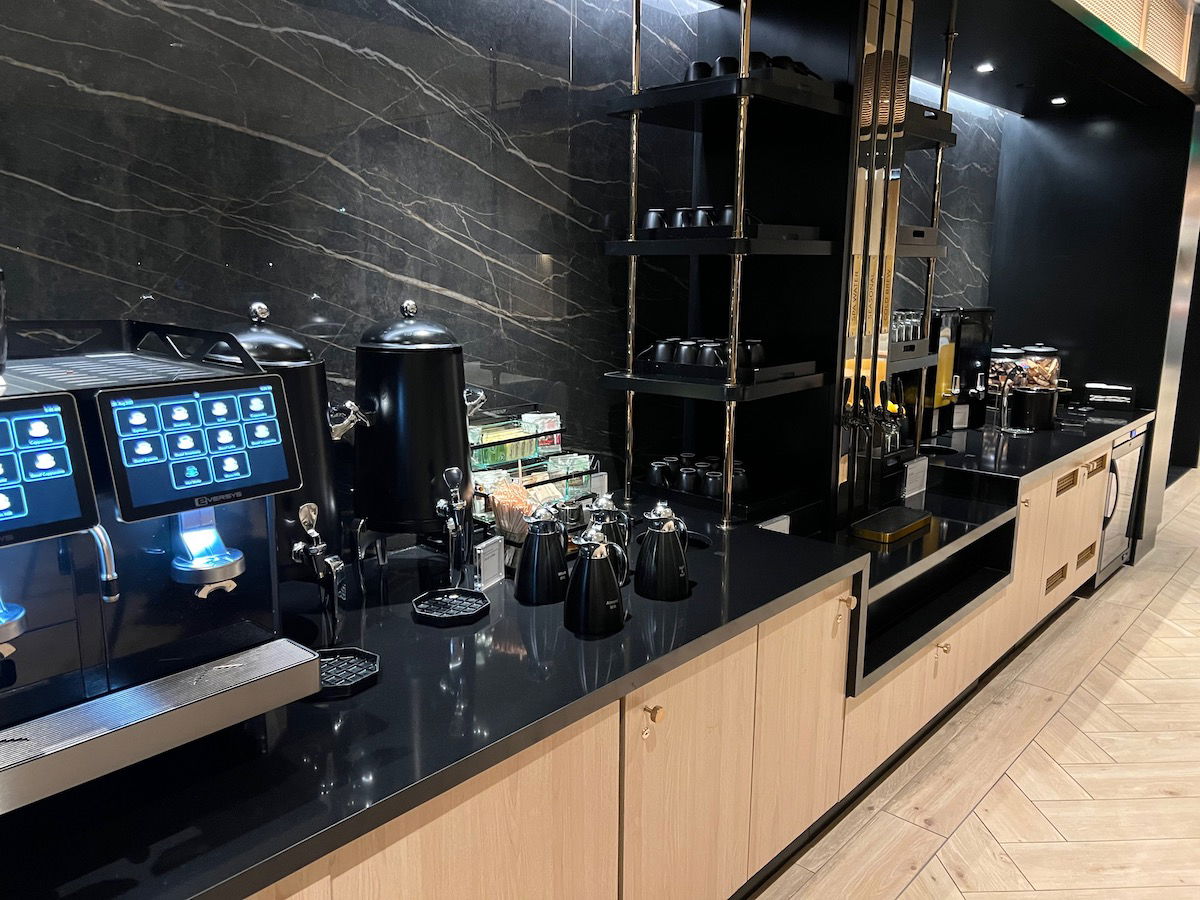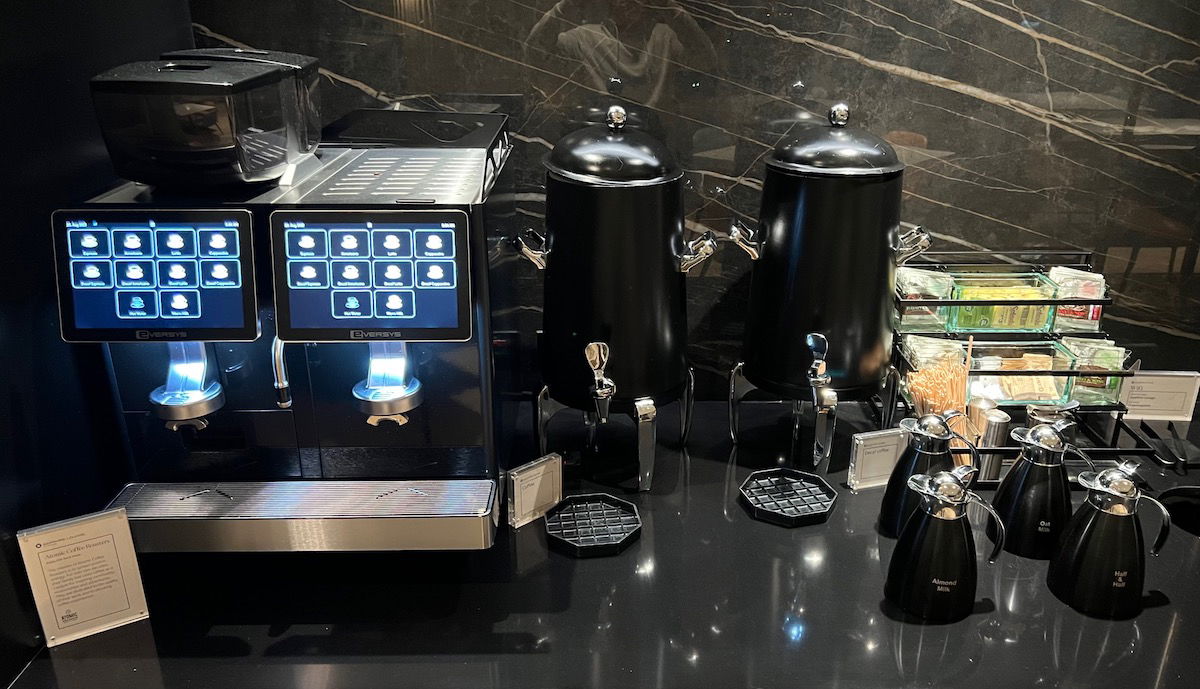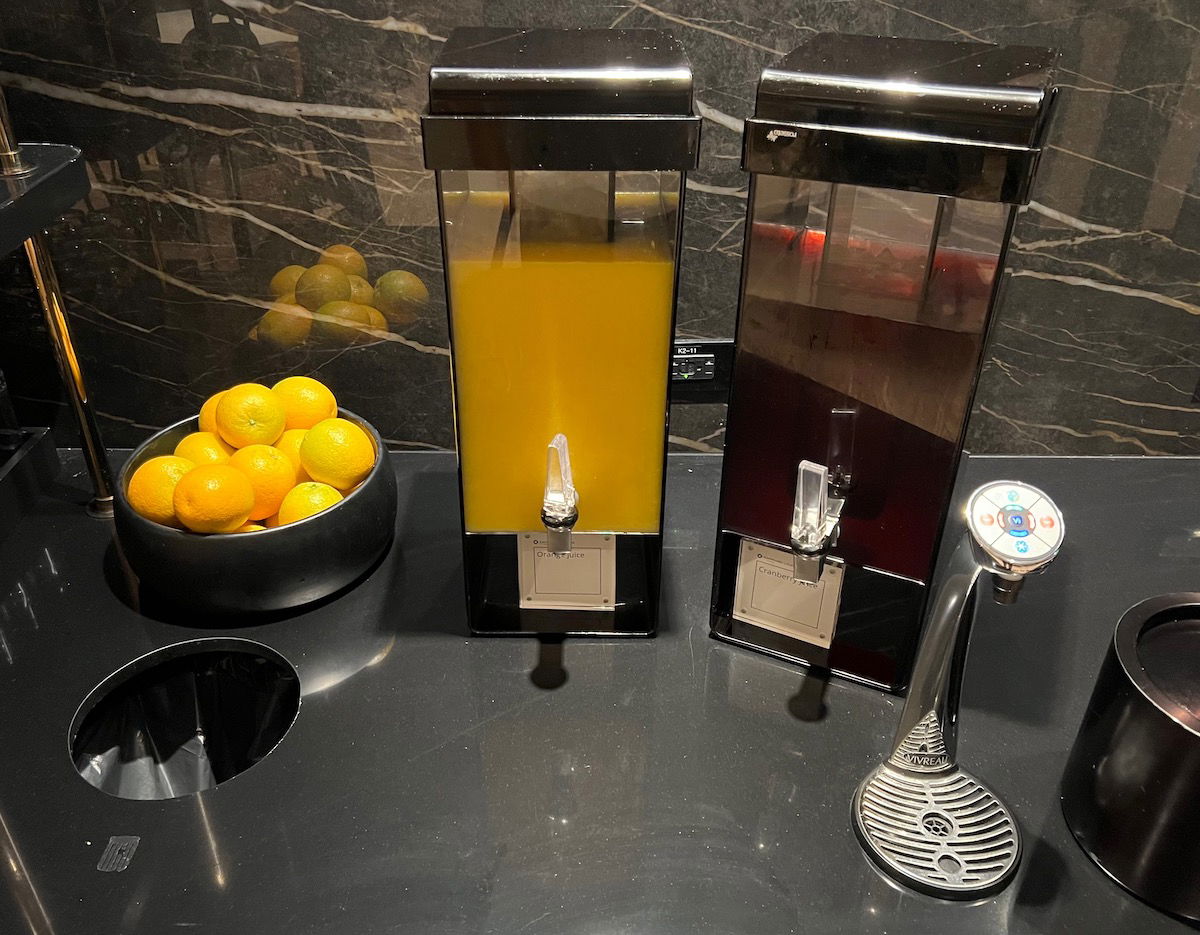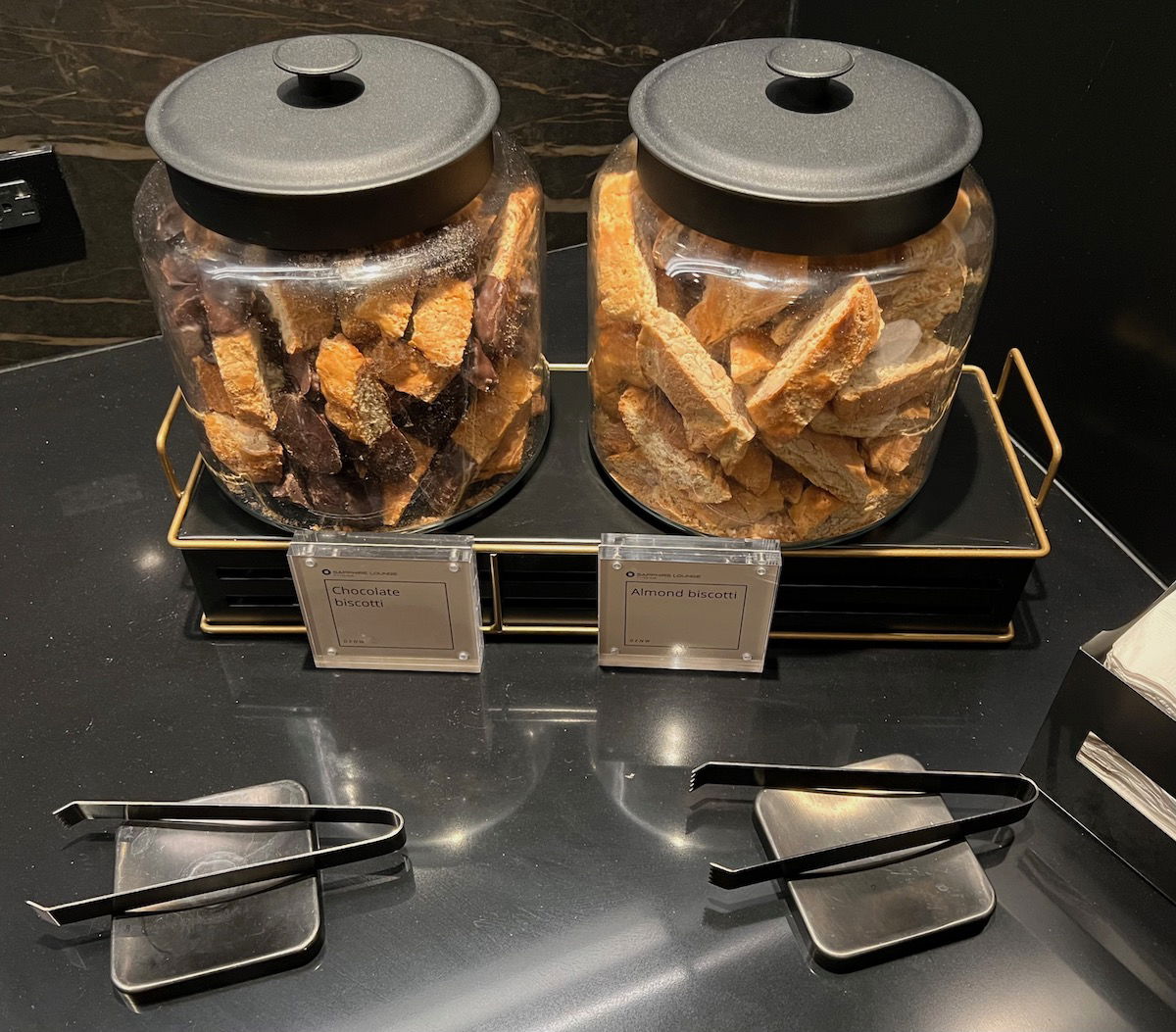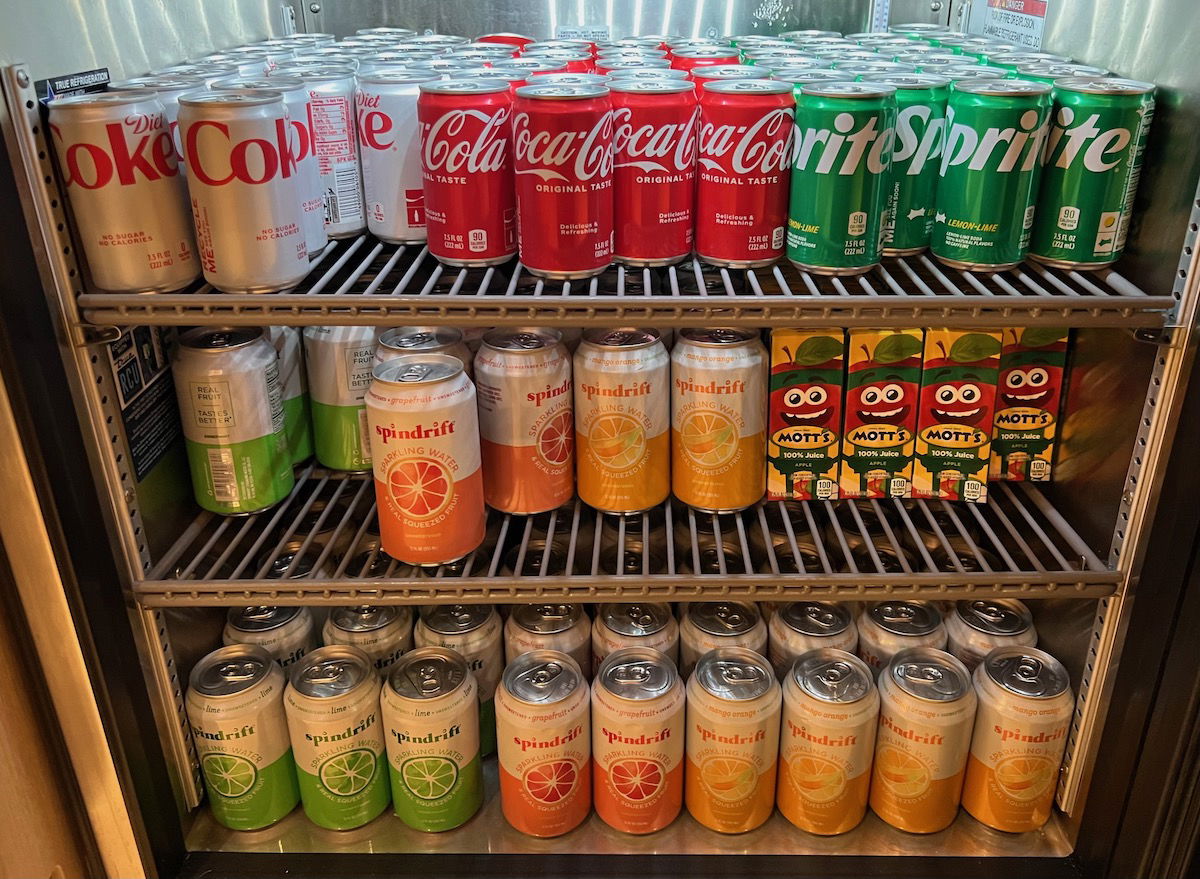 There's also cold brew on tap, which sure is a nice feature. Thank goodness we're seeing airport lounges embrace cold brew a bit more than in the past.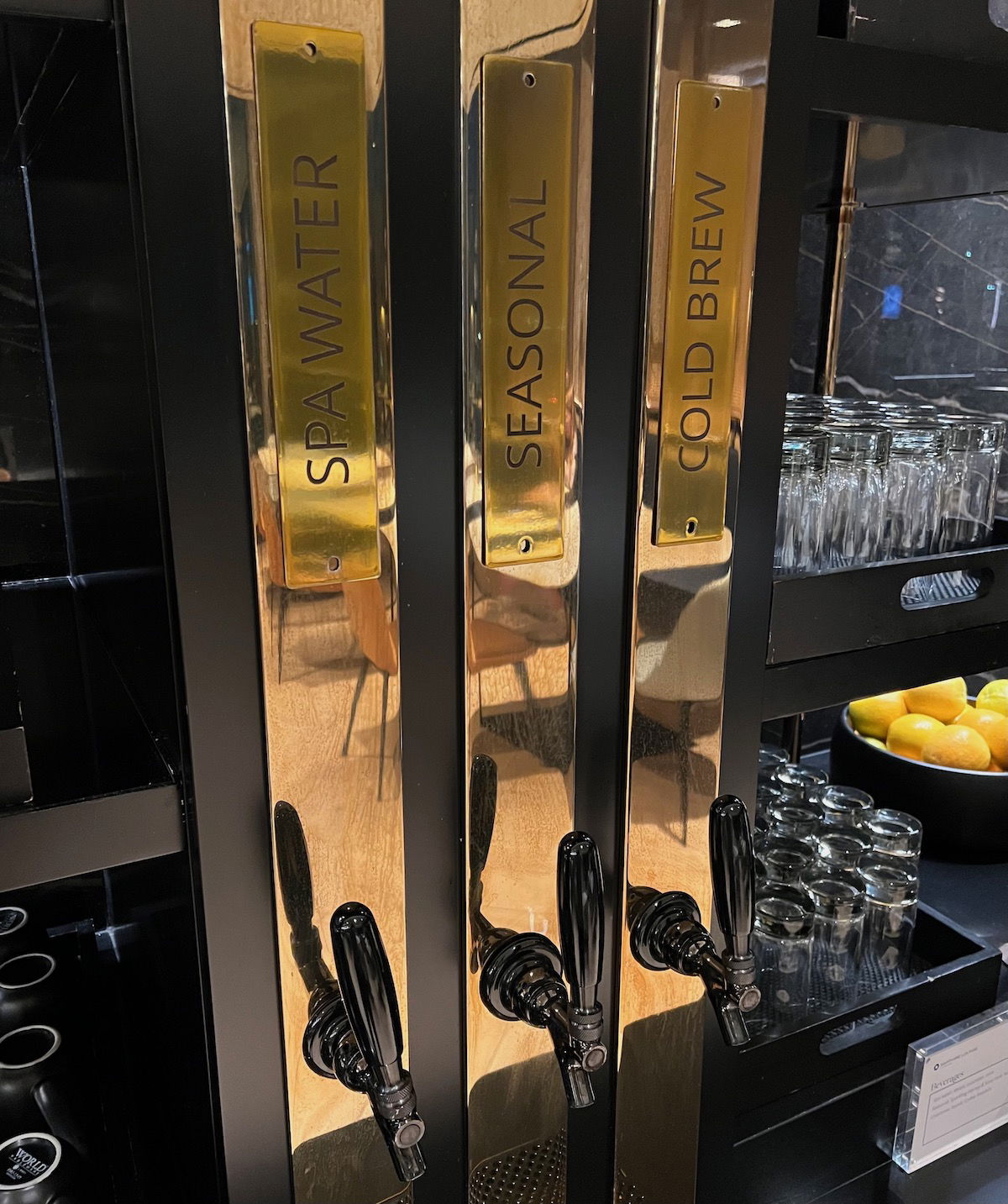 Unfortunately unlike at the Capital One Lounge DFW, there's no barista made coffee.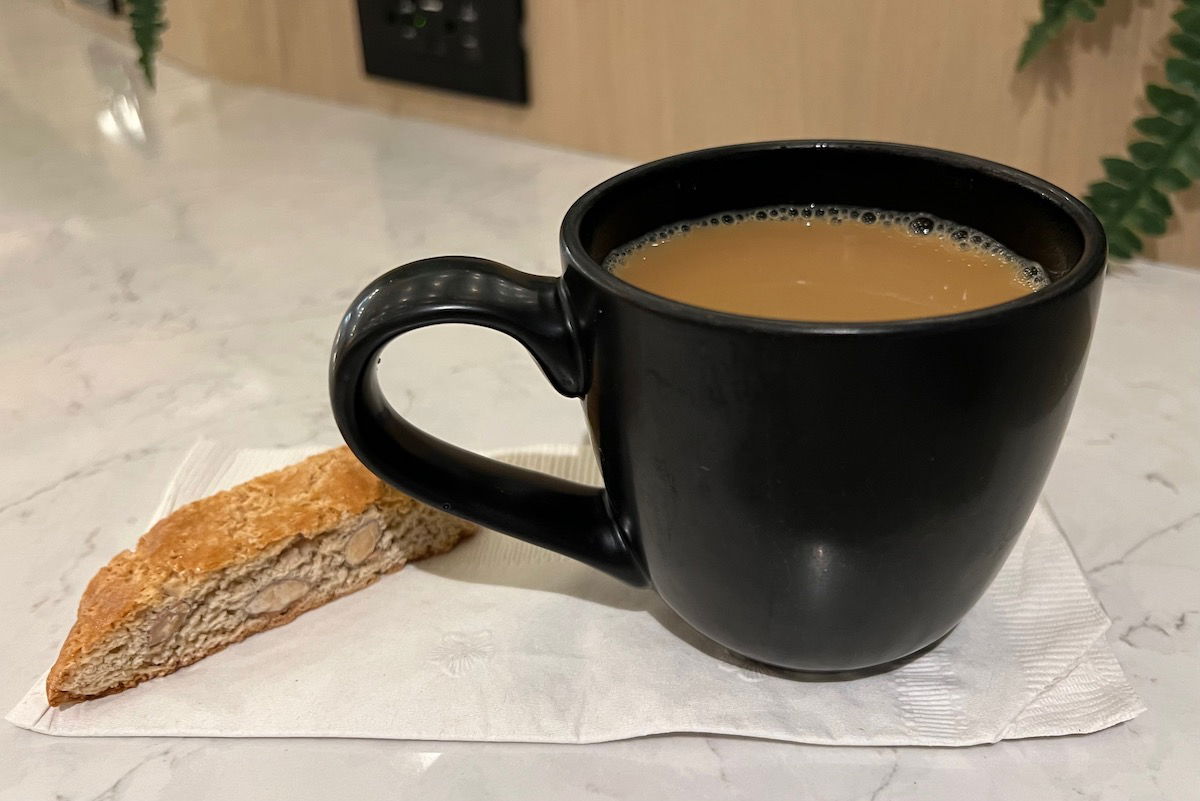 As mentioned above, one of the unique features of the lounge is a taproom, with a variety of local beers on offer.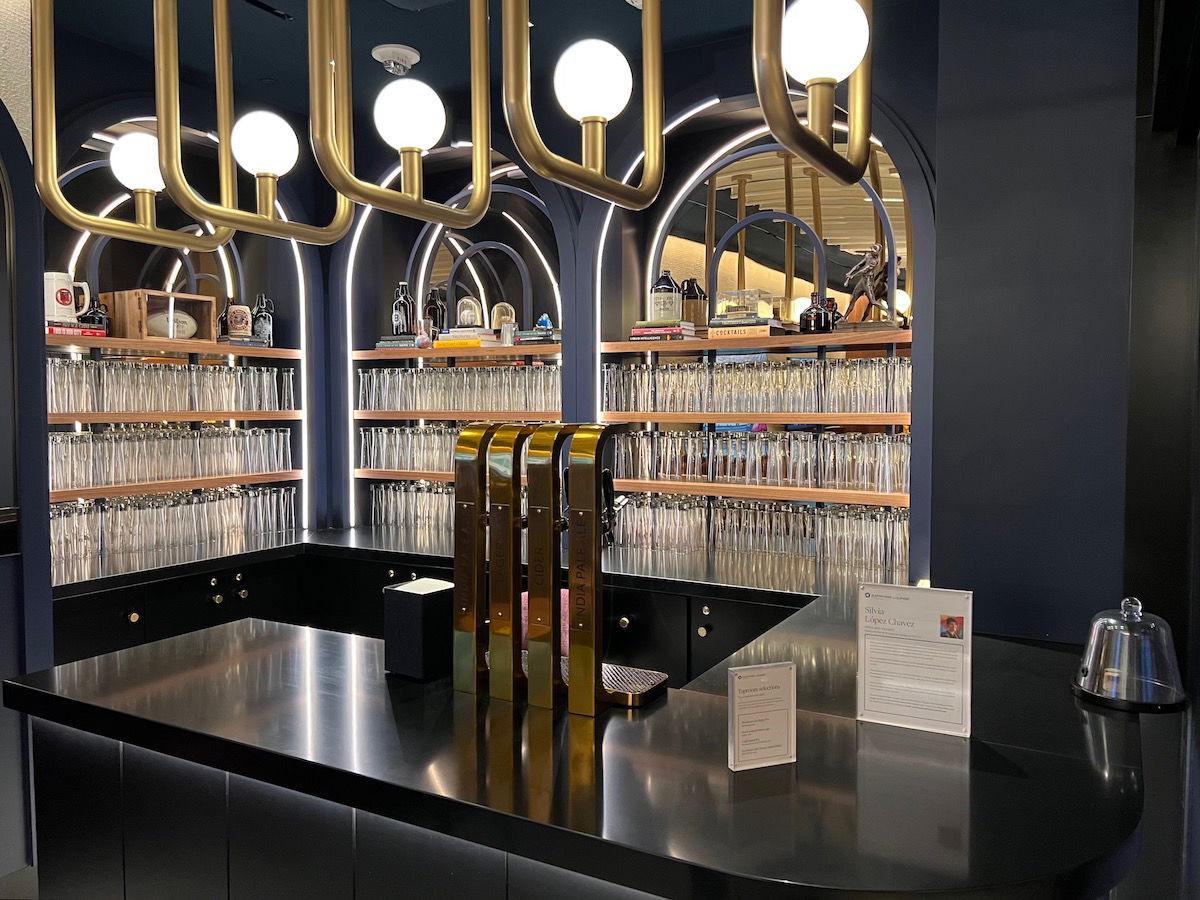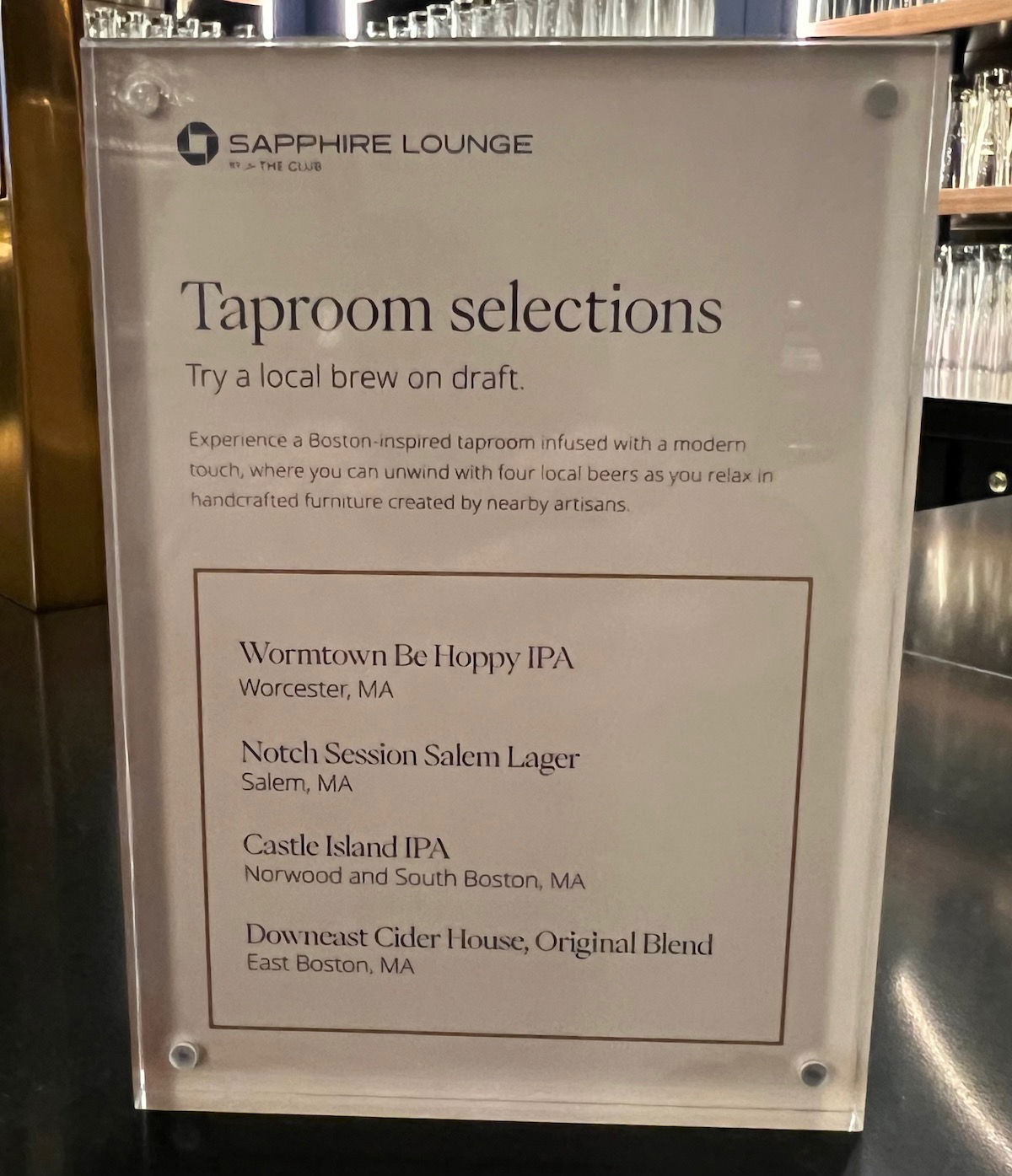 The lounge also has an extensive cocktail and wine list, though that wasn't yet available during my early morning visit.
Chase Sapphire Lounge Boston wellness area
The Chase Sapphire Lounge Boston has a wellness area in the very back left of the lounge, just past the restrooms and shower rooms. There's an attendant there who can assist with making reservations.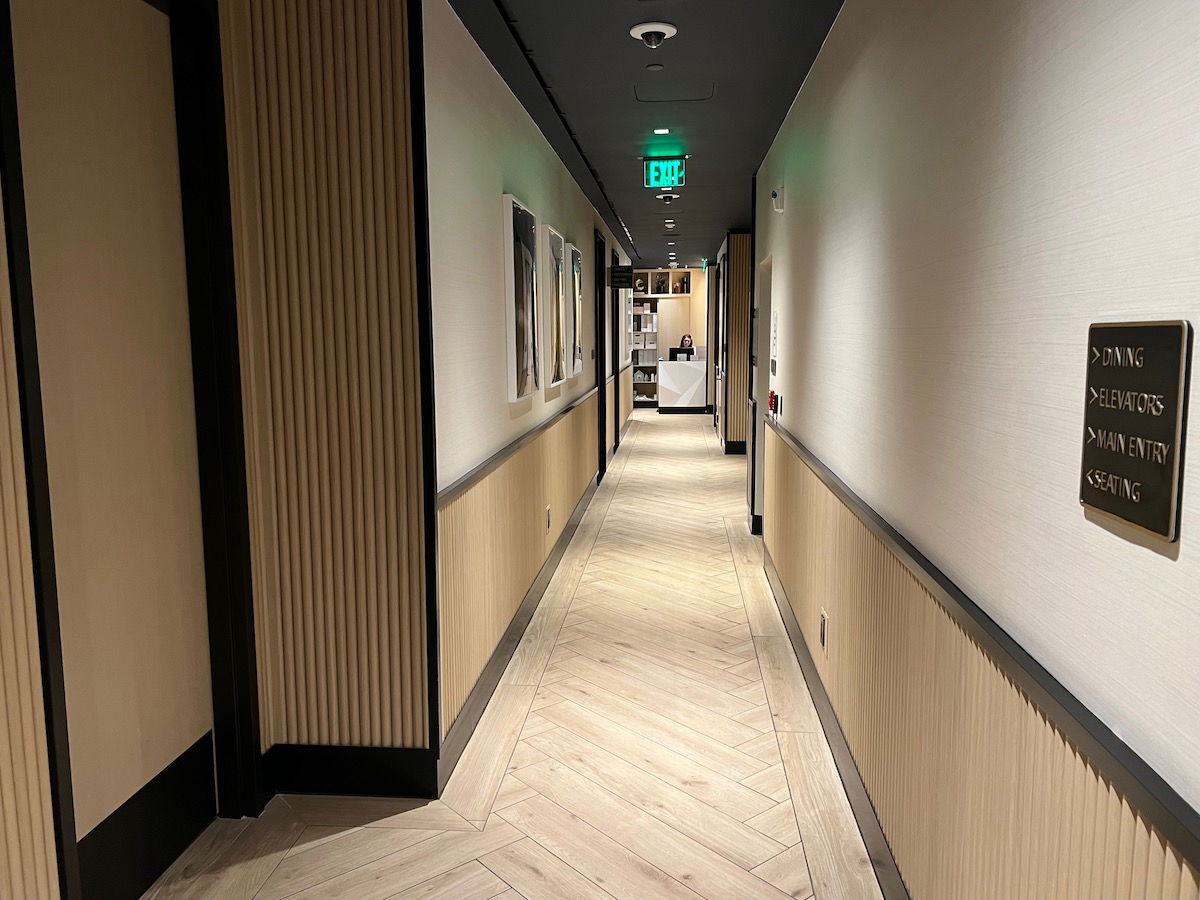 The wellness area of the lounge has two separate rooms with massage chairs. You can make appointments for these, and each appointment is for 30 minutes.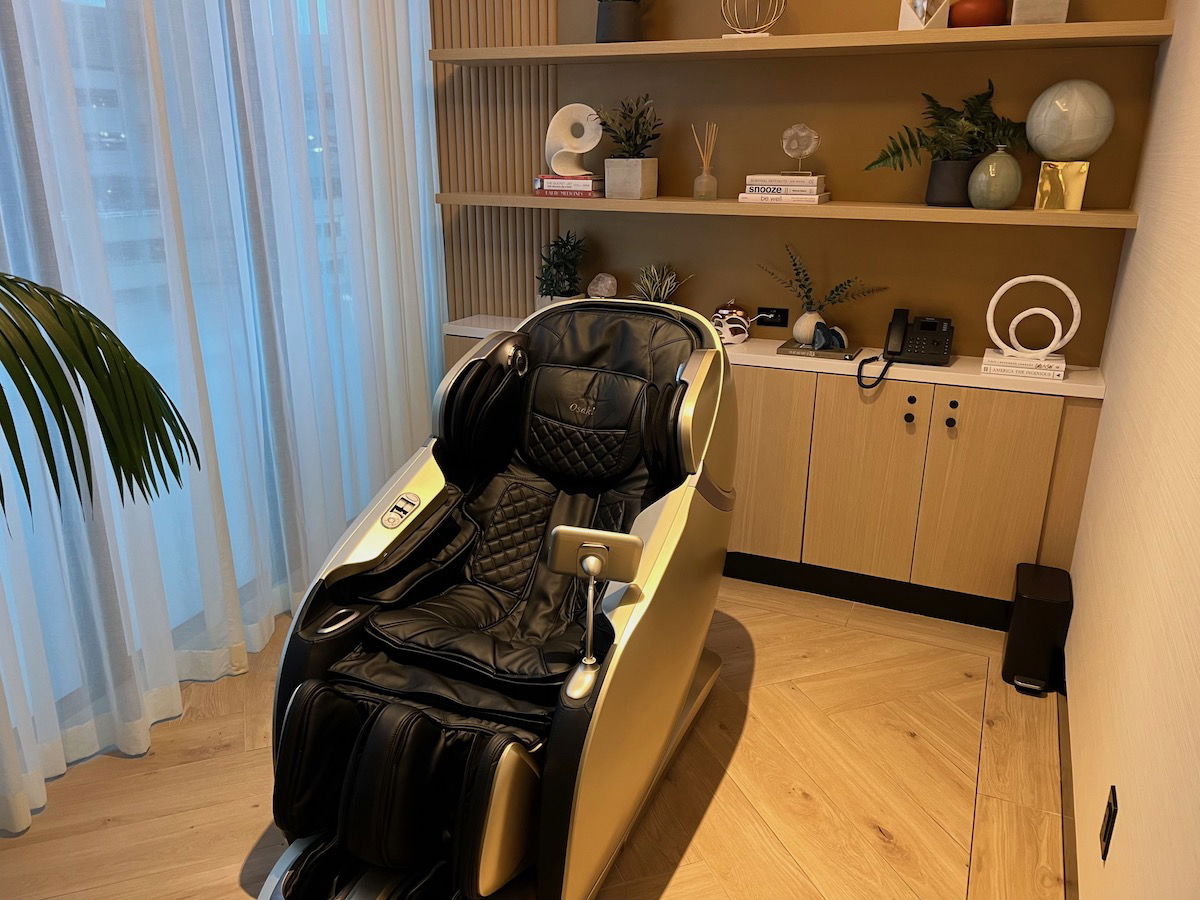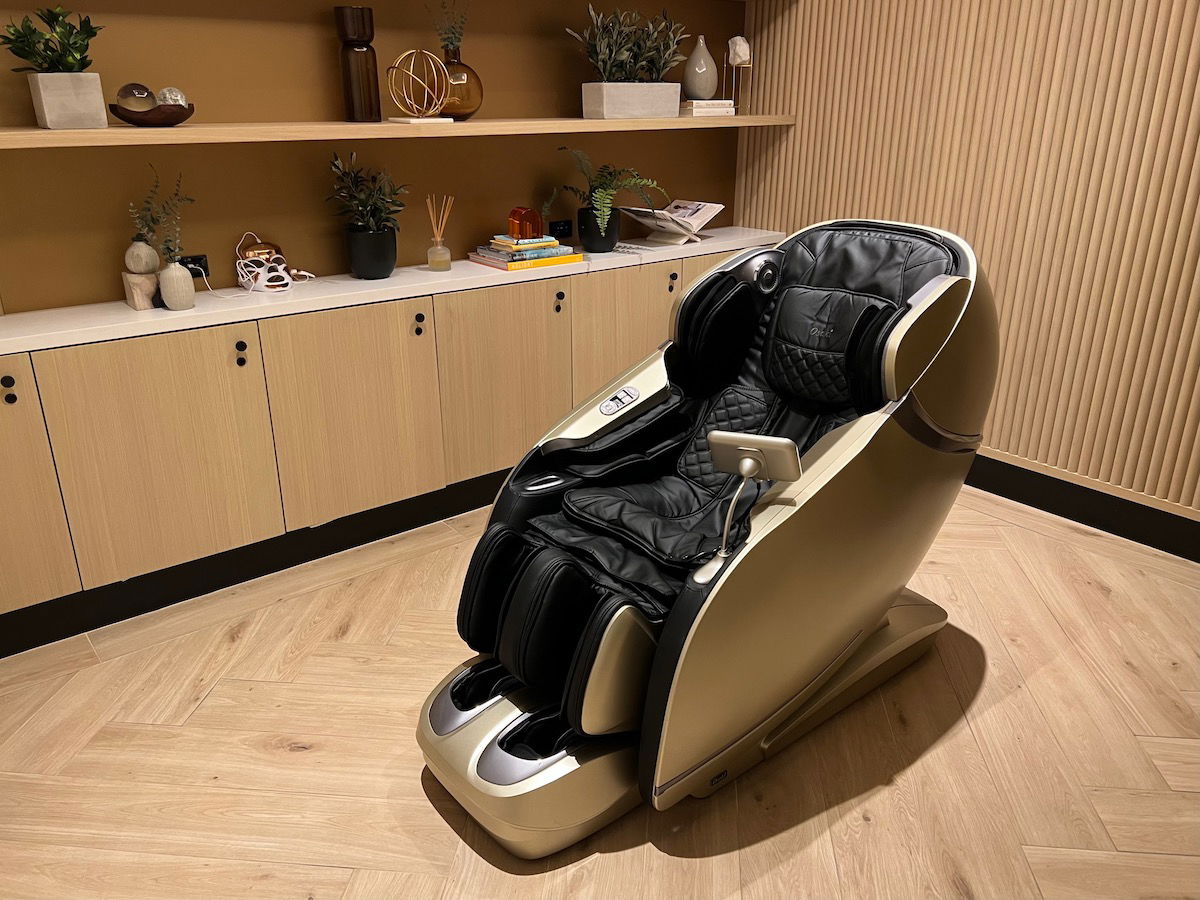 I managed to get an appointment on short notice. Going in, I was skeptical, since I often find that massage chairs just aren't terribly comfortable or relaxing. Well, I don't know what this chair was, but I loved it. Oh my gosh, once you sit in the chair it fully reclines, and basically traps you (in the best way possible) and massages you everywhere. I'd highly recommend making an appointment if you can snag it.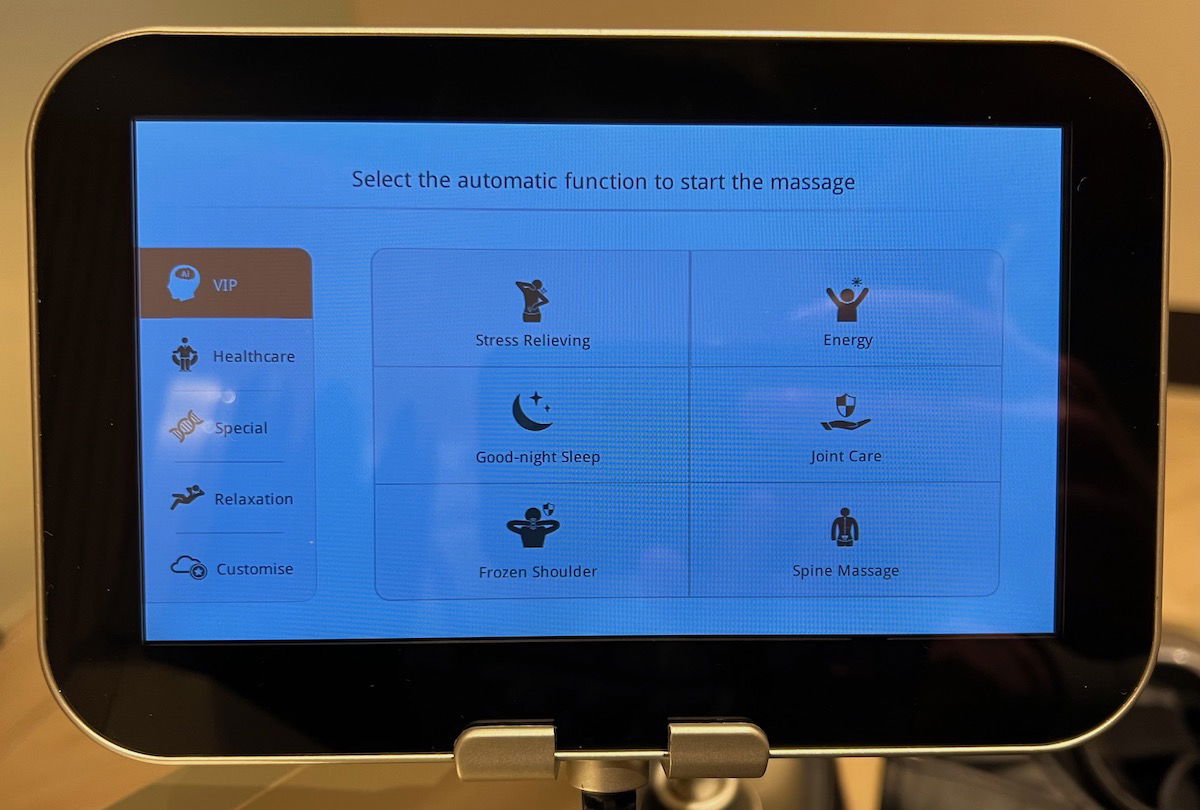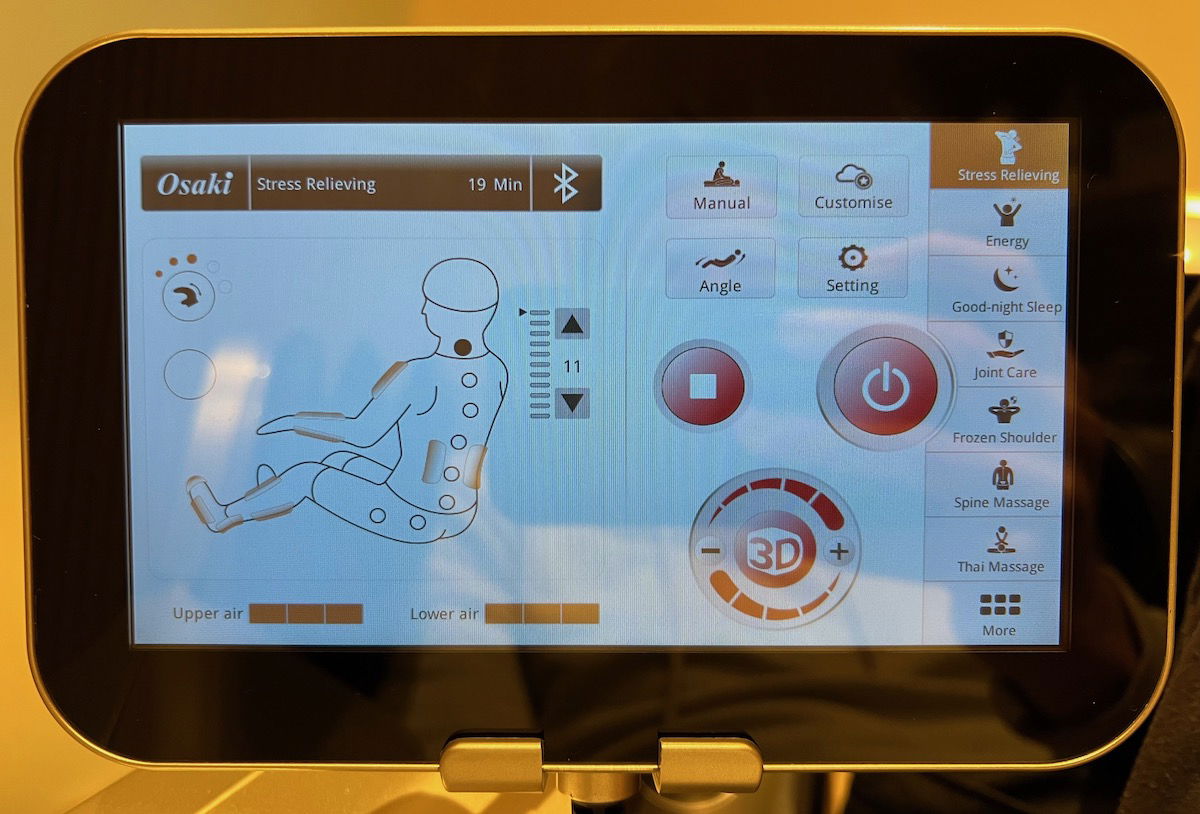 The wellness are also has a few chairs with ottomans behind curtains, presumably for those who just want a quiet place to relax.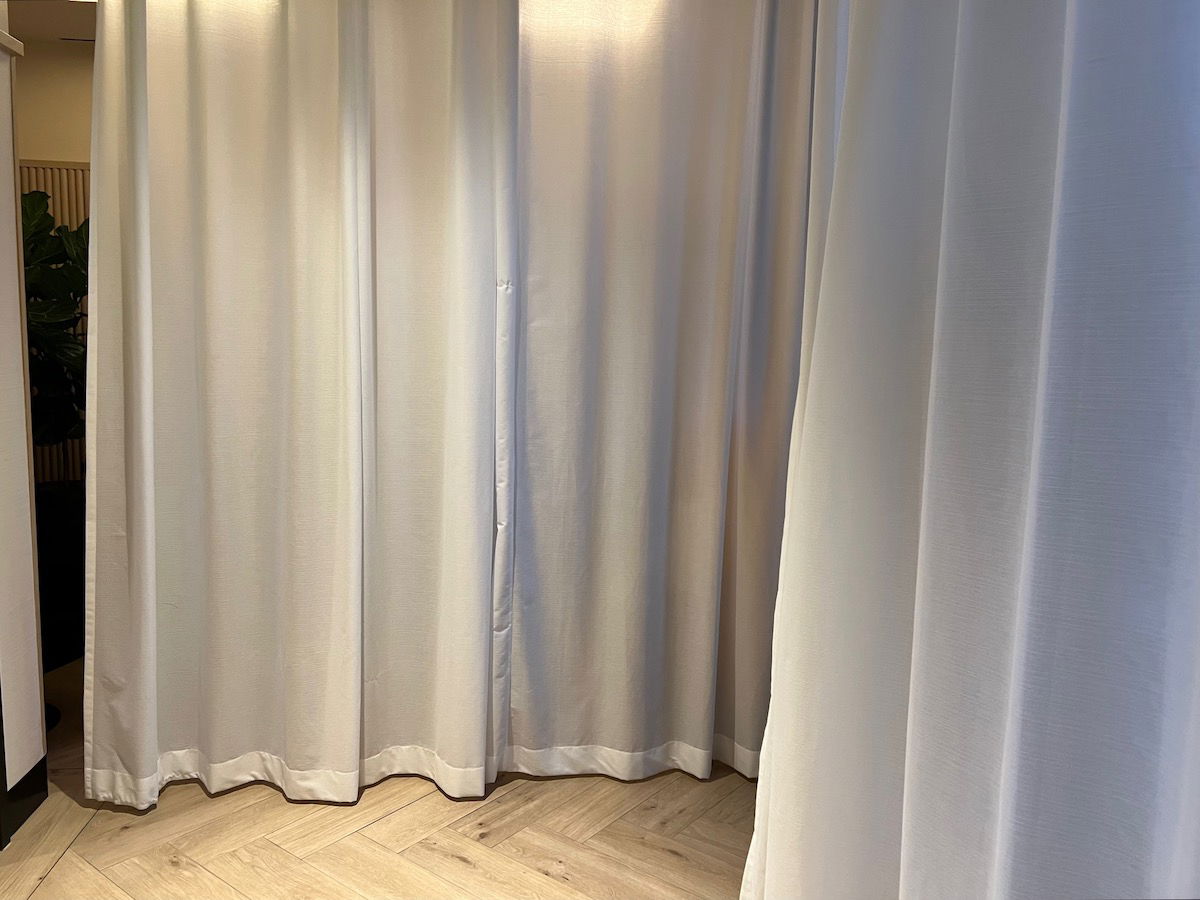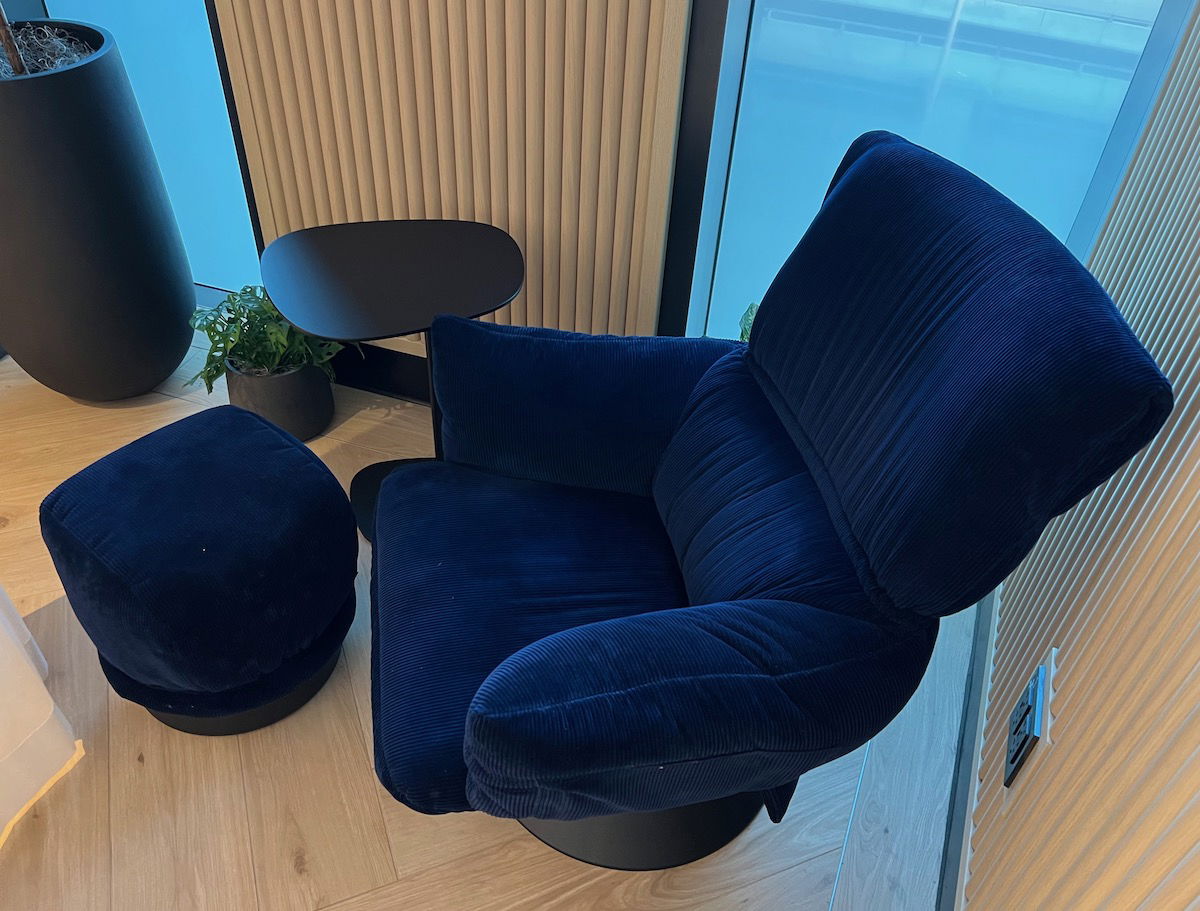 Chase Sapphire Lounge Boston bathrooms & showers
The Chase Sapphire Lounge Boston's bathrooms are down the same corridor as the wellness area. The men's room had three sinks, three urinals, and a couple of stalls. On top of that, there was a separate, private all-gender restroom.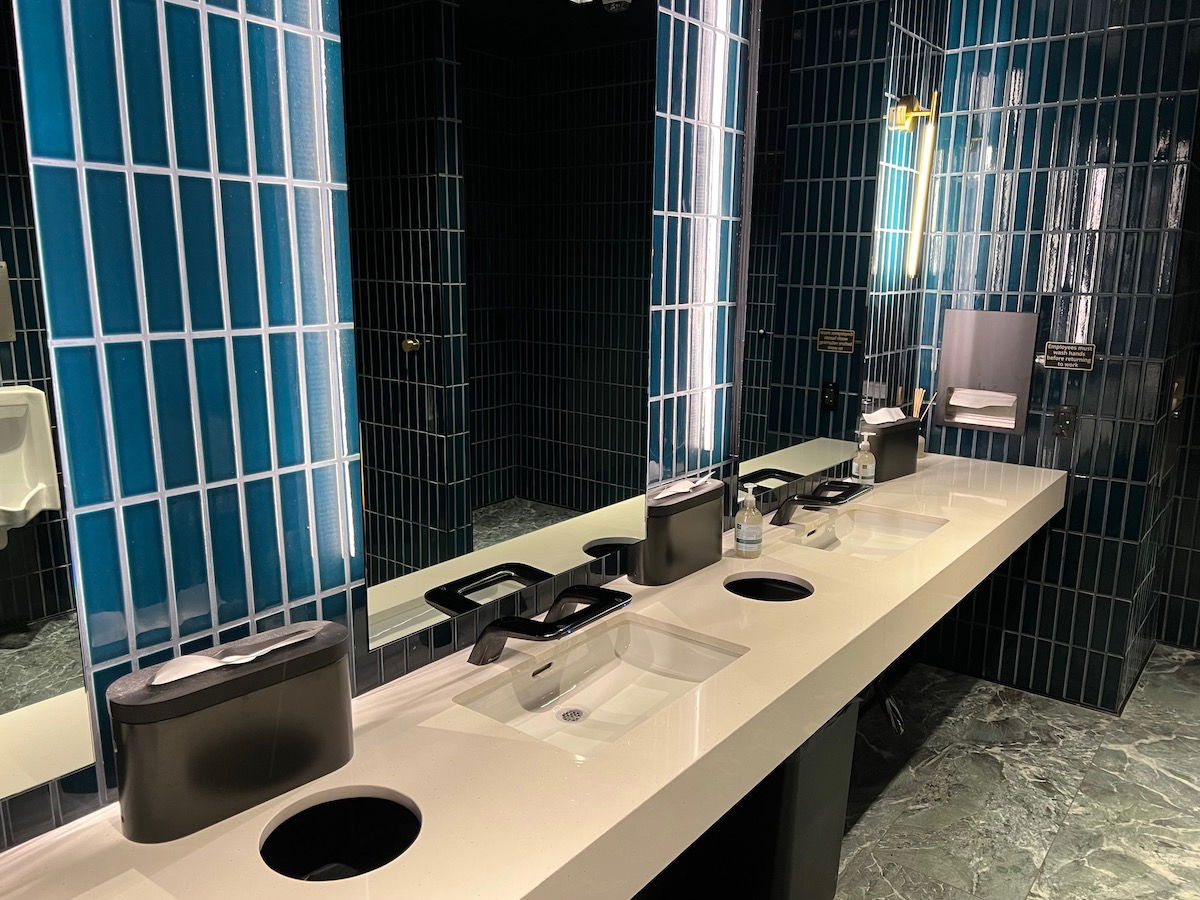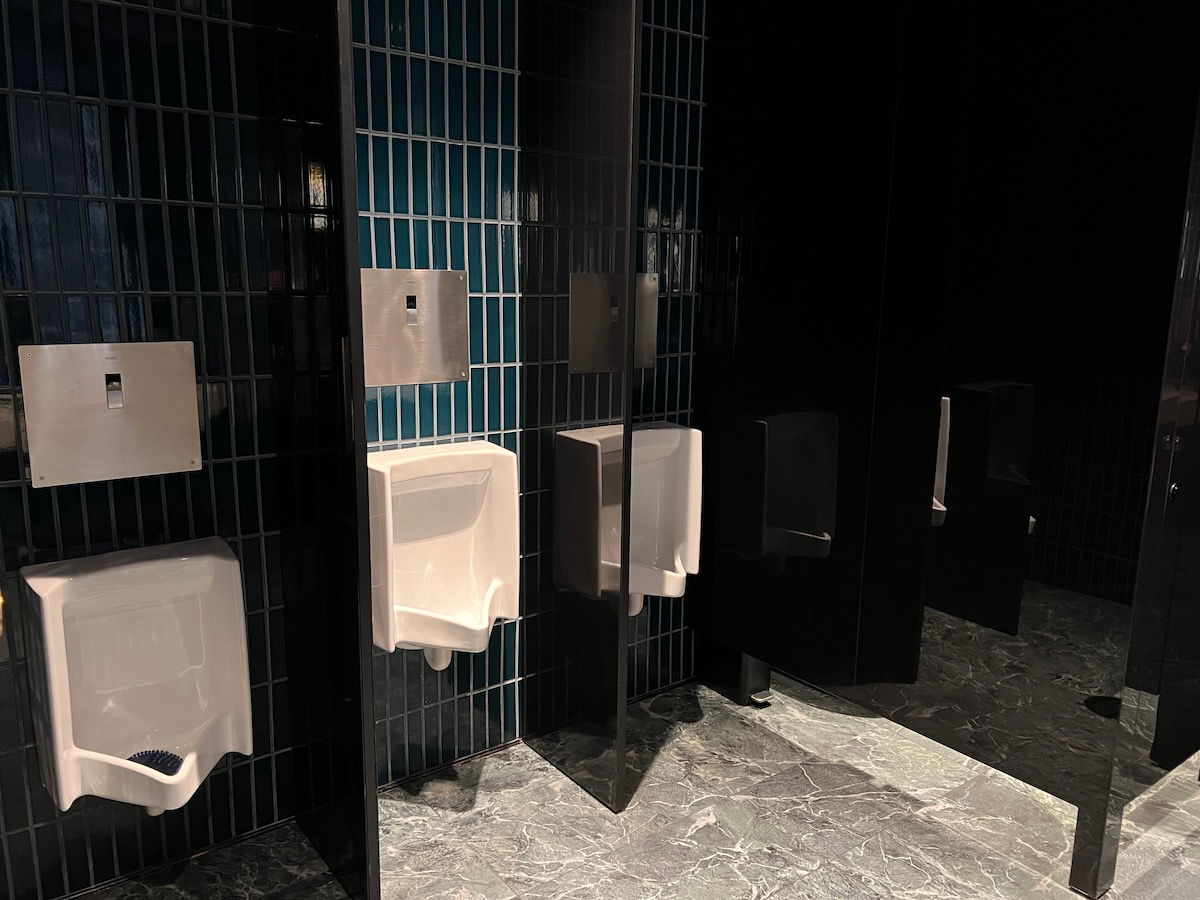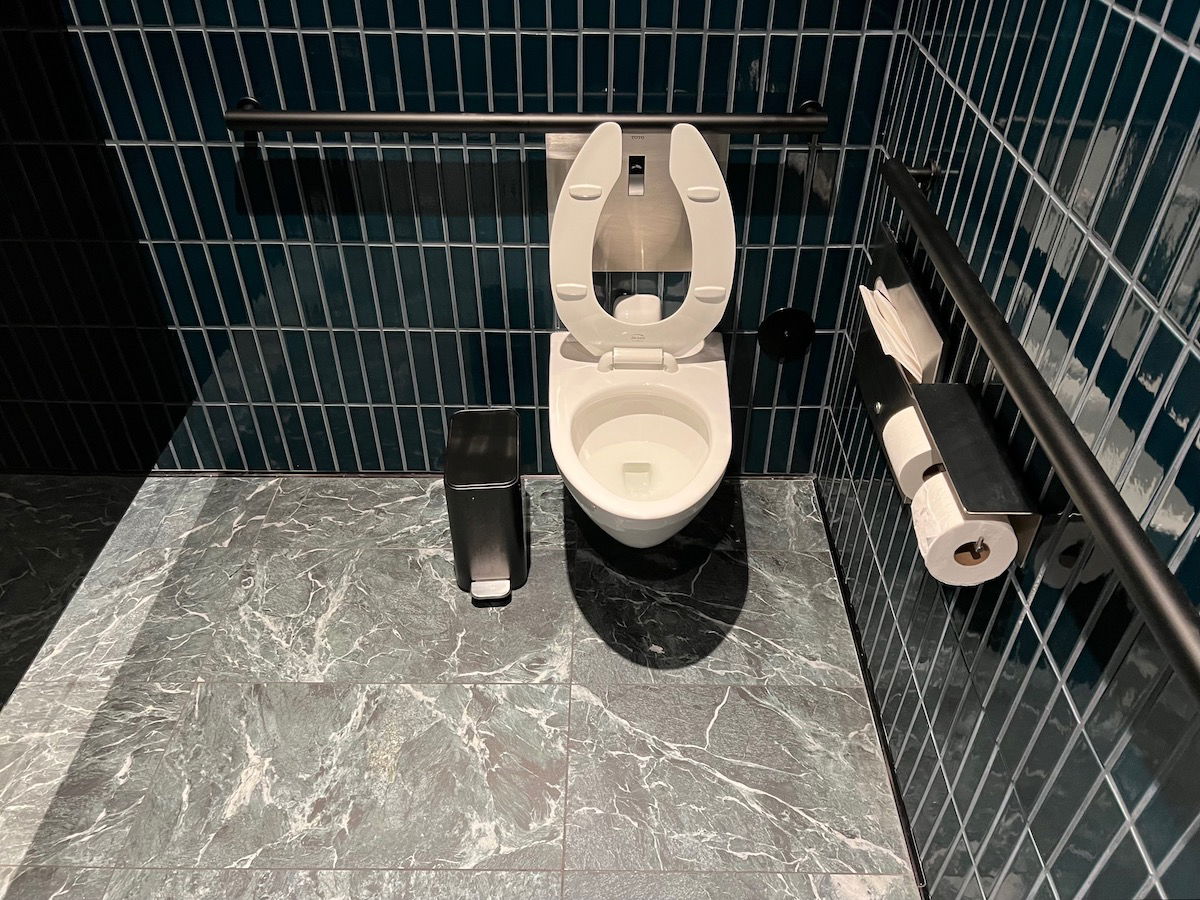 The lounge also has two shower suites, which are quite spacious. The one I had a look at was accessible, and had a sink, a toilet, and a walk-in shower.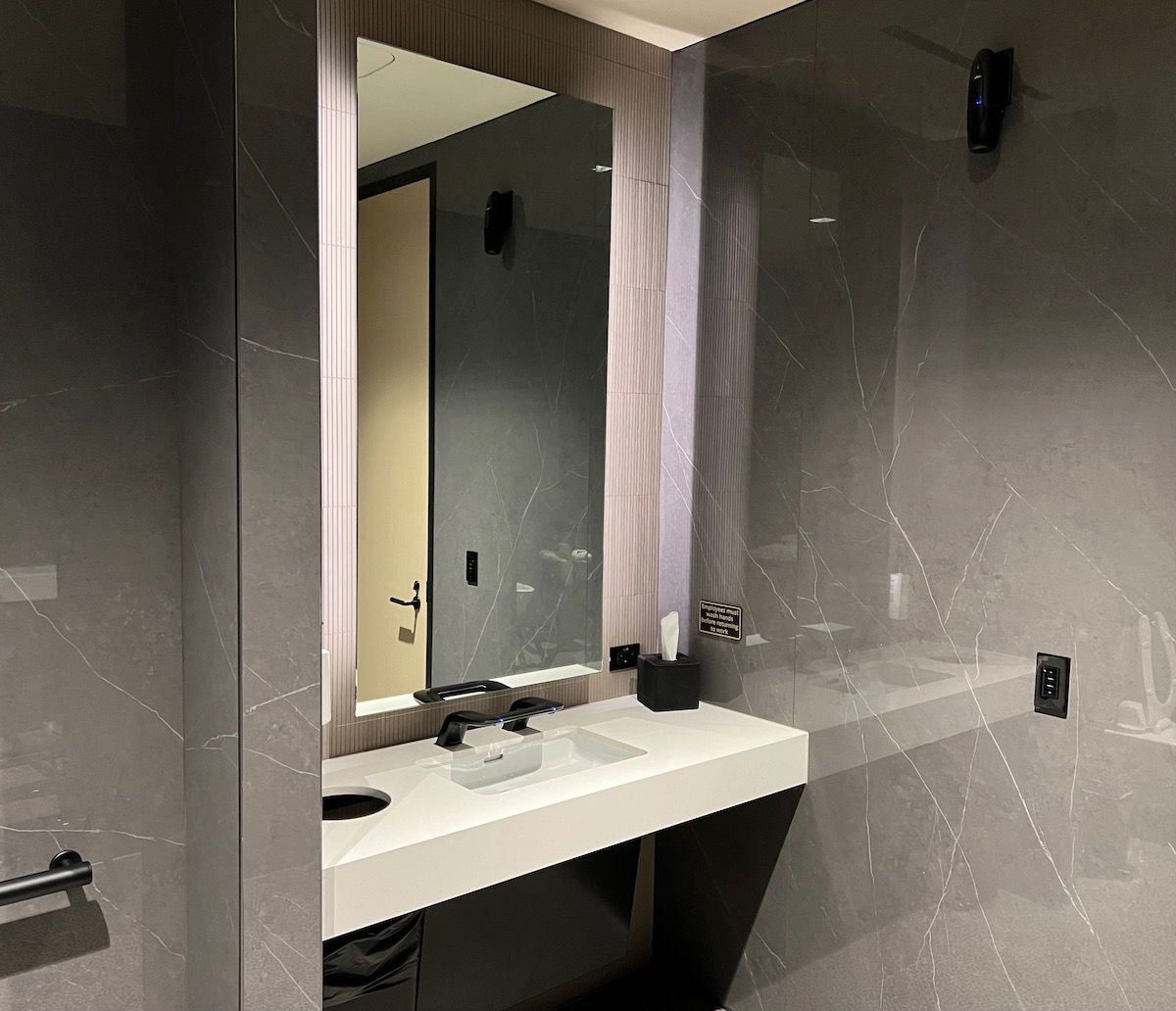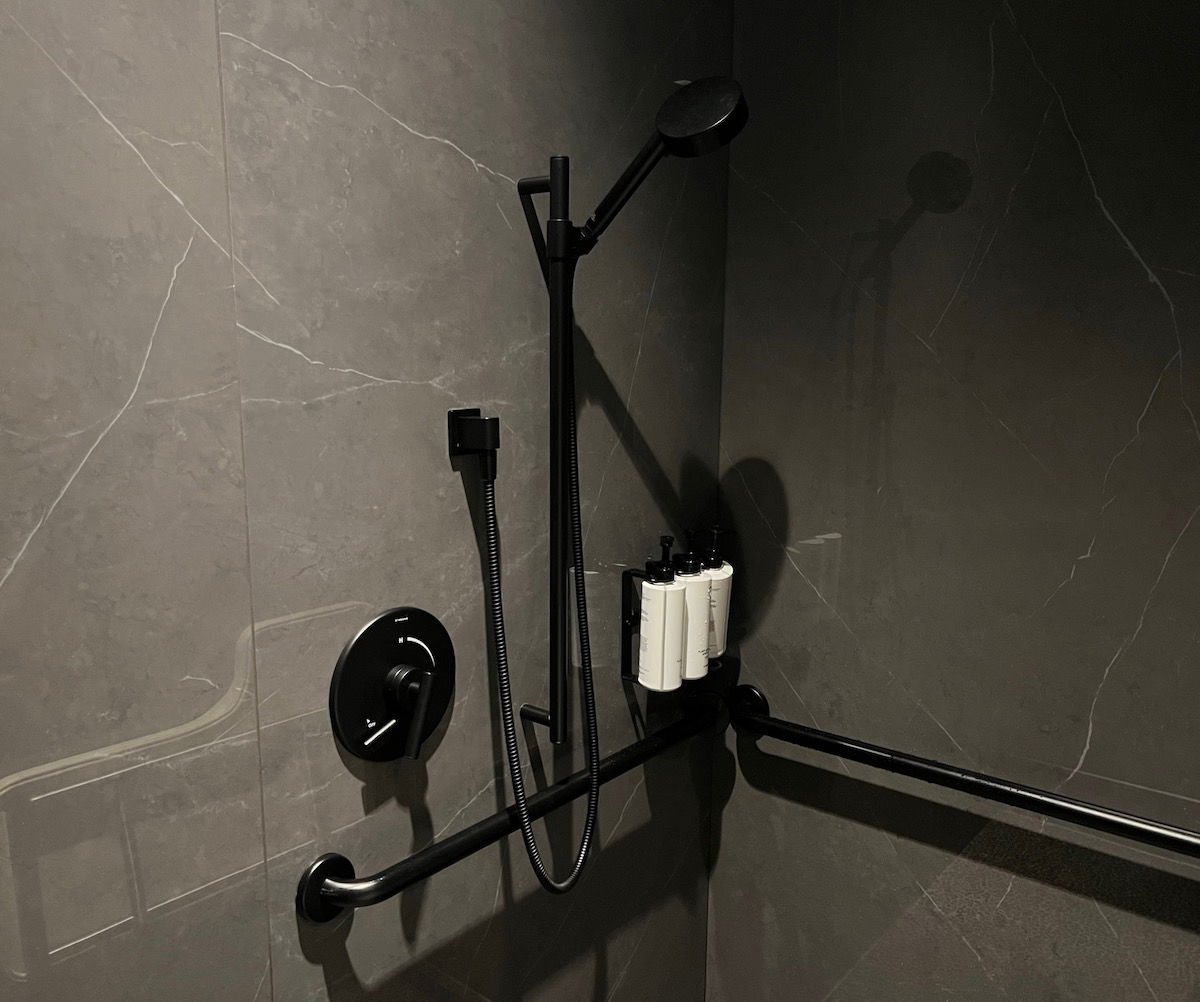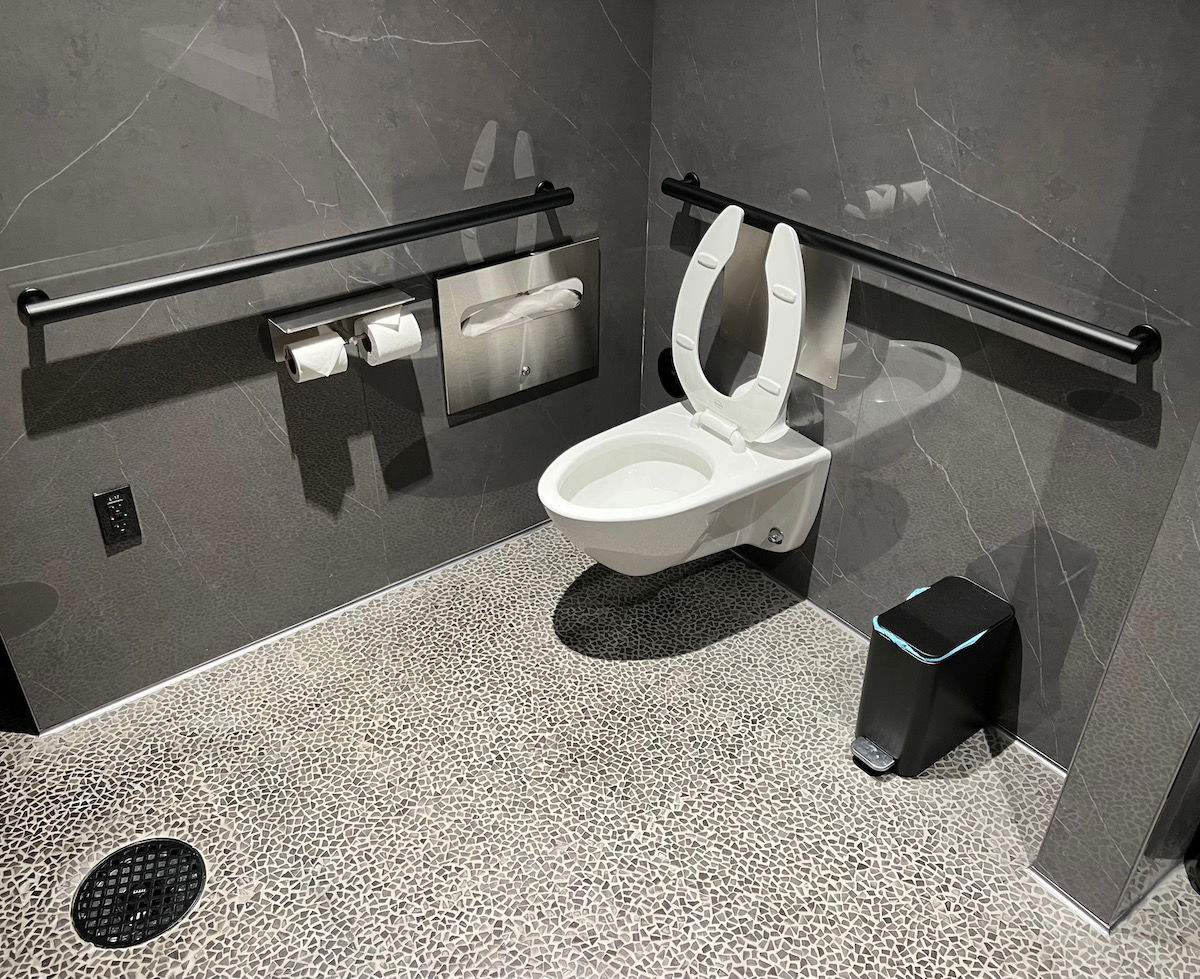 Toiletries were from Apotheke, and I was impressed by the number of other essentials in the shower suite, from dental kits to cotton swabs.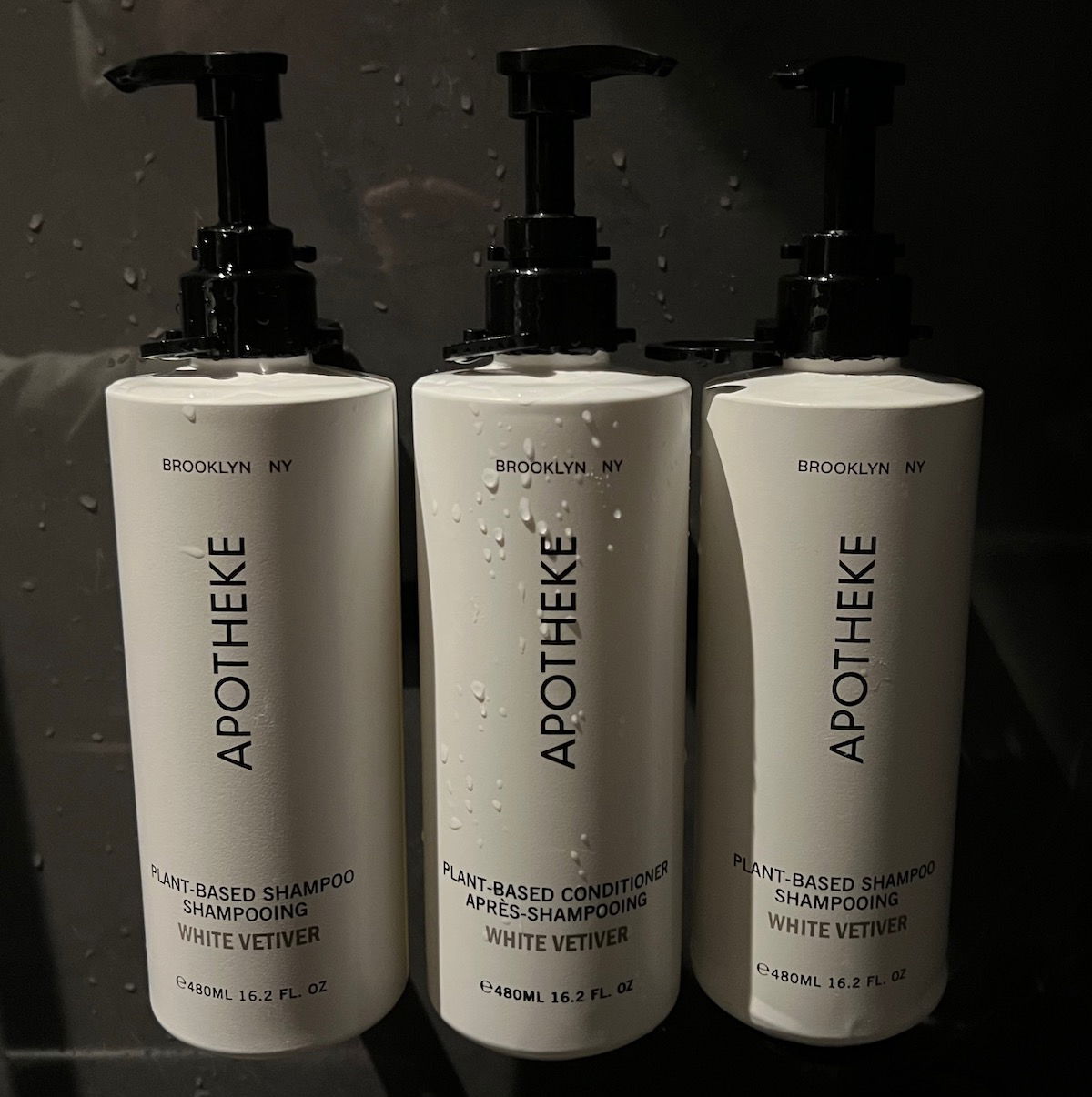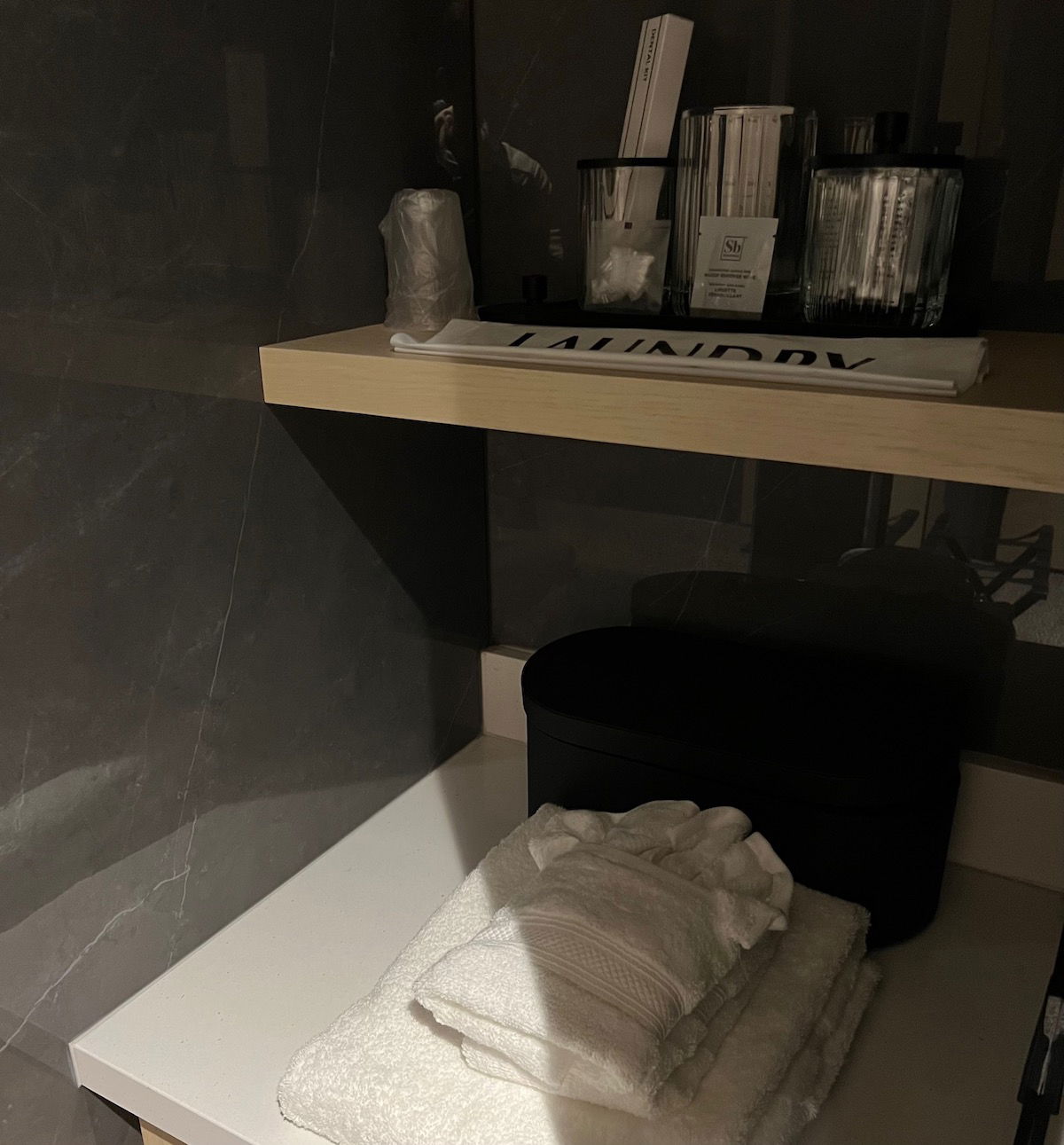 How do lounges from Amex, Capital One, and Chase, compare?
While this is perhaps worth discussing in a separate post, what's my take on the overall concept of Amex Centurion Lounges vs. Capital One Lounges vs. Chase Sapphire Lounges? Admittedly we'll have to see how the lounge networks of both Capital One and Chase evolve, since they don't have nearly the footprint of Amex as of now. However, based on what we know:
Amex Centurion Lounges have the advantage of having by far the biggest network
Capital One Lounges have the advantage of having barista coffee and grab & go food
Chase Sapphire Lounges have the benefit of having the nicest decor and all-around best in-lounge dining experience
At least that's my initial take, and I'm curious to see how that perspective evolves over time…
Bottom line
With Chase having gotten into the airport lounge game, I was curious to see how the company's lounges are. Well, I'm happy to report that the Chase Sapphire Lounge Boston is top notch, and is easily the best Priority Pass lounge in the United States (though with restrictions).
The lounge has tasteful decor, great views, a huge selection of food (both from a buffet and a la carte), a good drink selection, and some wellness amenities. I can't wait to see this lounge portfolio continue to grow. If you have the chance to check it out, definitely do!
What do you make of the Chase Sapphire Lounge Boston?