Yesterday I flew United Airlines first class from Miami to Chicago, and I decided to pre-order what's probably United's most talked about first class meal, the "four-cheese skillet burger." I figured I have to report back, since ordering this dish and writing about it is basically a rite of passage of being an airline blogger. 😉
Trying to serve a burger & fries on a plane is brave
I find airline catering to be endlessly fascinating. Not because the food is that great, but because the logistics are incredibly challenging, and because most airlines allocate small budgets for what they try to market as premium meals.
These are meals that are prepared in mass quantities in catering facilities many hours before a flight departs, and then they have to be reheated and served in a way that's (hopefully) at least semi presentable. It's no small task.
All that being said, I find the choices that airlines make with what they choose to cater to be peculiar at times. Not all dishes reheat equally well. The way I think of it, a dish that's great on an airline would be one that would also be good as leftovers from a restaurant.
Some sort of curry or lasagna? Yeah, it's usually pretty good the next day. A burger already on the bun? I don't know about you, but I can't say it's among my favorites. Personally I'd prefer airlines serve more cold dishes, since you can have a high quality dish that's tasty and doesn't require heating.
But I also recognize that a lot of people just love comfort food when they fly… or maybe in general? Like, if you give people the option between a pretty good salad and a burger, a lot will choose the burger. It's the same as how premium cabins make everyone a big drinker. "Of course I'll have a bloody mary at 8AM, why wouldn't I?"
So, how was United's burger and fries meal?
I couldn't help but order United's burger and fries, even though I'm not someone who is much of a burger fan. In fairness to United, I had five pre-order options, and I would have otherwise gone with the harvest grain bowl, which actually sounds good. But I also couldn't resist trying fries on a plane.
United describes its four-cheese skillet burger as being served with caramelized onion and jalapeño, and with a side of crinkle-cut fries.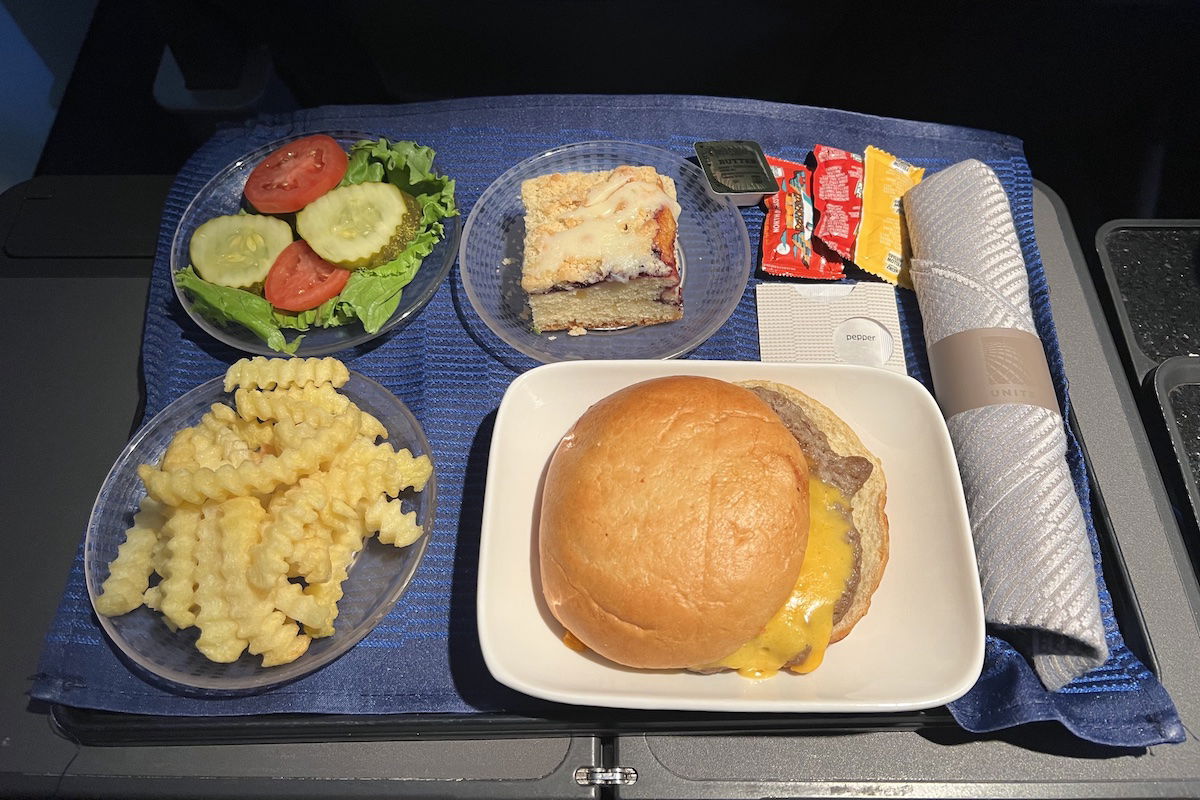 So, how was the dish? Honestly, I was expecting it to be worse. That's not to say it was good, but it wasn't to the disaster level of American's "lobster roll" or American's "turkey sandwich." The bun wasn't as soggy as I was expecting, and I guess the burger had some flavor because it was doused in cheese.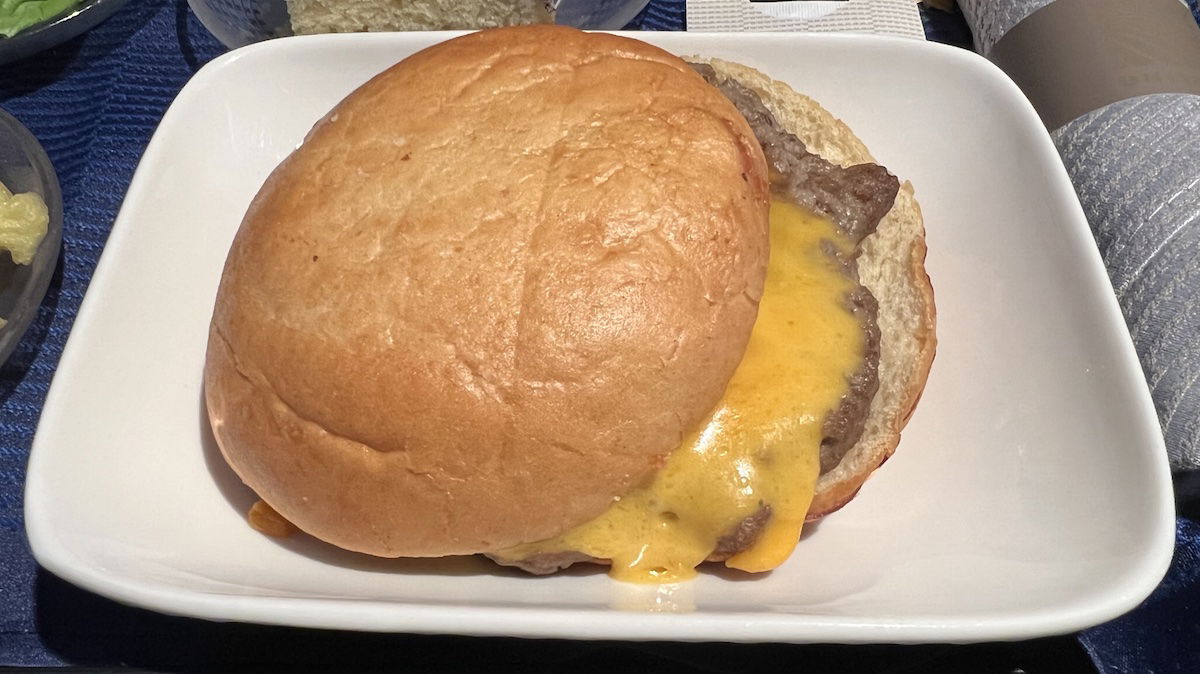 What I was most curious about was the fries. Honestly, they were exactly how you'd expect them to taste. They were pretty flavorless and soggy, but then again, potatoes of all kinds are tasty, right?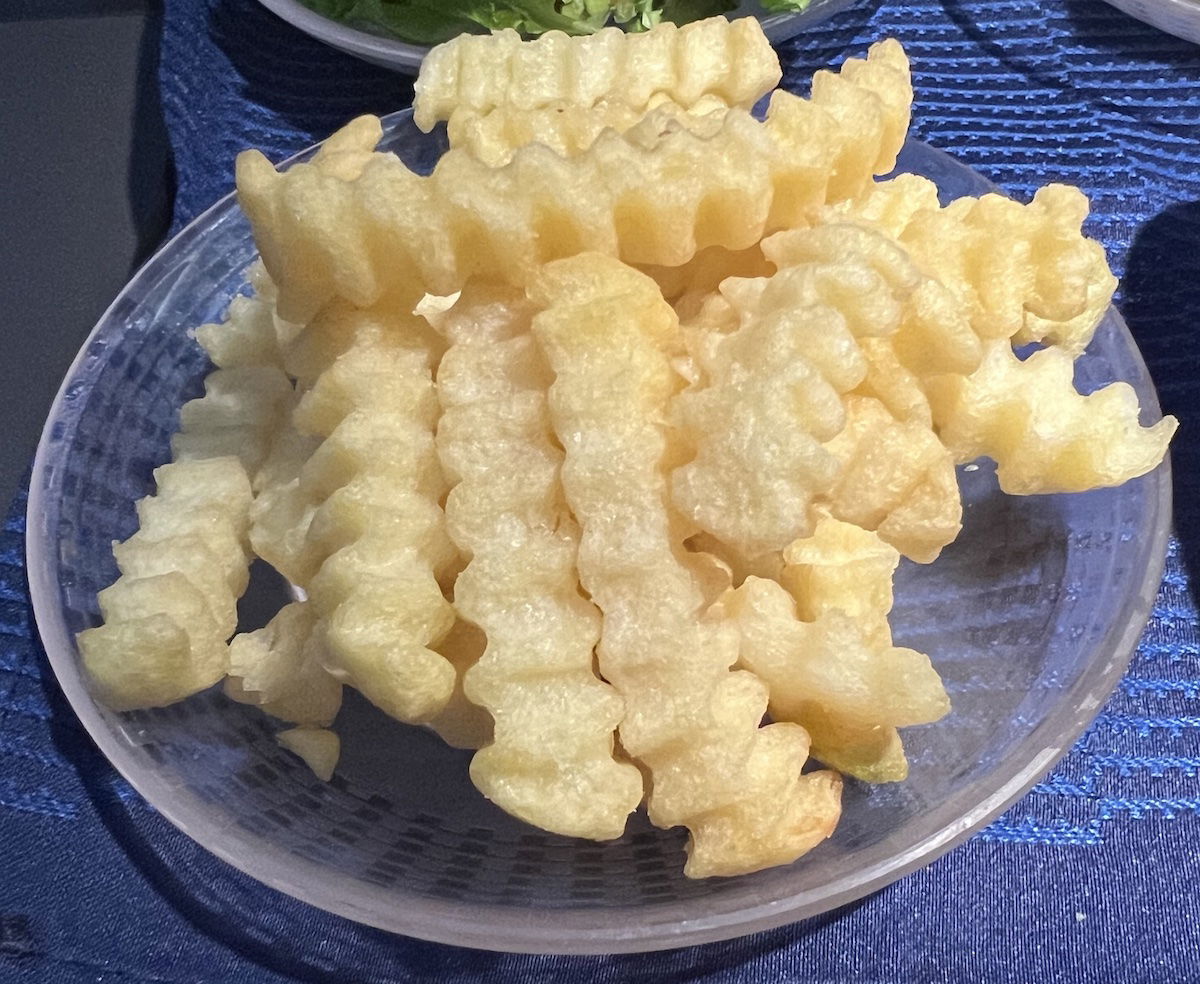 So is United's burger dish good? No, not really, in my opinion. Is United's burger dish bad? Honestly, it could be worse. But there is a certain irony to having a first class meal where the best thing you can say about it is that it's not quite as good as McDonald's, no?
I think it's worth mentioning that during a recent Lufthansa first class flight, I ordered a beyond burger as the pre-arrival meal. This was actually very good, and that comes down to a couple of factors:
The airline serves chips as a side, rather than fries (realizing those can't be executed well)
In Lufthansa first class they plate the burger onboard (so that the bun and patty aren't loaded together), unlike in United first class, where it's already all together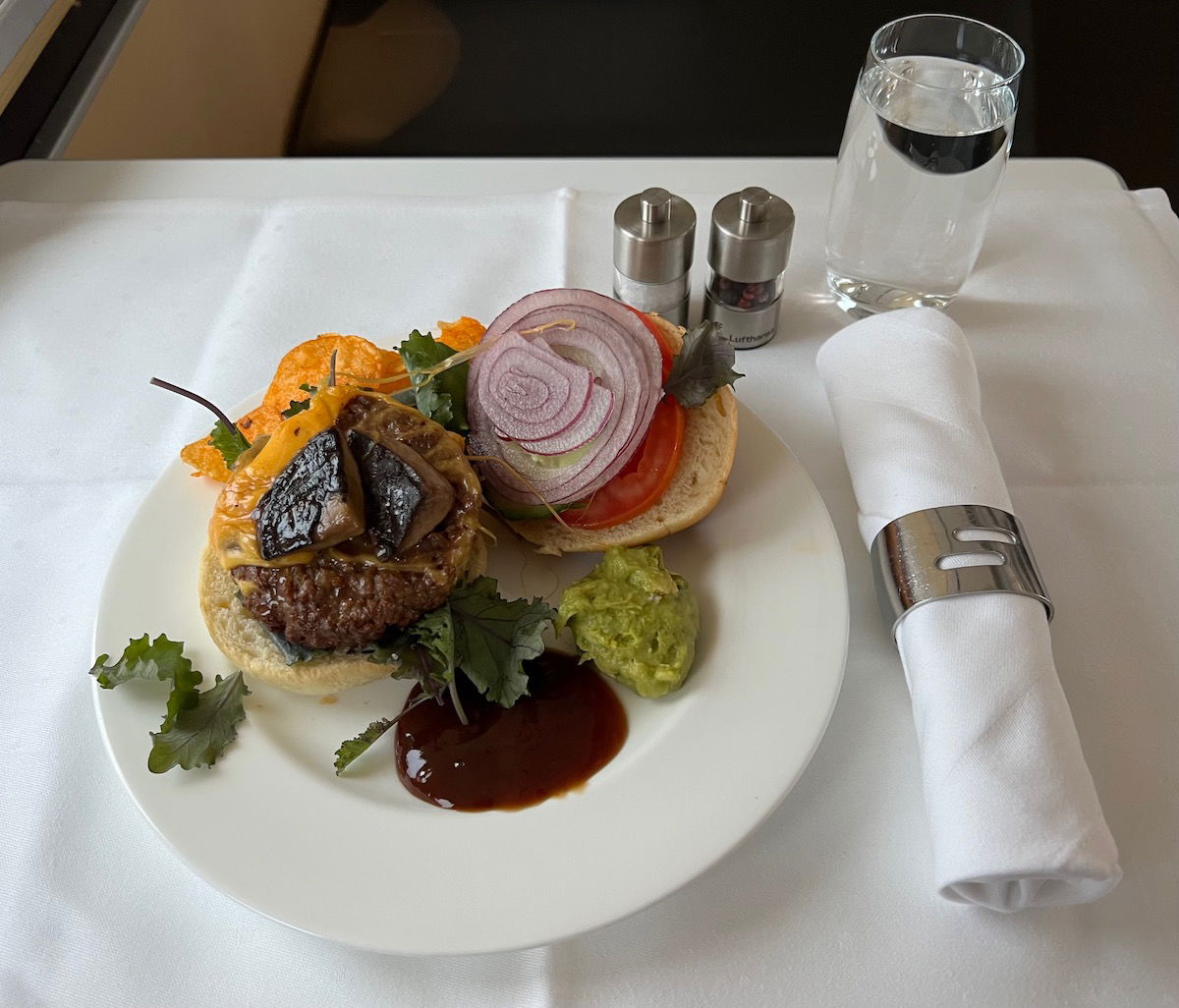 Bottom line
I'm happy I had the chance to finally try United's (in?)famous burger and fries, which are part of United's first class meal rotation. Given the constraints of inflight catering, serving this dish seems bold, since it's impossible to executive anywhere as well as on the ground.
I have pretty low expectations of catering in domestic first class, so in that sense I'd say this dish was fine. It could have been worse, but I also wouldn't order it again.
What do you make of United's burger and fries meal?