Suffice it to say that my trip to Dubai went from one extreme to the other. While my journey started with Emirates first class, it ended with a flight on Frontier Airlines. I had never flown Frontier Airlines before, so I was kind of excited about this flight, since I always enjoy experiencing new (to me) airlines.
Well, unfortunately the Frontier Airlines experience was kind of awful, and much of it isn't even Frontier's fault. Still, it's not an experience I'm looking to repeat.
How I booked our Frontier Airlines tickets
After flying from Belgrade to New York on Air Serbia, I headed to the Hamptons for a few days, where I met Ford. The closest airport to there is Long Island MacArthur Airport (ISP). Since we needed to travel to Tampa (TPA) next, there was only one real option, and that was Frontier. The airline had a nonstop Sunday evening flight, so that's what we decided to book.
The flight was expensive to begin with (by Frontier Airlines standards), at $140.

We were coming back from a long trip to Europe, so we still had full size carry-ons, checked bags, etc. Since Frontier is an ultra low cost carrier, the airline charges for everything. Fortunately Frontier sells "bundles," where you get a bunch of things included at a fixed cost.
We decided to purchase "The Works Bundle," which cost an extra $151 per person. This included:
A personal item
A carry-on bag and the ability to board first
A checked bag
The ability to select any seats, including Stretch seats
Priority boarding
Flight flexibility and refundability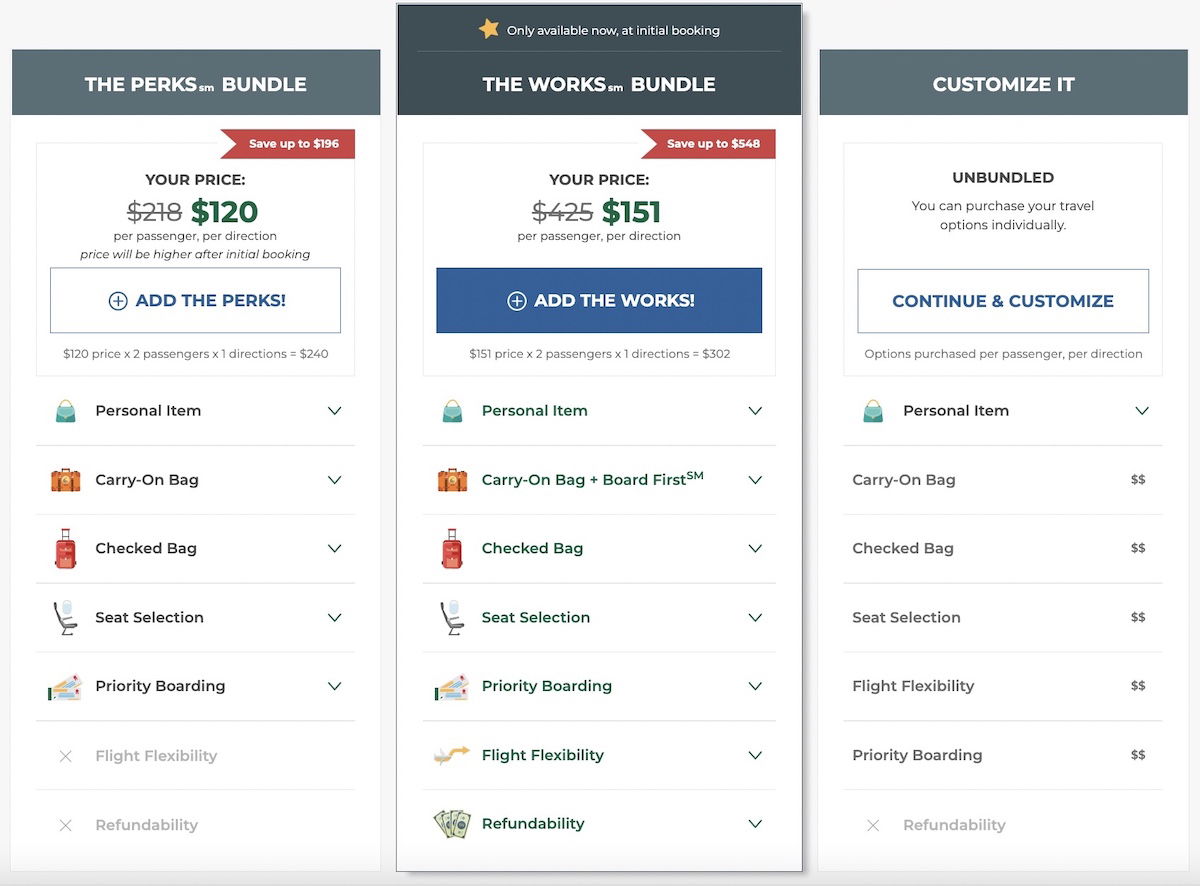 In the end our tickets cost $291 per person. That's obviously pricey, but for early July nonstop travel, it still seemed like the best option. By the way, I found it interesting that during the booking process it kept referencing how we were "saving" $548 ($274 per person), I guess by buying the bundle. C'mon Frontier, we weren't looking to charter the plane, just to travel with a couple of bags. 😉
Anyway, the Frontier Airlines booking process isn't as quick as with other airlines, as you're asked endless questions, even when you buy the bundle. First we could select seats — it's nice that Frontier's Stretch seats can be selected with this bundle, as they offer way more legroom, and are actually different seats altogether.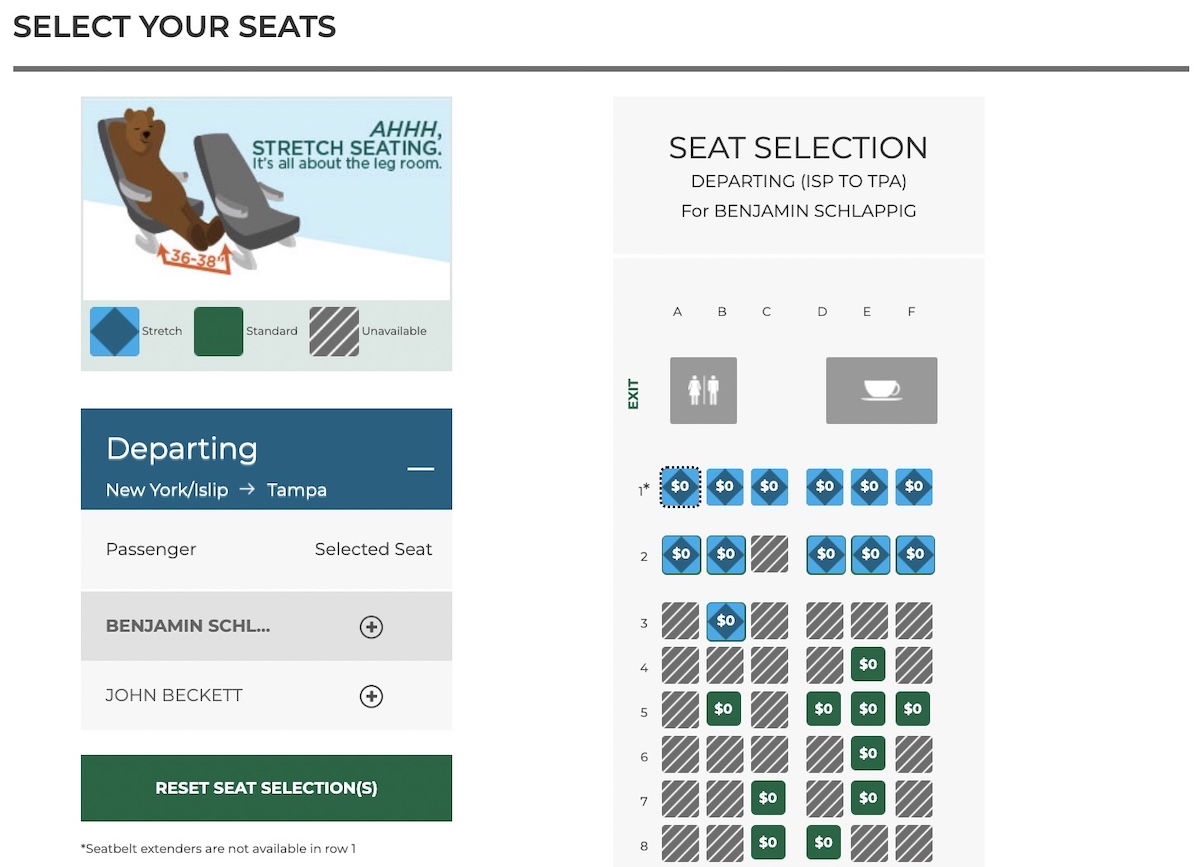 We also had to confirm how many bags we planned to check, and were asked if we wanted to buy any extra bag weight (Frontier recently lowered the checked bag weight limit to 40 pounds, using the environment to justify the change).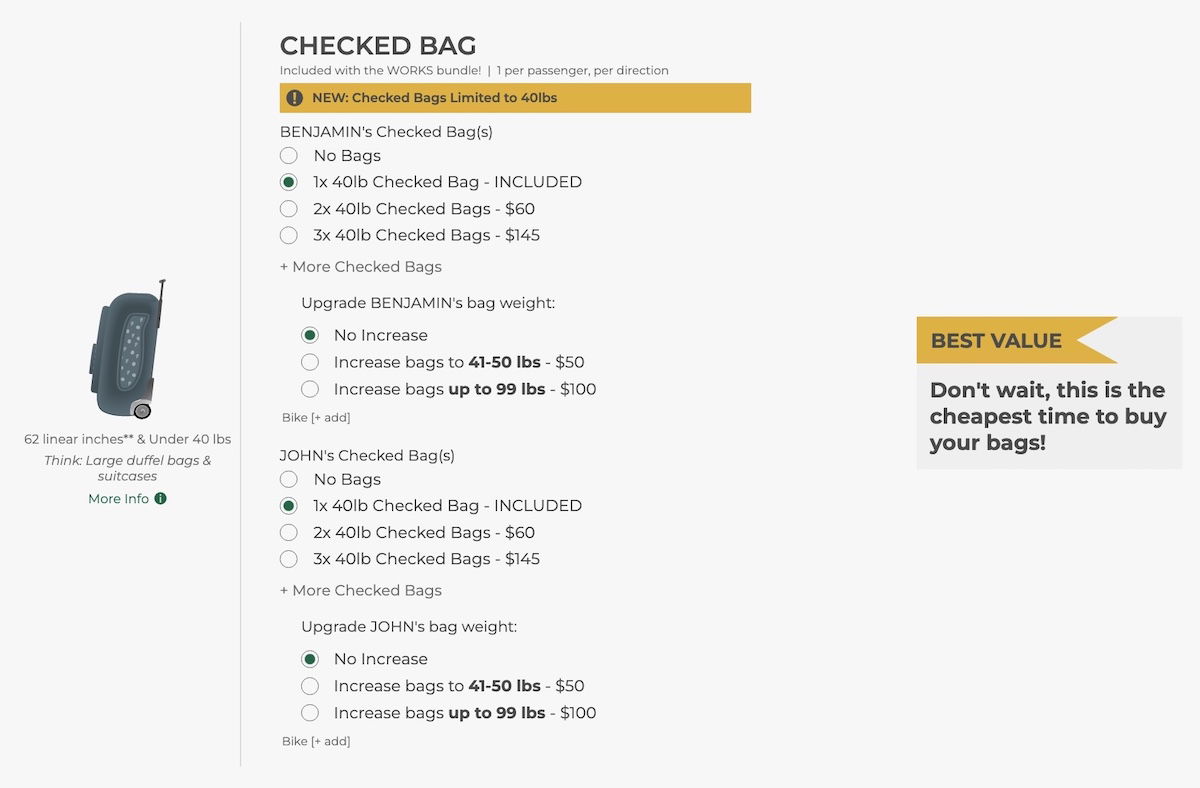 We were even asked if we wanted to pre-purchase agent assistance at the airport, since Frontier apparently charges for that as well. That was included with our tickets, not that we really needed it (beyond checking a bag).

Frontier Airlines check-in & boarding
We arrived at Islip Airport around 2.5 hours before departure (we didn't know what traffic would be like, and didn't want to miss the flight).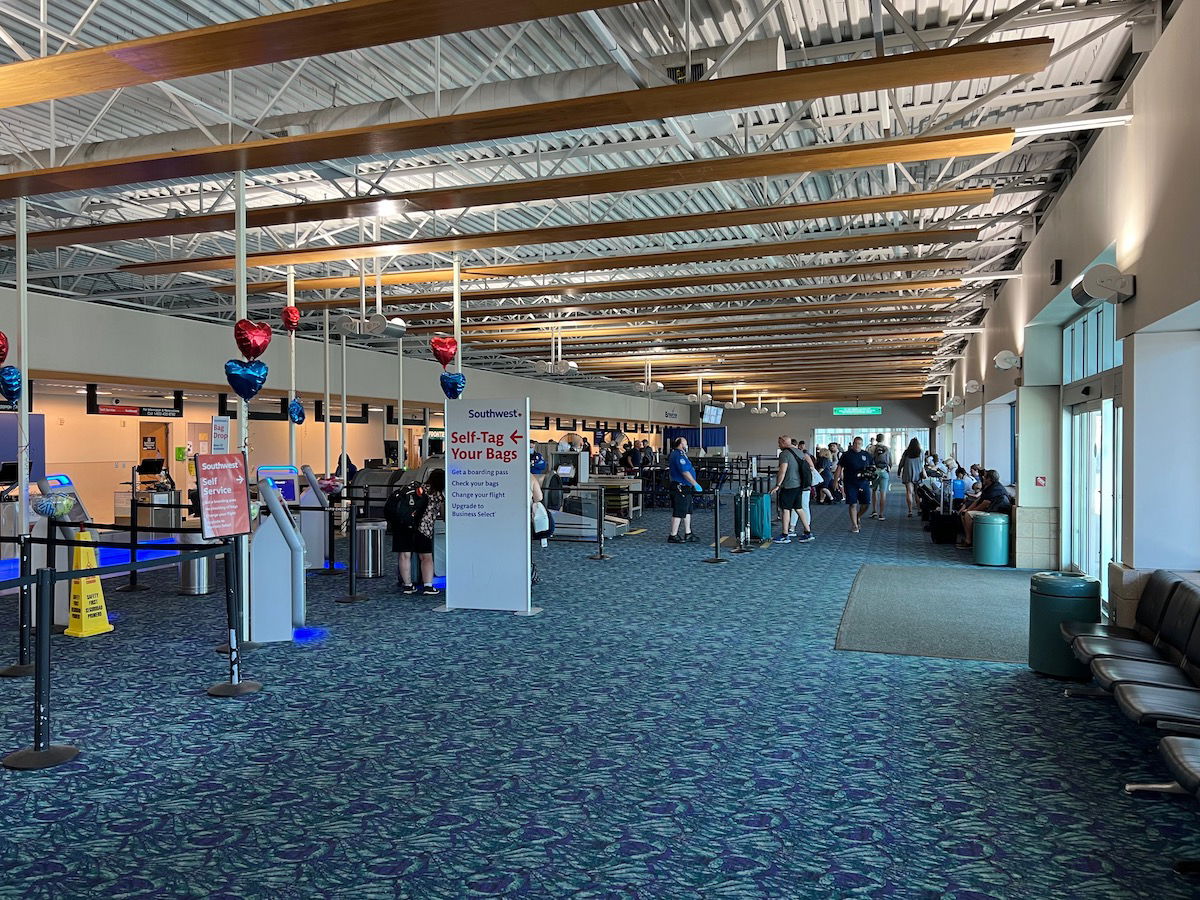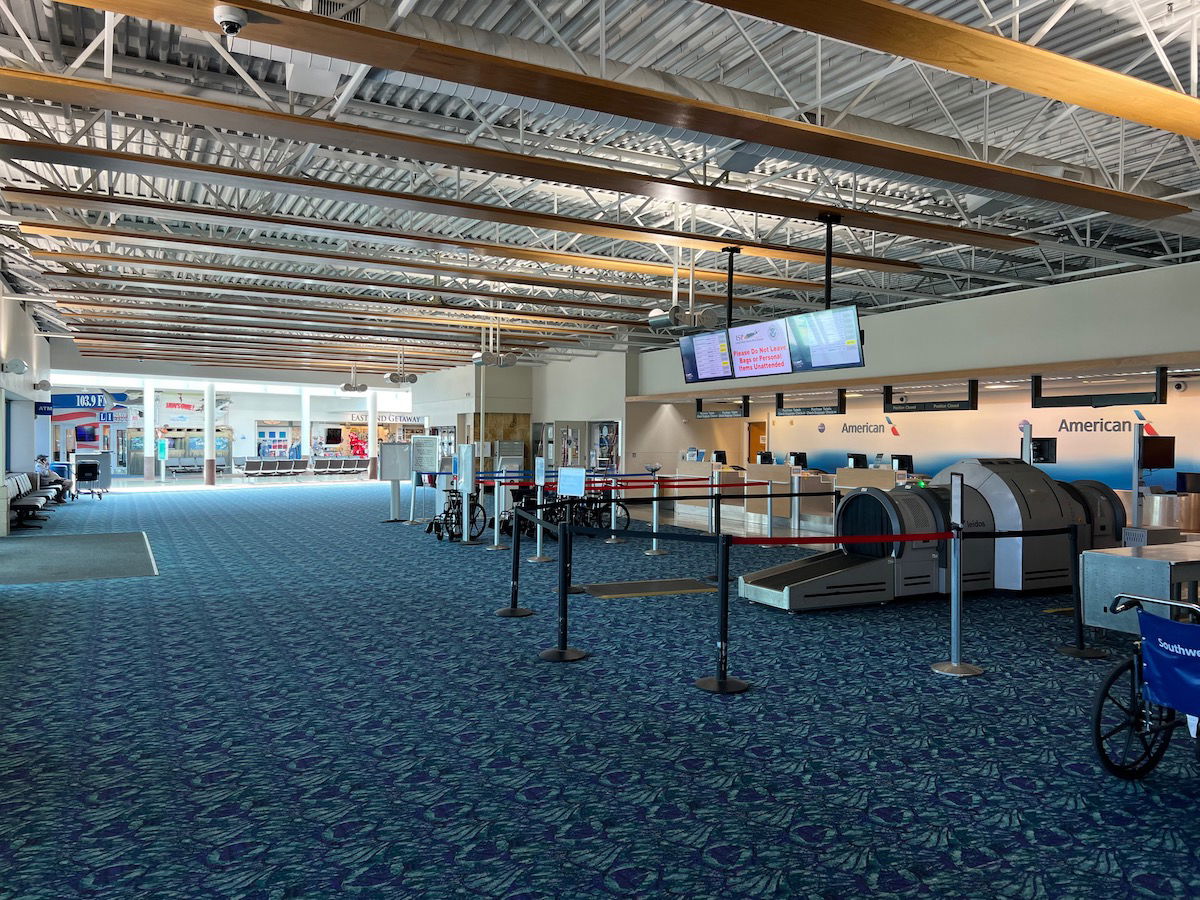 The terminal wasn't too busy, but there was a long line at the Frontier Airlines counter. Fortunately the line moved fast, since it was only people checking their bags (most people aren't going to pay extra for airport assistance to print a boarding pass, for example).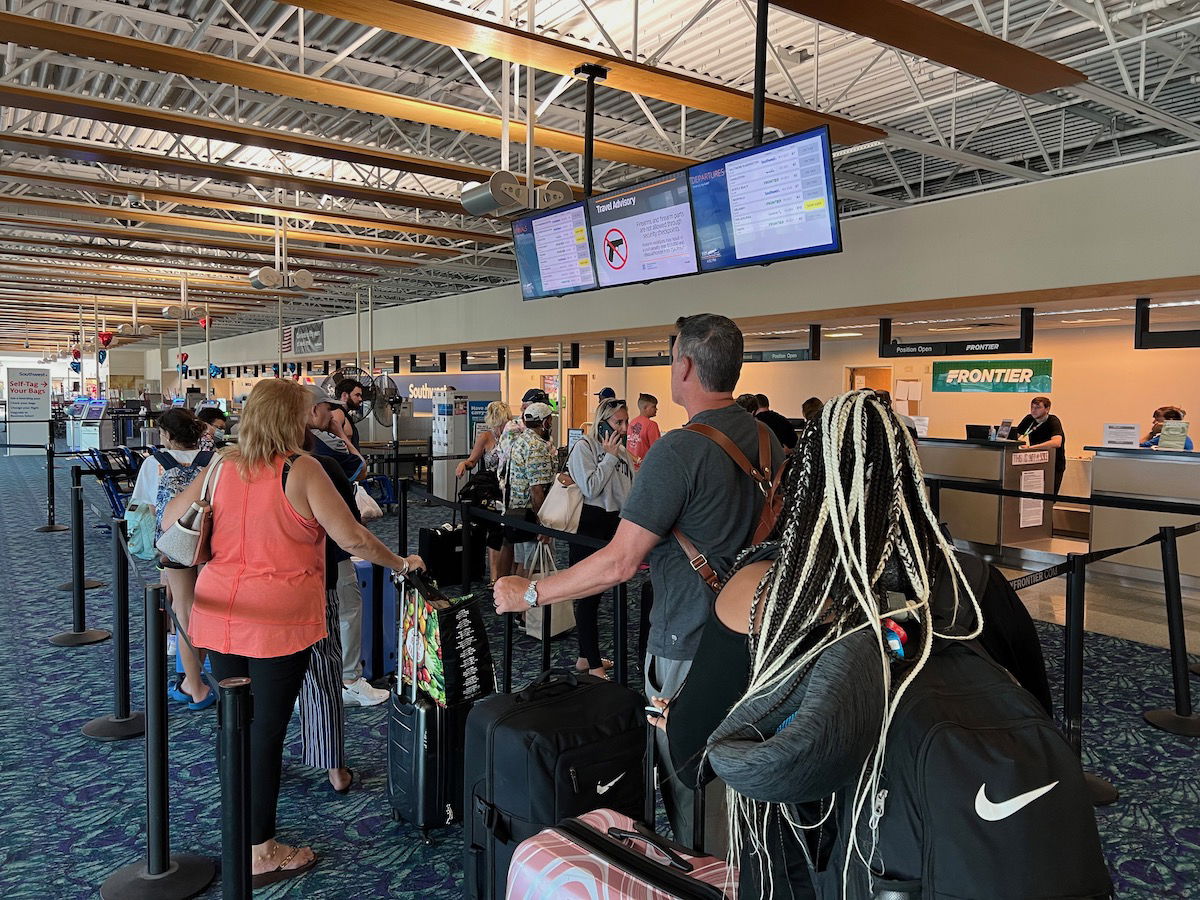 I couldn't help but notice the signage, which personally I found to be off-putting and patronizing, which in many ways sums up the Frontier Airlines experience. Be pressured into paying Frontier Airlines' fees now, because otherwise your fellow passengers will hate you when you board. Nice!
It's the same as how Frontier constantly promotes itself as America's greenest airline, and any customer unfriendly changes are attributed to that.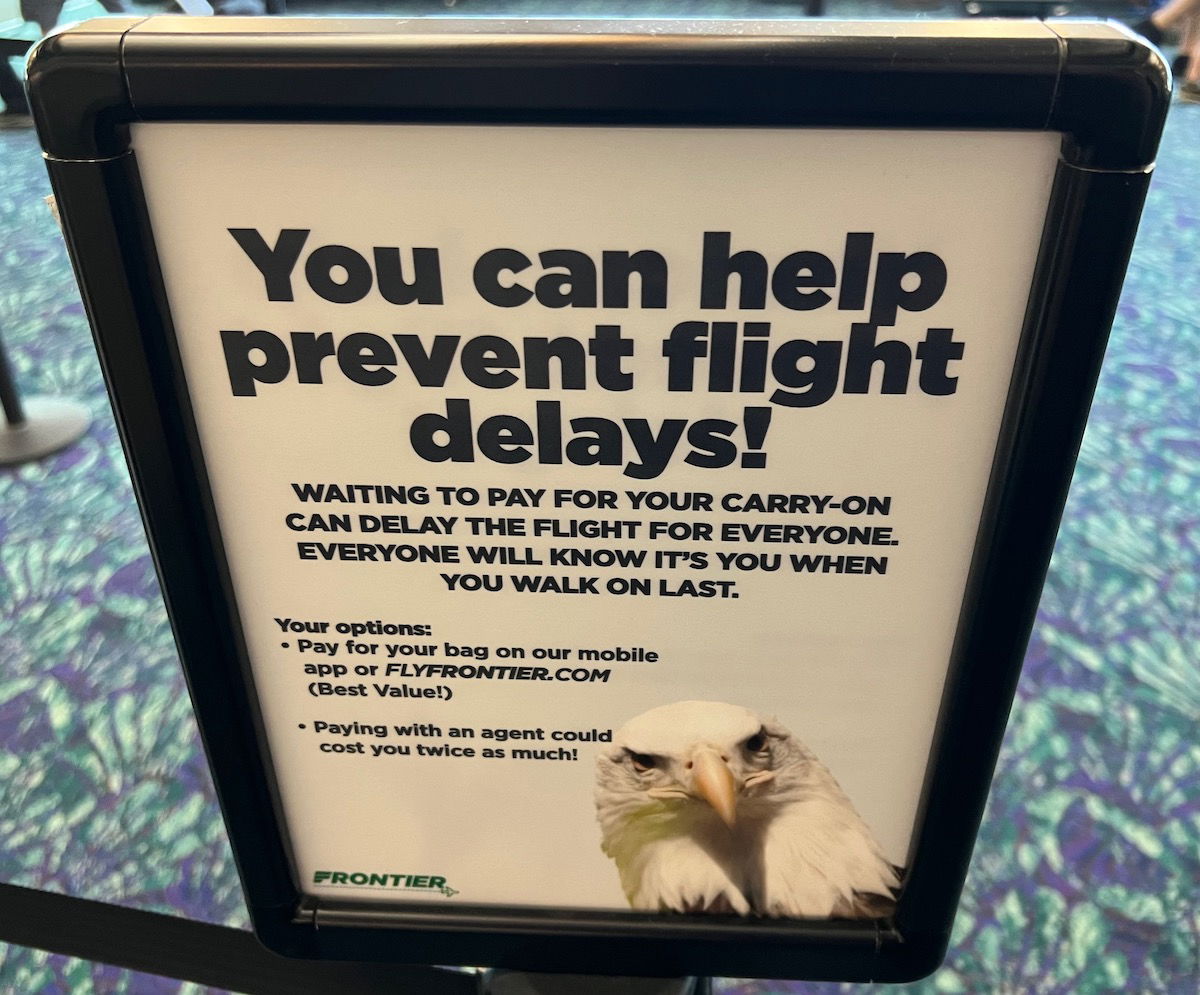 When we got to the check-in counter the agent printed a bag tag, put it on my bag, and then said "oh, we can't check your bags until two hours before departure. If we check it now, it might not make the flight" (I saw the sign below after we were informed of this).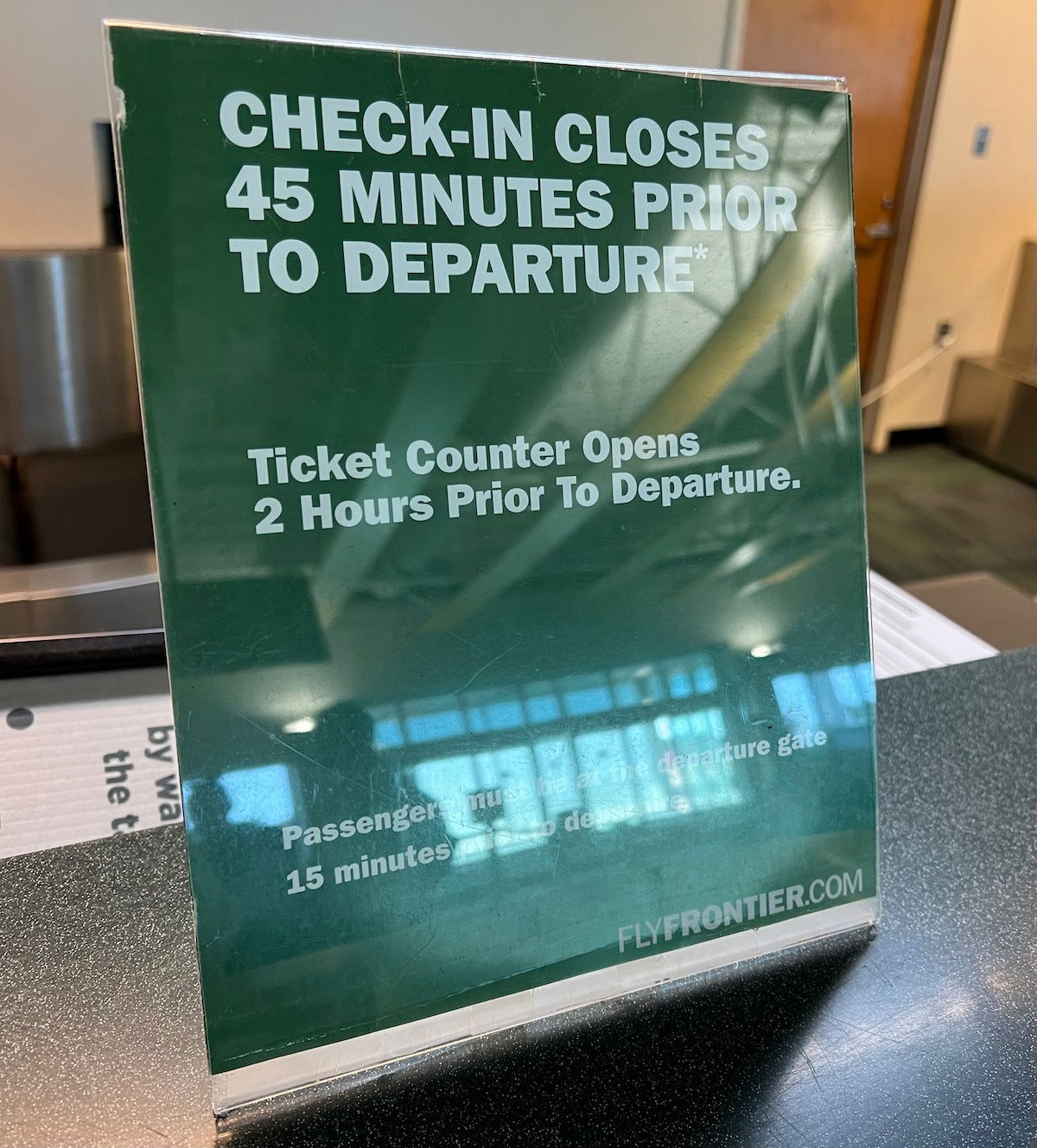 It's rare to see a policy like that in the United States, in my experience. Is Frontier just creating unnecessary rules, or is there something about how Frontier Airlines loads bags on planes that necessitates this?
Anyway, we had a seat in the check-in hall, where I overheard a lady's 30-minute phone call with Southwest. Apparently she had booked the ticket for the wrong day, but was then shocked to find out there was a fare difference to switch to the flight in a couple of hours, since she thought Southwest had no change fees.
That kept me entertained, and then at the two hour mark we headed back to the counter to check our bags. It's odd that Frontier Airlines doesn't have scales at its counters at Islip Airport, despite the fact that the airline has such a low checked bag weight limit. The agent lifted our bags to "eyeball" the weight, as he explained. Interestingly there was a scale passengers could use to weigh their own bags, but it wasn't near the check-in desk.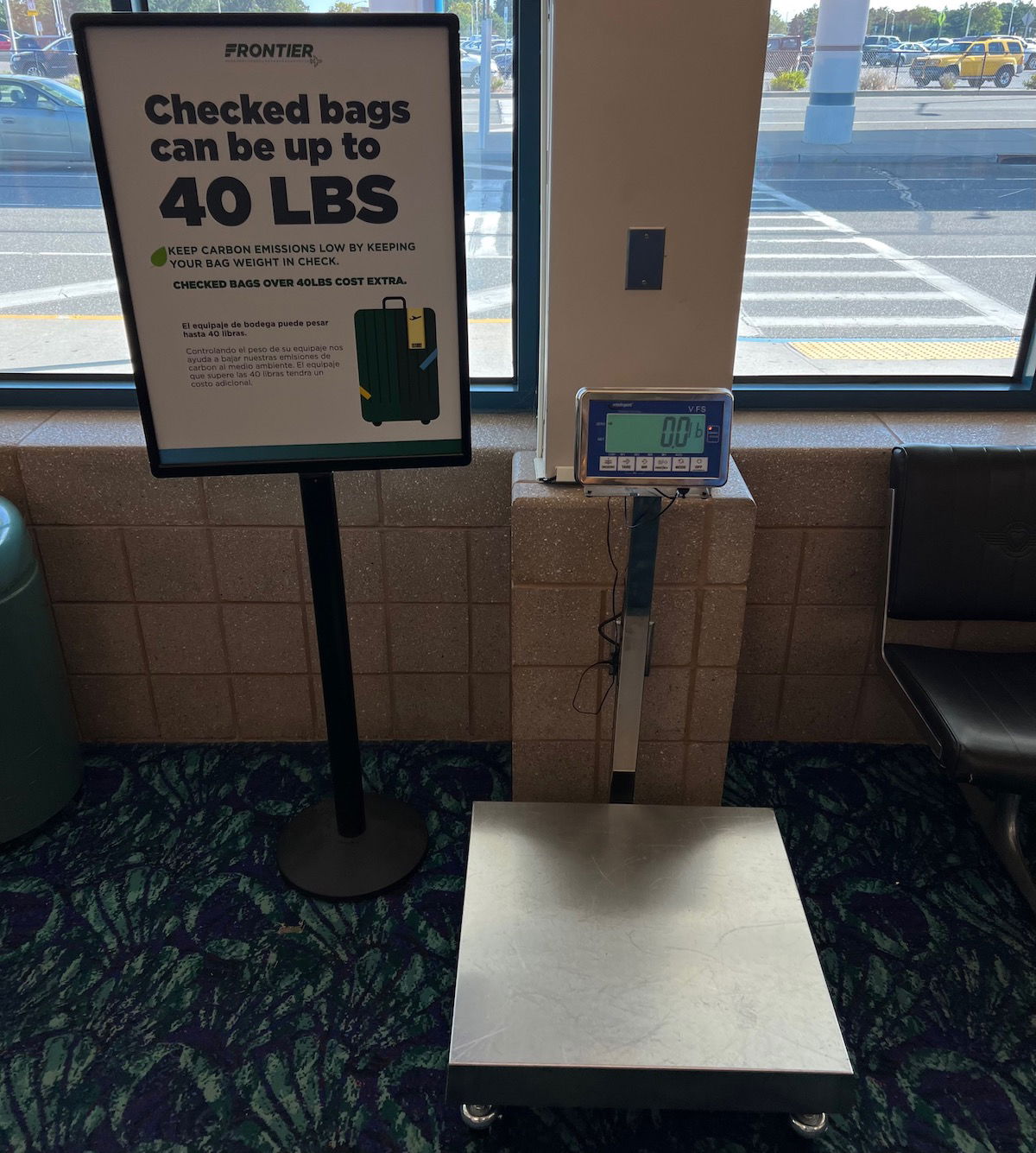 We were through security in no time, and soon enough were in the gate area for our flight. With all the travel chaos this summer, it sure is nice traveling out of a rather small airport.
The amount of carry-on related signage that Frontier has in the gate area is pretty unreal. Then again, I imagine it's for good reason, as many people probably try to sneak on carry-ons and pretend they don't know the rules.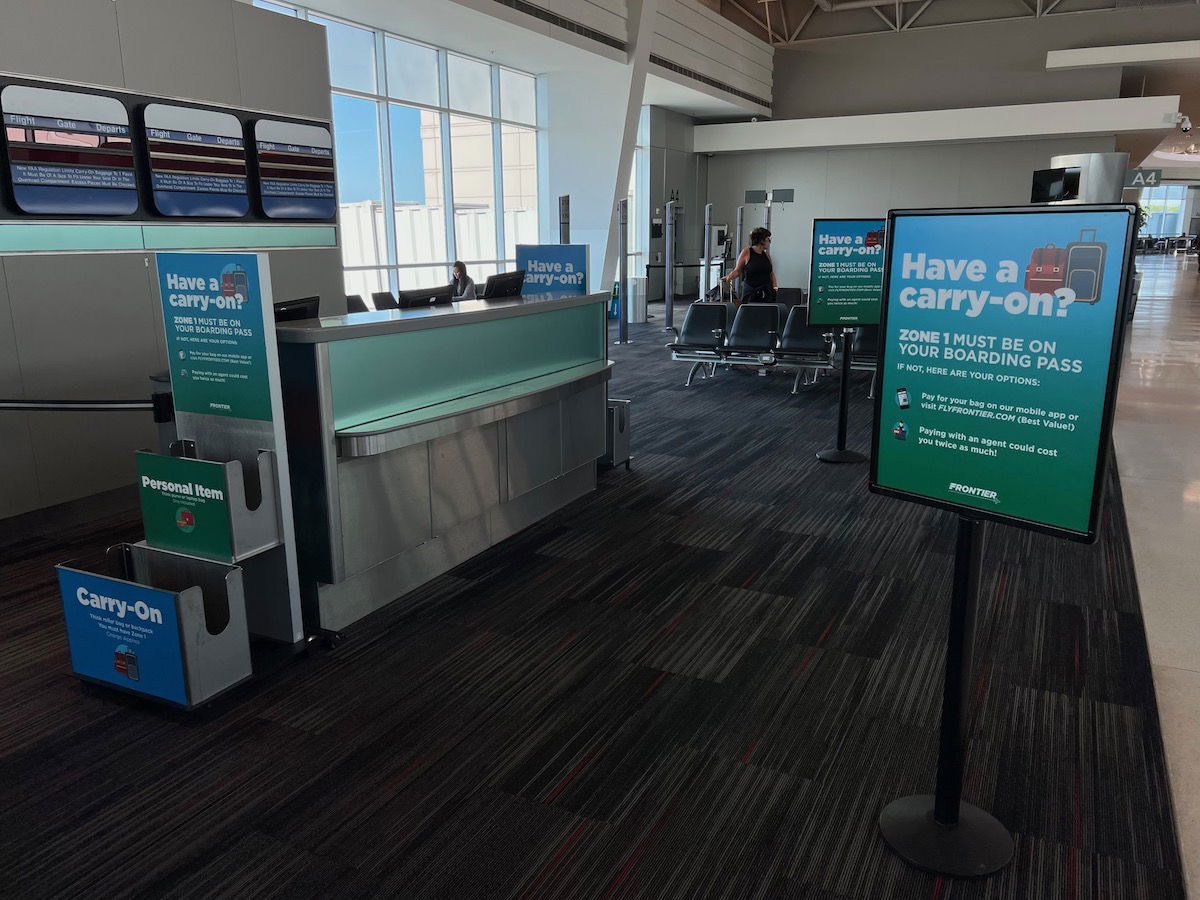 Boarding for the flight was scheduled to start at 6:34PM, 45 minutes before departure, though our plane only arrived at gate A3 less than an hour before departure. It's cute how Frontier Airlines puts a different animal on the tail of each plane (the carrier's slogan used to be "a whole different animal," but I don't think that's being used anymore?).
Specifically, this plane was an Airbus A320neo with the registration code N346FR. The plane was only delivered in 2019, so it was just over three years old.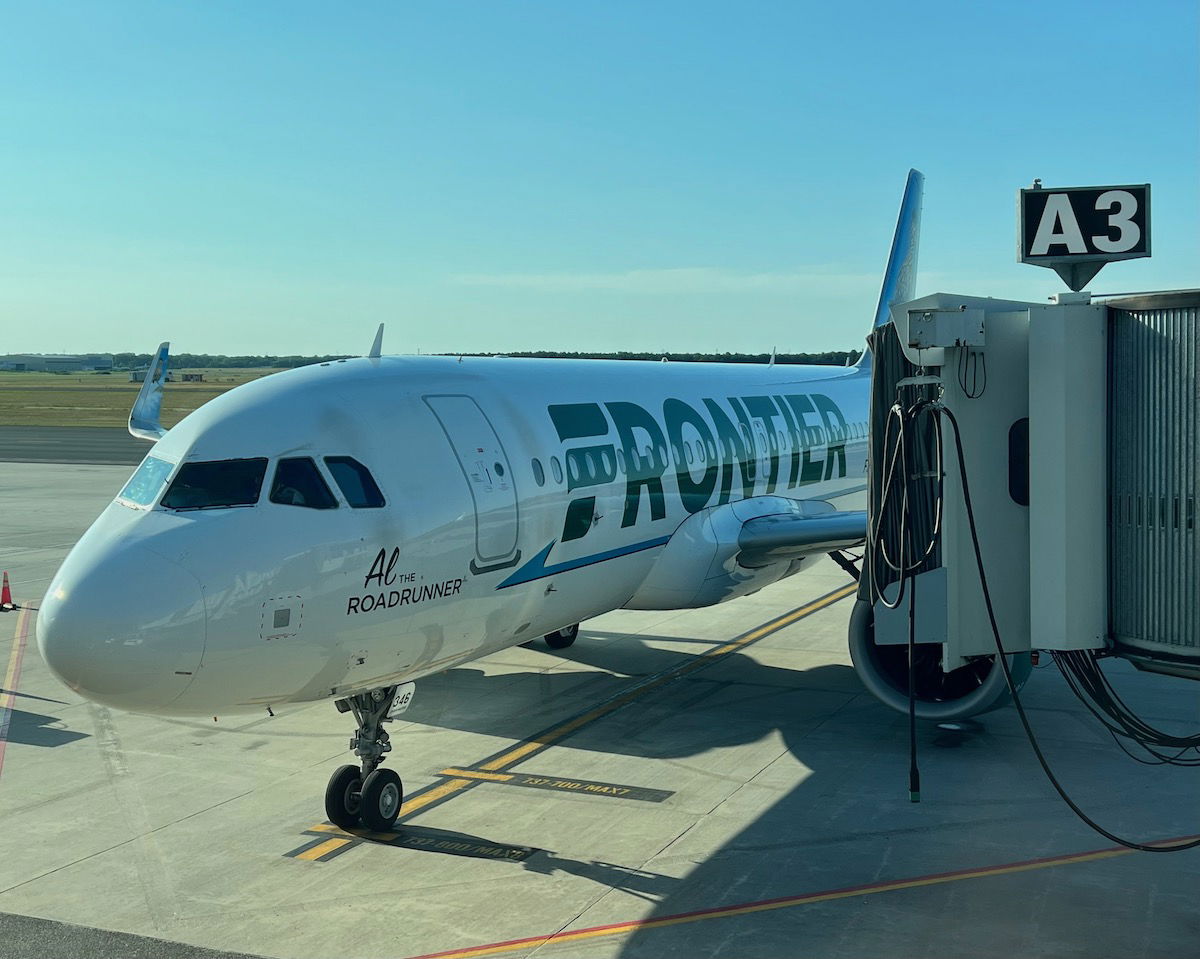 I found the entire gate experience to be odd in terms of the staff. First of all, the Frontier gate staff weren't in uniforms, but rather were wearing hoodies and other "regular" clothes, so it was almost hard to figure out who was working there, and who was a passenger.
The ground staff seemed to go on the plane to clean it between flights (or at least they boarded with vacuums and trash bags), before coming out and starting boarding. One of the gate agents seemed to have a pretty bad cold, and kept blowing his nose, sneezing, and even wiping snot from his nose between helping passengers, with no sort of washing of hands or disinfecting. I mean, I feel bad for him, but still…
Boarding ended up starting around 20 minutes behind schedule, at around 6:55PM. Once boarding did start, Zone 1 was invited to board first (which includes all passengers with a paid carry-on).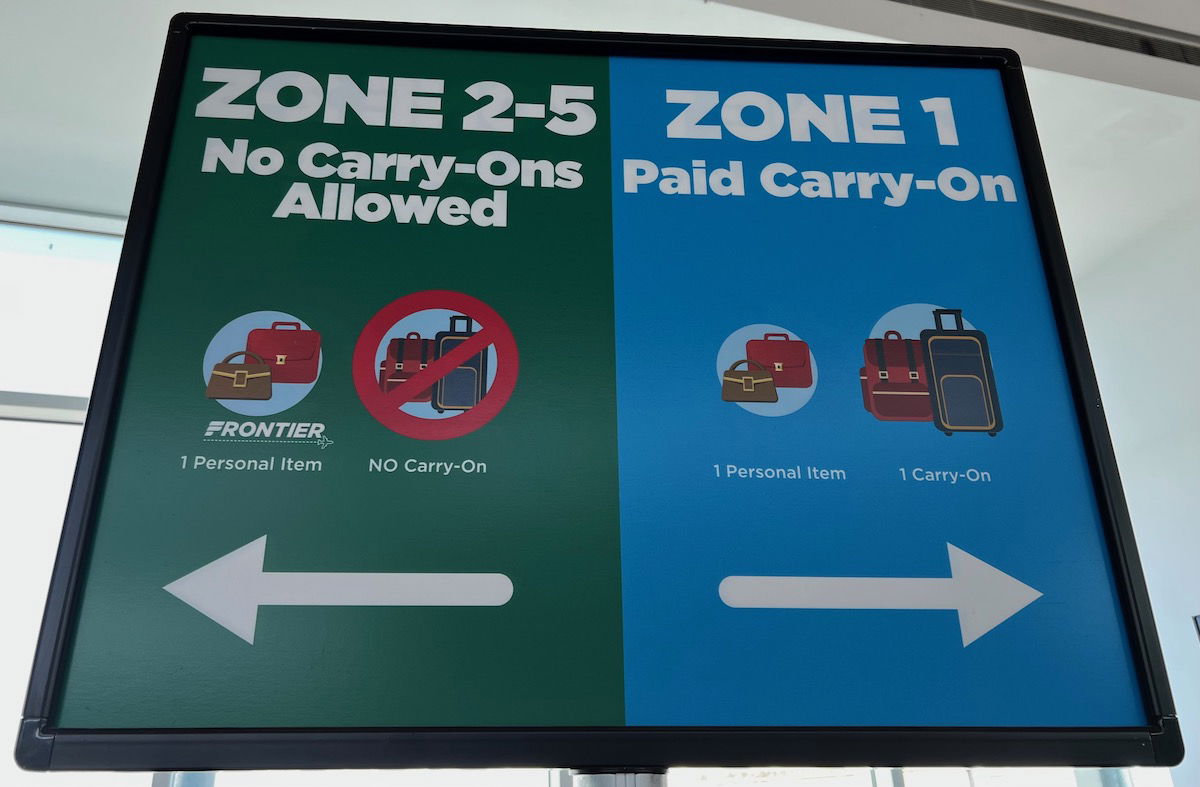 Frontier Airlines Airbus A320neo cabin & seats
At the door of the plane we were greeted by a sign about how we were flying with "Al the Roadrunner." It's cute that the animal theme continues inside the aircraft, at least at the entrance.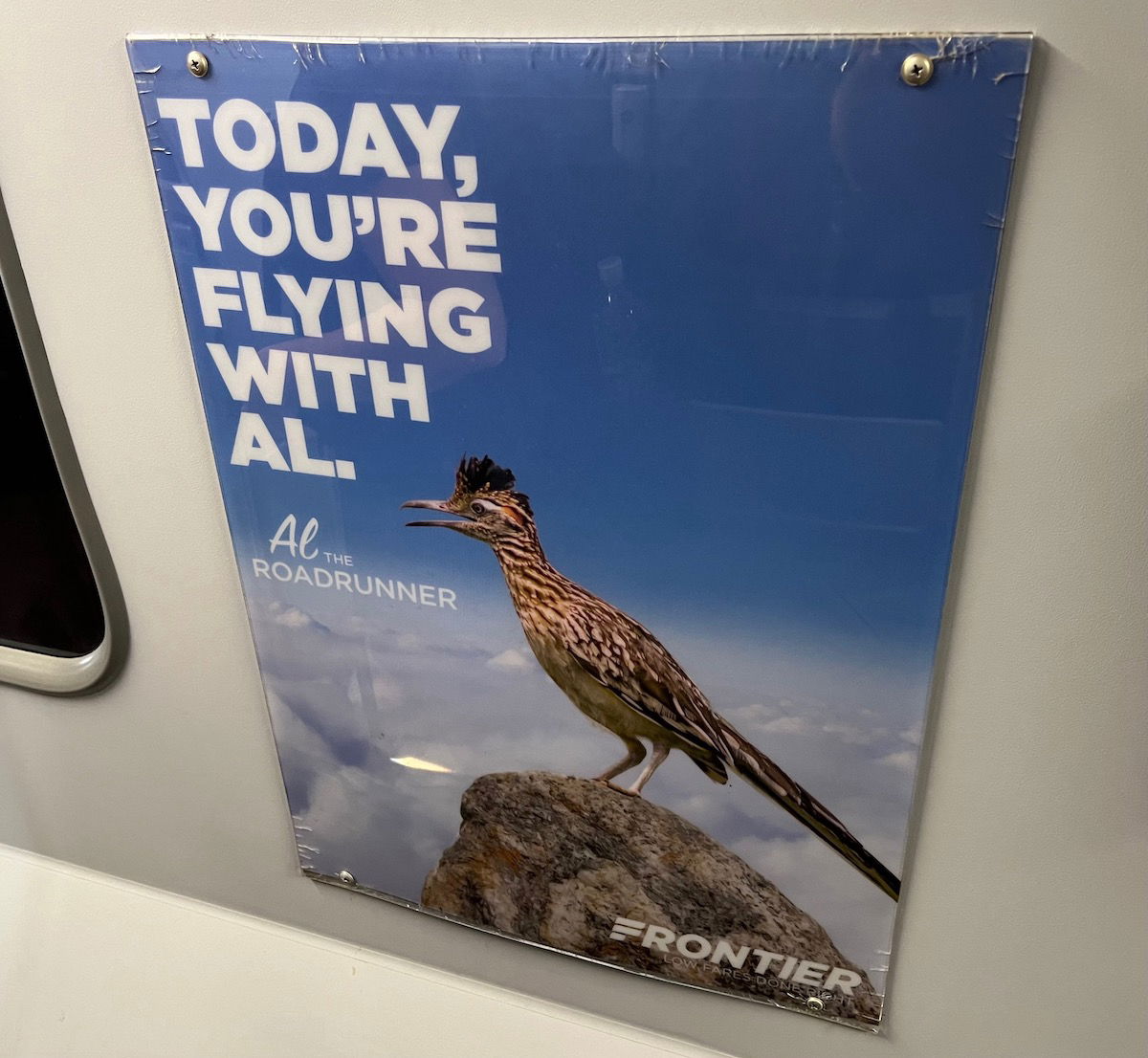 Frontier's A320neos feature 186 seats, which is about as many seats as you'll find on this kind of plane. The first three rows of Frontier's A320neo cabins are Stretch seats, which are Frontier's extra legroom seating. While Frontier has as little as 28″ of pitch in most of the cabin, Stretch seats have five to seven extra inches of legroom, which makes a big difference.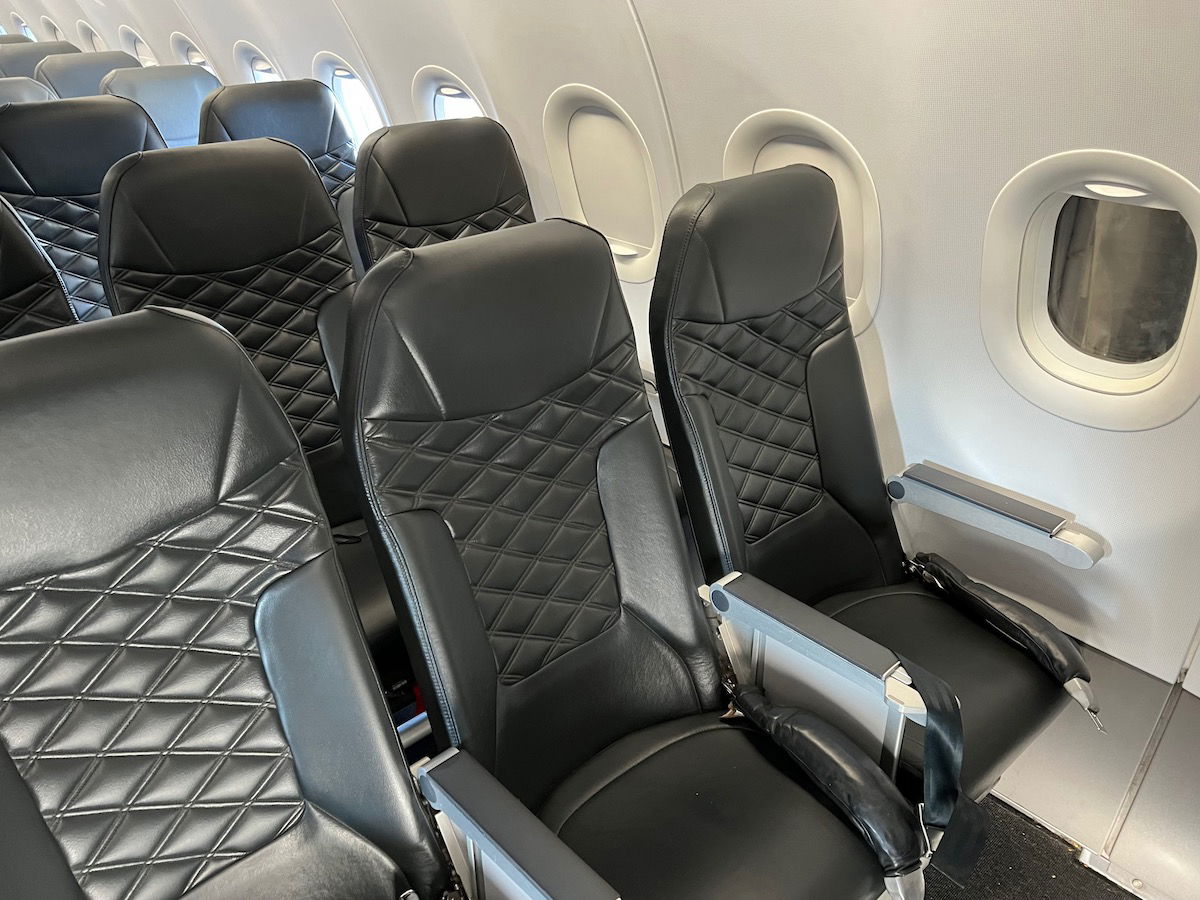 I's not just that there's more legroom, but the seats as such are different. They have different patterns, different seat backs, different tray tables, and they recline. I have to say, the lack of a headrest was noticeable, as that can make a seat much more comfortable. The seats also felt painfully thin to me.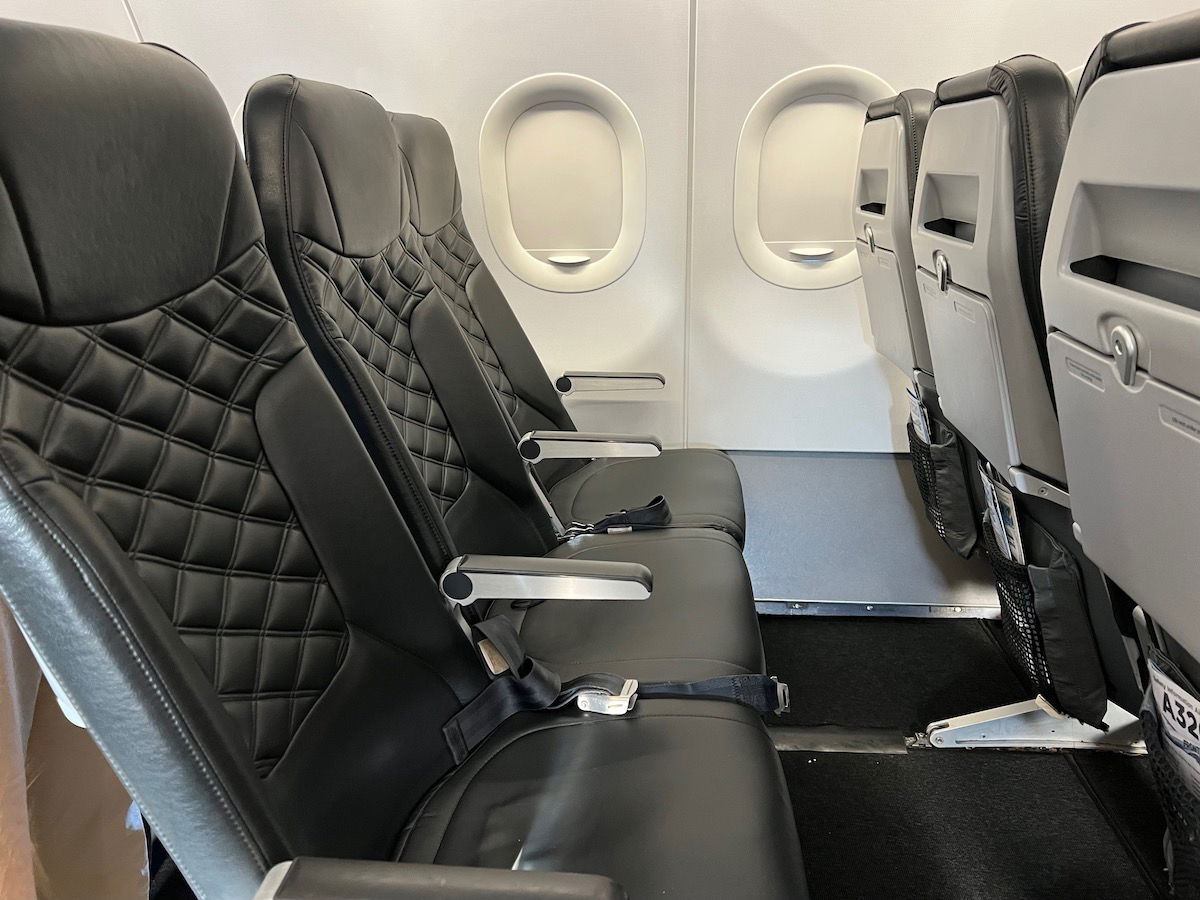 Ford and I were in seats 2D & 2F, and the legroom was very good, I'd say at least as good as the extra legroom economy sections you'll find on the major US carriers. We also lucked out with an empty middle seat between us, even though the flight was nearly full. That's a benefit of selecting these seats as well, since they're probably less likely to be filled up than other seats (given the cost).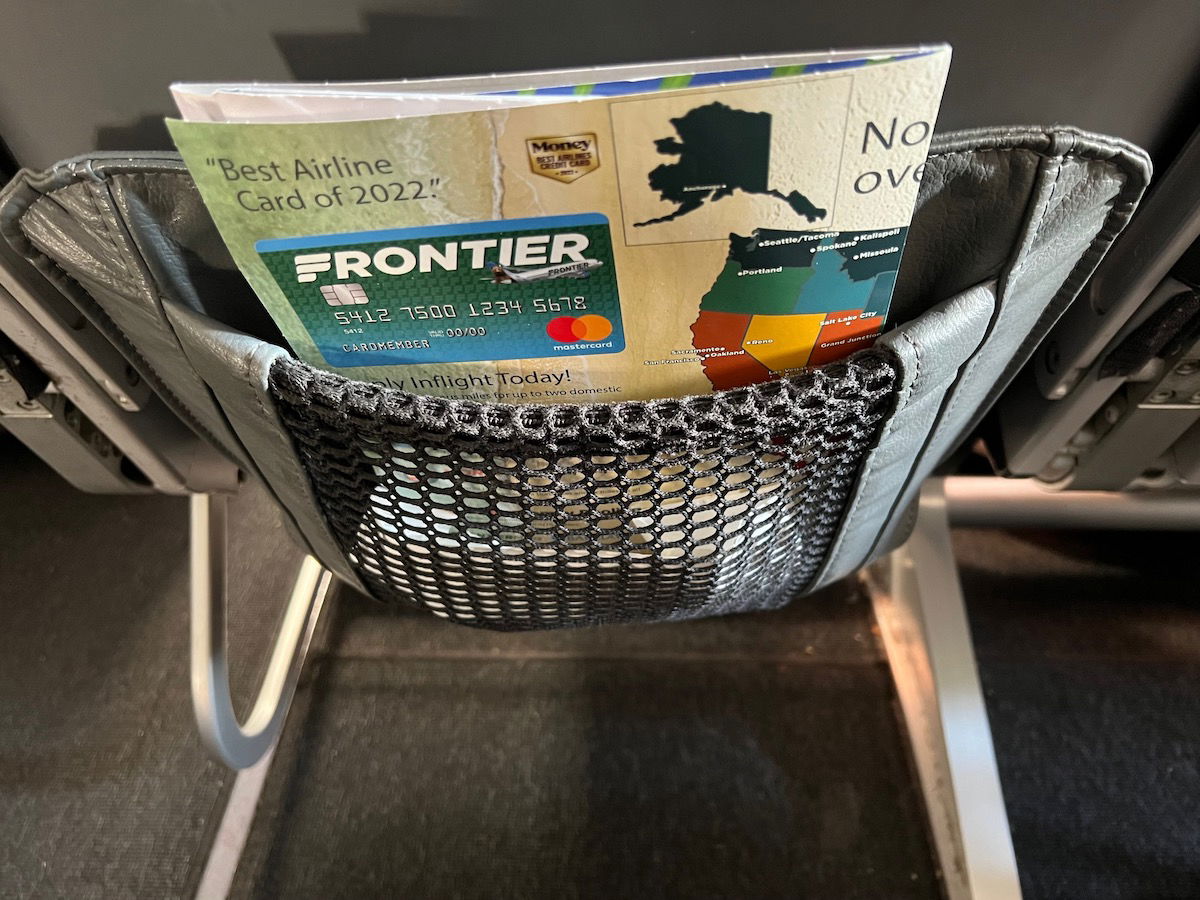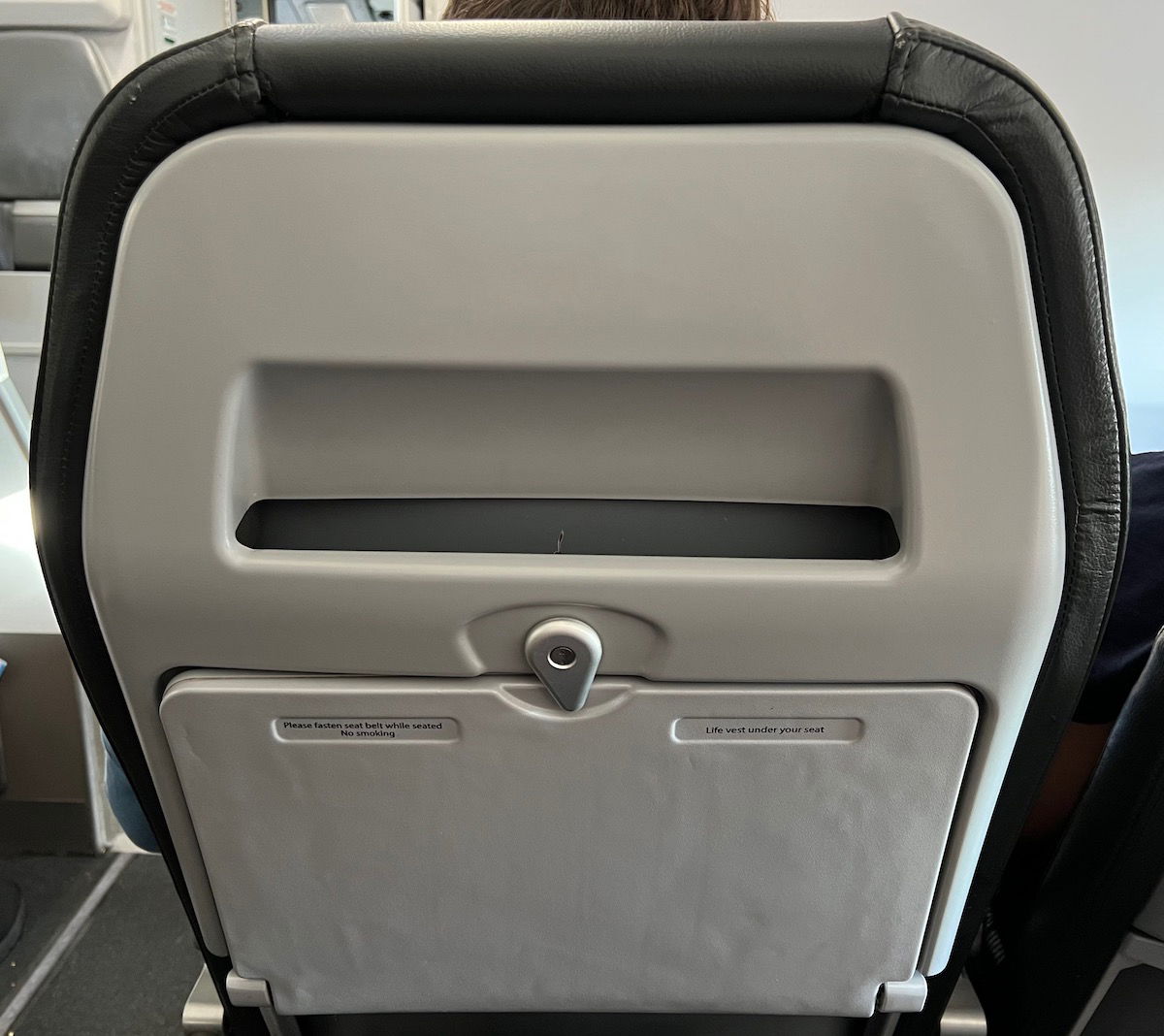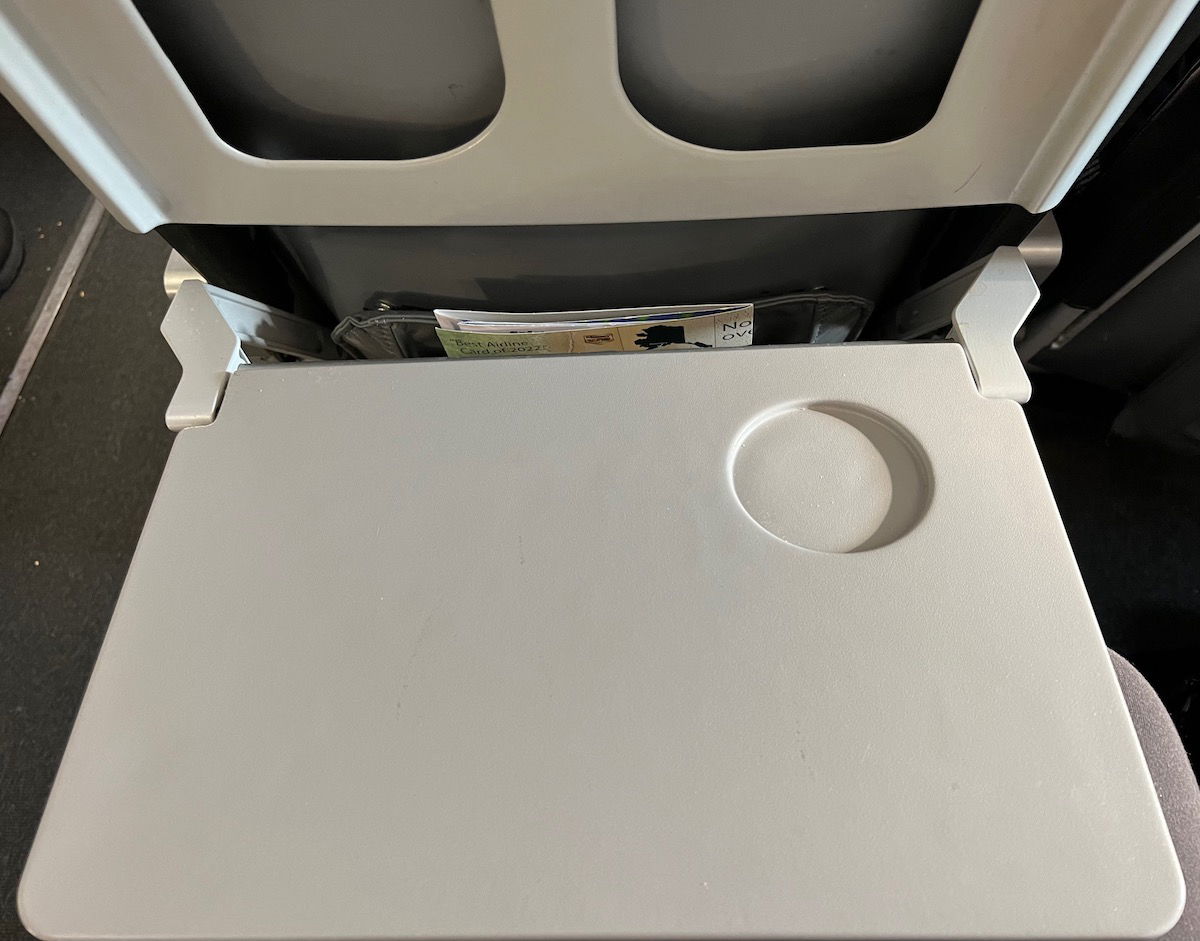 The plane had overhead reading lights and individual air nozzles. Unfortunately that's it as far as the seat amenities go, as there are no power outlets at any seats.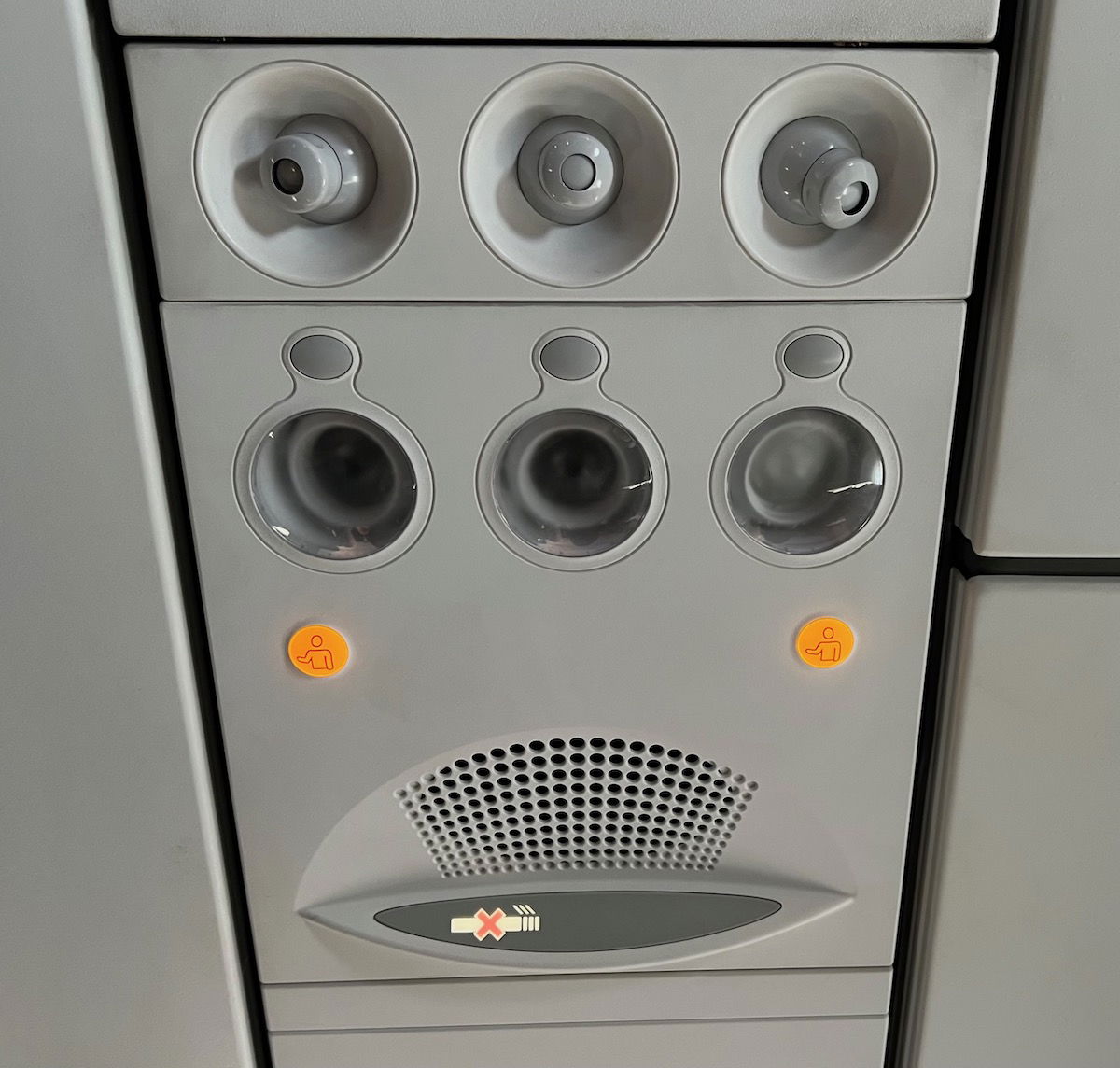 Frontier Airlines' standard economy section looked really tight, with just 28″ of pitch. Not only was legroom limited, but the seats were thin, and interestingly the tray tables were about 50% smaller than usual as well, which I've never seen before at a US airline.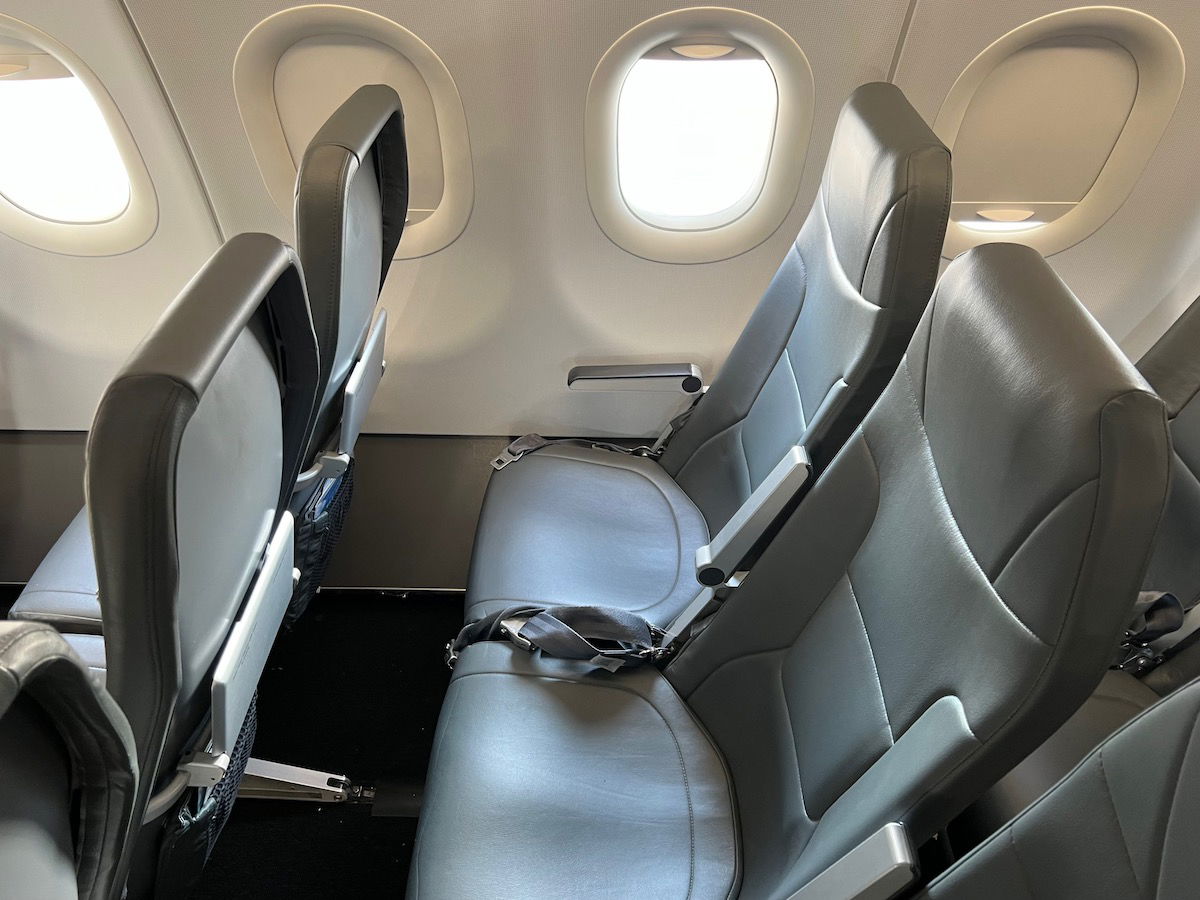 I thought the plane was in horrible condition for a fairly new A320neo. I don't think I've ever seen so many scratches and scuffs on a fairly new plane. Then again, that's not surprising given Frontier's aircraft utilization, how many passengers are on these planes, and how they seem to act (at least based on my flight).
The lavatory was also absolutely filthy. I'd highly recommend avoiding going to the bathroom on Frontier if you can.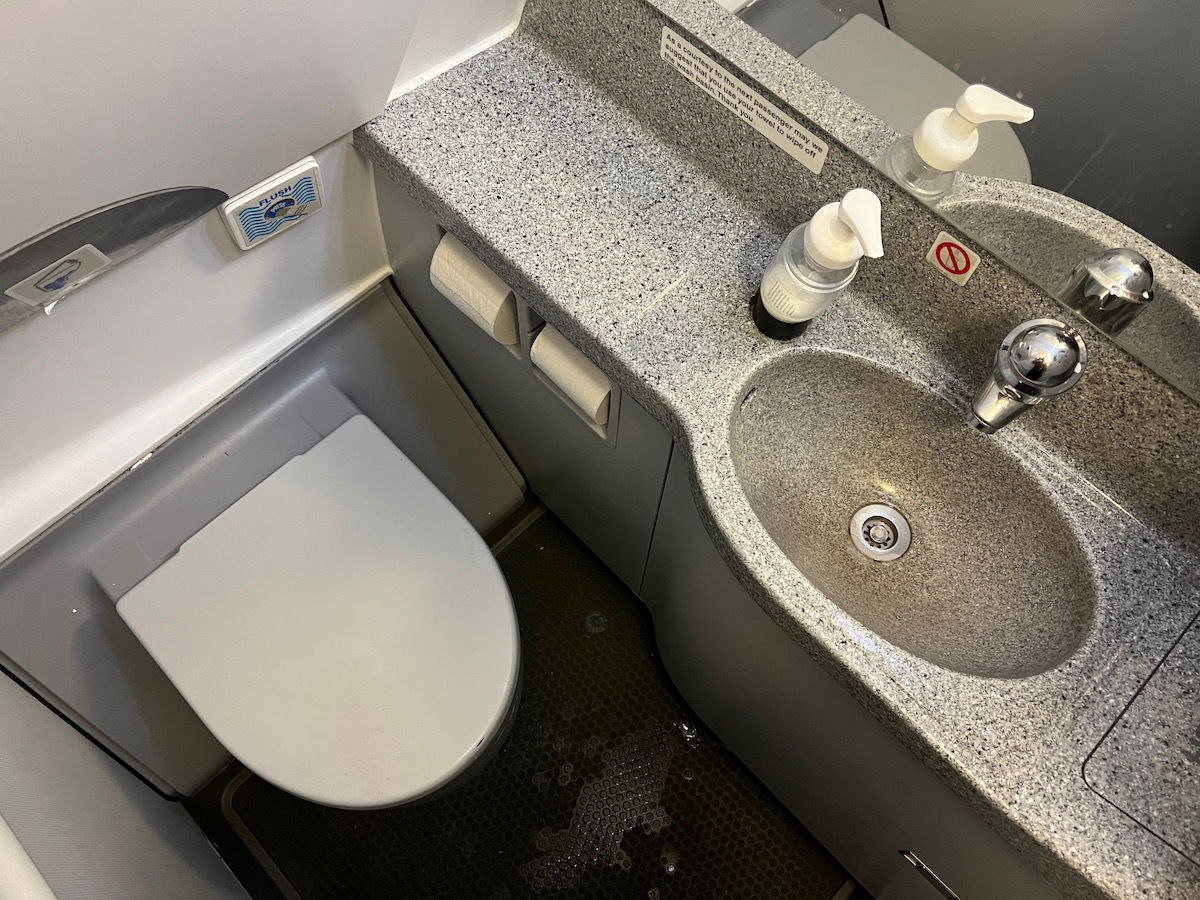 Frontier Airlines Airbus A320neo entertainment & Wi-Fi (lol)
Admittedly ultra low cost carriers are typically pretty no frills, but Frontier Airlines takes it to the extreme. The airline has no inflight entertainment whatsoever — there's no Wi-Fi and no streaming entertainment.
I made a rookie mistake — I figured it was only a short flight, so I didn't need to download any shows on my iPad. Well, I can now officially report that a 2.5 hour flight feels at least twice as long on Frontier without your own entertainment. Don't make the same mistake.
It's interesting to see how ultra low cost carriers have taken different approaches here — Spirit Airlines, meanwhile, has high-speed Wi-Fi on almost its entire fleet. That's another reason I far prefer Spirit to Frontier.
Frontier Airlines buy on board food & drink selection
What was service like on this 2hr43min flight? Frontier Airlines has a buy on board menu, so nothing is offered complimentary. You can find the menu below.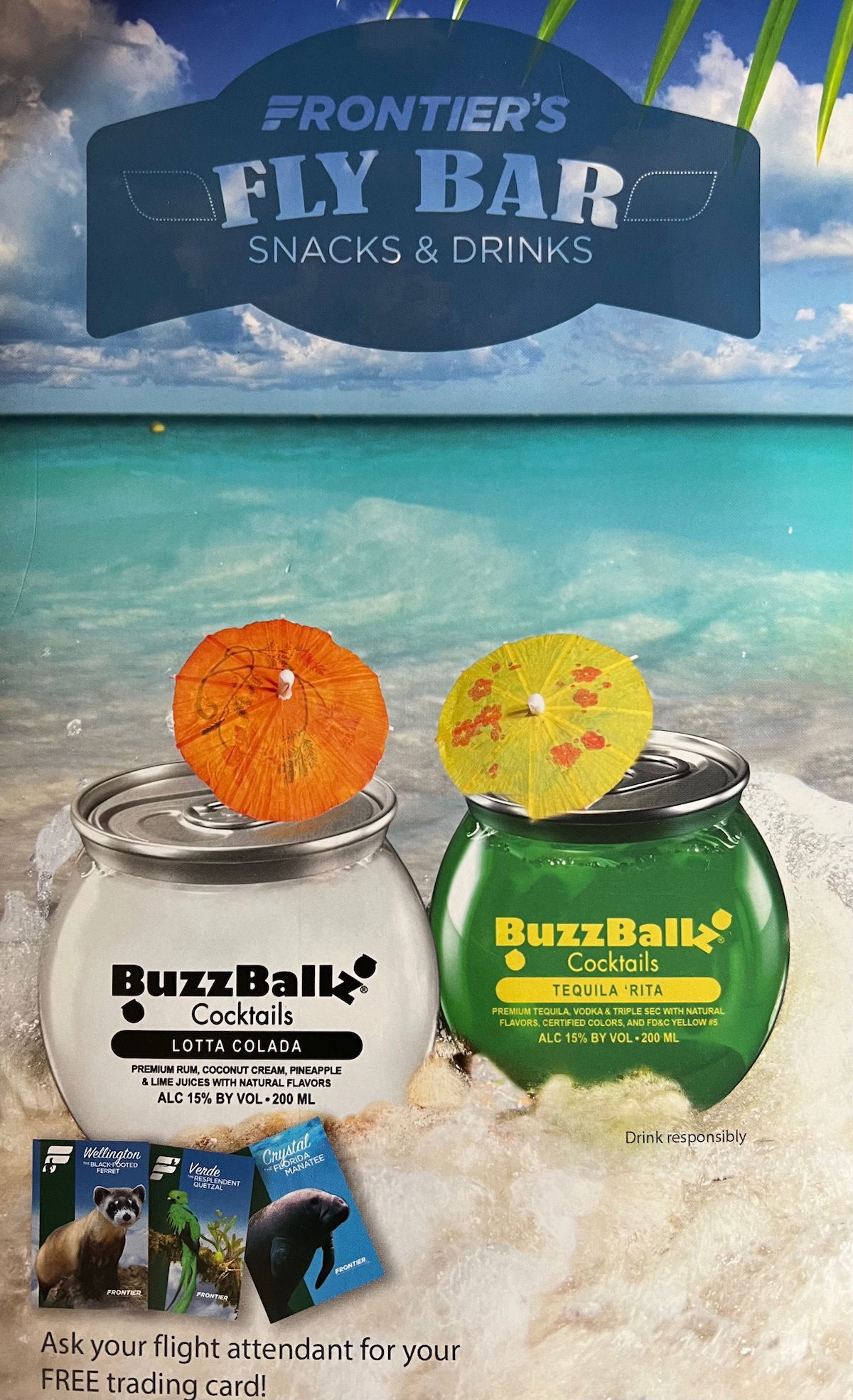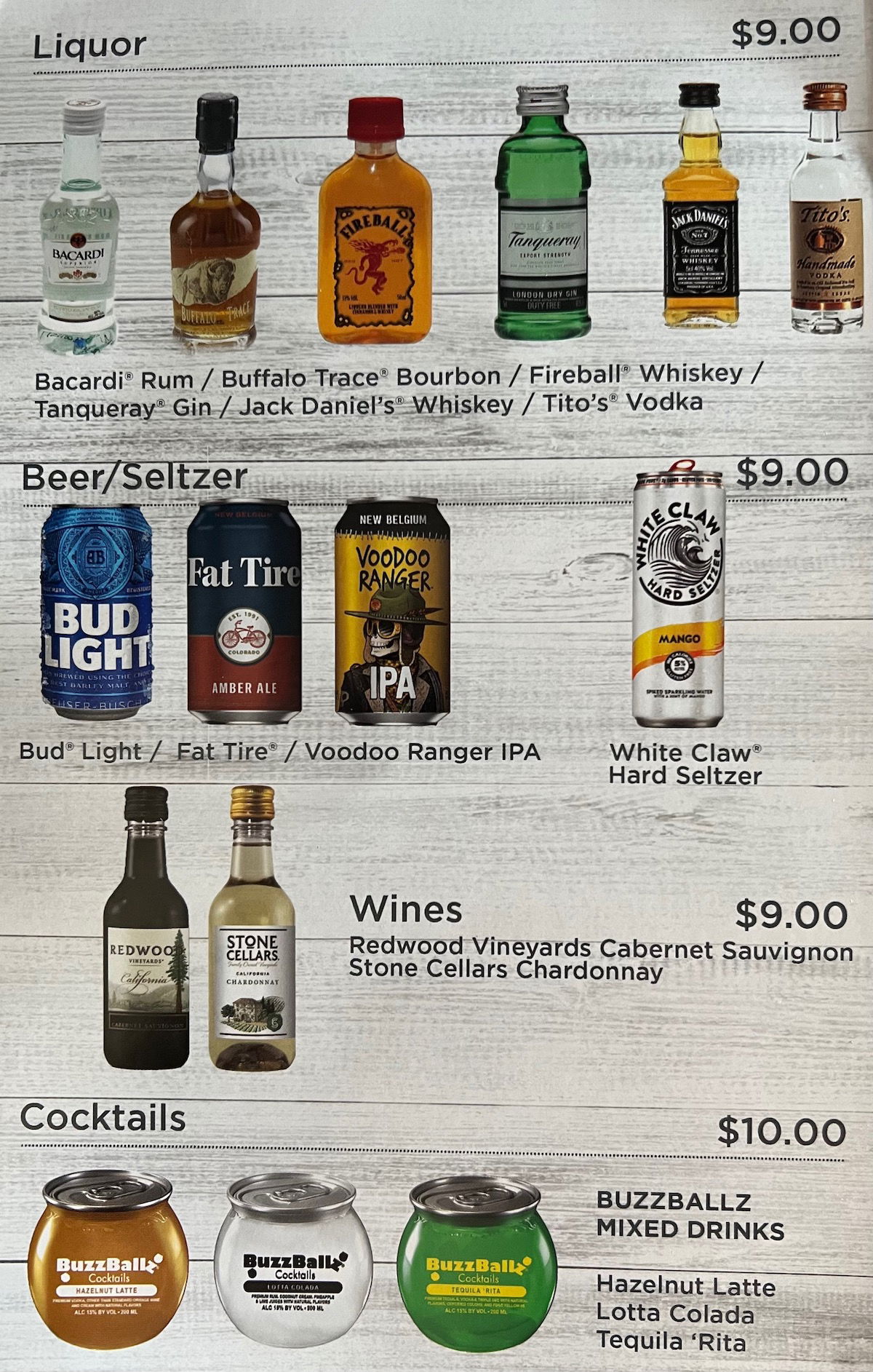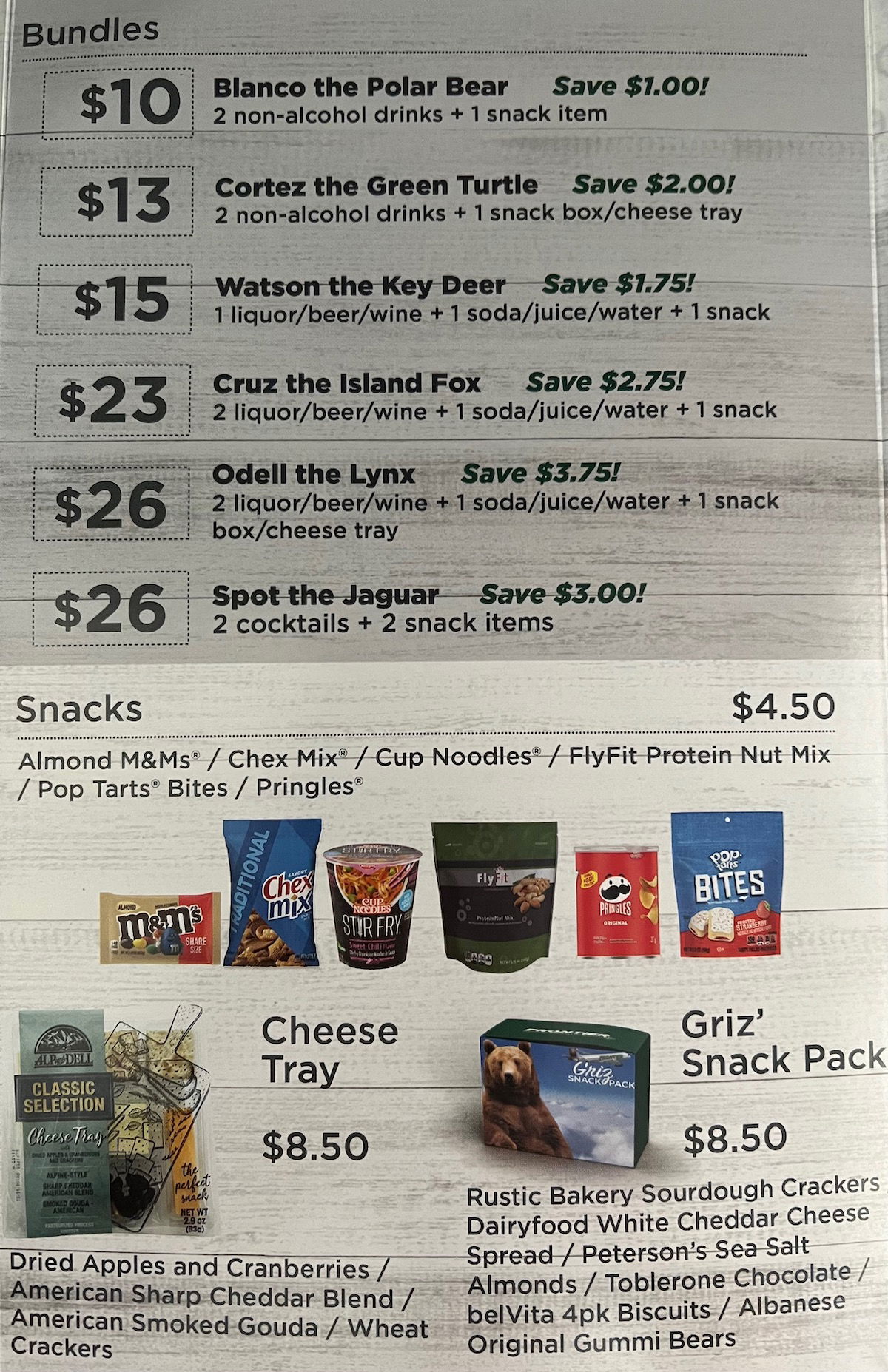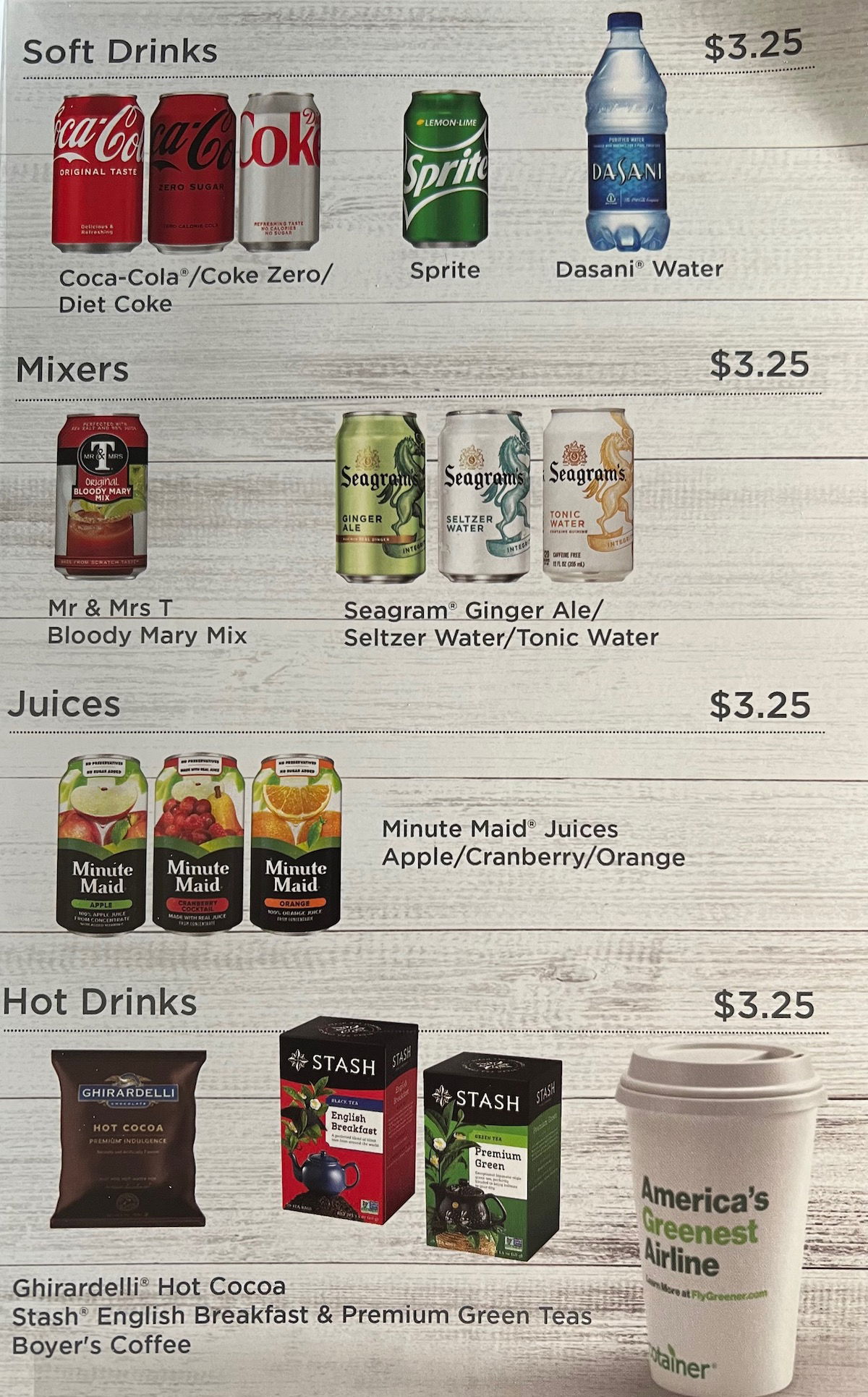 We were kind of hungry, so we decided to put the Frontier Airlines menu to the test. We decided to order a snack pack, a cheese plate, a still water, and a seltzer water. Frontier has some discounted bundles, which sounds great in theory, though the crew seemed to have trouble keeping track of the different options.
Since we had two non-alcoholic drinks and a snack, we could take advantage of the "Cortez the Green Turtle" bundle for $13, which saved us $2.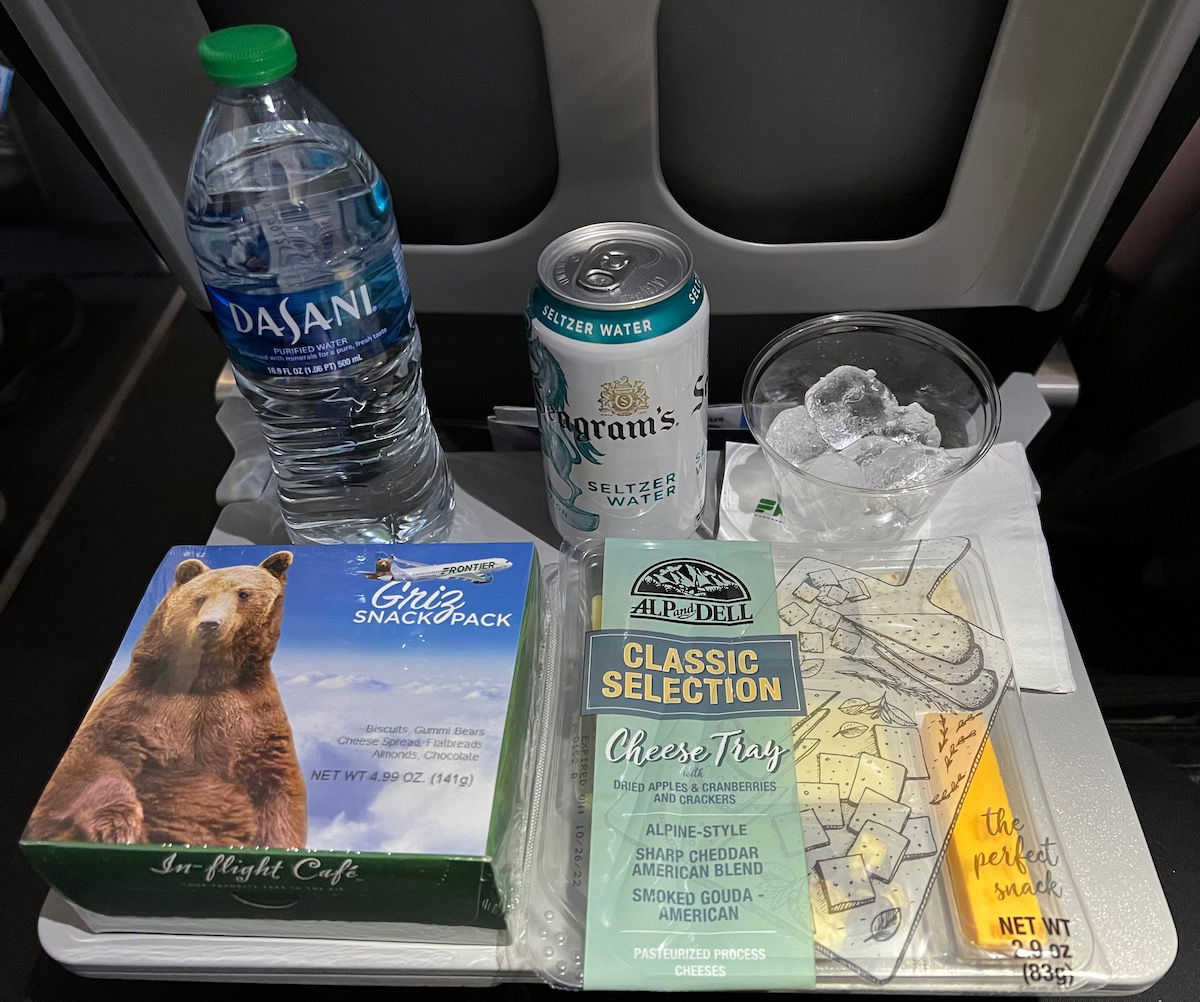 As far as the food goes, it was… okay? I'd say the cheese plate was a bit below average for a buy on board option, as it felt a bit more like a Lunchables box than a cheese plate.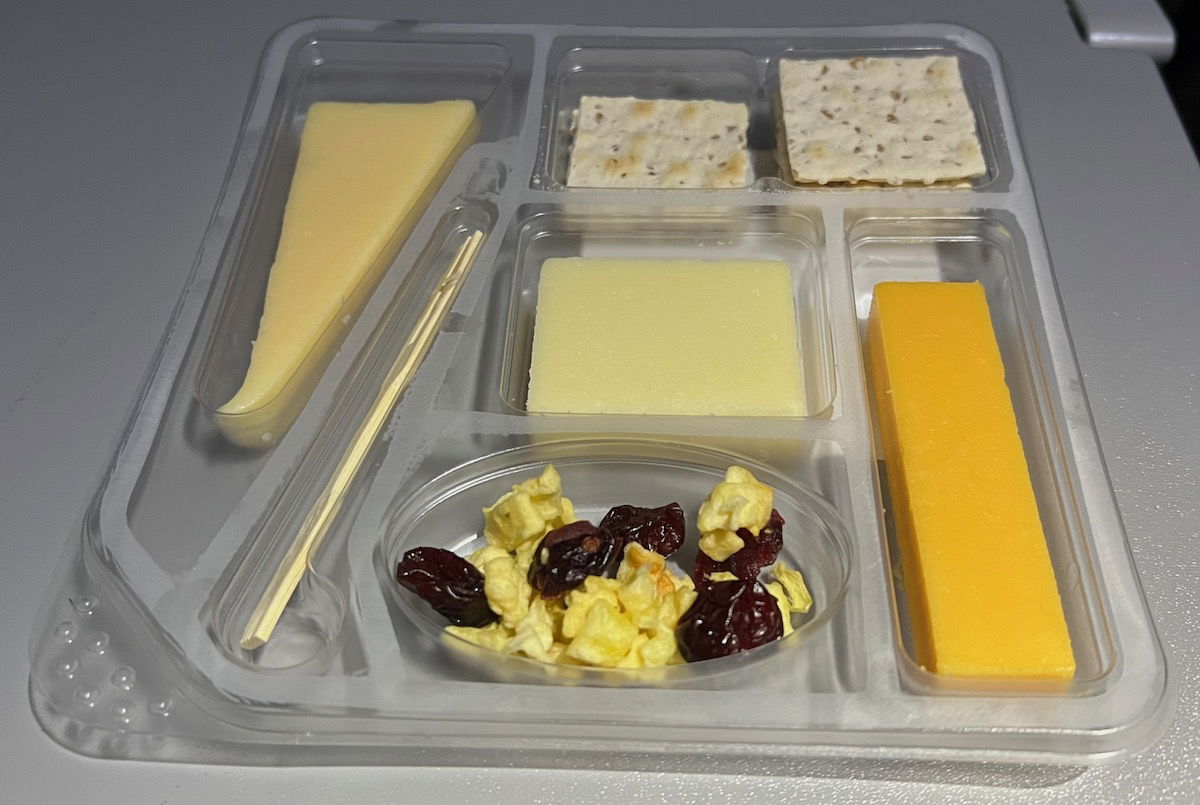 Meanwhile the snack pack had a variety of tasty packaged things…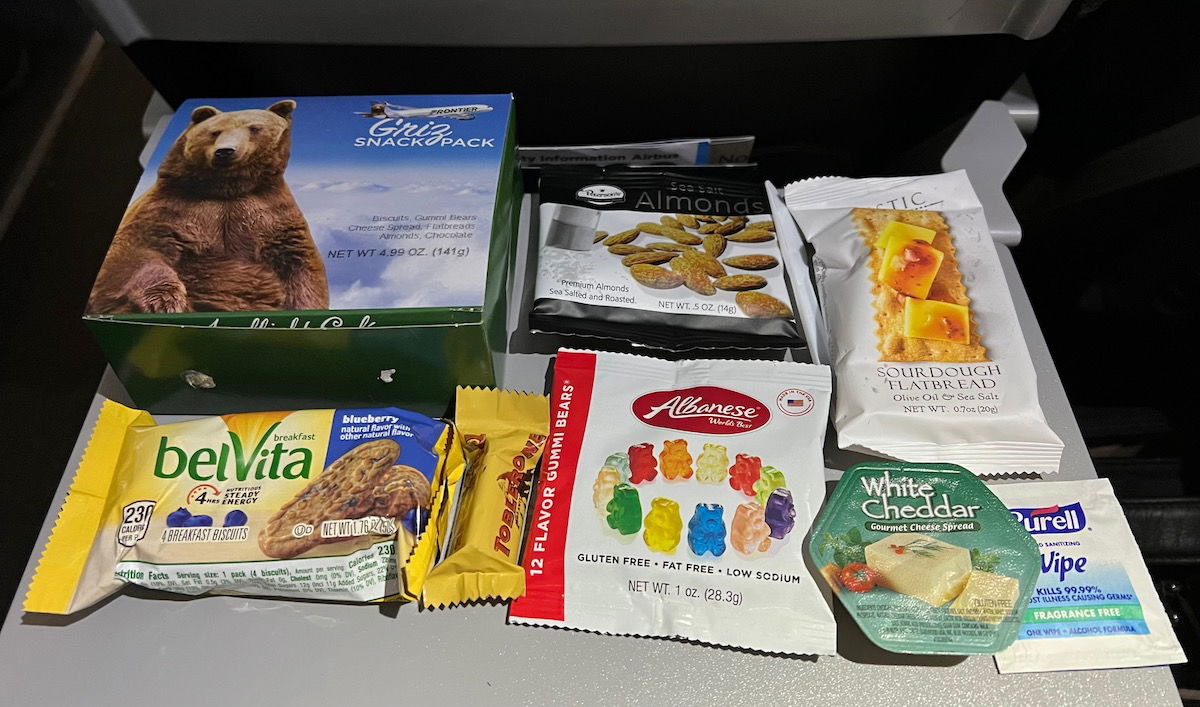 By the way, Frontier Airlines is known for allowing flight attendant tipping. It was my understanding that when you're given the credit card machine, you have the option of adding a certain percentage tip. I was surprised to see that this wasn't an option on this flight. Did the airline discontinue this practice, or…?
Frontier Airlines service & passengers
Really my biggest issue with the Frontier Airlines experience was the behavior of fellow passengers. Of course I can't say for sure that's reflective of all flights, but based on all my flying experiences, I've never seen anything like this before on a domestic flight in the United States.
Even though I have low expectations of the traveling public, I still managed to be surprised. People didn't seem to flush when using the bathroom. There was pee all over the floor. Some people didn't even bother closing the bathroom door. Several people even went into the bathroom barefoot, and one person seated near us went to the bathroom barefoot and then rested their feet on the armrest in front.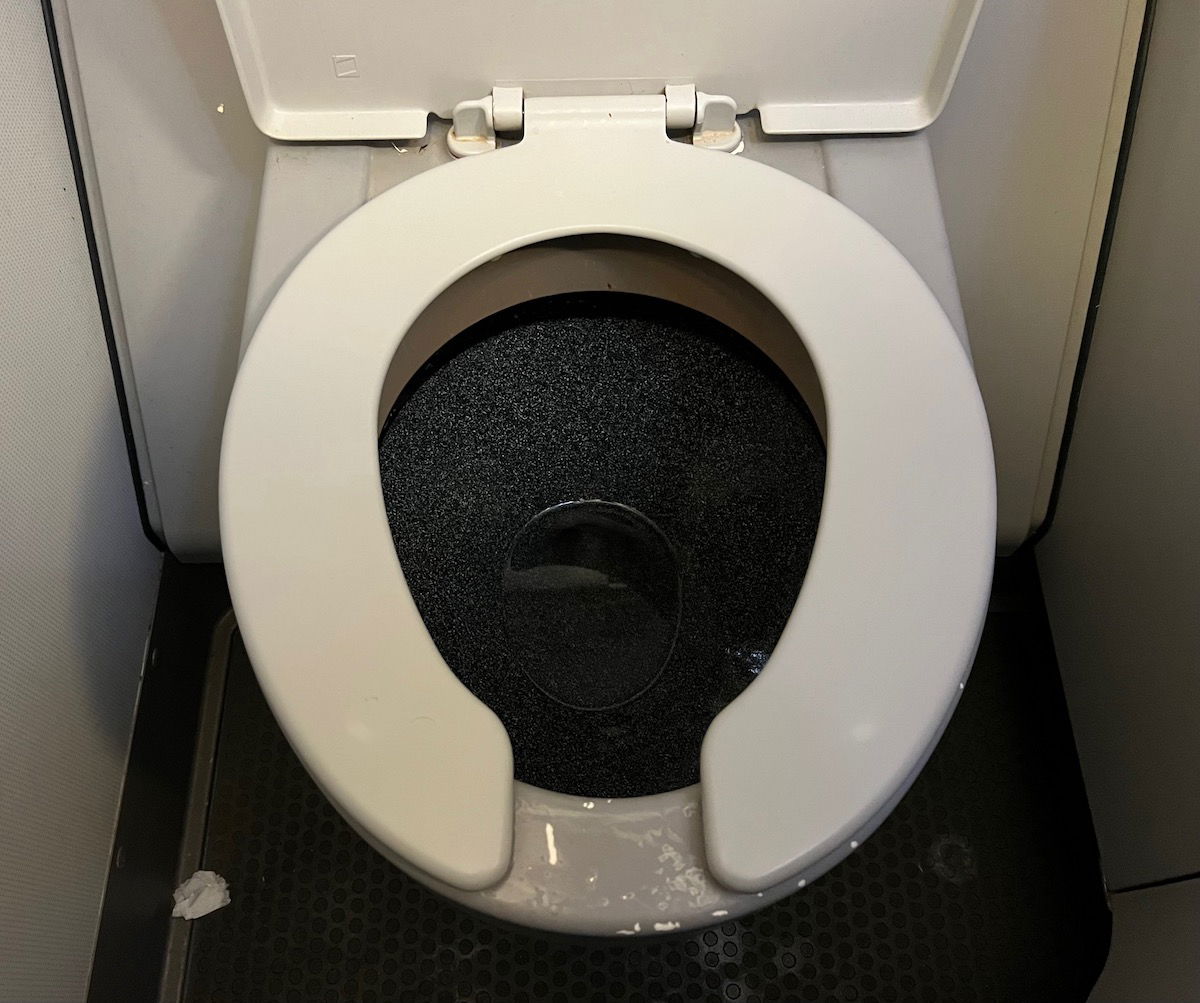 Then there was the guy who repeatedly tried to go into the bathroom (barefoot) with a big bag of stuff. The crew told him over and over he couldn't take that in there, but he kept trying. He'd line up for the bathroom every time right where my seat was.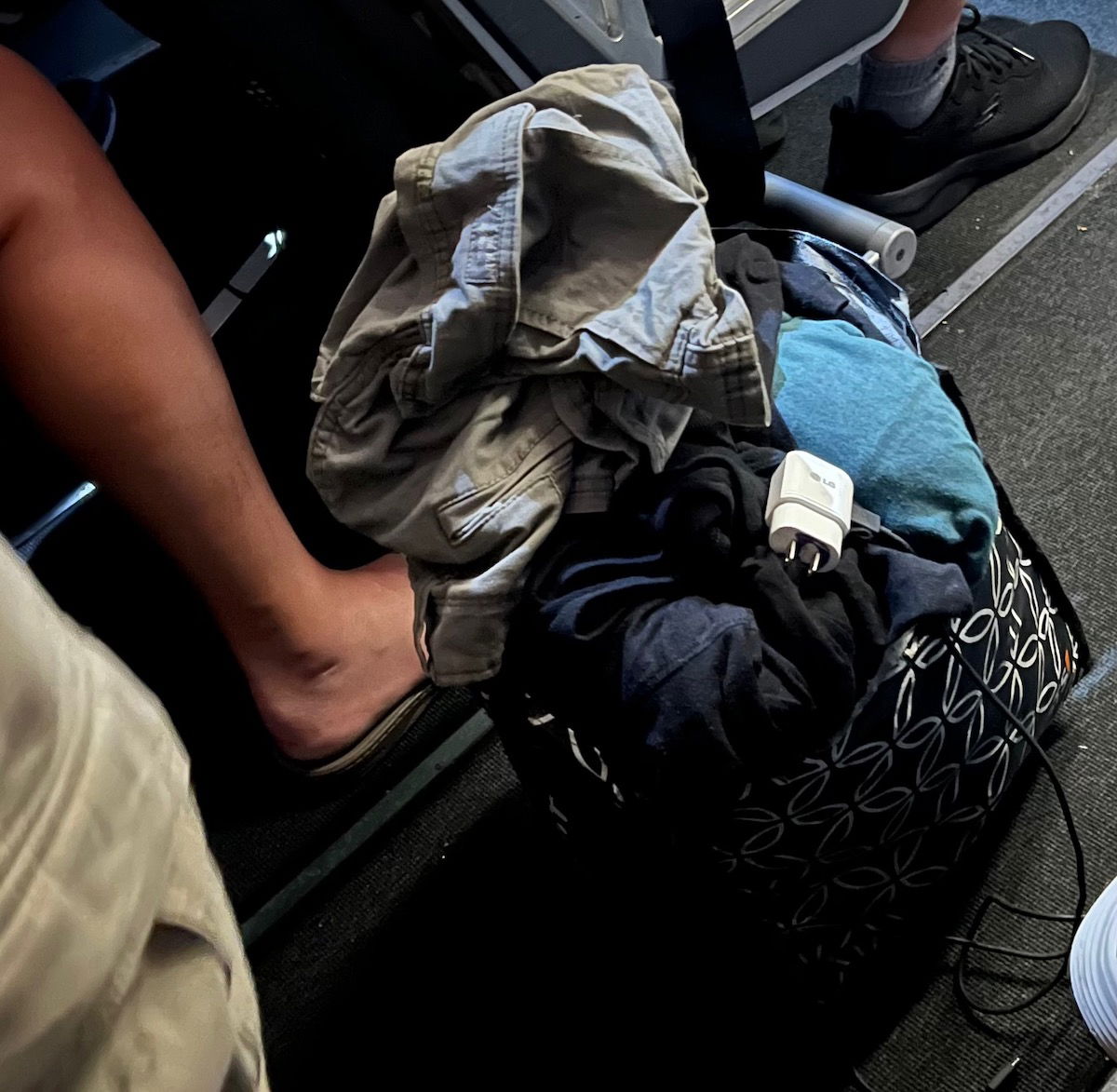 Then there was the guy seated immediately in front of me, who was watching something on his iPhone for nearly the whole flight with headphones on. Perfect, right? Well, for an hour straight, he would laugh out loud probably every 10 seconds. I'm not talking just a quiet chuckle, but rather more of a screaming laugh. Over and over and over and over. Even with earbuds in I could hear him.
That's just the tip of the iceberg, but seriously, the crowd on this flight was unlike anything I've seen before. I'm not sure if it has to do with the route, the airline, or a combination of both, but I want to minimize my risk of repeating this experience.
Frontier Airlines service
The crew on this flight seemed to be generally well intentioned, though I found various aspects of the experience to be weird:
There were repeated announcements during boarding about running out of overhead bin space; this doesn't make much sense to me, since many Frontier passengers don't have carry-ons (given the cost), so space isn't an issue
The crew didn't collect trash until the very end of the flight, so for most of the flight items just sat on our tray tables
The crew seemed rather indifferent, which to be honest I can't blame them for, given what they have to deal with; during deplaning one of the flight attendants was even standing with his back to passengers, texting on his phone
Frontier Airlines punctuality
To Frontier's credit, the flight was nearly on-time, which is noteworthy in the summer of 2022. What I was most impressed by is that our checked bags arrived within 20 minutes of our flight's arrival.
Bottom line
On the plus side, Frontier Airlines Stretch seats offer a good amount of legroom, and we ended up with an empty middle seat. Furthermore, the flight was punctual, and the checked bags arrived quickly.
That being said, I don't have any interest in flying Frontier Airlines again. The airline doesn't have any inflight entertainment, the cabins are in rough shape, and the general situation in the cabin was just a disaster. At least that was my one and only experience on the airline.
To be clear, this isn't anything against ultra low cost carriers, as I think they are really important to the US airline industry. However, I'd far prefer to fly Spirit Airlines, which offers the Big Front Seat and high-speed Wi-Fi. To me that's a materially different experience.
Unless something changes or there's an emergency that requires me to fly with the airline, this was my first and last Frontier Airlines experience.