To finish off this trip, I flew Air Serbia business class from Belgrade to New York. In this post I wanted to review the Air Serbia Lounge Belgrade, to see how it was holding up. While it's still a pretty good lounge, unfortunately like most parts of the Air Serbia business class experience, it's not what it used to be.
Air Serbia business class check-in Belgrade
After a short night at the Hyatt Regency Belgrade, I got to Belgrade Nikola Tesla Airport at around 4:15AM for my 7:50AM flight to New York. I quickly spotted that there was a special check-in area for flights to New York. However, the counter wouldn't open until 4:50AM, so I just decided to head straight through security, since I only had carry-ons and already had a mobile boarding pass.
This probably ended up being a mistake, but more on that in the next post.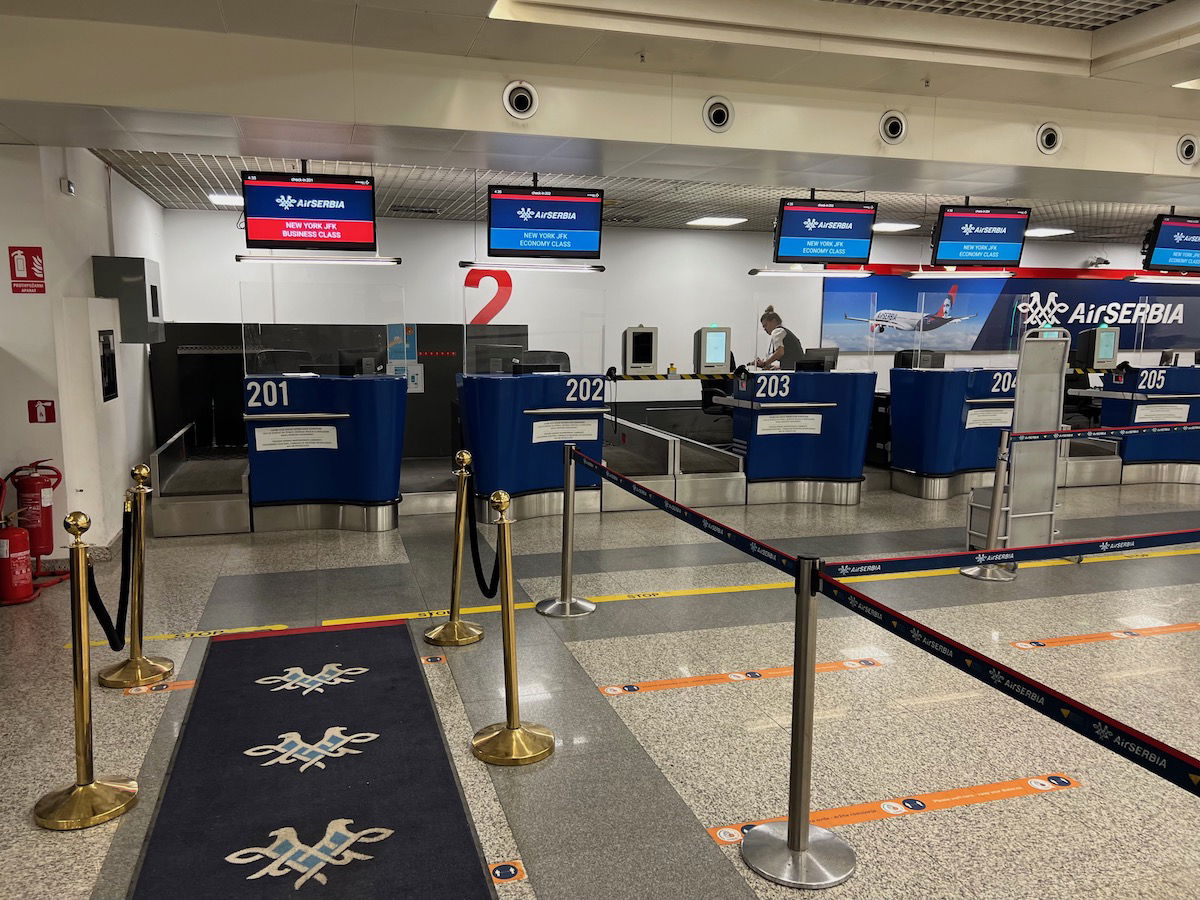 Security and passport control took almost 45 minutes, as the scenes were similar to what we've seen at other European airports. I ended up getting airside right around 5AM.
Air Serbia Lounge Belgrade location & hours
The Air Serbia Lounge Belgrade is located past security and passport control. Once you get airside, make a sharp right turn, and follow the signage in the direction of gates A4-A5. There's currently a bit of construction in this area, but eventually you'll see the entrance to the lounge on the right side.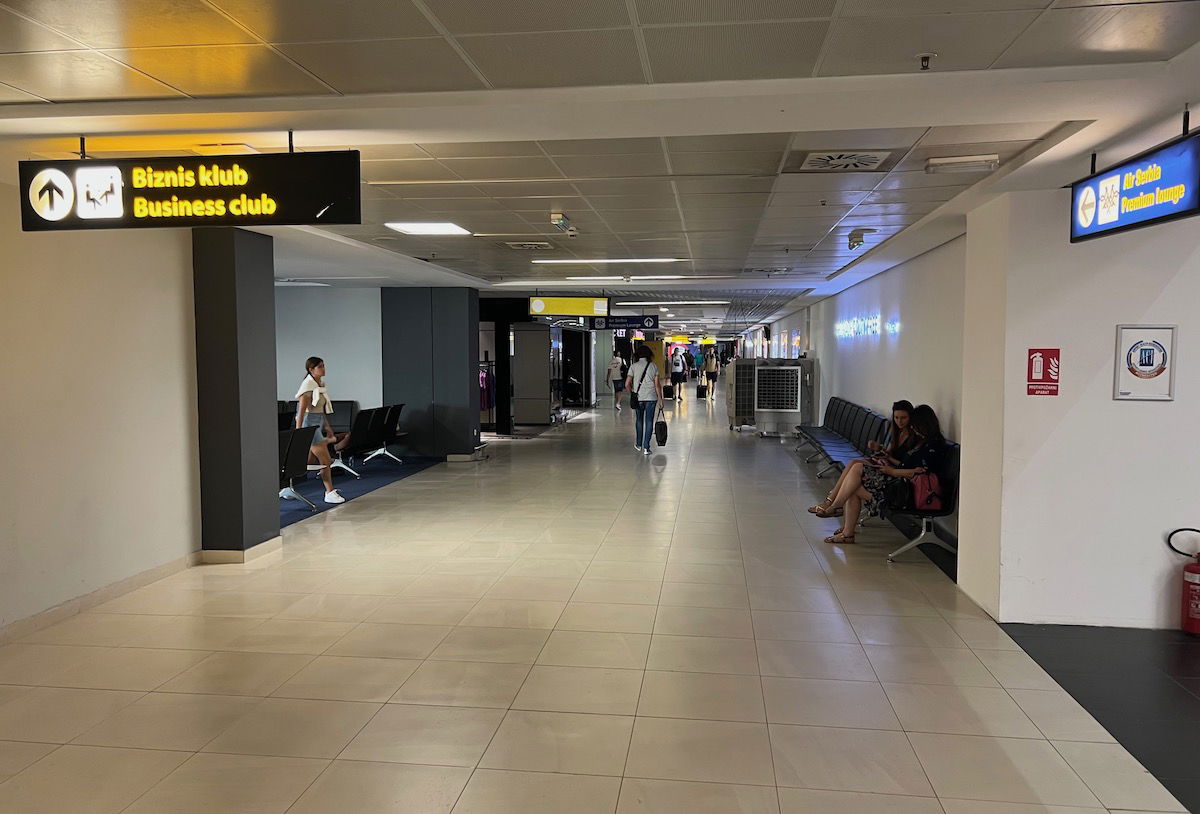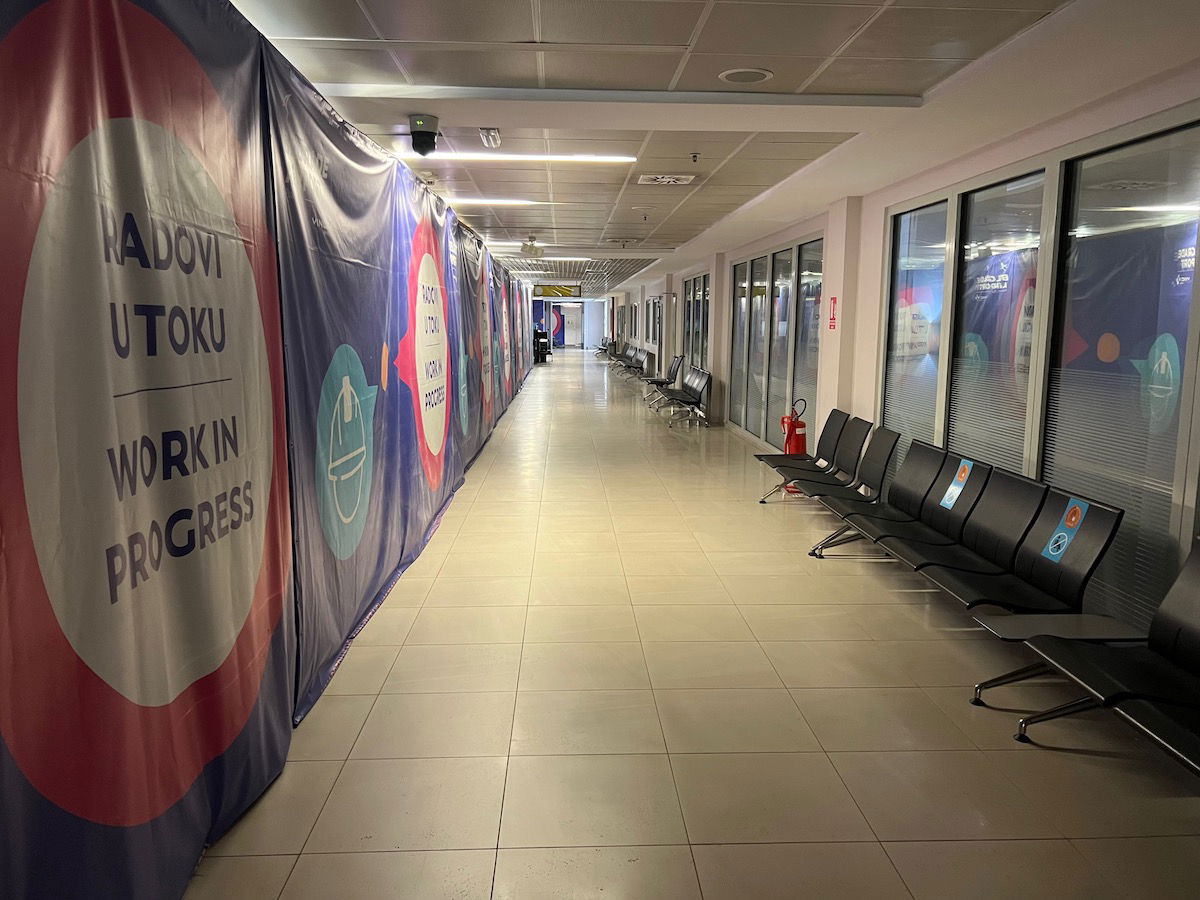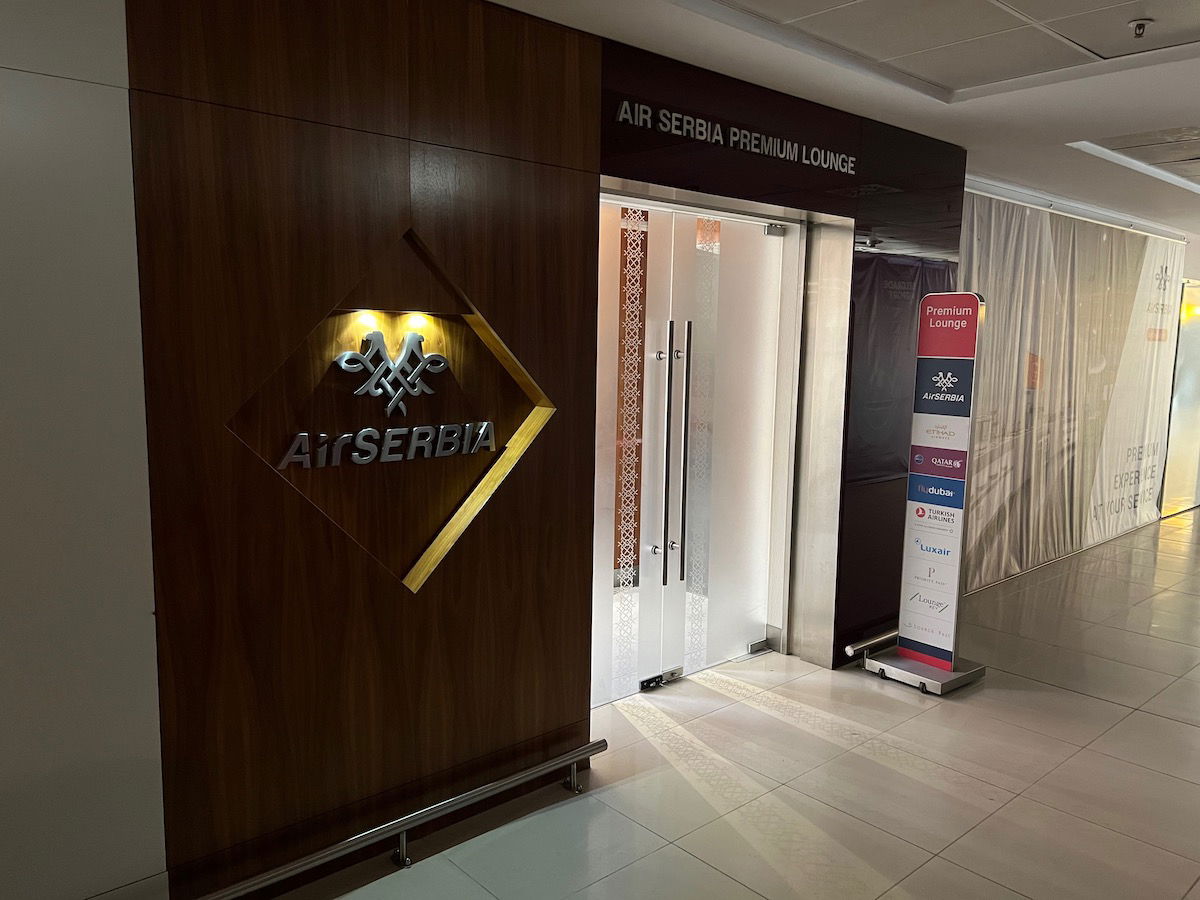 The lounge is currently open daily from 5AM until 8PM, so I got there right as it opened.
Air Serbia Lounge Belgrade entry requirements
The Air Serbia Premium Lounge Belgrade is the carrier's only lounge. It's open to all business class passengers on Air Serbia.
On top of that, the lounge is accessible with Priority Pass (there are many premium credit cards that offer complimentary Priority Pass memberships). Priority Pass members can access the lounge when flying any airline, though they can only stay for up to two hours (which is shorter than the typical three hour limit).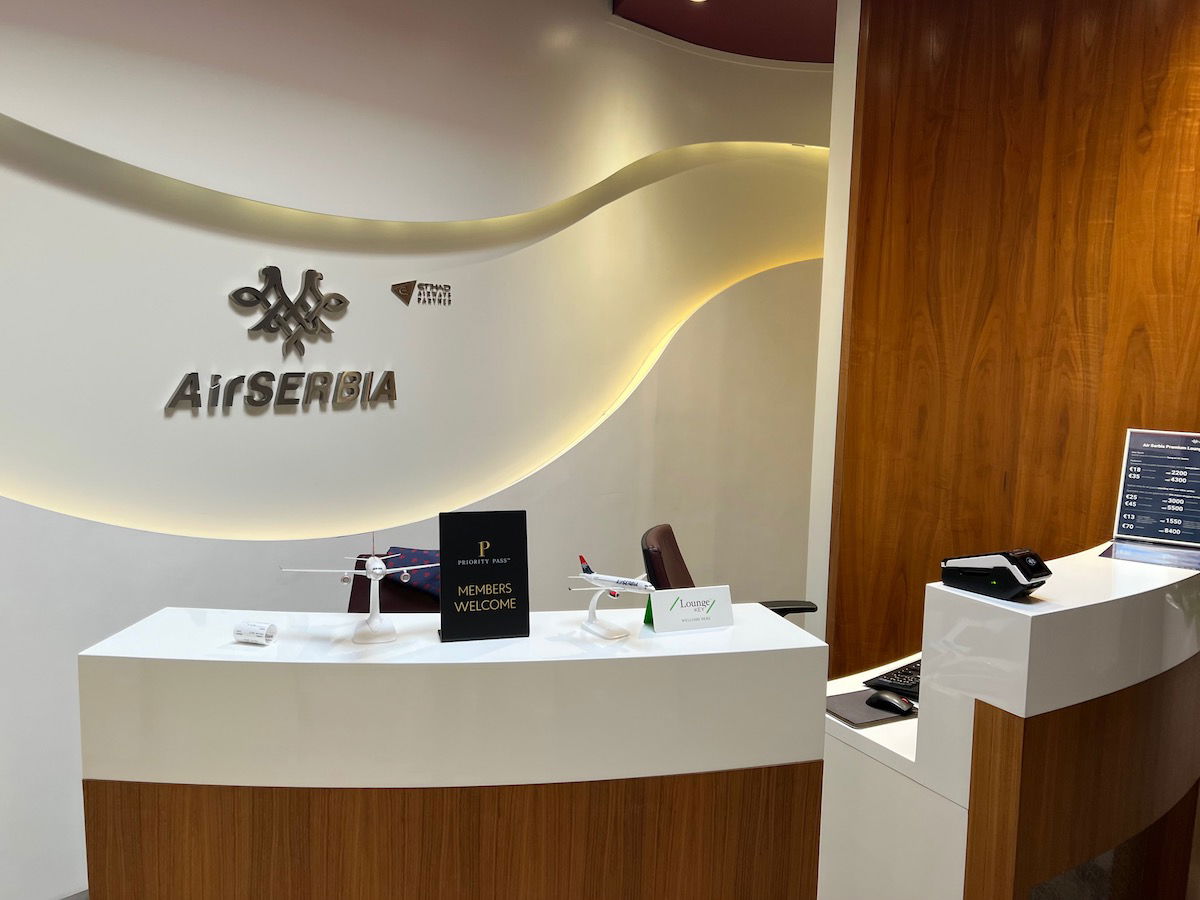 You can also buy access to the Air Serbia Lounge, with pricing varying from 18 Euro for a one hour stay, to 70 Euro for a day pass. There's also an interesting "special," where for 13 Euro you can visit the lounge for one hour between 1PM and 3PM, and enjoy a glass of wine and the buffet. That's a creative offer during a period where the lounge would presumably otherwise be quiet.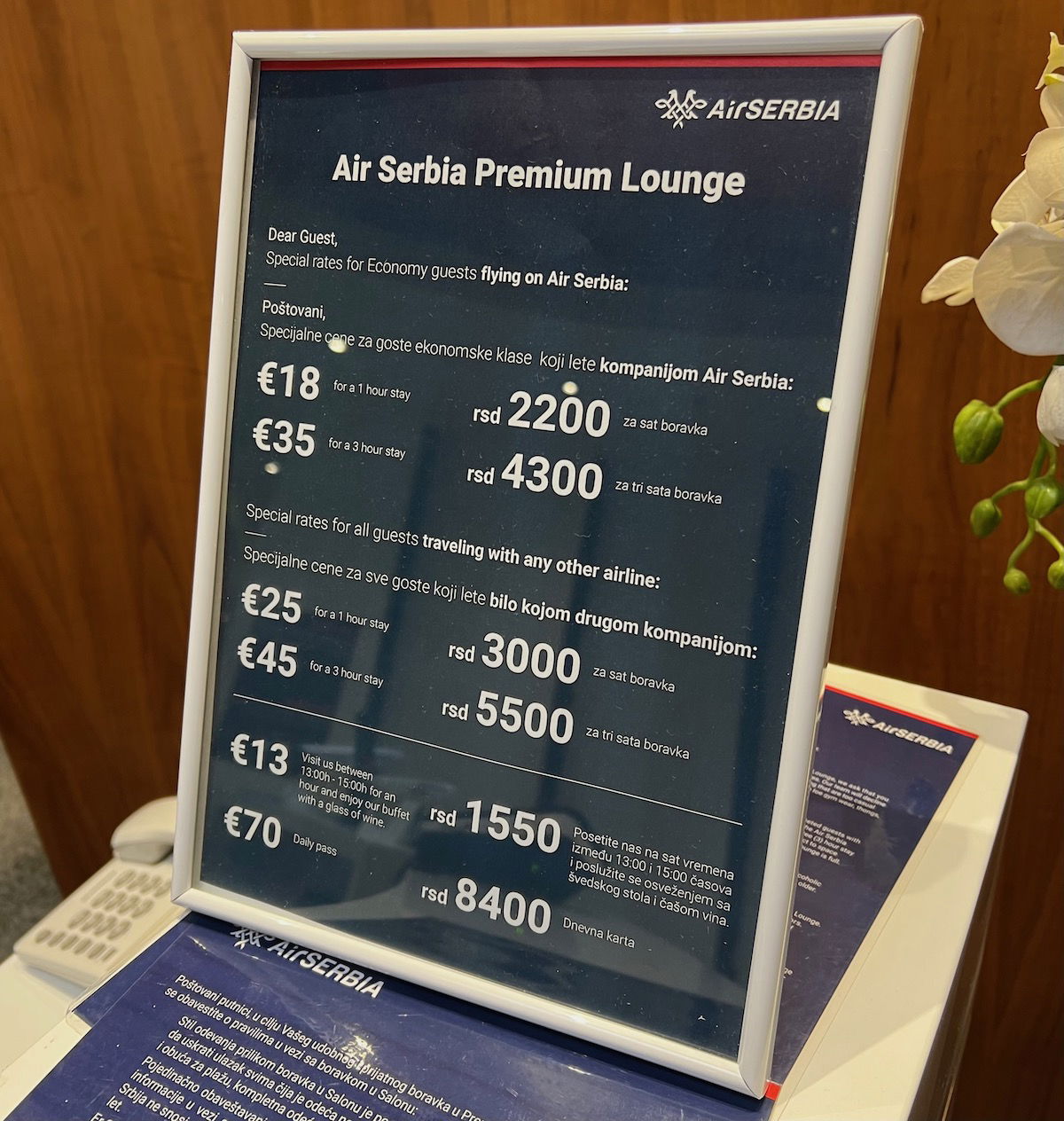 Air Serbia Lounge Belgrade seating & layout
Physically the Air Serbia Lounge Belgrade was exactly as I remembered it — it's a modern space that's 398 square meters (~4,300 square feet), with seating for 80 guests. One side of the lounge is intended for relaxing, with rows of chairs facing one another, plus some chairs along the wall.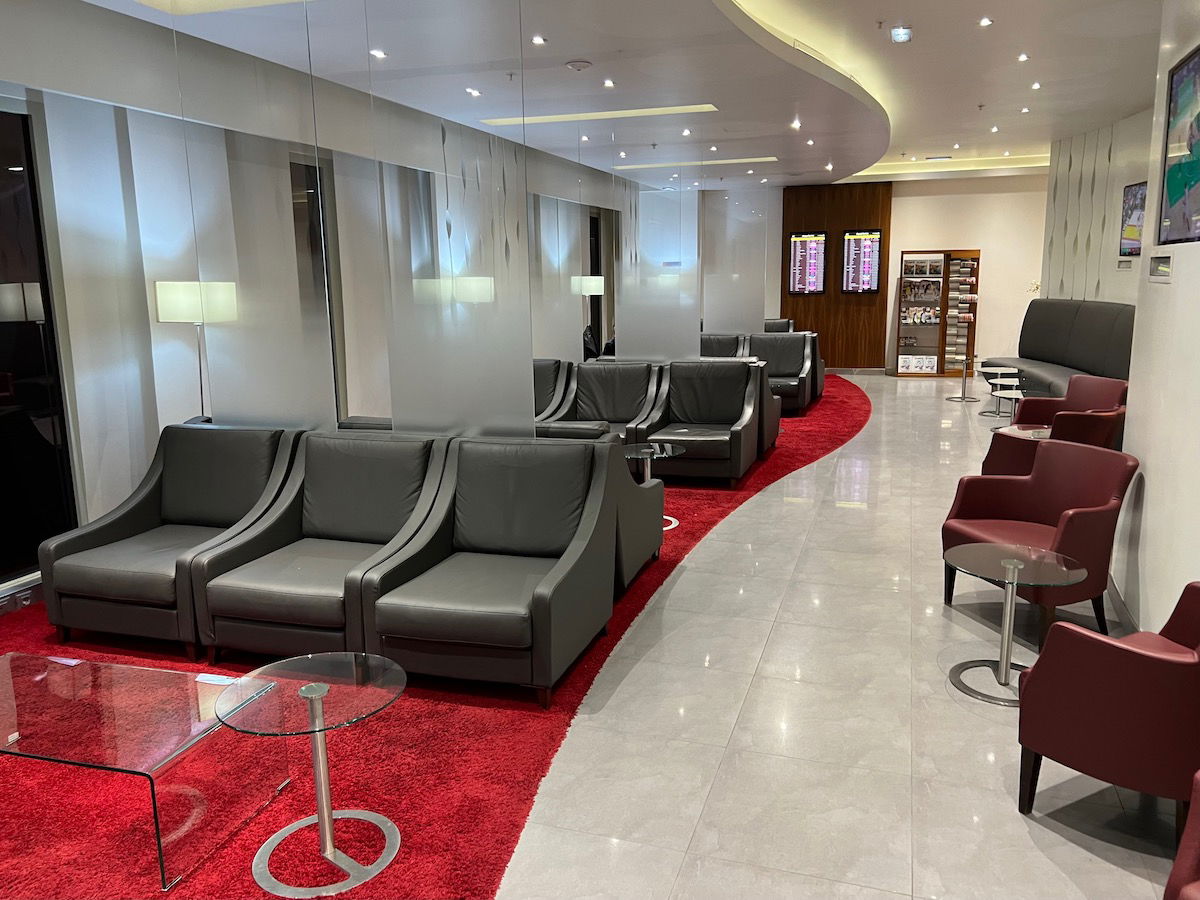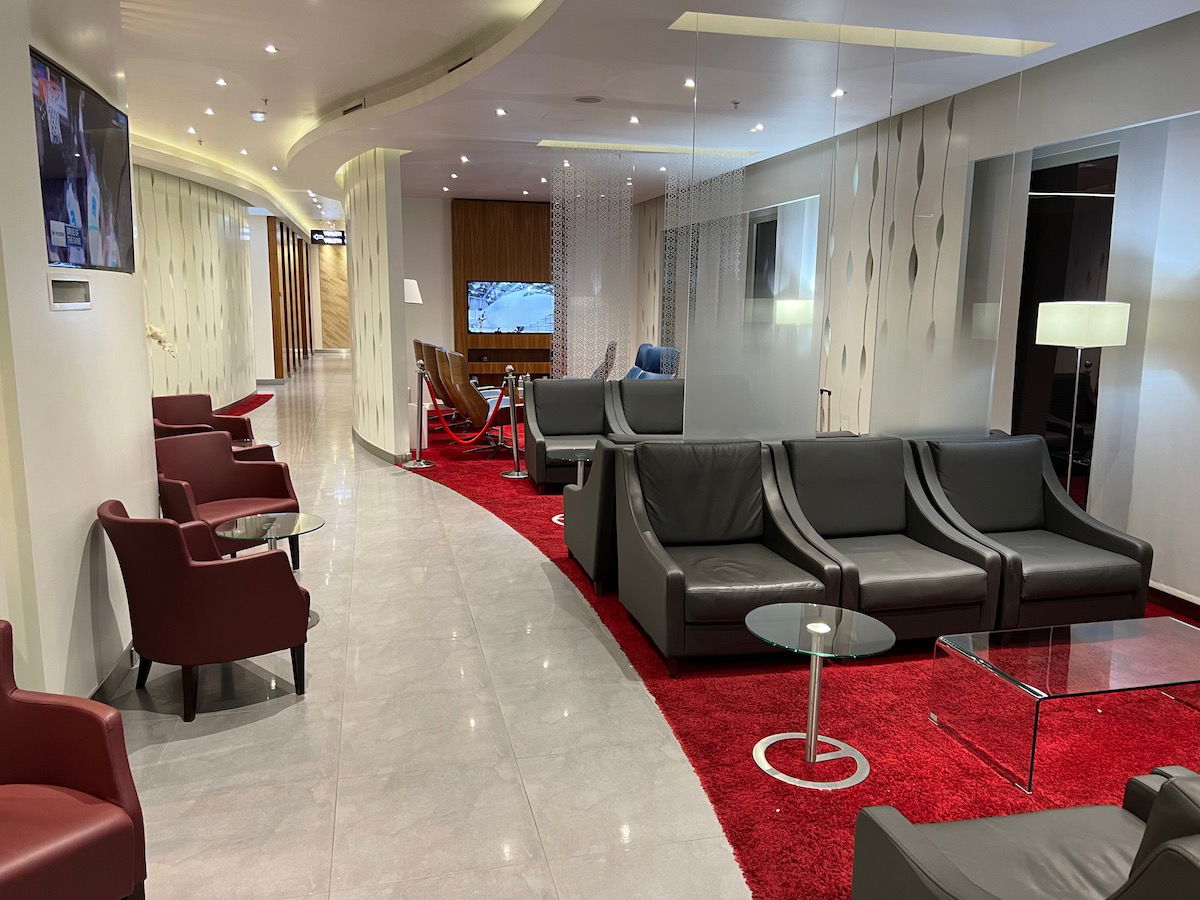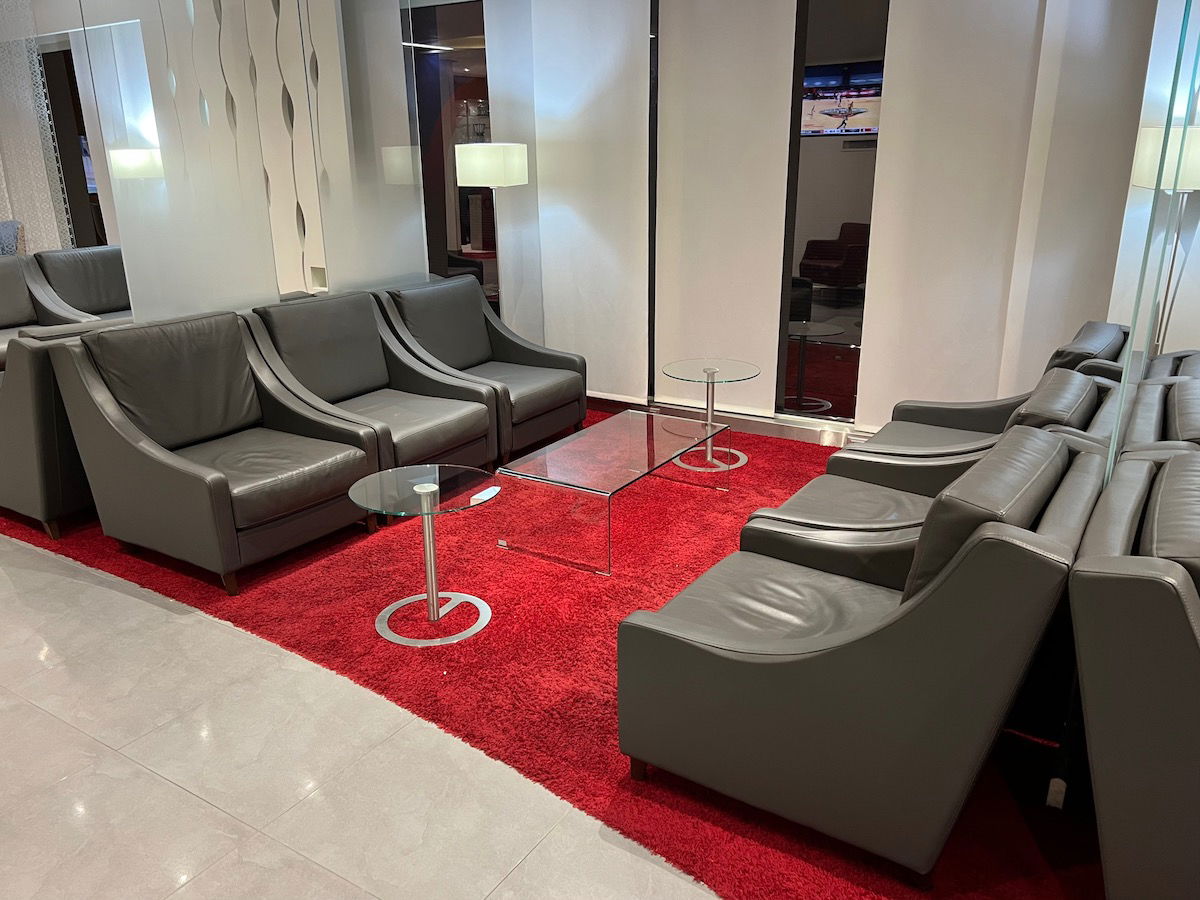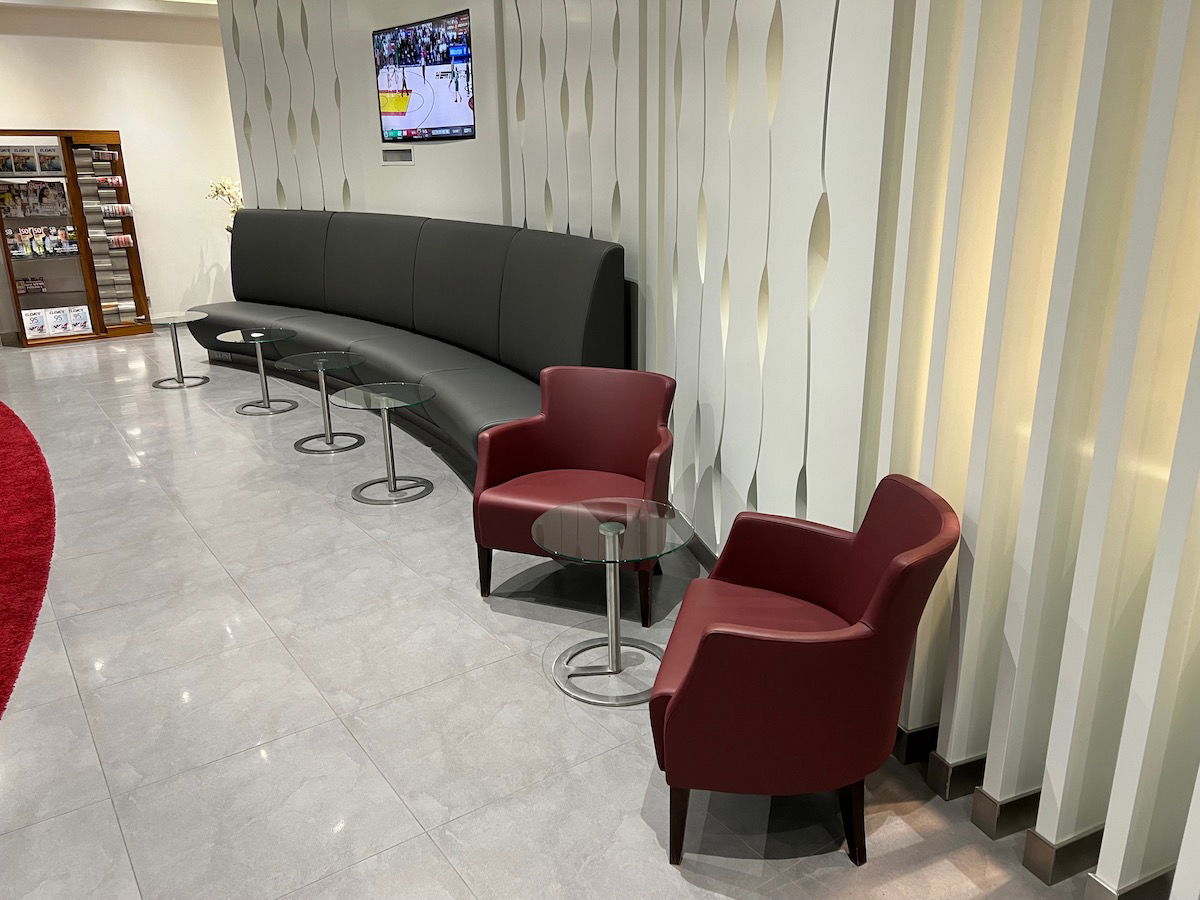 There's also an area that's roped off, though I'm not sure what that's used for?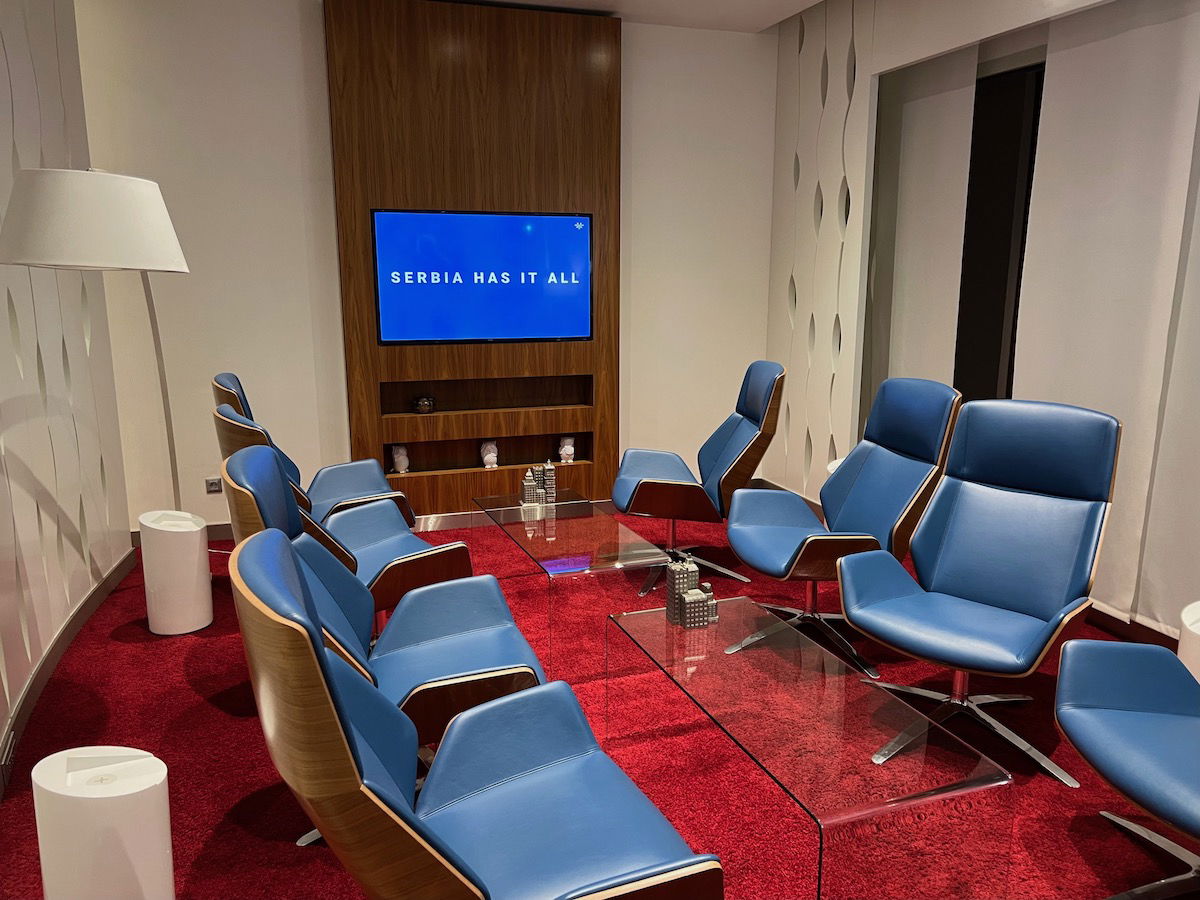 The other side of the lounge consists of the dining and bar area, and is a bit larger. This area has a bunch of dining tables, each with a bench along the wall, and then one chair.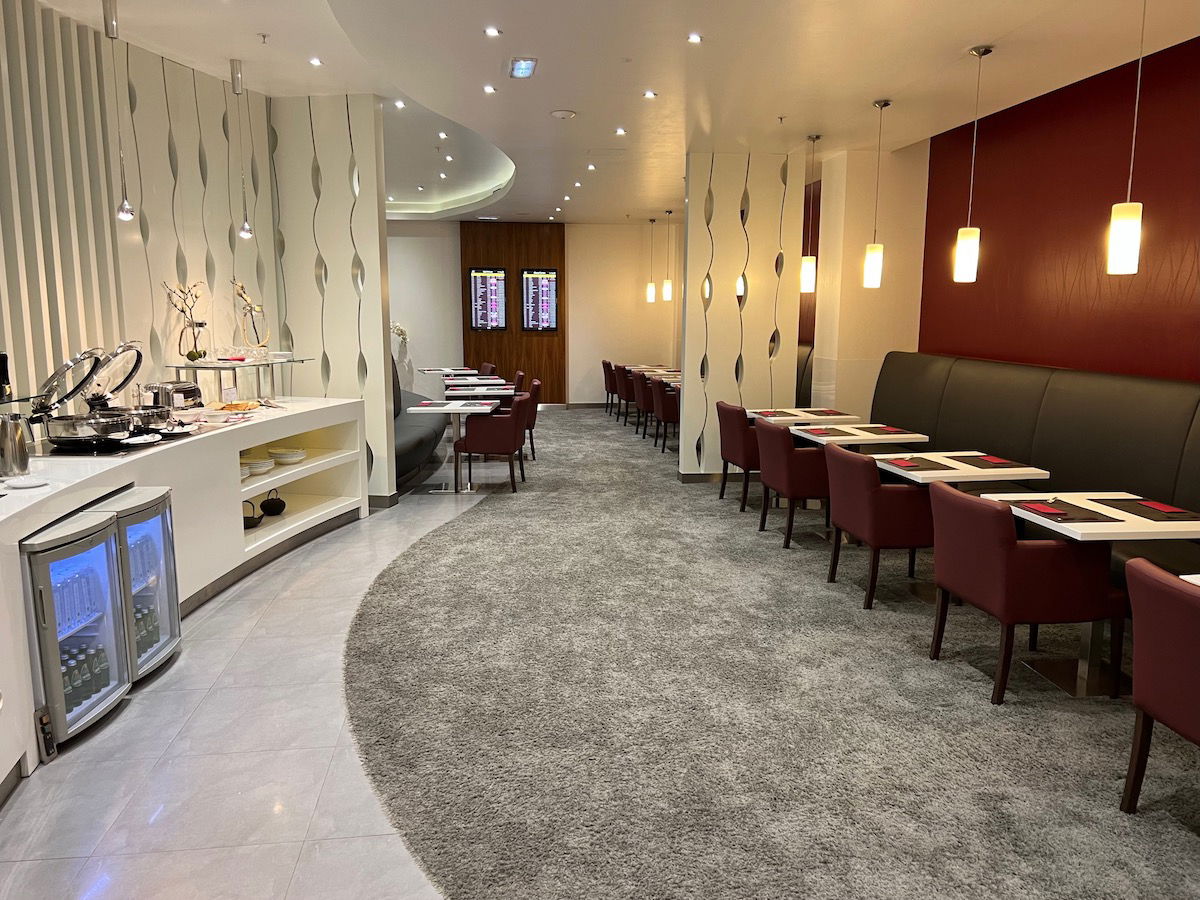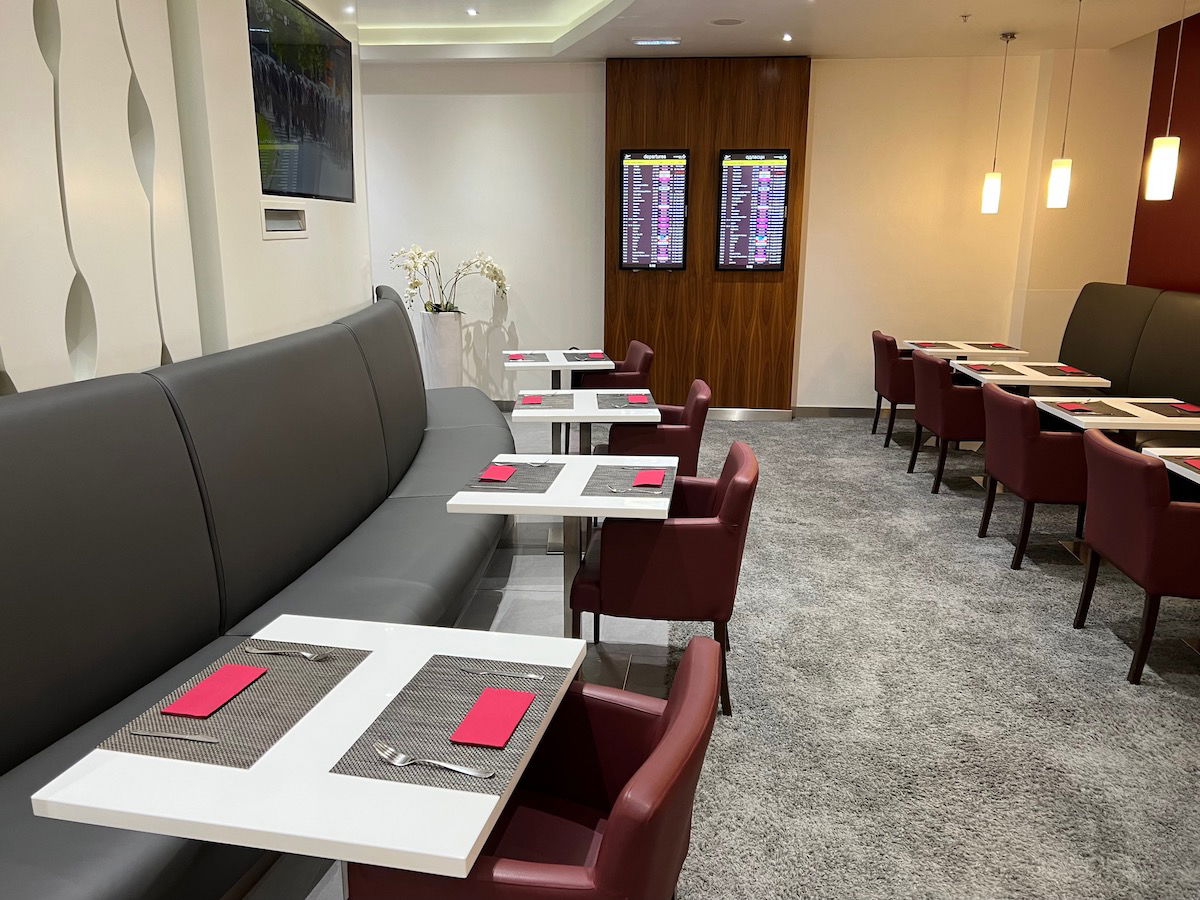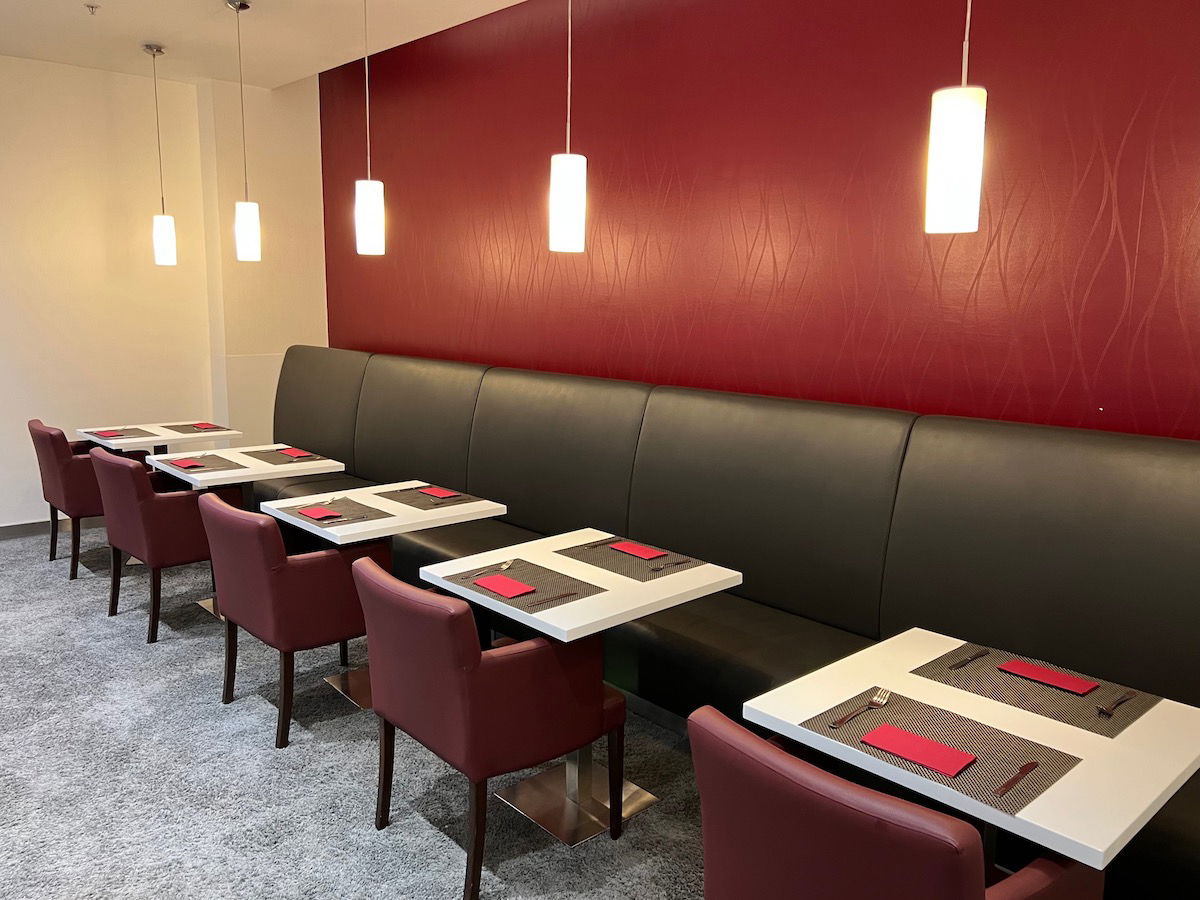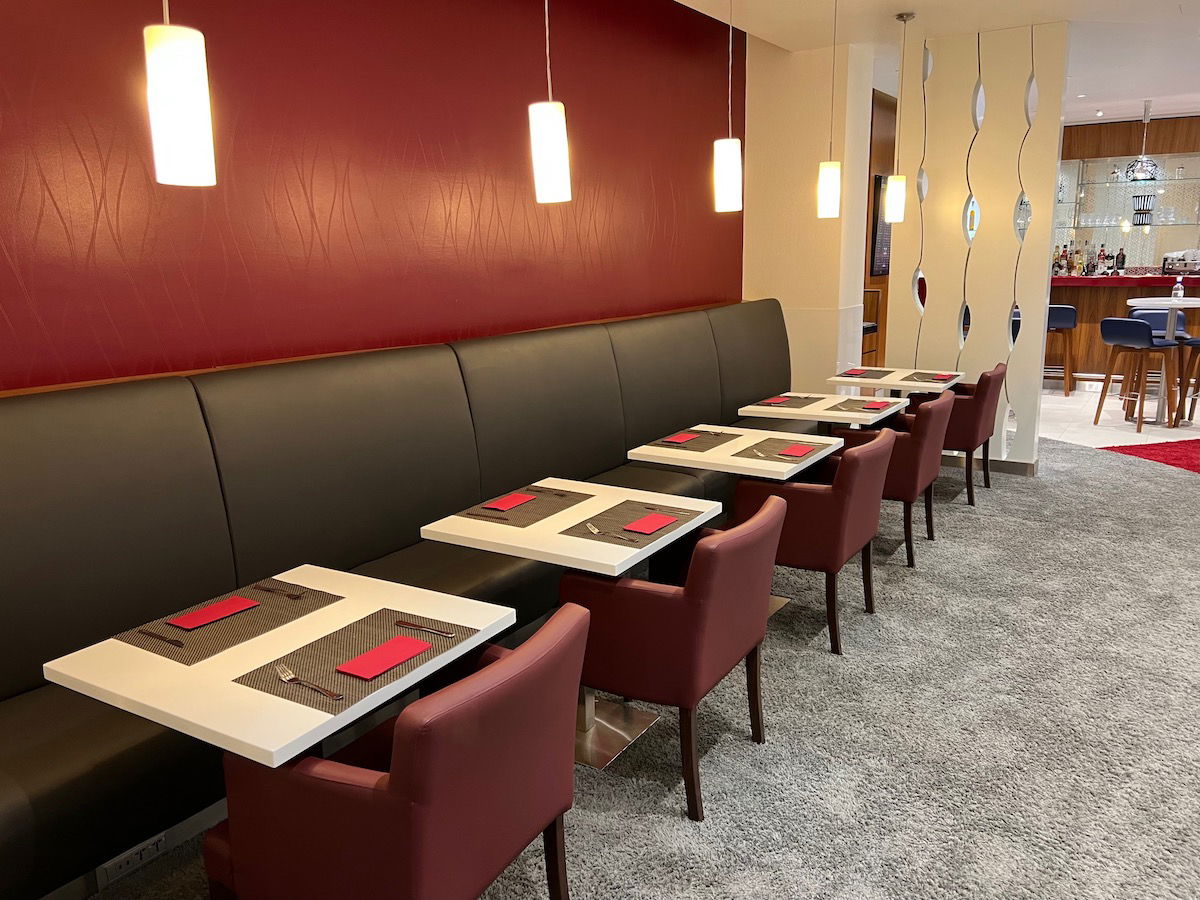 Then there's the bar area, which has a few high-top tables, plus seating at the actual bar counter.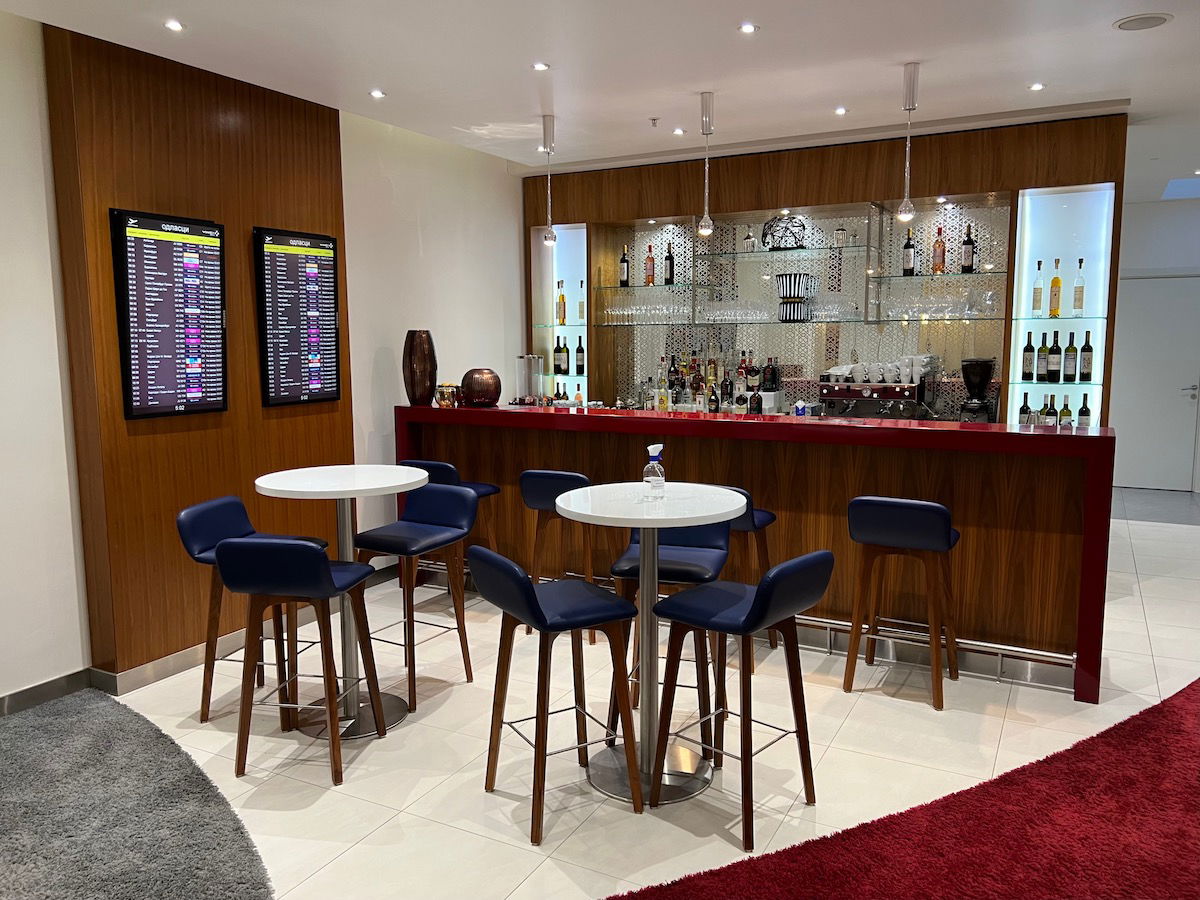 Physically it's a well maintained and modern space. I'd say the only real downside to the design is the lack of natural light and views, as there are none of those to speak of.
Air Serbia Lounge Belgrade food & drinks
Back in the day the Air Serbia Lounge Belgrade a had a menu you could order off of. Unfortunately I was told that's no longer available, so now you're limited to the (rather mediocre) buffet.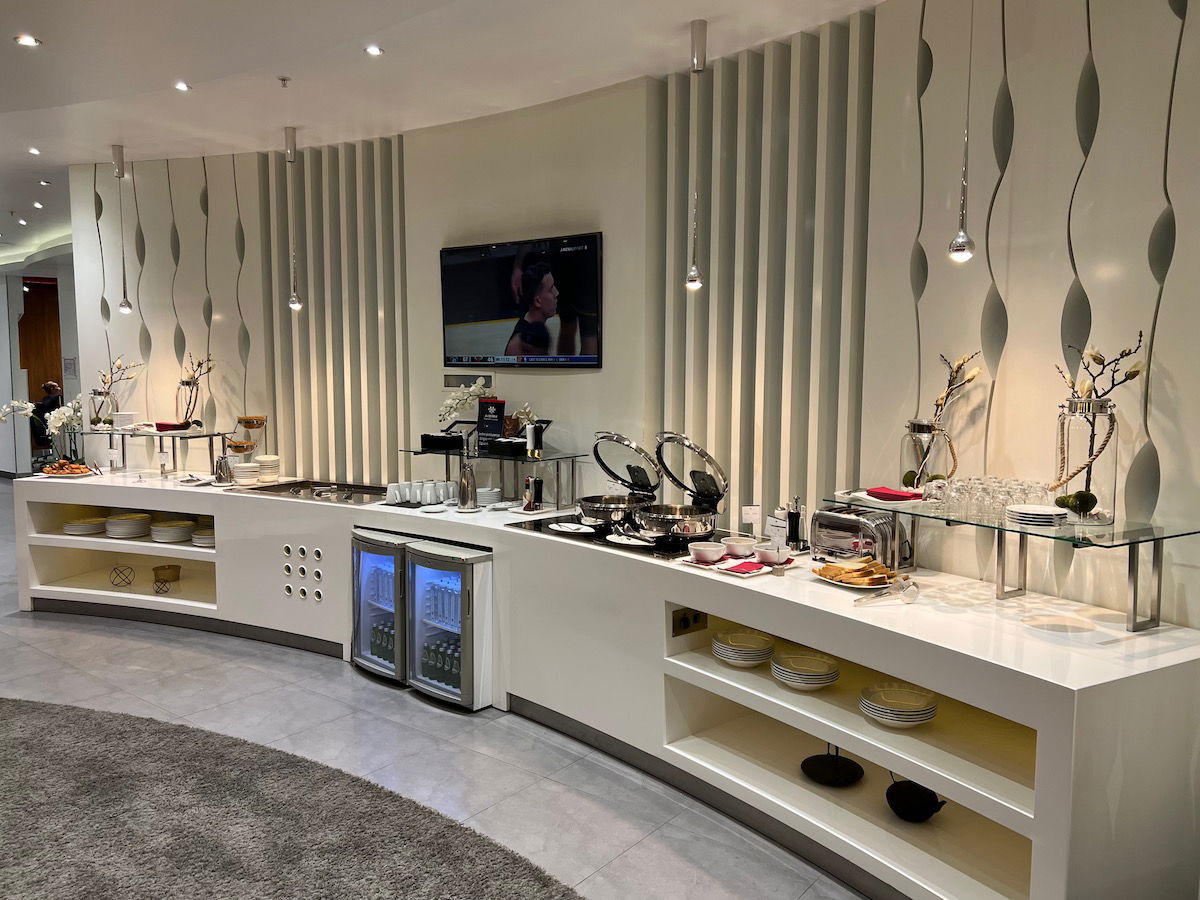 I'd say the food selection was perhaps slightly above average for a Priority Pass lounge, while slightly under average for a carrier's international flagship lounge. Options included toast, whole fruit, pastries and sandwiches, cereal, a few types of salads, sausage, and eggs.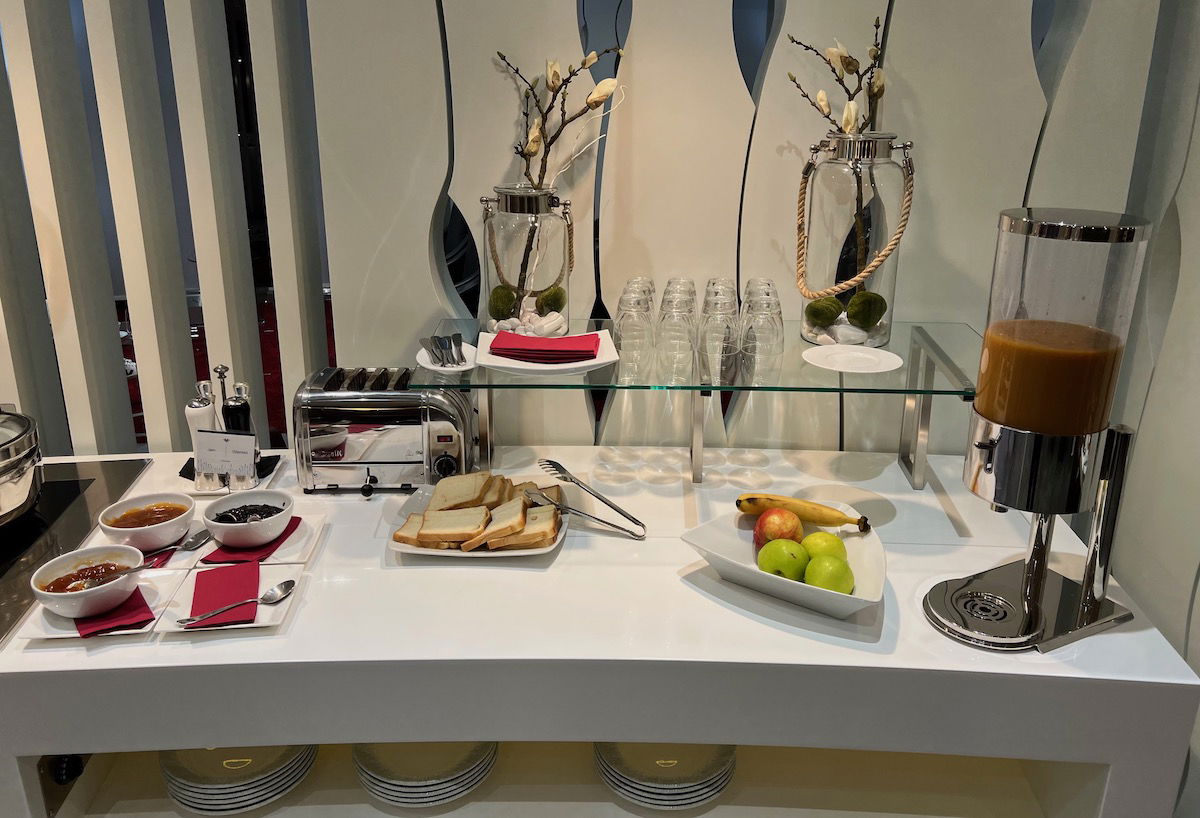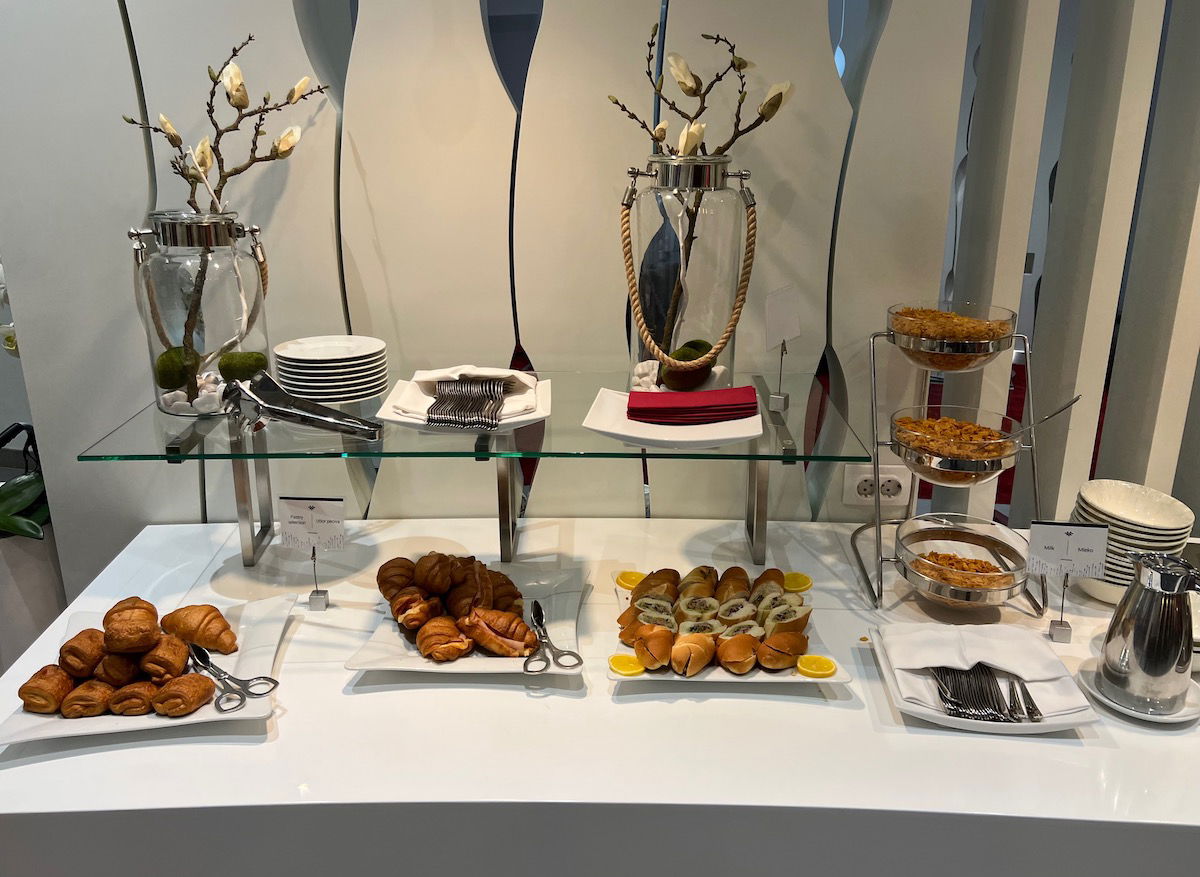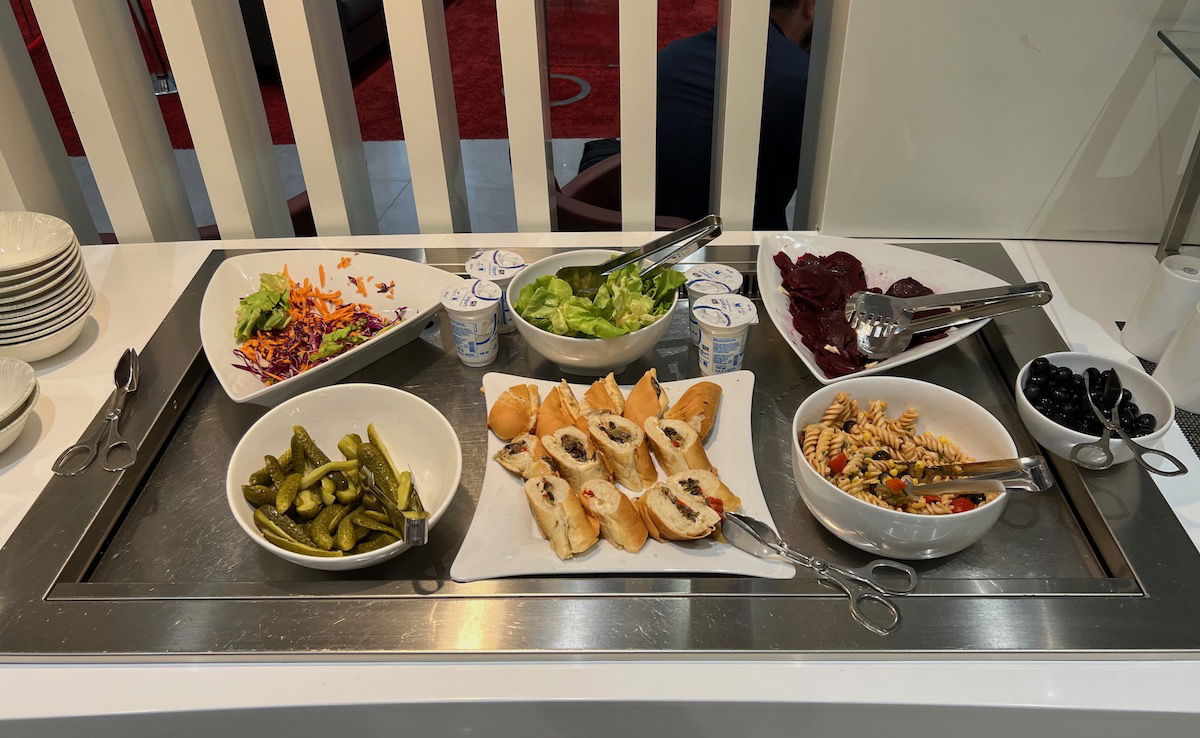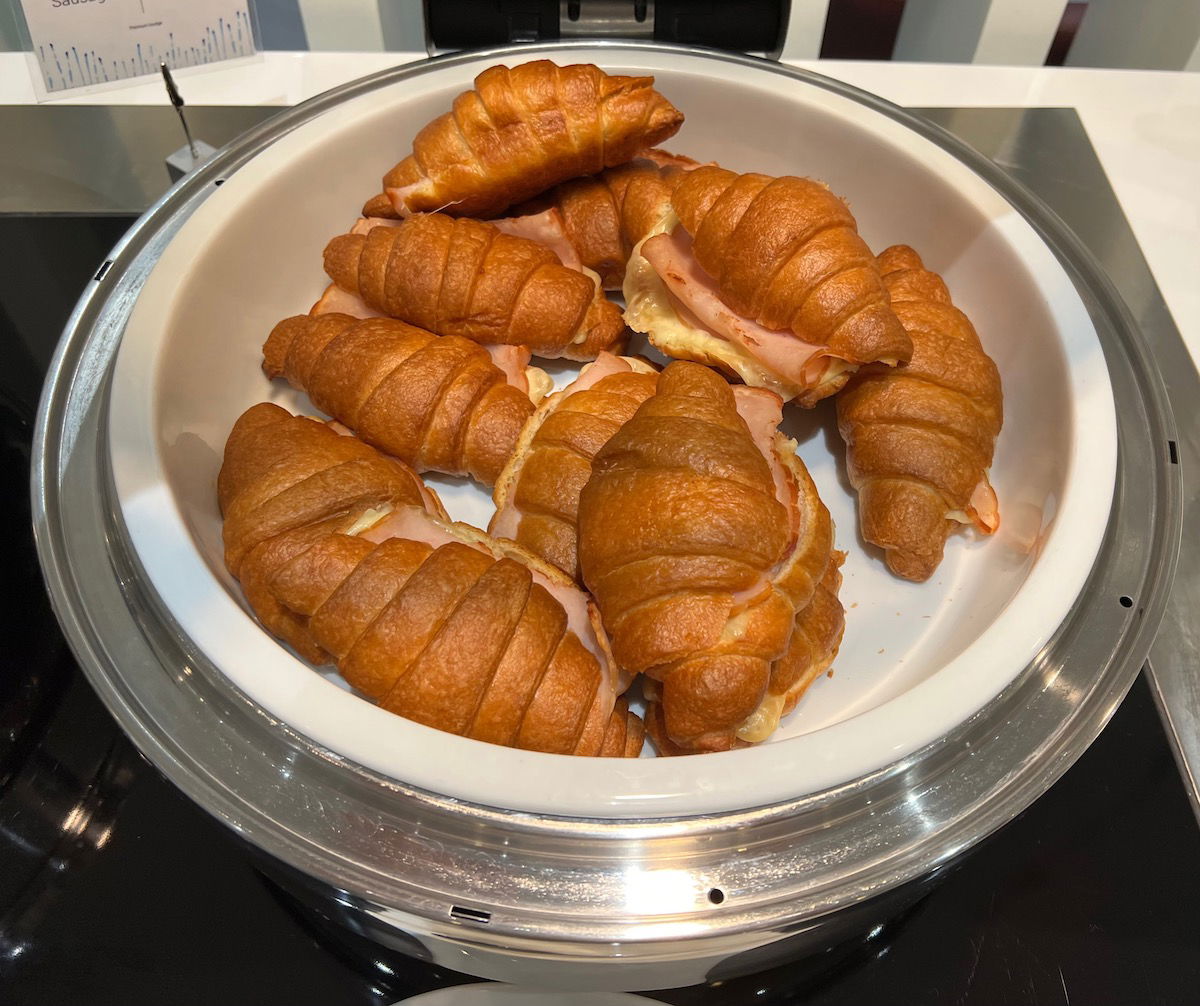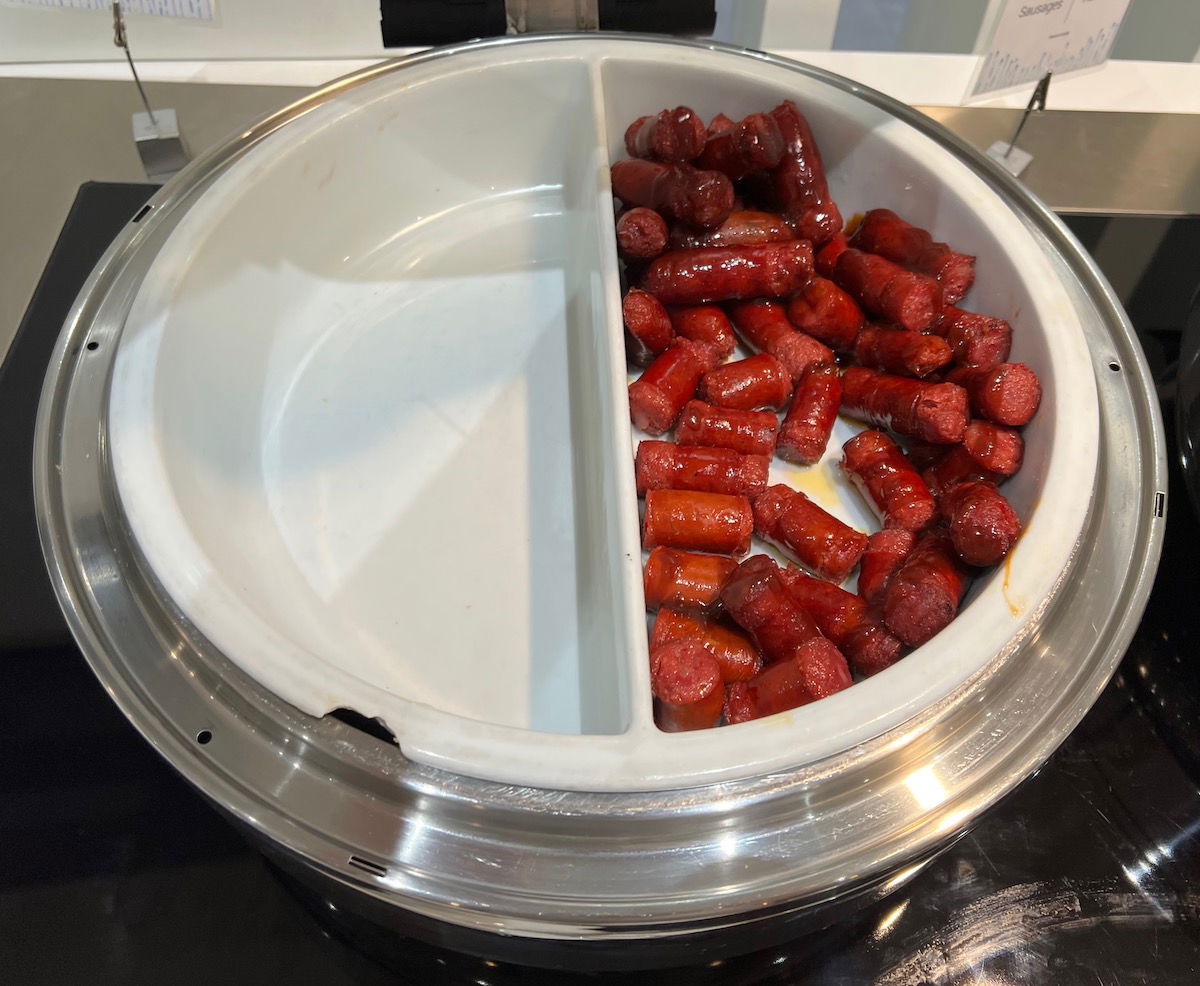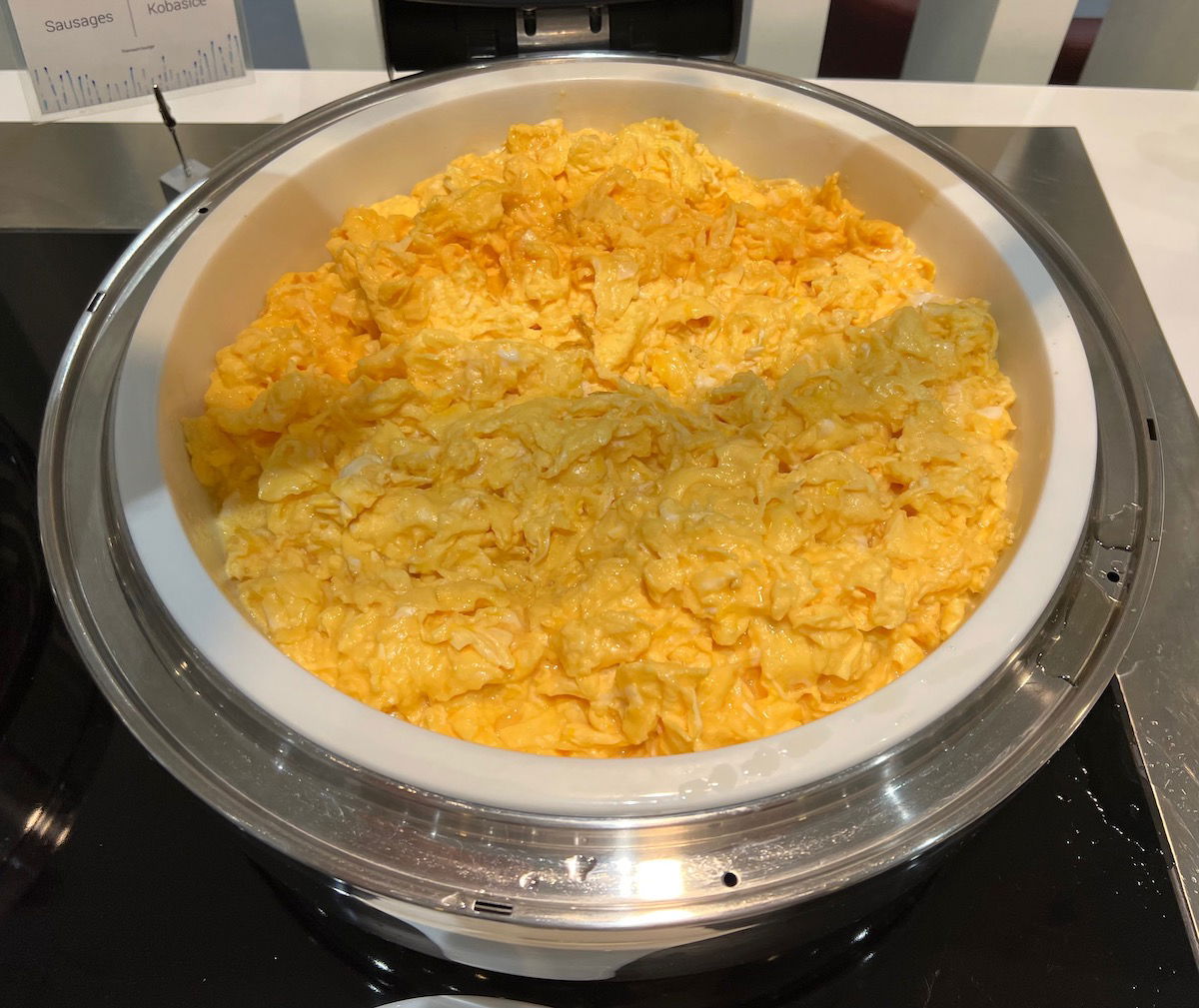 Underneath the buffet was a fridge with both still and sparkling water.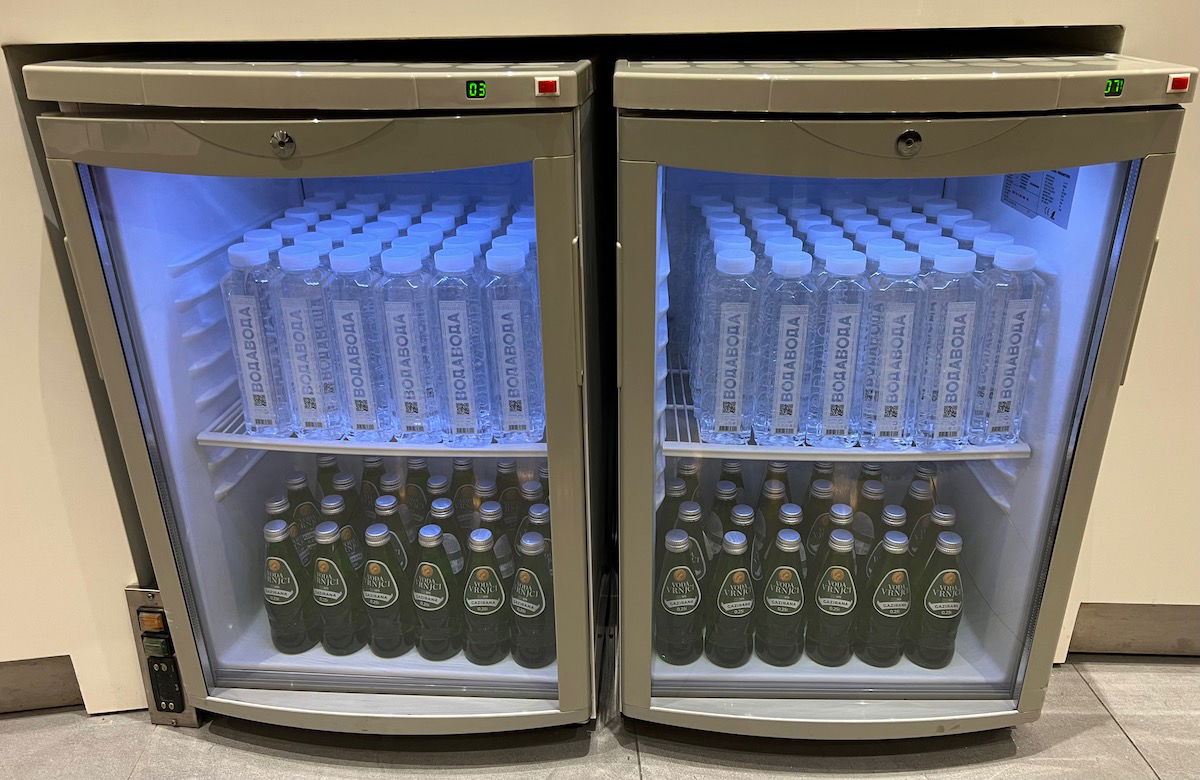 Most other drinks were available from the bar area. Air Serbia does a good job with promoting local products, so there was a selection of Serbian wines and rakia. There were also a variety of international spirits.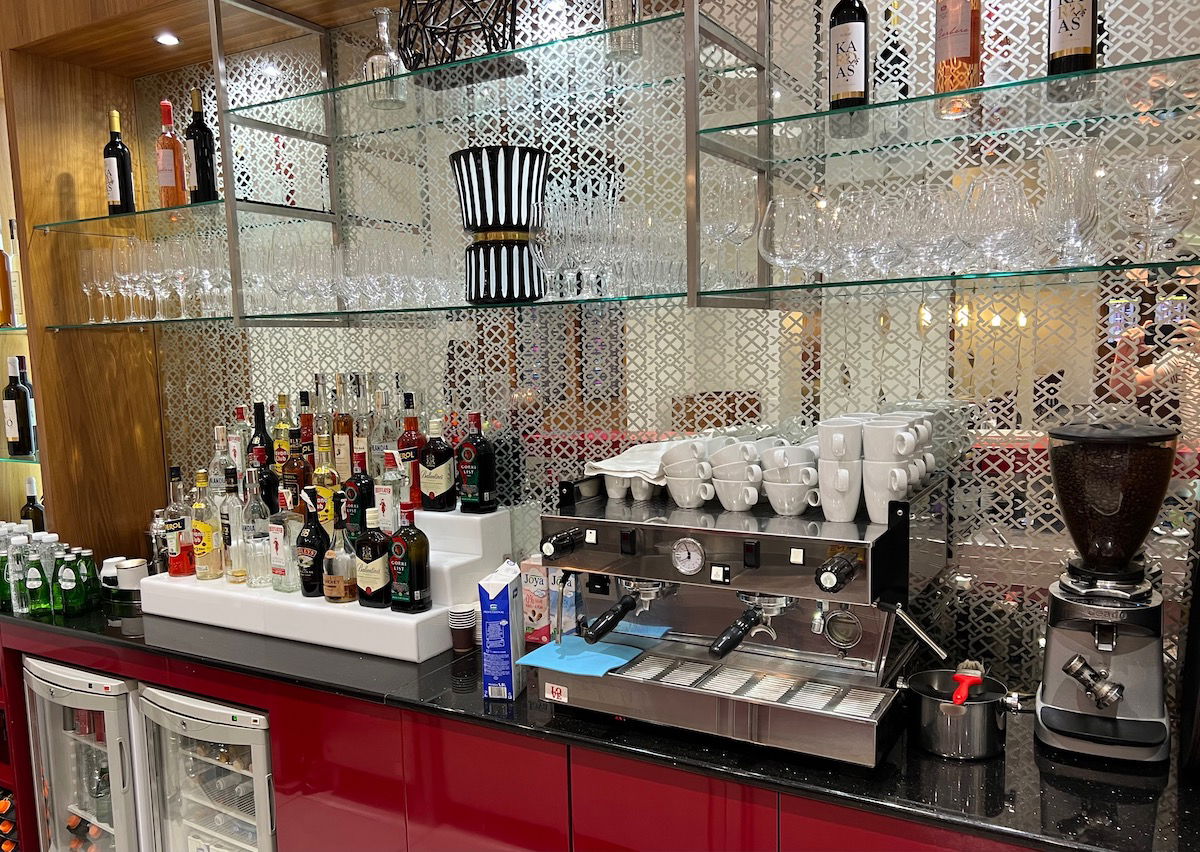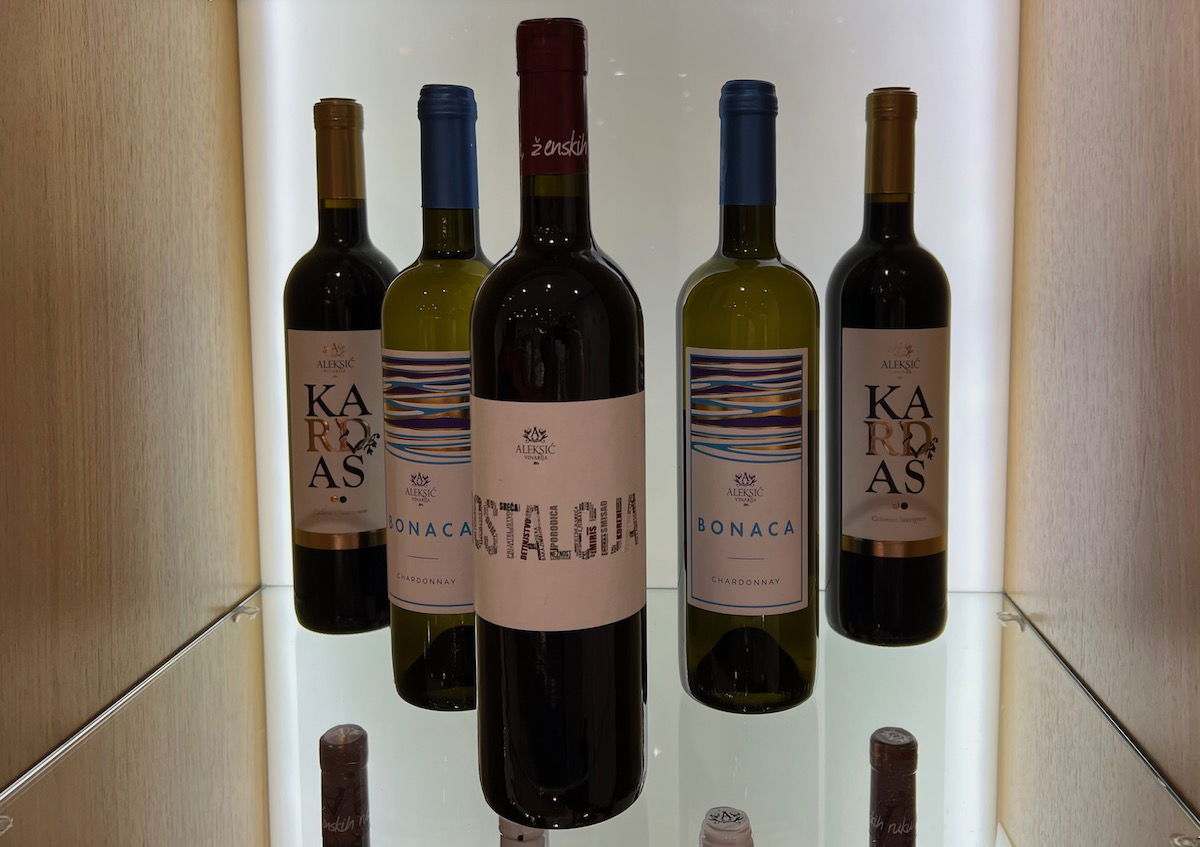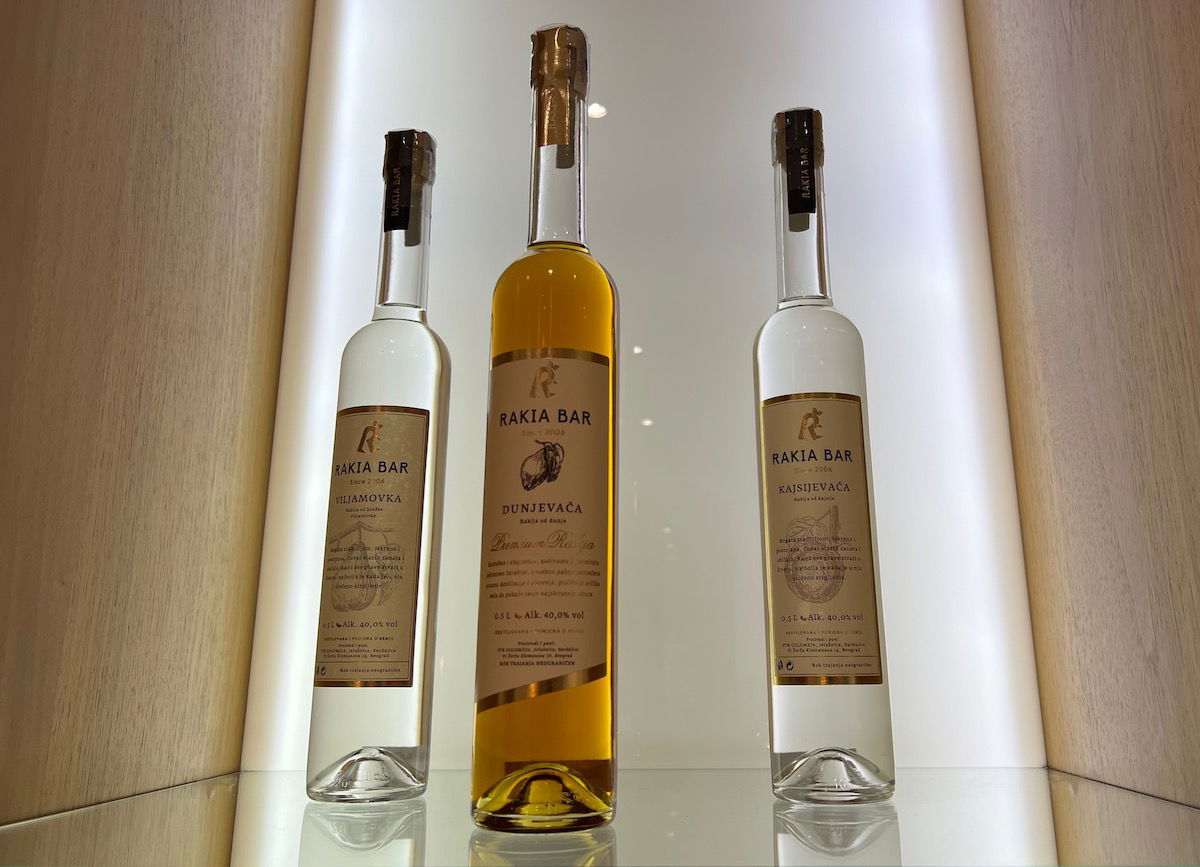 Probably my favorite part of the lounge is that they have the bartender make all the espresso-based drinks, and the cappuccinos here are excellent.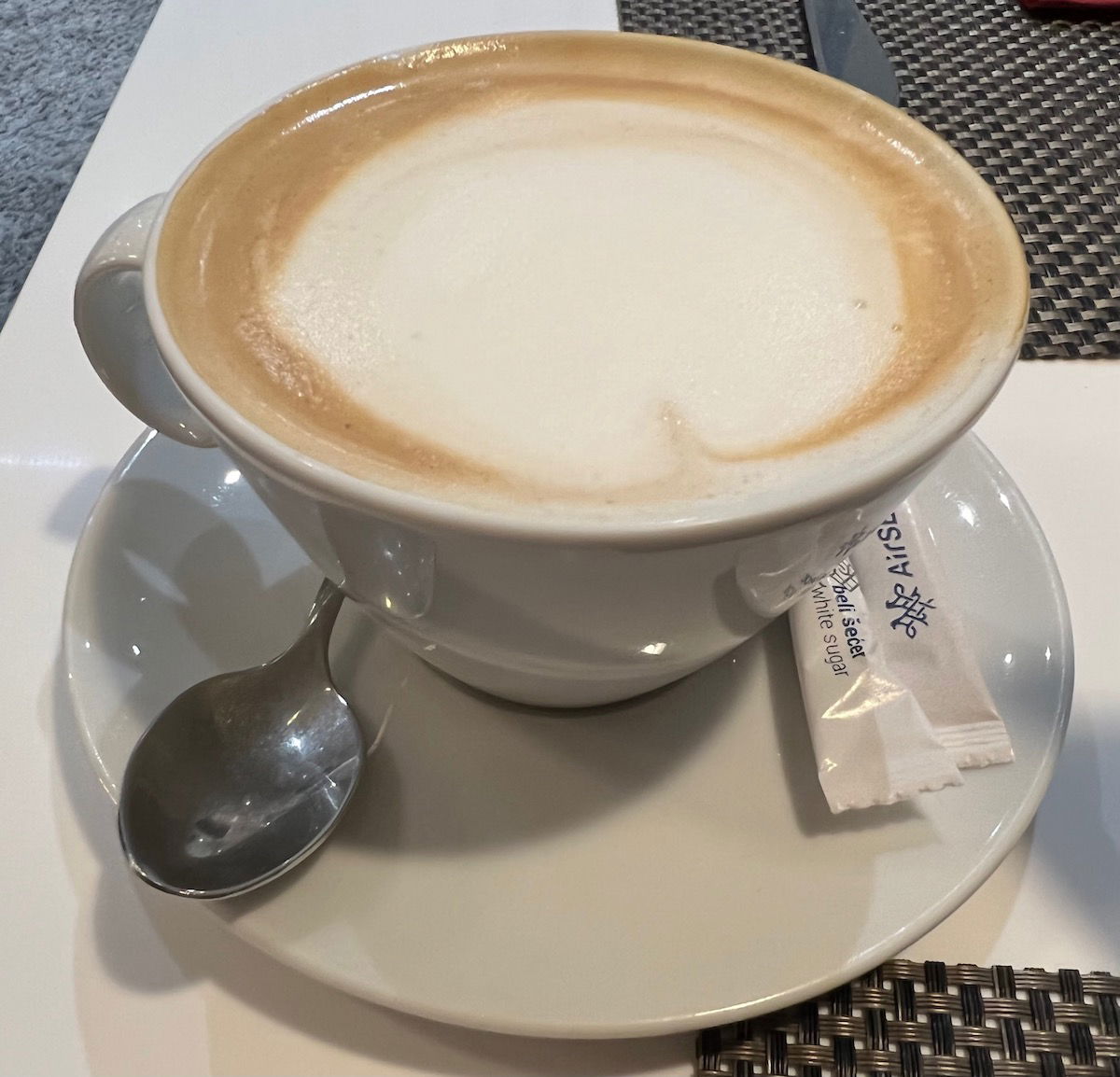 Air Serbia Lounge Belgrade bathrooms & shower
The Air Serbia Lounge has bathrooms, which are located in the very back, near the kitchen. The mens bathroom had two sinks, two urinals, and two stalls, and was well maintained.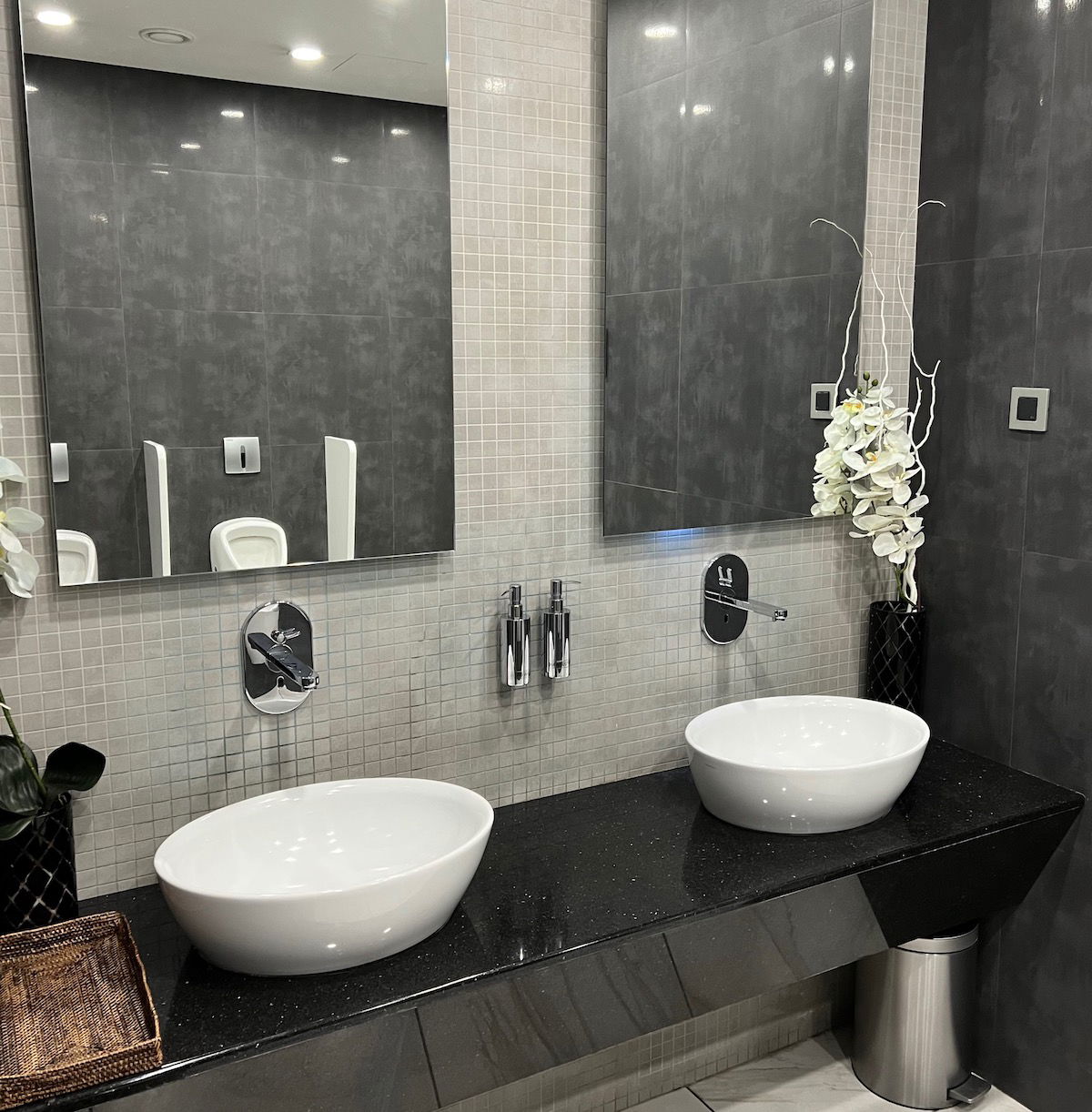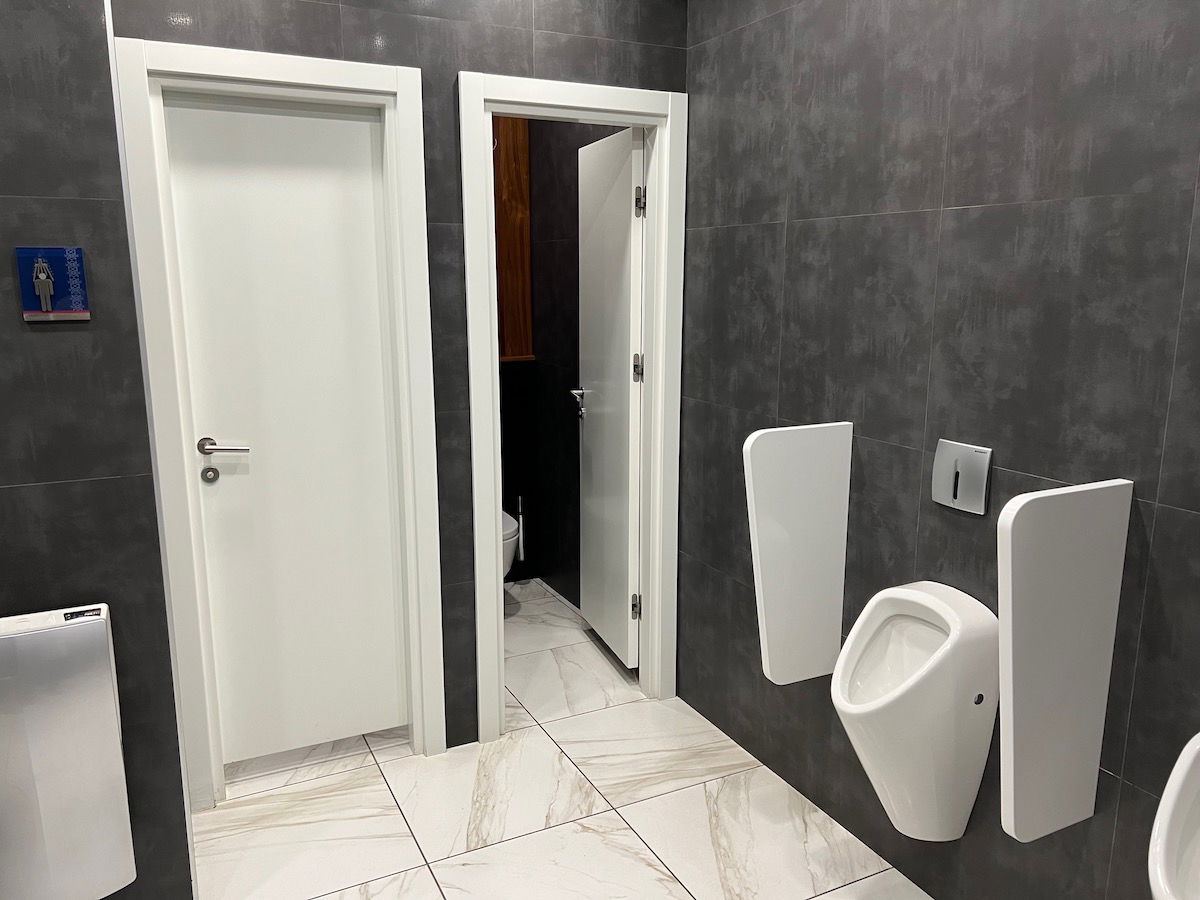 The lounge also has a shower suite, though I was told it wasn't available during my visit. I wasn't sure if that was temporary or permanent, but don't count on getting a shower here.
Bottom line
The Air Serbia Lounge Belgrade is pretty good, but not as good as before. The lounge has a nice design, and solid drinks, including cappuccinos in the morning and Serbian wine the rest of the day. The food selection wasn't anything to get excited about, especially with the lounge having seemingly discontinued a la carte dining.
Unfortunately the lounge wasn't what most stuck with me about the Air Serbia ground experience… more on that in the next installment.
If you've visited the Air Serbia Lounge Belgrade, what was your experience like?