In the interest of full disclosure, OMAAT earns a referral bonus for anyone that's approved through some of the below links. These are the best publicly available offers (terms apply) that we have found for each product or service. Opinions expressed here are the author's alone, not those of the bank, credit card issuer, airline, hotel chain, or product manufacturer/service provider, and have not been reviewed, approved or otherwise endorsed by any of these entities. Please check out
our advertiser policy
for further details about our partners, and thanks for your support!
For the last portion of my trip from Dubai back to the United States, I flew Air Serbia business class from Belgrade to New York.
While I had reviewed Air Serbia business class on this route before, there was a new angle. For years Air Serbia has only had a single Airbus A330. In 2021, Air Serbia got rid of its previous Airbus A330, and picked up a former Aeroflot Airbus A330, with different interiors, and allegedly with much better lease terms. For anyone curious, the plane has the registration code YU-ARB, and it's a roughly 14 year old jet that started flying in 2008.
I was curious to see what Air Serbia's "new" business class product was like, and to see how the soft product was holding up.
How I booked my Air Serbia business class ticket
I booked my Air Serbia business class ticket using Air Canada Aeroplan points. Aeroplan has more airline partners than any other airline loyalty program, and that includes a partnership with Air Serbia. Fortunately Air Serbia is great about making business class award seats available on transatlantic flights.
I booked the following for 70,000 Aeroplan points plus $71.46 in taxes & fees:
07/05 JU500 Belgrade to New York departing 7:50AM arriving 11:50AM
Aeroplan points are easy to come by, as the program partners with American Express Membership Rewards, Capital One, and Chase Ultimate Rewards. On top of that, in the United States, there's the Aeroplan® Credit Card (review), which is pretty lucrative.
Air Serbia business class check-in, lounge, and boarding
In previous installments I reviewed the Air Serbia Premium Lounge Belgrade, and also my frustration with Air Serbia's transfer desk requirement for mobile boarding passes.
Even though the Air Serbia flight to New York was scheduled to depart at 7:50AM, that ended up being the time when boarding actually started, with no announcement about the delay. I was excited to finally board!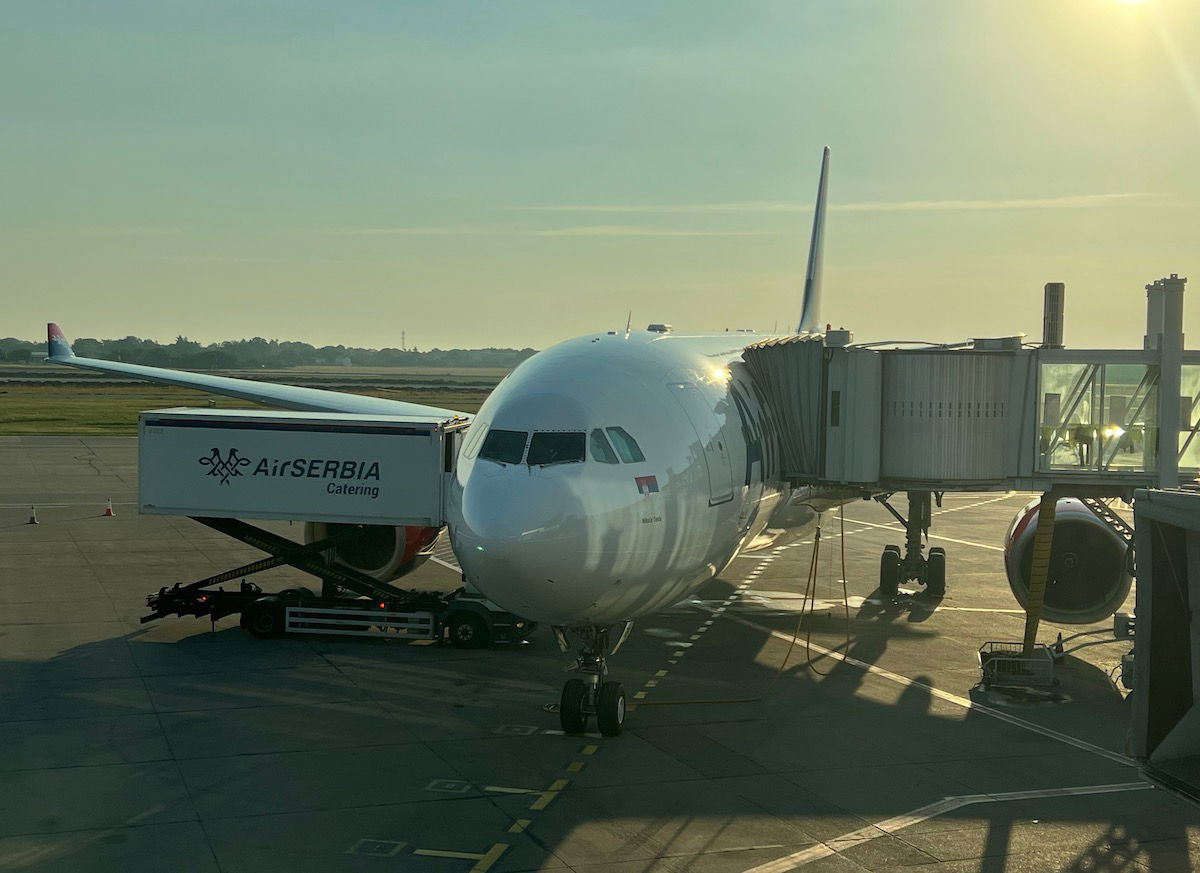 Air Serbia A330 business class cabin & seats
While Air Serbia's "old" Airbus A330 had herringbone seats, the "new" A330 has a staggered configuration in business class. The cabin has a total of 21 seats, with either four or five seats per row. Interestingly this wasn't the business class cabin that Aeroflot had on the plane, so I wonder where Air Serbia got these seats (they're mighty similar to Aer Lingus' A330 business class).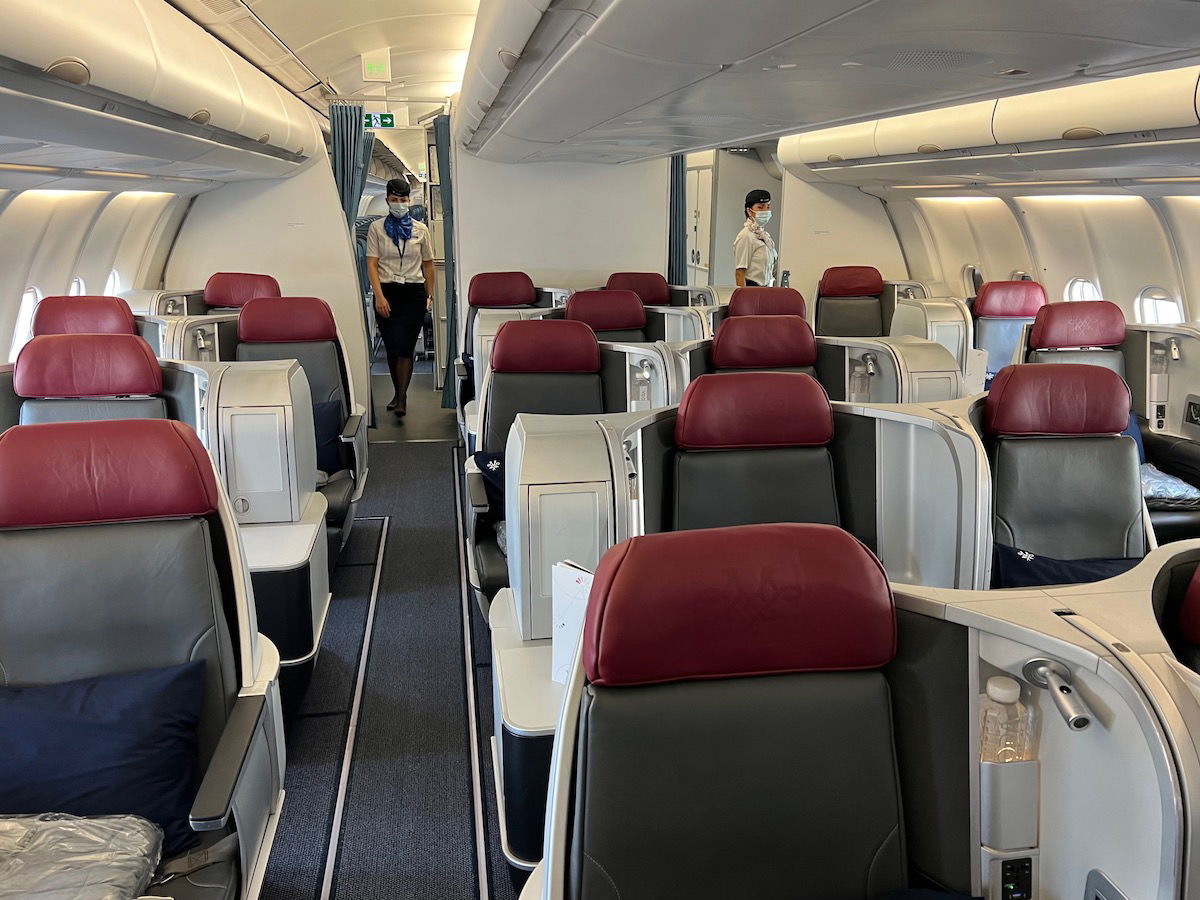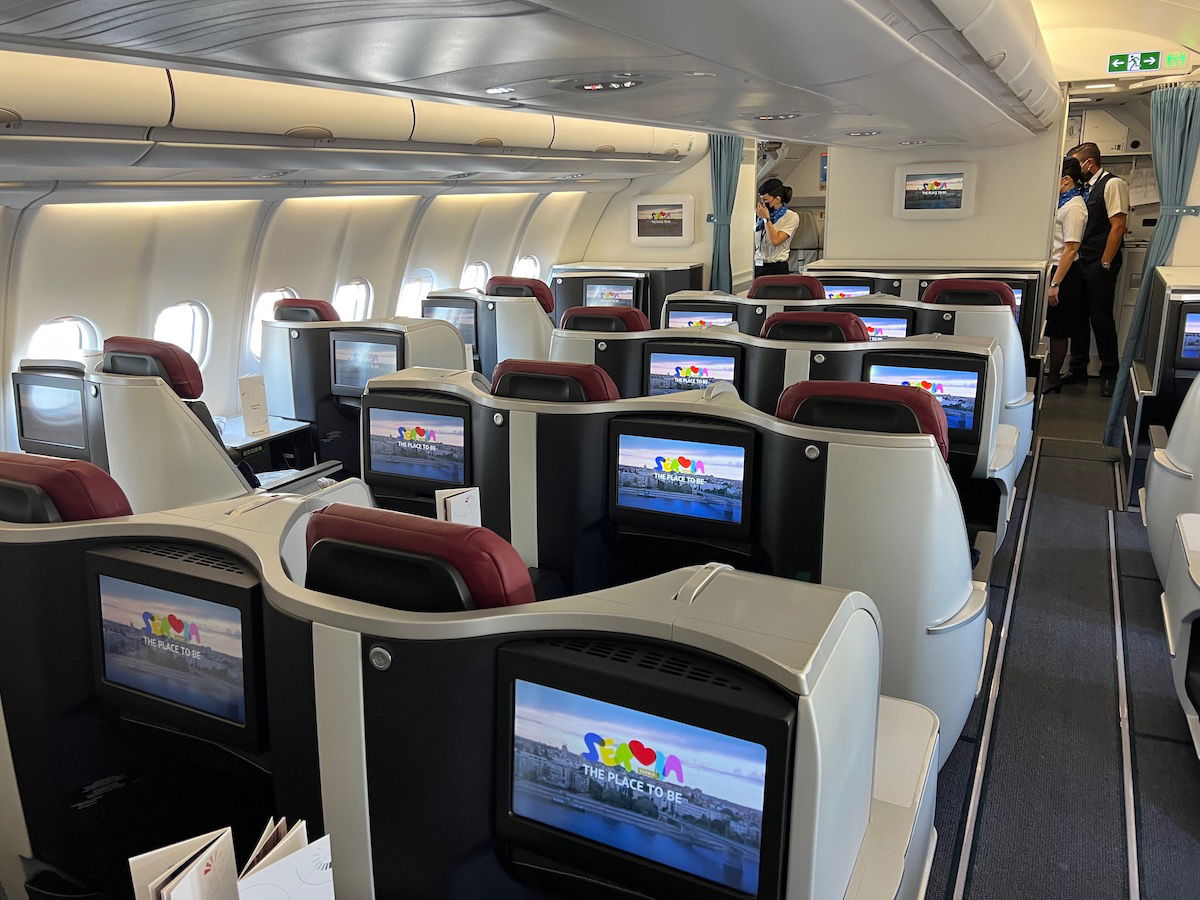 As far as the configuration goes, along the left side of the cabin were five rows, with one seat per row in a pretty typical staggered layout. Seats alternated between being closer to the window and being closer to the aisle. If you're sitting on the left side of the plane, ideally you'll want to be in an odd numbered row (row three or five), so that you're closer to the window.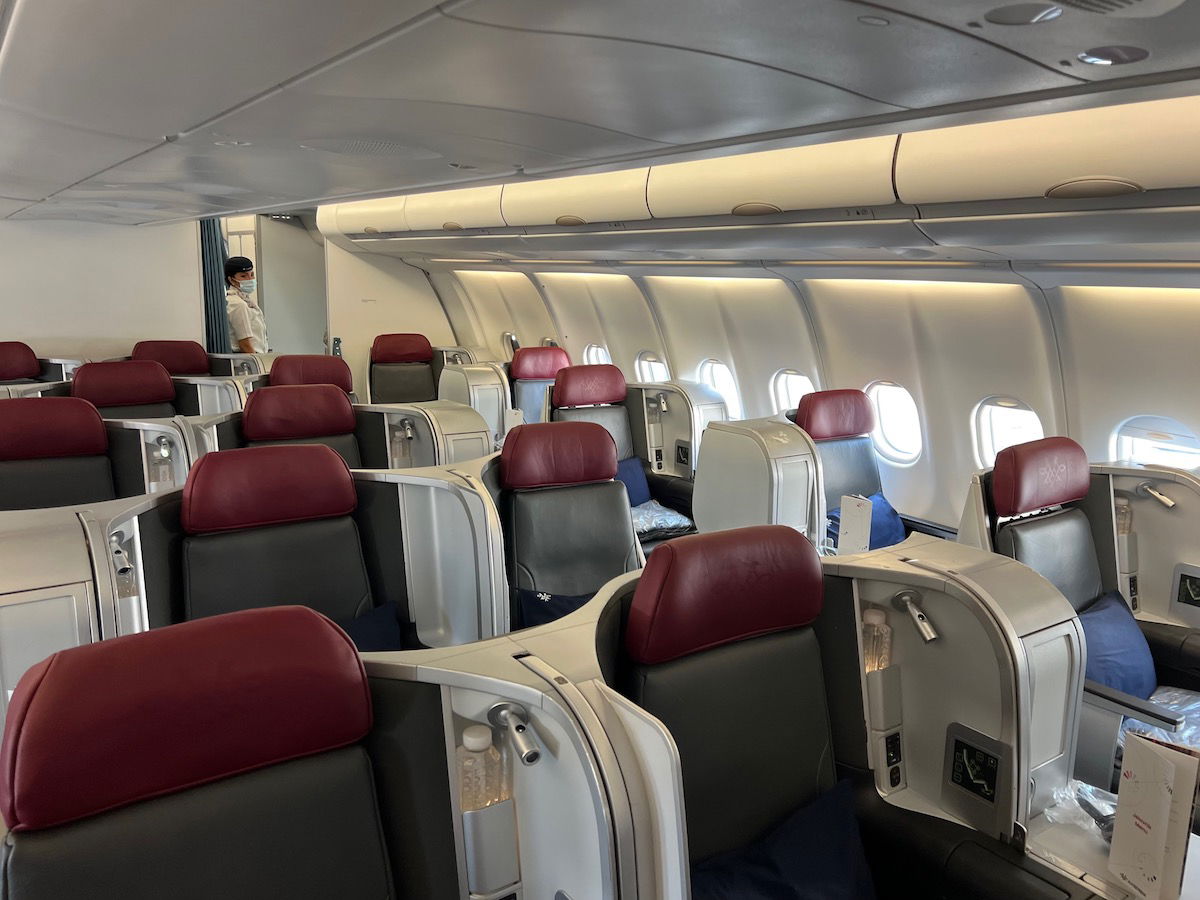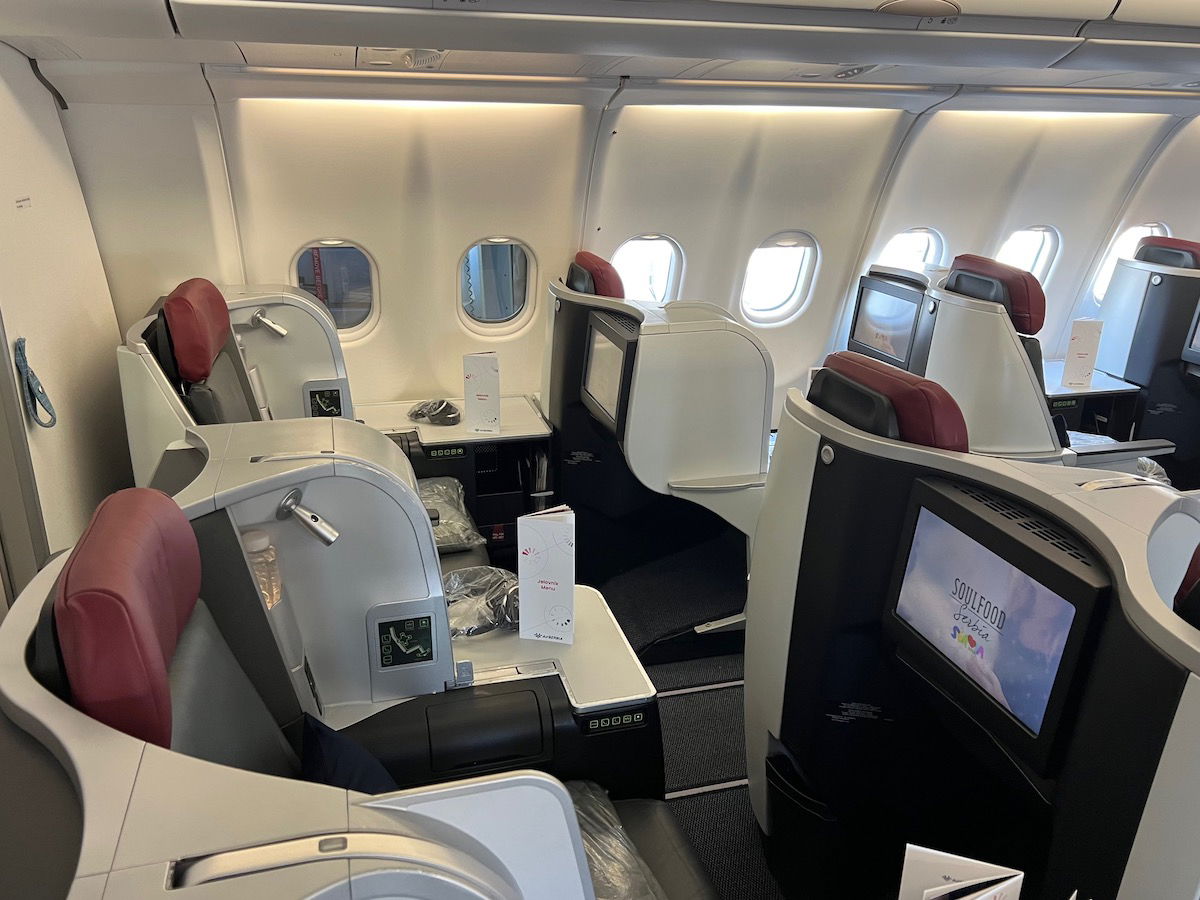 Along the right side of the cabin were four rows, with a different layout. Rows two and four each had a pair of seats, while rows three and five had "throne" seats, where there's a single seat roughly in the middle of the seats in front and behind.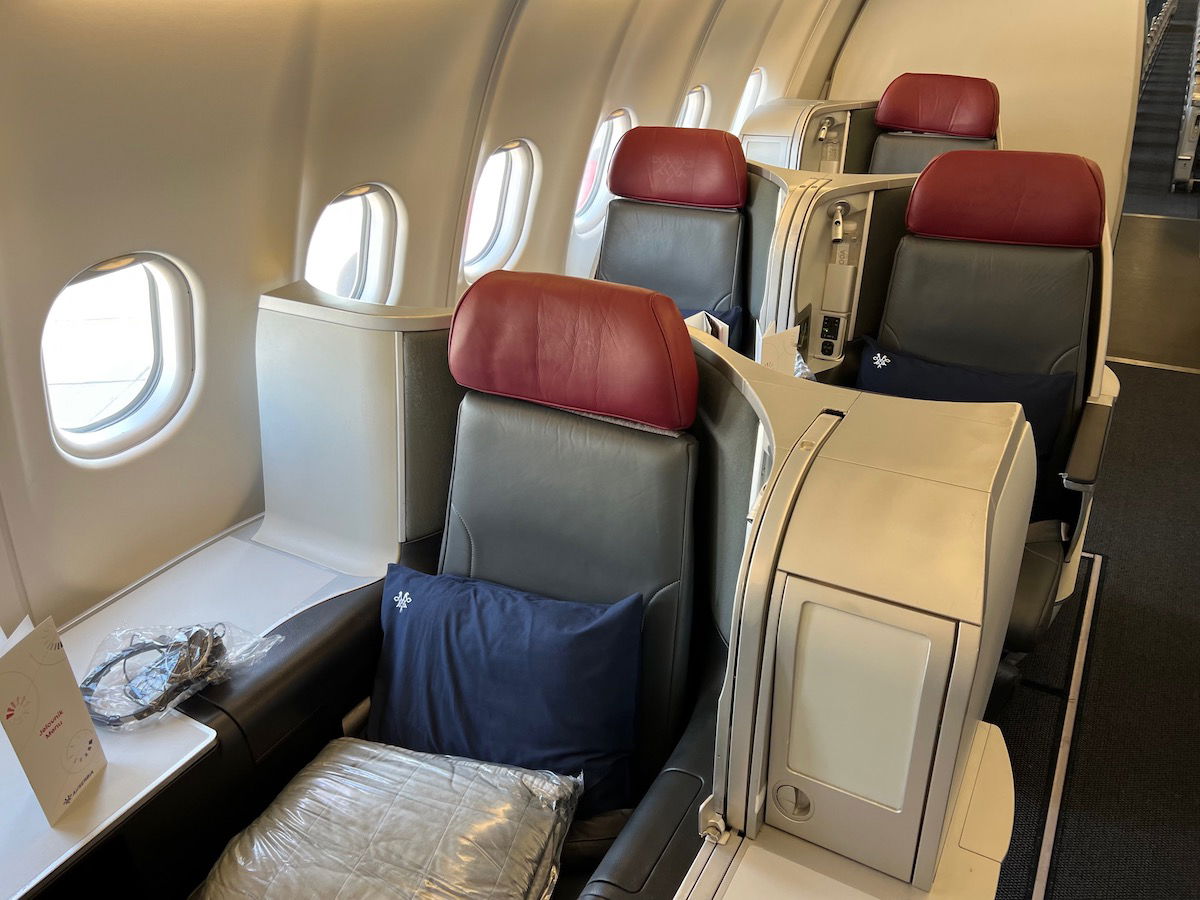 Then in the center section there were five rows with two seats each, and these were also staggered. These are ideal if you're traveling with someone and both want direct aisle access (though personally I'd rather select one of the pairs along the windows, to be able to look outside).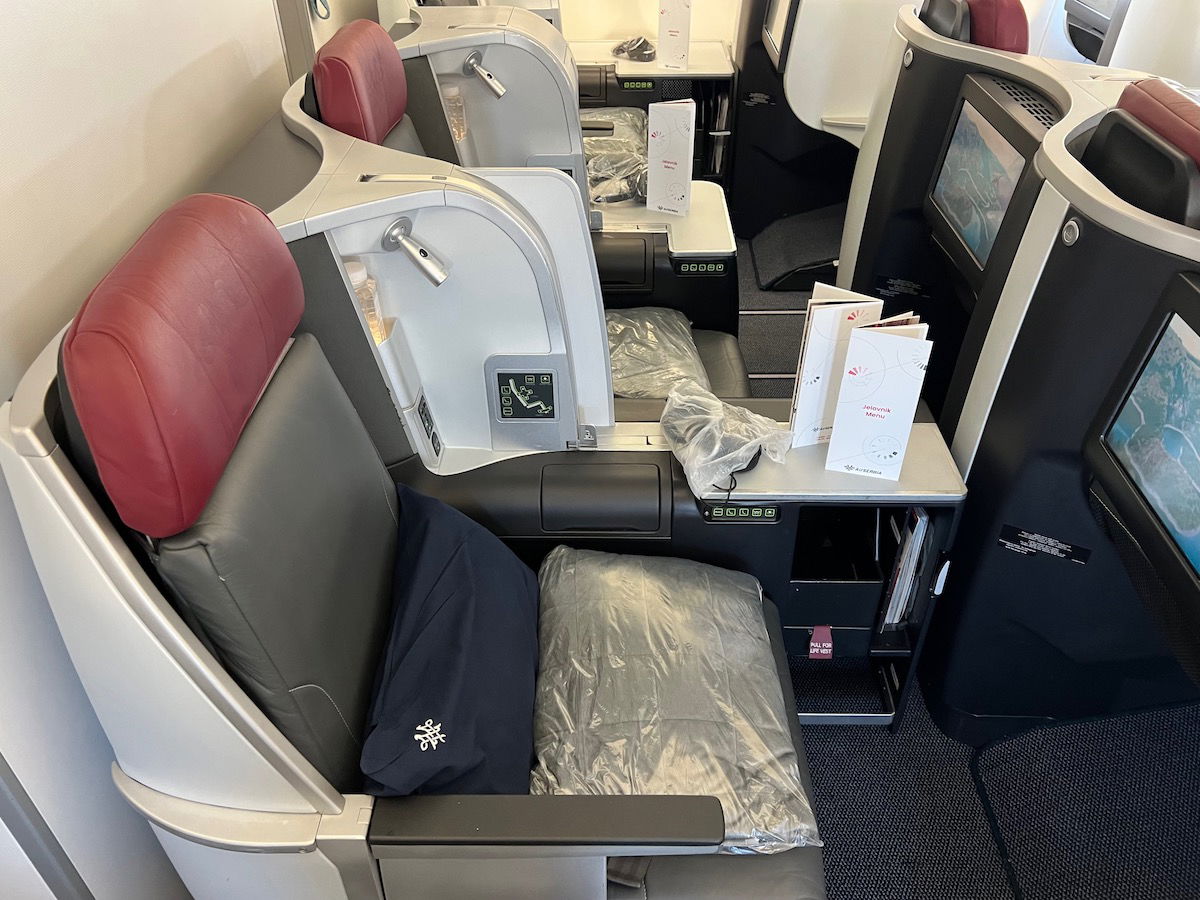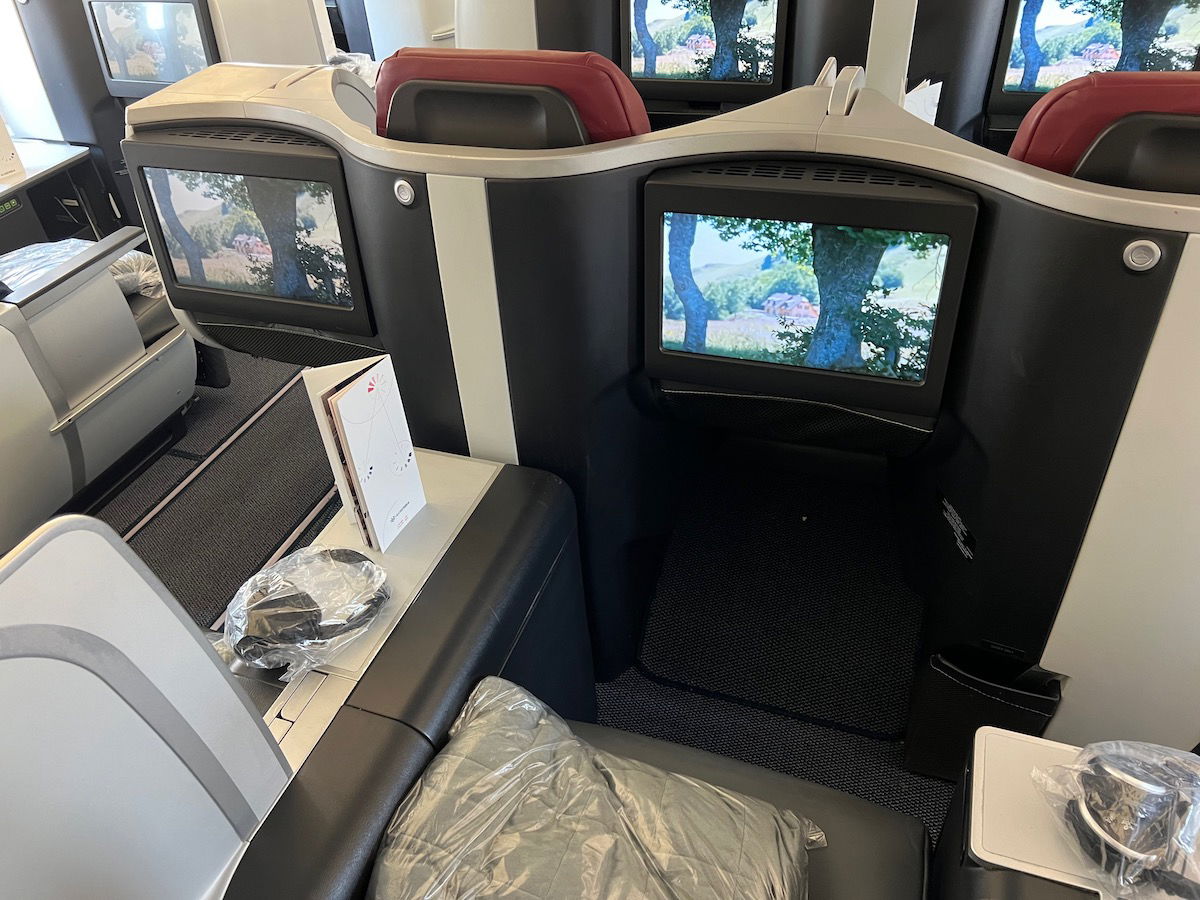 I had assigned myself seat 5K, which I thought was a "throne" seat in the last row on the right. However, this only kind of turned out to be a throne seat, as the seat didn't have a console on the left side, but rather instead had a much bigger aisle. Does anyone know why it's designed this way? Did Air Serbia just not purchase the right number of "throne" seats when reconfiguring this plane, did this used to be a crew rest, or what?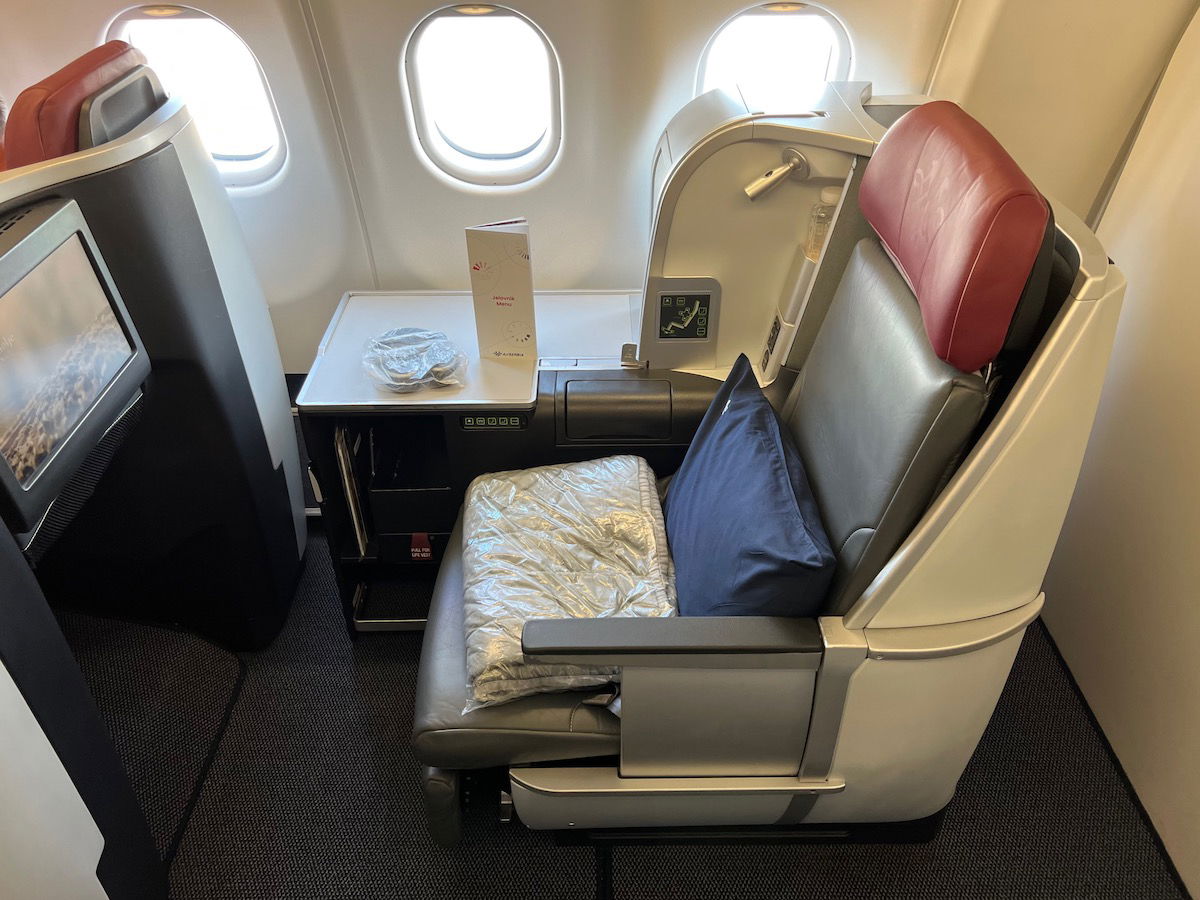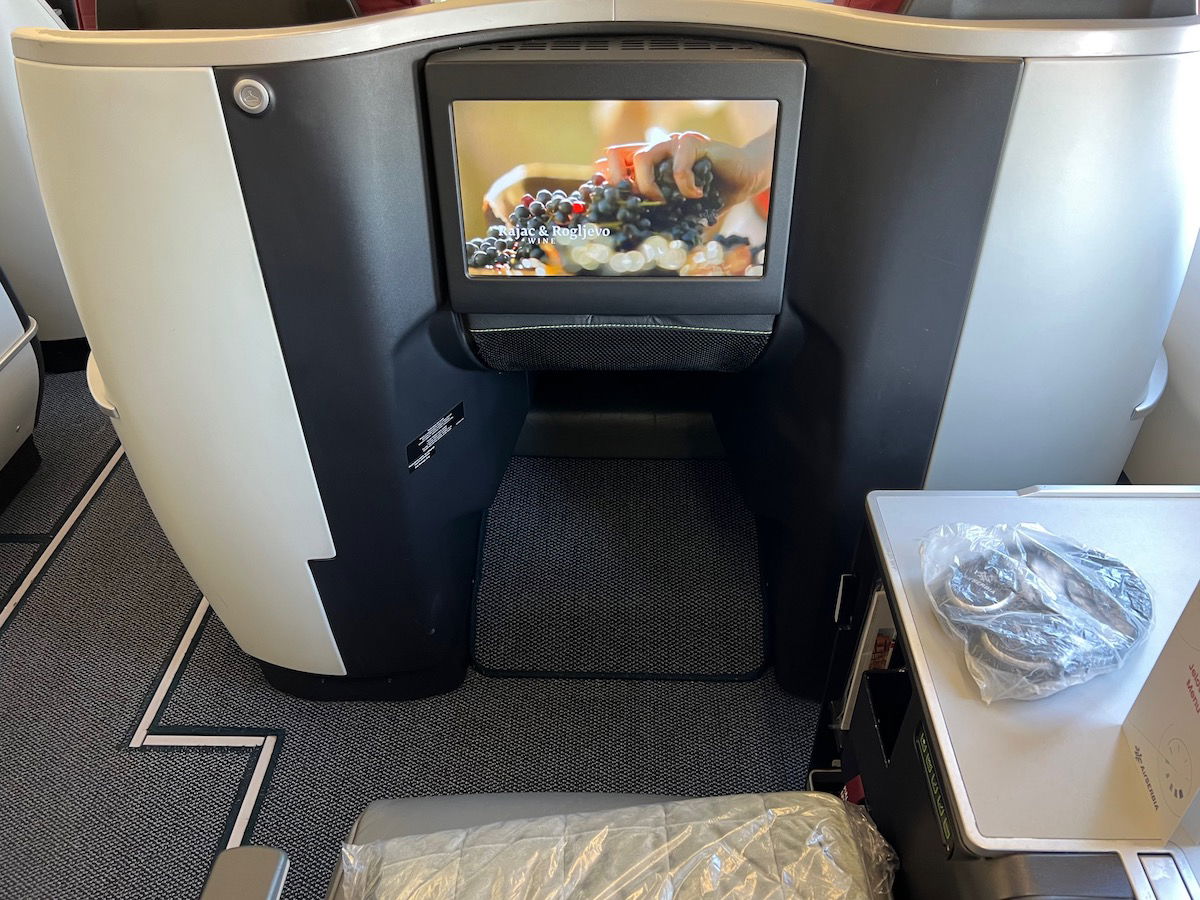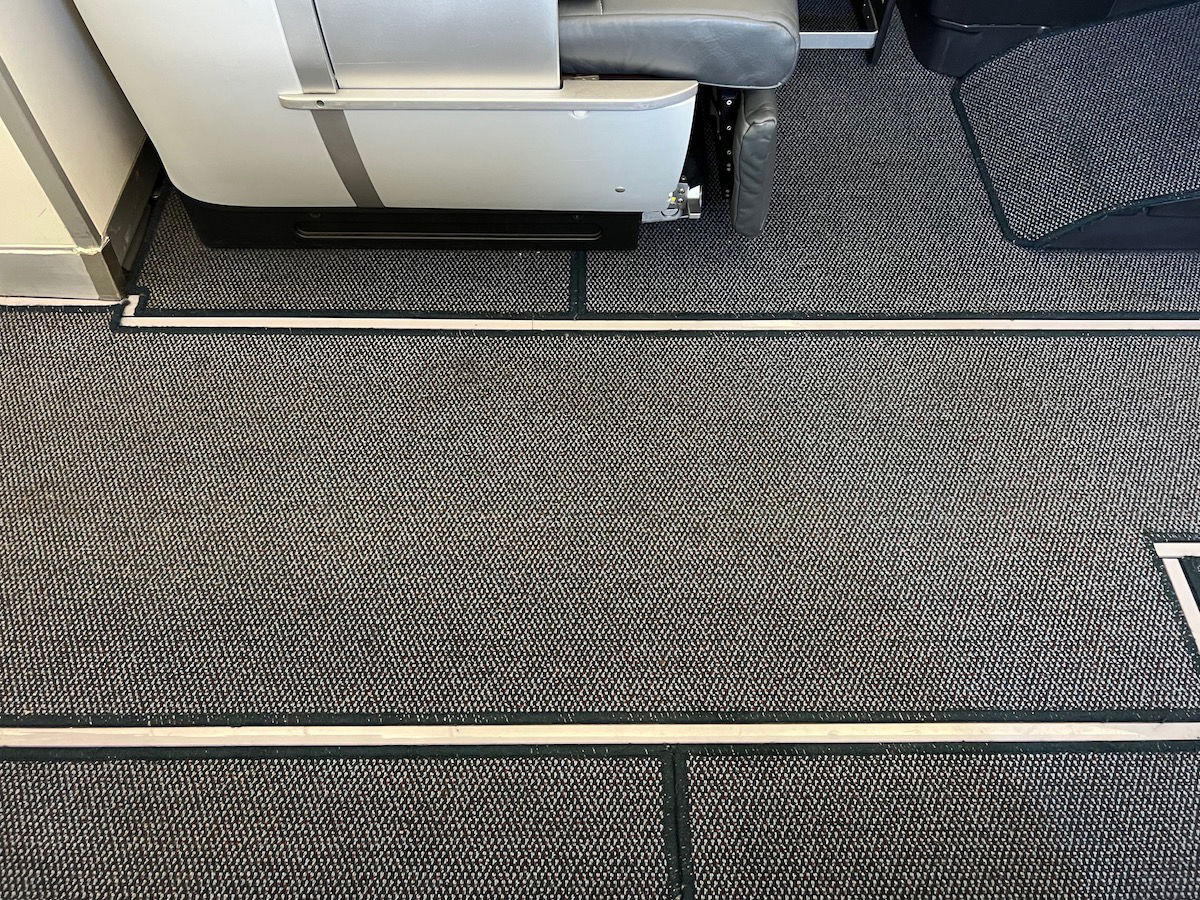 My seat had a large console on the right side, which was perfect for storing my laptop during the flight.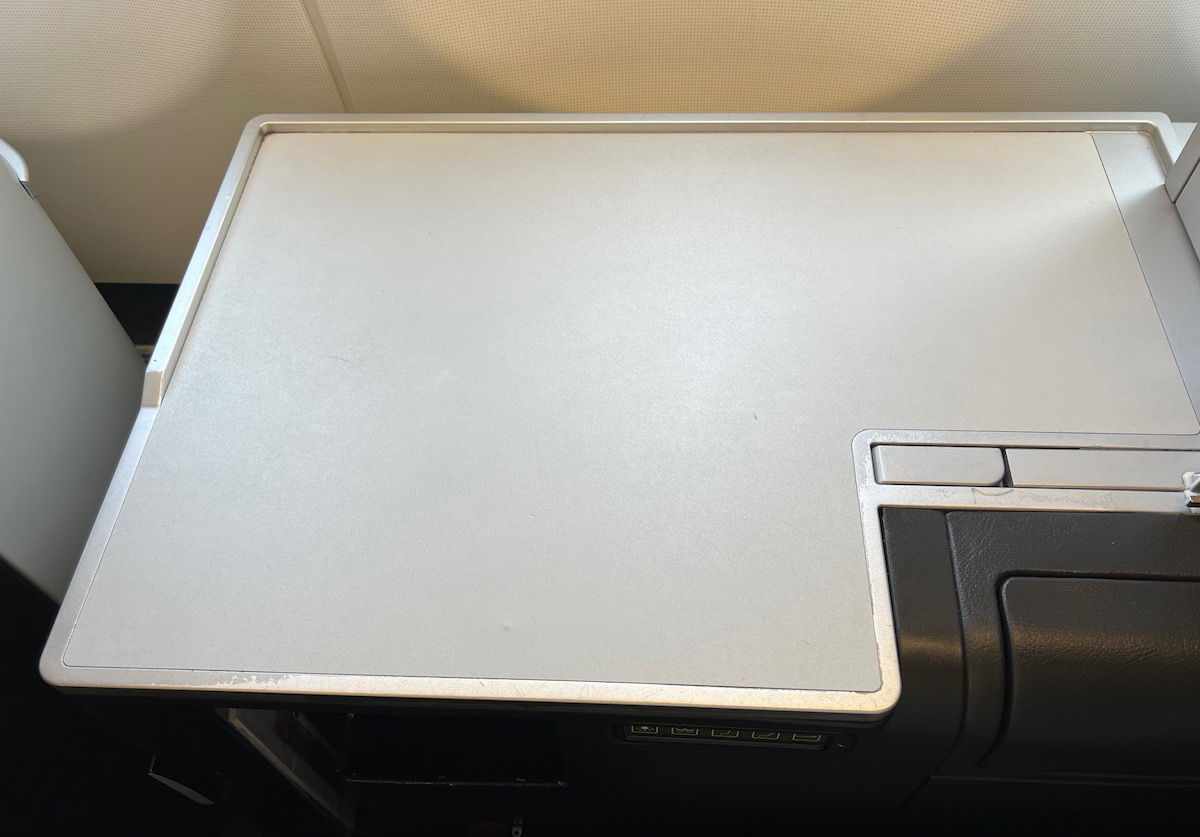 Also near the back right of the seat was an enclosed storage compartment.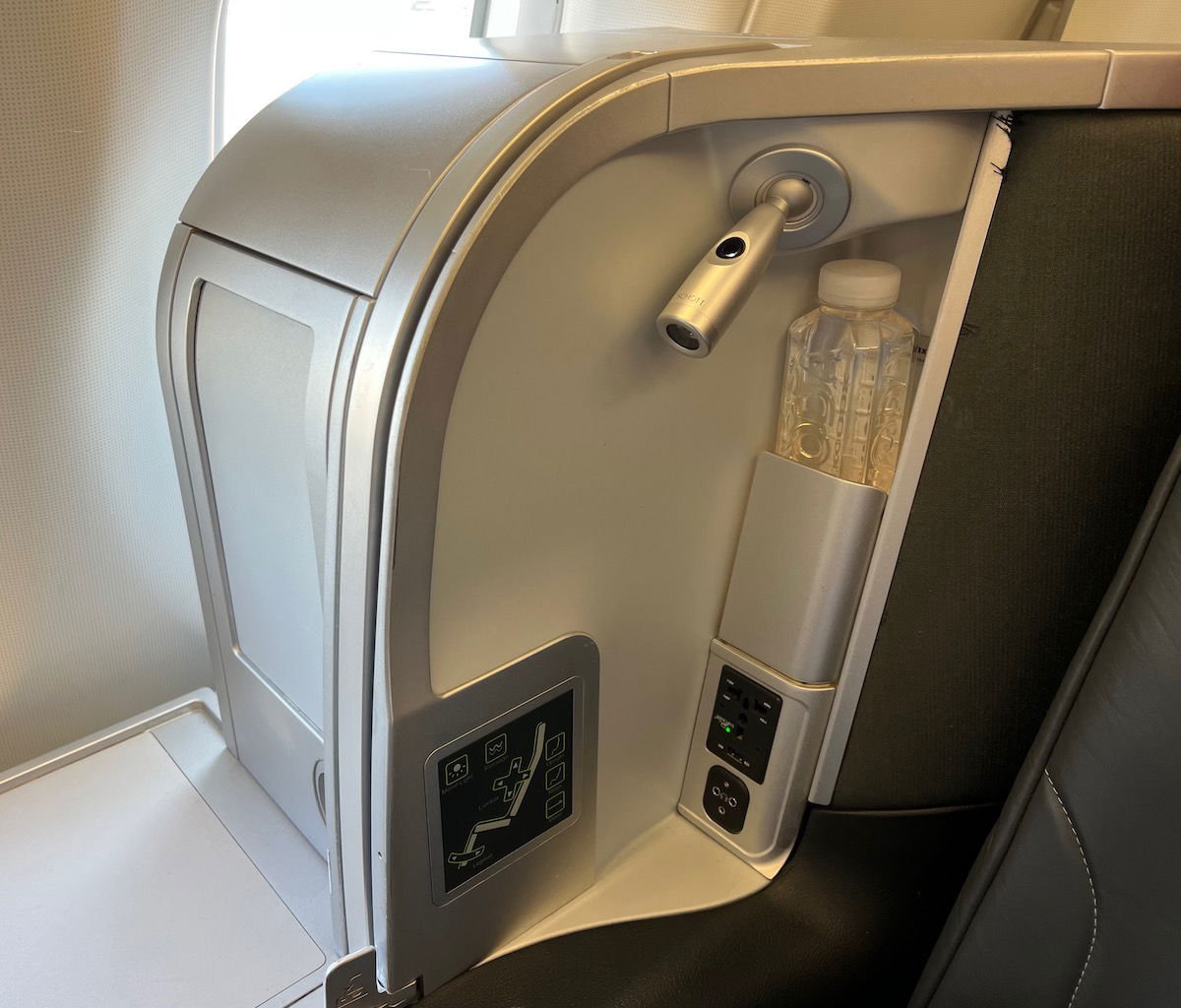 The seat controls were also in this area, and were easy to use. Arguably they were a bit too easy to use, because several times during the flight I accidentally bumped the controls with my arm.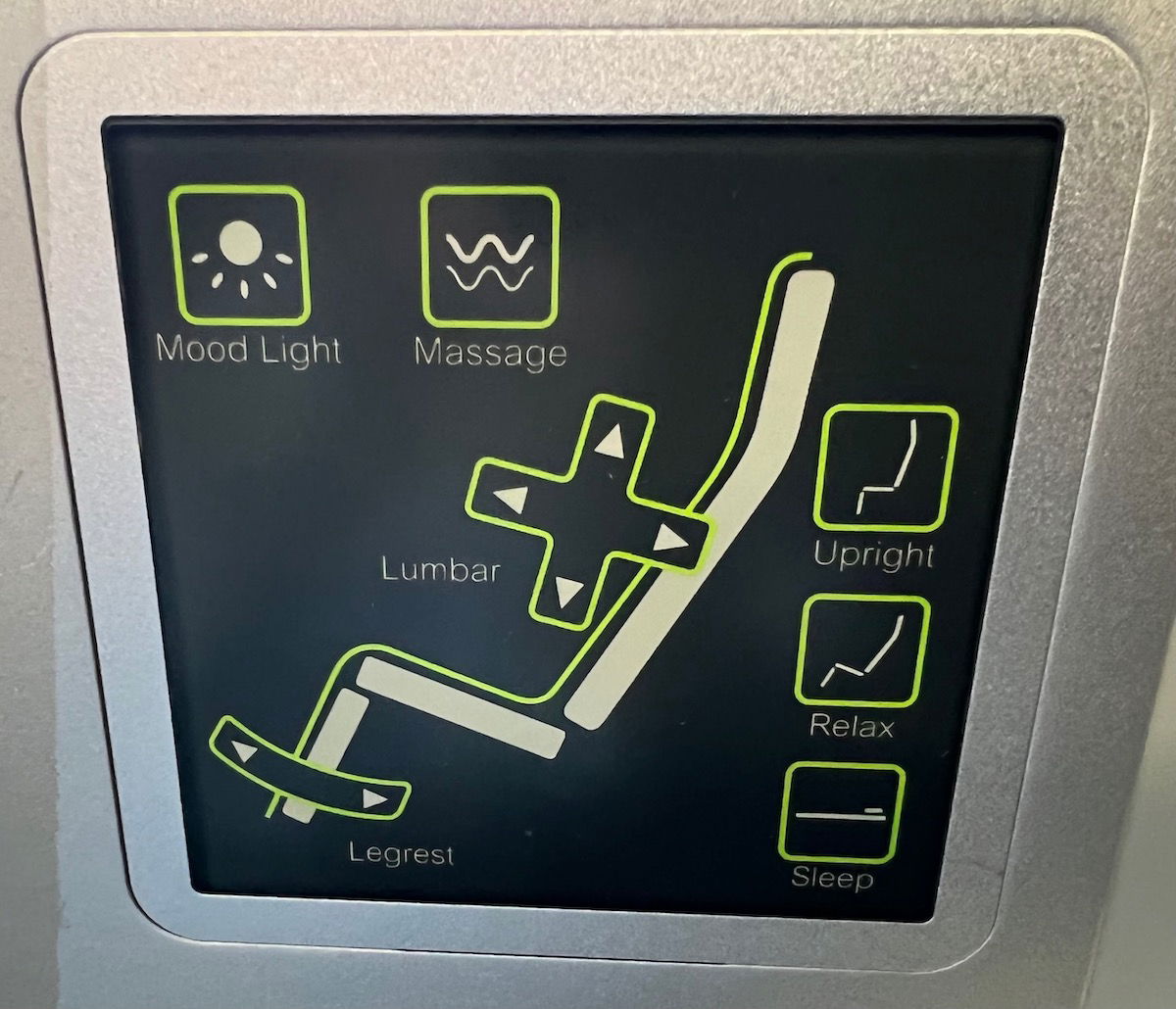 There were also AC and USB power outlets, plus a headphone jack.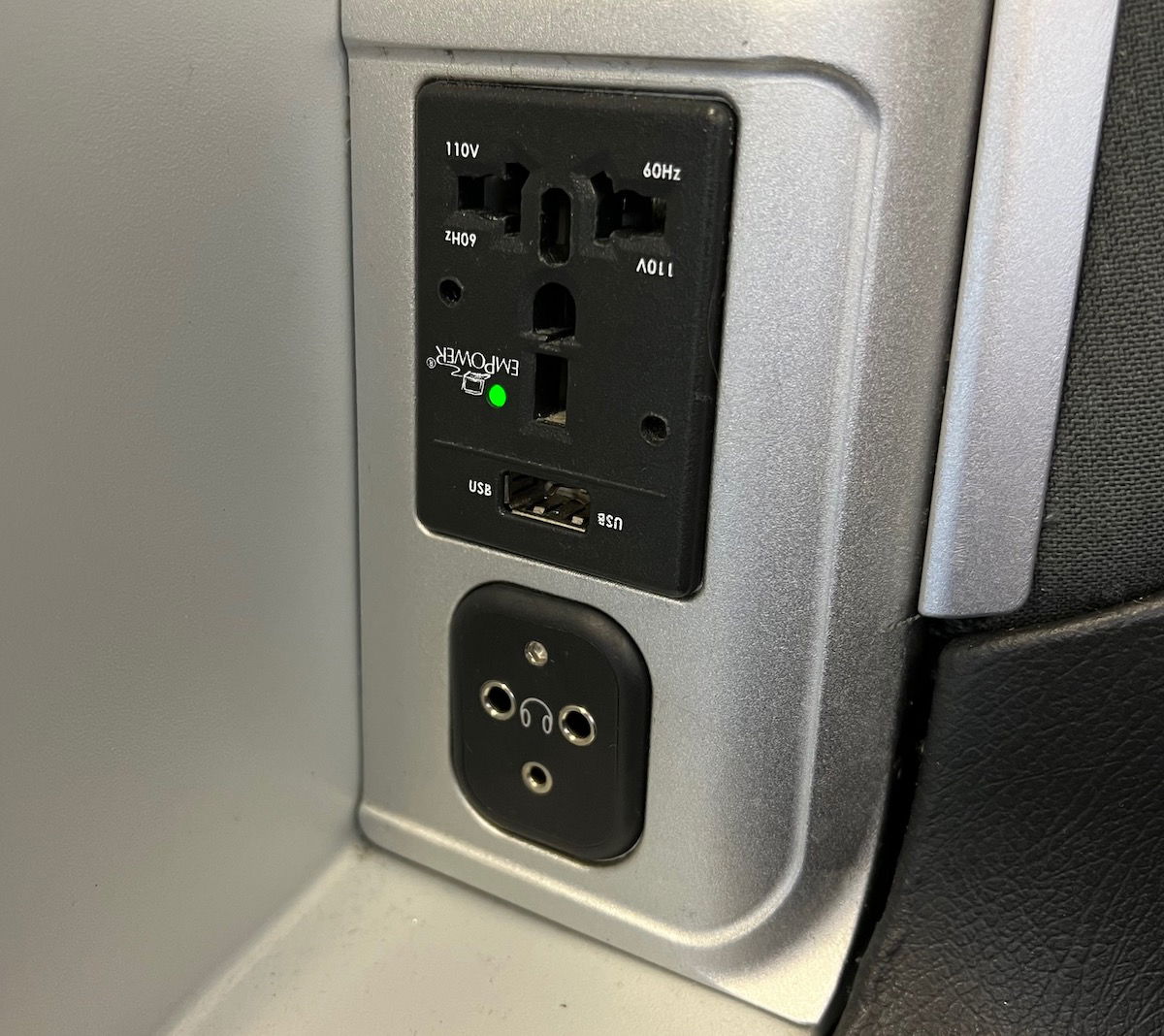 Underneath the console were some seat pre-sets, if you just wanted to recline the seat all the way, or put it upright.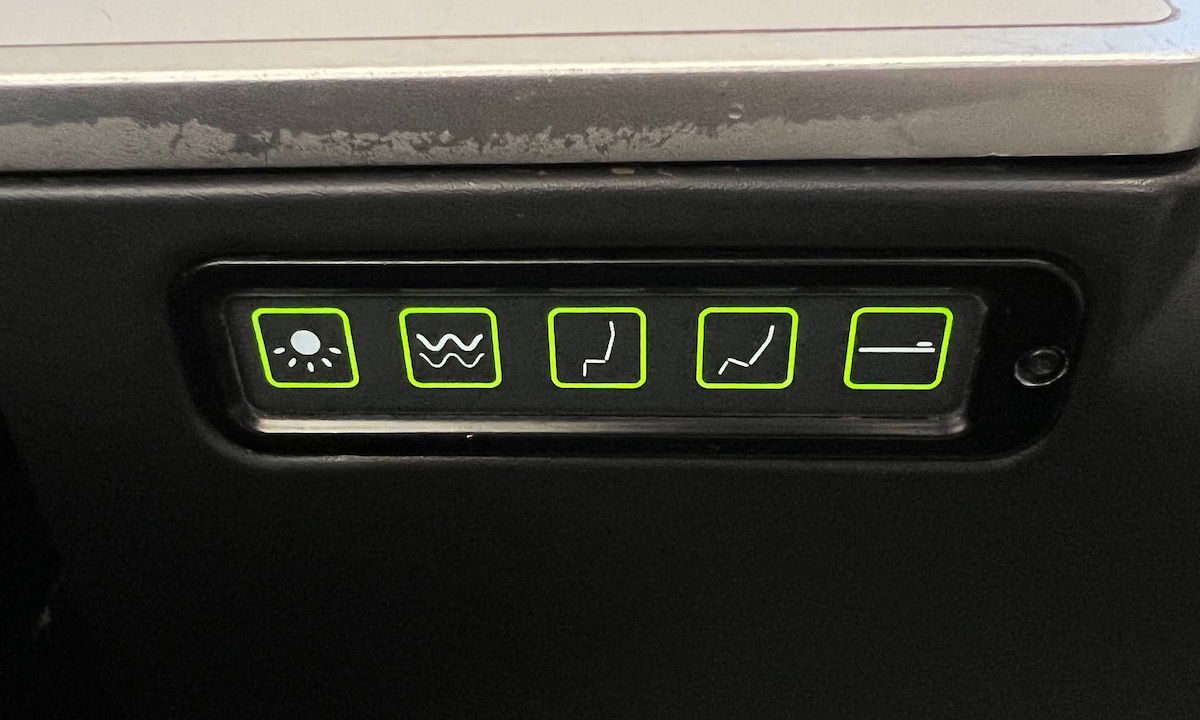 Also along the armrest was a panel that could be raised to expose the entertainment controller.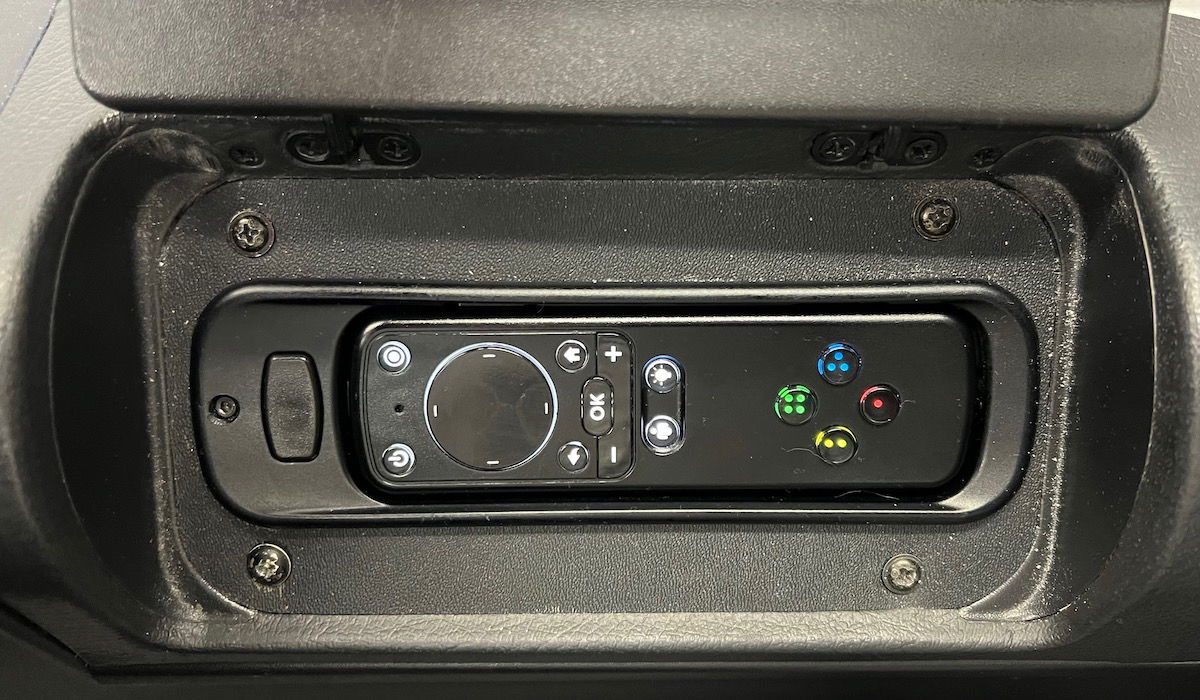 The tray table folded out from near the storage compartment, at the top right of the seat.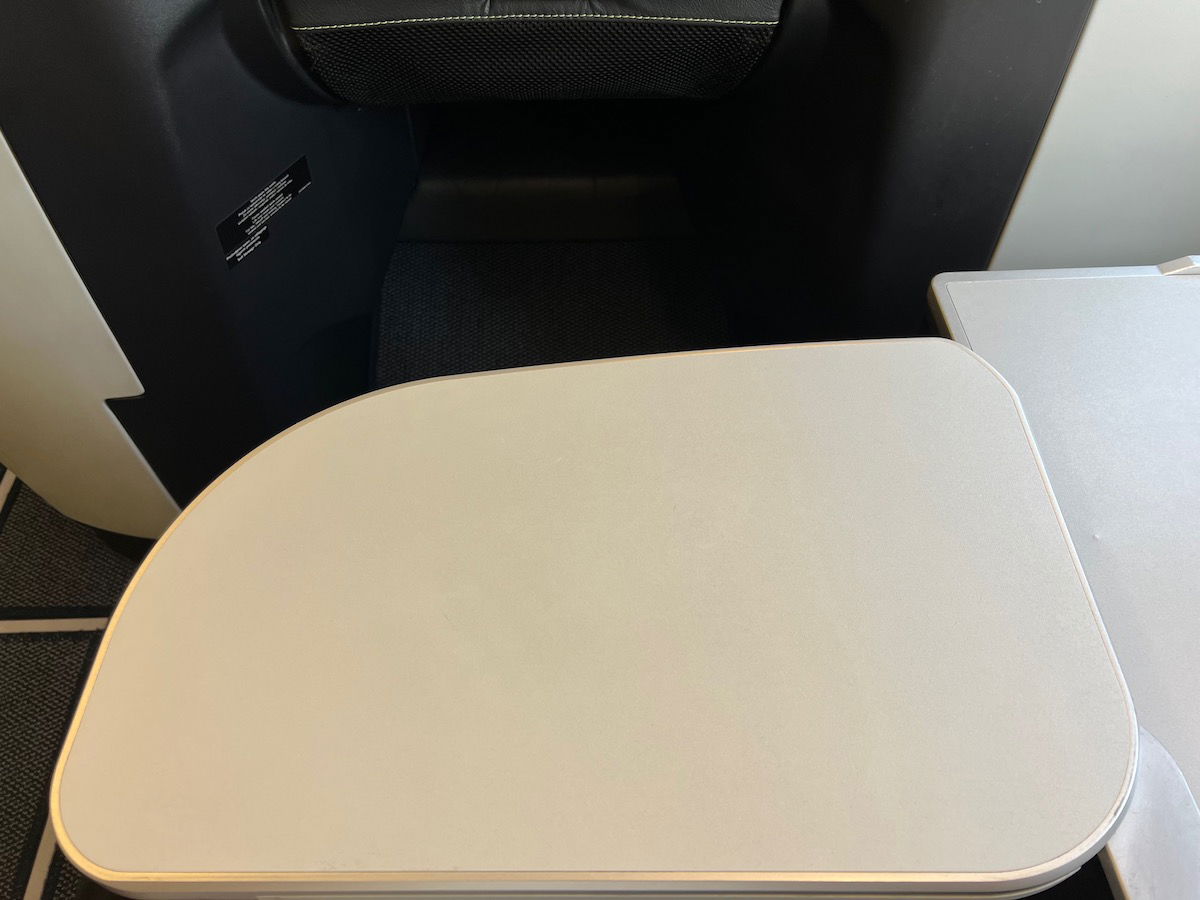 Underneath the console on the right was an exposed storage compartment, plus a literature pocket.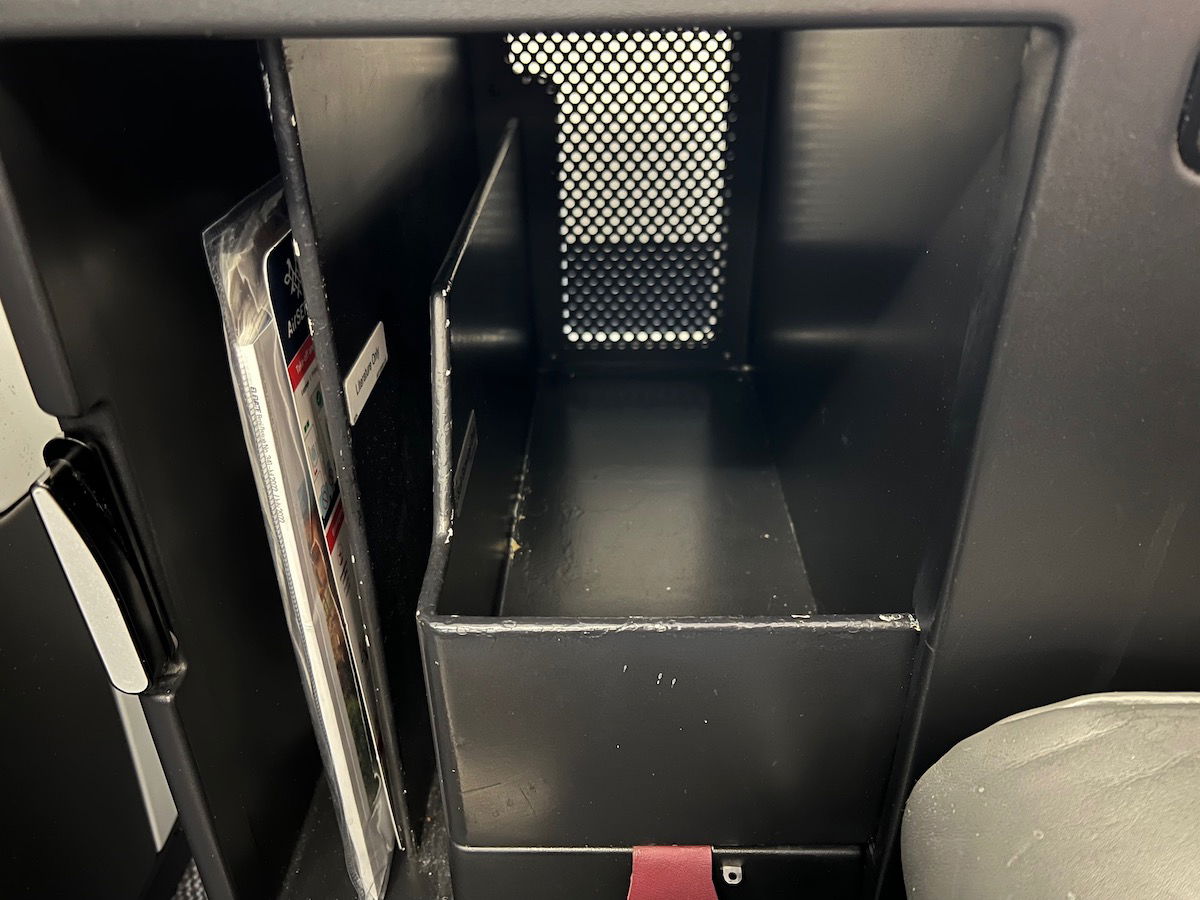 The entertainment monitor was a good size, and there was a pouch underneath it where you could store things during the flight.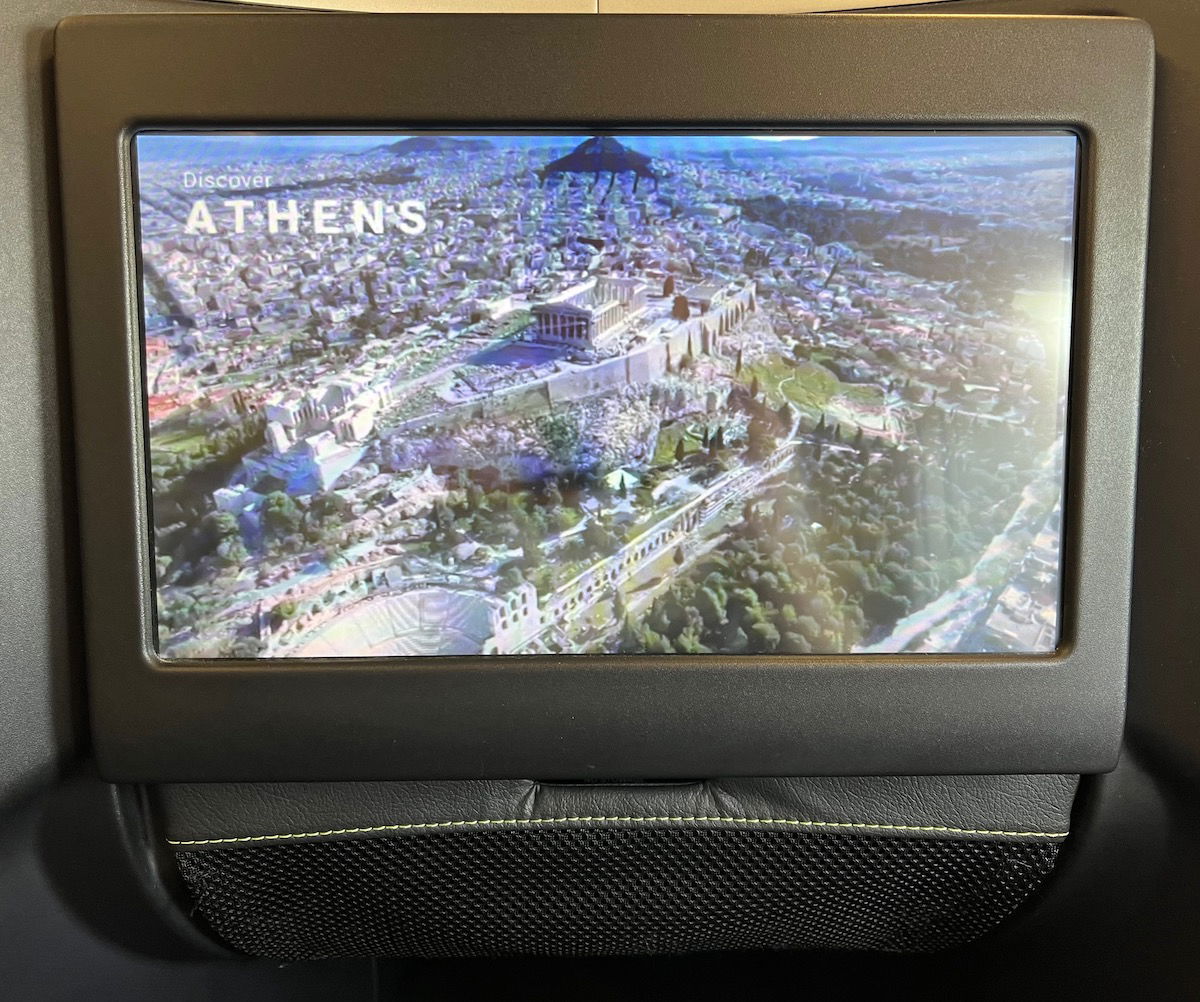 There were also some reading lights overhead, though unfortunately there weren't any individual air nozzles.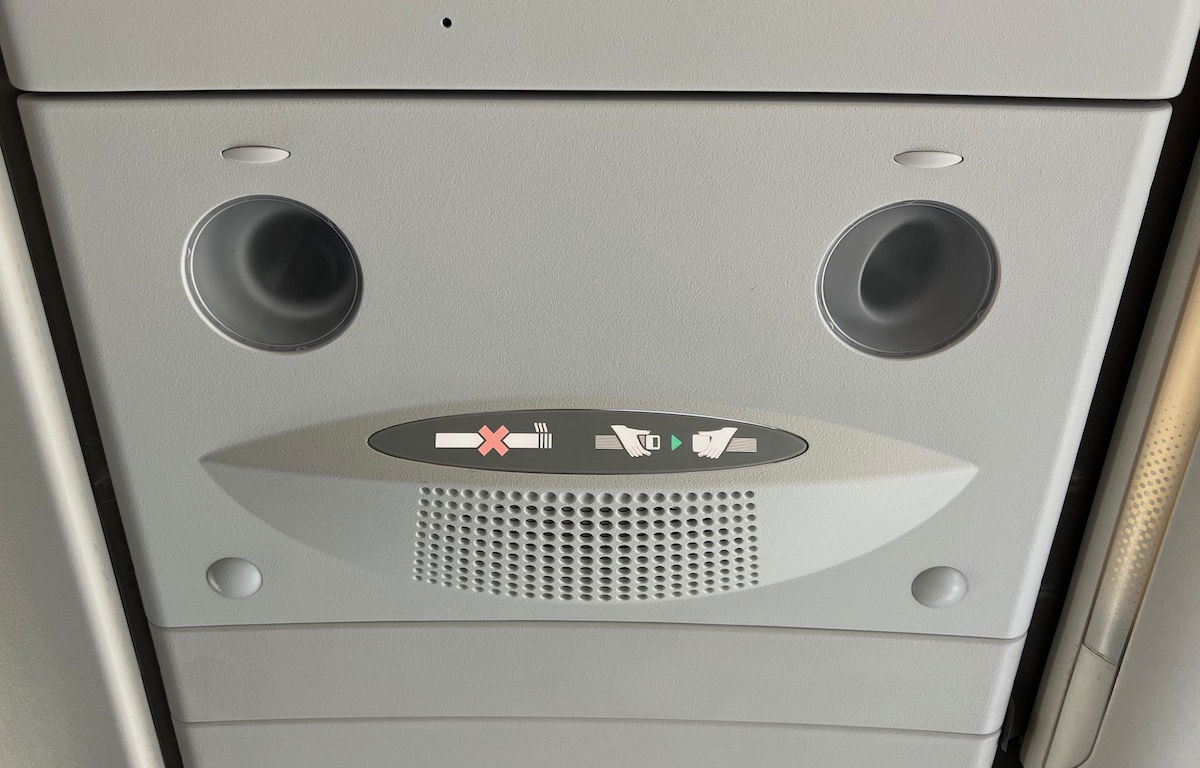 As far as lavatories go, there was one in front of the cabin, and one behind the cabin. The one at the front of the cabin was dedicated to business class, while it seemed that the lavatory behind the cabin was shared with economy. I'm not sure if that was the intent, or if the rules just weren't enforced.
The business class lavatory did have Air Serbia branded facial mist, hand cream, and antibacterial gel.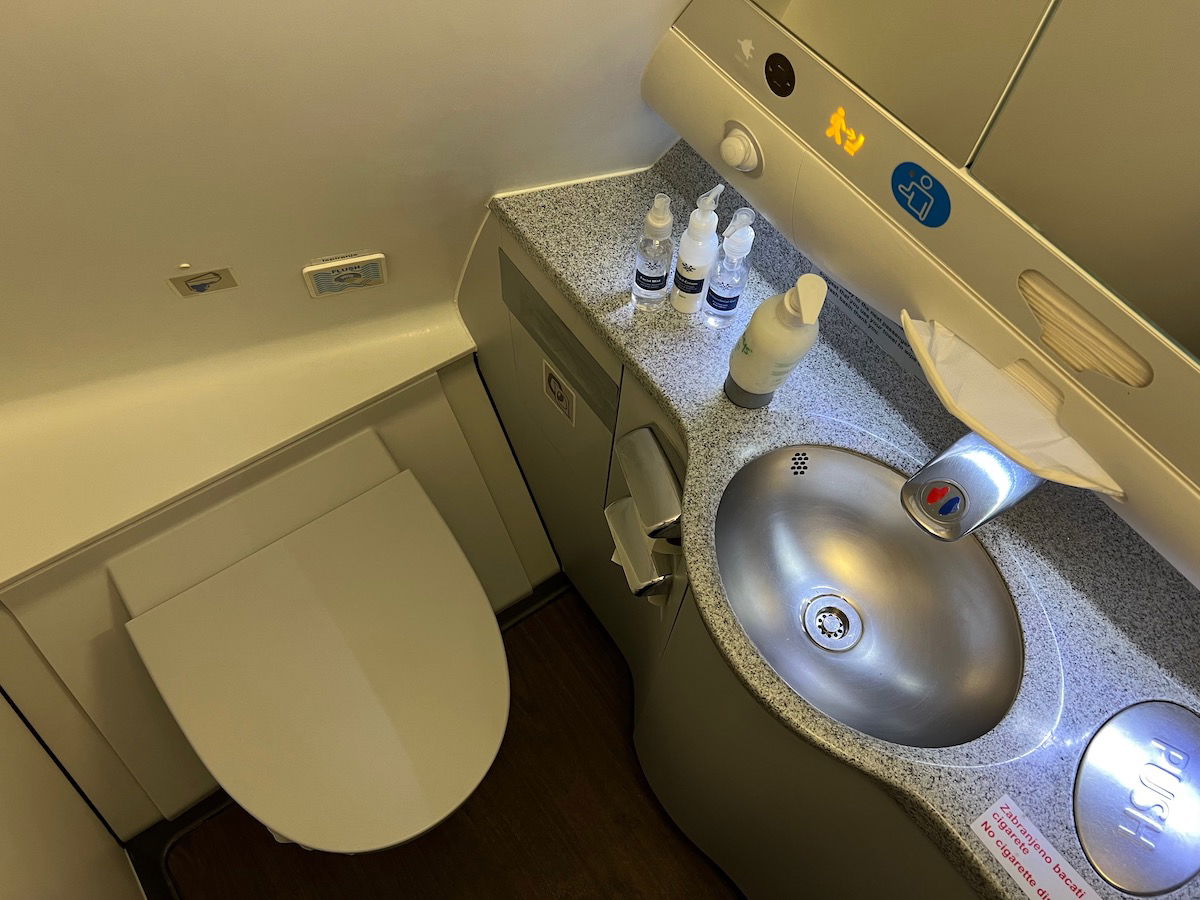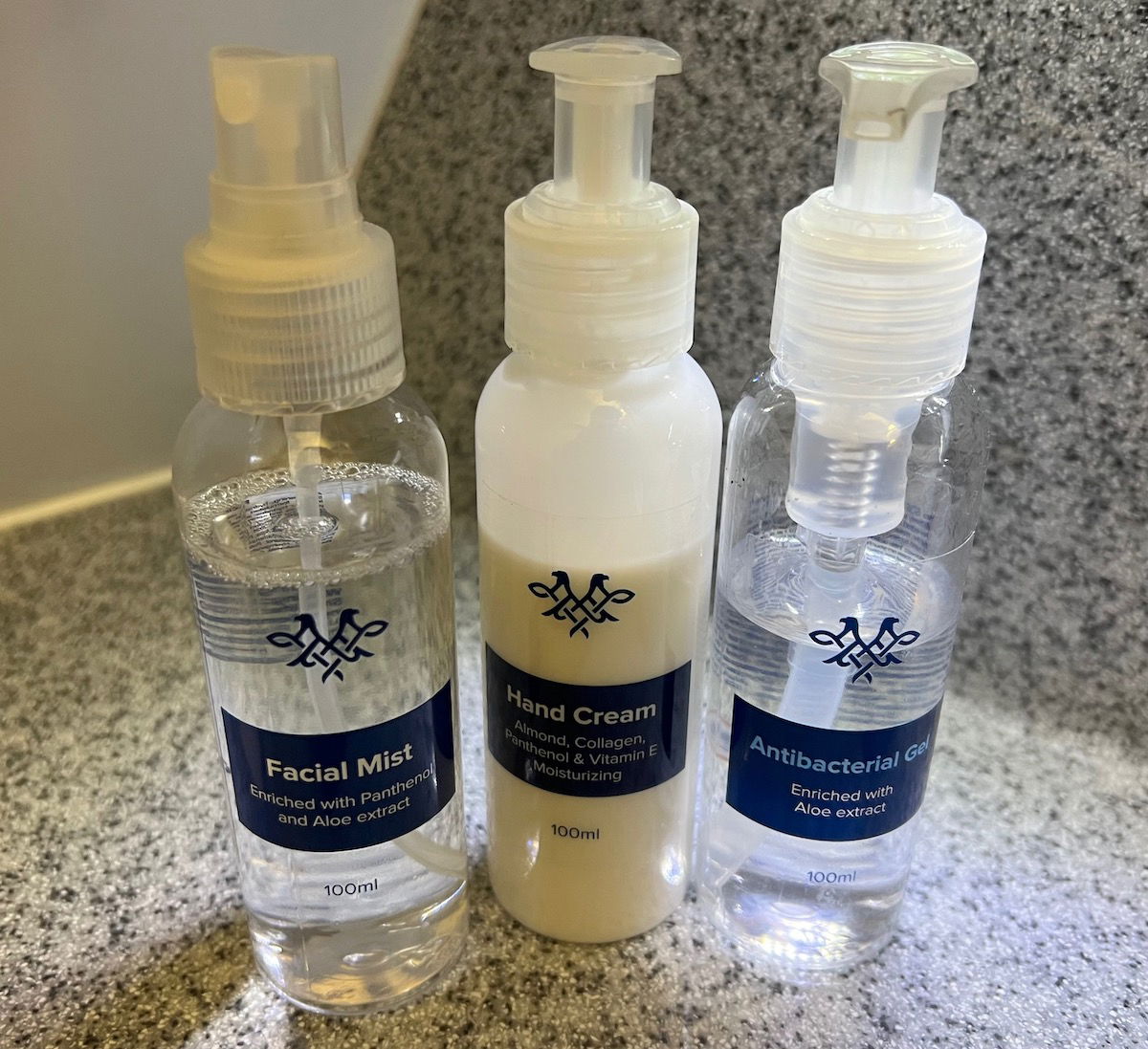 All-in-all, I thought this was a perfectly fine hard product. It wasn't cutting edge, but I don't think anyone would complain about the seats. The rest of the experience, on the other hand…
Air Serbia business class amenities
Waiting at each seat upon boarding was a pillow and blanket. While not to the level of United's Polaris bedding, it was decent.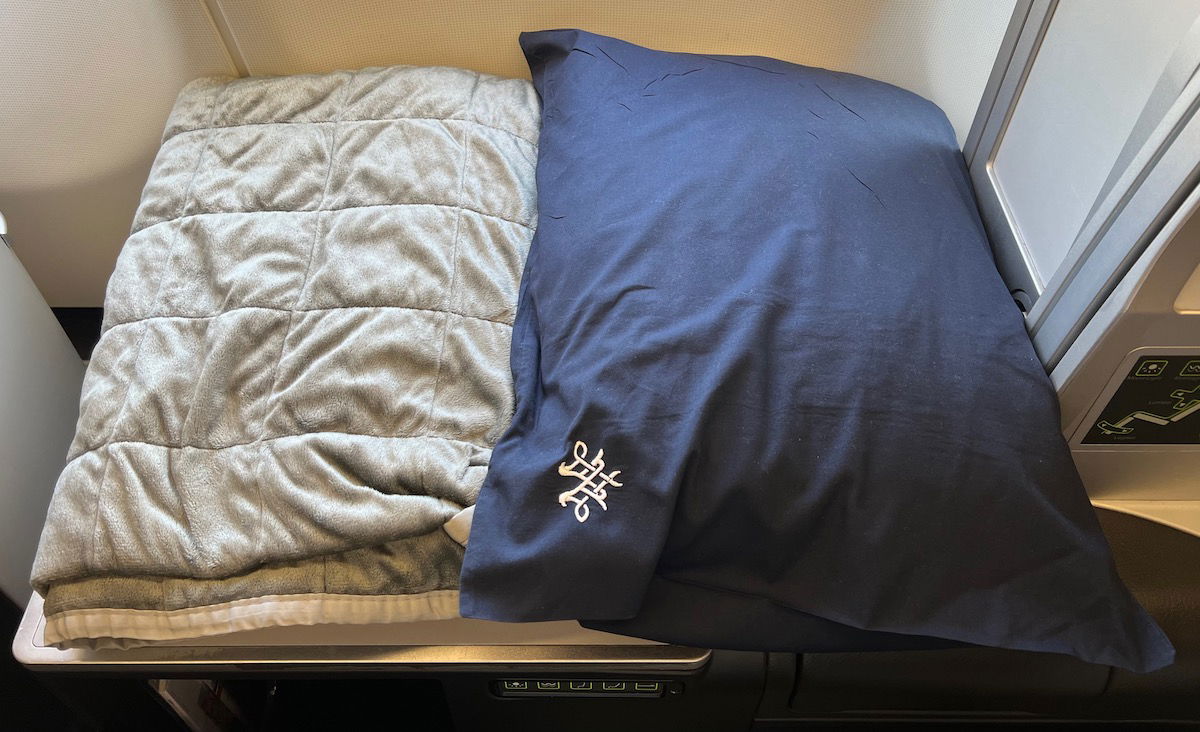 There were also a pair of headphones waiting at my seat, which were better than nothing, but that's about all I can say.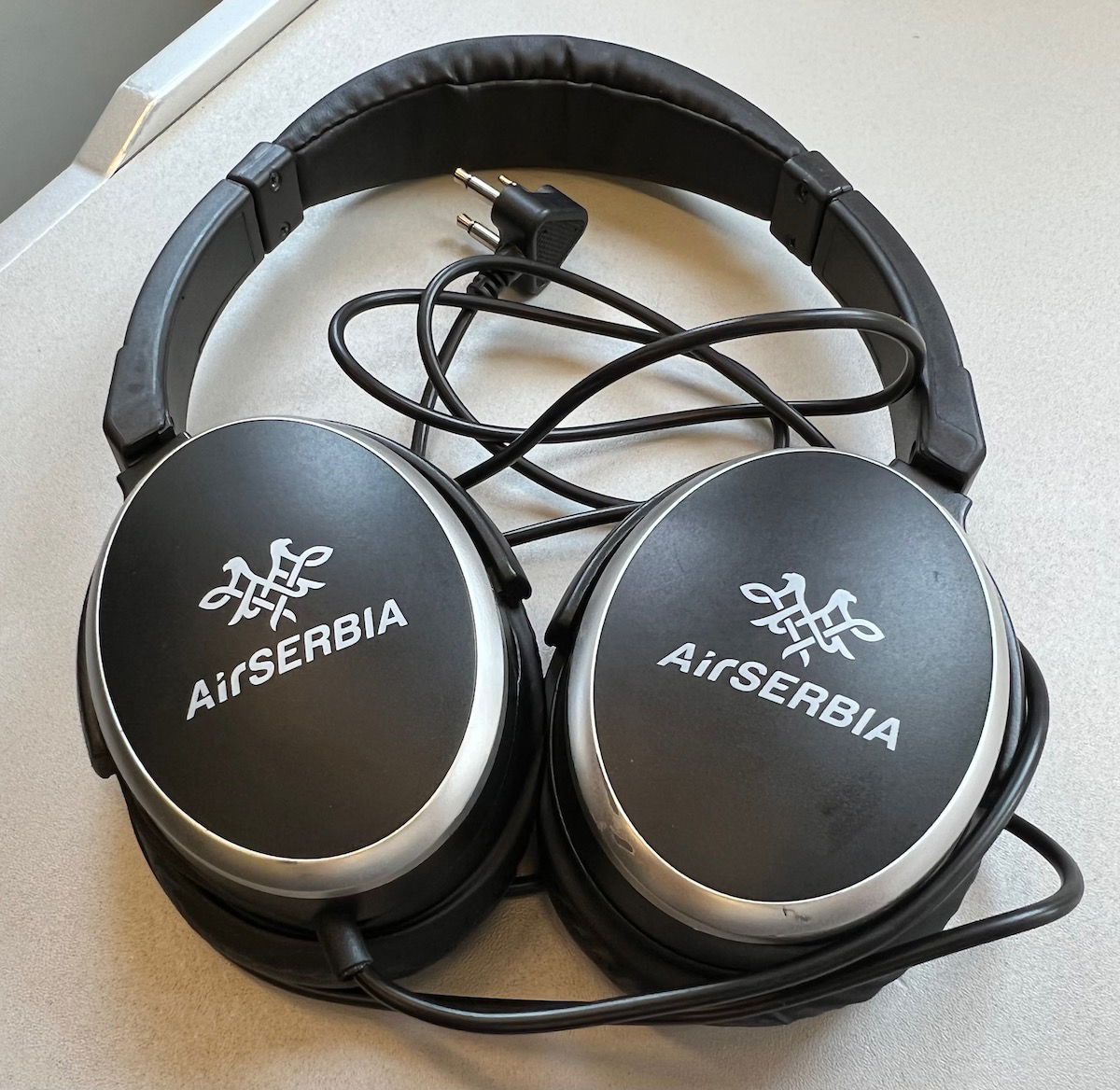 Shortly after settling in I was offered a pre-departure drink, with the choice of champagne, apple juice, orange juice, or water. I selected champagne.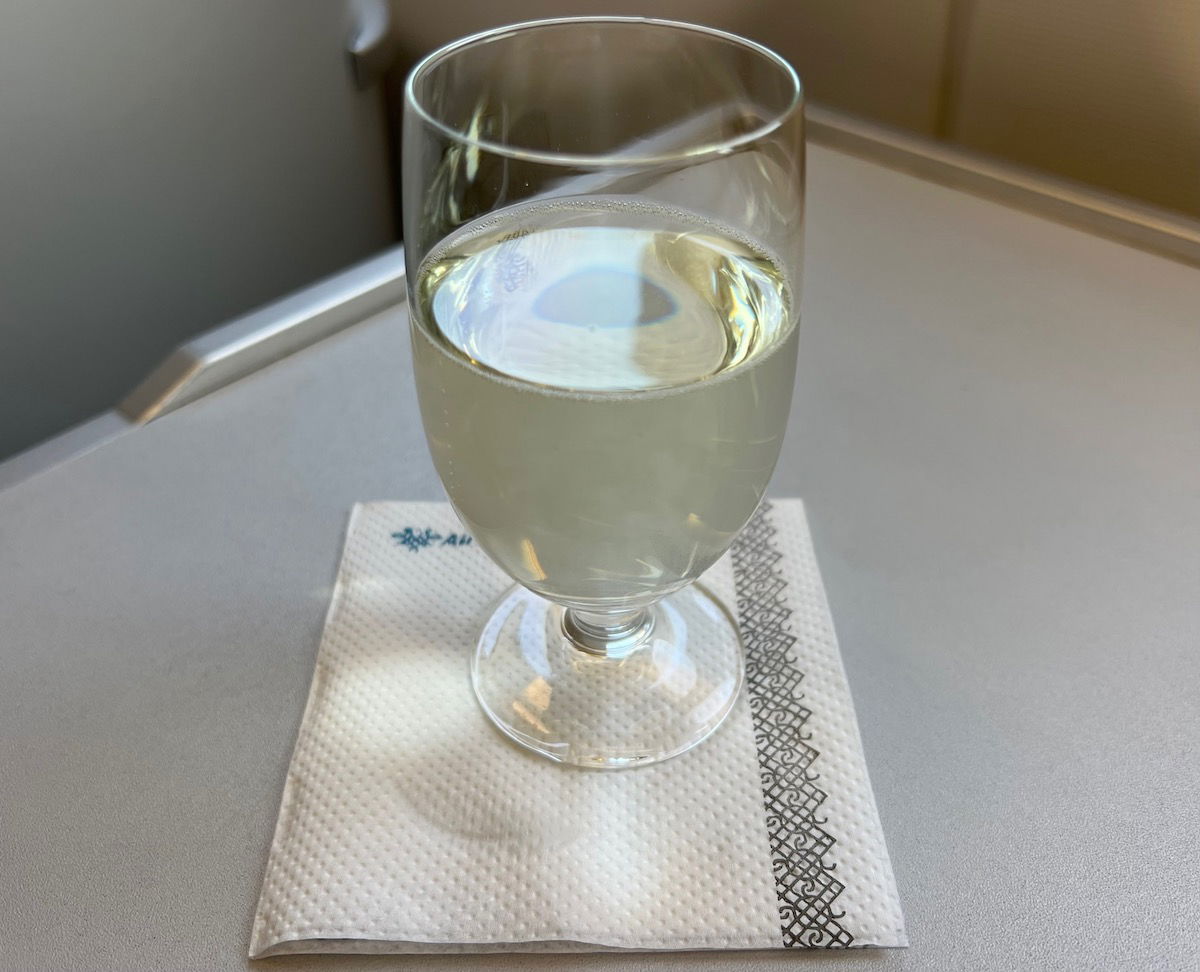 The menu for the flight was also waiting at the seat. Meal orders were taken during boarding.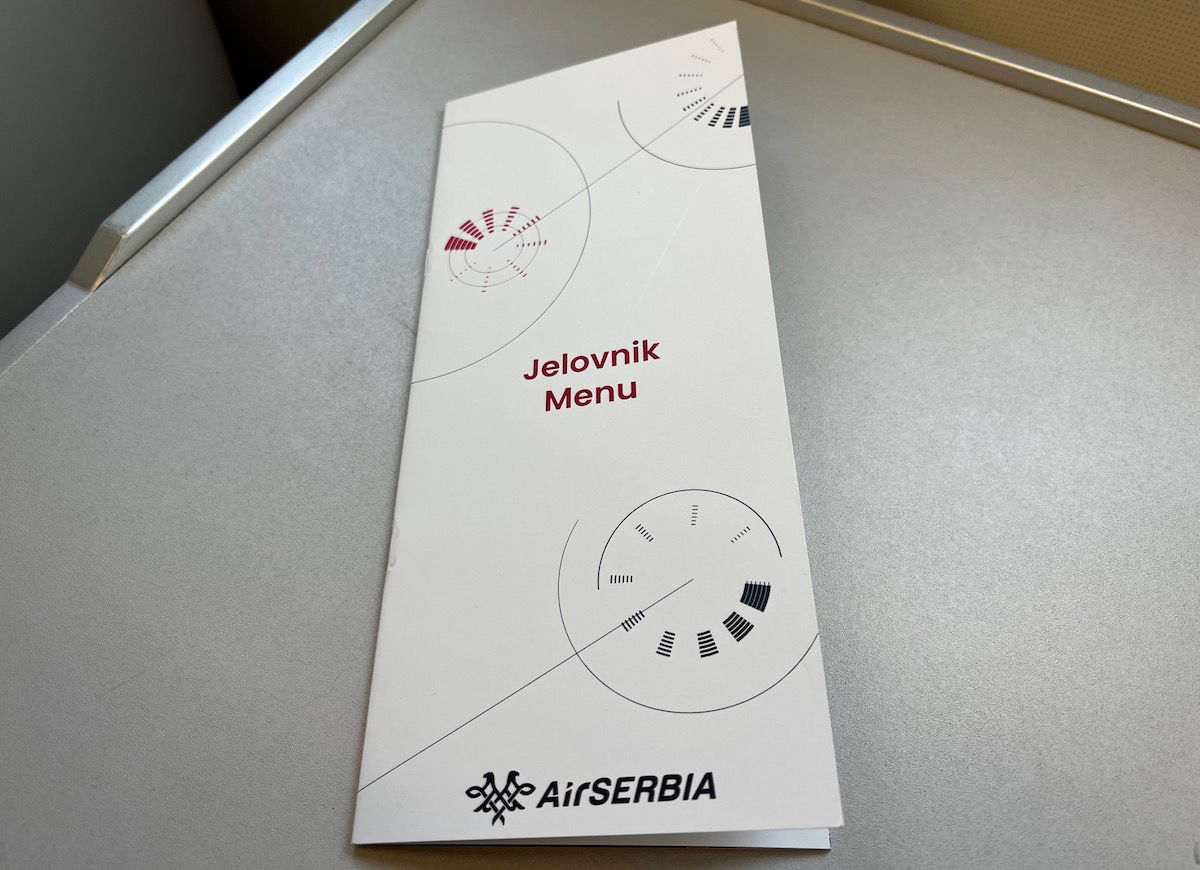 Unfortunately that was it as far as the amenities went. There were no amenity kits and no pajamas, both of which Air Serbia used to have. I explicitly asked about this, and the crew said they weren't available on this flight. Not having an amenity kit on a 10 hour transatlantic flight seems like some extreme cost cutting.
Air Serbia A330 departure from Belgrade
Boarding was efficient, and was finished within around 15 minutes. Economy seemed to be mostly full, while only 12 of the 21 business class seats were occupied (and prior to check-in only five seats showed as occupied on the seatmap, so I suspect some of those other passengers were upgrades).
At 8:05AM the captain made his welcome aboard announcement, informing us of our flight time of 9hr30min, and our anticipated cruising altitude of 38,000 feet.
At 8:10AM the main cabin door closed, at which point the safety video was screened. At 8:15AM we began our pushback, and at 8:20AM we began our taxi.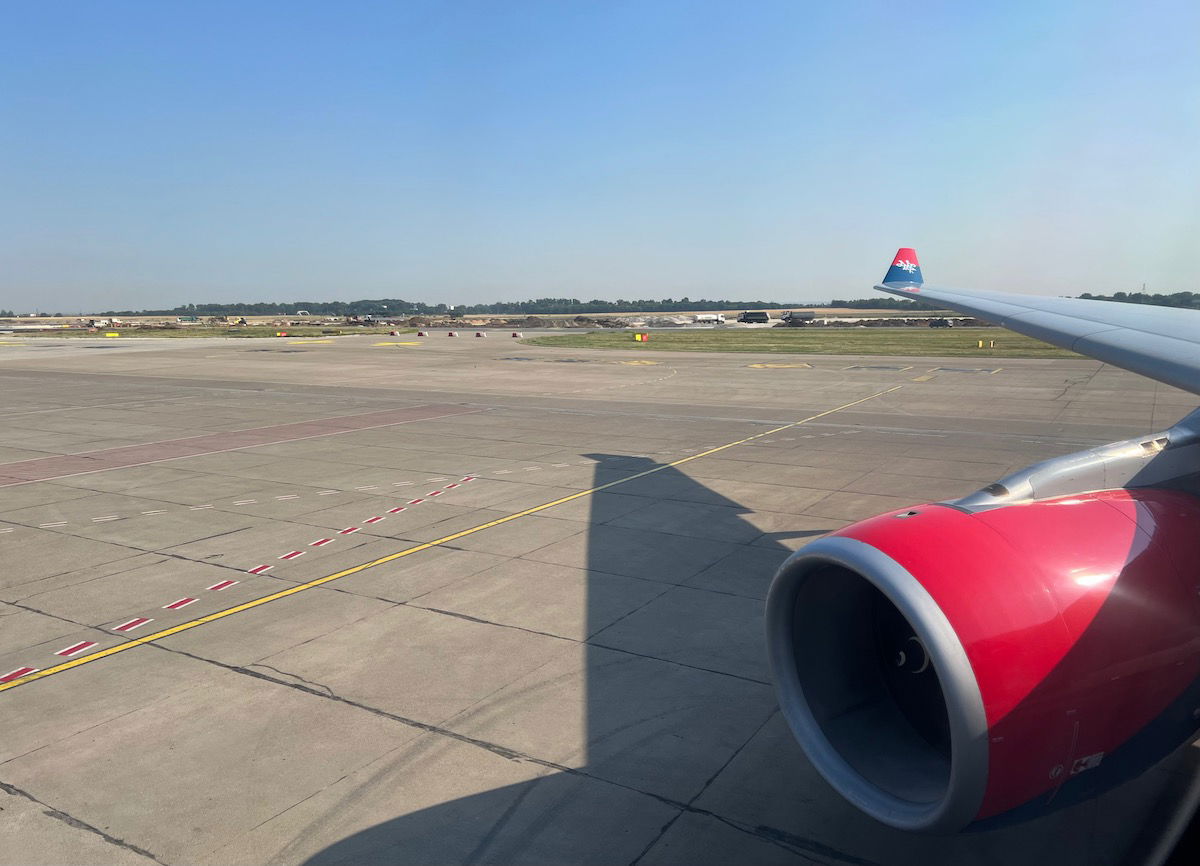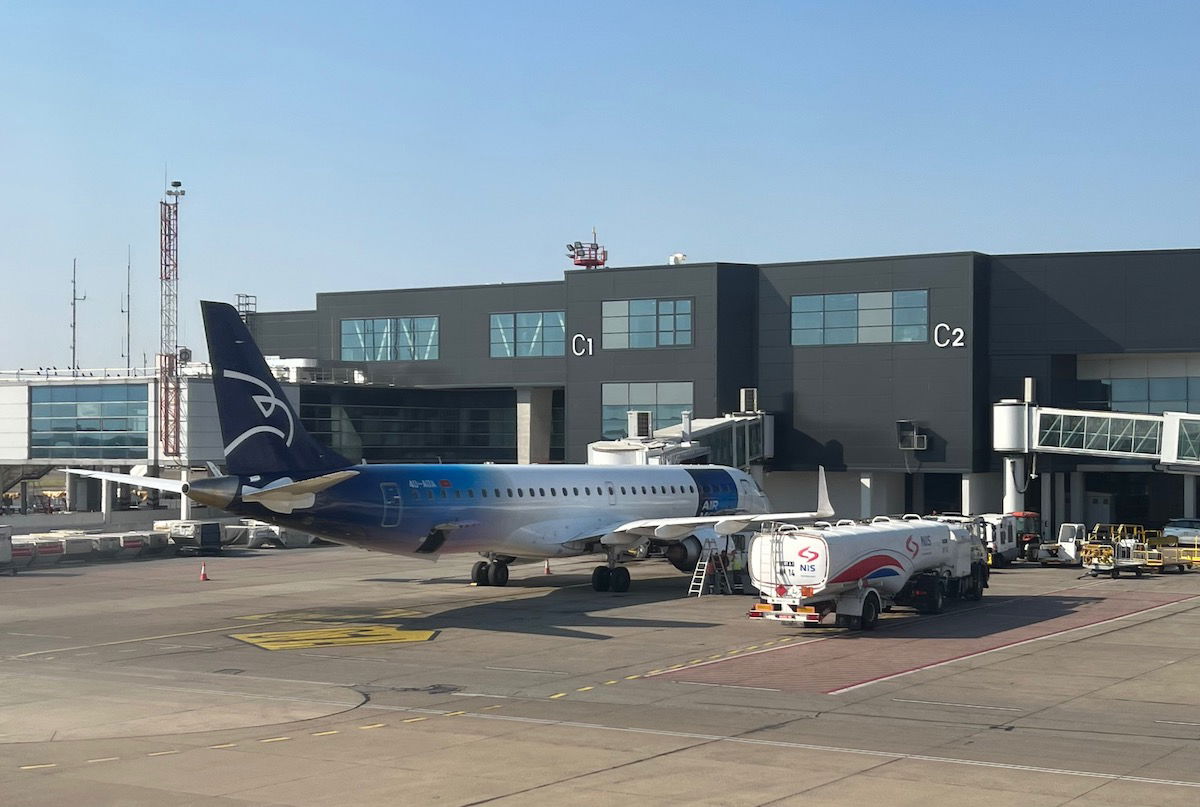 It was a pretty taxi out to the runway, as the taxiway is right by a field.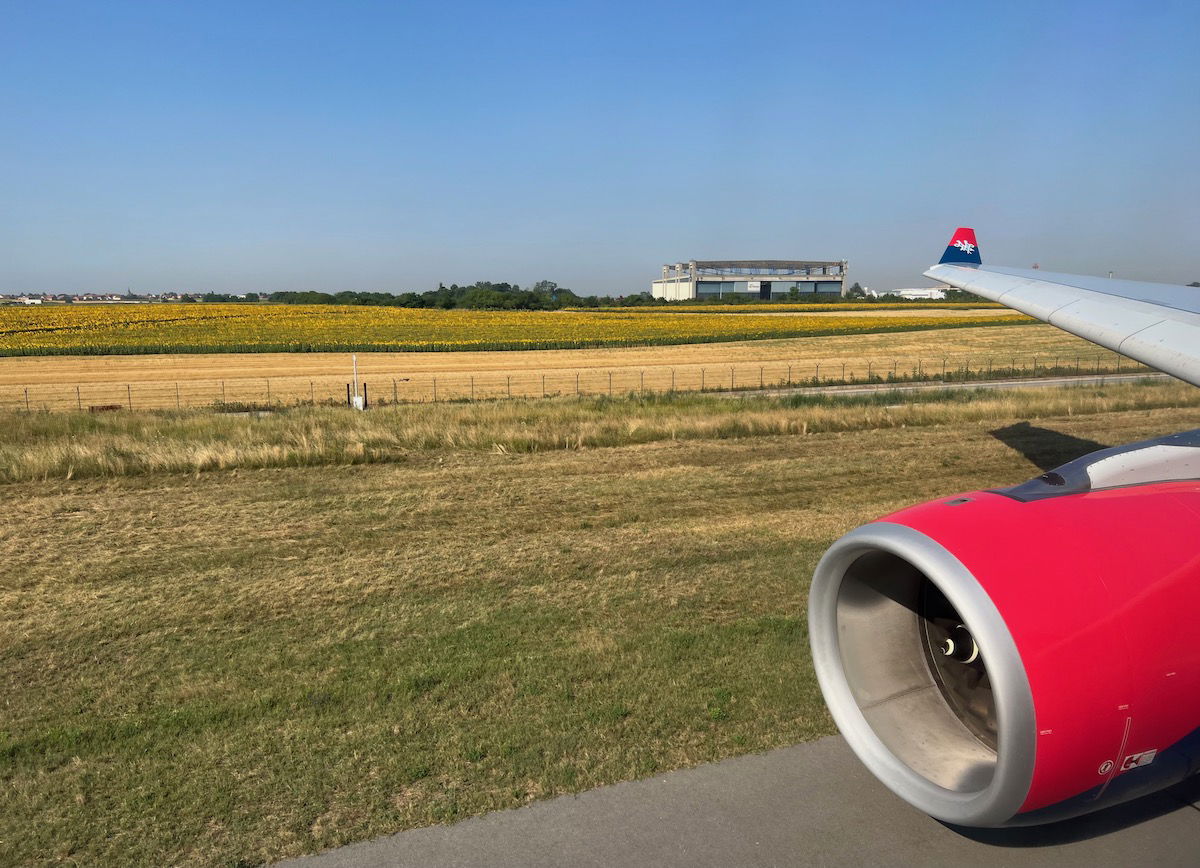 By 8:25AM we were cleared for takeoff — we had a quick takeoff roll and a steep initial climb out. The seatbelt sign was turned off less than five minutes after takeoff.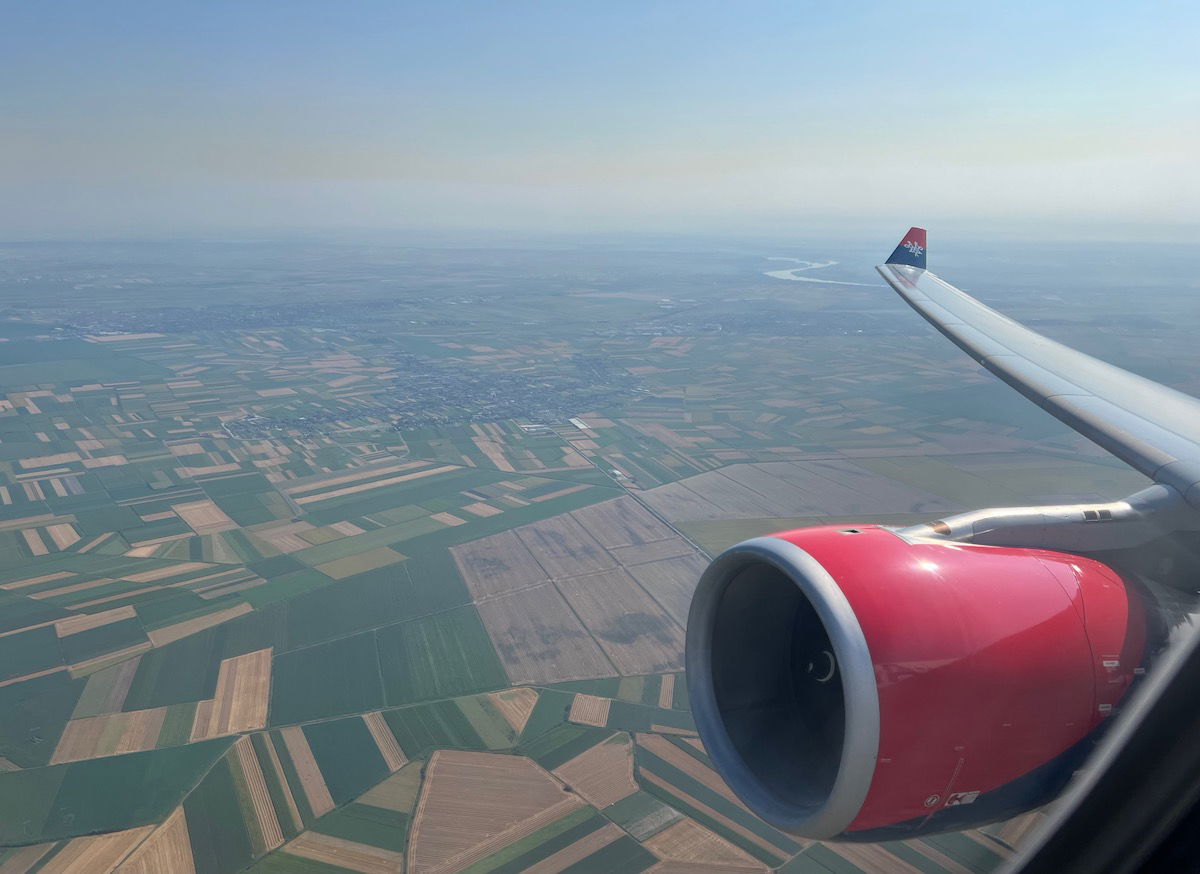 Air Serbia A330 business class entertainment & Wi-Fi
Let's start with the worst news — Air Serbia doesn't have Wi-Fi on its Airbus A330. To not have Wi-Fi on a jet delivered to an airline in 2021 seems… not ideal. That's especially true on a daytime flight of this length.
While Air Serbia has personal entertainment screens at all seats, the selection is underwhelming.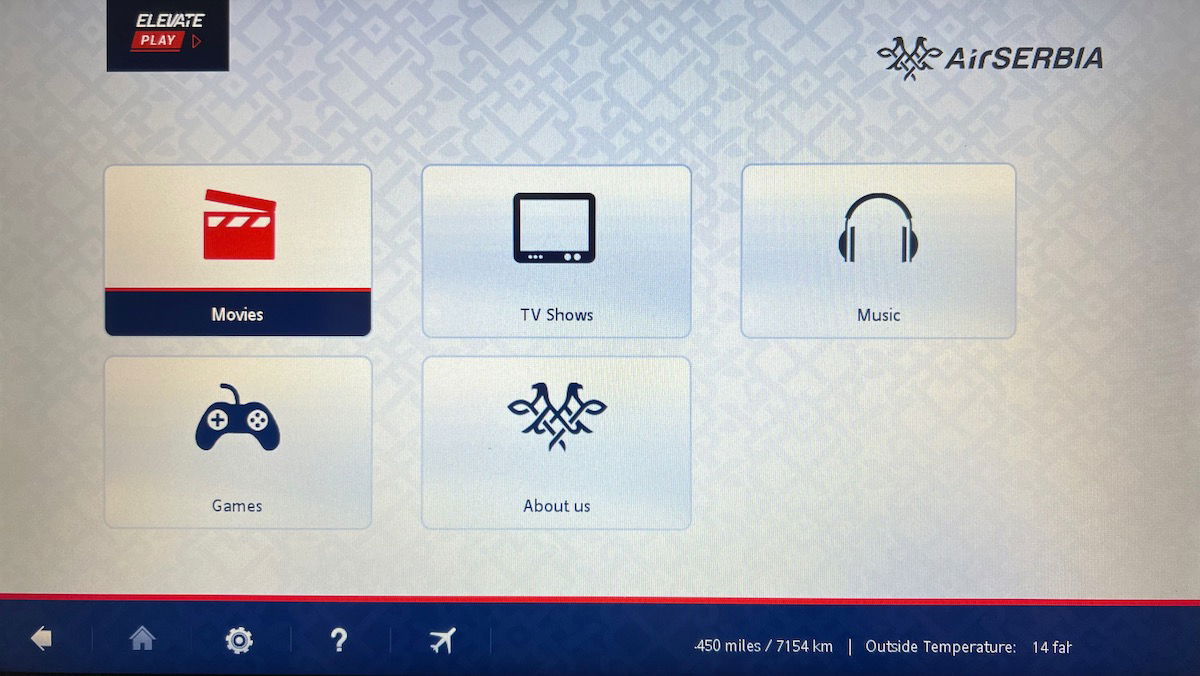 There were a total of just over 60 movies, and that included Serbian titles. There were limited new films, so the whole selection was rather limited and outdated.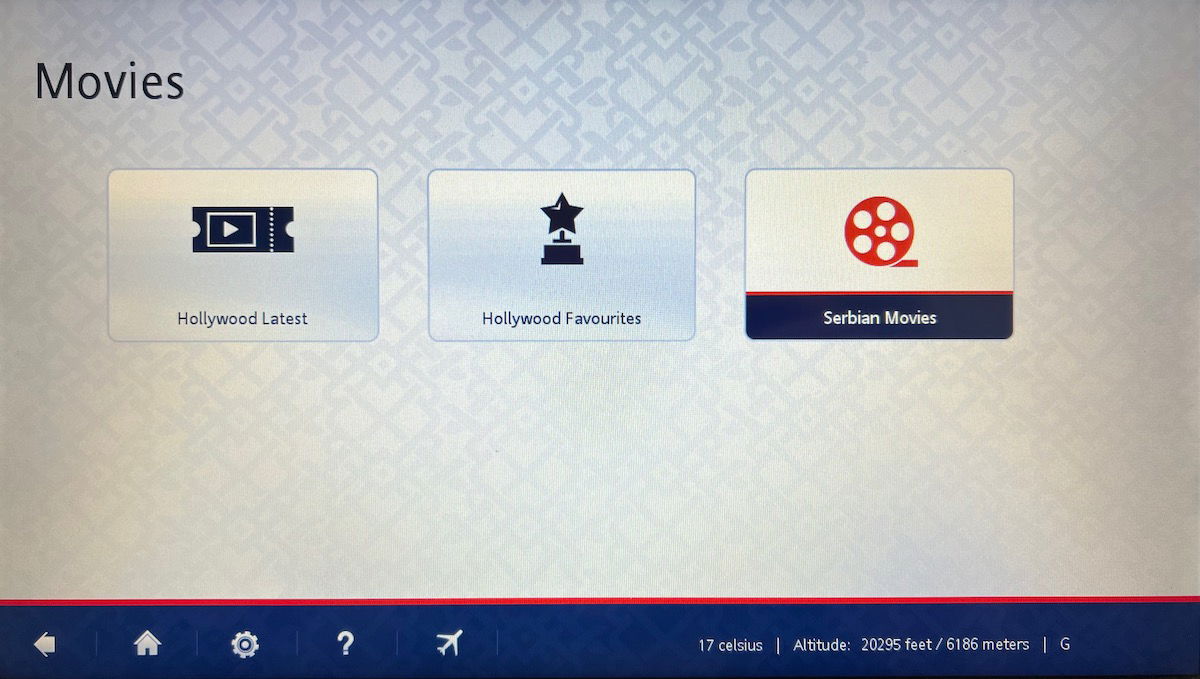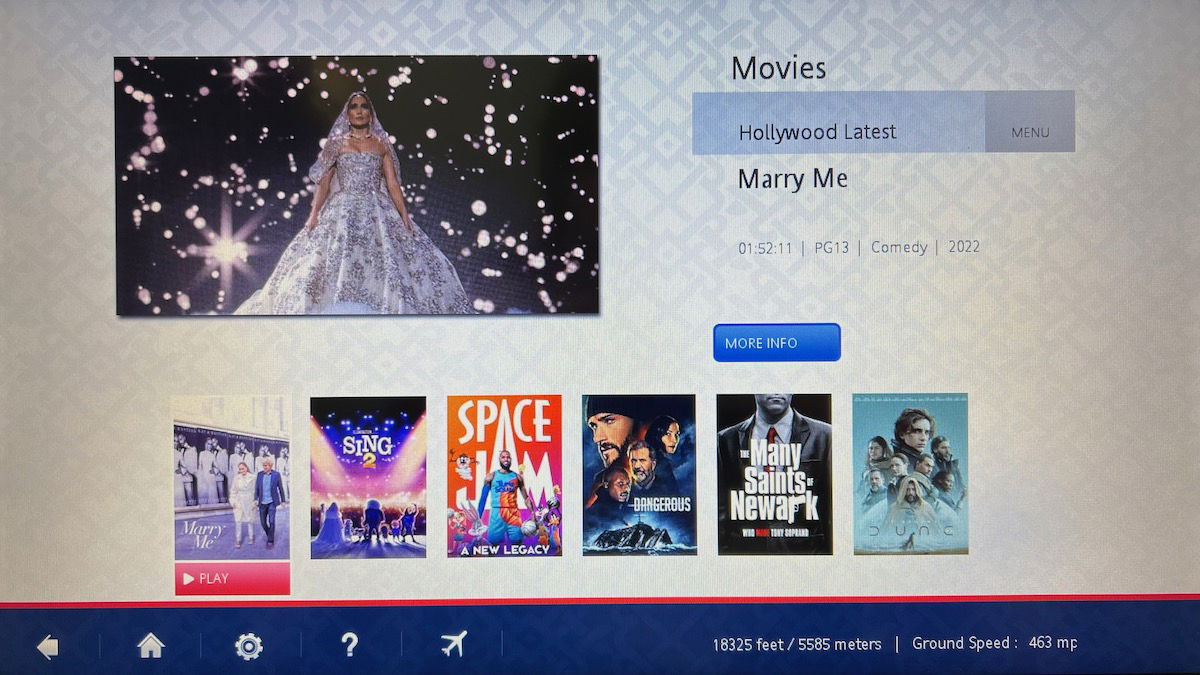 The selection of TV shows was also not huge, both in terms of the number of TV shows, and the number of episodes of each show.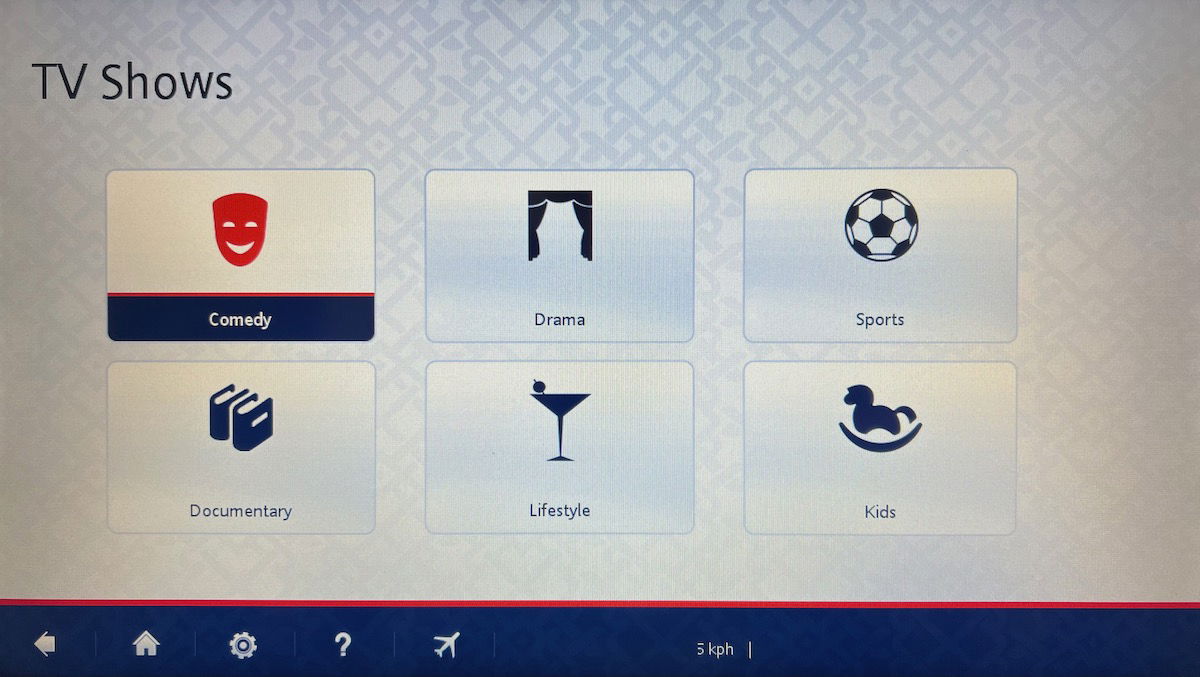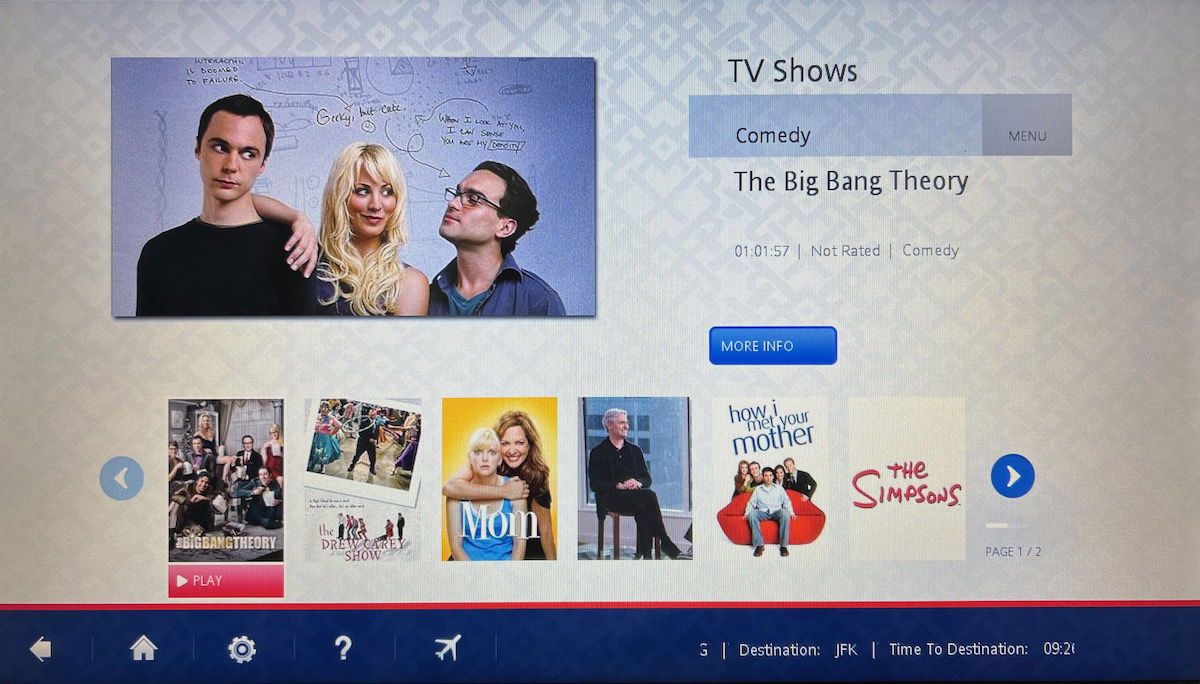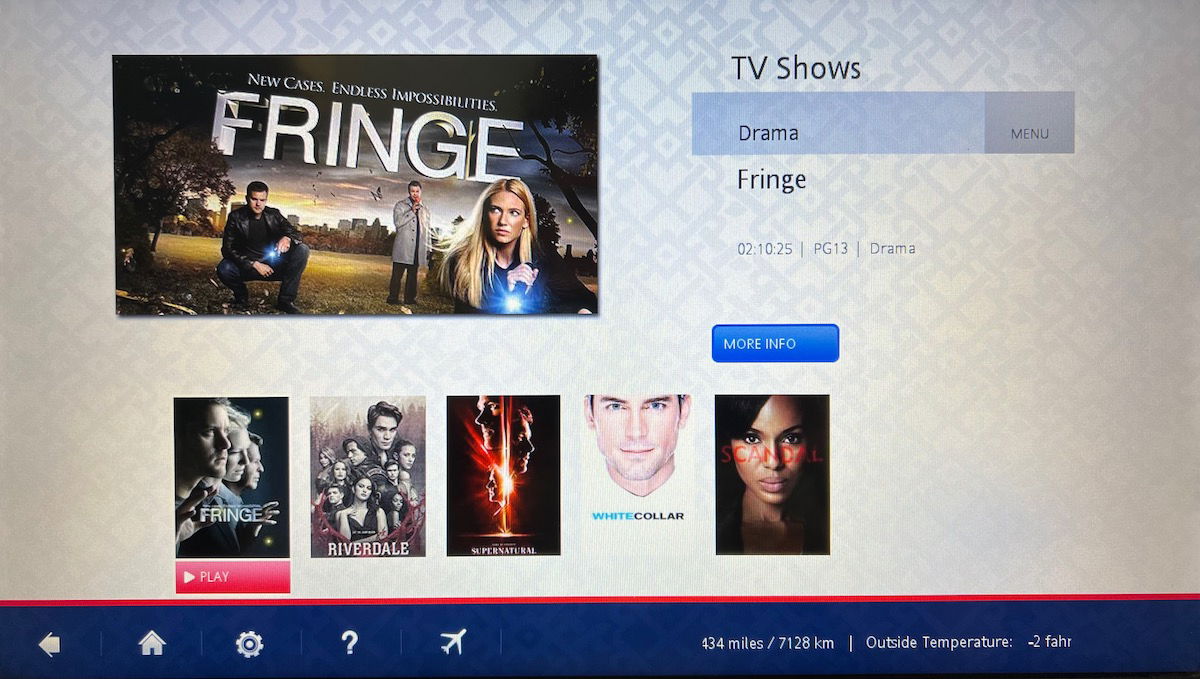 The plane did have a solid map feature, so I watched that for most of the flight.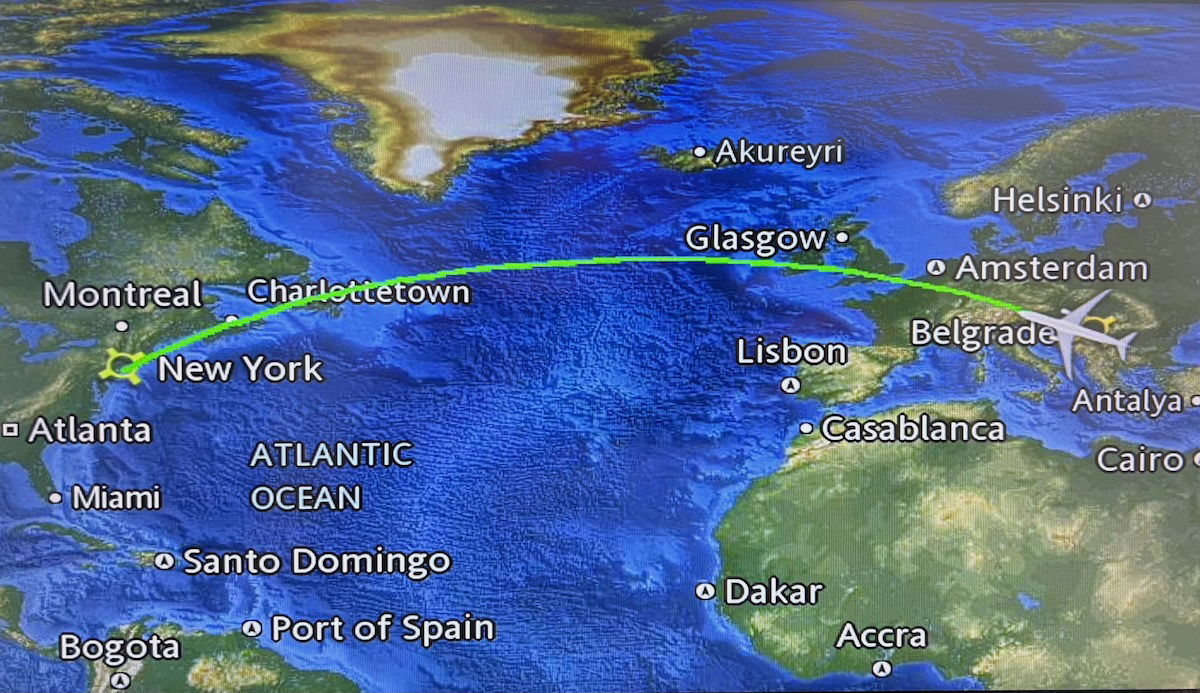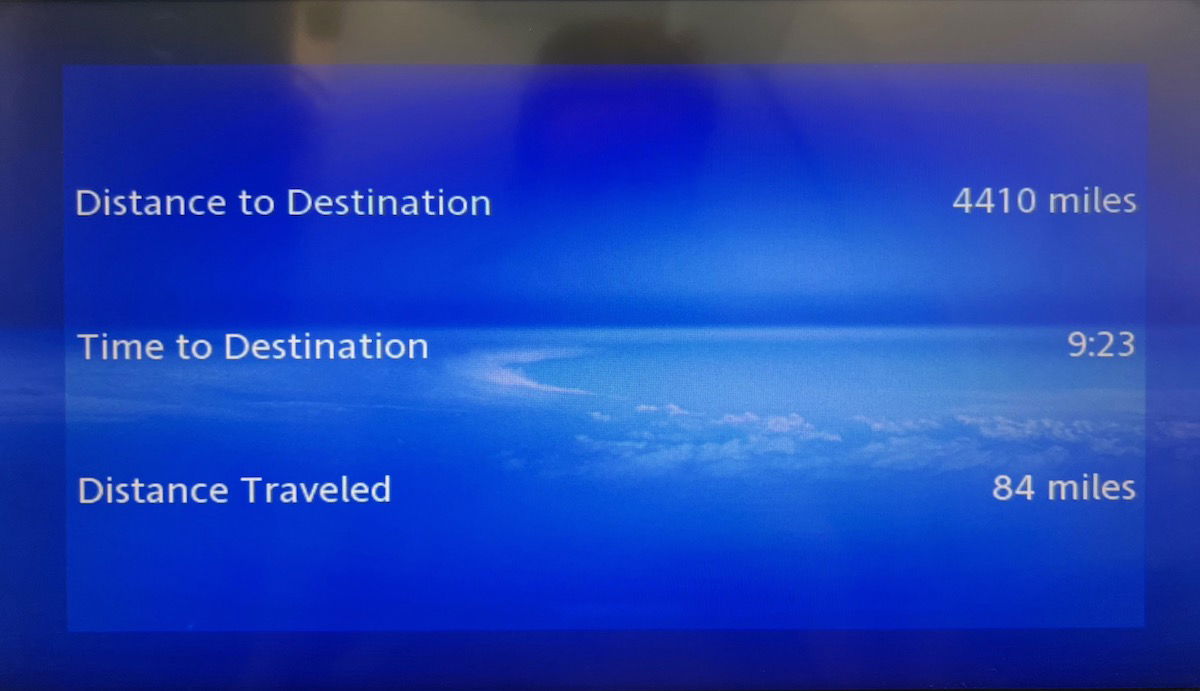 There's one other major issue with the entertainment. If you try to recline your seat and watch a show in bed mode, the coloring is way off. I think I captured that pretty decently in the below picture.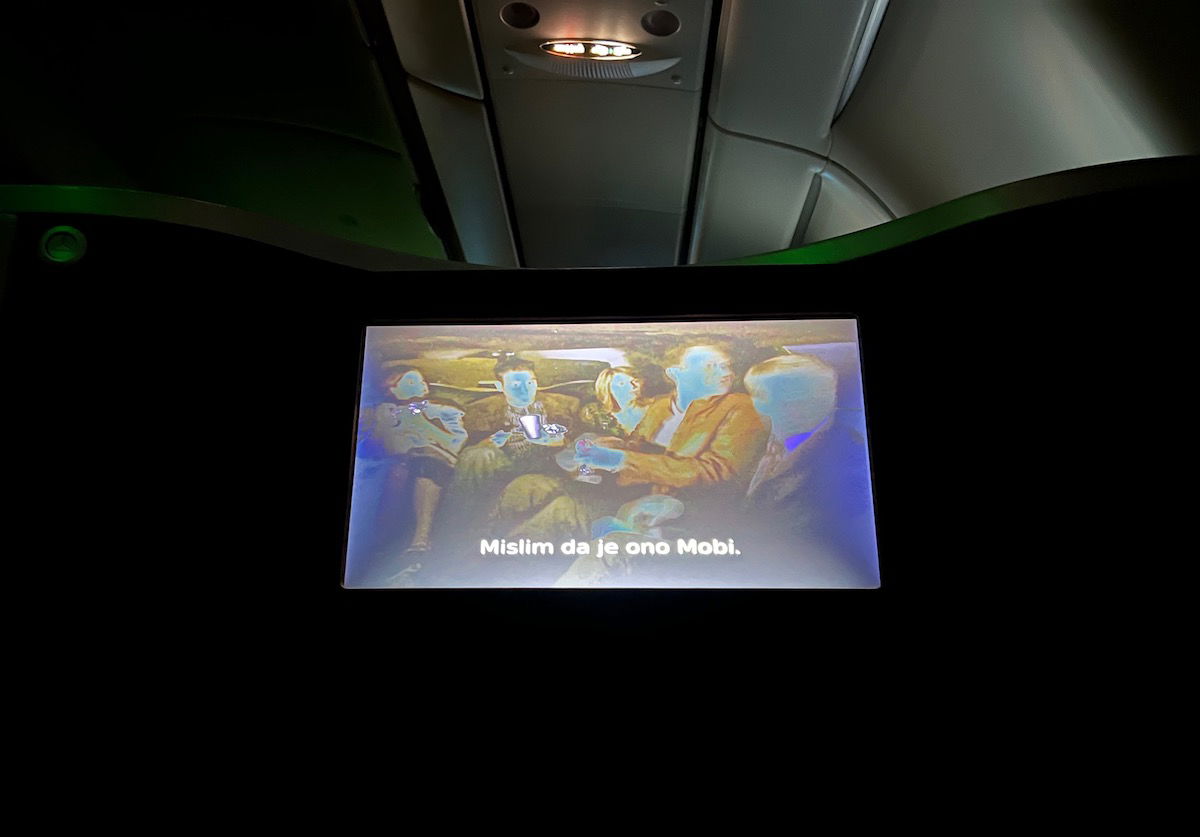 Air Serbia A330 business class dine on demand meal service
Air Serbia has a dine on demand menu in business class, at least in theory. Below you can find the menu and drink list for this flight.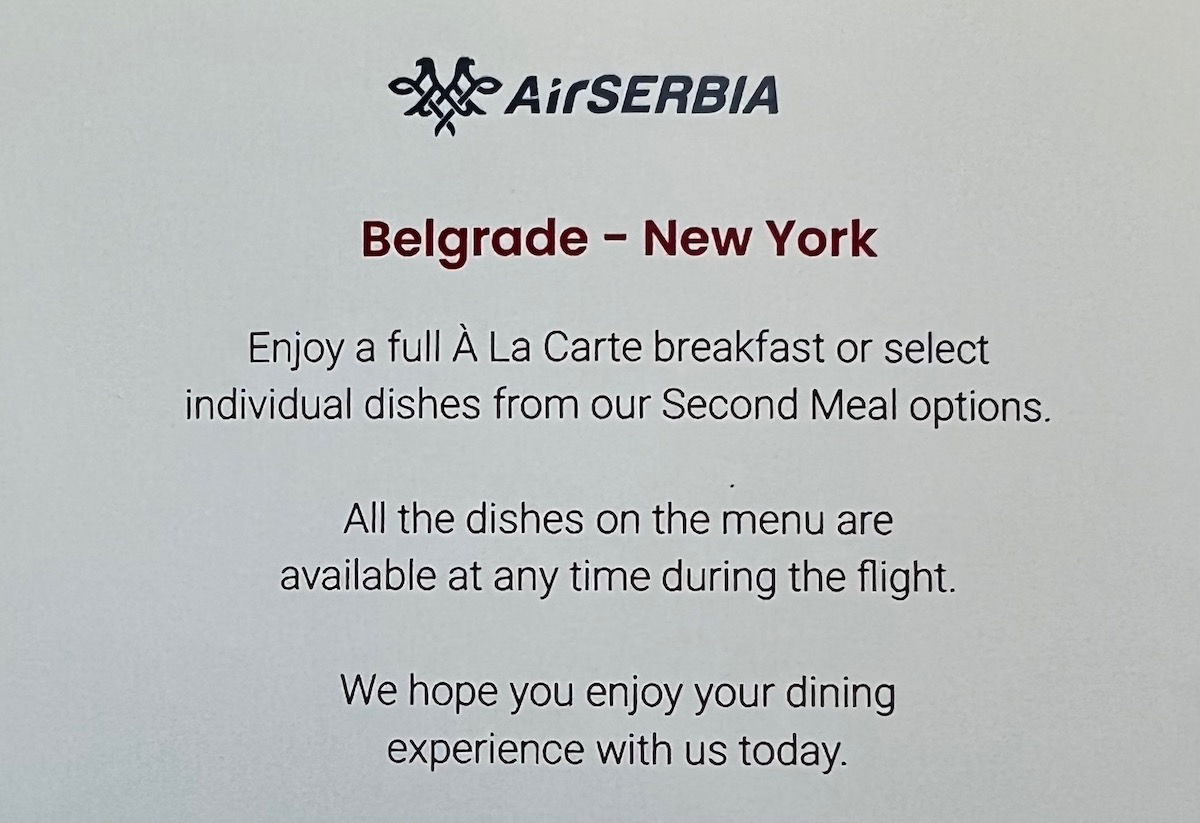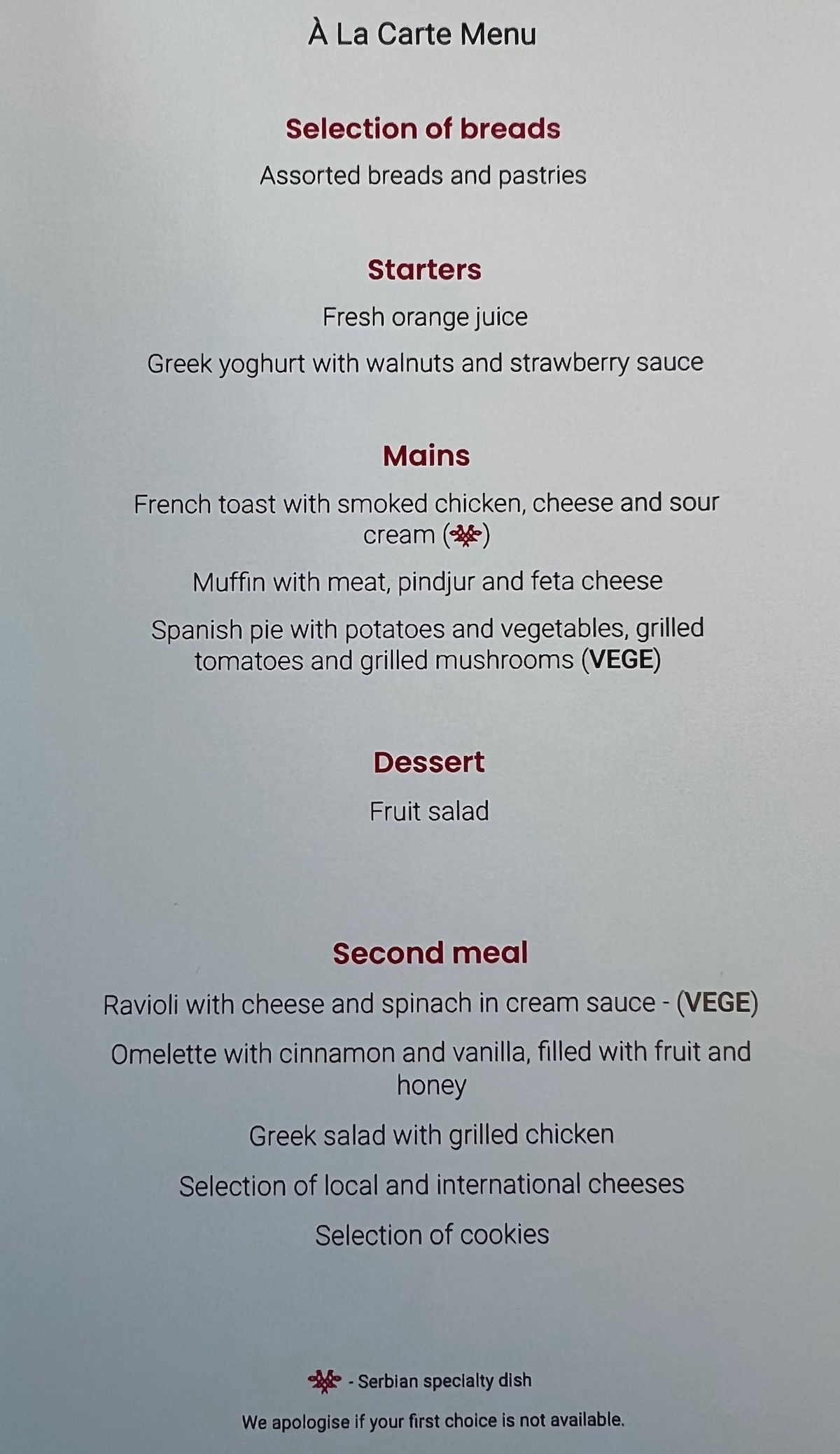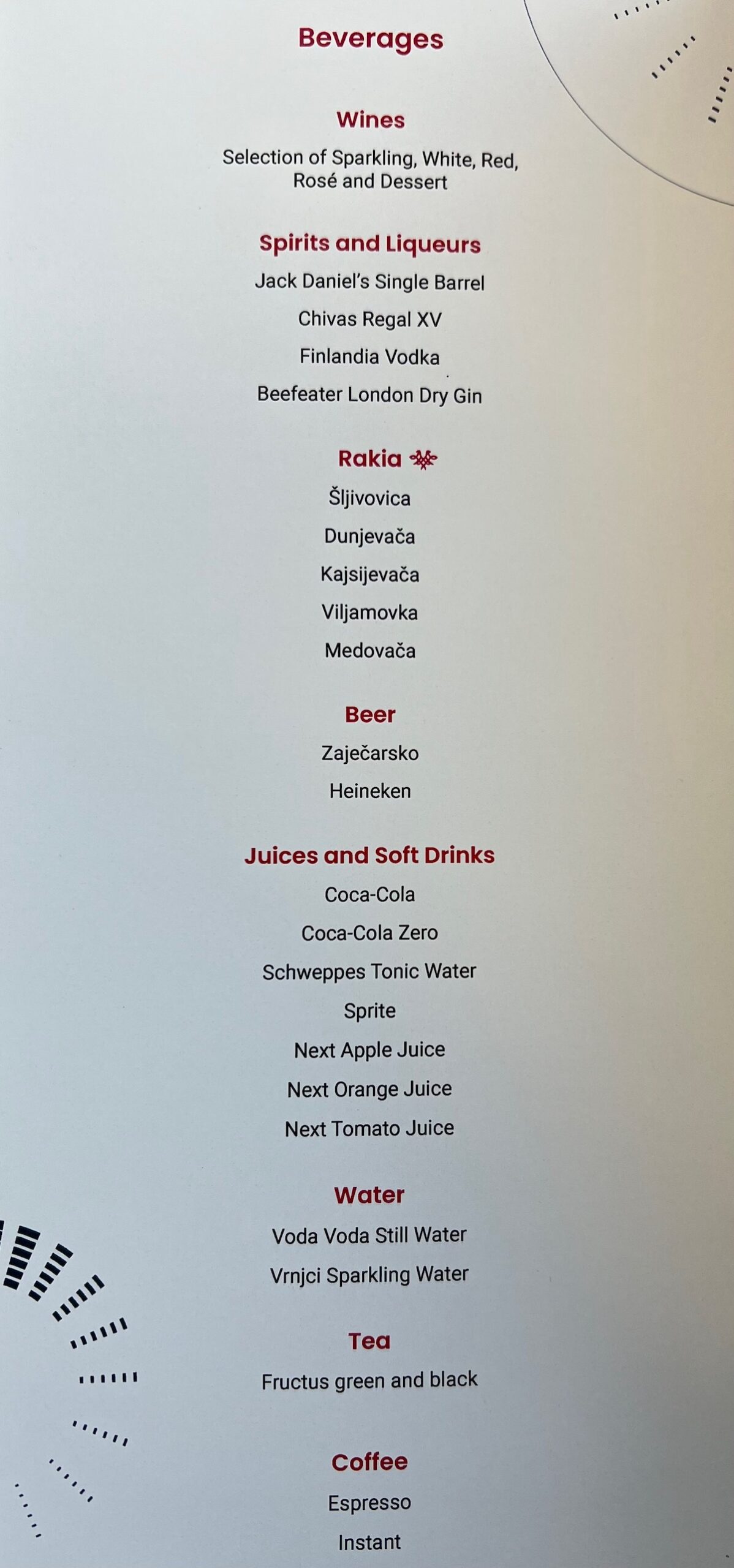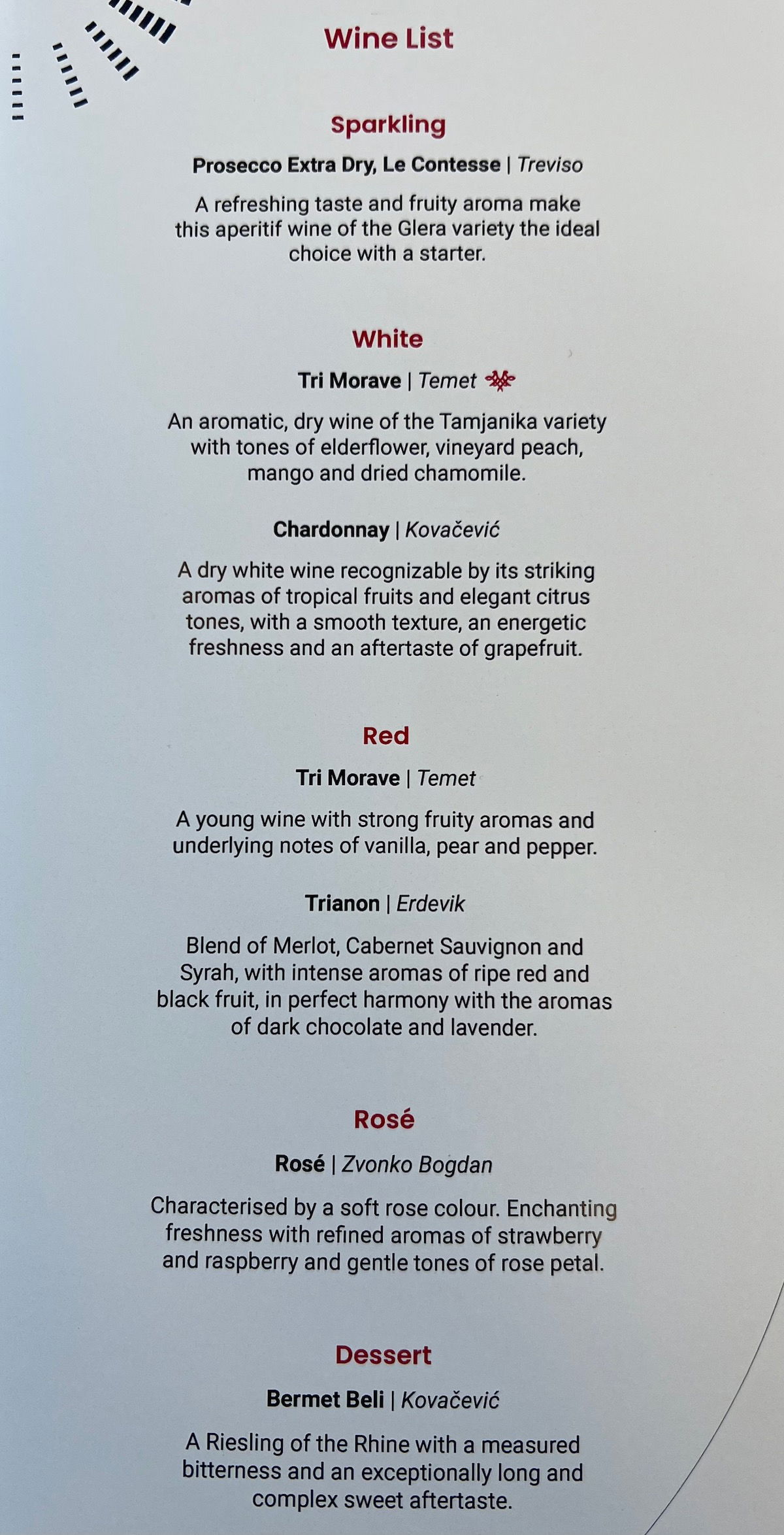 Given the scheduled pre-8AM departure from Belgrade, the menu is generally designed so that you can enjoy breakfast after takeoff, and then a snack later in the flight, before landing.
The crew explained the dining concept prior to takeoff, and already took meal orders. Initially I tried to order a cappuccino to drink, since I remember Air Serbia having great espresso-based drinks, based on previous flights. Unfortunately the crew informed me that the espresso machine was "broken" on this A330, so the only option was instant coffee.
The service was quick to get started, and just 30 minutes after takeoff drinks were served. While I was initially just going to have a coffee, I saw that the crew was serving everyone a ramekin of nuts, so then I decided to order a glass of wine (as one does). I had the dry Serbian white wine, which I enjoyed (I like how Air Serbia highlights local wines).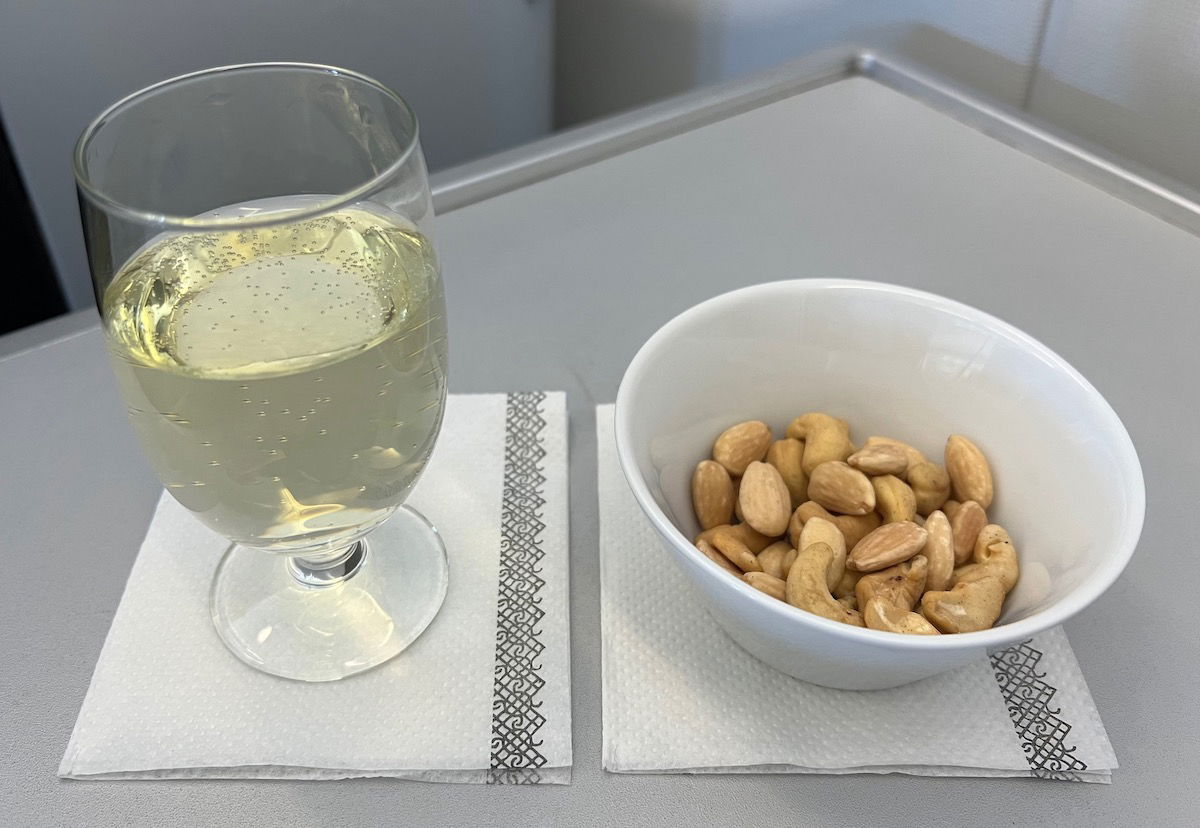 About 50 minutes after takeoff the meal service began. As before, Air Serbia doesn't serve meals on trays, but rather gives each passenger a tablecloth, and then places items directly on there. That's a nice touch. Unfortunately there's not a whole lot else positive that I can say about the meal service.
As a starter I ordered the greek yogurt with walnuts and strawberry sauce, which was rather tiny, and had a lot of strawberry sauce. I also had an instant coffee (and it tasted like it), plus an orange juice. It was at least cute that the coffee came with a cookie and a little cup with milk.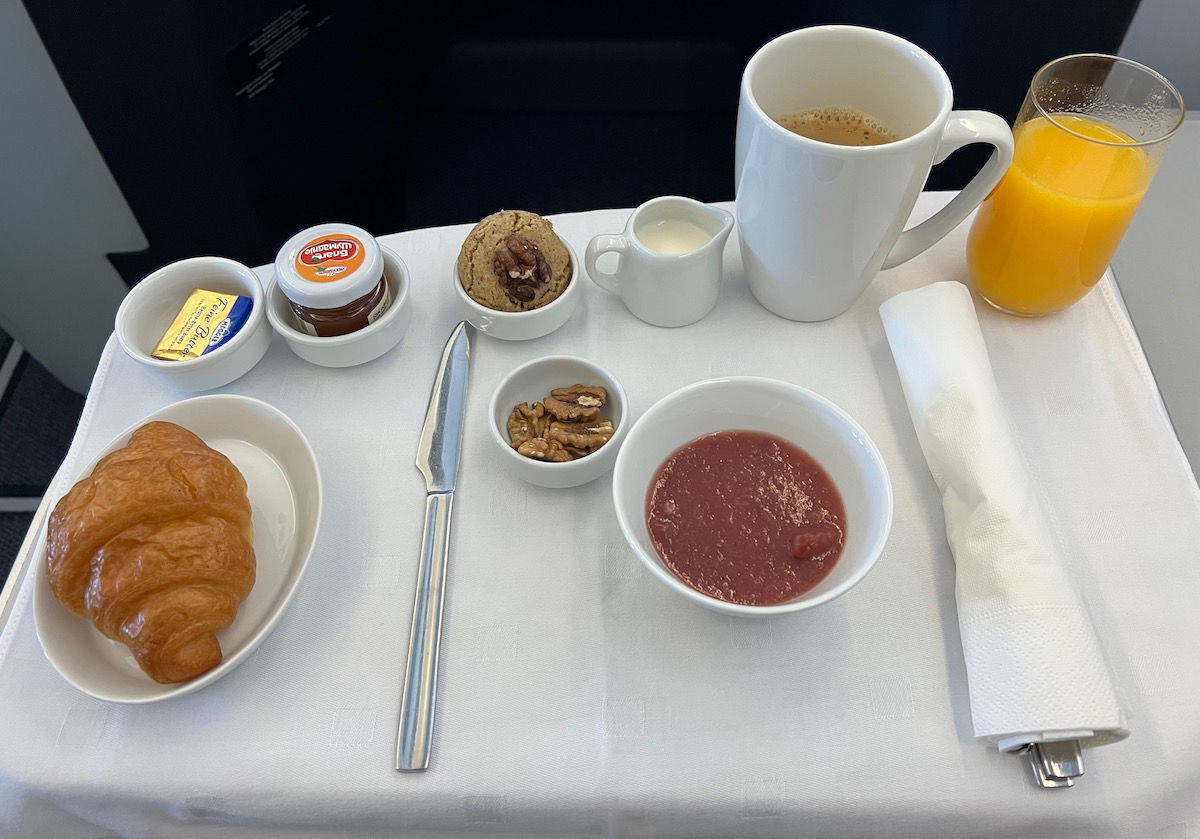 For the main course I selected the Spanish pie with potatoes and vegetables, grilled tomatoes, and grilled mushrooms. It was okay, but that's about it.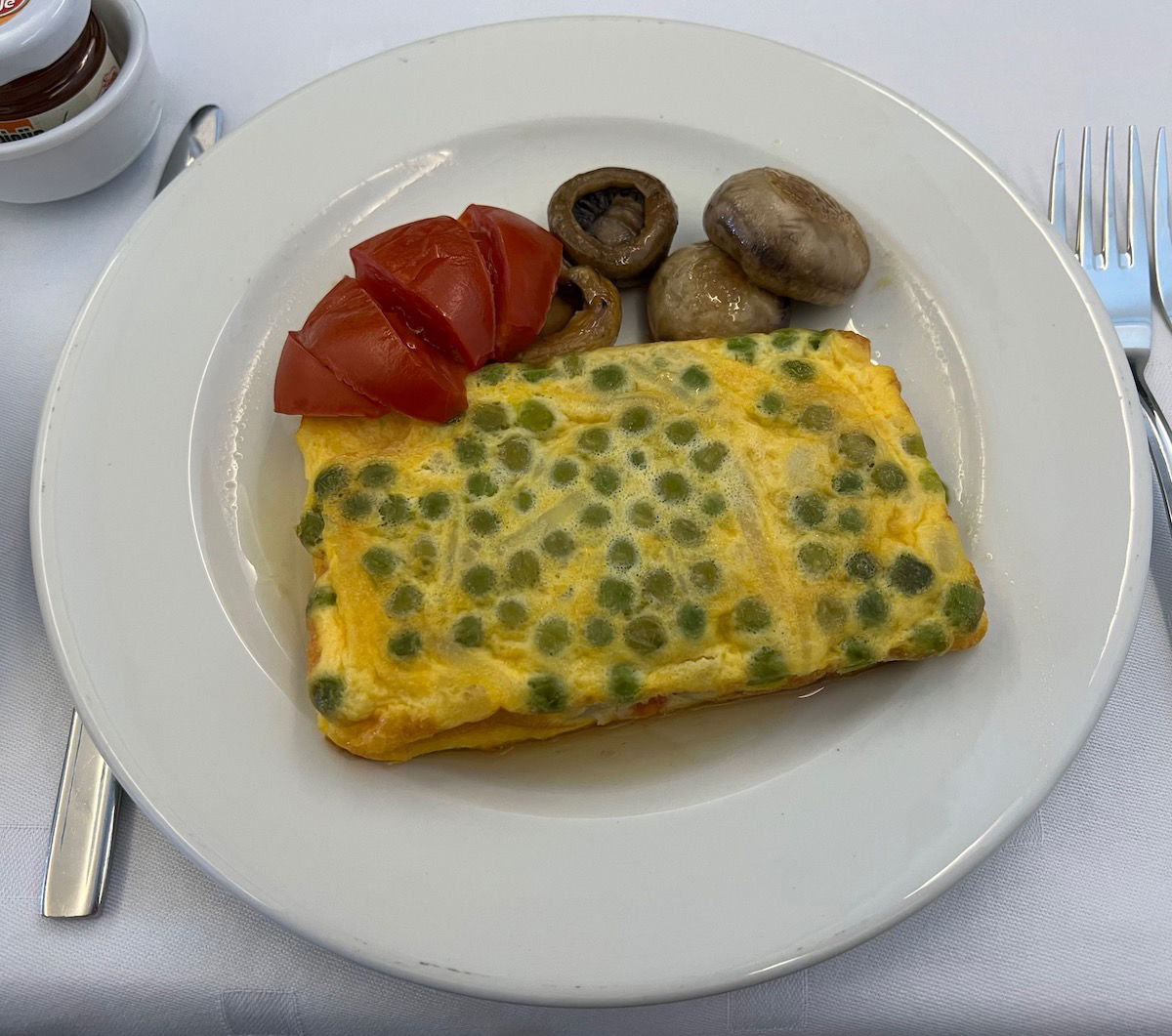 Then for dessert there was a fruit plate.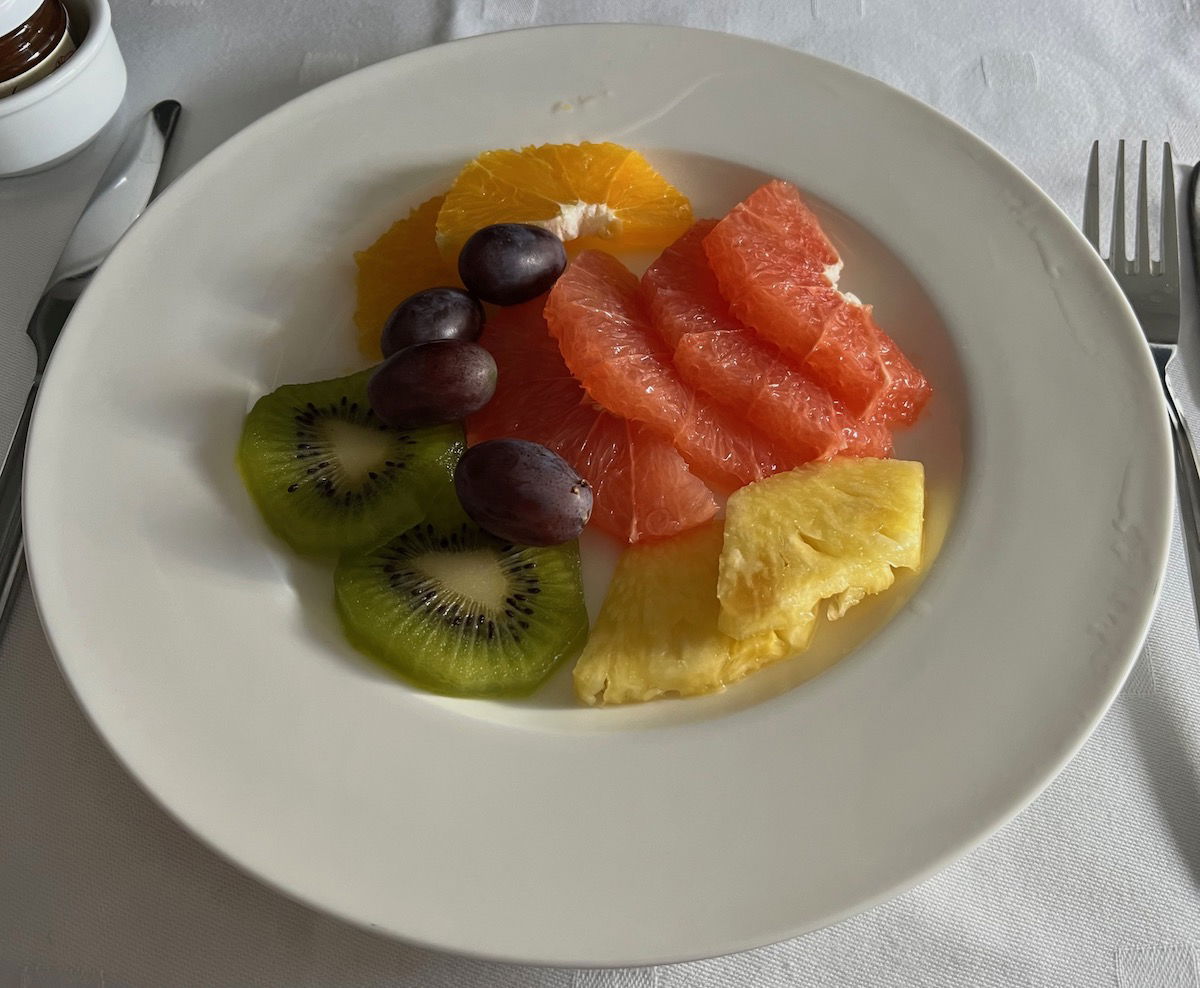 The crew was lovely, and I appreciated the pace of service. That being said, other than that I'd say the meal wasn't great. Then again, breakfast is generally the least exciting meal you can be served on a plane. By the time breakfast service was done we were over Germany, with over eight hours remaining to New York.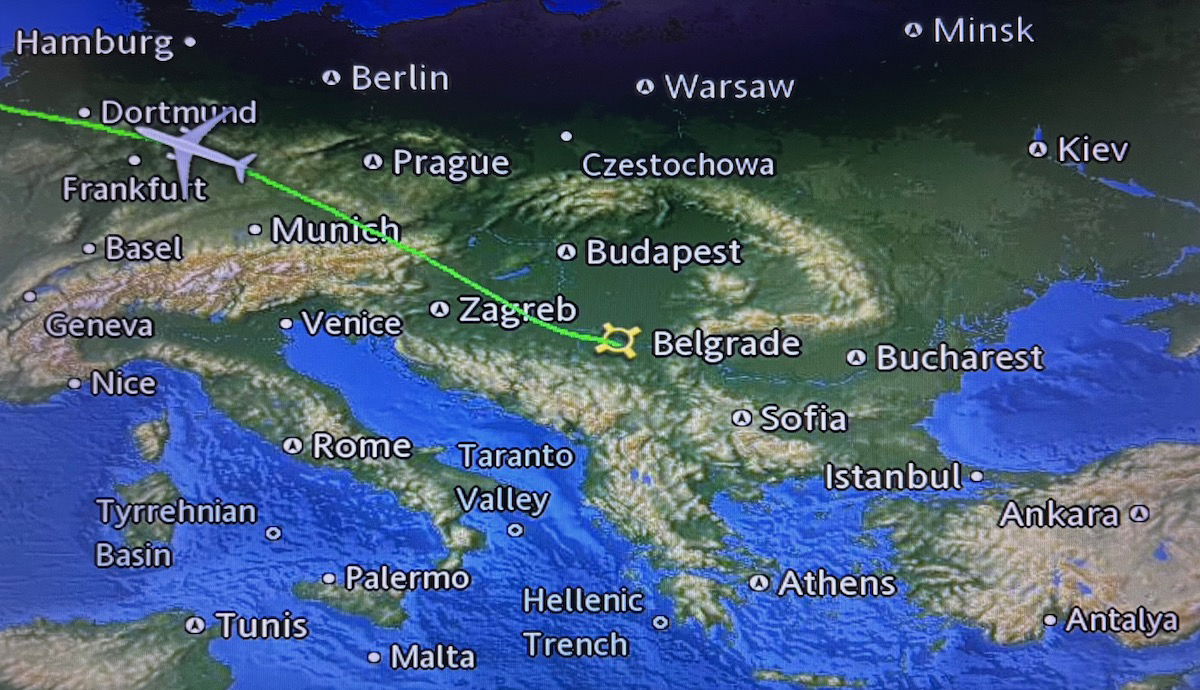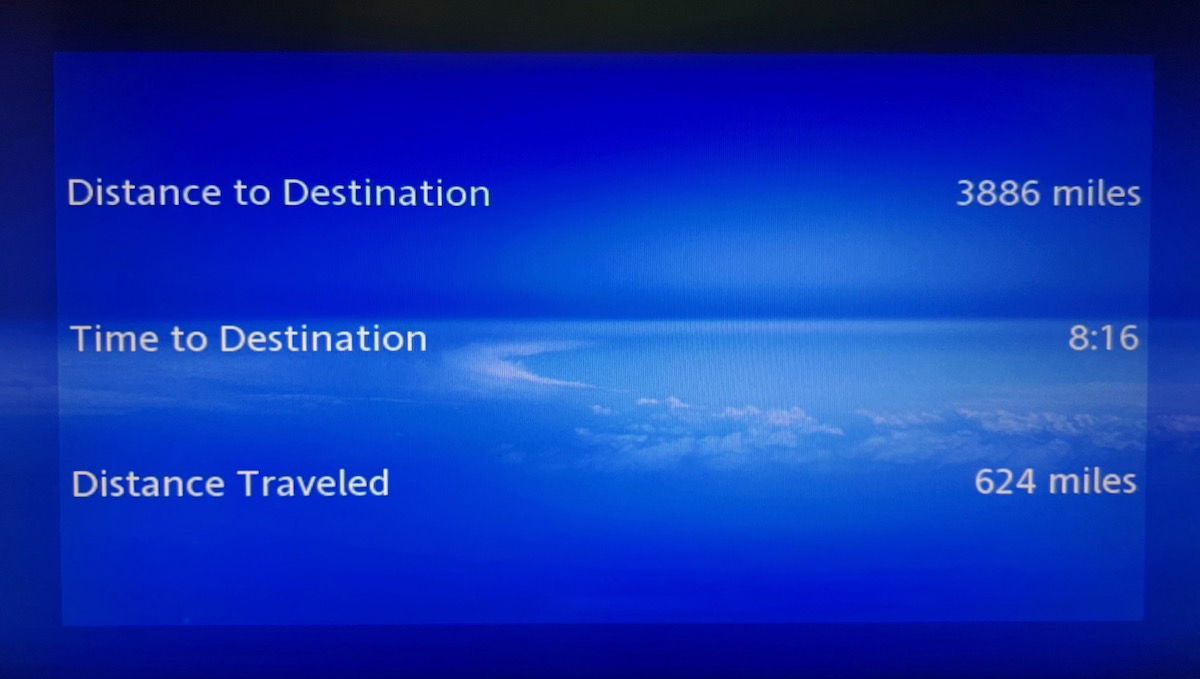 Eventually I tried to sleep (more on that in a bit), though I struggled to do so. With no good entertainment and no more work to be done, I figured I had to turn to other methods to try to get some sleep. Serbia is known for rakia, which is a fruity spirit of sorts (most importantly, it's about 40% alcohol). I asked if I could try the plum and apricot rakia, and the flight attendant gladly brought those out in some cute shot glasses, along with some nuts.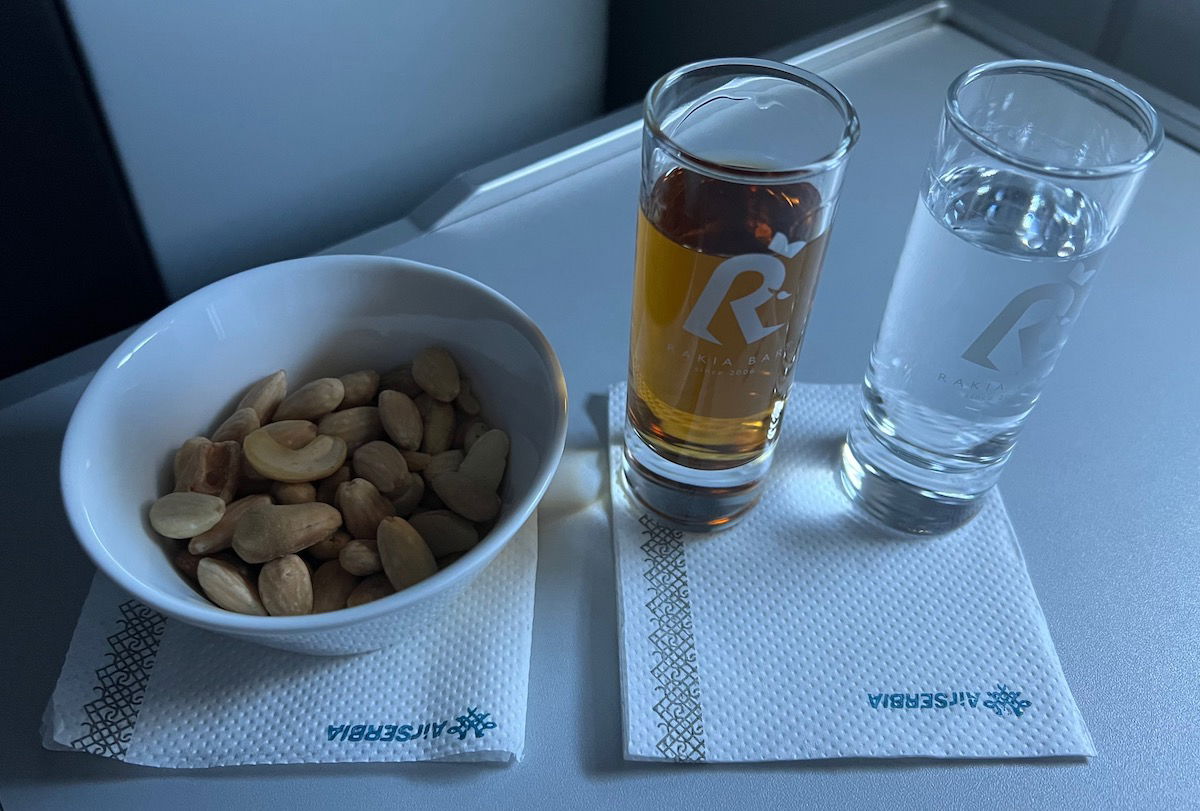 Not only did I enjoy the rakia, but the two drinks helped me get a few hours of sleep… yay! I ended up waking up just over two hours prior to arrival in New York, shortly before the cabin lights started to be turned on for the pre-arrival service.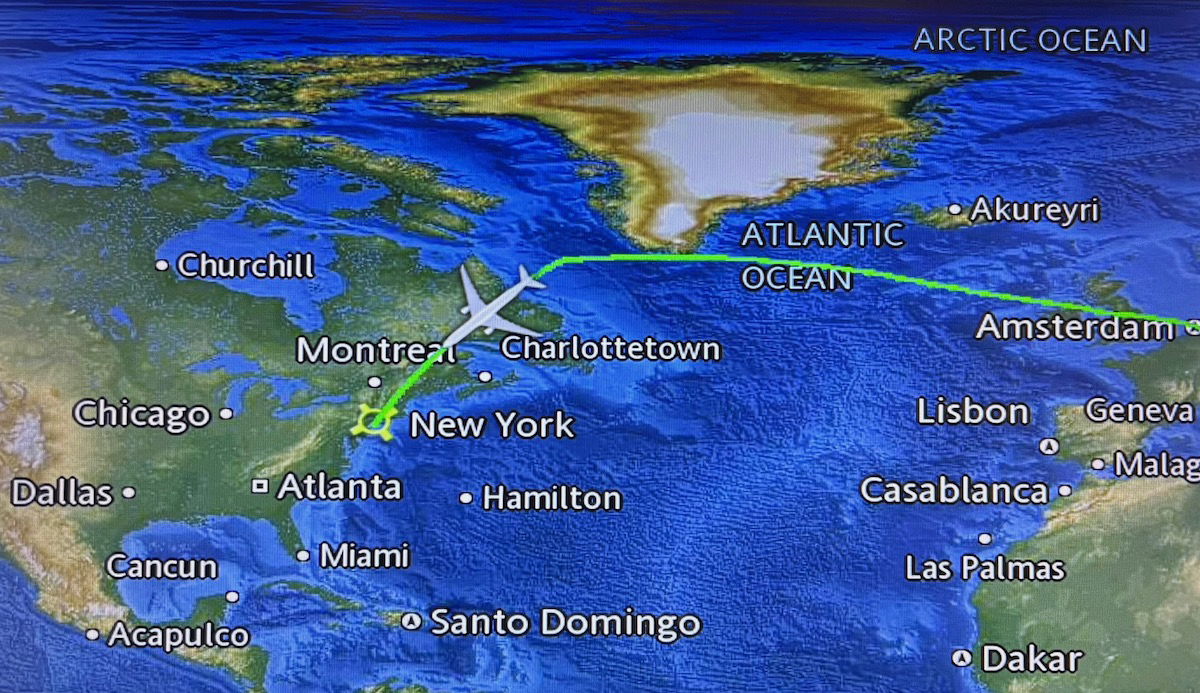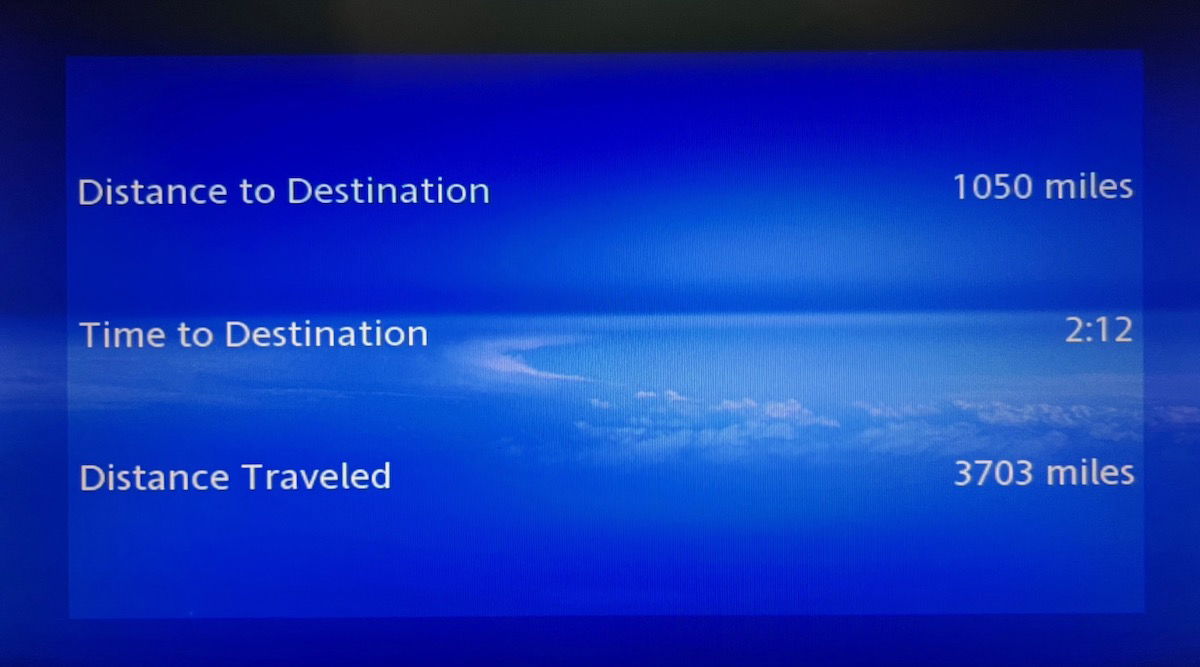 While there's technically a dine on demand menu, in practice it seems that just about everyone has breakfast after takeoff and a snack before landing. So around two hours before landing I tried to order a meal. There were four things on the menu that weren't breakfast, so here's how that ordering process went:
"Could I have the Greek salad with grilled chicken?"
"We are out, I'm sorry."
"Okay, then the ravioli with cheese and spinach and cream sauce?"
"I'm so sorry, we don't have any of those left either."
"Umm, okay, then I guess I'll take a cheese plate?"
"We're out of those. Would you like the sweet omelet?"
"Is there another option?"
"We have some fruit plates left from breakfast."
"Okay, I'll take the omelet then."
How disappointing that three of the four options weren't available. We're talking about a nearly 10 hour daytime flight here. I guess the moral of the story is to "reserve" meals early, which I hate doing, but that's about the only solution short of Air Serbia increasing its catering.
The "omelet" had cinnamon and vanilla, and was filled with fruit and honey. It was very tasty, but also ridiculously indulgent and sweet.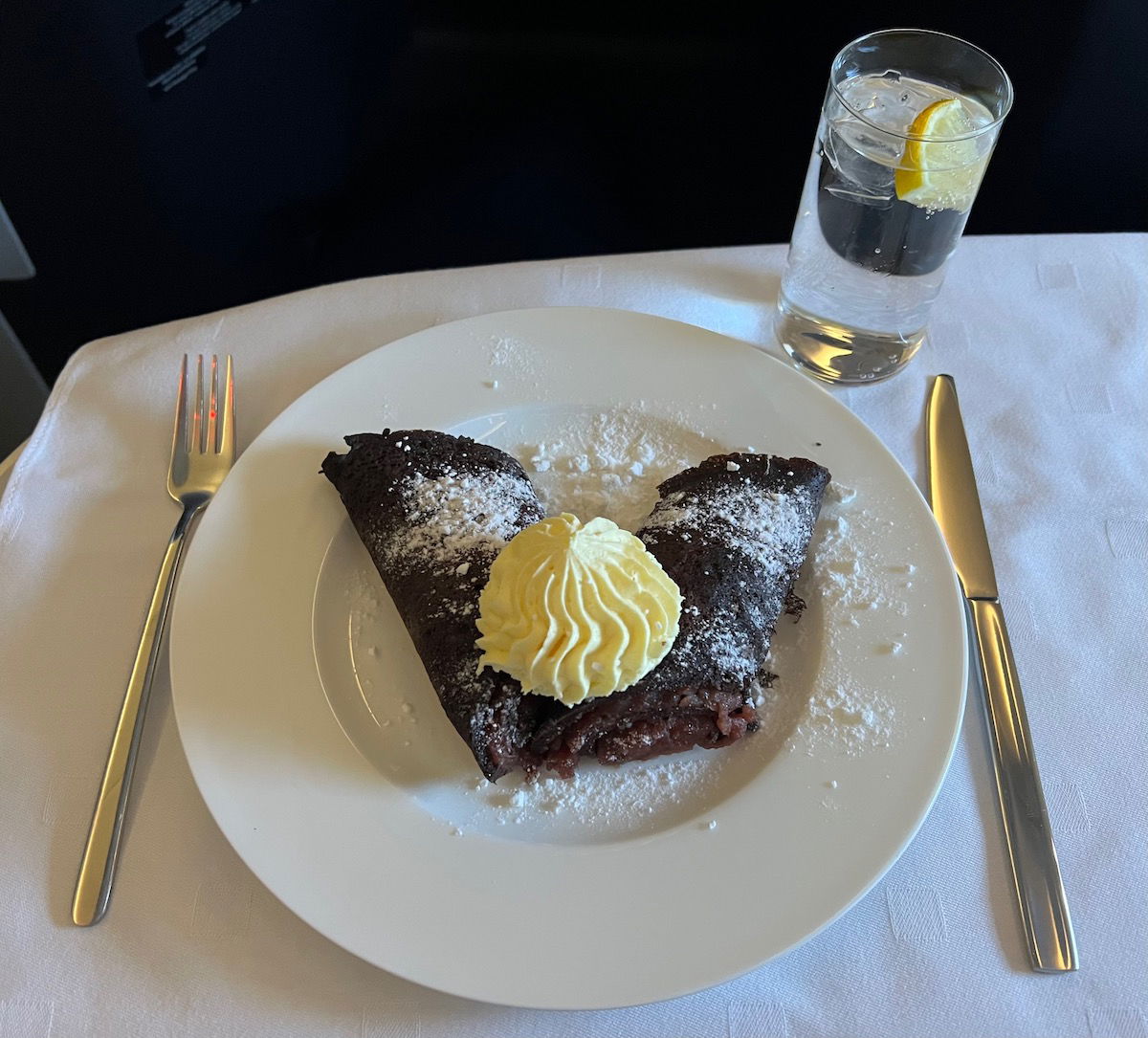 Air Serbia A330 business class bed
As mentioned above, I managed to get a roughly three hour nap on this flight. I found the sleeping surface to be quite comfortable, even though I was only in a half throne seat of sorts.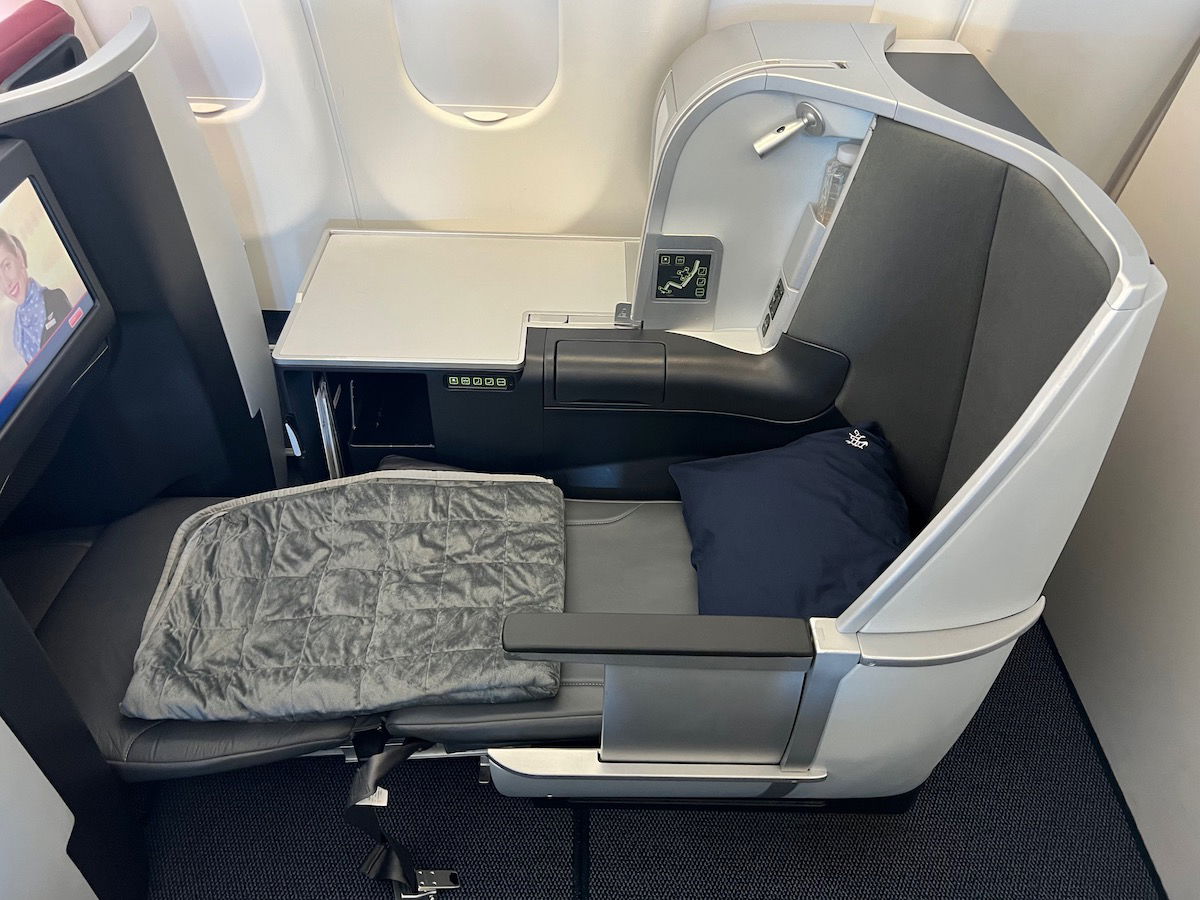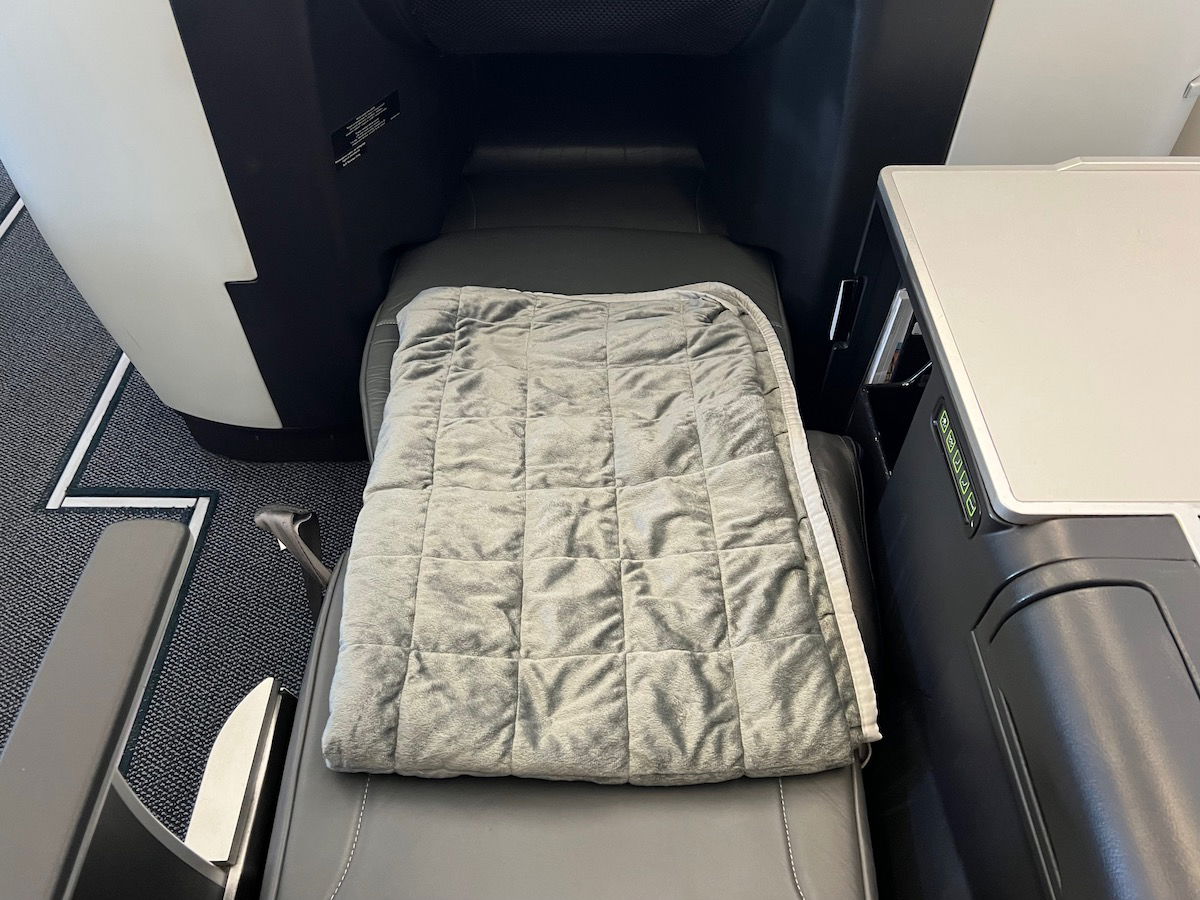 As is standard in these kinds of seats, the footwell was on the small side, so if you have big feet, that could be a consideration. However, it wasn't as tight as the footwell in FlyDubai's Boeing 737 MAX business class.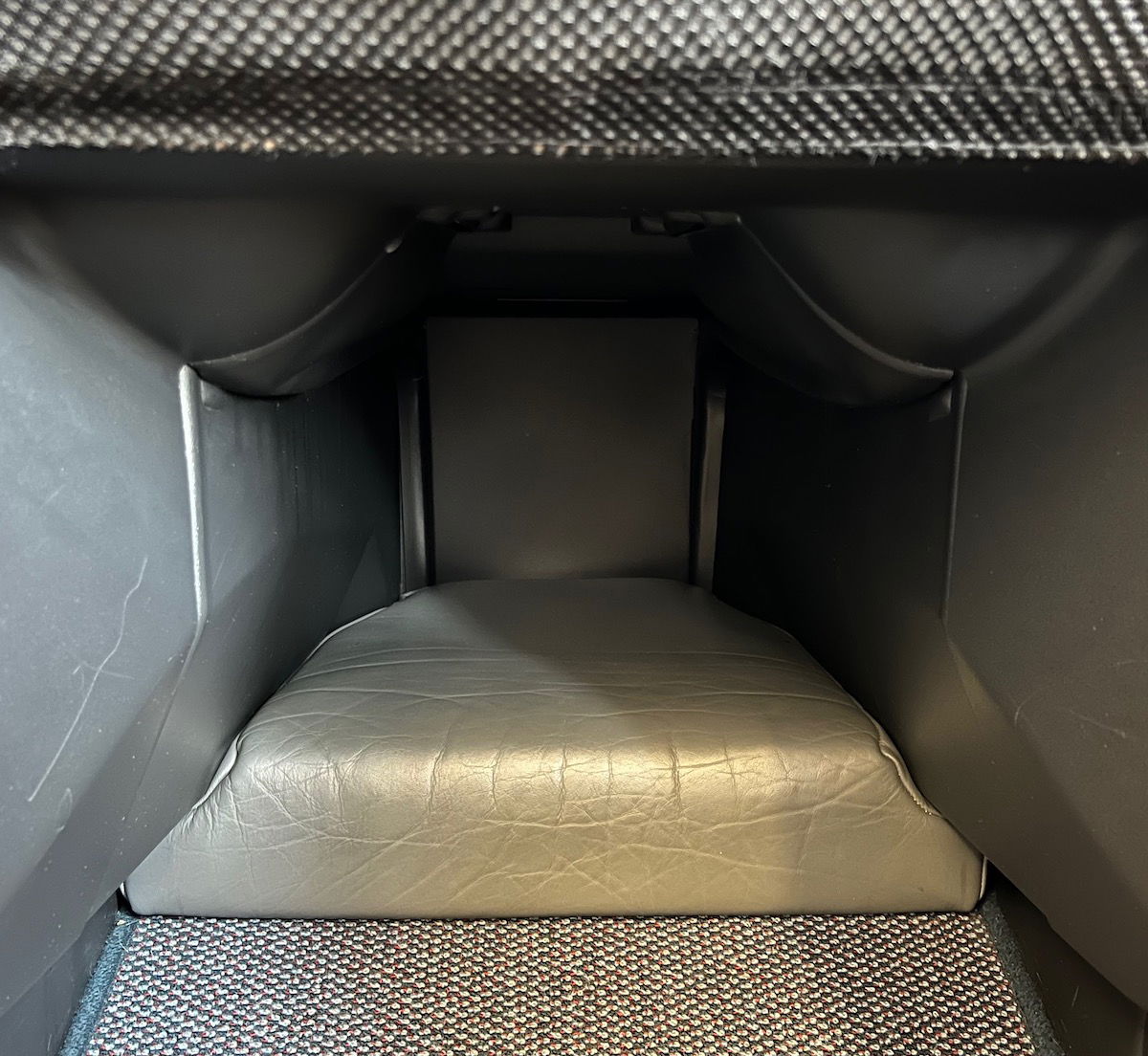 Air Serbia business class service
A strong point of the Air Serbia business class experience was the crew. The flight attendants were all genuinely nice, kind, and took pride in their job.
That being said, I wouldn't say service was particularly polished, in the sense that passengers weren't addressed by name, and the crew also didn't constantly pass through the aisle between meals. Furthermore, the crew only had so much to work with, given the lack of amenities, and the limited number of meals that were seemingly loaded.
Air Serbia A330 arrival in New York
About an hour before landing the captain made his pre-arrival announcement, informing us that we should be touching down around 12PM local time. Even prior to our descent starting, the crew already collected both headphones and blankets, which sure seemed early to do that.
About 30 minutes before landing we began our descent. Our approach was smooth and gradual, and we touched down on runway 22L at JFK at 11:55AM.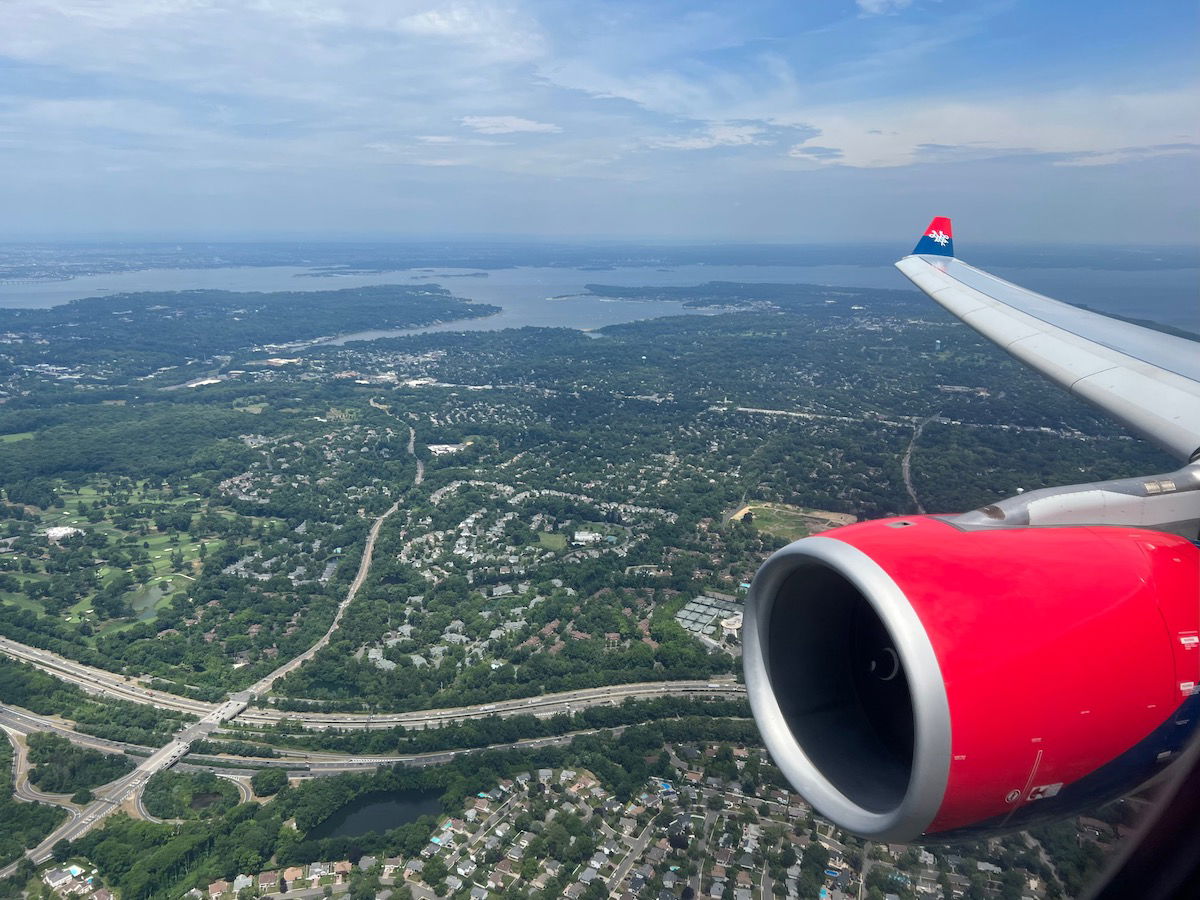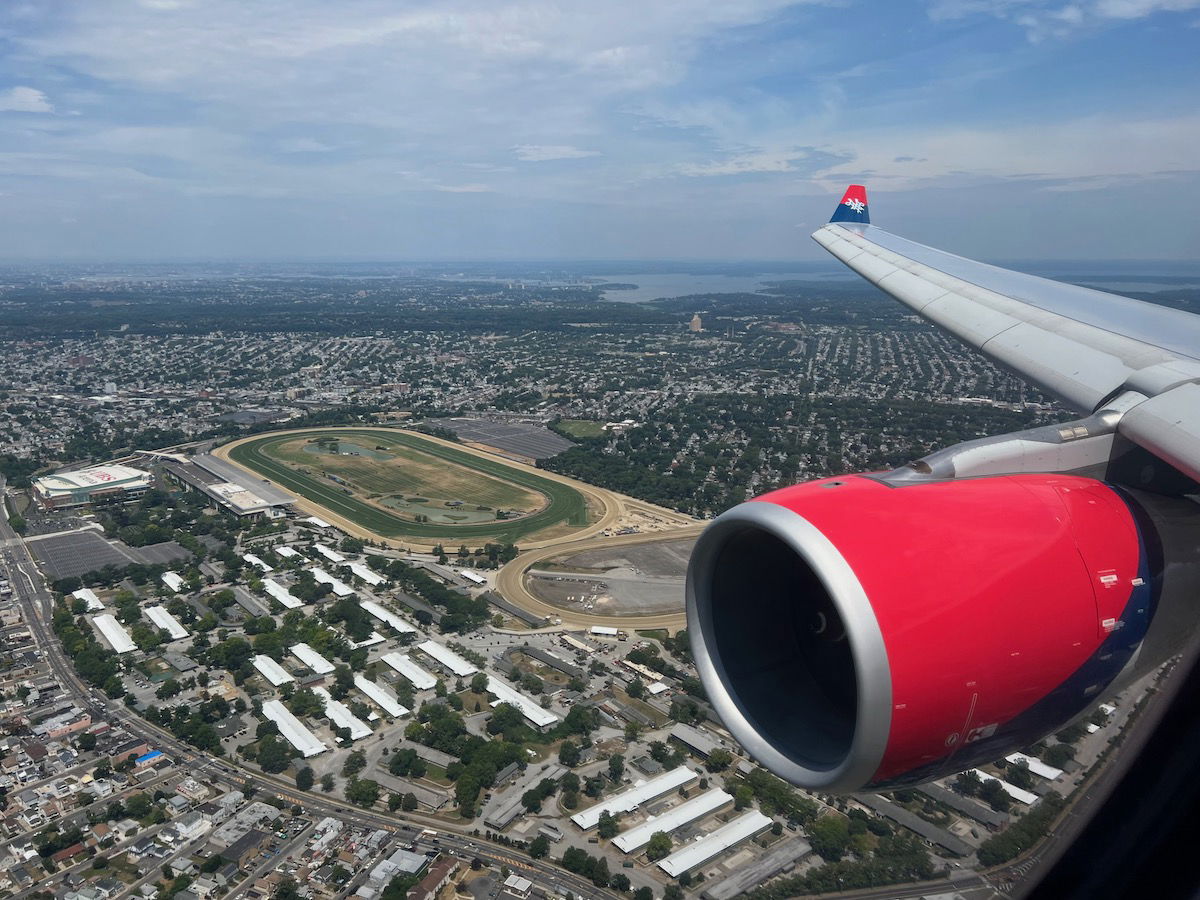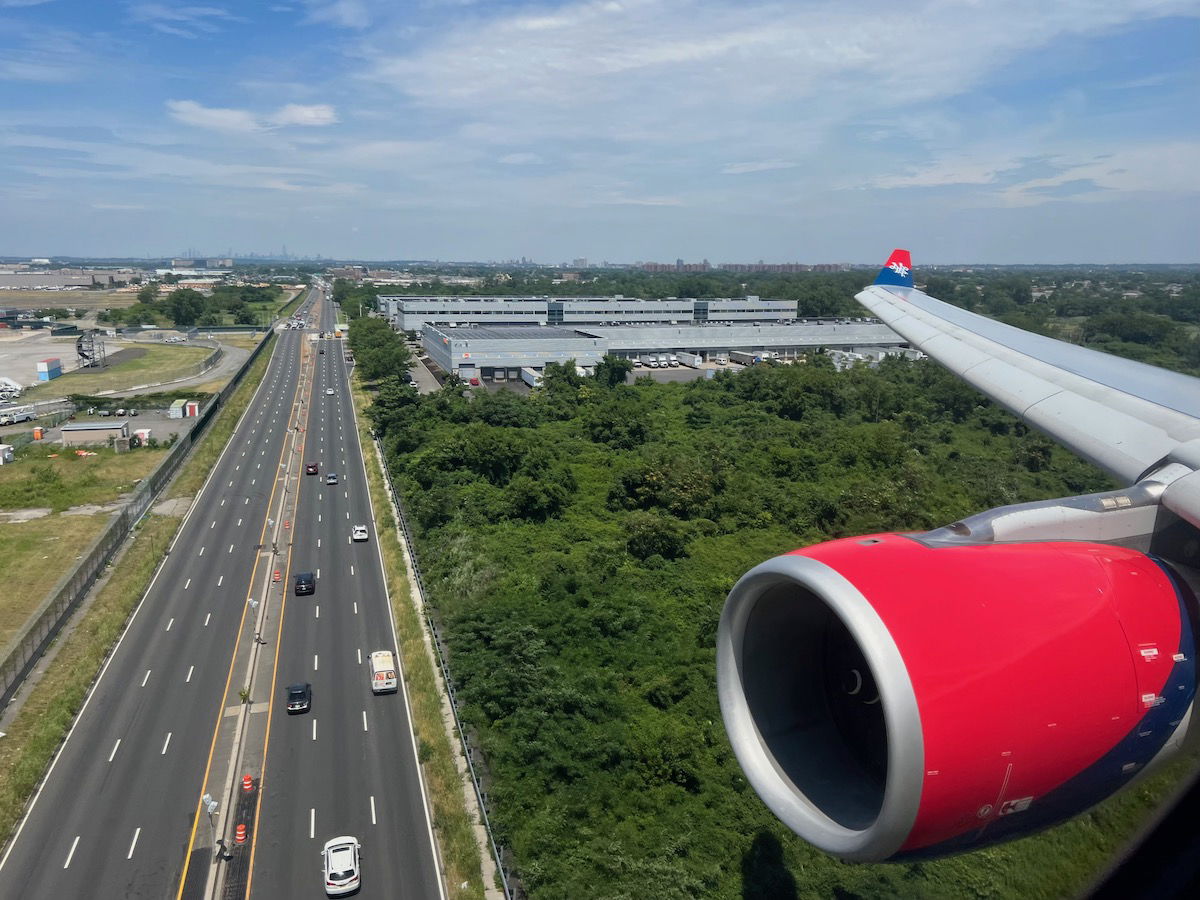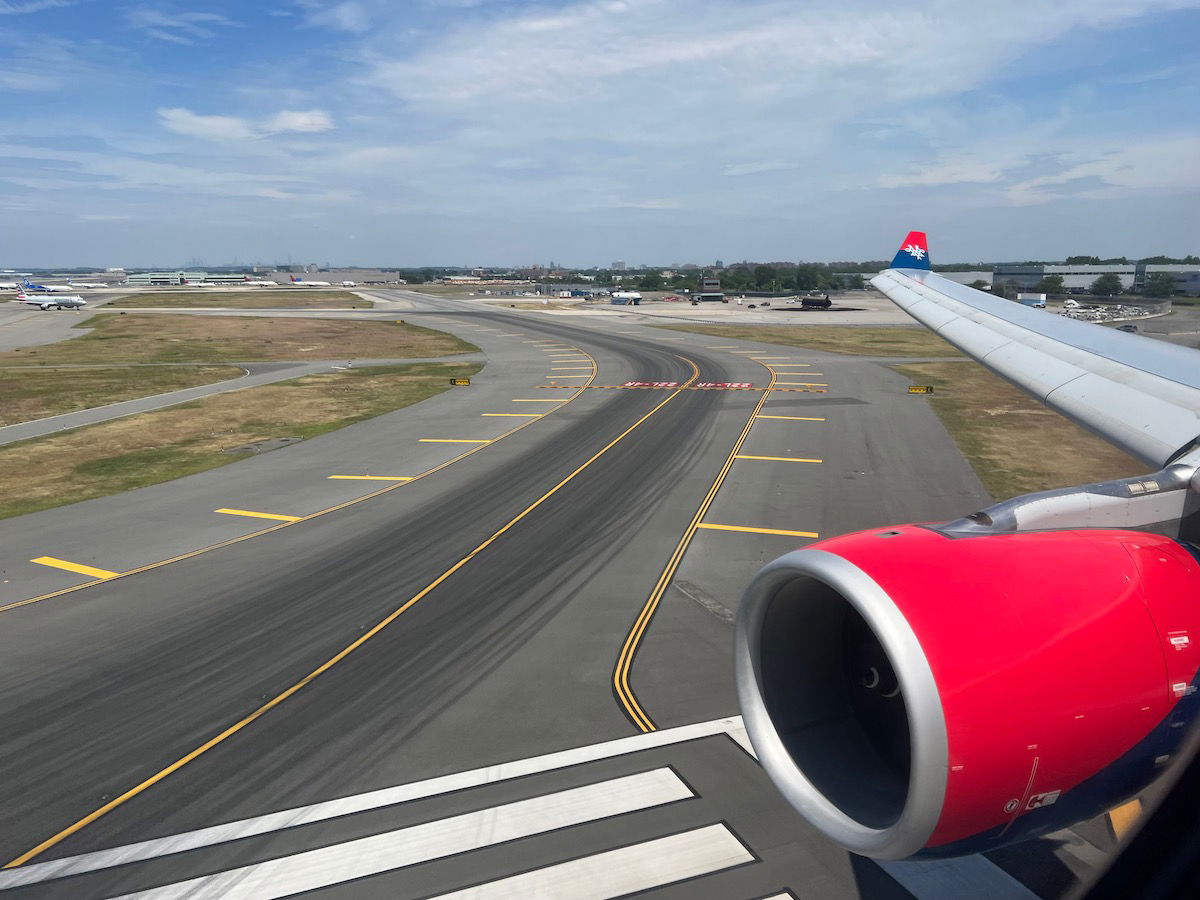 From there we had a roughly 10 minute taxi to our arrival gate. We were parked at the very end of Terminal 1, so we had to be towed into our gate. Passengers weren't great about listening to instructions about remaining seated during this time.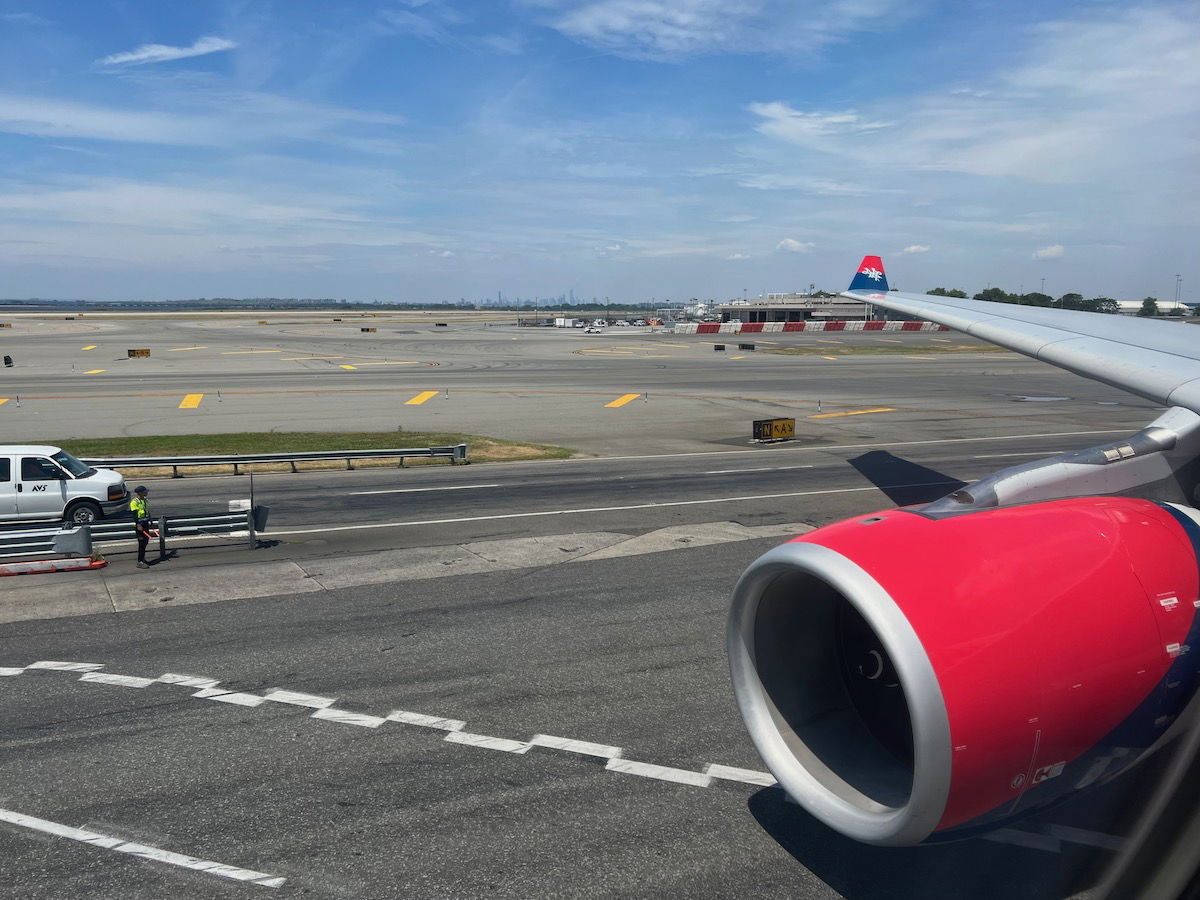 I was through immigration in no time thanks to Global Entry, and was happy to have wrapped up another fun trip!
Bottom line
Air Serbia business class isn't what it used to be, and based on my experience, I certainly wouldn't go out of my way out of my way to fly Air Serbia again. Air Serbia's business class seats as such are perfectly competitive, but other aspects of the experience leave a lot to be desired.
From the plane not having Wi-Fi, to the limited entertainment, to the lack of amenities (not even amenity kits), to the mediocre breakfast, to the espresso machine being broken, to them running out of food pre-landing, Air Serbia's business class didn't impress this time around.
Unless Air Serbia were really cheap or I were traveling specifically between Belgrade and New York, I'd probably avoid this flight in the future.
It's sad, because so many of the issues with the experience could be fixed so easily. I'm not sure if I just caught Air Serbia on an off day, or if the airline has really fallen so far.
What do you make of Air Serbia's current business class experience?