In the interest of full disclosure, OMAAT earns a referral bonus for anyone that's approved through some of the below links. These are the best publicly available offers (terms apply) that we have found for each product or service. Opinions expressed here are the author's alone, not those of the bank, credit card issuer, airline, hotel chain, or product manufacturer/service provider, and have not been reviewed, approved or otherwise endorsed by any of these entities. Please check out
our advertiser policy
for further details about our partners, and thanks for your support!
For the next portion of my trip, I flew FlyDubai's Boeing 737 MAX business class from Dubai (DXB) to Belgrade (BEG). Before actually reviewing the flight, I wanted to talk about how I booked my ticket, which was using FlyDubai's paid upgrade program. Let's start with some context.
What is FlyDubai?
FlyDubai is a low cost carrier based in Dubai, exclusively operating a fleet of Boeing 737 aircraft. The airline has a partnership with Emirates, and uses Emirates Skywards as its frequent flyer program. Even though both airlines are owned by the government, they're two separate companies, and for all practical purposes are run separately.
Nonetheless the two airlines complement one another. Emirates exclusively flies Airbus A380s and Boeing 777s, which are way too big to serve certain destinations (both in terms of airport limitations and demand). Those destinations are largely served by FlyDubai, with smaller Boeing 737 aircraft.
You'll often find FlyDubai serving airports that Emirates doesn't serve, and thanks to the codeshare agreement between the airlines, many passengers may have itineraries including travel on both airlines.
Here's the thing — while FlyDubai claims to be a low cost carrier, FlyDubai's business class is generally priced really high, in many cases even higher than what you'd expect to pay on Emirates. I can't really make sense of this, because more often than not it looks like FlyDubai's business class cabin is far from being sold out.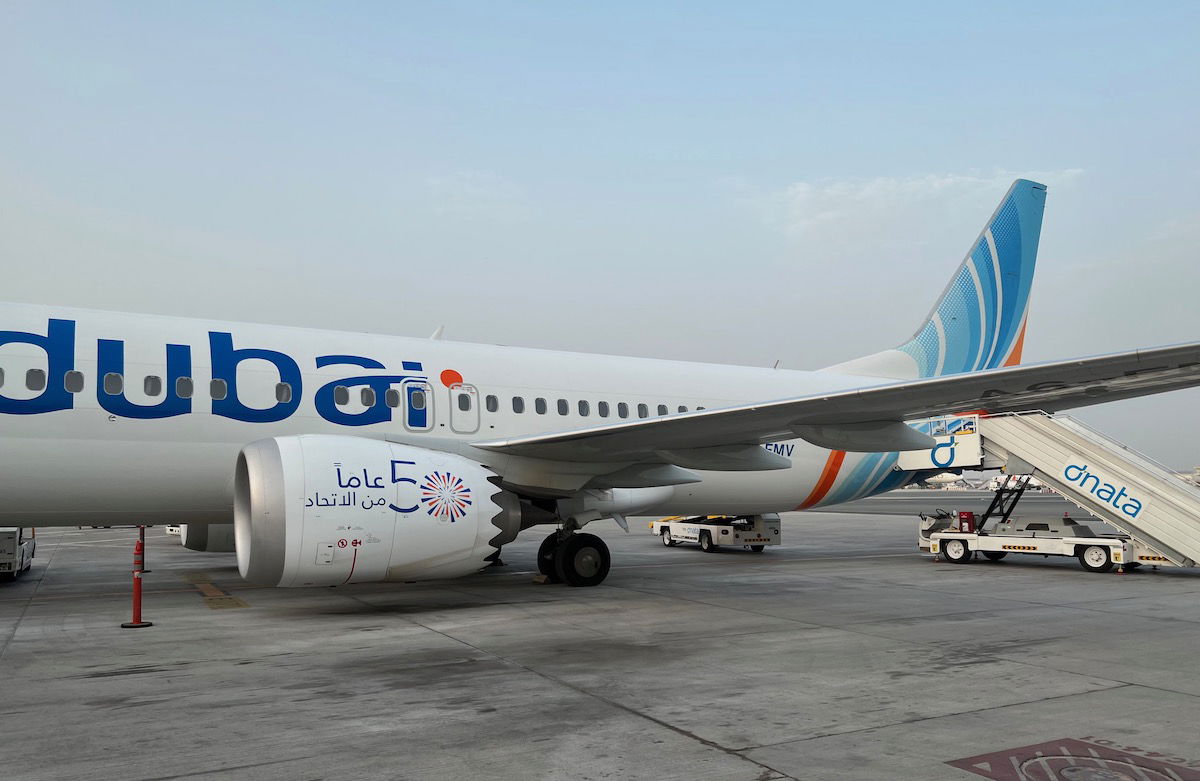 Redeeming Emirates Skywards miles on FlyDubai is a bad deal
While you can redeem Emirates Skywards miles for FlyDubai business class, unfortunately it's a terrible value. When you redeem Skywards miles for travel on Emirates, there's fixed cost pricing, assuming there's award availability.
Meanwhile when redeeming Skywards miles on FlyDubai, pricing is dynamic, and is significantly higher than what you'd pay on Emirates (though without capacity constraints). For example, take the below Dubai to Belgrade one-way business class flights, which cost $1,698 and $2,049.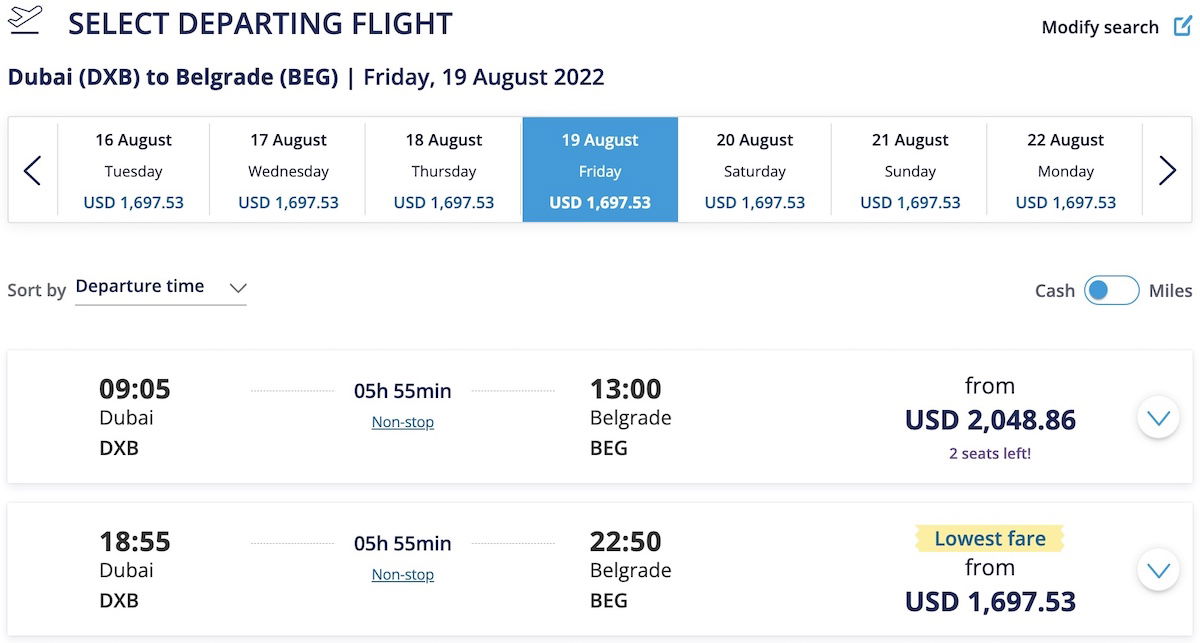 If you wanted to redeem Skywards miles for those flights, you'd pay 93,149 Skywards miles and 116,109 Skywards miles, respectively, plus high surcharges.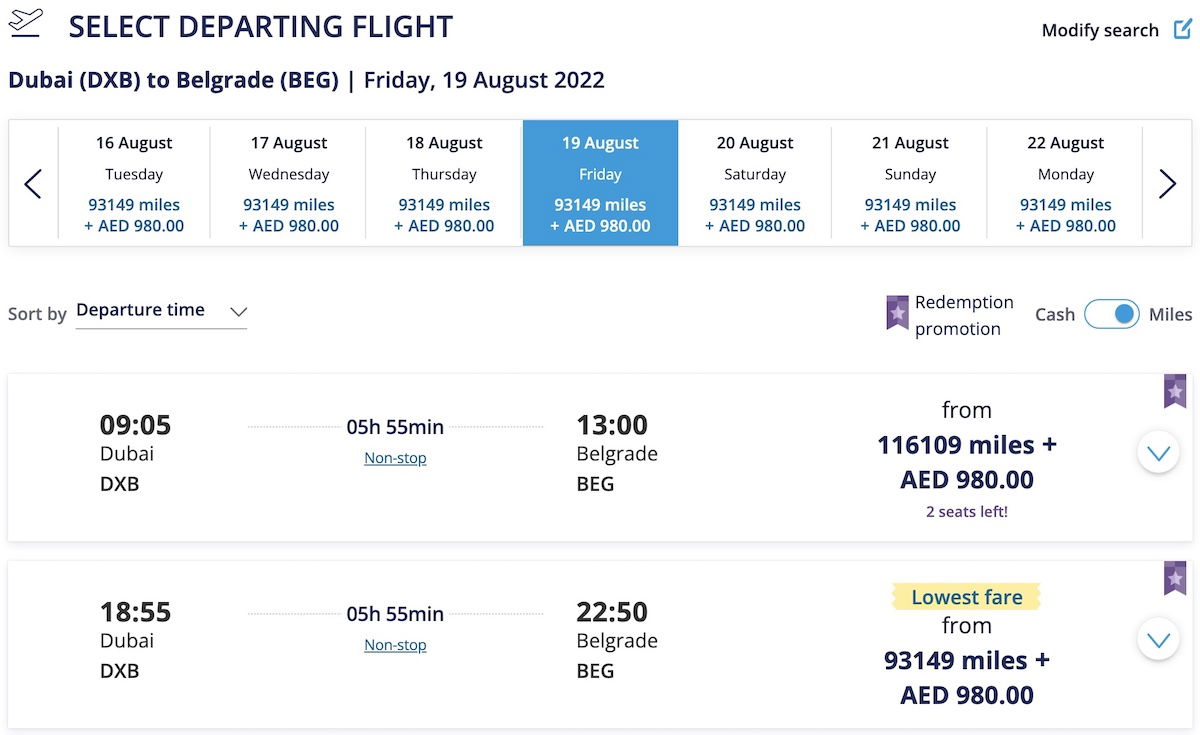 This is a terrible value. Just as a point of comparison, I recently redeemed 85,000 Skywards miles for Emirates' A380 first class from New York to Milan.
There's also no way to efficiently use Skywards miles to upgrade FlyDubai flights from economy to business class.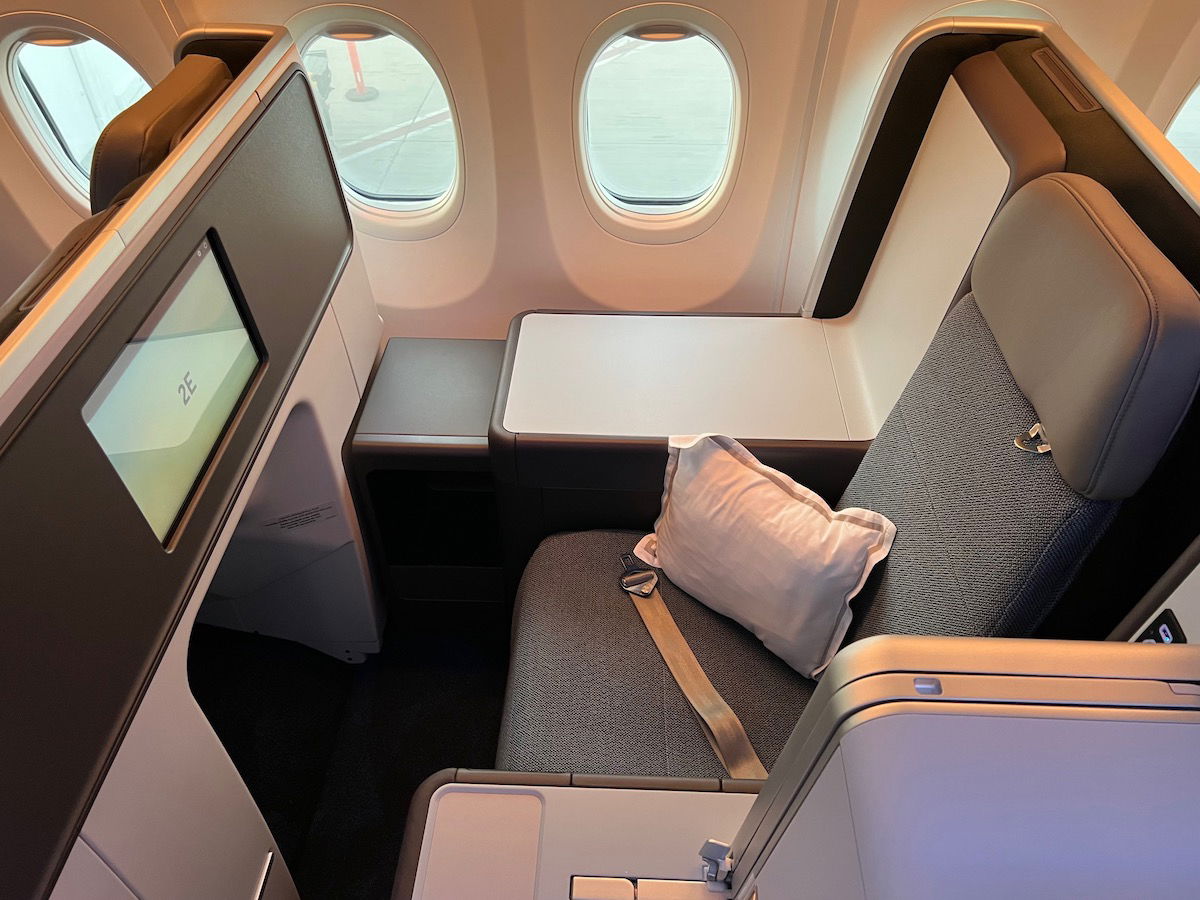 FlyDubai's business class upgrade bid program
As I've long understood it, the most economical way to score a FlyDubai business class seat is to book economy and then participate in FlyDubai's upgrade bid program. In my case, I found a reasonable Dubai to Belgrade one-way economy fare of ~$400.
I was booking just a few days before departure, and noticed that all 10 business class seats were showing as unassigned. You can't get better odds than that for a paid upgrade, so I decided to chance it. I booked an economy ticket, hoping I'd be able to score a paid upgrade.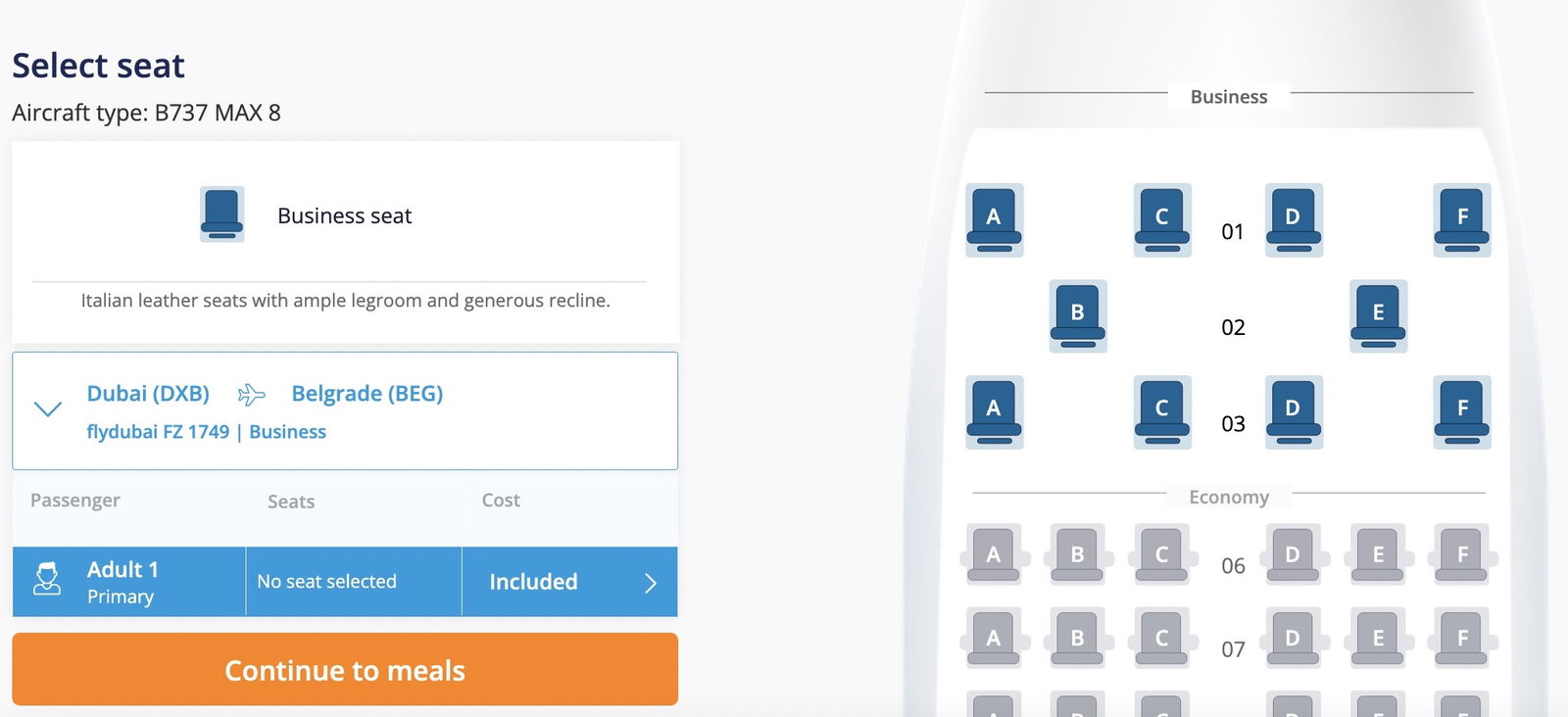 Basics of FlyDubai's upgrade bid program
When you book a FlyDubai economy ticket, you may have the opportunity to bid on an upgrade. This opportunity is facilitated by Plusgrade, a company that offers the technology for this service with many airlines. You can check eligibility at this link by entering your last name and confirmation number.
A few things to note:
This is only valid for those who have tickets issued by FlyDubai, so codeshare flights don't qualify
You can place a bid up to 10 hours prior to departure if departing Dubai, and up to 18 hours before departure for all other flights; note that you also can't submit an upgrade bid after checking in online, so that's something to be aware of 24 hours out
You can change or cancel your upgrade bid while the bidding is still open, assuming it has not yet been confirmed
FlyDubai states that upgrades will clear once bidding closes (so 10-18 hours before departure), but based on my experience it can happen earlier than that
If you win an upgrade bid, you'll receive all the standard business class inclusions, including the improved baggage allowance, lounge access, inflight meals, etc.

FlyDubai business class upgrade bid cost
With FlyDubai's upgrade bidding program, you can choose how much you'd like to bid for an upgrade within a certain range. For context, Dubai to Belgrade is a 2,360-mile flight, and it's blocked at six hours, so think of it as being roughly similar to a transcontinental flight in the United States in terms of length.
On the upgrade bidding page, I was given the option of bidding anywhere from $325 to $1,025 in order to get upgraded. With each amount, it lists what it claims the odds are of an upgrade clearing. For example, the default amount was $625, and it stated that odds of getting upgraded with that were "good."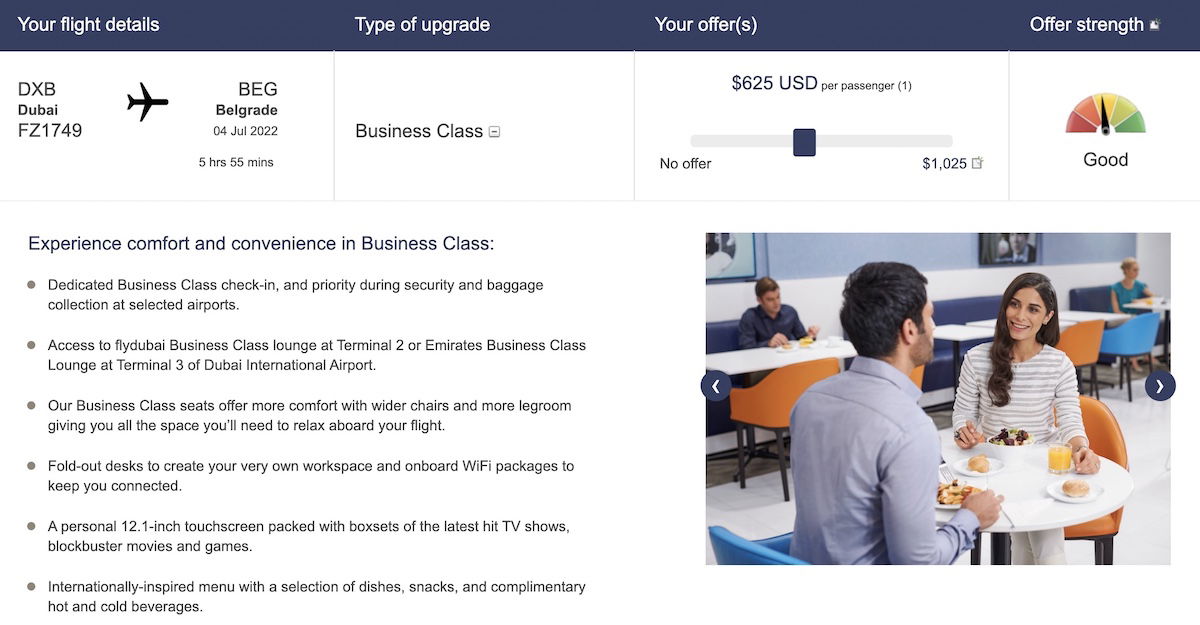 With a bid of $445, odds were "average."

With a bid of $325, odds were "fair."

With a bid of $715, odds were "strong."

And with a bid of $885, odds were "likely."

To what extent does your bid impact whether or not it gets accepted? If anyone has any insights as to how Plusgrade actually prioritizes upgrades, I'd sure love to hear it. My assumption is that any bid within the range will be accepted on a space available basis, and that the bids are simply prioritized based on how much someone is willing to pay.
In this case my assumption was that there wouldn't be too much competition for the upgrade, since the seatmap was showing as being totally empty in business class. Nonetheless I wanted to go slightly above the minimum, simply because I had already paid for an economy ticket and really wanted to review FlyDubai's flat bed business class.
So I decided to bid the lower amount in the "average" range (the second lowest of five "ranges" of upgrades), and that was $445.

You already submit all your credit card information at this point. Note that Plusgrade only accepts Visa or Mastercard, and not American Express.

FlyDubai upgrade bid being accepted
Per the terms, I was expecting that my upgrade would only clear 10 hours before departure, since I was departing Dubai. Much to my surprise, I received an email confirming that my upgrade had been accepted 36 hours before departure.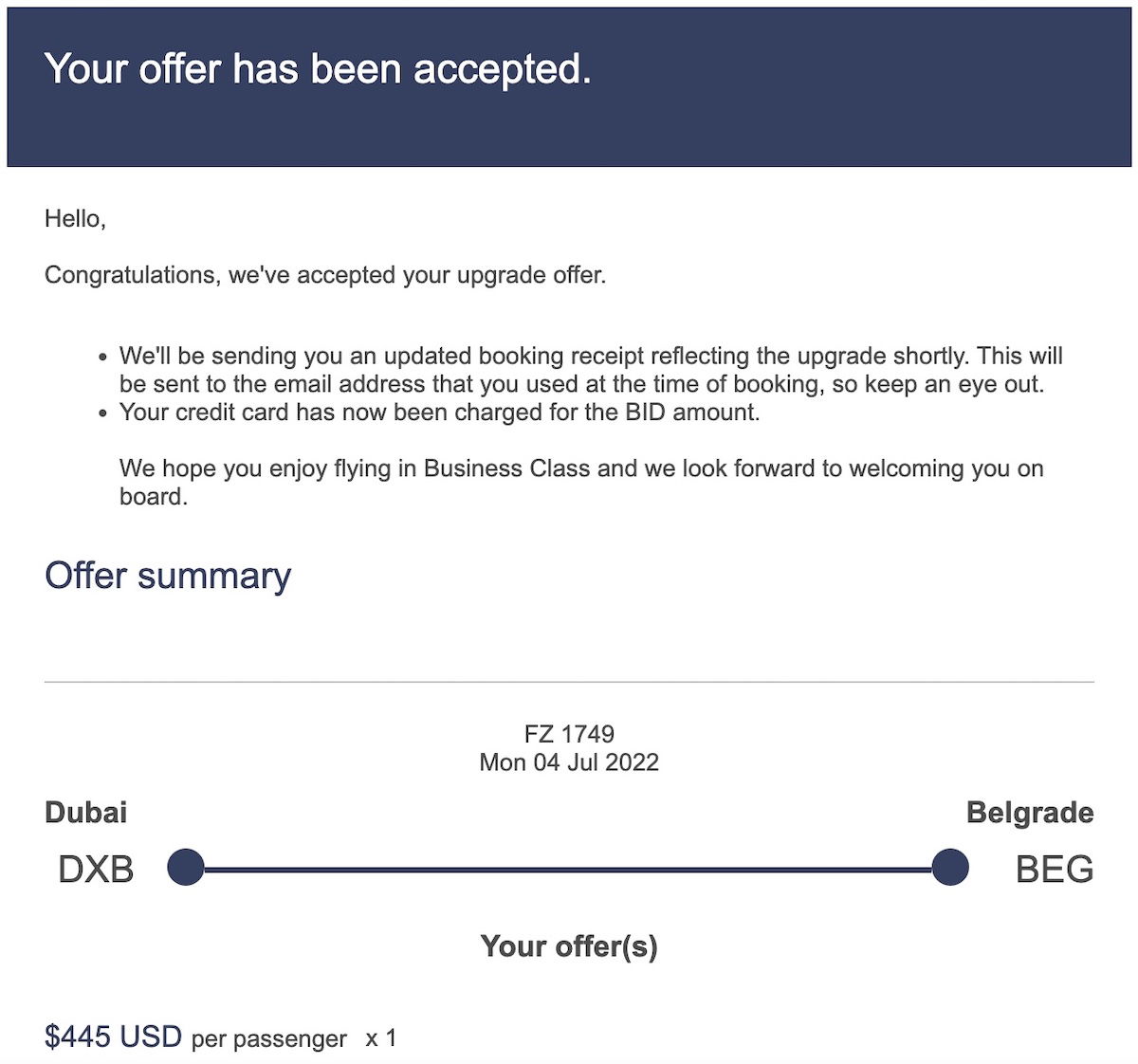 My itinerary immediately reflected that I was upgraded, and would receive all the privileges typically associated with business class. I was also able to immediately assign my seat, and snagged one of the two "throne" seats, in the second row.

For what it's worth, when I looked at the seatmap after my bid was accepted, there was only one other seat already taken, which was 2B. So I guess one person's upgrade cleared just before mine. And what a character 2B was, though I'll save that for a separate post.
In terms of maximizing points for the purchase, I paid with the Chase Sapphire Reserve® Card (review). I was curious how the purchase would code, and whether I would be billed by FlyDubai or Plusgrade. I ended up being billed by FlyDubai, and the purchase was categorized as "travel," meaning I earned 3x Ultimate Rewards points.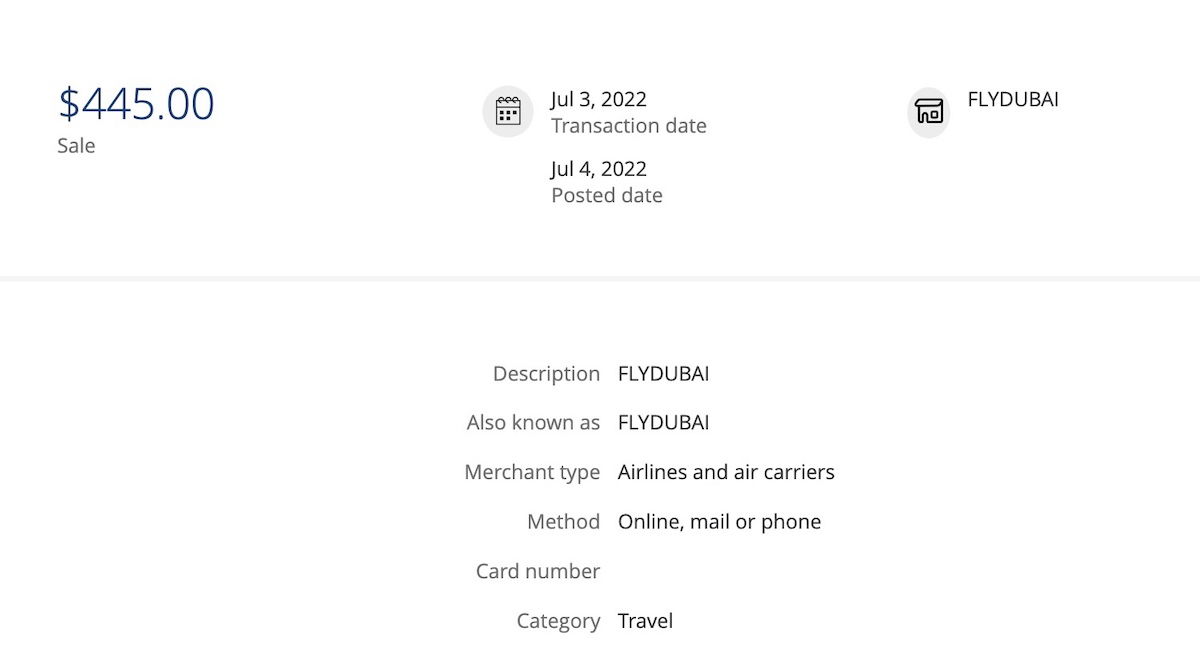 Bottom line
I had luck with FlyDubai's upgrade bid program, and it seems that this is the best way to score a FlyDubai business class upgrade. While FlyDubai participates in the Emirates Skywards program, there are no economical ways to score FlyDubai business class with Skywards miles.
Fortunately the upgrade bid program seems to work pretty well. Just make sure you're booking a flight where business class is pretty open. In the end I spent a bit more than I would have liked to on this flight, but at under $1,000 one-way, it was a decent deal in the end, especially since I could secure a throne seat.
Hopefully this is a useful data point for anyone else considering traveling with FlyDubai.
If you've used FlyDubai's upgrade bid program, what was your experience like?