Prior to my FlyDubai Boeing 737 MAX business class flight to Belgrade, I had the chance to check out the Marhaba Lounge (marhaba means "hello" in Arabic). While I spent most of my time in the Emirates Business Class Lounge, I was curious to see what the Priority Pass option was like as well.
Note that there are five Marhaba Lounges at Dubai Airport (DXB) — my review is of the one in Terminal 3 Concourse B (in the past I've reviewed the one in Terminal 1 Concourse D).
Marhaba Lounge Dubai location & hours
The Marhaba Lounge that I visited is located in Terminal 3 Concourse B. While there's great signage throughout the terminal for the Emirates Lounge, signage is lacking for the Marhaba Lounge. Fortunately the lounge is pretty easy to find. It's located on the north side of the terminal, near gate B21.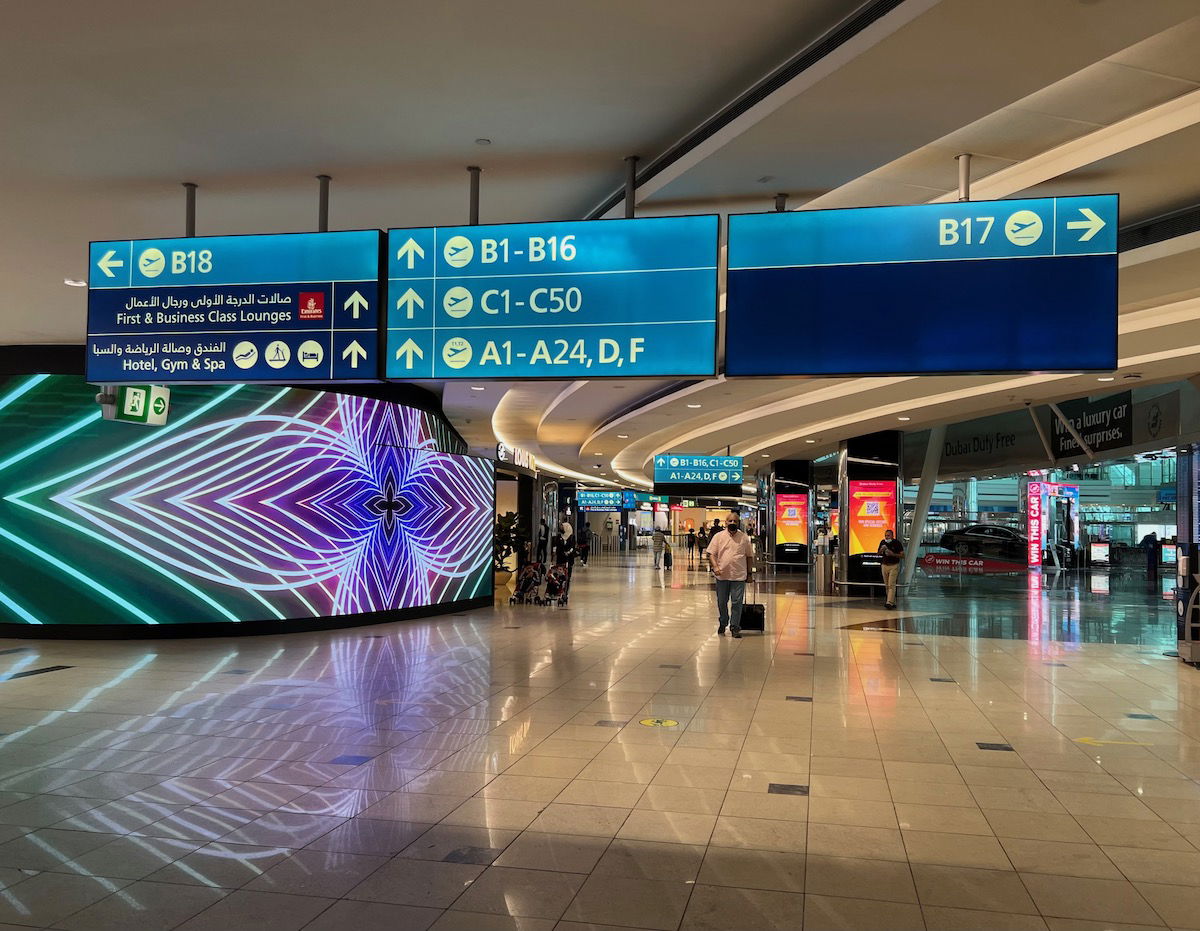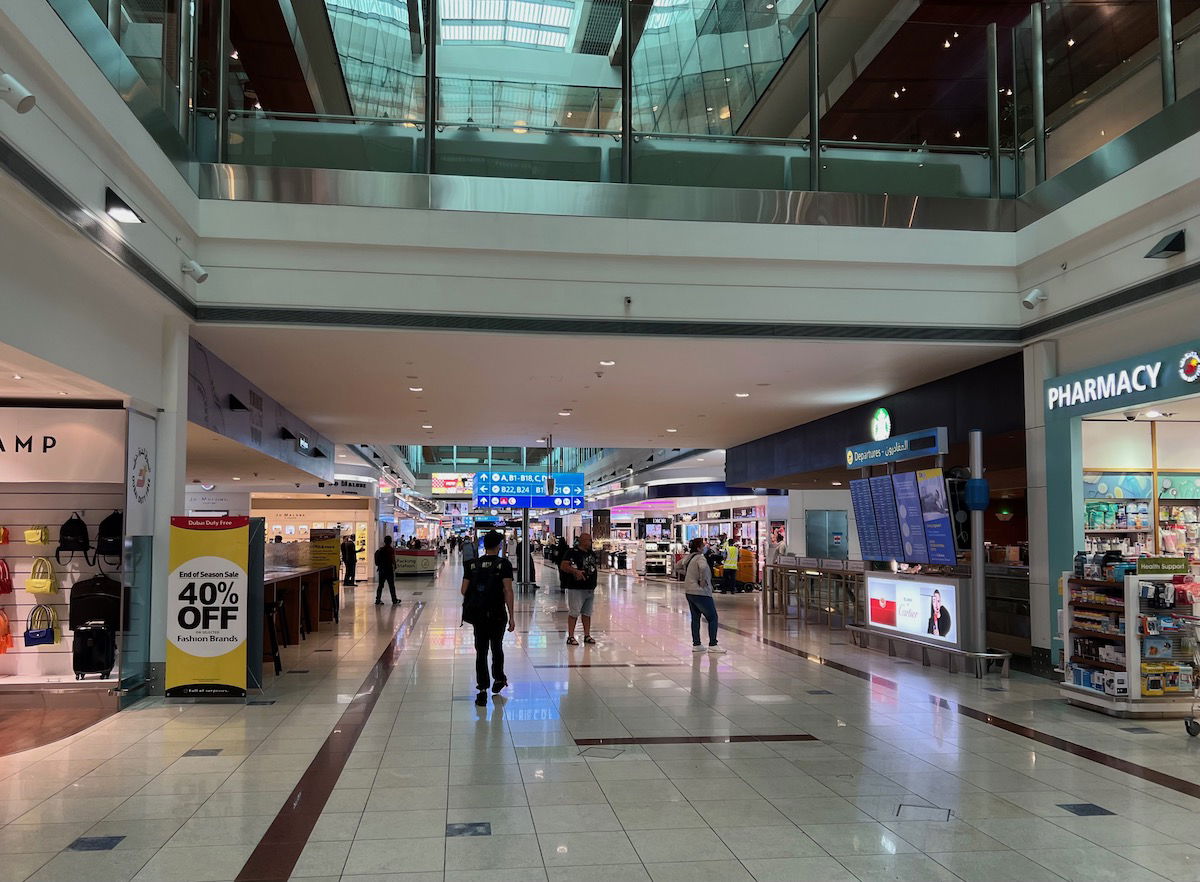 So just walk along the central terminal area in the direction of gate B21, and then you'll see the entrance to the lounge on the side. The lounge is located one level up from the main concourse, so you'll need to take the elevator.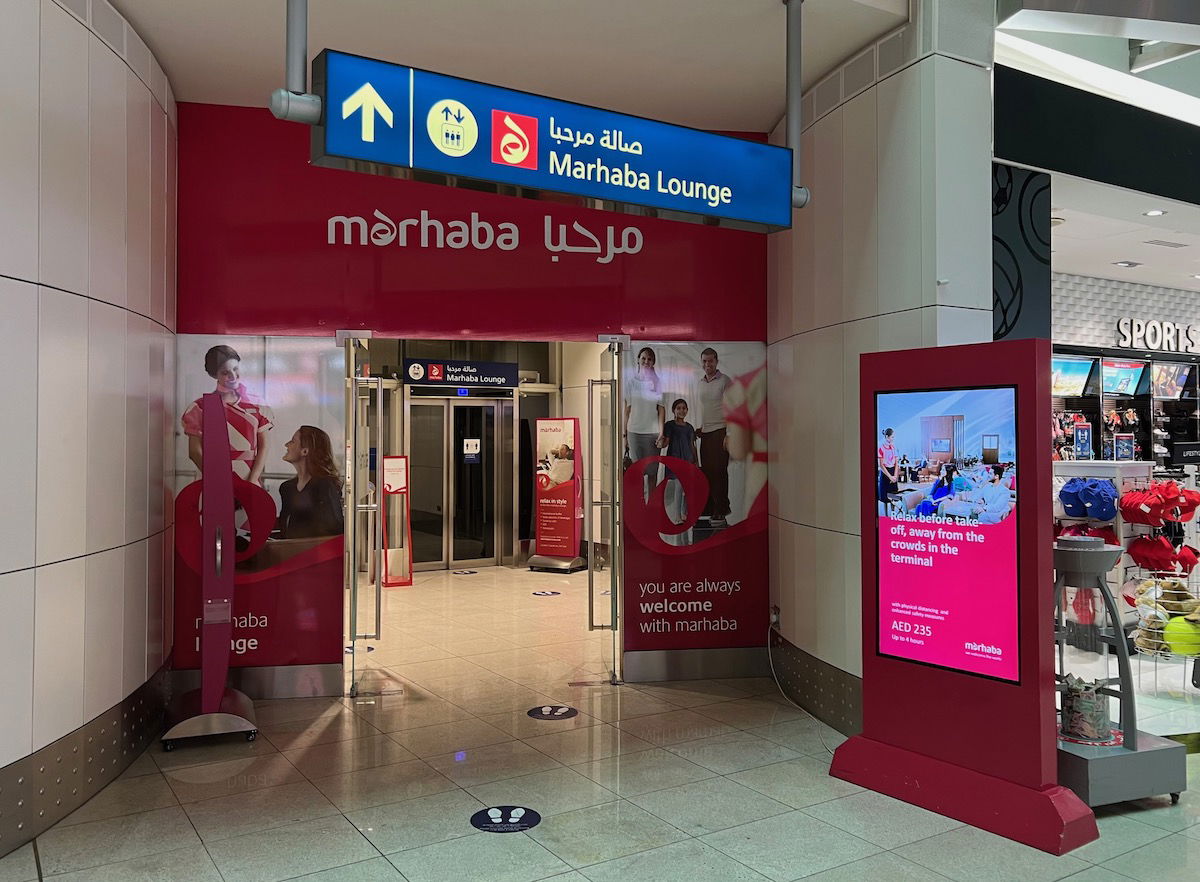 The Marhaba Lounge is open 24/7, as is pretty standard in Dubai, given flight schedules.
Marhaba Lounge Dubai entry requirements
The Marhaba Lounge isn't used as a contract lounge for any first & business class passengers, given that Emirates and FlyDubai exclusively fly from the terminal, and all those premium passengers use the Emirates Lounge.
The primary way to access the Marhaba Lounge is using a lounge membership program, like Priority Pass (there are many premium credit cards that offer complimentary Priority Pass memberships).
Alternatively, access to the Marhaba Lounge can be purchased for 235 AED (~64 USD).
Guests are permitted to stay in the lounge for up to three hours, so this won't be a good option if you have a very long layover (though I'm not sure to what extent that stay limit is enforced).
Marhaba Lounge Dubai seating & layout
The Marhaba Lounge has the capacity for 300 guests. So the lounge is objectively a good size, but pales in comparison to the Emirates Business Lounge, which can hold five times as many passengers. The Marhaba Lounge has several seating zones.
Near the entrance are seats arranged in rows.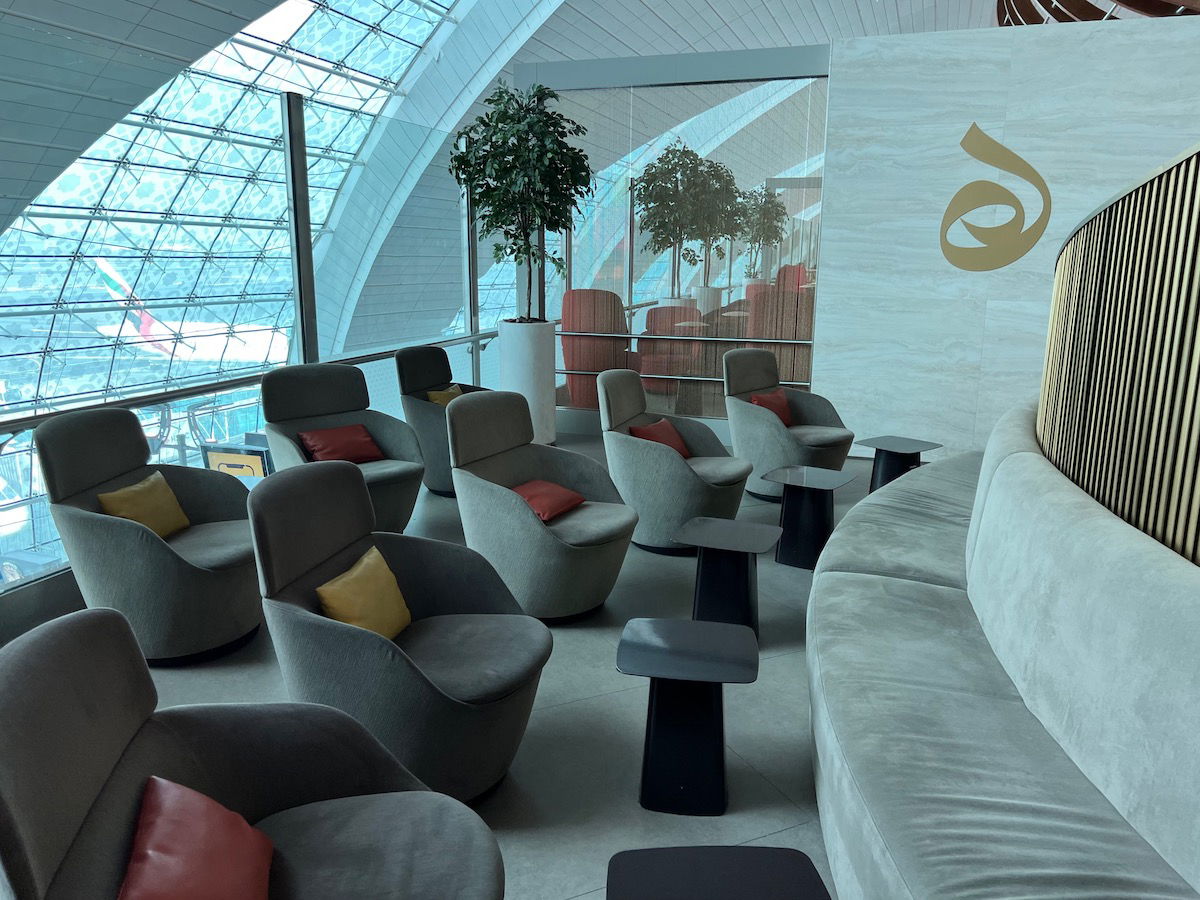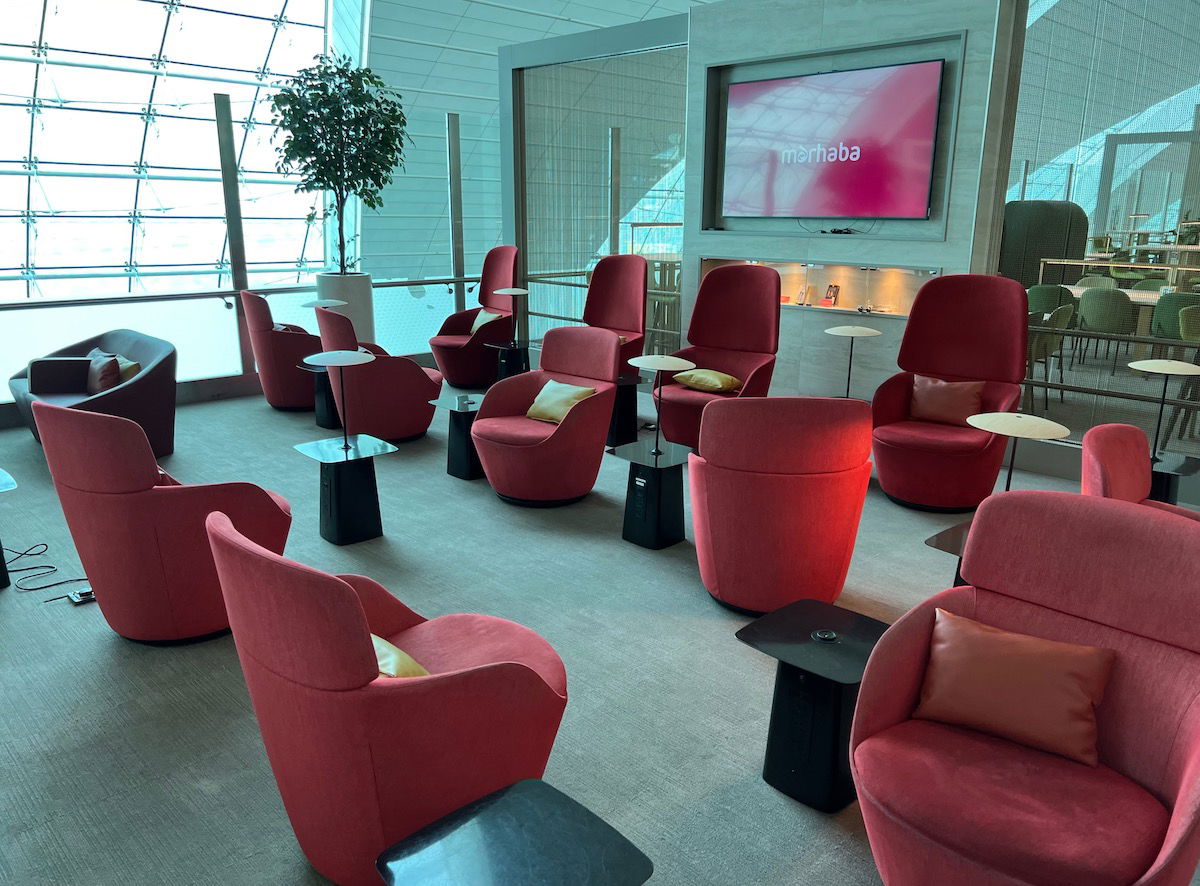 Further into the lounge are various types of communal tables, seating anywhere from four to 12 people each. Some are standard height, while others are high-tops.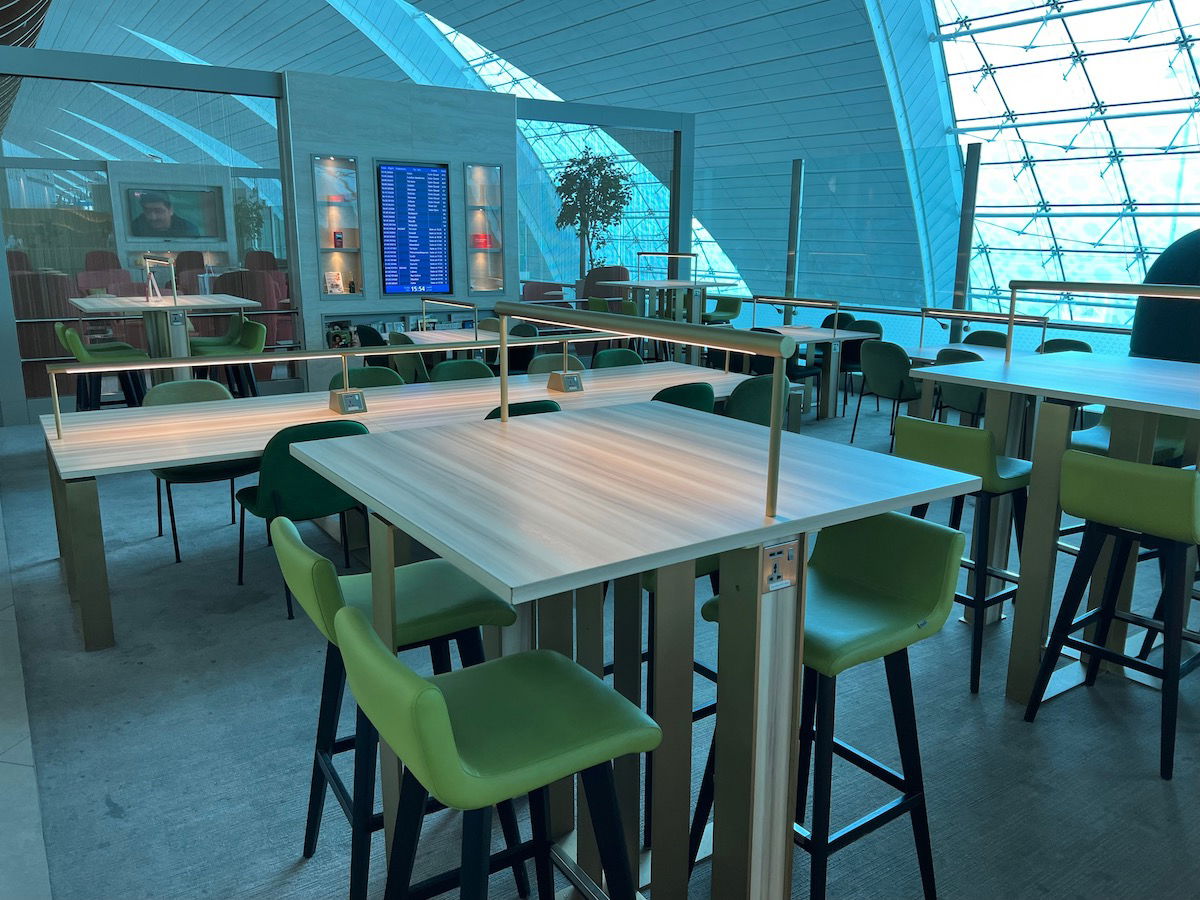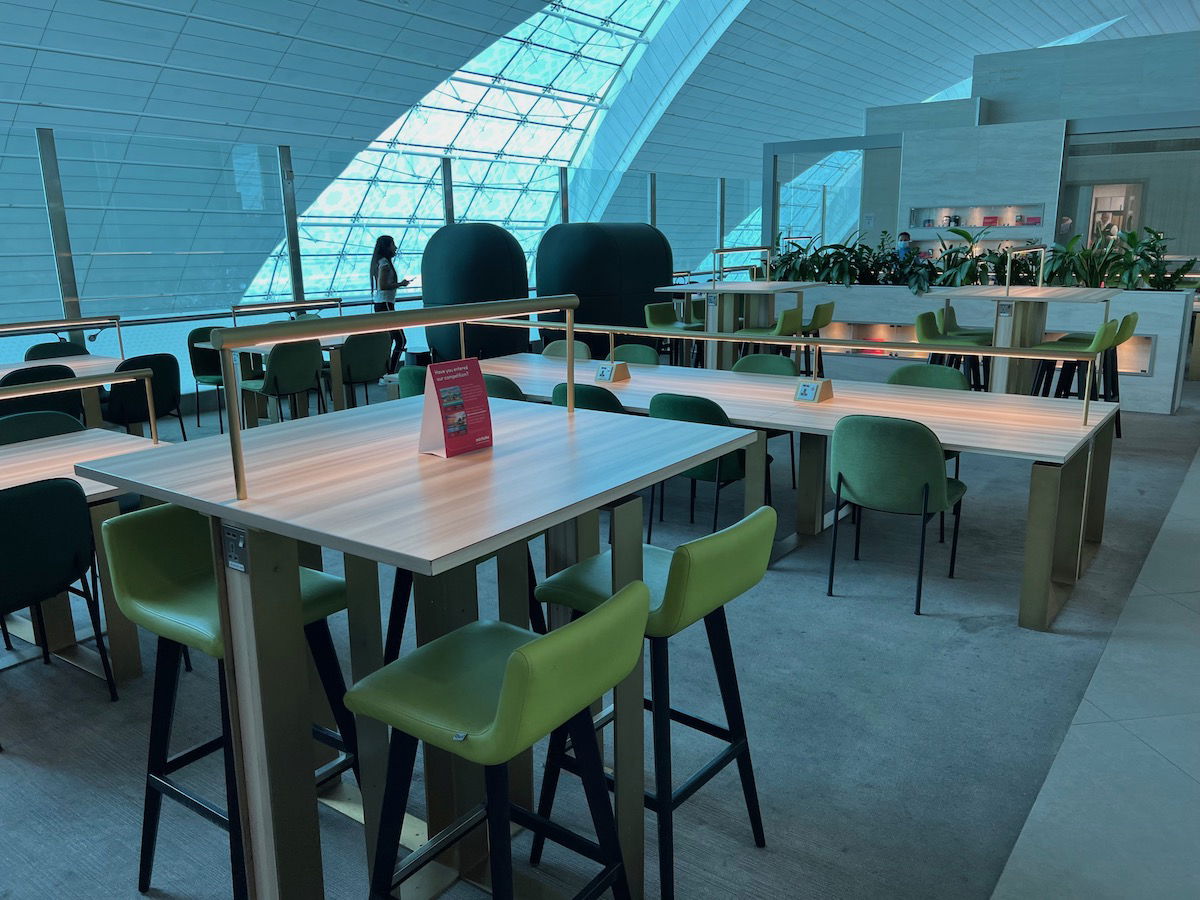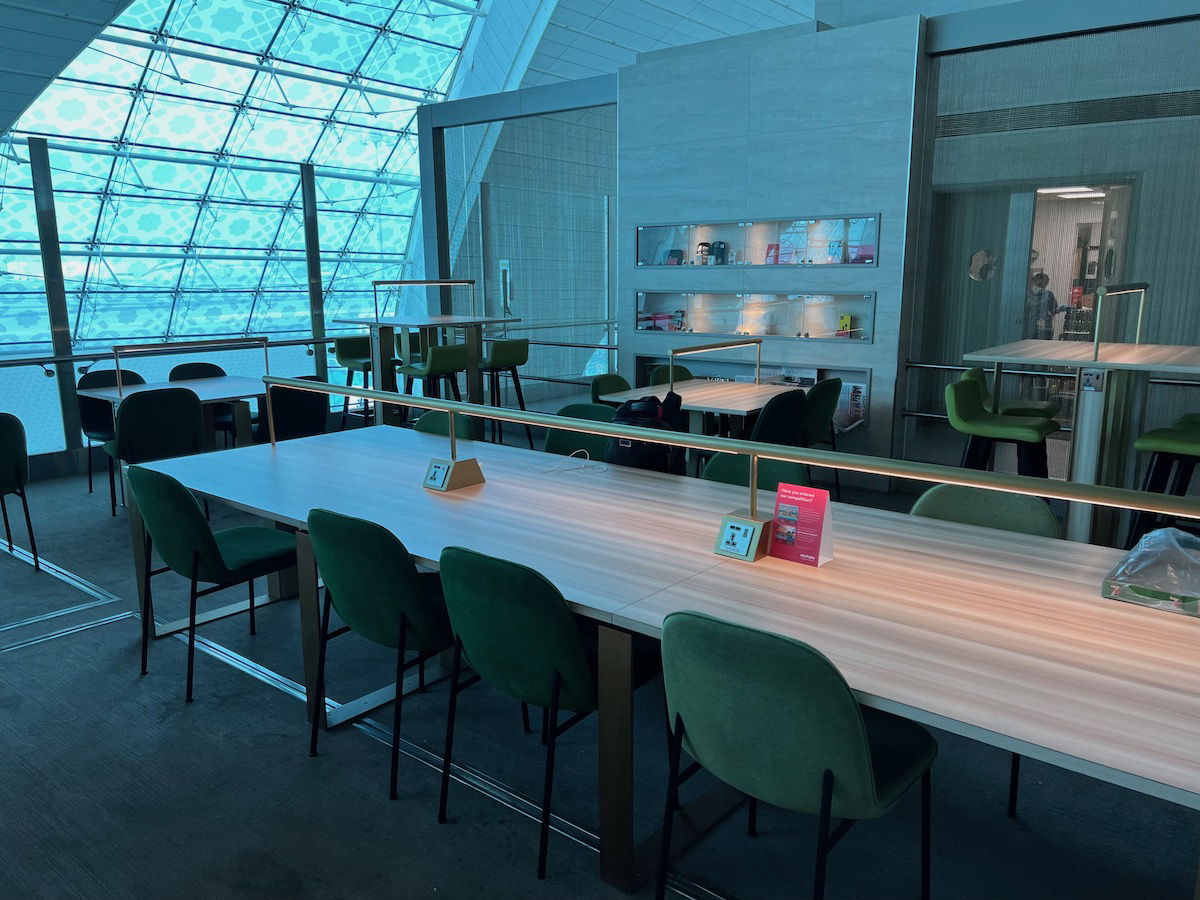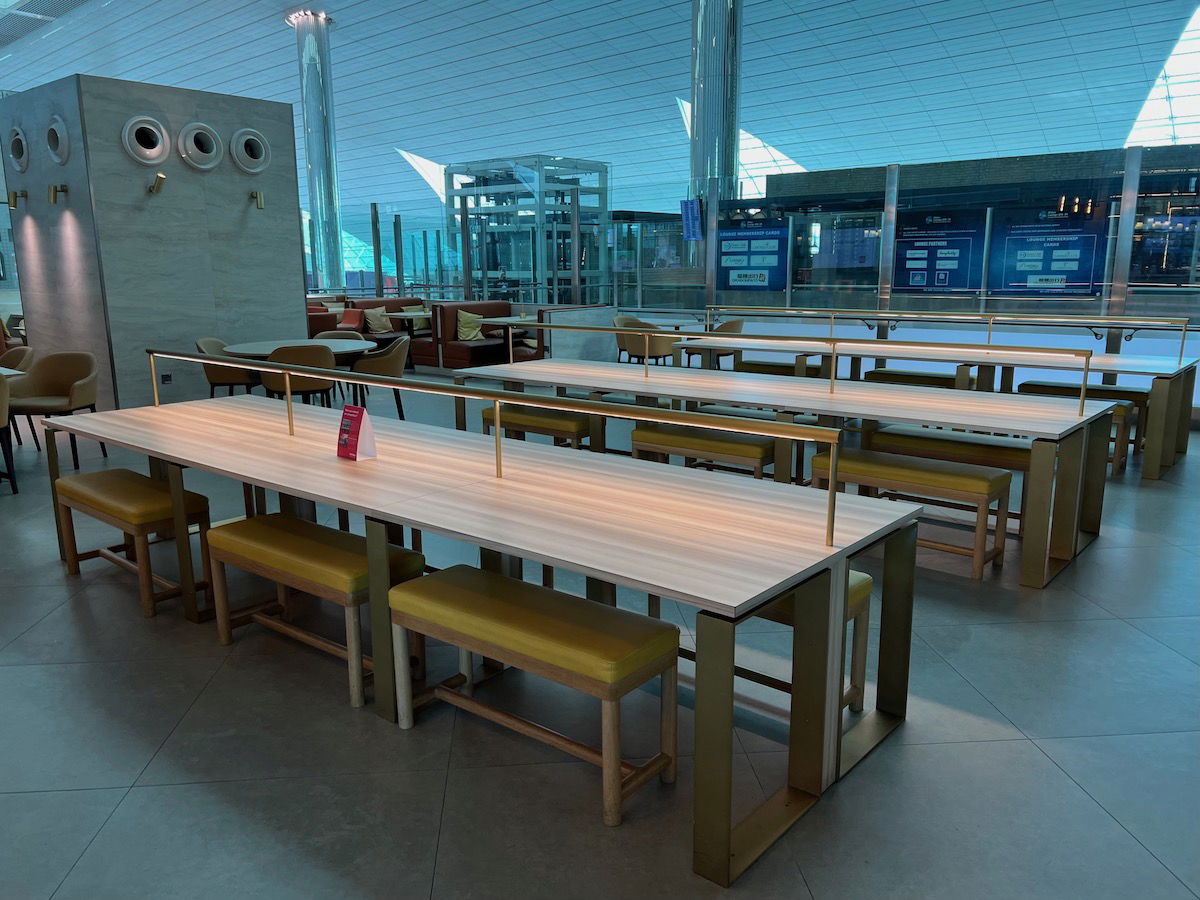 Then there's the bar and dining area, which has more communal tables, as well as some individual dining tables and booths. I kind of dig the restaurant-style booths, since it's not often you see that in an airport lounge.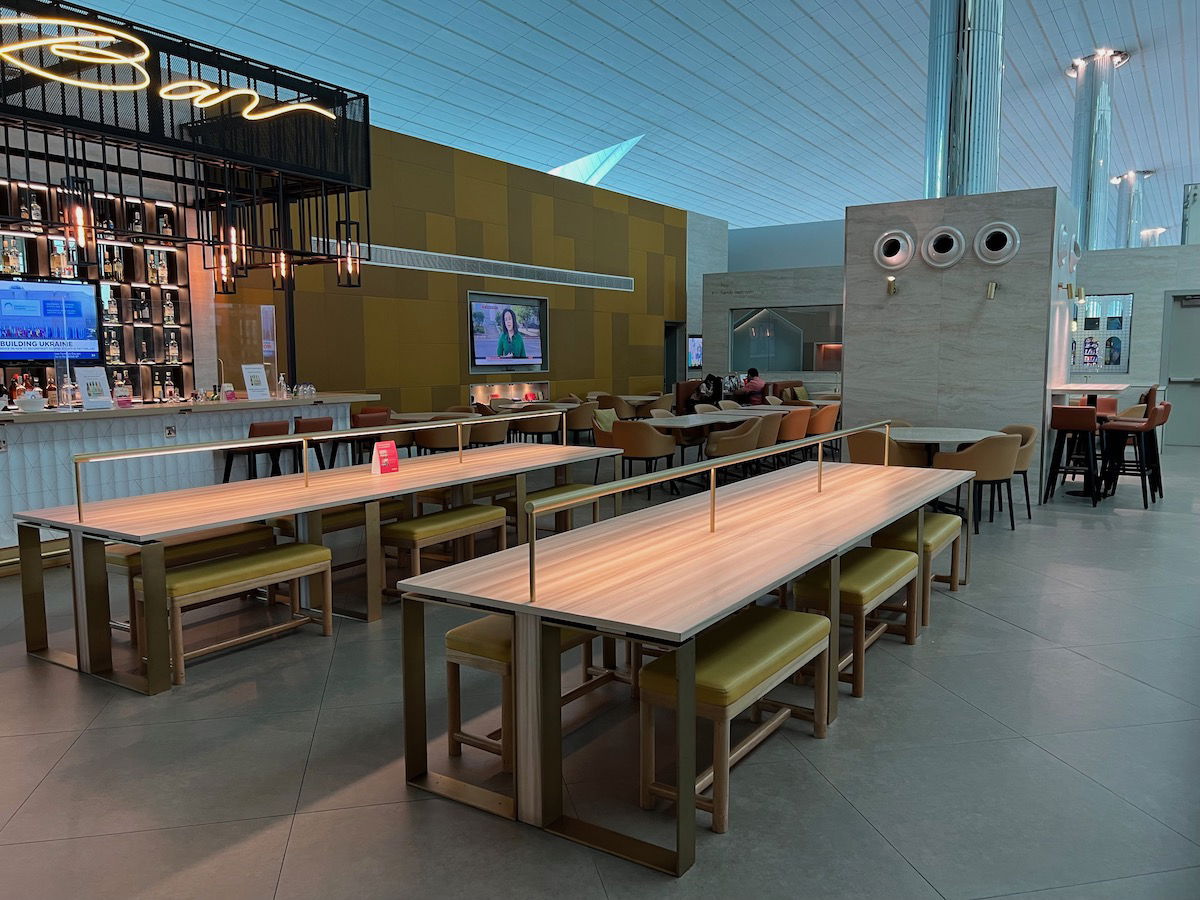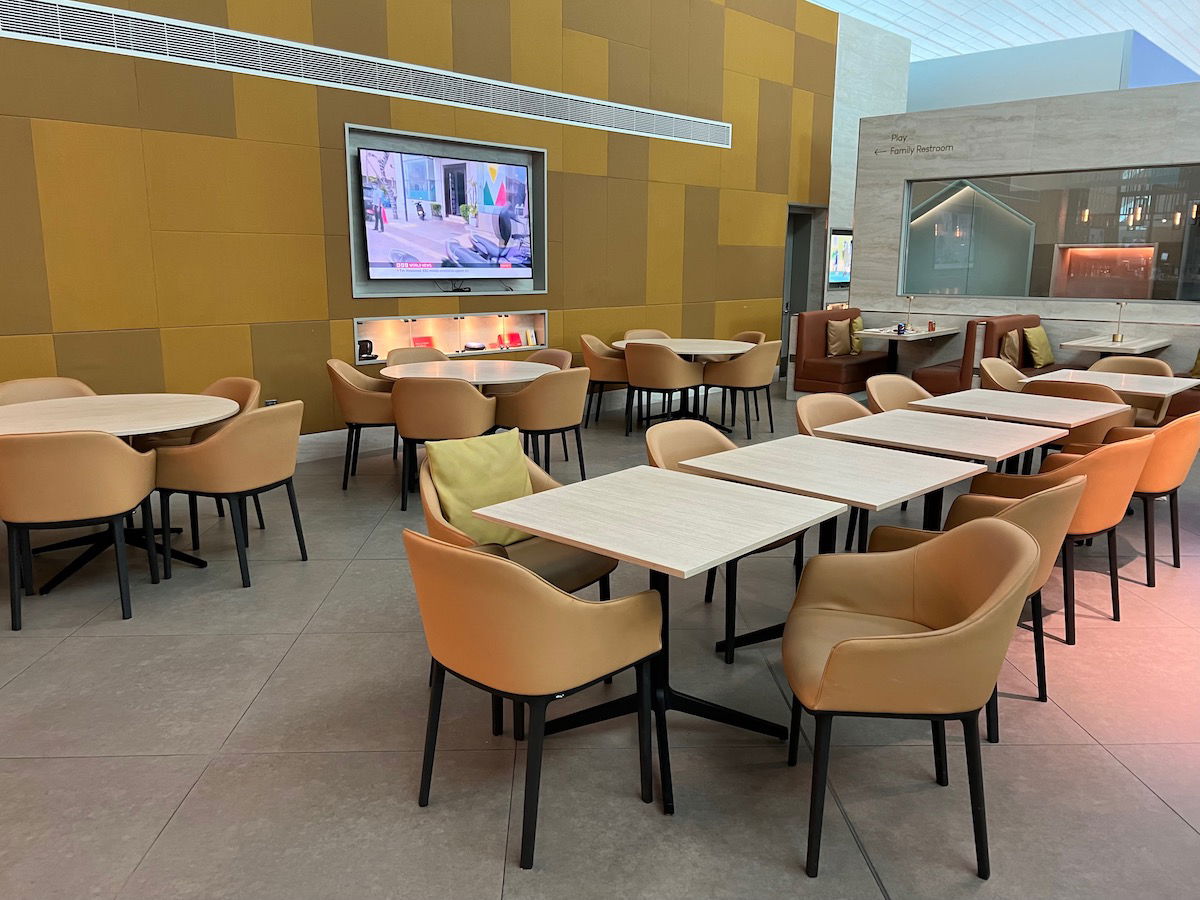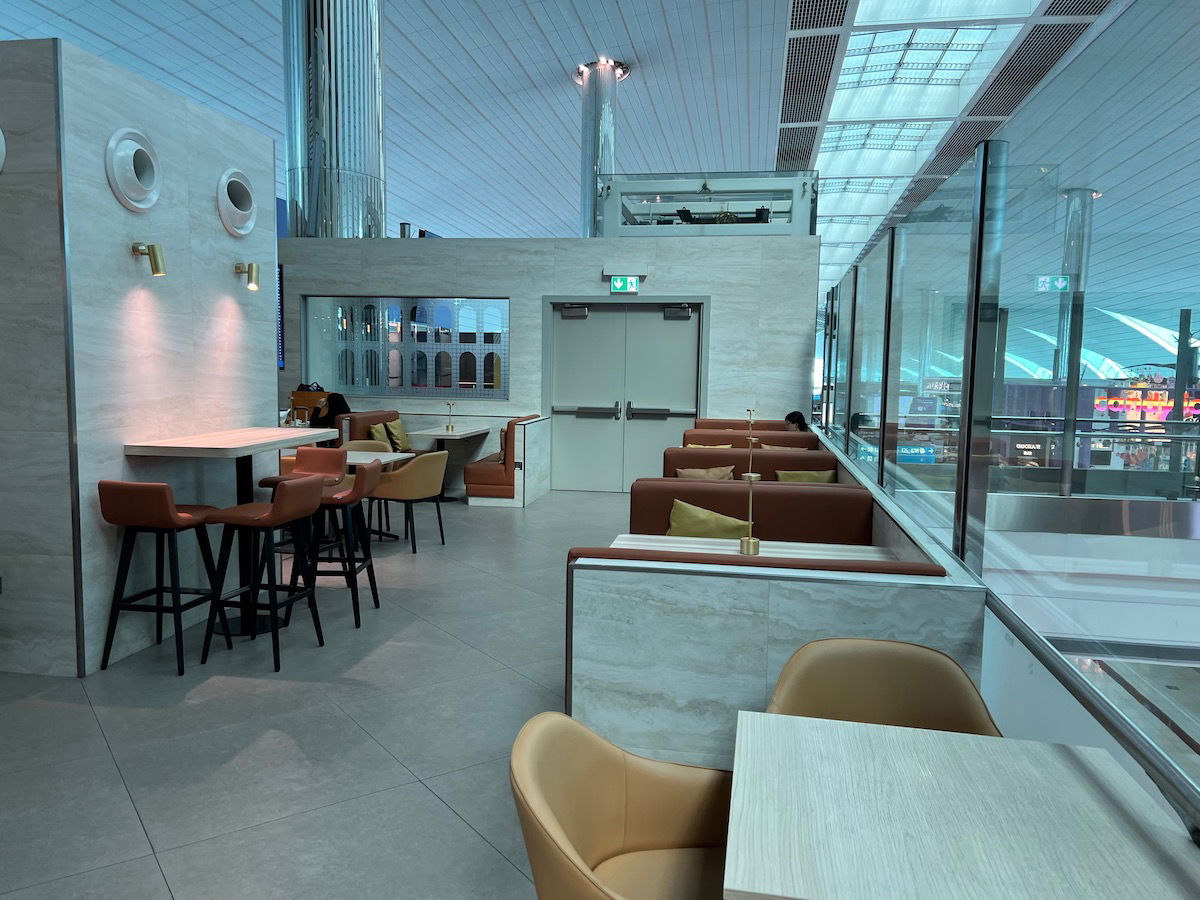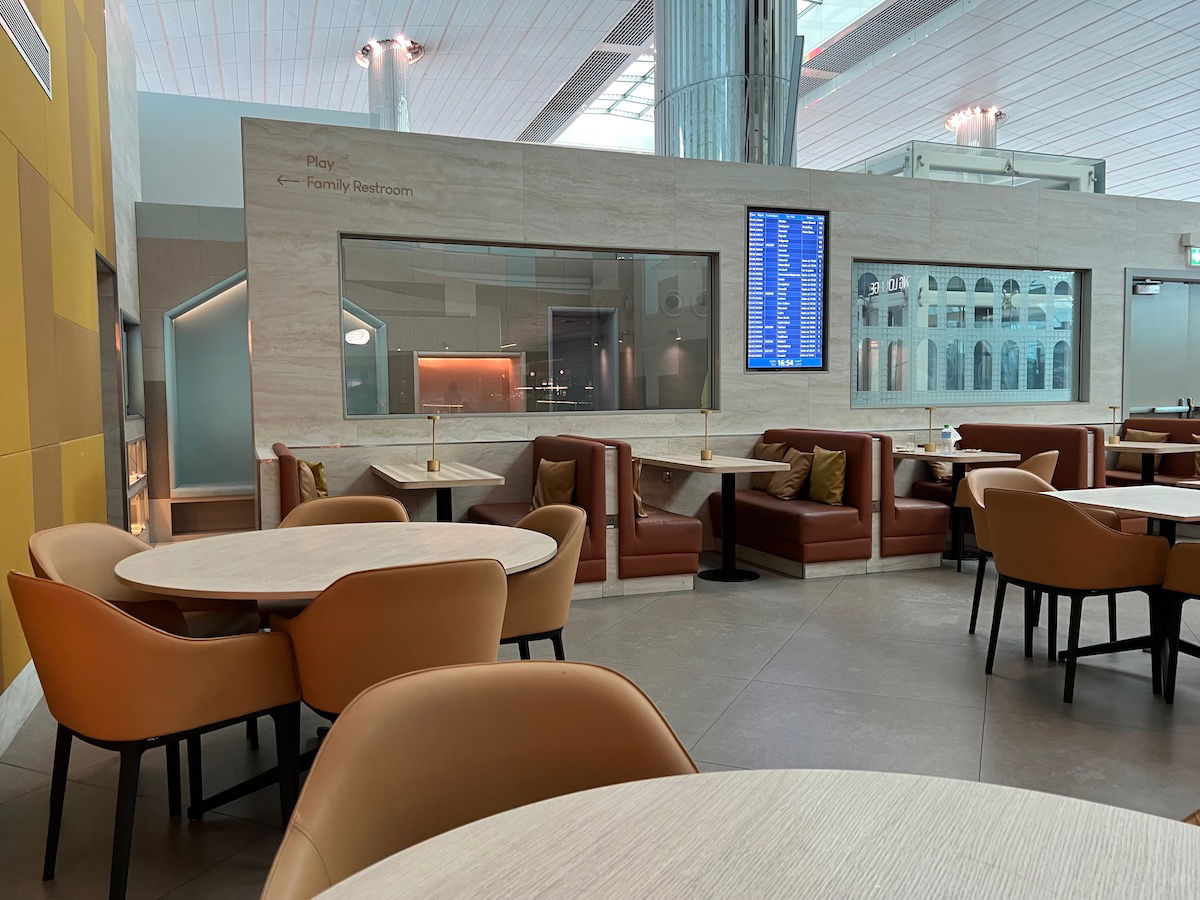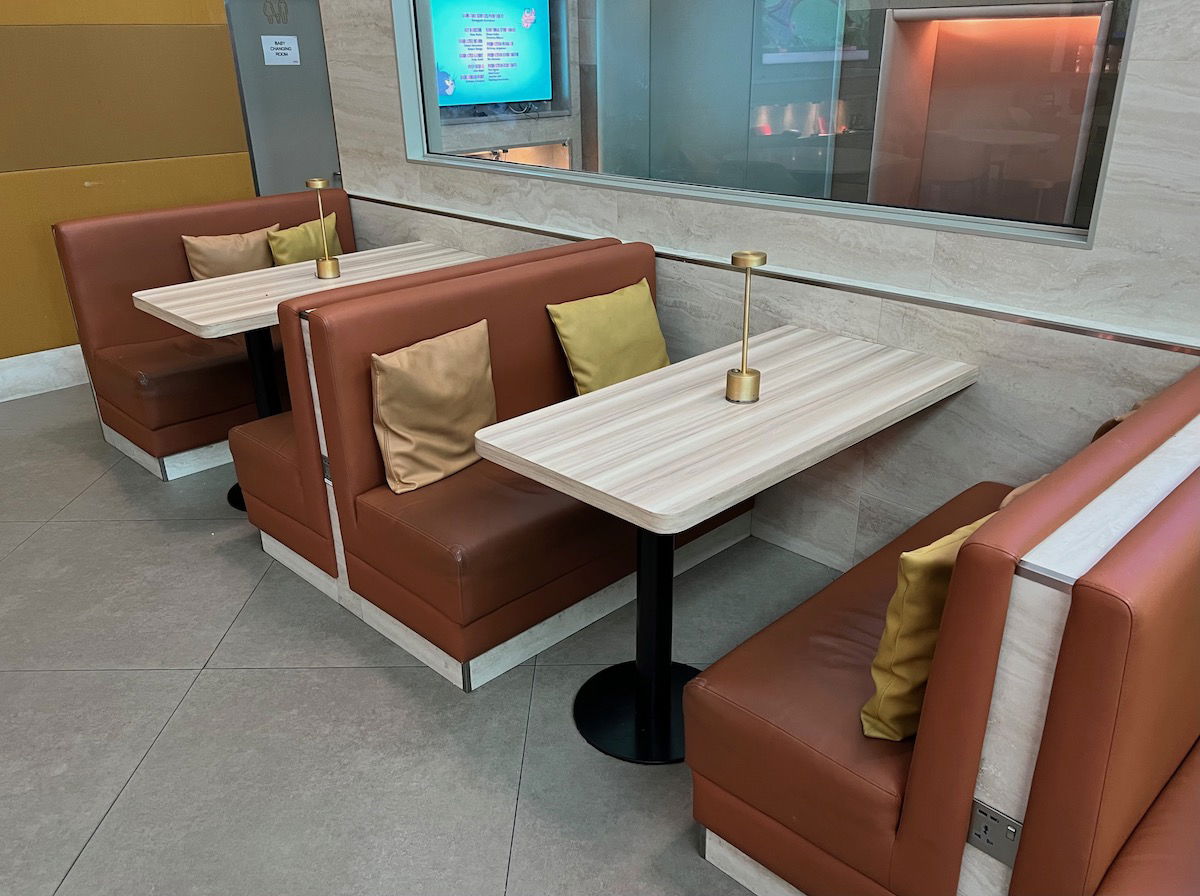 Then there's a long, narrow hall along the back of the lounge, which has some more communal seating, some semi-private nooks, and even some individual rest areas, each of which had a daybed and a chair.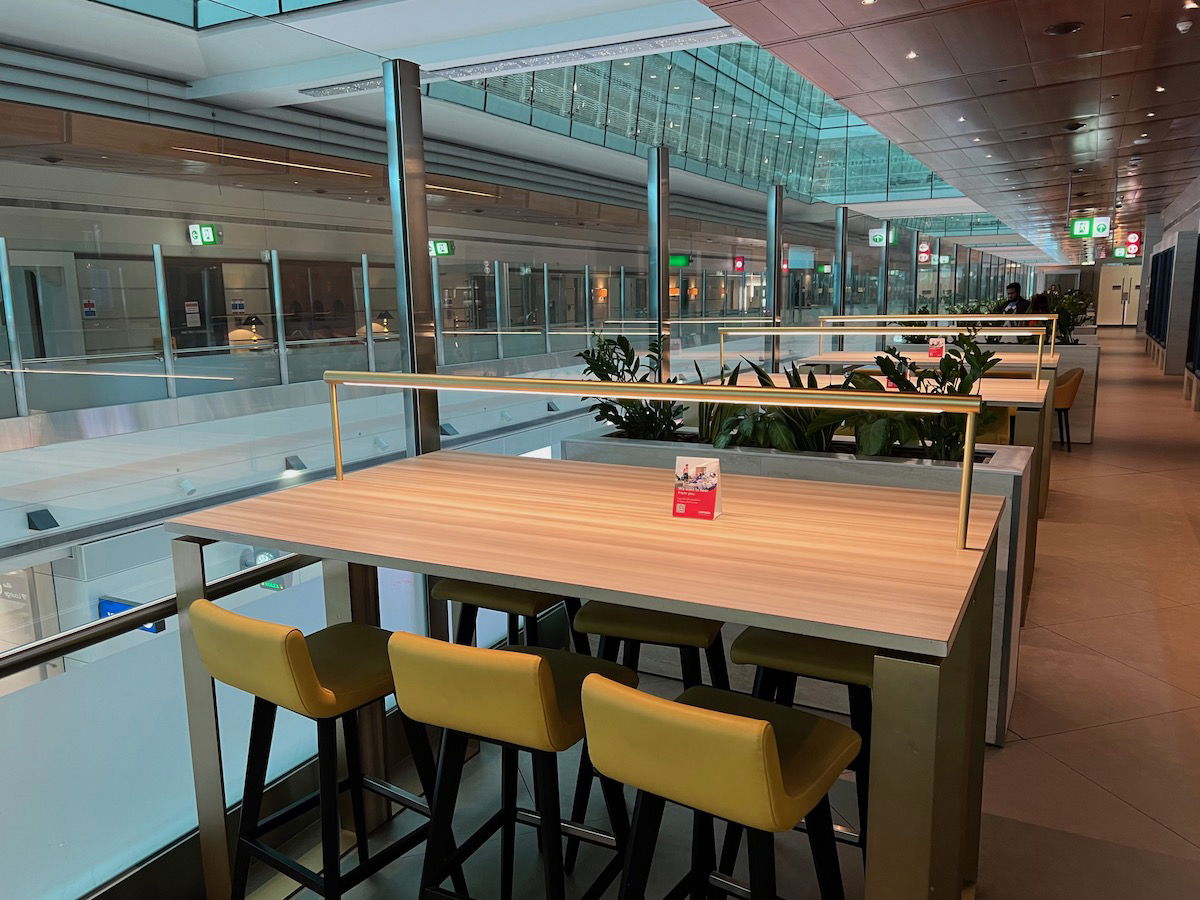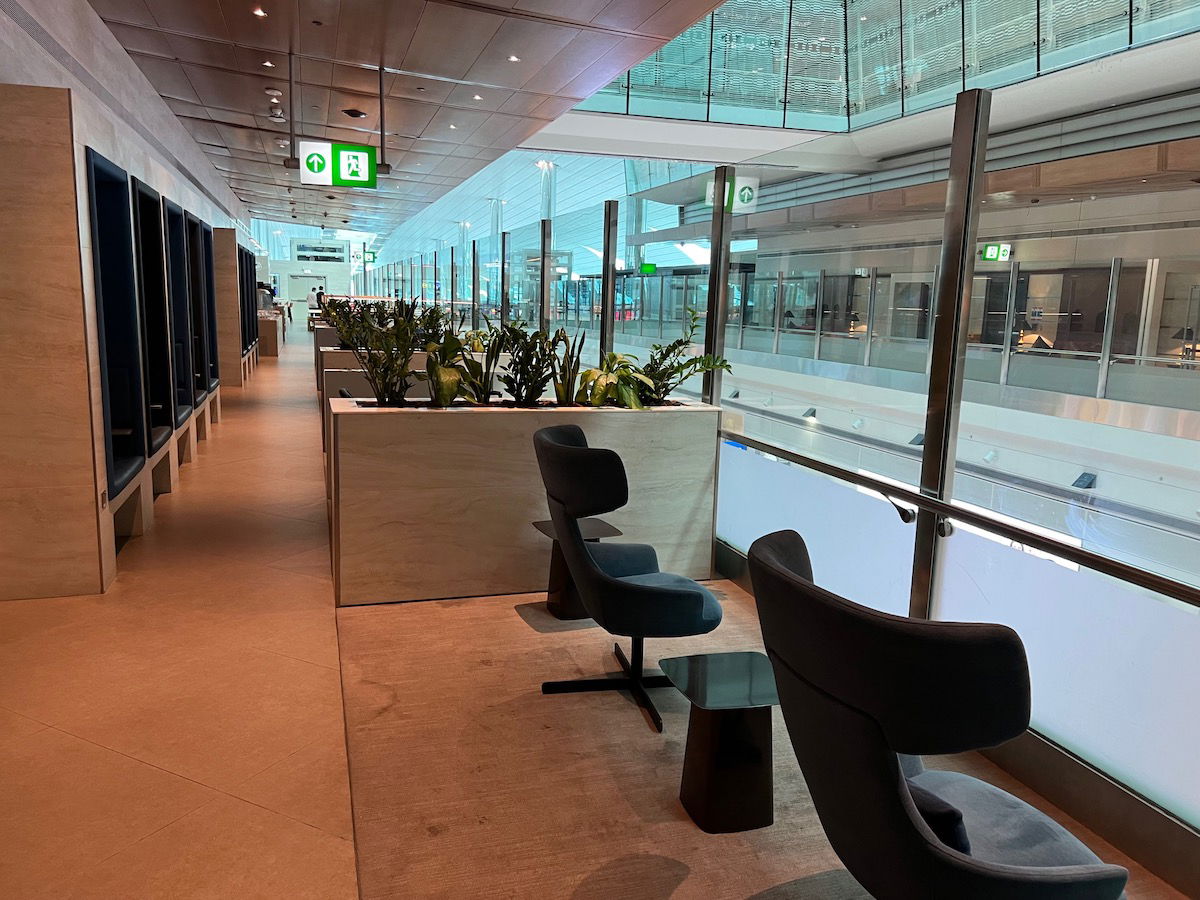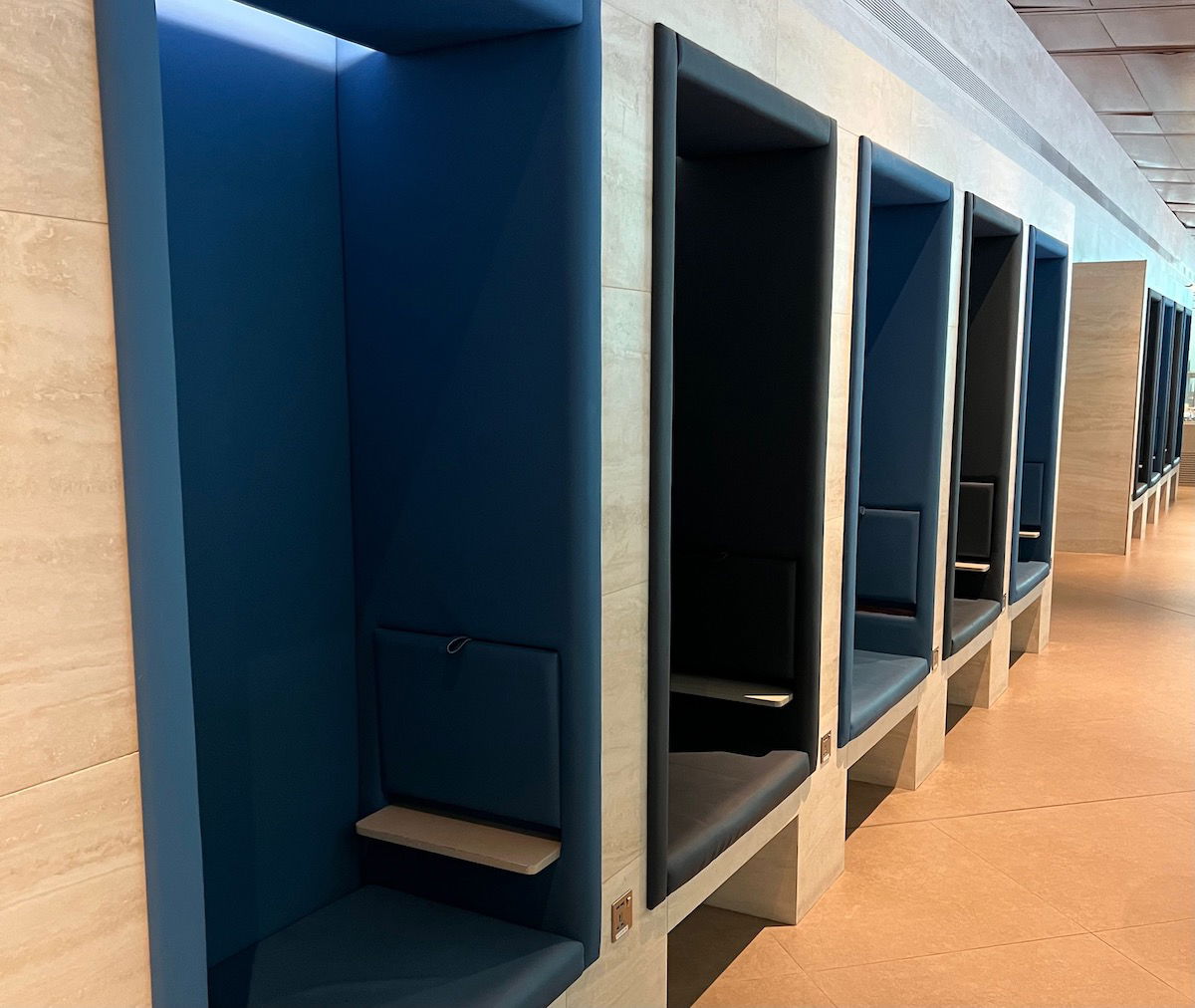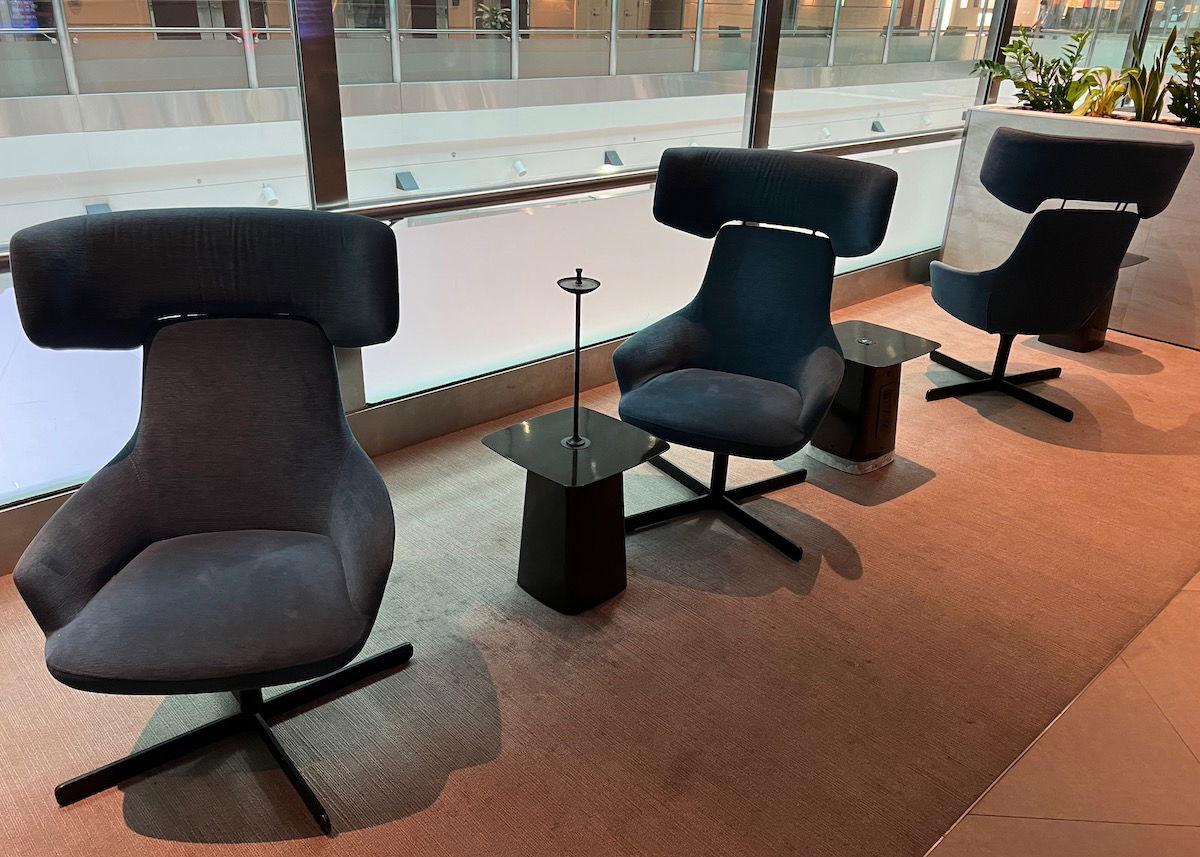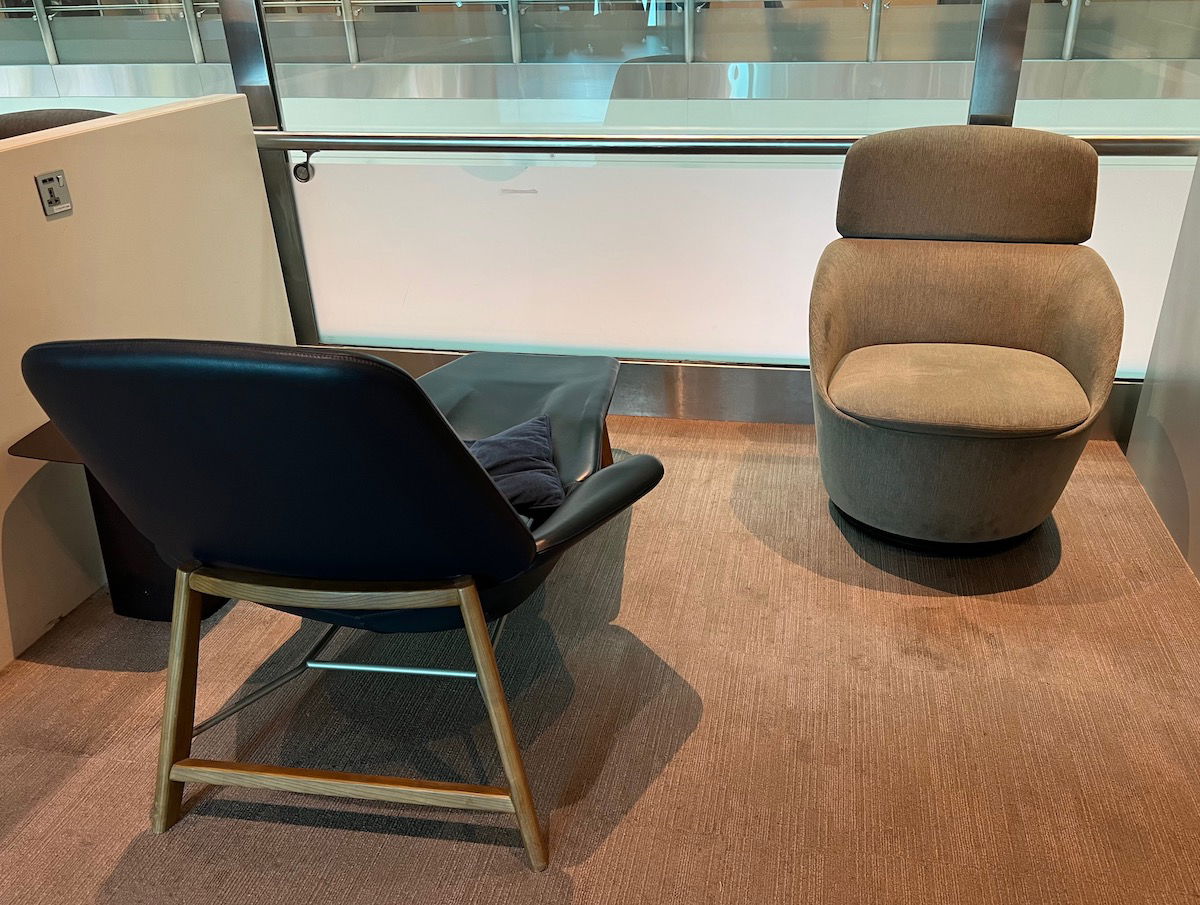 There was also a rather cramped "smoking cabin" in the back of the lounge — certainly not as pleasant for smokers as what you'll find in the Emirates Lounge, where a large part of the lounge allows smoking.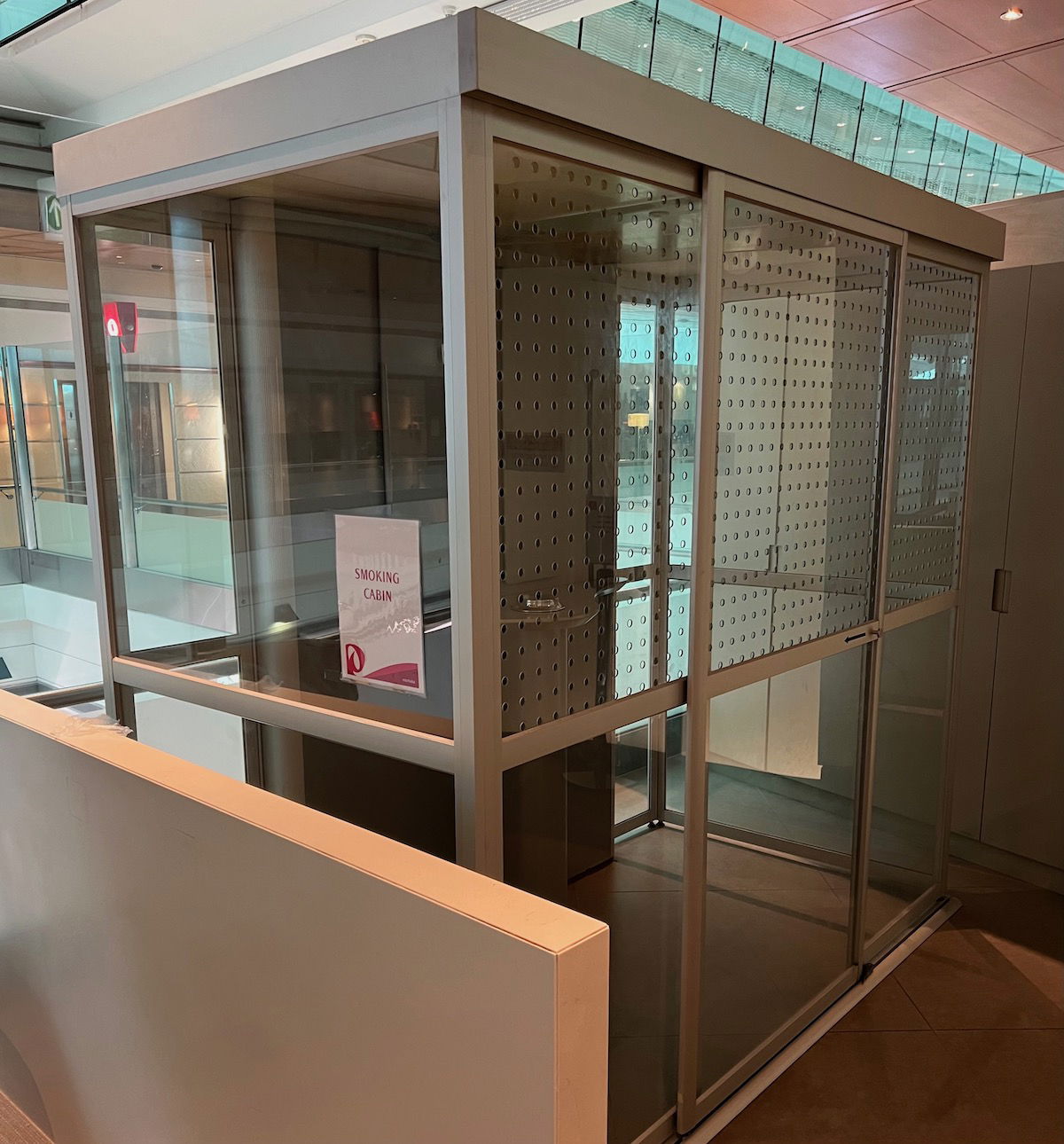 The Marhaba Lounge also has a massage chair, which you need to contact reception to use.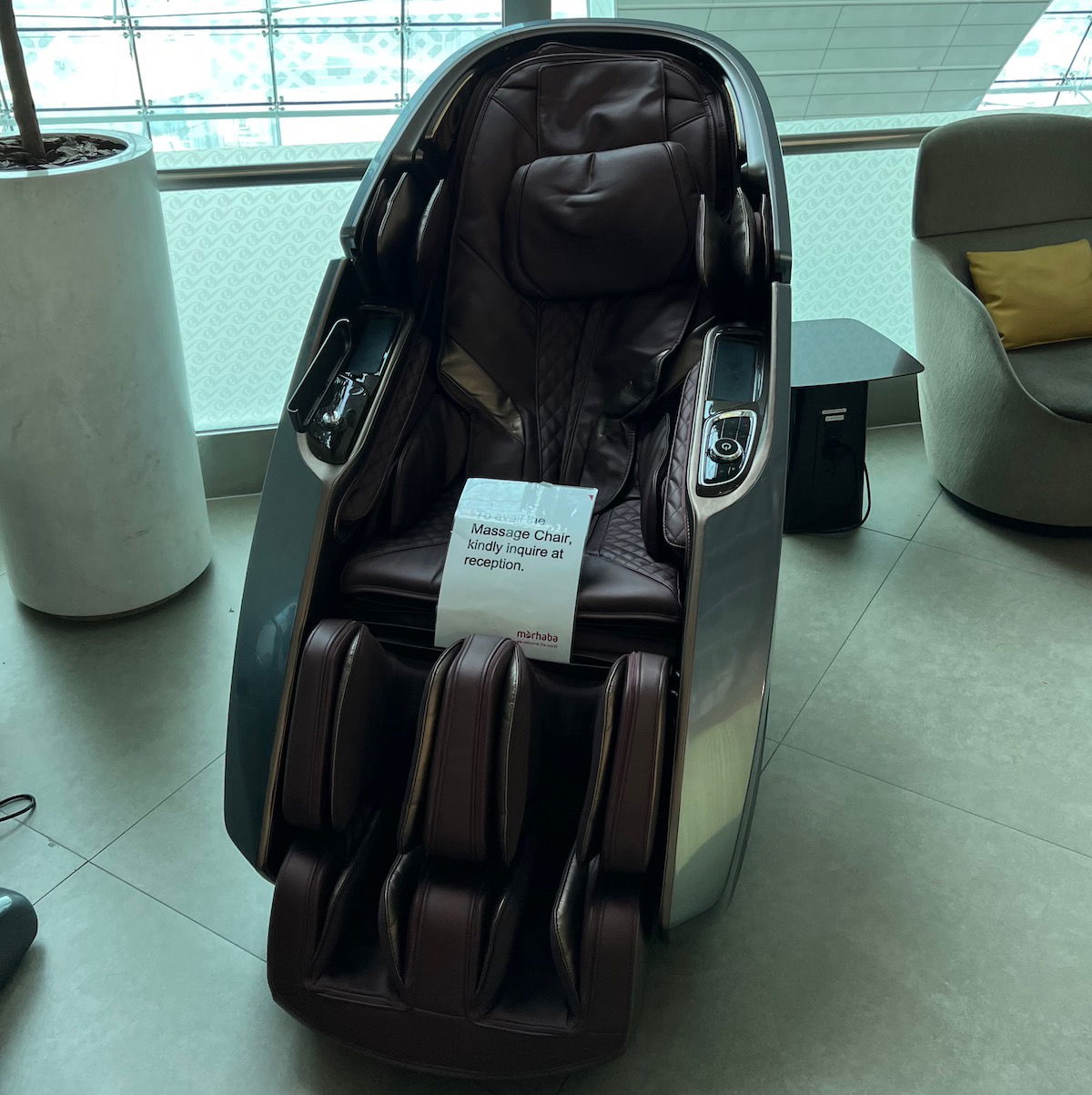 All-in-all I thought the lounge design was modern and felt pretty high-end. I also appreciated how bright and airy the lounge was. I was there during off-peak times, so the lounge wasn't crowded at all, though I imagine it's a different story at 1AM.
I do find the design choice to have so many communal tables to be quite strange, though. I wouldn't be very happy if I were sitting at a communal table with six seats, and the five other seats were occupied by strangers.
Marhaba Lounge Dubai food & drinks
The Marhaba Lounge has a pretty elegant bar area, where a bartender serves alcoholic drinks (which are free of charge).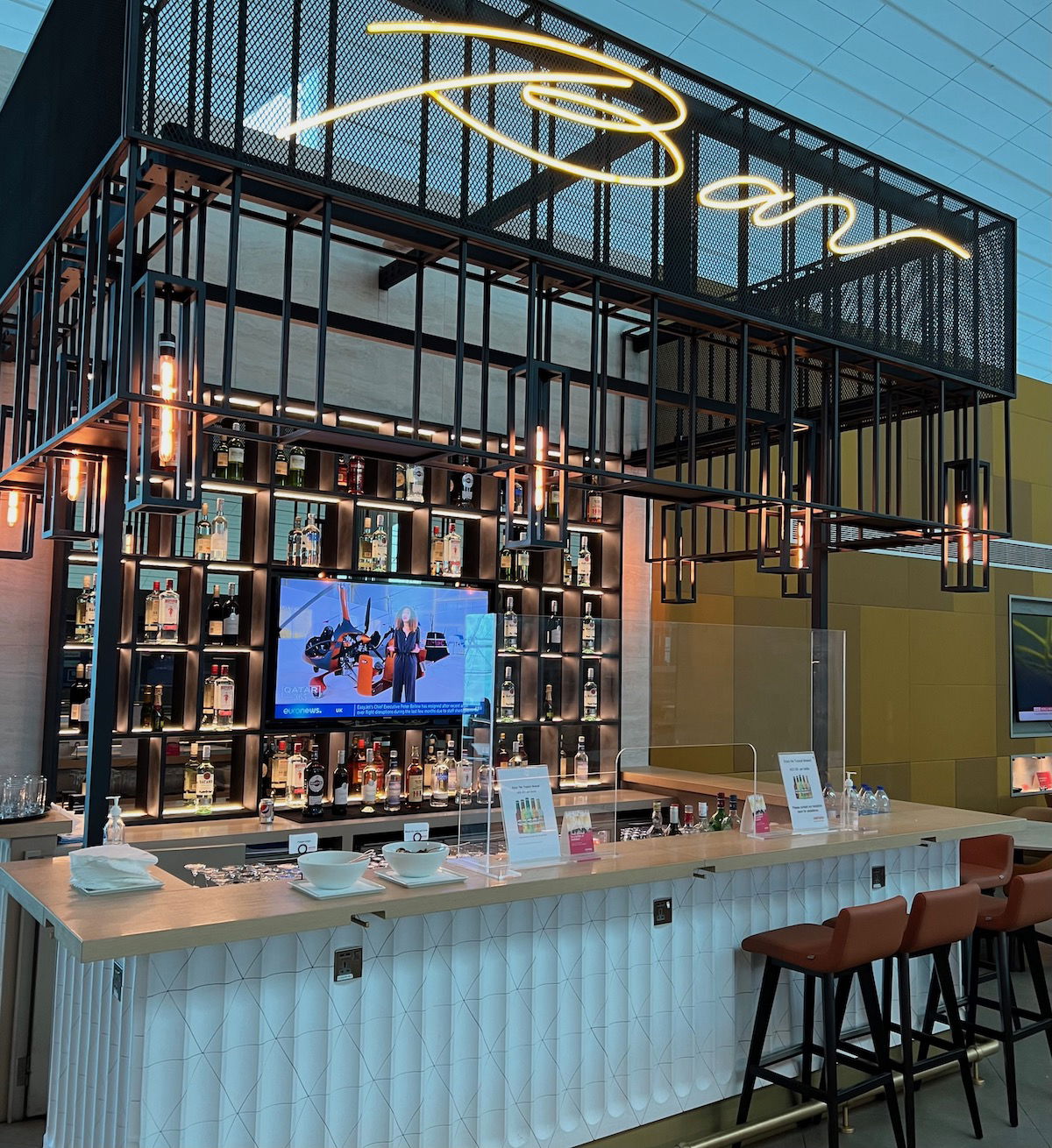 Water, soft drinks, and juice, are self-serve, and are available at the buffet.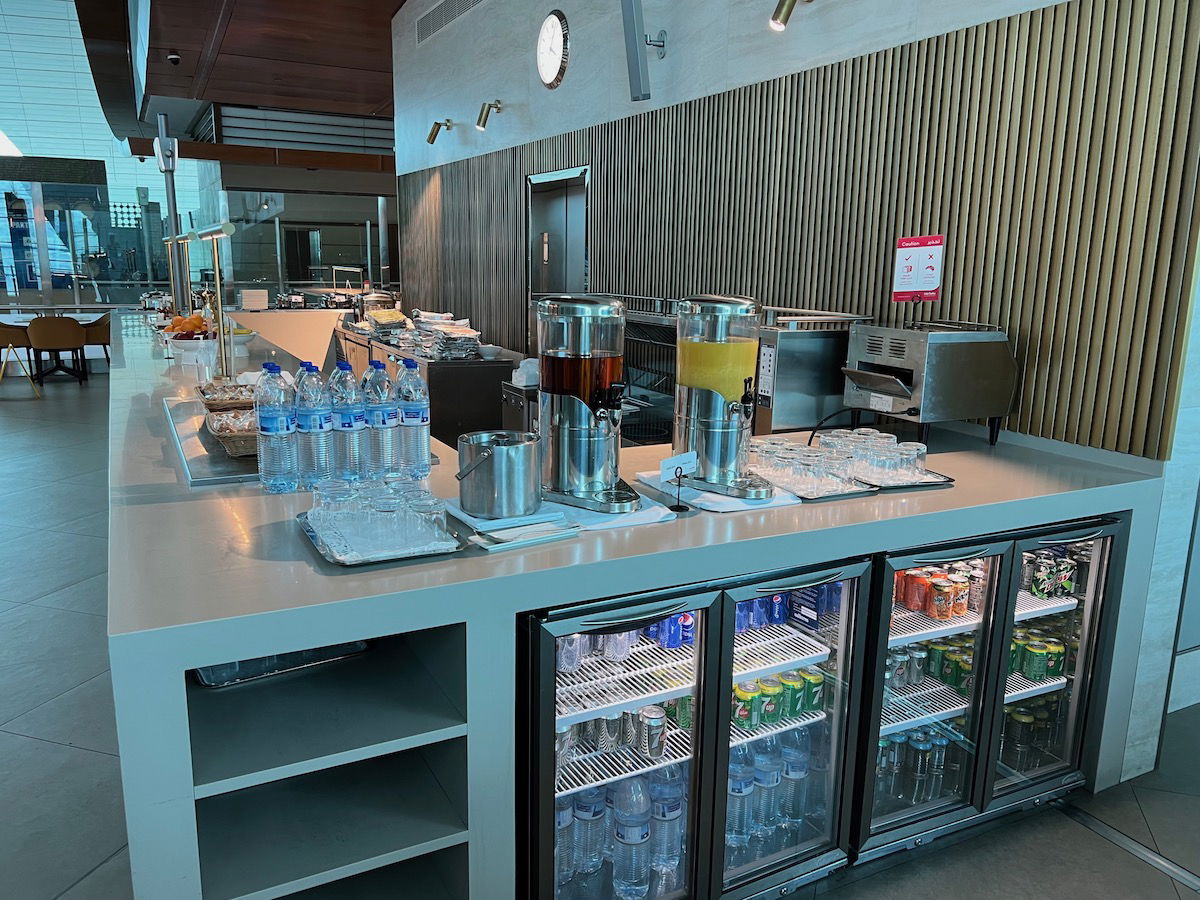 There's also a coffee machine, tea selection, Arabic coffee, and dates.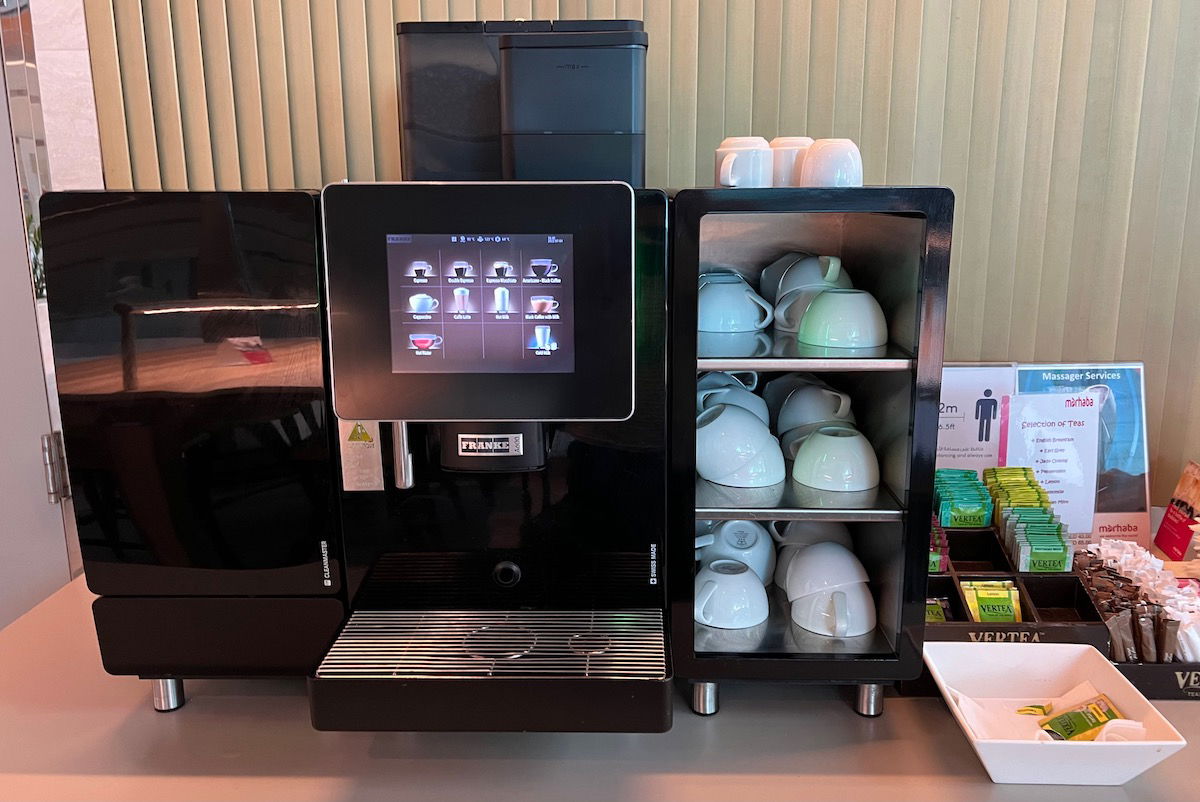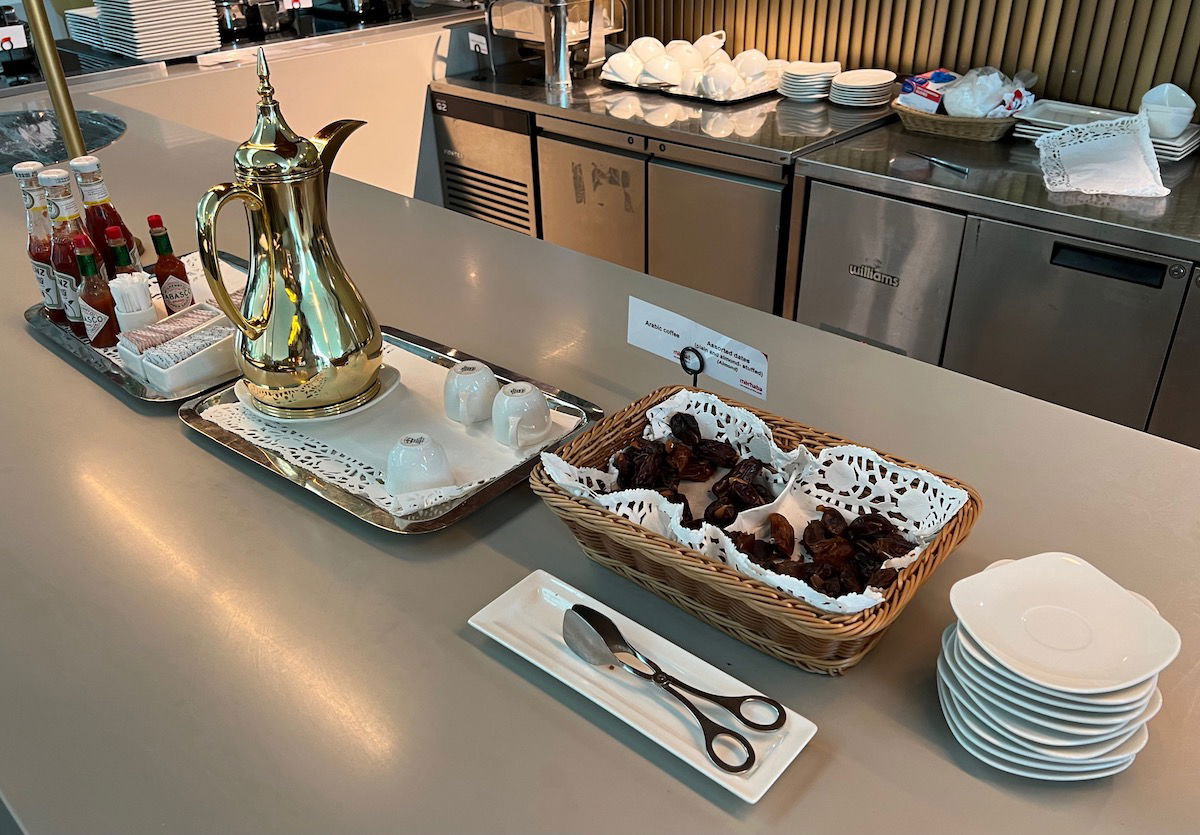 As far as food goes, there was a selection of both cold and hot options. Cold options included fruit, a salad bar, finger sandwiches, wraps, and cakes.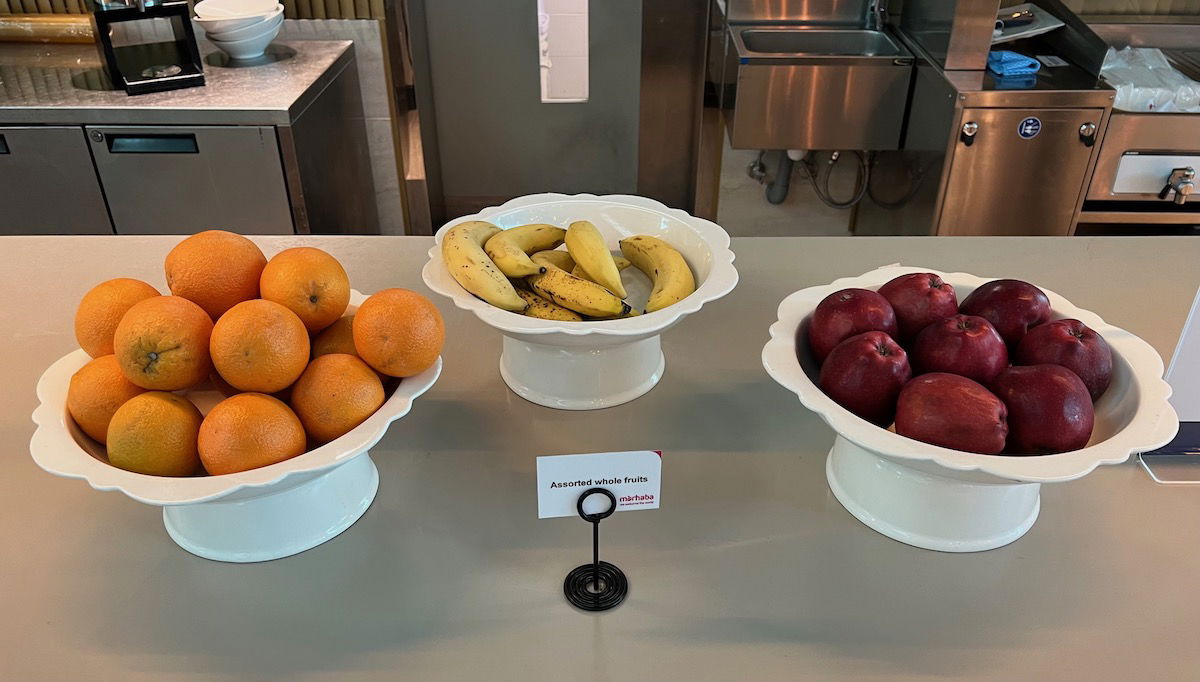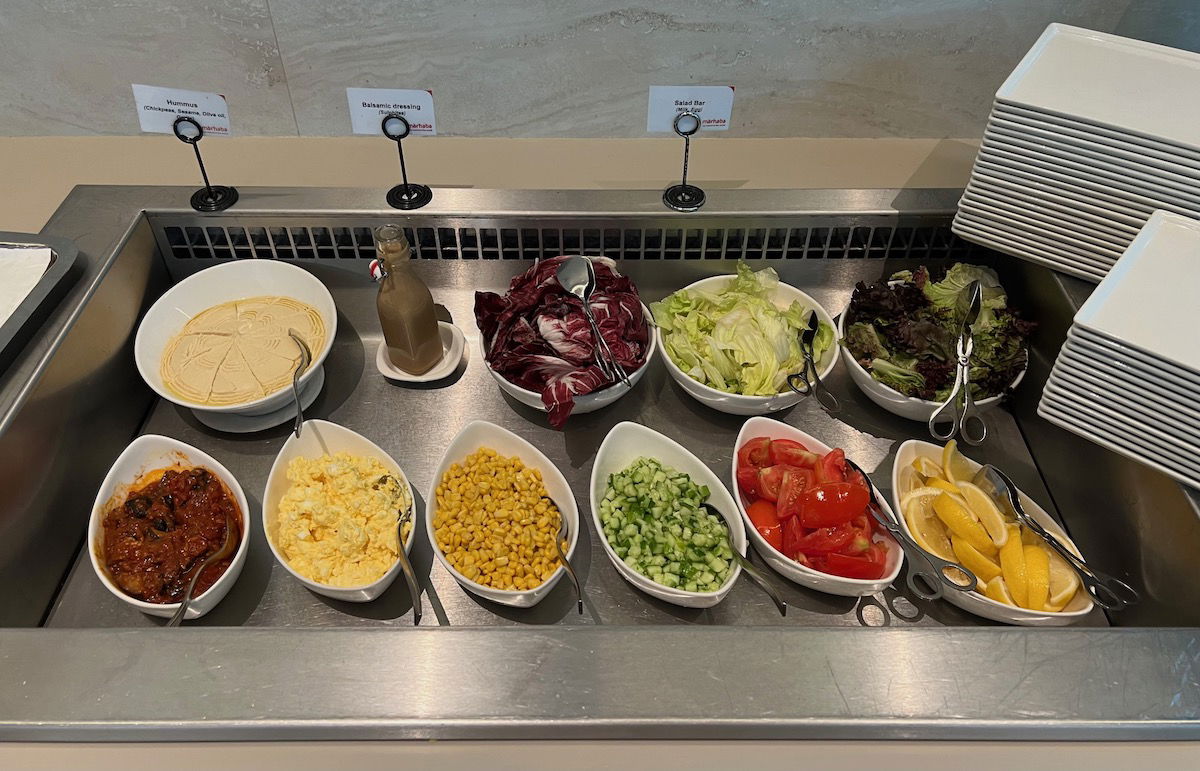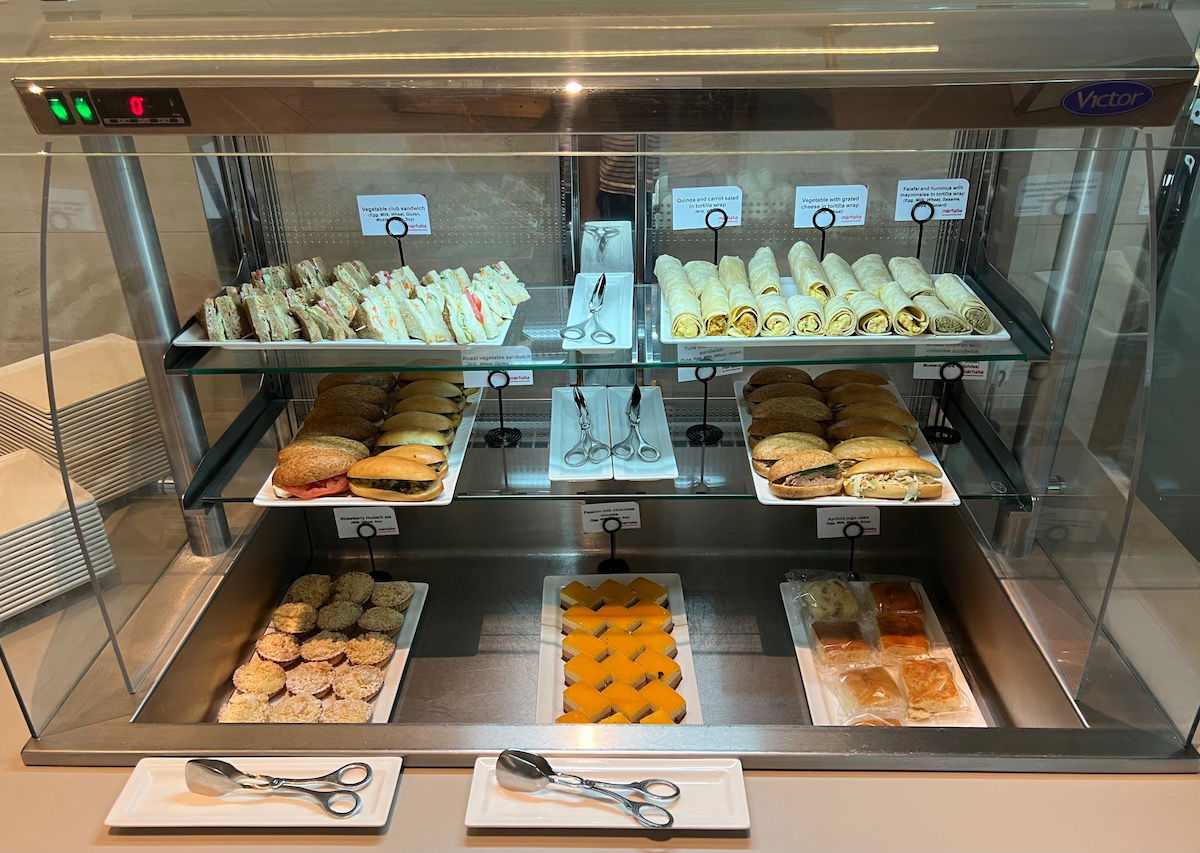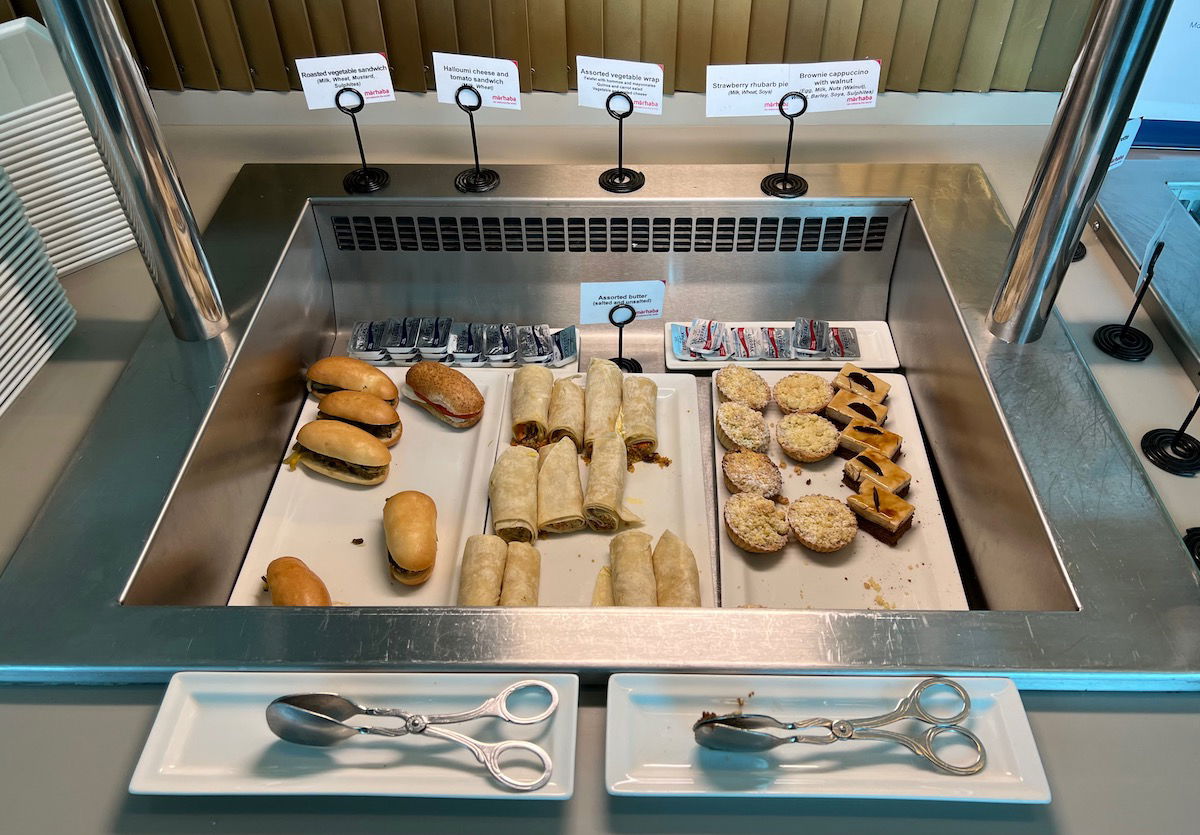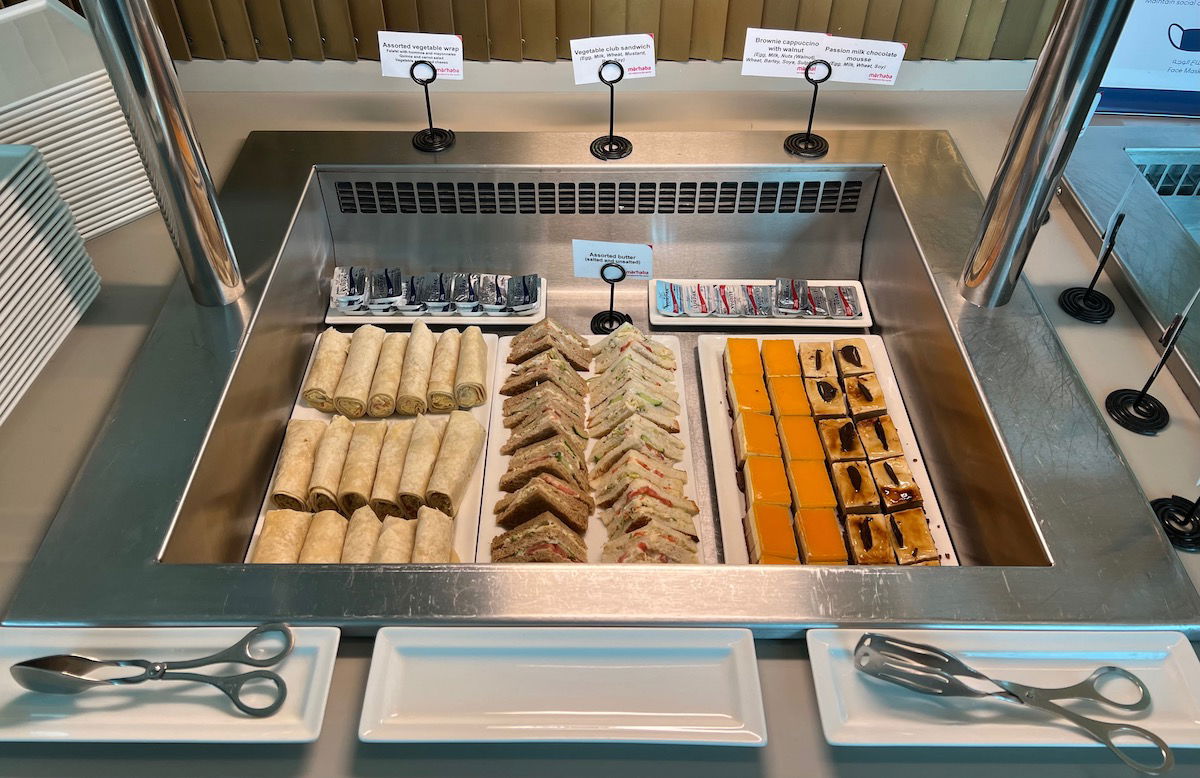 There were also several hot options, including rice, pasta, curry, samosas, and veggies.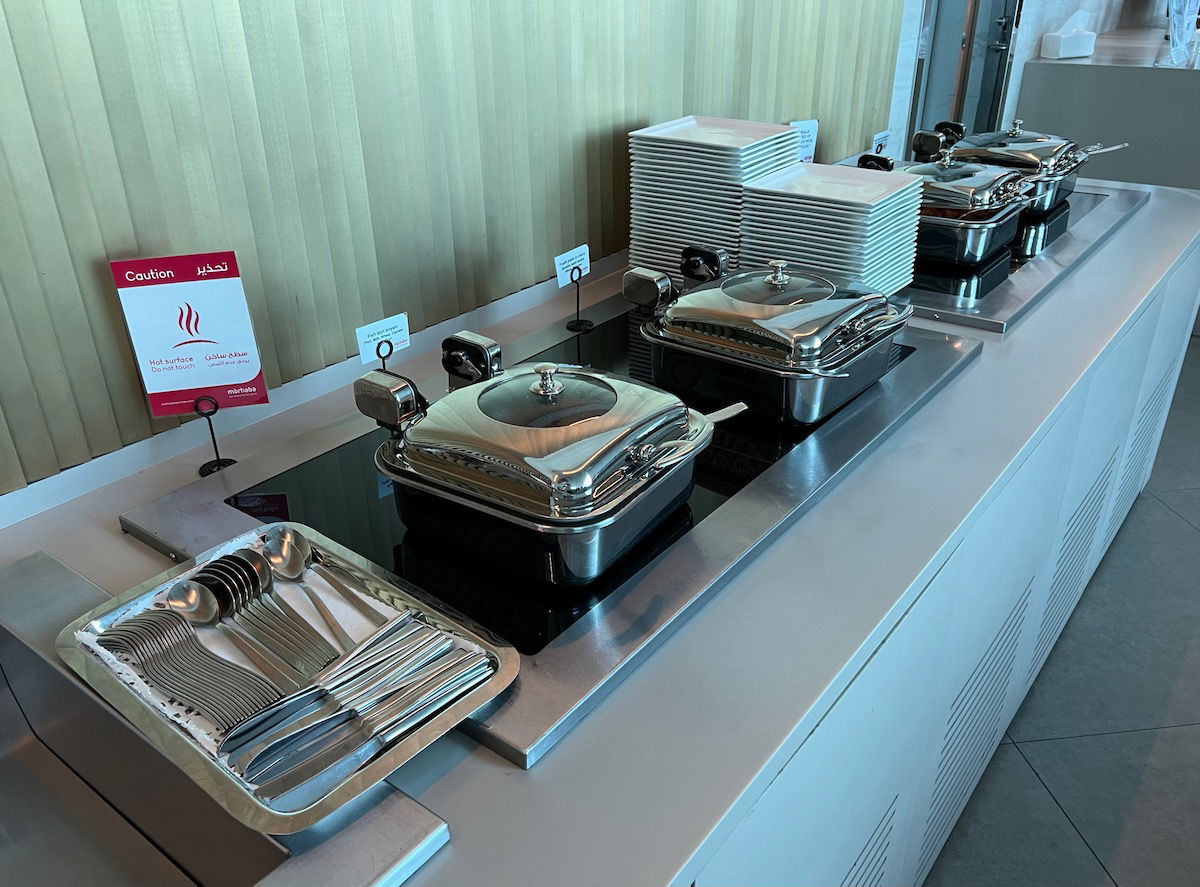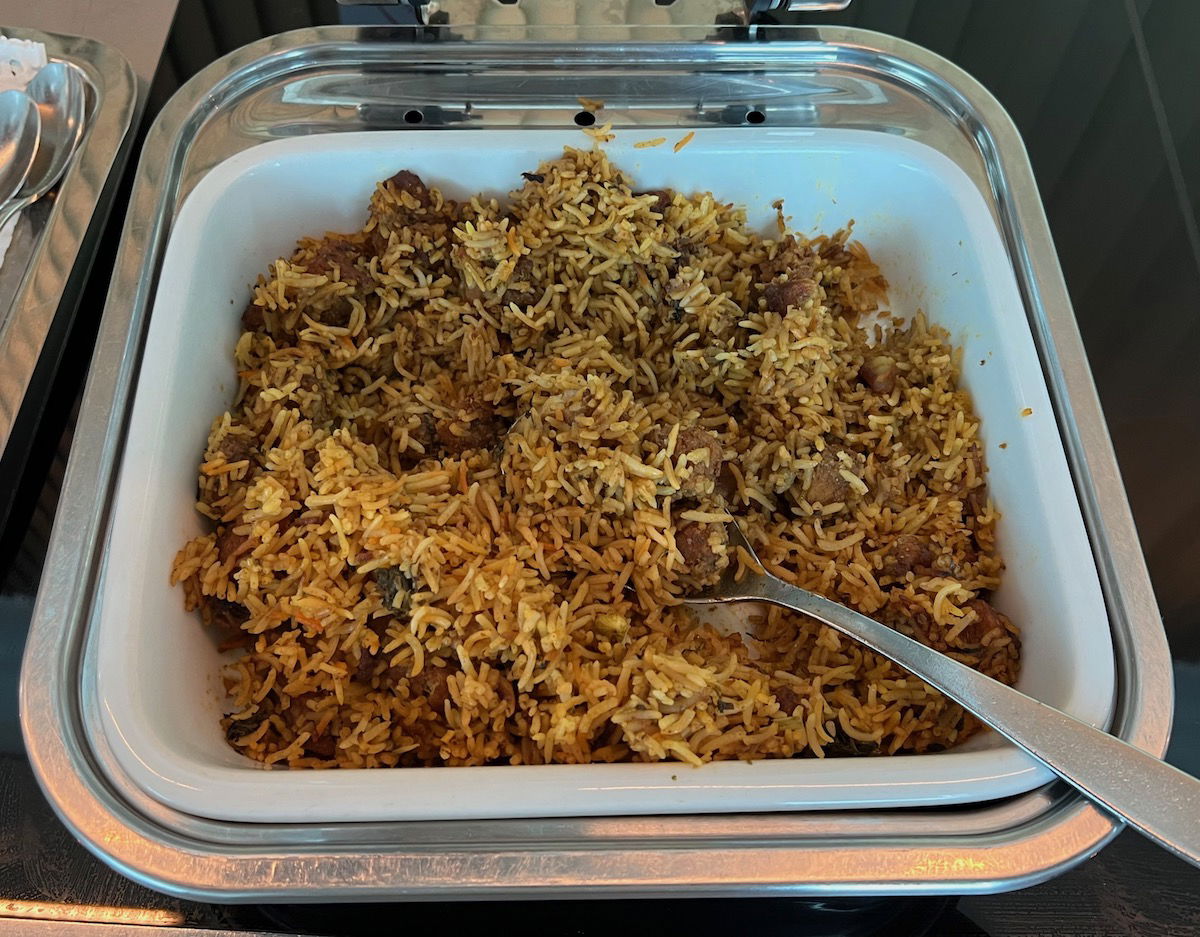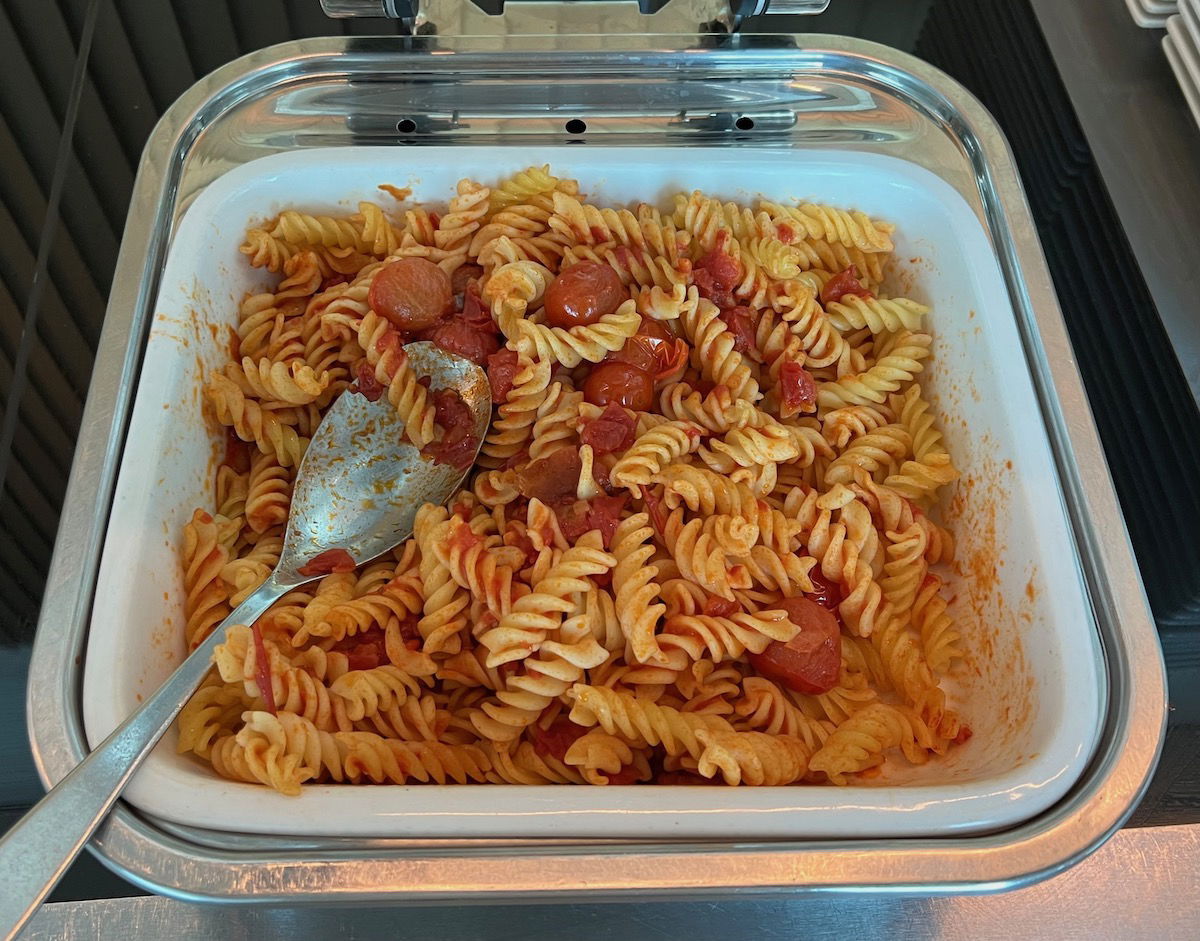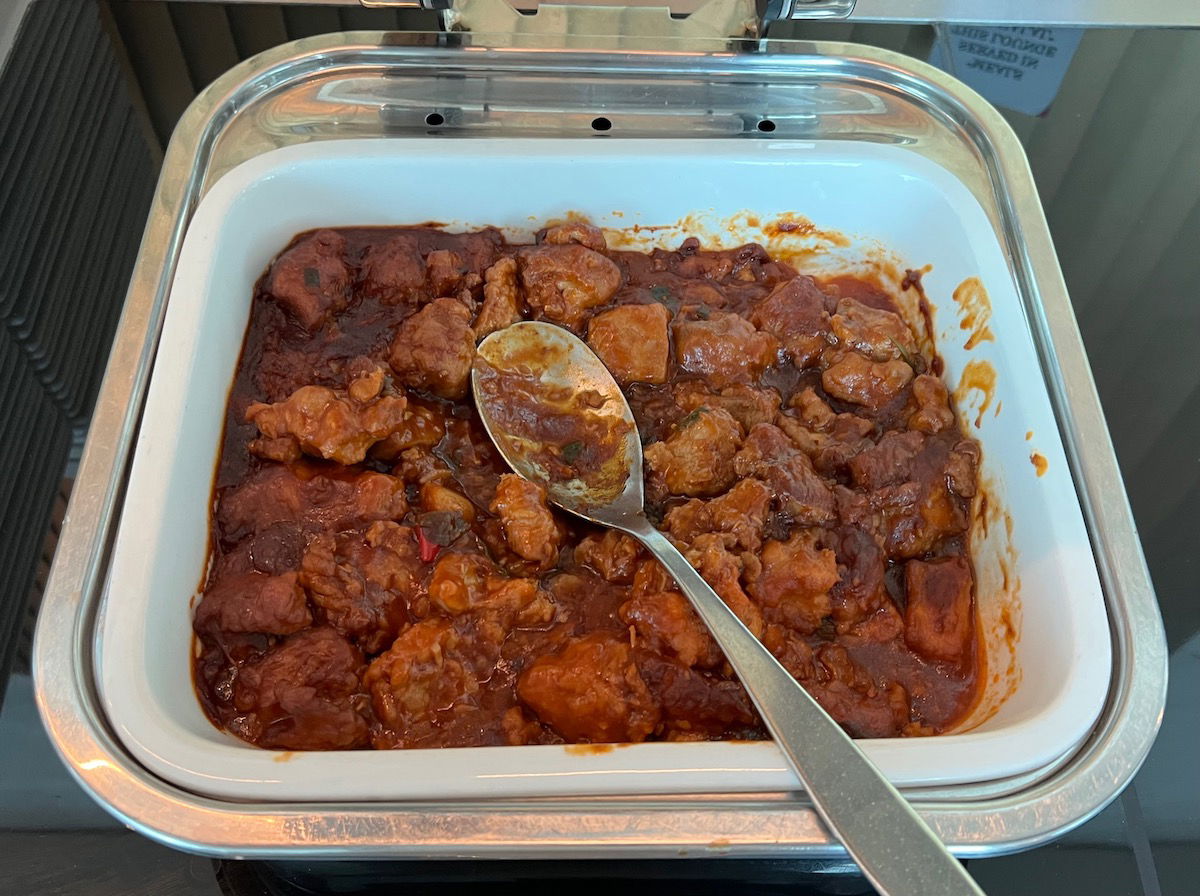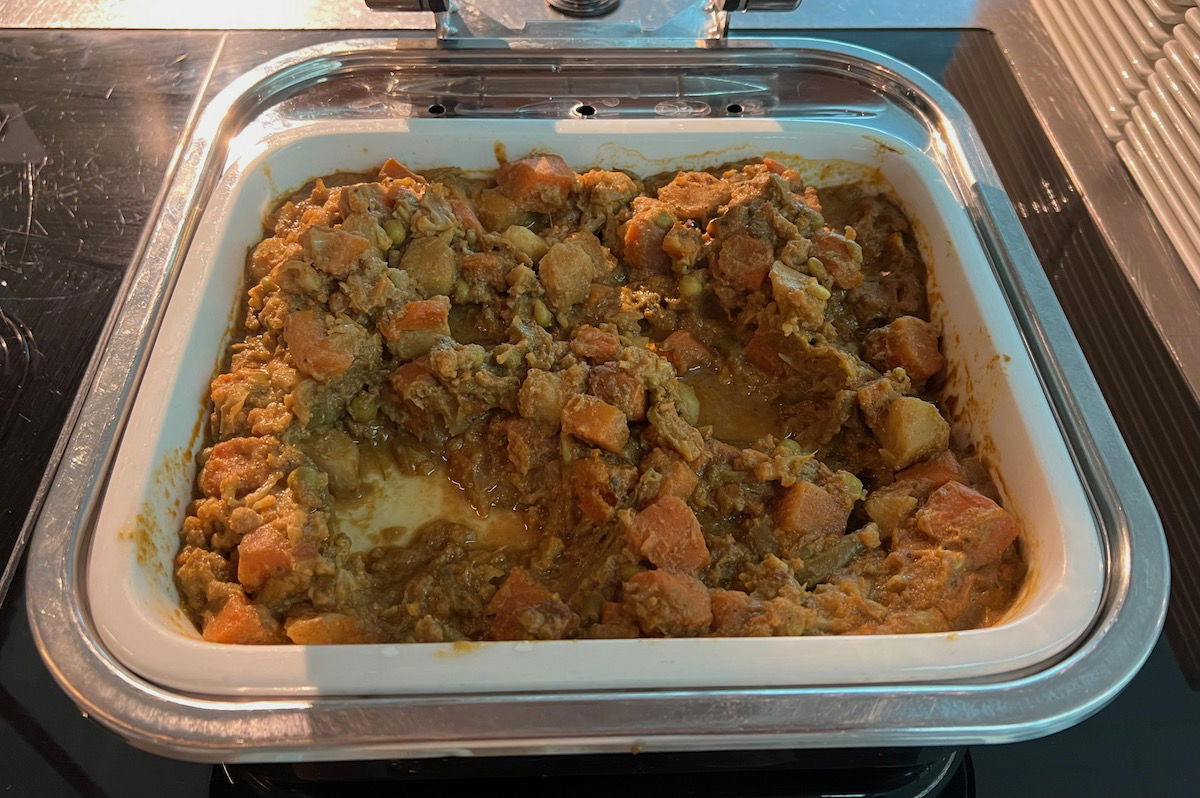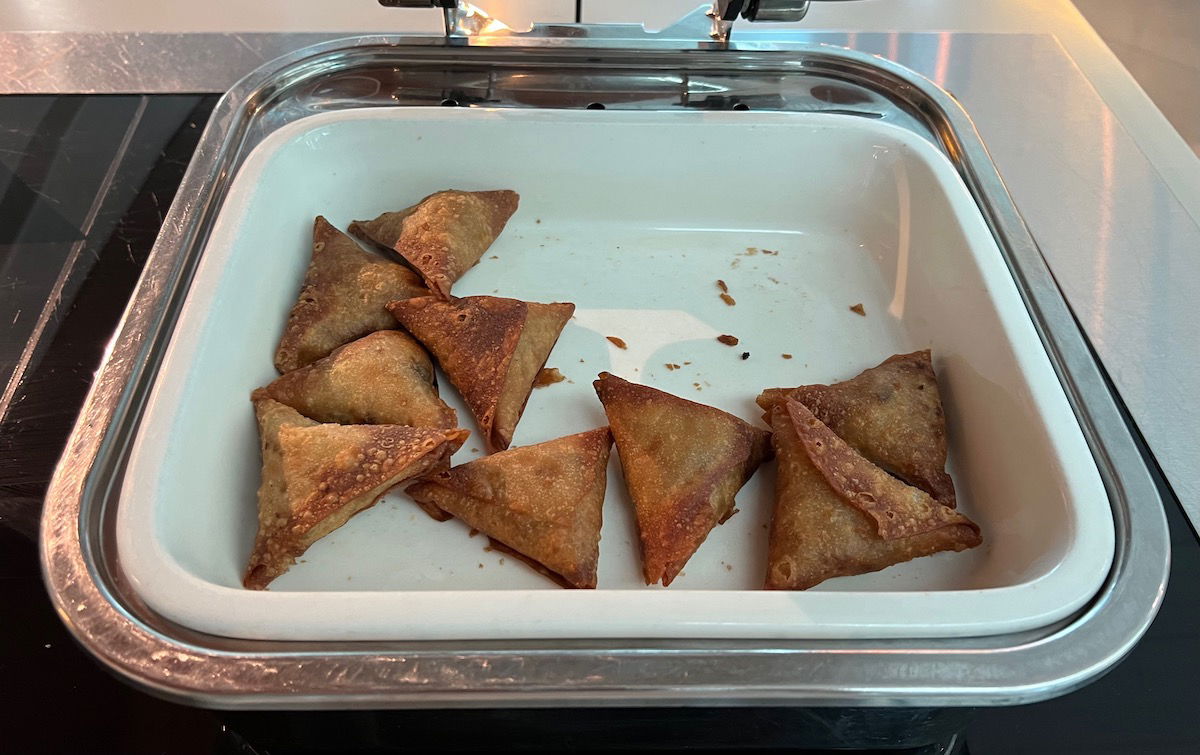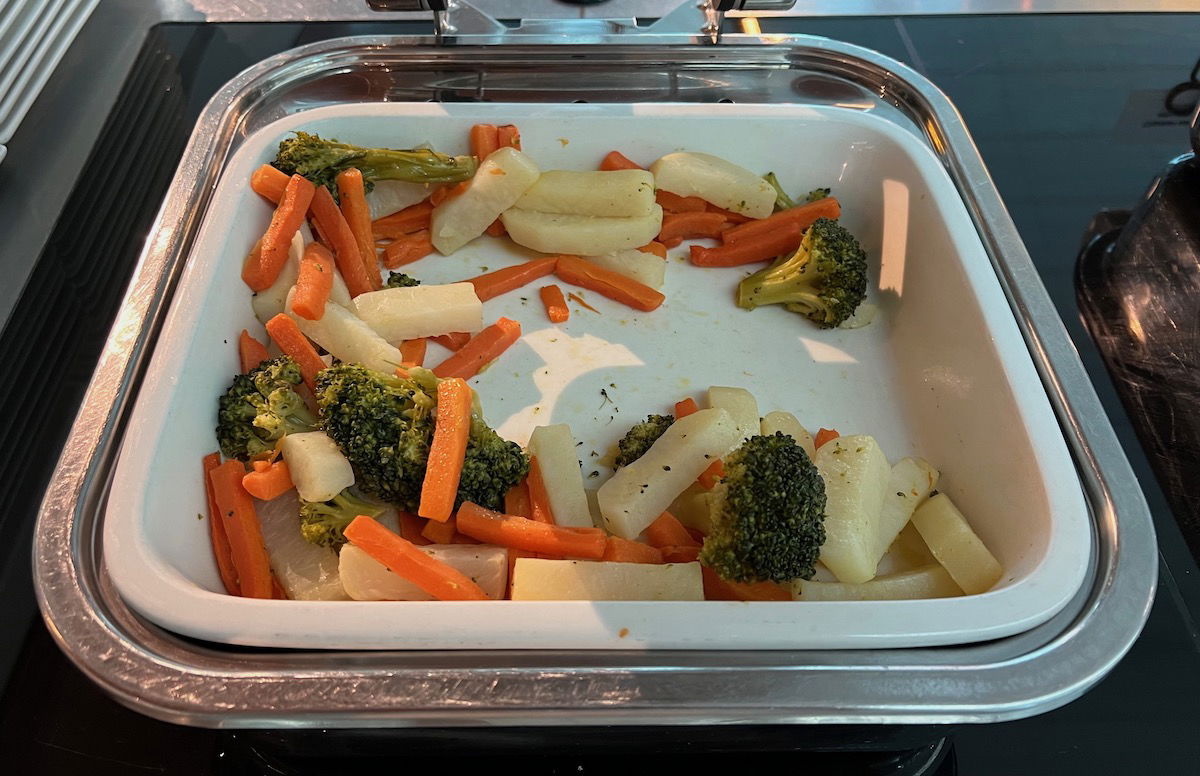 Marhaba Lounge Dubai bathrooms
The Marhaba Lounge's bathrooms are located near the entrance, and were well maintained.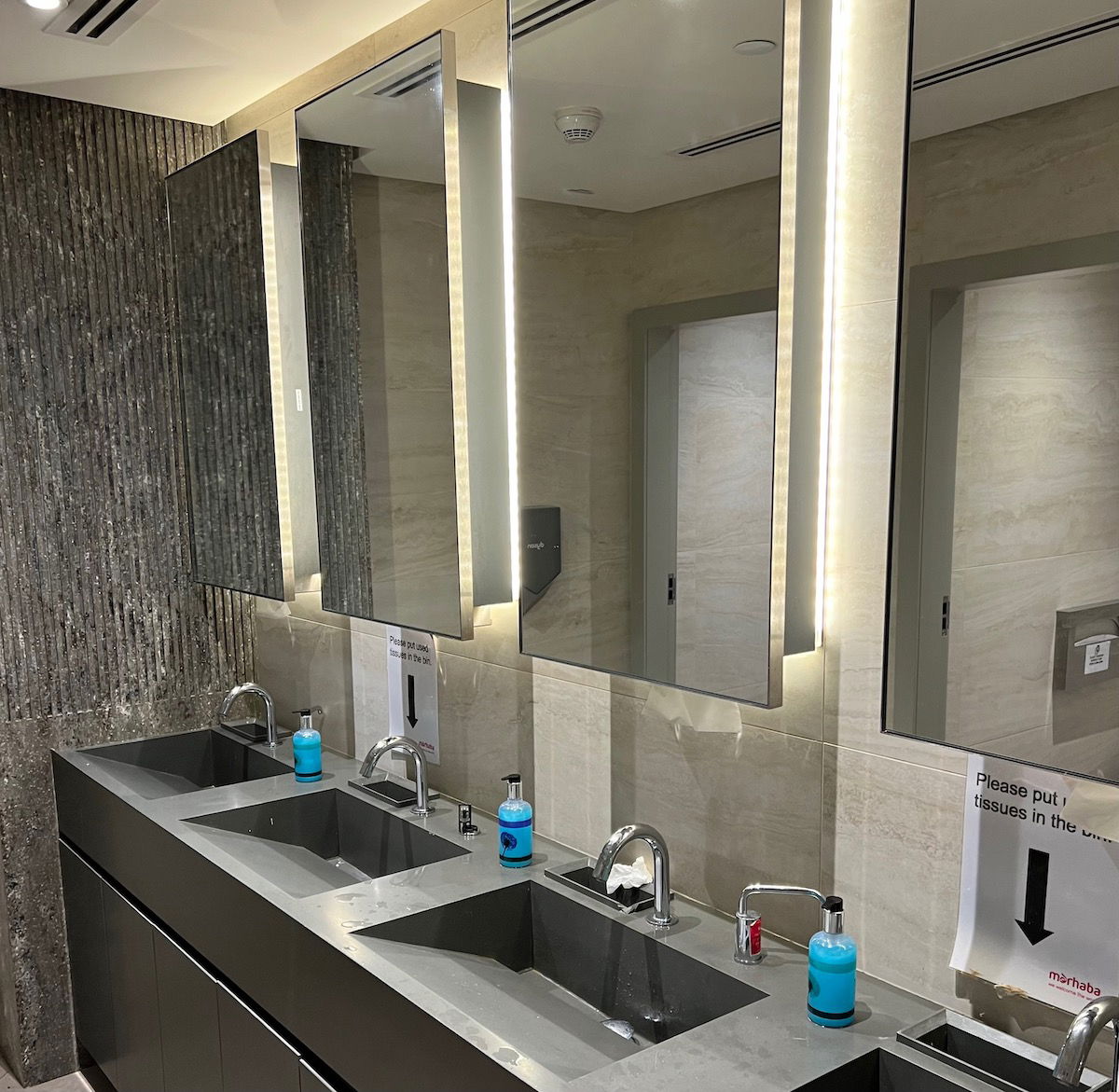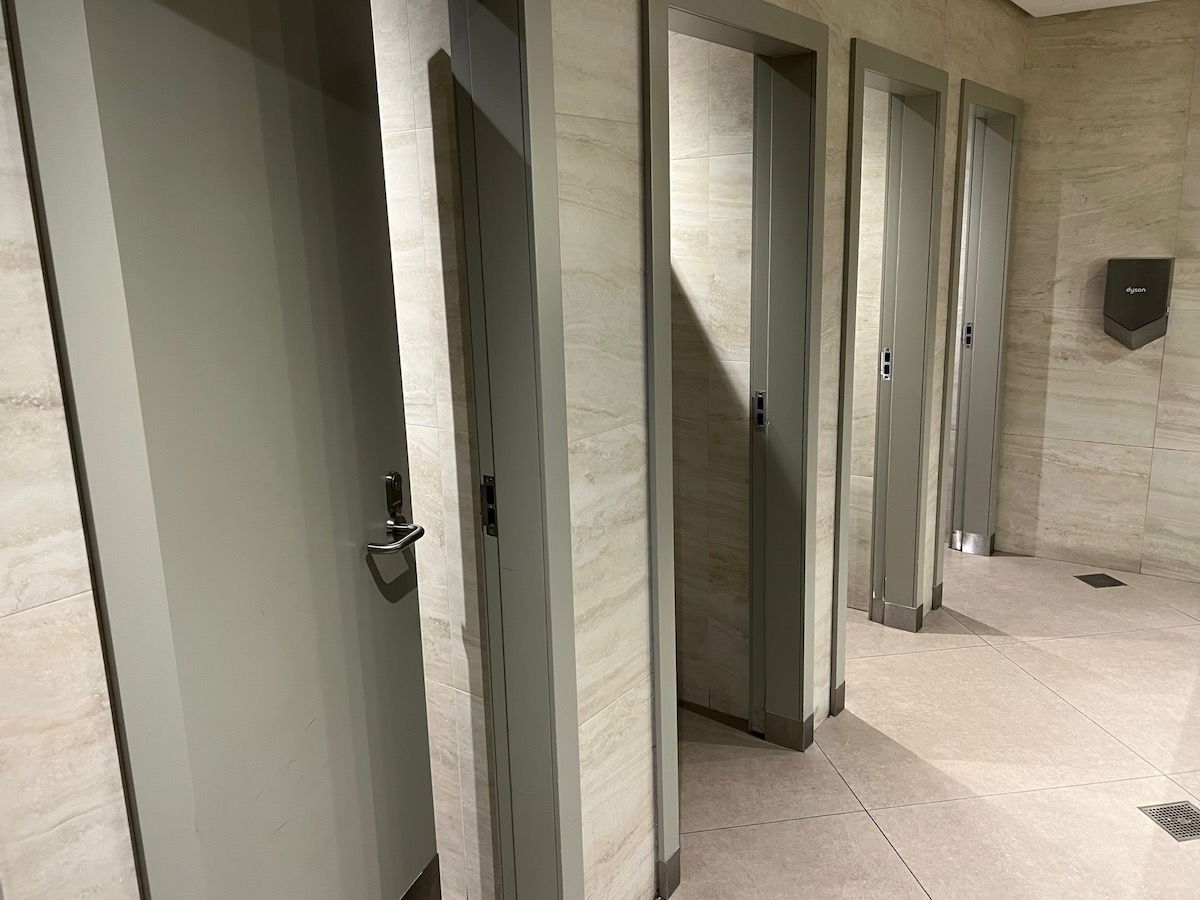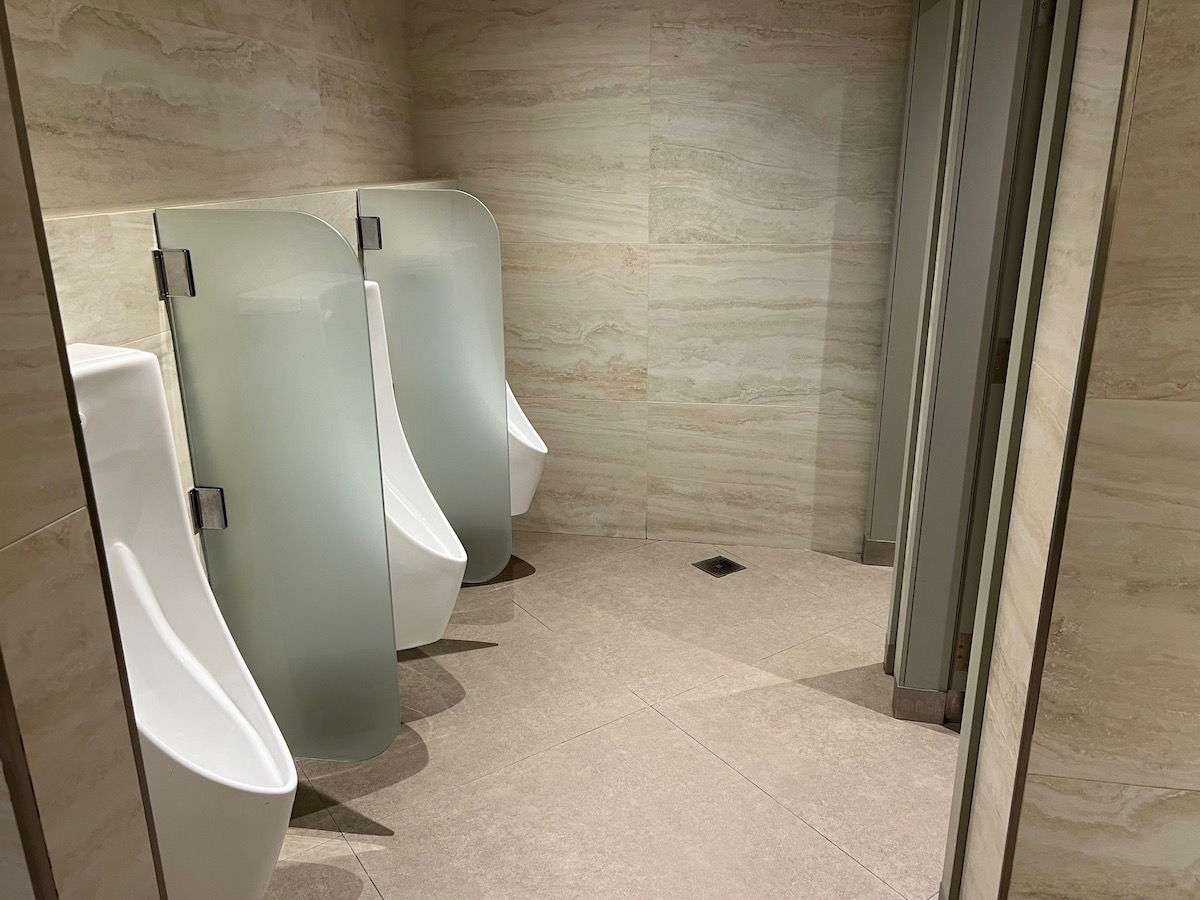 The lounge also allegedly has showers, though you have to pay an extra fee to use them. They weren't available when I was visiting the lounge.
Bottom line
The Marhaba Lounge Dubai Airport Terminal 3 Concourse B is a great option for Priority Pass members. The lounge has a variety of seating arrangements, the food & drink selection is pretty good, and the lounge just generally feels fresh. While not as good as the Emirates Lounges, this is a great option if you're traveling in economy and have a lounge membership that would get you access.
If you've visited the Marhaba Lounge Dubai Airport, what was your experience like?