During my recent trip, I spent a (very short) night at the Hyatt Regency Belgrade. I didn't stay at the hotel long enough to be able to fully review the property, but I did want to share some general thoughts.
Why I spent four hours at the Hyatt Regency Belgrade
The last time I stayed at a hotel for four hours, it was at the Aegon Mykonos, and it was because I felt uncomfortable and decided to check out. 😉 In that sense I'm happy to report that my four-hour stay at the Hyatt Regency Belgrade was the plan all along, short as it was.
Why did I plan such a short stay? Well, because I was just in transit from Dubai to New York:
While I ideally like to spend more than four hours in a hotel, some sleep is better than no sleep. Besides, I managed to nap a bit on both flights, so I still arrived in New York pretty well rested.
The joys of booking a Category 1 Hyatt property
In the era of high hotel rates and award chart devaluations, it's nice to feel like you're still getting a deal on a hotel stay. The Hyatt Regency Belgrade is a Category 1 World of Hyatt property, which you don't see many of nowadays.
I booked my one night stay for just 5,000 World of Hyatt points, which is quite a deal. At a valuation of 1.5 cents per point, that's like paying ~$75.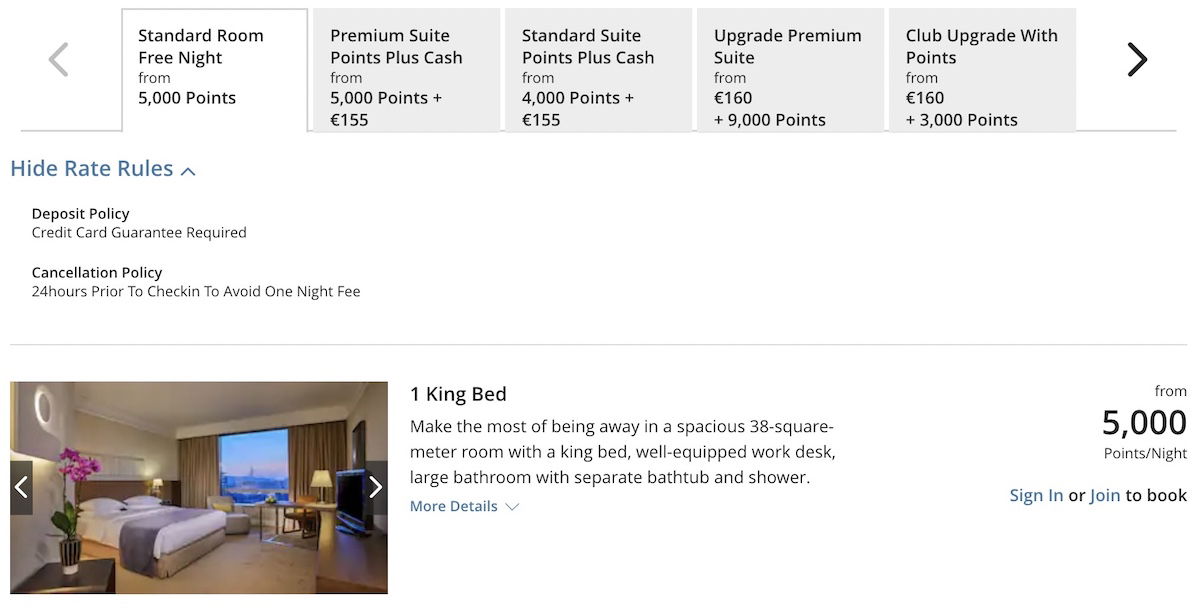 As a point of comparison, the hotel was charging over 150 Euro per night, so redeeming points was definitely the better value.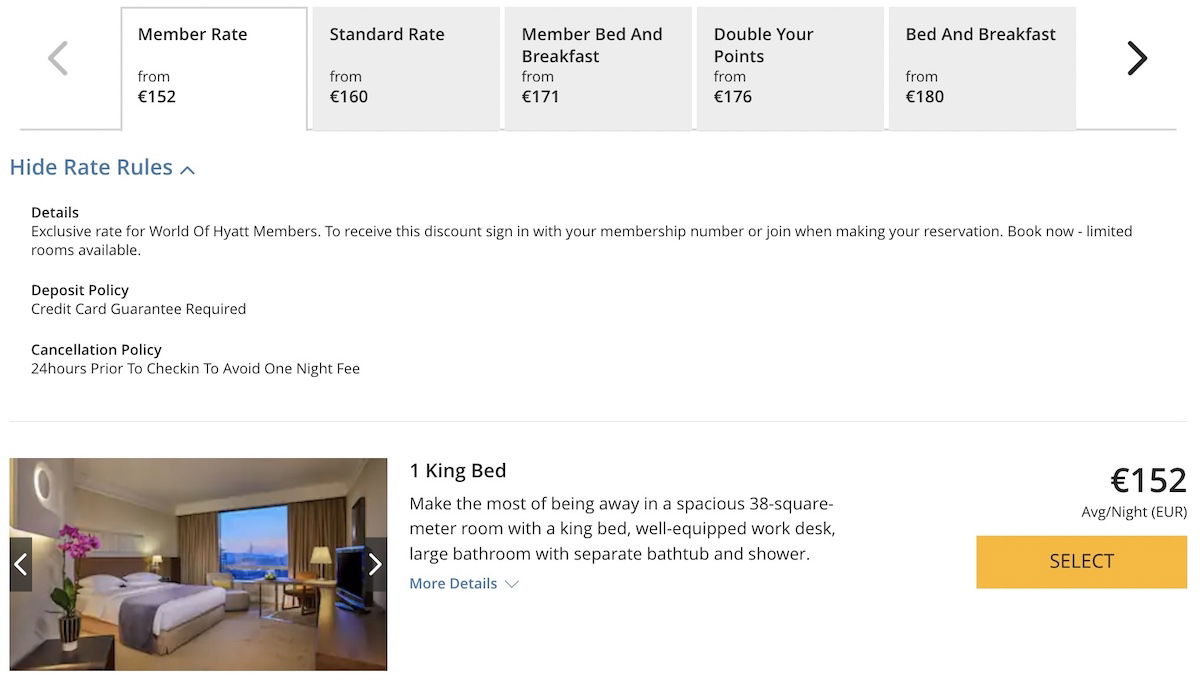 My experience staying at the Hyatt Regency Belgrade
Usually I try to review my hotel stays, even if they're very short. However, I think it's hard to do that in a useful way if you're staying at a time when all amenities are closed.
The Hyatt Regency Belgrade is an older property, as it opened back in 1990, but it's well maintained. The hotel has a beautiful, large lobby.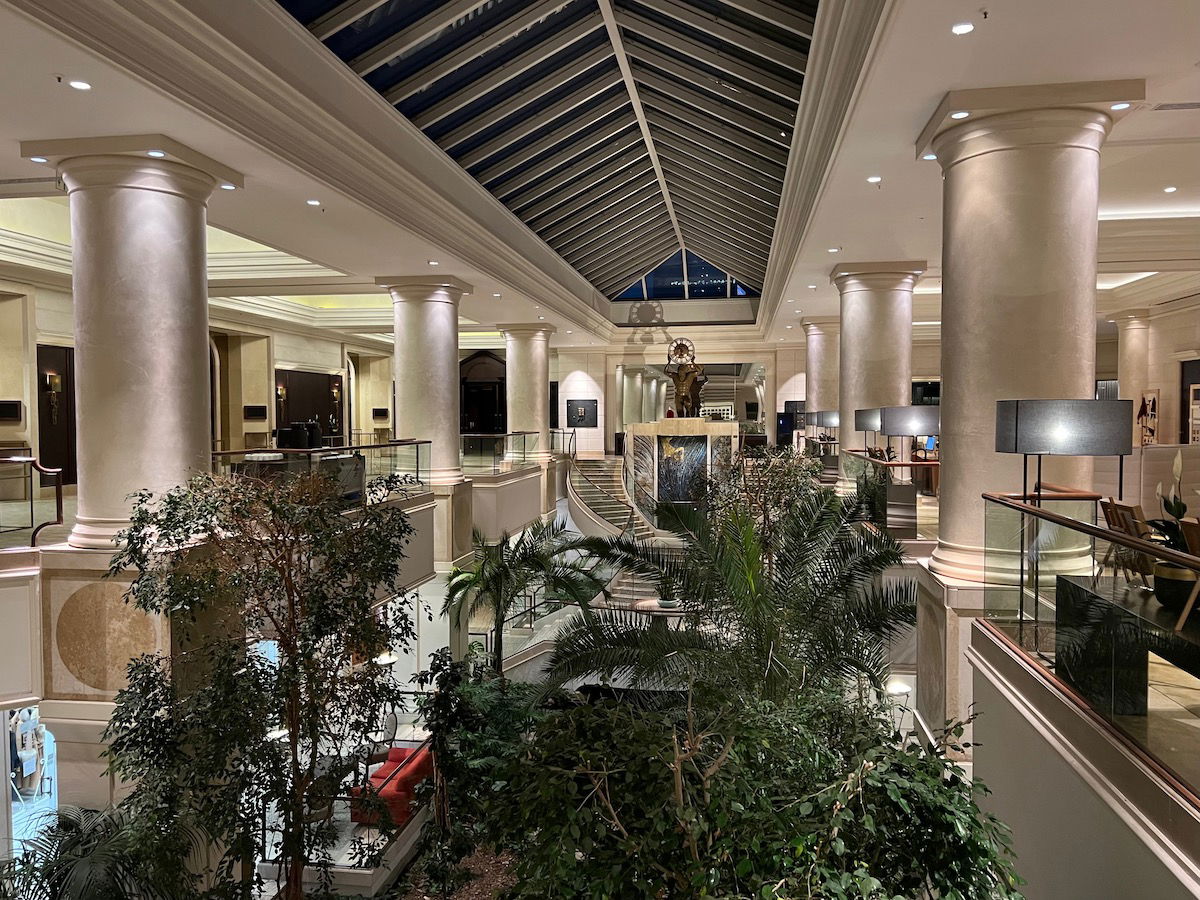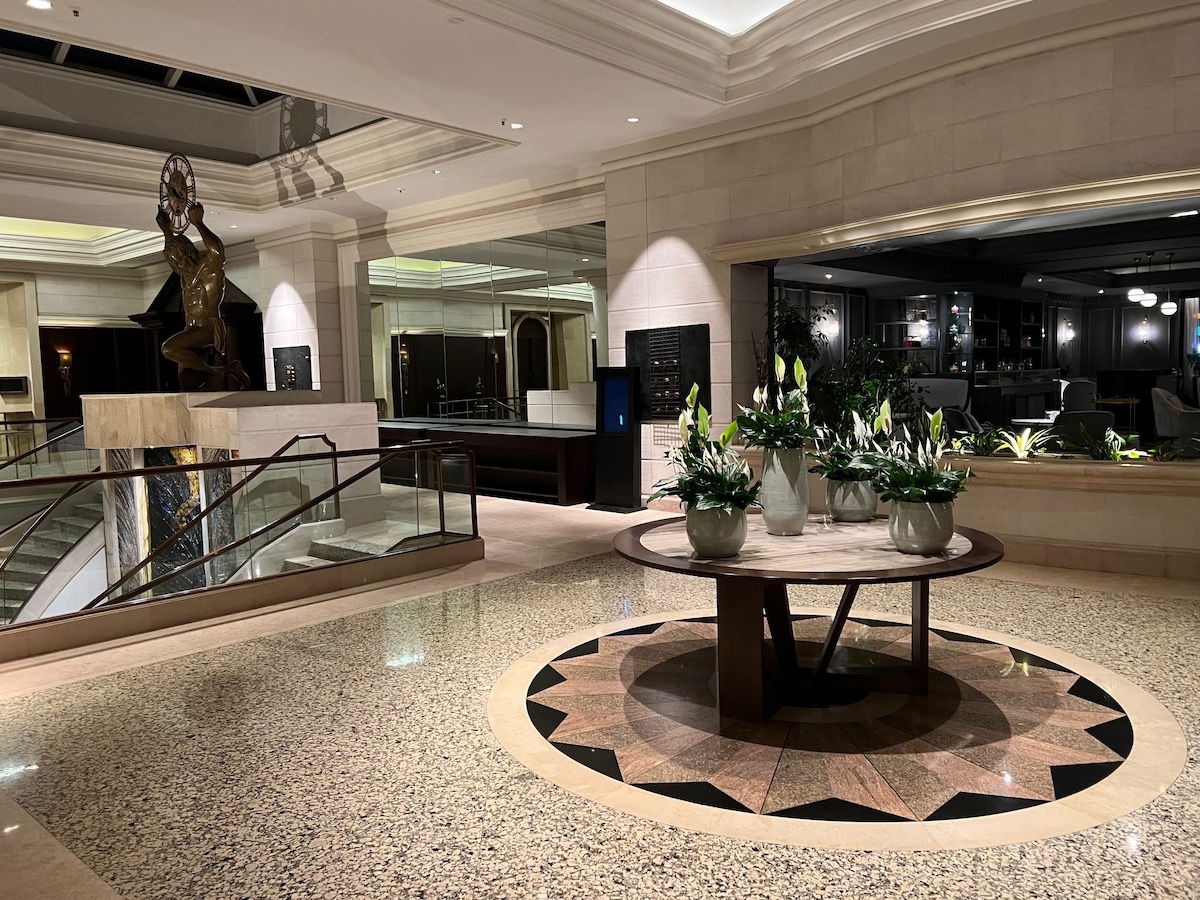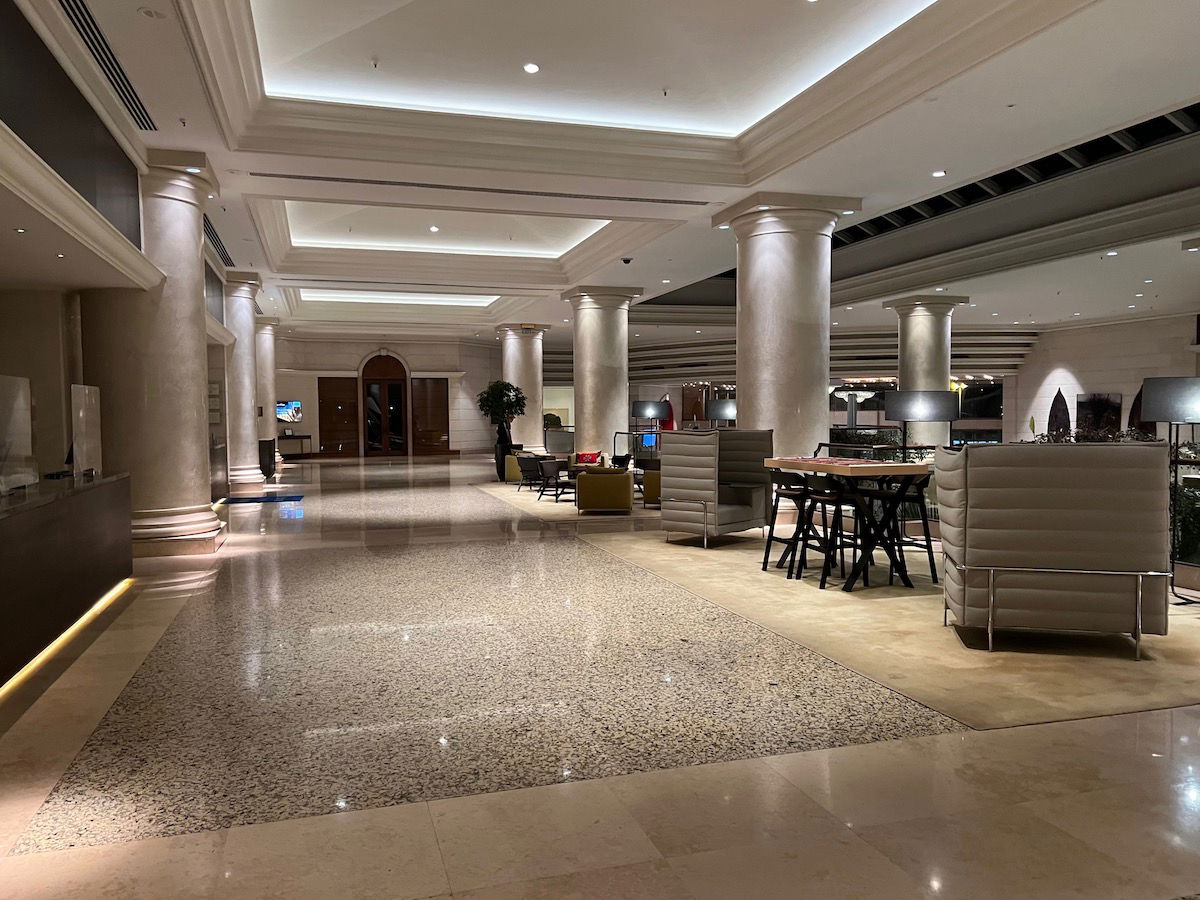 I tend to think that hospitality happens at the margins, and often it's the little things that we most remember. The professional and cheery lady working the overnight shift thanked me for being a World of Hyatt Globalist member and informed me that I had been upgraded to a suite.
I thanked her, and told her that she didn't have to tell me about any of the hotel's other amenities, because I'd be leaving at 4AM. She looked at me wide-eyed, and said "oh no, you won't be able to experience our hotel." Since I was leaving before breakfast started, she proactively asked what coffee drink she could have waiting for me at 4AM, along with something to eat.
I said "oh that's kind, you really don't have to do that." She said "please, I insist, you will need it with such a short night." What great customer service — I wish I would have gotten her name so I could have written in to compliment her, but I was somehow in a daze as it was late at night, so was so focused on getting to my room.
Anyway, I was upgraded to a Regency Suite King on the 8th (top) floor. My room was right across from the stairs leading down to the Regency Club, though it was dark, so I couldn't see much.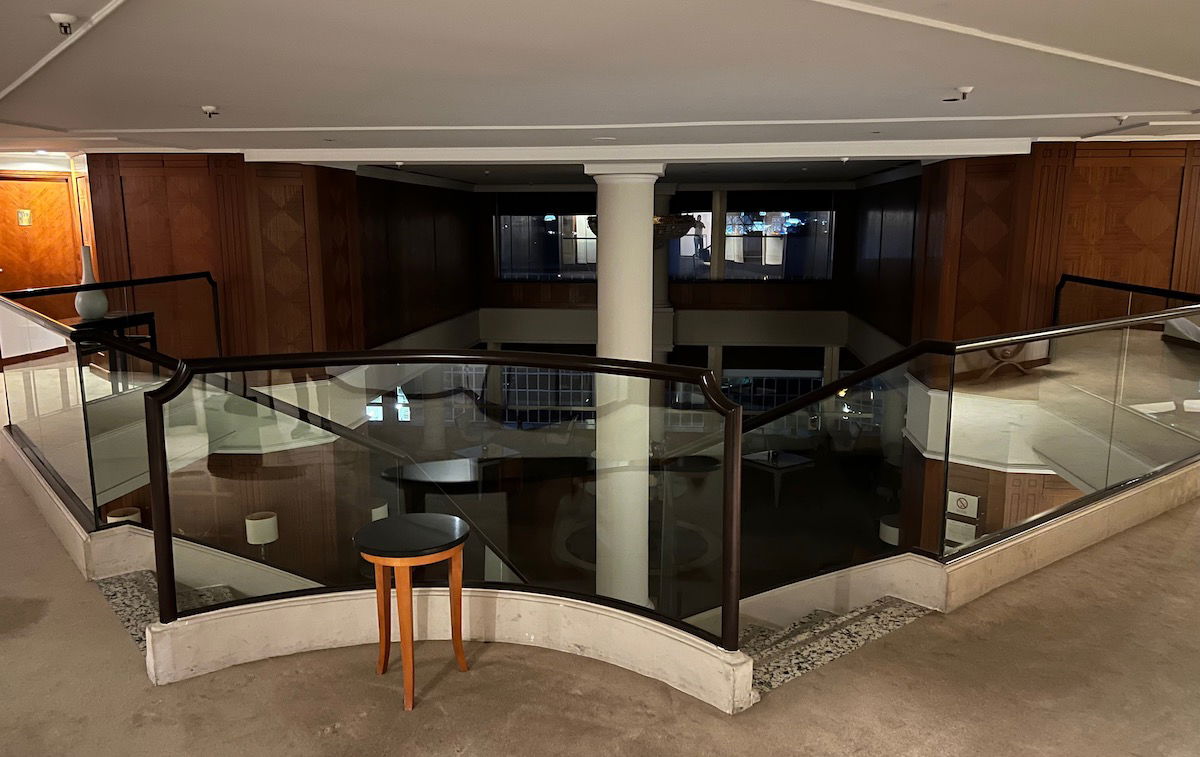 The suite's decor was definitely on the classic side, but it was well maintained. There was a living room and half bath, and then double doors leading into the bedroom.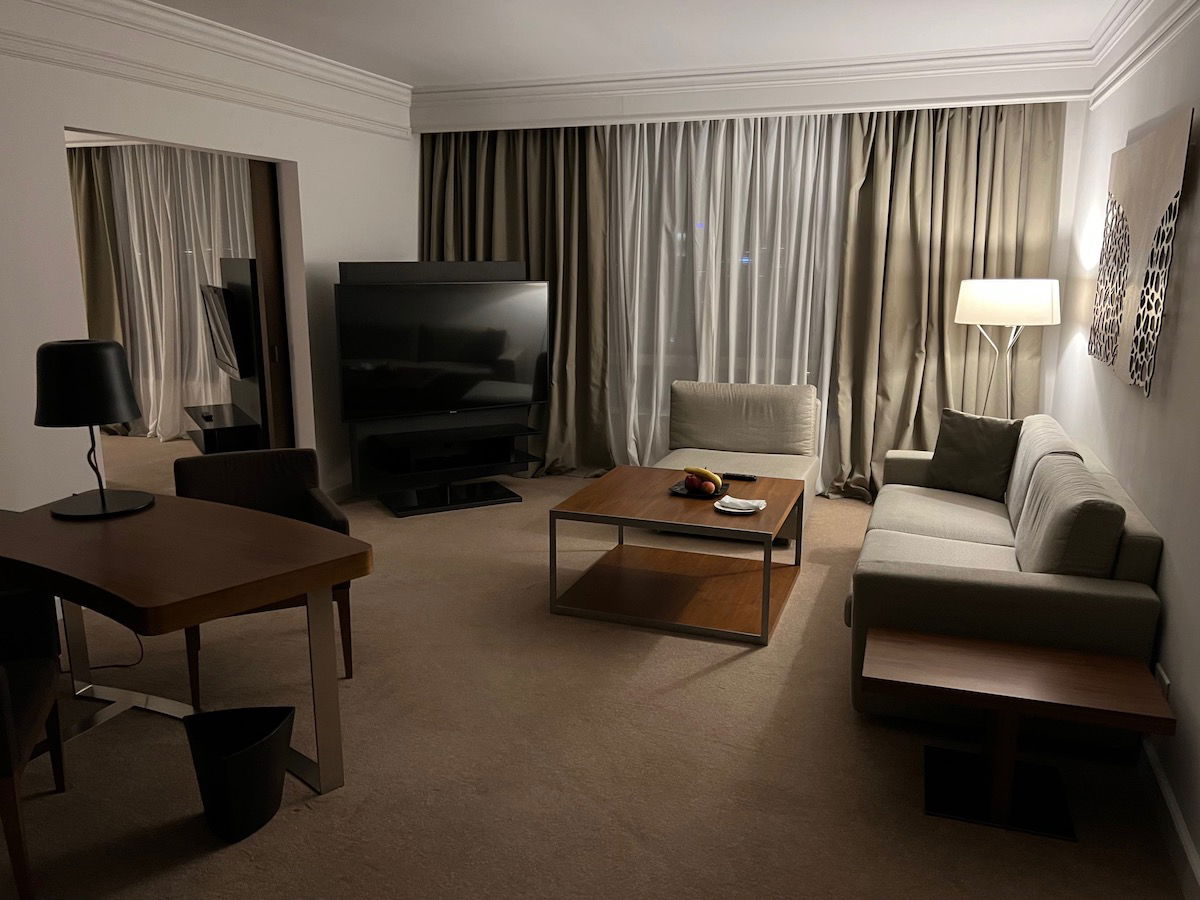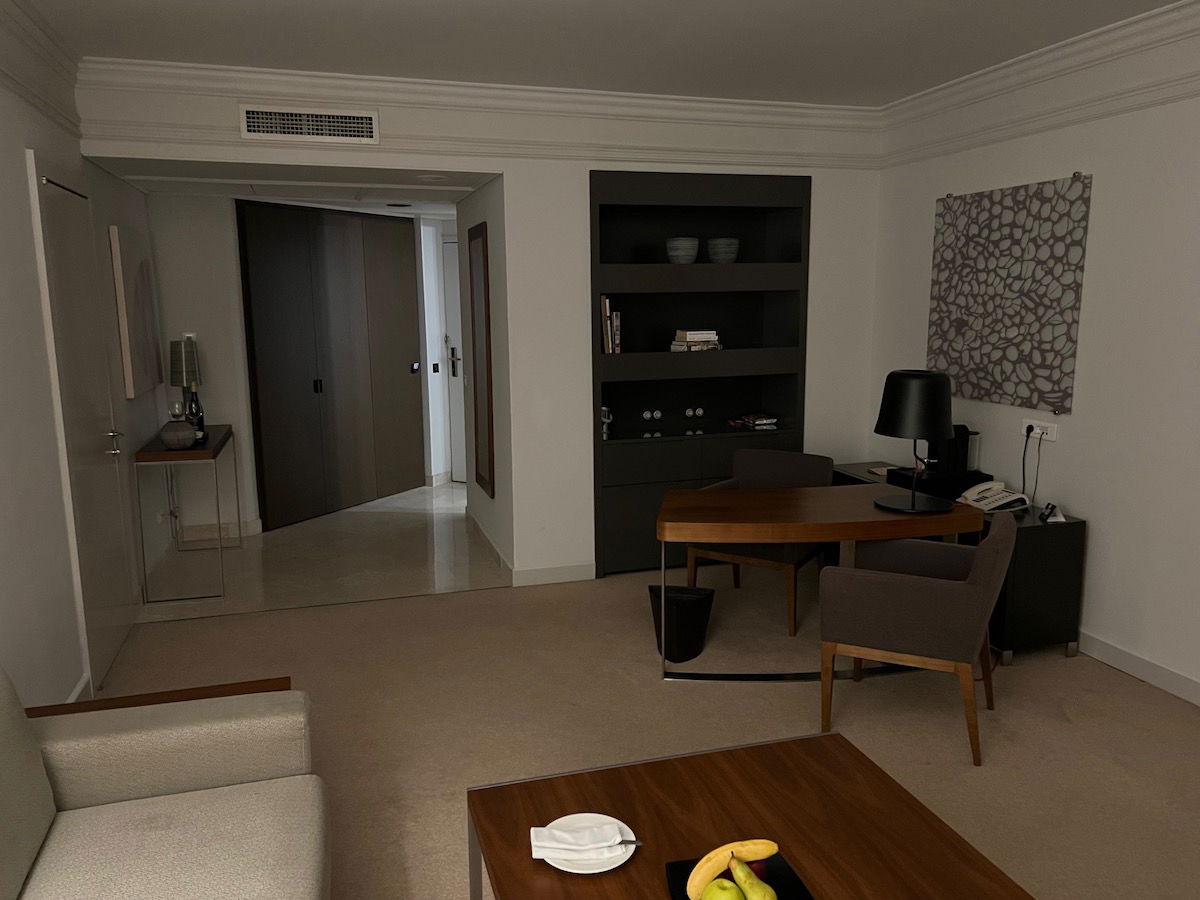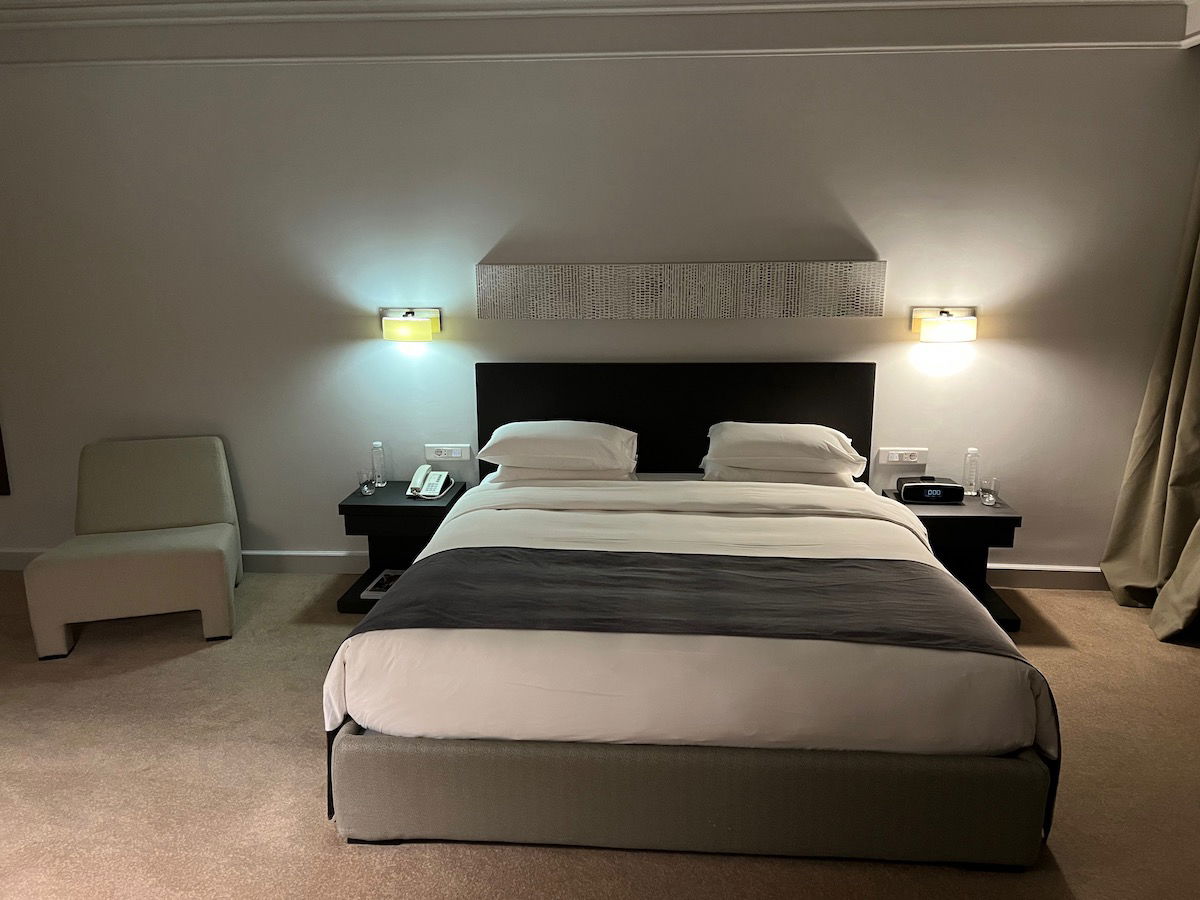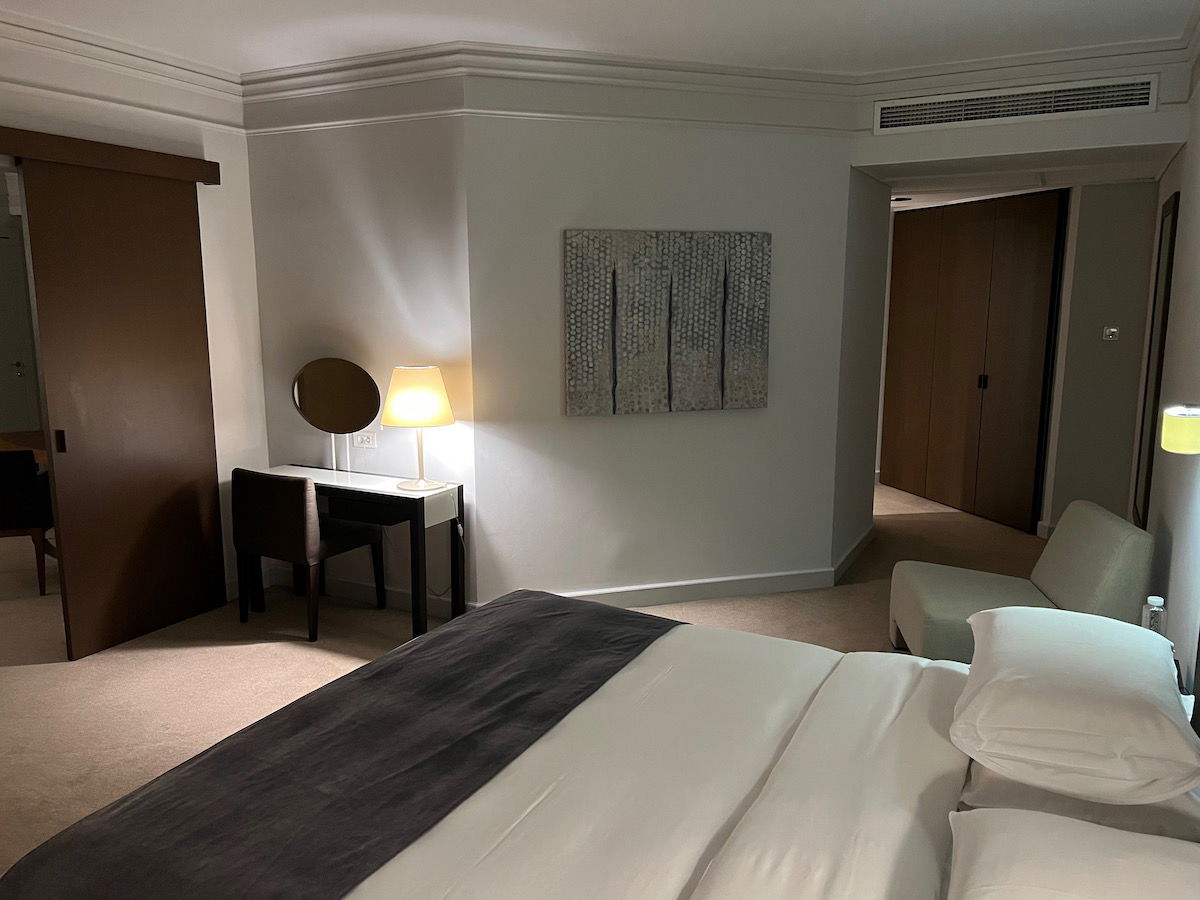 Then the main bathroom was off the bedroom, and had a sink, a toilet, a shower, and a tub.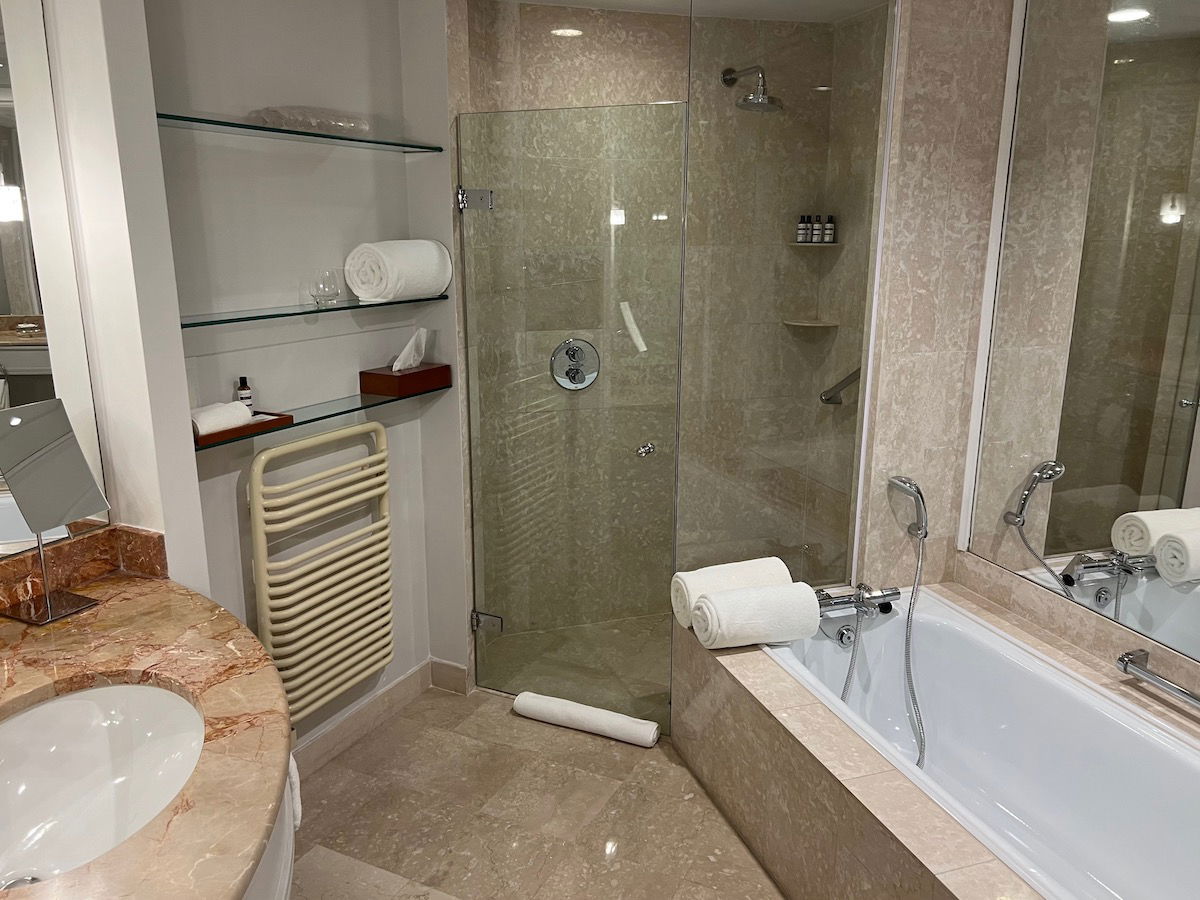 I couldn't figure out how to turn on most of the lights in the room (or maybe the lighting just doesn't get very bright?). Regardless, I didn't actually want the lights on anyway (aside from taking pictures), so that was fine by me.
There was a welcome amenity consisting of a bottle of wine, some sweets, and a fruit plate, on the living room table. I didn't have the chance to enjoy that, unfortunately.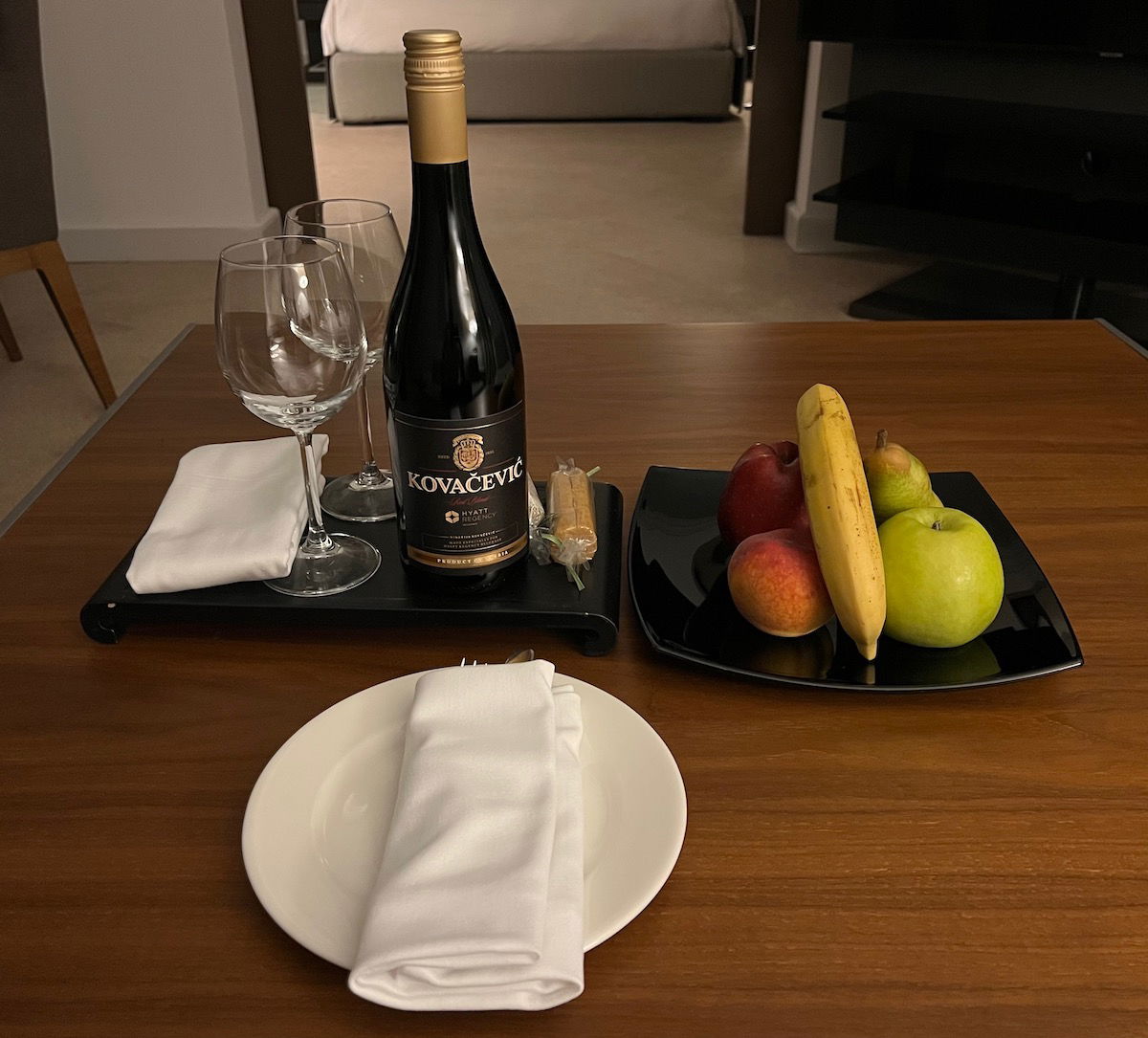 There was also a Nespresso coffee machine, though I didn't end up needing to use it, thanks to the front desk agent's offer.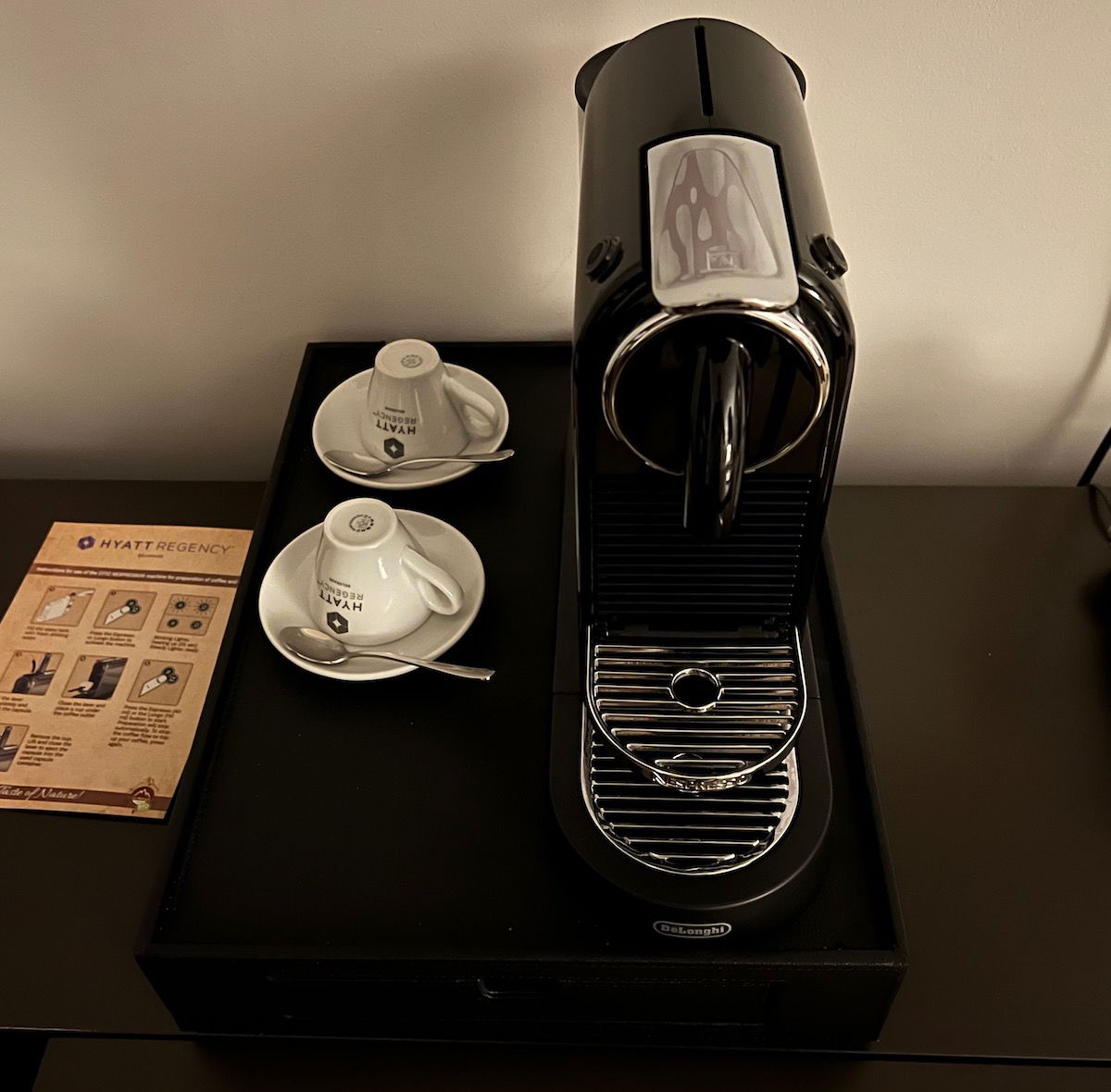 Go figure that when I actually got in bed I was wide awake, as is the case all too often in situations where time is of the essence. I probably fell asleep by 1:30AM, and set an alarm for 3:30AM (I actually set like 13 alarms), so I got about two hours of sleep.
I was back at reception by 4AM, and was greeted by the same friendly front desk agent, who had a hot cappuccino and some pastries waiting for me. Moments later I got in a taxi and headed for Belgrade Airport.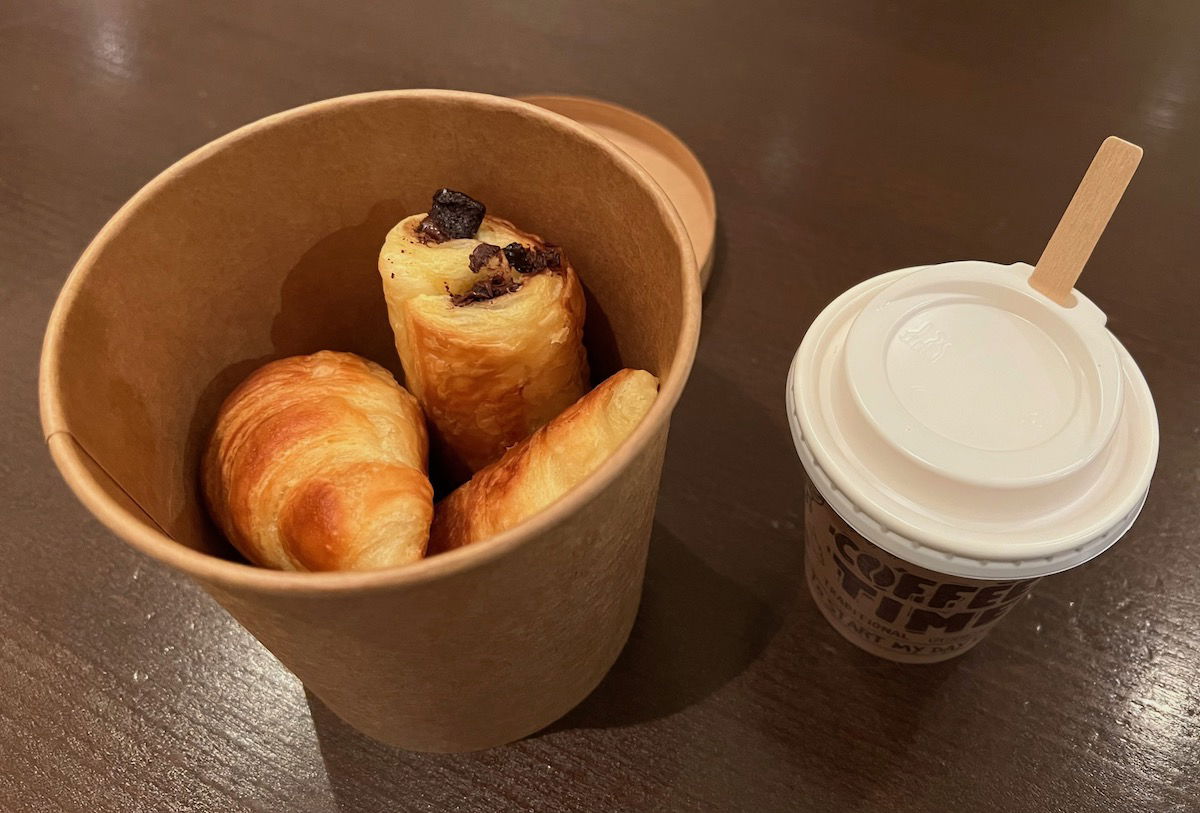 The catch with the Hyatt Regency Belgrade
For my purposes, the great thing about the Hyatt Regency is its proximity to the airport, as it's only around a 15-minute taxi drive away. That ended up being an advantage.
As much as I enjoyed my brief stay, I'm not sure I'd return again as a tourist, though. Why? The Hyatt Regency's location. Presumably it's a different story if you're there for business and/or a conference, but the Hyatt Regency is quite a ways from the center of town. It's off a major road, and realistically you couldn't walk most places from the hotel, but rather would have to take a taxi.
Personally I quite appreciate being able to walk straight out of my hotel and to nearby attractions, so that would cause me to look elsewhere. There's supposed to be a St. Regis coming to Belgrade eventually (the project has been delayed), and that will without a doubt be the city's best luxury hotel once open. I'm looking forward to checking that out one day.
Bottom line
I wish my stay was more than four hours, but I very much enjoyed my brief time at the Hyatt Regency Belgrade. In particular, it's so nice when you encounter employees who go above and beyond to make a stay special.
The Hyatt Regency Belgrade had a perfect location for getting to & from the airport, though if I were actually looking to sightsee in Belgrade, I might look to stay elsewhere…