For the next portion of my trip, it was time to try FlyDubai's Boeing 737 MAX 8 business class from Dubai (DXB) to Belgrade (BEG). I've been wanting to try FlyDubai's business class for a long time, and was very much looking forward to this flight.
So, how was it? Good(ish) — the hard product was exceptional, while I feel like the soft product could have been so much better with a little more effort.
How I booked my FlyDubai business class ticket
While FlyDubai uses Emirates Skywards as its frequent flyer program, unfortunately there aren't any ways to efficiently redeem miles for business class. That's because you can't use Skywards miles to upgrade FlyDubai flights, and FlyDubai award flights have dynamic pricing, and are way more expensive than when redeeming on Emirates.
So for this flight I booked an economy seat, and then used FlyDubai's paid upgrade bidding system to secure an upgrade (you can read all about that in this post). I'd also note that while FlyDubai was founded as a low cost carrier, business class fares are anything but low cost. In many cases FlyDubai's business class pricing is higher than you'd find on Emirates, which I can't really wrap my head around.
For what it's worth, I was taking the following flight, which covered a distance of 2,370 miles, and was blocked at 5hr55min:
07/04 FZ1749 Dubai to Belgrade departing 6:55PM arriving 10:50PM
FlyDubai business class check-in, lounge, and boarding
FlyDubai ordinarily departs from Dubai out of Terminal 2, though select flights depart out of Terminal 3, which is typically Emirates' terminal. My flight was departing from Terminal 3, meaning I could use Emirates' business class check-in counter, plus the Emirates business class lounge, which I reviewed.
My flight was departing from gate B4, with boarding scheduled for 5:55PM (one hour before departure). Note that all FlyDubai flights depart from remote stands, regardless of which terminal you're told to proceed to.
In reality 5:55PM wasn't actually when boarding the plane started, but rather when the gate opened. This was one of those "sterile" gates, where they check your passport and scan your boarding pass before you get into the gate area, and then you're considered boarded.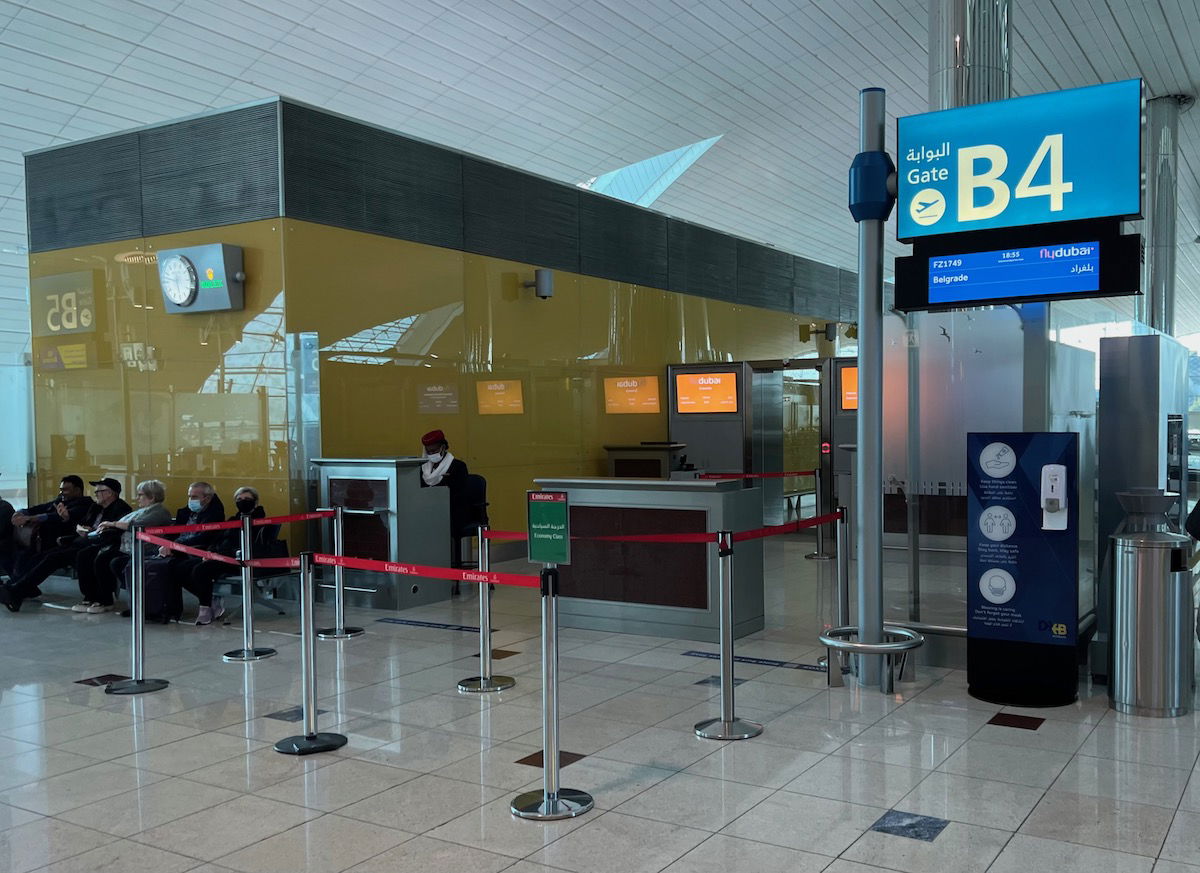 The gate area was huge, and would be big enough for a Boeing 777, let alone a Boeing 737.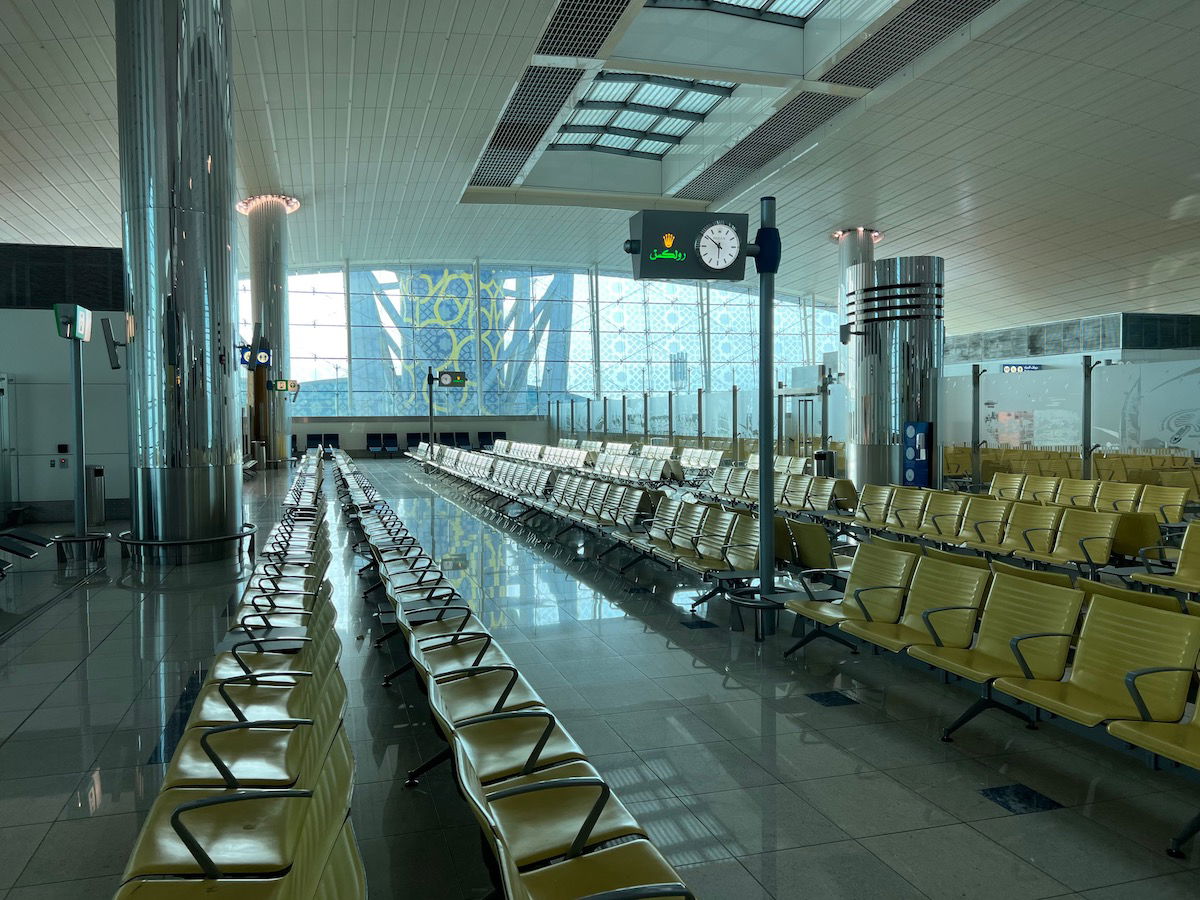 In reality boarding started at 6:25PM. There were three standard buses, plus a separate business class bus.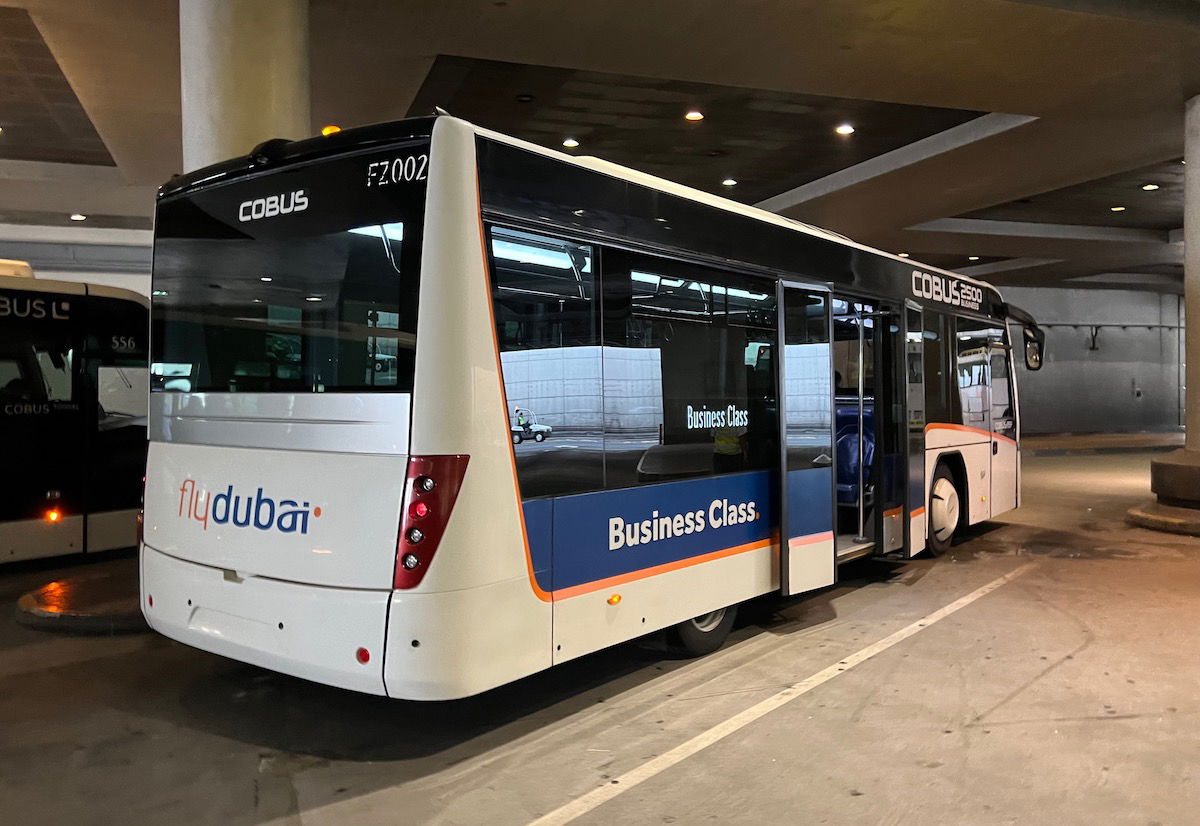 It's a nice touch that FlyDubai has a separate business class bus, so that premium passengers can sit and be more comfortable. There were eight people in the business class bus, which is also how full the 10-seat business class cabin was.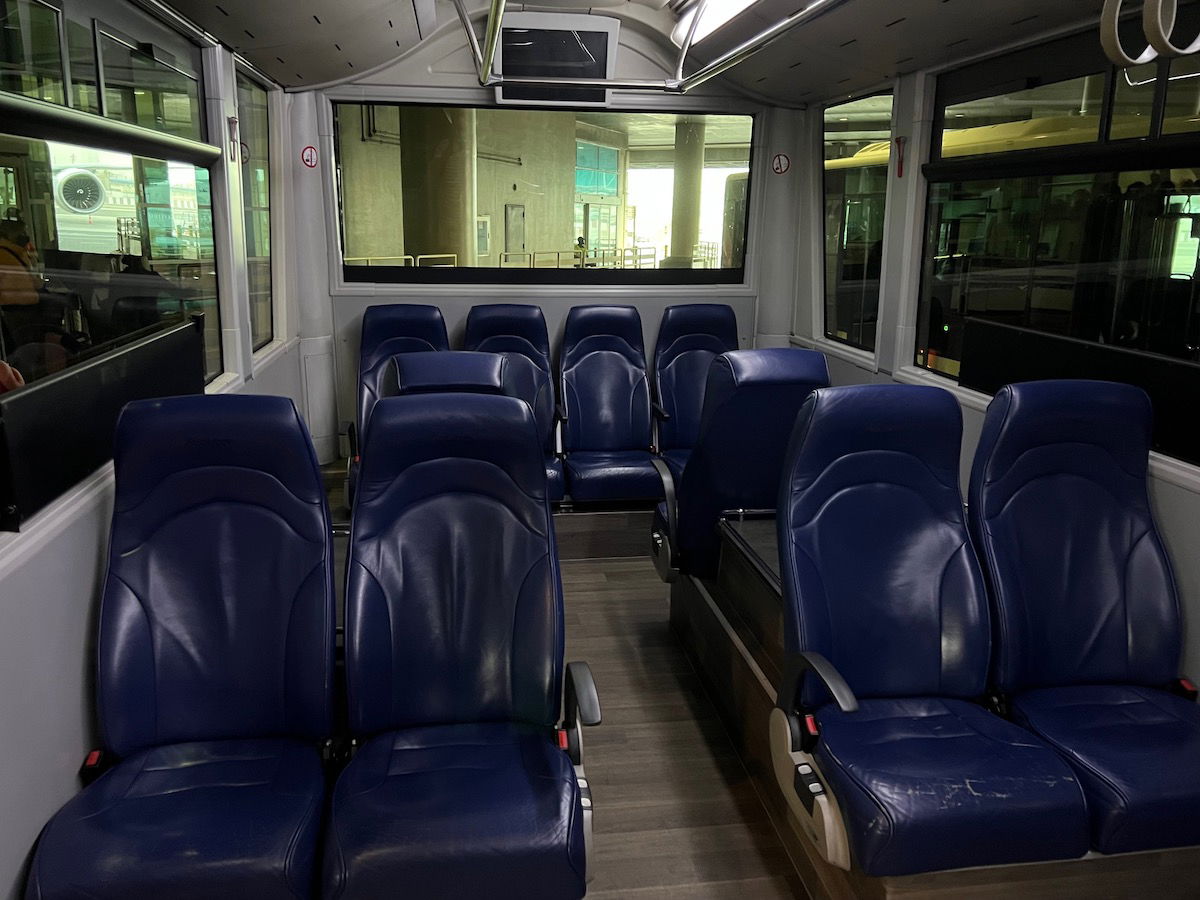 The bus left around 6:35PM, and then it was a long ride to the plane. FlyDubai planes are parked at the far end of the airport, so you might just feel like you're departing from Dubai World Central (DWC).
When we pulled up to the plane we first had to sit on the bus for another five minutes or so. We could only board after a separate bus showed up with two pilots who rushed on the plane. One wasn't even in uniform. I assume that the captain called in sick, and that a reserve captain was rostered last minute, or something.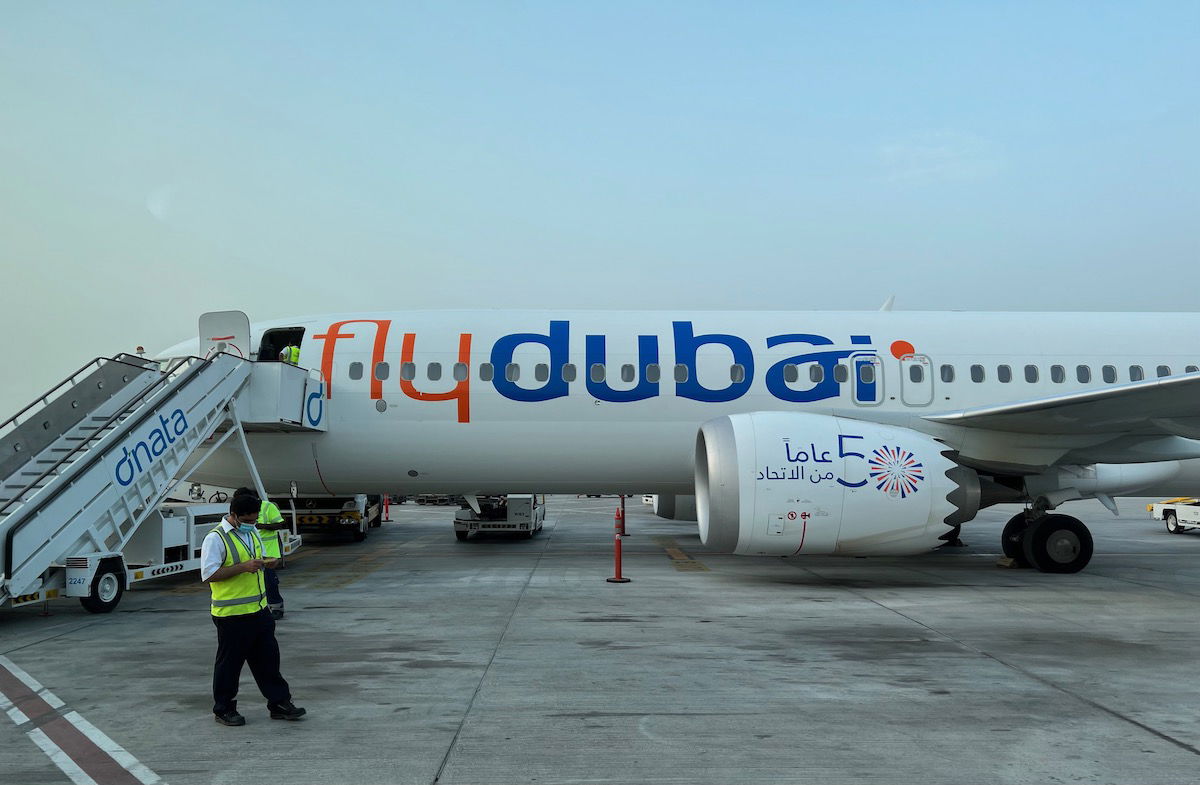 This particular flight was operated by a Boeing 737 MAX 8 with the registration code A6-FMV. The plane only joined FlyDubai's fleet in November 2021, so it's basically new.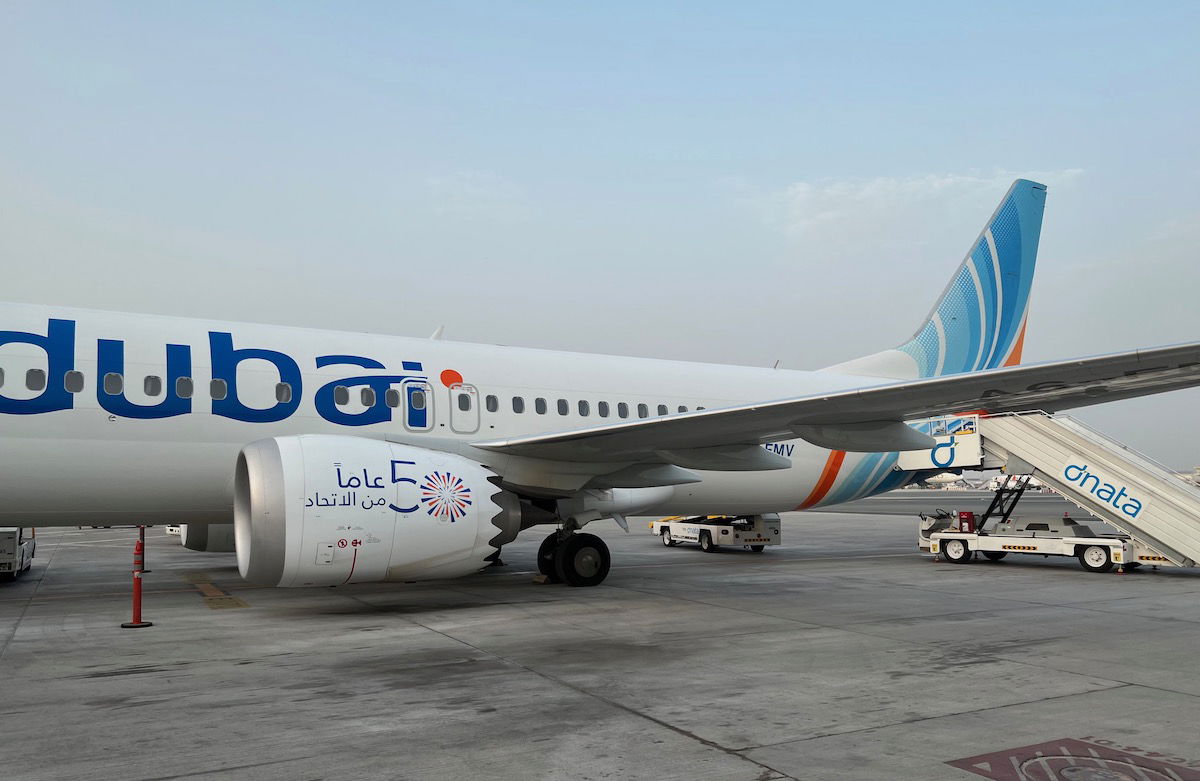 FlyDubai Boeing 737 MAX business class cabin & seats
FlyDubai has a snazzy business class for a Boeing 737. The plane has fully flat seats in business class in a staggered configuration. There are a total of 10 seats spread across three rows.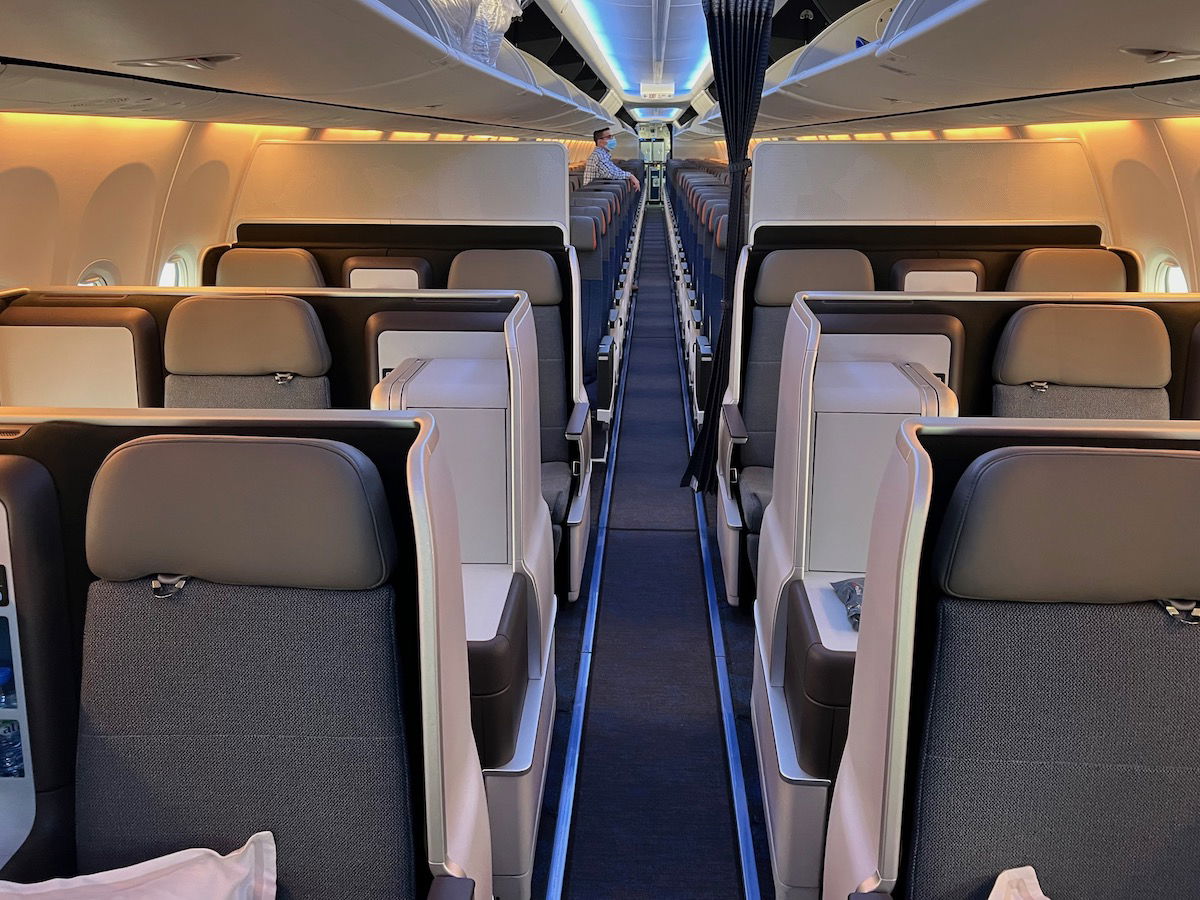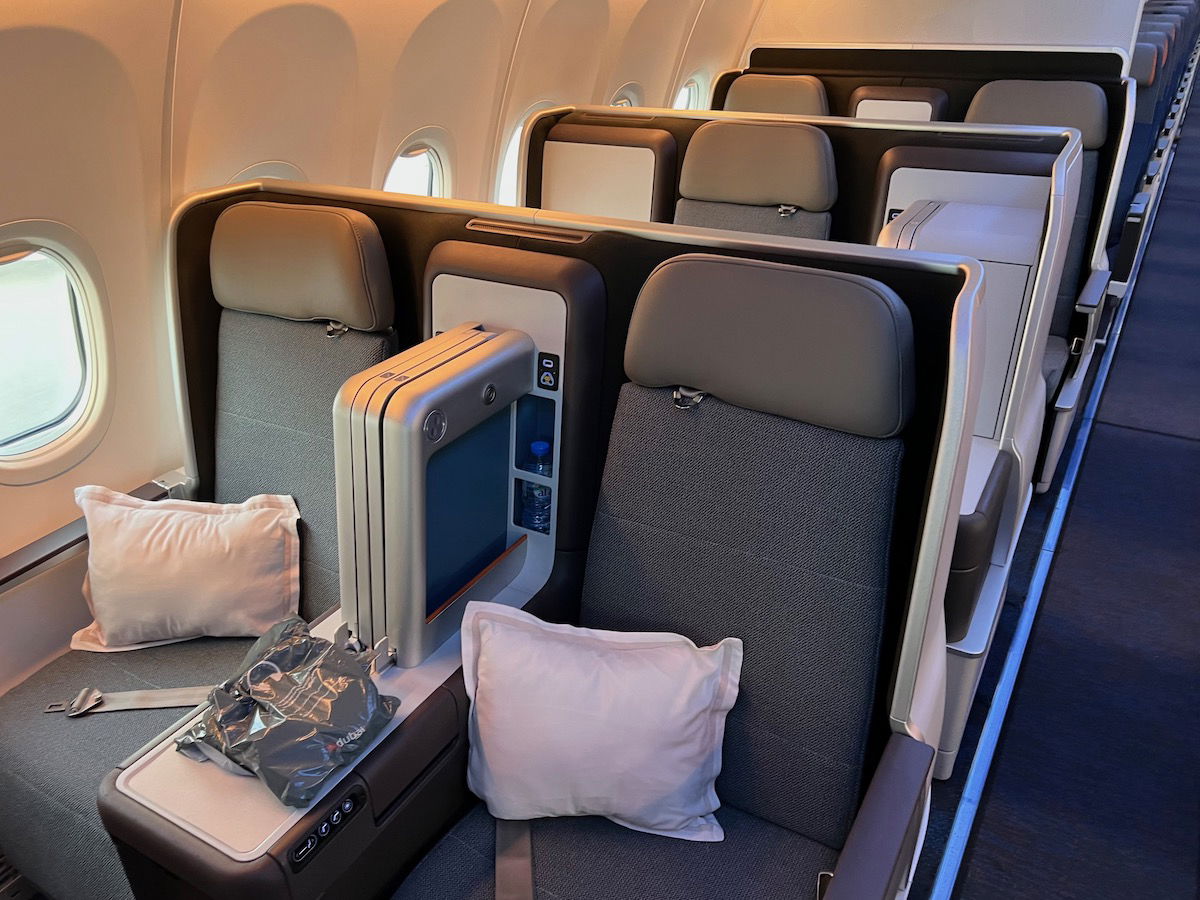 The first and third row each have four seats, in a 2-2 configuration. These seats are perfectly comfortable, especially when you consider that FlyDubai only operates routes that are up to six hours (or so).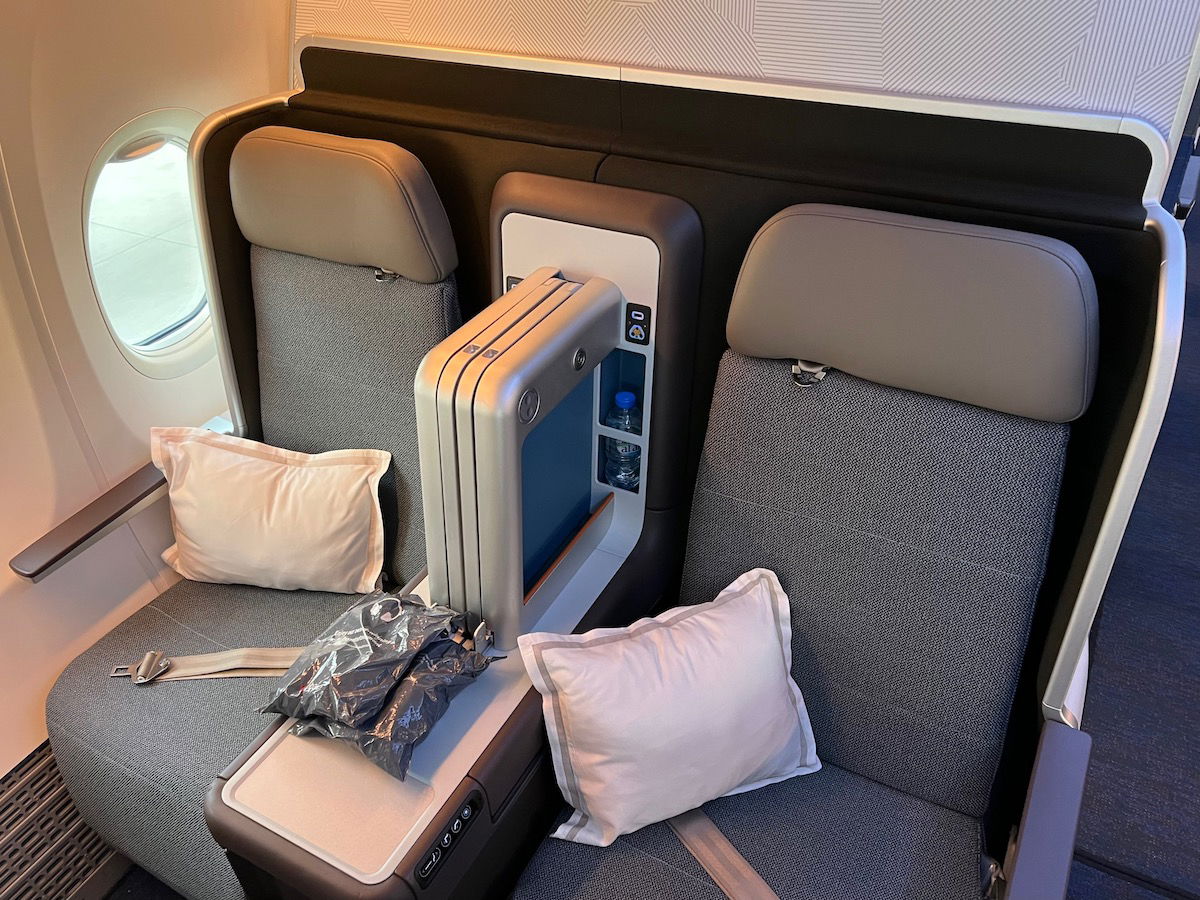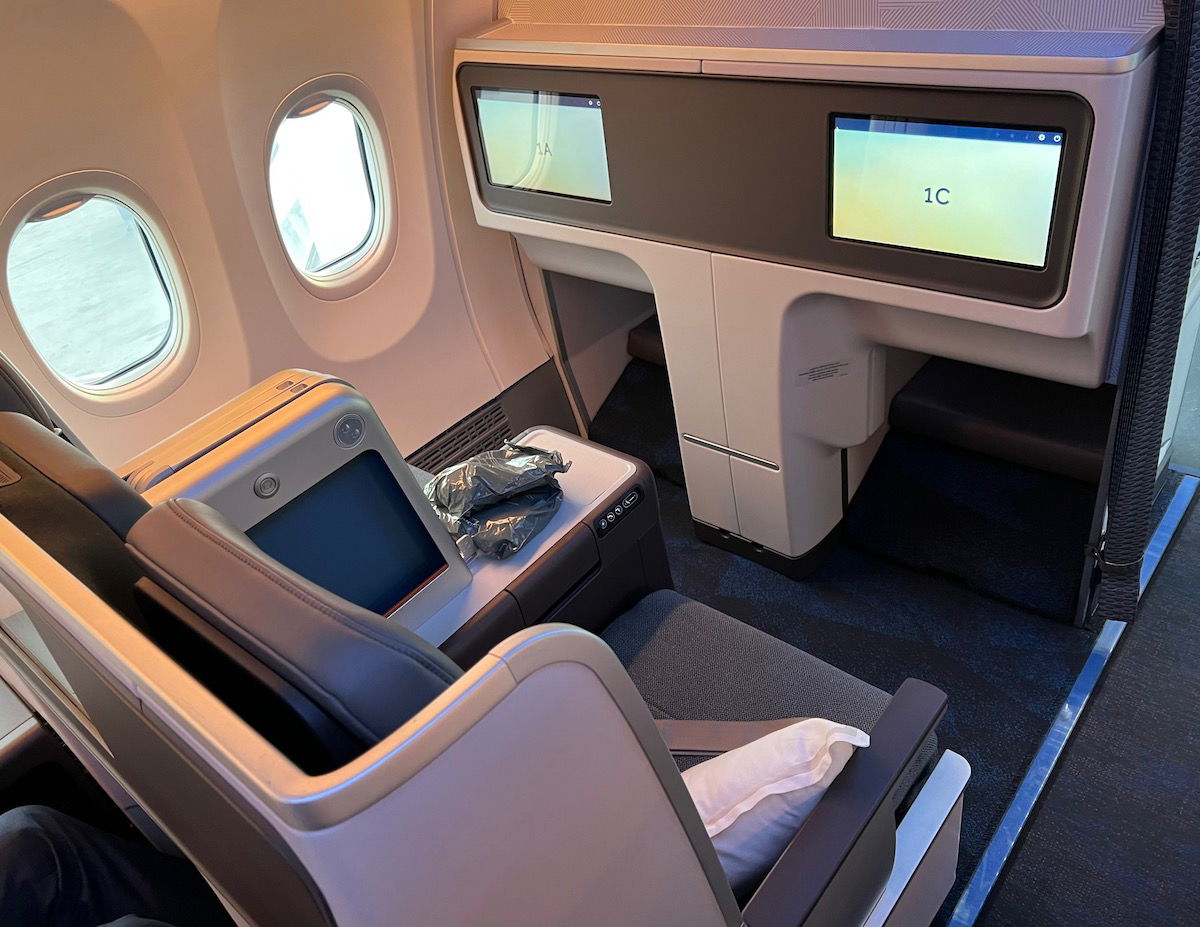 The best seats, though, are the "throne" seats, which are located in the second row. These are in a 1-1 configuration. The reason for this layout is that staggered configurations creatively use the space to the side of the seat in front. In this case the second row's footwell is located between the seats in front (meanwhile the seats behind have footwells to the side of the "throne" seat).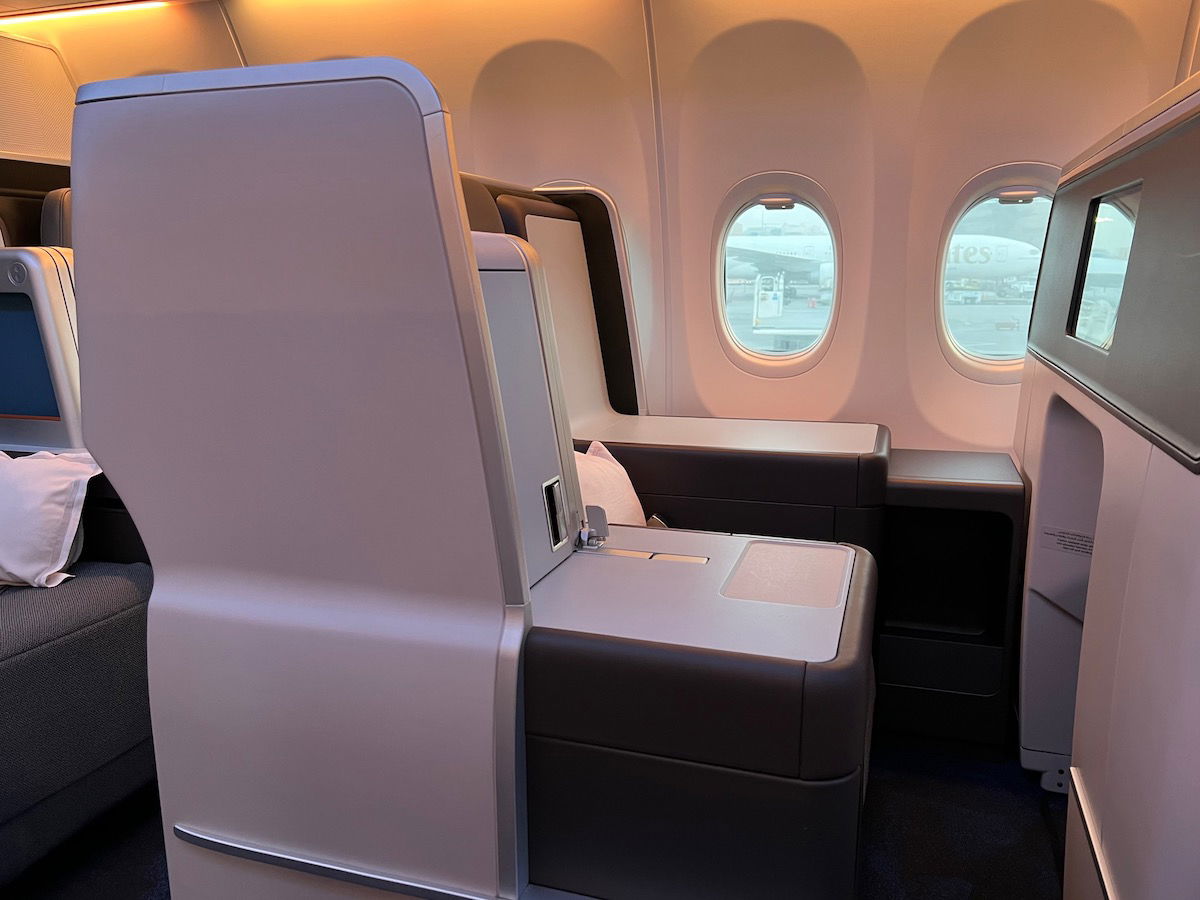 I was seated in 2E, the throne seat on the right side.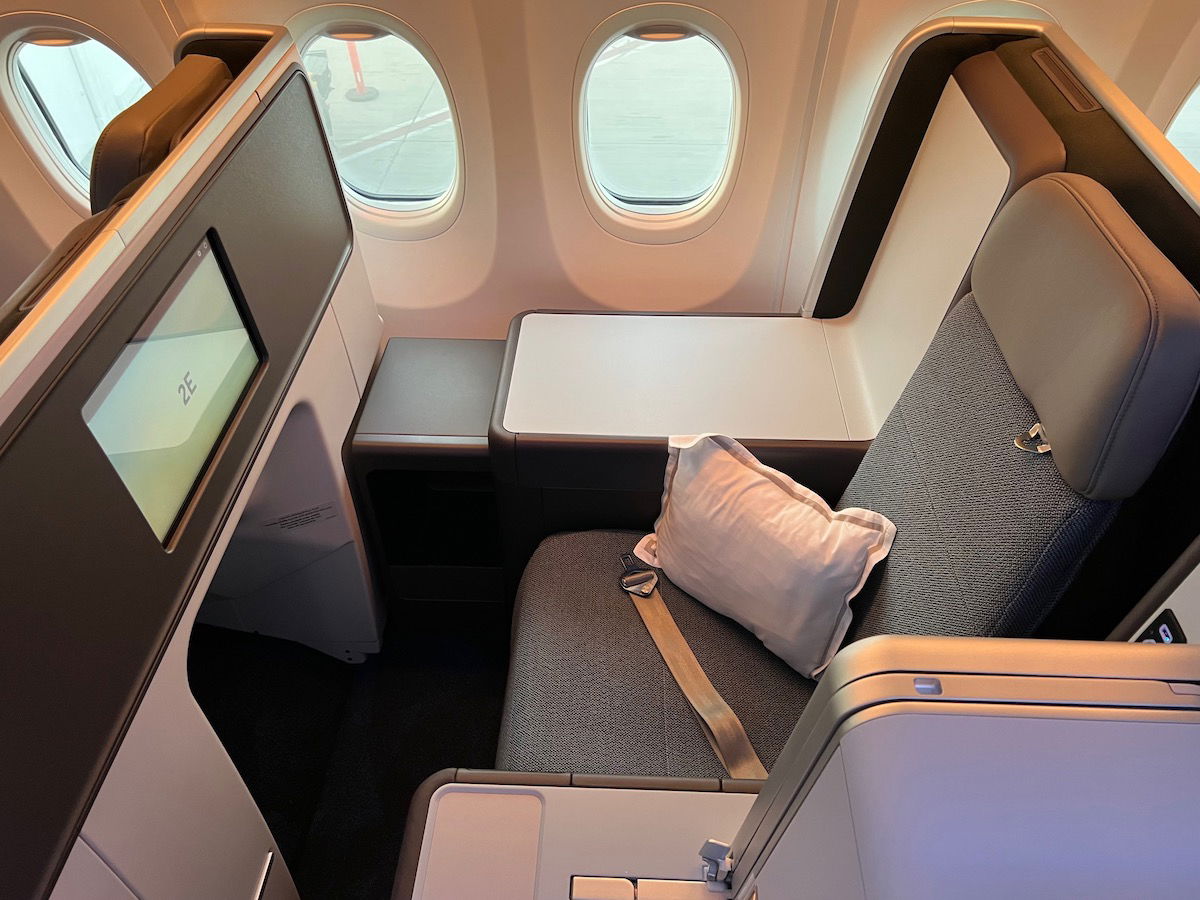 The throne seat offers an unbelievable amount of personal space. On the right side of the seat is a huge counter where you could easily place a laptop or bag during the flight.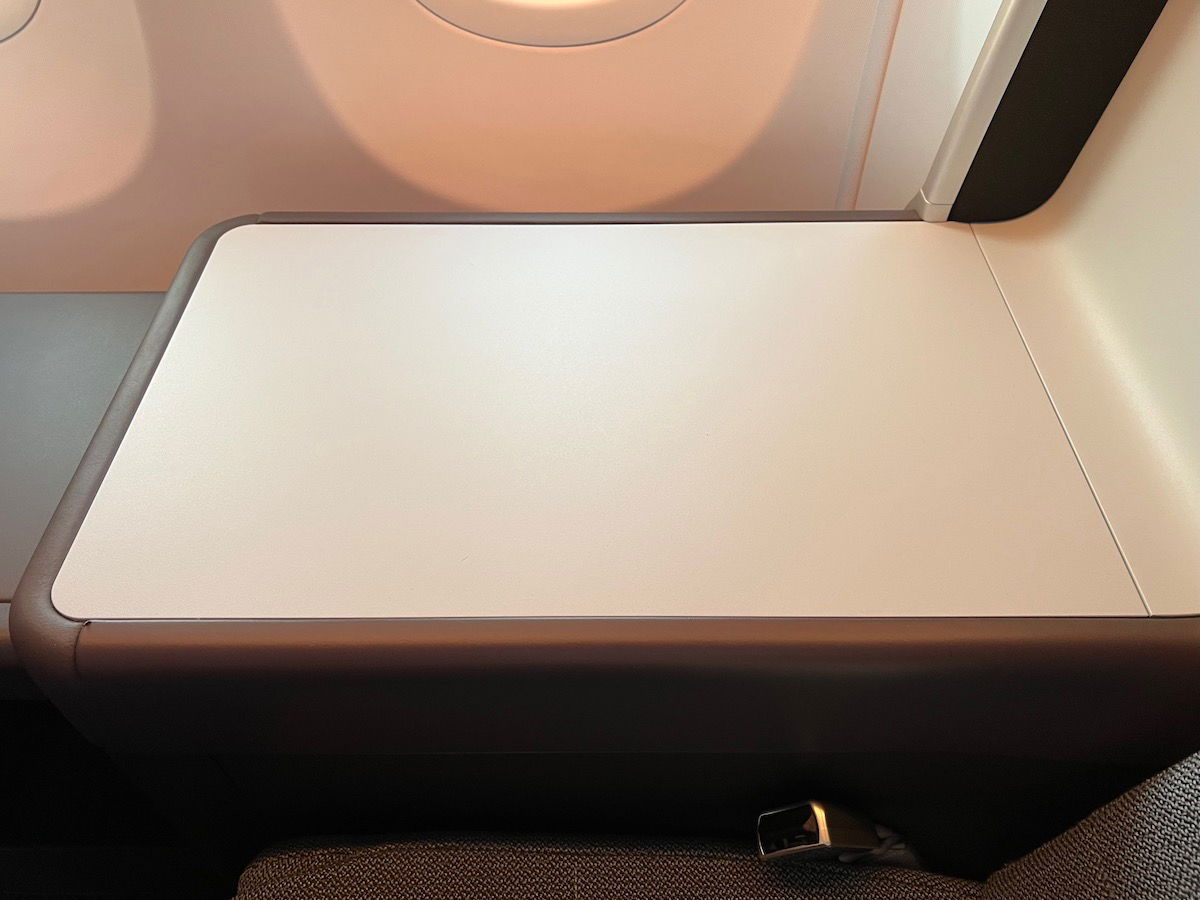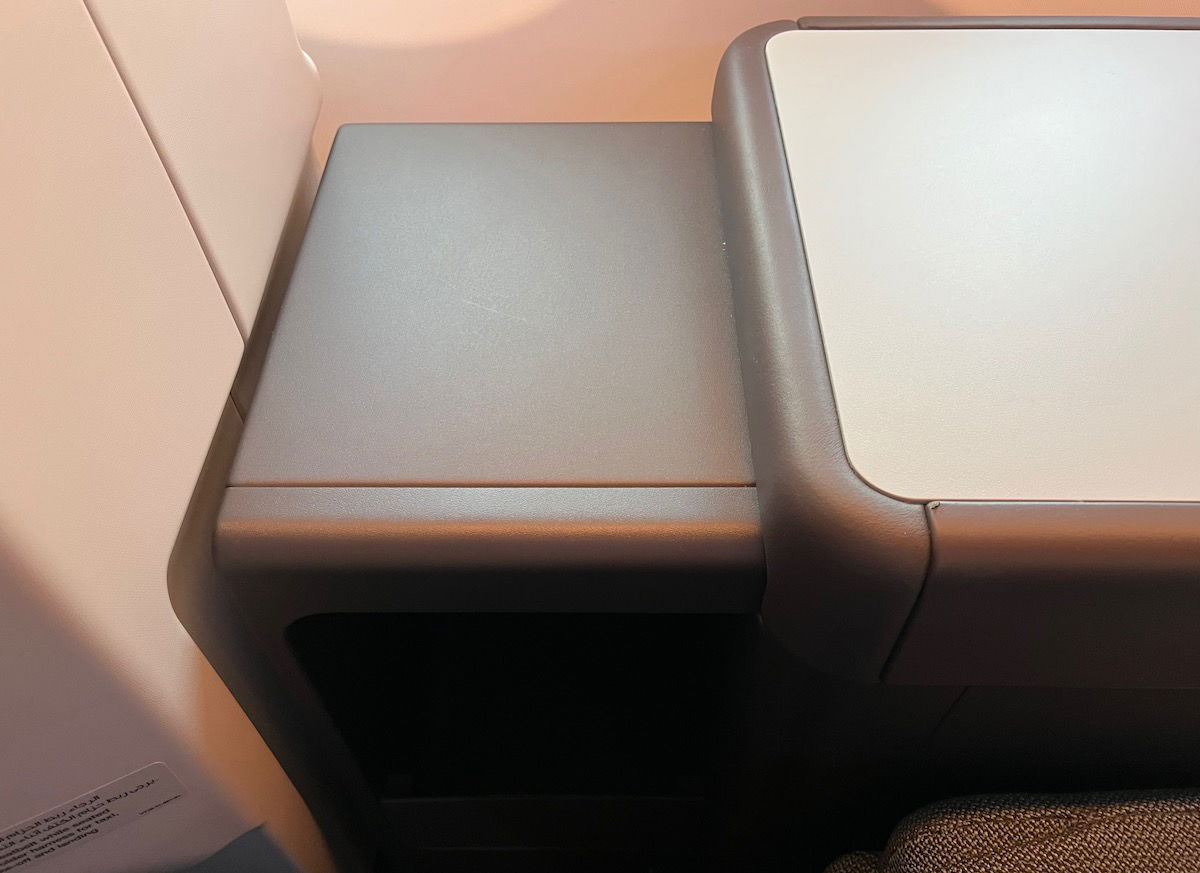 Underneath that is a large open storage compartment, where you could store more things.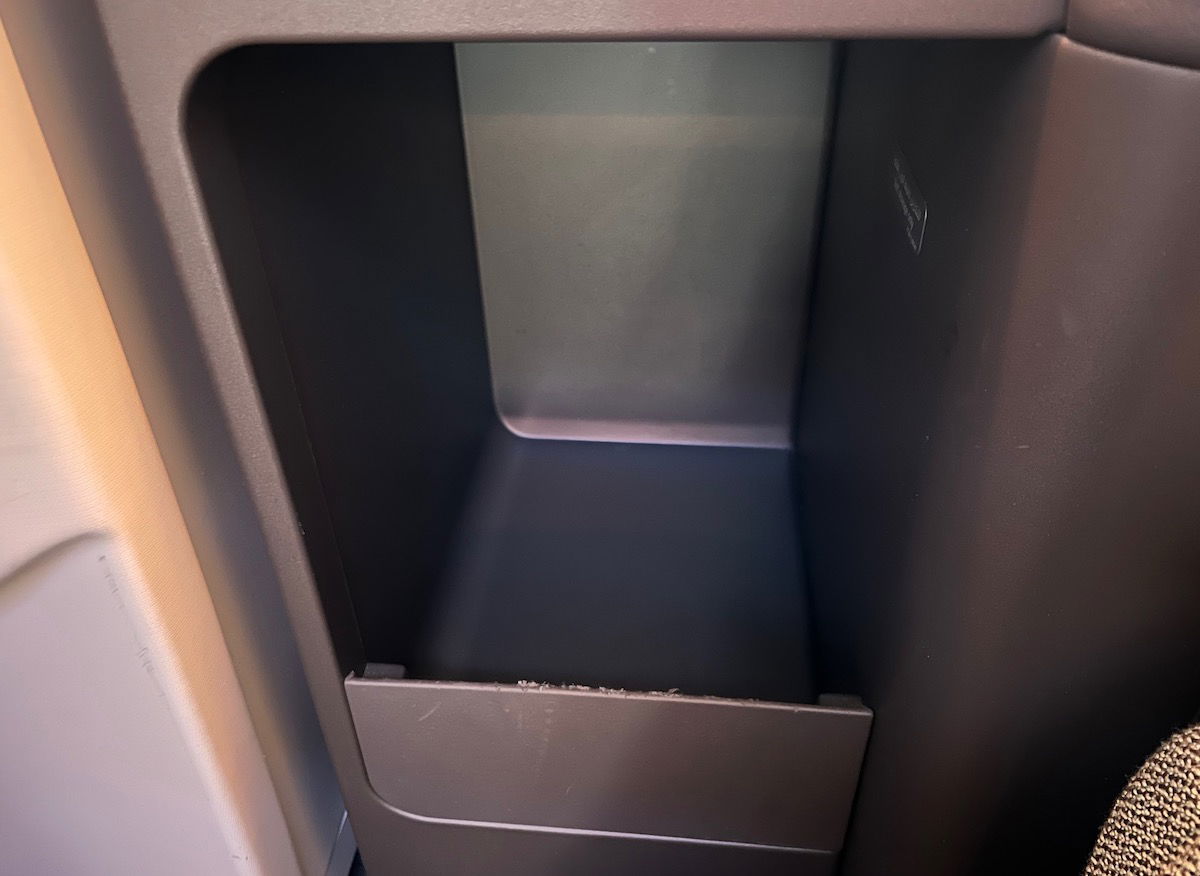 Then the left side of the seat has a large storage compartment that can close, which also acts as a privacy shield of sorts toward the aisle.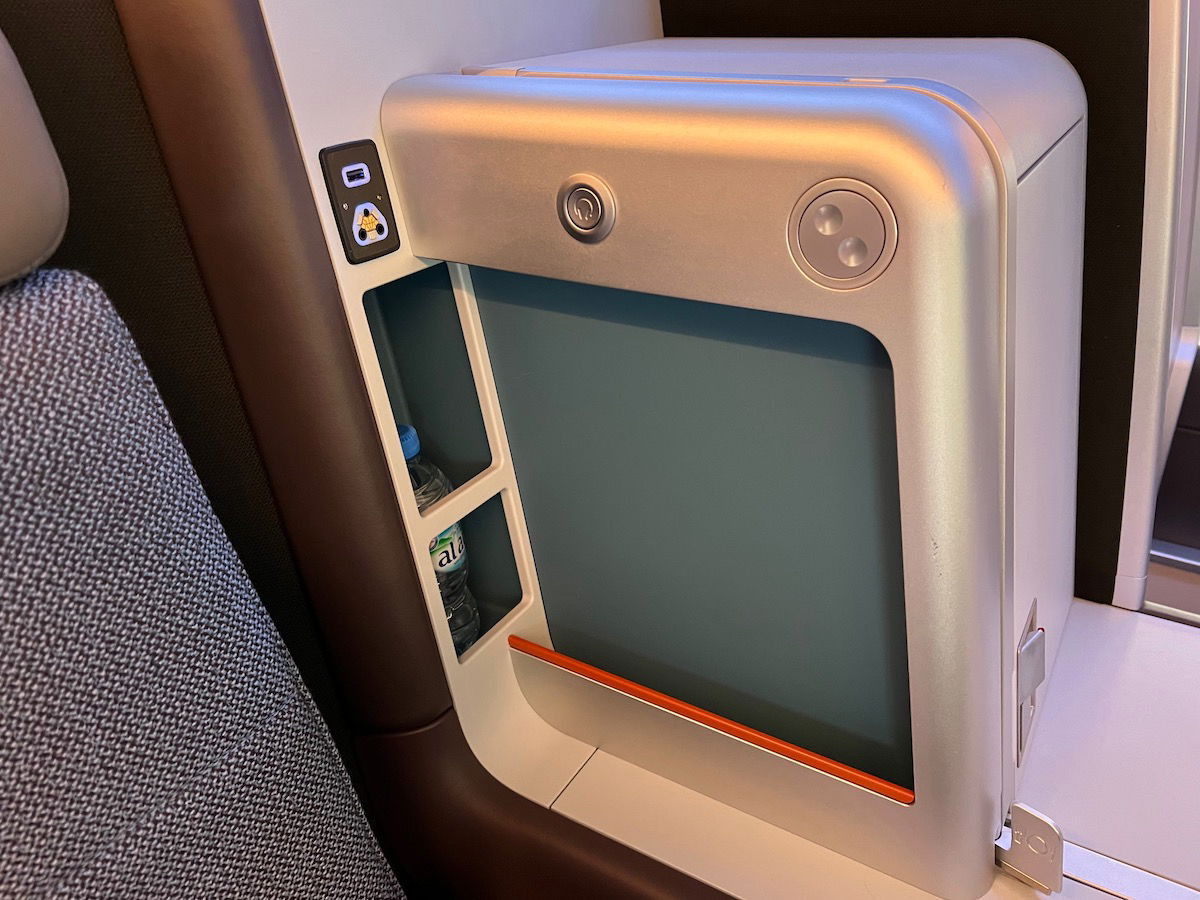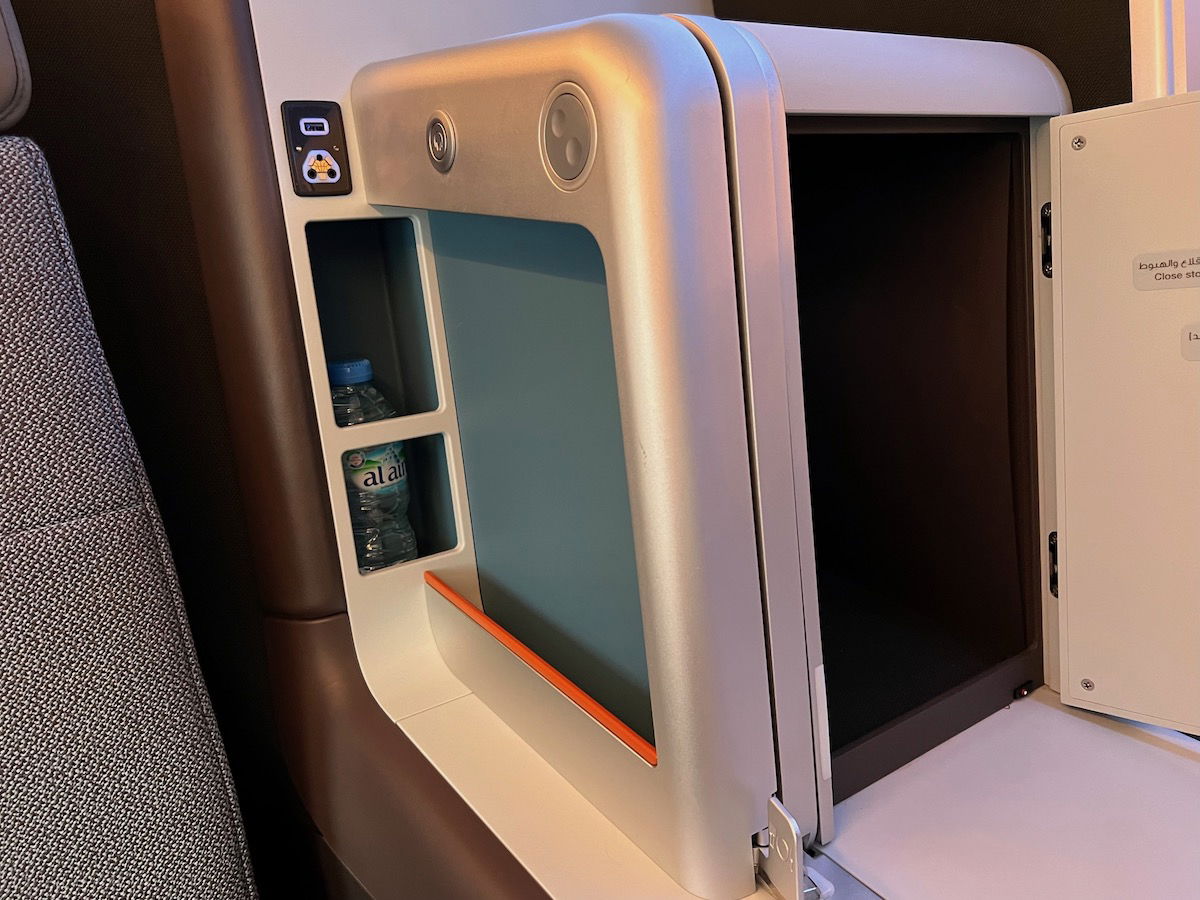 There's also a counter on this side, but it's not quite as big as on the other side of the seat.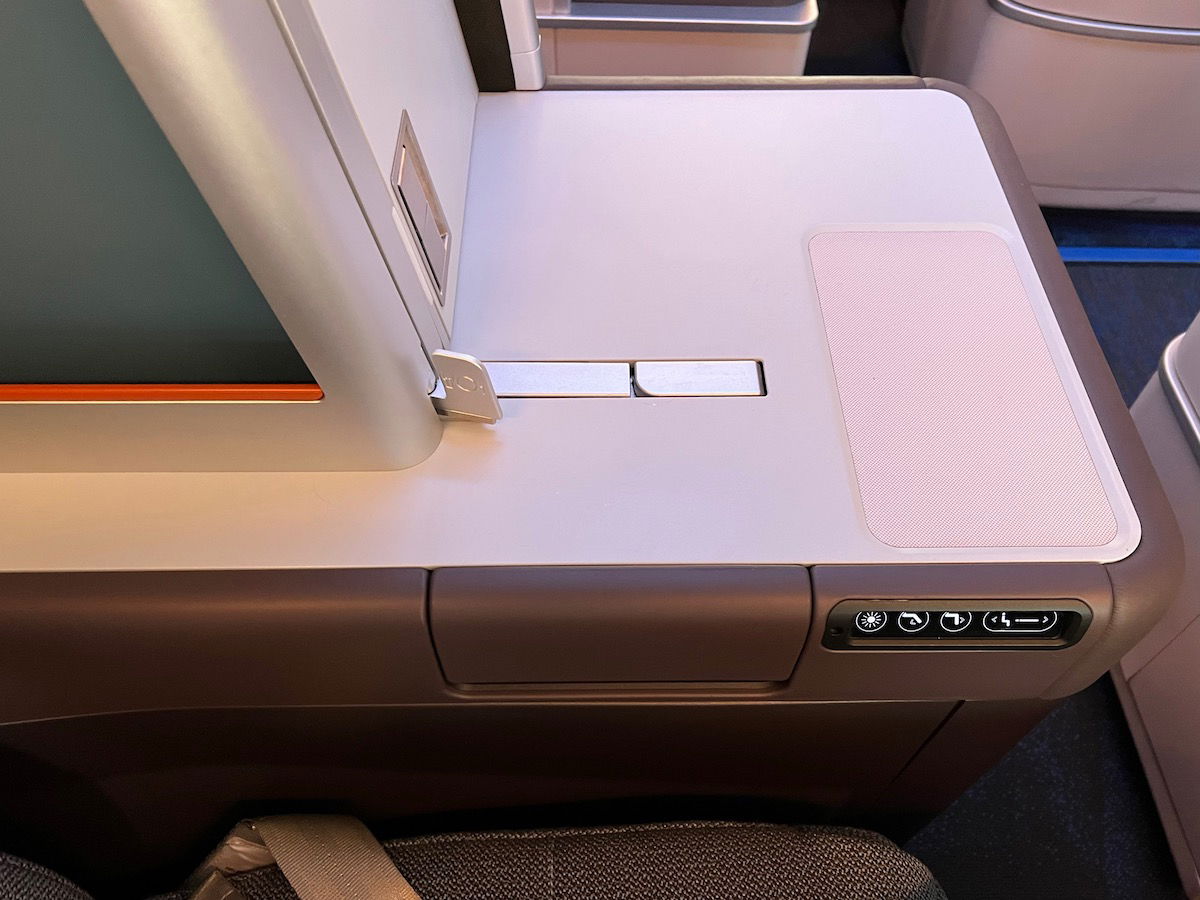 The left side of the seat has the seat controls, plus there's a panel you can lift to access the entertainment controls.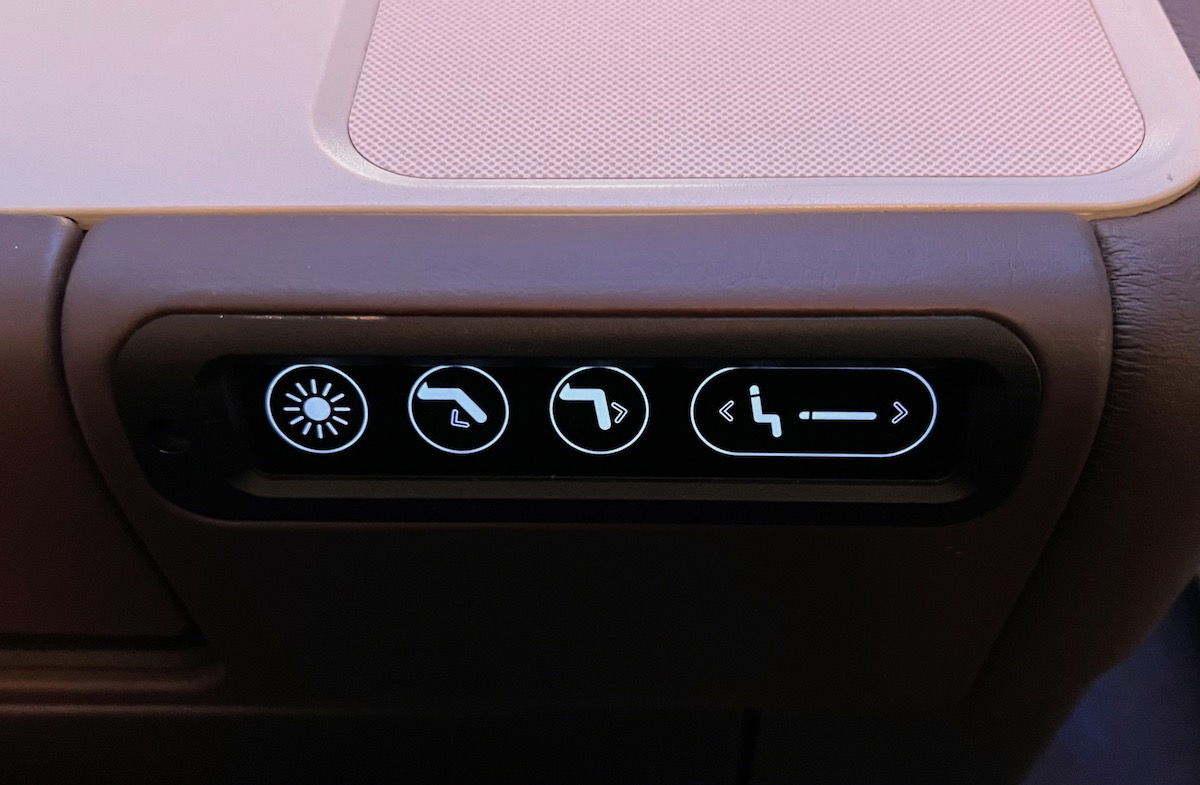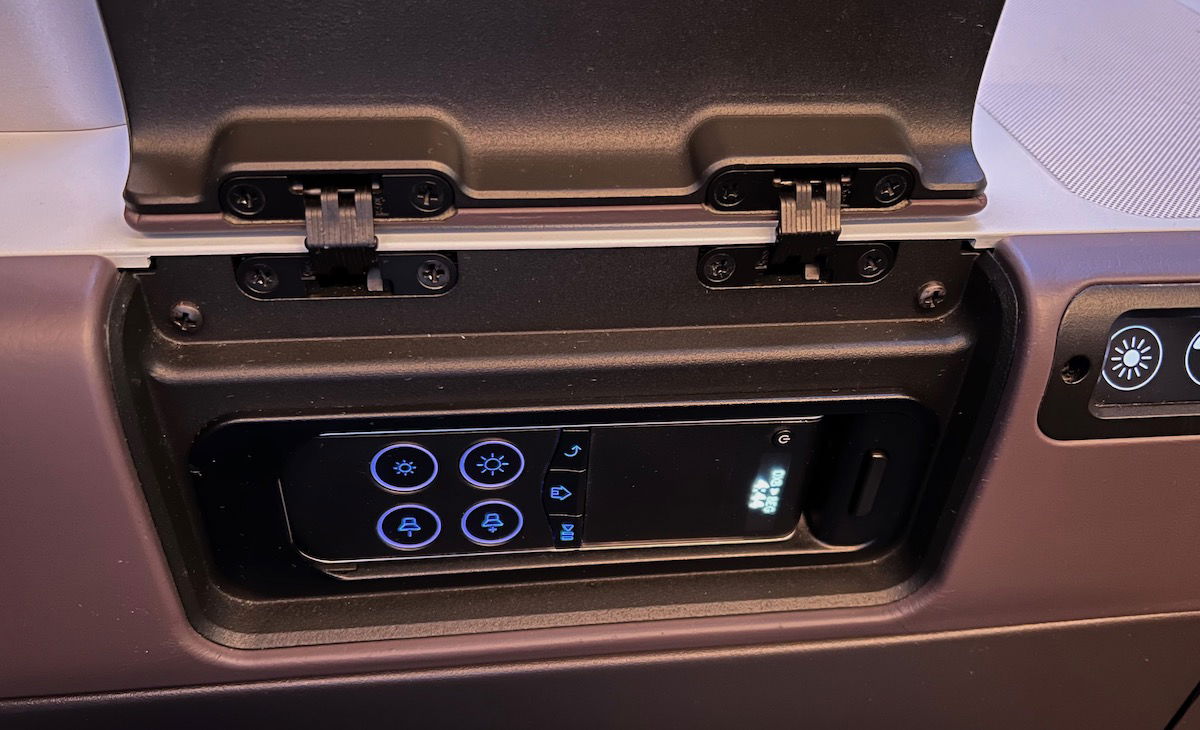 The tray table folds out from the left side of the seat (to the side of the storage unit), and is a single tray that can't be folded over.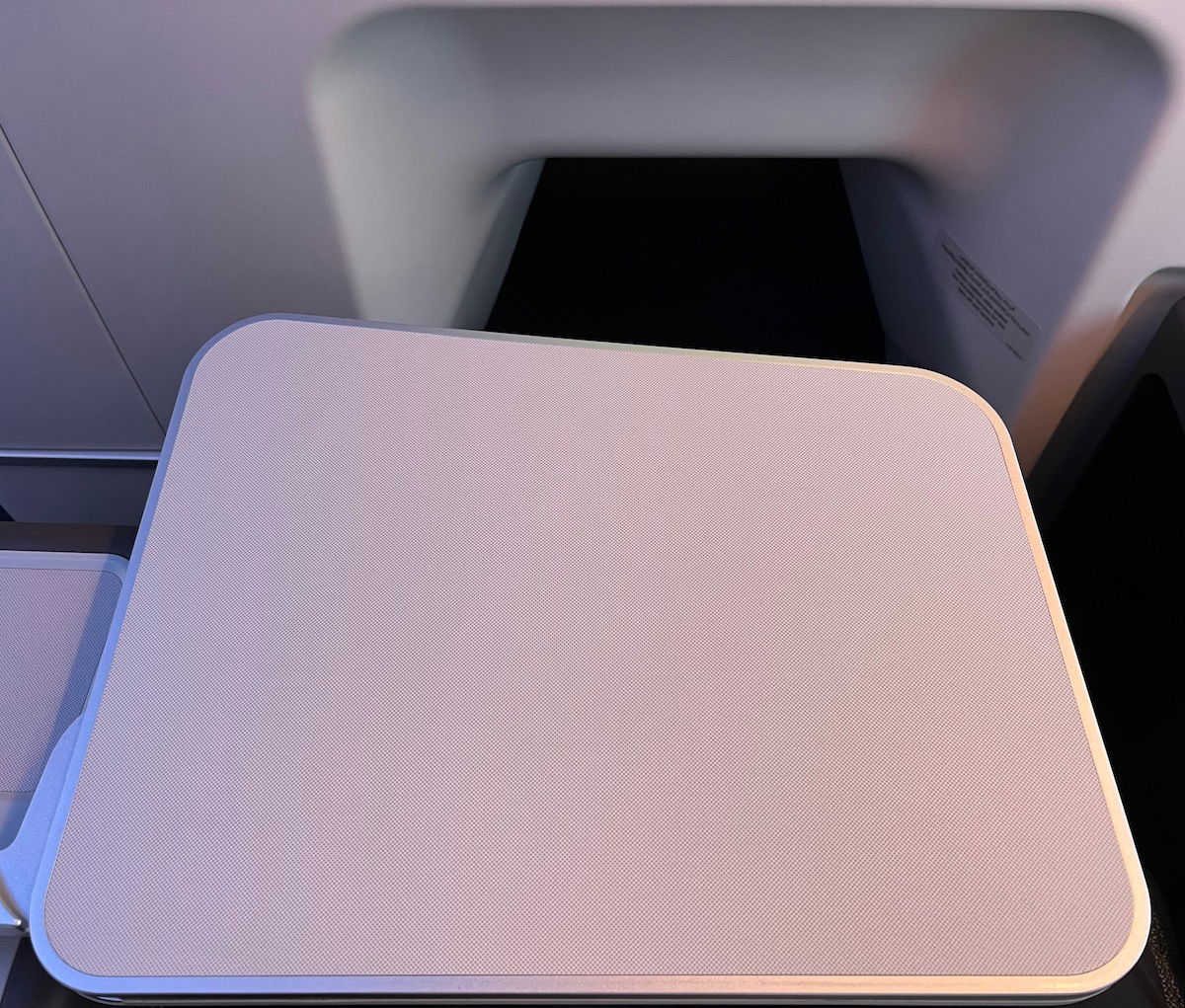 The storage compartment also has a reading light, plus a knob where you can hang headphones.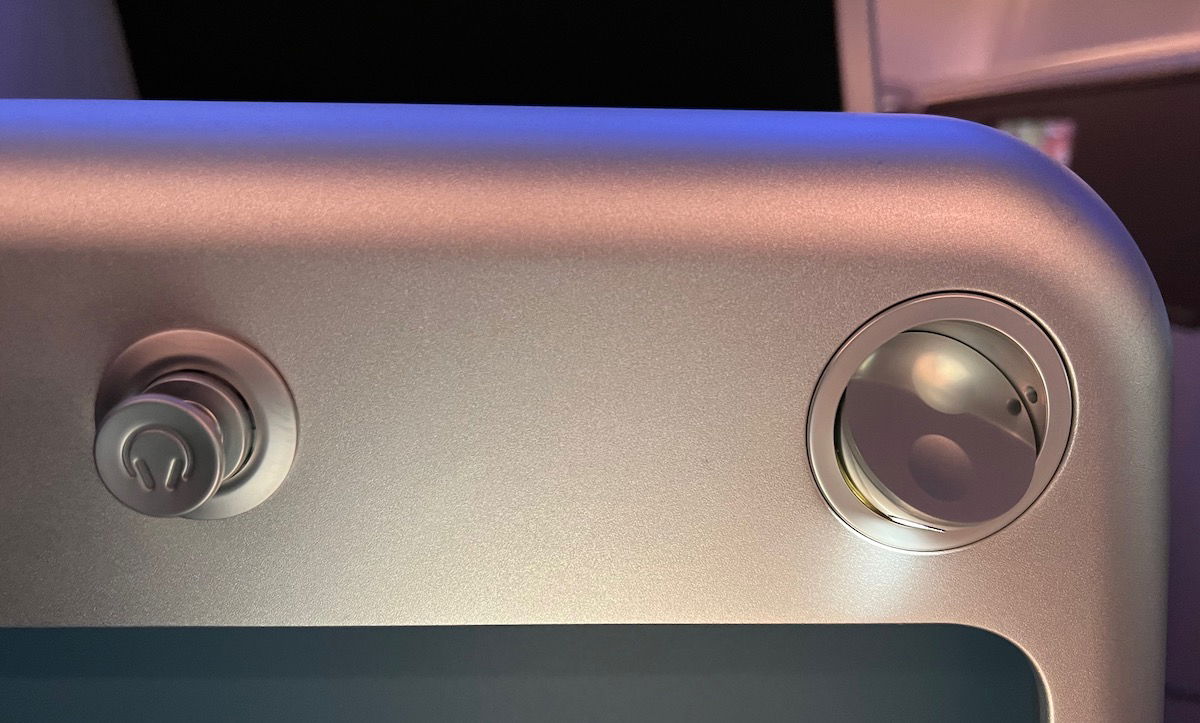 Underneath the seat and to the side is an AC power outlet.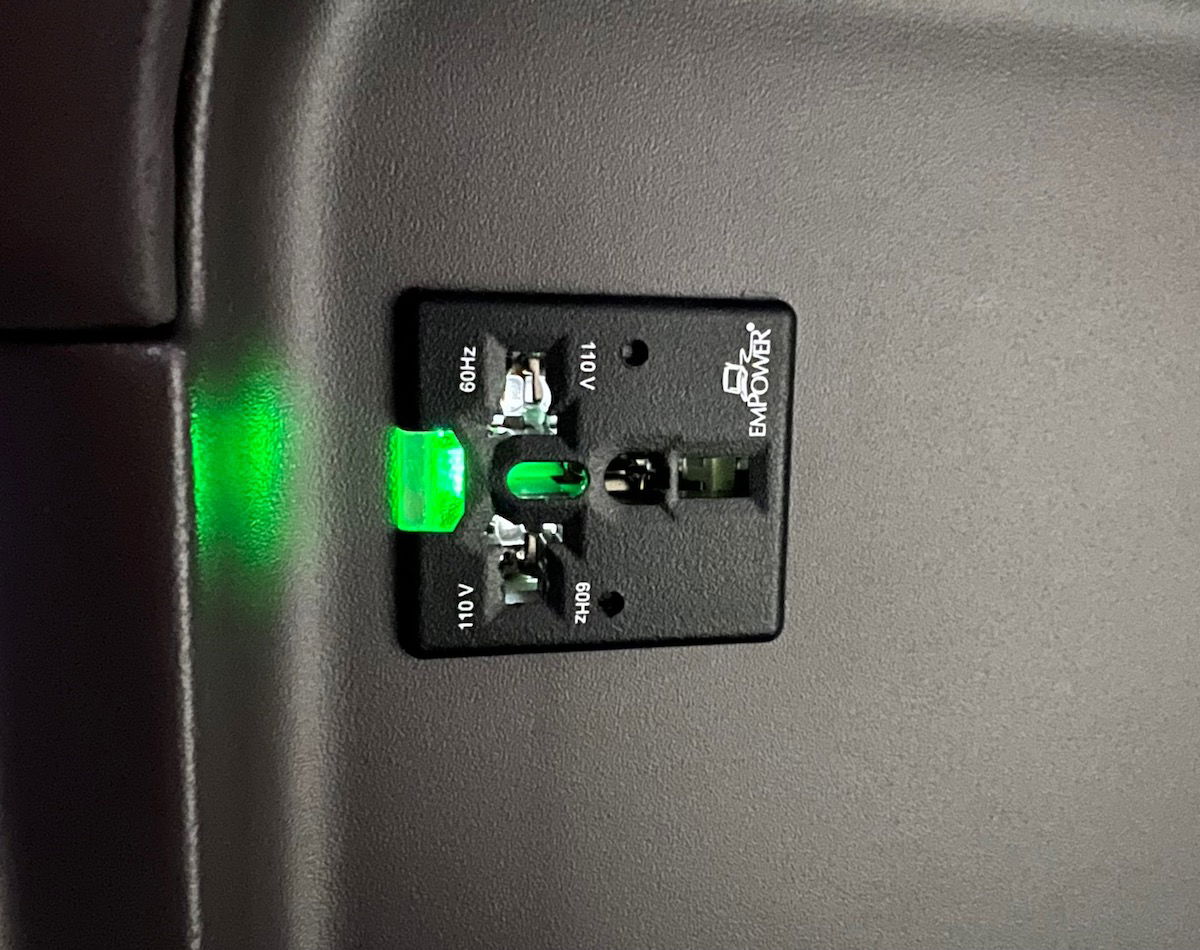 The seat back then has a footwell, plus a 15.6″ entertainment screen.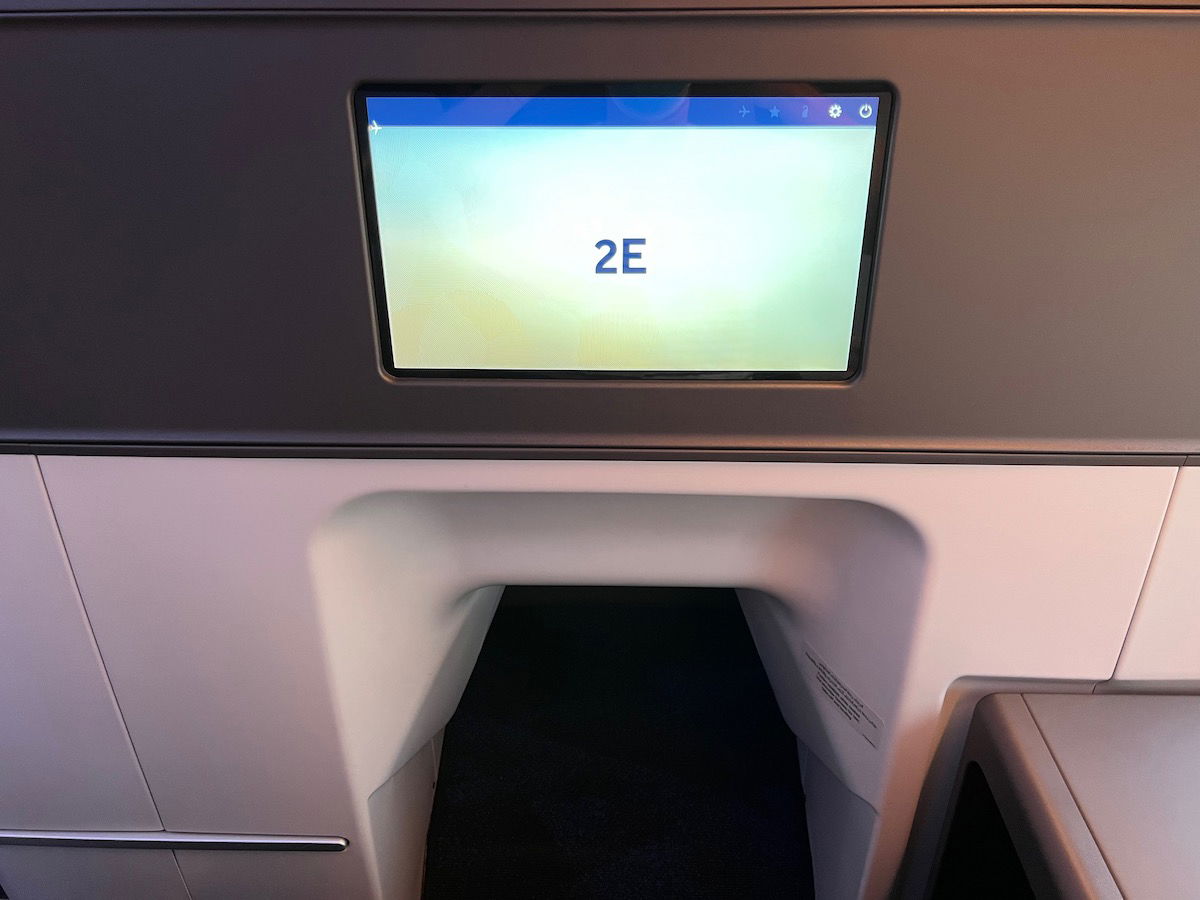 The overhead console has both reading lights and individual air nozzles — it's nice to have three of each to yourself!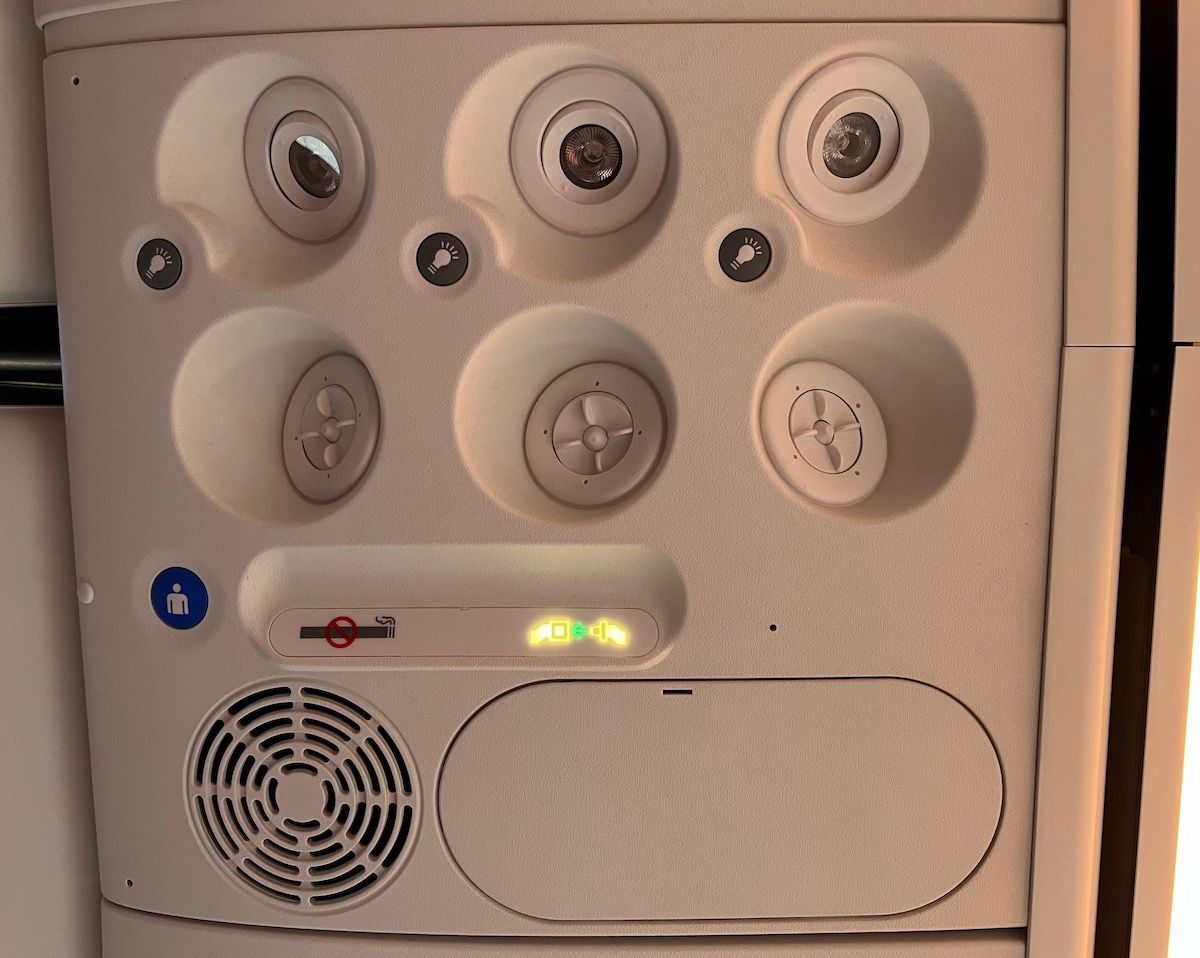 At the front of the cabin is a lavatory, reserved for business class passengers. Unfortunately this is the new standard Boeing 737 MAX lavatory, which is cruelly tiny.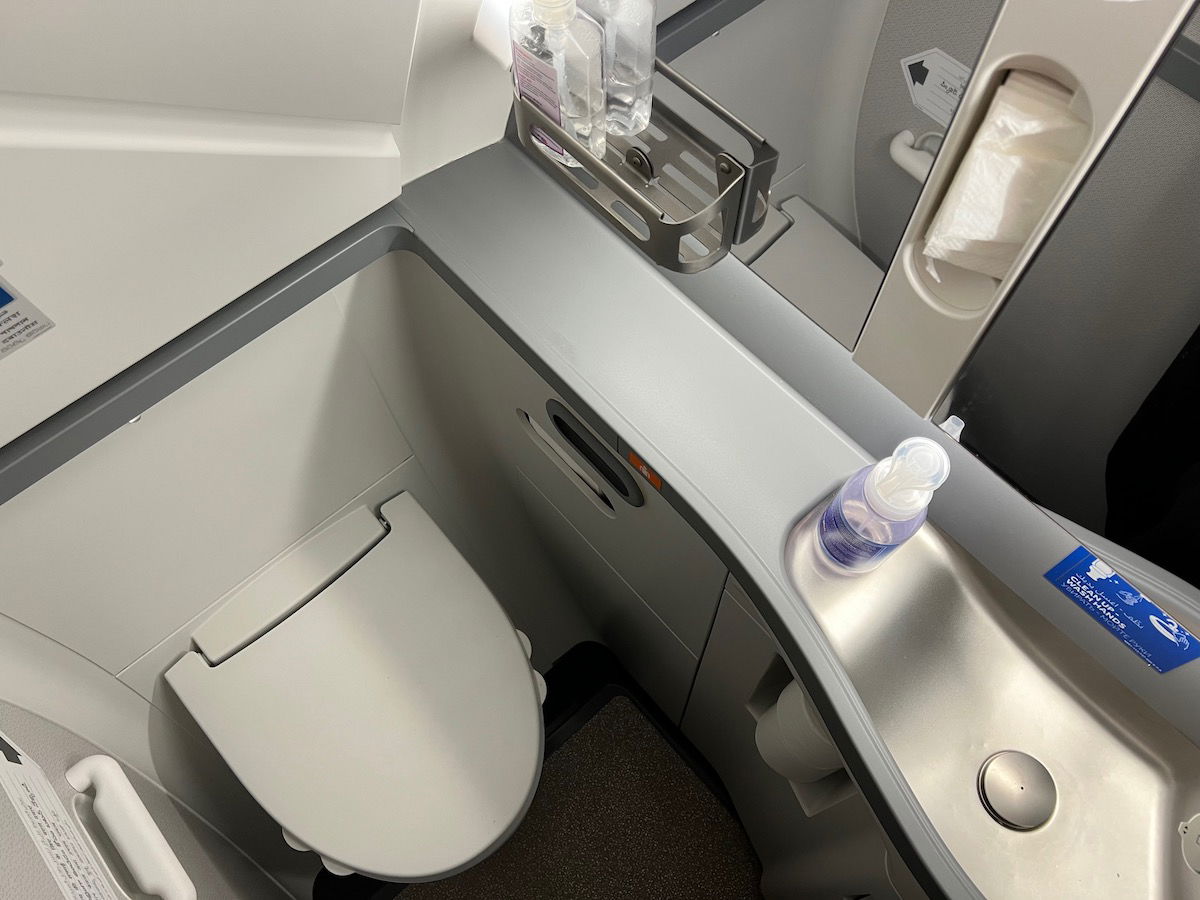 In particular, the sink is so small that it's hard not to splash yourself. There weren't any special amenities or toiletries, as you'd usually find in business class.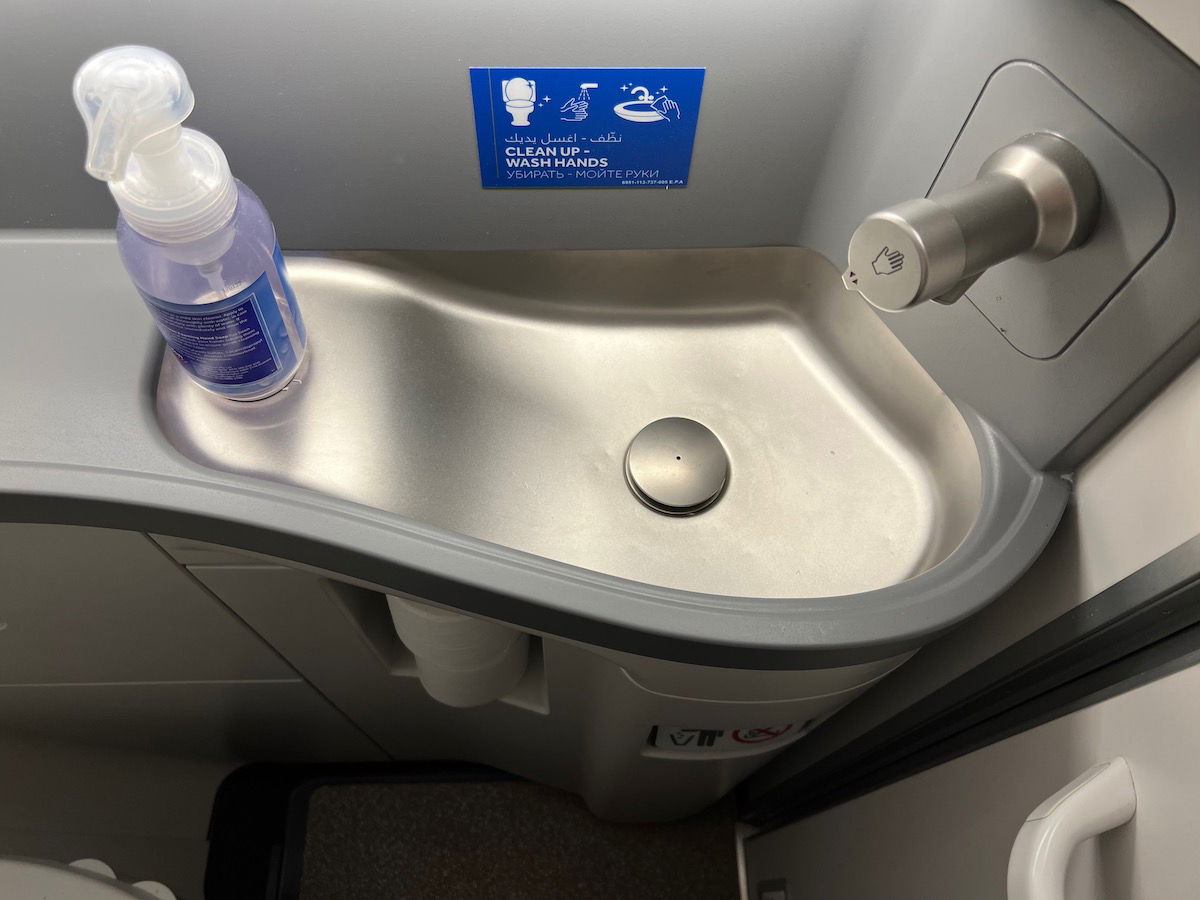 As you can see, FlyDubai has an exceptionally good hard product for a narrow body plane. There aren't many airlines with flat beds on Boeing 737s, so huge kudos to FlyDubai for that. We do see quite a few airlines with these kinds of cabins on Airbus A321 aircraft, the most famous of which is JetBlue's Mint business class (though you'll find similar cabins on Aer Lingus, TAP Air Portugal, etc.).
By the way it's worth being aware that you'll only find this product on FlyDubai's Boeing 737 MAX aircraft, and not on previous generation FlyDubai aircraft. Furthermore, not all FlyDubai Boeing 737 MAXs even have this product anymore, as FlyDubai has introduced another new business class, which is far inferior.
FlyDubai business class amenities
As far as amenities go, there was a pillow at each seat upon boarding, and blankets were available upon request. The blanket was nice and thick, so I thought this was pretty good bedding.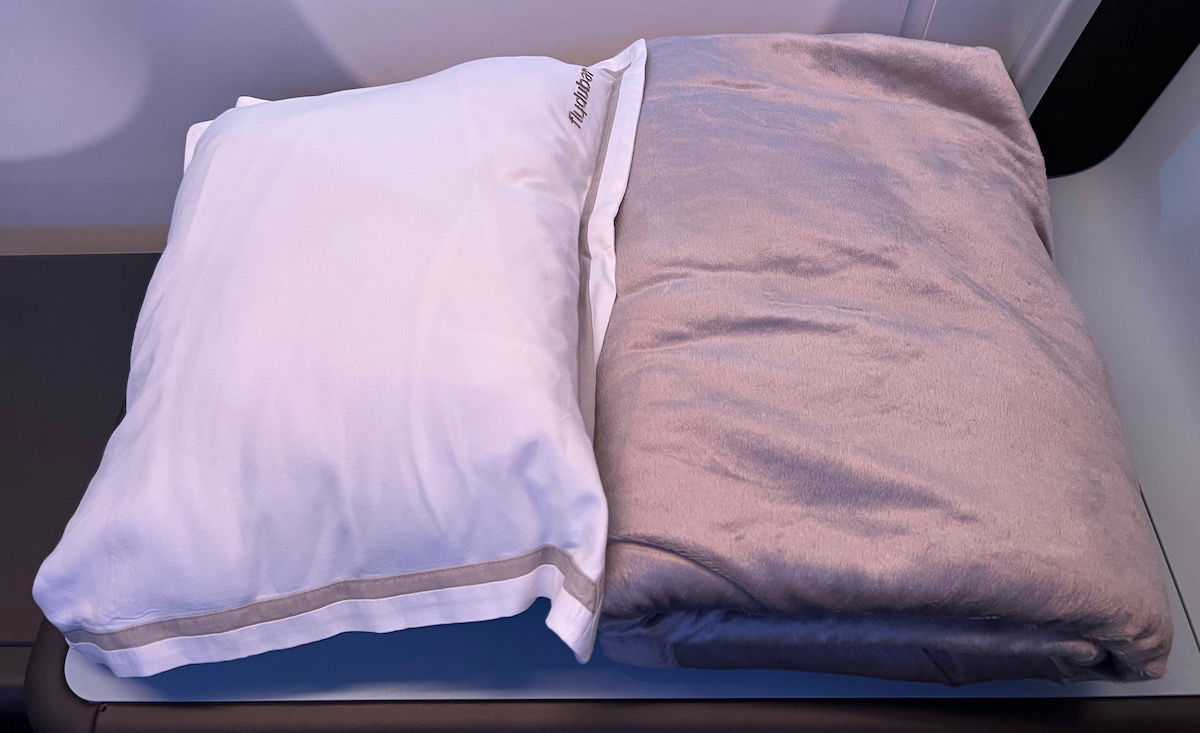 Each business class passenger was also given a pair of noise canceling headphones. I'm not sure if mine was defective or if these are just really low quality, but mine made a horrible ringing noise the entire time.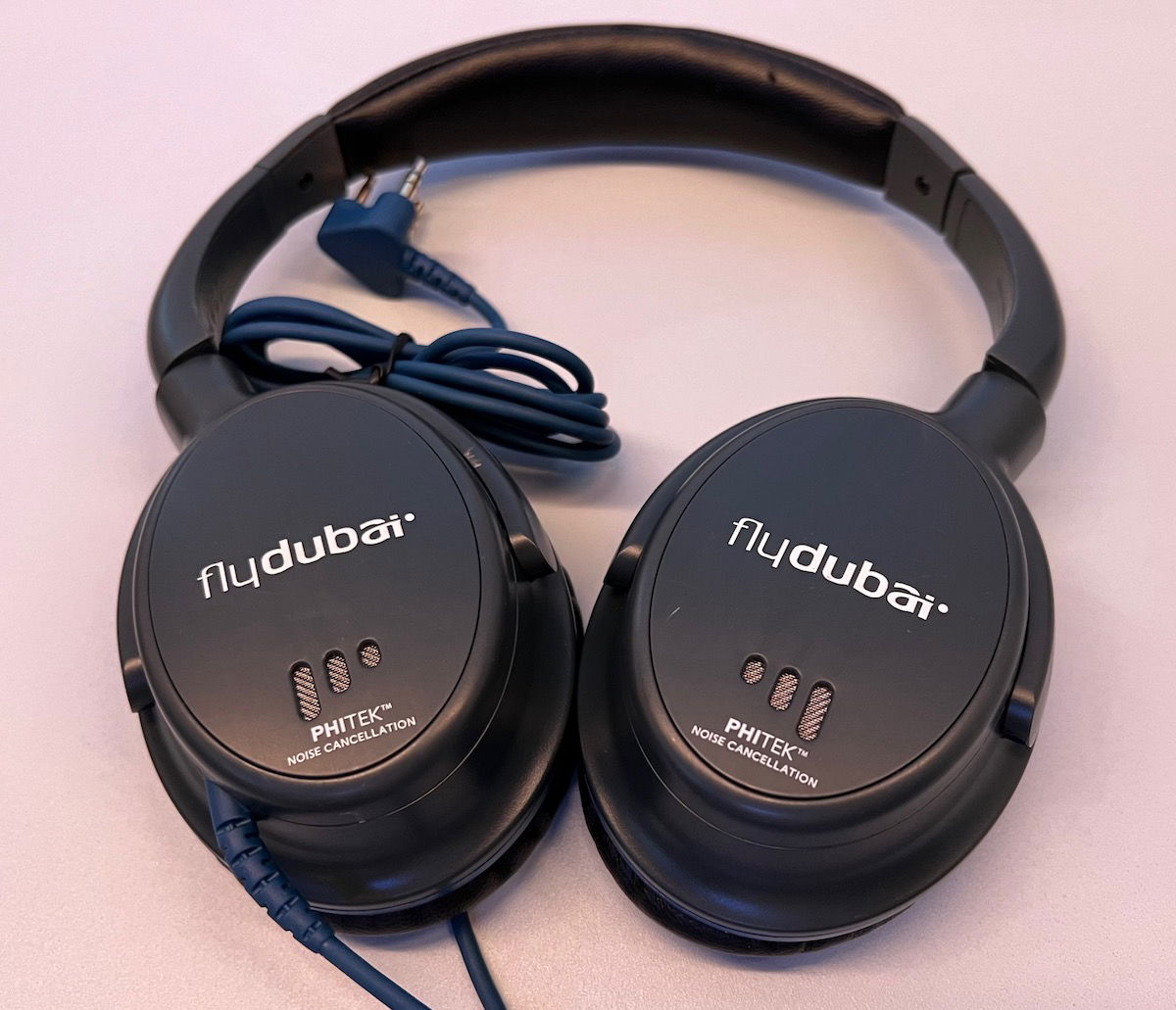 Each business class passenger was also offered a bottle of water, plus a menu and drink list.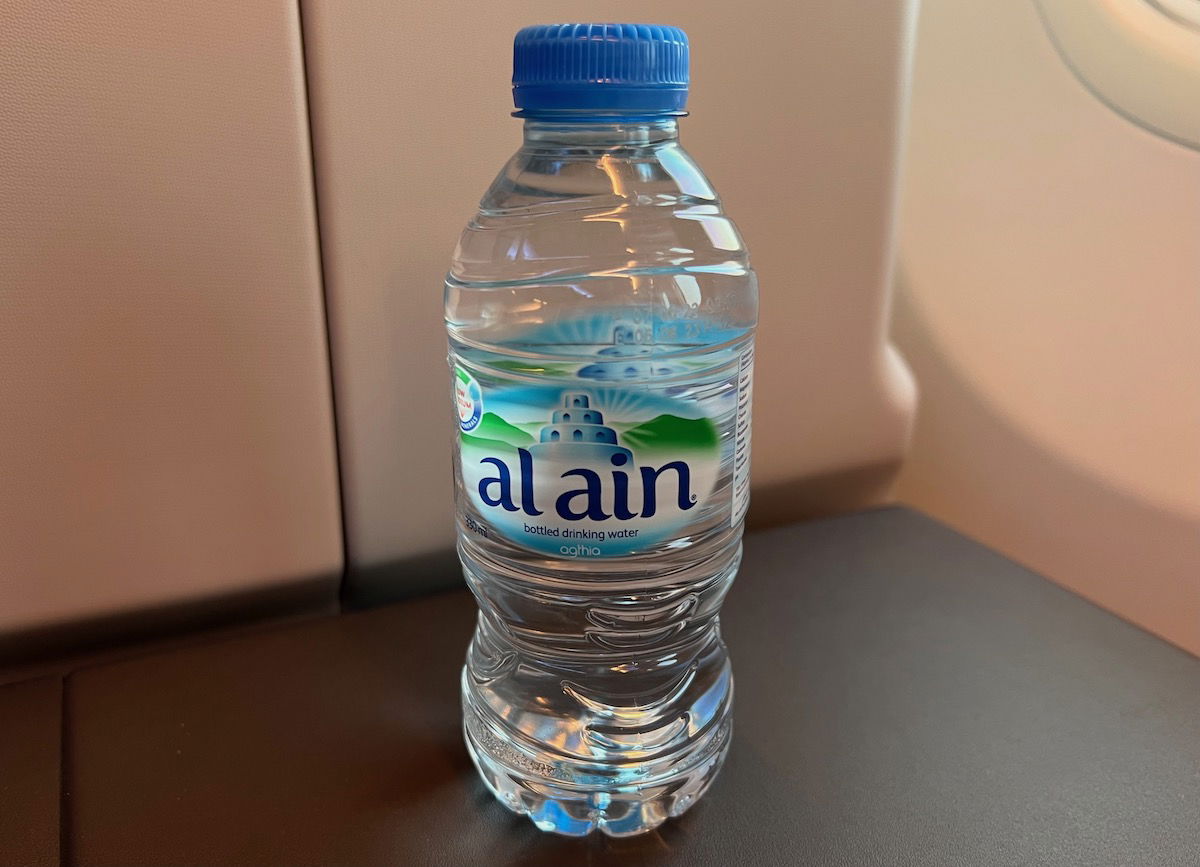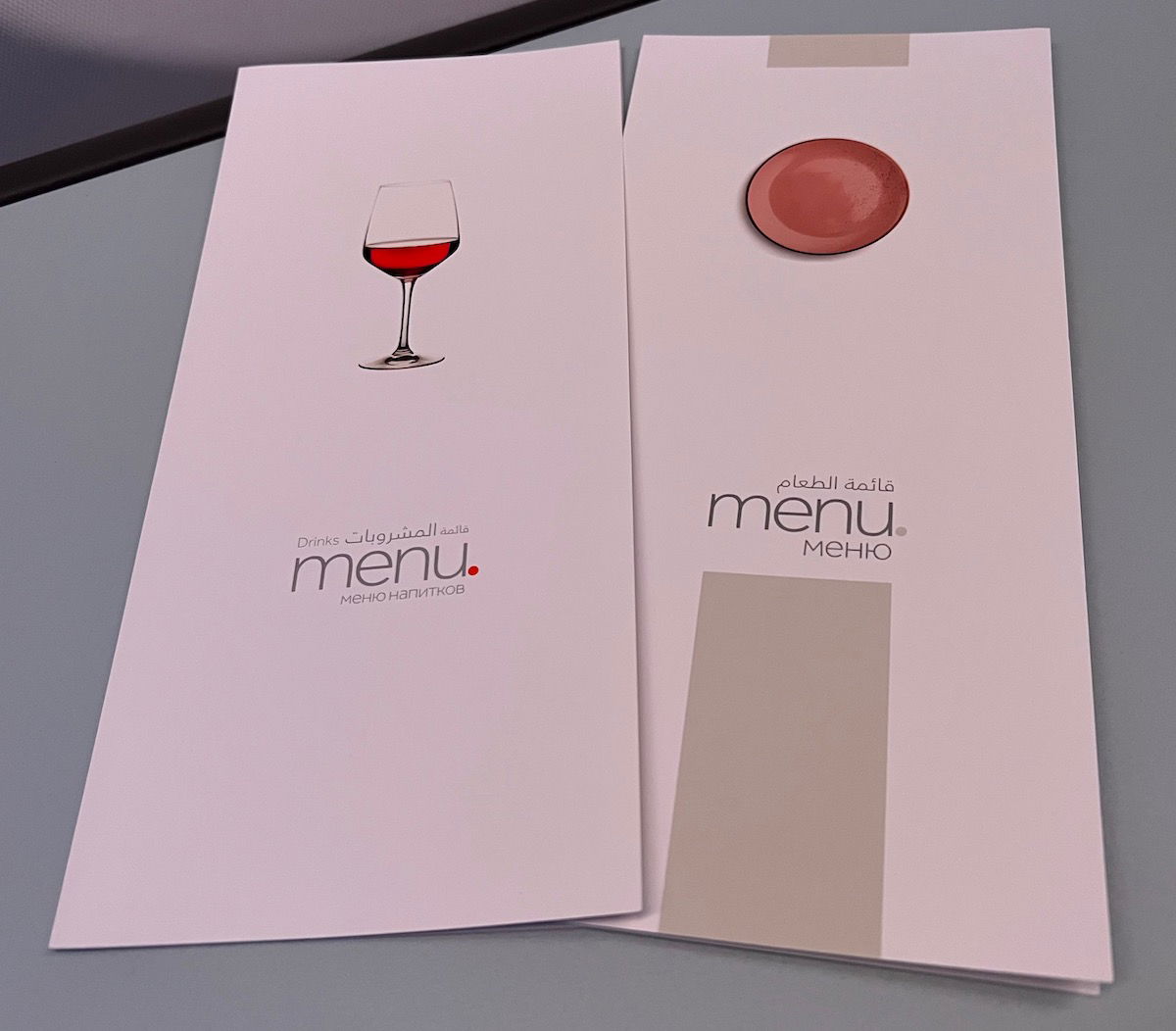 That was it as far as business class amenities go. There wasn't an amenity kit of any sort. I wouldn't necessarily expect one on a flight of this length, but a little pouch with a dental kit or some other basic items would be nice.
There were also no pre-departure drinks, which seemed cheap.
FlyDubai Boeing 737 MAX departure from Dubai
This flight was packed — every seat was taken in economy, while all but two business class seats were occupied in business class (and they were inoperable, which is why they were empty).
At 7:15PM the main cabin door closed, at which point the (British) captain added his welcome aboard, informing us of our flight time of five hours, and our cruising altitude of 36,000 feet. He said that he hoped to make up time enroute, but we'd have a further delay on the ground, as we'd have to wait for planes around us to push back first.
The cabin manager made her welcome aboard announcement at this point, and moments later screened the safety video. FlyDubai has a very cute safety video.
At 7:35PM we began our pushback, and then we had a pretty quick taxi to the runway.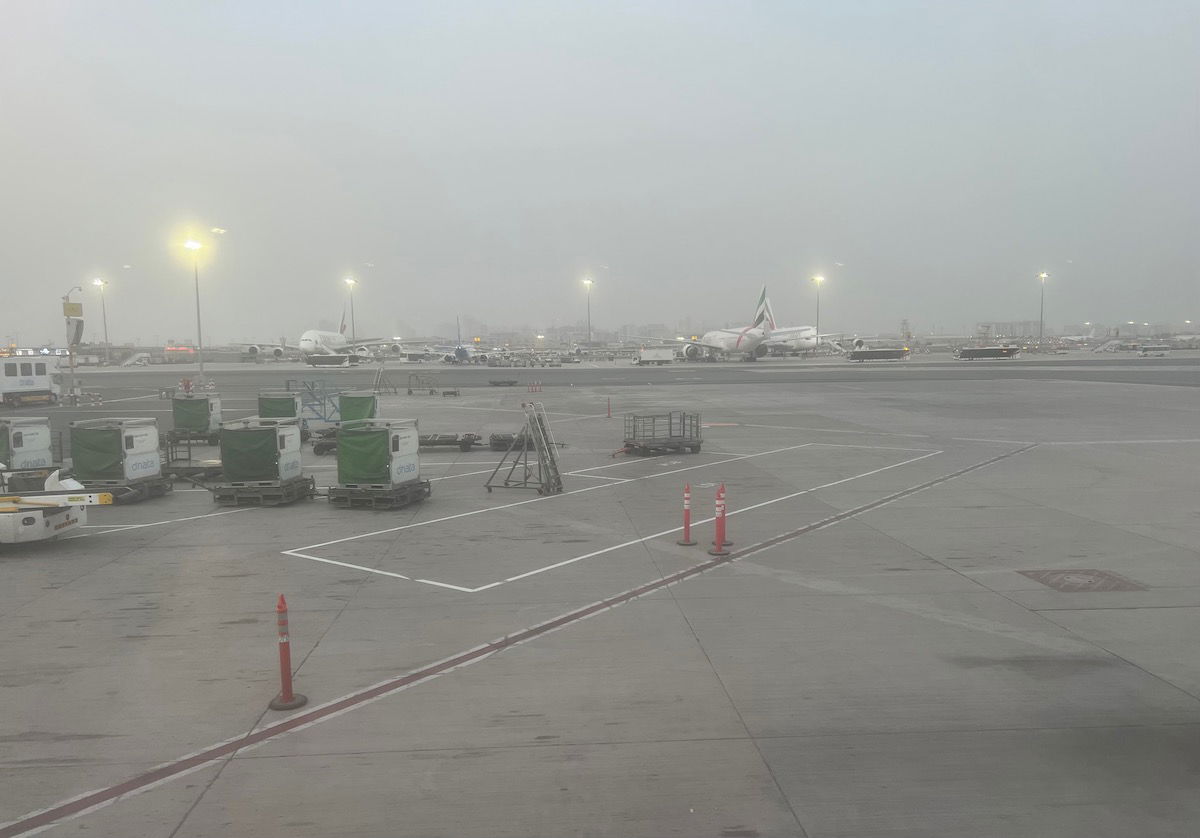 We were airborne from runway 30R by 7:45PM.
FlyDubai Boeing 737 MAX business class entertainment & Wi-Fi
Rather oddly, FlyDubai's entertainment system wasn't turned on until after takeoff. I'm not sure if that was intentional, or the crew just forgot. On the plus side, the entertainment system was easy to use and had no ads.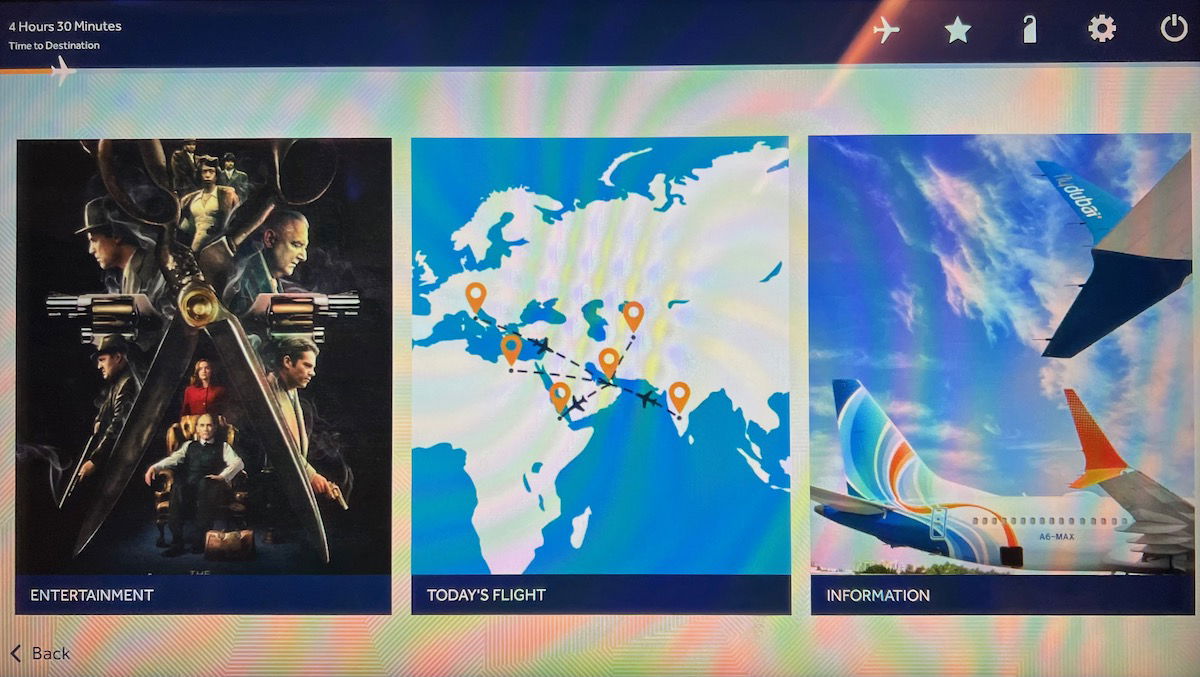 Unfortunately the entertainment selection was limited and seemed quite outdated to me. I'm not sure if FlyDubai just didn't want to spend money on the premium entertainment bundle, or what, but most of the movies were at least a decade past their prime.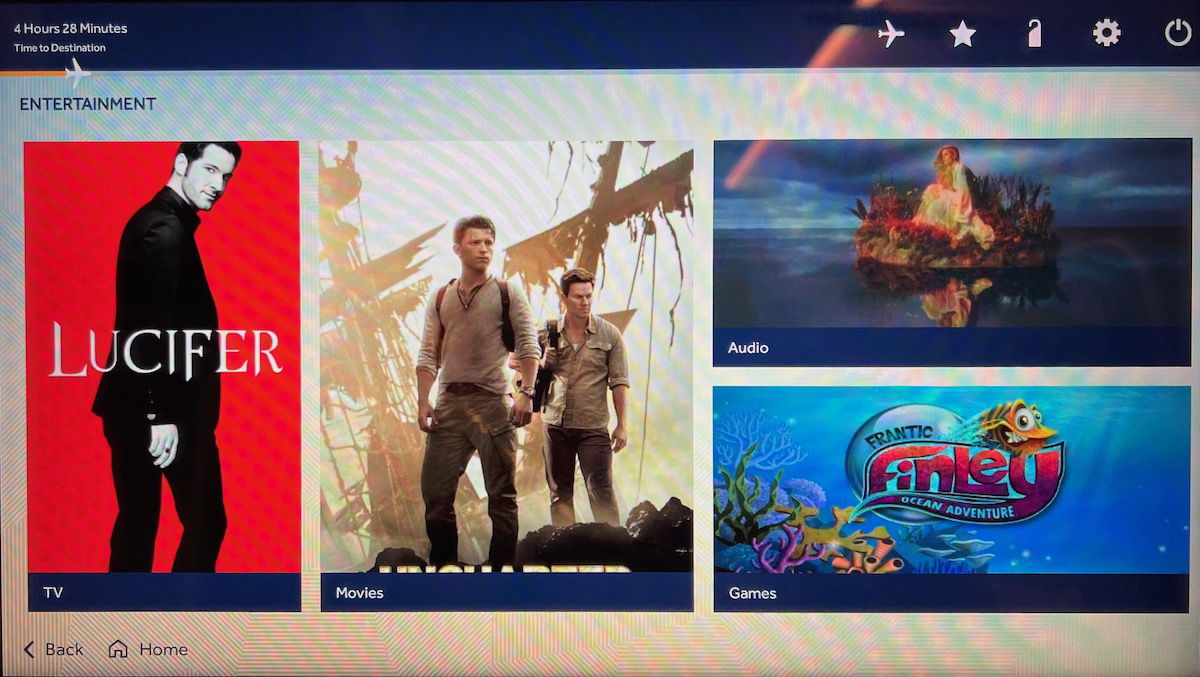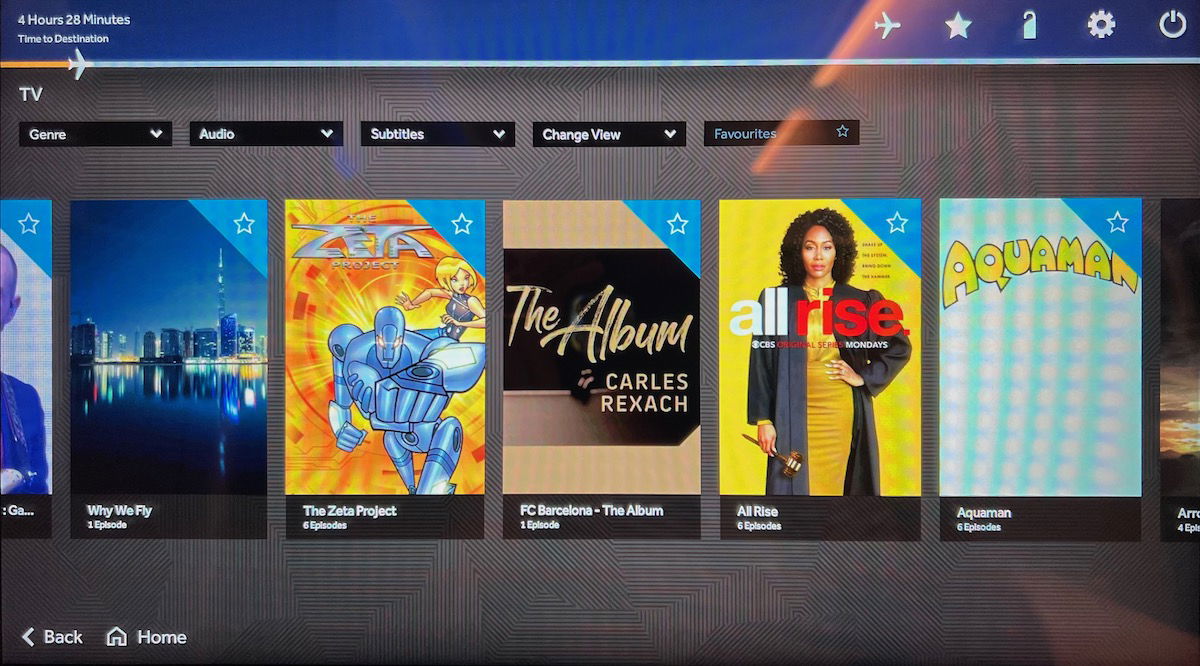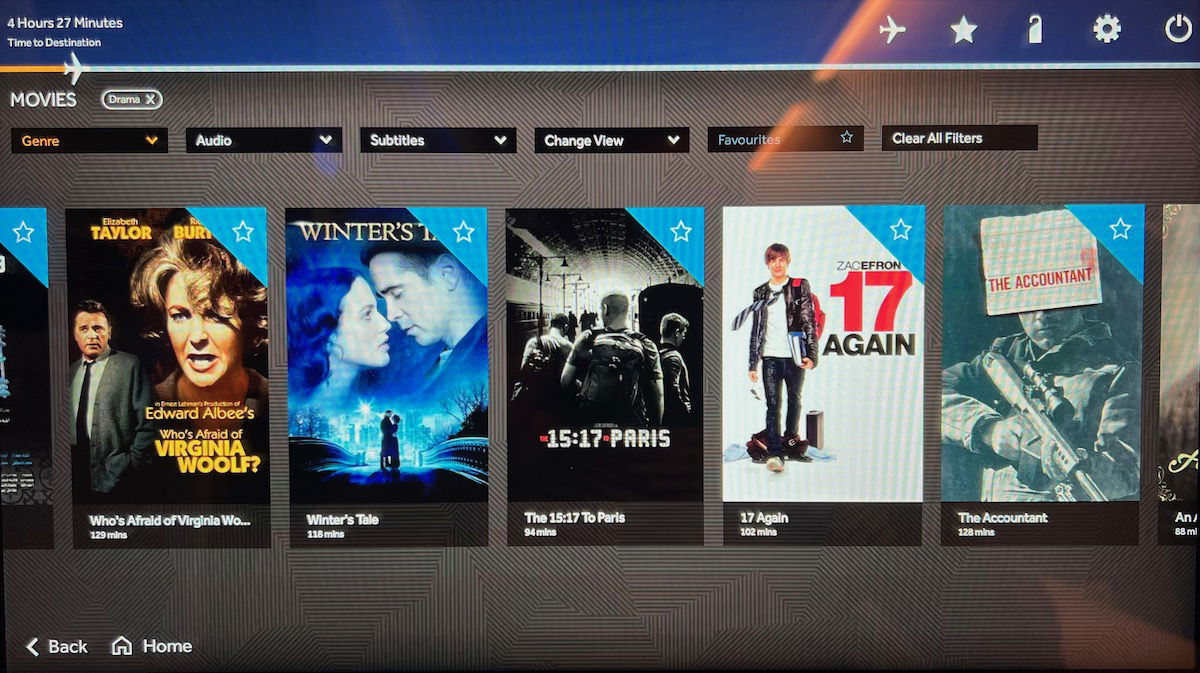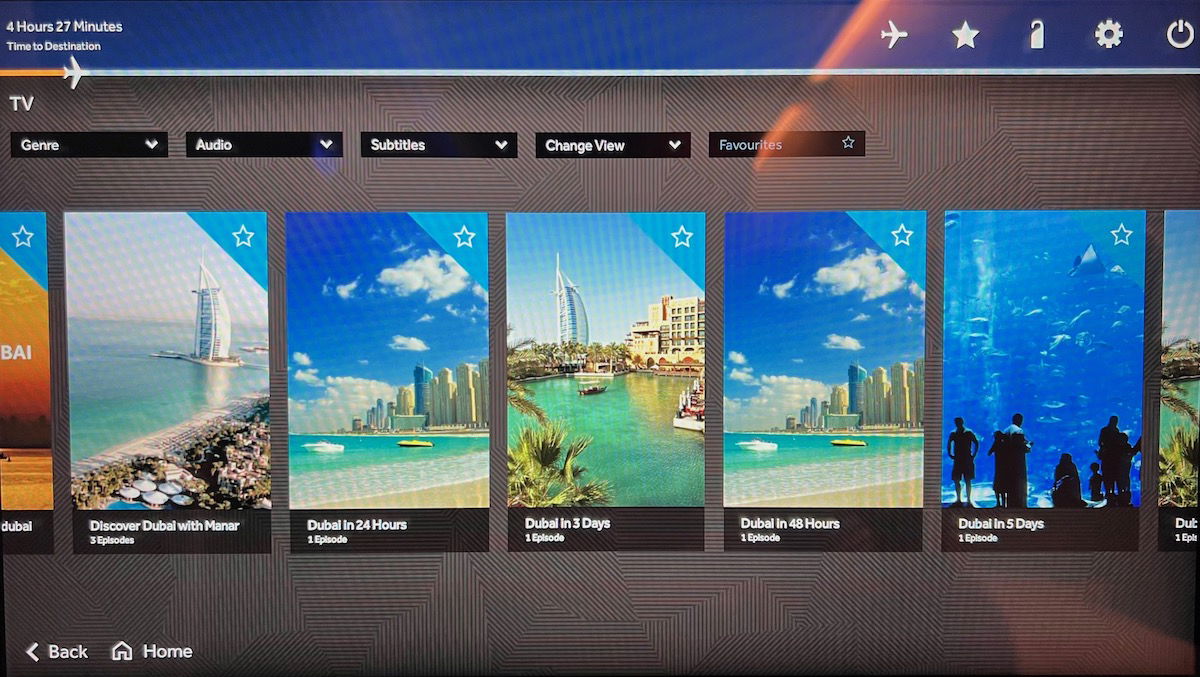 There was also a map feature, which was the part of the entertainment system that I liked the most.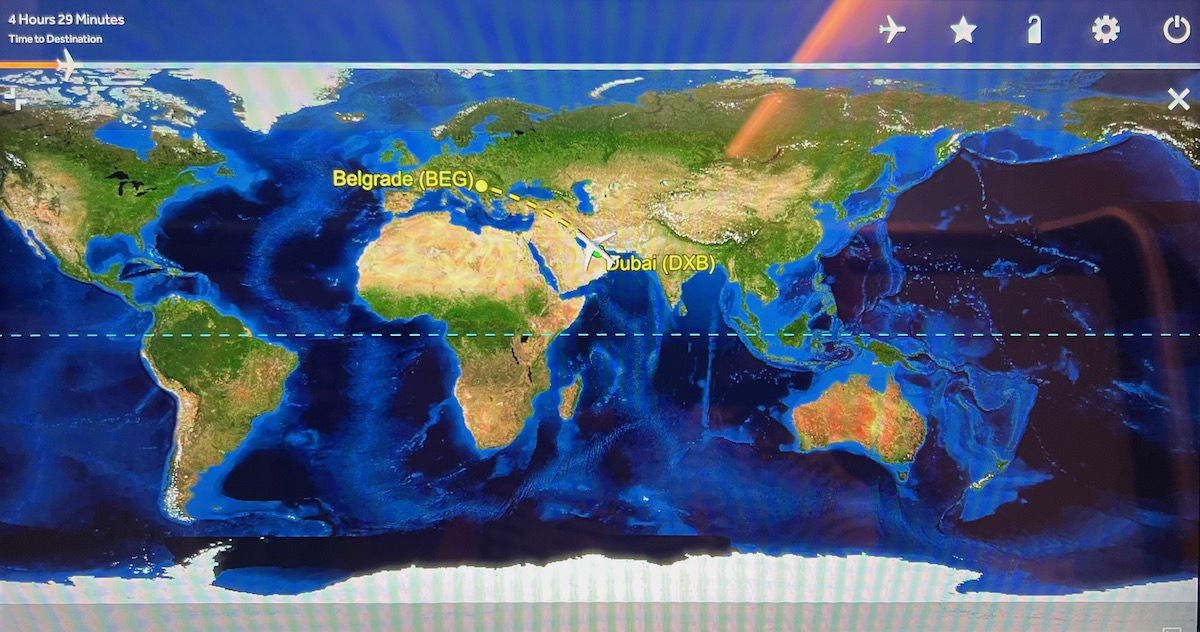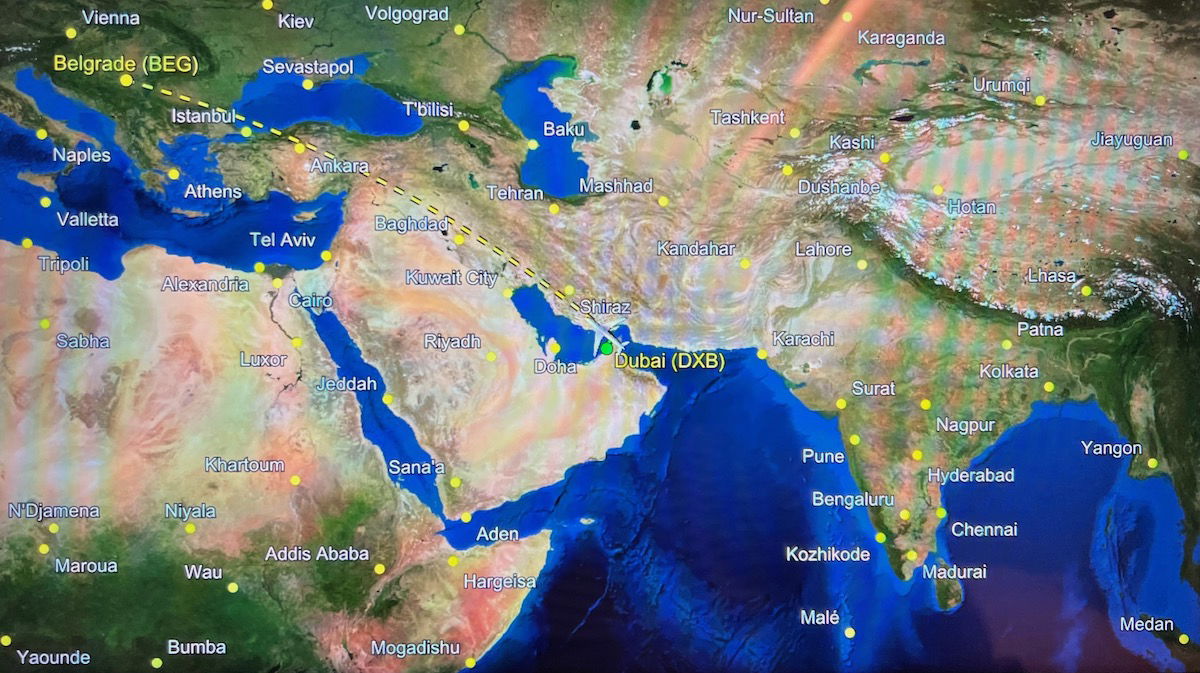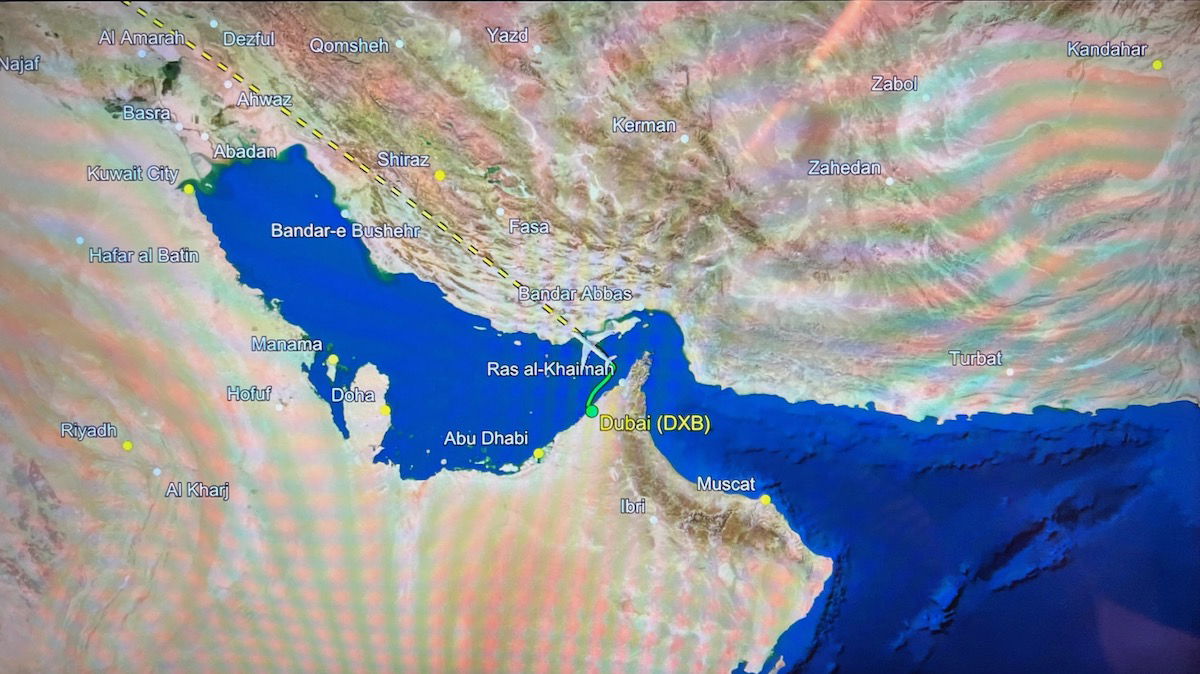 There's another thing that surprised me — I was under the impression that all (or nearly all) FlyDubai Boeing 737 MAXs have Wi-Fi. I know the airline is rolling this out throughout the fleet, so you'd think a new 737 MAX would have this system. Nope, this plane didn't have Wi-Fi.
So it seems that there's no way to reliably know whether your flight will have Wi-Fi or not, which is disappointing. I was hoping to get some work done on this flight, but my productivity was limited due to that.
FlyDubai business class inflight service
There was one flight attendant dedicated to business class, so what was the soft product like? Pretty disappointing, unfortunately. On a five hour evening flight I tend to think it's nice to get a drink pretty quickly after takeoff, and then enjoy a leisurely meal. Unfortunately that's not how service works on FlyDubai, though.
We were off to a good start, as warm towels were distributed 15 minutes after takeoff.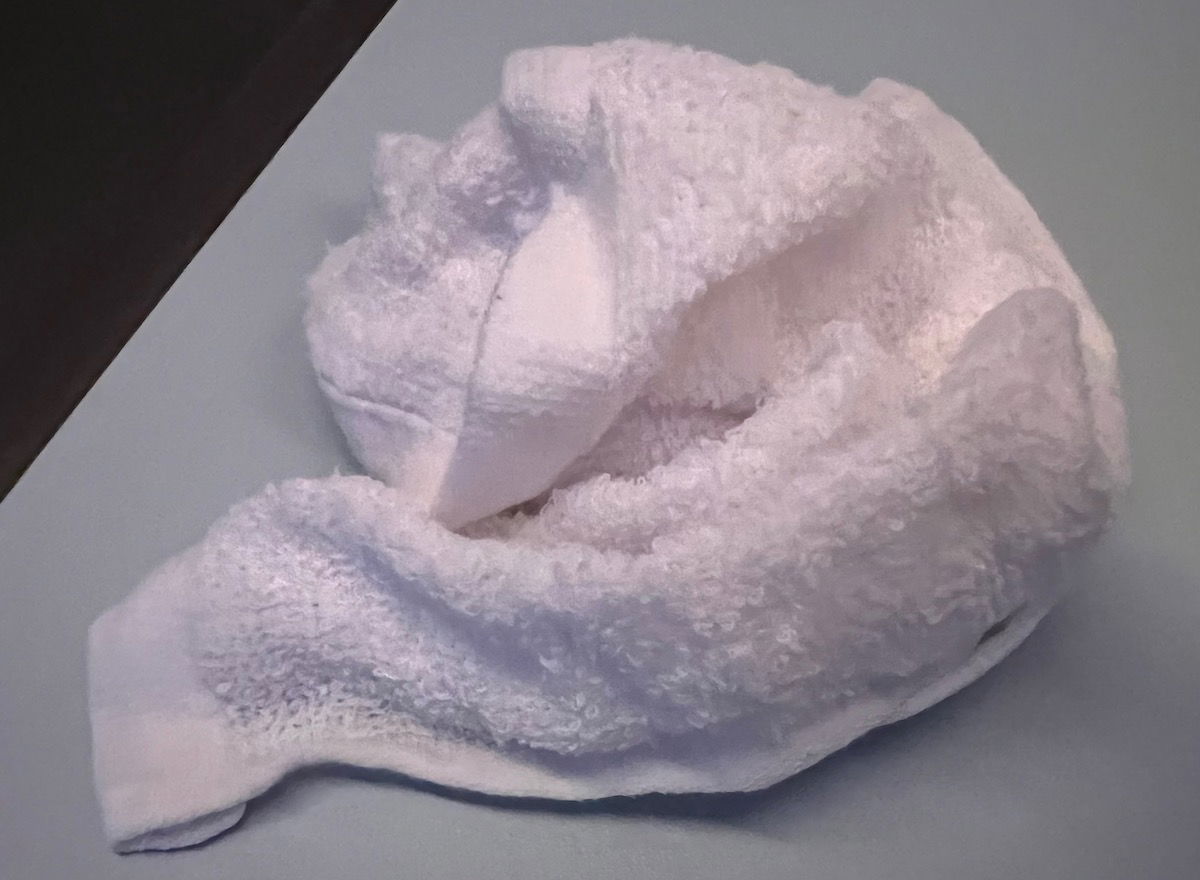 I don't know what happened for the next 30 minutes, but then 45 minutes after takeoff meal orders were taken. You can find the menu and drink list below.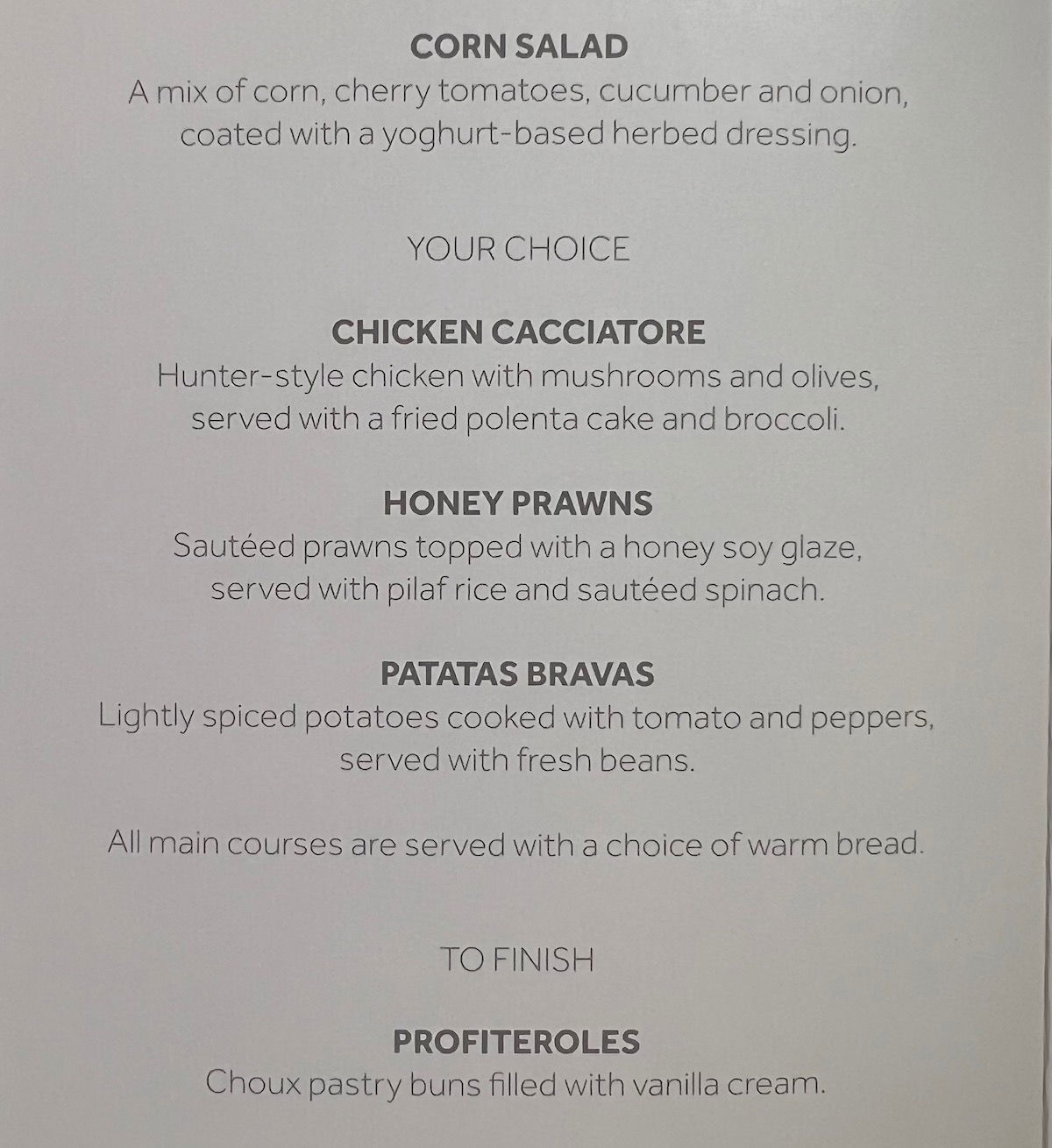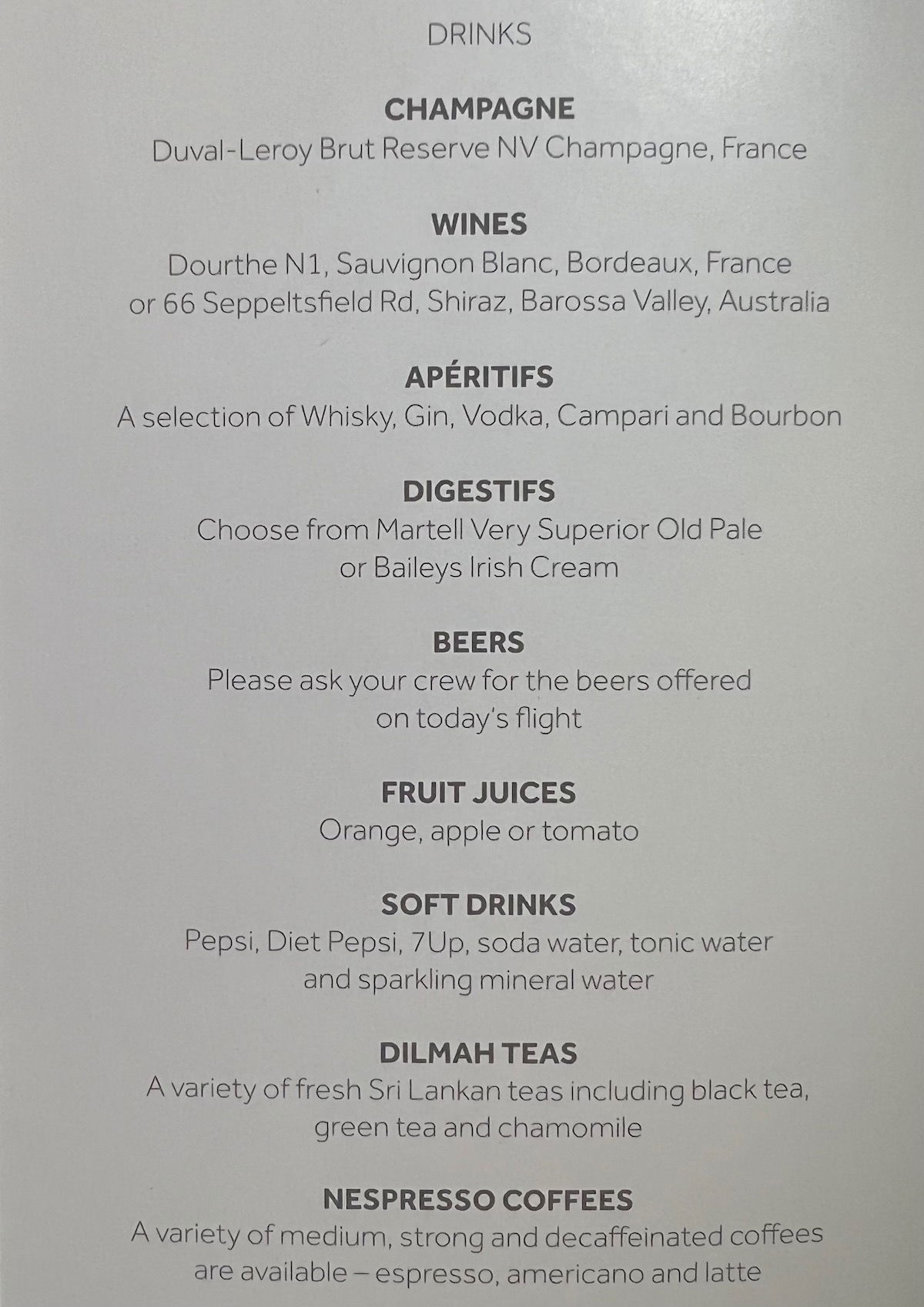 Then a full 70 minutes after takeoff tablecloths were distributed. Could we get some drinks, please?!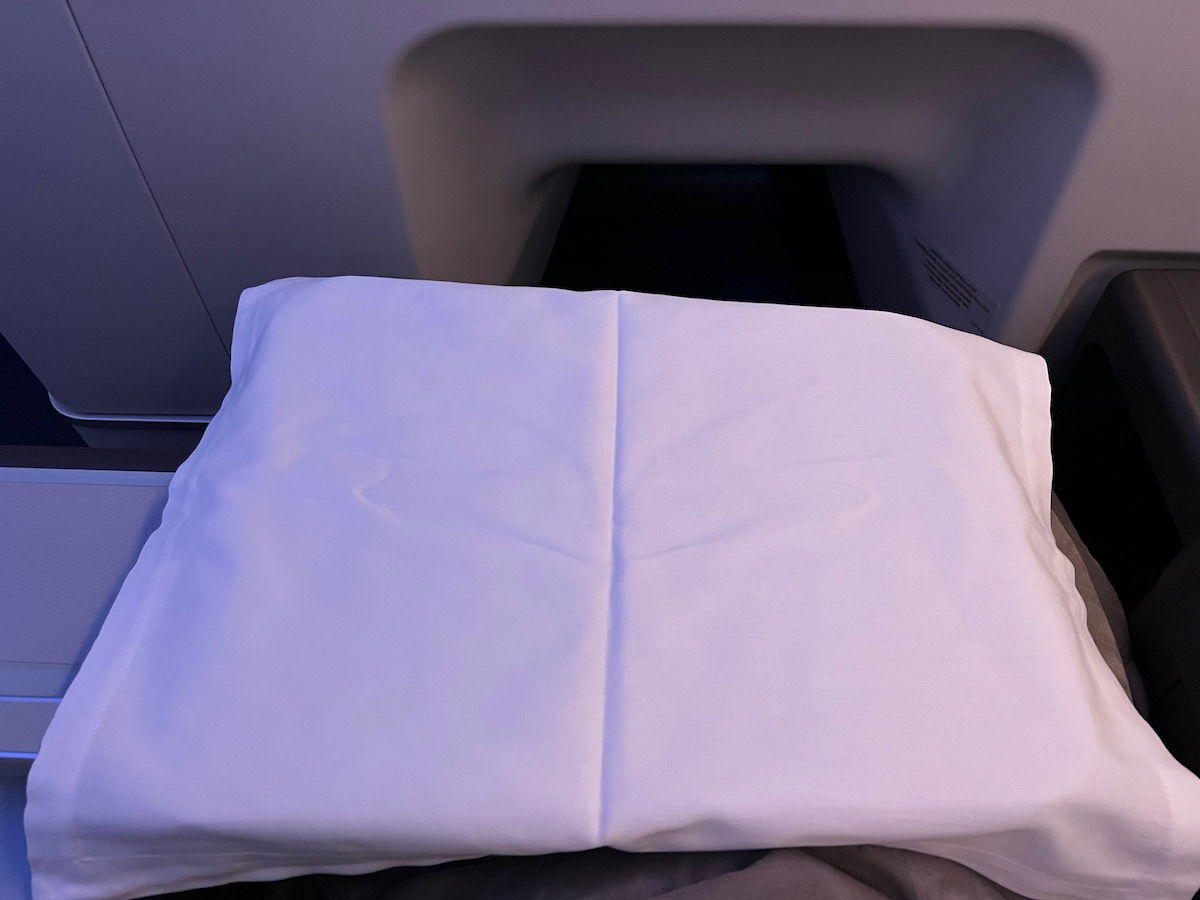 Then 90 minutes after takeoff the meal was served. There was no pre-dinner drink, but rather everything was served on a single tray — appetizer, main, dessert, bread roll, and drinks.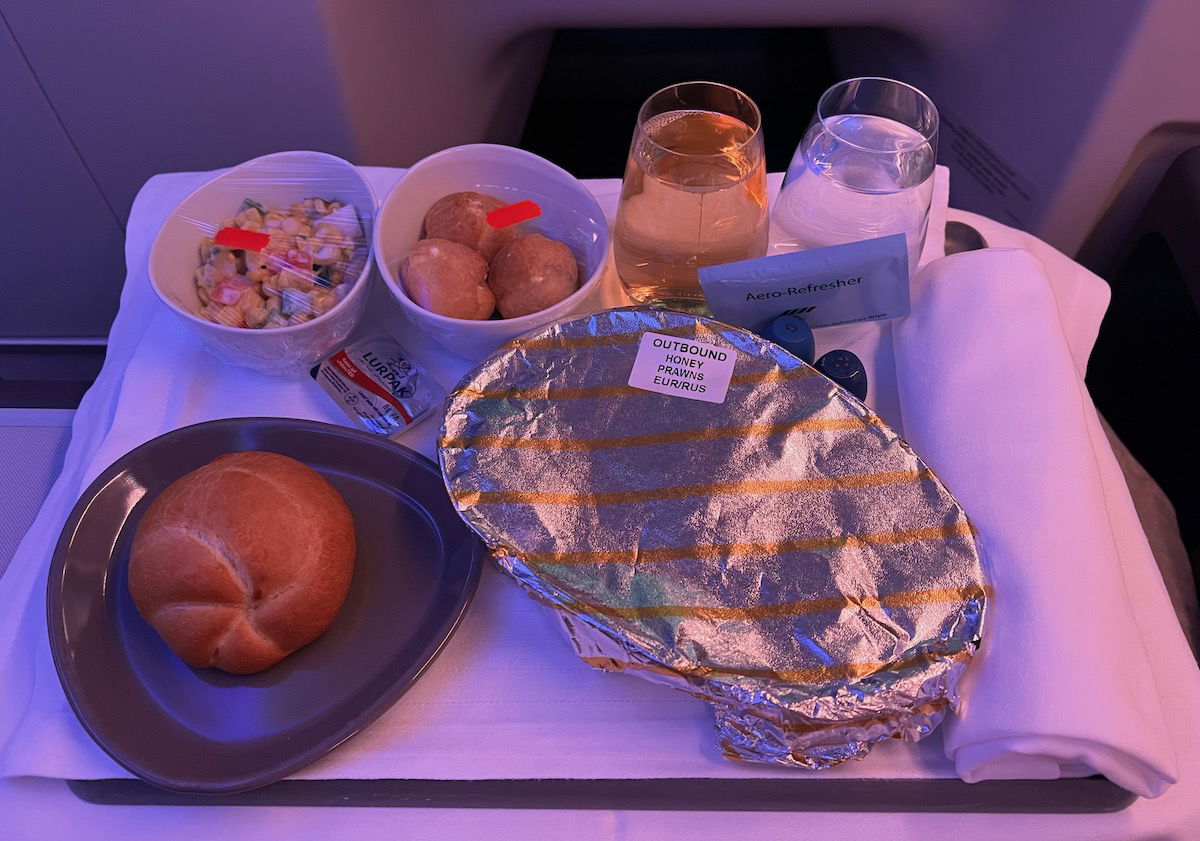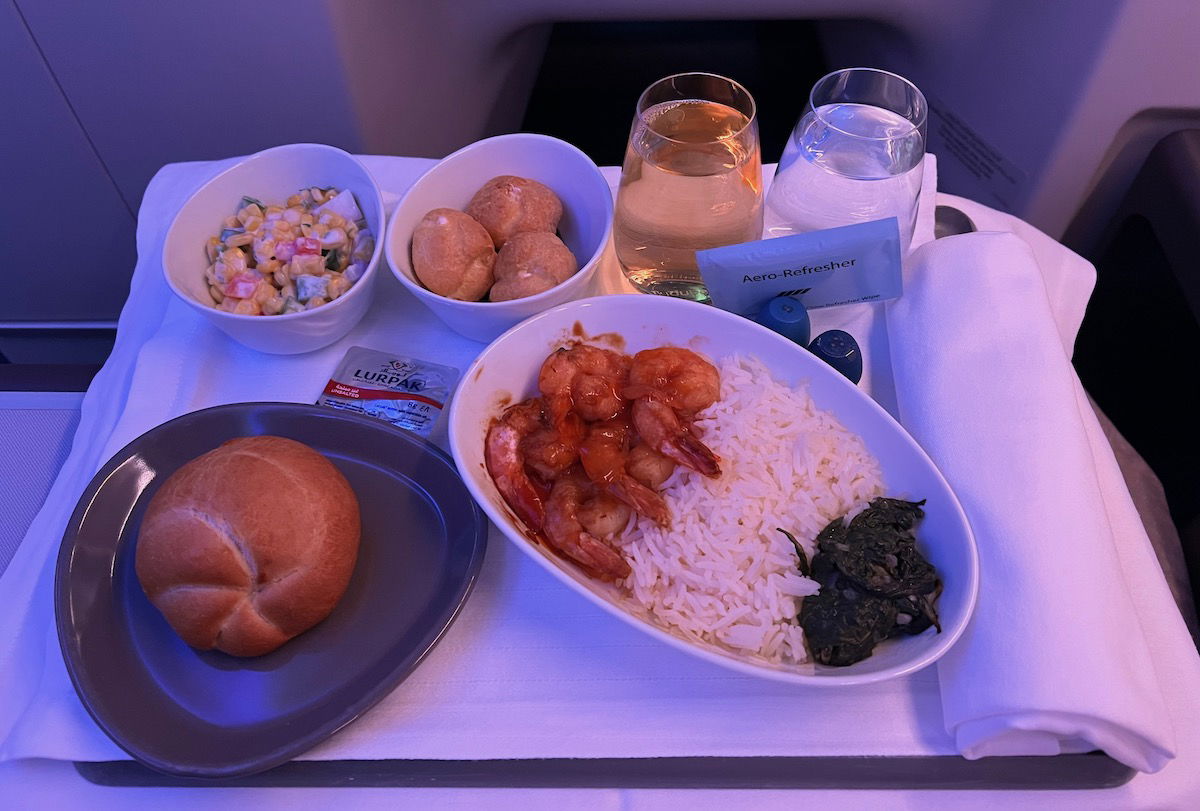 The starter was a corn salad, with cherry tomatoes, cucumbers, and onion, with yogurt-based herbed dressing. To me it basically tasted like corn with mayonnaise… I can't say it was particularly appetizing.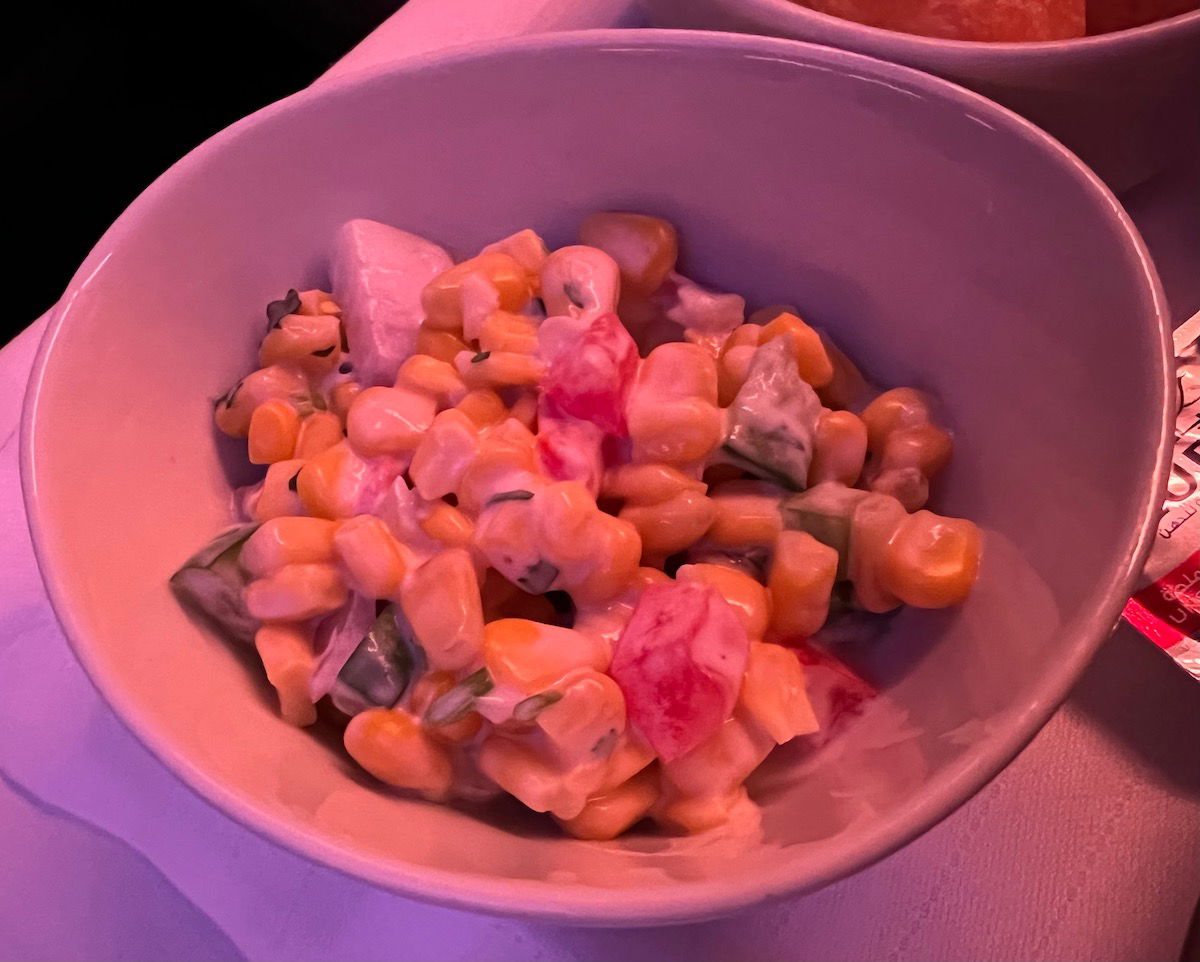 For the main course I ordered the honey prawns, consisting of sautéed prawns topped with a honey soy glaze, served with pilaf rice and sautéed spinach. It was… okay.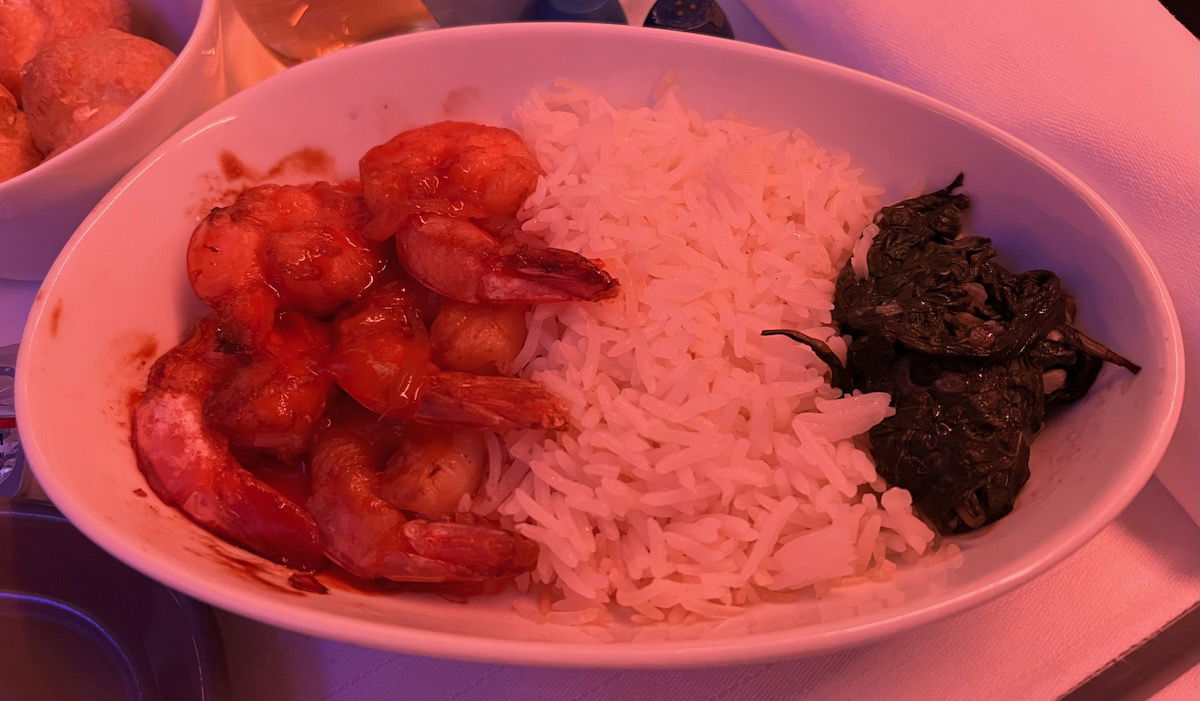 For dessert there were profiteroles, with vanilla cream and chocolate sauce.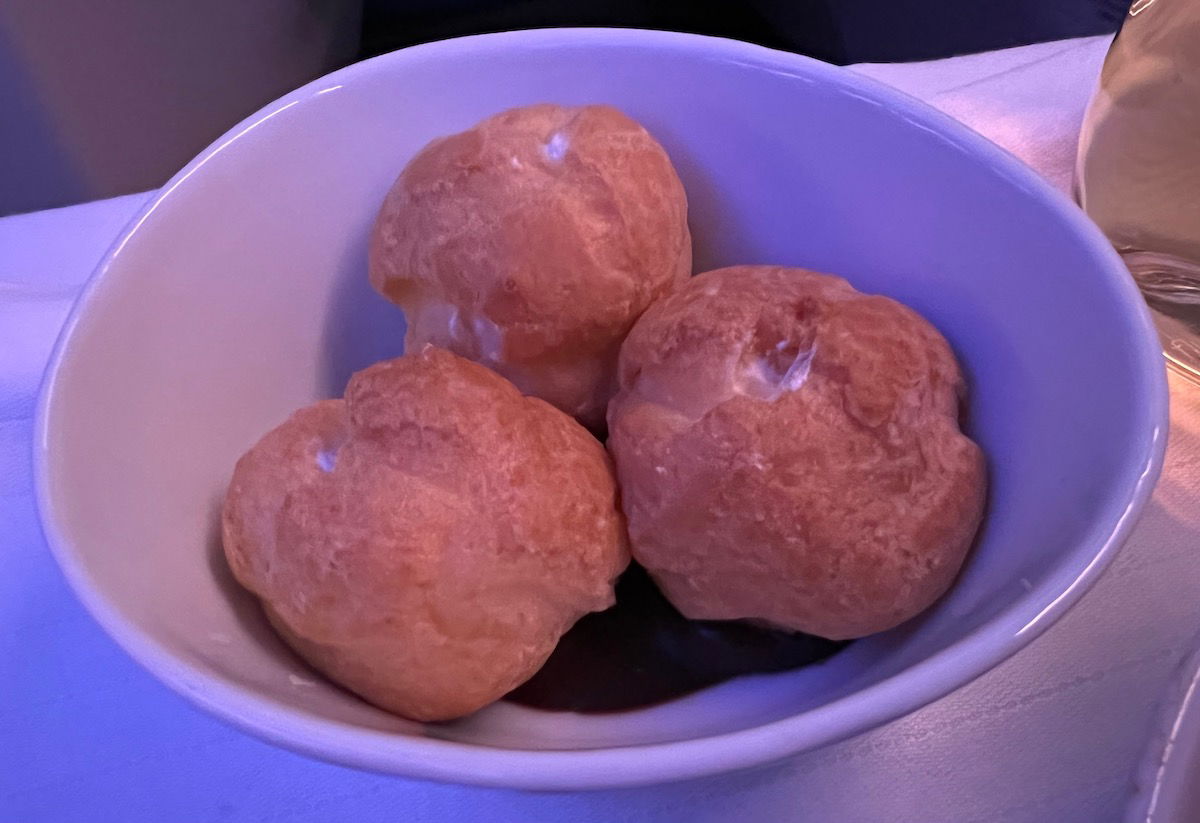 To drink I had a still water and a glass of Duval-Leroy Brut Reserve (what a pour!).
At the conclusion of the meal I ordered a cappuccino, which was very good, and served with a chocolate.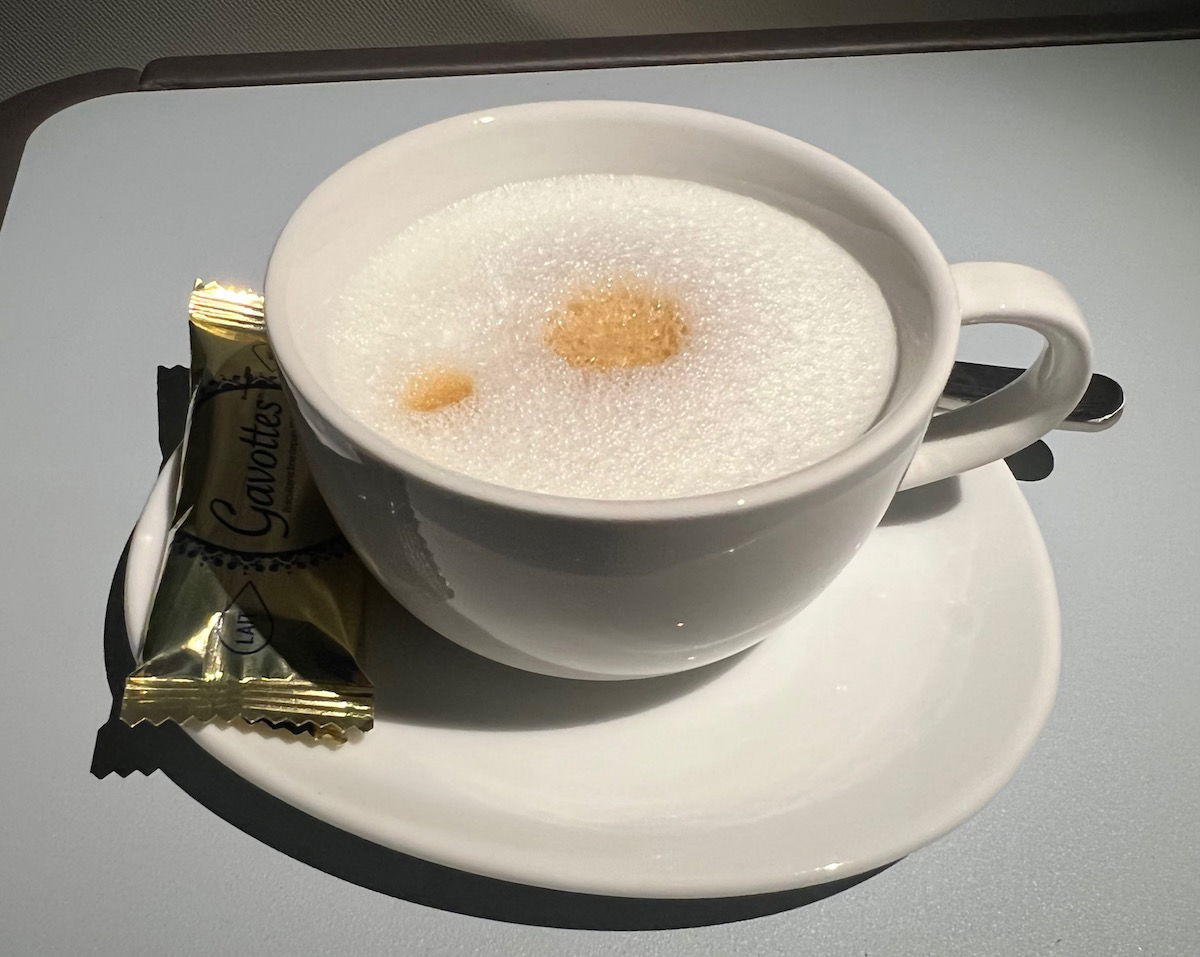 The meal service wrapped up around two hours after takeoff, as were leaving Iranian airspace.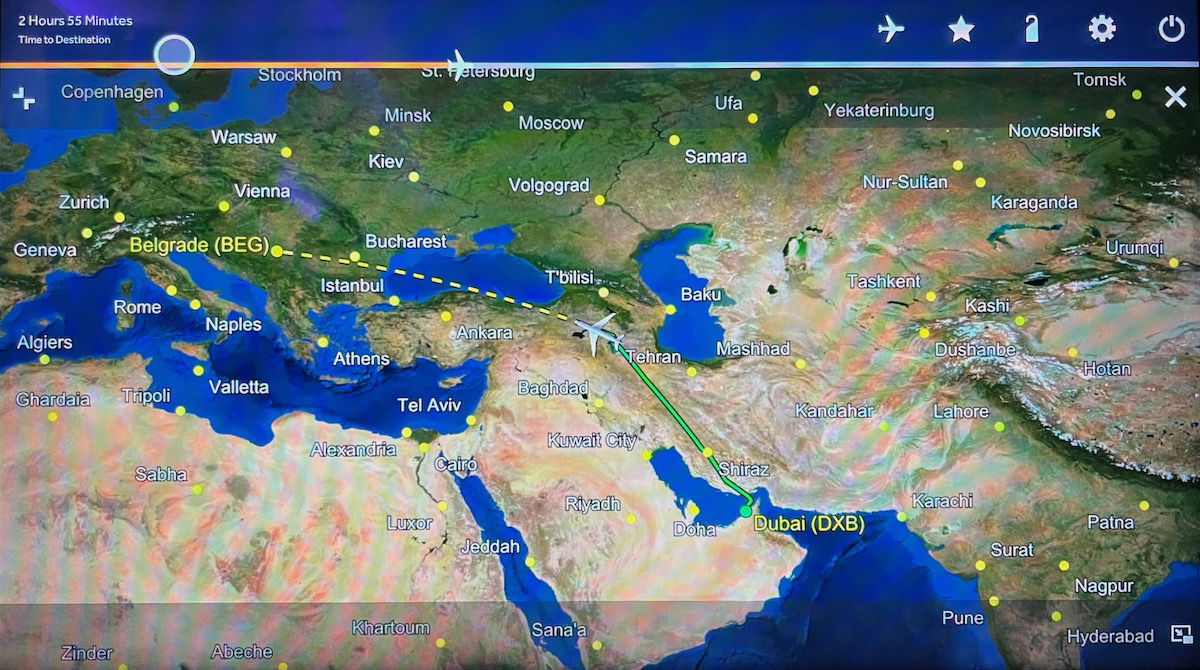 The food was okay, but what an underwhelming service flow. I don't understand why FlyDubai doesn't serve a drink with a small snack after takeoff (within an hour of takeoff), and then serve the meal. Having no inflight service until 90 minutes after takeoff is weak.
Keep in mind that boarding was scheduled to start at 5:55PM, while the first drink was served at 9:15PM, which is well over three hours later.
Anyway, after the meal I took a nap (which I'll talk more about below), but toward the end of the flight I decided to have another drink. I ordered a glass of sauvignon blanc — again, what a pour. The flight attendant presented me with a variety of snacks, and I chose some chips and nuts.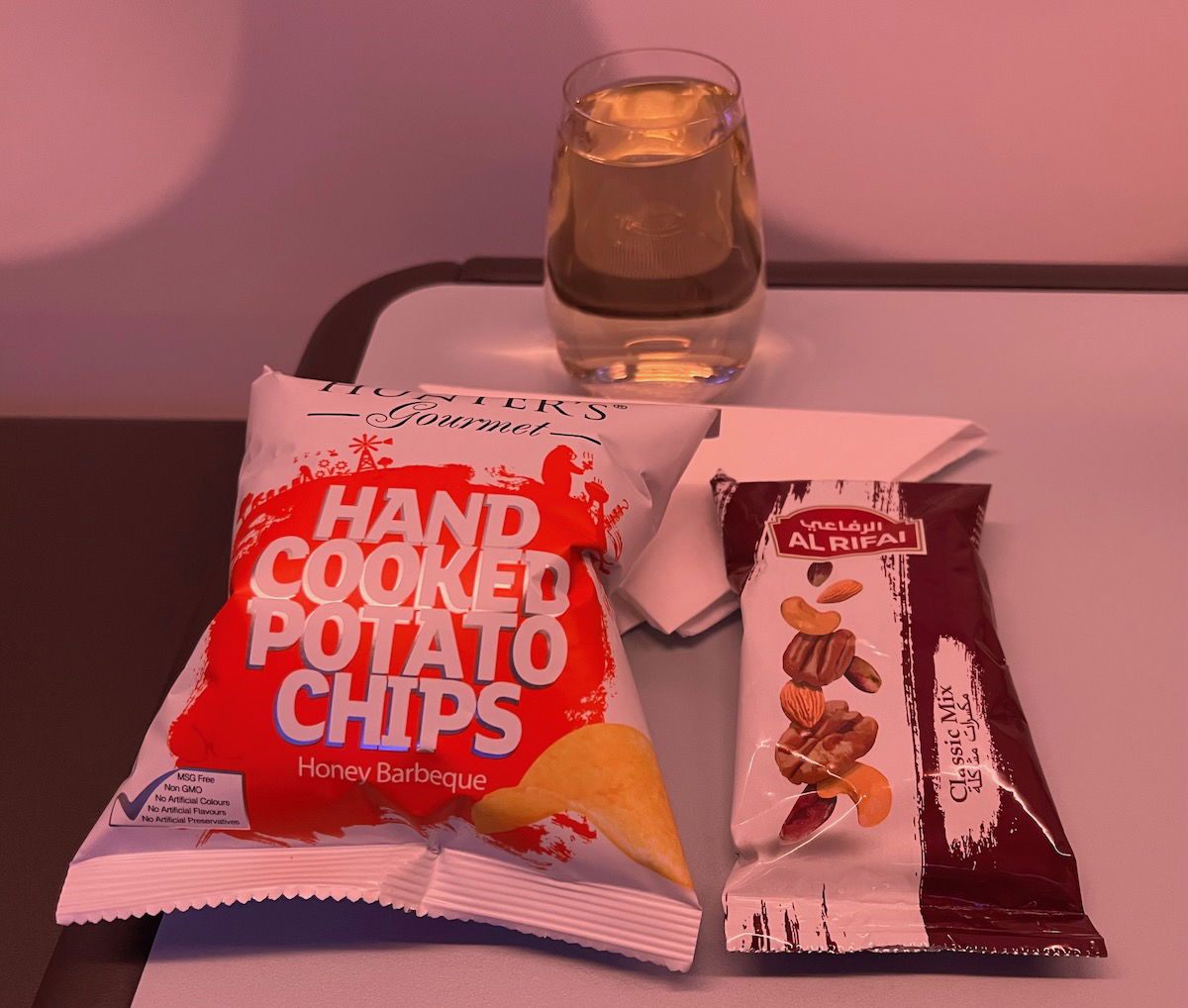 Then around an hour before landing the flight attendant passed through the cabin with a cheese plate for each passenger.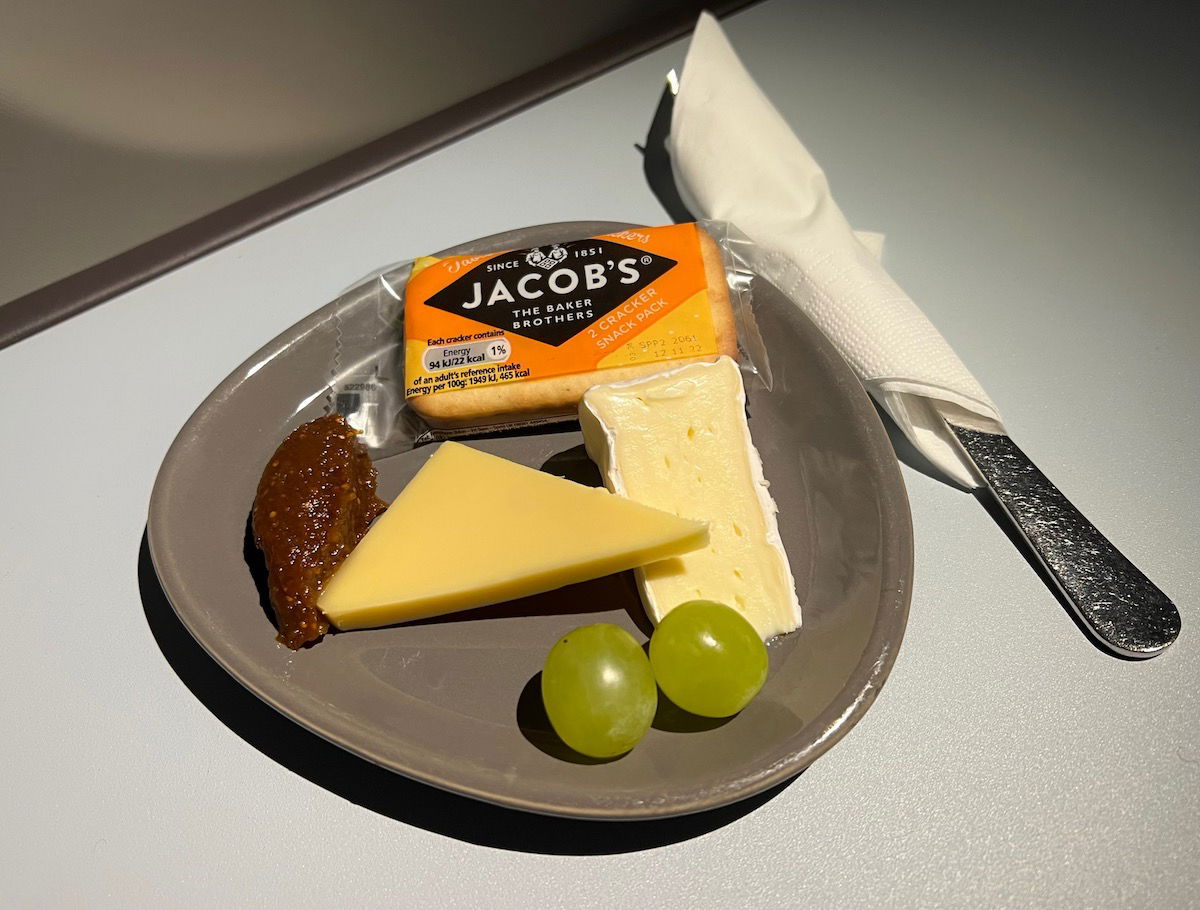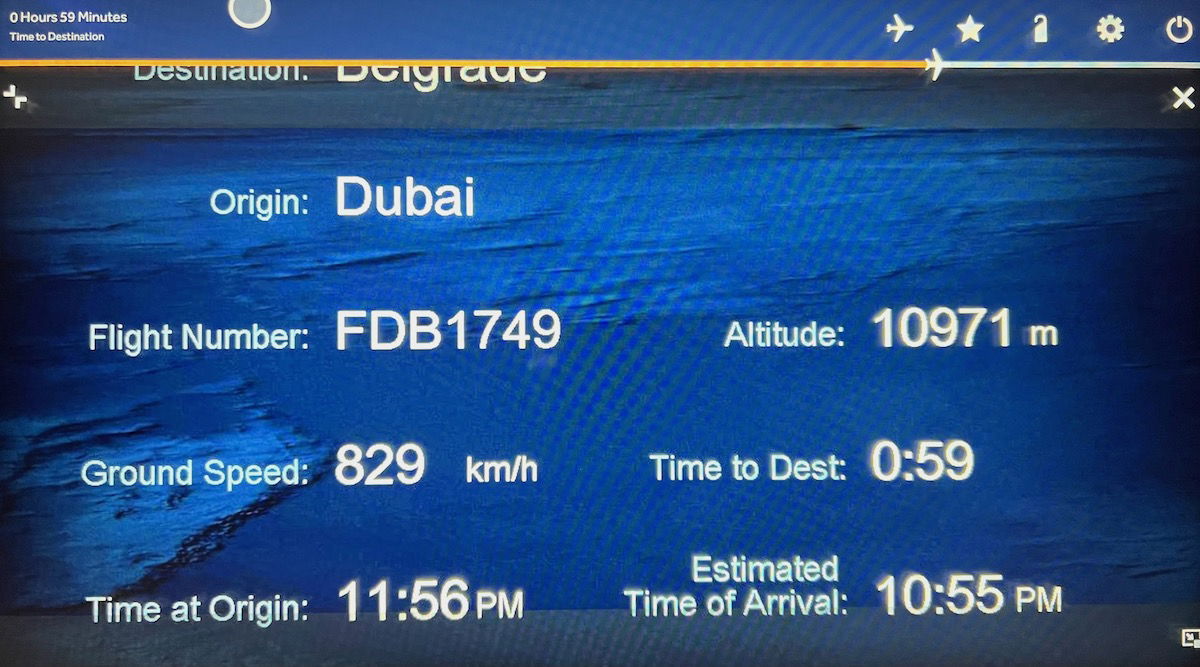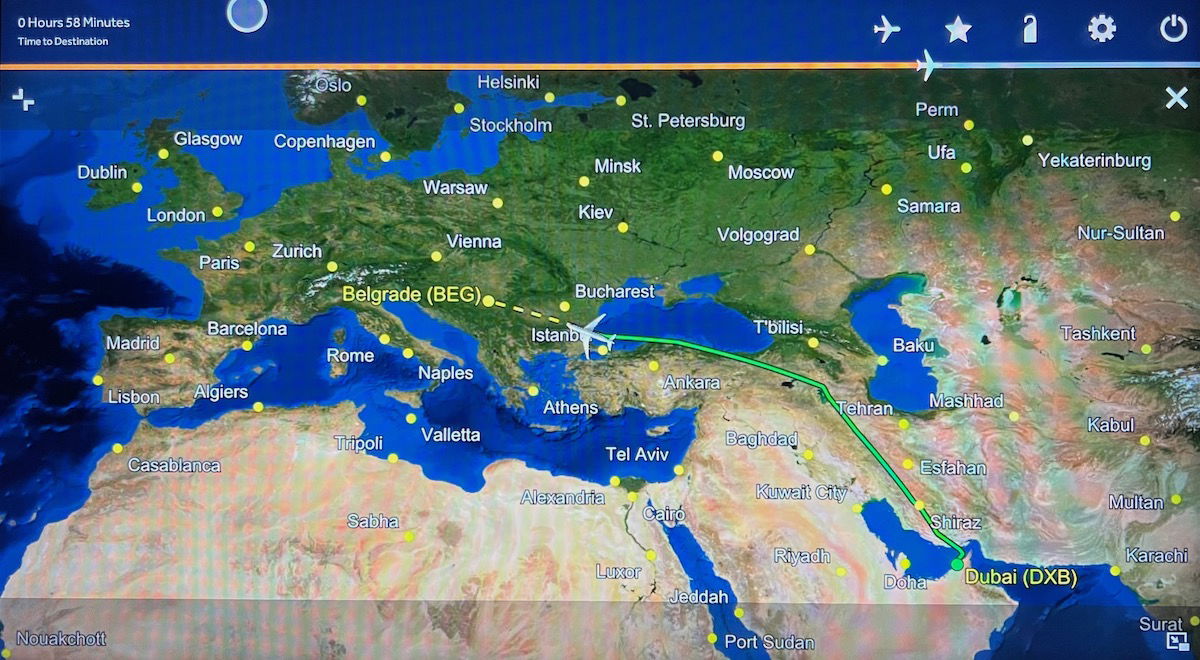 As you can see, the sum of the service is totally fine, it's just the order and pace that's screwed up.
FlyDubai Boeing 737 MAX business class bed
Getting a flat bed on a narrow body jet is always a treat. I ended up napping for around 90 minutes on this flight. The bed as such is a good width, and I found it to be comfortable.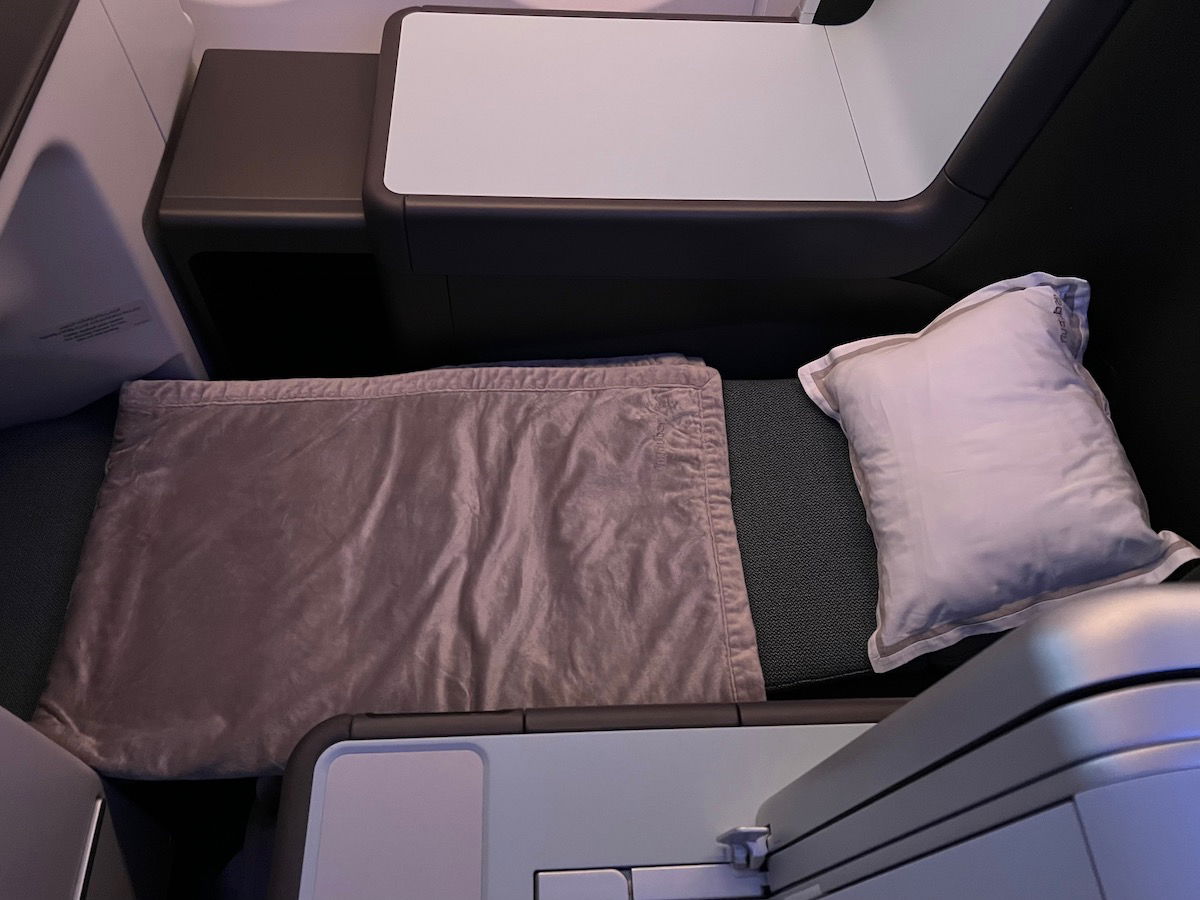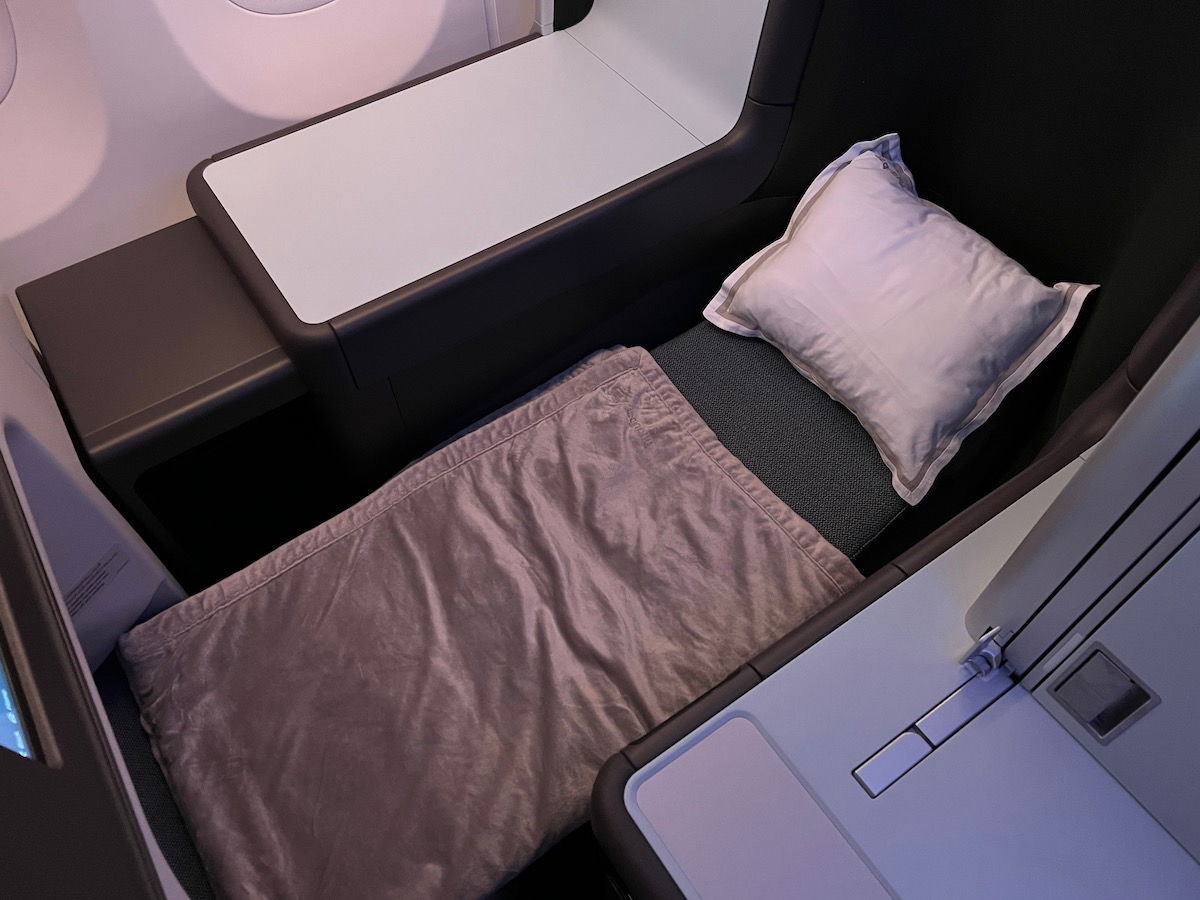 The main issue is that in this configuration you have to place your feet in a footwell, and this seat must have the smallest footwell I've ever seen. It felt even smaller than the footwell in other "throne" seats. If this is something you're sensitive to and you intend to sleep, you might want to select one of the non-solo seats, where the footwell is a bit bigger.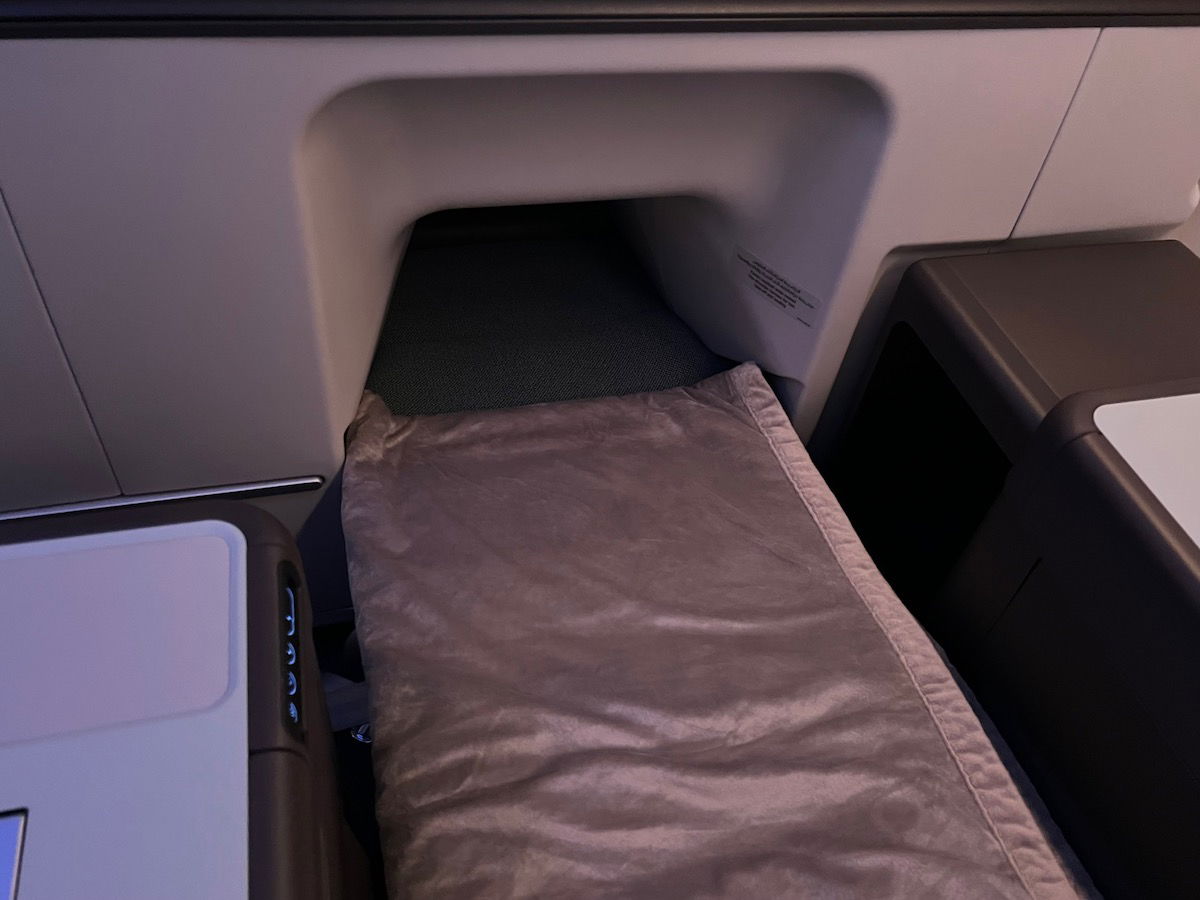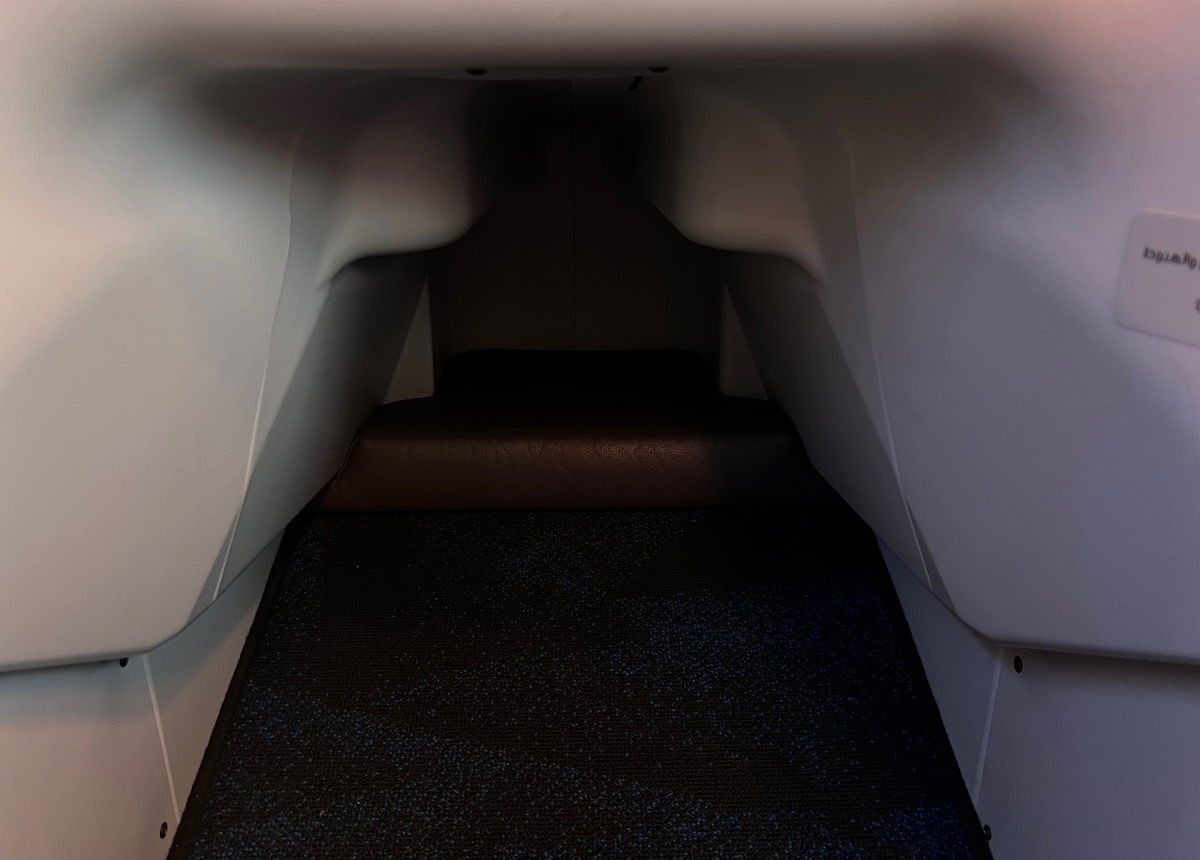 FlyDubai business class service
The service in FlyDubai business class was… kind of confusing? It's odd, because the flight attendant was friendly, and she even introduced herself to each passenger in business class during boarding. She also spoke Serbian, so engaged quite a bit with each of the Serbian passengers.
That being said, otherwise it just felt like she was going through the motions. In addition to the pace of the service (which I've talked about above), service wasn't very attentive. You'd think that someone could pass through the cabin every 10-15 minutes to see if anyone wants anything, but that didn't happen. Even when I used the call button, it sometimes took quite some time to get a response.
It was all just very strange, because she wasn't rude and didn't appear lazy, yet somehow the service wasn't really coming together.
FlyDubai Boeing 737 MAX arrival in Belgrade
At 10:35PM the first officer announced that we'd be landing in around 30 minutes. The seatbelt sign ended up being turned on at 10:50PM, and we ended up touching down at 11PM.
From there it was a roughly 10 minute taxi to the arrival gate, where we pulled in at 11:10PM. There was another incident that occurred during landing, which I'll cover in a separate post, because I think this post is long enough at this point.
Bottom line
I'm happy I finally had the chance to try FlyDubai's 737 MAX business class. The airline has an exceptional business class hard product, though the soft product leaves quite a bit to be desired. FlyDubai's service flow seems really off to me, and that seems like something that could easily be fixed. I'm not sure if I just had a bad experience, or if this is par for the course on FlyDubai.
Furthermore, I don't get what's going on with FlyDubai's Wi-Fi? Do fairly new 737 MAXs just not have Wi-Fi, even though the airline is allegedly installing it fleet-wide, or what?
Here's the thing — FlyDubai's business class fares are anything but cheap. If FlyDubai actually had low fares in business class, I'd give this flight 4.5 star. But given the pricing, I think it's fair to expect a bit more.
What do you make of the FlyDubai business class experience?