My review trip isn't off to a good start, as Copa Airlines swapped planes on me last minute. There's a silver lining, though…
Copa Airlines swaps 737 MAX 9 for 737-800
Yesterday evening I was scheduled to fly from Miami to Panama City on a Copa Airlines Boeing 737 MAX 9. I specifically booked this flight because of the plane that was scheduled to operate it, as the 737 MAX 9 features Copa's new business class product, with fully flat beds.
When I checked in online the evening before my flight, the flight still showed the 737 MAX 9 as the aircraft type, featuring the fully flat business class.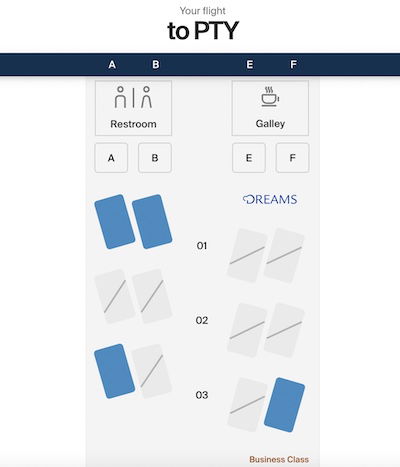 I'm a bit of an avgeek, so I always track inbound planes. I noticed that the inbound plane for my flight showed as a Boeing 737-800, starting about an hour before it was scheduled to depart Panama. I did some digging, and here's where it gets strange. Copa has two flights from Miami to Panama that are just 26 minutes apart. At the very last minute:
The flight 26 minutes earlier got upgraded from a Boeing 737-800 to a Boeing 737 MAX 9
The flight I was on got downgraded from a Boeing 737 MAX 9 to a Boeing 737-800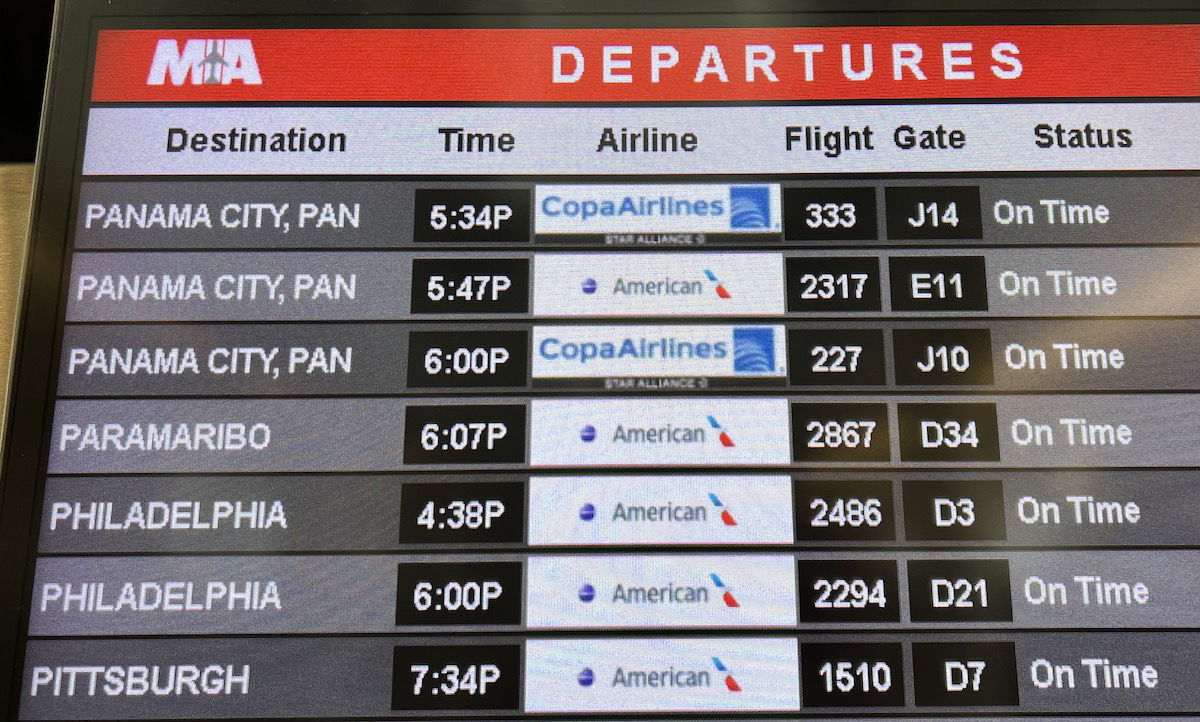 Admittedly plane swaps happen at all airlines, but the passenger experience difference here is drastic — the 737 MAX 9 has flat beds in business class, Wi-Fi, power outlets, streaming entertainment, and seatback entertainment, while the 737-800 has… no flat beds, no Wi-Fi, no power outlets, no streaming entertainment, and no seatback entertainment.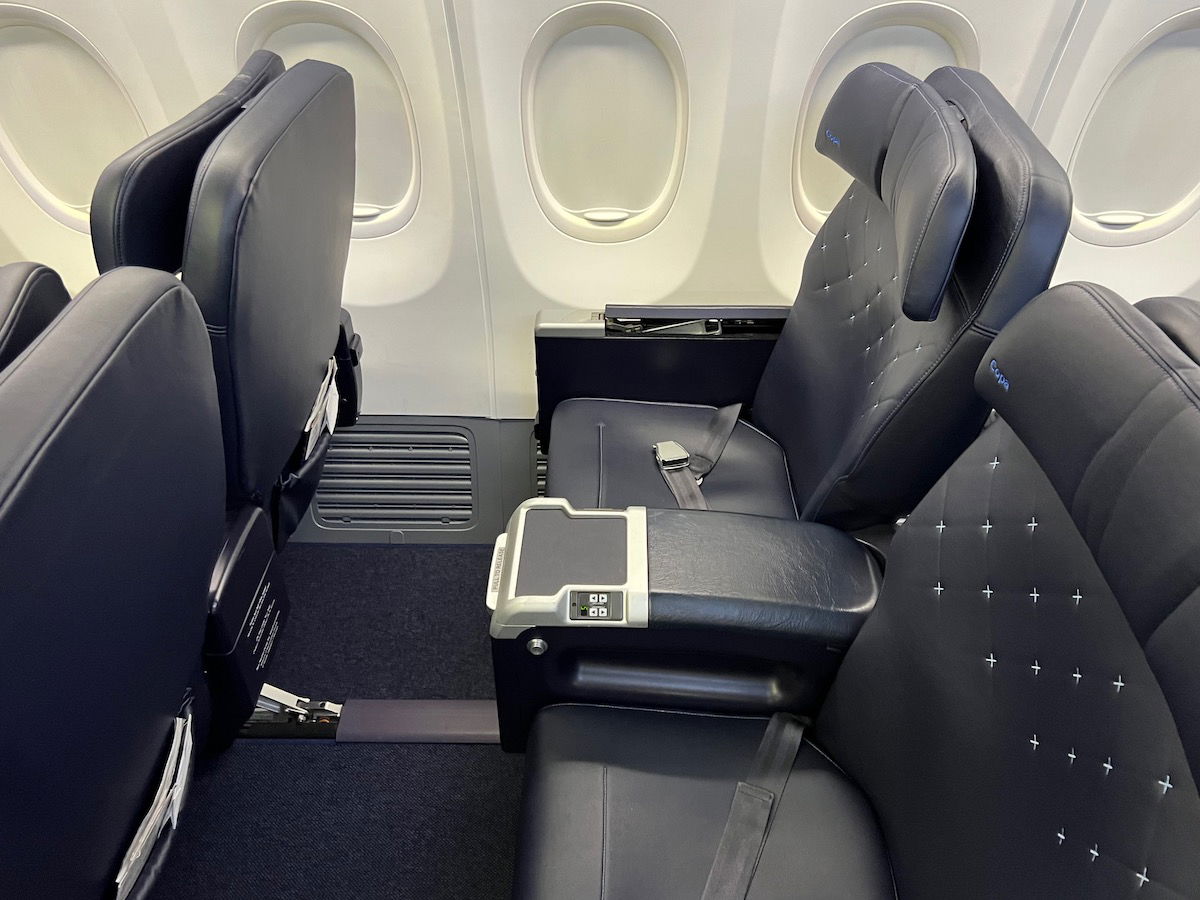 I think the most frustrating part was the lack of communication about this. There was no email about the change, I wasn't informed at check-in, there was no announcement at the gate, etc. Fellow business class passengers boarded and expressed surprise that this wasn't the 737 MAX, because clearly they hadn't been told. That's a terrible job on Copa's part with managing expectations.
Fortunately this was just a fairly short flight, but imagine how much it would suck if you were on a six hour overnight flight expecting a 737 MAX 9, but ended up on a 737-800.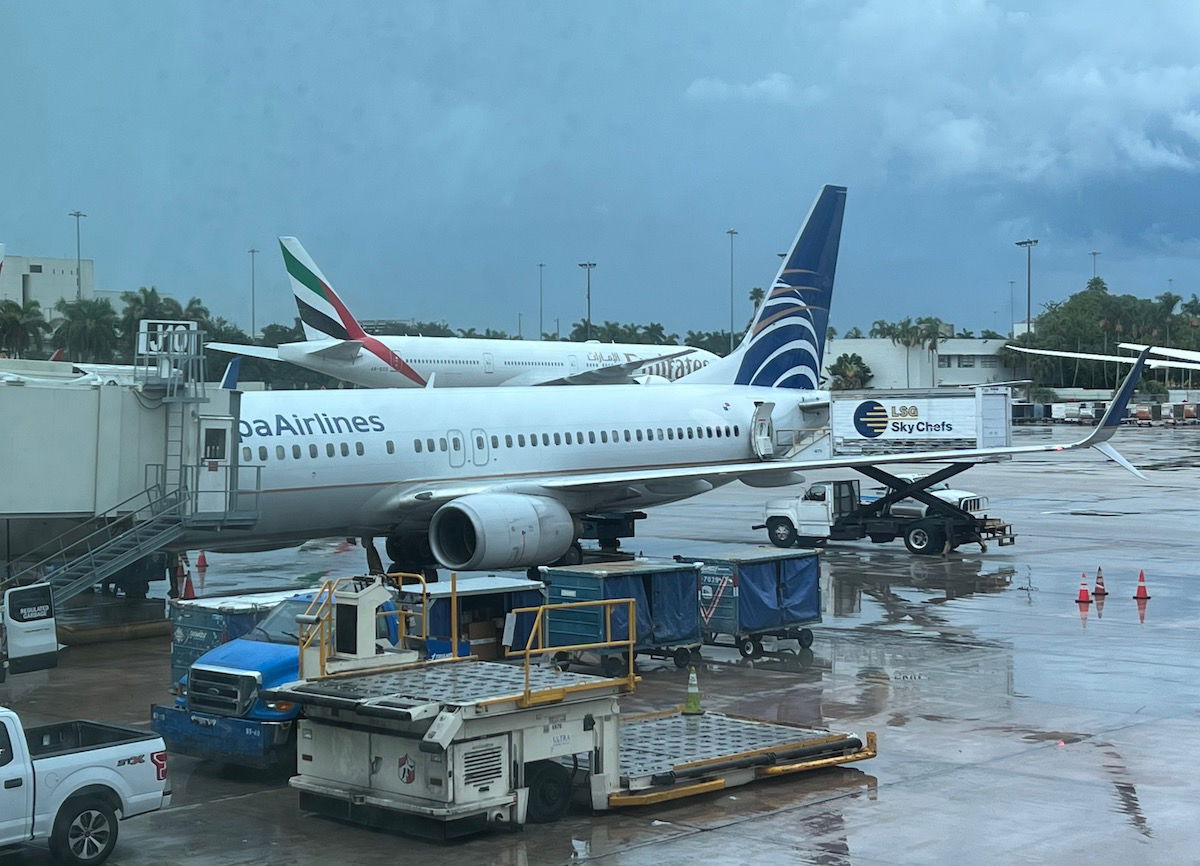 I'm also really curious about the logistics of this. I totally get that operational issues can necessitate aircraft swaps, but usually when airlines swap planes, it's not to a flight on the same route that's just a bit earlier. I wonder what caused that.
I was feeling super bummed, until…
About that Copa Airlines Boeing 737 MAX 9…
The flight I was on departed on-time, and we had quite a queue for takeoff, as there were about 10 planes ahead of us. As usual, I was gazing out the window. Suddenly I noticed seven vehicles standing on the taxiway parallel to the one we were on, including some emergency vehicles. I figured something must be going on.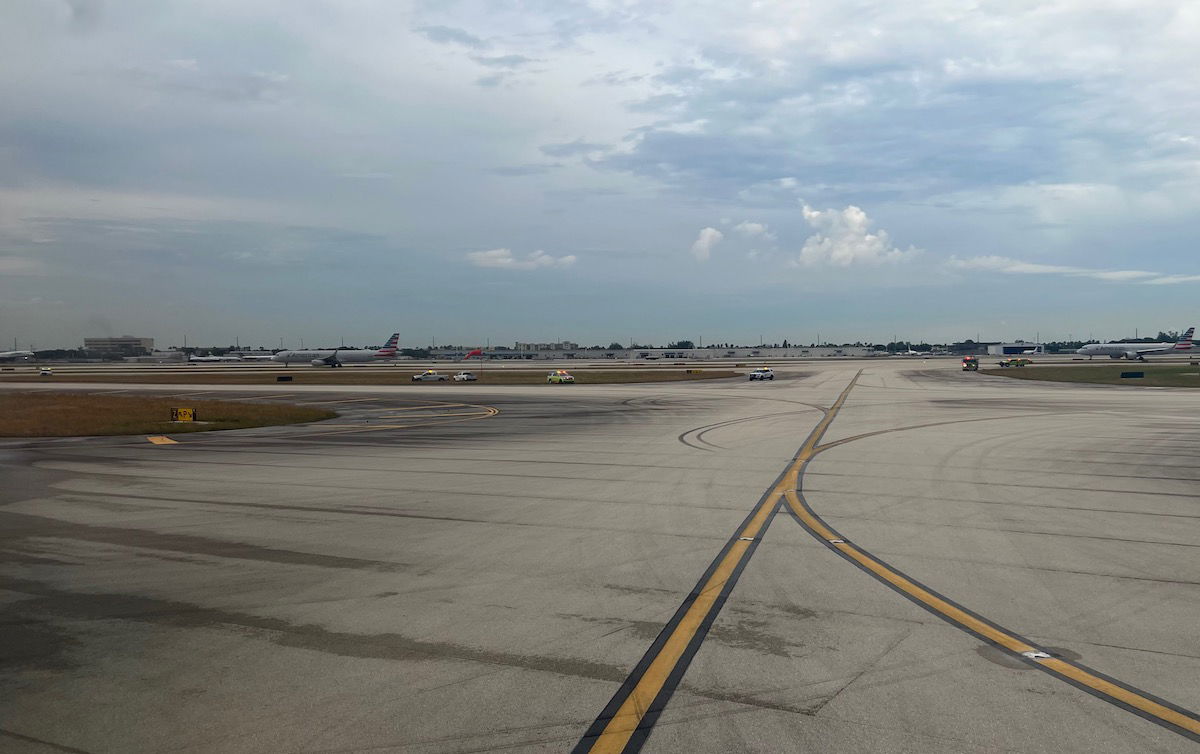 Well, a moment later the Copa Airlines Boeing 737 MAX 9 that I was initially supposed to be on taxied back toward the terminal, in the opposite direction of the runway, followed by fire trucks.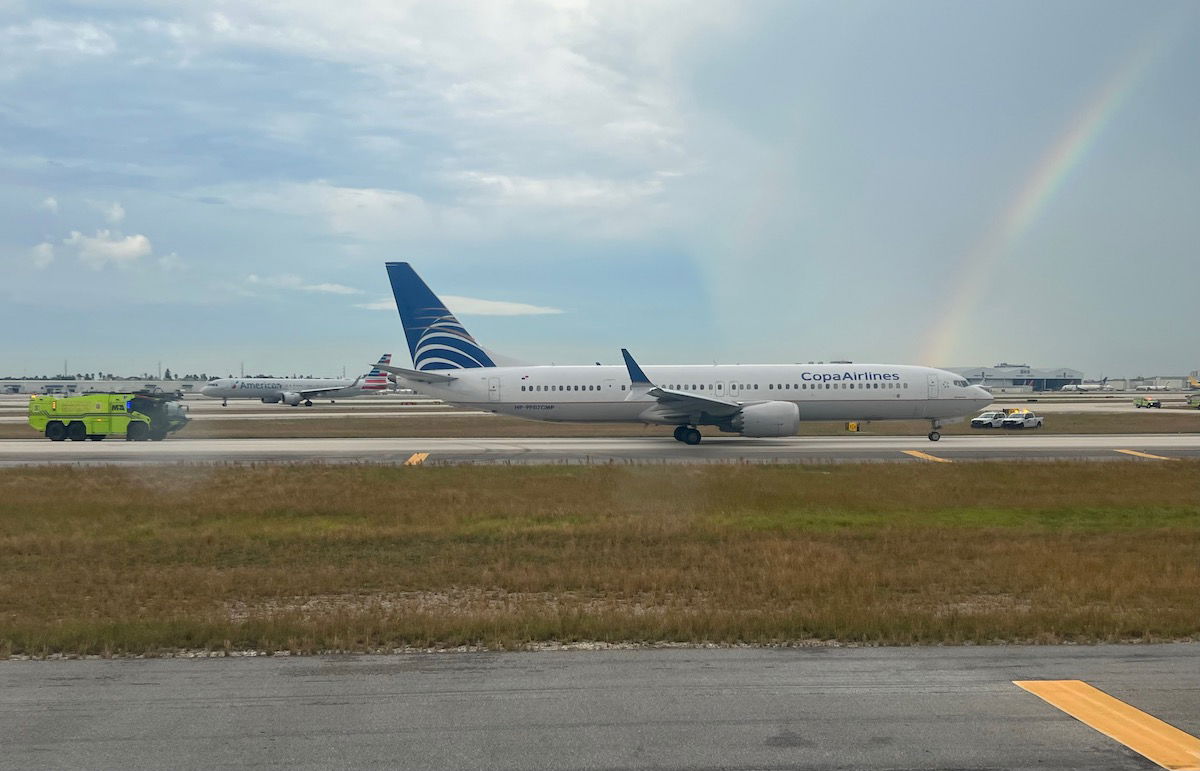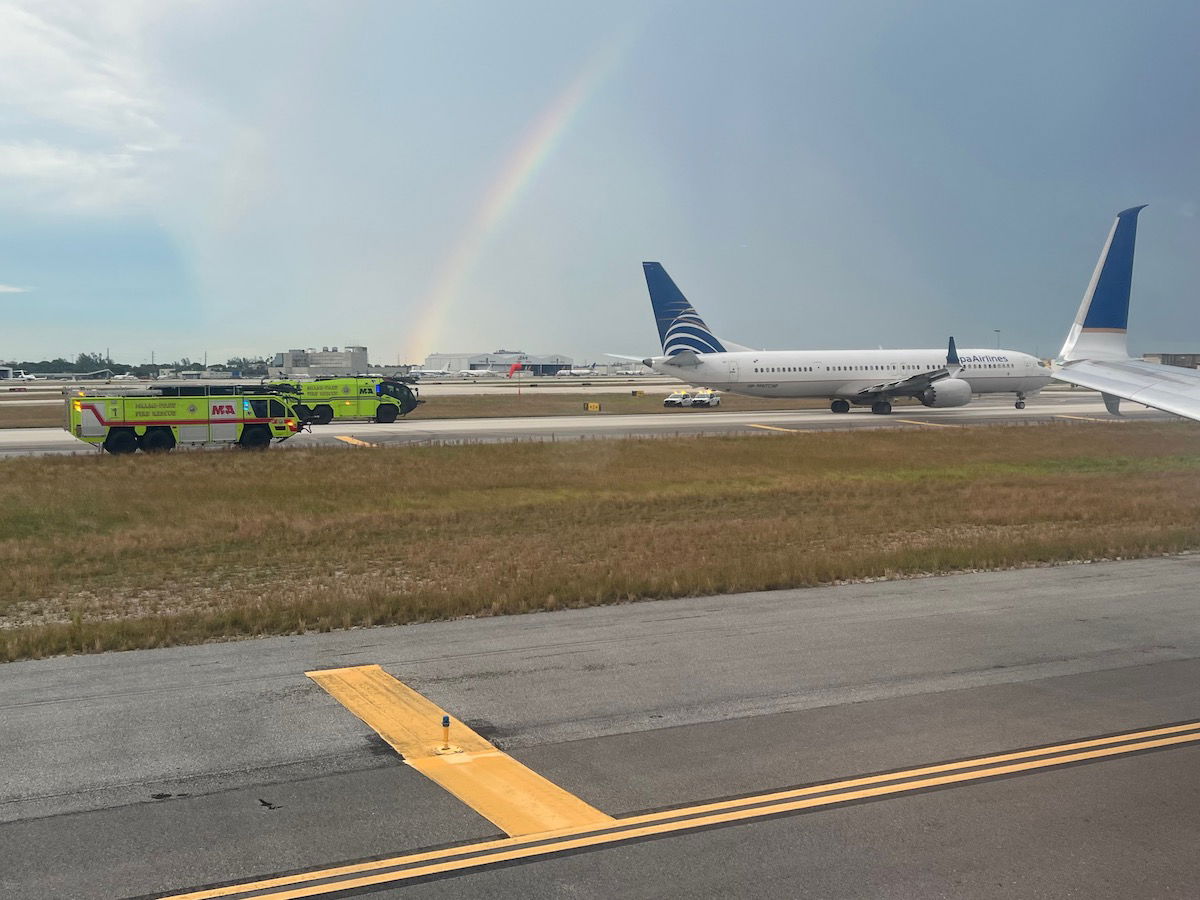 At first I wondered if this was some sort of a celebratory thing, like a water cannon salute, either because a pilot was retiring, or because Copa was celebrating its 75th anniversary (the airline had a big party in Miami the day before). There was even a rainbow!
I quickly pulled up Flightadar24, and saw that the plane had taxied all the way to the runway before turning around. That's not good, especially with nearly a dozen emergency vehicles around! The plane ended up taxiing back to the gate.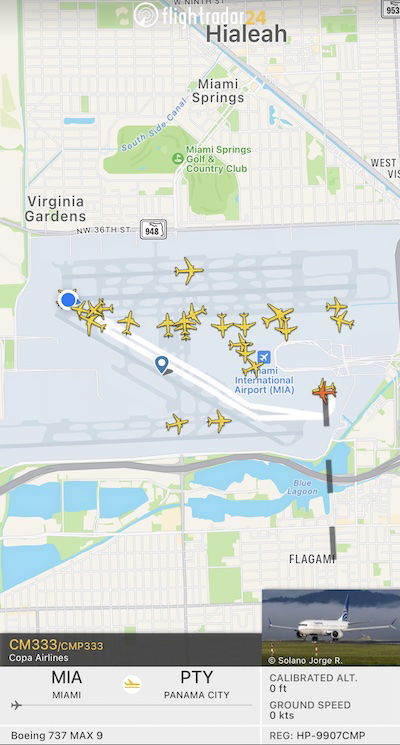 When I landed in Panama, I saw that the plane was still on the ground in Miami. Then when I checked again this morning, I saw that the flight did eventually operate… arriving 268 minutes behind schedule! The flight that was initially supposed to depart at 5:33PM only ended up departing at 10:27PM. Ouch!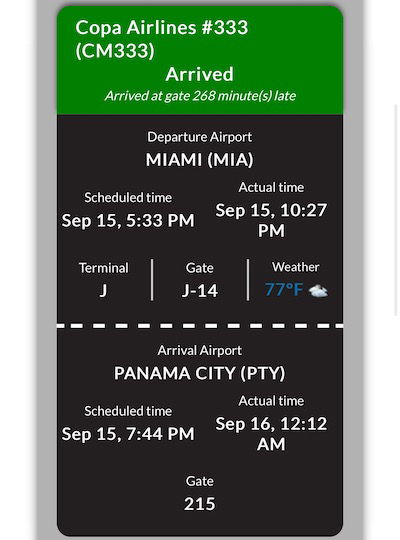 So yeah… I'm bummed I didn't get the chance to fly Copa's Boeing 737 MAX on this trip, but I'm not bummed that my flight wasn't delayed for well over four hours, so I guess I should be grateful for the aircraft swap?
Does anyone know what actually happened to this 737 MAX 9 at Miami Airport that caused it to return to the gate and have emergency vehicles dispatched?
Bottom line
Unfortunately my goal of reviewing Copa's Boeing 737 MAX 9 and Boeing 737-800 on this trip won't happen, as Copa swapped planes at the very last minute. While operational issues arise, it's odd that the flight from Miami right before mine got upgraded to a 737 MAX 9, while the flight I was on got downgraded.
The lack of communication from the airline left a bit to be desired, given the massive difference in passenger experience. Forget flat beds, Copa's 737-800s don't even have power ports or Wi-Fi in business class.
While I was initially frustrated by this, I guess it worked in the end, because I saw the 737 MAX 9 I was supposed to be on returning to the gate in Miami, as it then suffered a delay of well over four hours.
Has anyone else dealt with a Copa aircraft swap? Anyone know what was going on with this Copa 737 MAX 9 in Miami?