In the interest of full disclosure, OMAAT earns a referral bonus for anyone that's approved through some of the below links. These are the best publicly available offers that we have found for each card. Opinions expressed here are the author's alone, not those of the bank, credit card issuer, airlines or hotel chain, and have not been reviewed, approved or otherwise endorsed by any of these entities. Please check out my advertiser policy for further details about our partners, and thanks for your support!
Update: This offer for the Citi Prestige® Card has expired. Learn more about the current offers here.
---
Back when I lived in Seattle I would fly Alaska a ton, in particular between Seattle and Los Angeles. Alaska has four airport lounges — called Board Rooms — in Anchorage, Los Angeles, Portland, and Seattle. I've visited all four of them, though it occurred to me that I haven't actually reviewed any of them.
So this seems as good of a time as any to do so.
Yesterday morning I was flying US Airways out of LAX Terminal 6, which is also the terminal out of which Alaska operates. US Airways doesn't have a lounge in Terminal 6. American operates out of Terminal 4 and they have an Admirals Club, though that's quite a hike from Terminal 6.
So instead I always use the Alaska Airlines Board Room when flying US Airways out of LAX.
The Alaska Board Room Los Angeles is a Priority Pass lounge, along with the other three locations as well.
That means the Alaska Board Room can be accessed using a Priority Pass membership through the following cards:
There are some other ways to gain access to the Board Room, other than being a Board Room member:
Admirals Club members get reciprocal lounge access with Alaska, so you can access the lounge if you have the Citi® / AAdvantage® Executive World Elite™ Mastercard®
You can buy a day pass for $45 per person
Paid first class passengers (those paying in cash or with miles) get access, though upgraded passengers don't
Anyway, the Alaska Board Room LAX is located airside in Terminal 6, towards the back of the terminal. It's open daily from 5AM until 10PM.
The elevator to the Board Room is located near gate 65, close to the set of escalators which take you to the underground tunnel.
The main level of the concourse is under construction, so is rather unsightly.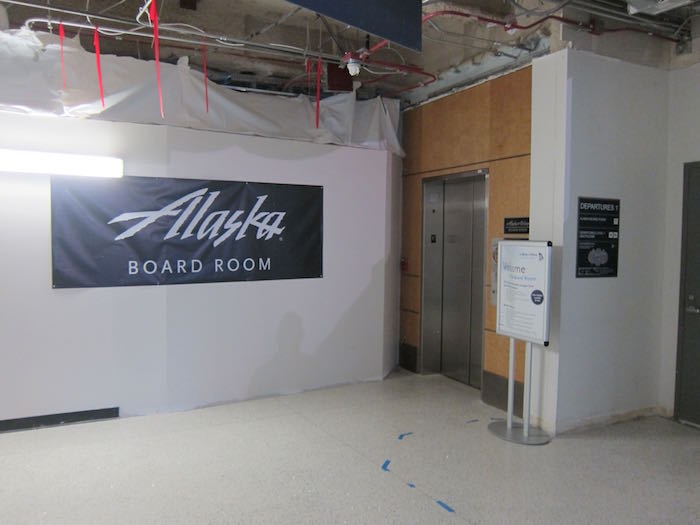 Alaska Board Room LAX elevator
The Board Room is located one level up from the main concourse. The reception desk is there immediately as you exit the elevator, and is where the Board Room concierge checks your credentials. I entered using the Priority Pass membership I have through my Citi Prestige® Card. The card was swiped, I signed, and was promptly admitted.

Alaska Board Room LAX reception desk
The Board Room in Los Angeles isn't especially large or modern, though I'd say it's comfortable. It's usually not too crowded, and is basically one big, rectangular room with some partitions for privacy.
There's the main seating area in the center of the room.
Then closer to the entrance are a handful of dining tables.
Next to that is the bar area, which has some countertop seating overlooking the tarmac.

Alaska Board Room LAX bar area
Across from that are some more dining tables and the bar. House beer, wine, and liquor are free, while premium beverages and more substantial food (pizzas, salads, etc.) are available for purchase.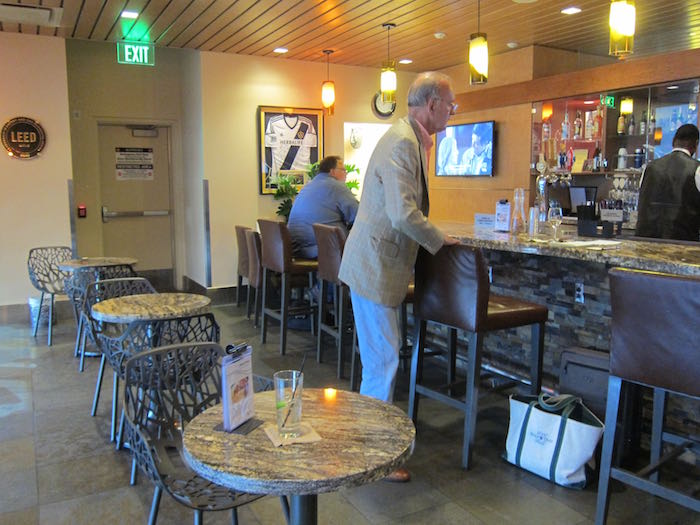 Alaska Board Room LAX bar area
One of my favorite things about the lounge is the views. You look out directly over a few gates, and also have a good overview of traffic on the runway and taxiway.
In the back corner of the lounge is a business center. On one side you have stations with PCs, and on the other just blank workstations with outlets (where I usually hang out).

Alaska Board Room LAX business center
Back closer to the entrance is a family room with a TV.

Alaska Board Room Los Angeles family room
Next to that are two small rooms with doors, should you want some privacy or to make a phone call.

Alaska Board Room Los Angeles phone rooms
The bathrooms in the lounge are simple. There are no showers or anything, but rather just a single urinal and a couple of stalls in the men's room.

Alaska Board Room Los Angeles bathroom
In terms of the food spread, I'd say Alaska has slightly above average catering as far as US airline lounges go.

Alaska Board Room Los Angeles buffet
Perhaps the biggest hit in terms of their breakfast selection is the pancake machine. Who doesn't like freshly made pancakes and a neat machine?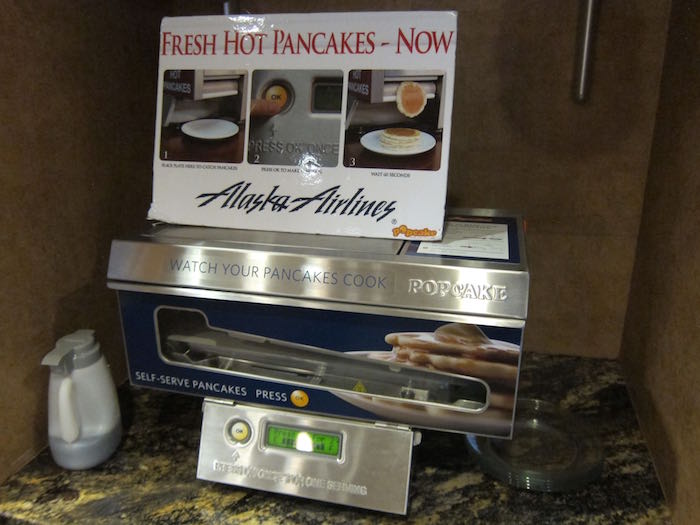 Alaska Board Room Los Angeles pancake machine
Then there's a fridge with yogurt.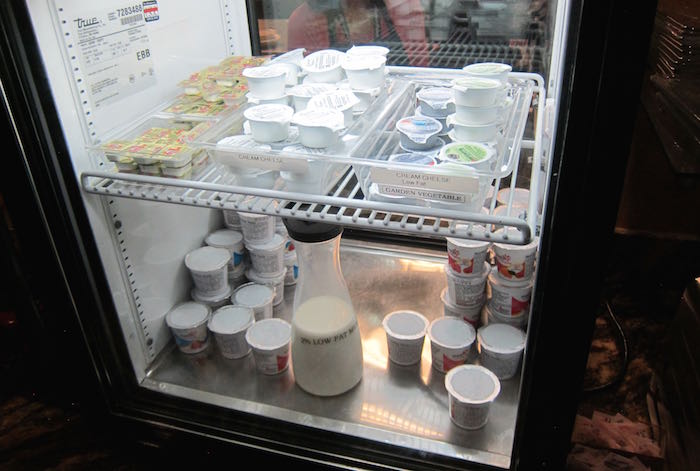 Alaska Board Room Los Angeles breakfast spread
Next to that are bagels, toast, muffins, and danishes, as well as whole fruit.

Alaska Board Room Los Angeles breakfast spread
Alaska also has what's possibly the best coffee machine of any lounge out there. It makes actually decent drinks, and if you're into it, they also have several syrups to choose from.

Alaska Board Room Los Angeles espresso machine
I appreciate that they have both a coffee machine and also Starbucks drip coffee.

Alaska Board Room Los Angeles coffee
Then there's a soda fountain with Coca-Cola products.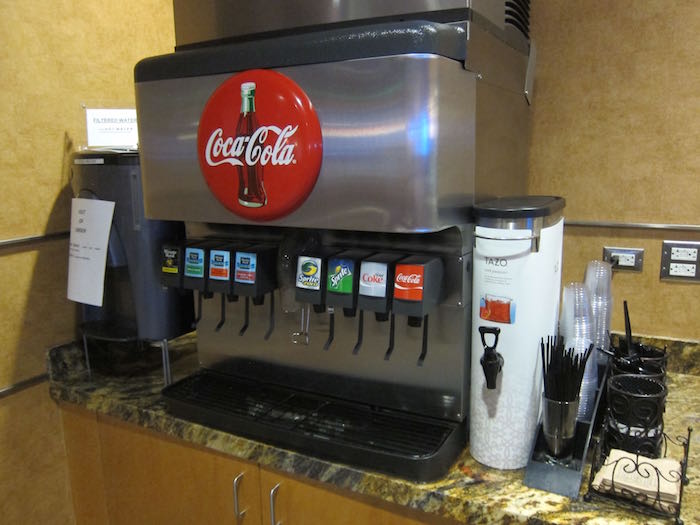 Alaska Board Room Los Angeles soda machine
I was in the lounge around 11AM, so they were transitioning from the breakfast spread to the lunch spread.
In the afternoon there were stale-looking pretzels and cookies.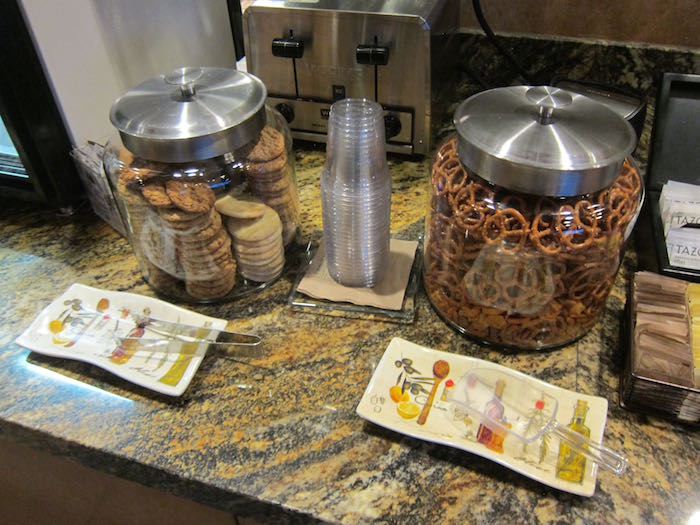 Alaska Board Room Los Angeles lunch buffet
Then there was fresh salad and cubed cheese. The salad is a nice touch, and not something you find in many US lounges.

Alaska Board Room Los Angeles lunch buffet
And then there was also a soup. The soup selection varies, though in this case it was a homestyle chicken & noodle soup. There were crackers and croutons available as well.

Alaska Board Room Los Angeles lunch buffet
Alaska Board Room Los Angeles bottom line
This is far from one of the best airline lounges in the US, though I still think it's above average. Obviously we're talking about Alaska Airlines here, so the lounge won't have amenities like showers, but it's still good for what it is.
The food is a bit above average and the staff are friendly, and I also like the tarmac views.
This continues to be my preferred lounge when flying Alaska or US Airways out of Terminal 6 at LAX.
Have you been to an Alaska Board Room? How do you think they compare to the lounges offered by other US airlines?