While I love chain hotels for the points/status benefits you get, at times they can get a bit boring. For example, just about every Westin I've stayed at in the US more or less feels the same. On one hand that's nice in terms of consistency and managing expectations. On the other hand, though, it gets boring after a few stays. That's part of what I love about Kimpton here in the US, since they're a chain with great elite benefits, but each hotel is unique and quirky.
That's why I love when chain hotels take over existing independent hotels (or hotels that belong to smaller groups) and rebrand them. You end up getting the best of both worlds — a more unique experience and also the points and benefits you get with your preferred chain.
So I was thrilled to see Hyatt announce that they've signed management contracts for four new hotels in France starting in April of this year. These include the following:
Hotel Martinez will be rebranded Grand Hyatt Cannes Hotel Martinez
Palais de la Mediterranée Hotel and Casino will be rebranded Hyatt Regency Nice Palais de la Mediterranée
Concorde Lafayette will be rebranded Hyatt Regency Paris Etoile
Hotel du Louvre will enter the Hyatt brand family with its identity intact and will be marketed initially as Hotel du Louvre. Following a renovation, the hotel is to become an Andaz.
For example, in looking at rates for Hotel Martinez over the summer, the lowest rates I'm seeing are 500€+ per night.

Meanwhile the Palais de la Mediterranée and Concorde Lafayette seem to be closer to the 100-200€ per night range, so will be great for paid stays in Paris and Nice given the current lack of reasonably priced Hyatt options. Lastly, the Hotel du Louvre (soon to be Andaz), seems to have high rates, so may be a good use of points if it's not a category six property.
It's also worth noting that Hotel Martinez and Palais de la Mediterranée both belong to American Express Fine Hotels & Resorts, so that's another great way to get benefits on those stays while still earning points and elite stay credit.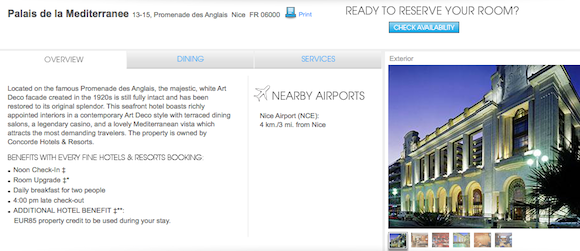 Anyway, this is really exciting news. The Hotel Martinez especially seems like it will be a great use of Hyatt points, and it'll certainly be nice to have more options in Paris as well.