Note: I took this trip to be able to report back on what international travel is like nowadays, since it's something a lot of people have questions about. If you do choose to travel, please make sure you take appropriate precautions, not just to protect yourself, but also to protect others. Also consider the risks and constantly changing rules surrounding travel, which can significantly complicate things. See the introduction post in this series for more background on the precautions we took, and the potential risks.
Our transatlantic flight to get to Turkey was from Montreal to Munich in Lufthansa business class, and boy was it an interesting one (see this post for a summary of how we booked our ticket). I've reviewed Lufthansa's A350 business class before during "normal" times, so this review will specifically focus on what has changed about the experience.
Airlines' different approaches to onboard service
Before I share my experience on Lufthansa, let me recap that airlines have taken vastly different approaches to onboard service during this pandemic. Just to compare two Star Alliance airlines:
Personally I don't have a strong opinion on what airlines should be doing here, but rather I'm just reporting back on how things are. While better service sounds good on the surface, there are also risks associated with people not wearing masks for extended periods of time on planes, especially when physical distancing isn't possible.
Flying Lufthansa in the coronavirus era
We booked our flight just a couple of days before departure. After selecting our seats, here's what the seatmap looked like: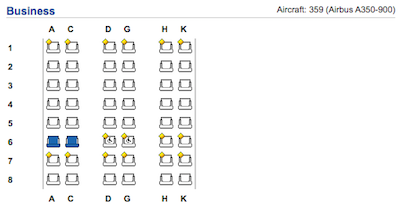 While seatmaps are never a 100% accurate indicator of how full a flight is, I felt pretty confident that this would be one of our emptier transatlantic flights.
Boarding started 45 minutes ahead of departure, at 7:50PM.
Lufthansa 475
Montreal (YUL) – Munich (MUC)
Friday, July 10
Depart: 8:35PM
Arrive: 9:55AM (+1 day)
Duration: 7hr20min
Aircraft: Airbus A350-900
Seat: 6A (Business Class)
The few flights I had taken up until this point during the pandemic had an understandably somber mood. You felt more like you were in a hospital than on a plane. This flight had a very different vibe.
We boarded through the second set of doors, where we were greeted by one of the flight attendants — "you are two of our three business class passengers, we will be fighting over serving you tonight because we have so many crew."
The flight attendants were wearing masks, but unlike on some other airlines, there was no other PPE.
We selected seats in row six, and the one other passenger was seated in row two. Being in such an empty business class cabin was surreal — the only other time I've been in long haul business class on a flight this empty was on Air Belgium to Hong Kong.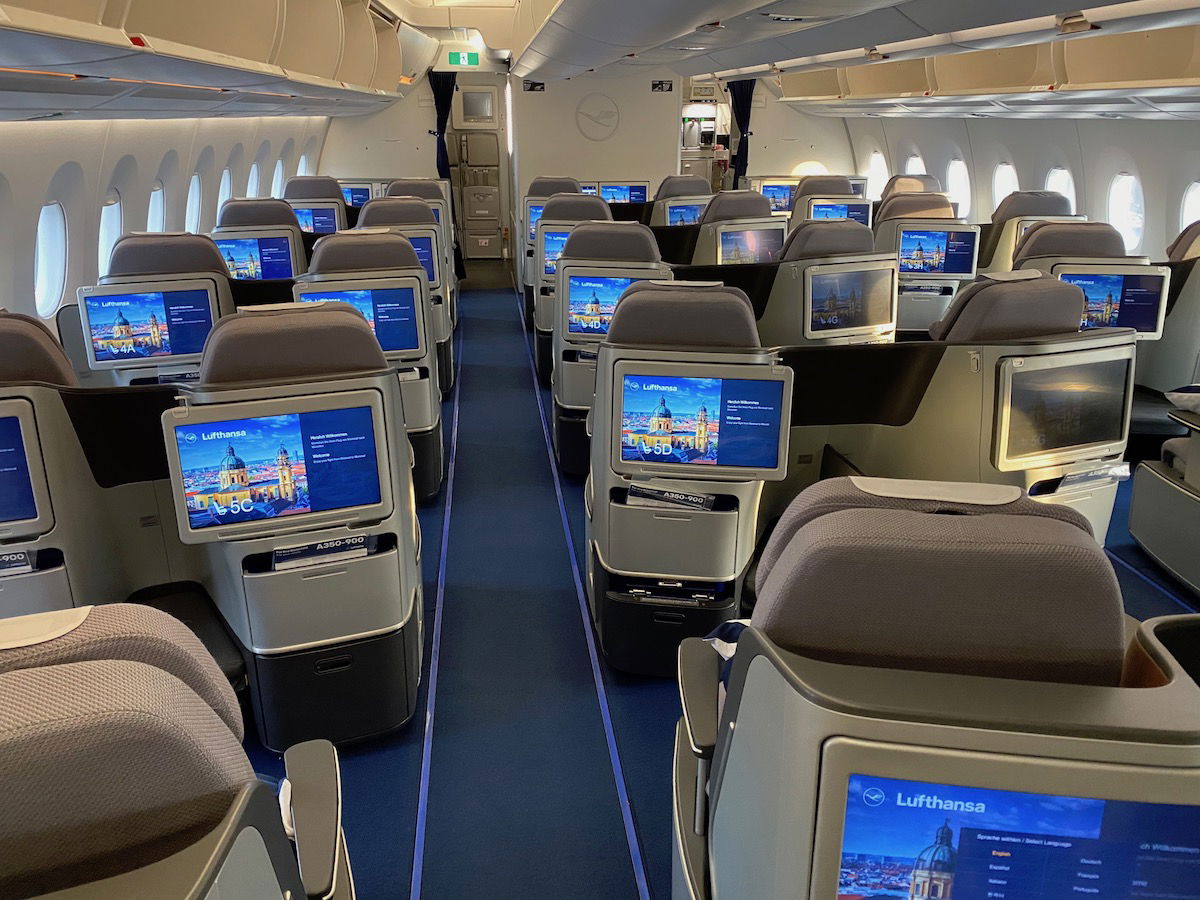 Lufthansa A350 business class cabin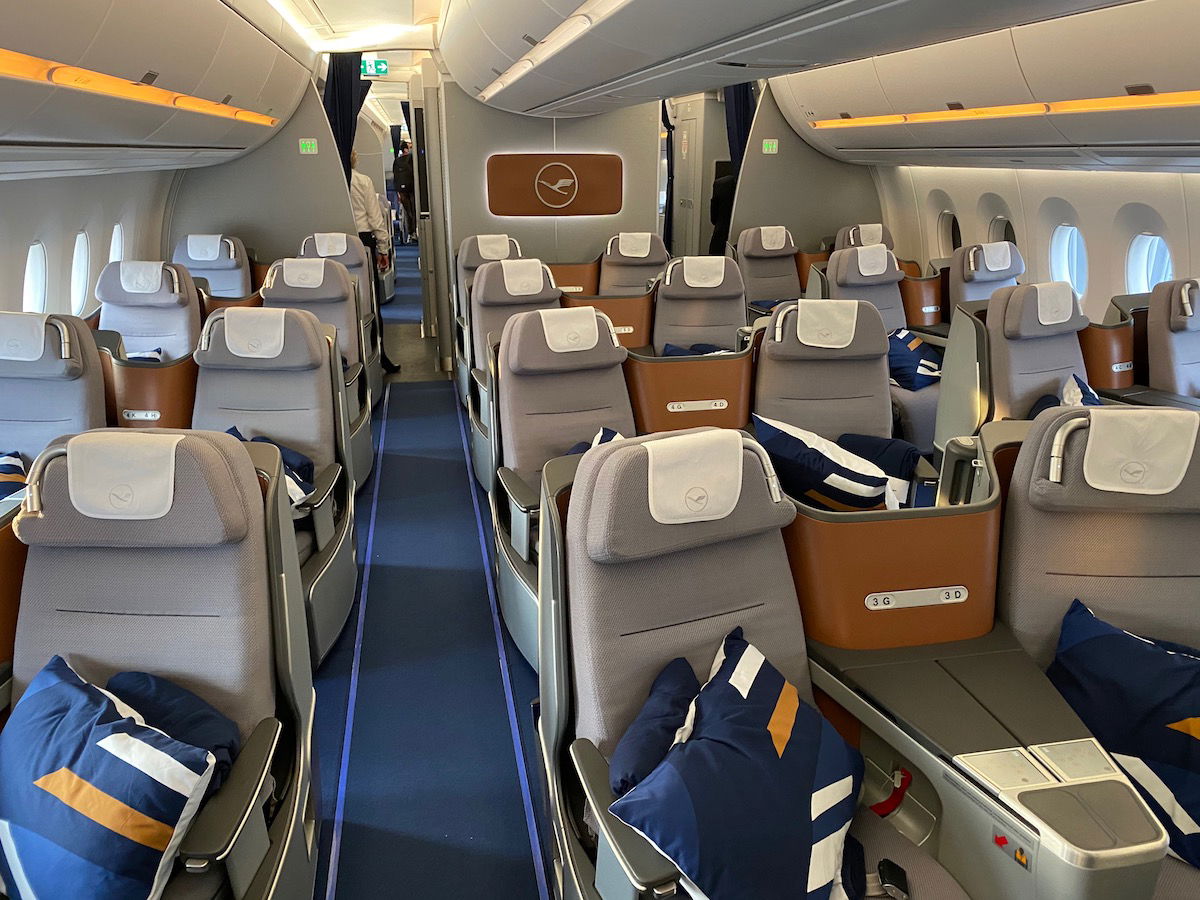 Lufthansa A350 business class cabin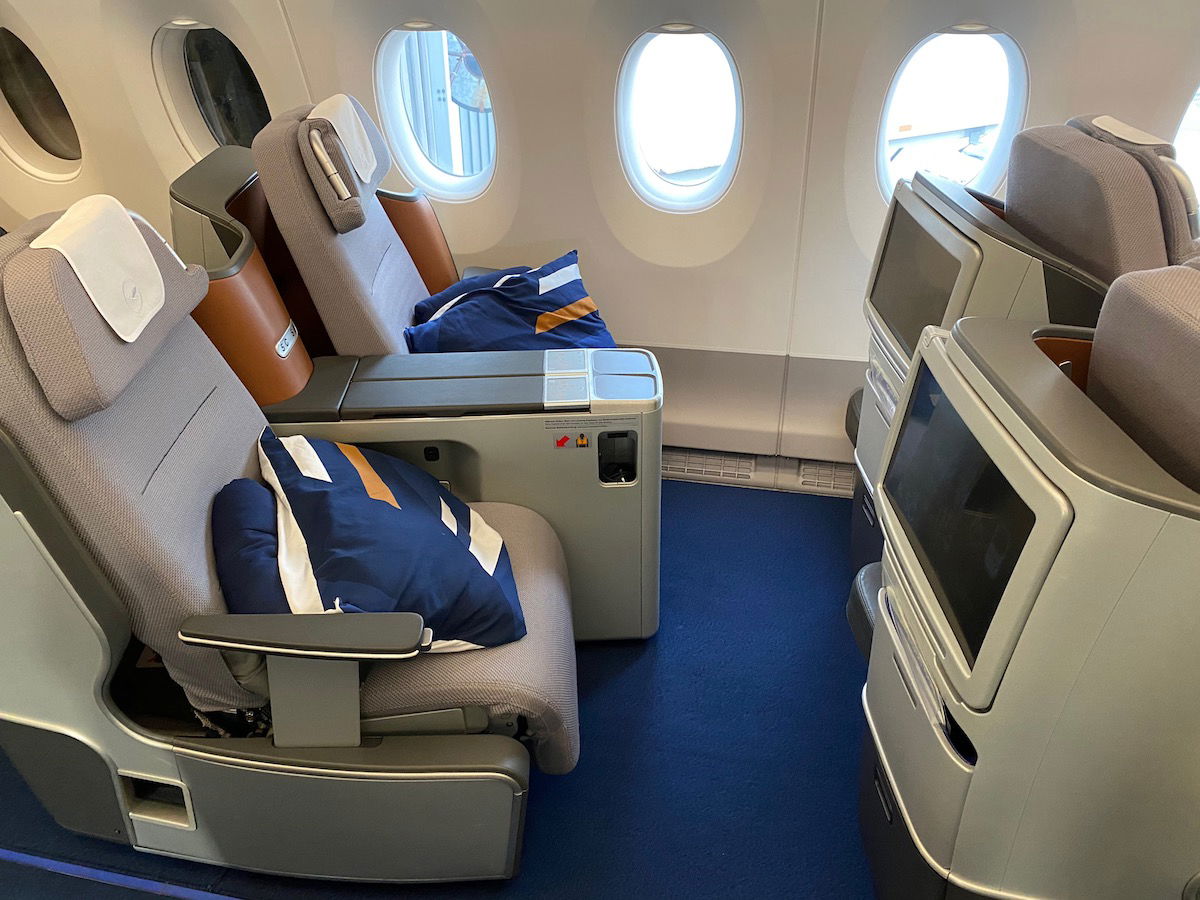 Lufthansa A350 business class cabin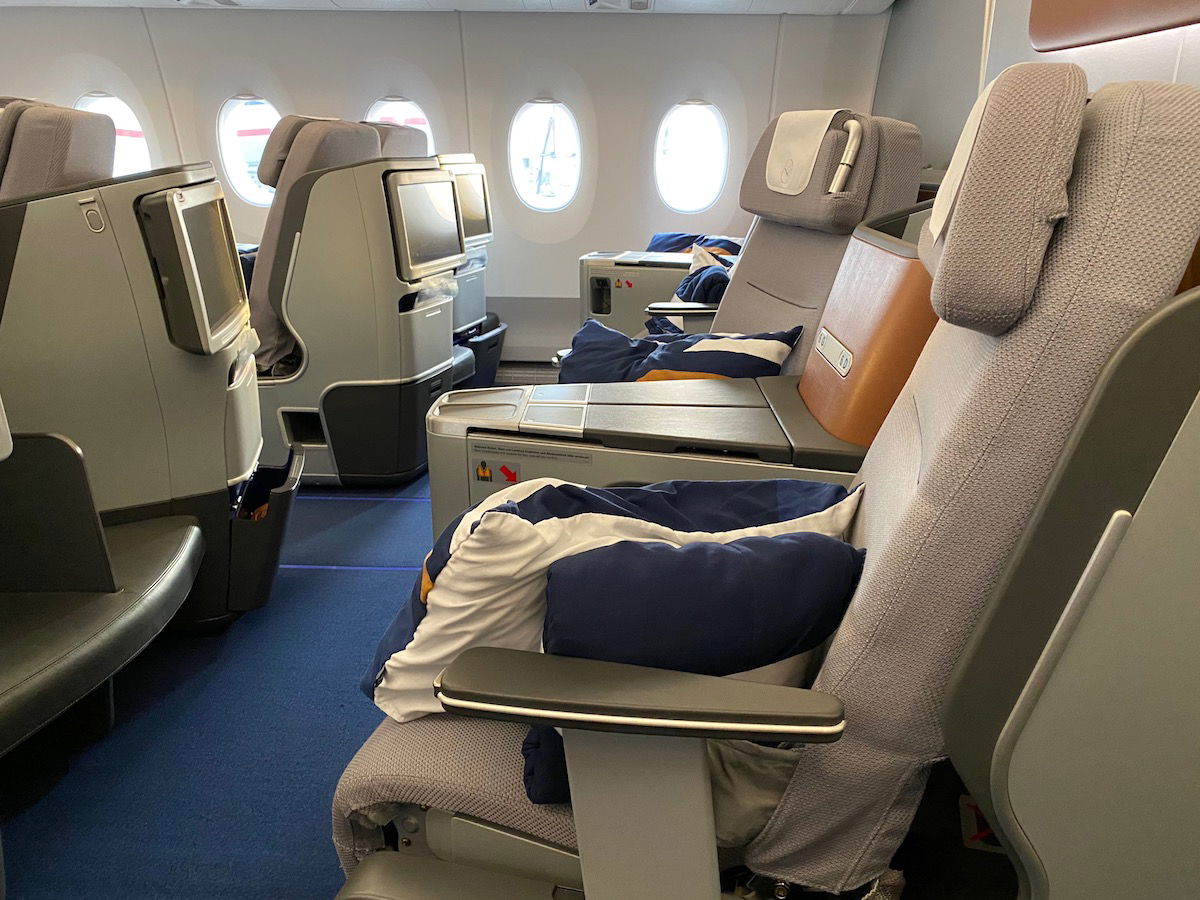 Lufthansa business class seats
There was all the usual business class bedding on all 48 seats, in spite of there only being three passengers.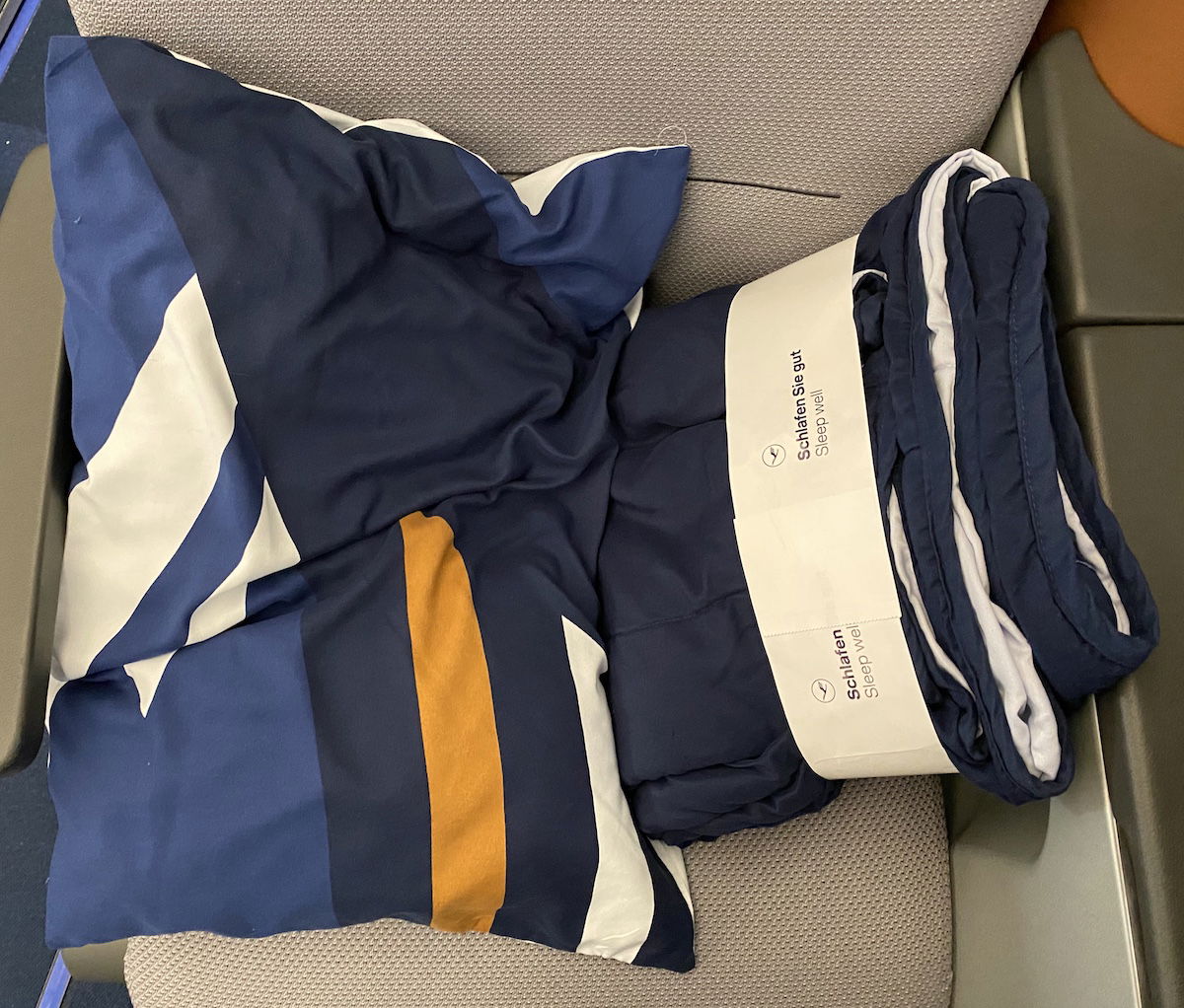 Lufthansa business class bedding
Once settled in we were offered menus and disinfecting wipes. It seems the wipes have replaced pre-departure drinks.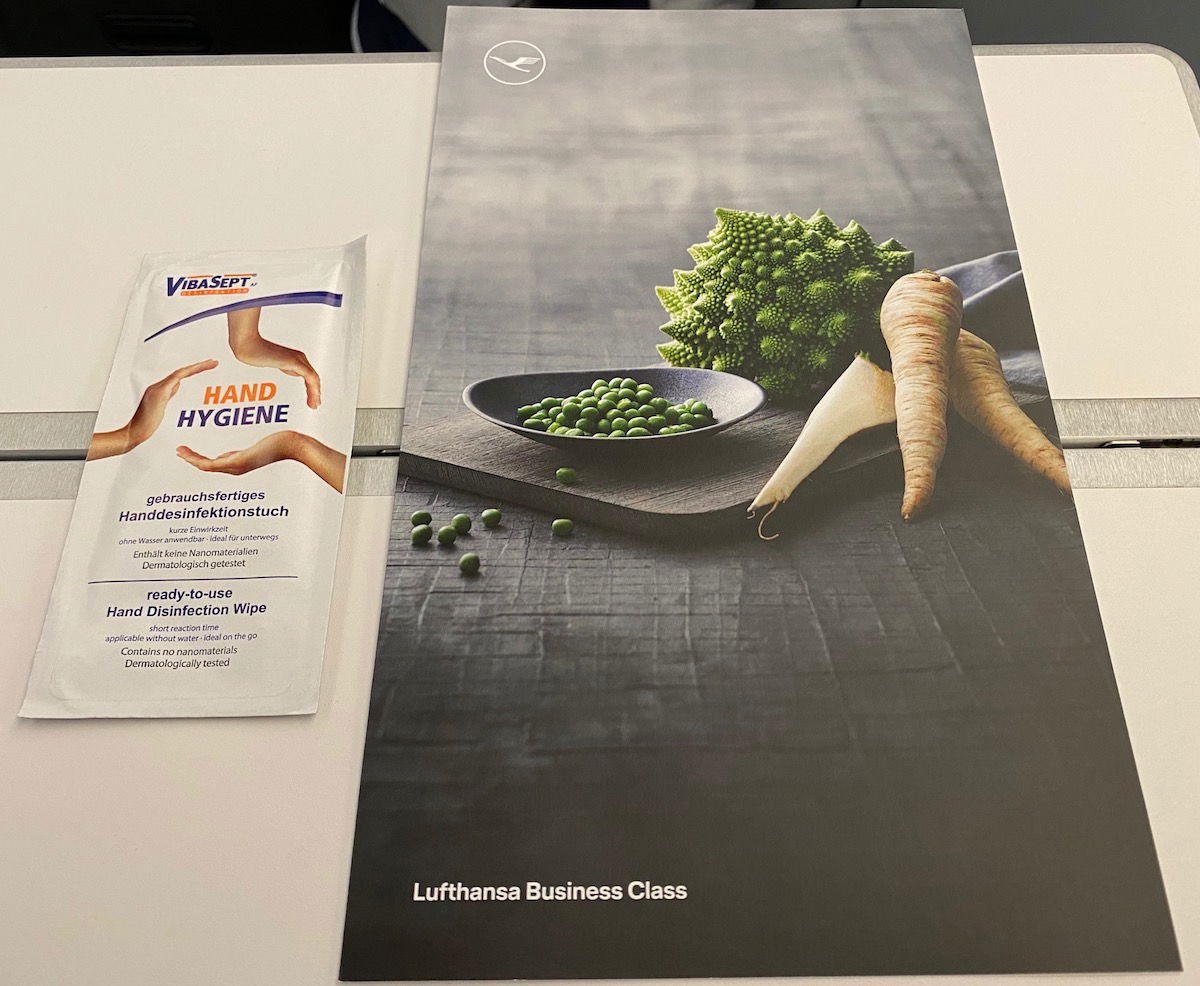 Lufthansa business class menu
Boarding was completed within 10 minutes. I overhead the ground agent tell the purser that there were three business class passengers, no premium economy passengers, and 65 economy passengers.
Around this time the captain made his welcome aboard announcement for our 6hr50min flight to Munich. I think his announcement can only be described as extremely upbeat:
"We are happy we can be in the air again, we hare happy we can fly again, we are happy we can travel again. We hope you are flying for a happy and enjoyable reason. We are glad to travel again, so let's enjoy this night together. Let us also leave a little early so you will not have to haste through the terminal in Munich for your connections."
Before we pushed back I overhead the conversation between the purser and the other business class flight attendants, in the galley right behind us. The biggest point of stress on this flight for the crew seemed to be that there were too many business class crew (this is translated from German):
Purser: "Did you decide who will go back to help in economy?"
Flight attendant: "We asked, they don't need us there."
Purser: "It's embarrassing to have four people to serve three guests, imagine how that looks. Just have someone go back and look out the window or make the crew beds."
We were airborne by 8:30PM, with what I can only describe as the fastest takeoff roll I've ever experienced on a transatlantic flight. We also climbed straight up to 41,000 feet — usually you first have to burn off some fuel to get that high, but clearly we were very light.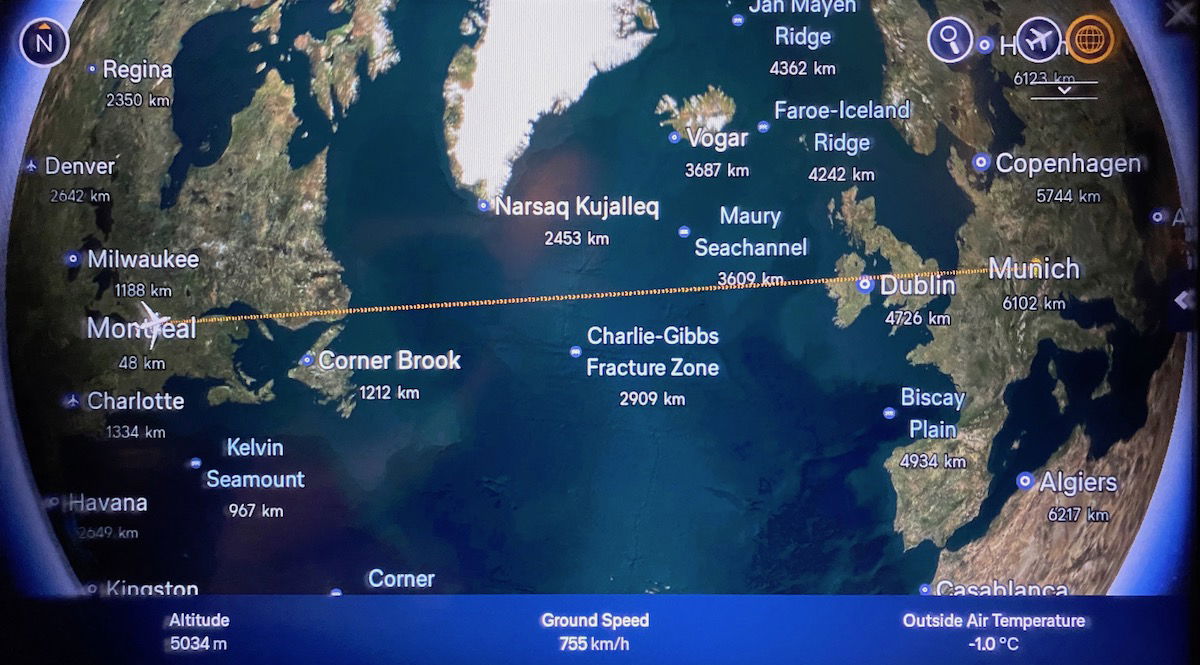 Map enroute to Munich
Lufthansa has barely adjusted service in business class, and suffice to say that in some ways service was better than ever, with three flight attendants serving three passengers. The menu read as follows: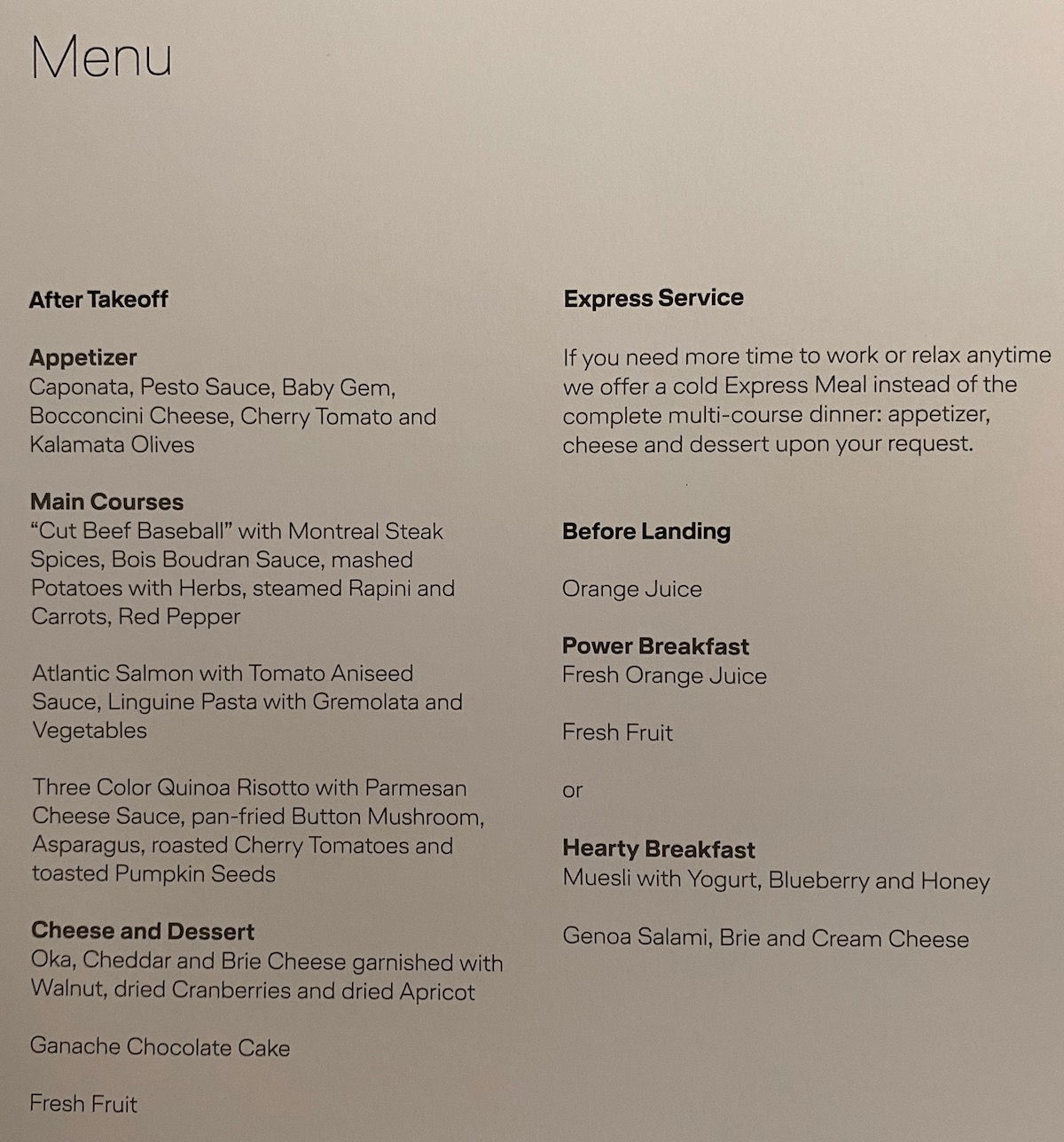 The drink list read as follows: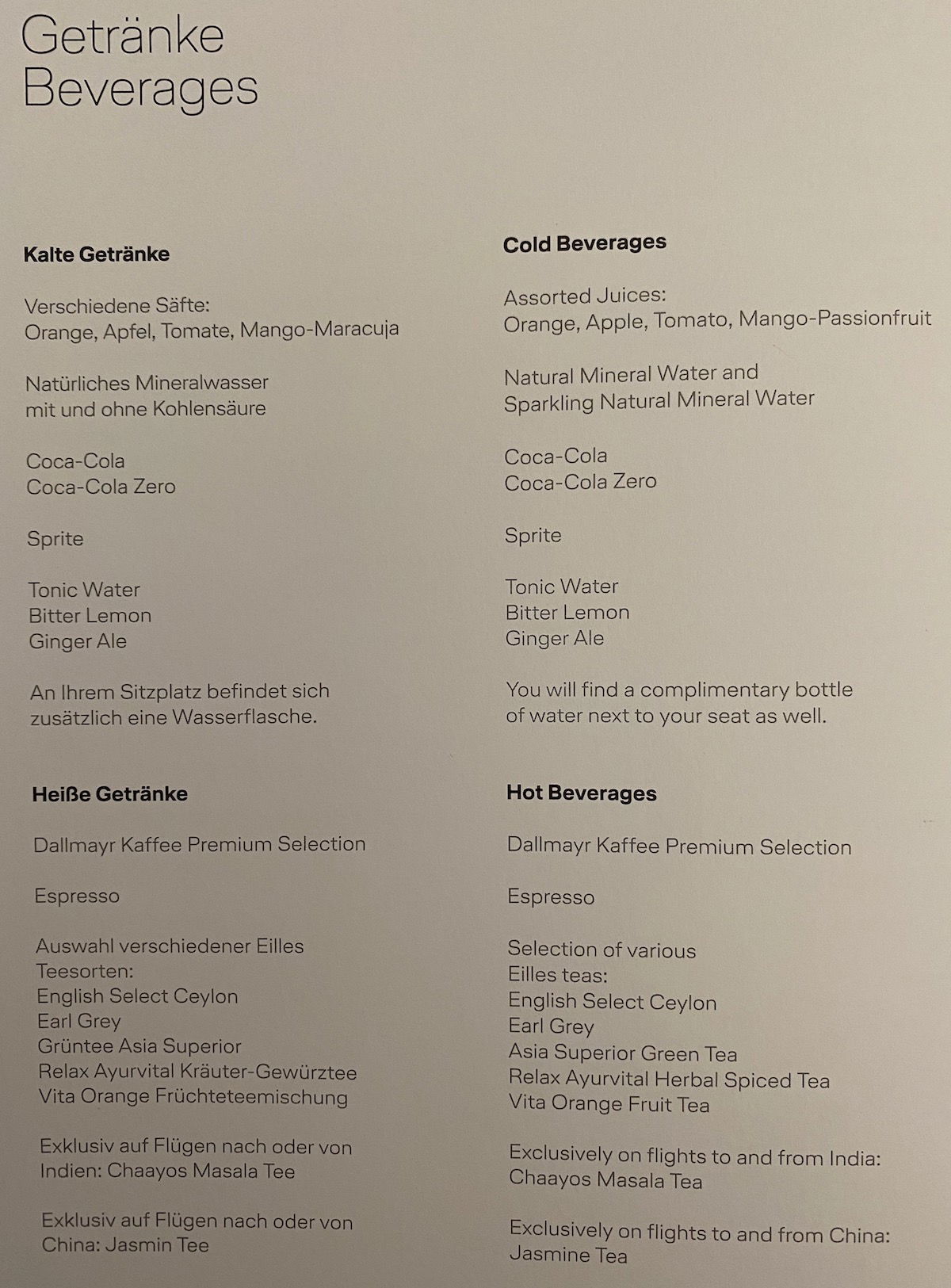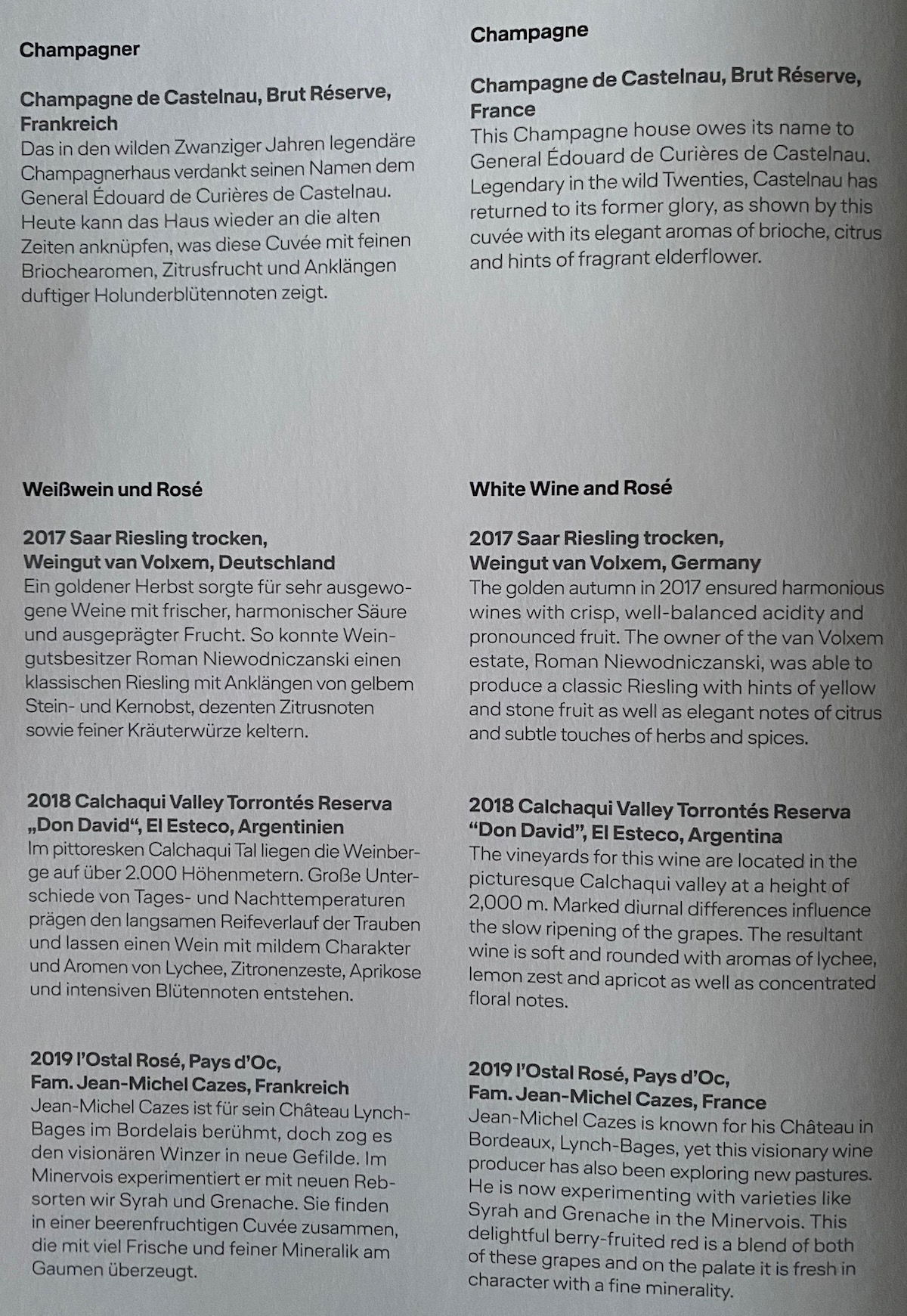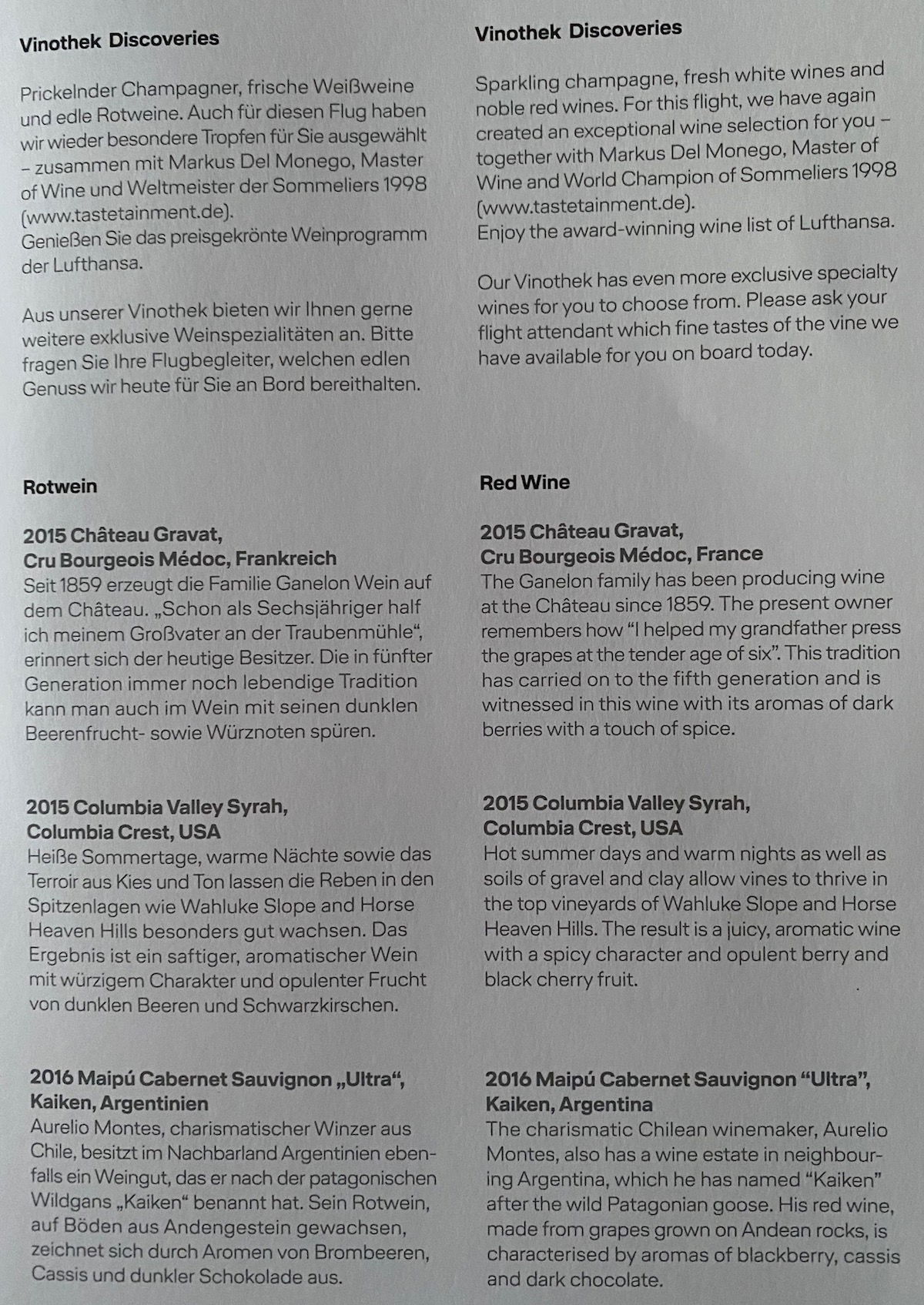 Service was only slightly modified. There were no warm towels, the appetizer was served on the same tray as the main course, and there was no breadbasket, but otherwise it was business as usual.
Service began with drinks and cashews — I ordered a glass of the Argentinian white wine, and a sparkling water.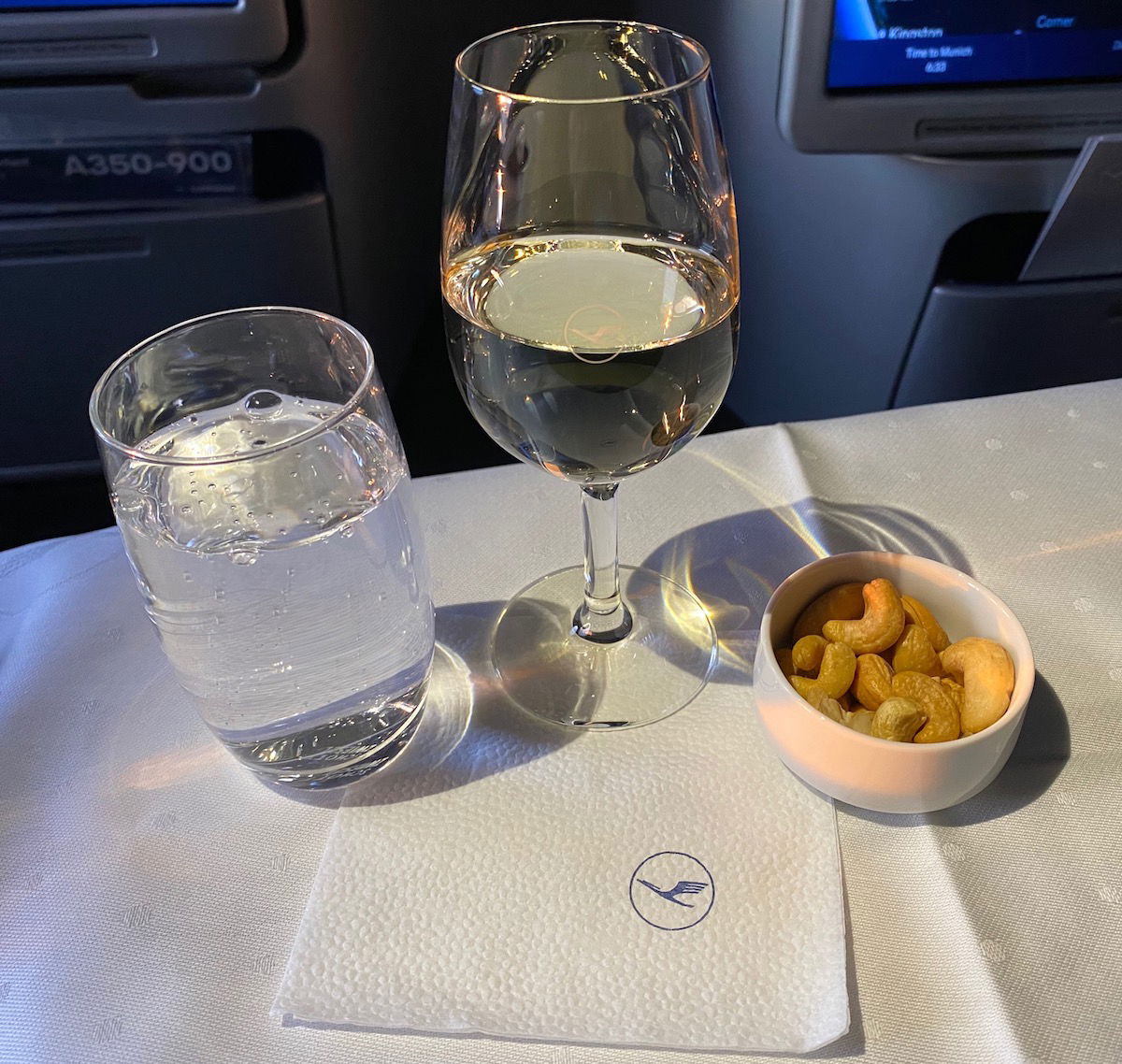 Lufthansa business class dinner service
The dinner tray was served a few minutes later, and included an appetizer of caponata, pesto sauce, baby gem, bocconcini cheese, cherry tomatoes, and kalamata olives. Then the main course consisted of Atlantic salmon with tomato aniseed sauce, linguine pasta with gremolata and vegetables. Then there were two pieces of bread — a roll and some pretzel bread.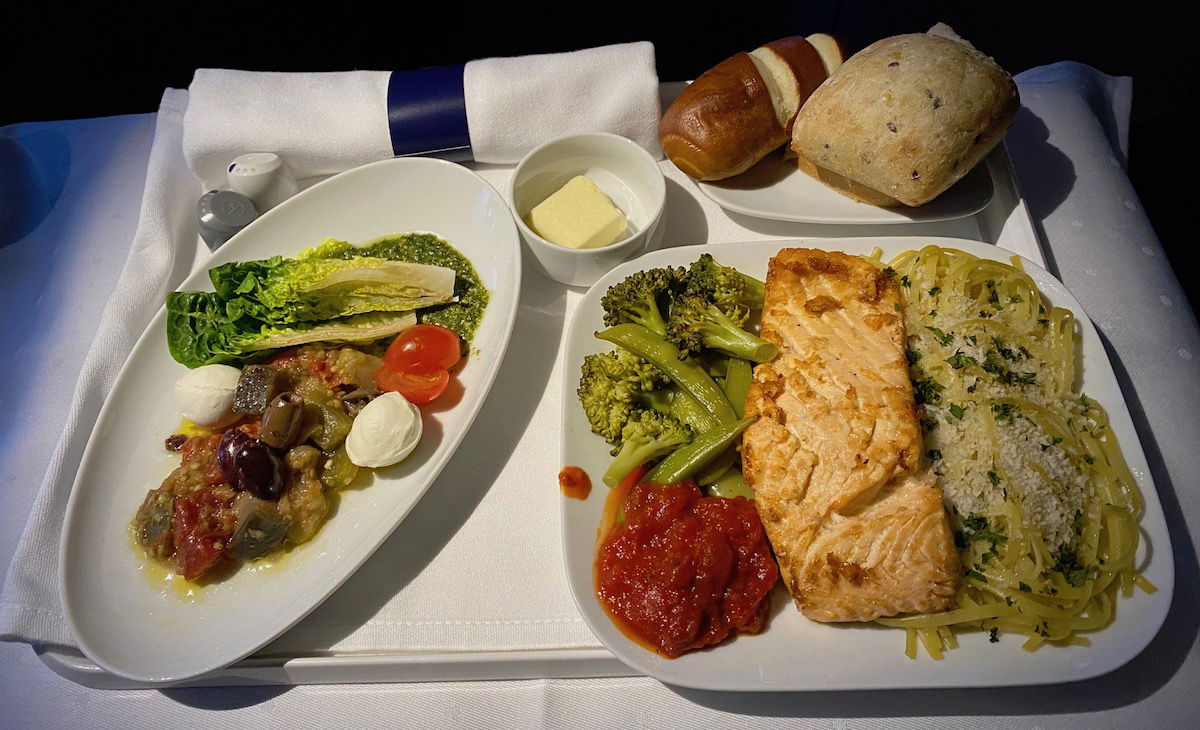 Lufthansa business class dinner service
To be honest the food wasn't amazing — the salmon was dry and flavorless — but I'm also hardly bothered by bad airline food nowadays, and have to acknowledge that Lufthansa's meal service is infinitely better than what you'll find on most other airlines right now.
For dessert there was the choice of cheese, fruit, or ice cream. The chocolate cake listed on the menu hadn't been catered on the flight.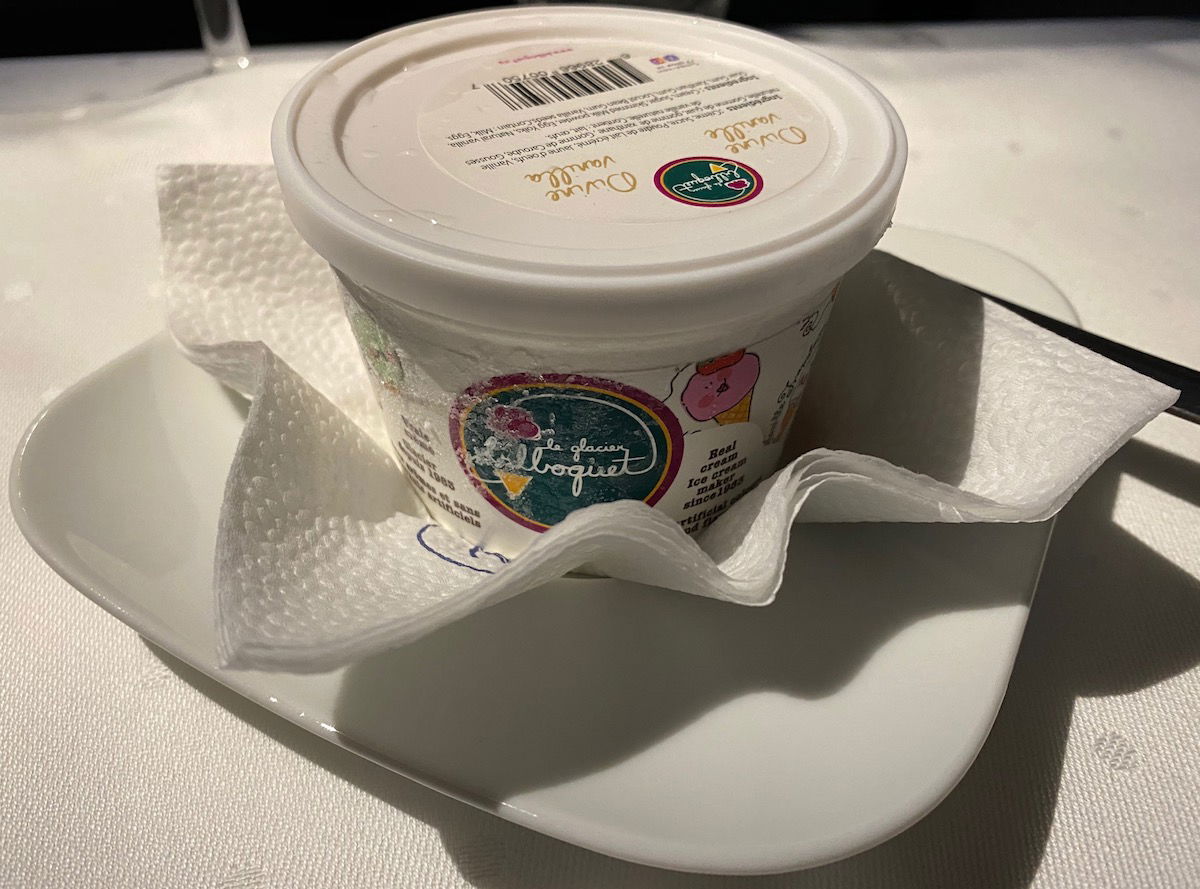 Lufthansa business class dinner service
Service was wrapped up within about 45 minutes of takeoff, and we were treated to a gorgeous sunset.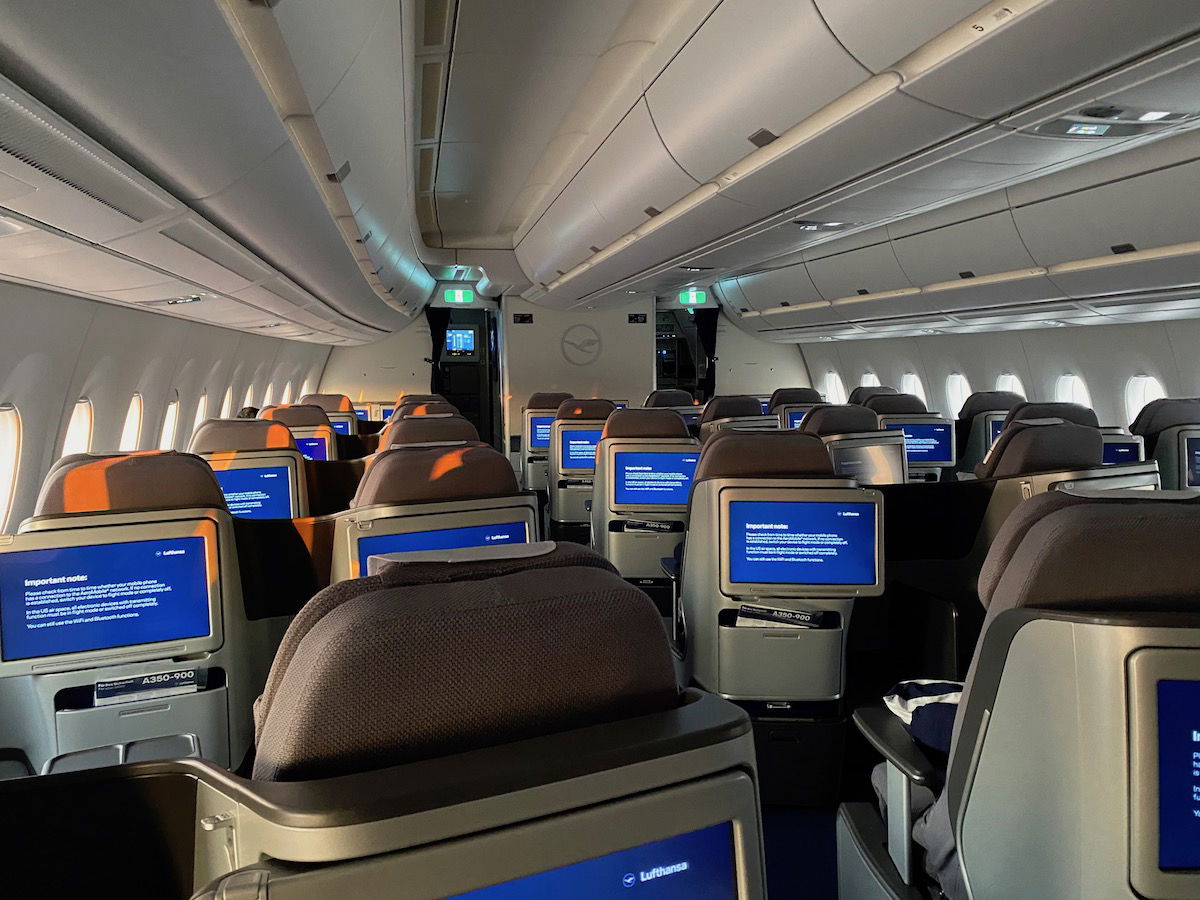 Beautiful evening in the cabin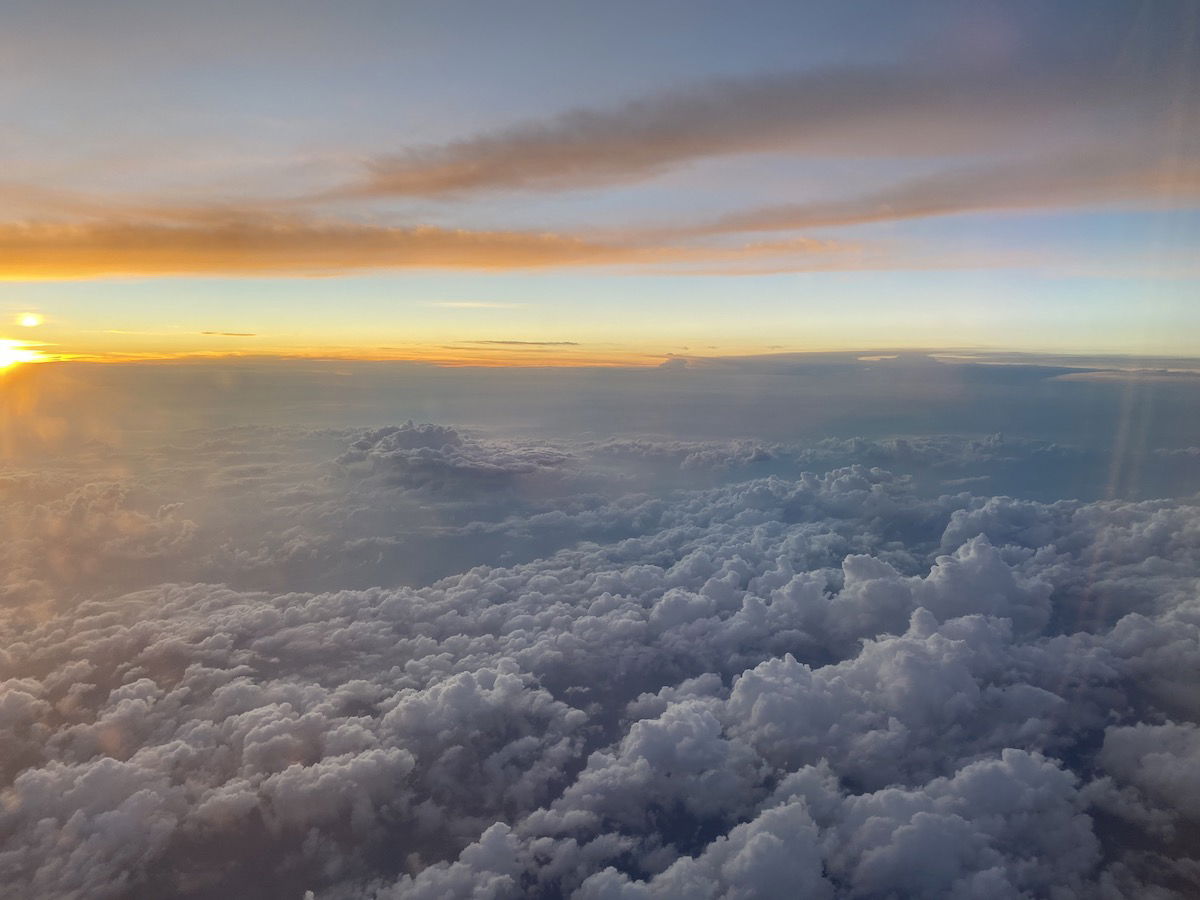 Beautiful sunset enroute to Munich
Lufthansa has all the usual bedding in business class, so I was able to get several solid hours of sleep. Ford slept in 6A and I slept in 5A, so that we had even more distance from the aisle (I always prefer being in a window seat and facing the fuselage while sleeping). I even noticed that when the crew passed through the cabin during the night they usually did so through the far aisle.
This was my first time sleeping with a mask on, and to my surprise it wasn't too tough at all. It took a few minutes to acclimate, but after that it didn't feel significantly different than usual.
We woke up just a bit over an hour before landing.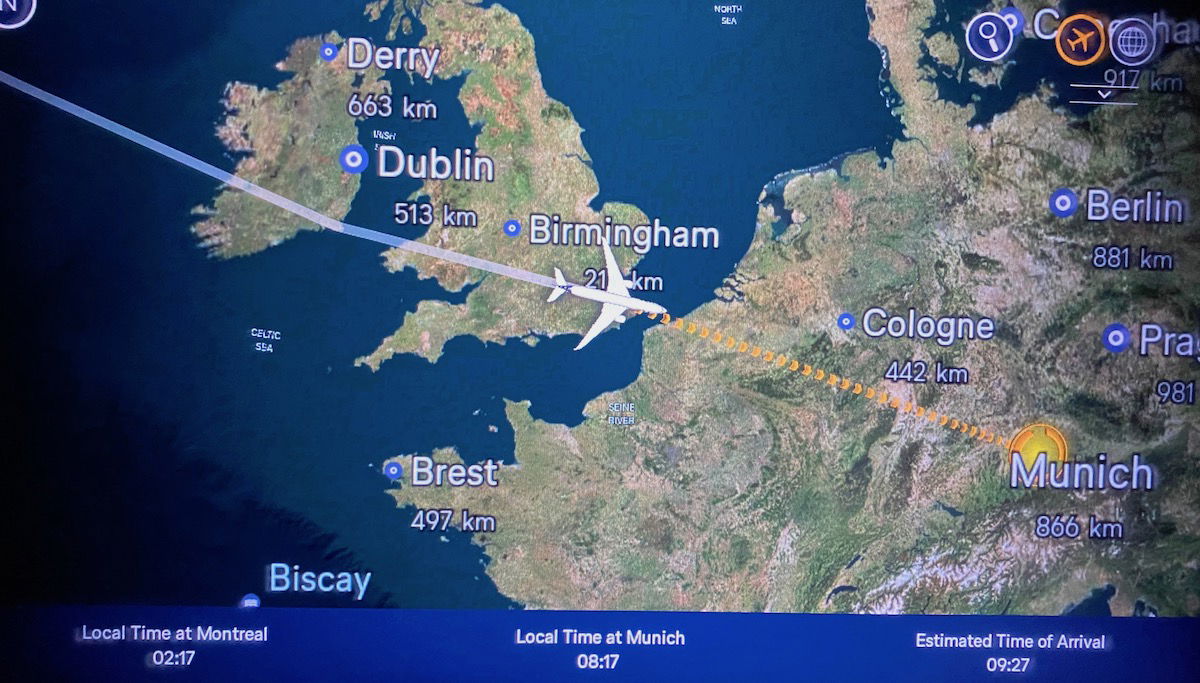 Map enroute to Munich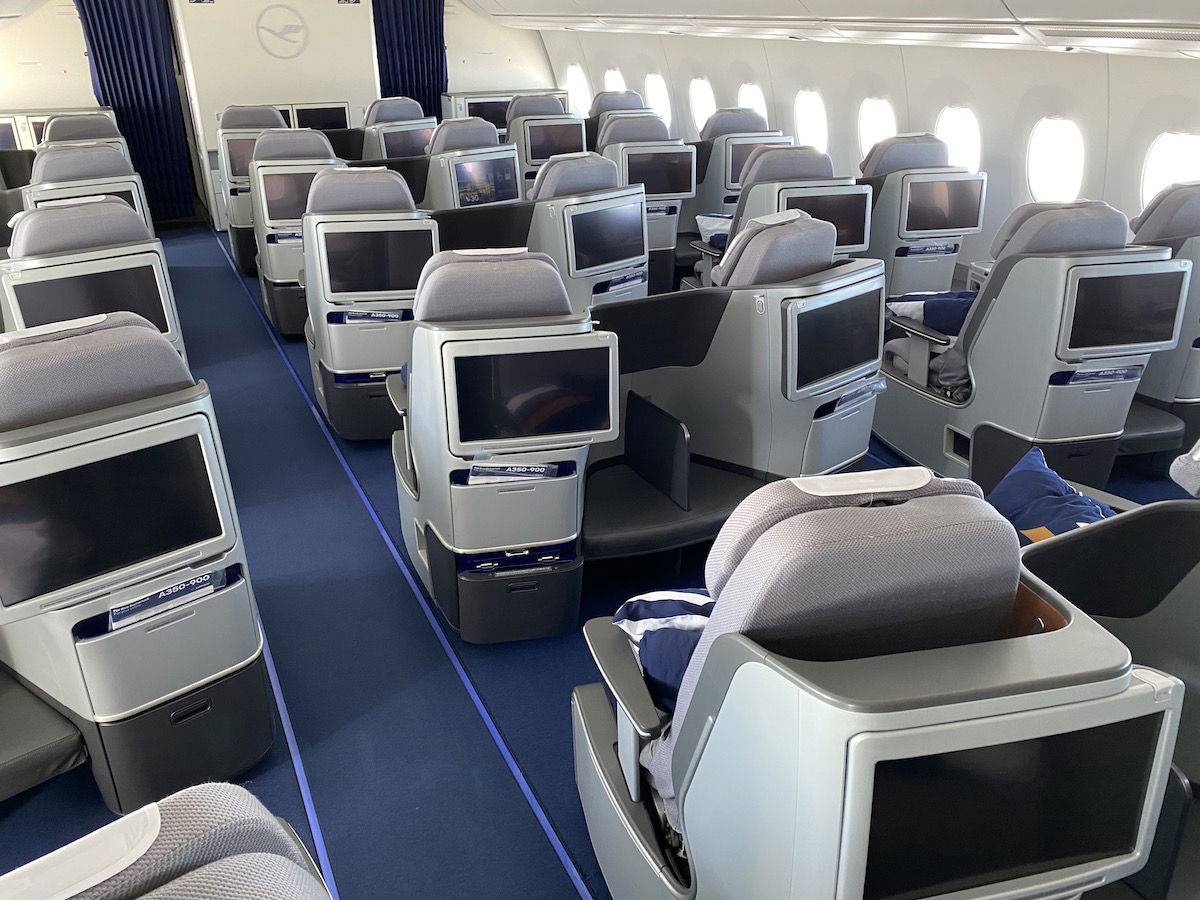 Cabin in the morning
At that point the breakfast service began. That was more or less the same as usual, except the muffin was packaged, as there was no bread basket. I had the muesli, while Ford had the salami and cheese.
We both initially preferred the muesli, but I guess they didn't have much catering, because they only had one available between the two of us.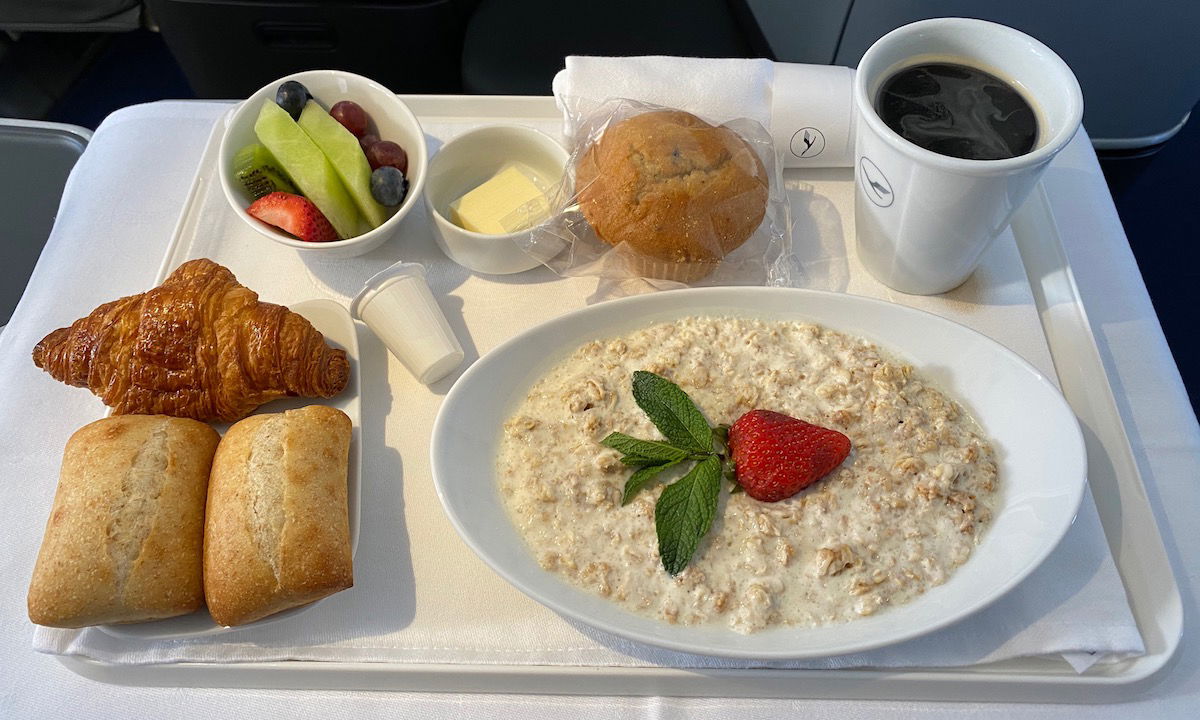 Lufthansa business class breakfast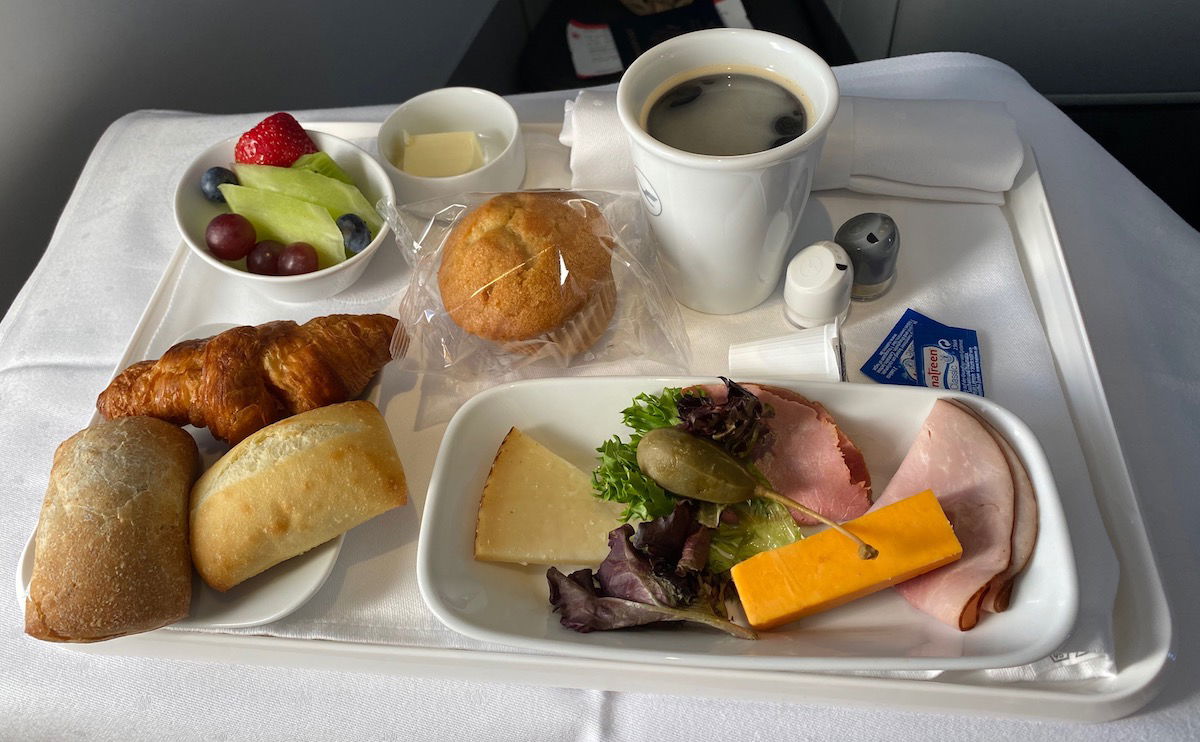 Lufthansa business class breakfast
Towards the approach cards were handed out explaining entry procedures for Germany, for those trying to enter the country (we were just in transit).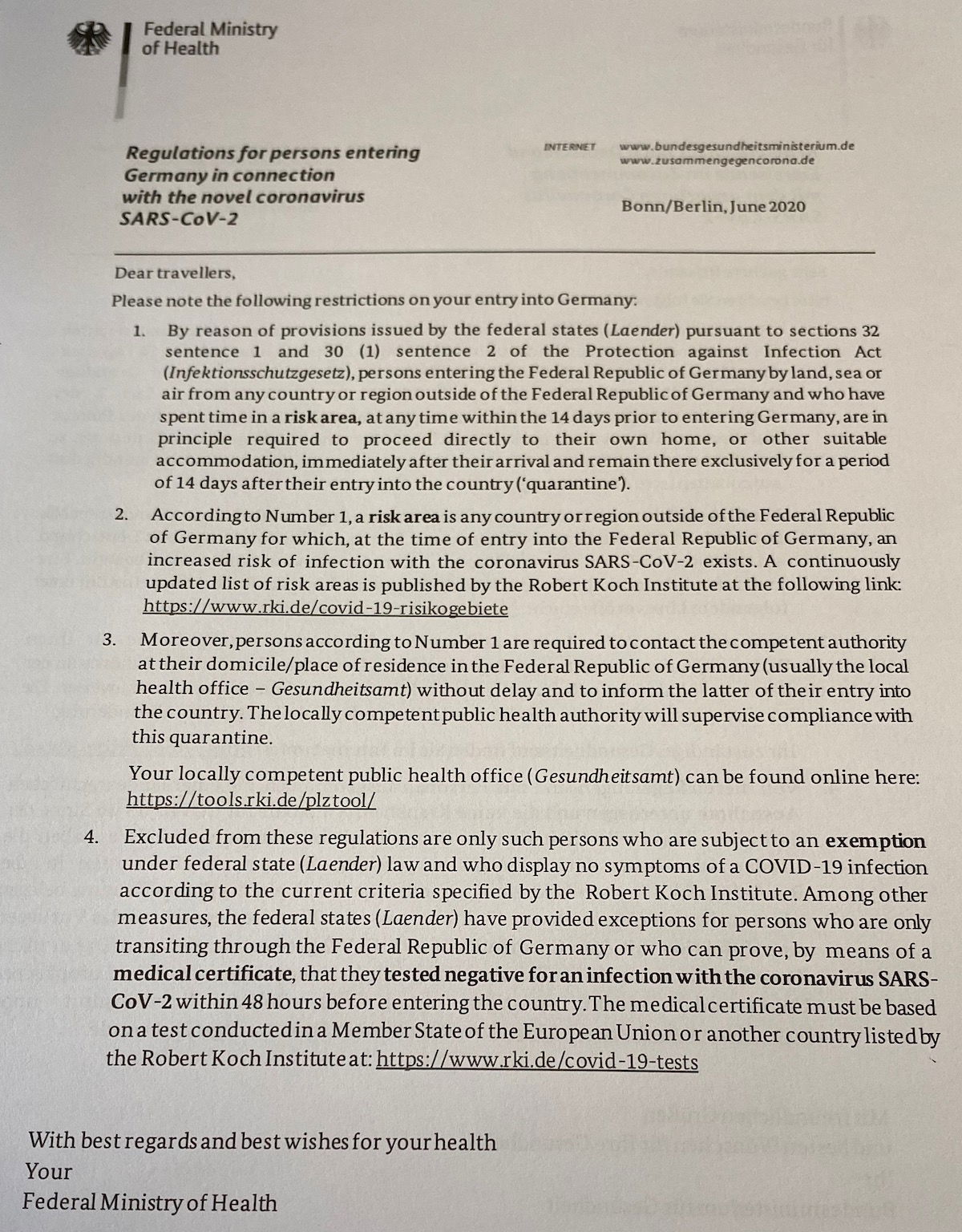 German immigration card
30 minutes before landing the captain provided his cheerful pre-landing announcement, informing us we'd be landing at 9:20AM. He finished the announcement with "we hope you have nice plans, and can be optimistic for the future."
We touched down at 9:20AM, and then had a five minute taxi to our arrival gate.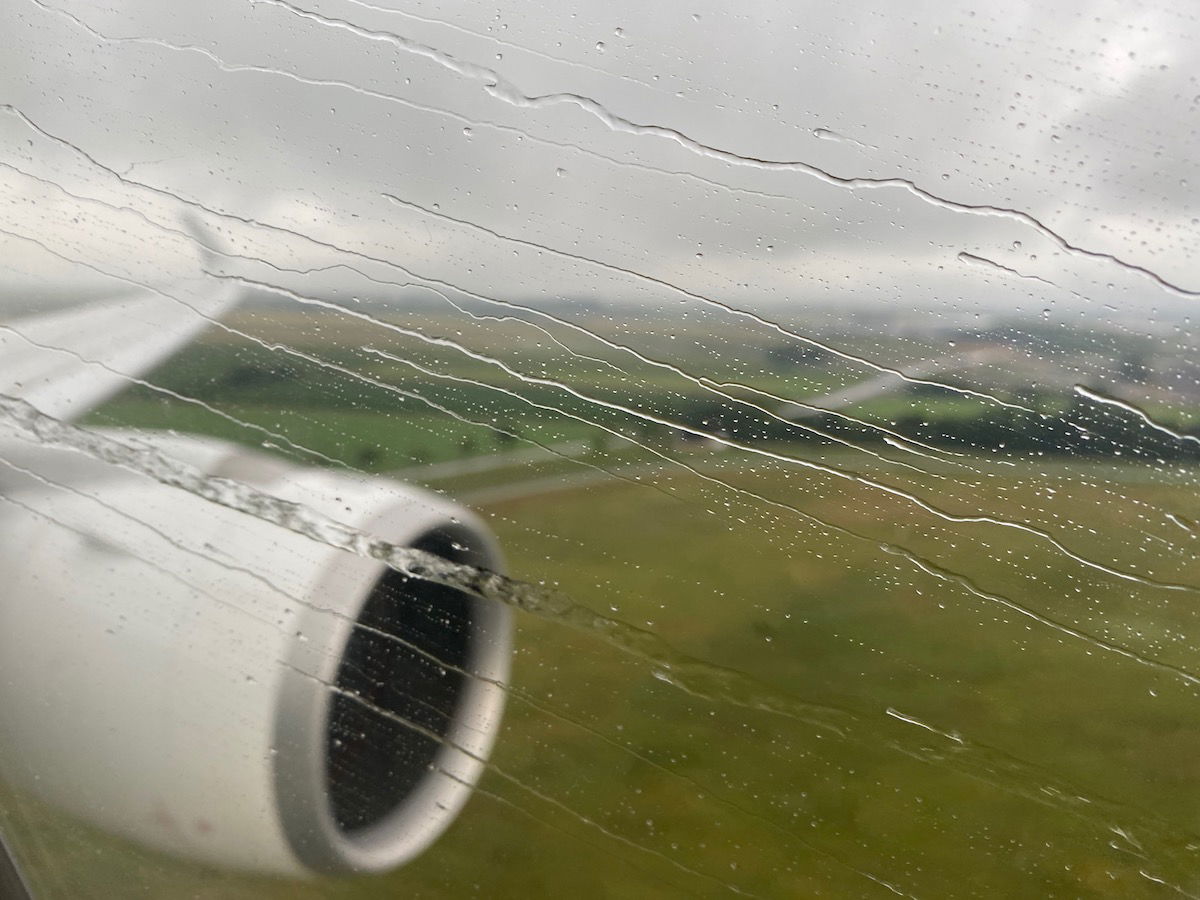 View approaching Munich
Then I witnessed one of the most amazing things I've ever seen on a plane, at least outside of Japan. As we taxied in it was announced that passengers should stay seated, and would be disembarked by row. We pulled into the gate and the seatbelt sign was turned off. For the next several minutes the plane stood parked, waiting for the door to open… and not a single person got up.
I was in disbelief. I've never seen people follow instructions so well outside of Japan. But literally everyone obeyed the instructions. After a few minutes, business class passengers were invited to get up and disembark.
Bottom line
For better or worse, flying Lufthansa business class almost felt like the good old days. The four flights I had taken up to this point during the pandemic could only be described as solemn.
In the case of Lufthansa, it was more or less service as usual, and in particular the crew was incredibly upbeat, including the captain. Thanks to how empty the flight was, physical distancing was the least of our worries on this flight.
I should of course mention a few things here:
While we booked this flight a couple of days out and anticipated it would be this empty, that's not something you can count on, as some transatlantic flights are packed
While it's interesting to see Lufthansa continue to provide nearly its full service, I'm not certain that's necessarily the right thing to do, since there's some merit to minimizing interaction between passengers and crew
Personally I felt very comfortable with the level of service given how empty the flight was, but if I were on a full flight seated next to a stranger, I'm not sure I'd be thrilled if passengers had their masks off for an entire, drawn out meal
What do you make of the state of Lufthansa's onboard service?