---
I wanted to dedicate a post to my experience clearing US immigration following my SWISS flight from Zurich to Miami. The process was painless, though a lot of people have asked about this, so I figure it's worth covering.
I was coming from a "travel ban" country
The US currently has specific travel bans for those coming from select countries. These bans were introduced between February and May, and I think just about everyone can agree at this point that these bans are outdated (if anyone disagrees, I'd love to hear why in the comments section).
The following destinations are on the US travel ban list:
Brazil, Iran, Ireland, People's Republic of China (excluding the Special Administrative Regions of Hong Kong and Macau), Schengen Area (Austria, Belgium, Czech Republic, Denmark, Estonia, Finland, France, Germany, Greece, Hungary, Iceland, Italy, Latvia, Liechtenstein, Lithuania, Luxembourg, Malta, Netherlands, Norway, Poland, Portugal, Slovakia, Slovenia, Spain, Sweden, Switzerland, Monaco, San Marino, and Vatican City), United Kingdom (England, Northern Ireland, Scotland, Wales)
If you've been to any of those countries in the past 14 days then you're not allowed to enter the US, unless you're a US citizen or permanent resident (or immediate family member), or have a specific exemption.
Those arriving on a nonstop flight from a travel ban destination also have to go through a special screening when returning to the US.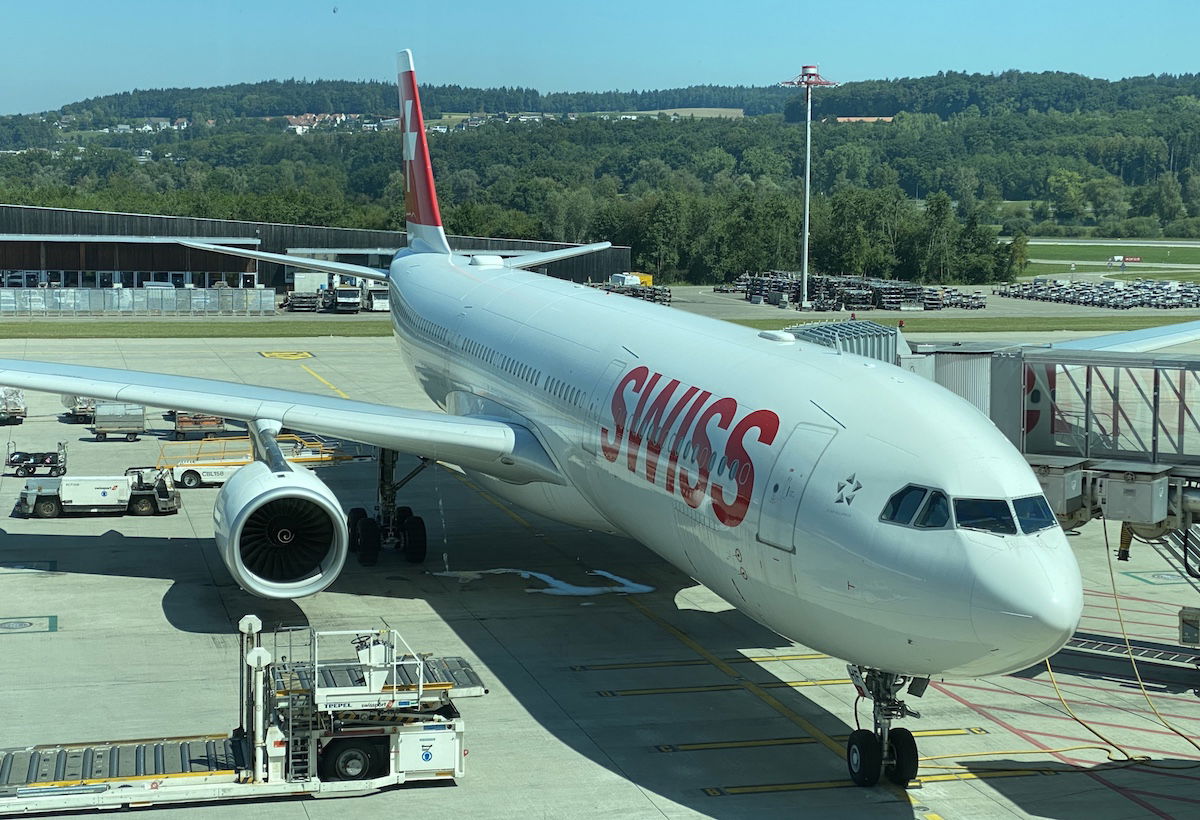 Both Germany and Switzerland are on the US travel ban list
We had to fill out a health declaration
Those coming from one of the above countries have to fill out a United States Traveler Health Declaration, which we were handed upon boarding our flight in Zurich. This required filling out some basic info, including:
Confirming we had been to a country listed on the form
Sharing our contact information in the US
Stating whether we had any symptoms in the past 24 hours, including a fever, a persistent cough, or difficulty breathing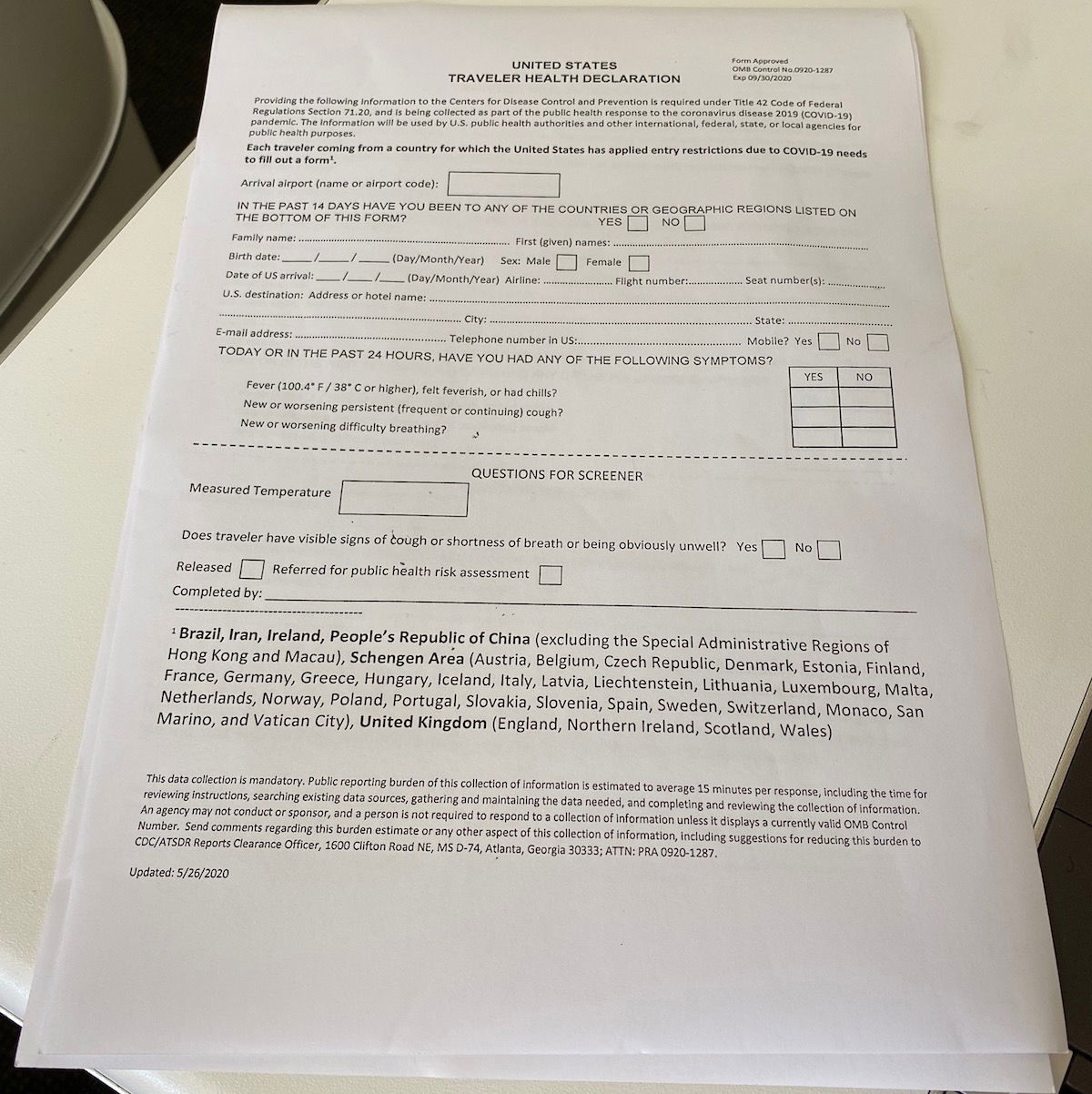 US traveler health declaration form
Our interaction with a CDC representative
When our flight landed in Miami there were three representatives from the CDC to collect these forms. Flights to the US from travel ban countries have to land at one of 15 US airports, specifically because of this CDC check (though these checks will be ending as of September 14).
Our interaction with them was very quick:
"Are you experiencing any coughing or shortness of breath?"
"No."
"Okay, you're good to go. We recommend you quarantine for 14 days."
Even though the form had a "measured temperature" section, our temperatures weren't taken.
We were presented with a card with some recommendations. It's worth noting that while the guy we interacted with suggested we quarantine for 14 days, that's not actually a requirement, unlike in other countries (we still didn't go anywhere for 14 days, out of an abundance of caution).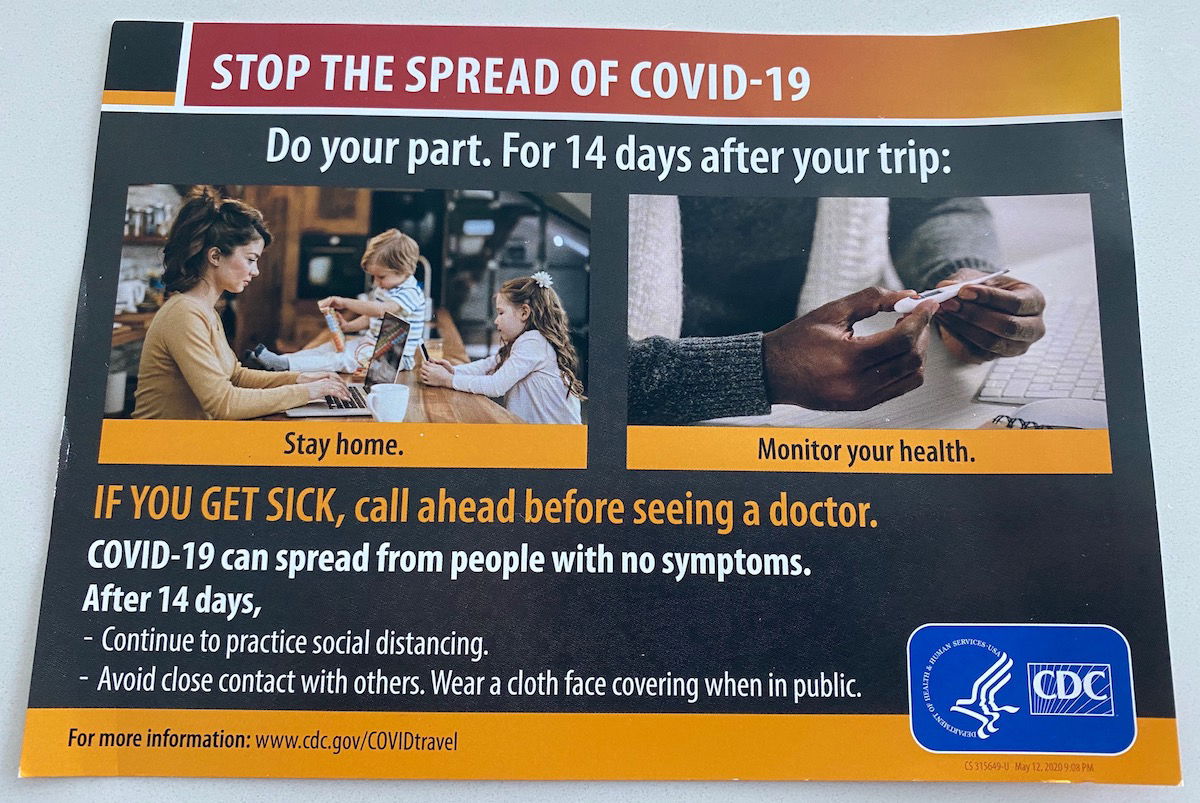 CDC traveler recommendations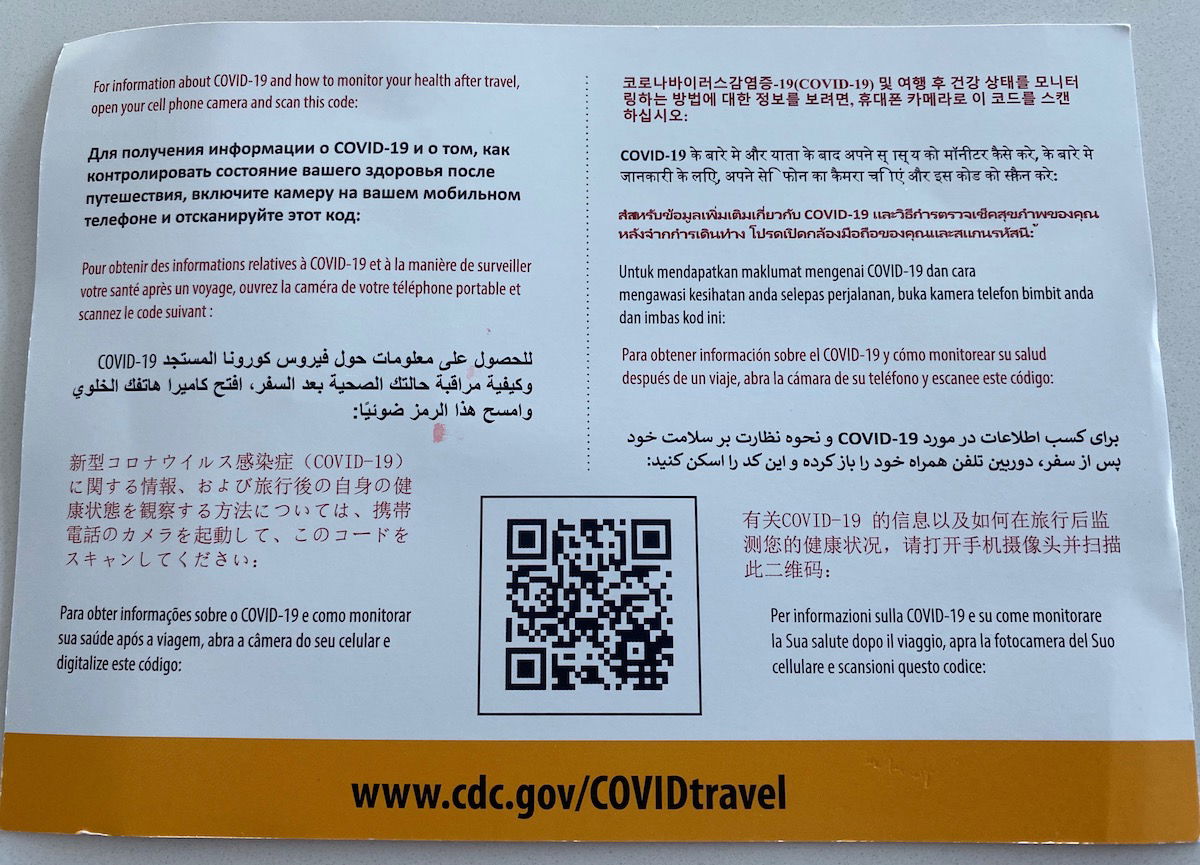 CDC traveler recommendations
Immigration was as normal
The above was the extent of the special screening coming from what the US deems to be a high-risk country. The rest of the immigration experience was as usual:
We proceeded to Global Entry kiosks, but since the beginning of the year I've been on some sort of a list whereby I get secondary screening; this is apparently because I was in Taiwan at the beginning of the year, and makes absolutely no sense, but…
In the past, I've had to go sit down in a room for a full secondary screening (including bag search), but in this case, the immigration officer just made a phone call that took about five minutes, and we were sent on our way
While he was nice enough, he lowered his mask every time he spoke into the phone (this wasn't a big deal since there was a plexiglass shield, but still, why is that necessary?)
Unfortunately, he was still one of the better-behaved officers when it came to masks, as we had a bit of a confrontation with other immigration officers
The immigration facility was deserted, as you'd expect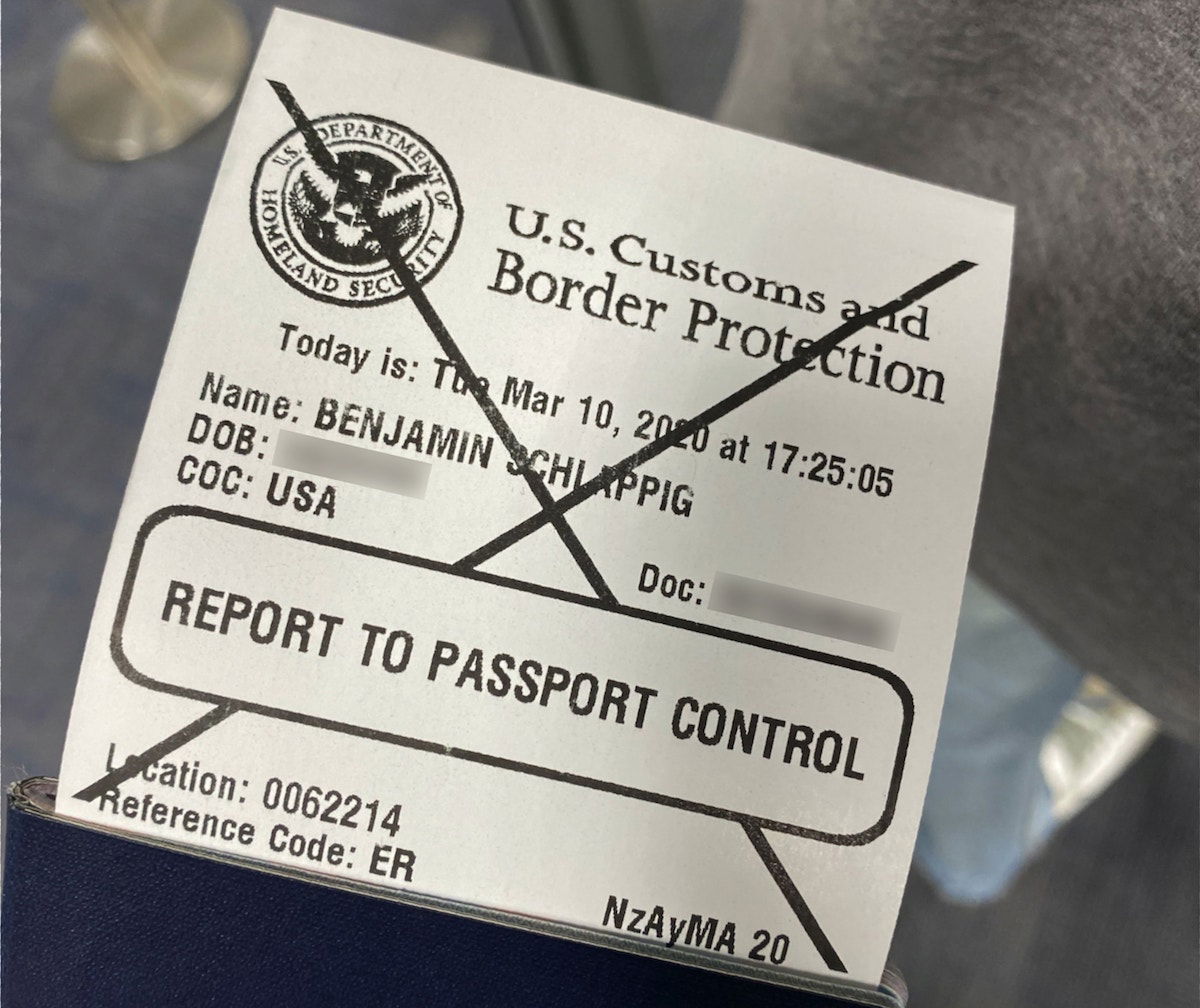 I got the dreaded "X," as usual
Are these immigration restrictions enough?
I have a few general thoughts on the current airport screening process when arriving from foreign countries:
We're about six months into this pandemic in the United States, and we've never had any sort of testing requirement for arriving passengers
There's not a single US airport I know of that offers coronavirus testing to arriving passengers, even voluntarily or at a cost (some airport spas have turned into testing centers for employees)
I suppose someone asking if you're experiencing shortness of breath is better than nothing
It still seems very backward to me that flights from Germany and Switzerland are subjected to additional screening, while flights from countries with far more coronavirus cases are not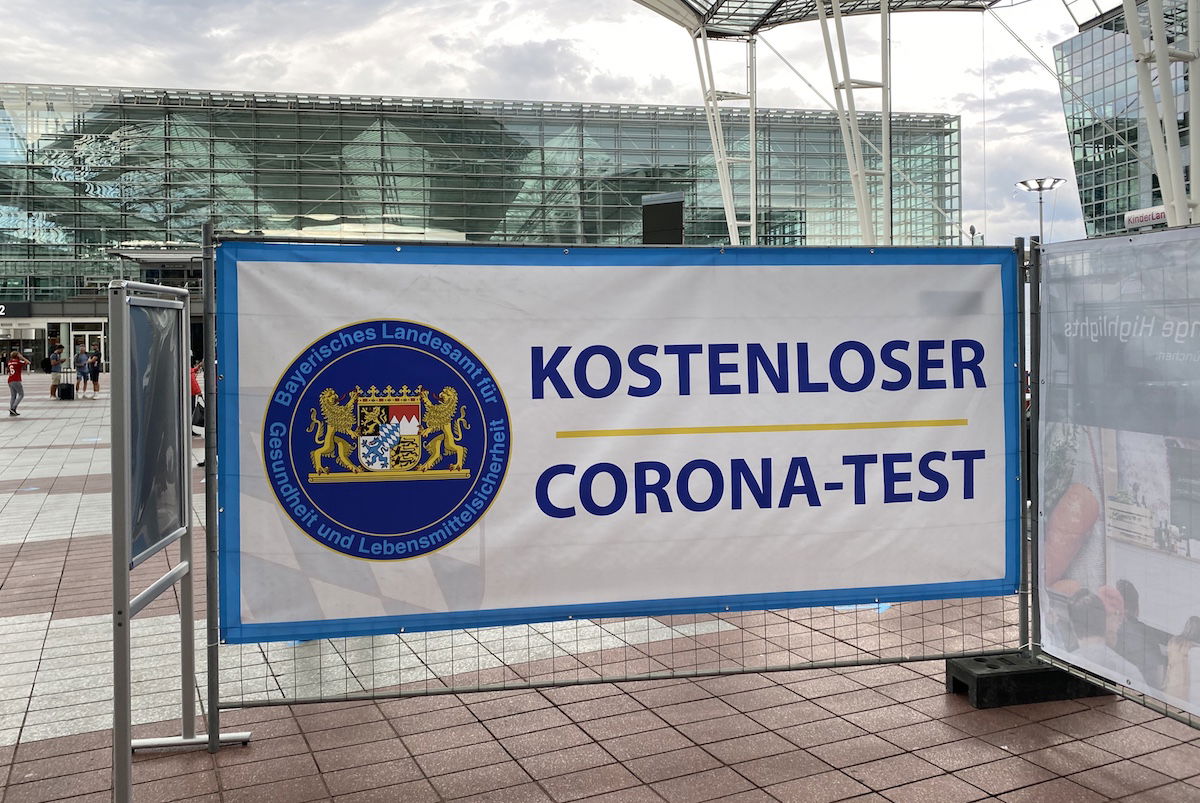 Germany, meanwhile, has mandatory and free testing for travelers
In many ways I do think this screening was sufficient when arriving from many of the travel ban countries:
All the data we've seen suggests that the actual process of flying is fairly low risk, and that's especially true on nearly empty flights (which, currently, most transatlantic flights seem to be)
Even if flying weren't low risk, you likely wouldn't test positive just hours after catching coronavirus on a flight
When you're coming from a country with very few coronavirus cases (or as the US likes to call it, a "high-risk country") to a country with a lot of coronavirus cases, it's not particularly logical to subject these people to additional restrictions and screening
To me, the real failure with international arriving passengers goes back many months when coronavirus wasn't widespread in the US. For example, when the China travel ban was introduced, Chinese nationals were banned from entering the US.
However, Americans returning from China (and there were tens of thousands of them who returned after the ban was introduced) weren't subjected to testing or a mandatory quarantine. That seems like the failure to me — did the US government think that Americans who were in China were immune from the virus, or…?
As a point of comparison, see this post for a look at how passengers arriving in China from the United States are screened.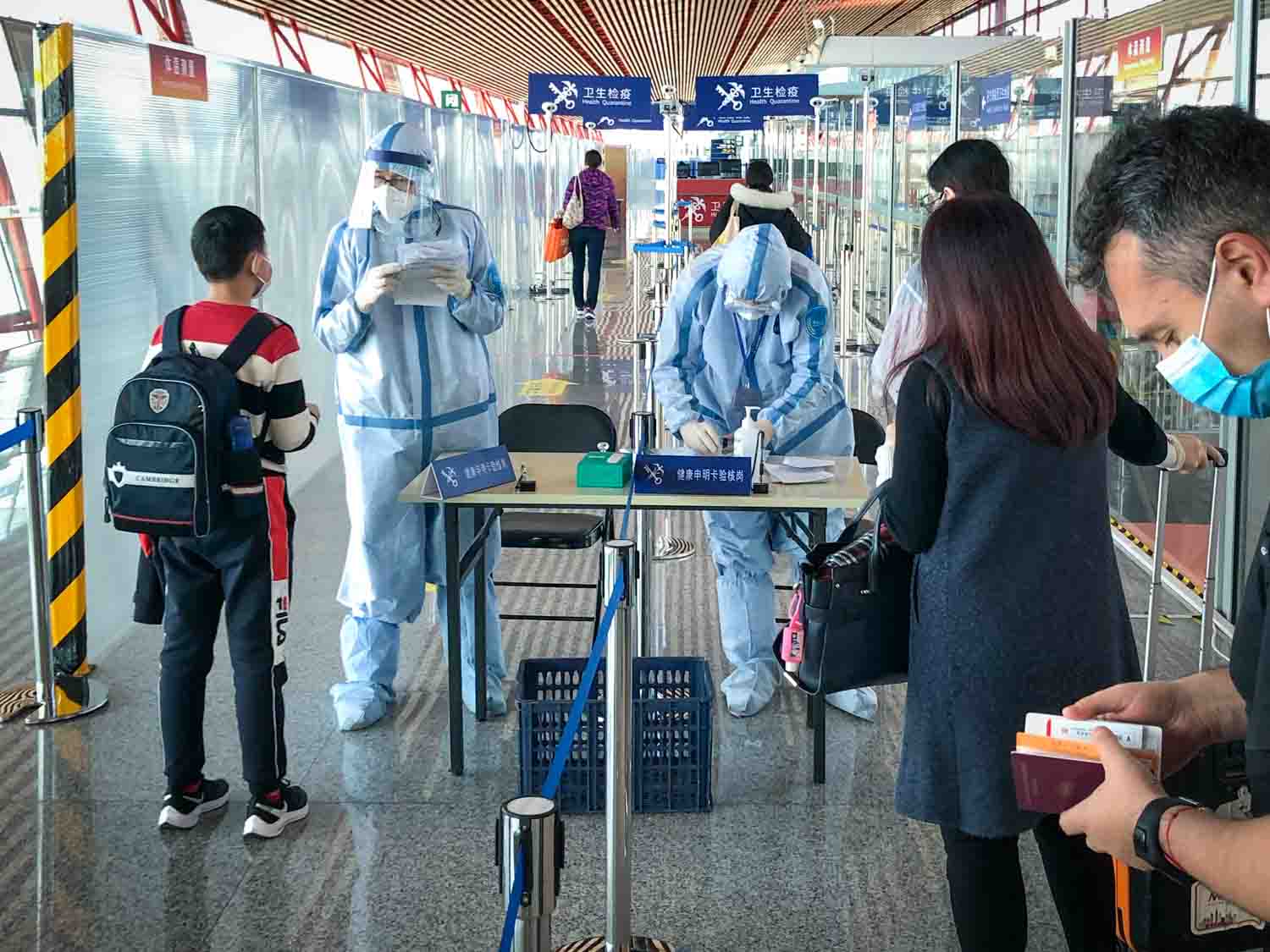 Beijing is taking a different approach to international arrivals
Bottom line
Even when you're coming from a country on the US travel ban list, the immigration experience is quite easy. We simply had to fill out a health declaration, and then someone from the CDC asked us one question and handed us a piece of paper with tips for staying healthy.
While that seems lax, realistically at this point the US travel ban list doesn't make much sense, since a vast majority of the countries on the list are handling coronavirus better than the US.
What do you make of the current US immigration process for those coming from travel ban countries? Are there not enough checks, or is it just right?