As I hinted at Monday morning, a couple of days ago I flew from Charleroi to Hong Kong on Air Belgium. As you guys know, I have a bit of an obsession with startup airlines, so naturally I've desperately been wanting to try Air Belgium. Also, as someone who loves a nice livery, I have to say that I think Air Belgium has one of the nicest out there. How beautiful is this A340?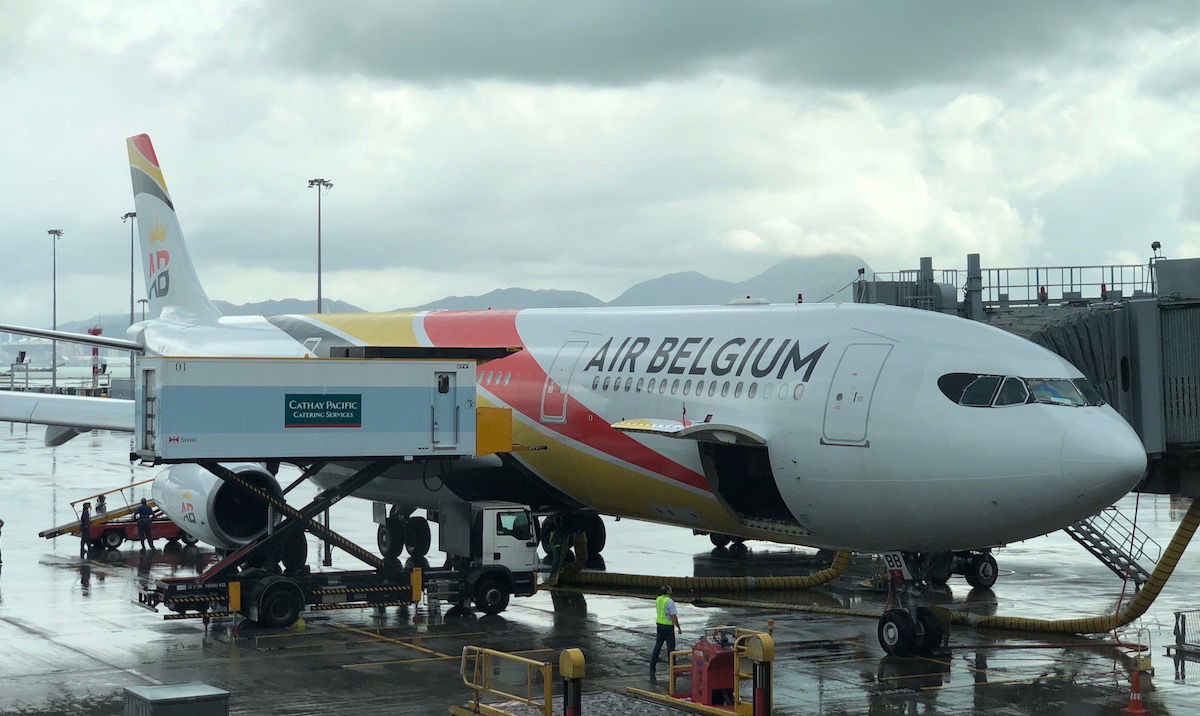 So how was my flight? Much to my surprise, excellent. Really excellent. This had to be one of the coolest flights I've taken in a long time. While Charleroi Airport isn't great, Air Belgium has their own spacious lounge, allowing you to board the plane directly from the lounge.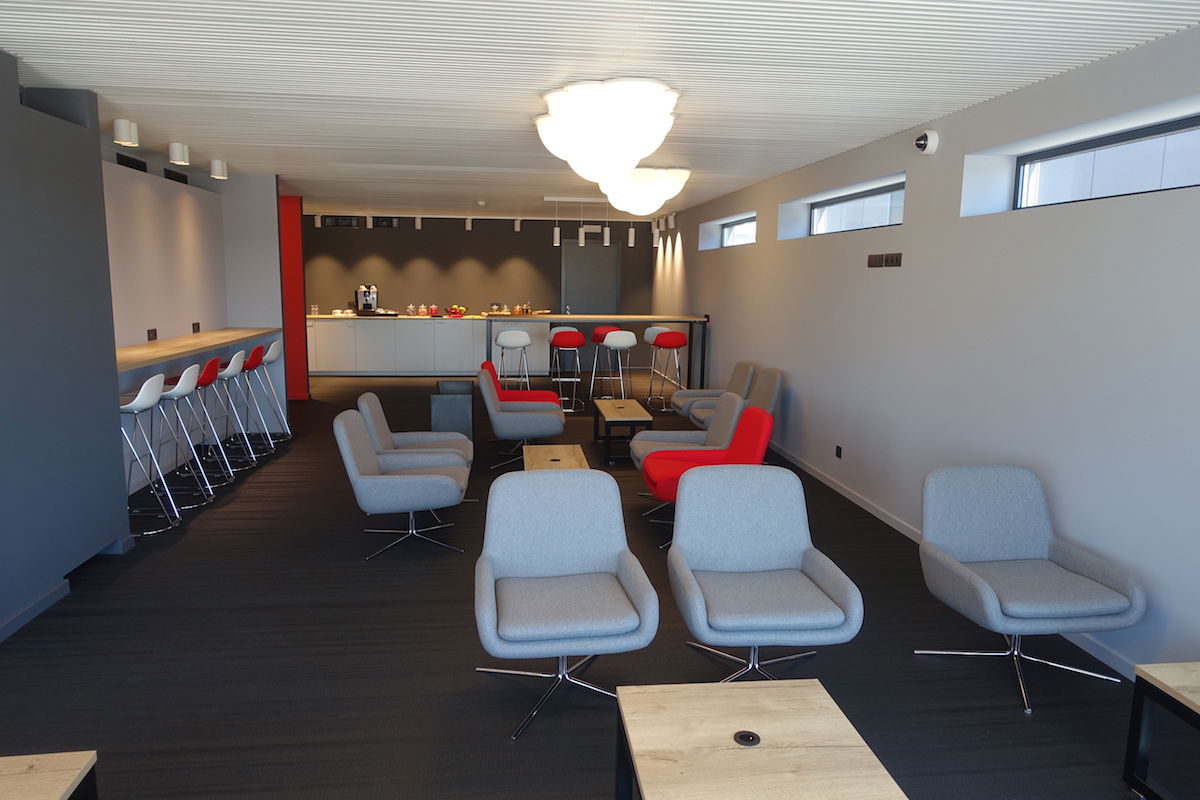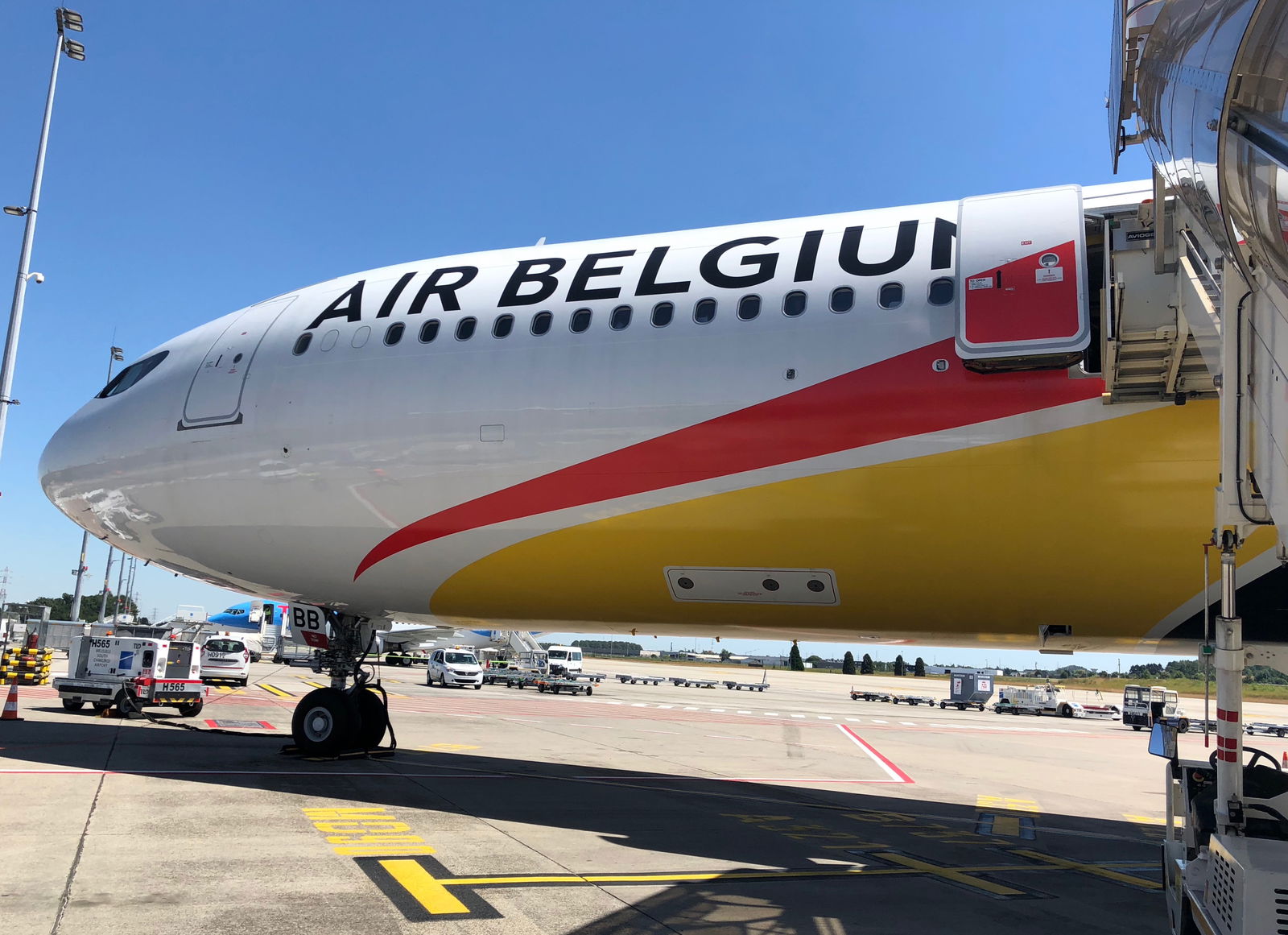 Air Belgium operates a fleet of A340-300s that used to fly for Finnair, and they've maintained the same cabins, so business class consists of staggered seats in a 1-2-1 configuration.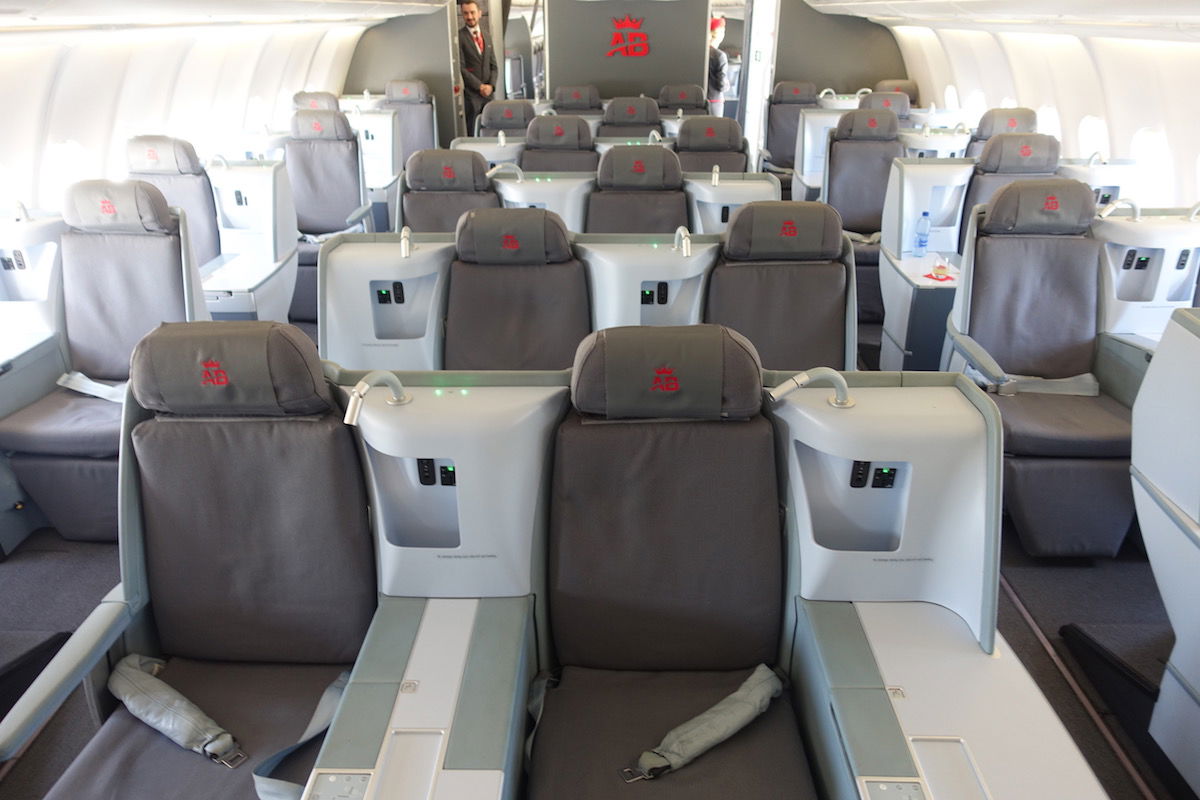 Let's talk about what made this flight special/surreal, first of all. The entire flight had 25 passengers on it. There was one other business class passenger, and just 23 people in economy. These are pictures of the economy cabin inflight: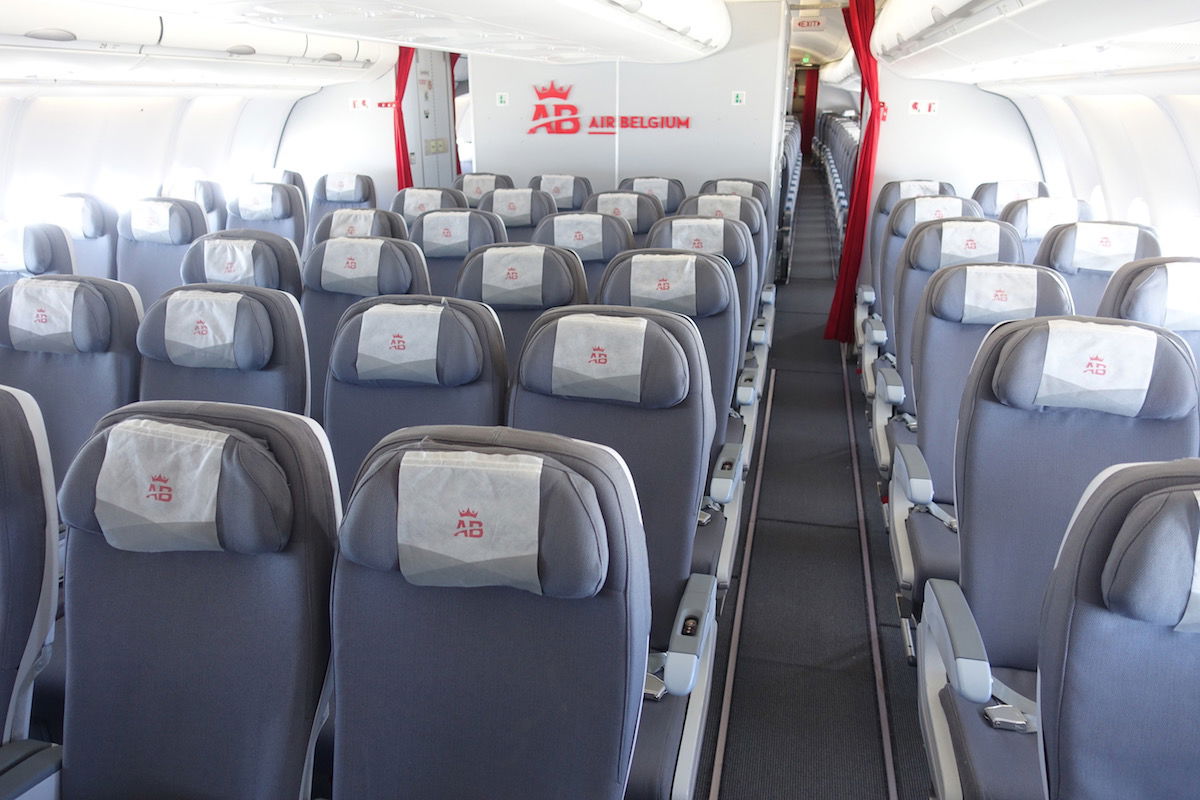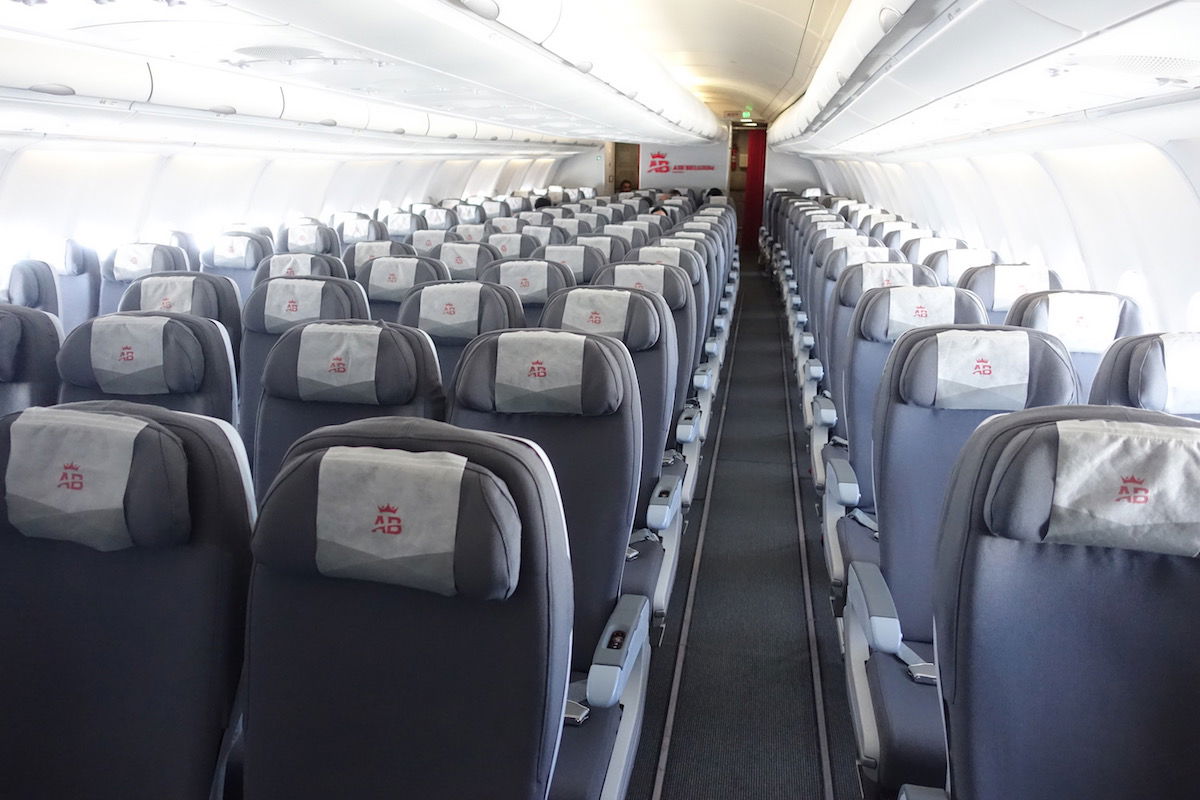 I've never in my life been on such an empty longhaul flight. My gosh, I had no clue an A340-300 could take off so quickly with 12+ hours of fuel.
I selected one of the "throne" seats (on the left side of the cabin), which is great because you don't have anyone next to you (then again, when the cabin is nearly empty, that's less of an issue).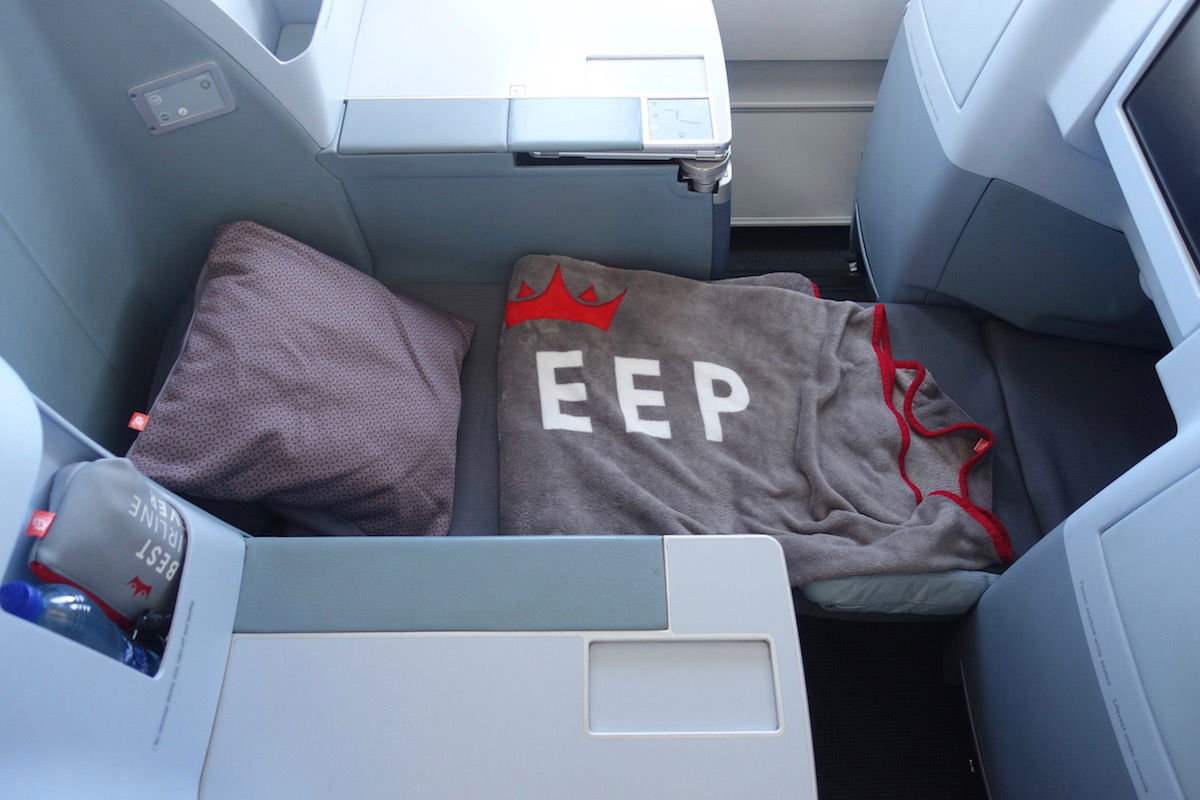 When it comes to the soft product, Air Belgium operates a hybrid low cost model, which is to say that in economy the main meals are free, but you have to pay for drinks and snacks between meals. So I was expecting business class service not to be great, though it was actually quite nice.
There was an amenity kit with some funky socks (though I'm not sure I get the reference of why they turned "airline" into "hairline").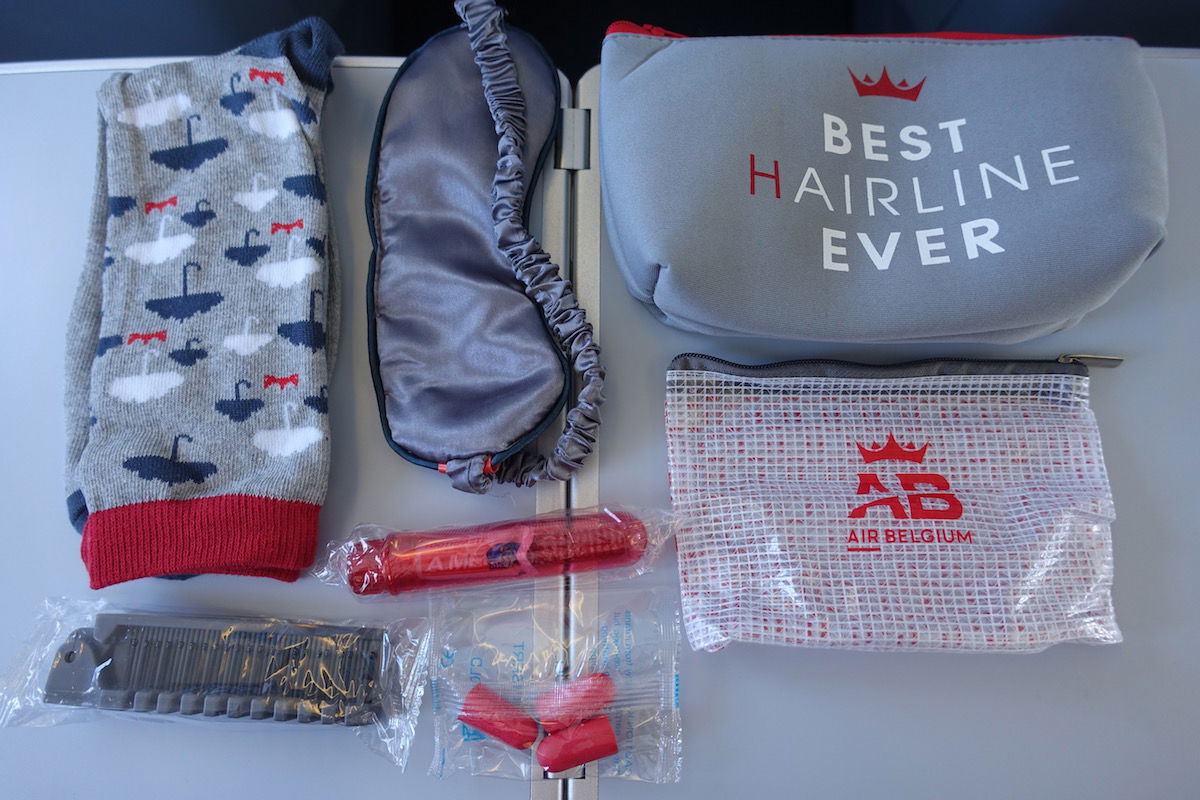 There was a large blanket and decent pillow (again, since the cabin was nearly empty I was able to get a few of these to really get comfortable).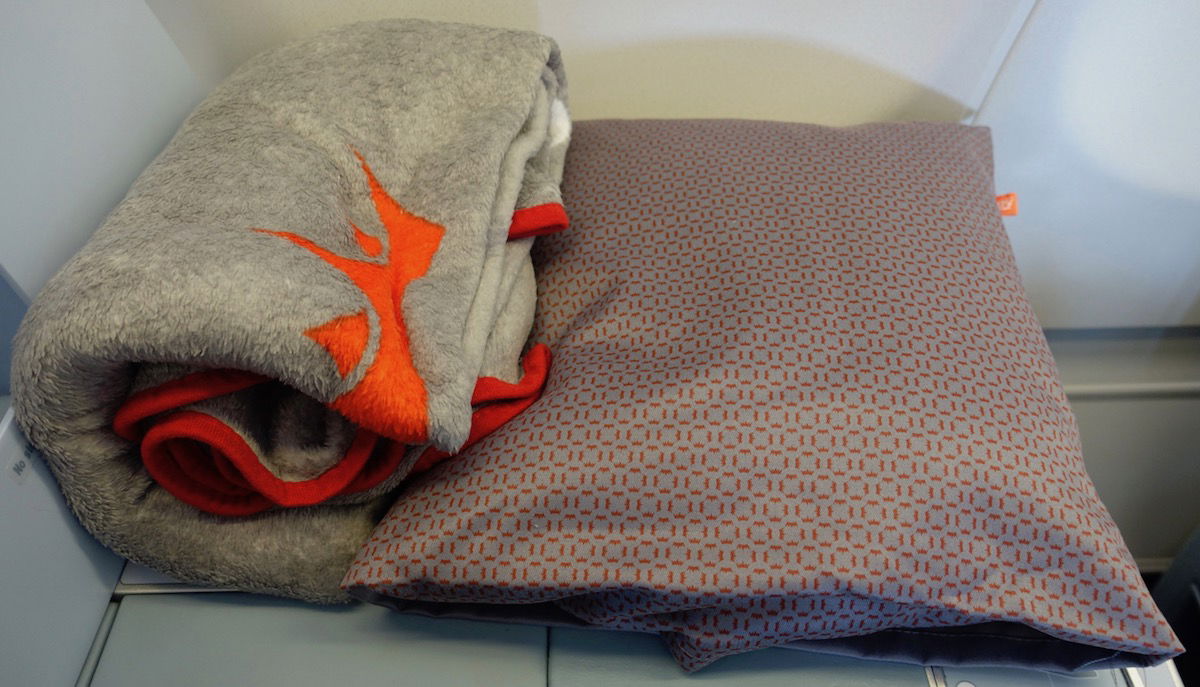 Lunch was served after takeoff. To start I had sparkling wine and water, and was offered some pretzels.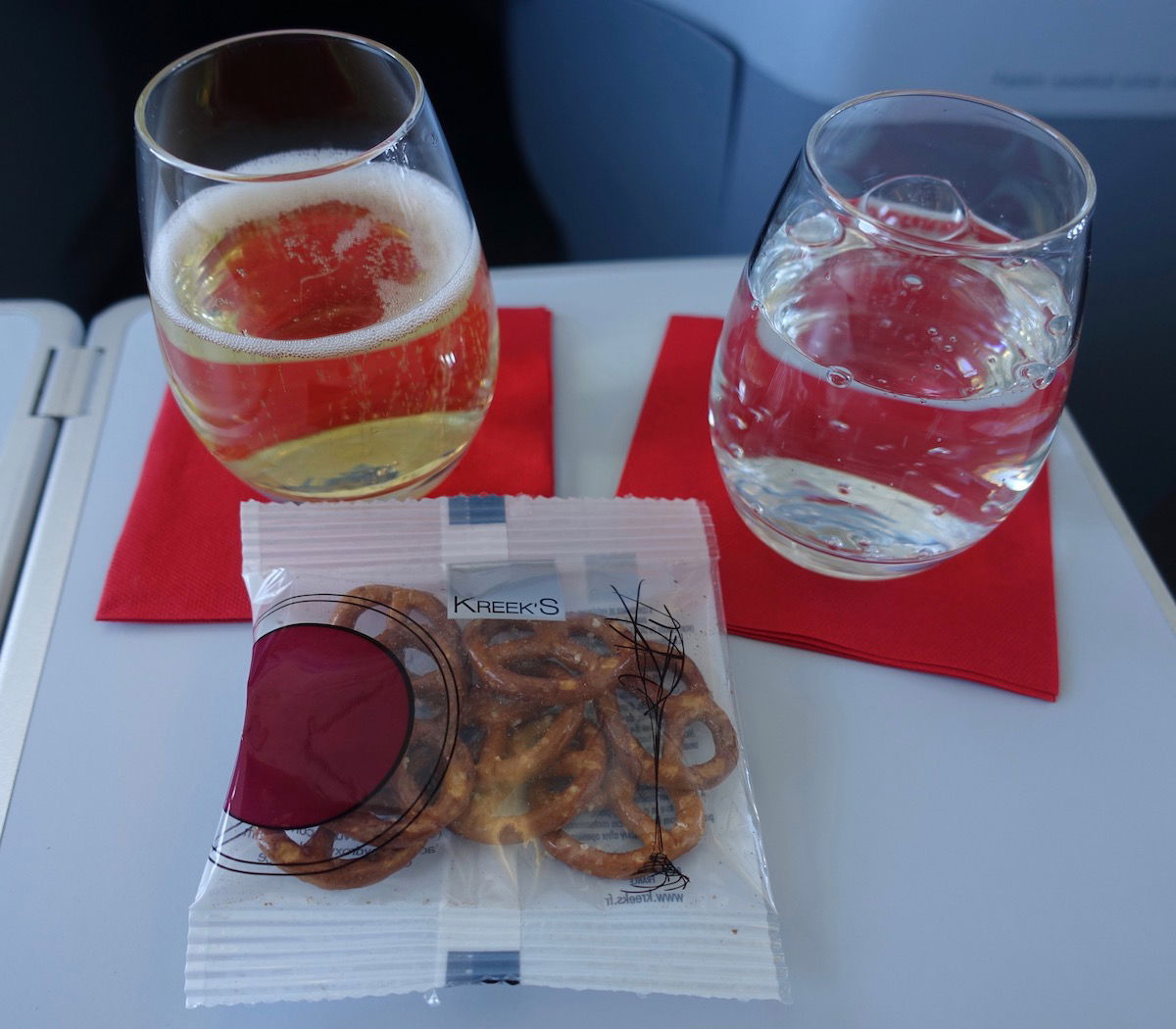 I was first served a salad, appetizer, and fresh fruit. The salad had cherry tomatoes, pine nuts, and mozzarella, while the appetizer consisted of tomato and basil mousse, with bay shrimp, lemon, and parsley.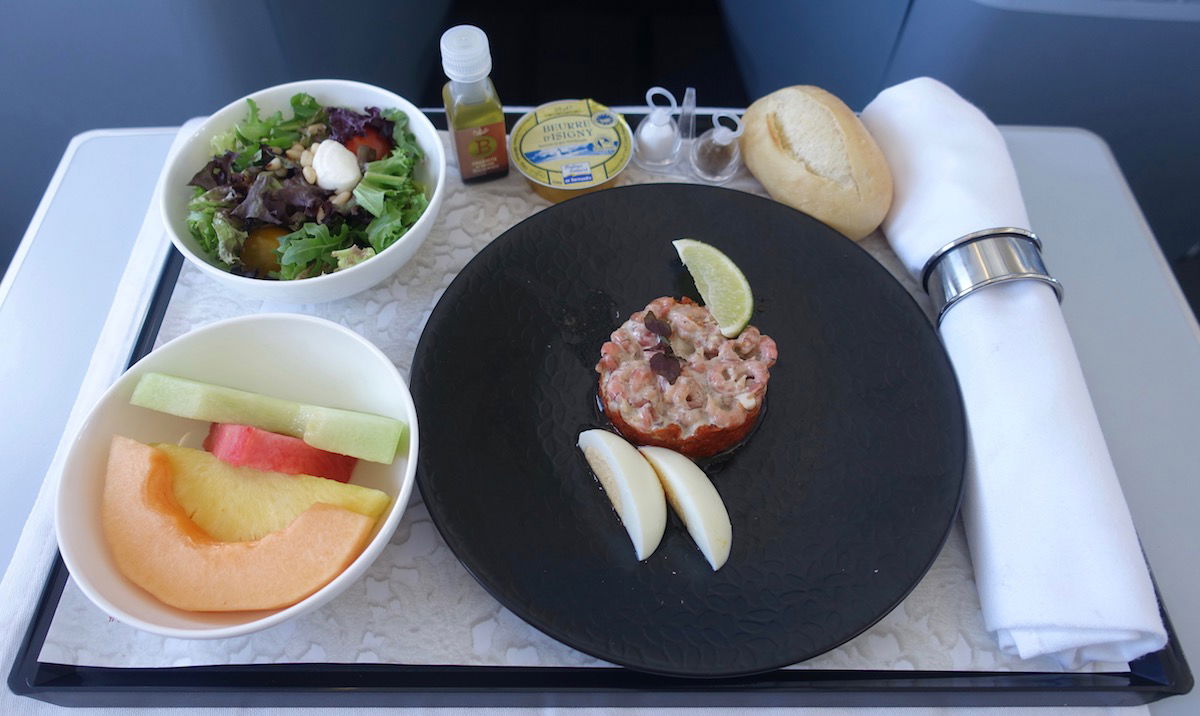 For the main course I selected the chicken curry with pasta, which was their "Asian" dish (it's a bit of an odd take on "Asian" cuisine on a flight to Hong Kong, but it was good).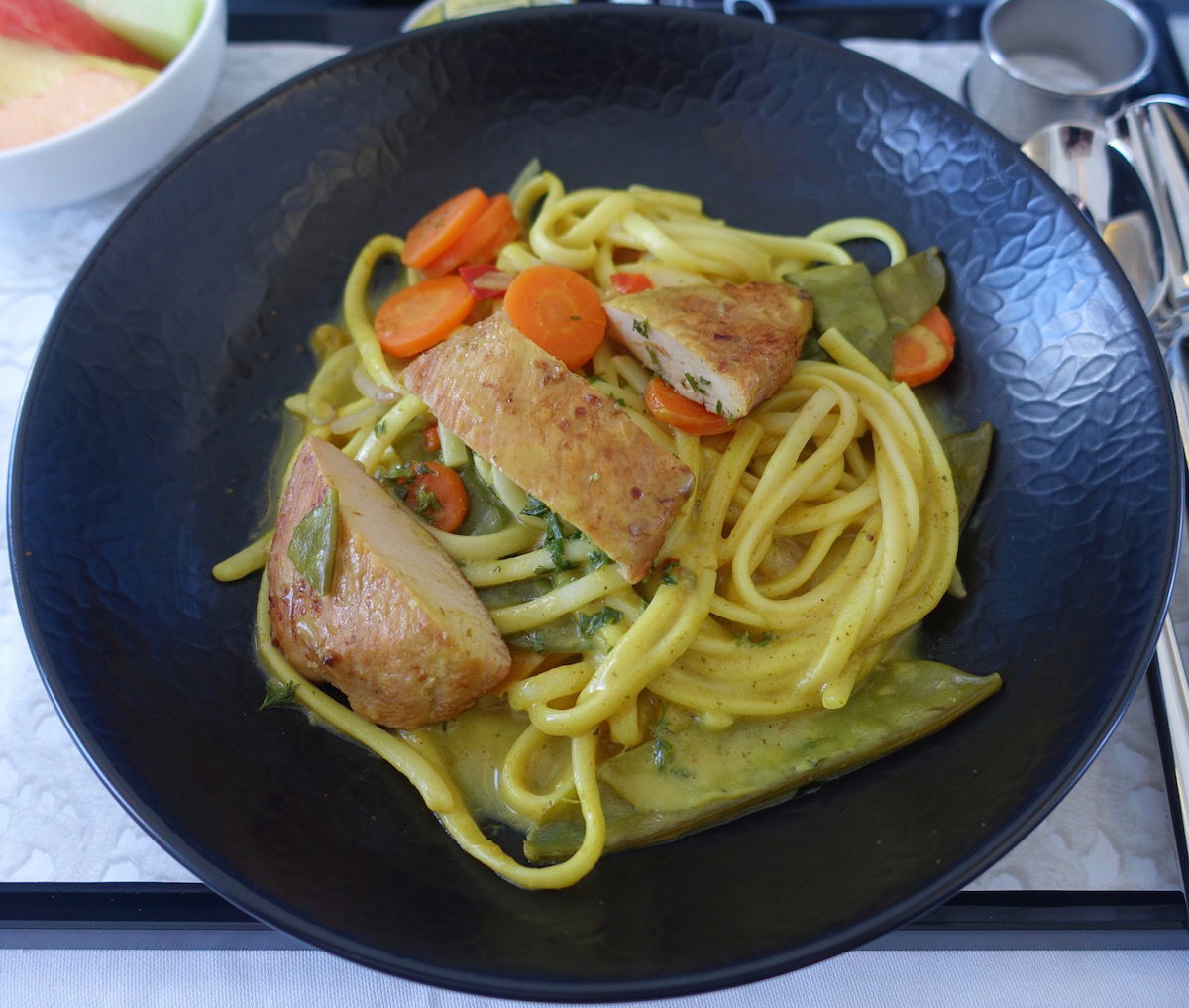 Then for dessert I was offered a choice of a bunch of things, including ice cream and a really good ice cream sandwich.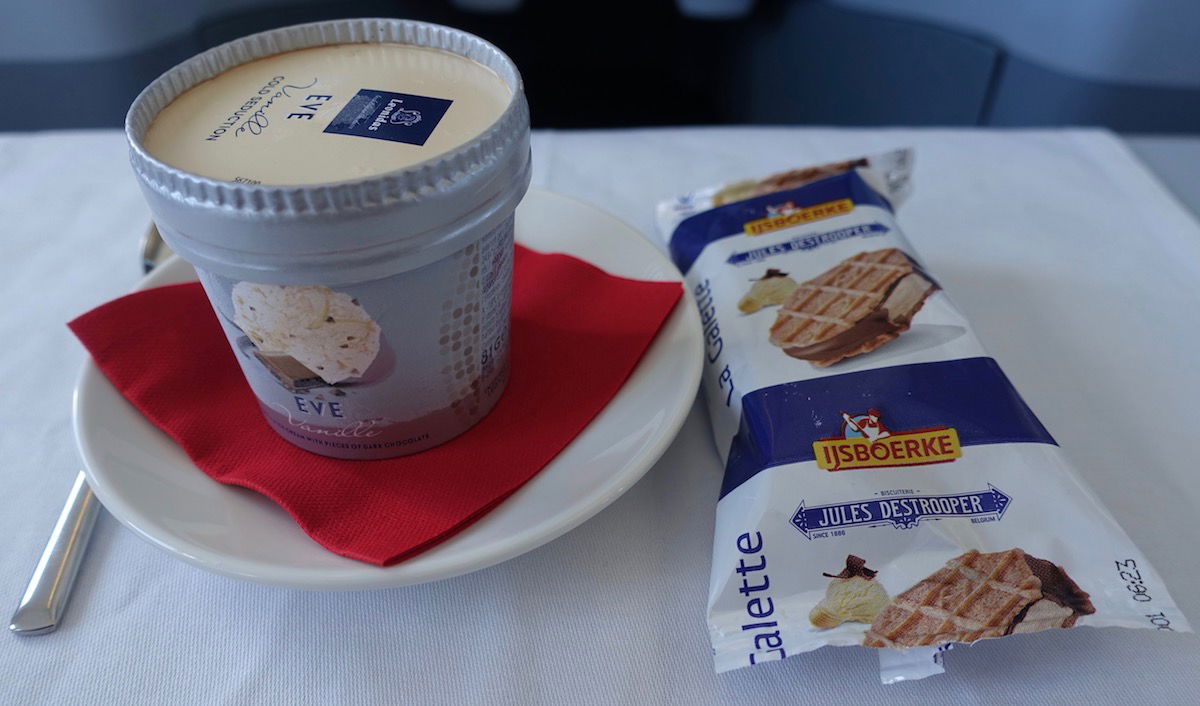 Breakfast was served before landing, and consisted of cold cuts, two mini-omelets, fruit, granola, and yogurt.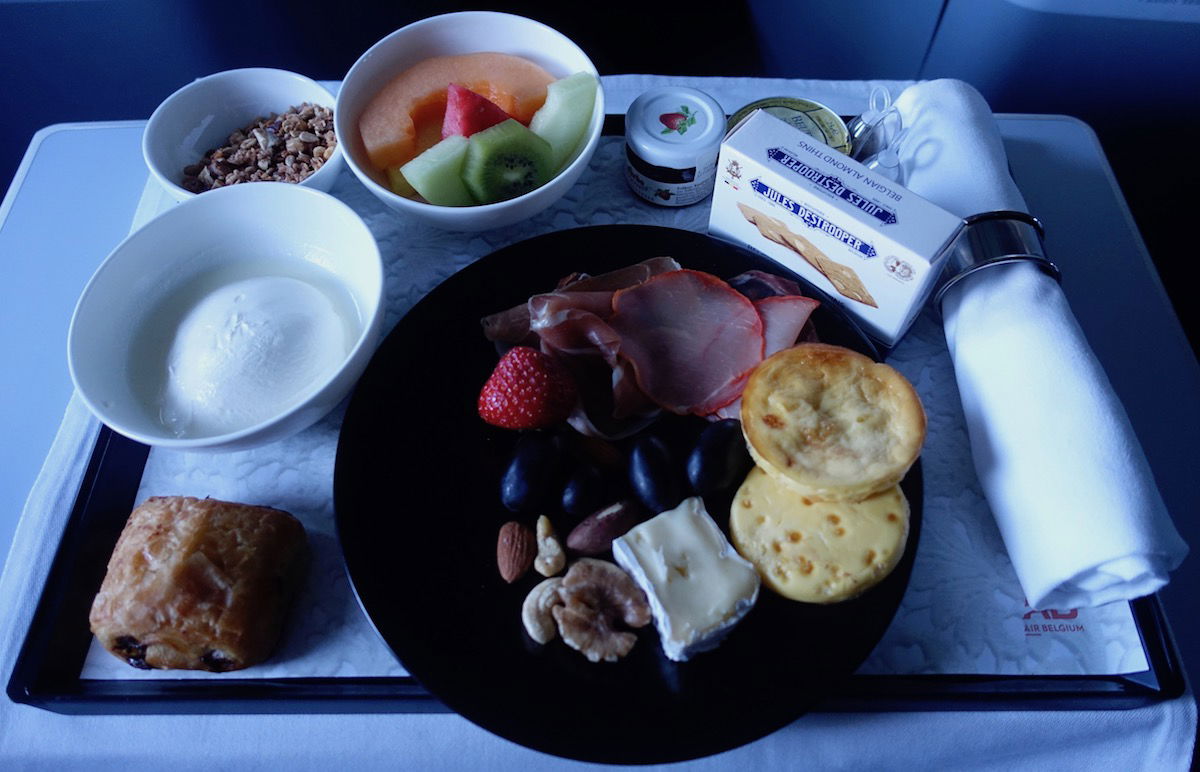 What impressed me most about the flight, though, was the crew. The Air Belgium flight attendants were exceptional. Now, of course I have to acknowledge that there were only 25 passengers, so I'd expect service to be excellent, but their enthusiasm really pleasantly surprised me.
For the most part the crew seemed to be seasoned crew who had worked for other airlines (mostly TUI, it seems), and they all seemed really excited to be working for Air Belgium. In particular, the Greek senior flight attendant was an absolute delight. There were three flight attendants working business class, and they checked on both passengers constantly to see if we wanted anything.
Just to give one example of the ridiculously good service, when we arrived in Hong Kong it suddenly started pouring rain. They opened the forward door, and some rain was dripping by the exit, because the jet bridge cover wasn't fully attached. The senior flight attendant barked at the ground crew — "I can't have my business class passengers deplaning like this. Please do it again." Hah!
So yeah, I loved my Air Belgium flight. That's partly because it was surreal to be on a flight this empty, partly because I was so excited to fly a new airline, and partly because the crew was phenomenal.
Air Belgium now has three planes, and continues to operate charters for other airlines as well. Based on talking to the crew, they had mostly been working Air France charter flights from Paris to Libreville and Lagos. As I've said before, at least in the near future I think that's what Air Belgium will primarily do, because I can't imagine how much money they are losing on their own flights (which is to be expected when they don't have any airline partnerships and their flights aren't even bookable in the GDS).
I have a return flight booked in Air Belgium business class in a few weeks, and I look forward to seeing how that flight compares.
Stay tuned for the full review!