I just spent quite a bit of time in Bodrum, Turkey. This was my first attempt at an international trip since the pandemic started, and Turkey is one of the few countries that has no restrictions on who can visit (yes, that even includes Americans).
In this post I wanted to share my impressions of how coronavirus is being handled in Turkey from a tourism perspective. Obviously I'm no doctor or epidemiologist, so all I can share is my perception of things. I took one domestic trip in the US several weeks back, which left me with an unfavorable impression of travel, and I wondered how this trip would compare.
In no particular order, below are my takeaways regarding how coronavirus is being handled in Bodrum from a visitor's perspective.
How bad is coronavirus in Turkey?
For a bit of context, Turkey claims to have somewhere around 1,000 coronavirus cases per day for the past several weeks.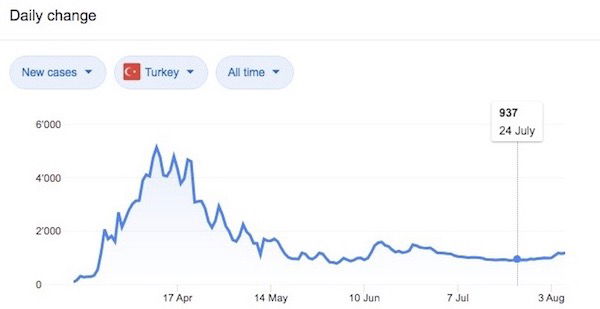 Given the massively different amount of testing being done around the world (look at the US vs. France, for example), I tend to think deaths is a better indicator of things than confirmed cases.
Turkey reports having ~5,800 deaths with a population of ~82 million, while the US reports having ~163,000 deaths with a population of ~328 million. That means per capita, the US has a reported death rate that's ~7x higher.
At least that's what's being reported. Now, I'm not sure I trust Turkey's reporting here, and I also find it a bit unusual how consistent cases have been every single day of the week for the past many weeks.
I'm not suggesting things are as they appear, but I figure some rough context for what's being reported is at least valuable.
I should also mention that Bodrum is the only place we visited in Turkey, and most of the reported cases are from big cities.
What was the process for entering Turkey?
Entering Turkey was seamless. We flew direct from Munich to Bodrum:
Turkey doesn't require any sort of coronavirus testing for arriving passengers
We went through one of those temperature monitors on arrival, as you see at many airports, but I'm not sure anyone was even looking at the screen
There were no questions at immigration, and we were stamped through faster than I've experienced anywhere else (we did get e-visas in advance, which were quick to get, and instantly approved)
So yeah, Turkey is the opposite extreme of Iceland (a system that I prefer), given the lack of testing on arrival, and also given that Turkey will let virtually everyone in.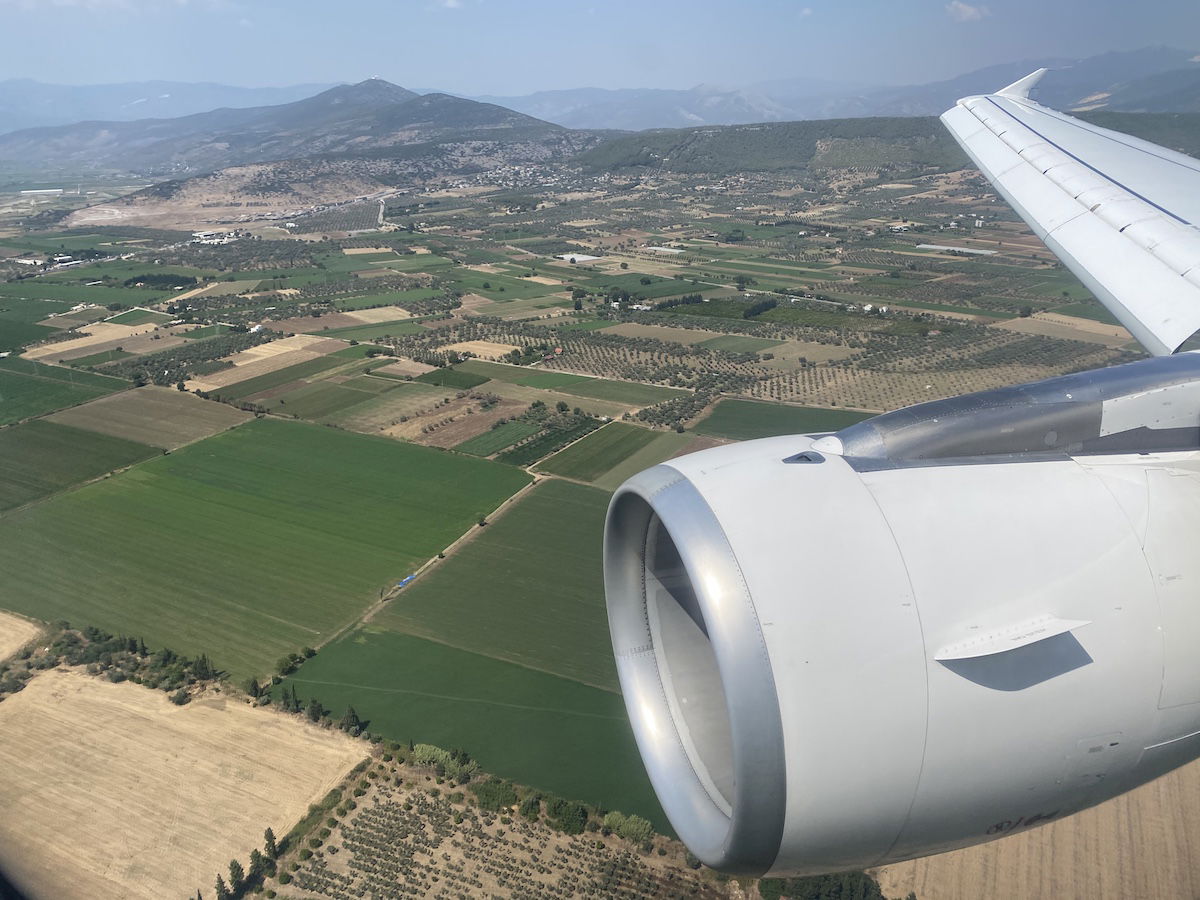 The process of entering Turkey was seamless
Coronavirus precautions were impressive
I was pleasantly surprised by the precautions being taken in Turkey, and found them to mostly be better than in the US:
At the airport all employees had masks on, and most even had face shields
Taxi drivers wore their face masks perfectly without exception and rolled down their windows, and one guy even squirted hand sanitizer at us as we entered his car while yelling "corona"
Even outdoor malls enforced mask usage when entering
When we went to restaurants, when we returned to hotels, and even when we went to outdoor malls, our temperatures were taken
When we arrived at our hotels, our suitcases were "disinfected"
There were stations with hand sanitizers just about everywhere, and they were always working properly
At hotels, all breakfast buffets were replaced by a la carte options, gym usage required appointments as equipment was disinfected between each use, menus were largely replaced by signs with QR codes, etc.
For the most part face mask usage among hotel employees was exceptional — at the EDITION Bodrum, for example, every employee wore their face mask perfectly (yes, this includes people working long shifts on the beach in 90 degree weather)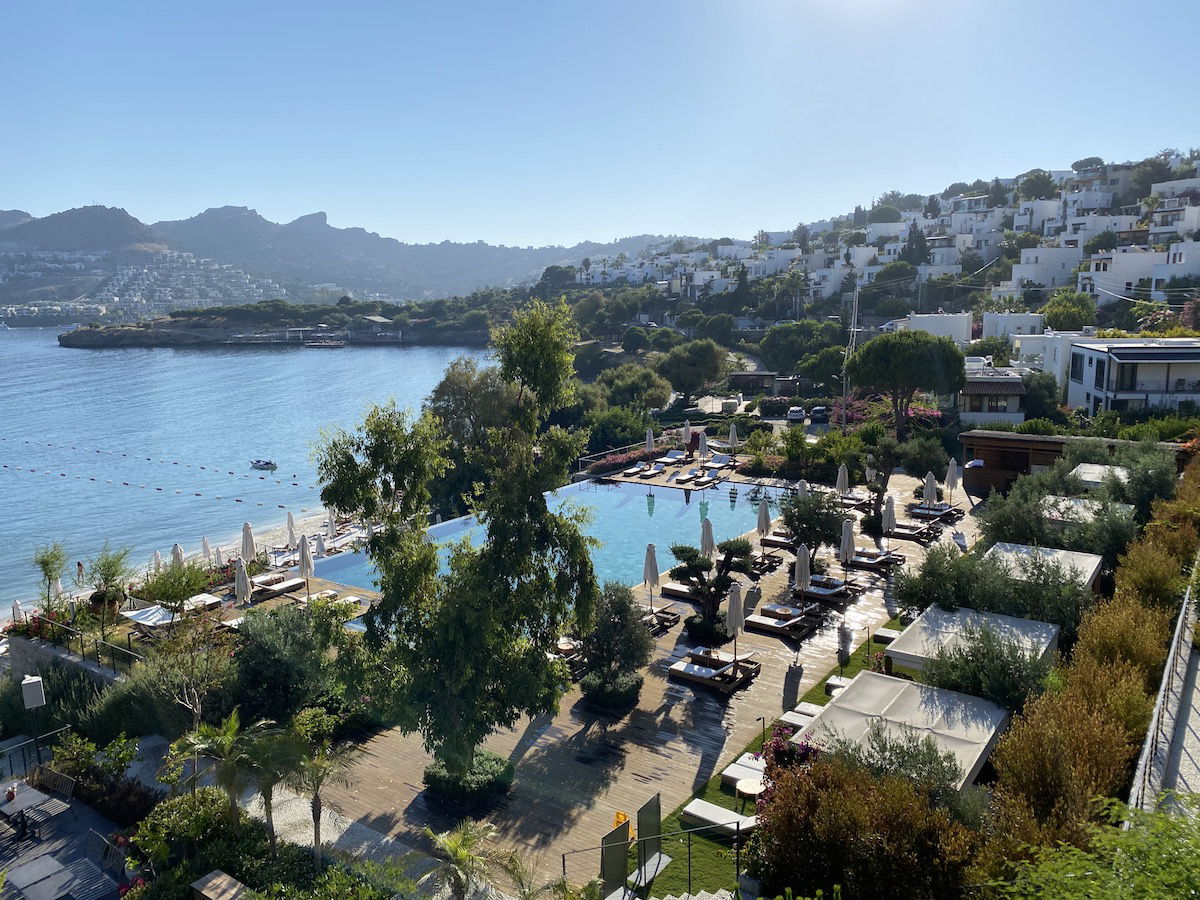 The EDITION Bodrum #maskgoals
Virtually everything in Bodrum is outdoors
We know that the risk of spread of coronavirus is much higher indoors than outdoors, and that's an area where Bodrum is ideal. I'm not even exaggerating when I say that the only time we were indoors in Bodrum was in our hotel room.
Every single restaurant we went to was outdoors. Beyond that, Bodrum is all about beaches, pools, and the ocean, and those are all outdoors, with plenty of room for distancing.
You really couldn't pick a better destination if you're looking to avoid the indoors.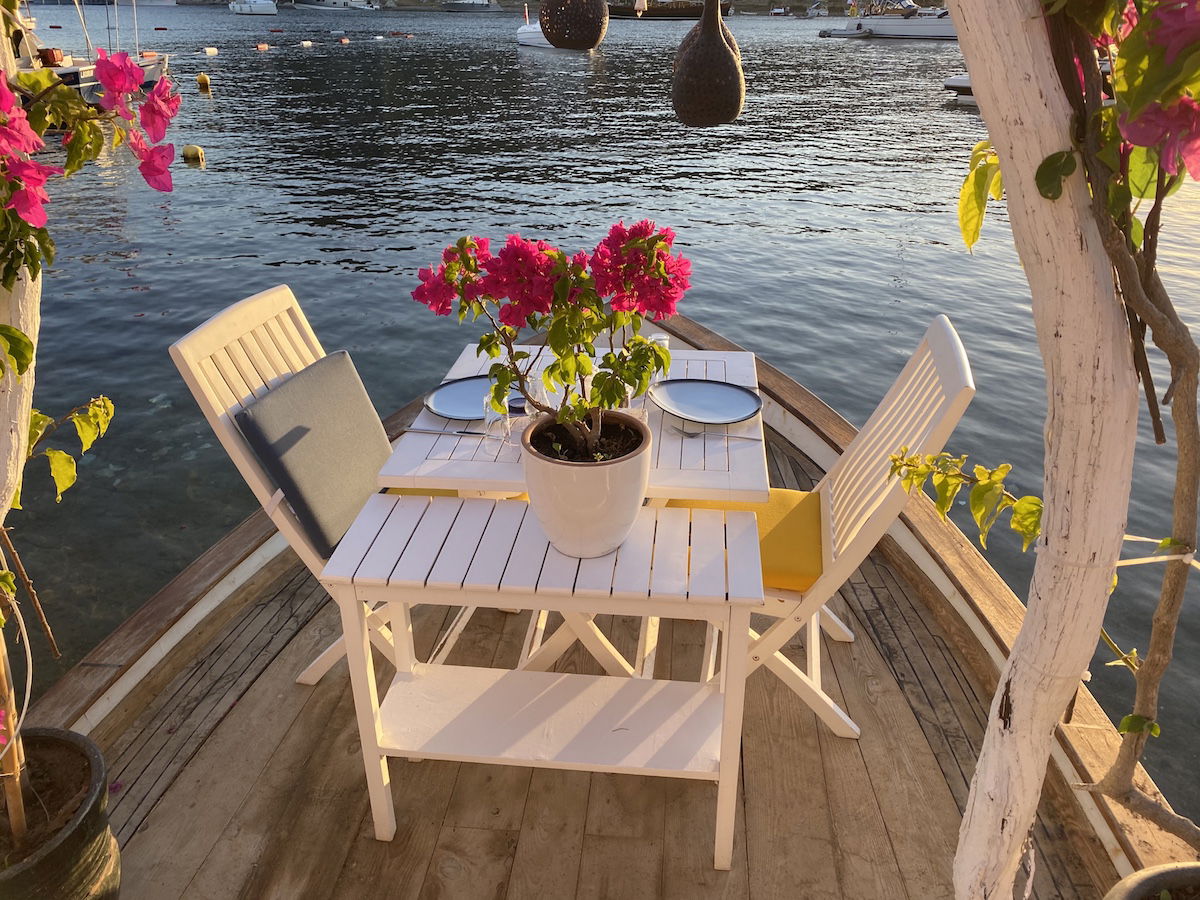 A dinner with distance!
Were other tourists wearing face masks?
Even though Turkey is allowing in foreigners, the tourist demographics for this year's season have changed drastically. At all the hotels we stayed, 80-90% of guests were Turkish. This is apparently an extreme departure from previous years, where 50%+ of guests were foreigners.
In that sense it was interesting to see the precautions that Turkish guests were taking.
While masks were consistent among those working in most settings, it wasn't nearly as consistent among guests. While most people had a mask (typically hanging around their arm), I'd say that roughly half of guests were wearing them when walking around in situations where it wasn't mandated.
While ideally that number would be a bit higher, the reality is that:
There was plenty of room for physical distancing across the board
The risk of spread outdoors is much lower than indoors, so I can see why mask usage wasn't necessarily as widespread
Even among those not wearing masks, across the board I felt people were aware and considerate, and respected the personal space of others; in other words, nobody tried to walk just inches from you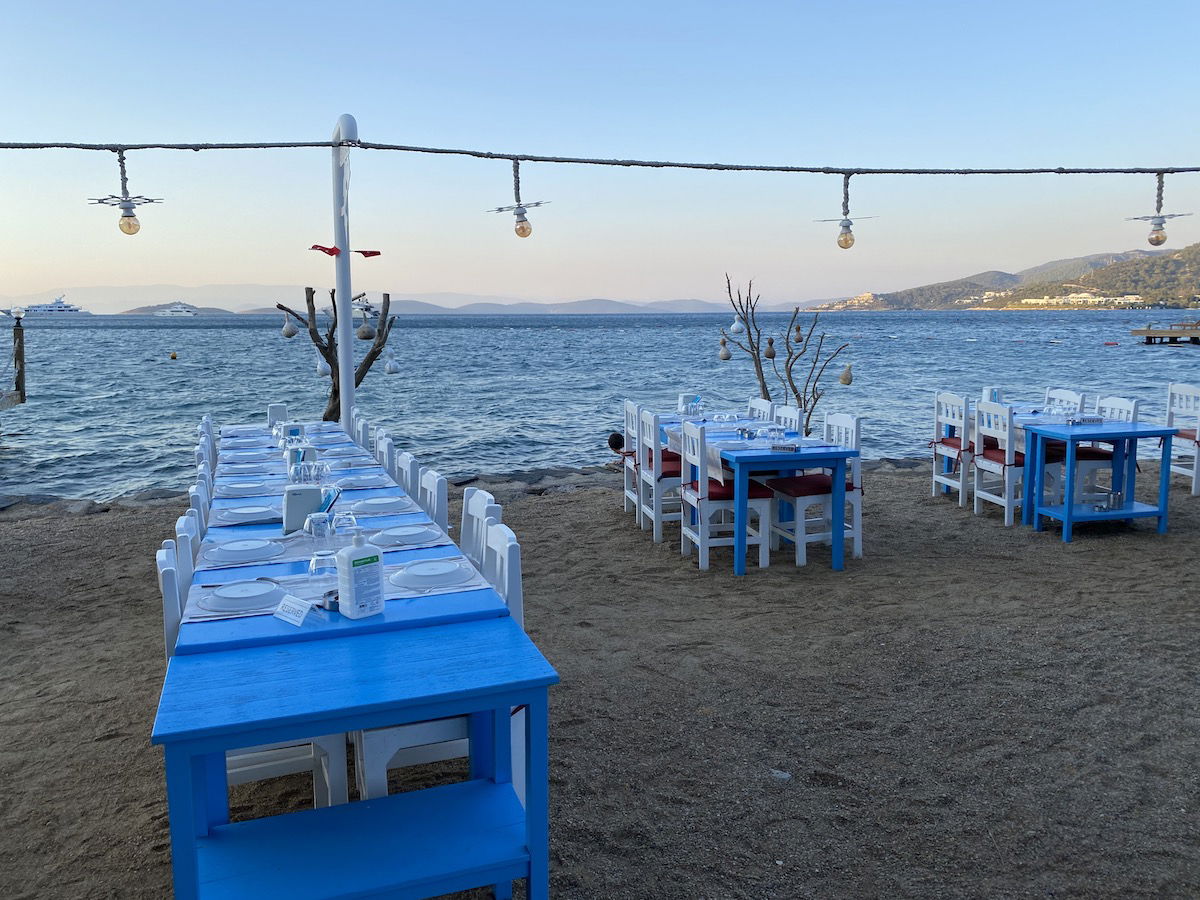 A typical dinner restaurant in Bodrum
My only other trip since the pandemic started was to national parks back in June, and I thought mask compliance on this trip was much better. I was shocked at the time at the number of people I saw indoors — even those working in businesses (like hiking equipment rental stores) — without masks.
I was disappointed by the lack of easy testing
Even if Turkey isn't going to mandate that visitors get tested, I was hoping they'd at least make it easy to get tested without symptoms, for those of us who want to err on the side of caution. After all, Istanbul Airport has one of the most impressive testing facilities of any airport in the world. Unfortunately it was a different story in Bodrum.
I had asked a couple of different hotels about the possibility of getting tested, and both said there was one hospital in Bodrum that does testing.
At that point the risk didn't seem worth it (going indoors into a hospital with people who probably actually are sick). It sure would be nice if Bodrum had more testing options.
I should mention that when I was departing Bodrum Airport they seemed to have a PCR testing facility set up as you enter the airport, but it was closed. Hopefully this is something that's coming soon.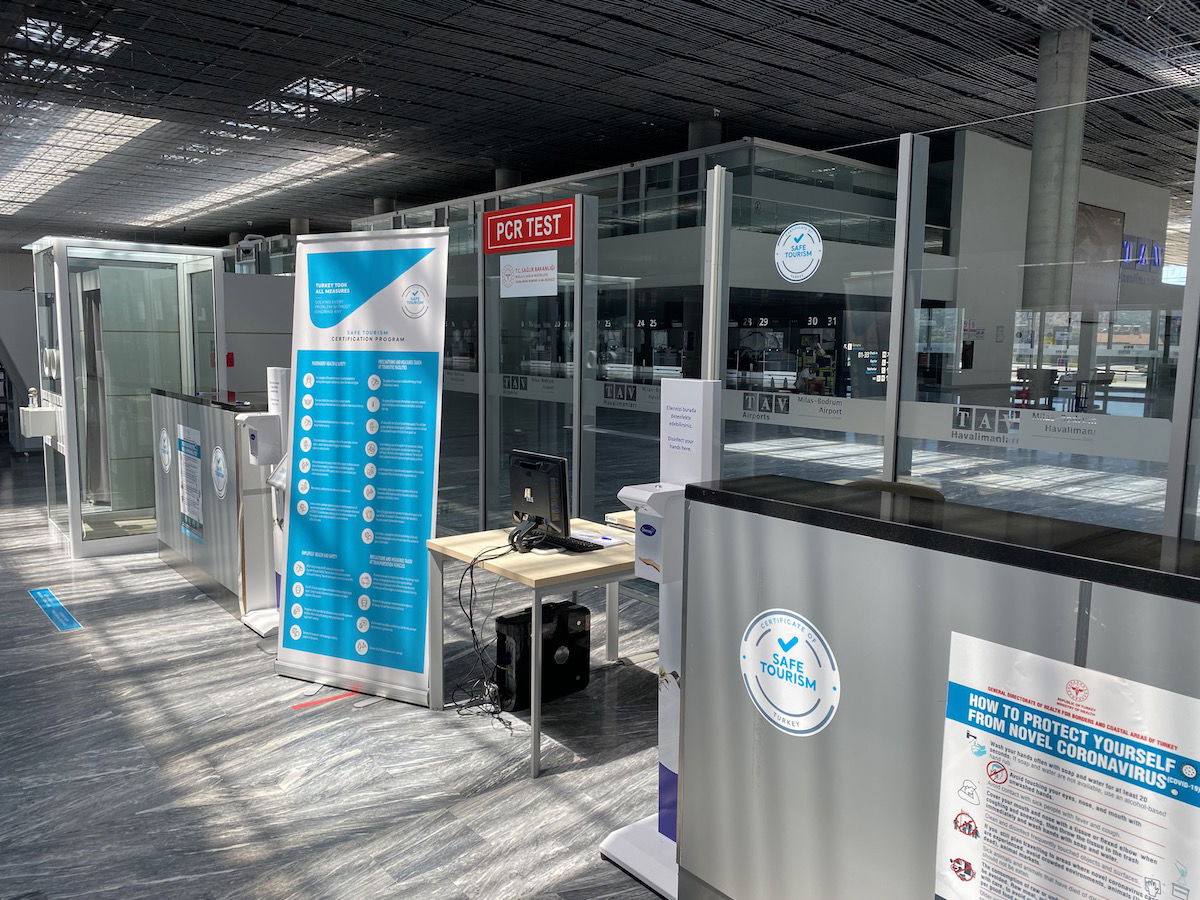 Bodrum Airport coronavirus testing
Bottom line
Initially I was apprehensive about Turkey essentially having an open door policy to visitors without any sort of testing requirement. I figured "they'll let anyone in, I guess they just don't care about this."
But that wasn't at all what I observed — instead I found myself impressed by the precautions being taken, and found them better and more consistent than I've witnessed in the US.
Turkey seems to be taking the approach of having life go on, but with precautions. Obviously not everyone will agree with that, though in many ways this trip provided a glimpse of how things could be in terms of a return to normal(ish).
I'll specifically say that at the EDITION Bodrum (which I'll be reviewing shortly) I felt more comfortable than in any other hospitality setting I've visited since the pandemic started. Mask compliance among employees was phenomenal, as were all of the other precautions.
Personally I felt the situation was being handled significantly better in Bodrum than on my trip to Arizona, Nevada, and Utah, back in June.
Everyone has to decide for themselves what they're comfortable with in terms of travel. This is by no means me telling everyone they should travel internationally, or to Turkey. But I will say that Bodrum exceeded my expectations in terms of precautions.