The EDITION wasn't the only Marriott property we stayed at in Bodrum, as we also checked out Caresse, the Marriott Luxury Collection property. The hotels have similar pricing (especially when redeeming points), so how do they compare? Let's take a look…
Booking Caresse Luxury Collection Bodrum
I booked Caresse using Marriott Bonvoy points. The hotel is a Category 7 Marriott property, and for our dates a stay cost 60,000 Bonvoy points per night. Marriott offers a fifth night free when redeeming points, meaning that in increments of five nights we were paying an average of 48,000 points per night.

For context, I value Bonvoy points at ~0.7 cents each, so to me, that's like paying ~$336 per night, which is an excellent deal.
As a point of comparison, for our dates a paid stay would have cost 749EUR (~883USD) per night.

As is the case at the EDITION, paid rates fluctuate significantly, and towards the end of the season rates are a fraction as much.

A fun upgrade opportunity at Caresse
Here's something interesting about Caresse. As a Bonvoy Titanium member I can select suite night awards as my Choice Benefit, and I can use those to confirm suite upgrades up to five days before arrival.
When I looked at the rooms available for upgrade at Caresse I was shocked. At Caresse, a suite night award can be used to confirm a handful of premium rooms, including a two bedroom suite. I applied suite night awards for this, and sure enough, they cleared five days before arrival.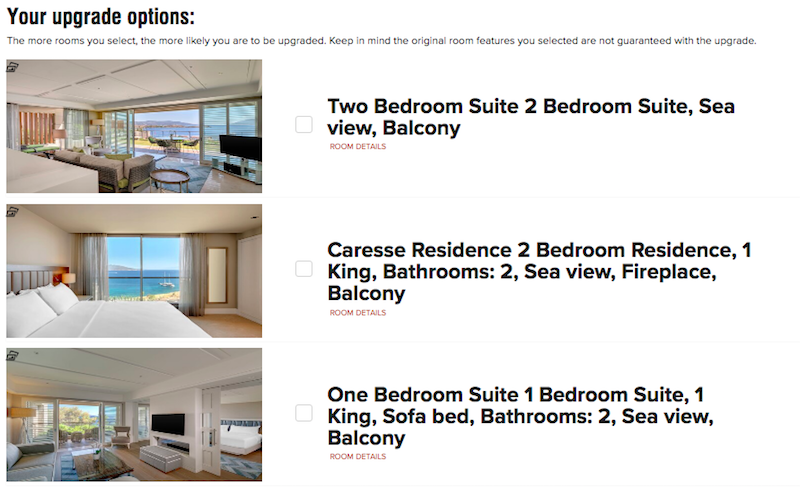 How to earn Marriott Bonvoy points
In addition to earning Bonvoy points through actual stays, there are lots of ways to earn Marriott points with co-branded US credit cards:
Best for Marriott perks
Get gold status for being a cardholder and a $300 Marriott statement credit every year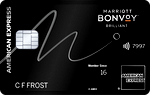 Marriott Bonvoy Brilliant® American Express® Card
Best for business travelers
Earn up to 2 free night awards every year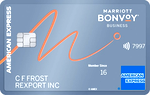 Marriott Bonvoy Business® American Express® Card
Marriott often also sells Bonvoy points at a discount, which could be a good opportunity as well.
Caresse Bodrum location
Caresse has a great location. It's in the south center of the Bodrum peninsula, and it's only about a 10-minute drive from the town of Bodrum, and about a 45-minute drive from the airport.
I think I liked the location of Caresse the most of any hotel we stayed at, though the truth is that there are so many great restaurants all over the peninsula that I don't have that strong of a preference. The taxi situation in Bodrum is great as well, in terms of affordability, honesty of drivers, etc., so getting around is hardly inconvenient.
Caresse Bodrum check-in
As we pulled up to Caresse there was someone there in a nurse uniform who took our temperatures. The bellmen helped with our bags, and offered to disinfect them before delivering them to our room.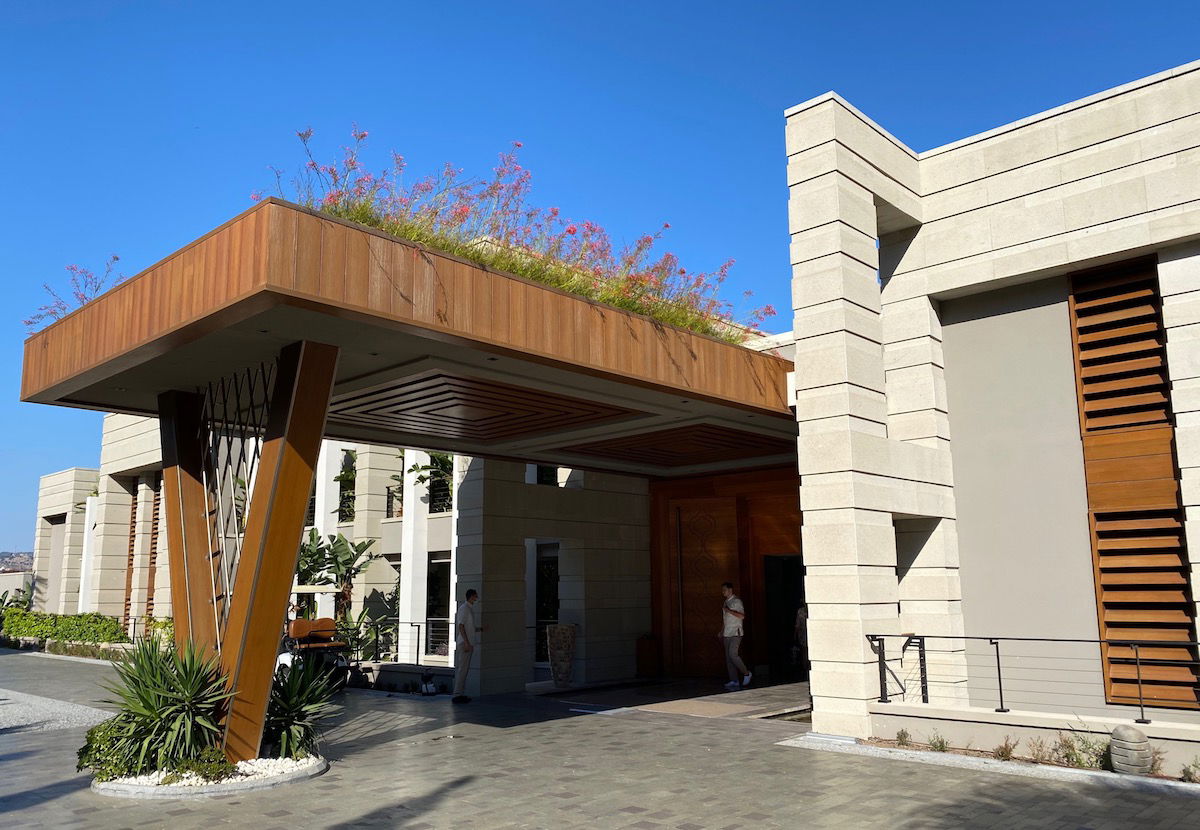 Caresse Bodrum exterior
Our check-in experience was rather strange. When we arrived at reception we handed over our passports and credit card — after about 10 minutes without the front desk agent saying anything to us, he eventually escorted us to our room. While he gave us a room tour, he didn't explain anything else about the hotel, which I found odd.
The lobby itself was indoors and had plenty of seating, though it was always empty, since there's not really any reason to hang out here.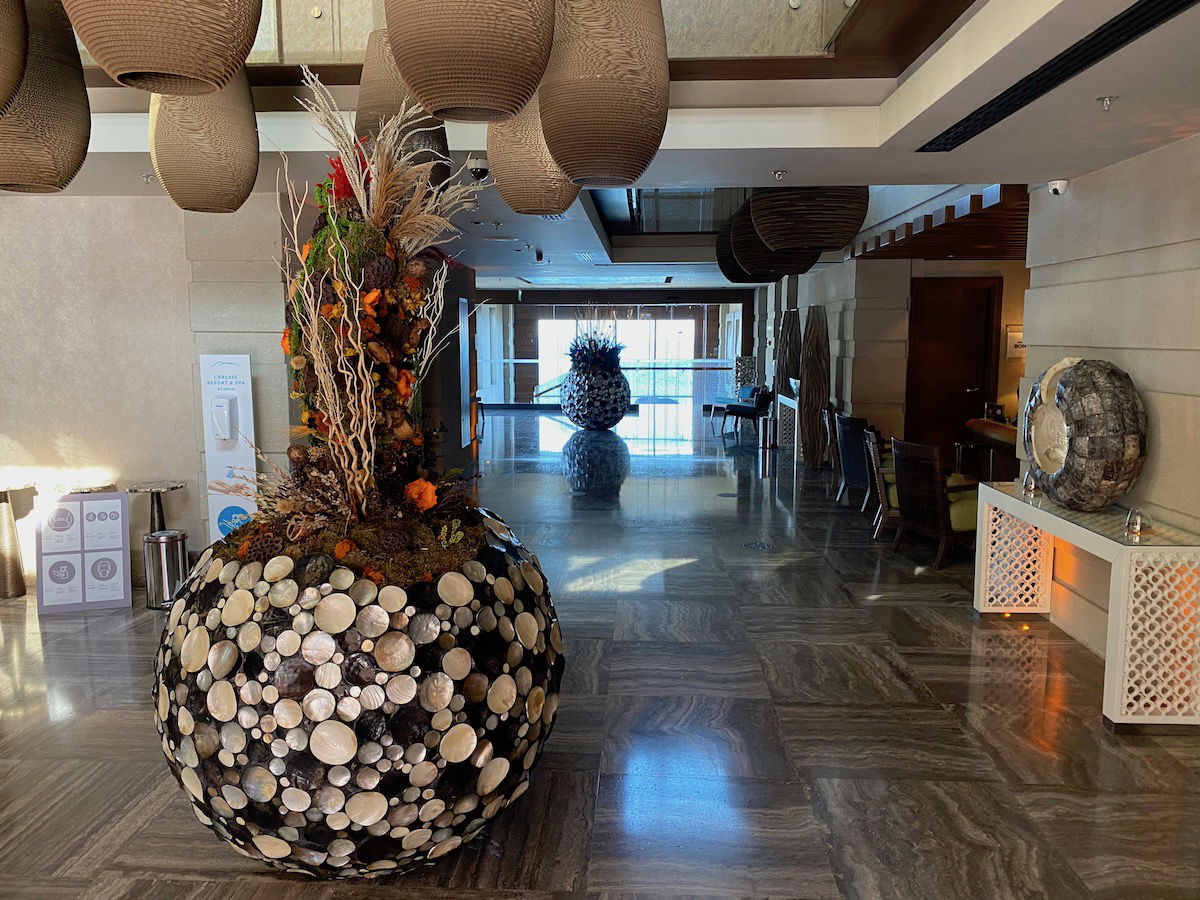 Caresse Bodrum reception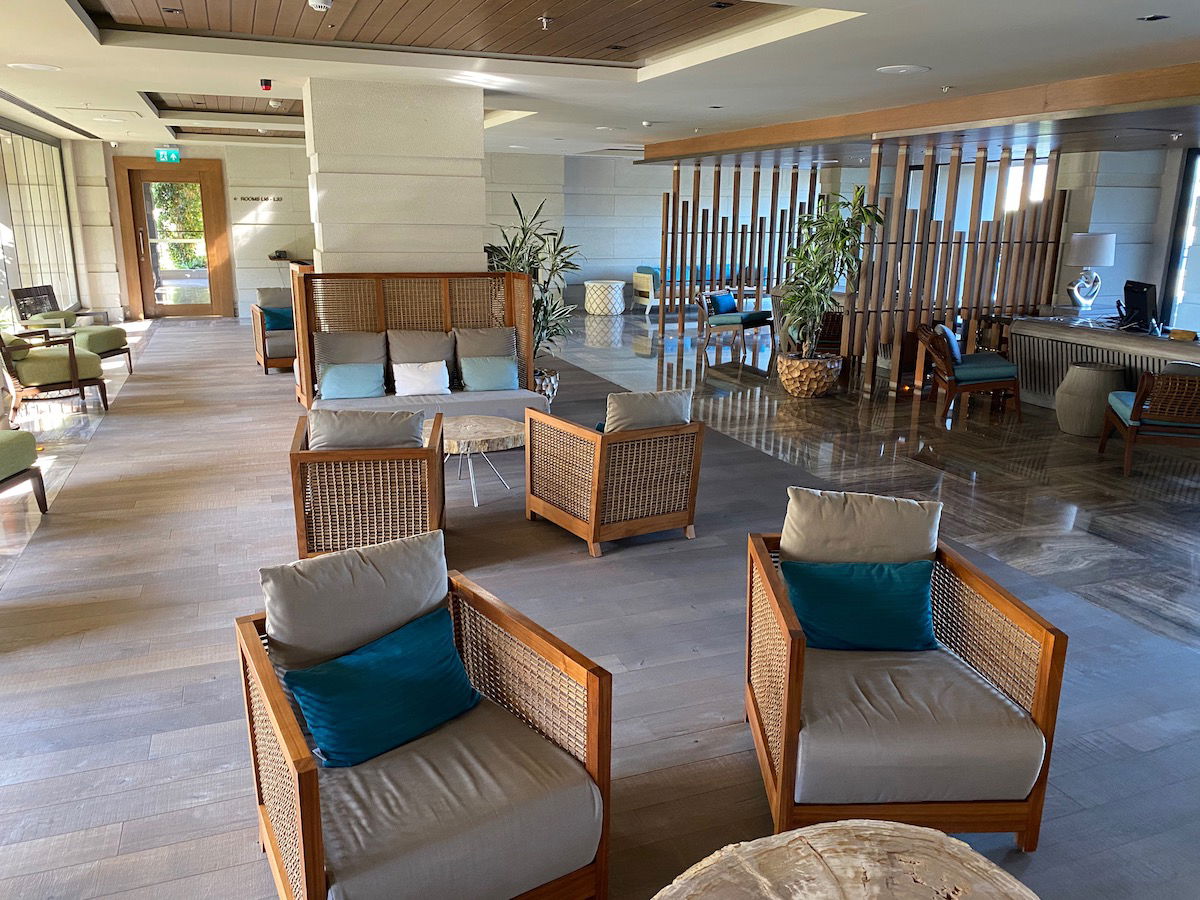 Caresse Bodrum lobby
At the end of the lobby is a staircase that can take you down several levels, all the way to the beach (alternatively there are elevators). What a view!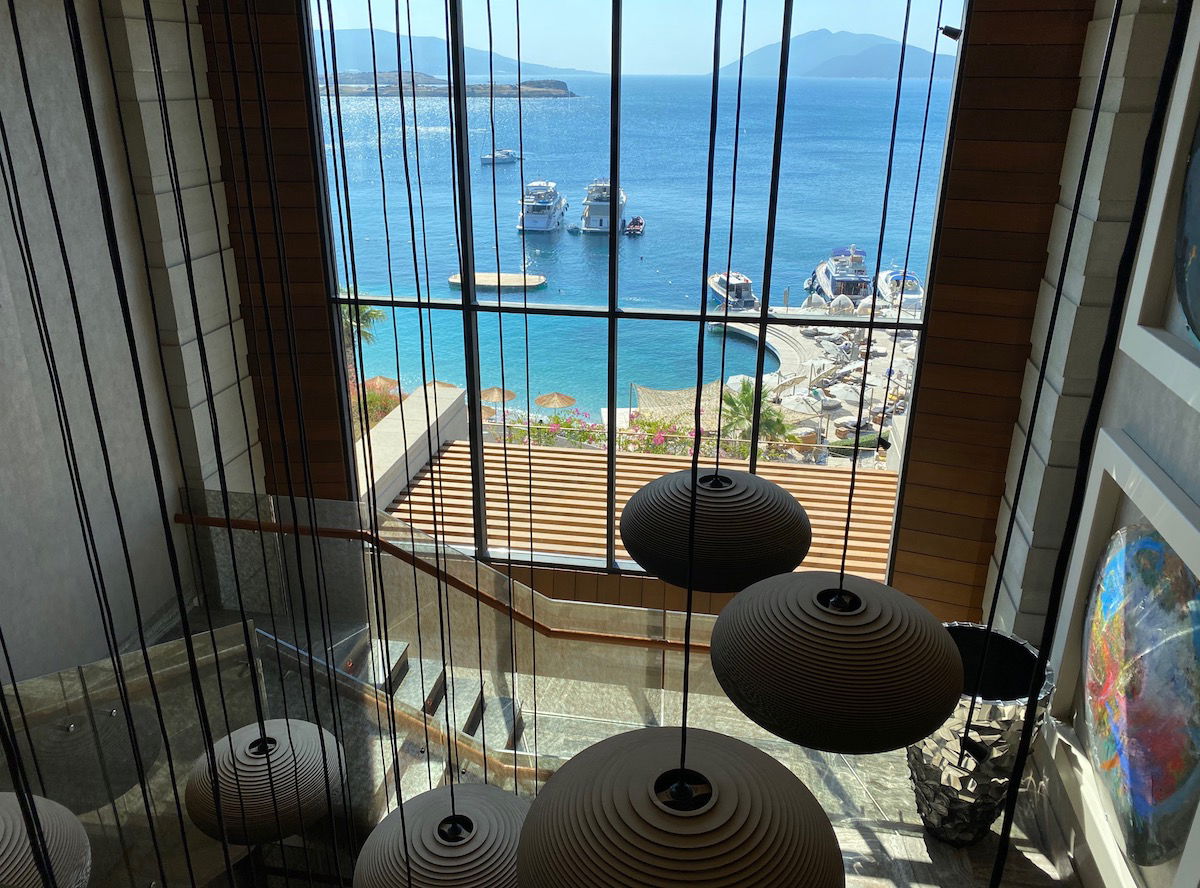 Caresse Bodrum lobby
Caresse Bodrum two bedroom suite
Caresse has just 77 rooms, which means that it has fewer rooms than the EDITION (which surprised me, since it felt more crowded).
Our two bedroom suite was room 333, just a short walk from reception. There was an outdoor path with some pretty trees and flowers leading to our room.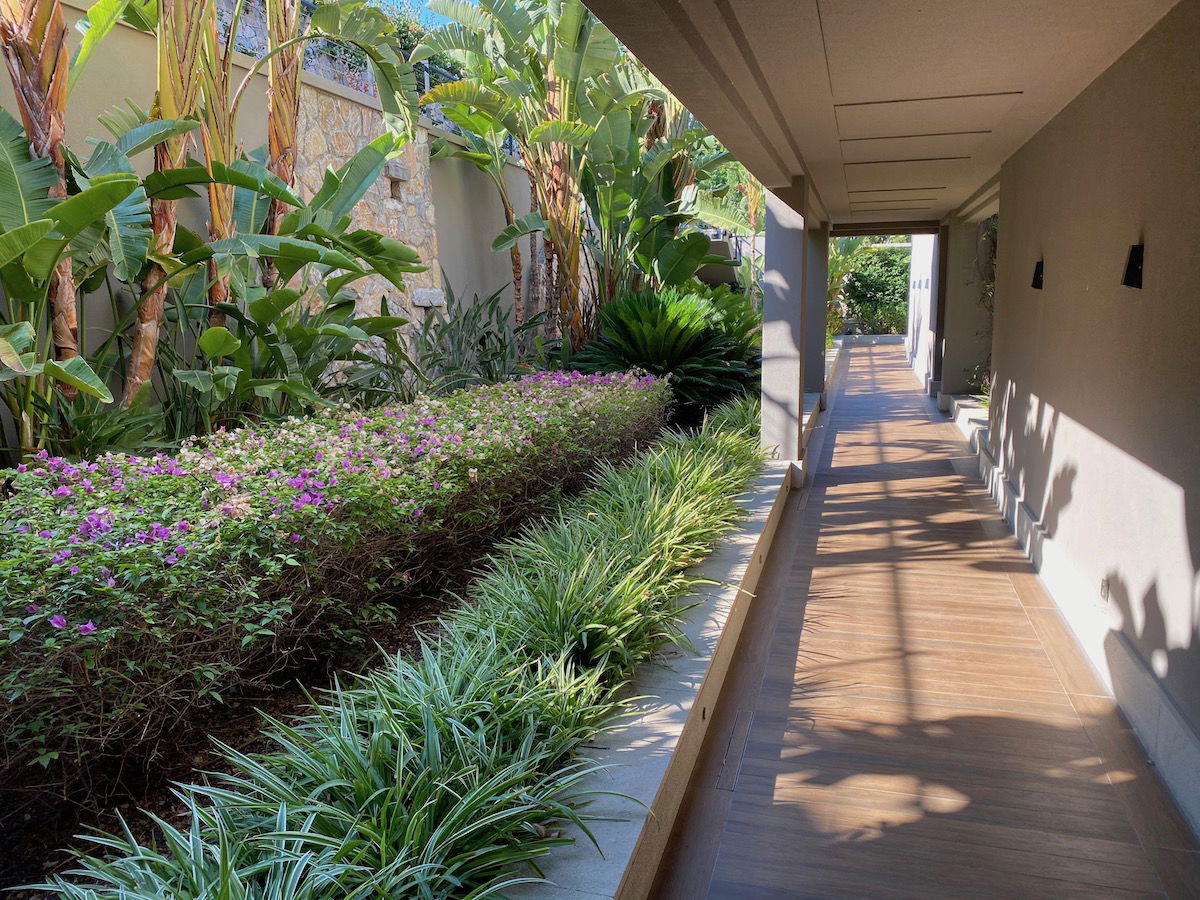 Caresse Bodrum exterior hallway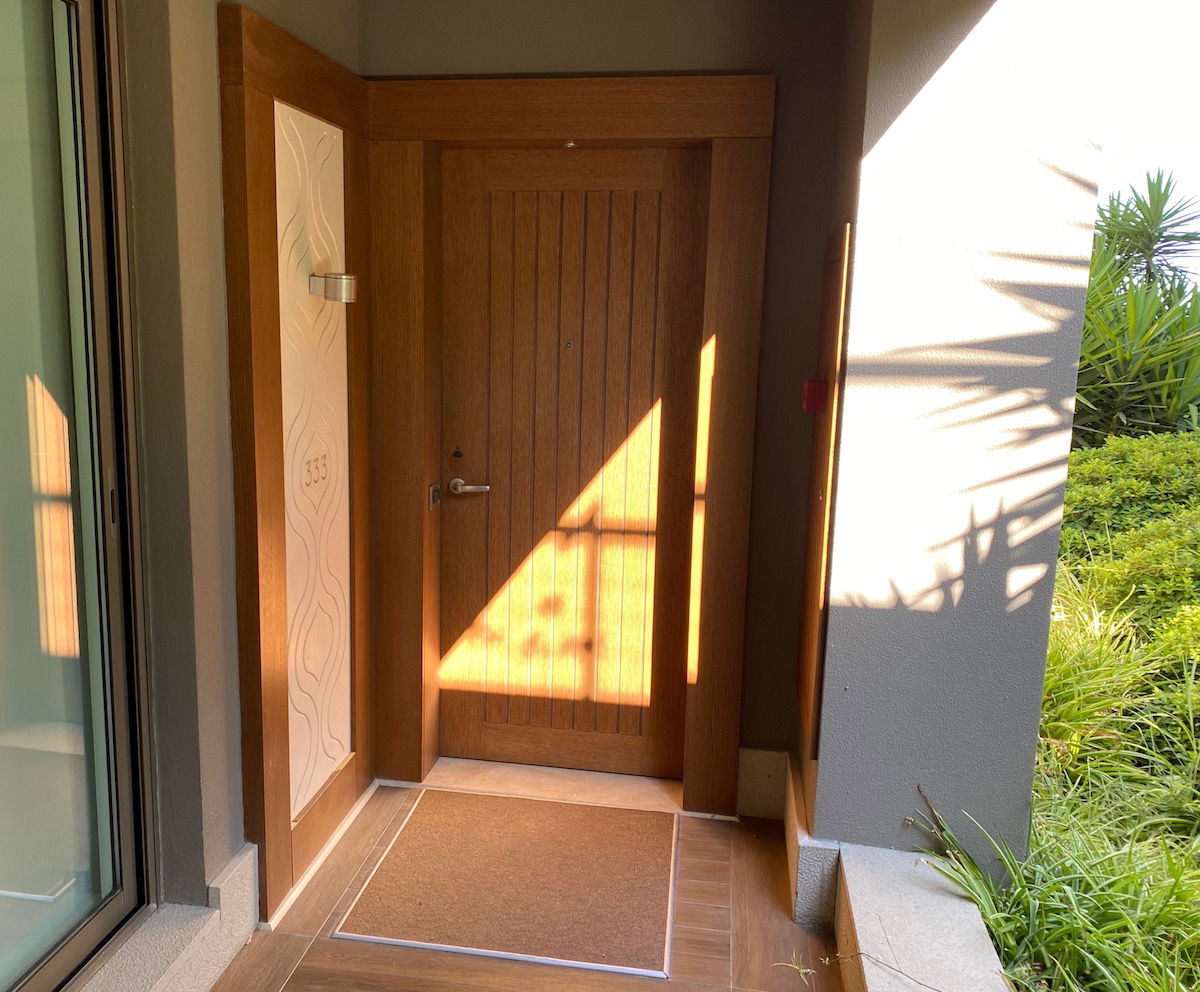 Caresse Bodrum room exterior
The two bedroom suite was a great size, as you'd expect. Just inside the entrance were the kitchen and living area. The kitchen featured an island with four dining chairs, and then the living area featured a couch and a chair, with a TV in the far corner of the room.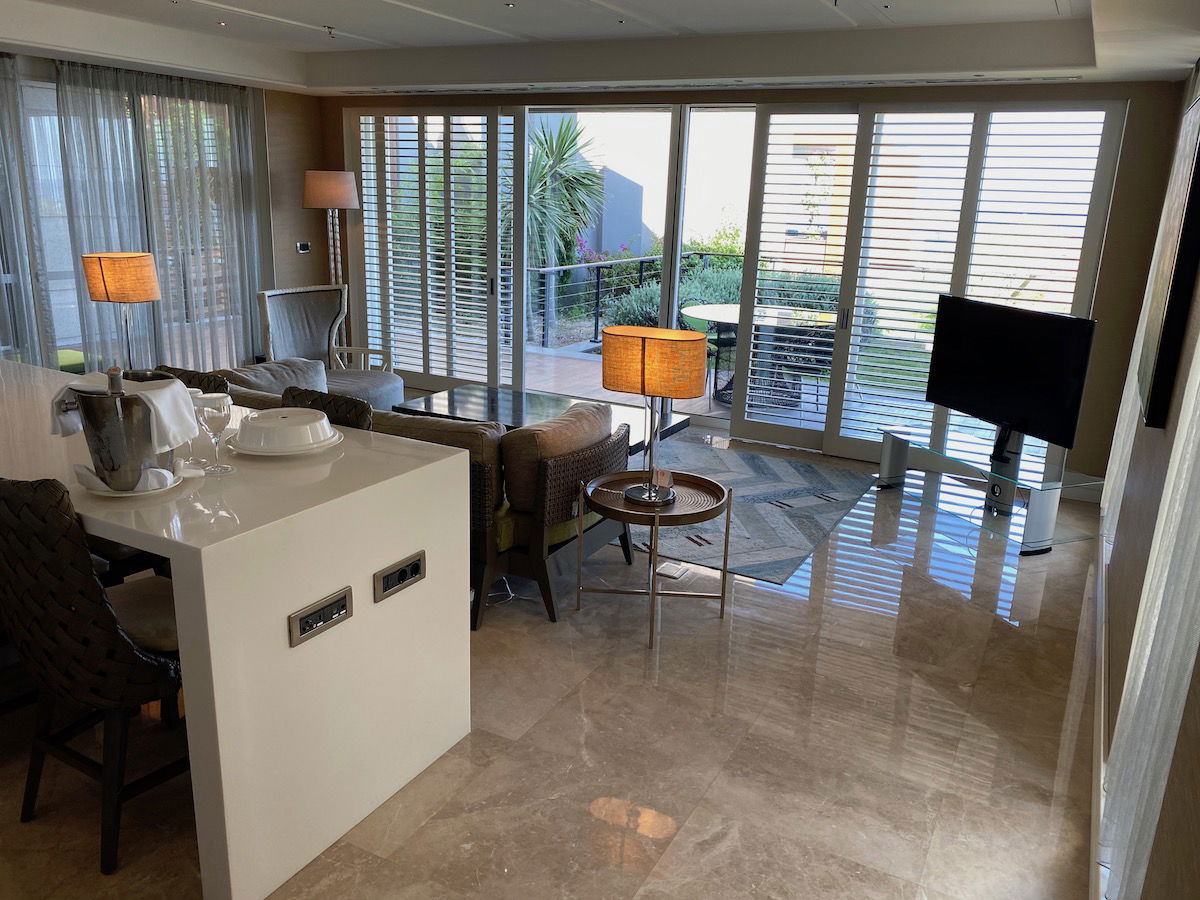 Caresse Bodrum two bedroom suite living room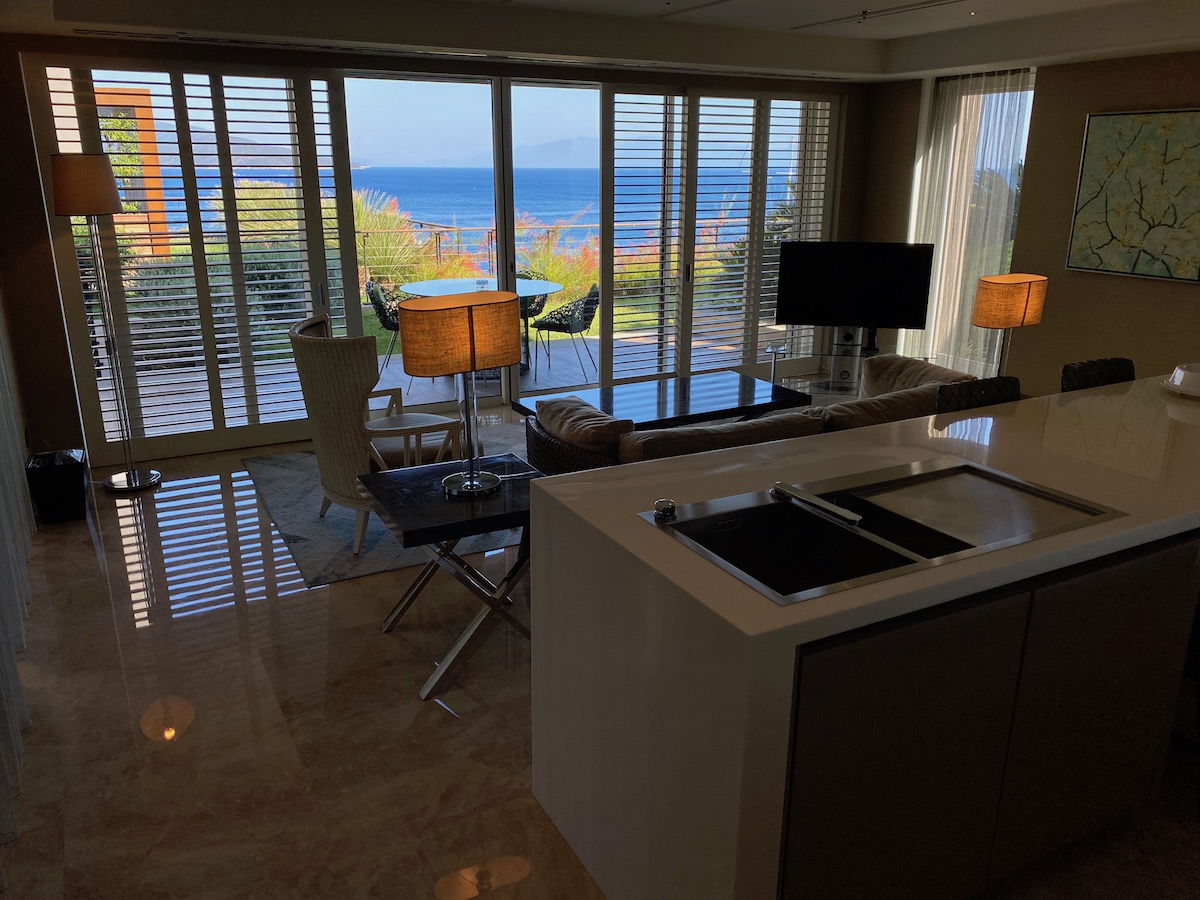 Caresse Bodrum two bedroom suite living room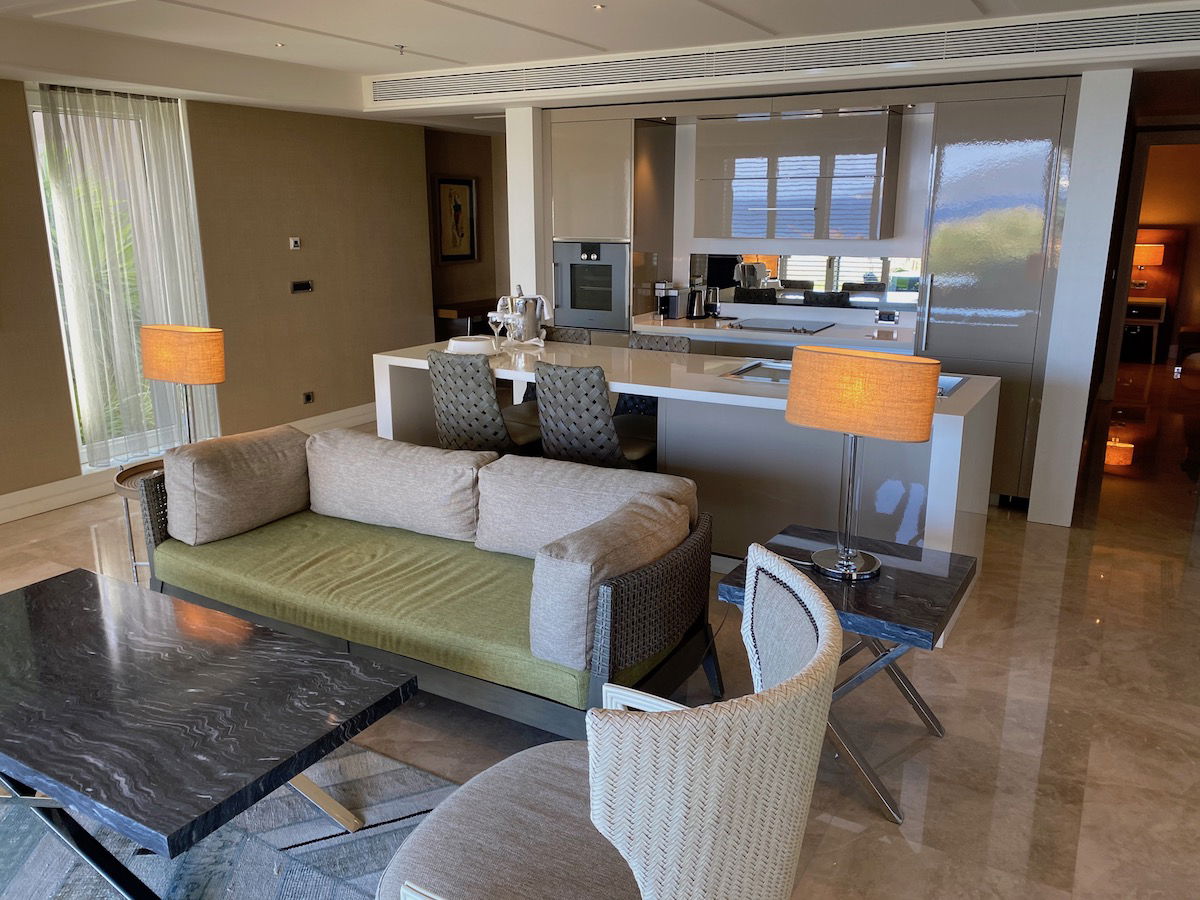 Caresse Bodrum two bedroom suite living room
In addition to there being a fridge in the kitchen, there was also an illy coffee machine and a kettle.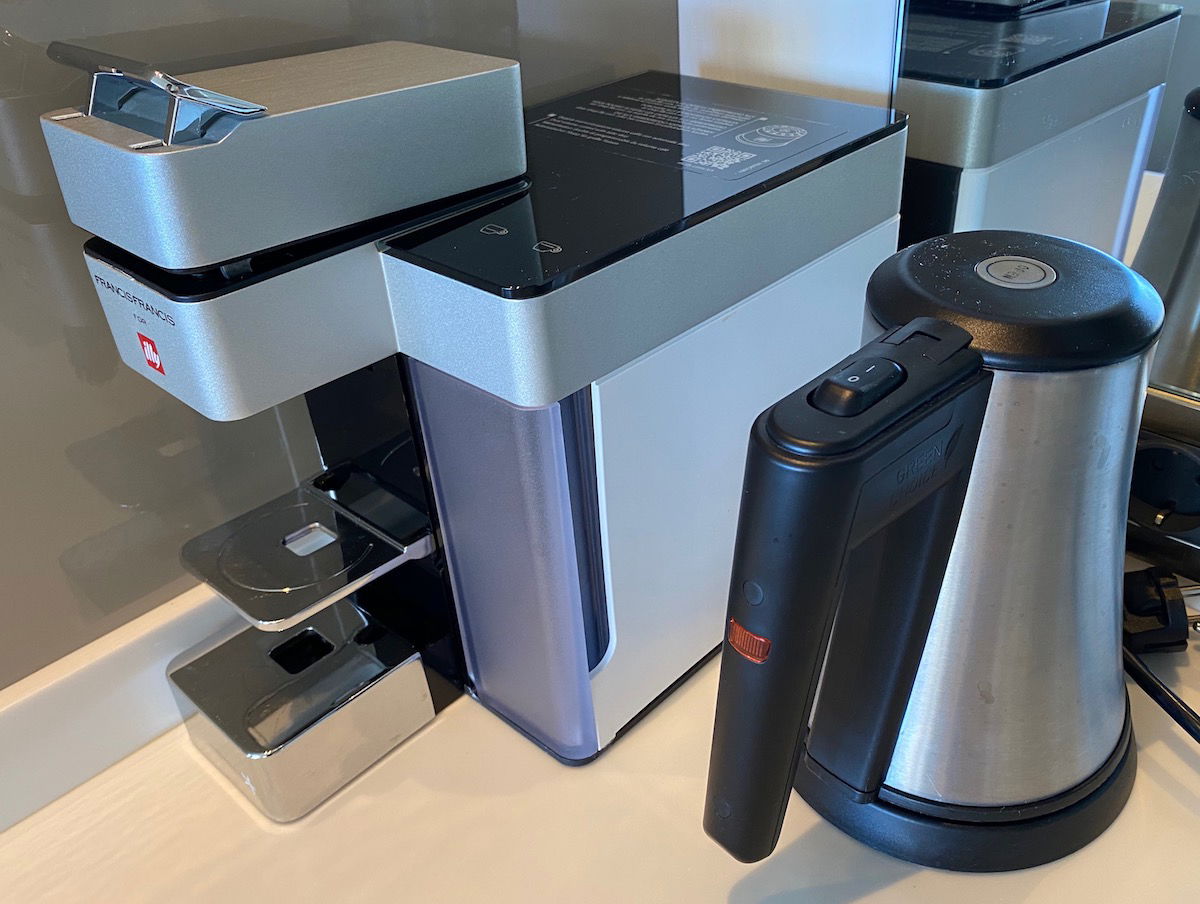 Caresse Bodrum in-room coffee
Waiting in the kitchen was a lovely welcome amenity consisting of rose and some snacks.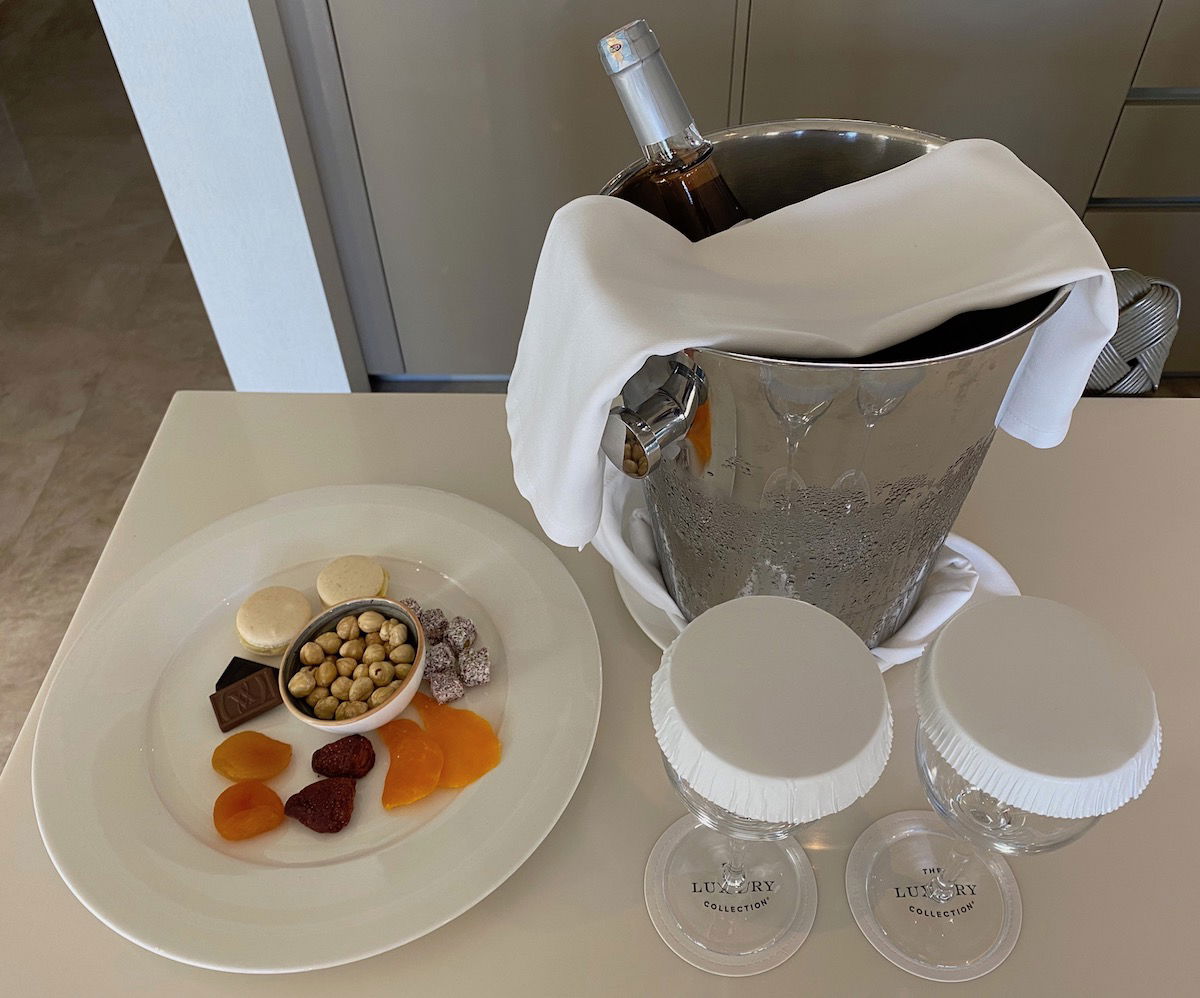 Caresse Bodrum welcome amenity
Just around the corner from the living room was the master bedroom, with a comfortable king size bed.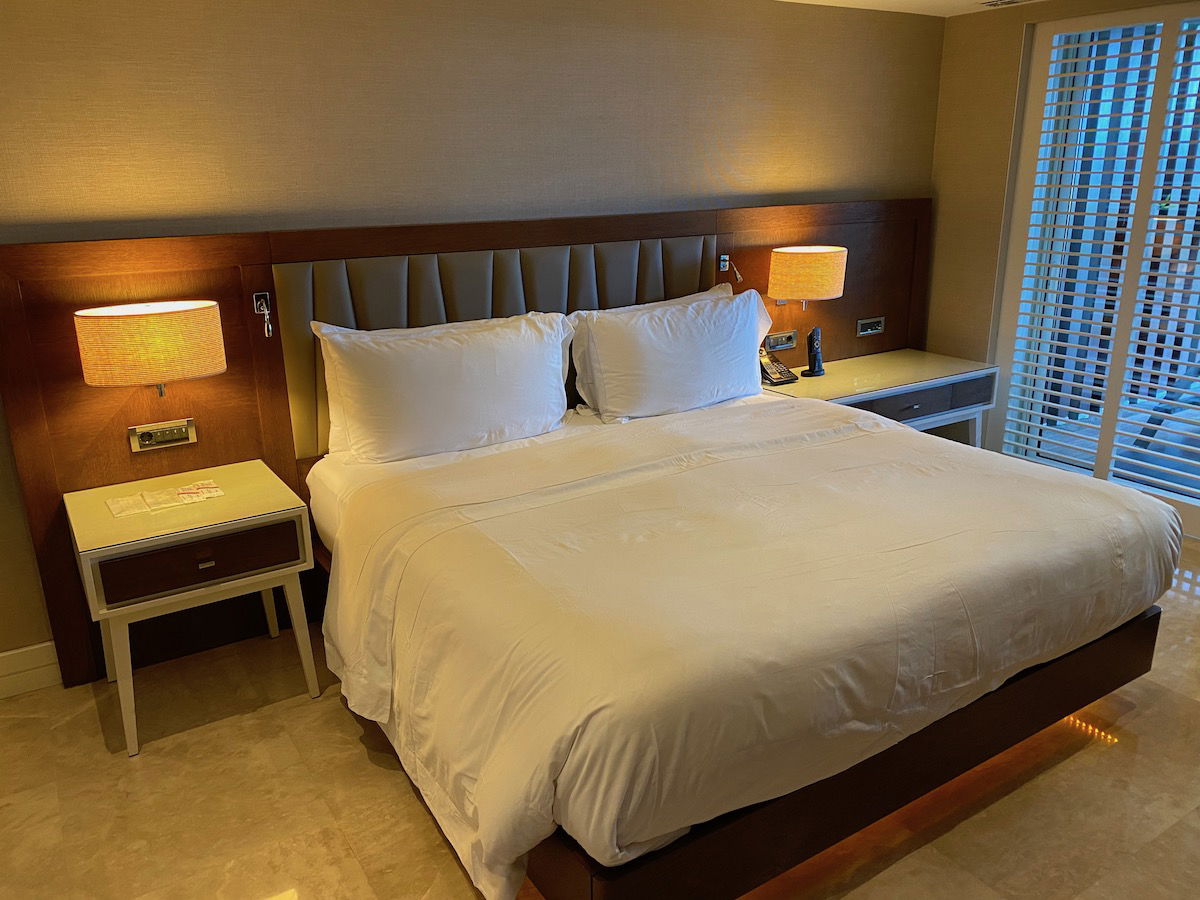 Caresse Bodrum suite bedroom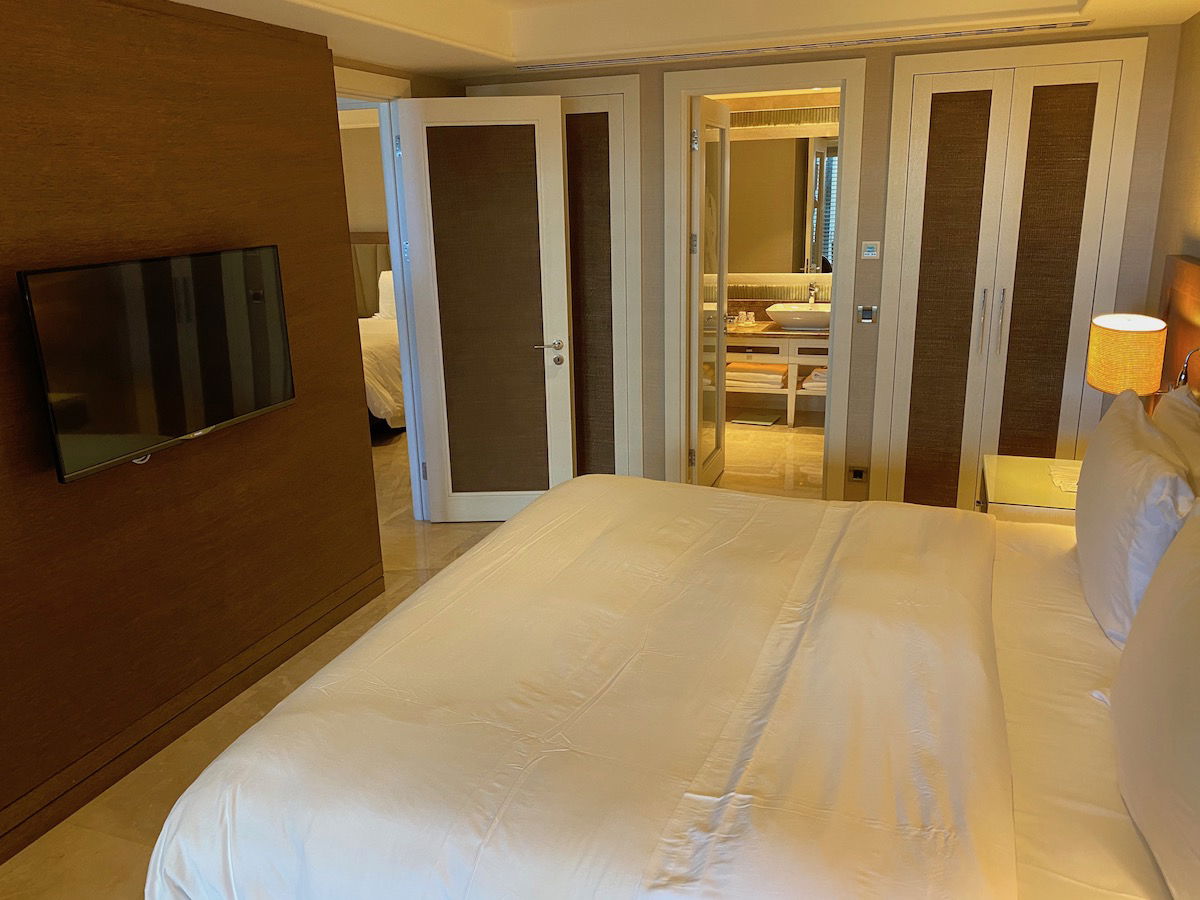 Caresse Bodrum suite bedroom
On the nightstand were some face masks and disinfecting towels.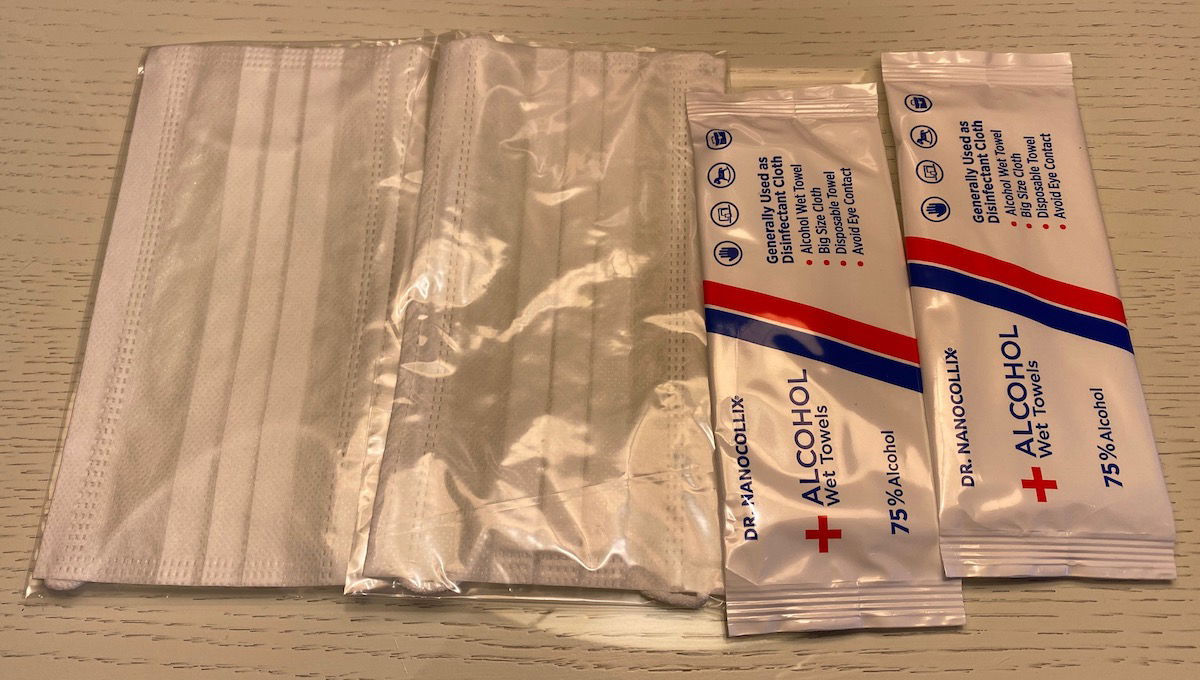 Caresse Bodrum face masks & disinfecting towels
The bathroom was just off the bedroom, and had a sink, toilet, and walk-in shower.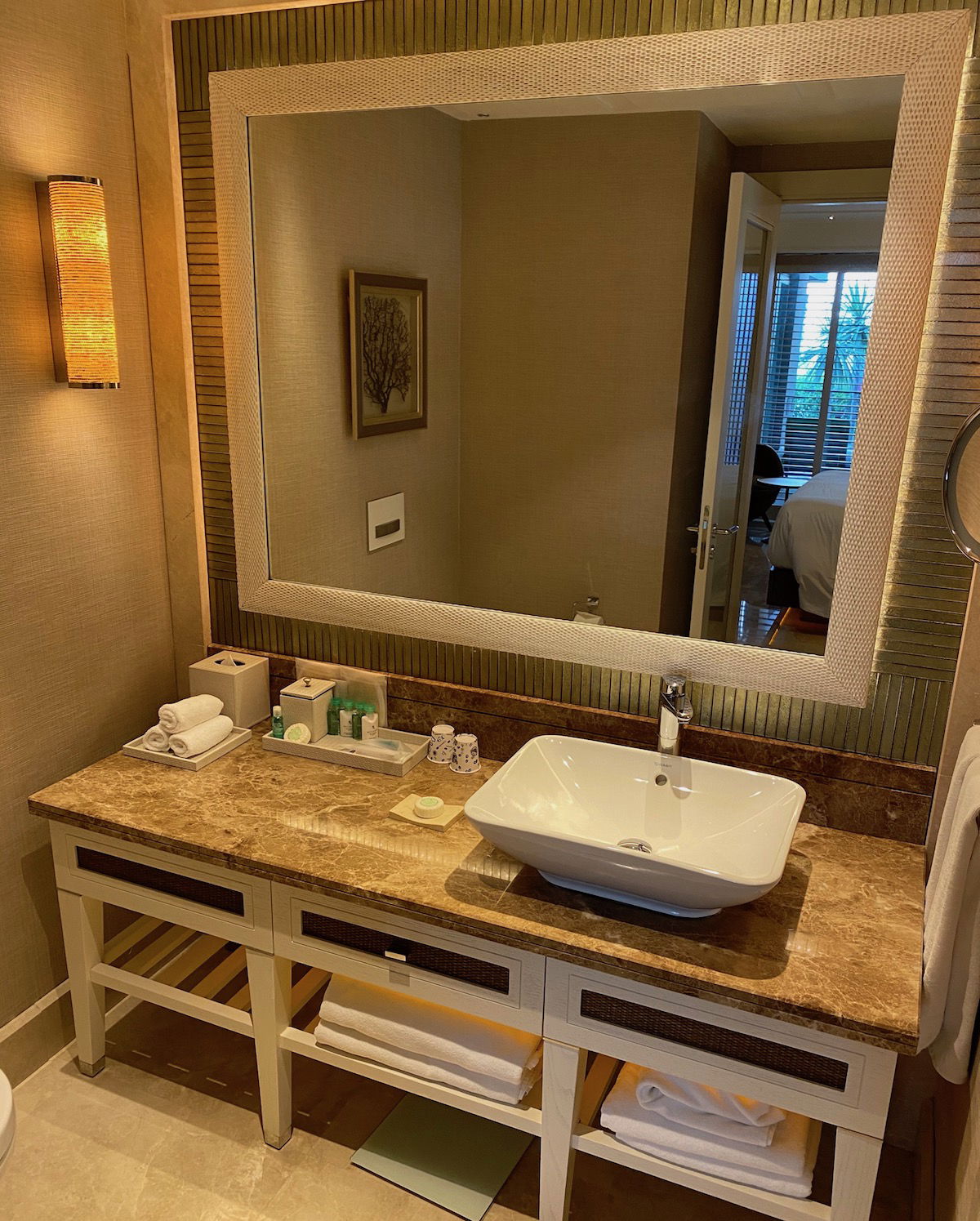 Caresse Bodrum suite bathroom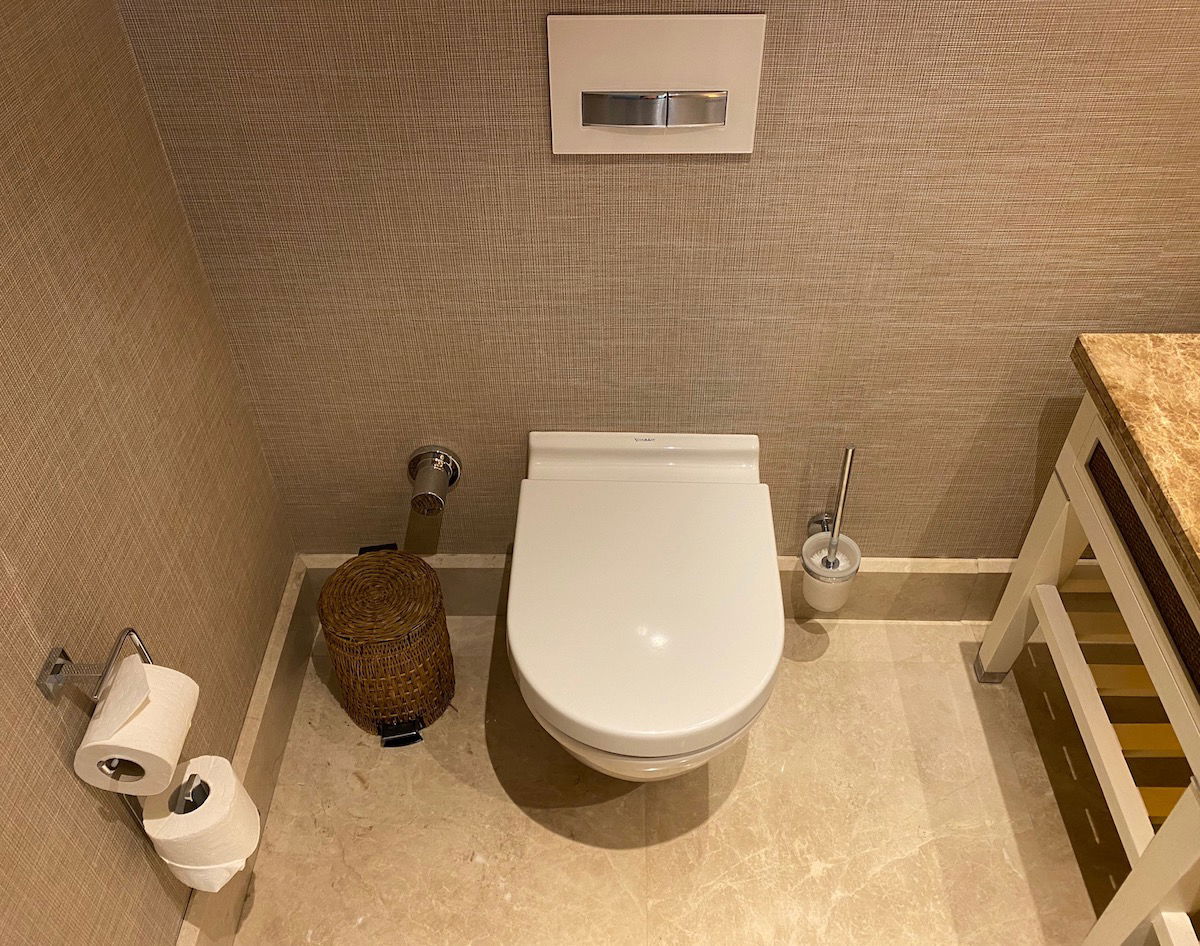 Caresse Bodrum suite toilet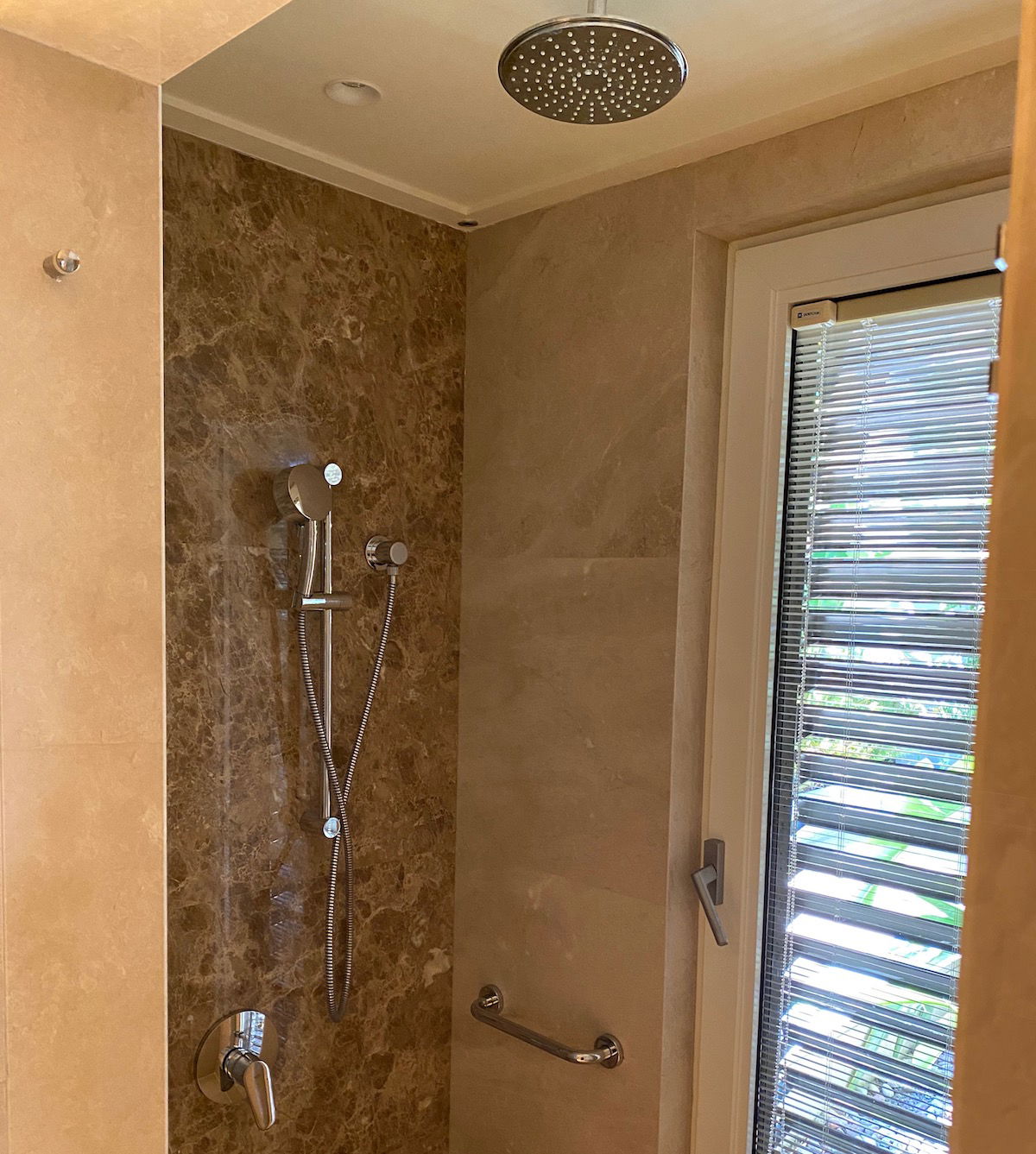 Caresse Bodrum suite shower
In-room toiletries were from BVLGARI, which I always like.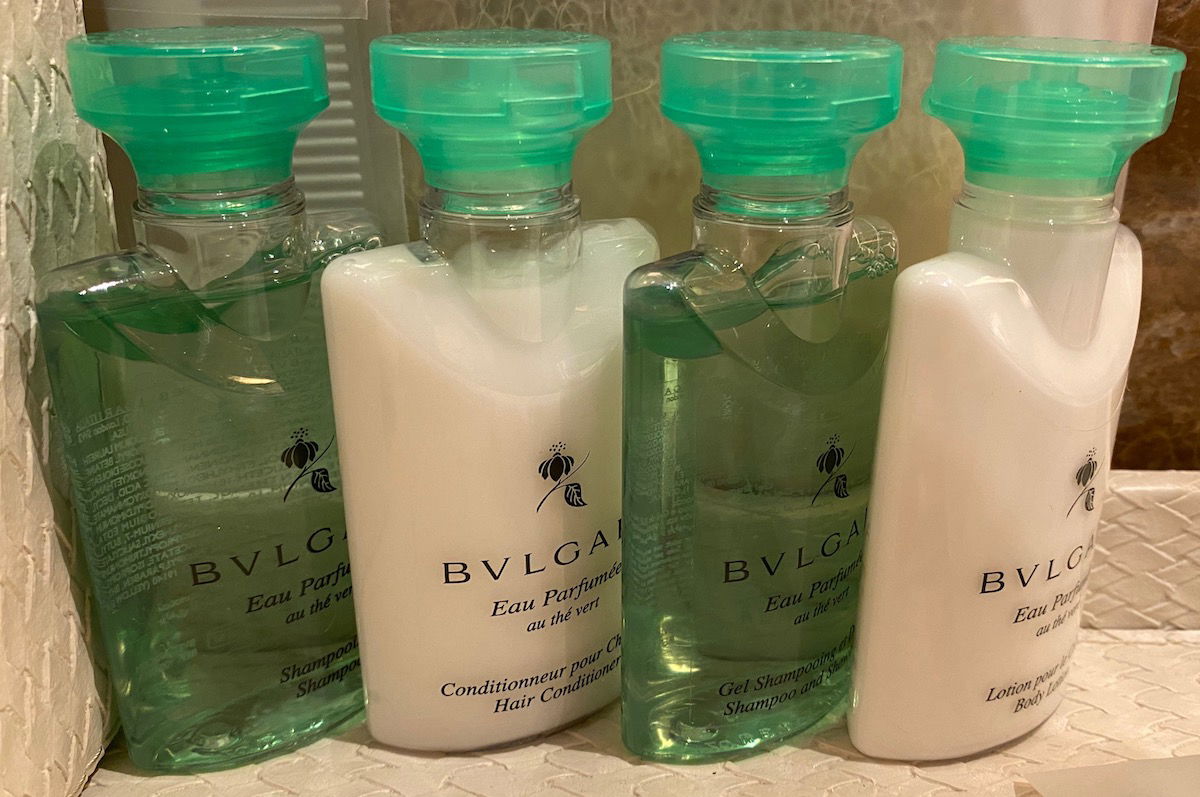 Caresse Bodrum BVLGARI toiletries
The second bedroom was just down the hall from the first bedroom, and it featured two twin beds.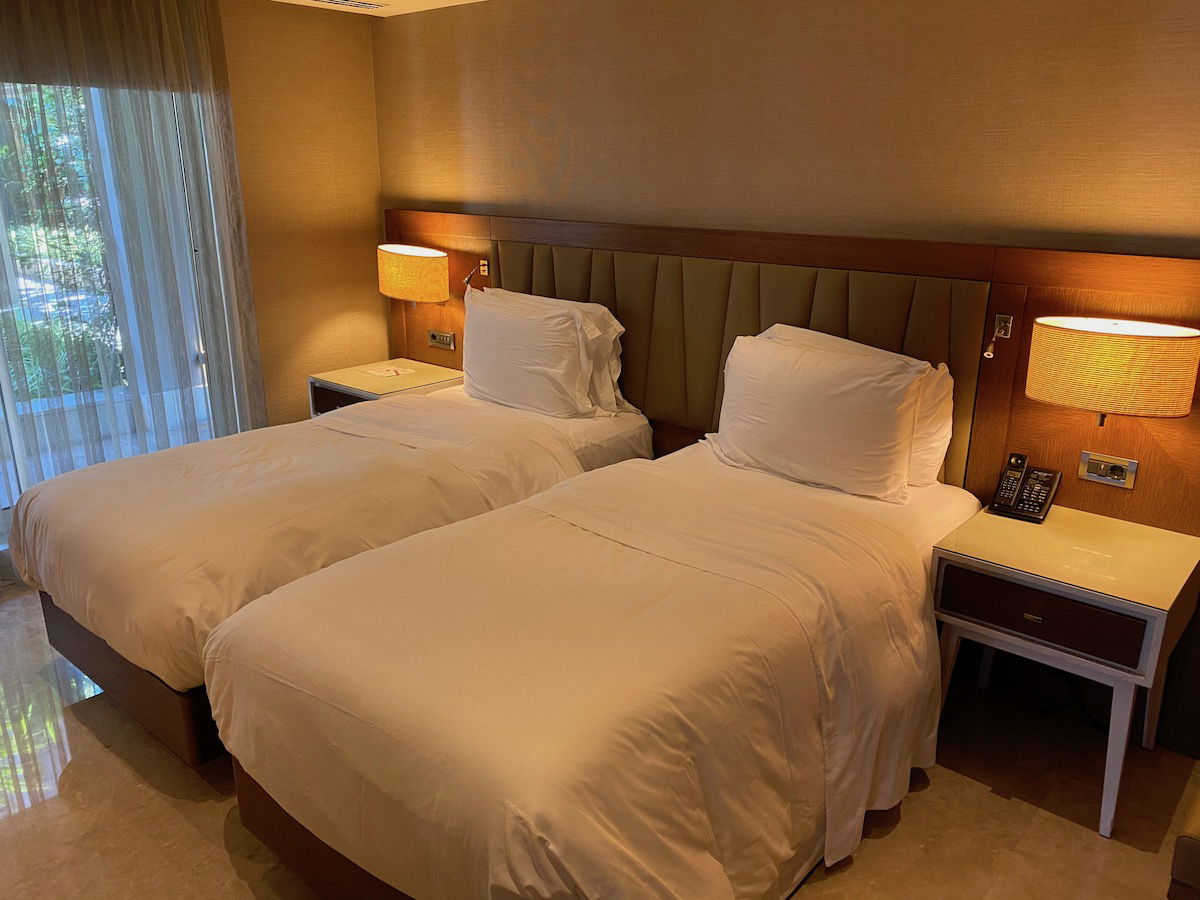 Caresse Bodrum suite second bedroom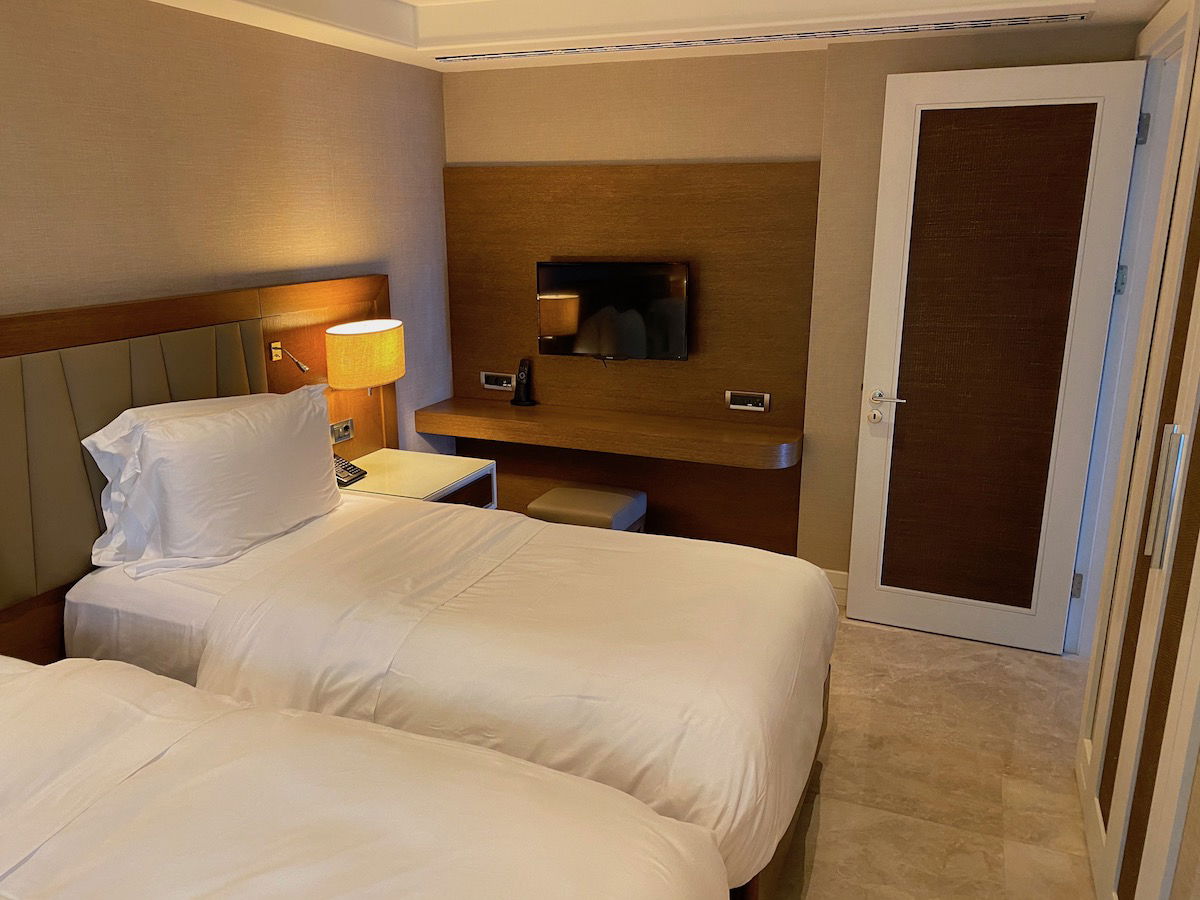 Caresse Bodrum suite second bedroom
The second bathroom was in two separate rooms, with one room having a toilet and a sink (this was also accessible from the living room), and one room having a sink and the shower.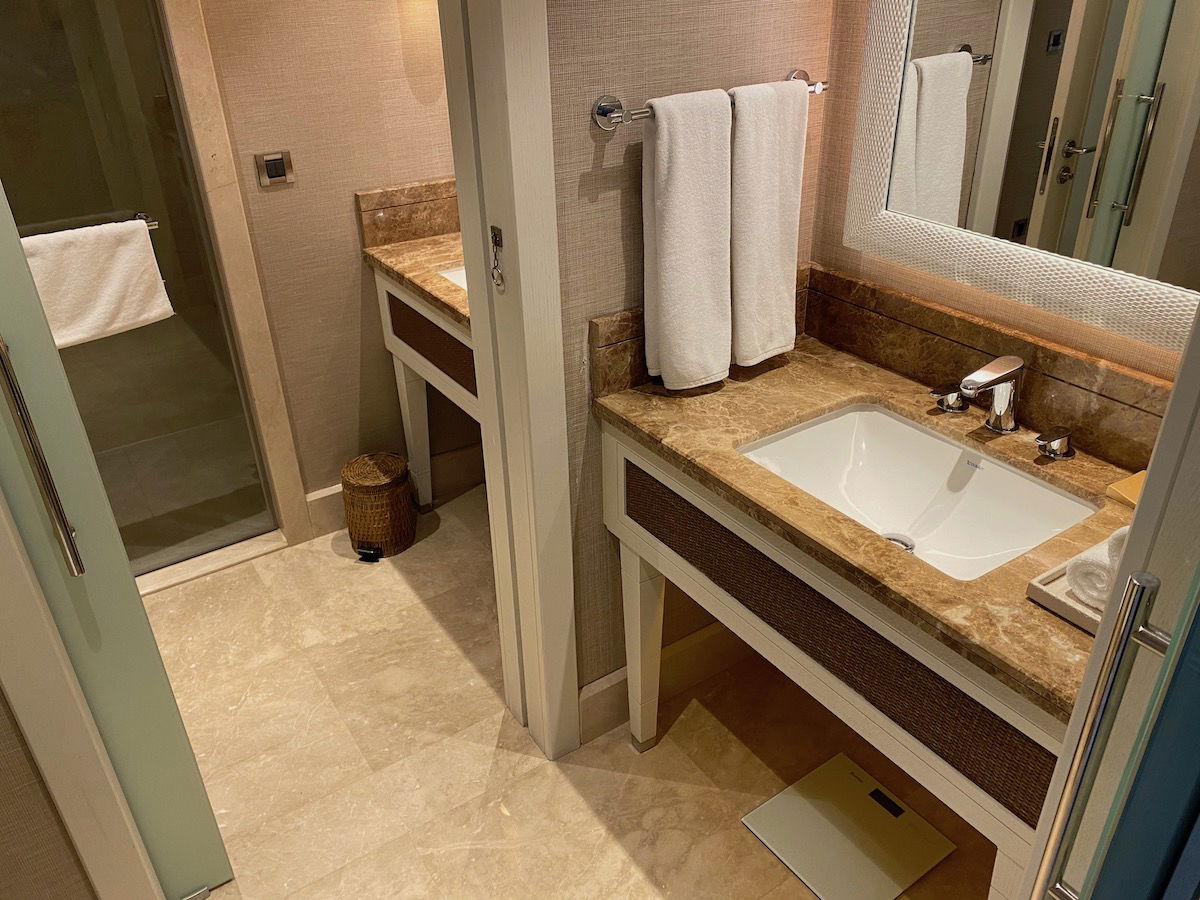 Caresse Bodrum suite second bathroom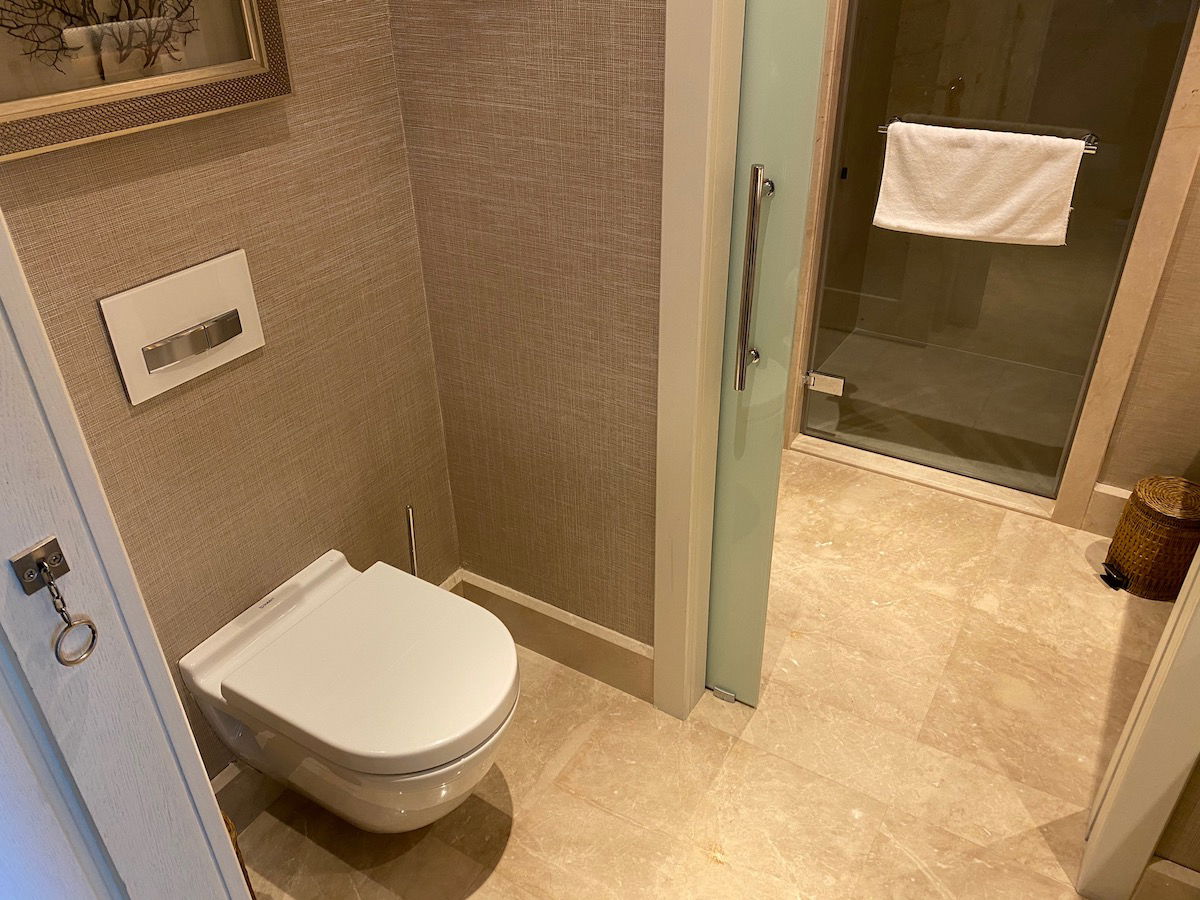 Caresse Bodrum suite second bathroom
The highlight of the room was the beautiful outdoor space. There was a dining table with four chairs, as well as two loungers. The entire space had a great view over the pool, and the sea in the distance. Just to be clear, since this confused me at first, only the patio area was a private space, while the grass area was accessible from other rooms as well.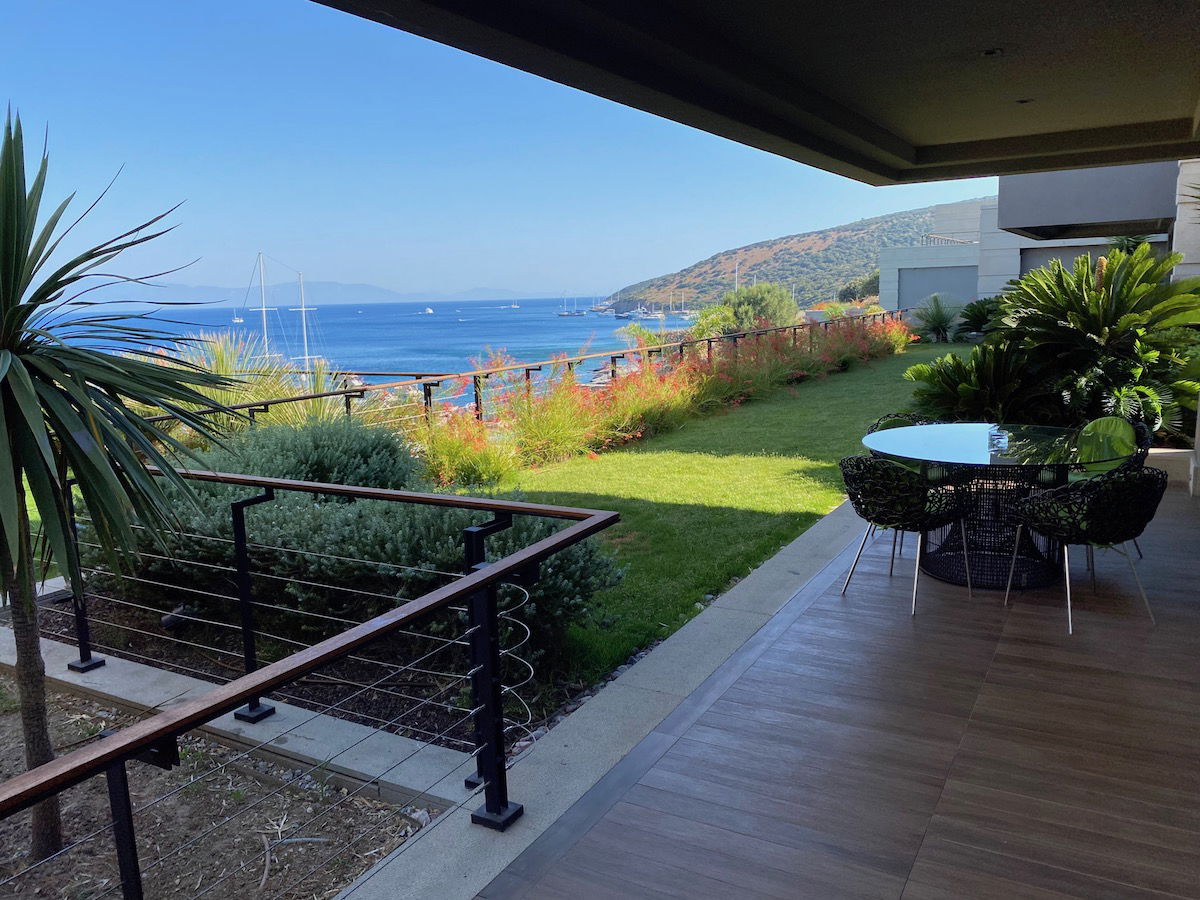 Caresse Bodrum suite outdoor space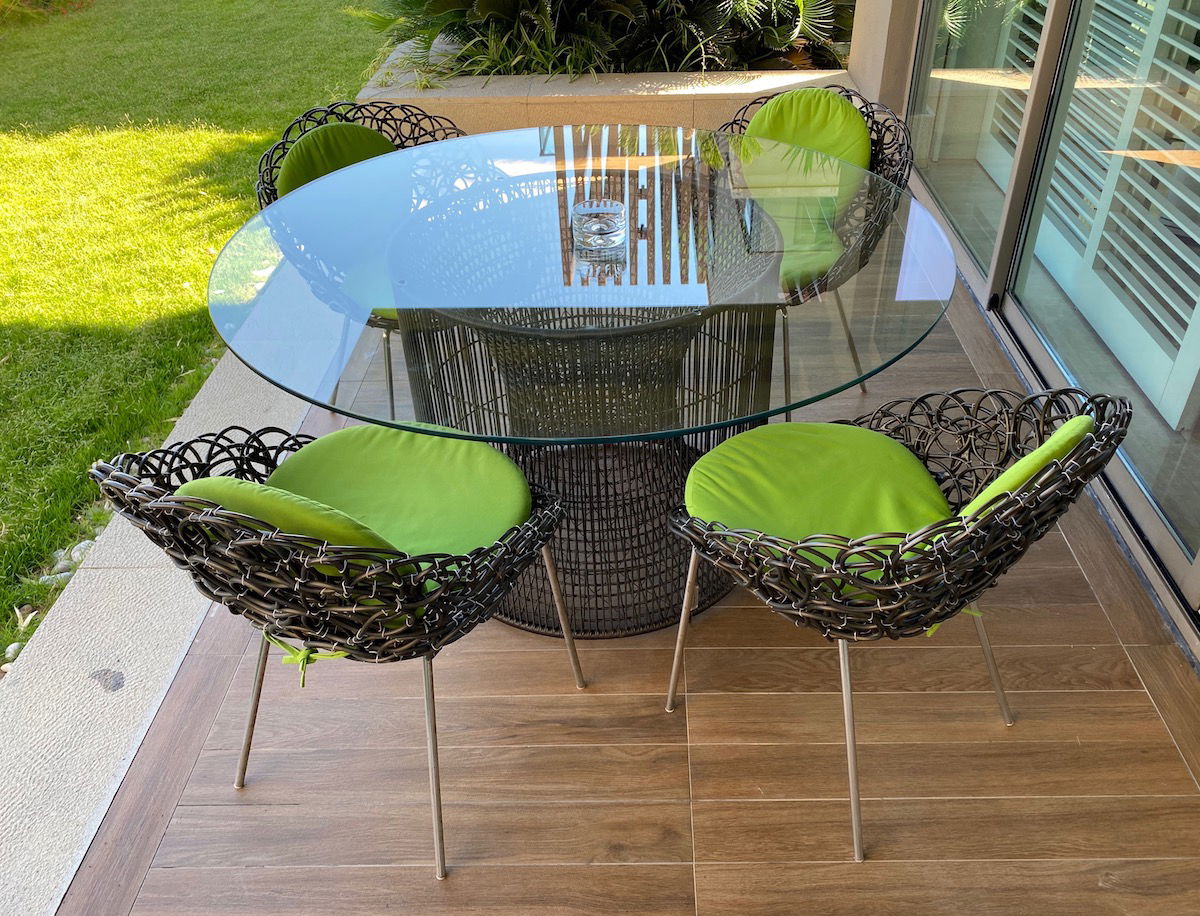 Caresse Bodrum suite outdoor space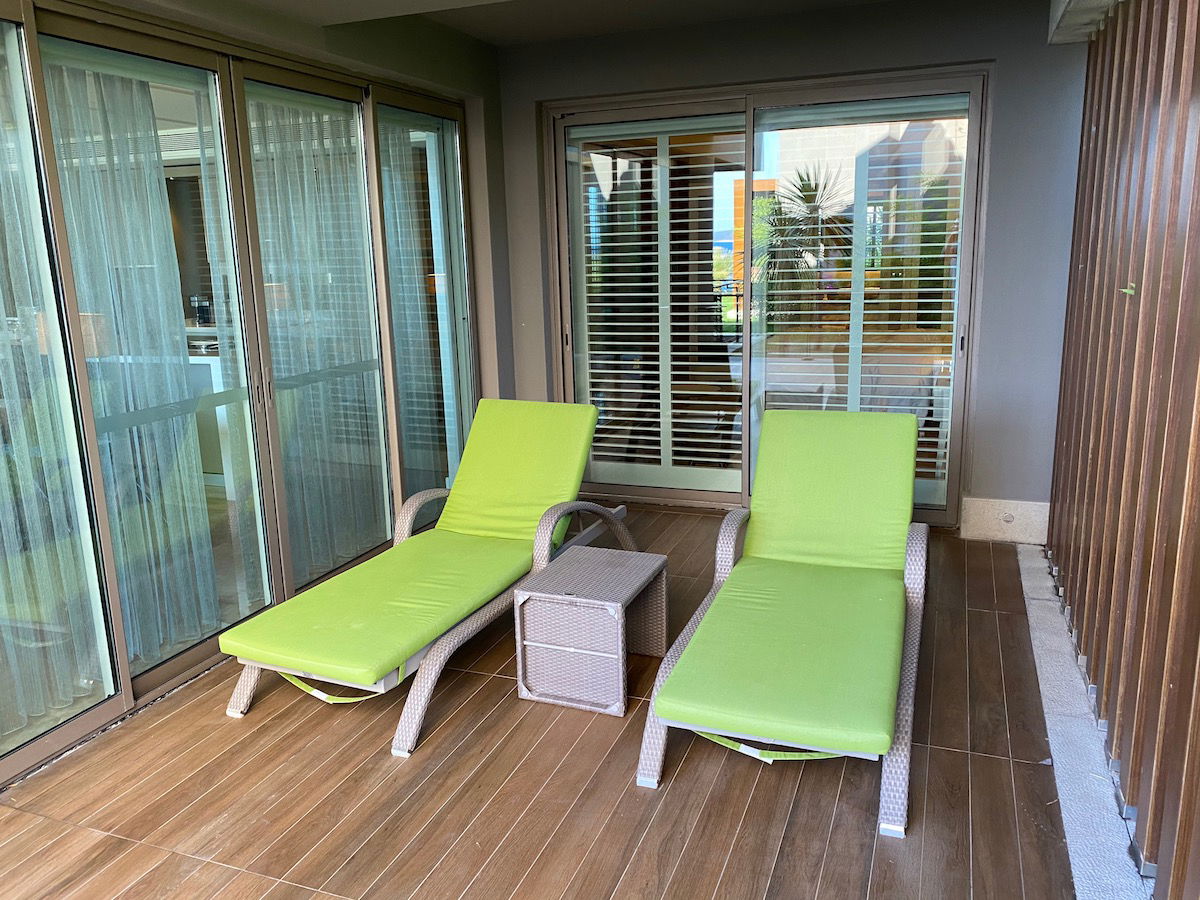 Caresse Bodrum suite outdoor space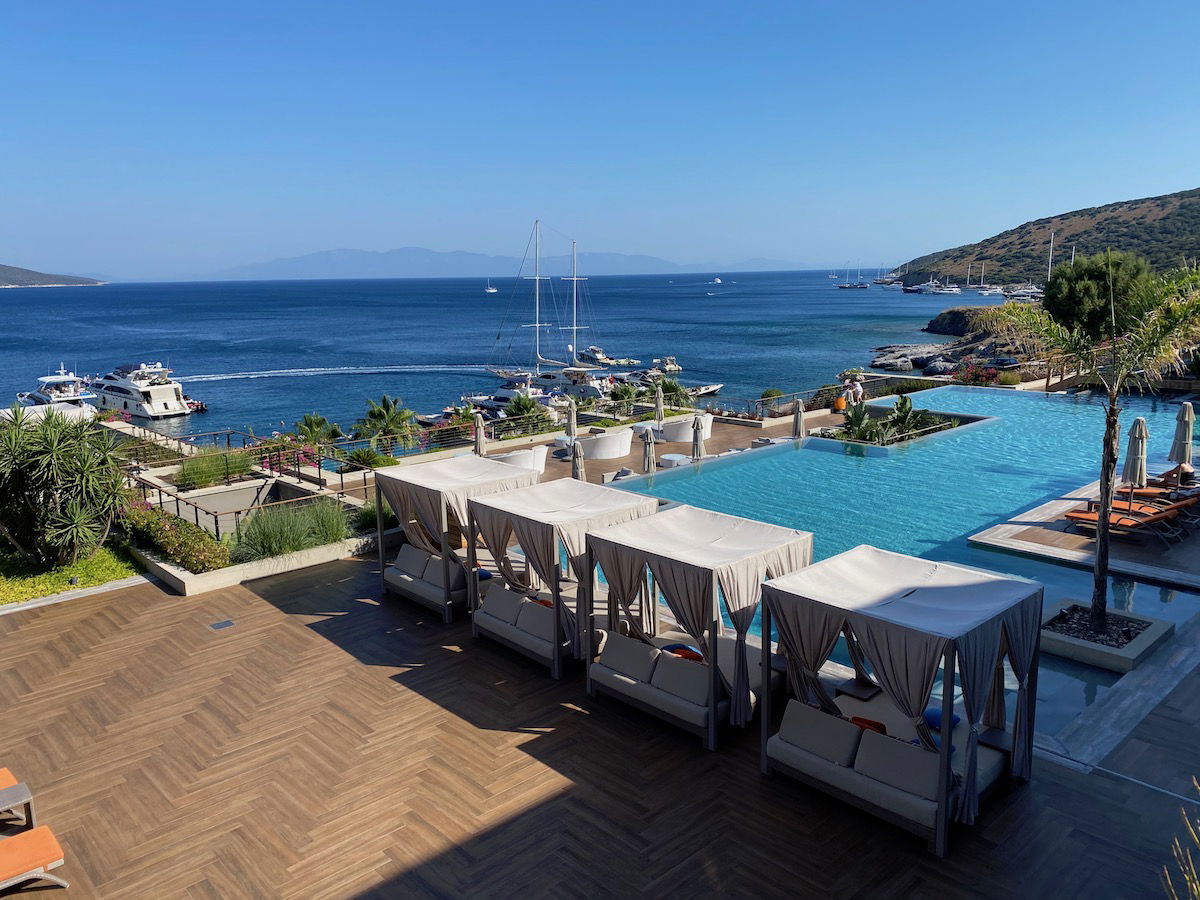 Caresse Bodrum suite view
Okay, so the room was huge, and it's ridiculously generous that they let you use suite night awards for a two bedroom suite. However, I kind of didn't love the room, and just found a lot of aspects of the design to be confusing:
While the resort as such was beautiful, I thought the room design was bland and lacked a sense of place
Our non-suite at the EDITION had double sinks in the bathroom, while oddly both bedrooms here just had fairly small bathrooms, which you wouldn't expect in a suite
The height of the dining table was off in relation to the chairs
If I returned to Caresse, I don't think I'd try to upgrade again. Is it just me, or do the pictures of standard rooms on Caresse's website look nicer than the suites?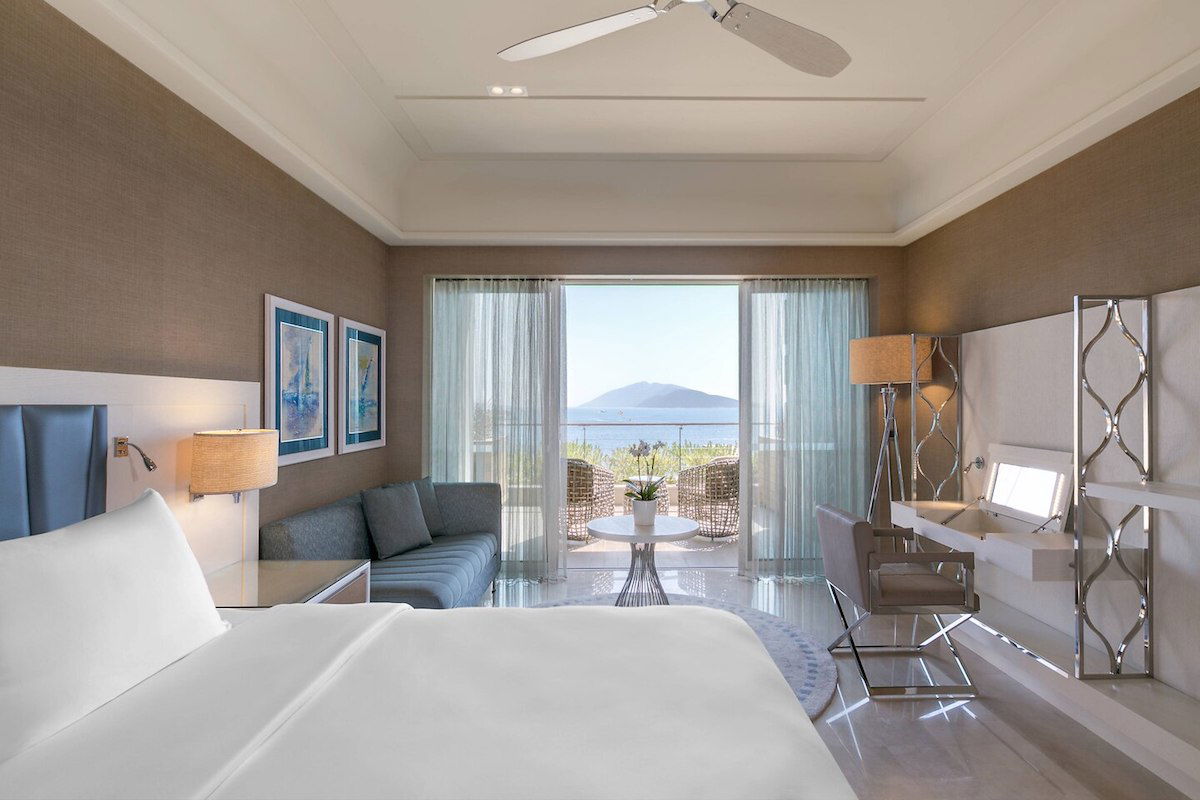 Caresse Bodrum standard room
Caresse Bodrum amenities
Now that we've taken a look at the room at Caresse, let's talk about the amenities, ranging from the pool, to the beach, to the spa and gym.
Caresse Bodrum pool
Caresse has a gorgeous pool, located one level above the beach area. There wasn't all that much seating around the pool, but then again, the area also never got full, as the beach area was much more popular.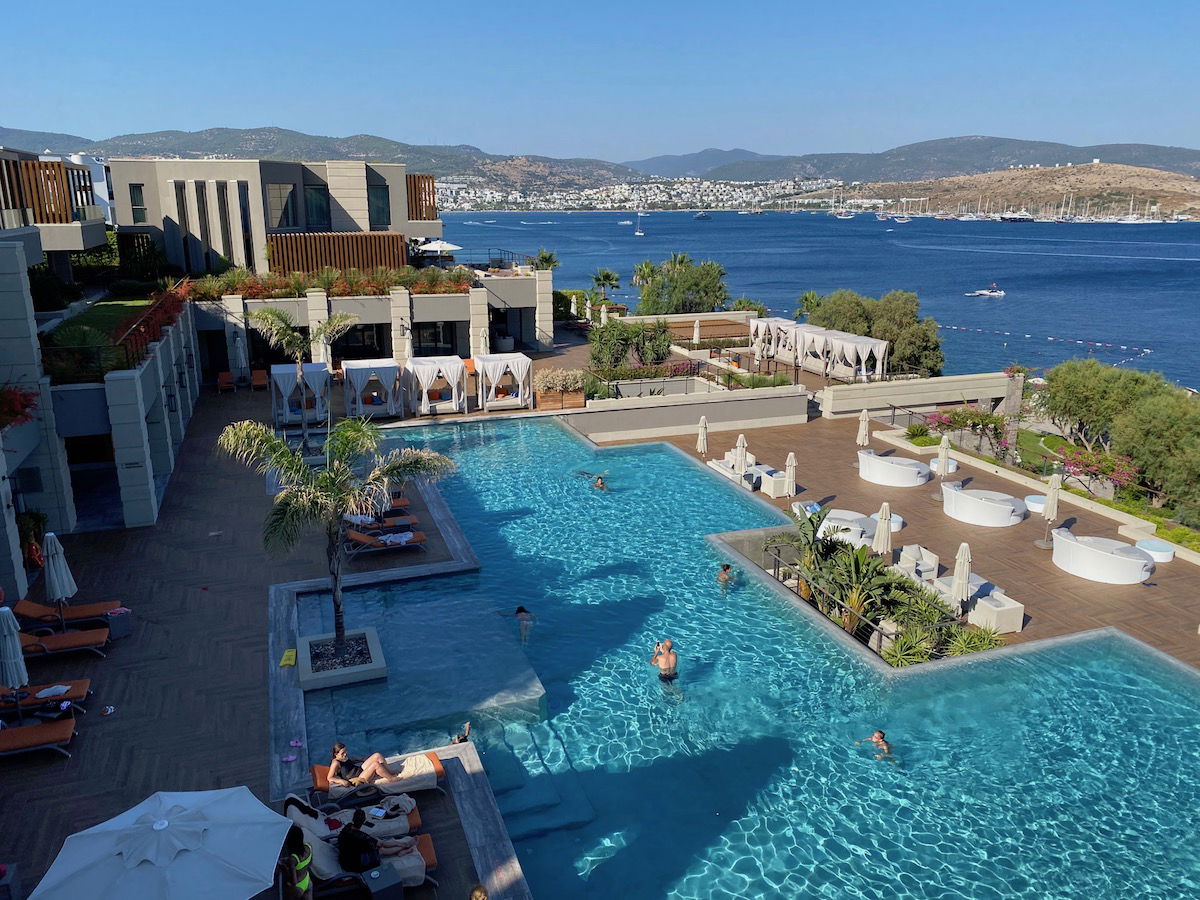 Caresse Bodrum pool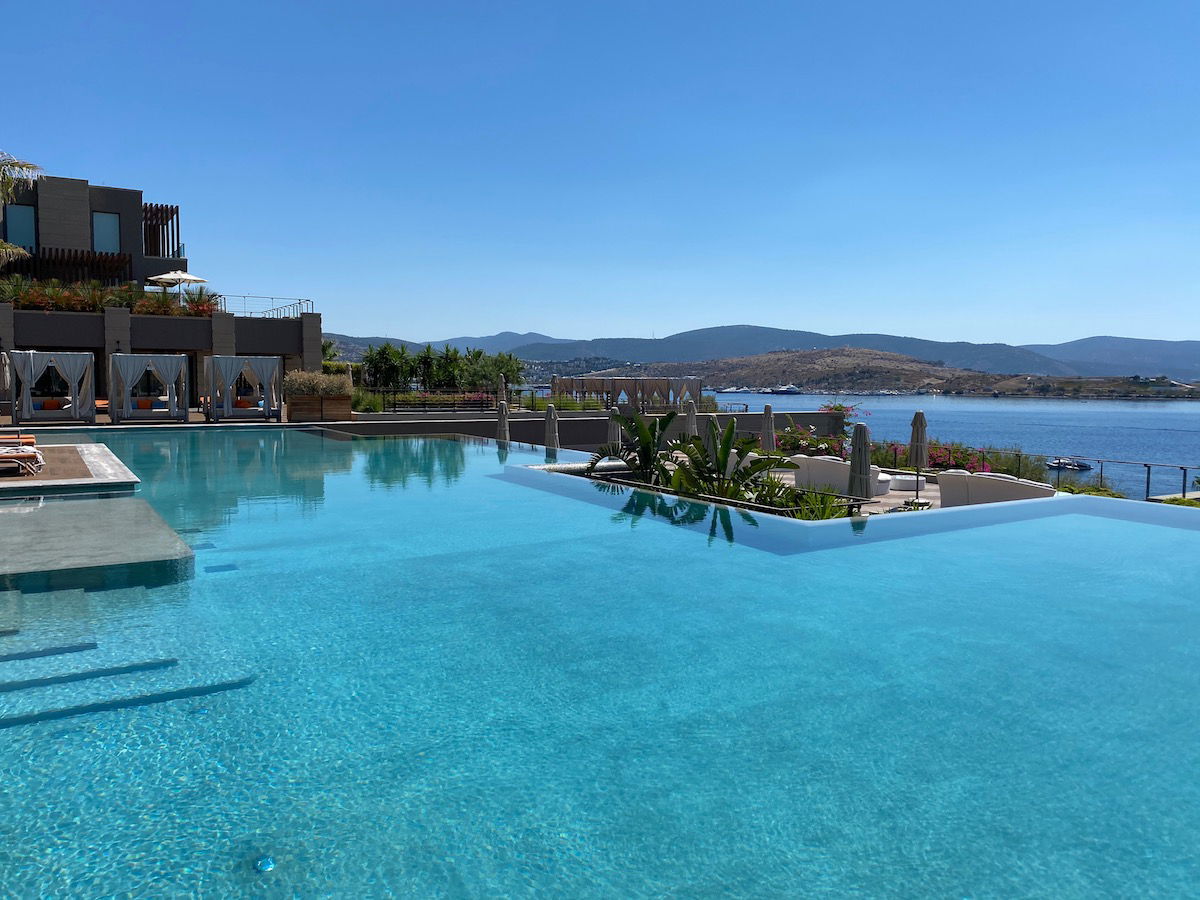 Caresse Bodrum pool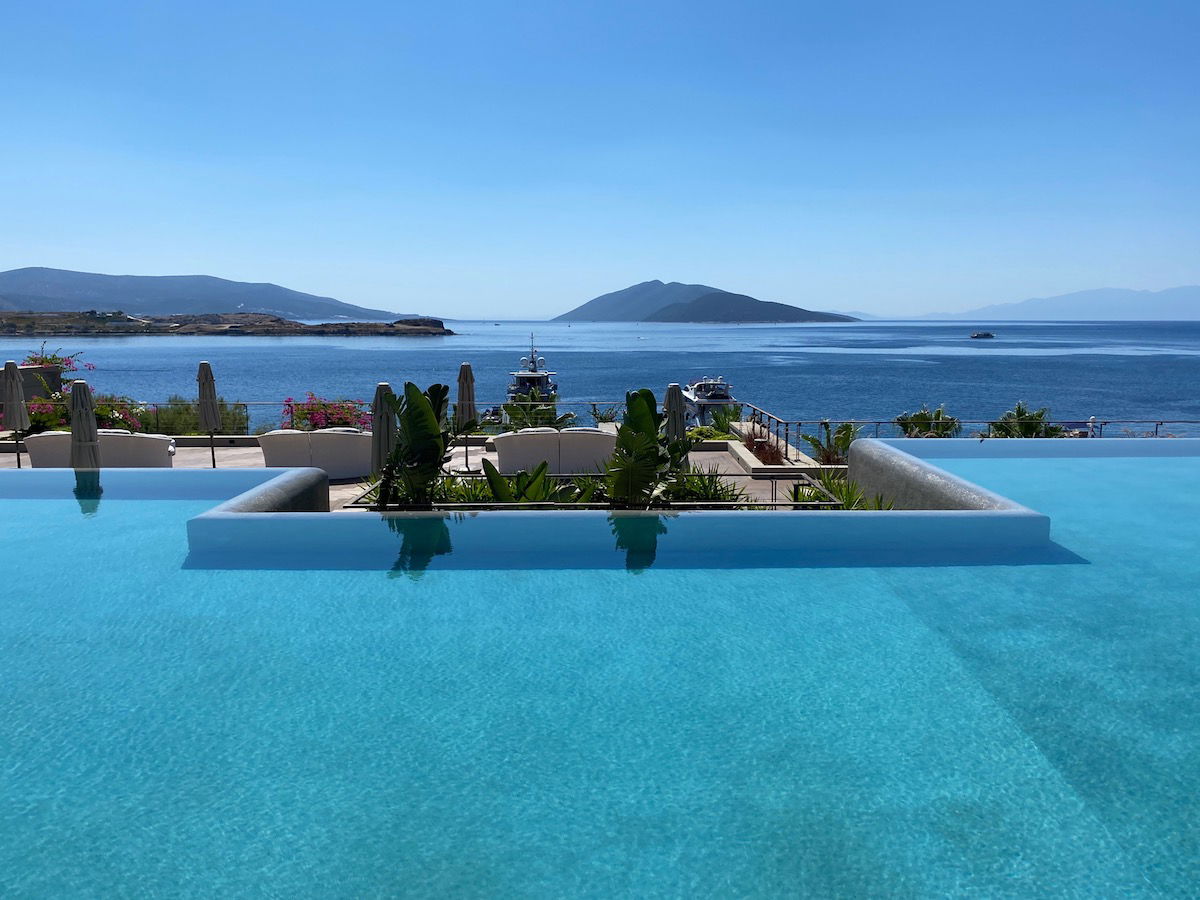 Caresse Bodrum pool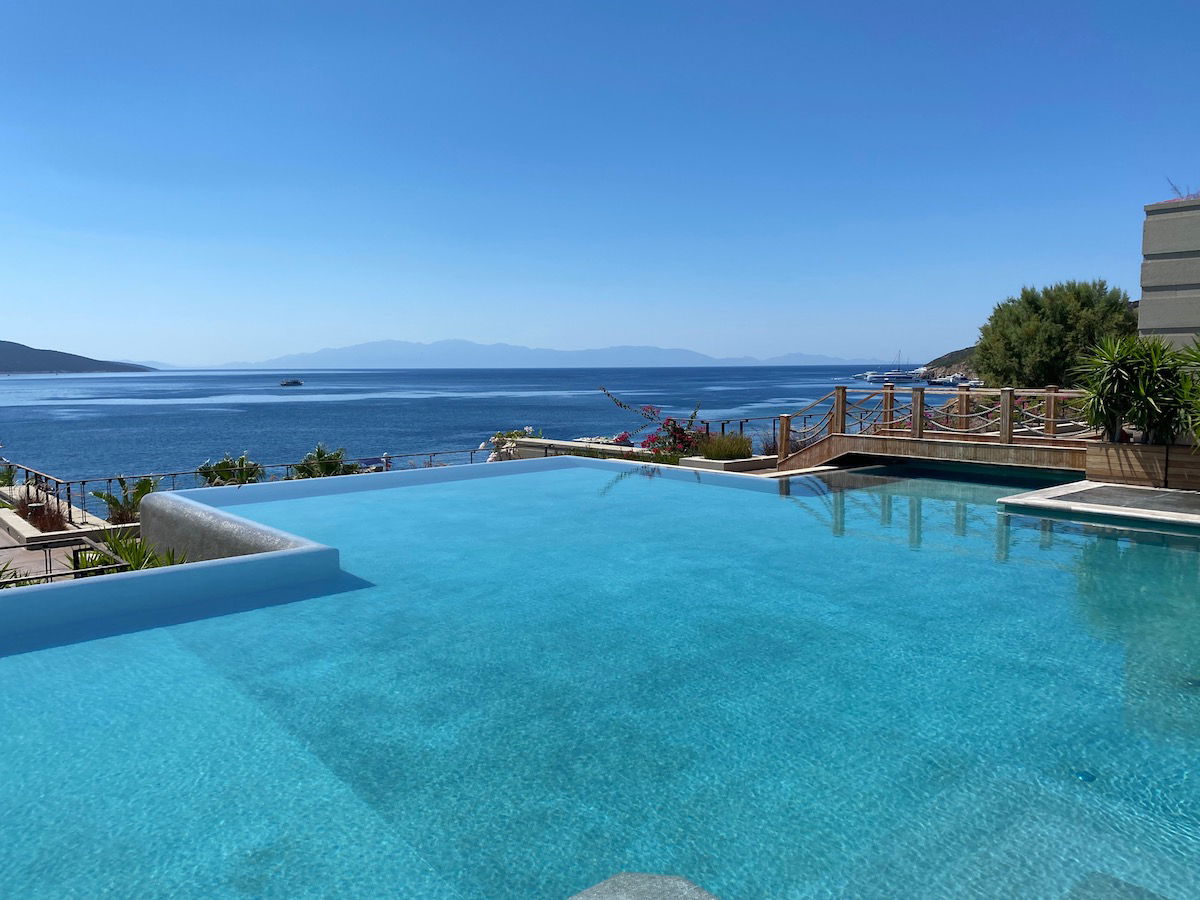 Caresse Bodrum pool
Caresse Bodrum beach
Caresse has its own beach. You can access it either by taking stairs down to ground level, or by taking the elevator. I love how lush the grounds of the hotel are.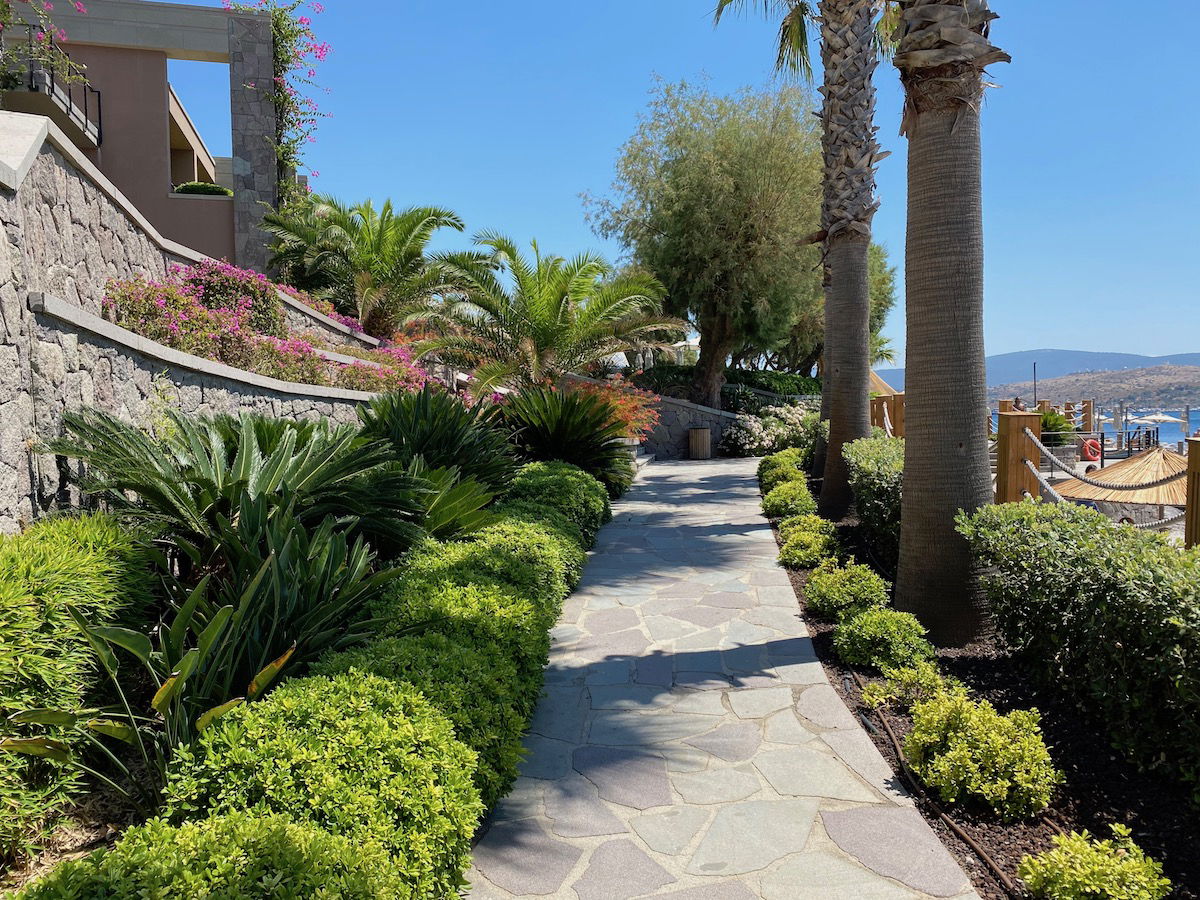 Caresse Bodrum pathway to beach
The beach itself is quite small, and there are only about two dozen sets of lounge chairs, and they tend to go pretty quickly.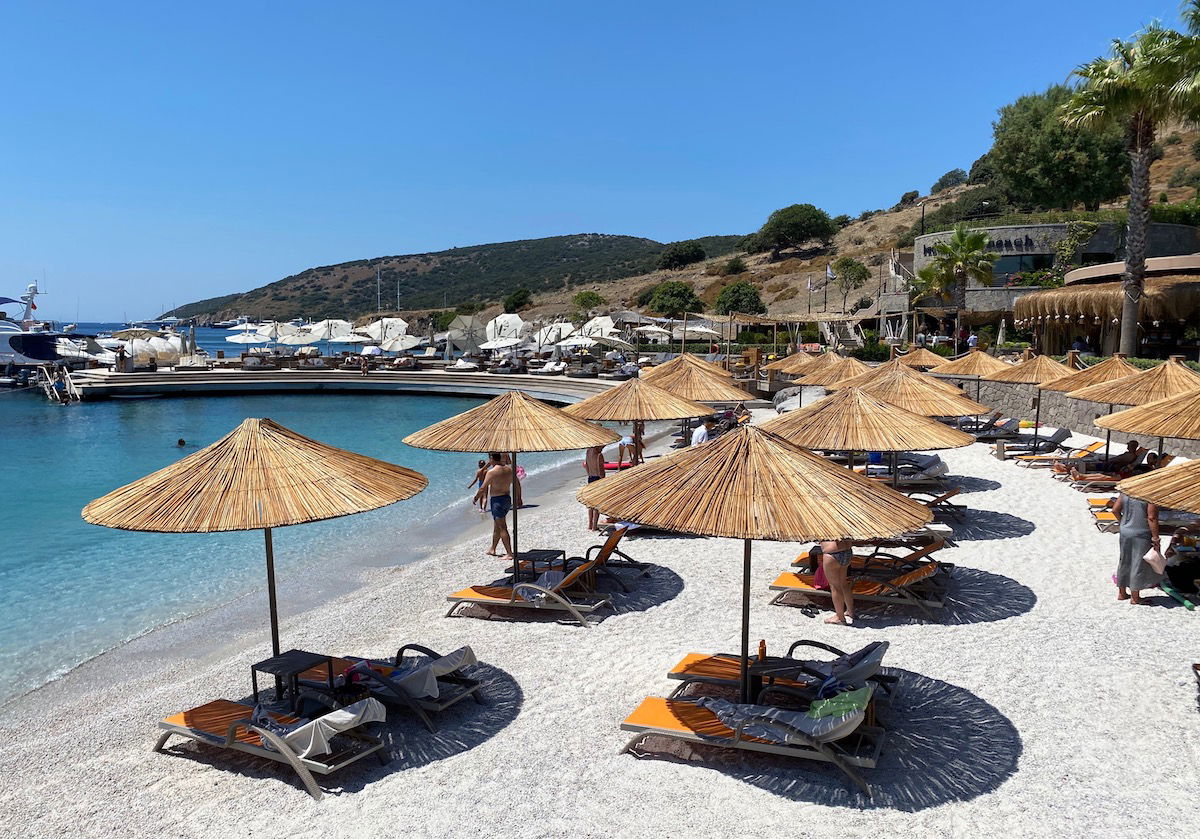 Caresse Bodrum beach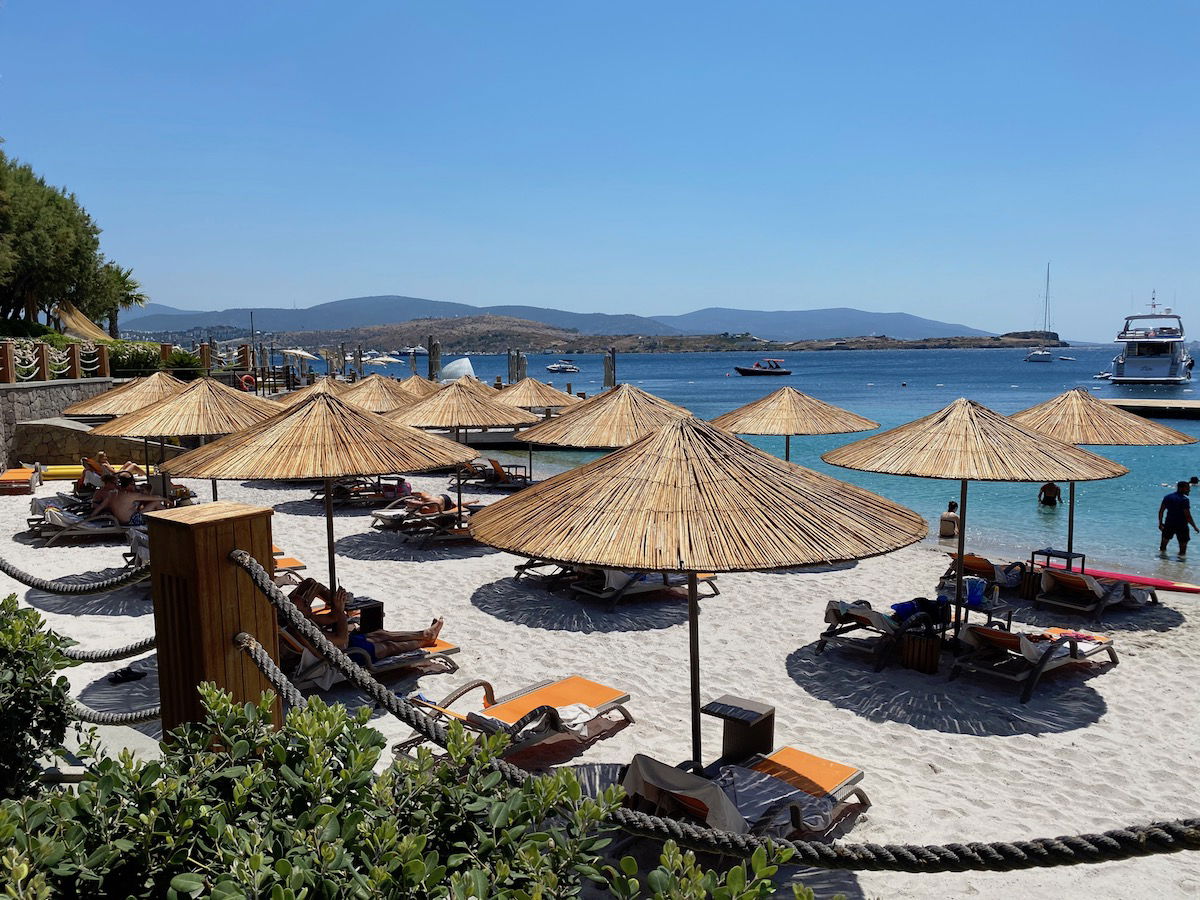 Caresse Bodrum beach
Fortunately there's plenty of overflow seating, as there are docks on both side of the beach with more chairs.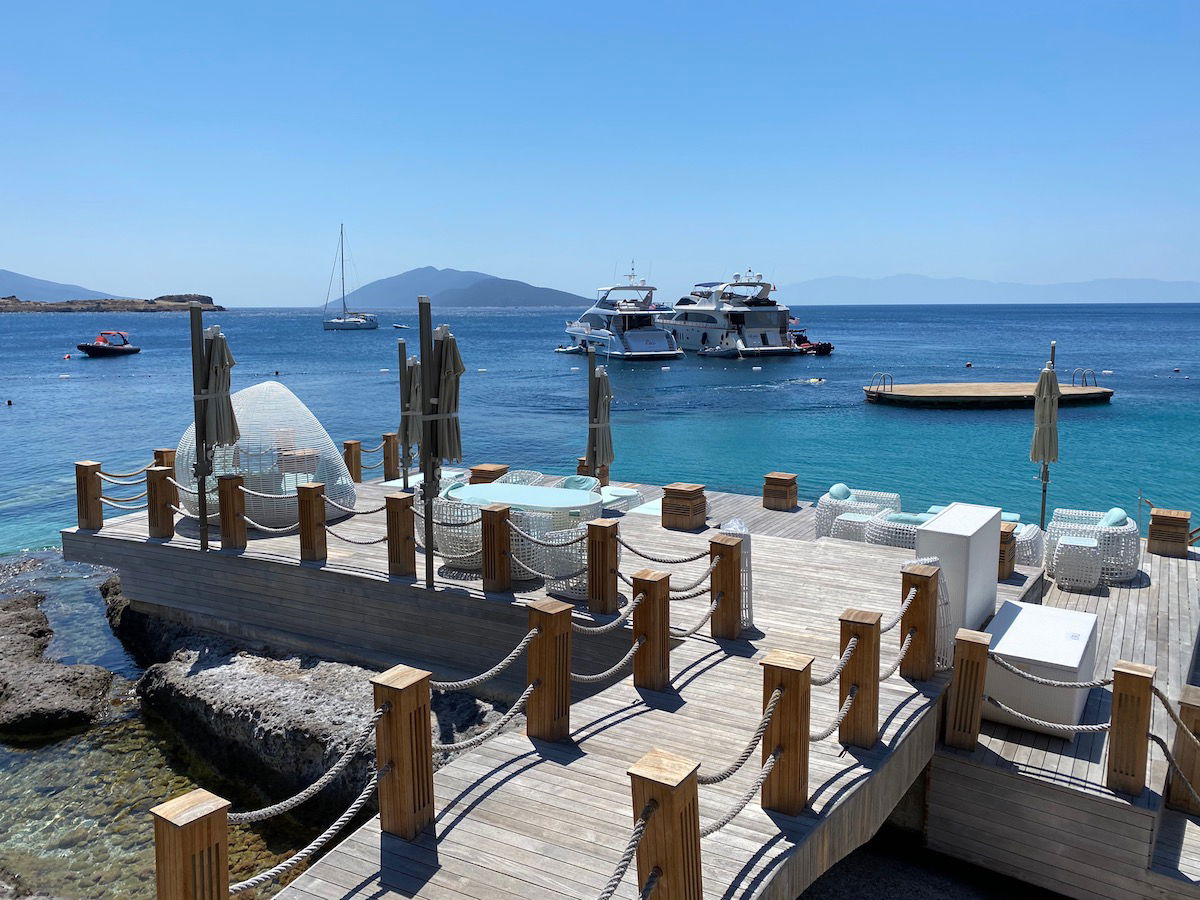 Caresse Bodrum dock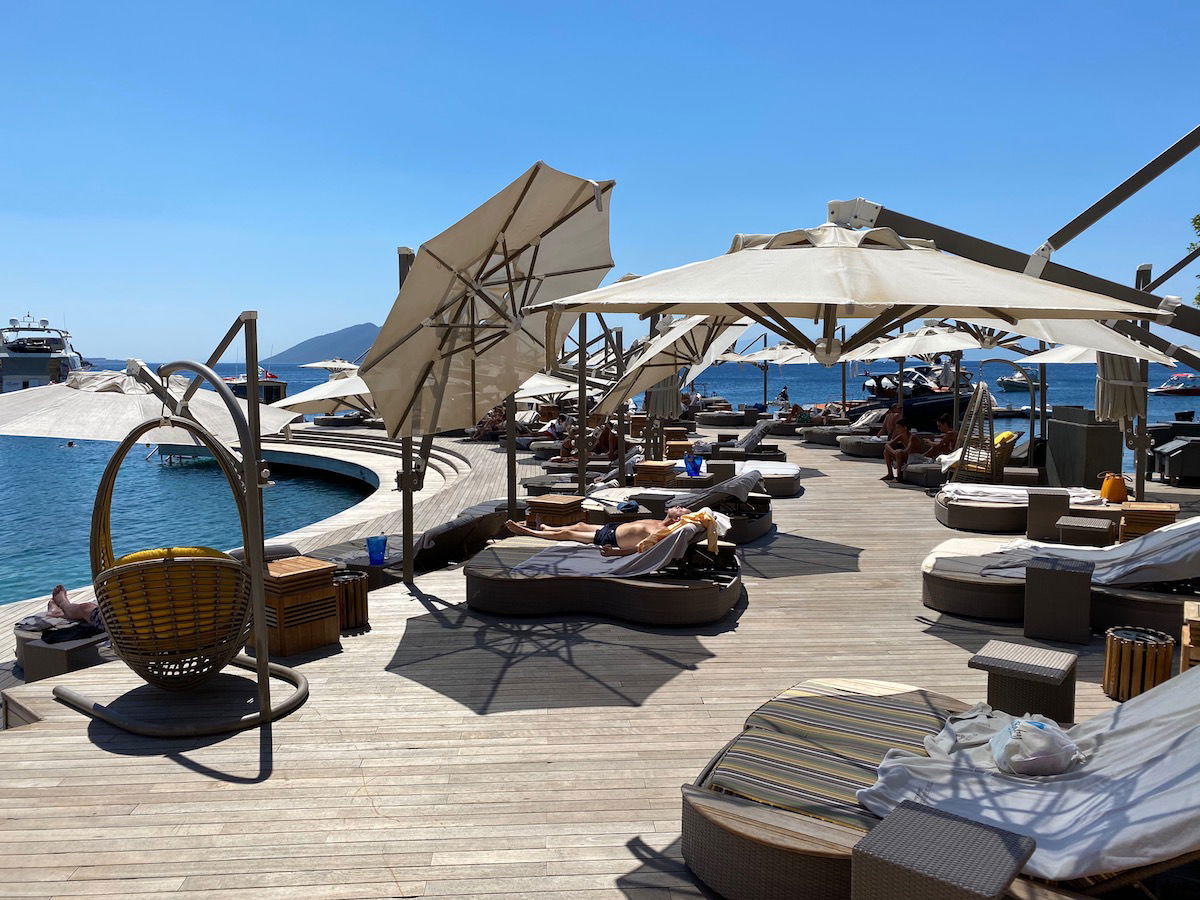 Caresse Bodrum dock
Then there's plenty more seating in the grass near the beach.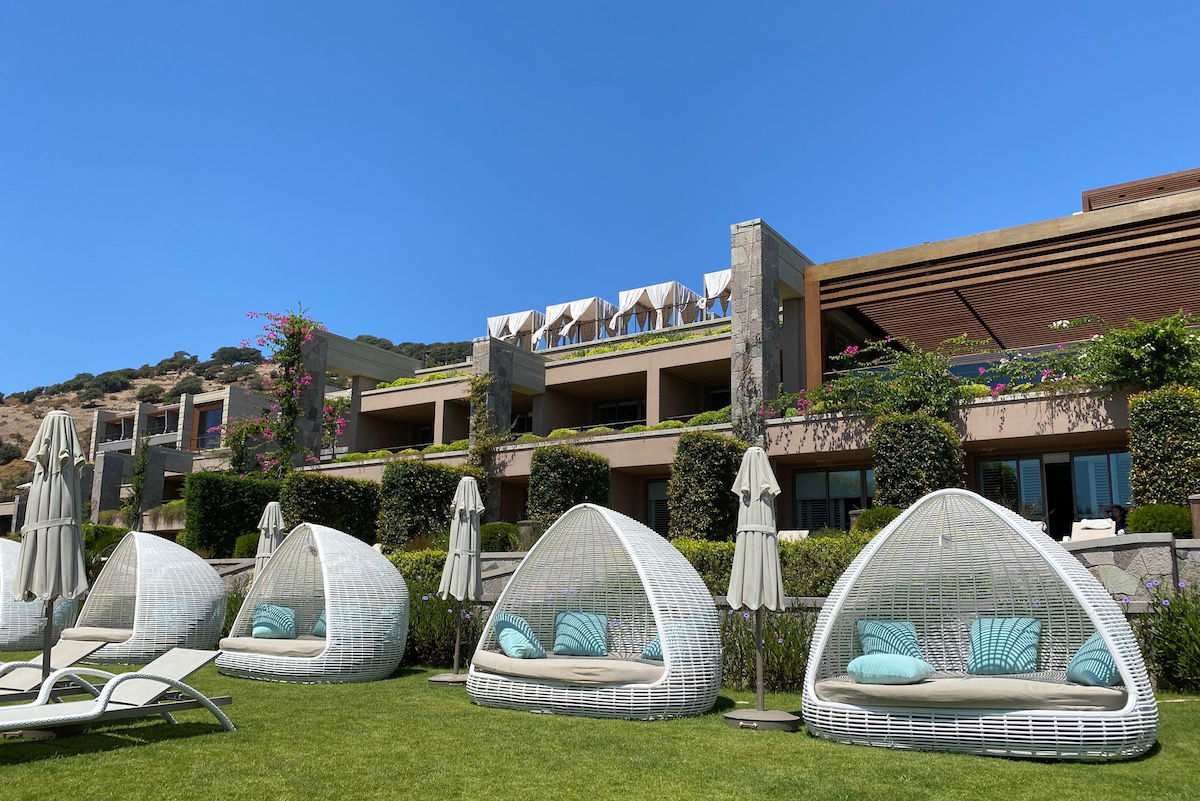 Caresse Bodrum outdoor seating
One thing I really loved about Caresse was the setting, as the actual part of the sea it was on was probably the nicest of any of the hotels we stayed at. The beach as such wasn't great, but the water was pretty and calm.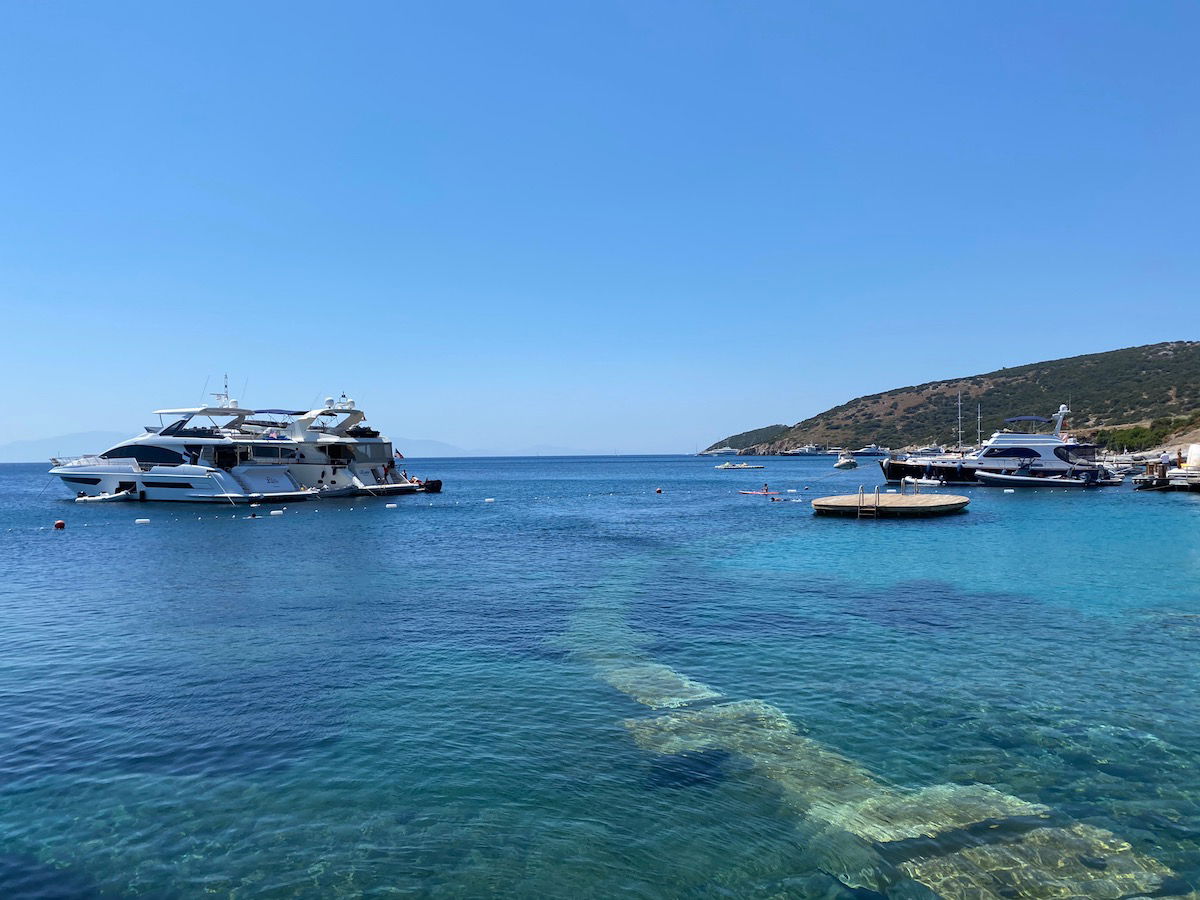 Caresse Bodrum sea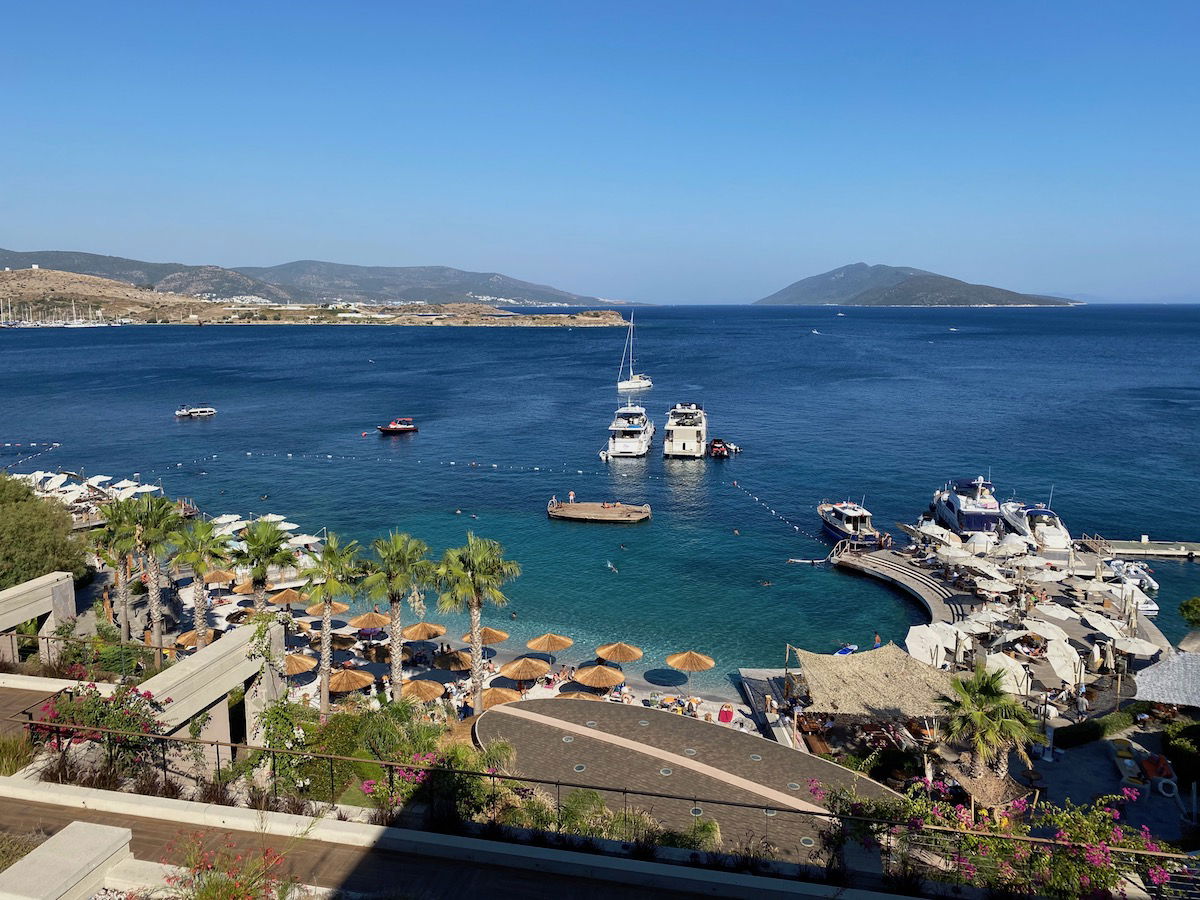 Caresse Bodrum sea view
Caresse Bodrum spa & gym
Caresse's spa is located just off the pool, and this is also where the gym is.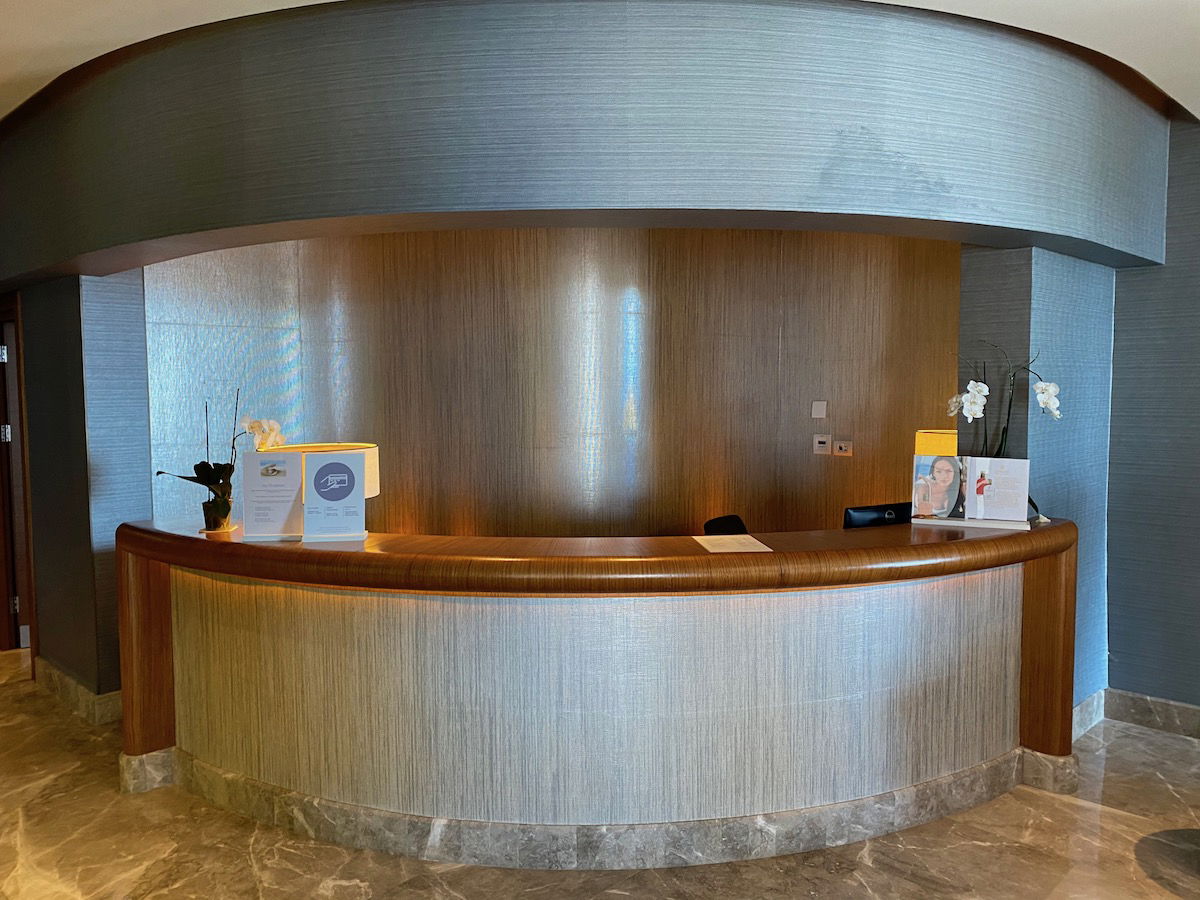 Caresse Bodrum spa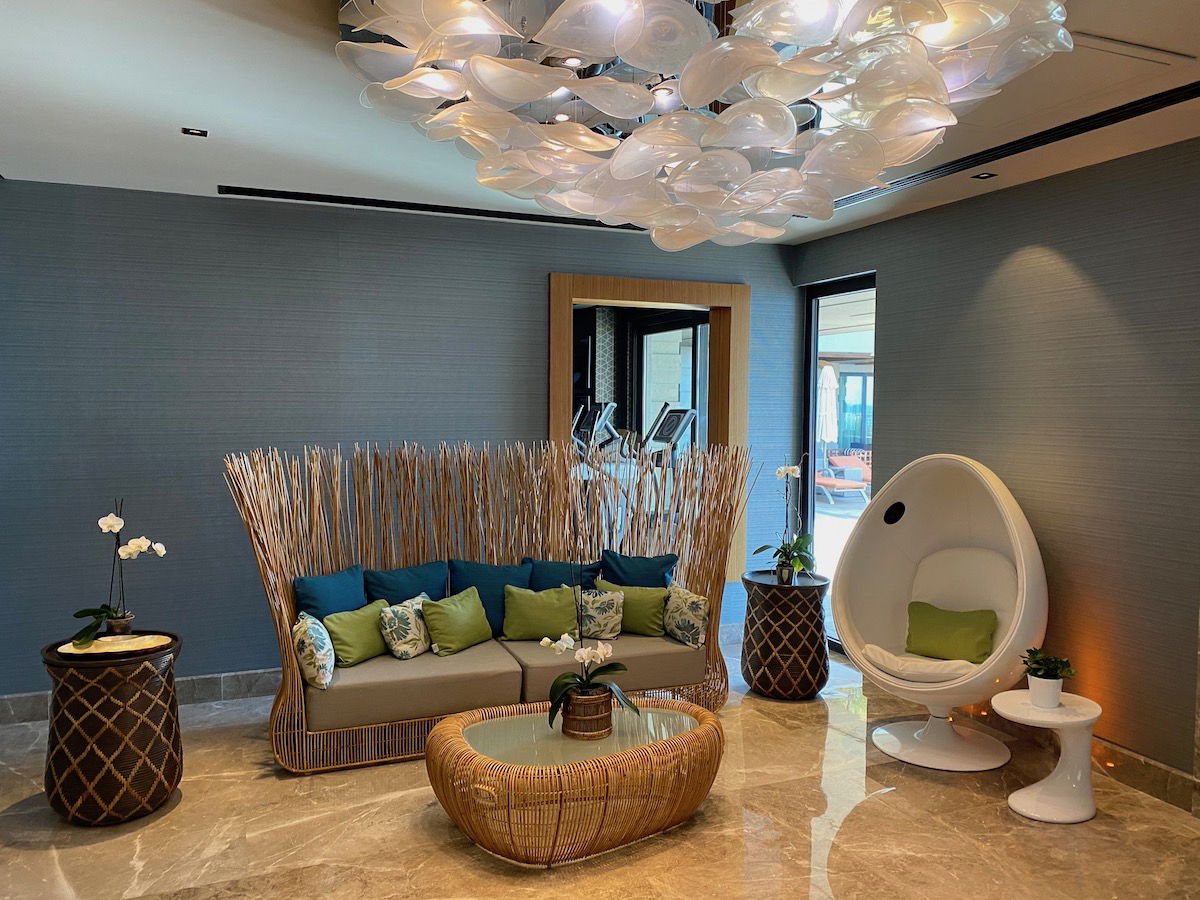 Caresse Bodrum spa
Due to coronavirus the hotel is requiring appointments for the gym, and when you make an appointment you get the gym to yourself, which is great. They then disinfect the space between each use. The gym was on the basic side compared to the one at the EDITION, though it's nice that they make it private for guests.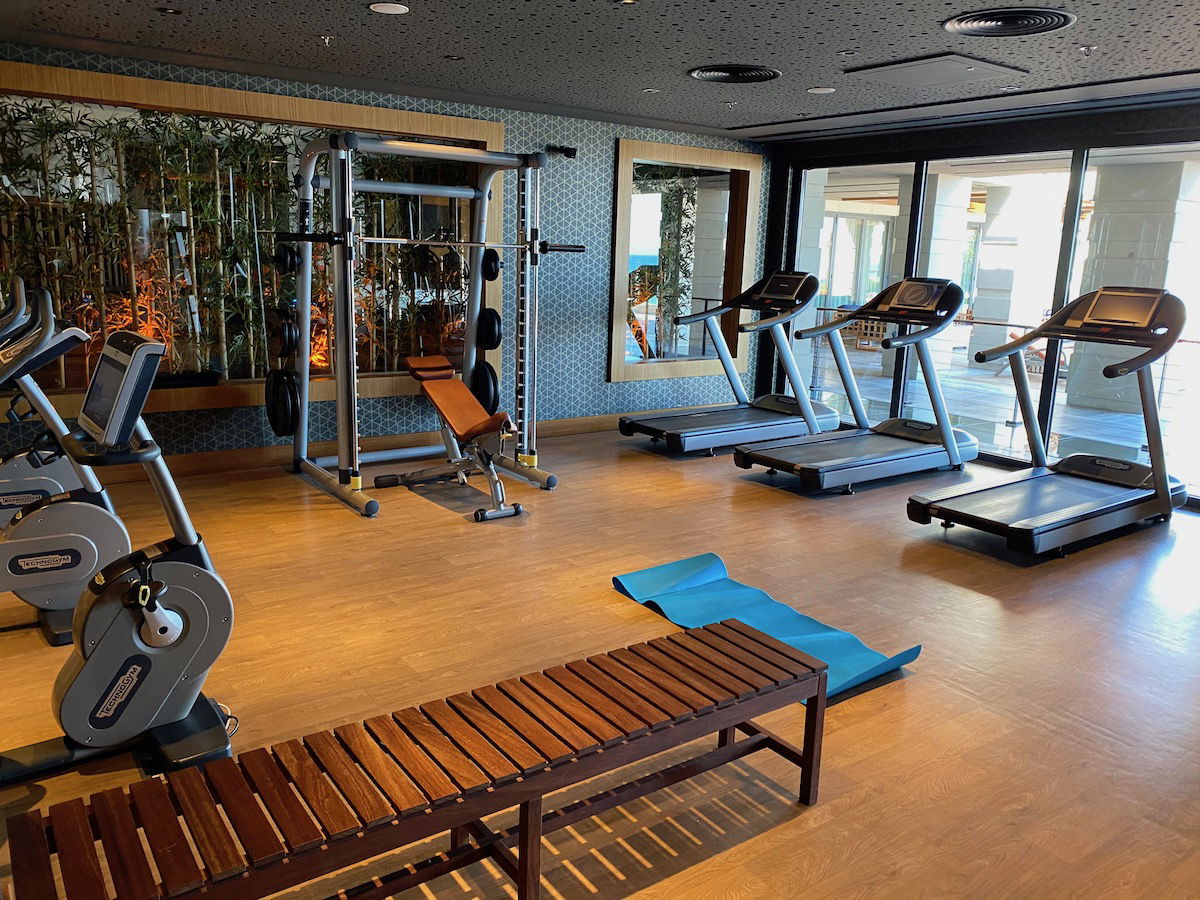 Caresse Bodrum gym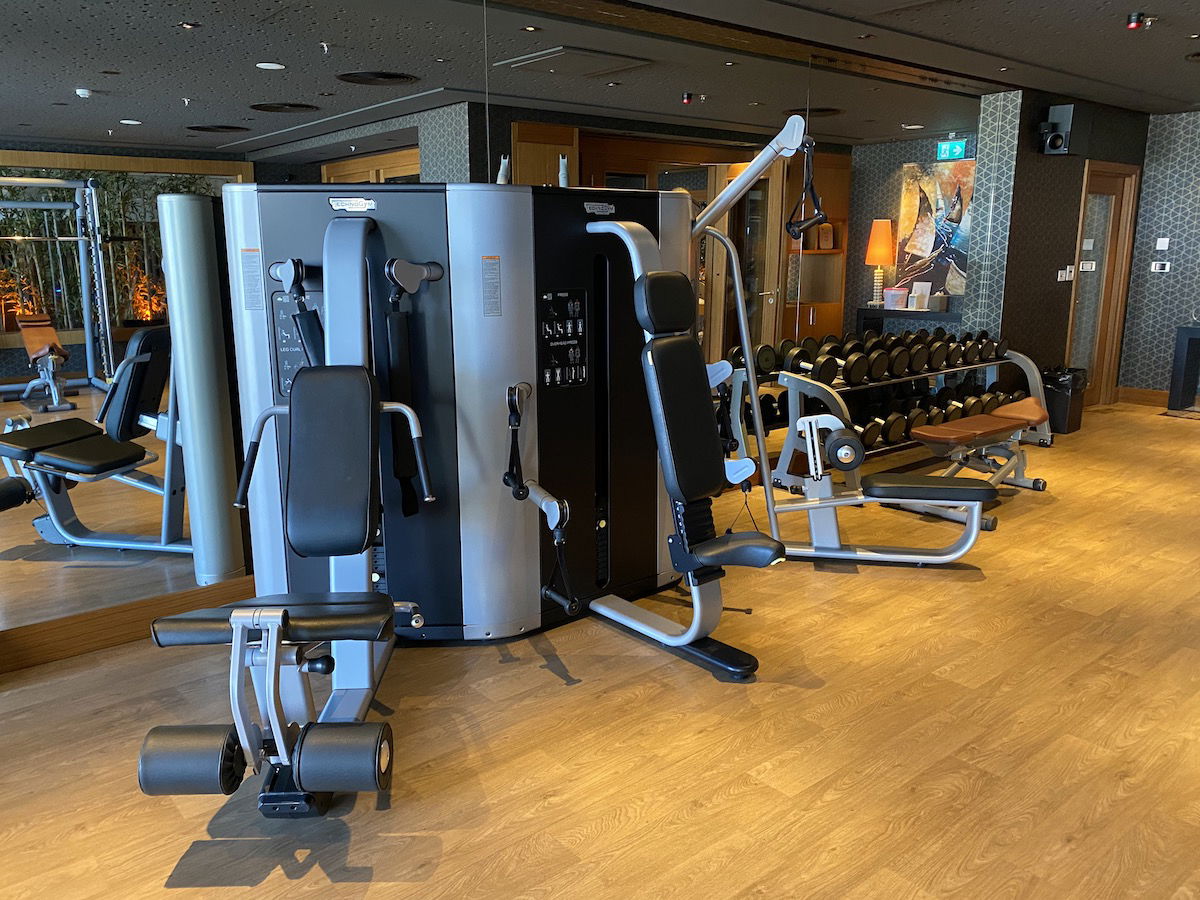 Caresse Bodrum gym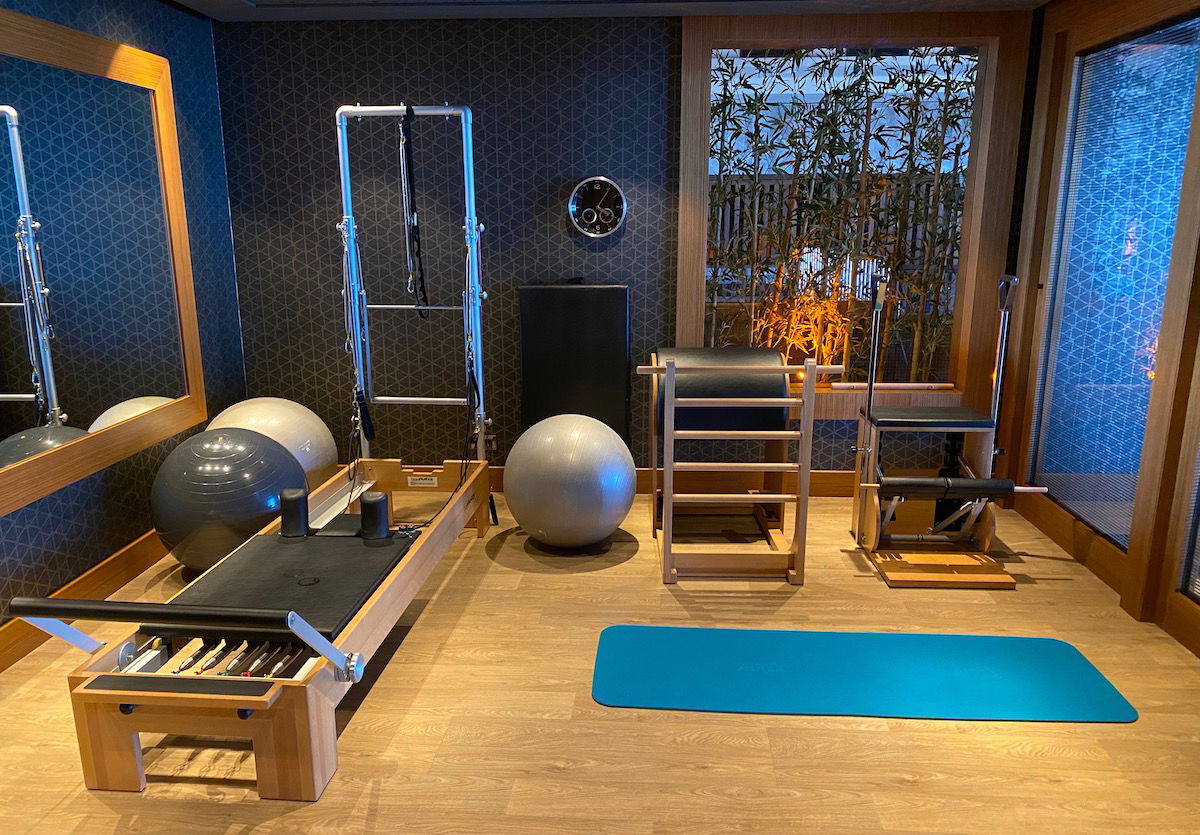 Caresse Bodrum gym
We didn't get any spa treatments while here, but here's the spa menu (interestingly spa prices were significantly higher than at the EDITION):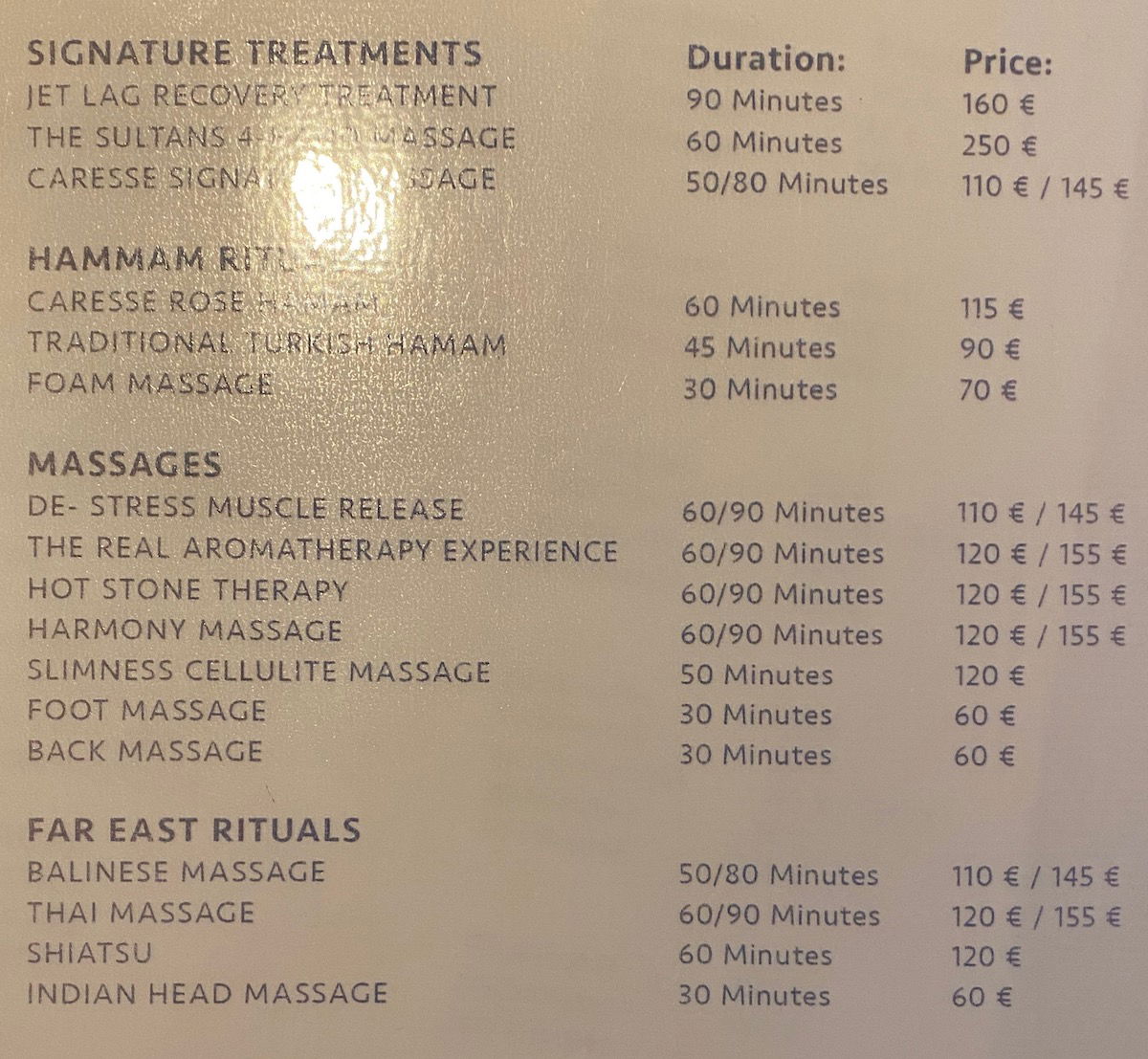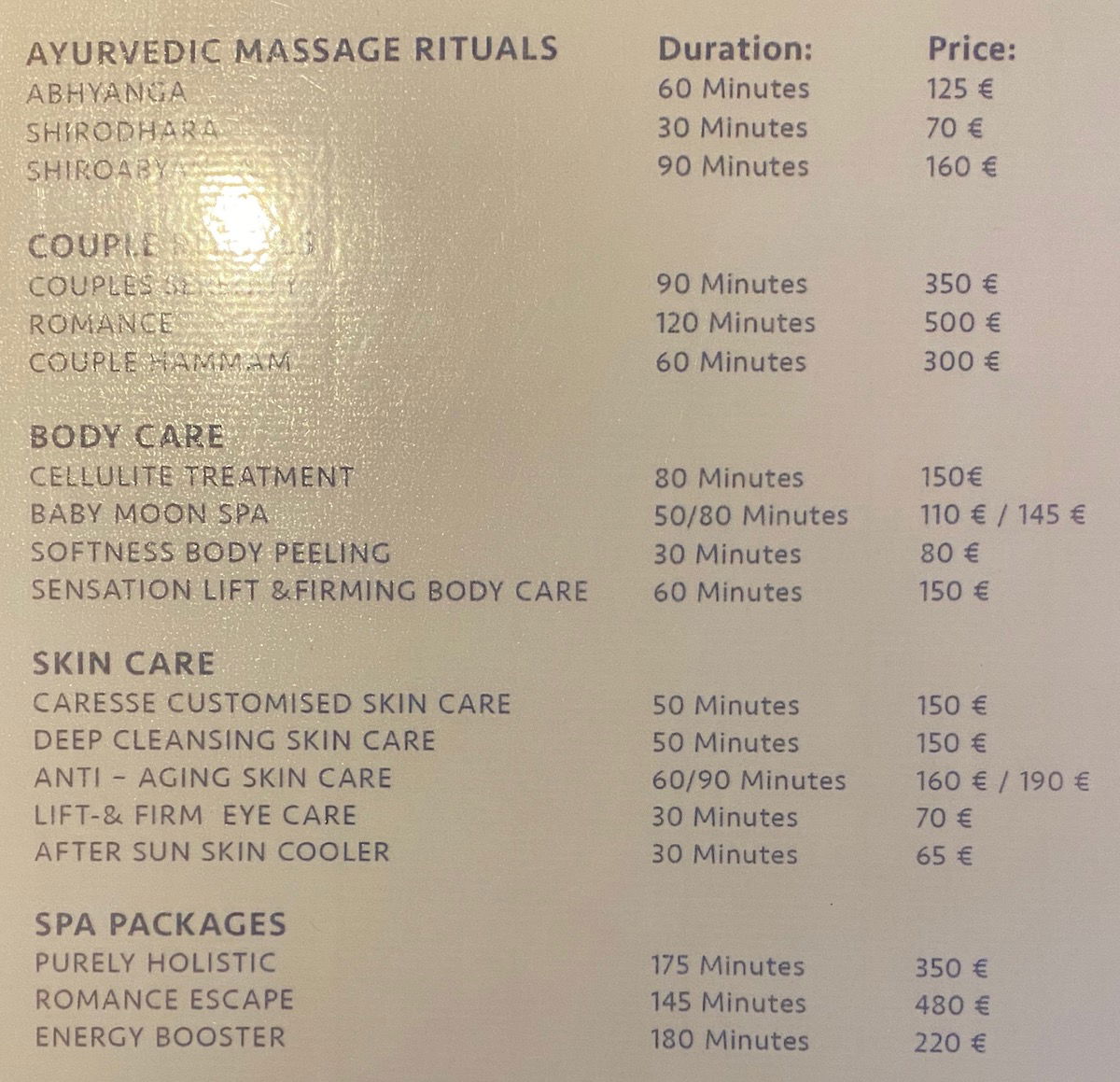 I wasn't able to snap any pictures of the spa (as it was quite busy), but it was excellent, with steam rooms, saunas, an indoor pool area, and more.
Caresse Bodrum "living room"
There were some things about Caresse that confused me, and one of those things was the "living room." This was also near the pool, and it was just a big, secluded indoor room. The space almost felt like how some apartment buildings have a community room you can rent for parties. There was no bar, or anything here, and it was totally empty when I visited.
Now that I look at the hotel's website, here's how the space is described:
"The Living Room offers a sophisticated and well-equipped setting for corporate retreats, incentives, brainstorming sessions, or simply for private solitude."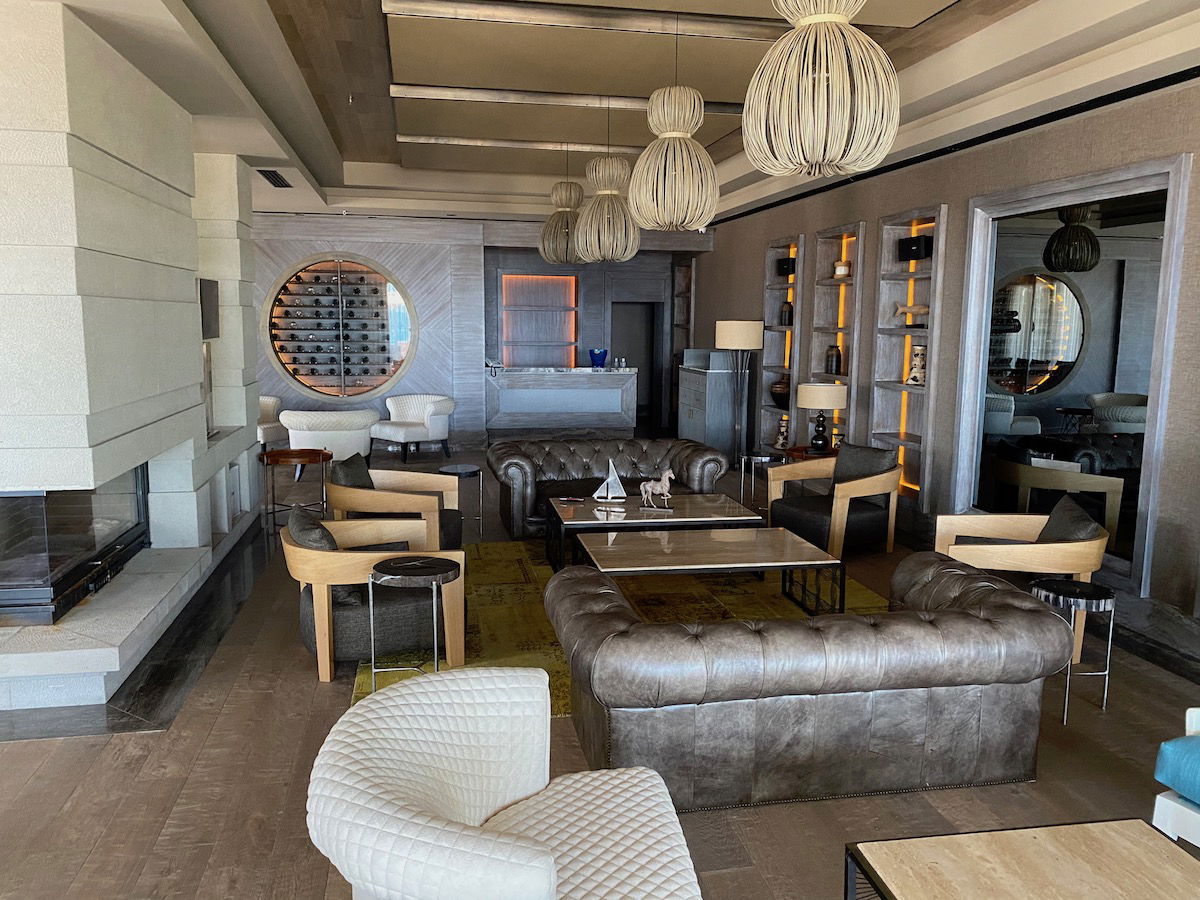 Caresse Bodrum living room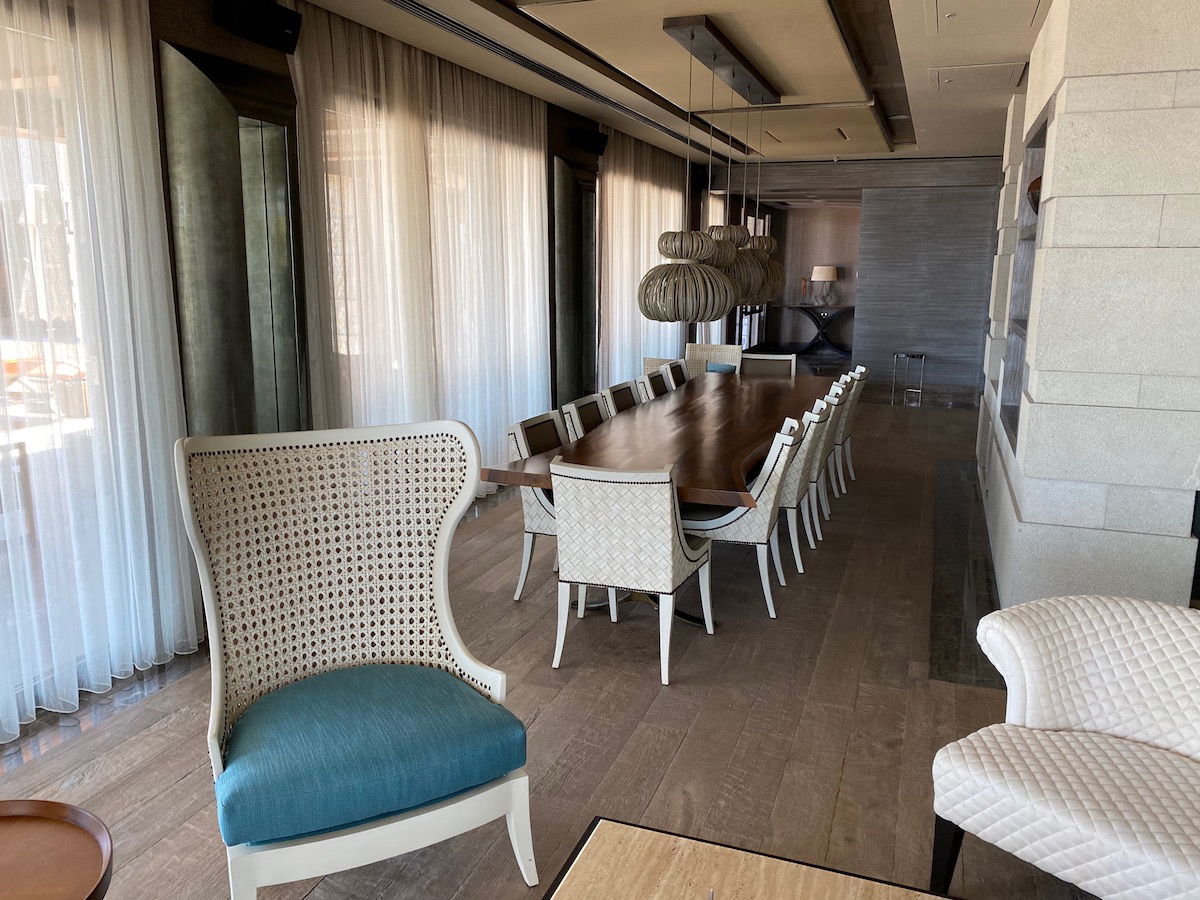 Caresse Bodrum living room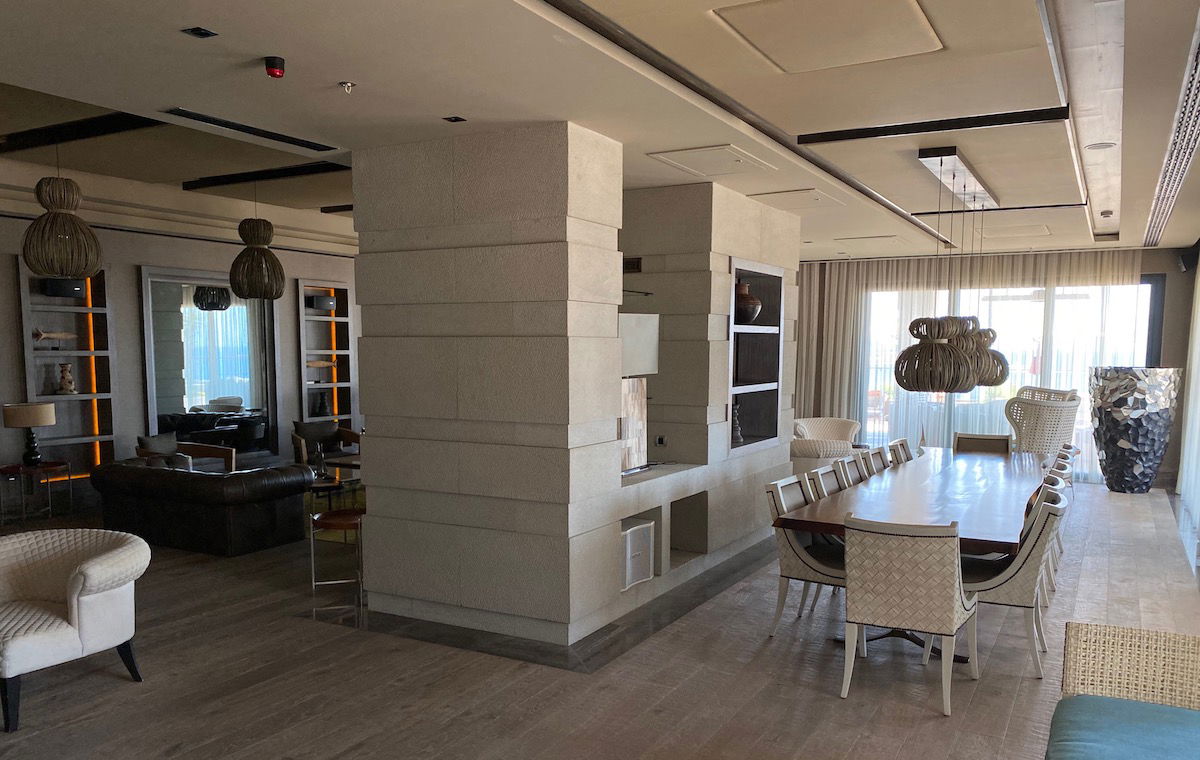 Caresse Bodrum living room
Dining at Caresse Bodrum
Caresse Bodrum has the following dining options:
The Glass Restaurant is open daily from 7:30AM until 11PM, and serves breakfast, lunch, and dinner
The Glass Lounge is open daily from 10AM until 1AM, and serves drinks and snacks all day
Buddha Bar is open daily from 11AM until 2AM, and serves lunch, dinner, and drinks all day at the pool
There's room service 24/7
Let's look at each of these in a bit more detail.
Breakfast at Glass Restaurant
Glass Restaurant is where breakfast is served daily. As a Bonvoy Titanium member breakfast was included, though it's not otherwise a standard inclusion on all rates.
The restaurant's decor felt so generic and bland.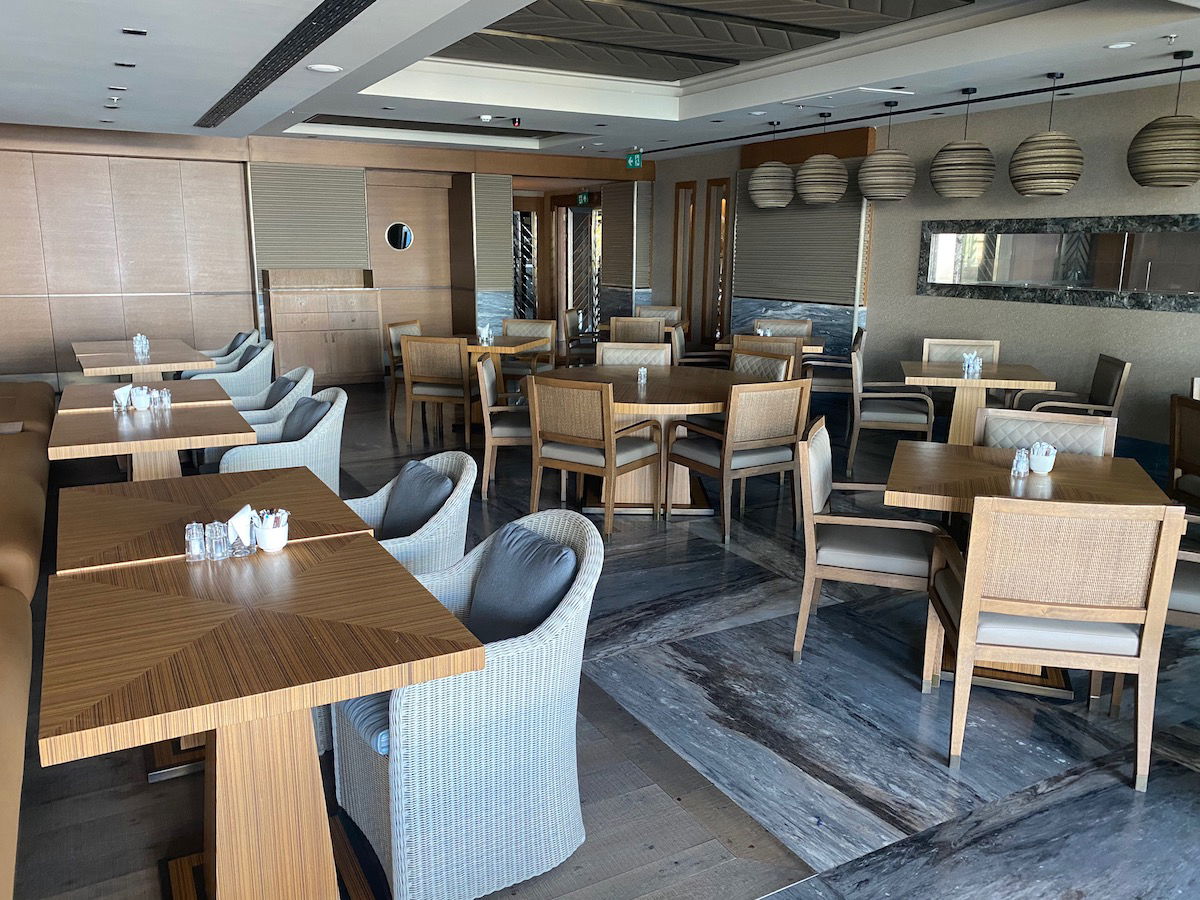 Glass Restaurant Caresse Bodrum
Fortunately there was plenty of outdoor seating, and there's nothing boring about the view from there.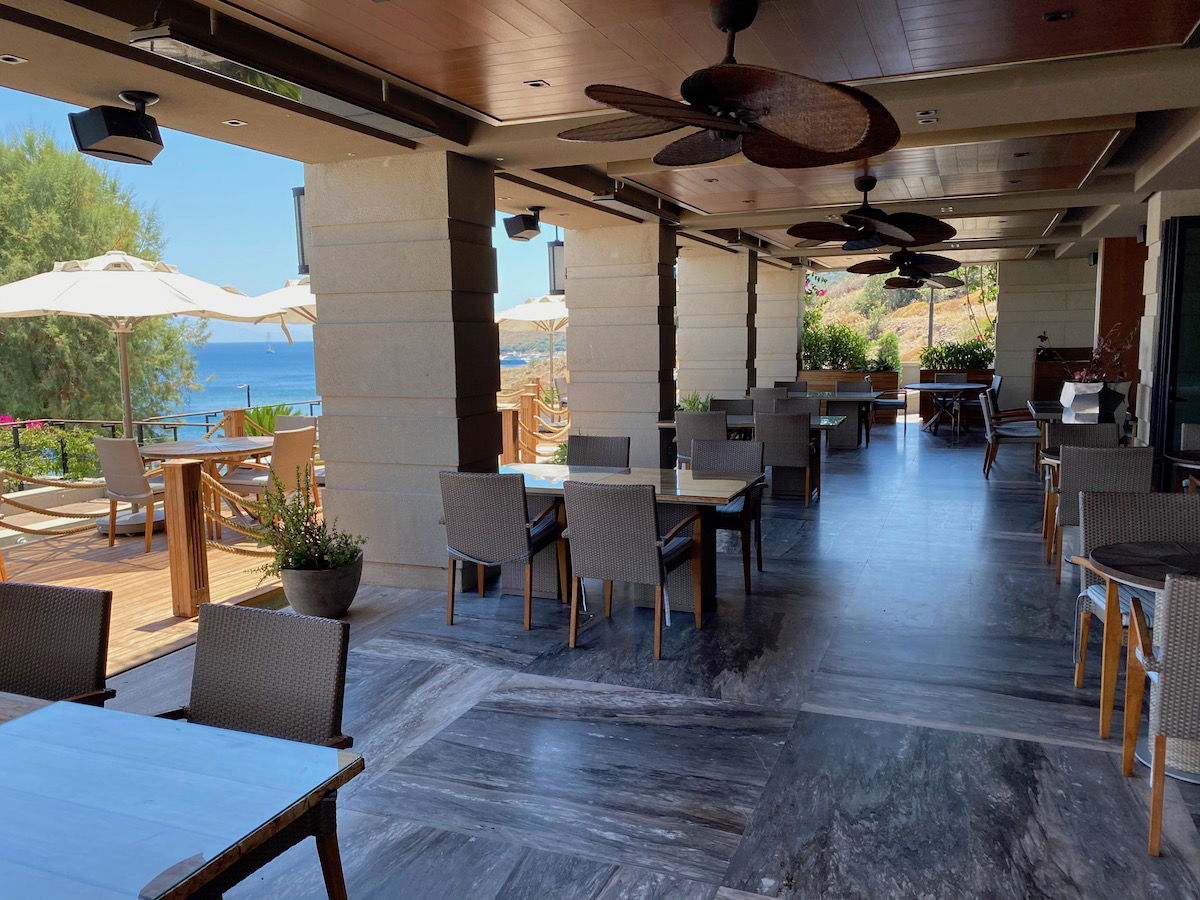 Glass Restaurant Caresse Bodrum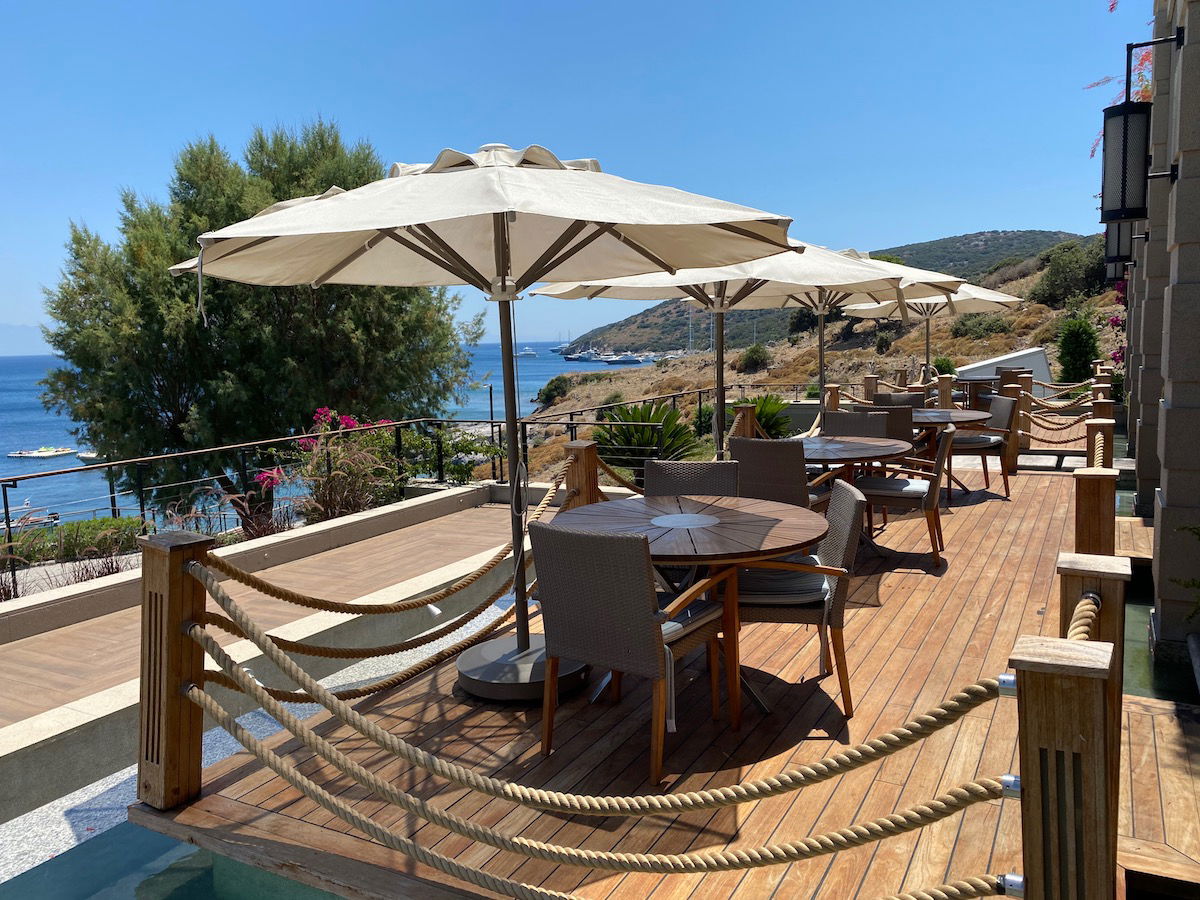 Glass Restaurant Caresse Bodrum
At breakfast there was no menu, but rather they brought out a Turkish selection to start, including fresh fruit, cheese, veggies, and all kinds of bread.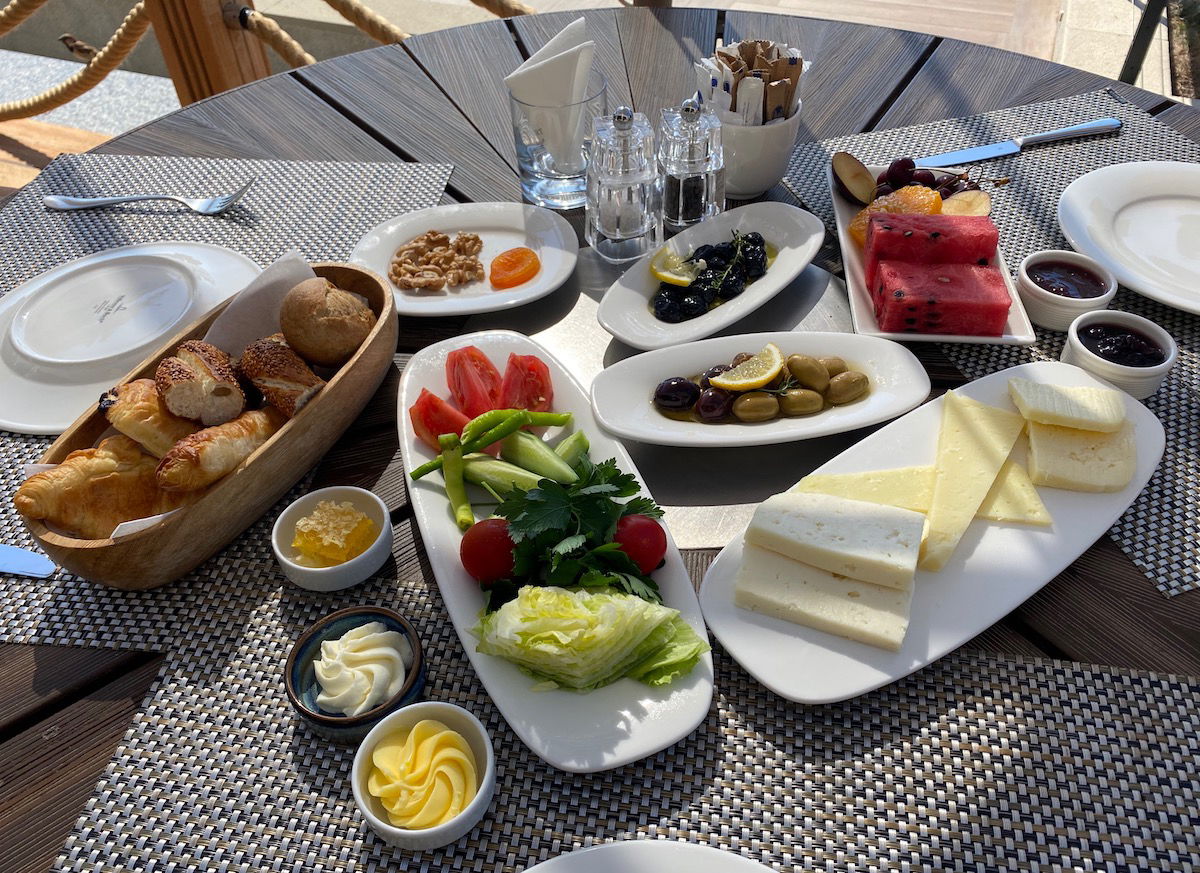 Caresse Bodrum breakfast
Since there wasn't a menu it wasn't entirely clear what they did and didn't have. I ordered an iced latte and was told it would be extra, but never was charged for it.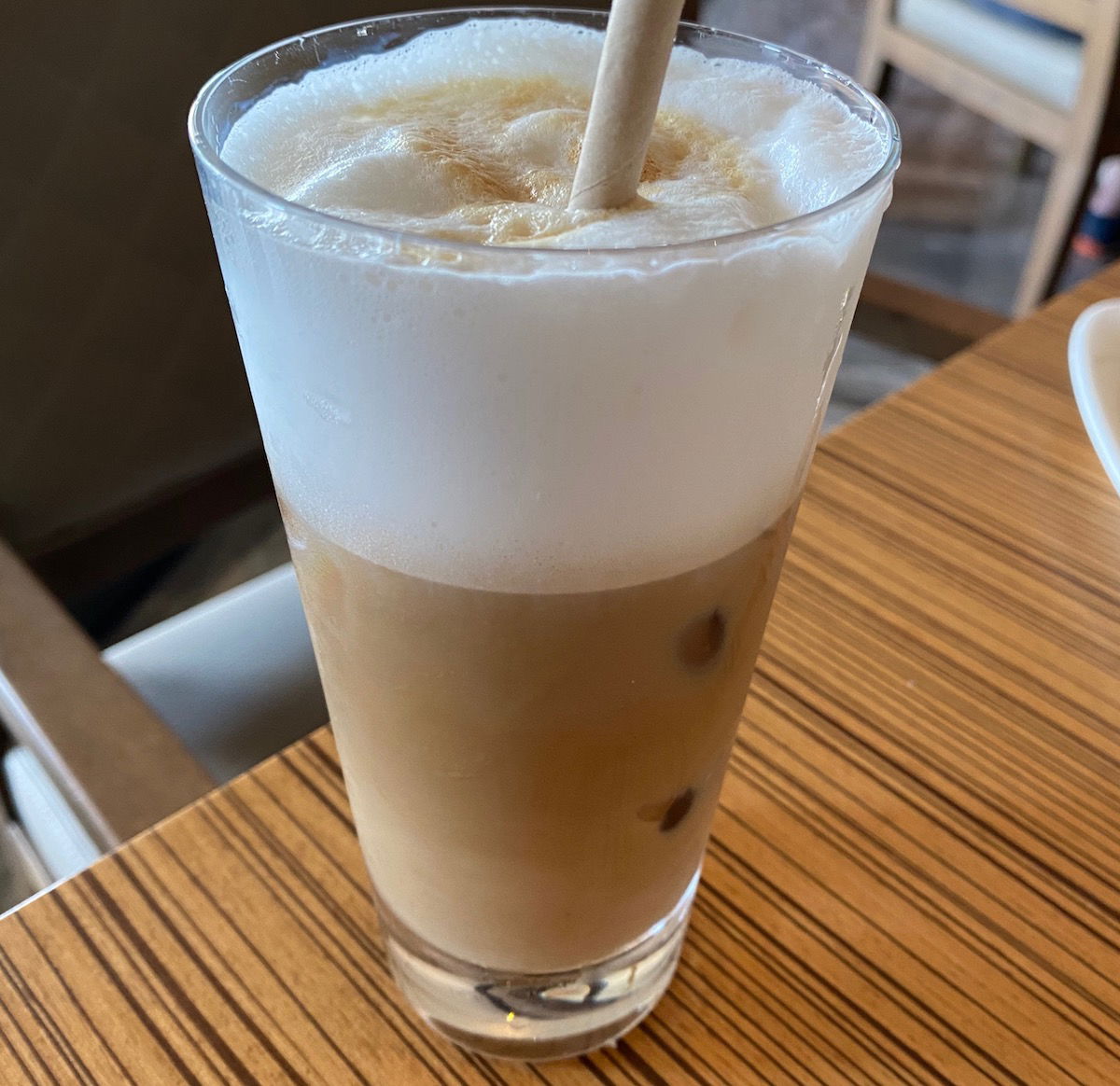 Caresse Bodrum breakfast
They told us we could order eggs made to order, but they didn't make it clear what exactly that included. The first morning I ordered an omelet, which was good.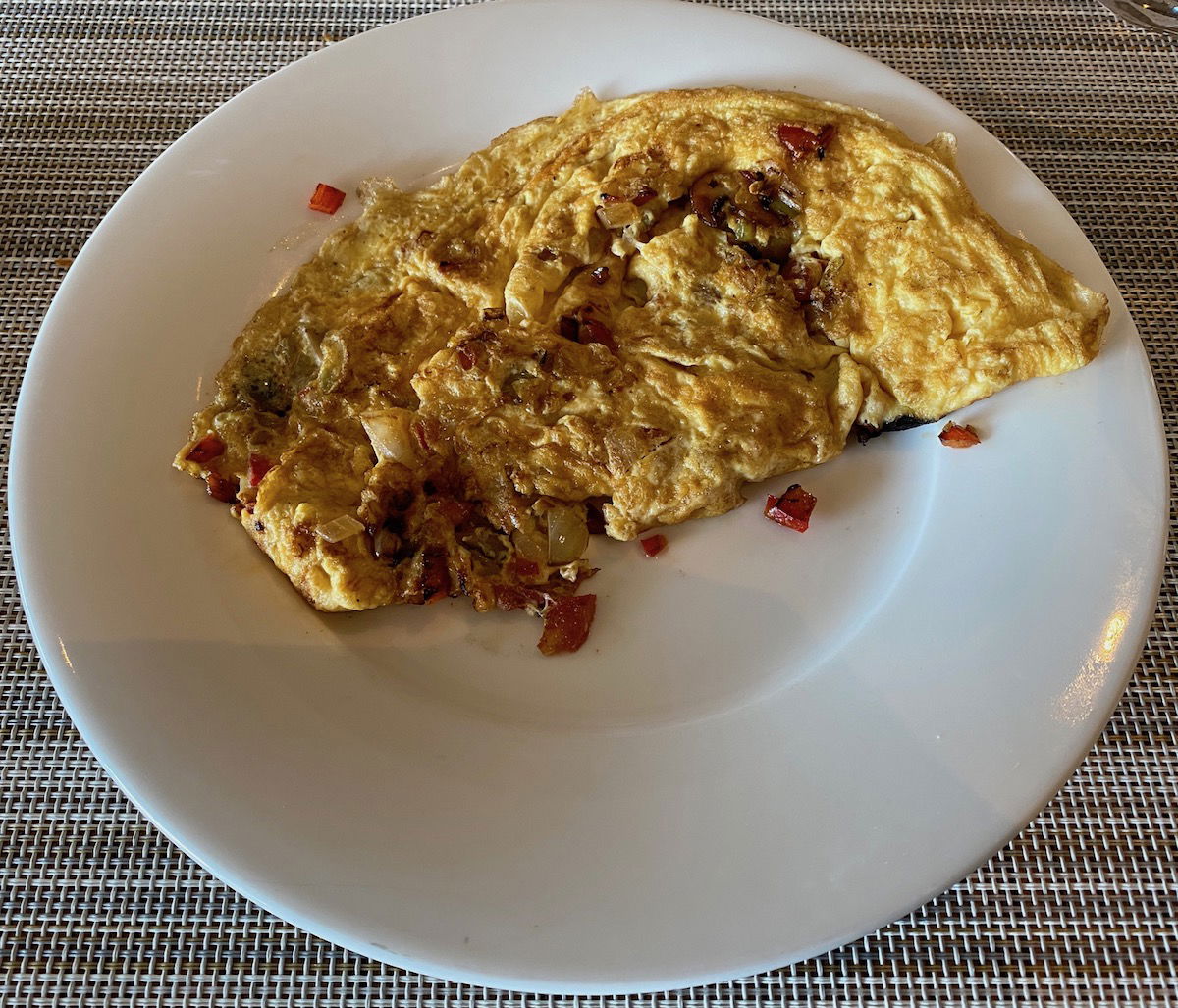 Caresse Bodrum breakfast
But then we realized they had menemen and fried sucuk, which is much better.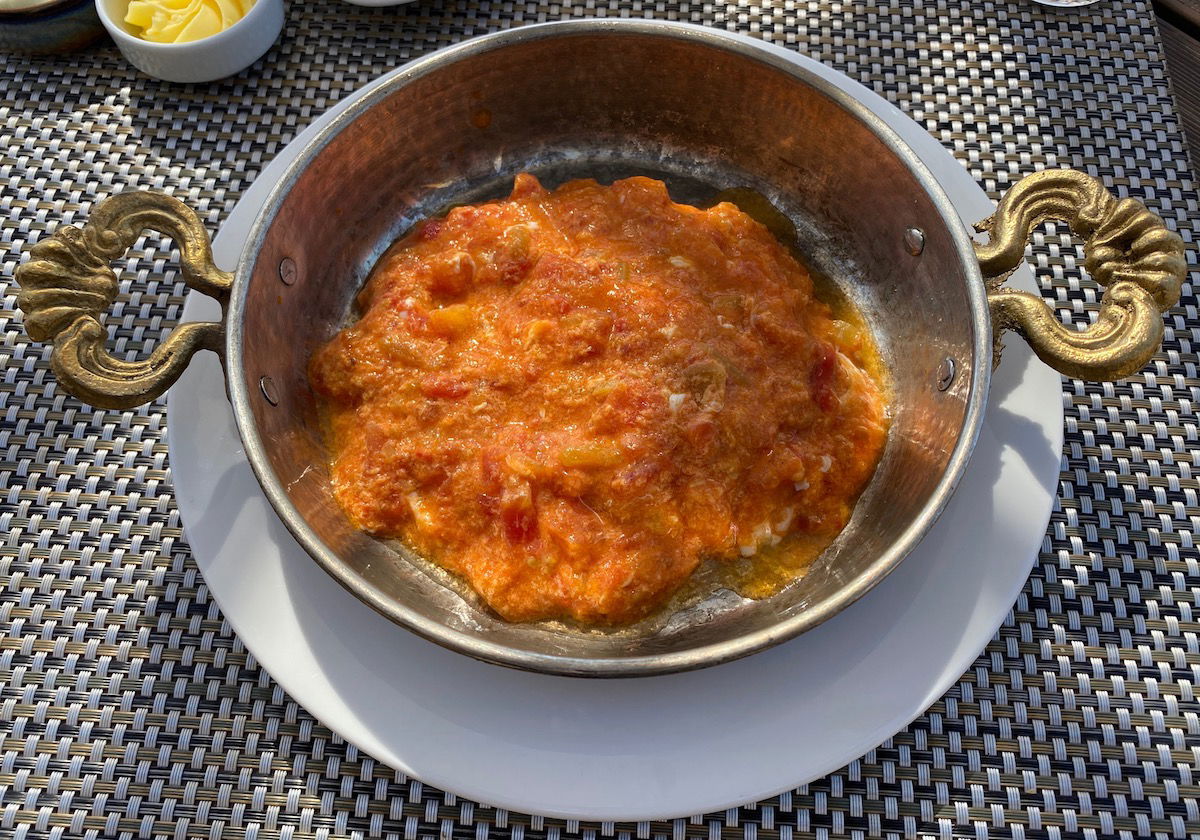 Caresse Bodrum breakfast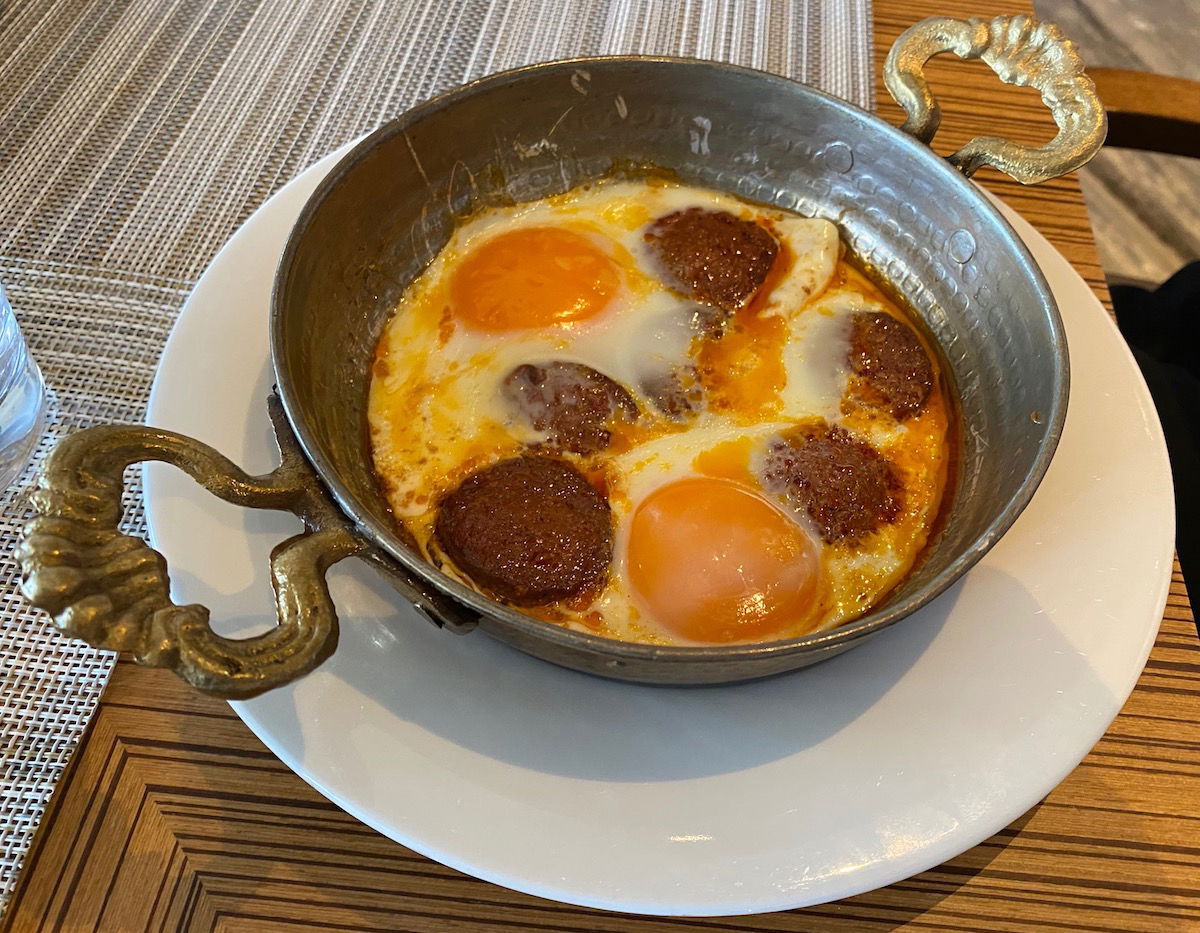 Caresse Bodrum breakfast
Breakfast was objectively quite good, though not nearly to the level of what we had at the EDITION. Furthermore, service at breakfast was chaotic. It was tough to get a second coffee, often we were just ignored for 15 minutes after sitting down, etc.
Glass Bar
Next to Glass Restaurant is Glass Bar, where you can enjoy drinks all day. While the indoor area wasn't much to get excited about, the outdoor area was beautiful, especially the couches along the exterior.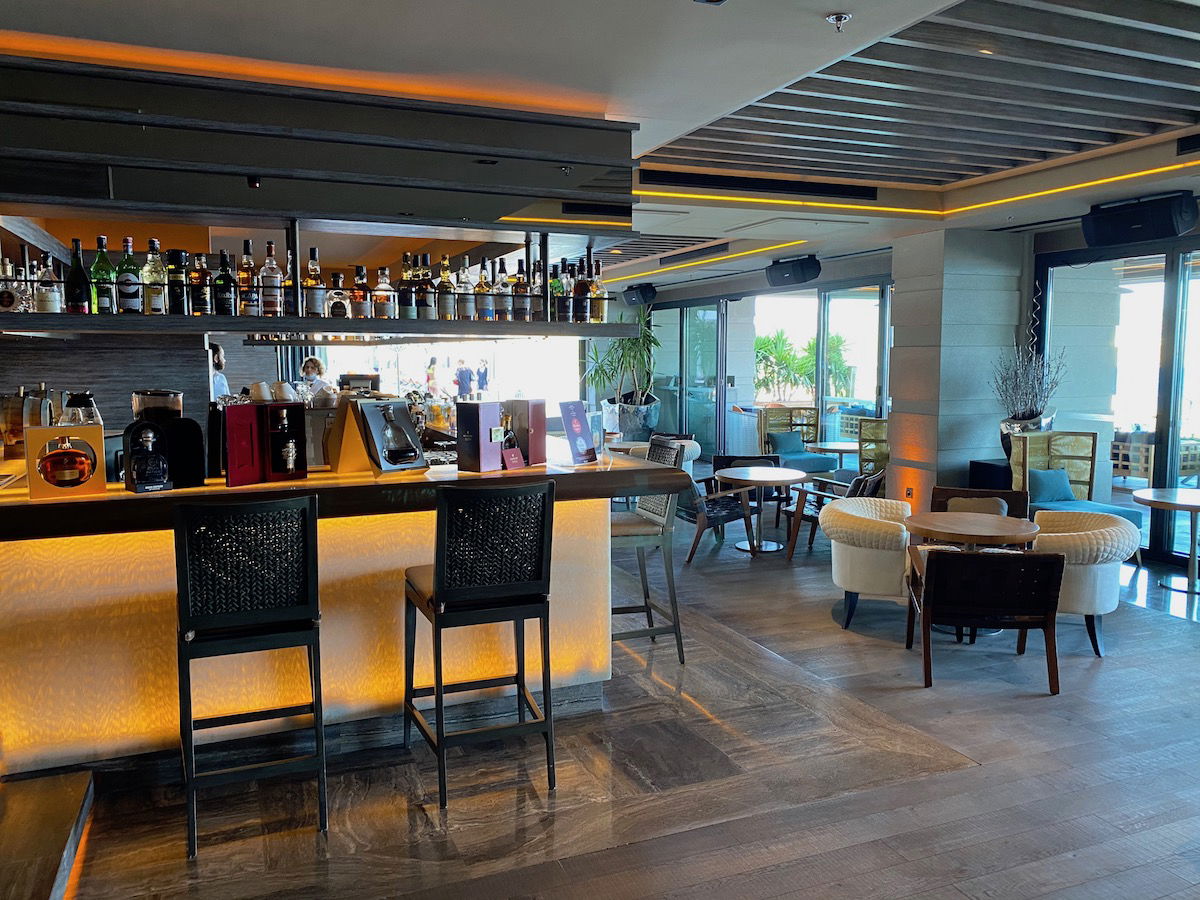 Glass Bar Caresse Bodrum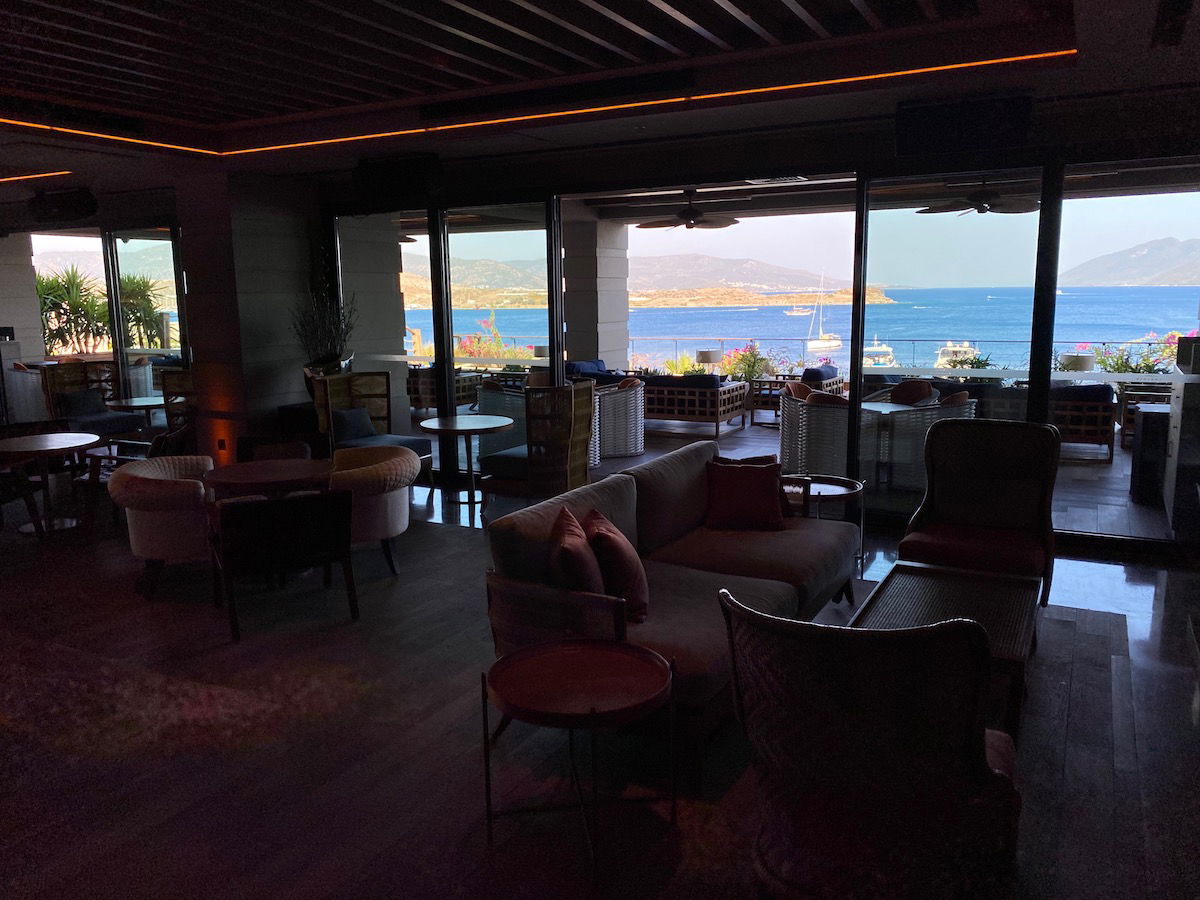 Glass Bar Caresse Bodrum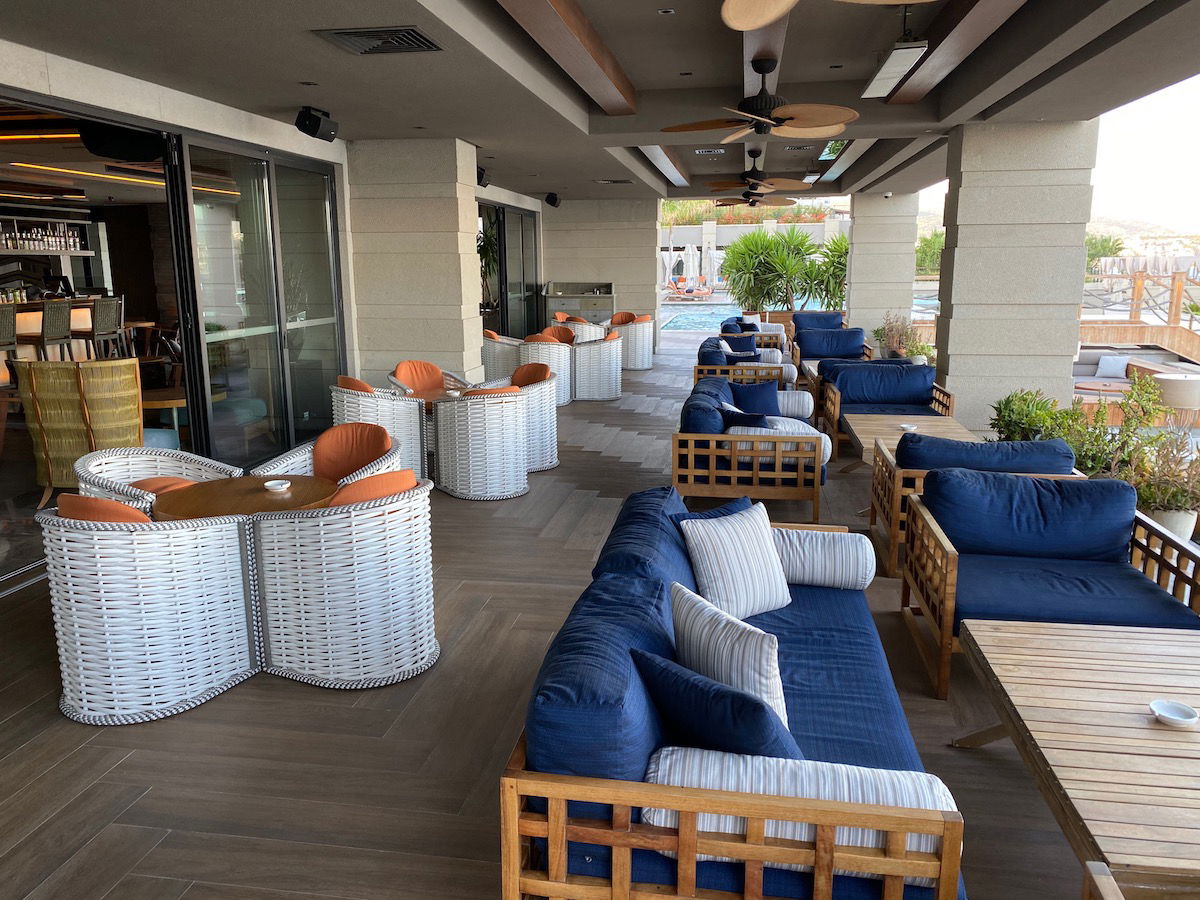 Glass Bar Caresse Bodrum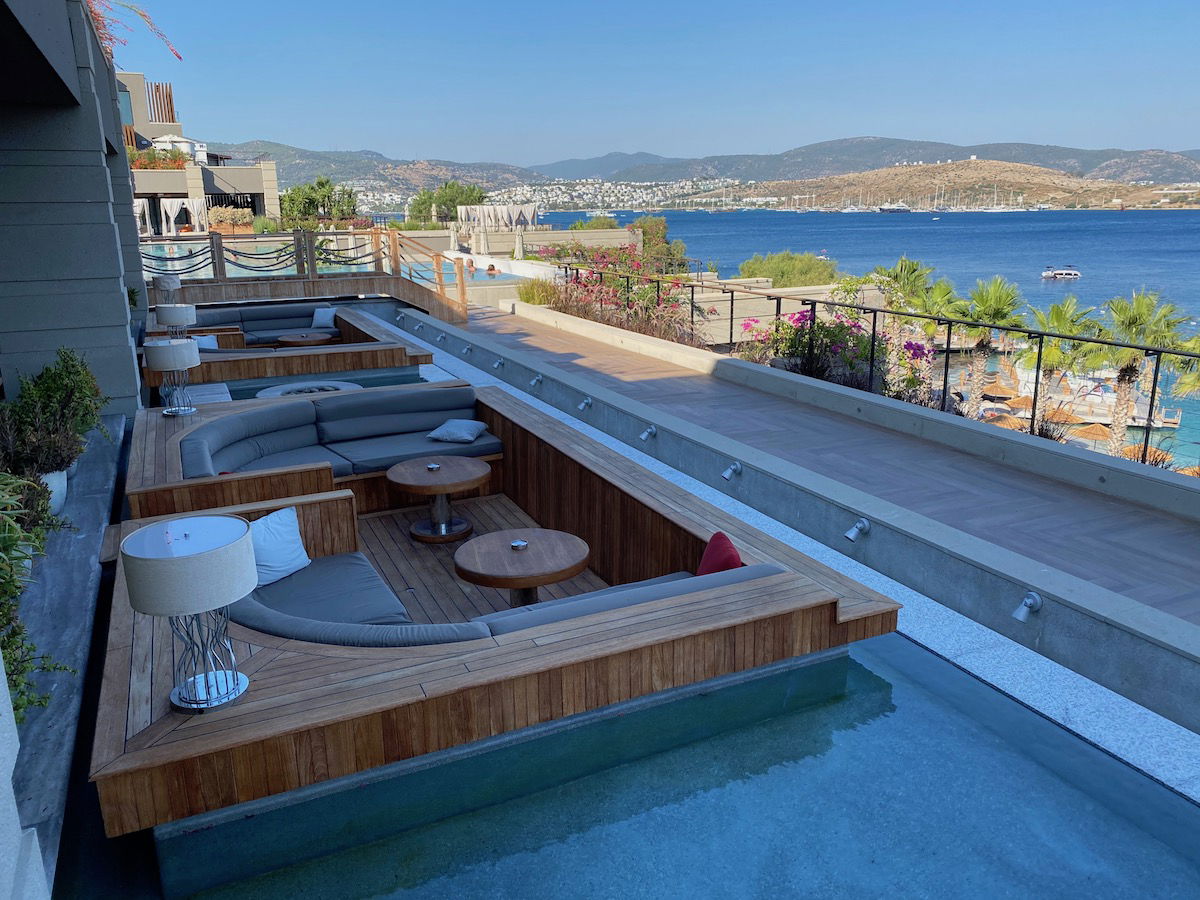 Glass Bar Caresse Bodrum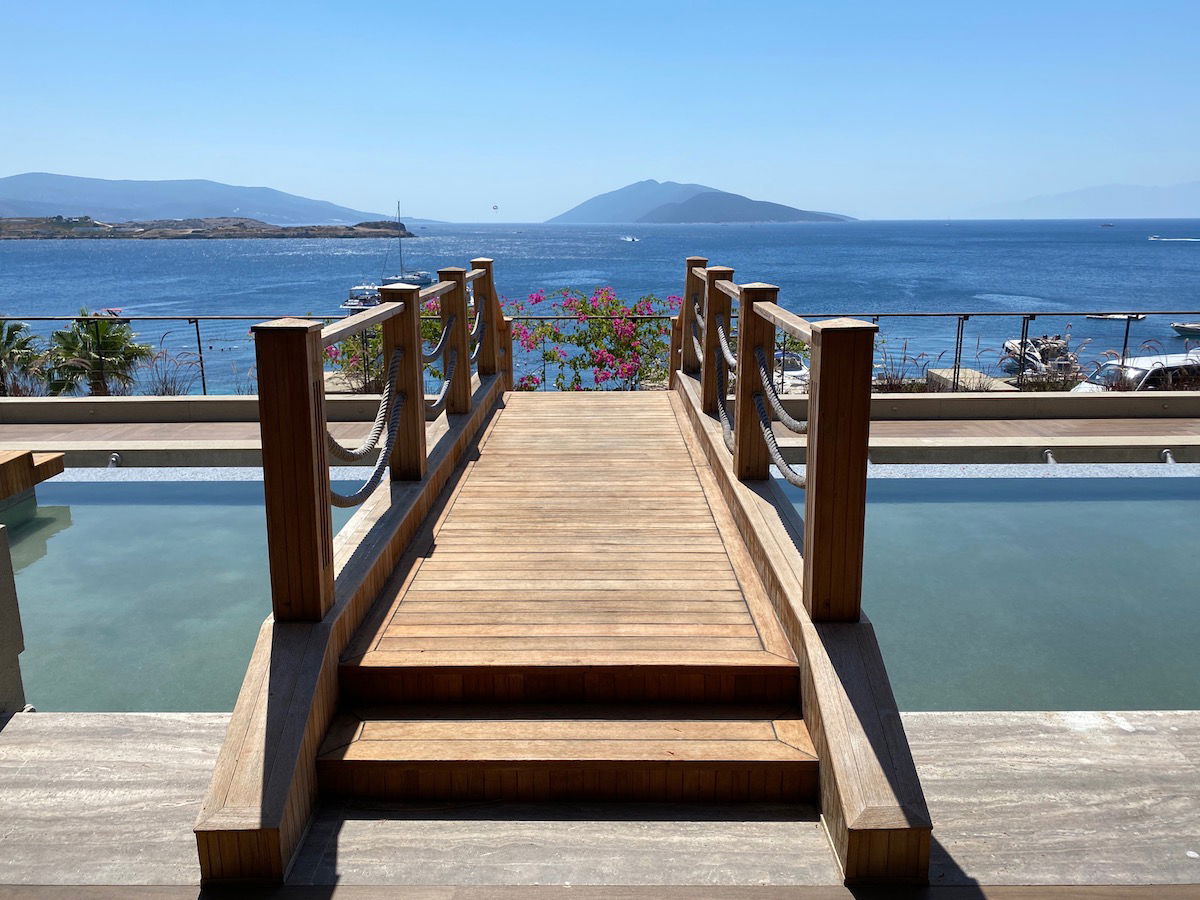 Walkway from Glass Bar to pool
Lunch & dinner at Buddha Bar
Buddha Bar is by far the best dining option at the hotel. Not only are lunch and dinner available here, but this is also where drinks ordered by the pool come from. The restaurant setup is beautiful.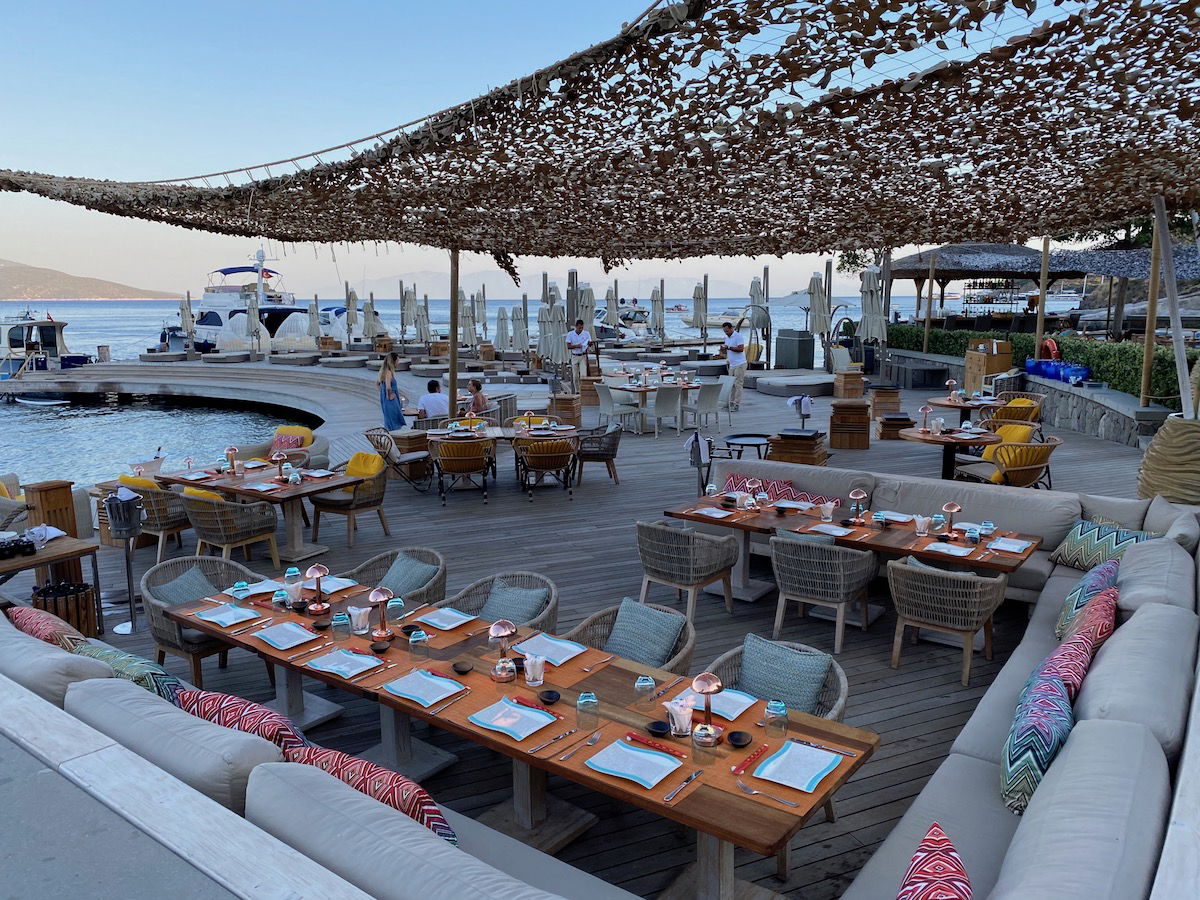 Buddha Bar Bodrum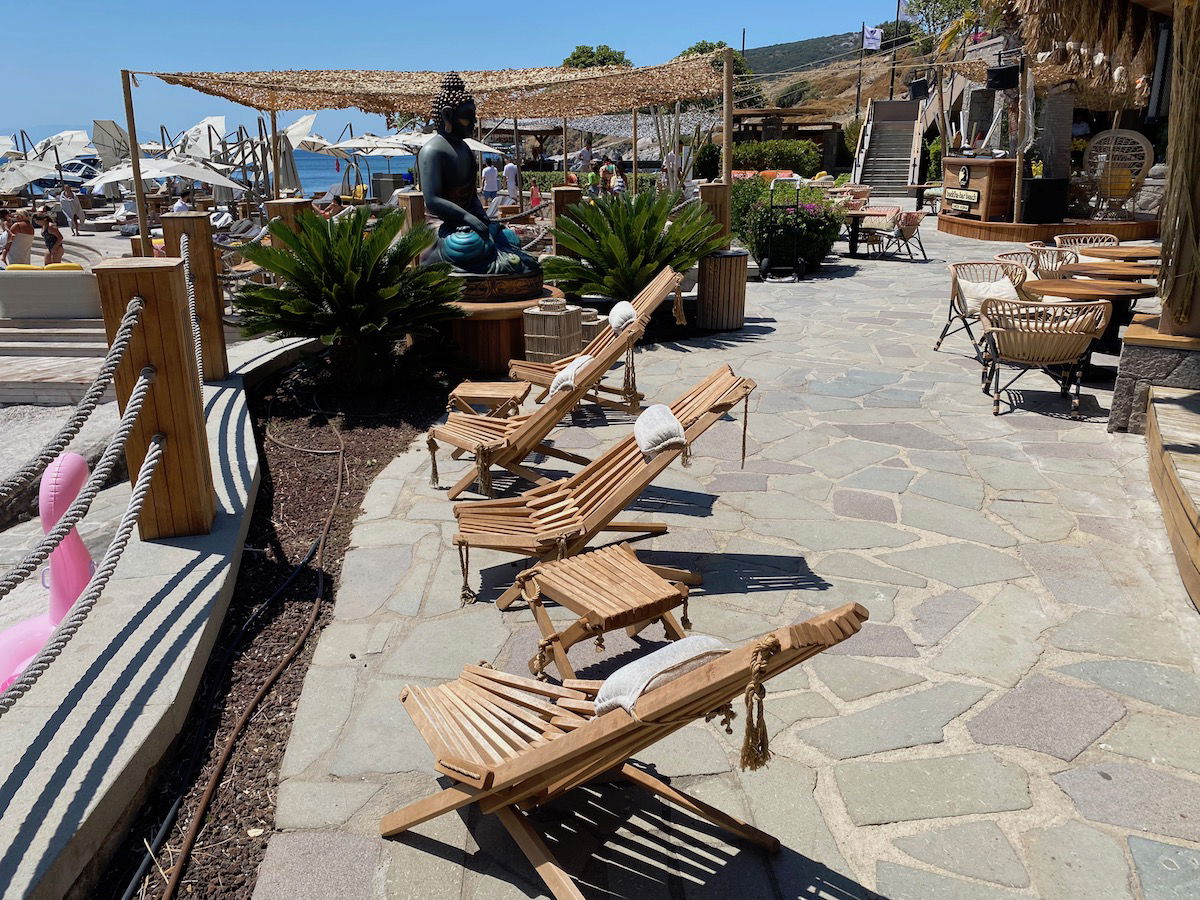 Buddha Bar Bodrum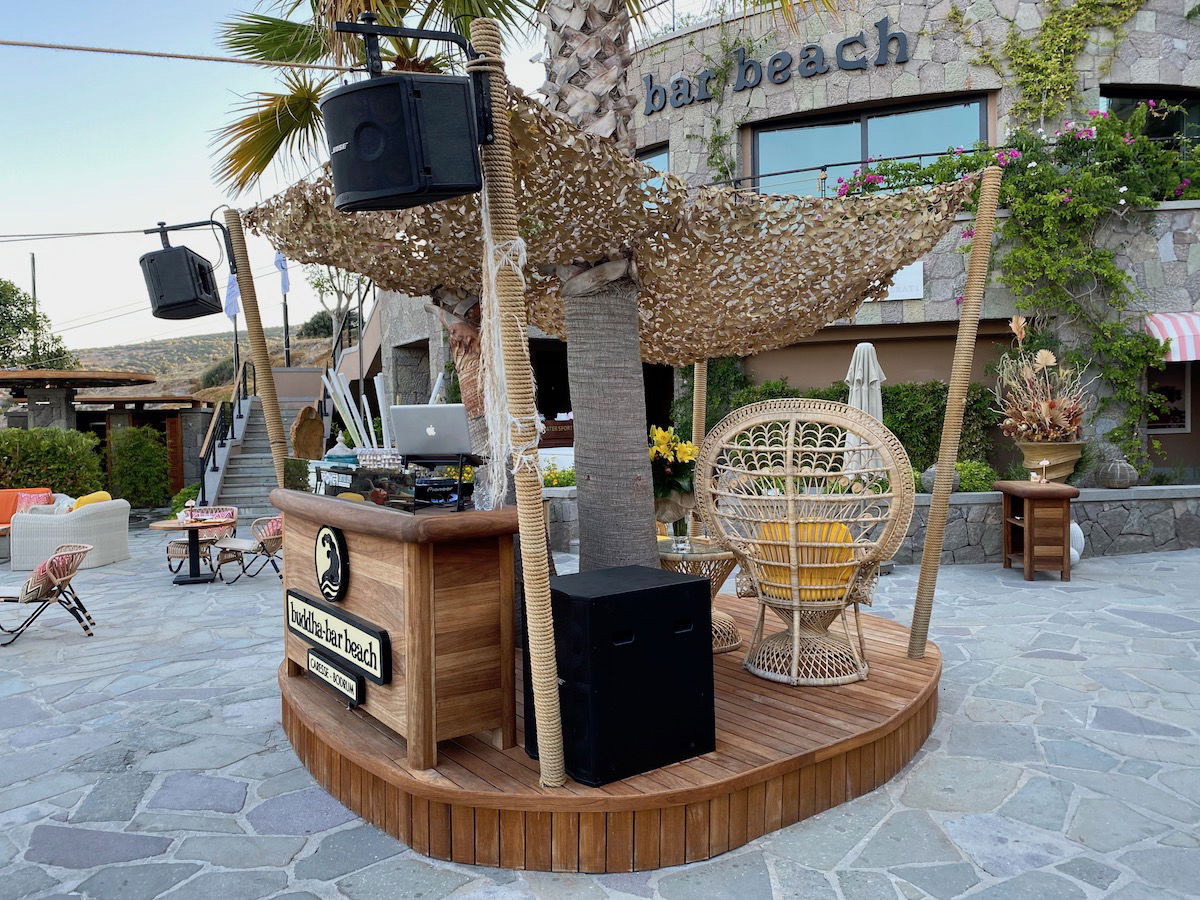 Buddha Bar Bodrum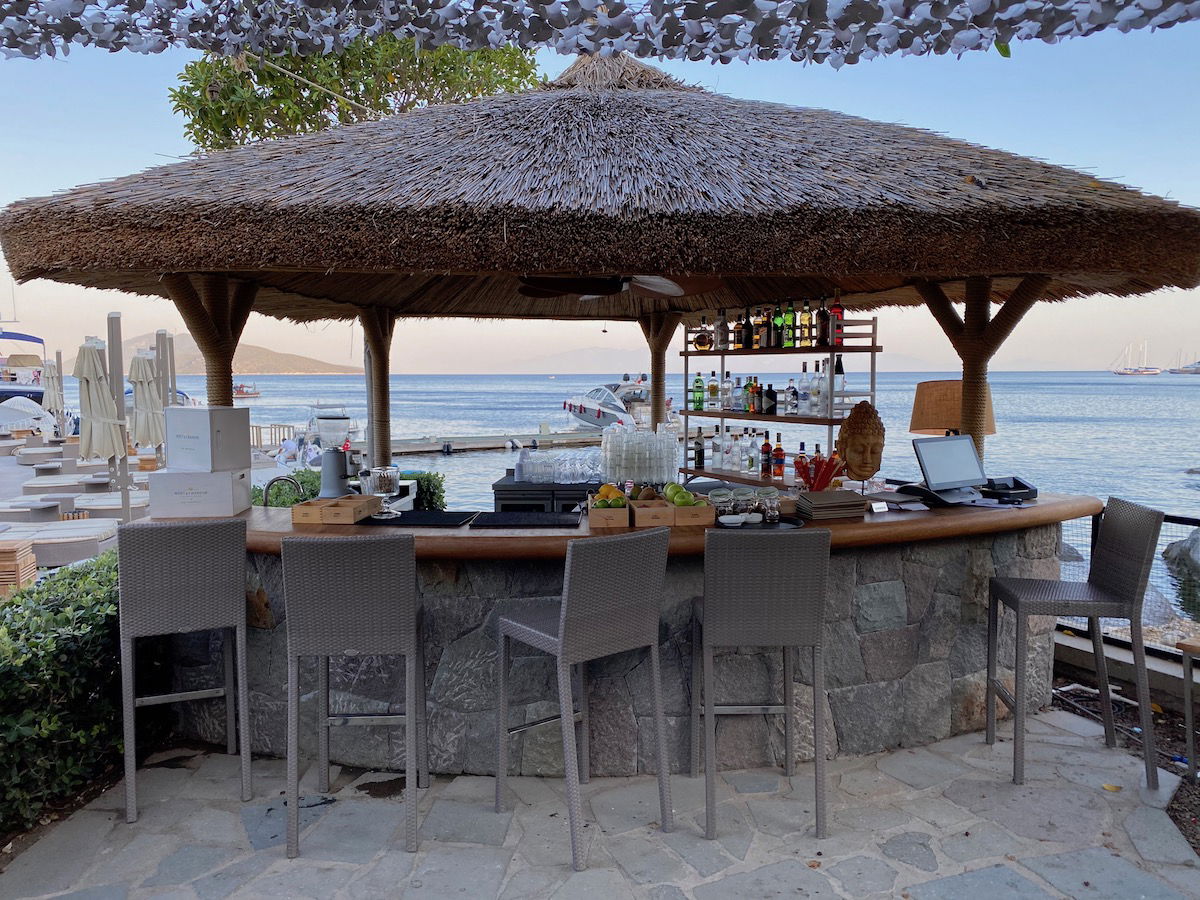 Buddha Bar Bodrum bar
We had dinner at the restaurant on our first night. The dinner menu read as follows (prices are in Turkish Lira, and 1USD is around 7.4TL):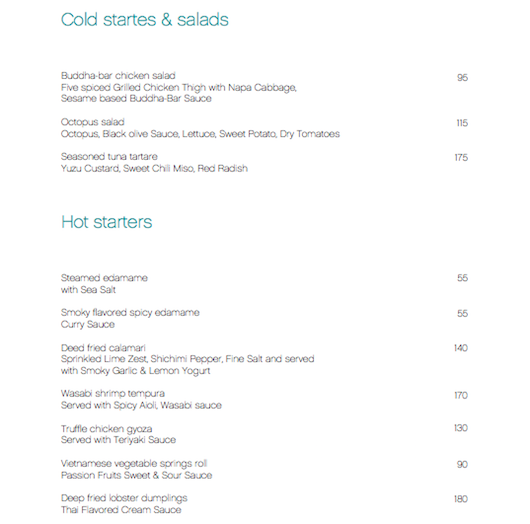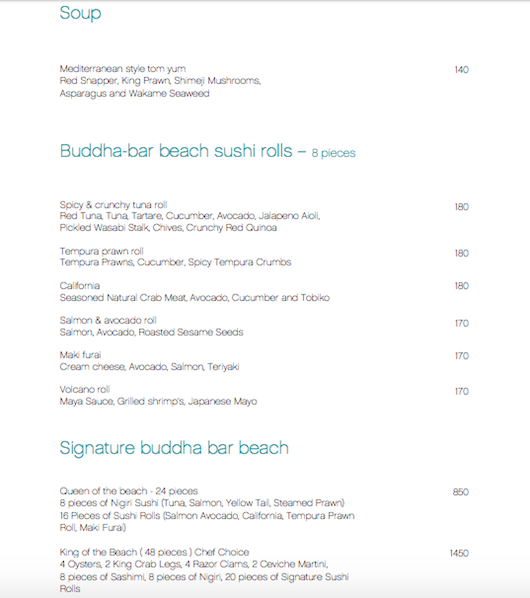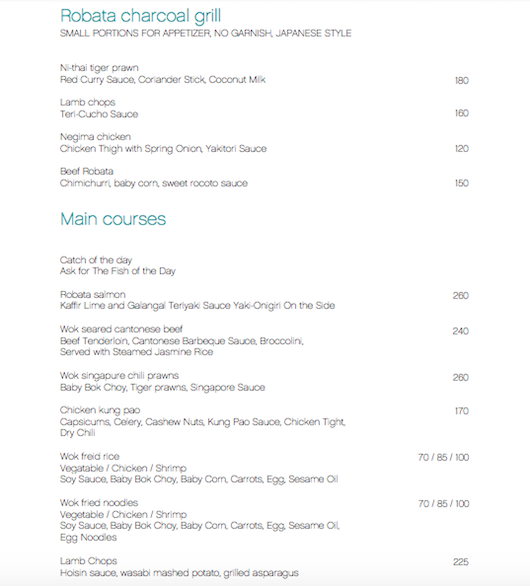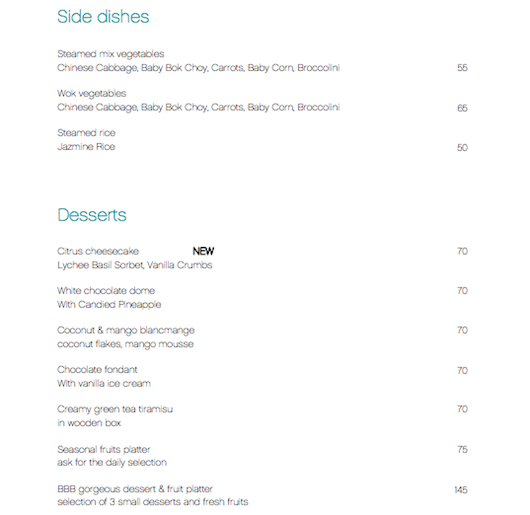 I had a Turkish Mule to drink, which was tasty.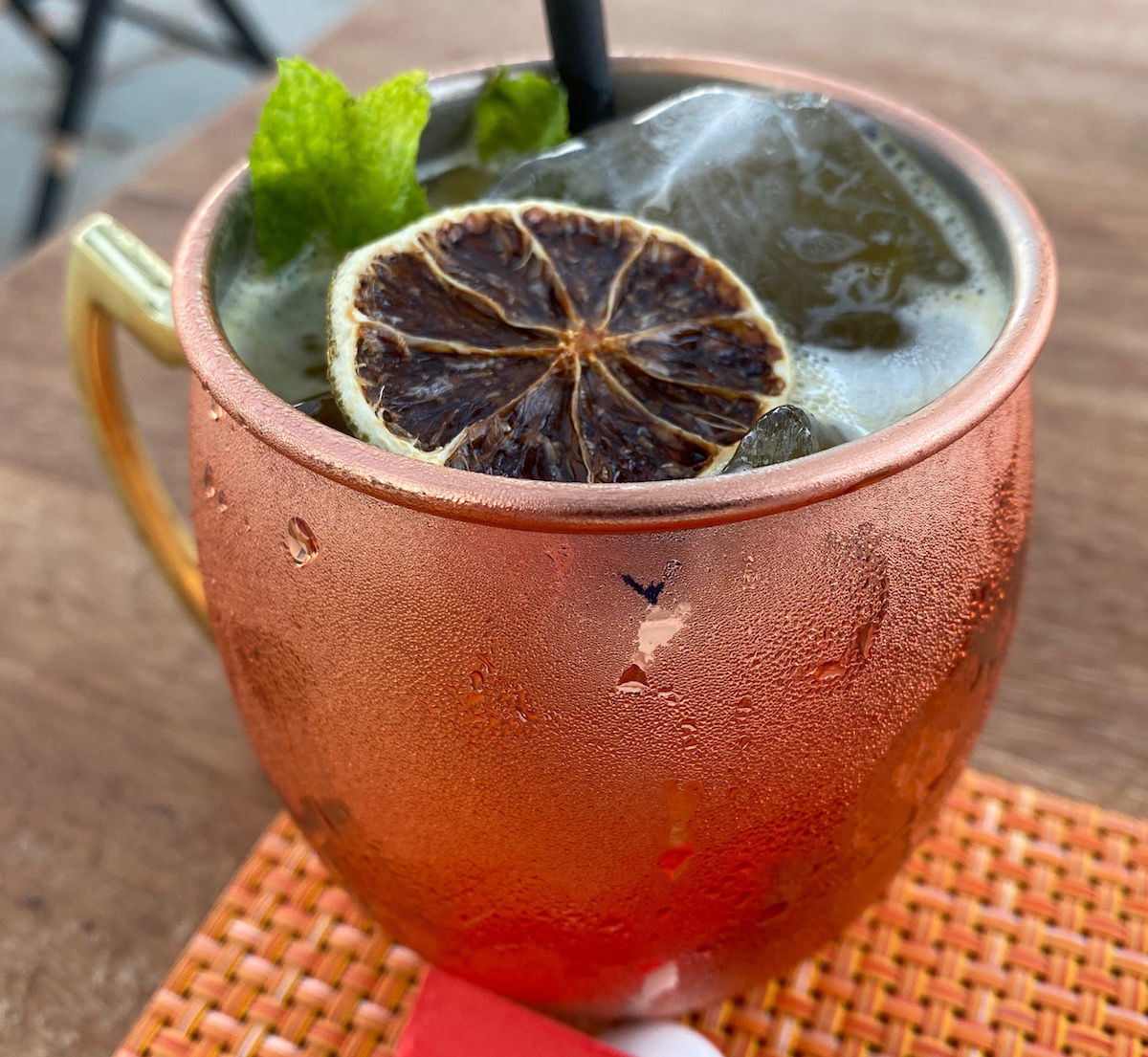 Dinner at Buddha Bar Bodrum
The food as such was fairly good, though not particularly memorable. I kind of think of the Buddha Bar brand as being similar to celebrity chefs who open airport restaurants where they sell wrapped sandwiches and mediocre pizzas.
Buddha Bar has locations at lots of tourist hotspots, and it's acceptable Asian cuisine, but it's not Zuma or Nobu in terms of quality (even if it's sometimes priced similar).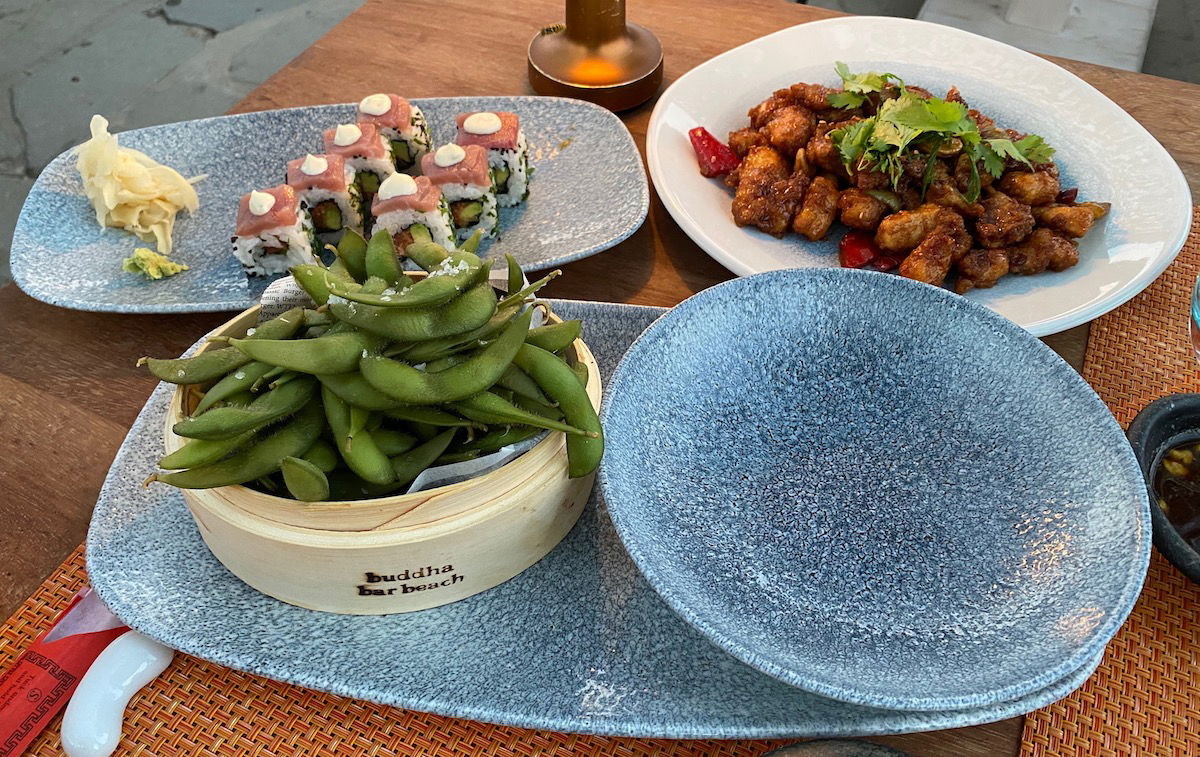 Dinner at Buddha Bar Bodrum
The lunch menu at Buddha Bar was a bit more varied, as it also had more local cuisine: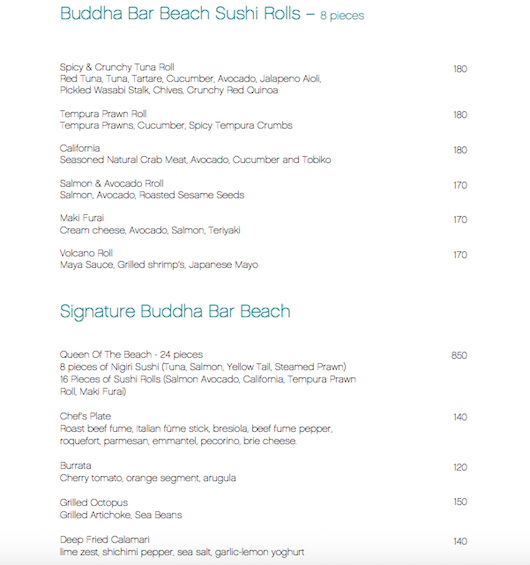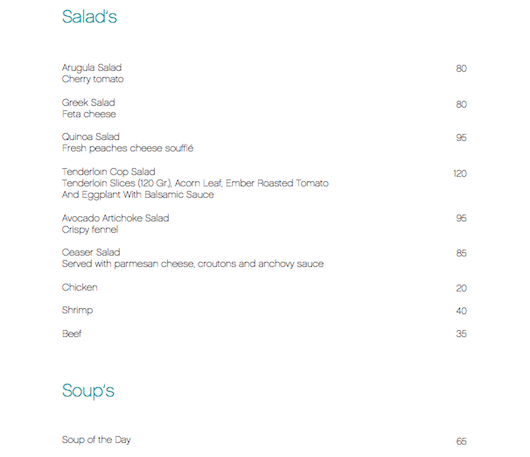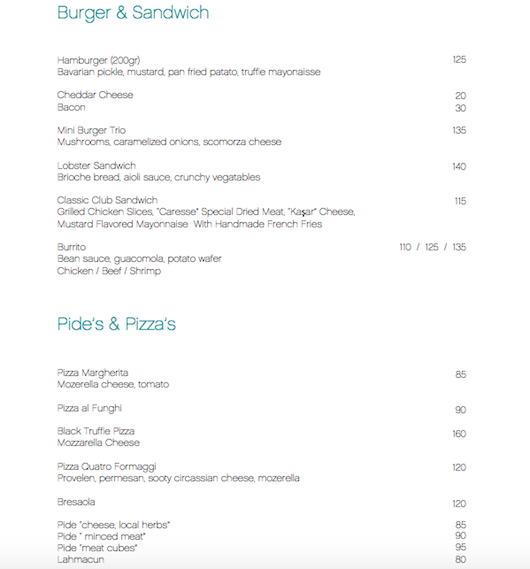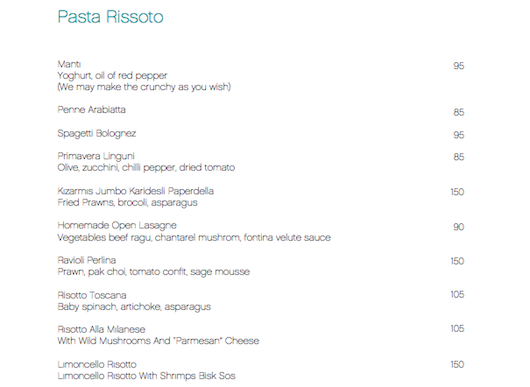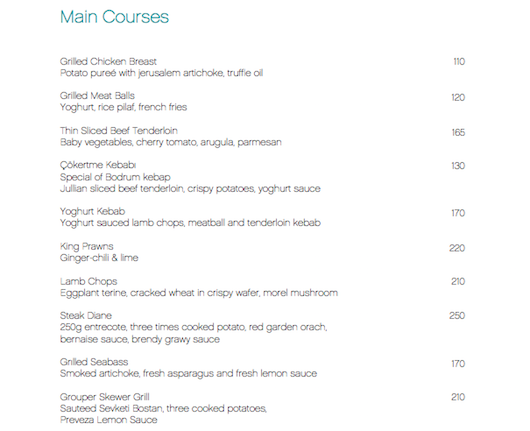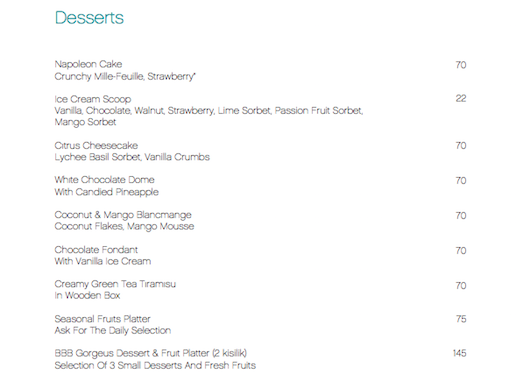 We had a Greek salad and the minced meat pide, both of which were great.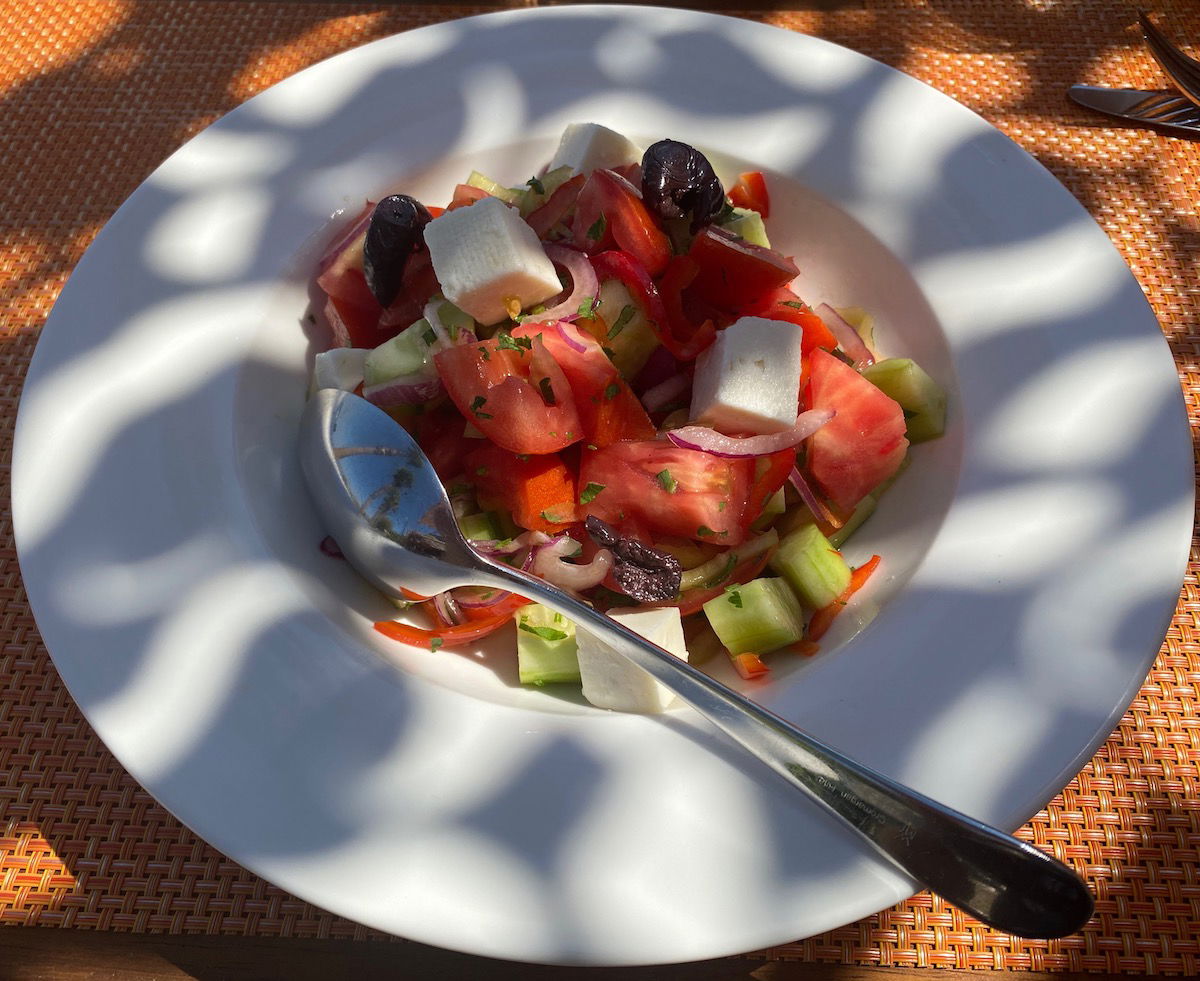 Lunch at Buddha Bar Bodrum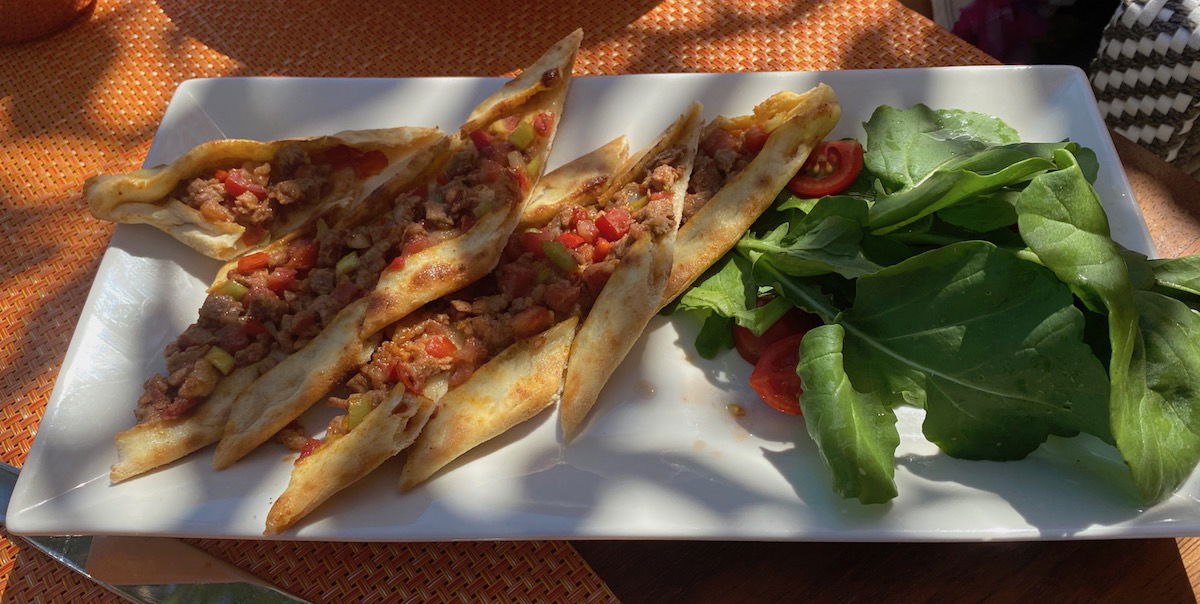 Lunch at Buddha Bar Bodrum
Room service
One day we ordered room service lunch, and had a chicken breast and meatballs, both of which were good.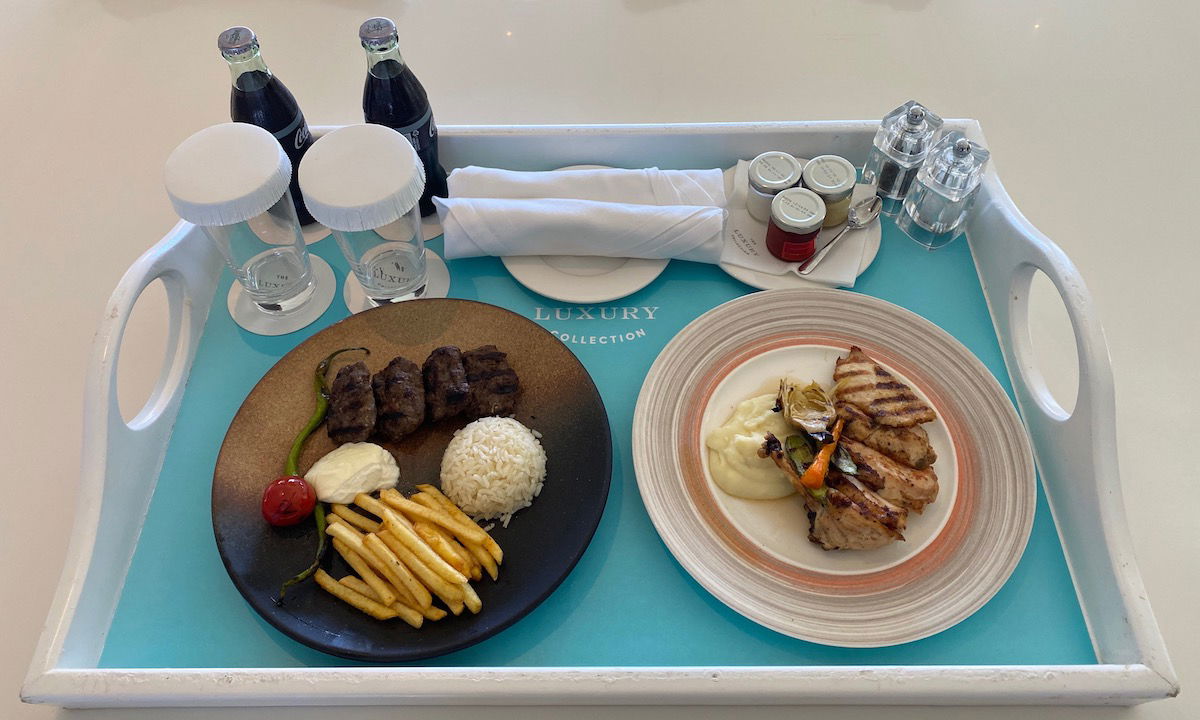 Caresse Bodrum room service
Service at Caresse Bodrum
Here's what's tough. If I had just stayed at Caresse I would have said service was pretty good. But we also stayed at EDITION, where service was amazing.
I'd say service at Caresse was generally well intentioned, but not in the same league as at the EDITION. To expand on that:
Service at breakfast was extremely inconsistent and it sometimes took 15 minutes until you could even flag someone down, which was quite a contrast to service at breakfast at the EDITION
At the beach it was definitely a chore to get someone's attention in order to order a drink
Service at Buddha Bar in general was quite good, and in particular there were a couple of servers that took good care of us throughout our stay
I should also mention that mask compliance at Caresse wasn't nearly as good as at the EDITION. Everyone working at the EDITION wore their mask correctly, while at Caresse a good number of employees wore their masks as chinstraps, and that seemed to be acceptable. Aside from that, I think the hotel did a good job with overall cleaning protocols, as I saw employees constantly cleaning all public spaces.
I also had one more odd experience at check-out that I should share. When I was presented with the folio, there were two huge meal charges on there that weren't mine. One was for a ~250USD lunch that included nine kebabs, and another was for a similarly priced dinner on a night where we didn't eat at the hotel.
I said the charges weren't mine, so it took them about 30 minutes to investigate, during which time we just had to sit there and wait:
They couldn't find the receipt for the dinner charge
For the lunch charge they presented me with a receipt that did have my signature, which was bizarre, but it looked like the itemized bill and the signature were initially on separate documents, but were photocopied onto one
I'll assume the whole thing was an honest mistake and that something got mixed up, but I've never had two incorrect charges for very expensive meals show up on my hotel bill…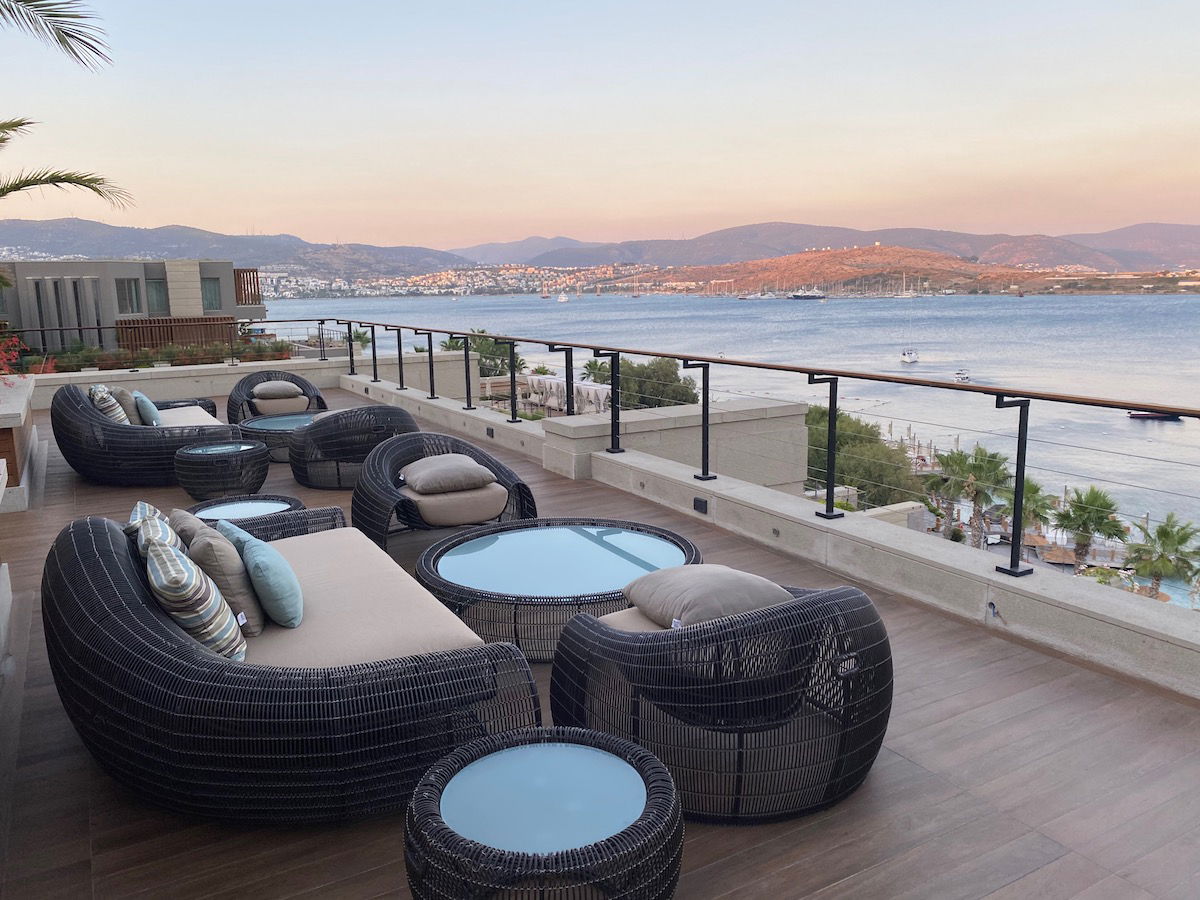 Caresse Bodrum beautiful sunset seating
Bottom line
We enjoyed our time at Caresse — this is a solid European Luxury Collection property.
However, I have a strong preference for the EDITION over Caresse, especially given that both hotels require the same number of points. The EDITION felt more luxurious to me, had significantly better service, and also had much better mask compliance among employees.
If I were to return to Bodrum for a long time I might still spend at least some time at Caresse, as I enjoyed the change of scenery, and the hotel had the best sea view of any of the properties we stayed at. However, beyond that there's not much that stood out to me about this property.
If you've stayed at Caresse, what was your experience like?