Want to receive extra benefits for your stay at Amanruya Bodrum, including complimentary breakfast, a space available room upgrade, a property credit, and more? Contact [email protected] for more details. He may even be able to help if you already have a stay booked.
We redeemed points for our entire stay in Bodrum, with the exception of our four night stay at Amanruya (since Aman doesn't have a loyalty program). The hotel was both delightful and disappointing.
Booking Amanruya Bodrum
As an Amanjunkie (or perhaps former Amanjunkie, because my last few stays haven't been as amazing as previous ones?) I really wanted to stay at the Aman property in Bodrum. This property is known as Amanruya, which means "peaceful dream" ("Aman" means "peace" in Sanskrit, and "ruya" means "dream" in Turkish).
While all Amans are objectively pricey, this was by comparison one of the more reasonably priced ones (again, this is all relative). We booked four nights at Amanruya, given that the hotel was offering a fourth night free promotion. The nightly rate before the discount was 700EUR, though with the discount that averaged out to 525EUR per night. This rate included daily breakfast, roundtrip airport transfers, and more.
The great thing is that at Amanruya even the entry level room is a private villa with a pool.
Funny enough, in terms of the cash cost, Amanruya was the cheapest hotel we stayed at during our stay. The rate at the EDITION was almost twice as much, while Caresse was marginally more expensive.
Get extra perks at Aman hotel
If you're booking a stay at Amanruya, I'd recommend booking through a Virtuoso agent. This would get you perks like a room upgrade subject to availability, a $100 property credit, and more. You'll pay the same as whatever the flexible rate is at the hotel.
If you need help with a Virtuoso booking you can reach out to Ford at [email protected], and he'd be happy to help.
Amanruya Bodrum location
Now let's get into the actual review of the hotel. Amanruya is located on the northeast of the Bodrum peninsula. It's only about a 15 minute drive from the EDITION, about a 20 minute drive from the town of Bodrum, and about a 30 minute drive from Bodrum-Milas International Airport.
Our rate included roundtrip airport transfers, but the hotel was happy to pick us up and drop us off at the EDITION, since we weren't flying directly before or after our stay. We were transported in a very nice Mercedes van.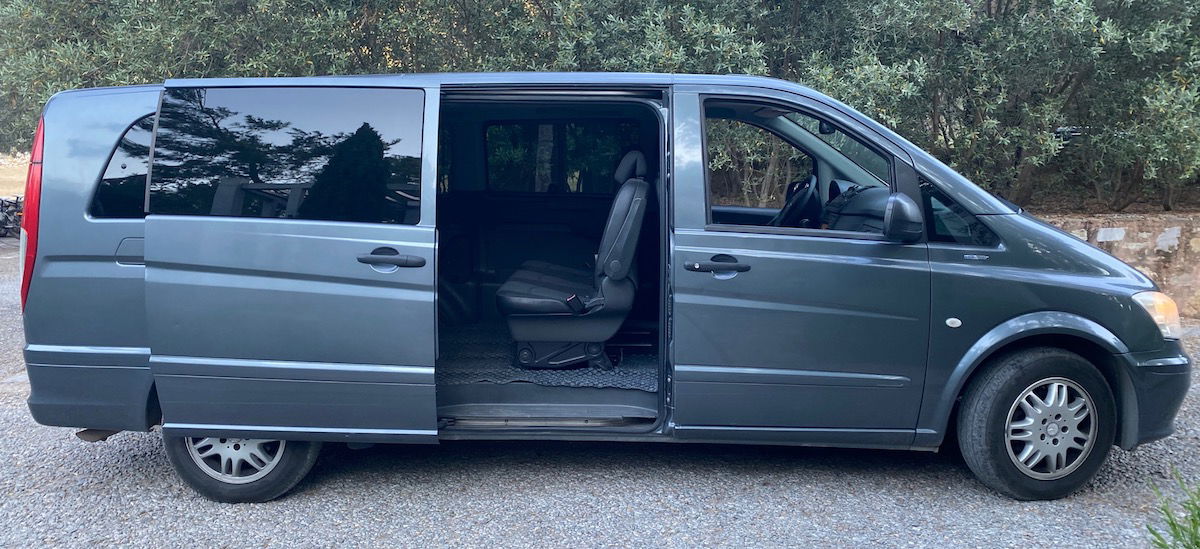 Amanruya transfer service
Amanruya Bodrum reception & check-in
When it comes to service this hotel didn't feel like an Aman, and that was apparent from the moment when we checked in. Usually when guests arrive at Amans there's an uncomfortable number of people greeting you, but that wasn't the case here (and I was kind of happy about that, to be honest).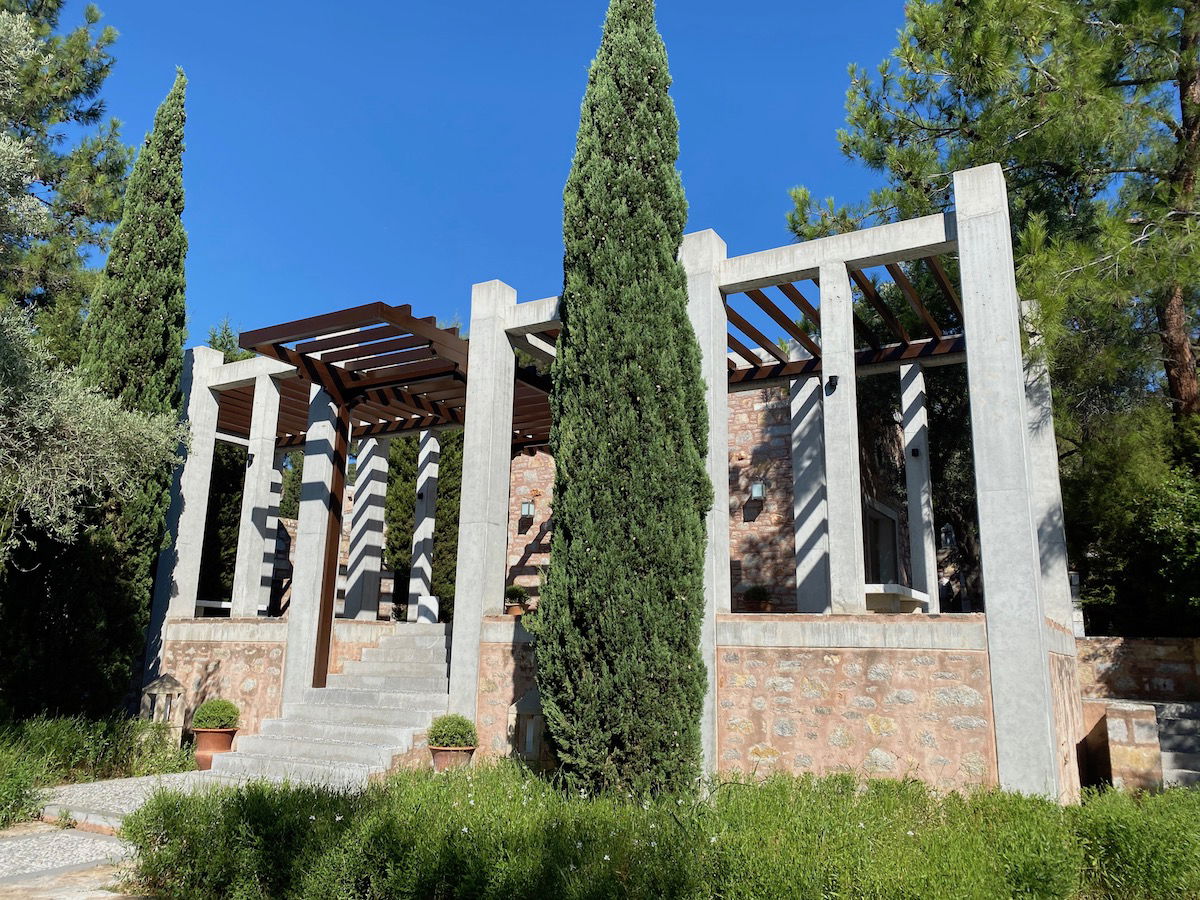 Amanruya entrance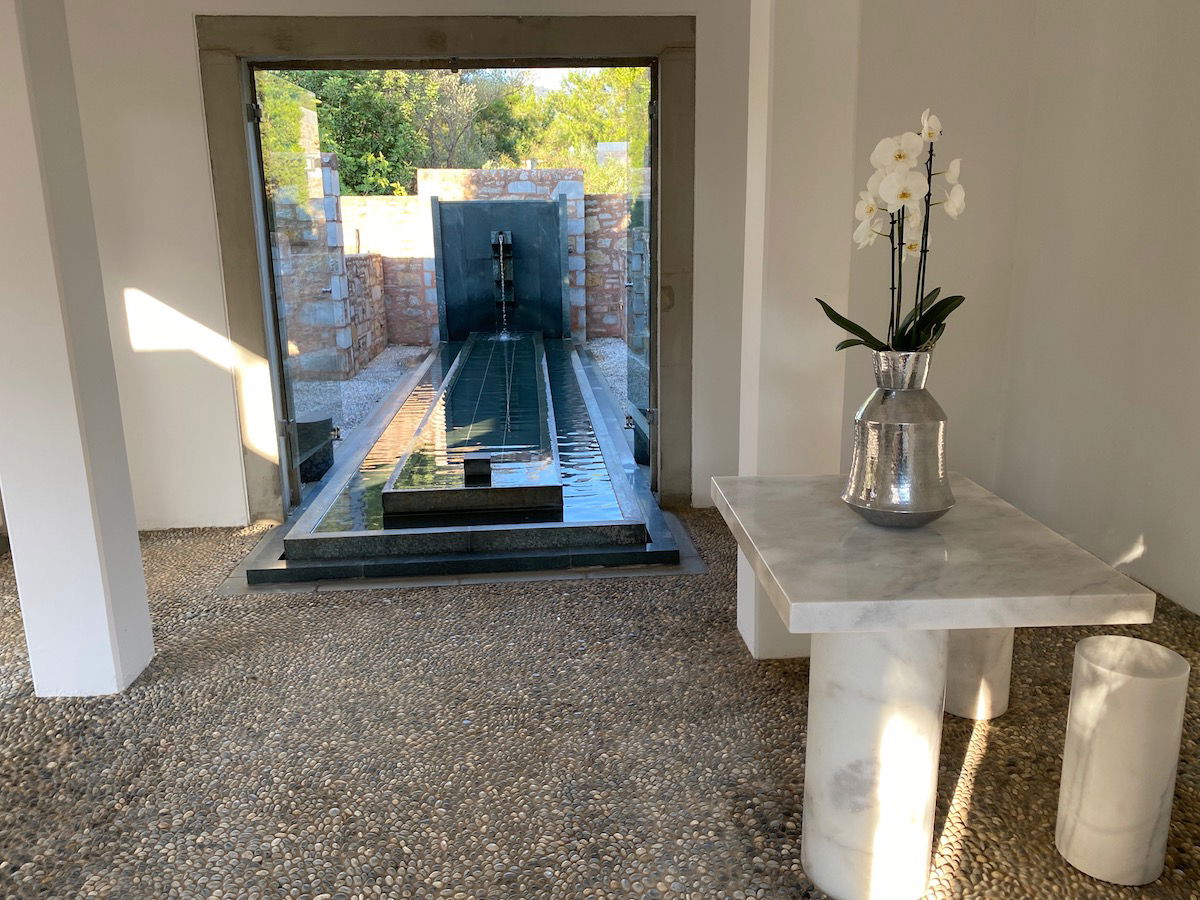 Amanruya entrance
We were greeted by one of the front office associates and the front office manager, and walked to reception.
There was a small reception room just past the entrance, where we were asked to take a seat. Before the stay, the hotel had emailed me to ask for scans of our passports, so that they wouldn't have to be provided again at check-in. I provided those, but despite that, they asked to scan them again when we arrived.
Our registration form also indicated that our stay included two free nights, a 100EUR food & beverage credit, and a six course menu. I asked about that, and it was confirmed that was an error.
Obviously that's not a big deal, but Aman is (usually) all about attention to detail, and that was lacking.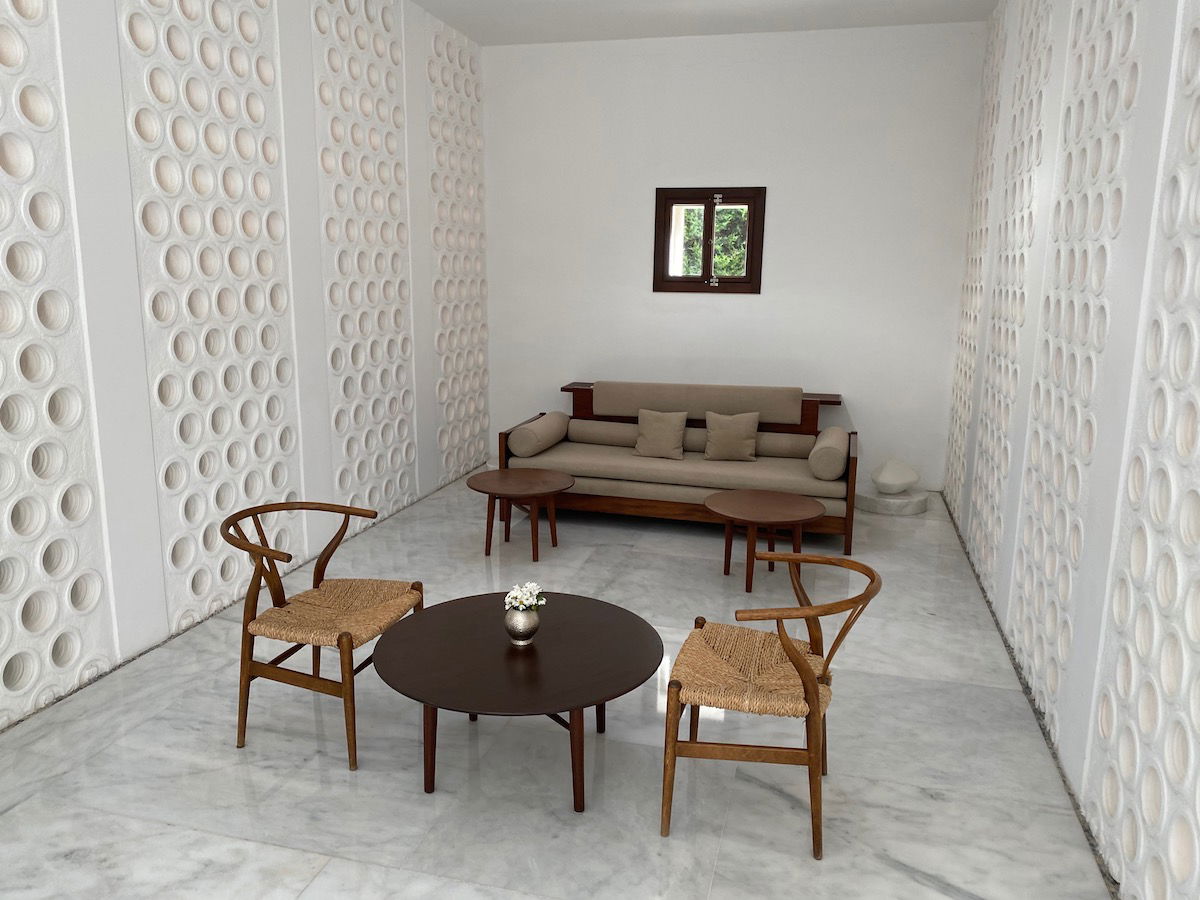 Amanruya reception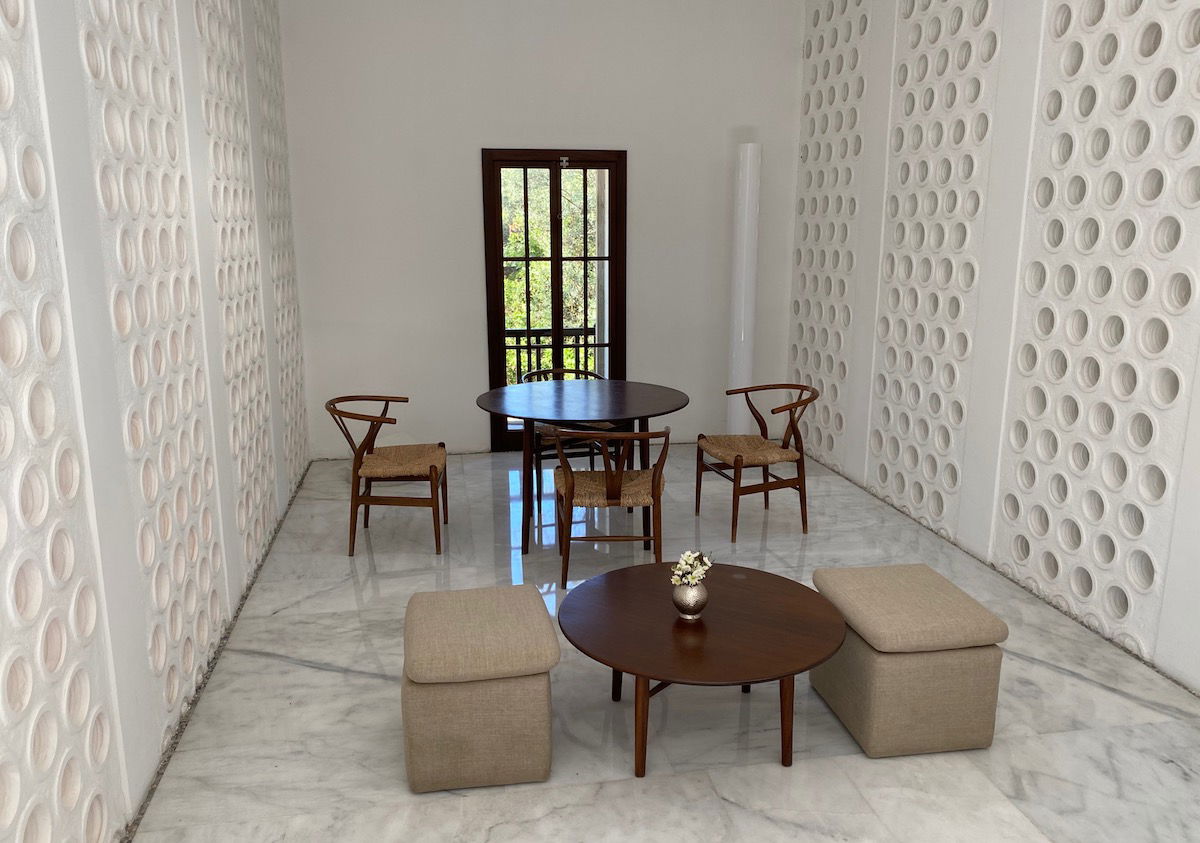 Amanruya reception
Within about five minutes we were escorted to our room.
Amanruya Pool Pavilion
Amanruya has just 35 villas. They're all more or less the same, with the only difference being the view. We booked a Pool Suite (the entry level room), and that's exactly what we got, as the hotel was full.
Below is a map that gives you a sense of the property's layout.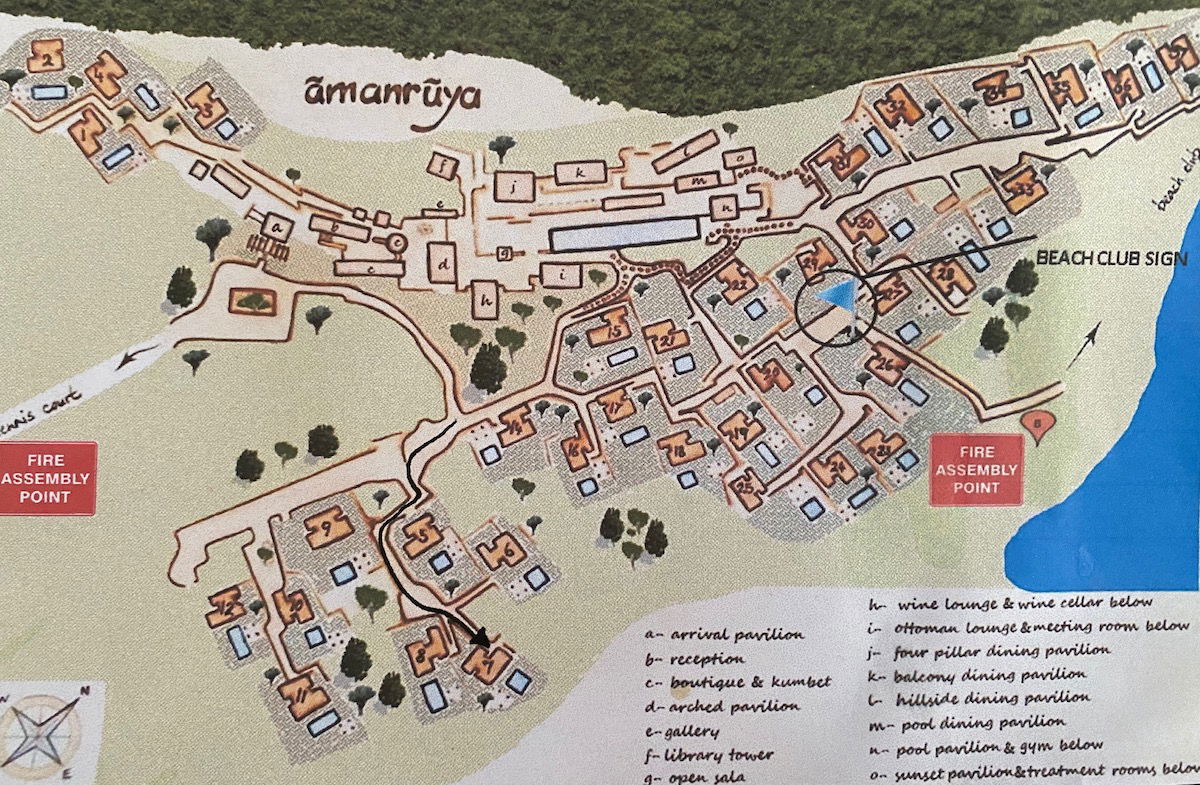 Amanruya map
We were assigned room 16. The entire hotel is connected by cute cobblestone walkways, which almost transport you to a different era. There are golf carts, and unfortunately the staff tend to drive them very fast, including around the corners, so you really have to be careful here.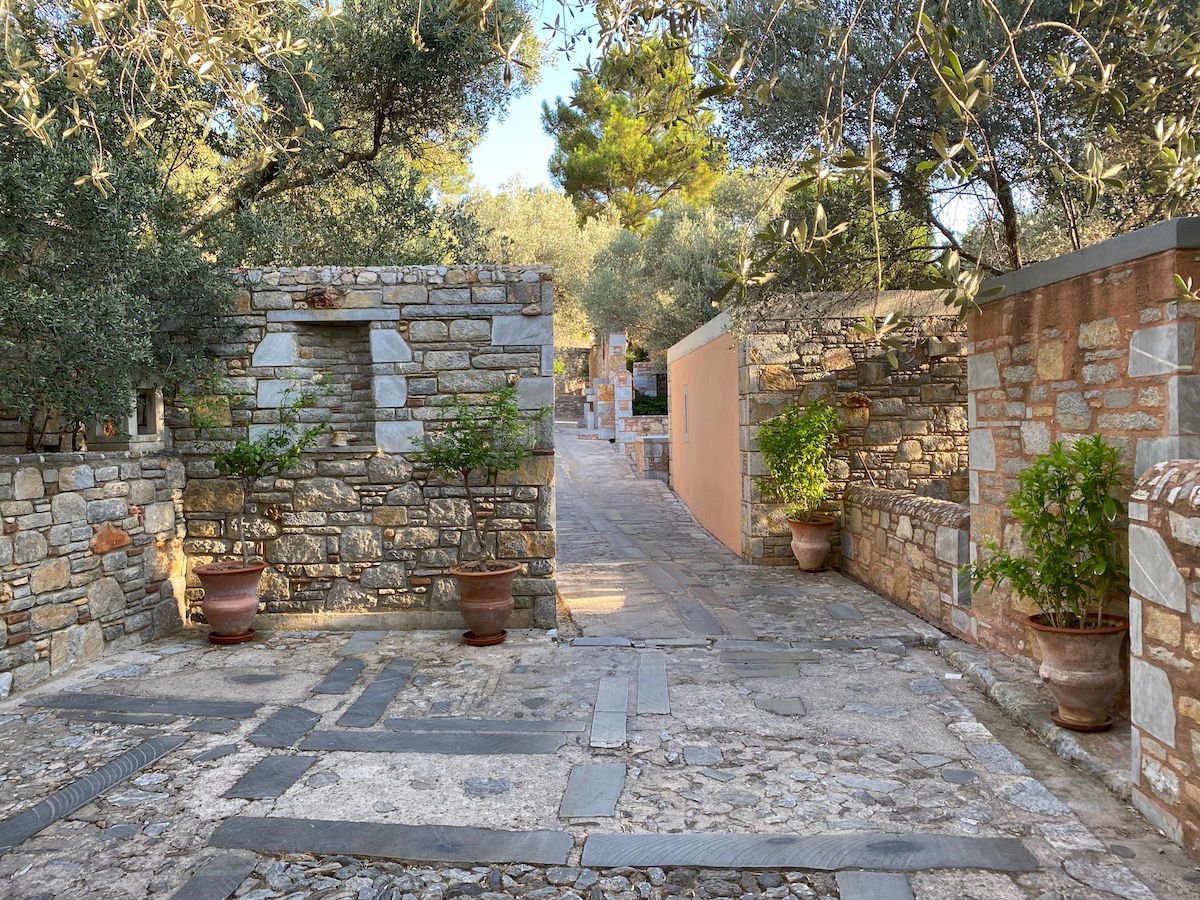 Amanruya walkways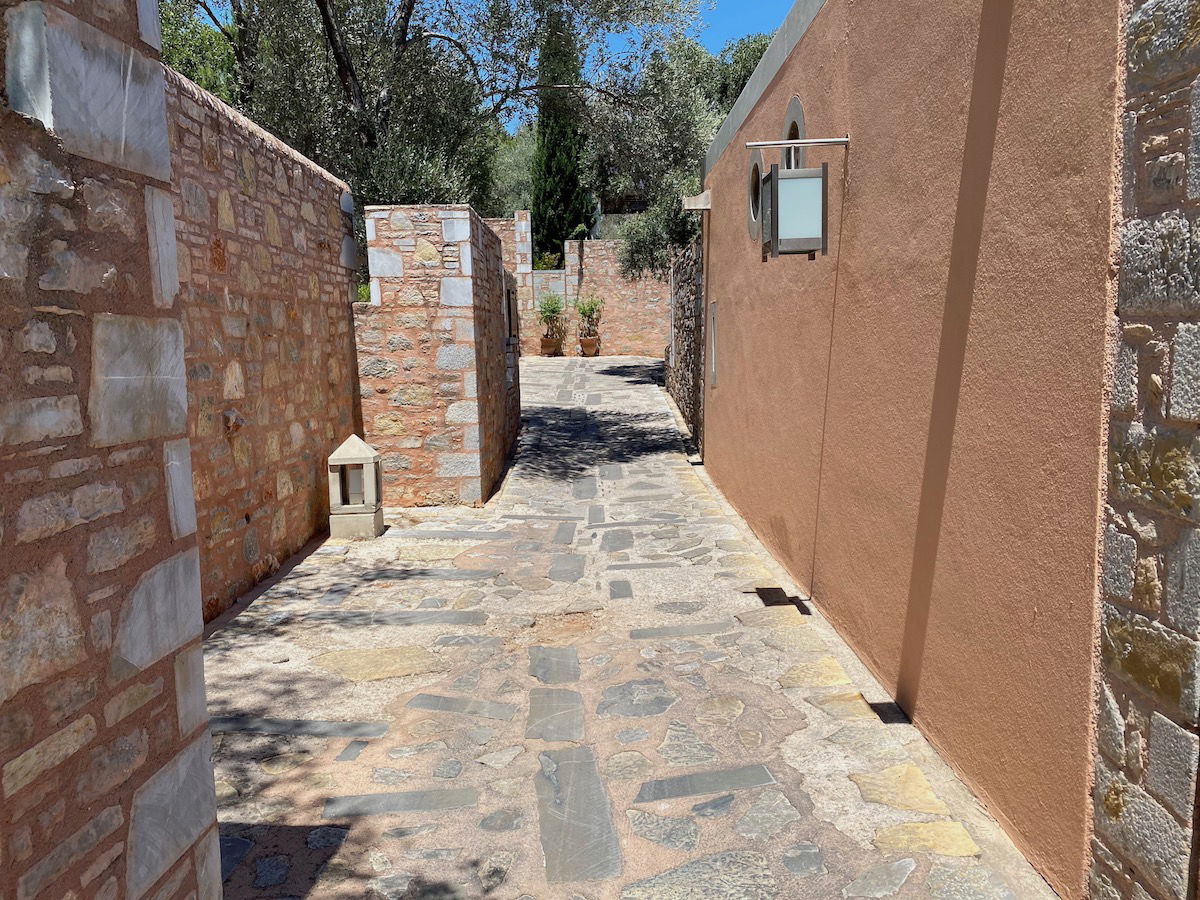 Amanruya walkways
Our villa was a few minutes walk from the restaurant, pool, and most other amenities. The villas have an incredible amount of privacy, as each is walled in most of the way, and also has a long walkway leading to the entrance.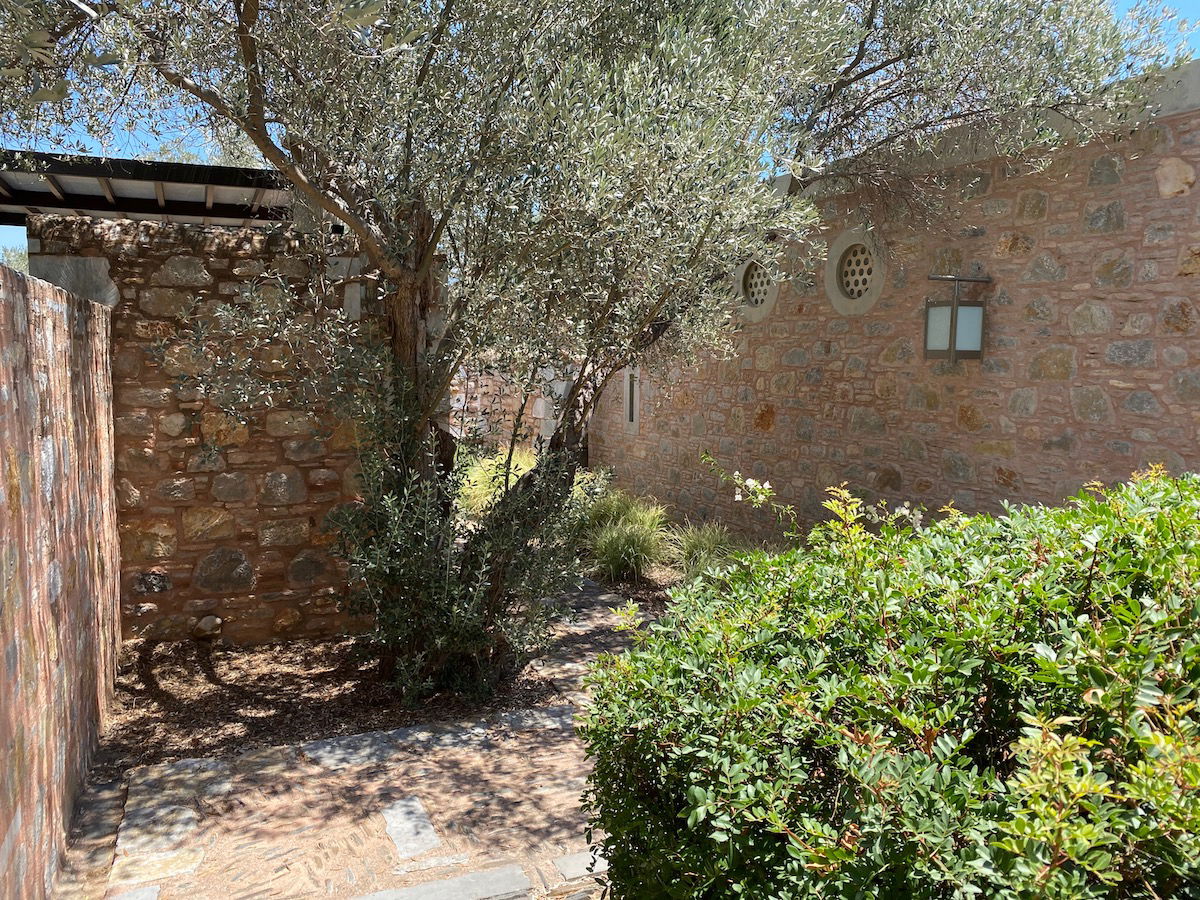 Amanruya Pool Suite entryway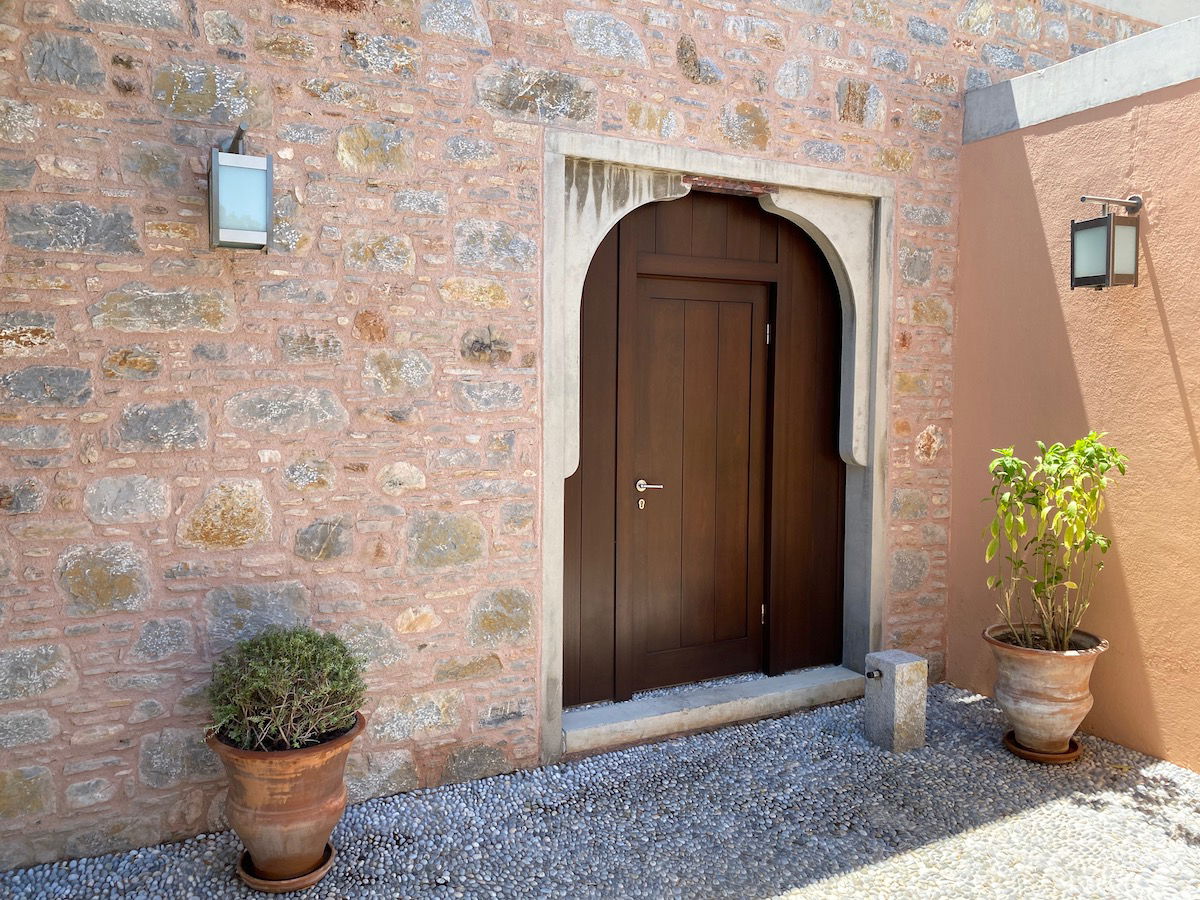 Amanruya Pool Suite door
There's a bell just outside the main door that staff will ring when approaching your room.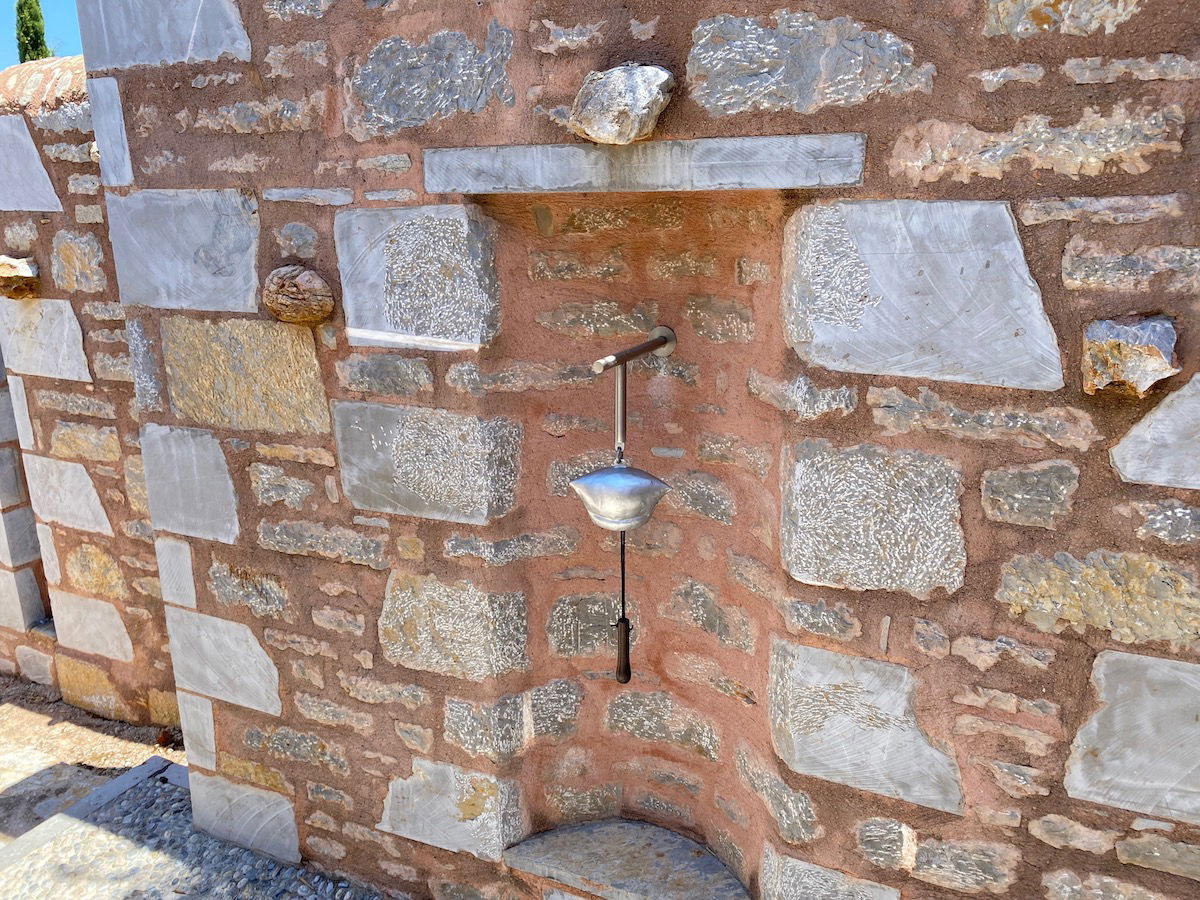 Amanruya Pool Suite pool
I was delighted by our Pool Suite. Inside the entrance and to the left was a sitting area with a couch and a chair, by the window.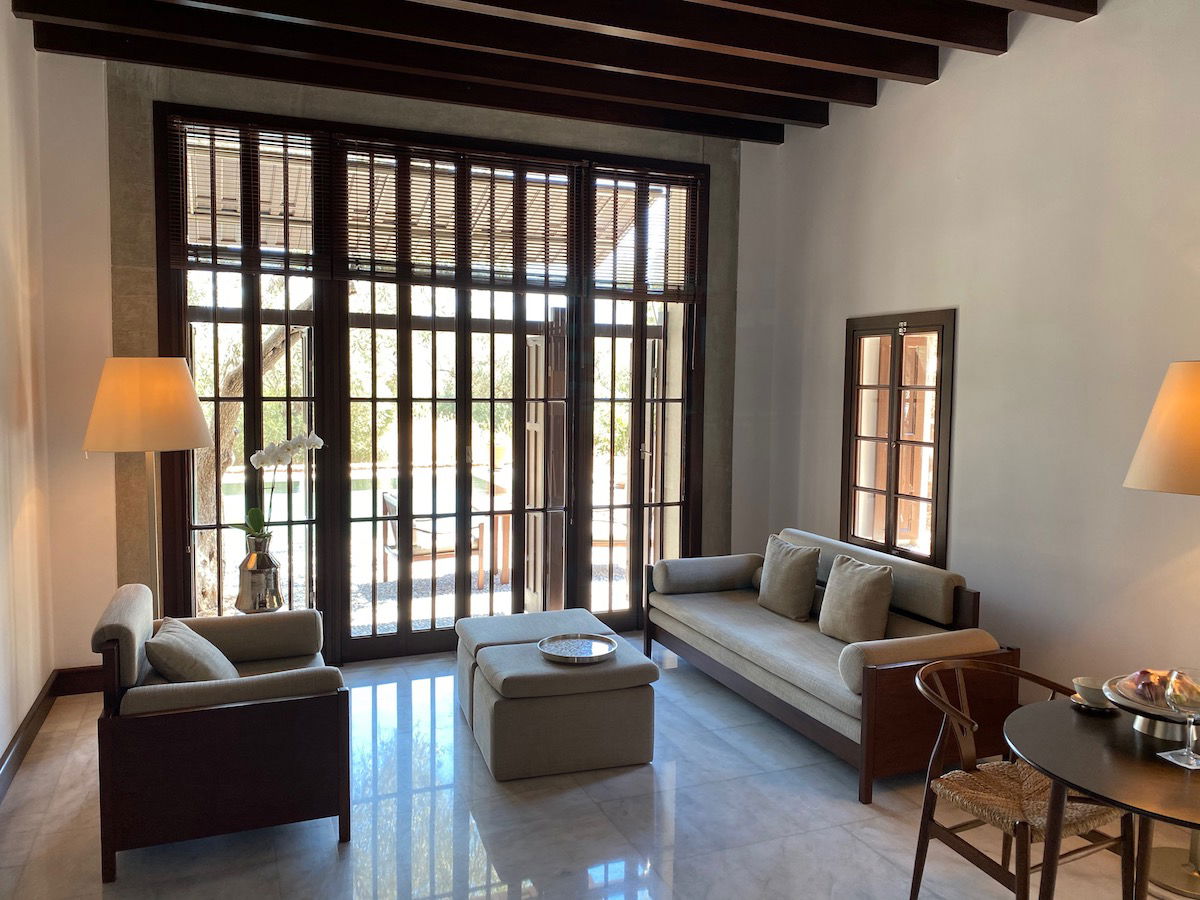 Amanruya Pool Suite living area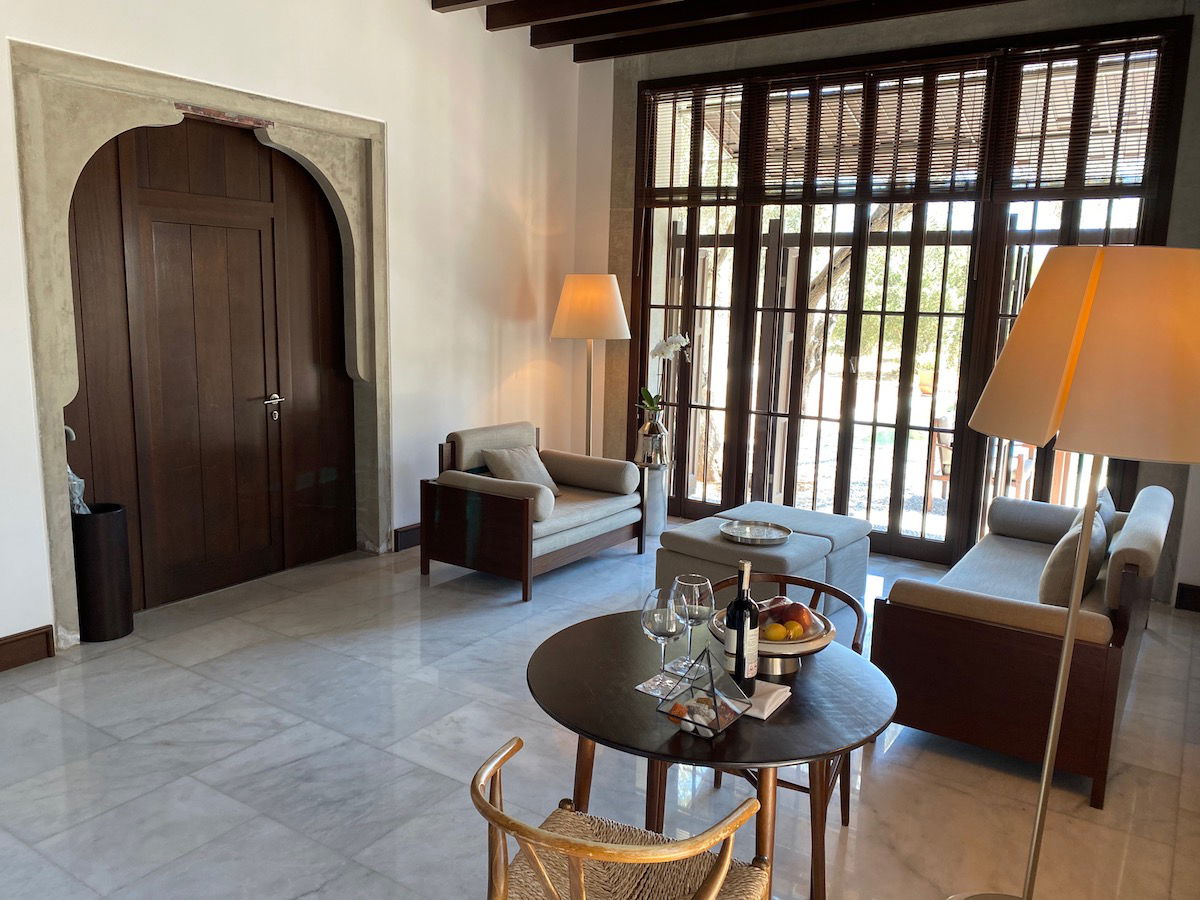 Amanruya Pool Suite living area
Then straight ahead was a dining table with two chairs, which had a welcome amenity consisting of a bottle of wine, some fresh fruit, and some Turkish delights.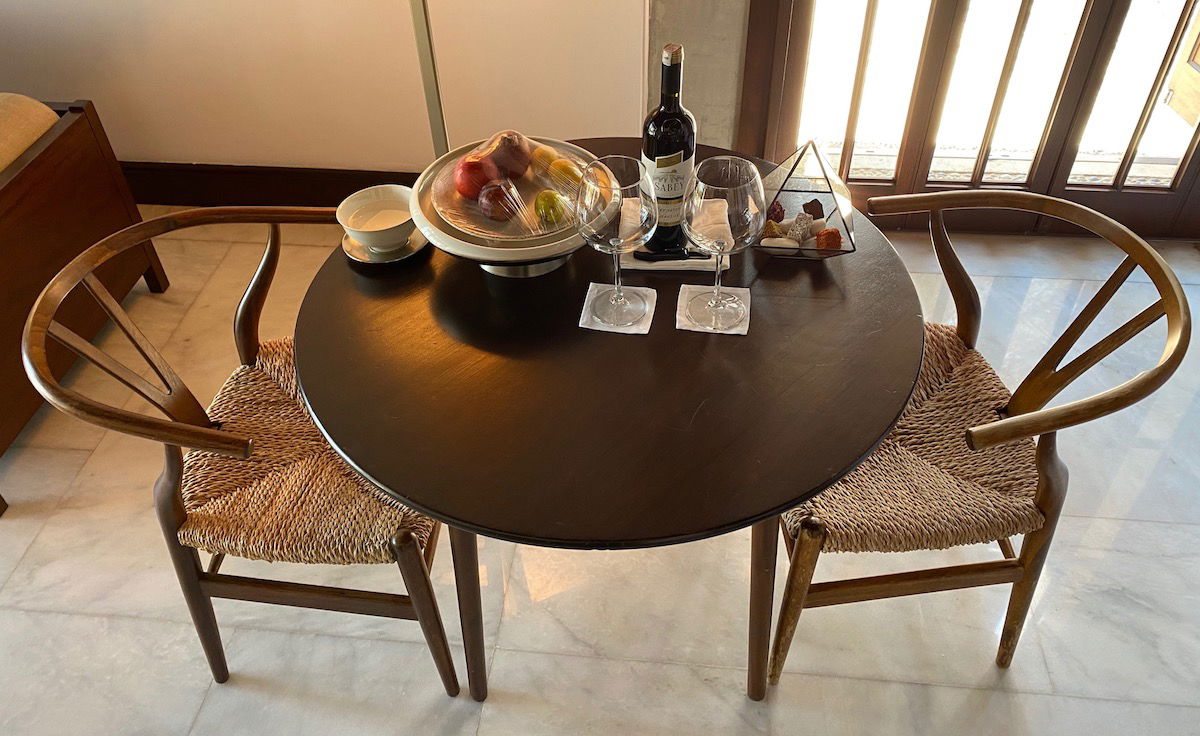 Amanruya Pool Suite dining area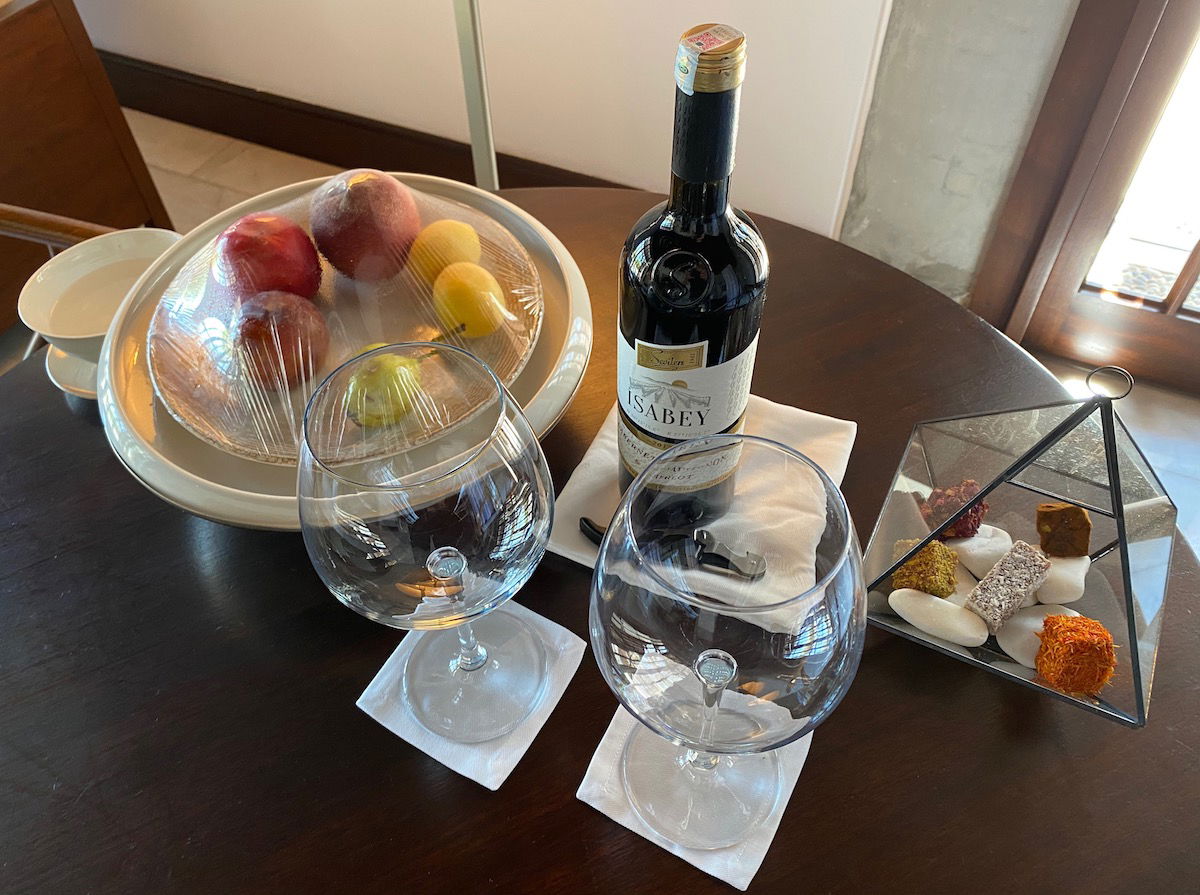 Amanruya Pool Suite welcome amenity
Then to the right was the four-poster king size bed with curtains that could be drawn all the way around.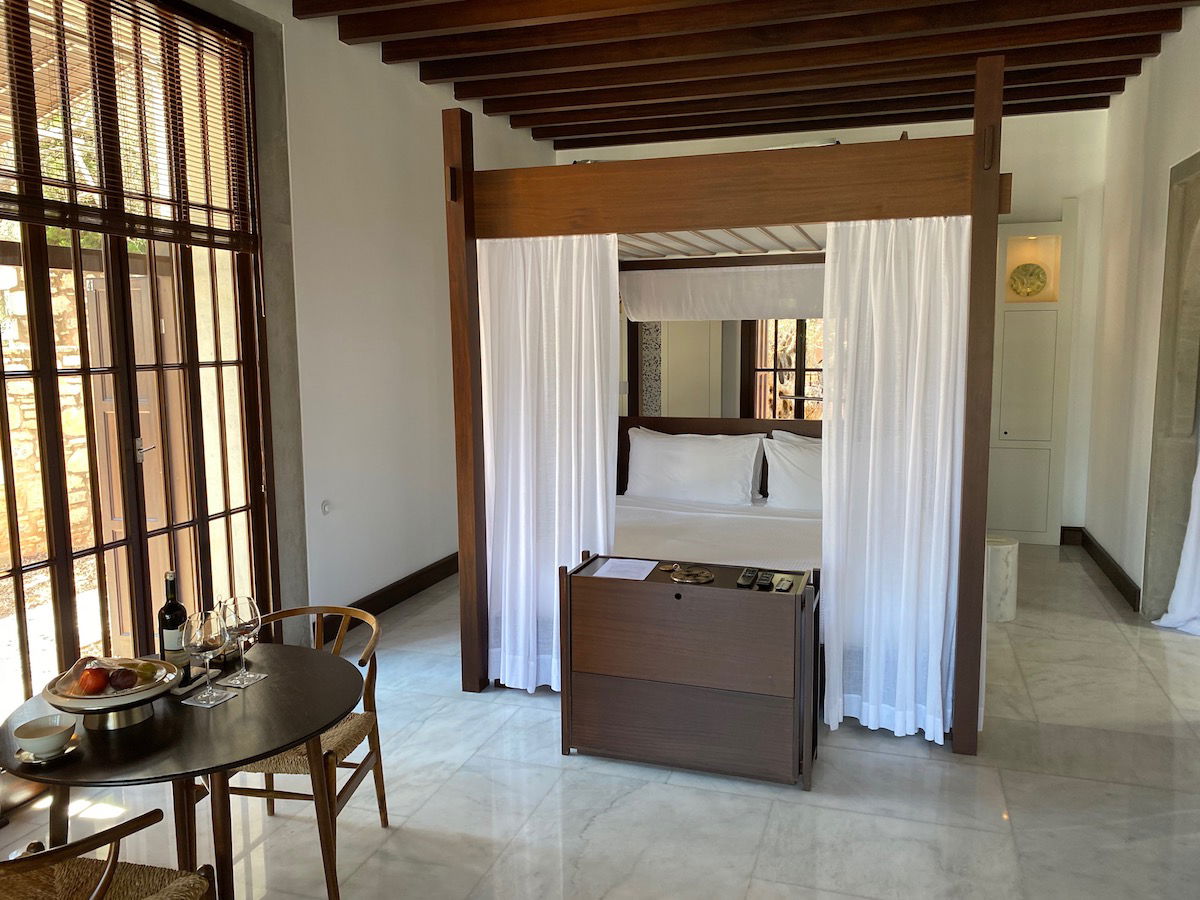 Amanruya Pool Suite king bed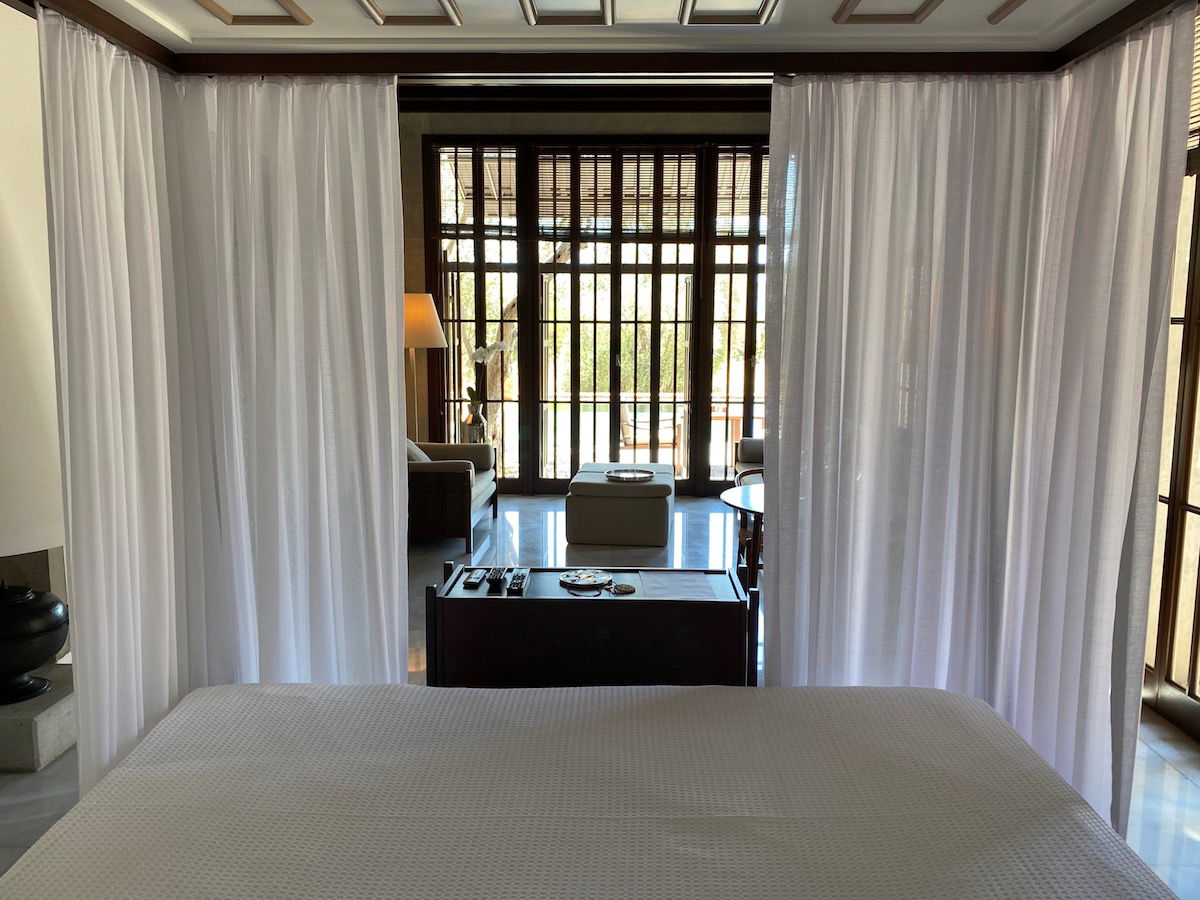 Amanruya Pool Suite king bed
Behind the bed was a desk area.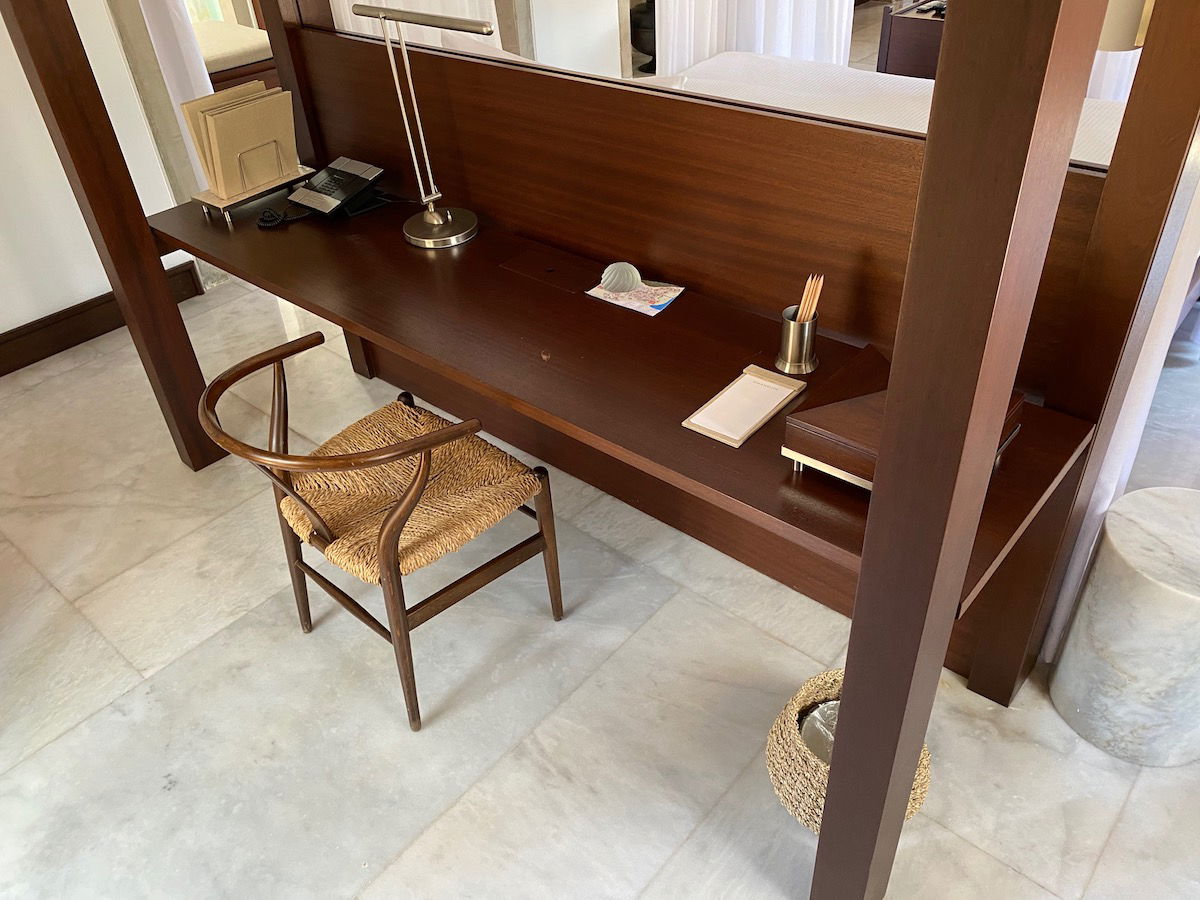 Amanruya Pool Suite desk
To the side of the bed was the large closet and bathroom area. First there was a closet area, a vanity, and the minibar.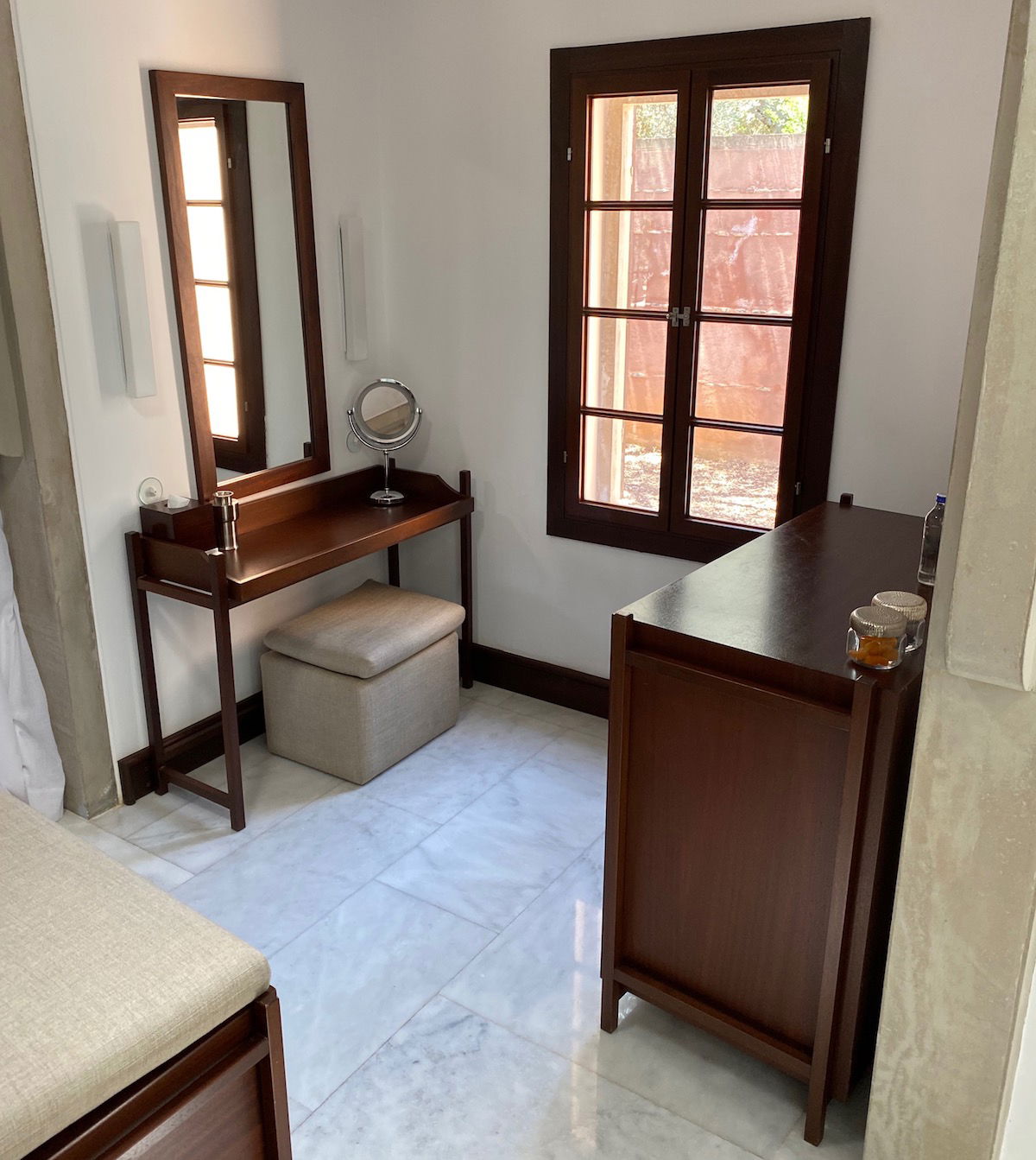 Amanruya Pool Suite vanity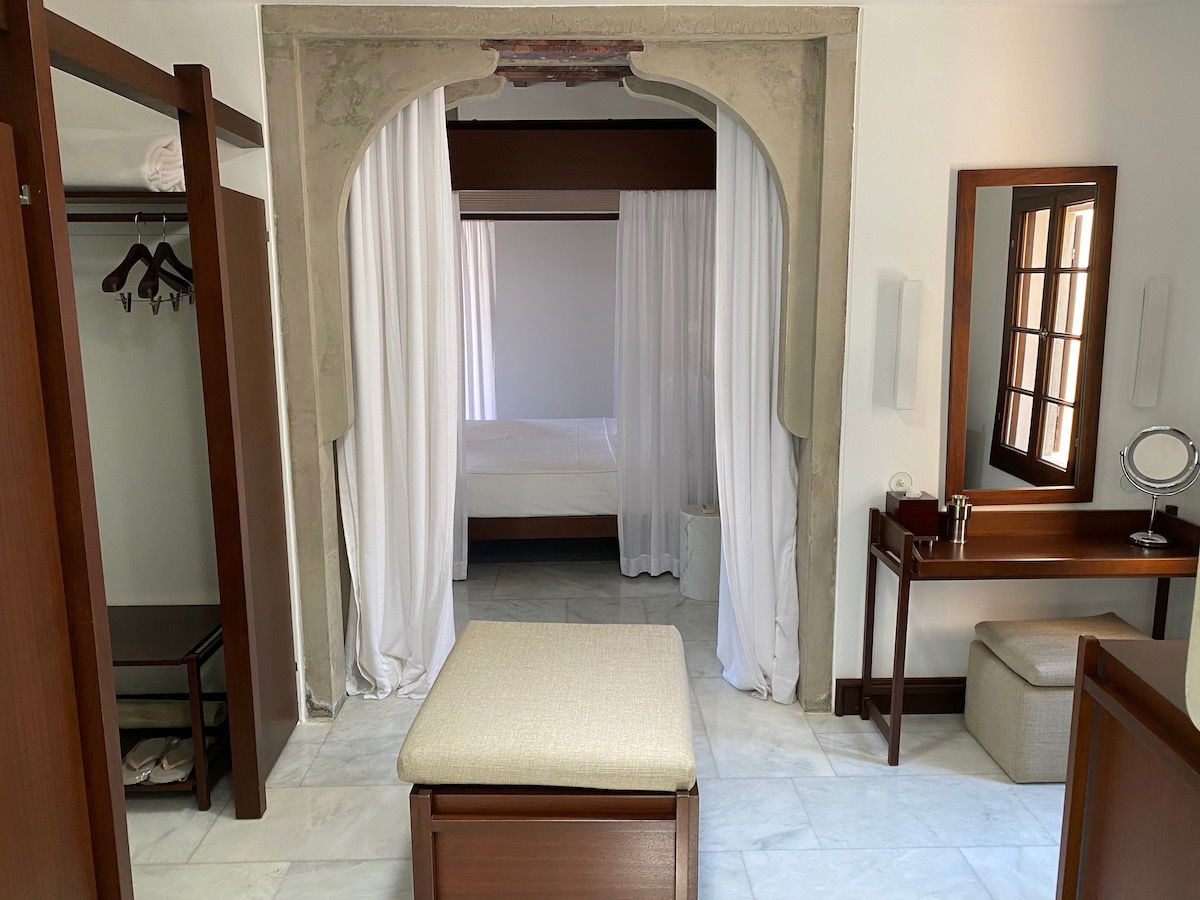 Amanruya Pool Suite closet
Everything in the minibar was chargeable, while I've found most Amans at least have free soft drinks in the minibar.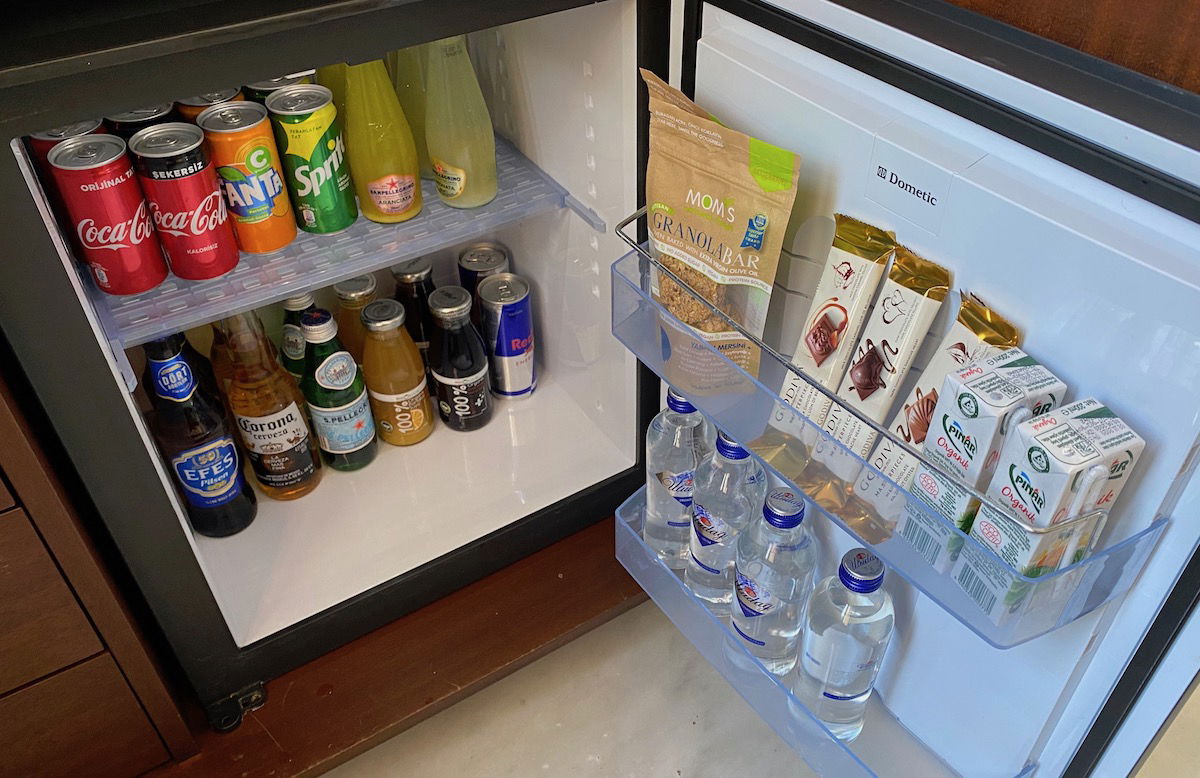 Amanruya Pool Suite minibar
Here were the minibar prices (1USD is around 7TL), which were at least quite reasonable, with a soft drink costing about 3USD: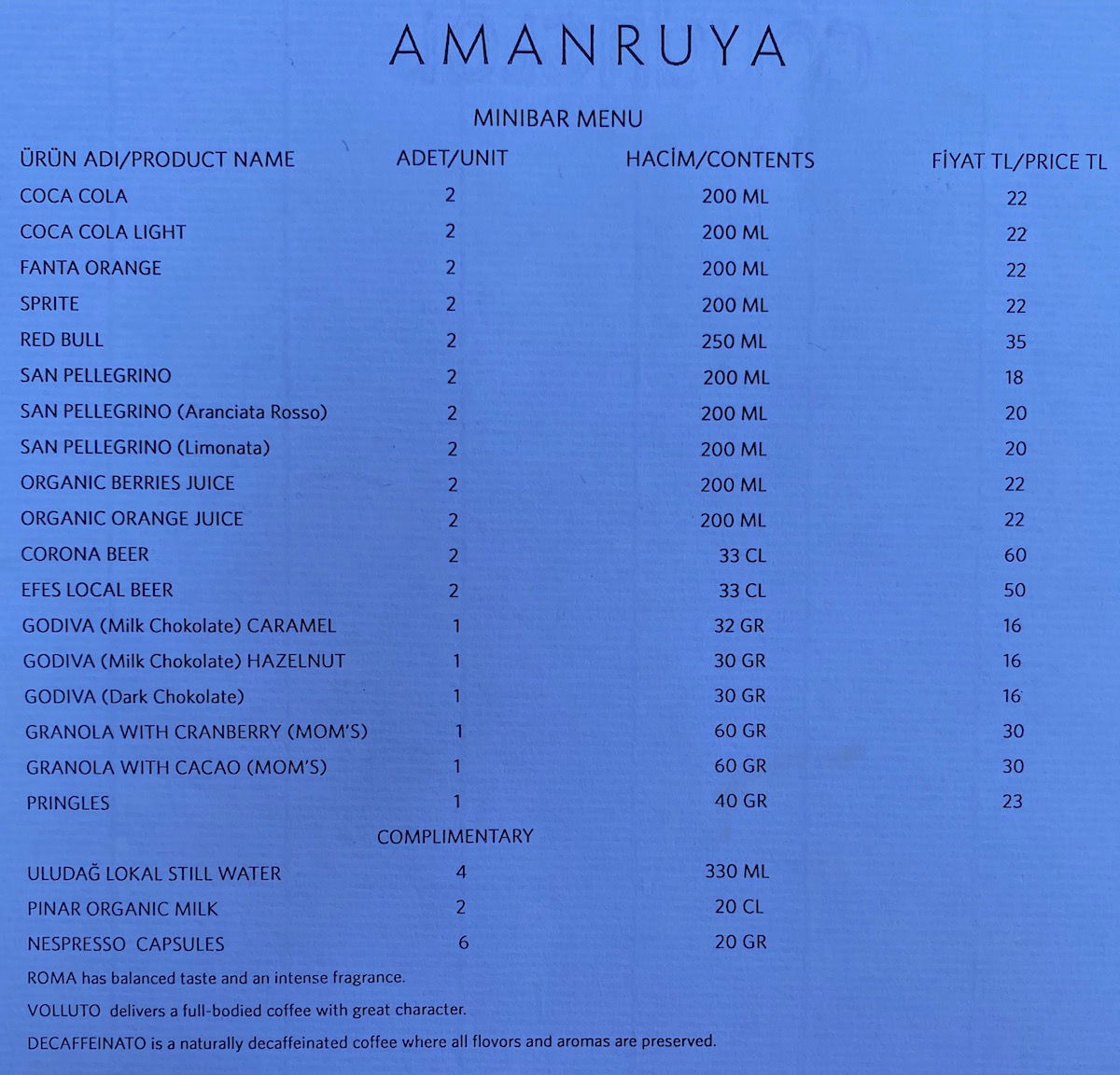 Next to the minibar was a Nespresso machine and a couple of fruit snacks, which were complimentary.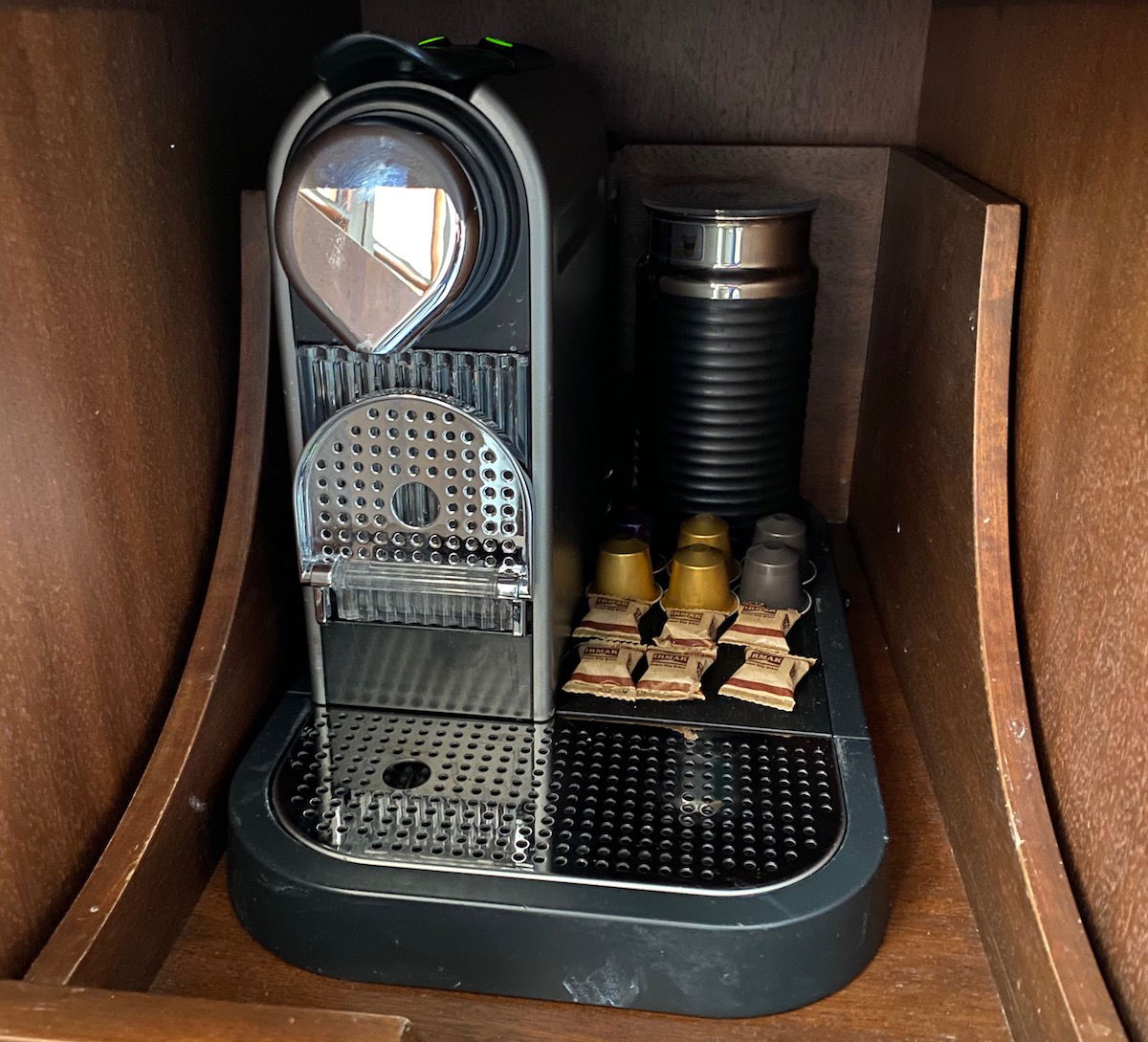 Amanruya Pool Suite in-room Nespresso machine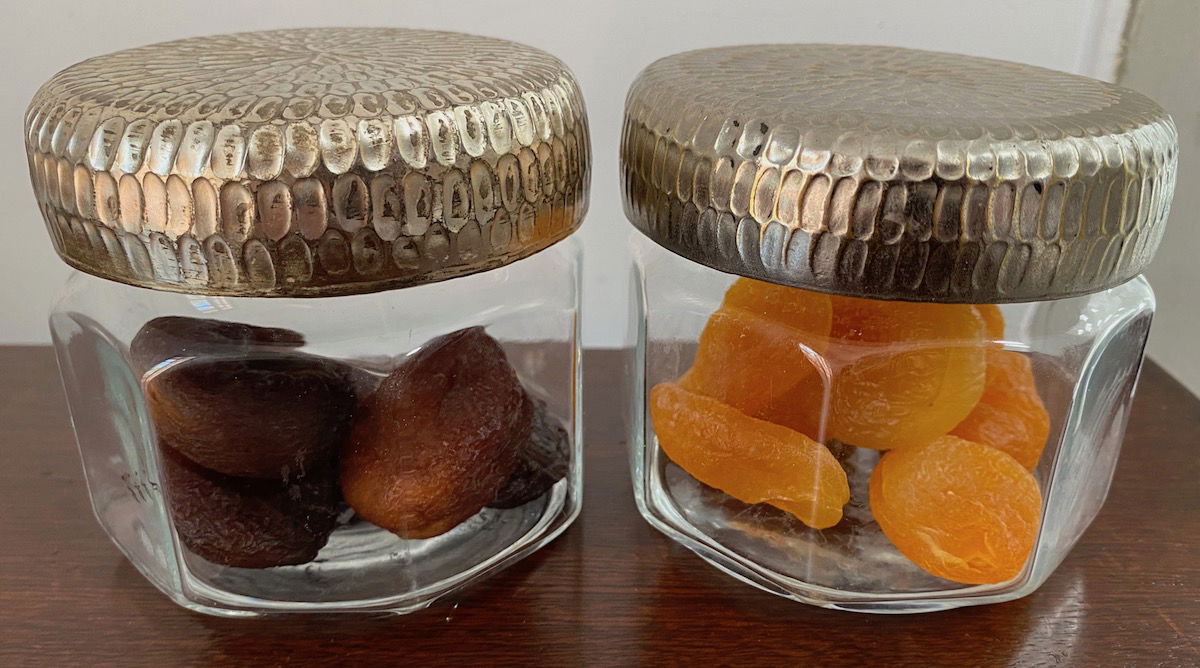 Amanruya Pool Suite in-room snacks
The bathroom was every bit as nice as the rest of the room, with double sinks, a soaking tub, a walk-in shower, and a partitioned off toilet. Toiletries were unbranded and in ceramic containers, as is the norm at most Amans.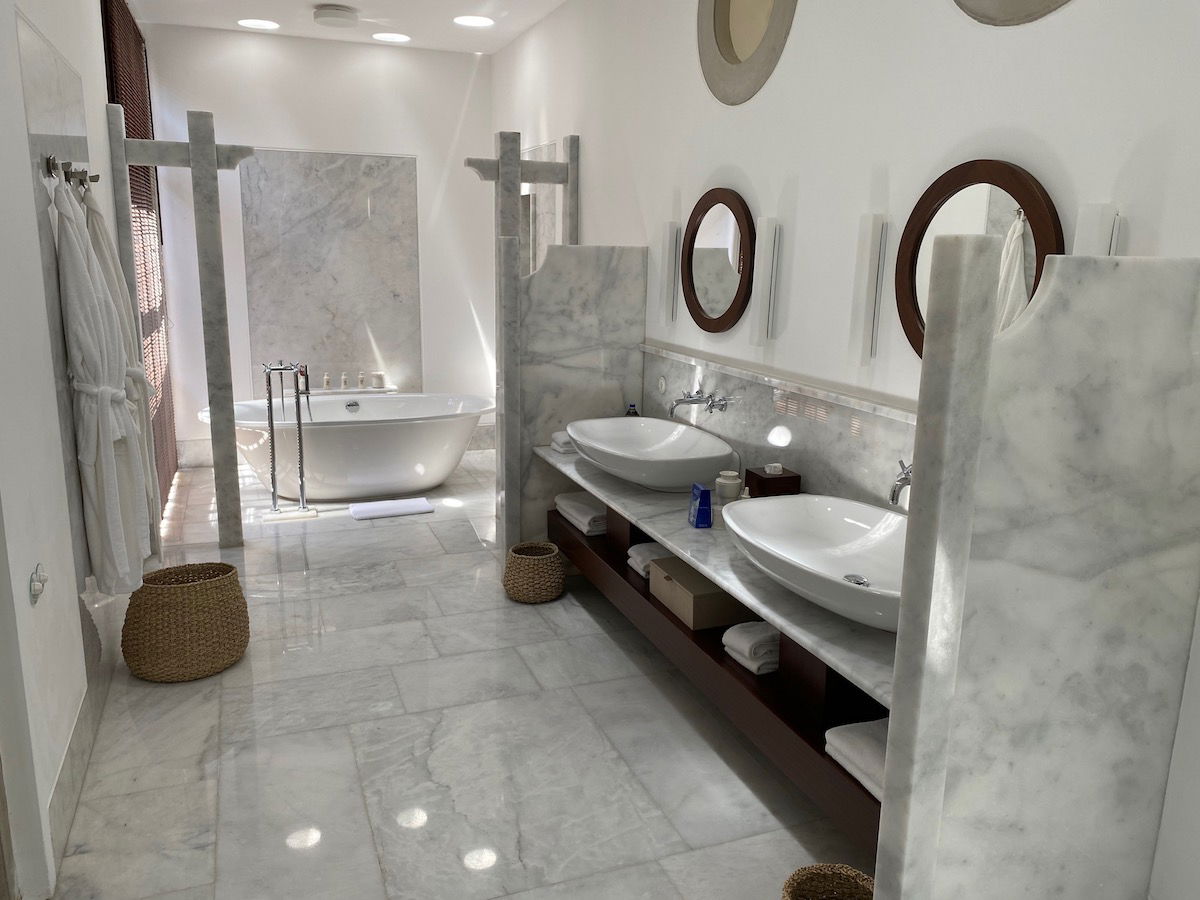 Amanruya Pool Pavilion bathroom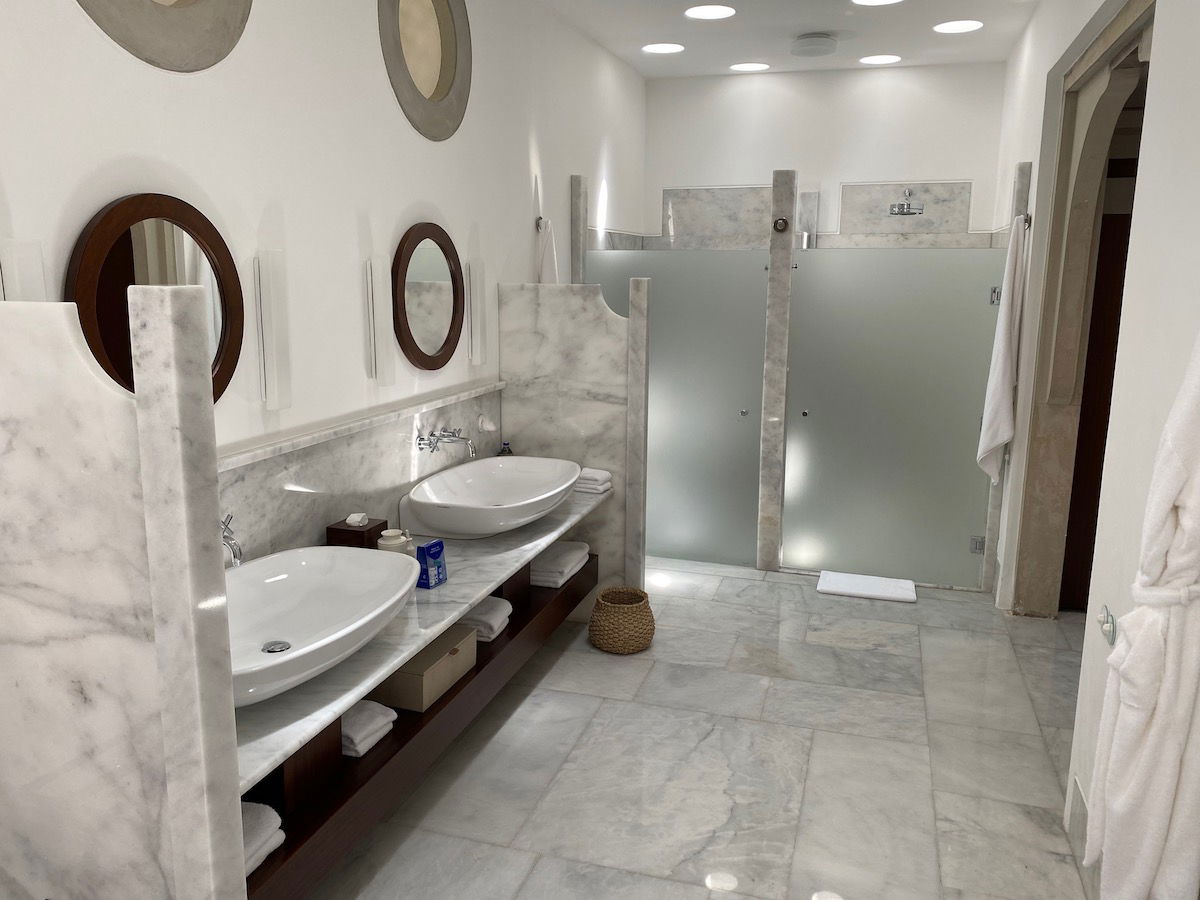 Amanruya Pool Pavilion bathroom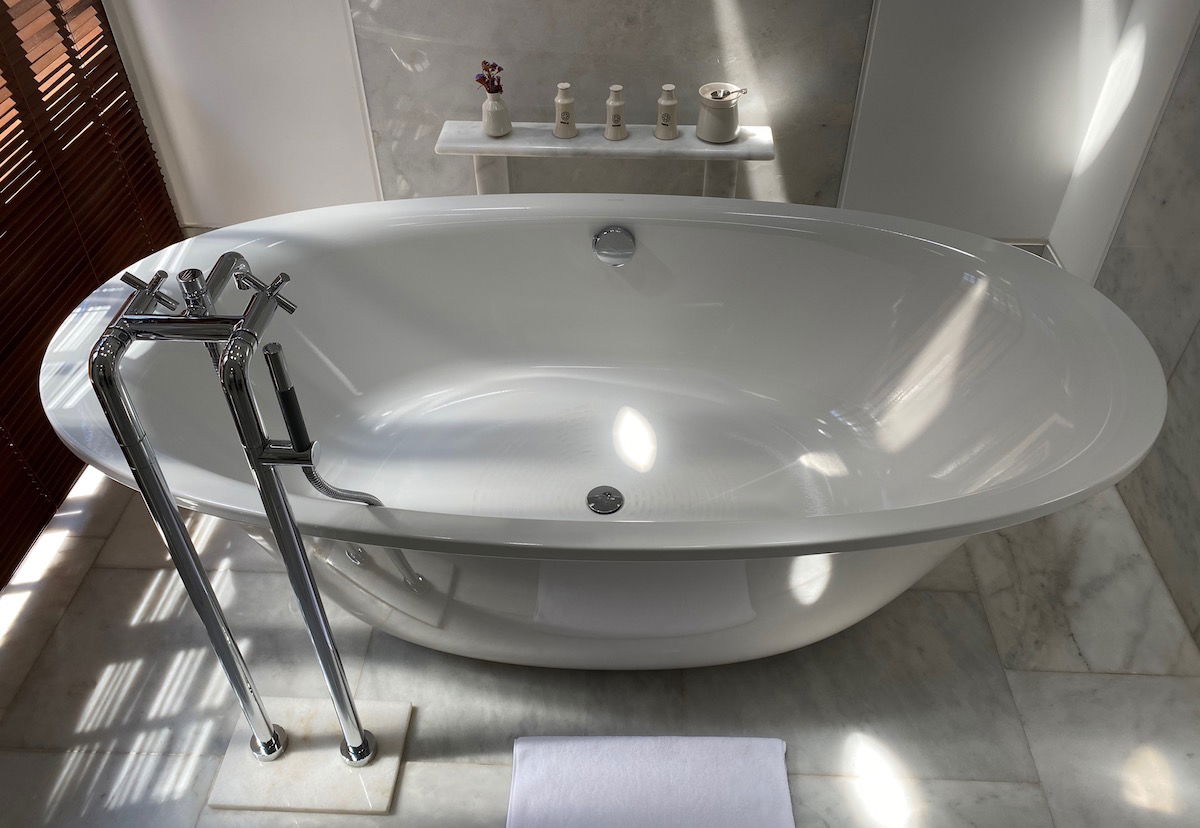 Amanruya Pool Pavilion bathtub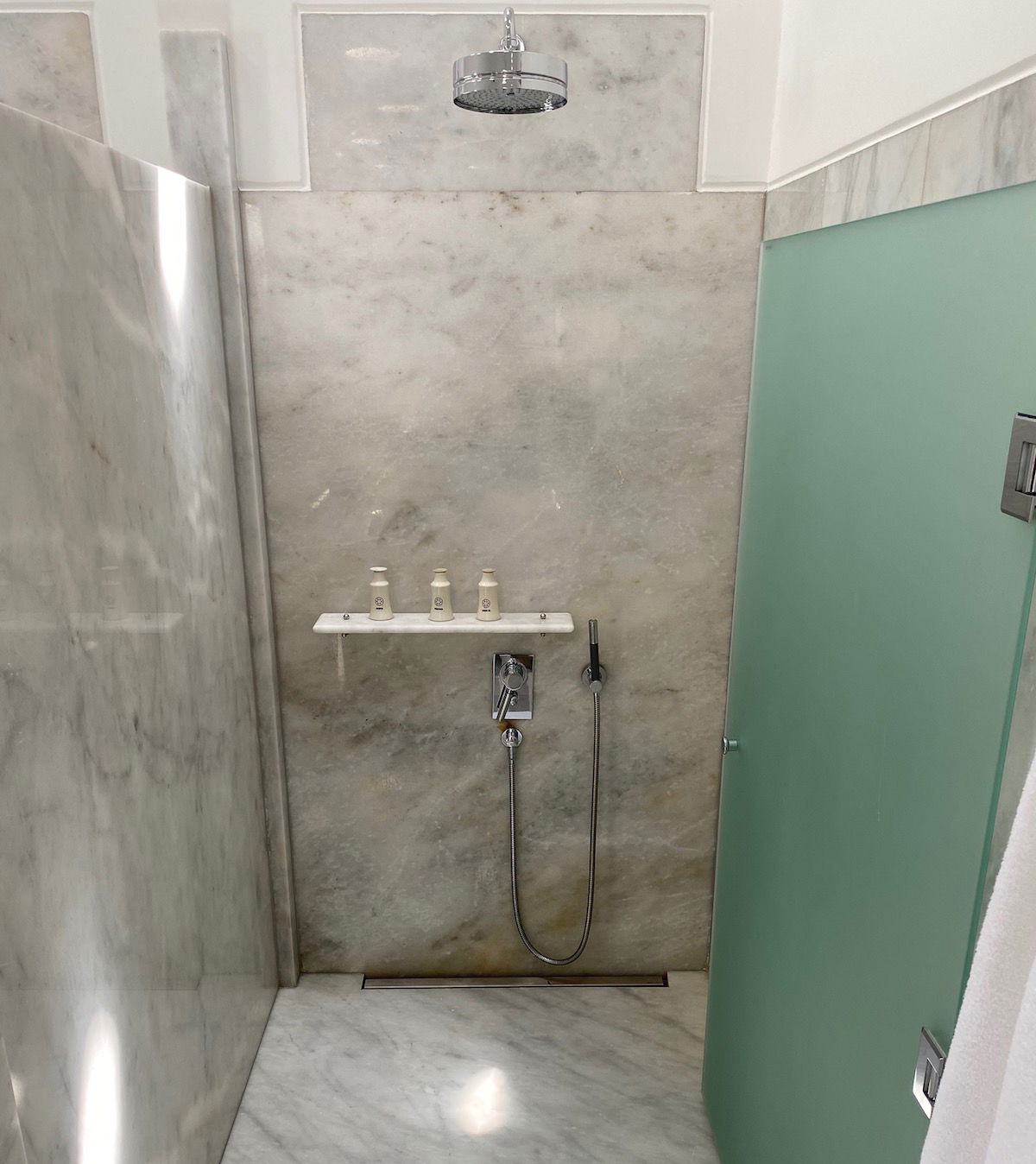 Amanruya Pool Pavilion shower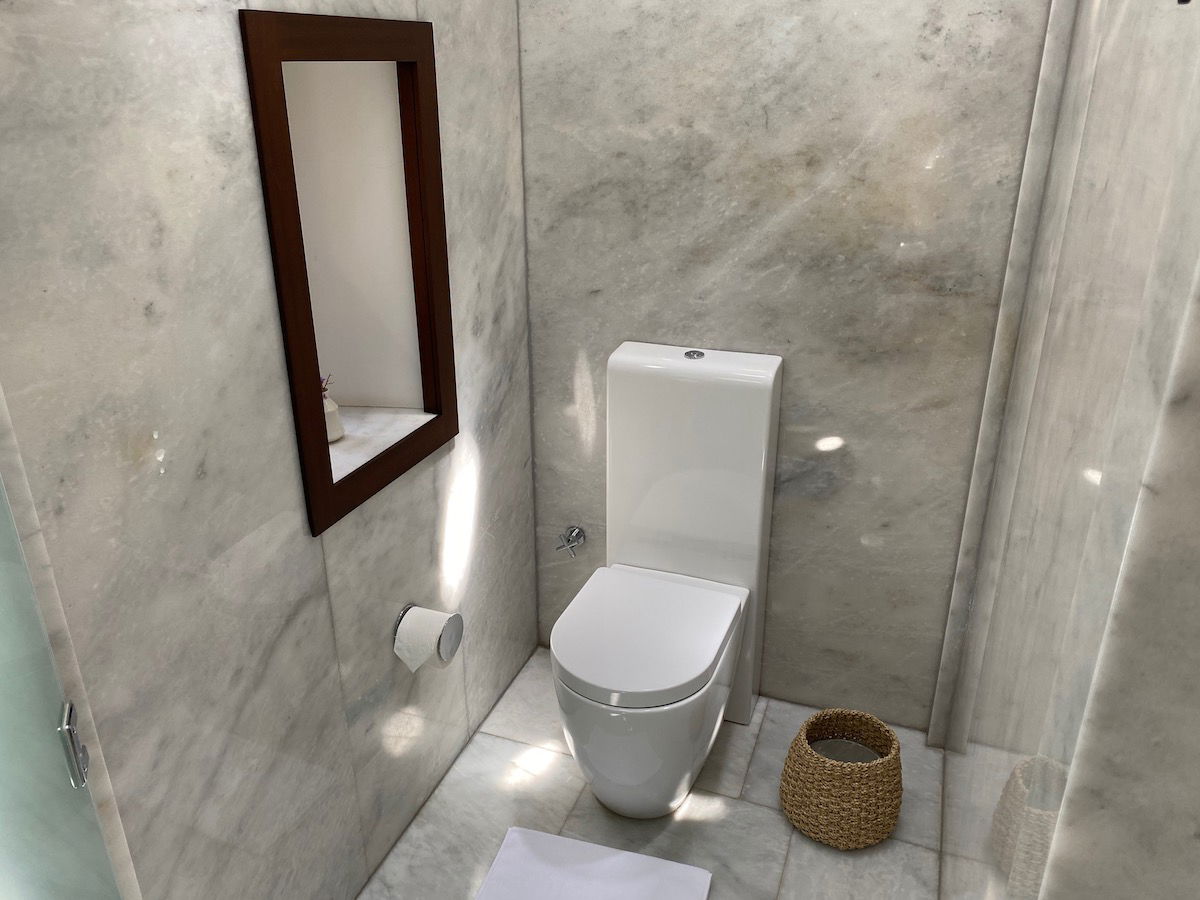 Amanruya Pool Pavilion toilet
The Pool Pavilion's outdoor space was even nicer than the indoor space, with a good size pool (this was more than a plunge pool), and plenty of seating.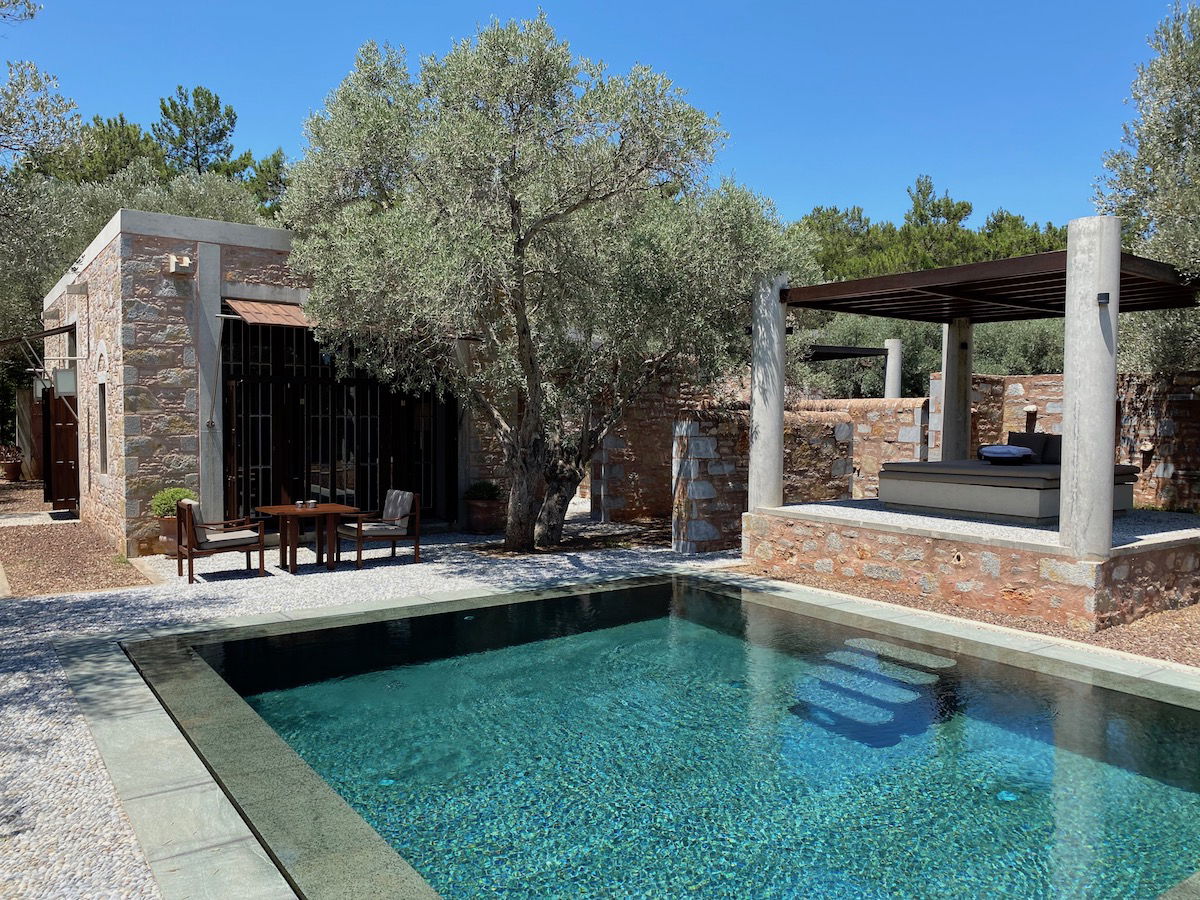 Amanruya Pool Pavilion pool
The only real difference between rooms at Amanruya is the view. We just faced nearby trees and shrubs, which I quite liked as a view. Note that the rooms are quite a distance from the sea, so even the rooms that claim to have water views don't give you that much better of a view.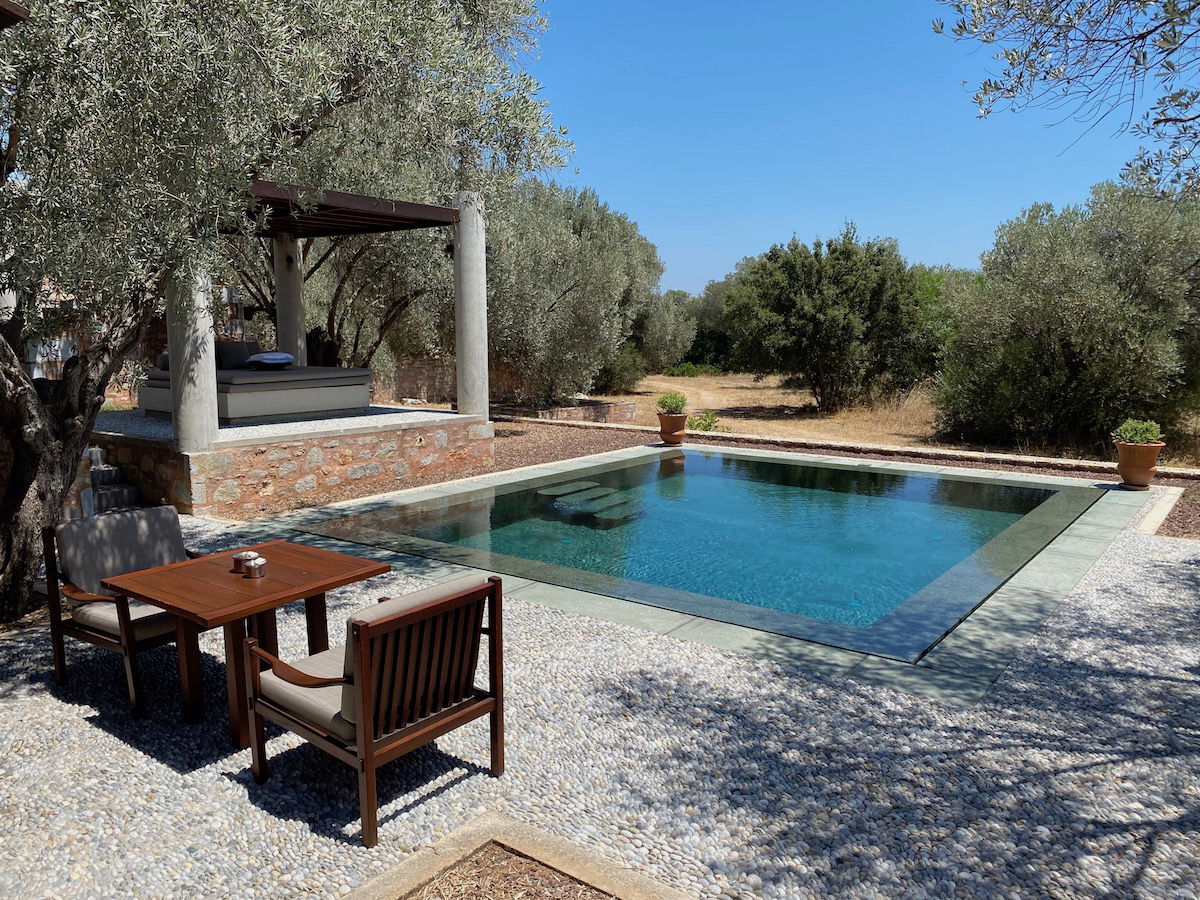 Amanruya Pool Pavilion outdoor space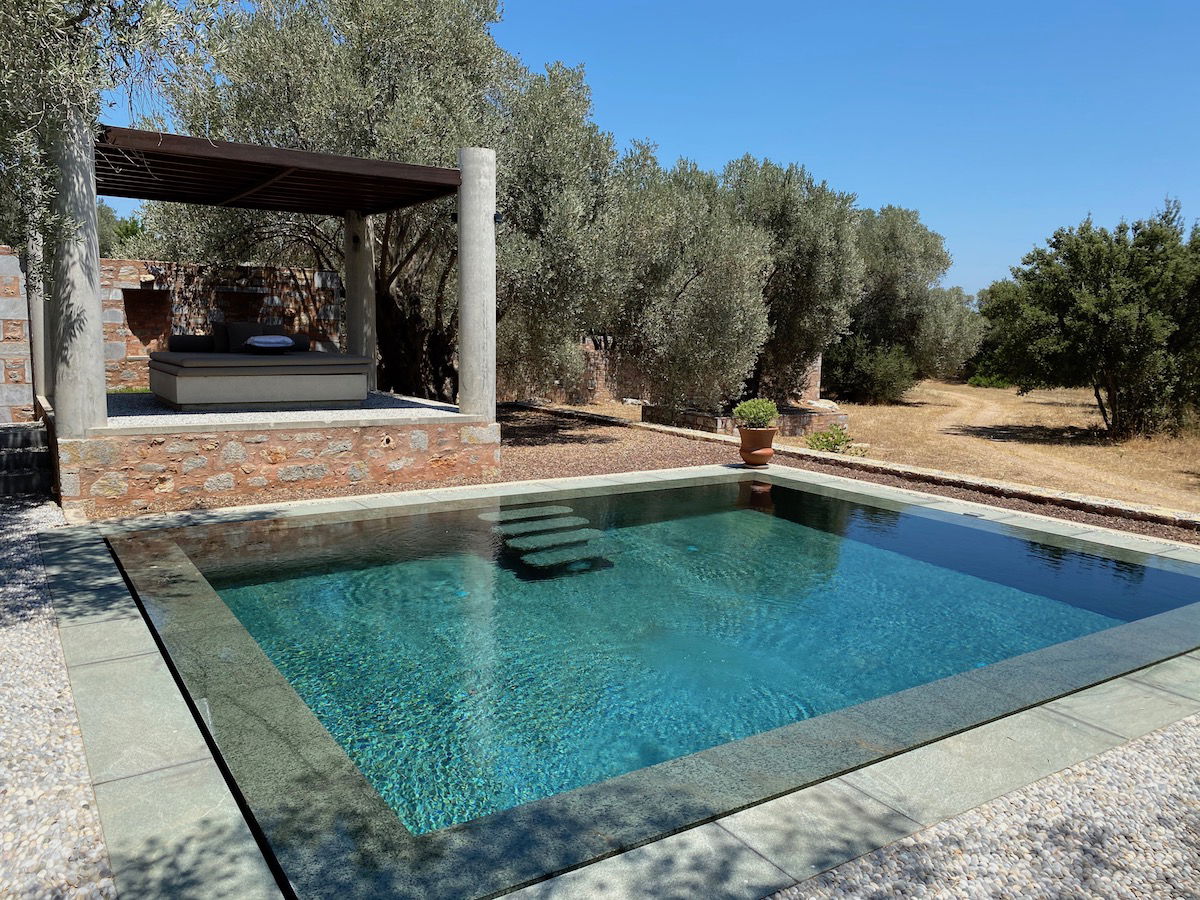 Amanruya Pool Pavilion outdoor space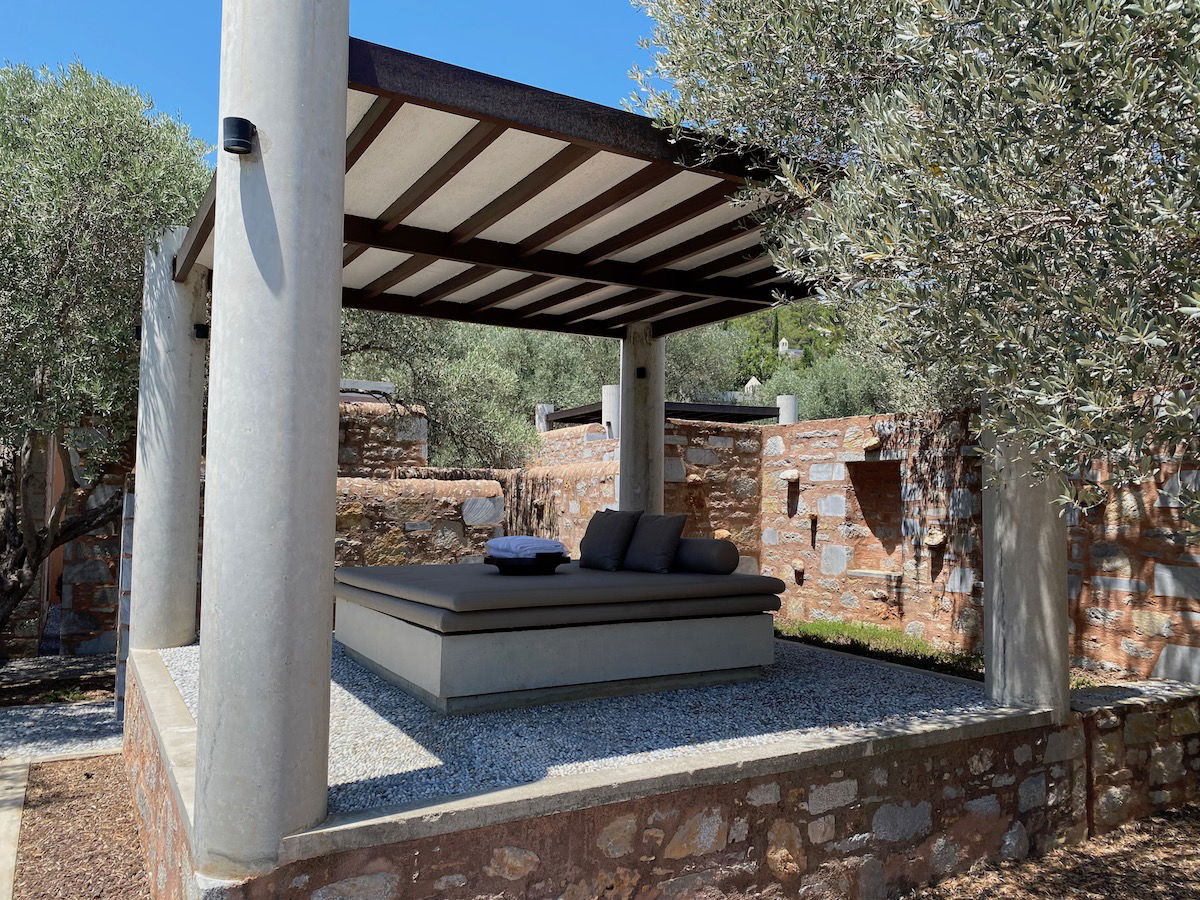 Amanruya Pool Pavilion outdoor space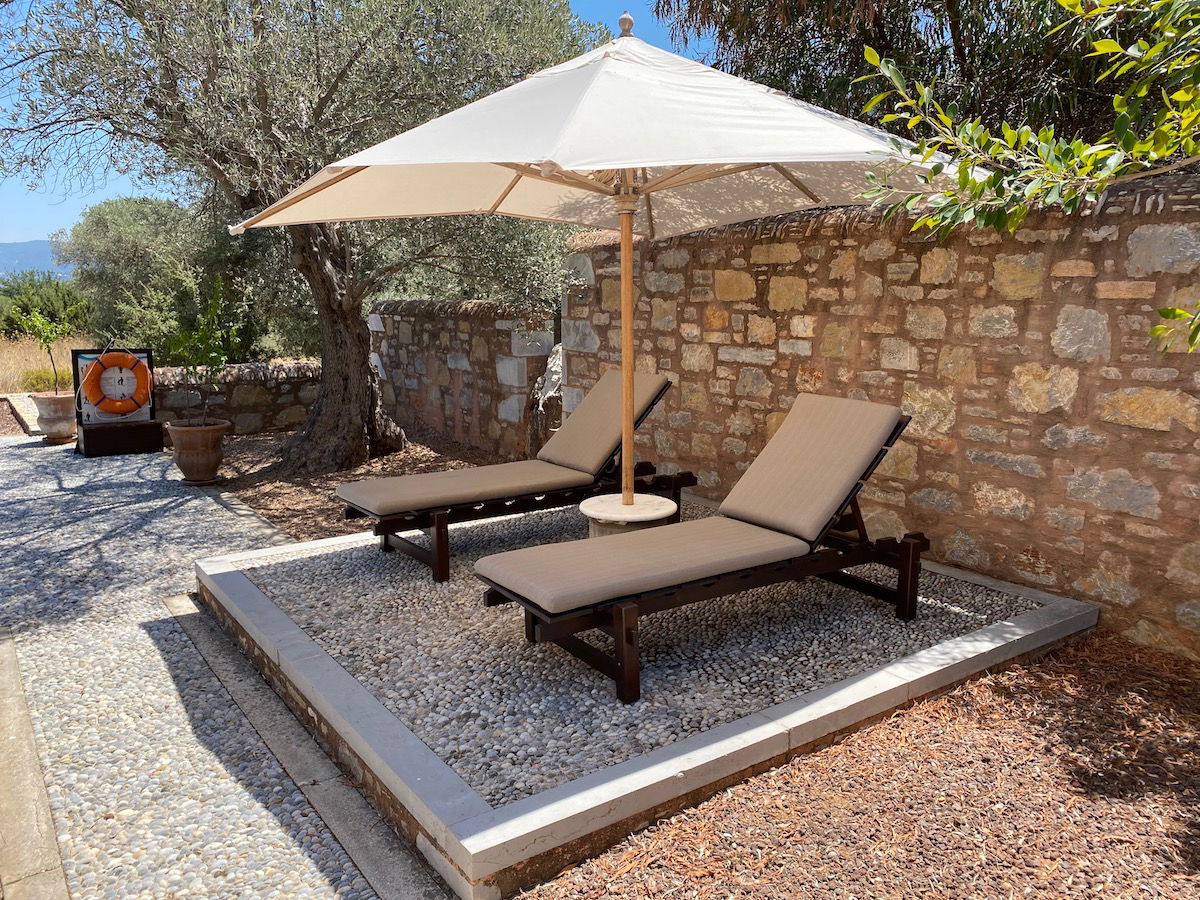 Amanruya Pool Pavilion outdoor space

Amanruya Pool Pavilion outdoor space
The hotel had complimentary Wi-Fi throughout, and the connection in our room was good.
Our Pool Pavilion was incredible, plain and simple. Obviously our stay wasn't cheap, though given how huge our room and outdoor space was, I actually though the value was quite good. To give you a sense of pricing, the Le Meridien Bodrum (the least nice Marriott property in Bodrum) was charging about the same as what we paid for a one bedroom suite with a plunge pool.
Amanruya amenities
The amenities at Amanruya matched the room, for the most part.
Physically the hotel is simply gorgeous. Amanruya opened back in 2012 (and then shut down for a couple of years when there was instability in Turkey), and the hotel has a phenomenal sense of place. The entire property blends perfectly into the surroundings, and feels like it has been there forever, while also feeling immaculately maintained.
Amanruya pool
With the exception of the beach club, just about all the Amanruya amenities are in the same area. The pool is probably the centerpiece of the hotel, and is as big as it is pretty.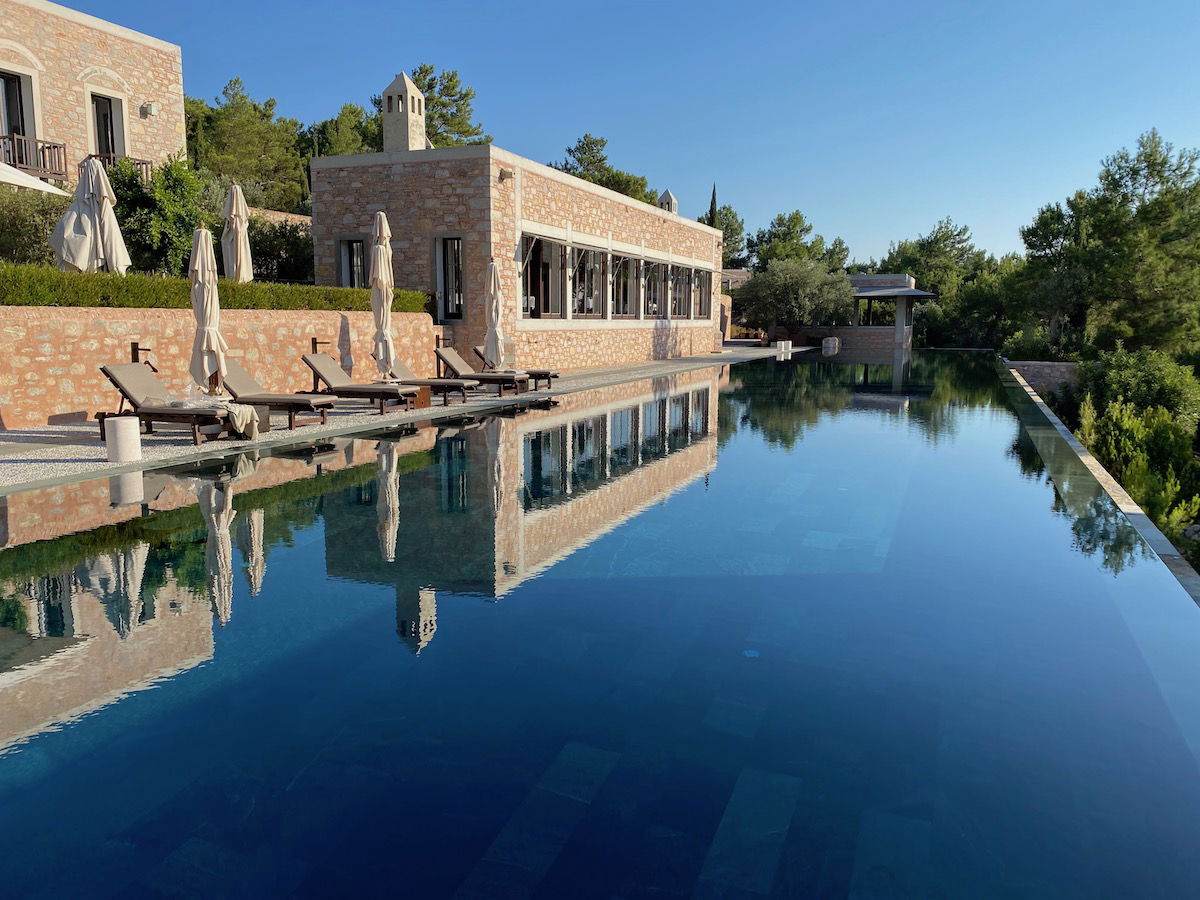 Amanruya pool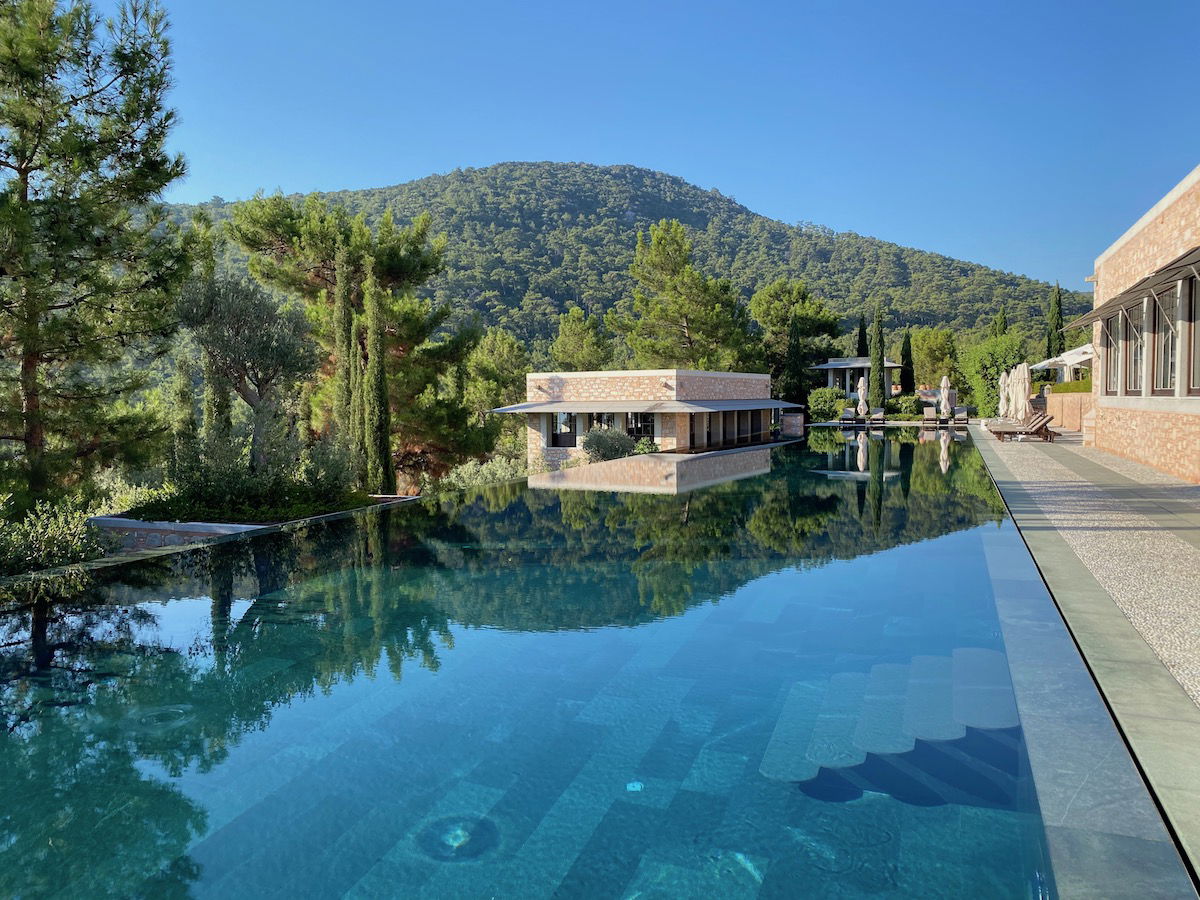 Amanruya pool
Amanruya beach club
Amanruya has a beach club. While you could walk there, it's probably a solid five minute golf cart ride down a dirt path, so I'd recommend requesting a golf cart (and even then you'll get dirty, with all the dust).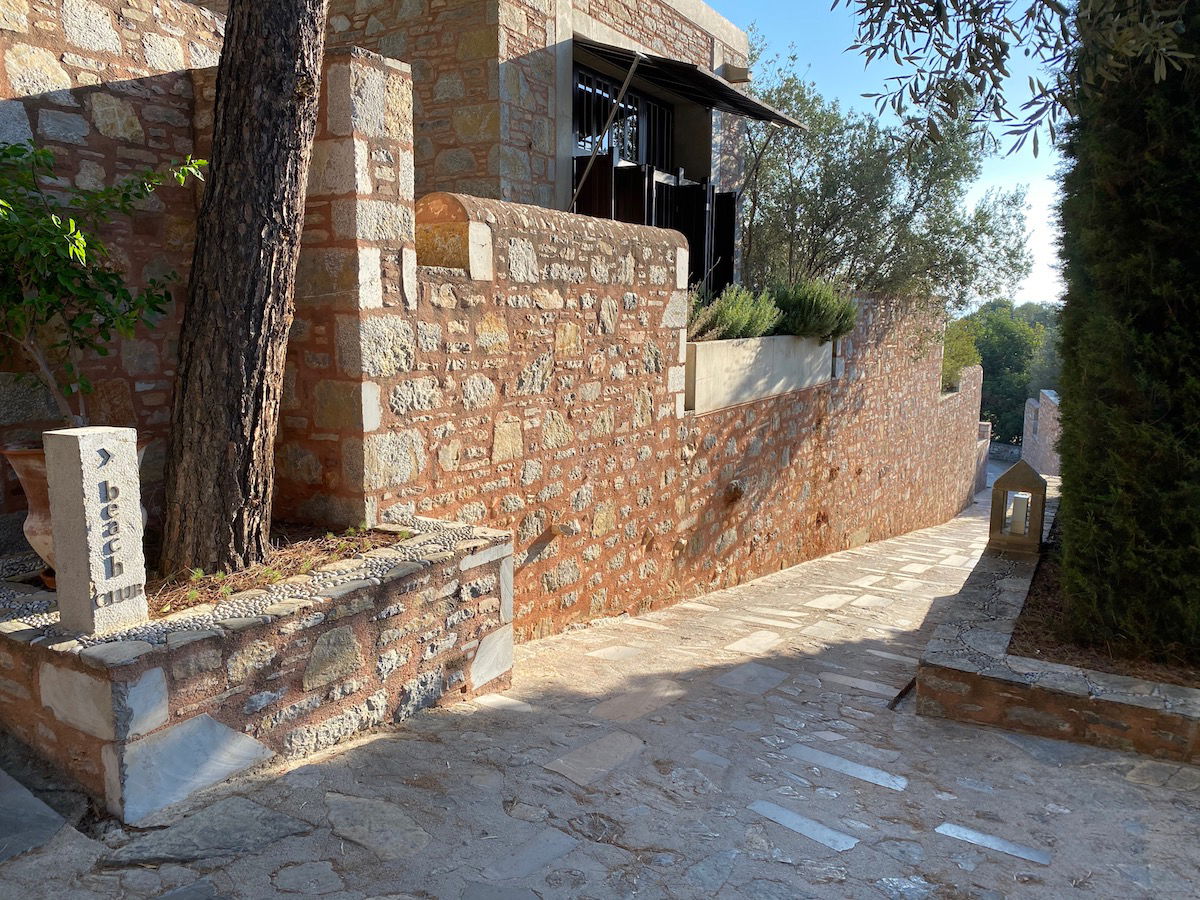 Path to Amanruya beach club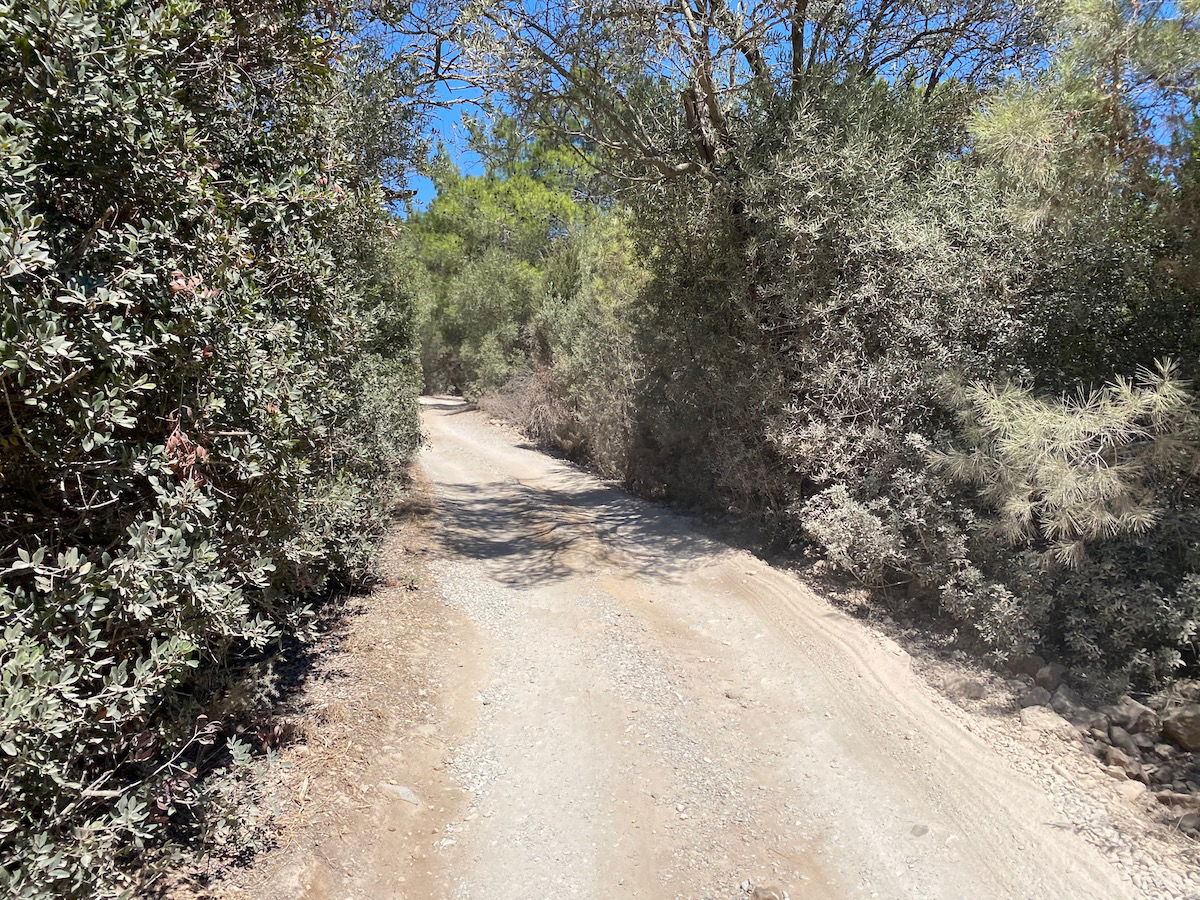 Path to Amanruya beach club
Compared to the beach setup at EDITION, I thought the Amanruya beach club was quite disappointing. It's unique, in the sense that it combines the woods with the sea. While that might sound nice, one major issue is that there are lots of bugs because of the trees.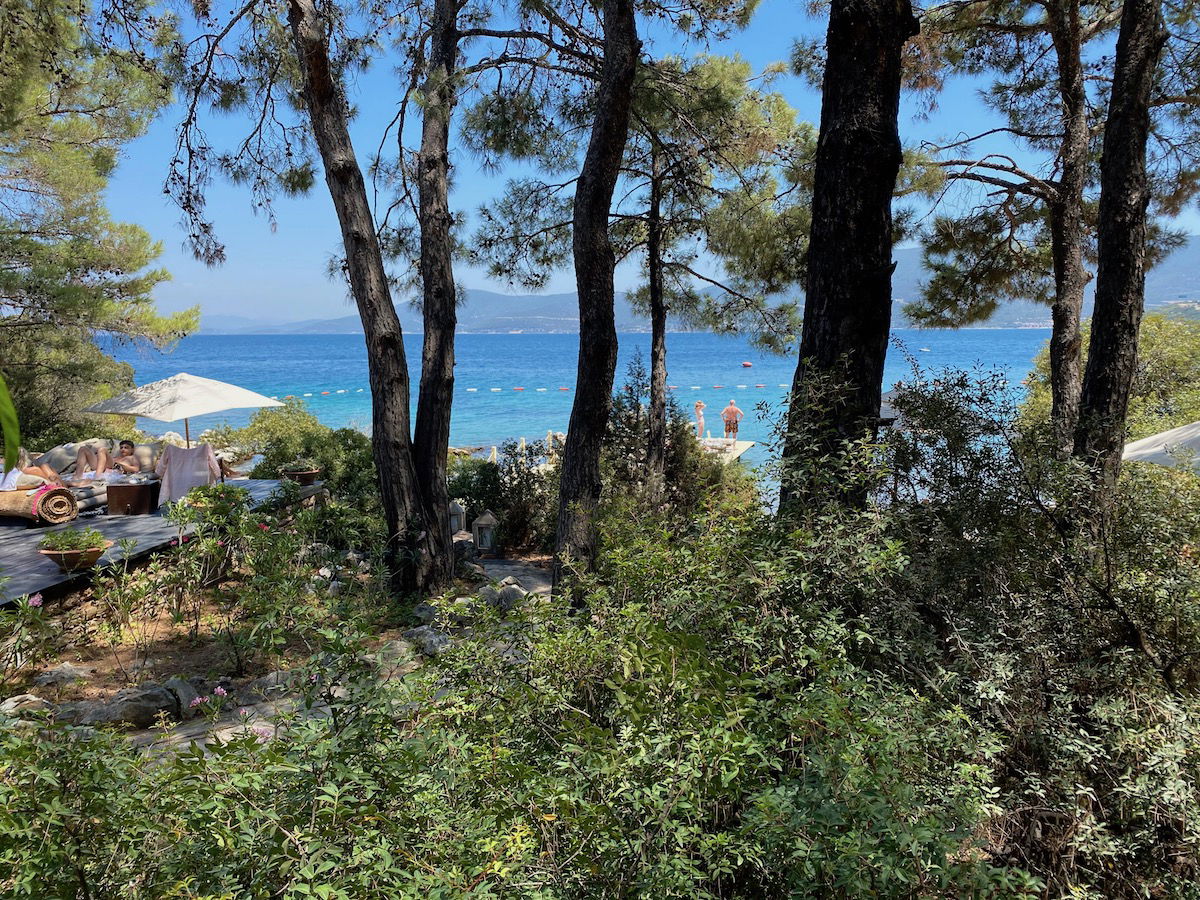 Amanruya beach club
As you enter the beach club there's a restaurant, which is open for lunch.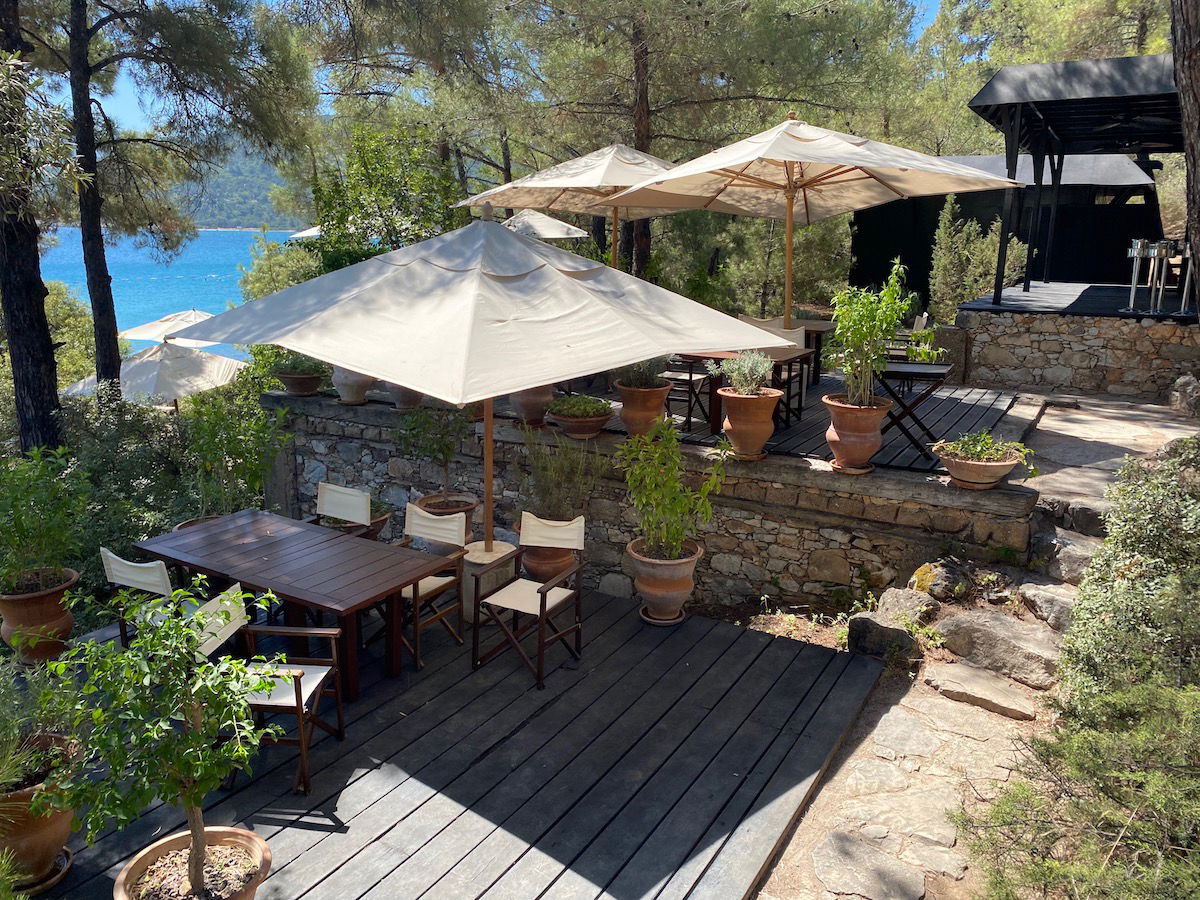 Amanruya beach club restaurant
There are two beds across from that, which I've seen in all kinds of ads for the hotel, and it does indeed look nice.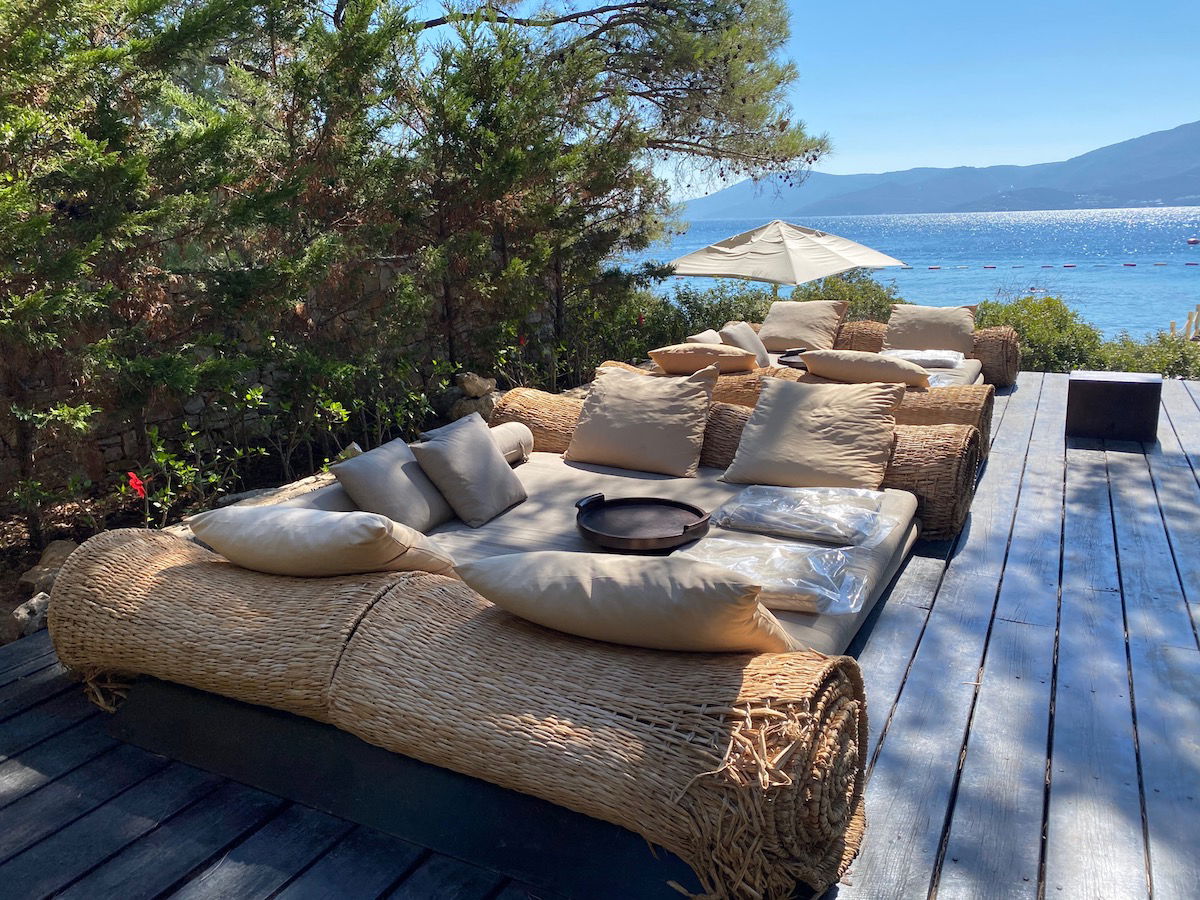 Amanruya beach club seating
The rest of the lounge chairs are dispersed throughout the area. While I like that they built this around nature, I can't help but feel like the whole setup just feels kind of makeshift and not very luxurious.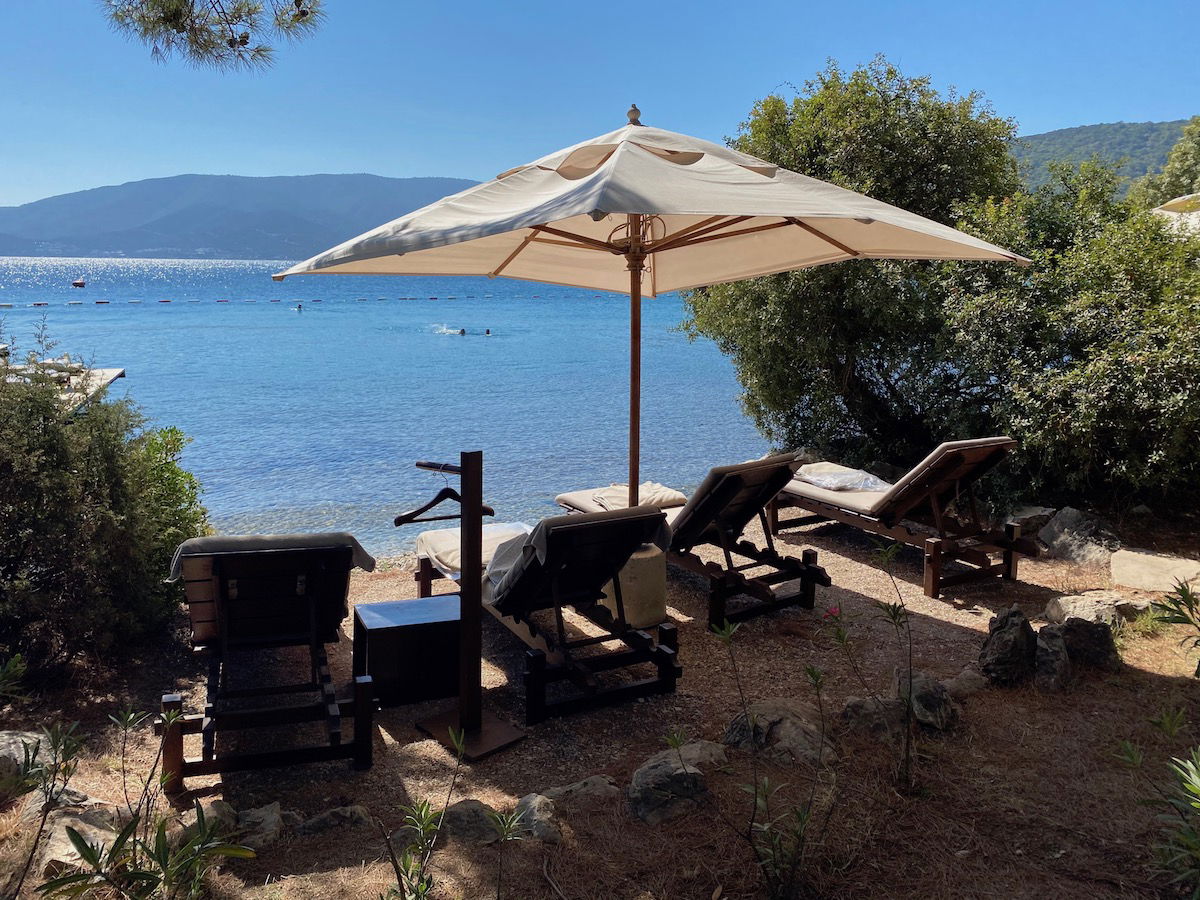 Amanruya beach club seating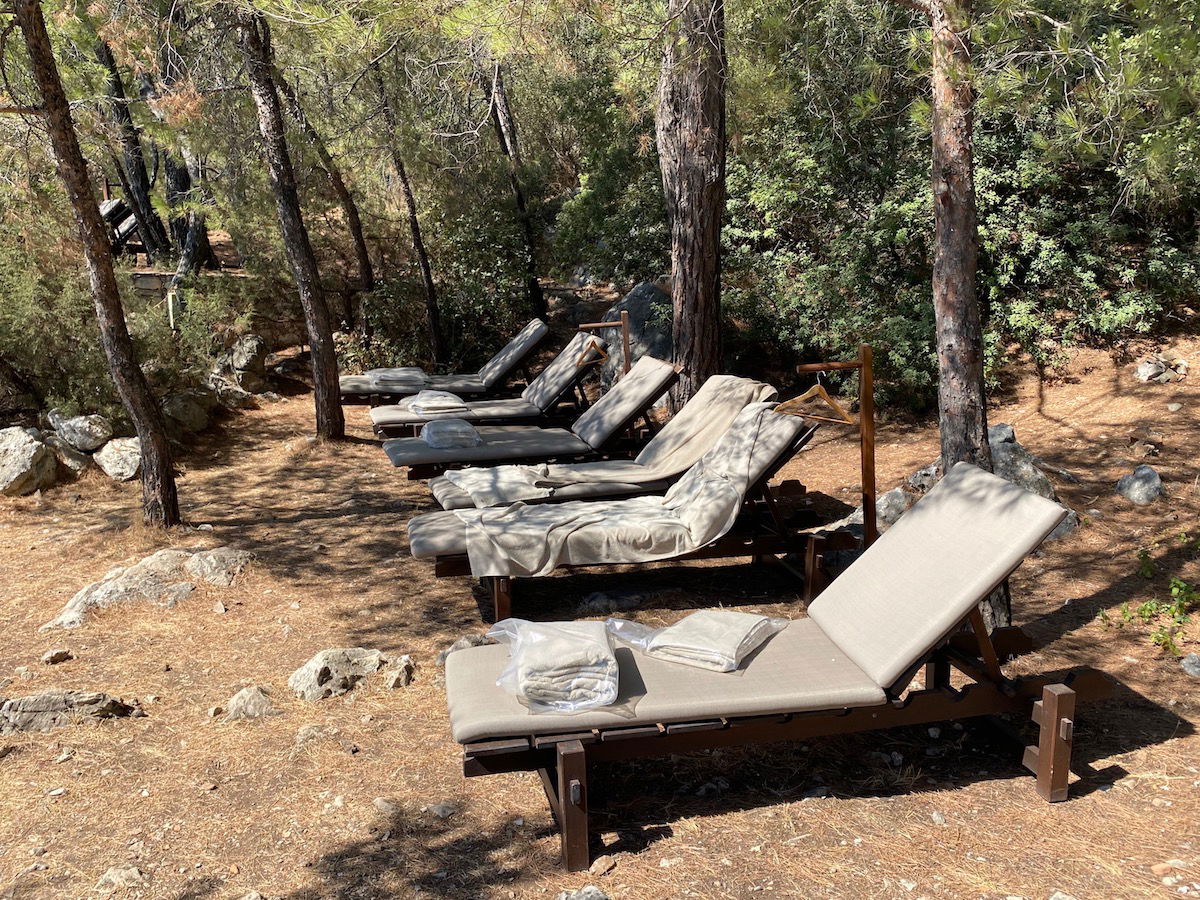 Amanruya beach club seating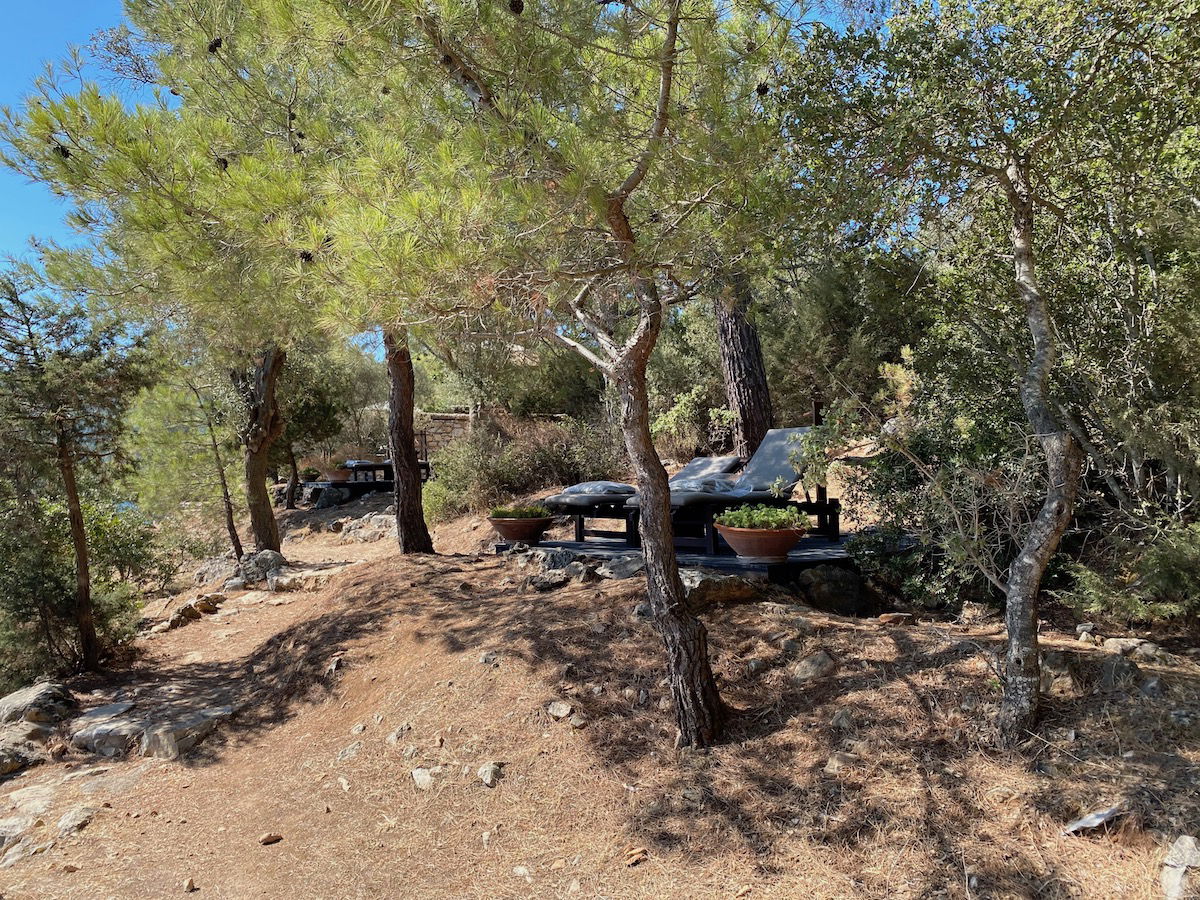 Amanruya beach club seating
There was also a dock with some lounge chairs.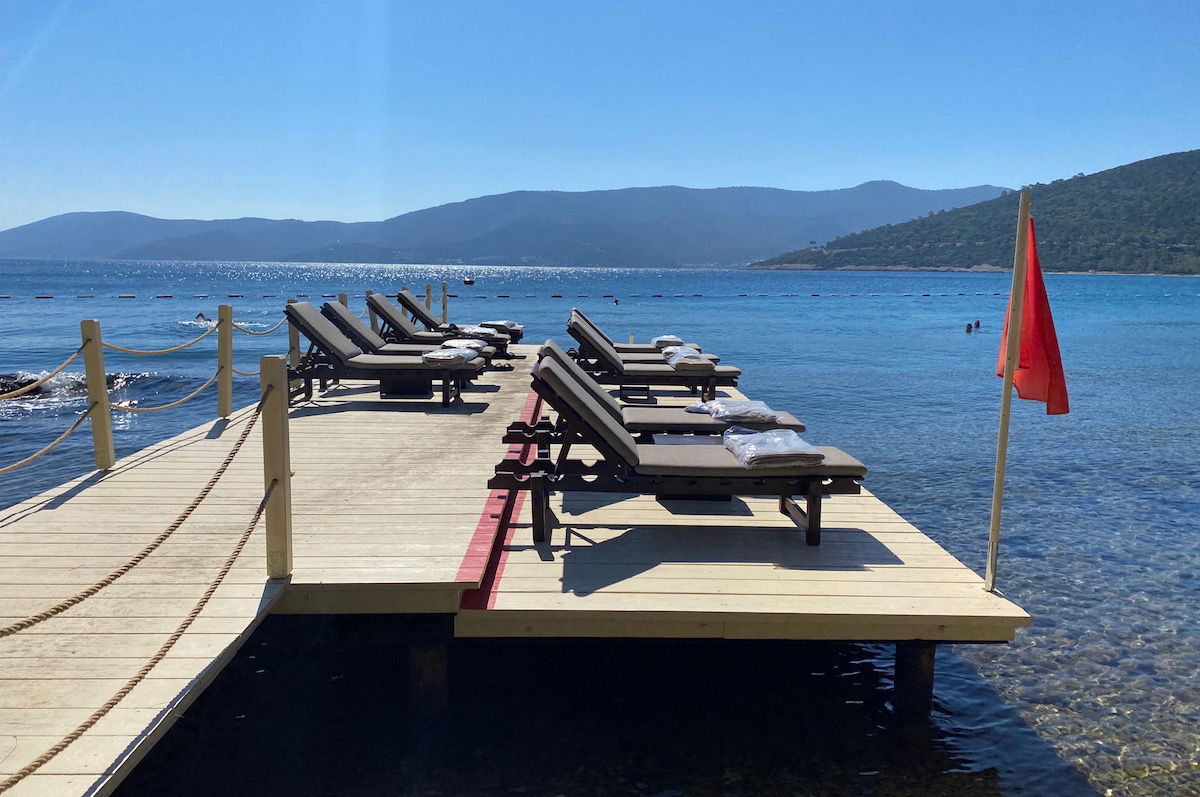 Amanruya beach club seating
And then there was the sea itself. While the water was flat, there was no real beach, and there were lots of rocks.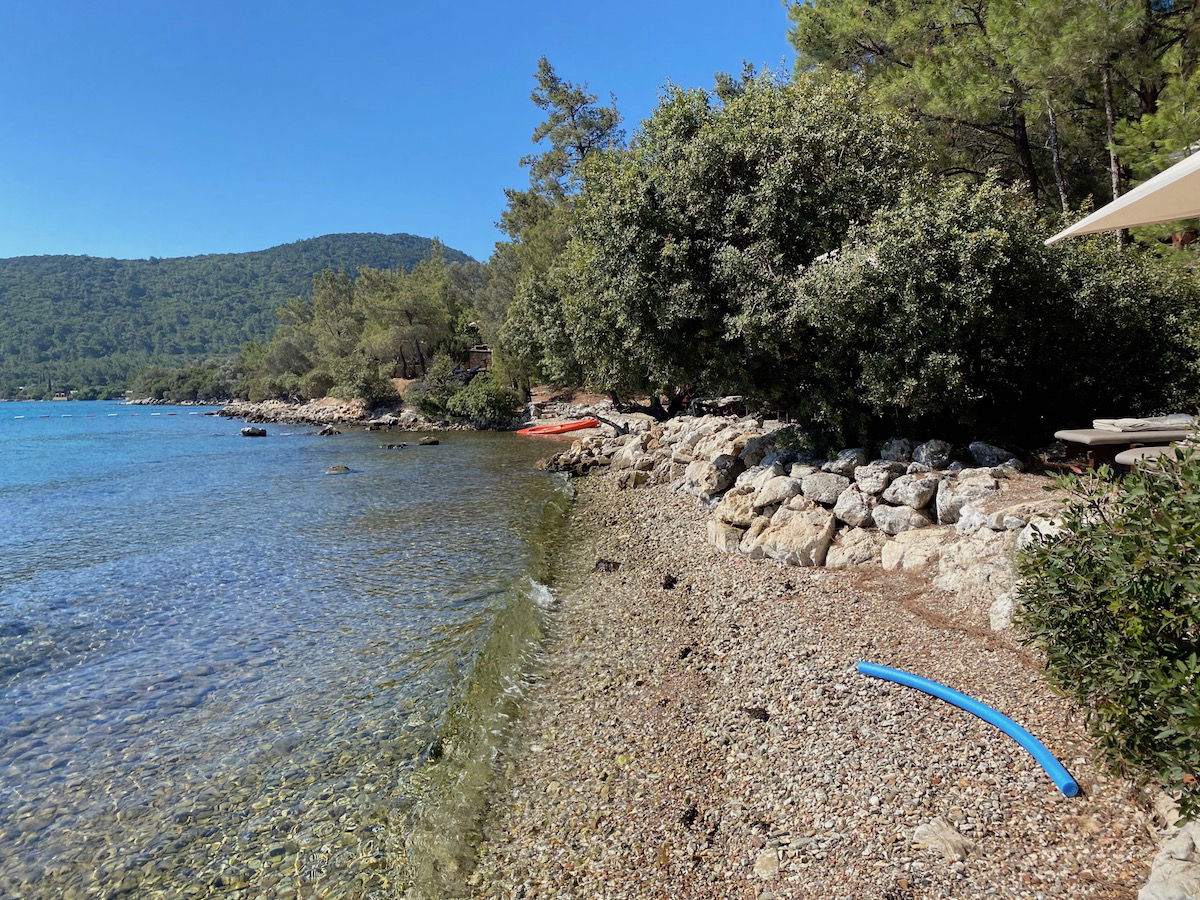 Amanruya beach club seating
I almost felt like I was on a lake in the Midwest of the US, rather than at the beach in Bodrum. Aman properties have some incredible beach clubs — like the one at Amanzoe in Greece — but in my opinion this isn't one of them.
Between the bugs and the actual beach not being that nice, we ended up spending only one afternoon here. Up until this point in Bodrum we spent all our time at the beach rather than at the pool, while at this hotel we did the opposite, as we loved the pool but didn't love the beach.
I guess other guests felt differently, because most guests seemed to spend a majority of their time at the beach.
Amanruya spa
Amanruya has a small spa right next to the pool, open daily from 10AM until 7:30PM.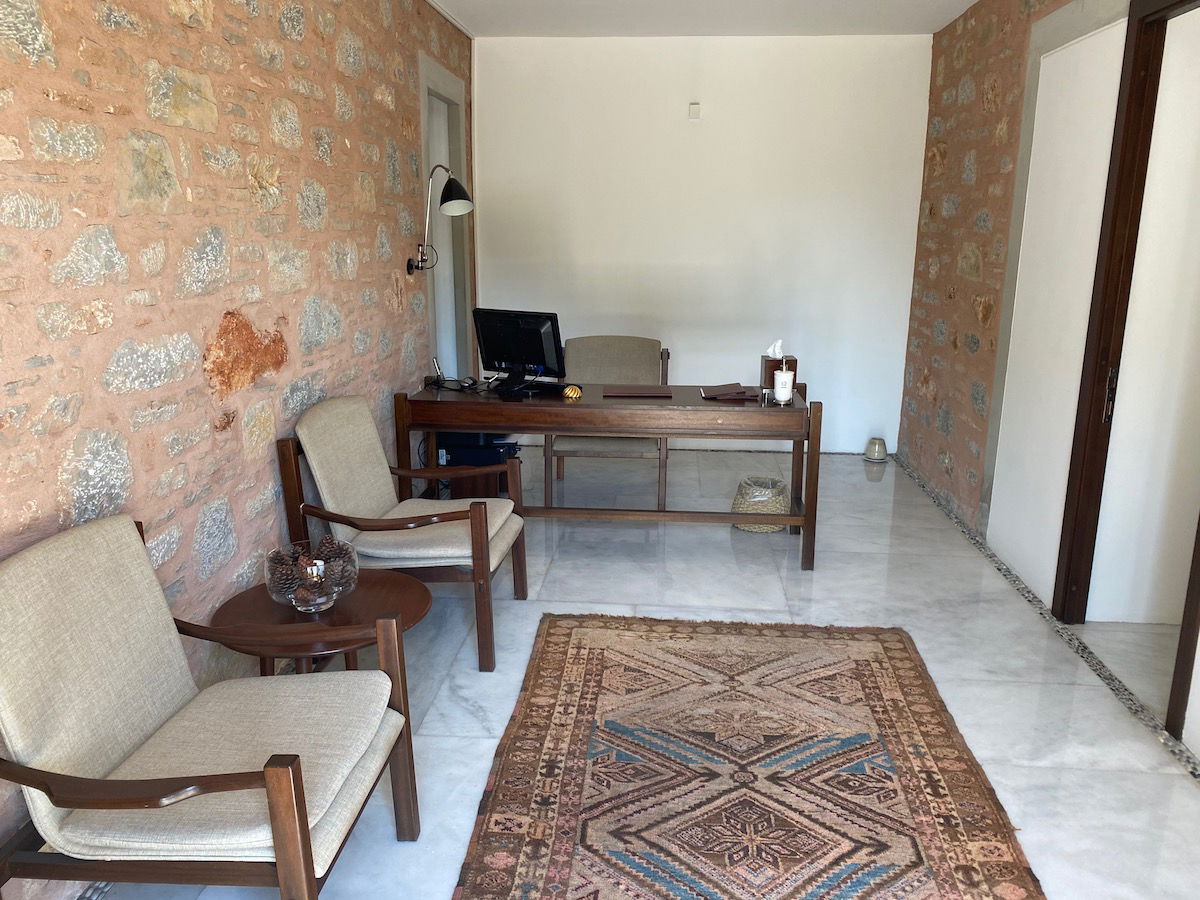 Amanruya spa reception
There are two treatment rooms and not any other amenities, so this isn't exactly the most over-the-top spa in the world.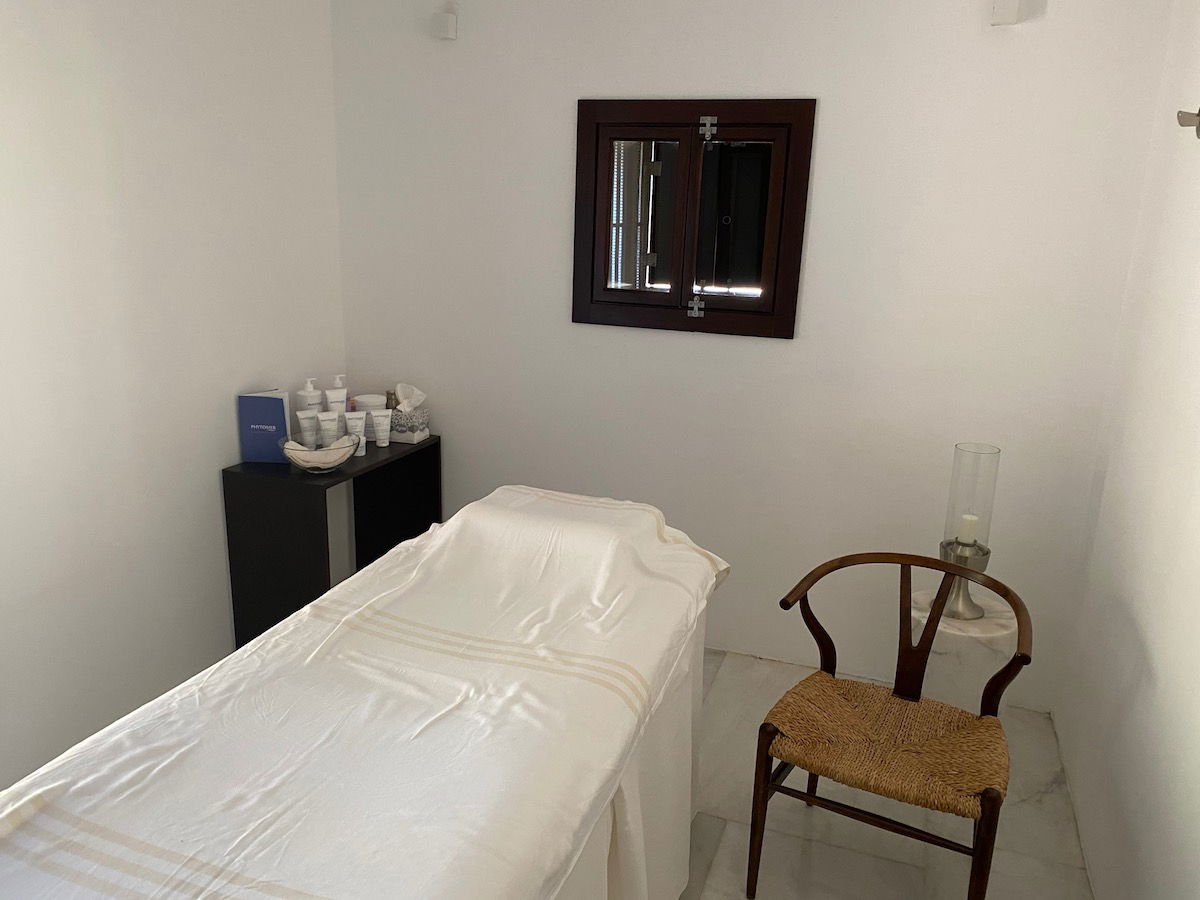 Amanruya spa treatment room
Here's the treatment menu (again, 1USD is around 7TL, meaning an hour massage cost around 100USD):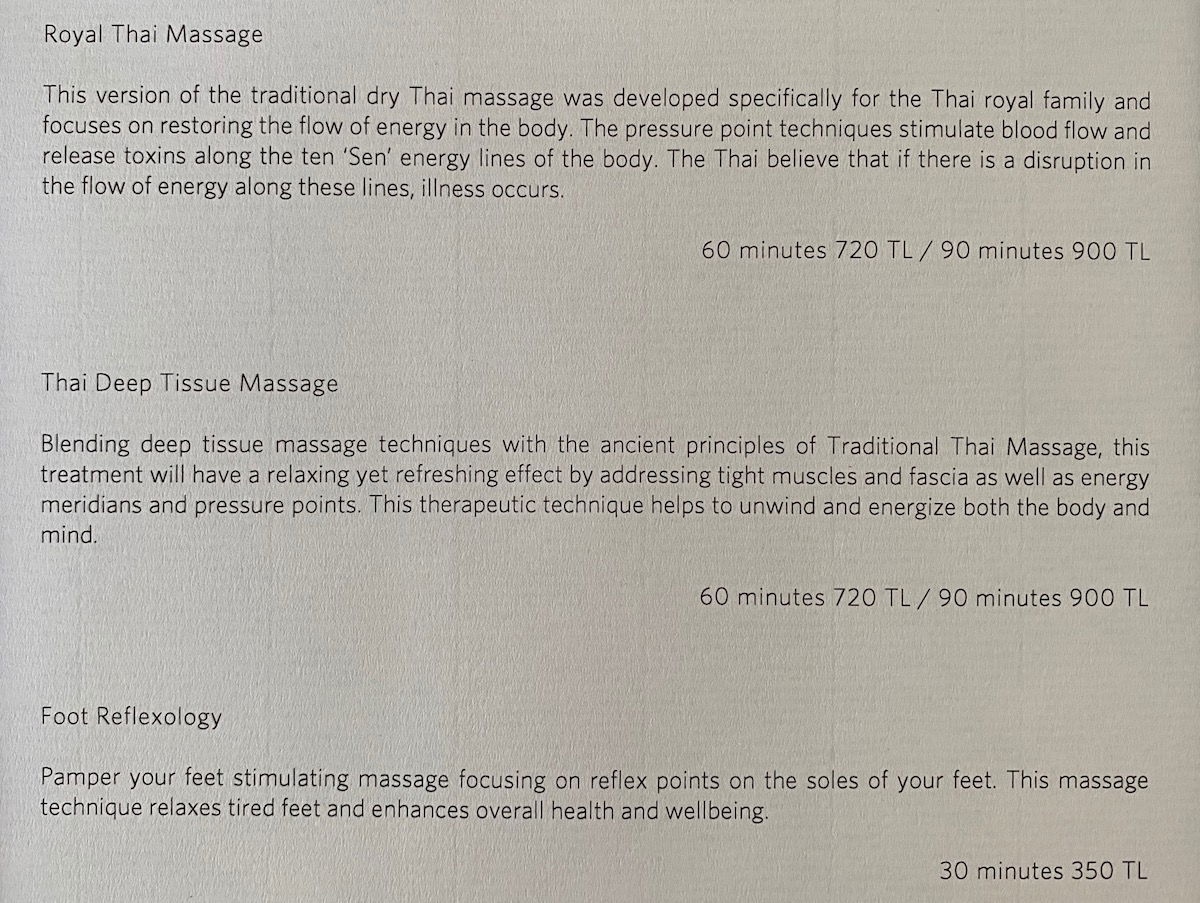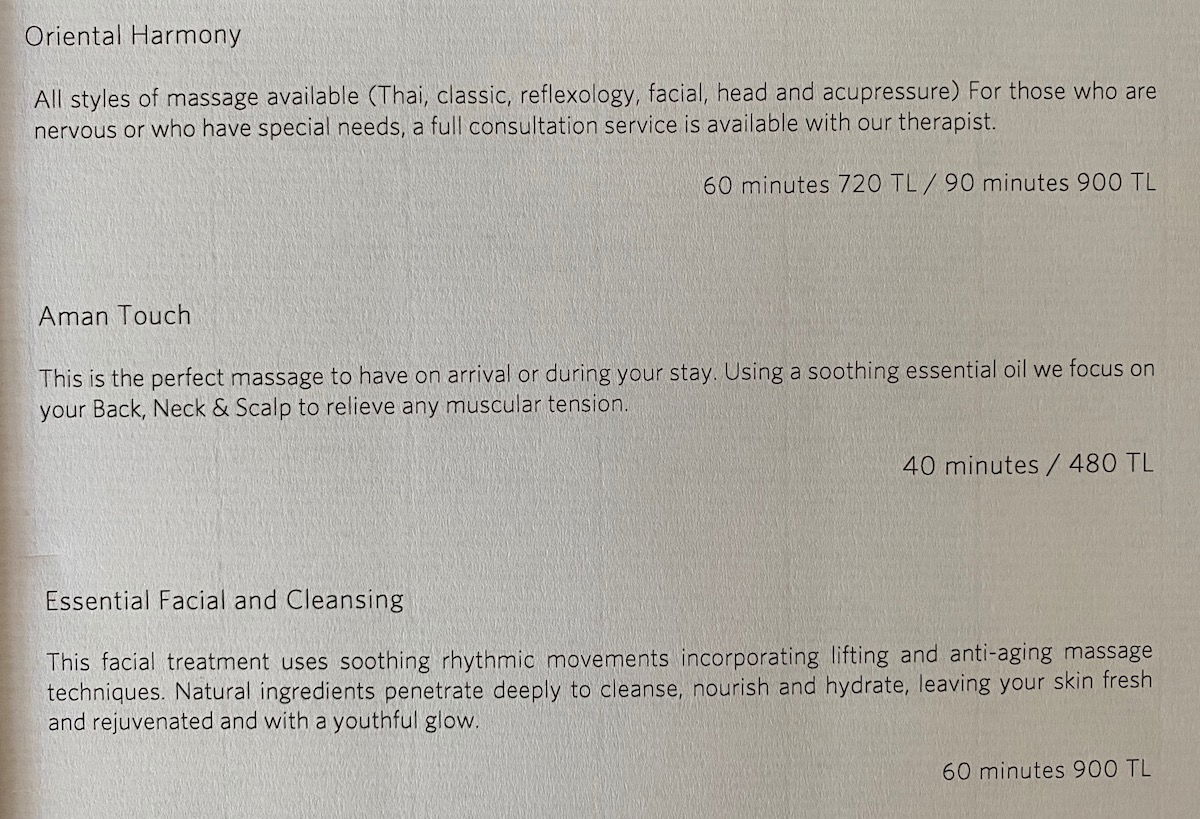 Amanruya gym
Amanruya has a basic gym, and due to coronavirus, they require guests to make reservations. Only one party can use the gym at a time, and it's thoroughly cleaned between each use.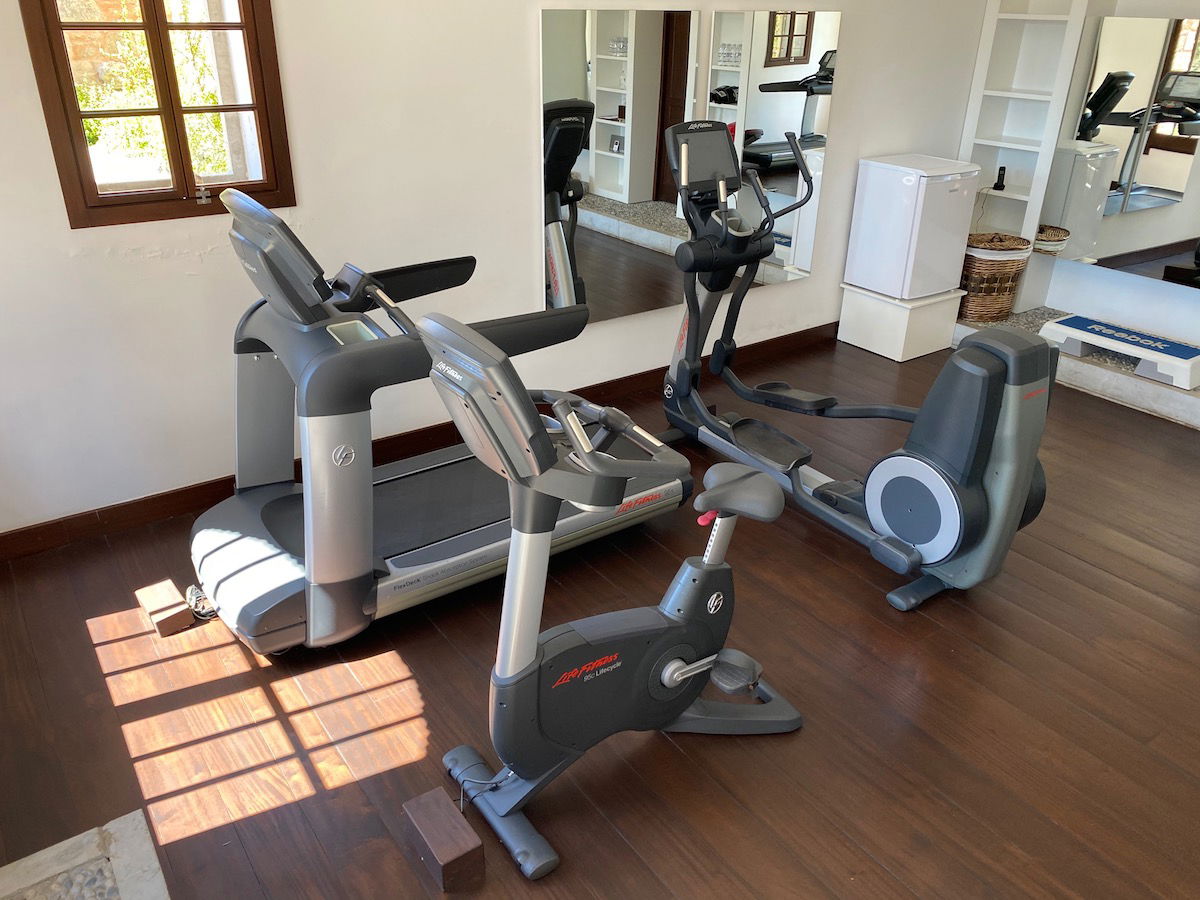 Amanruya gym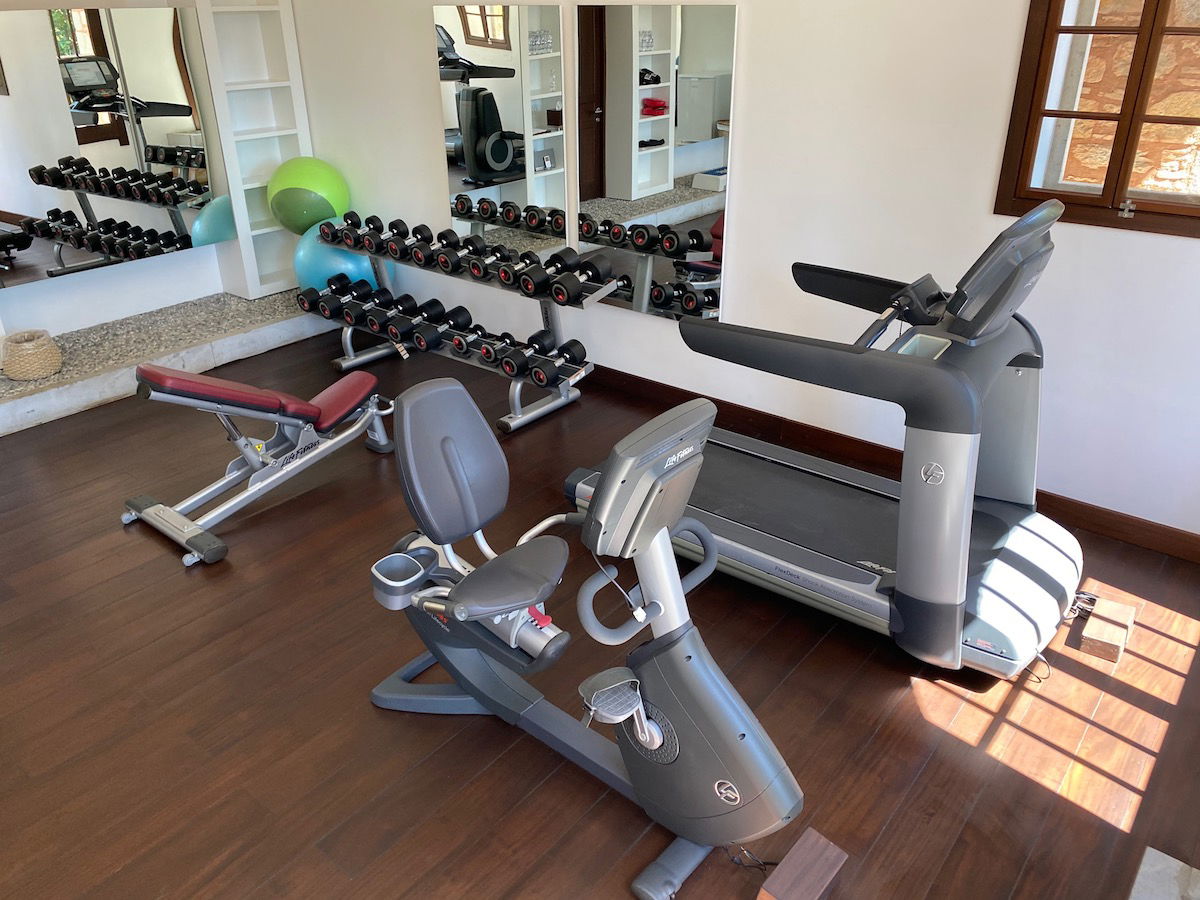 Amanruya gym
Amanruya library
As is the case at many Aman properties, Amanruya has a library. And not just any library, but a three story tower.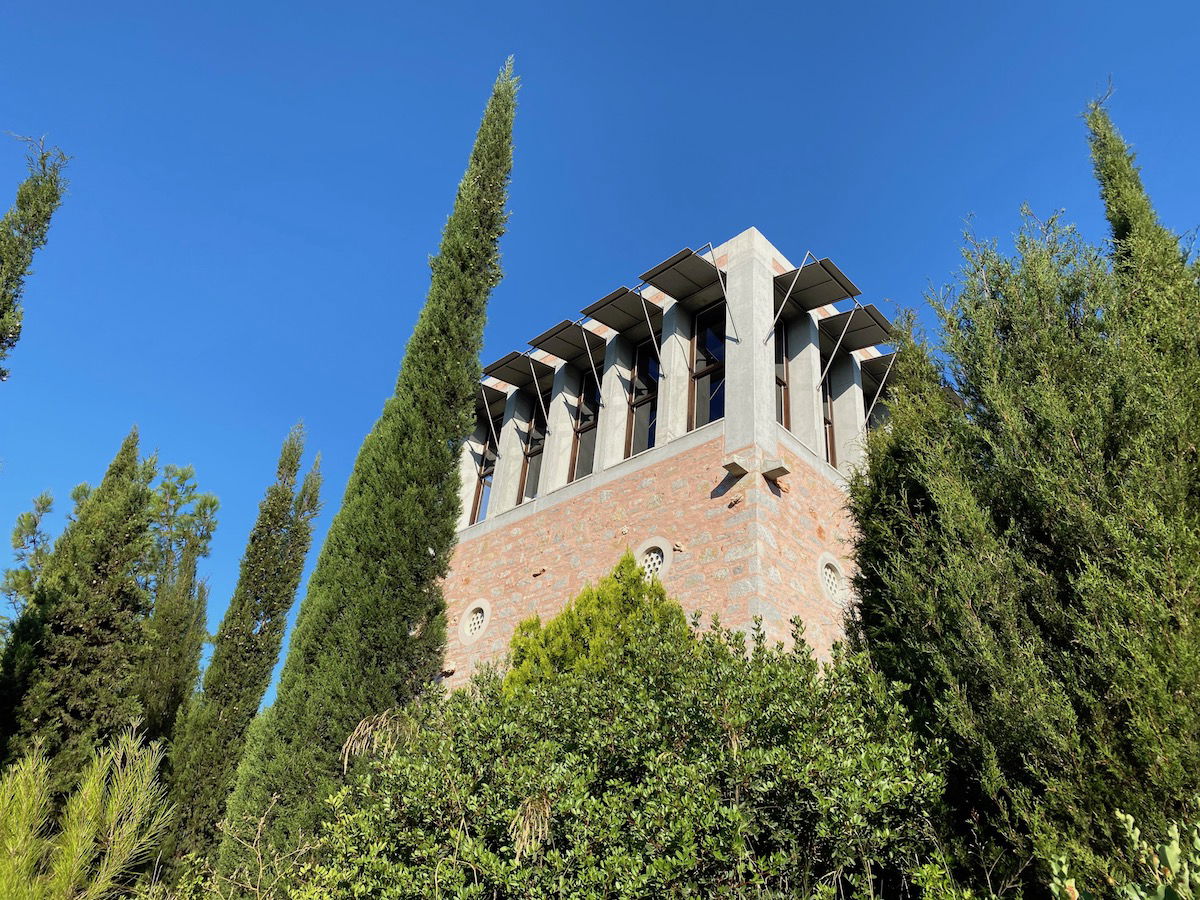 Amanruya library exterior
Yep, the library has three floors and a spiral staircase, and some of the best views over the resort.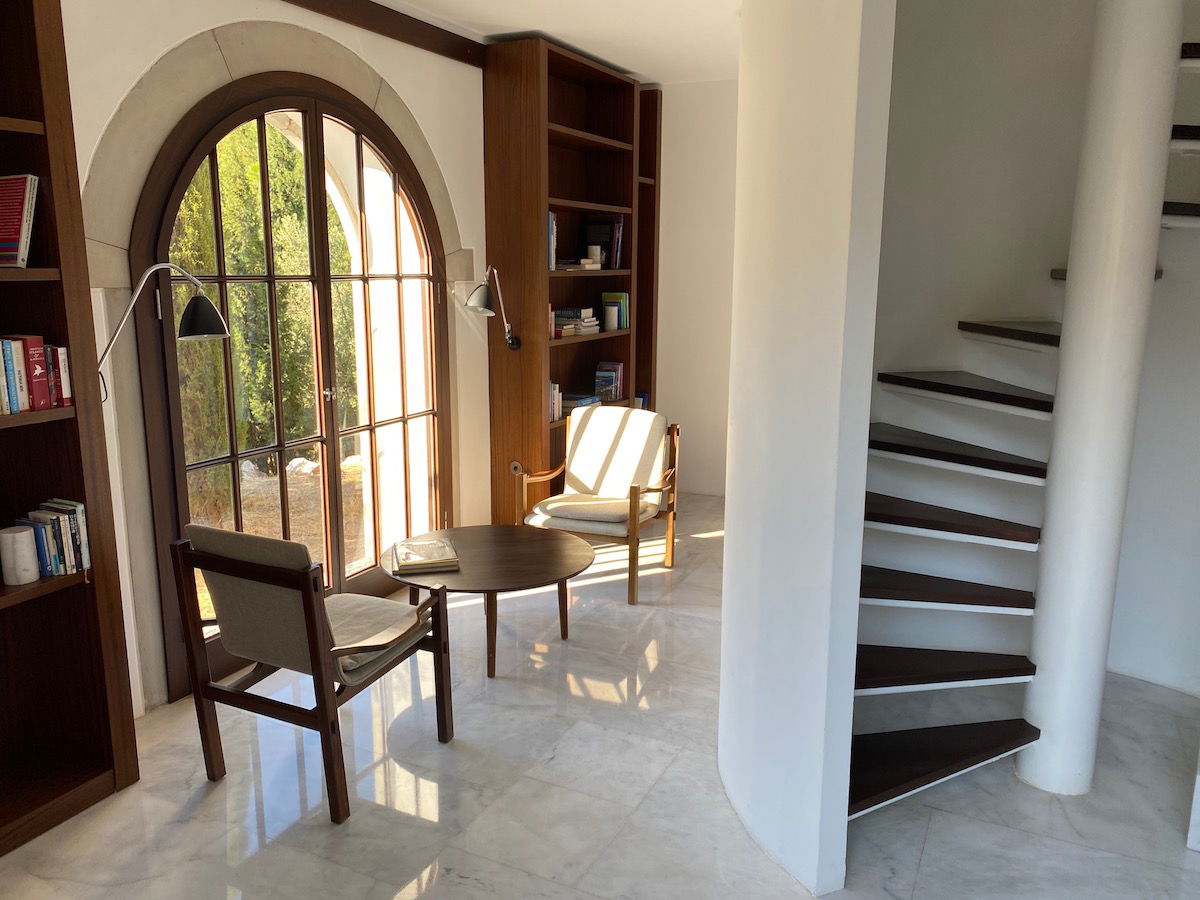 Amanruya library ground floor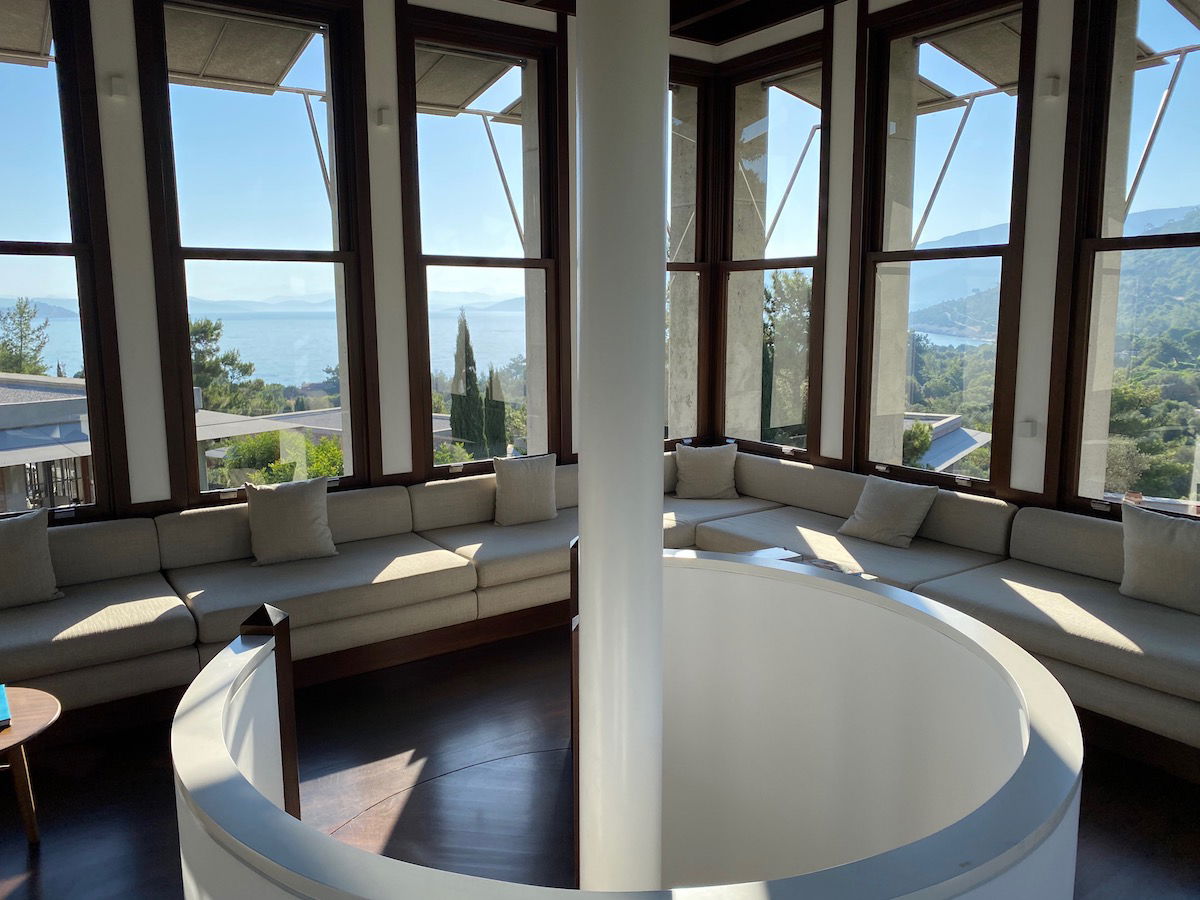 Amanruya library third floor
Other Amanruya shared spaces
In case I haven't mentioned it often enough yet, the design of Amanruya is simply incredible. There are all kinds of other random amenities and features beyond the above, which I'll cover in this section.
Next to the pool there are two separate rooms where you can sit inside. The rooms are beautifully designed, but the problem is that there's no air conditioning, so the rooms tend to get uncomfortably warm.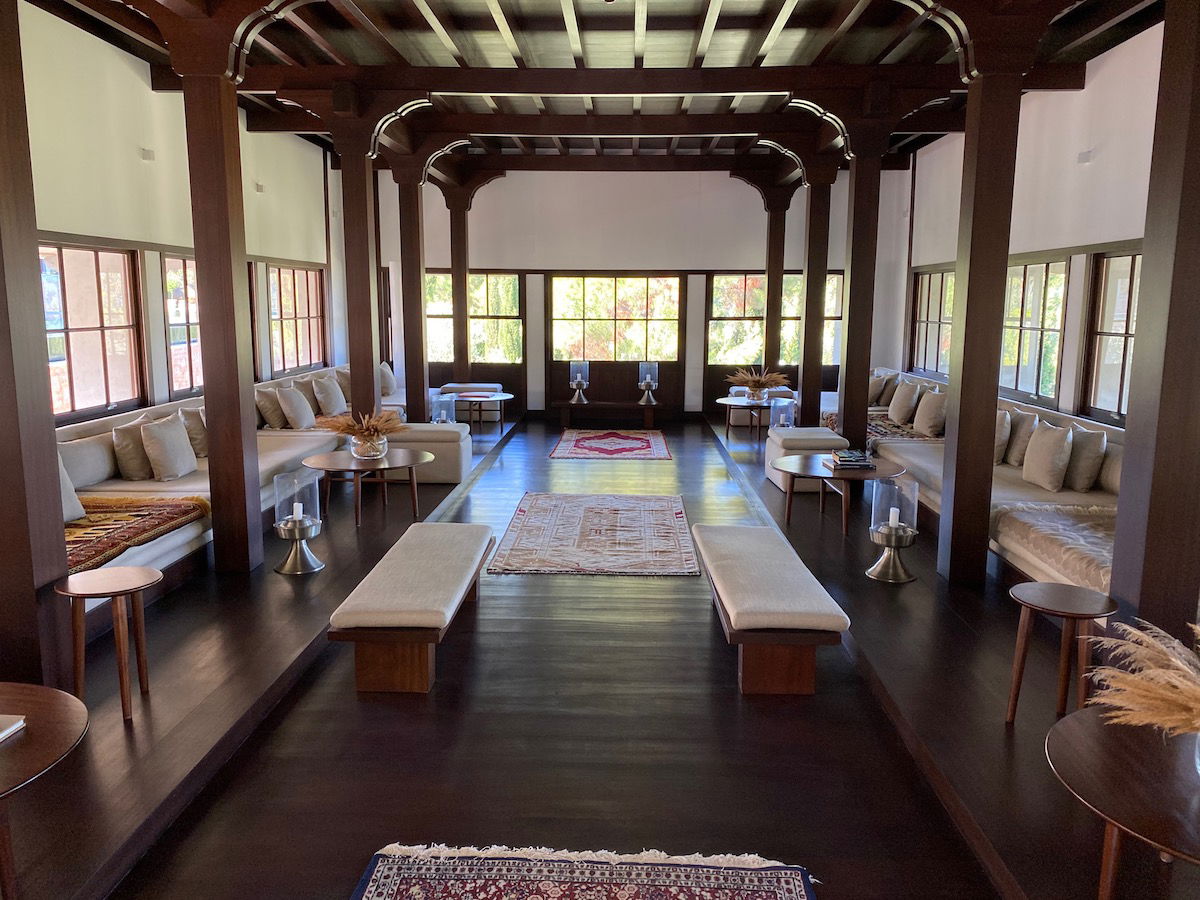 Amanruya room near pool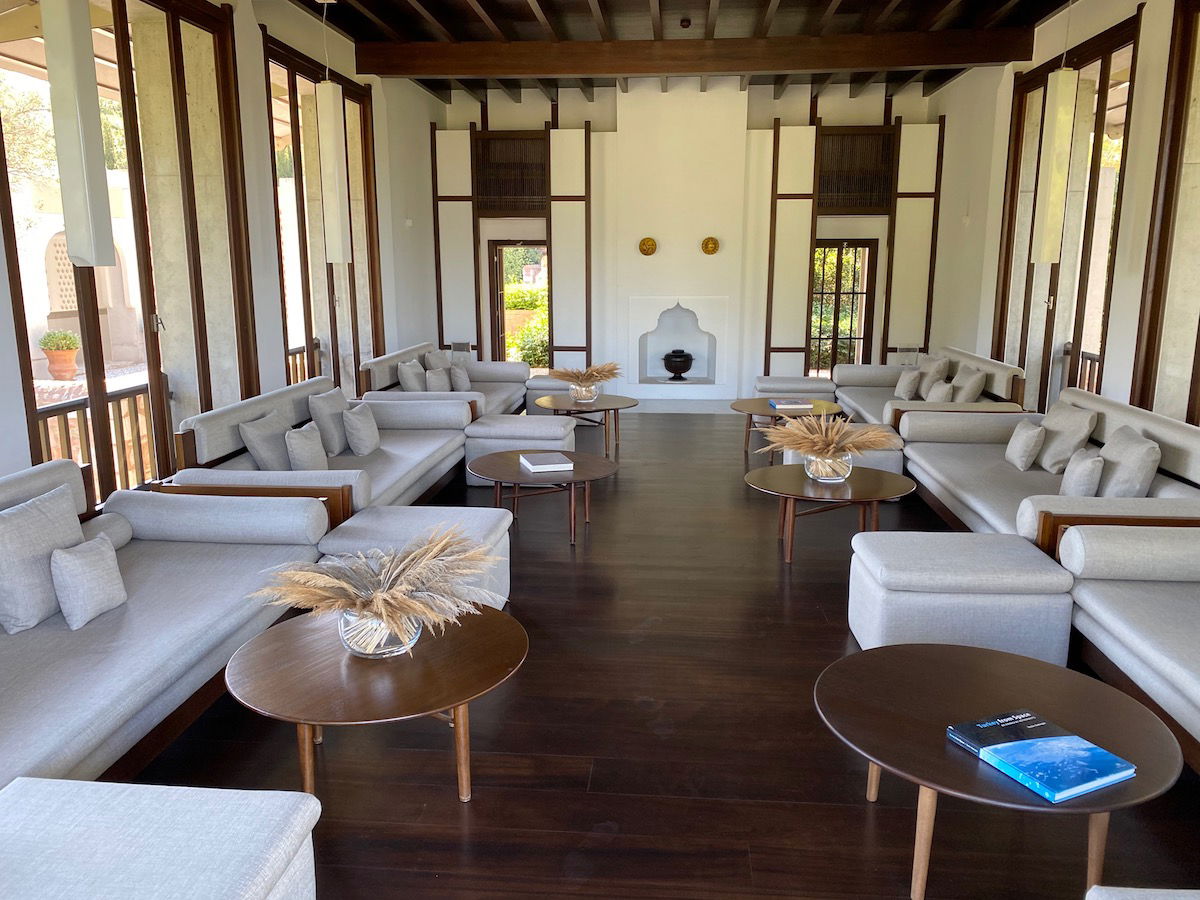 Amanruya room near pool
I was amazed by the attention to detail that went into the design of this place. For example, below is the building that connects reception to the rest of the resort.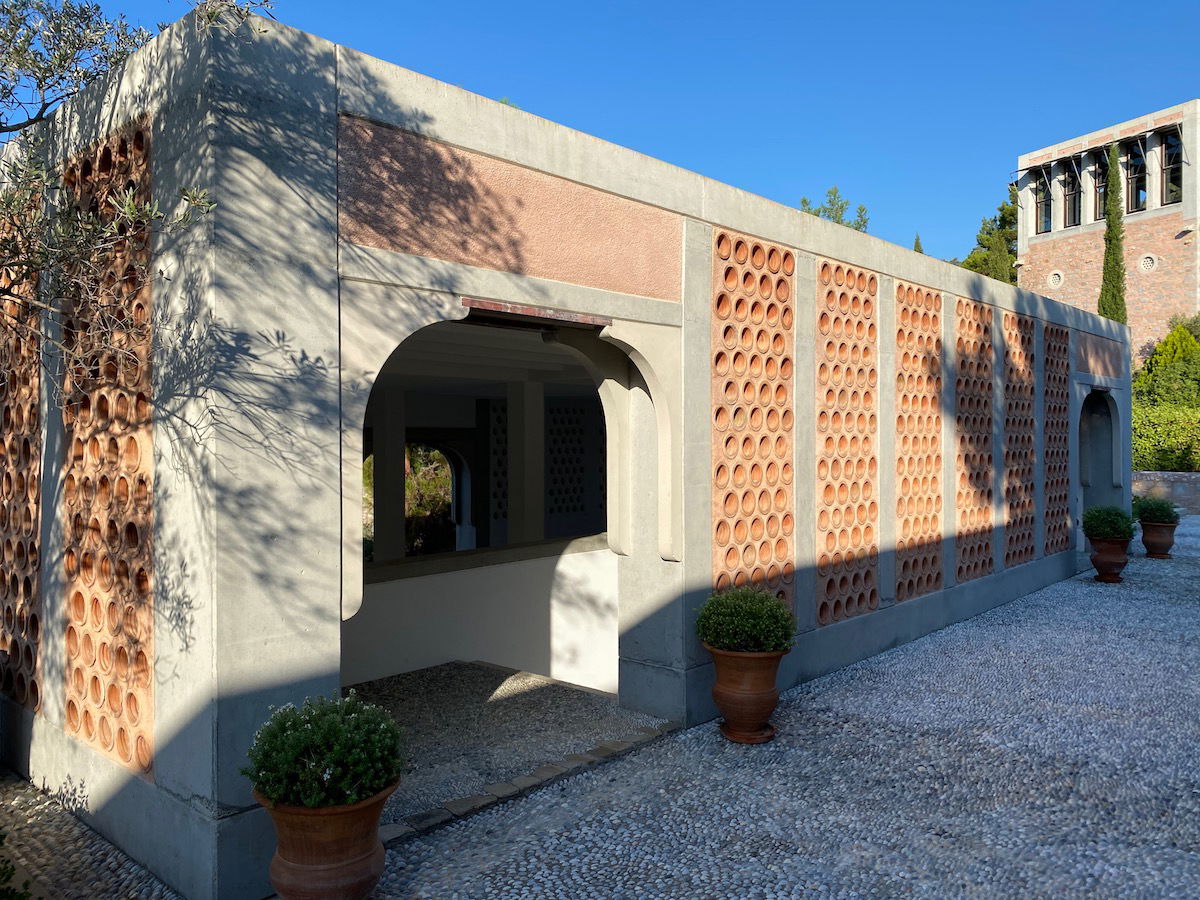 Amanruya design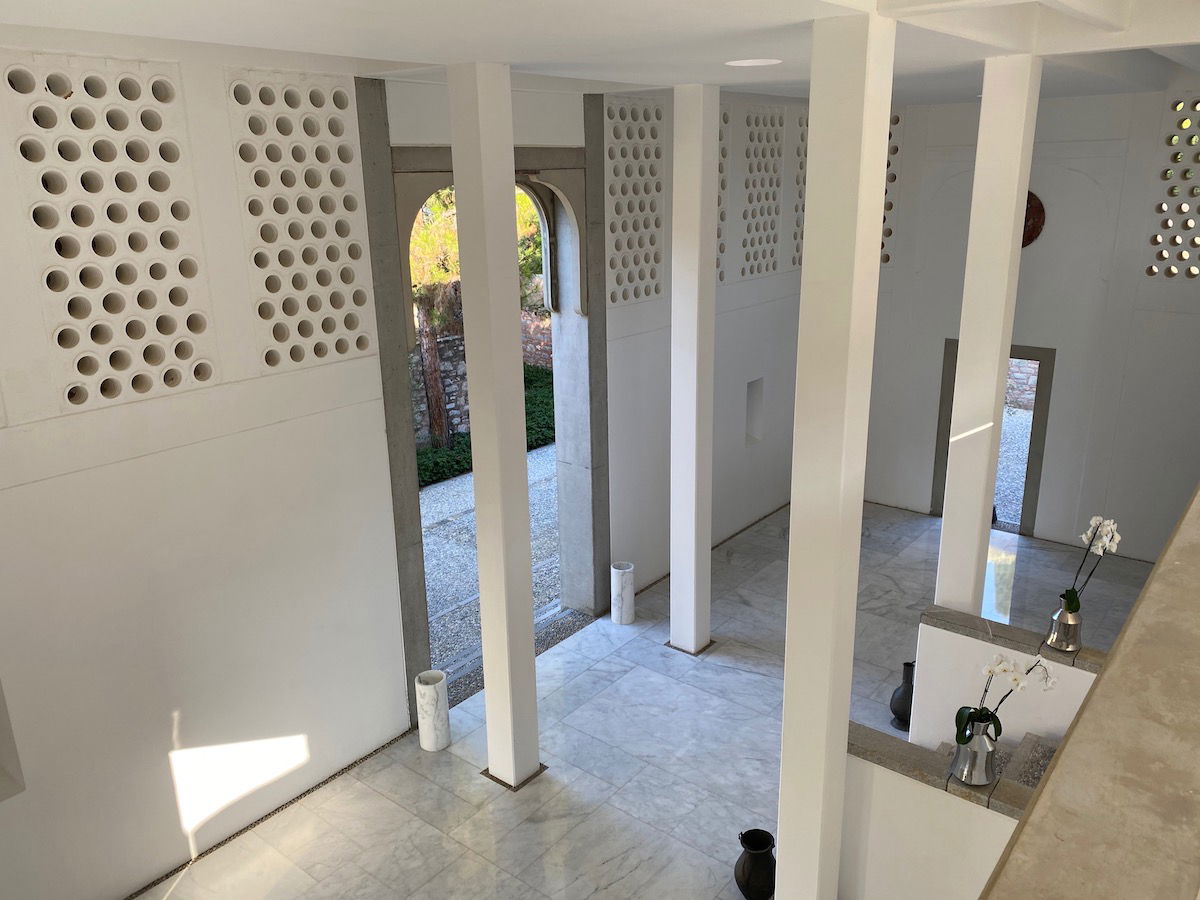 Amanruya design
The hotel also has a rug display (I think they were also for purchase), and then a small museum of sorts.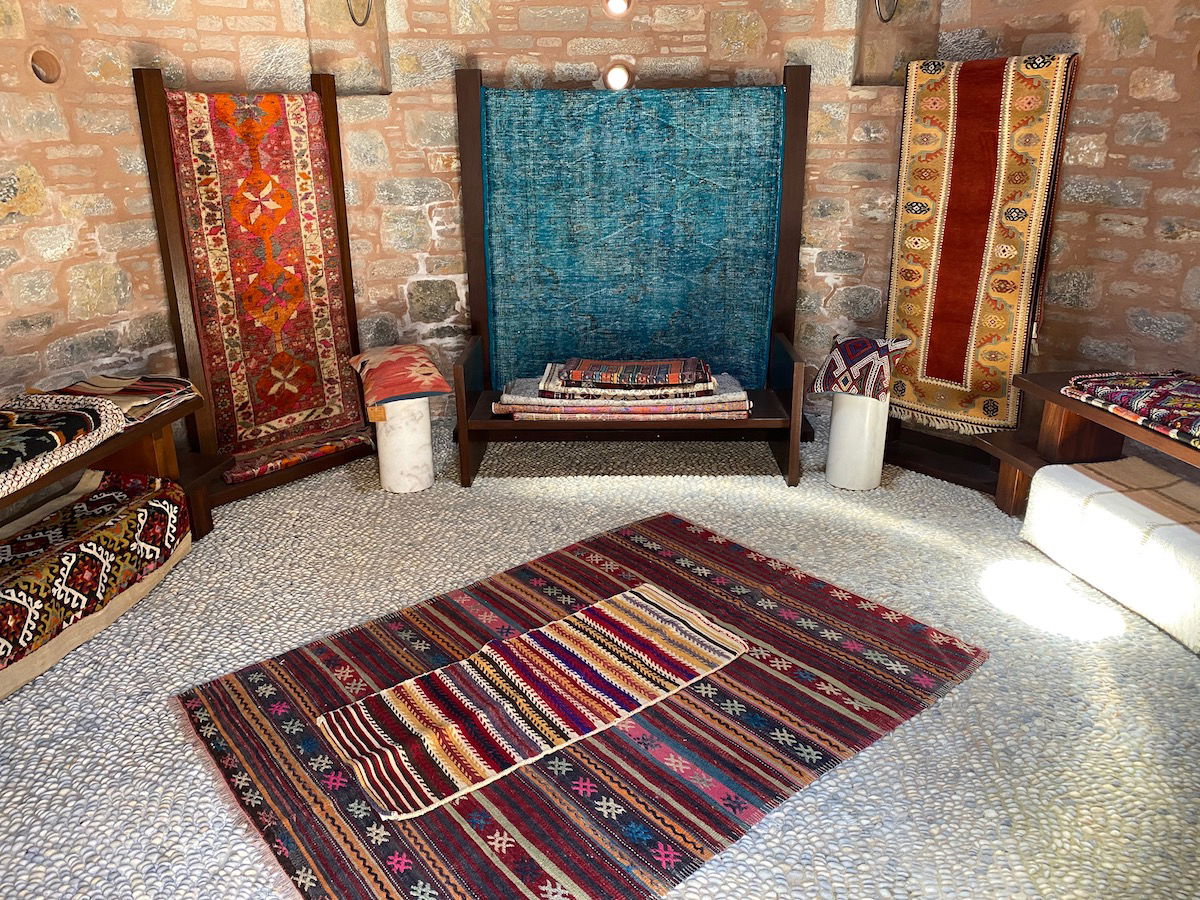 Amanruya rugs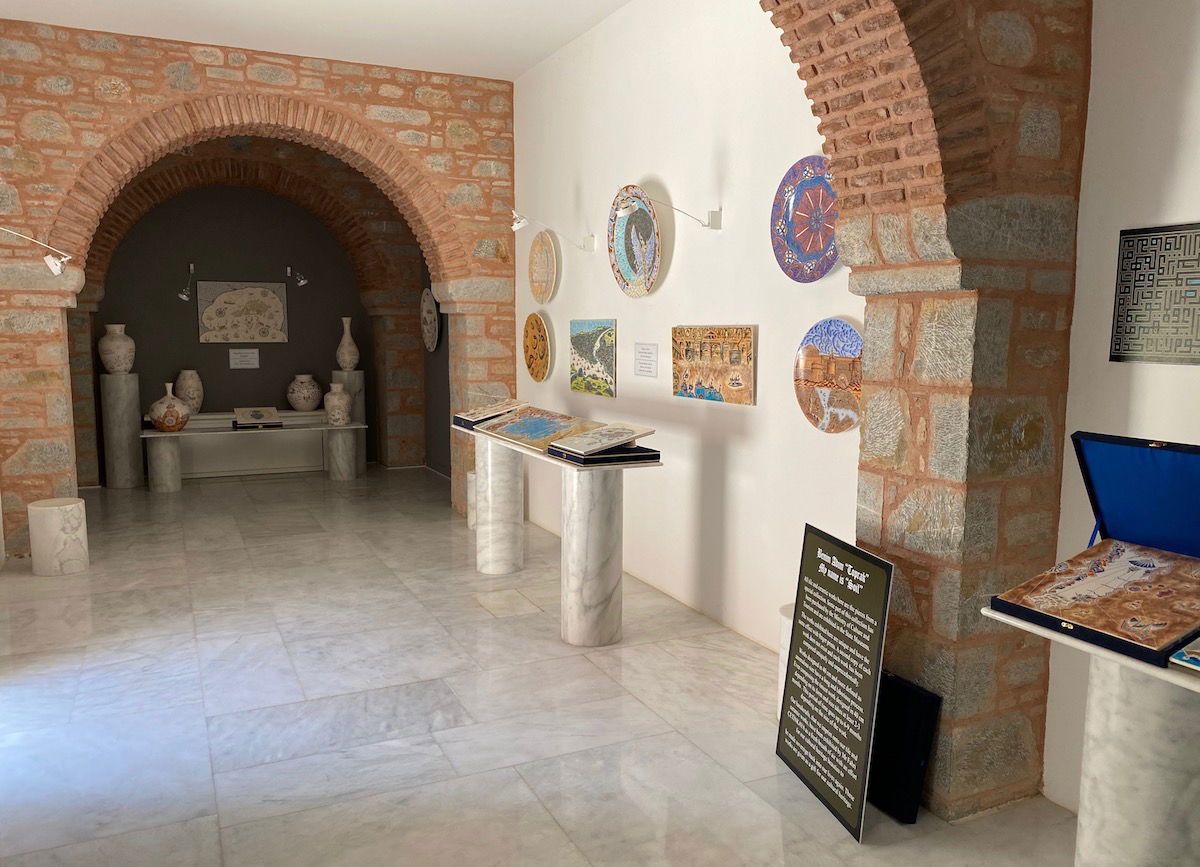 Amanruya museum
There are also a few outdoor seating areas around the pool, including pavilions, as well as tables and chairs.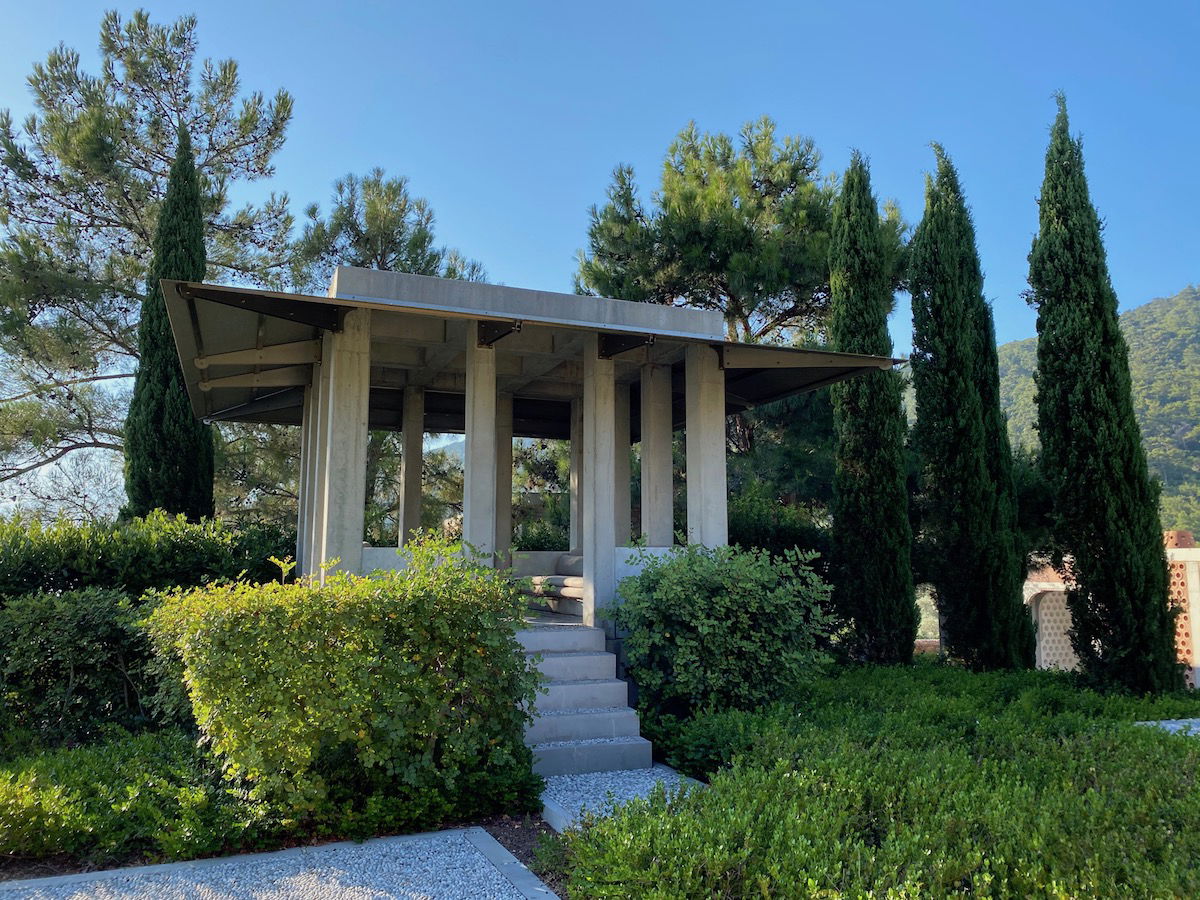 Outdoor seating at Amanruya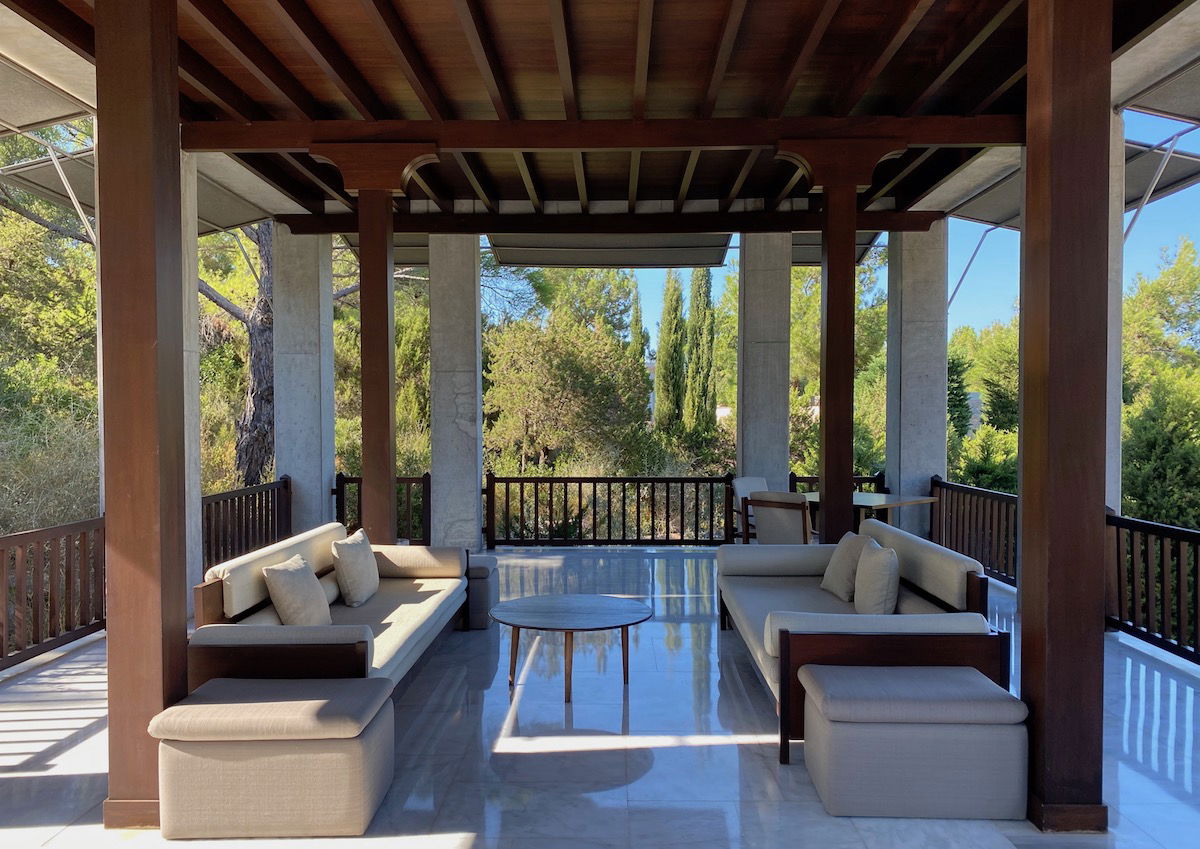 Outdoor seating at Amanruya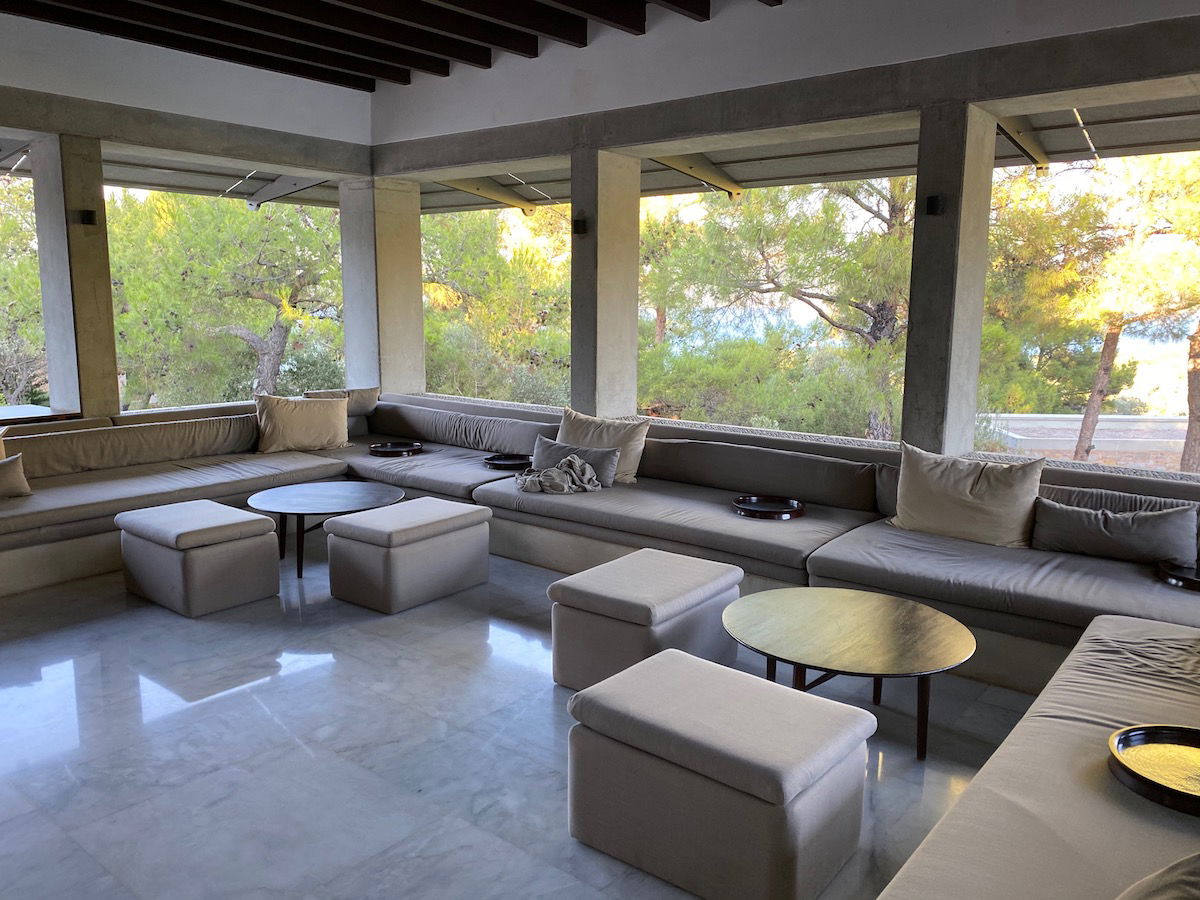 Outdoor seating at Amanruya
This really gives you a sense of where the hotel is in relation to the sea. As you can see below, this area has a view of the water, but it's in the distance.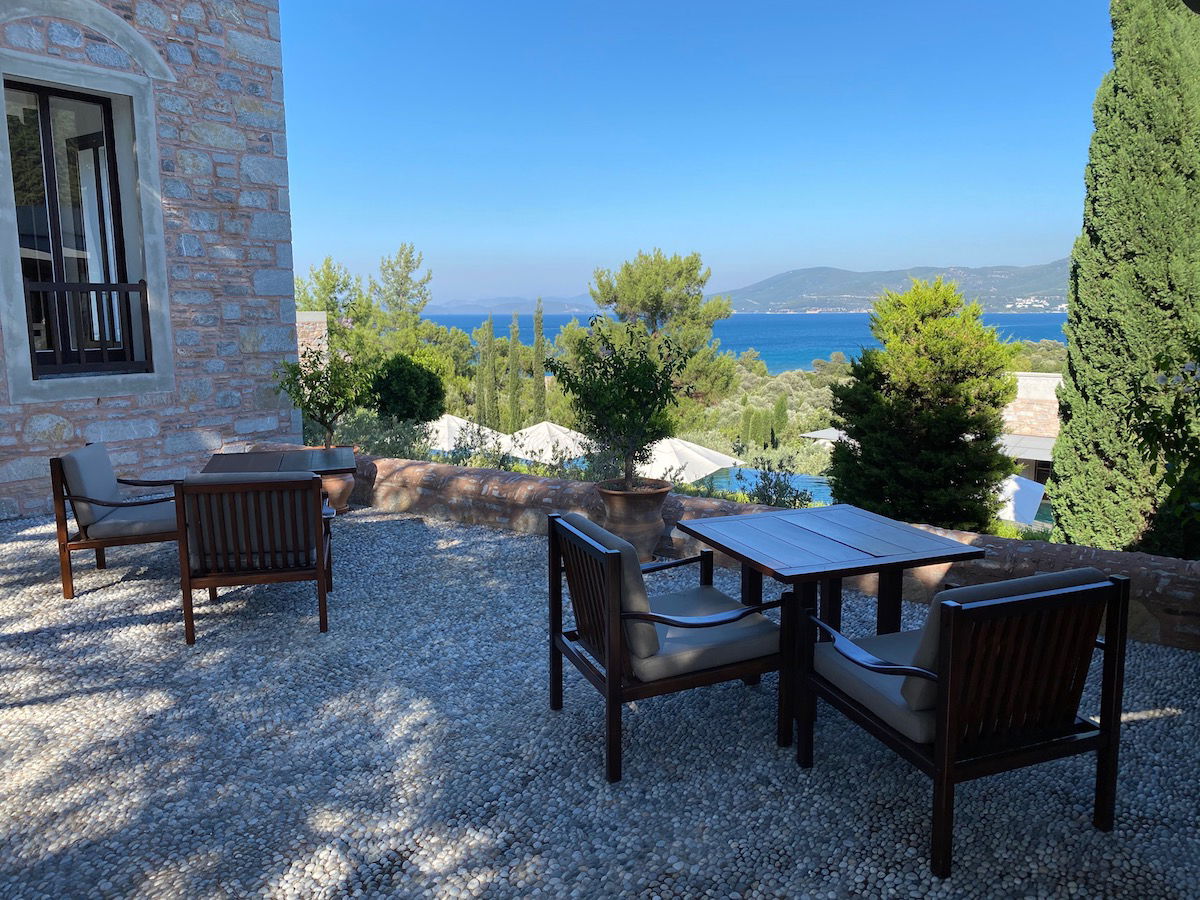 Outdoor seating at Amanruya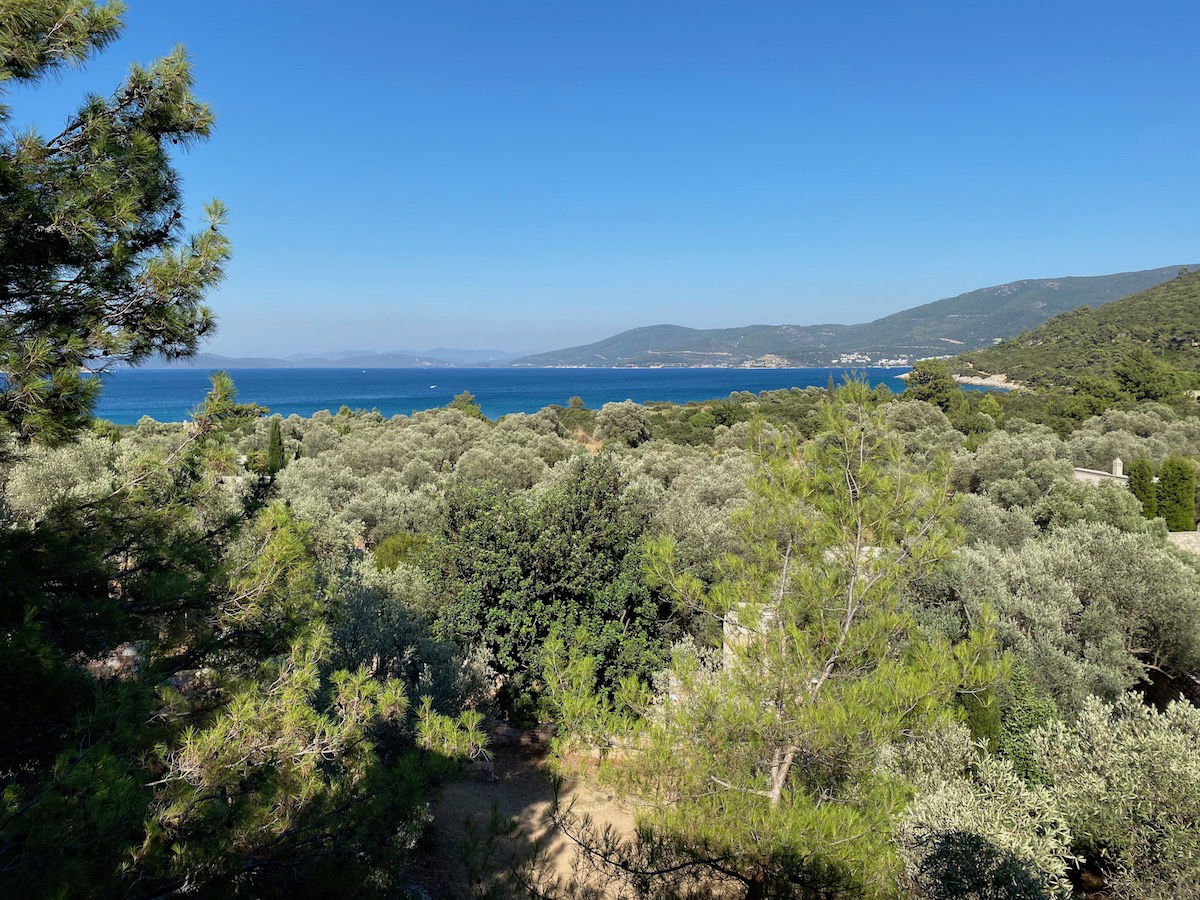 Amanruya sea view
Dining at Amanruya
Amanruya has one main restaurant, where breakfast, lunch, and dinner, are served. This is right next to the pool. It includes three separate buildings with indoor seating, as well as a good number of outdoor tables.
Amanruya restaurant indoor dining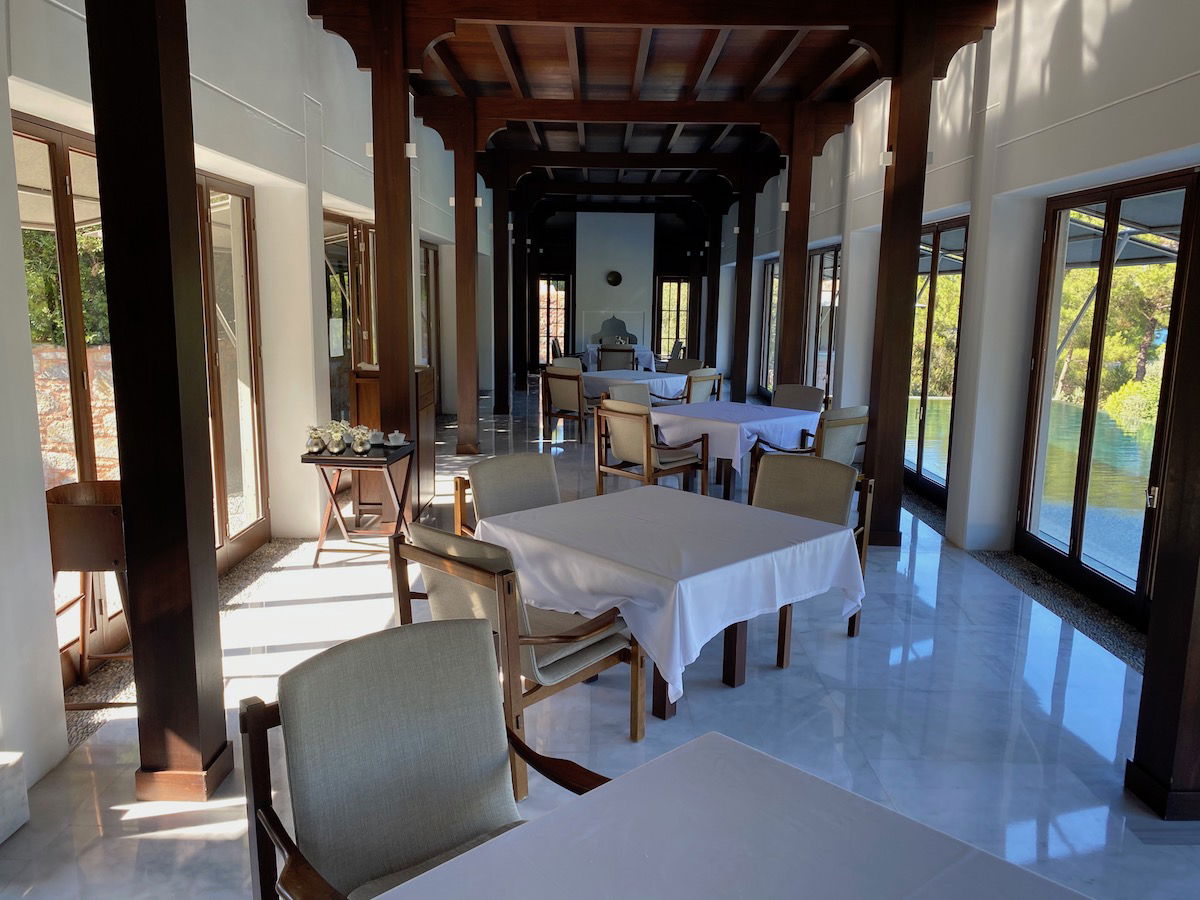 Amanruya restaurant indoor dining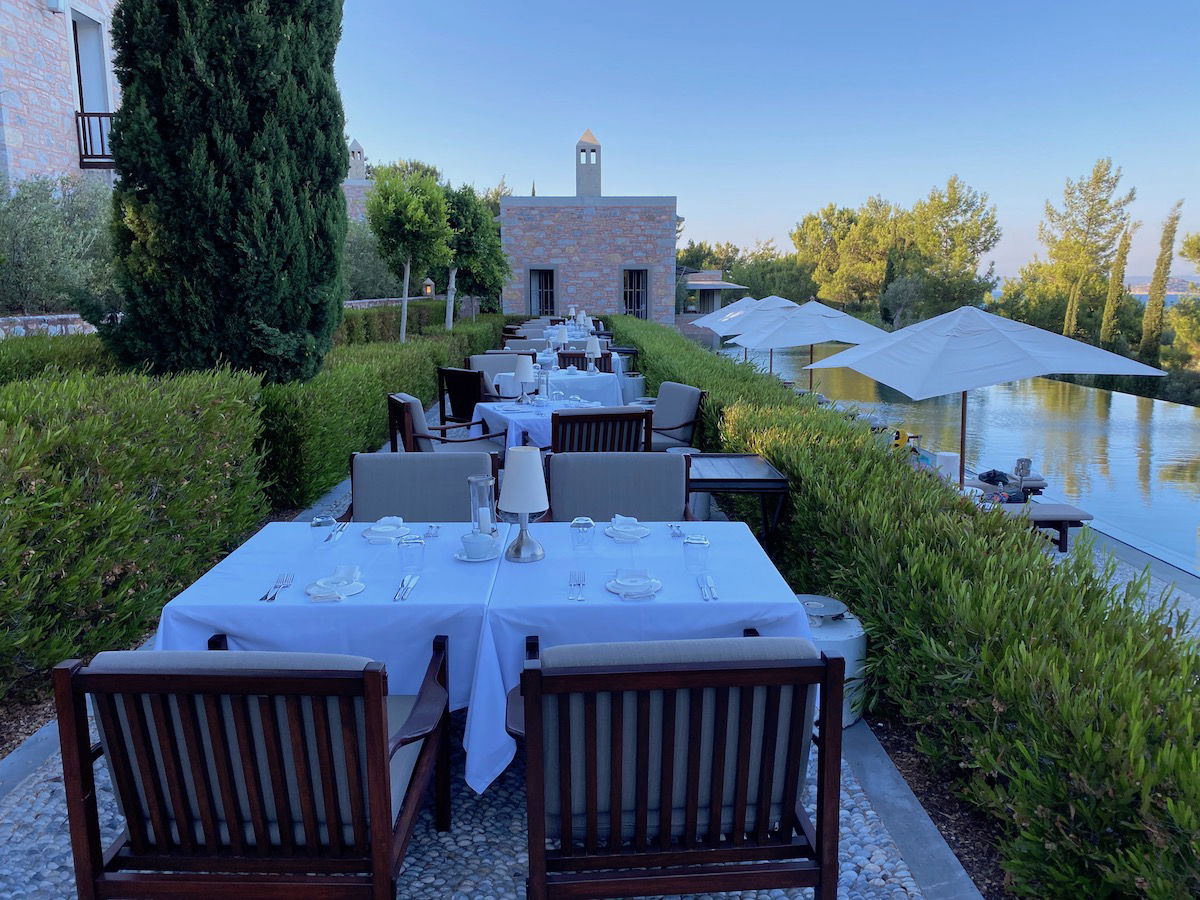 Amanruya restaurant outdoor dining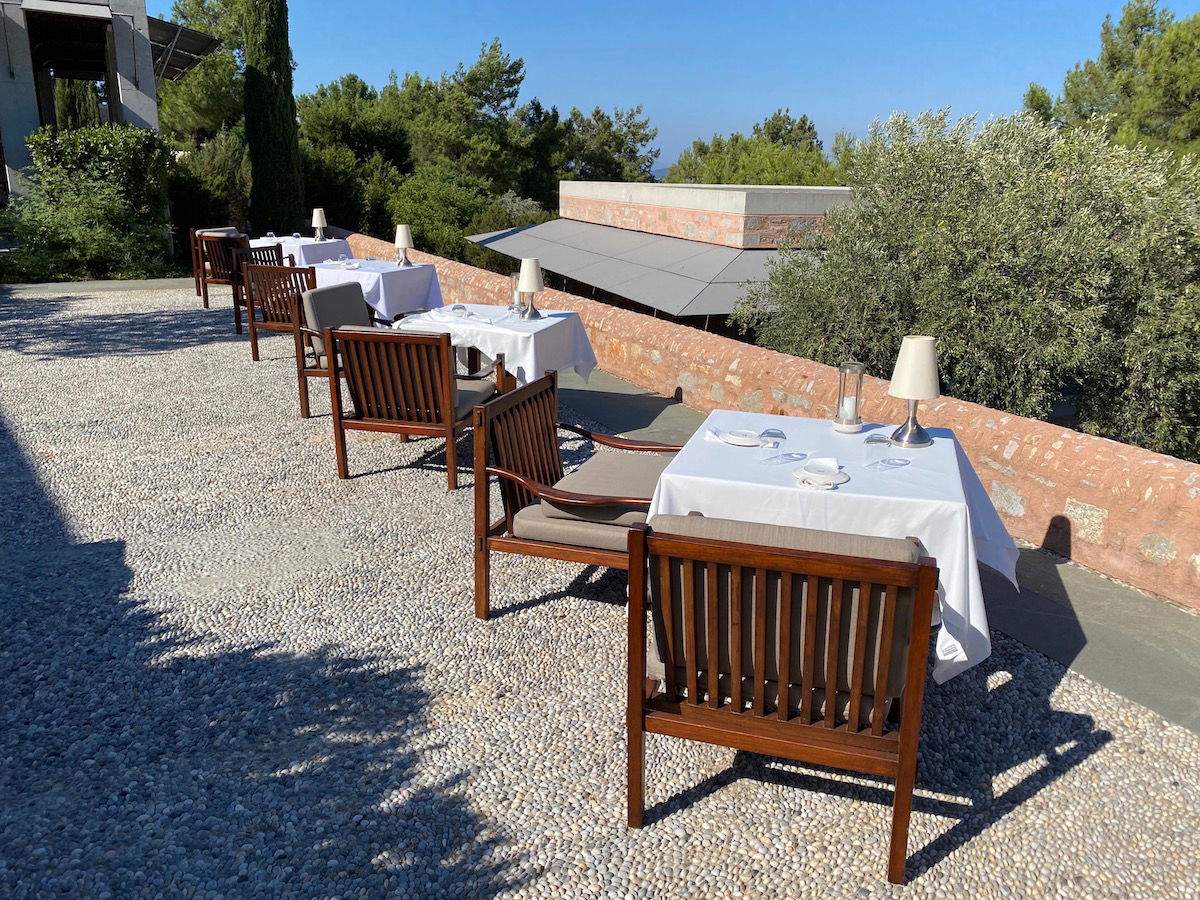 Amanruya restaurant outdoor dining
Then as mentioned above, the beach club serves lunch.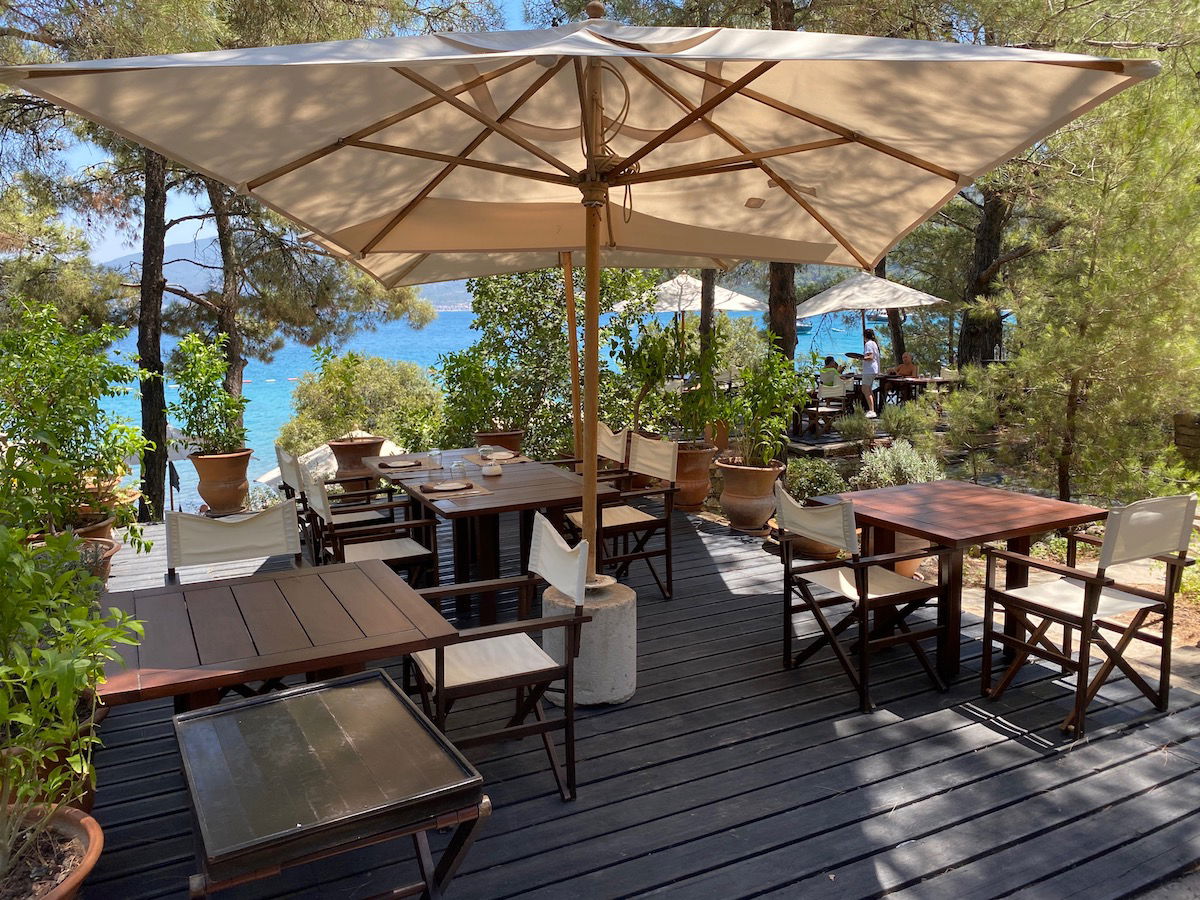 Amanruya beach club dining
Lastly there's room service, should you prefer to dine in privacy.
Breakfast
Our rate included breakfast, which was served daily from 8AM until 11AM. The breakfast menu consisted of either a traditional Turkish breakfast, or a large selection of options you could order individually. The menu read as follows: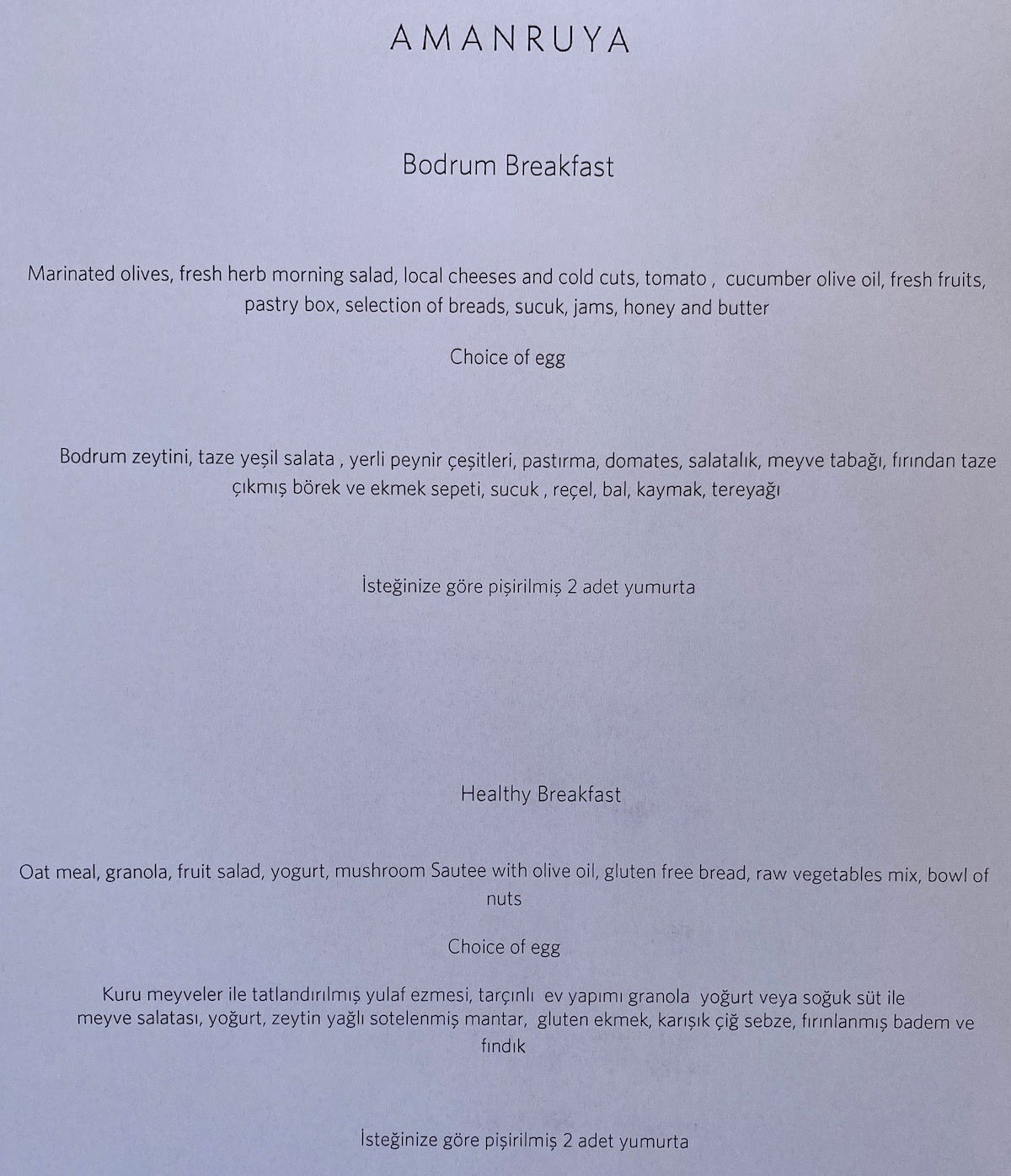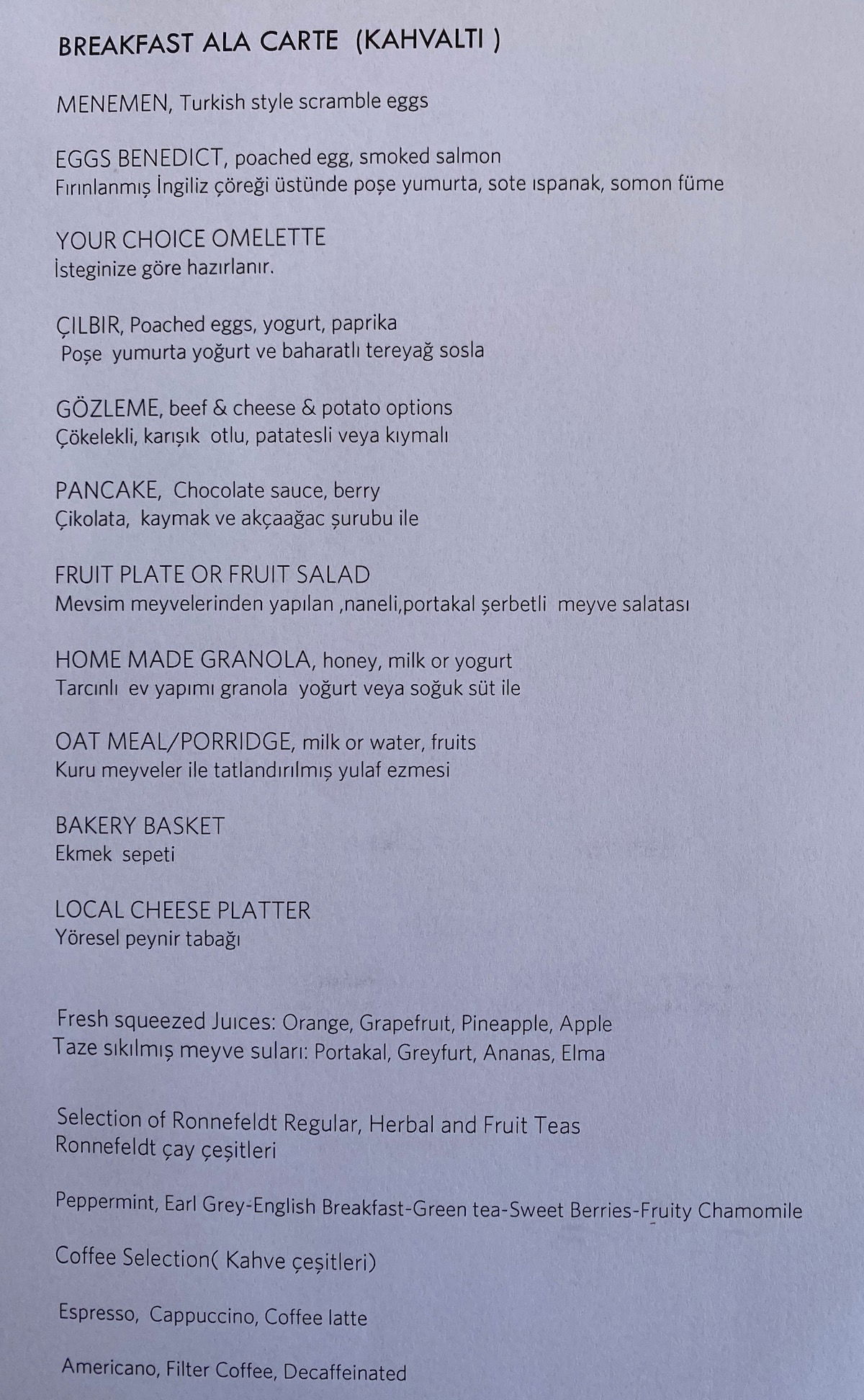 To drink we had some of the freshly squeezed juiced, and iced lattes.
Amanruya breakfast drinks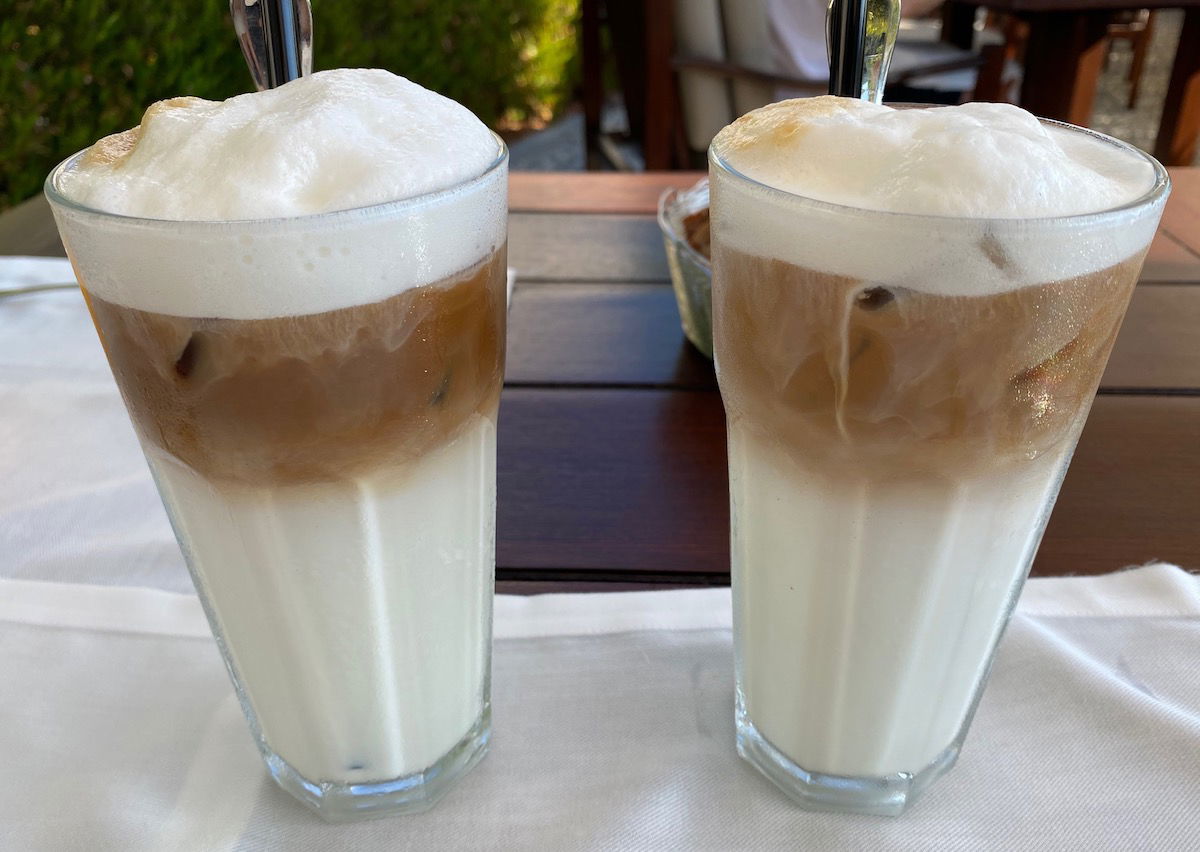 Amanruya breakfast drinks
One morning I had the homemade granola, Ford had the Çılbır (poached eggs with yogurt and paprika), and we shared the Gözleme (essentially a beef pastry).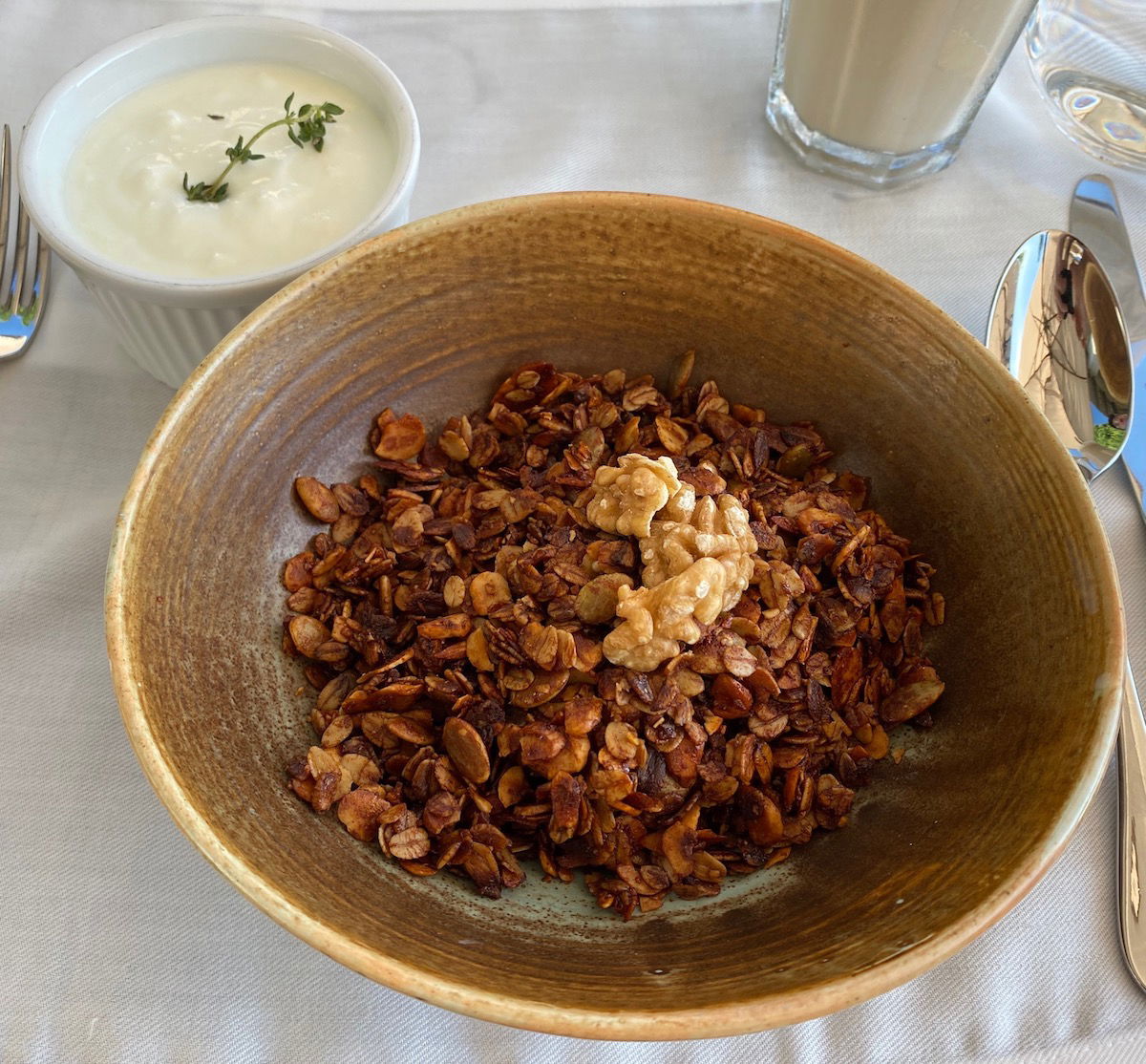 Amanruya breakfast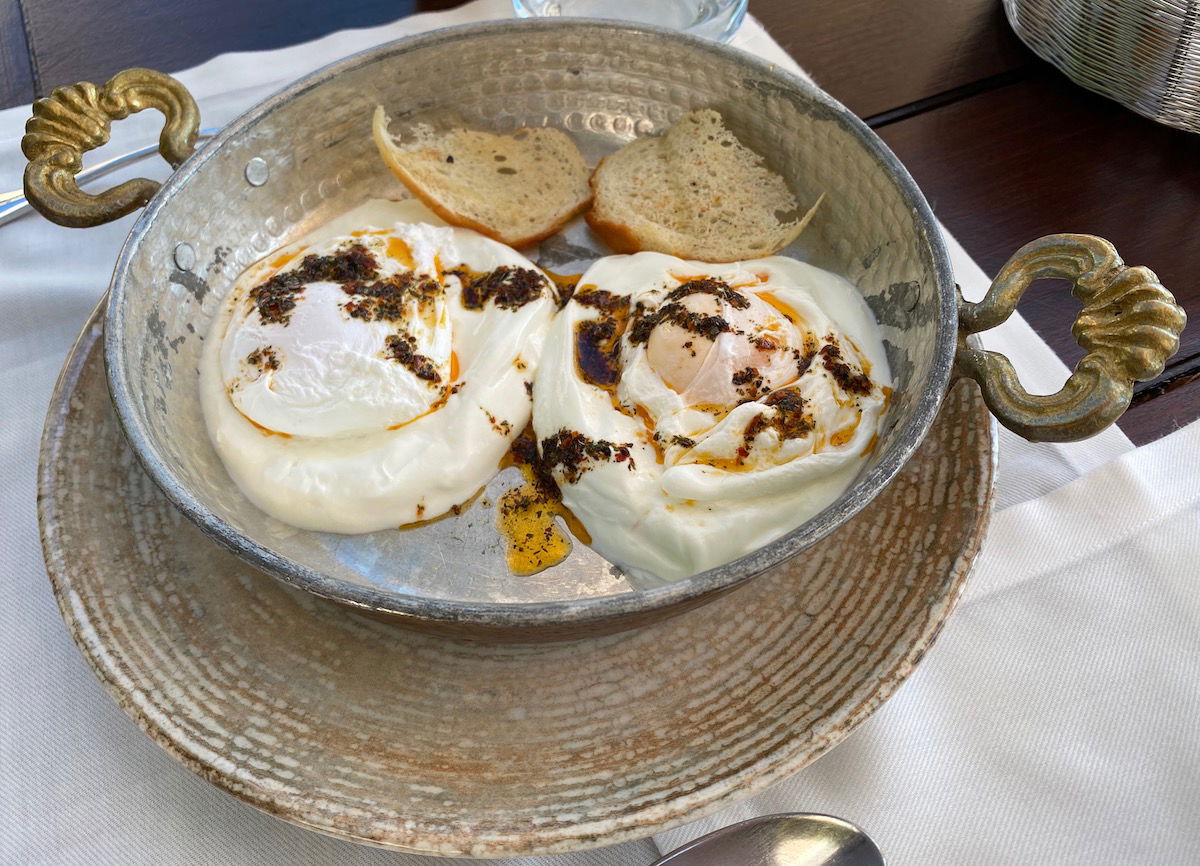 Amanruya breakfast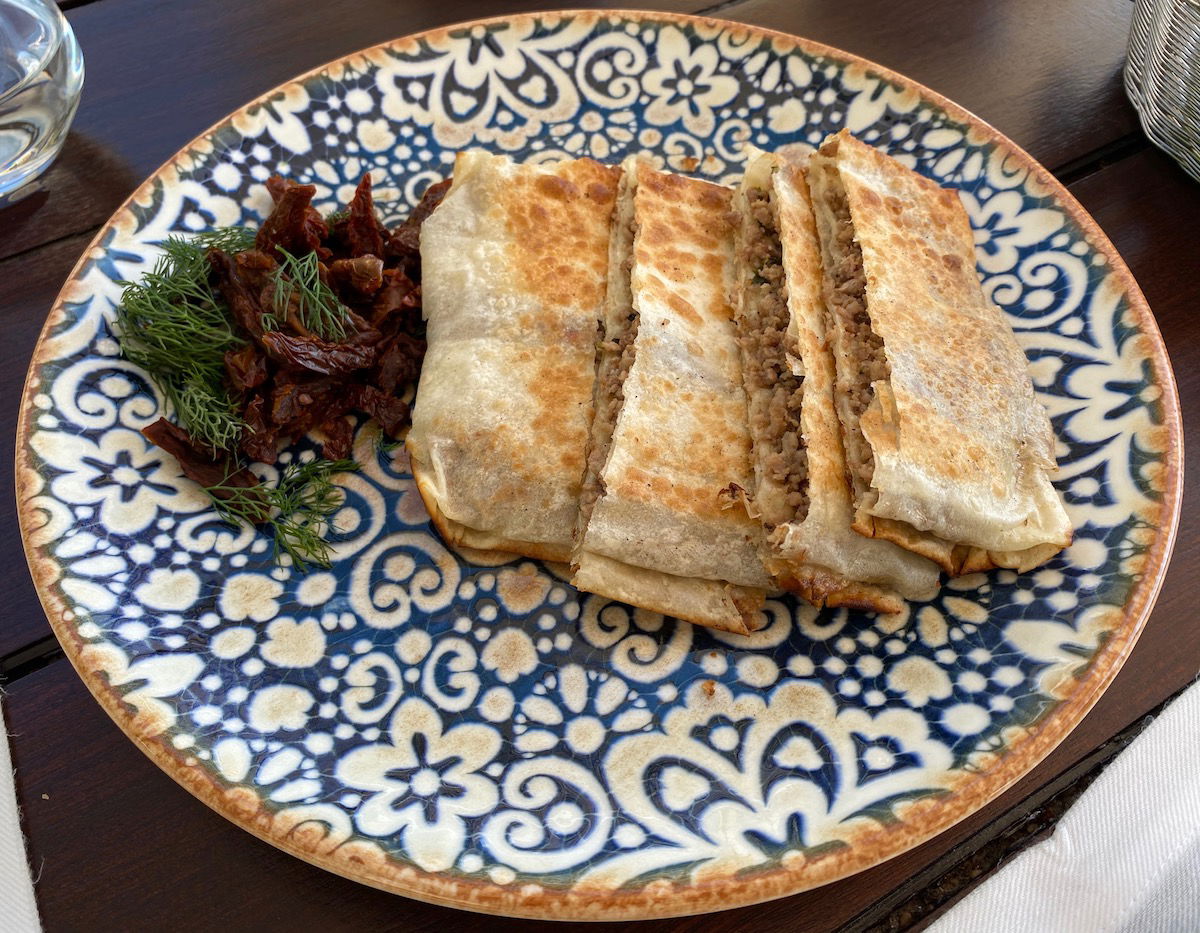 Amanruya breakfast
Another morning we had the Turkish breakfast, which was similar to what we received at other hotels.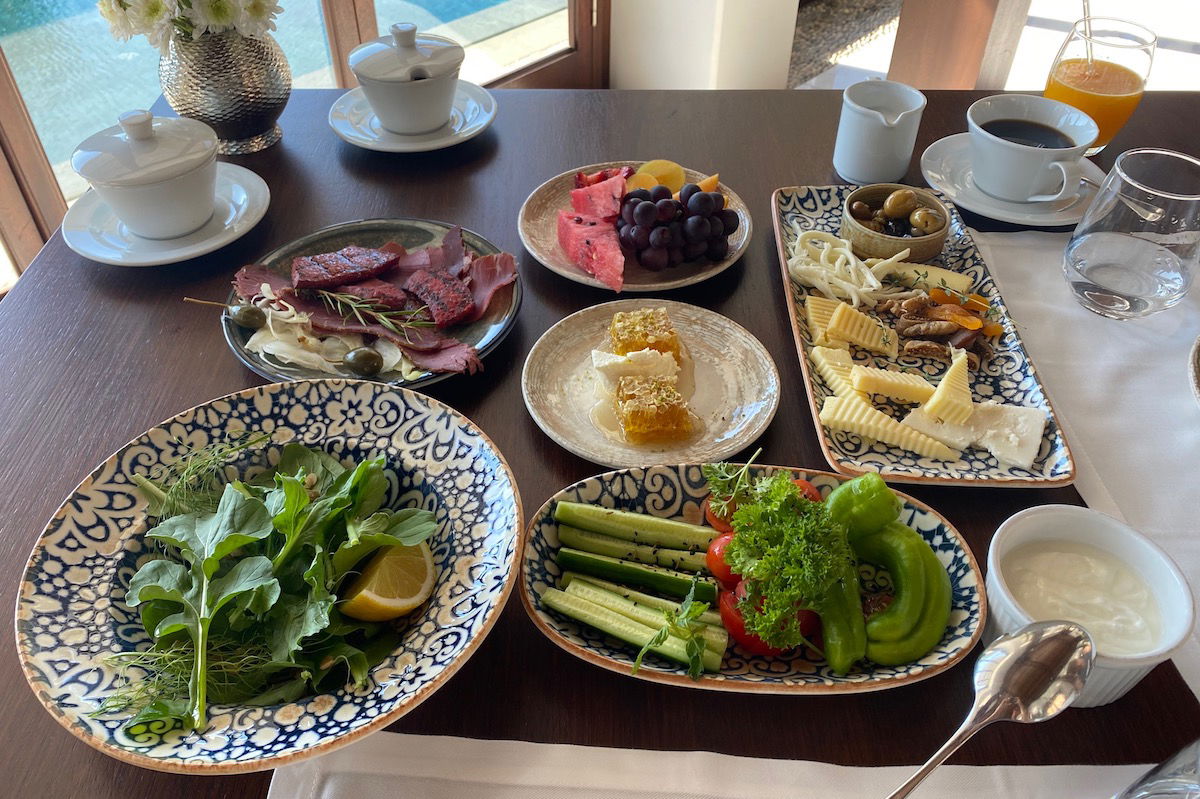 Amanruya breakfast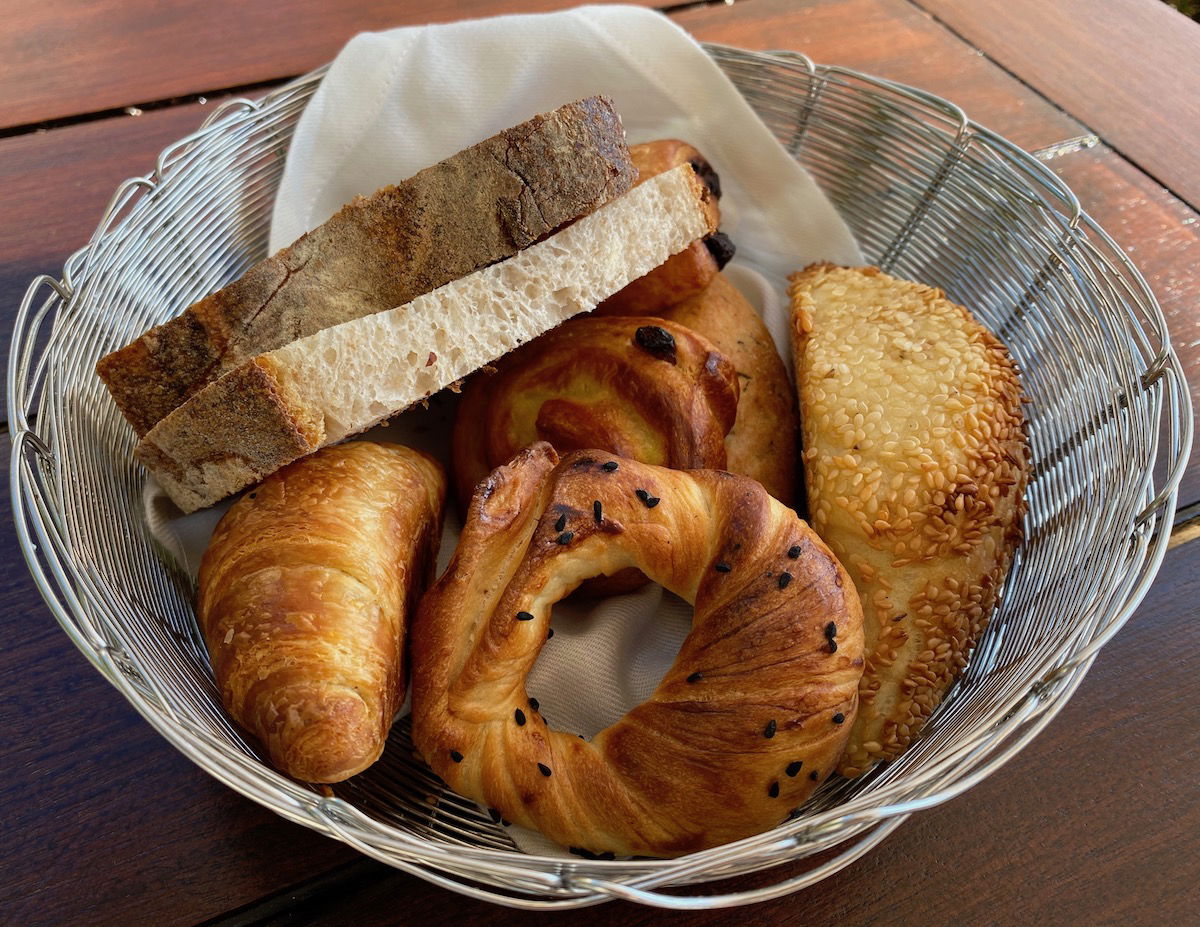 Amanruya breakfast
That also came with the choice of eggs, and I had the Menemen.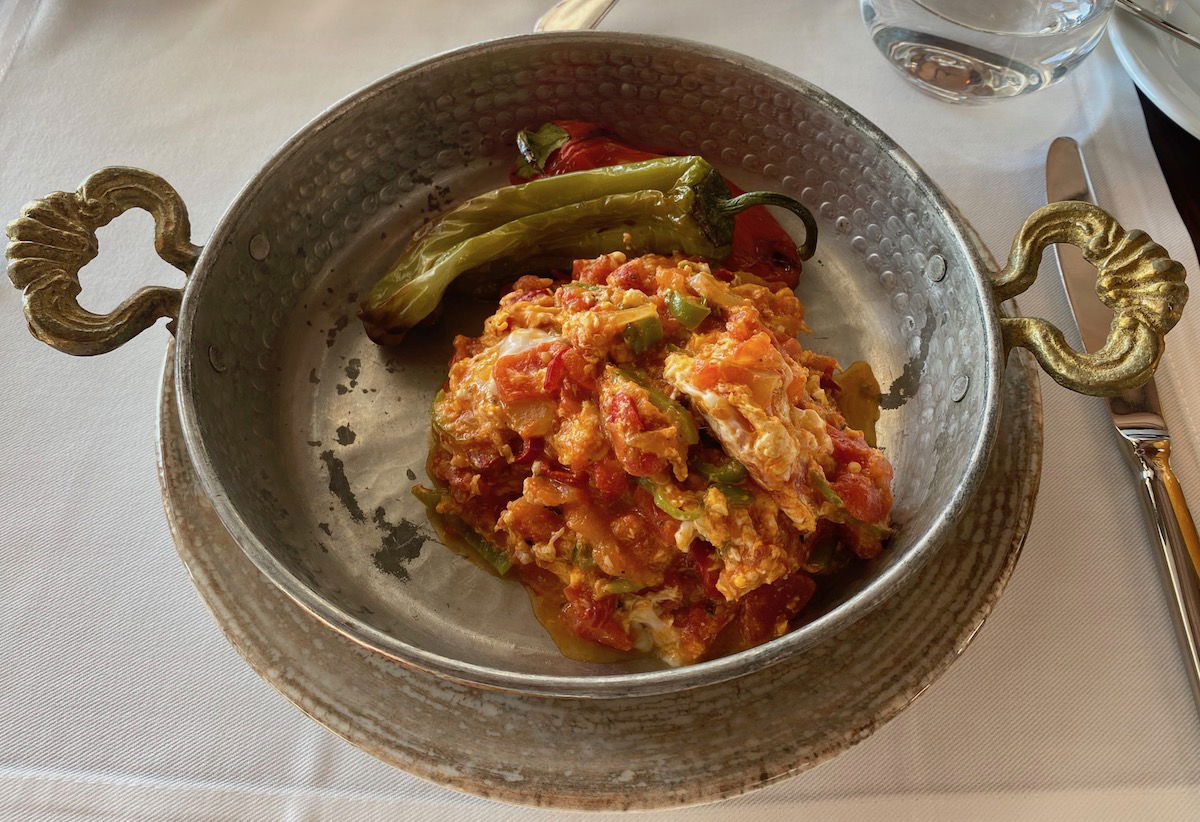 Amanruya breakfast
Lunch
We had lunch at Amanruya twice, once at the main restaurant, and once at the beach club.
The lunch menu in the main restaurant read as follows: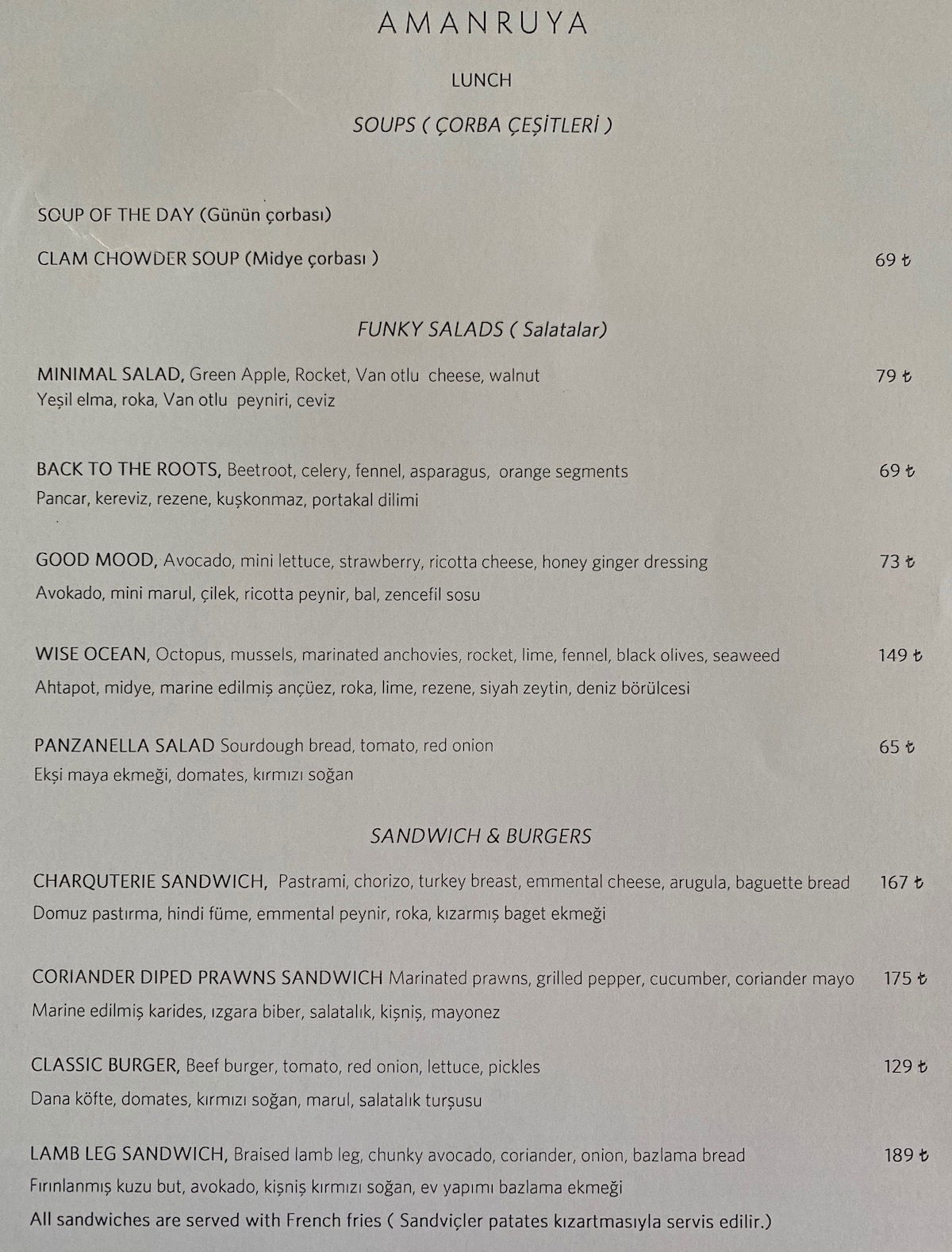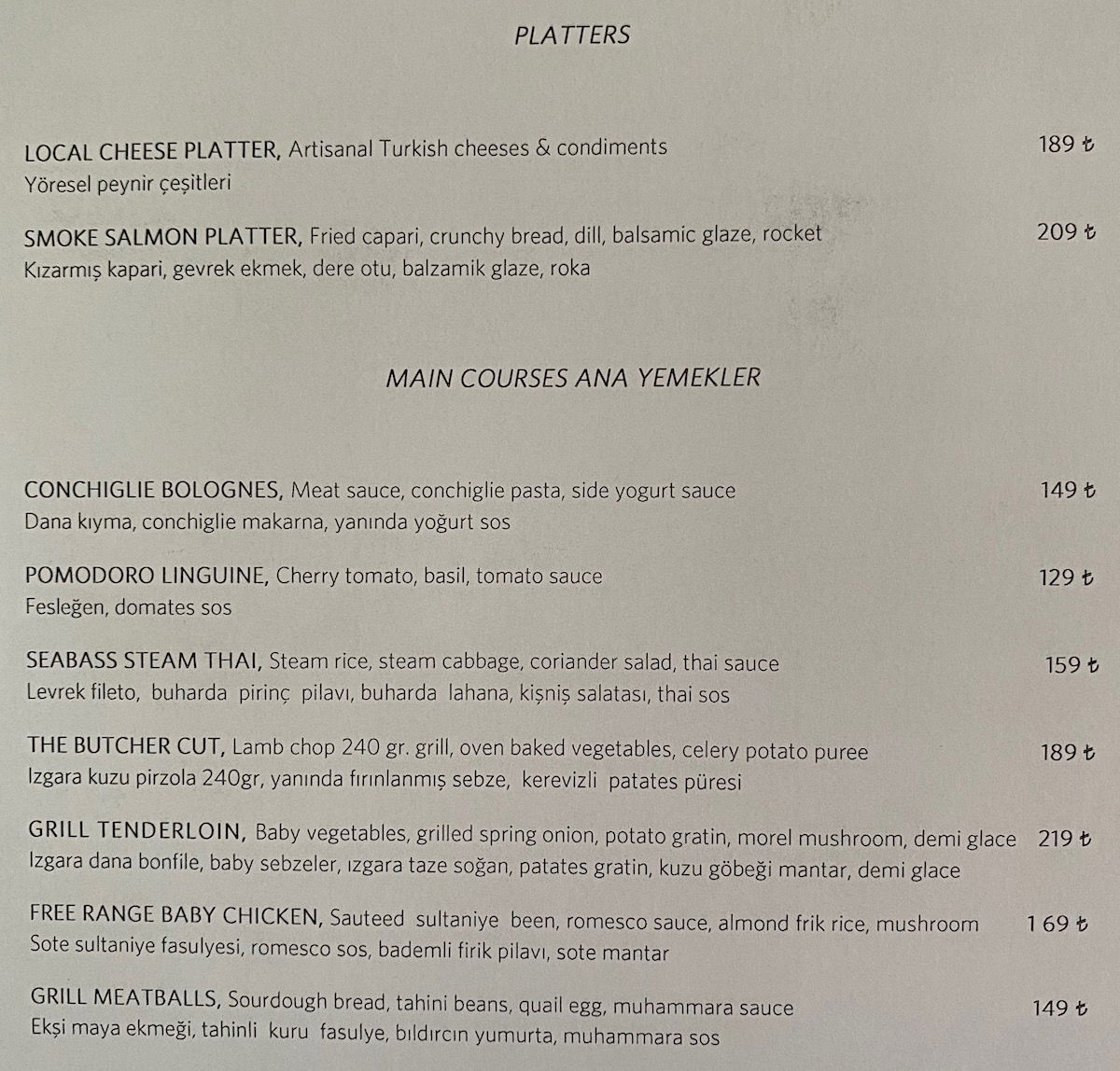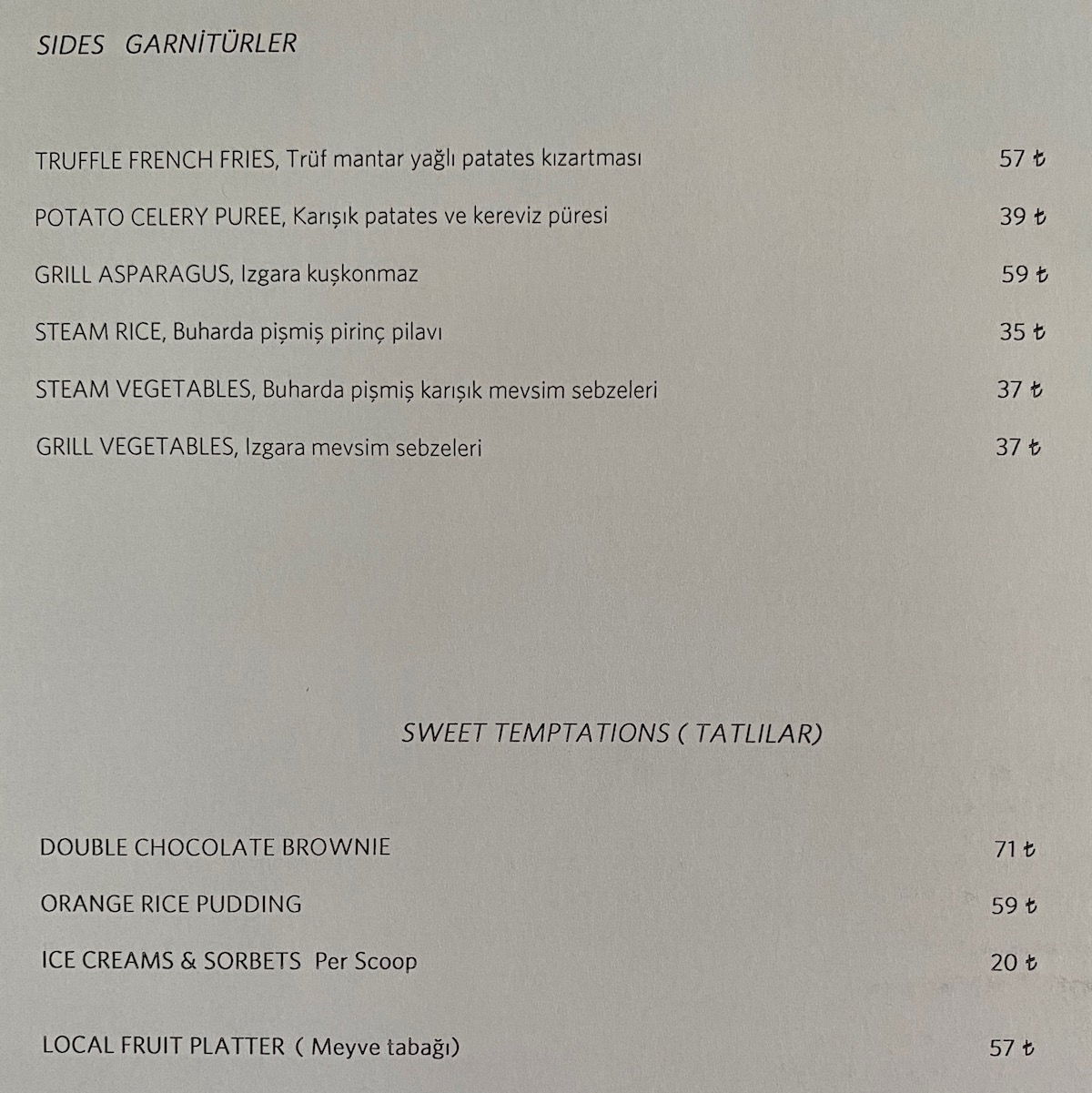 We had the panzanella salad to share, and then I had the Thai seabass, while Ford had the grilled meatballs.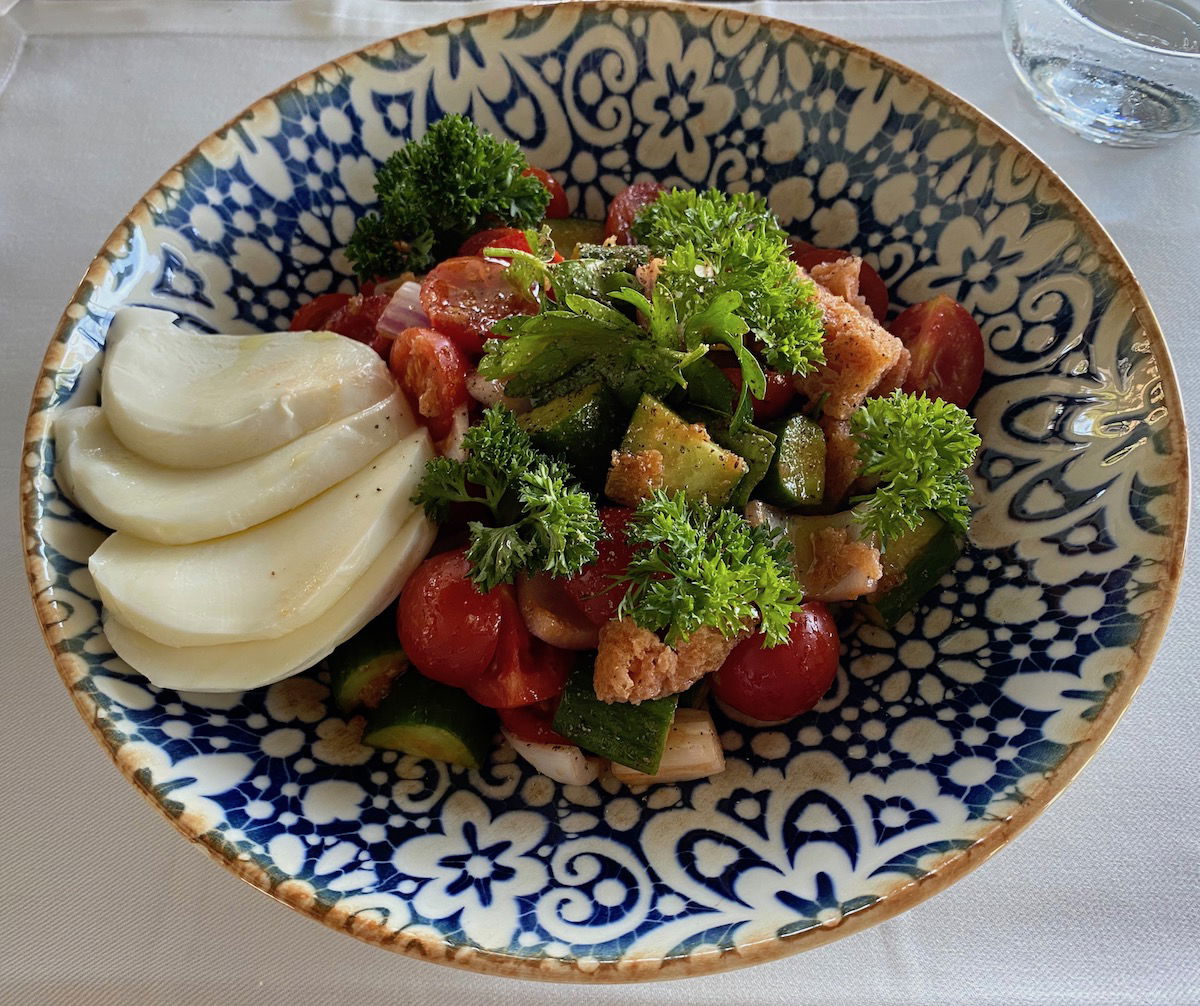 Amanruya lunch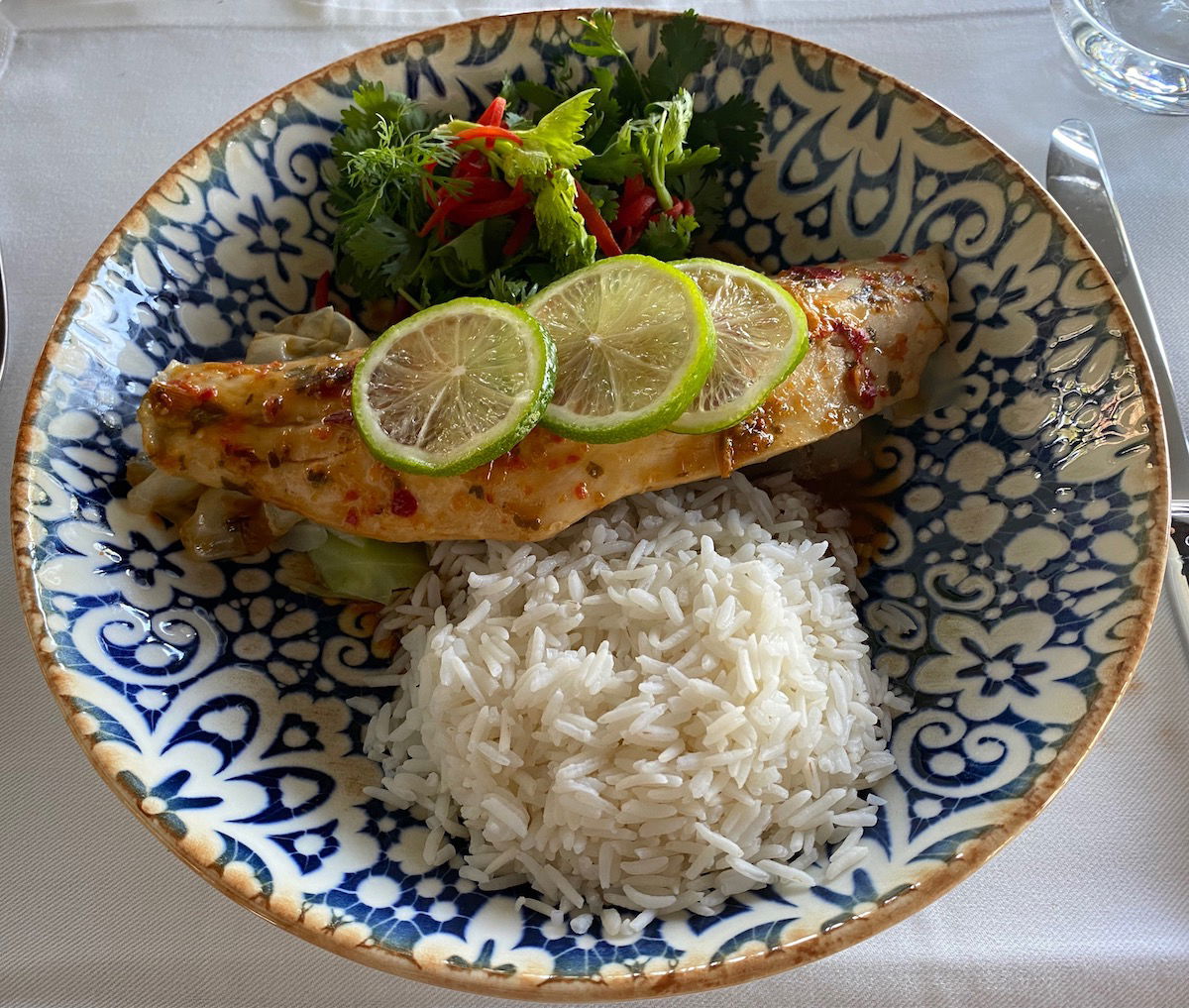 Amanruya lunch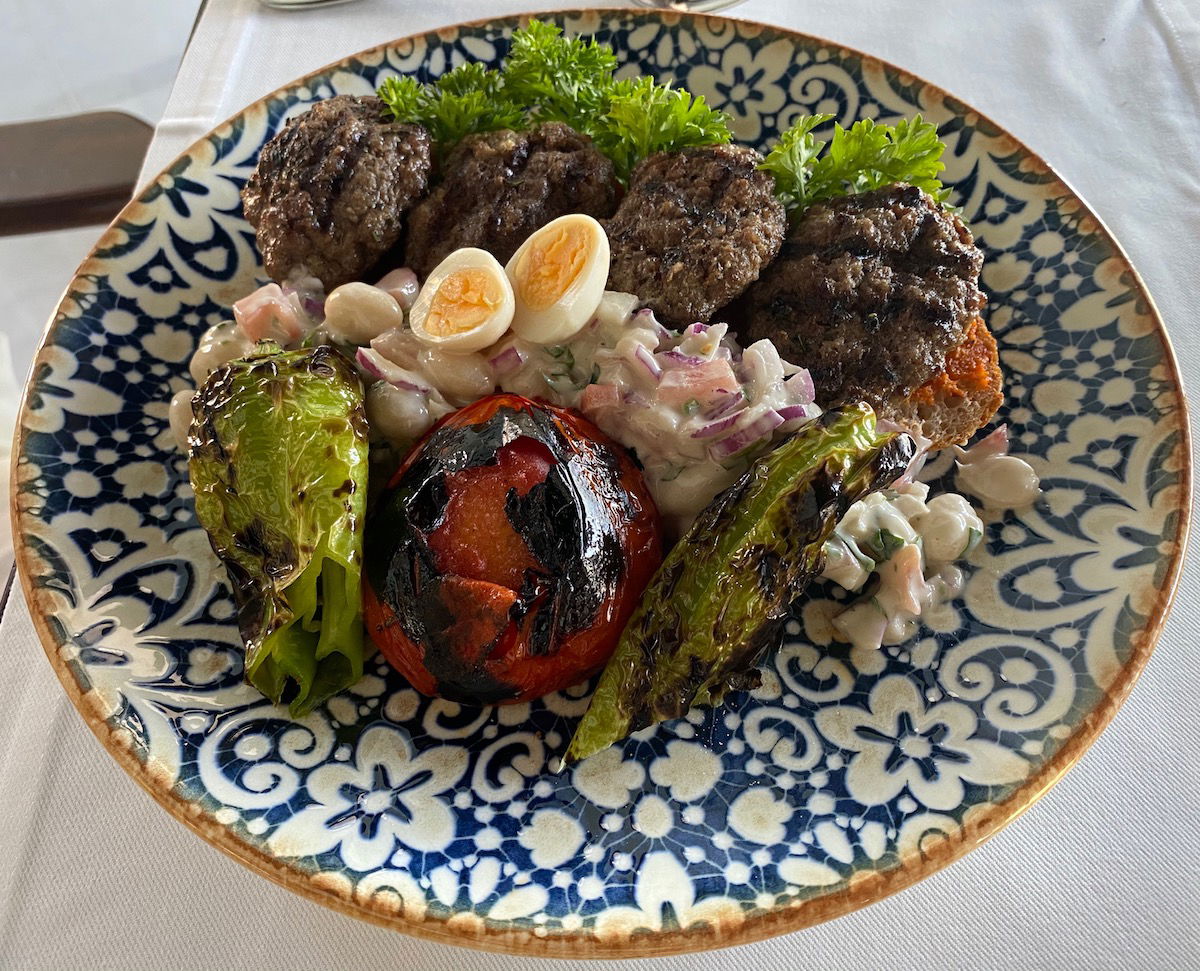 Amanruya lunch
The beach club menu was a bit different thanks to the wood oven there, so they had Pide, Lahmajoun, and more. That menu read as follows: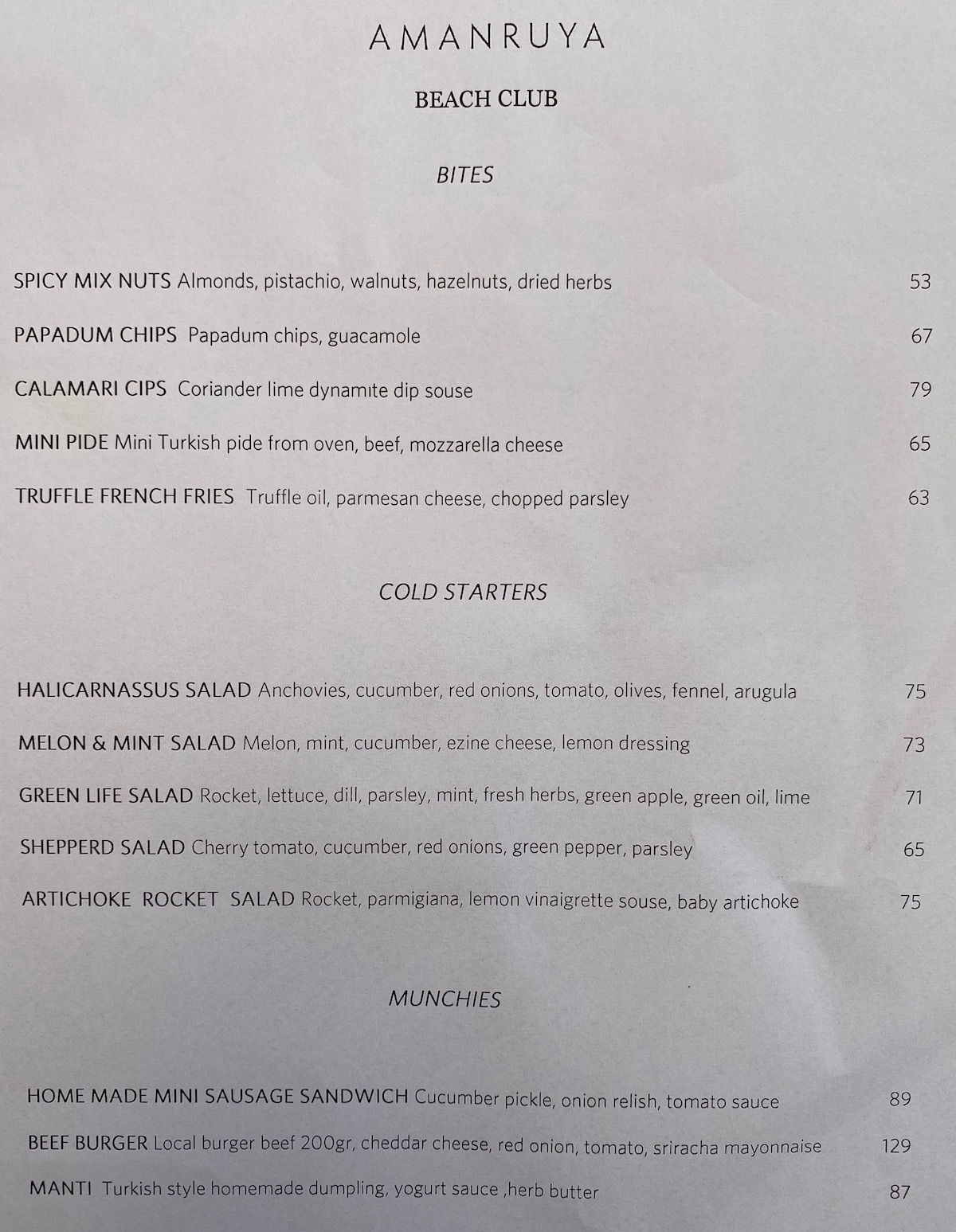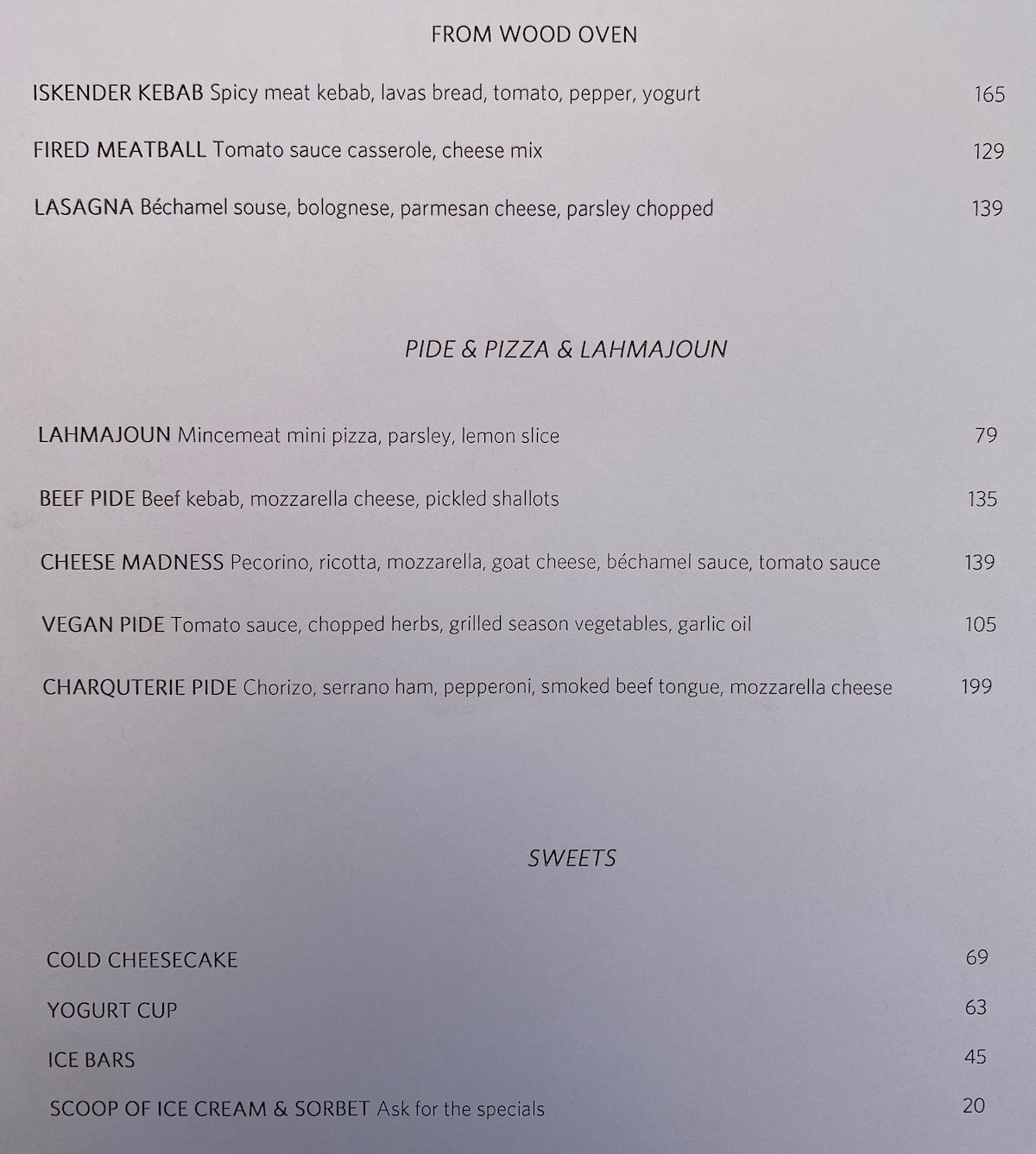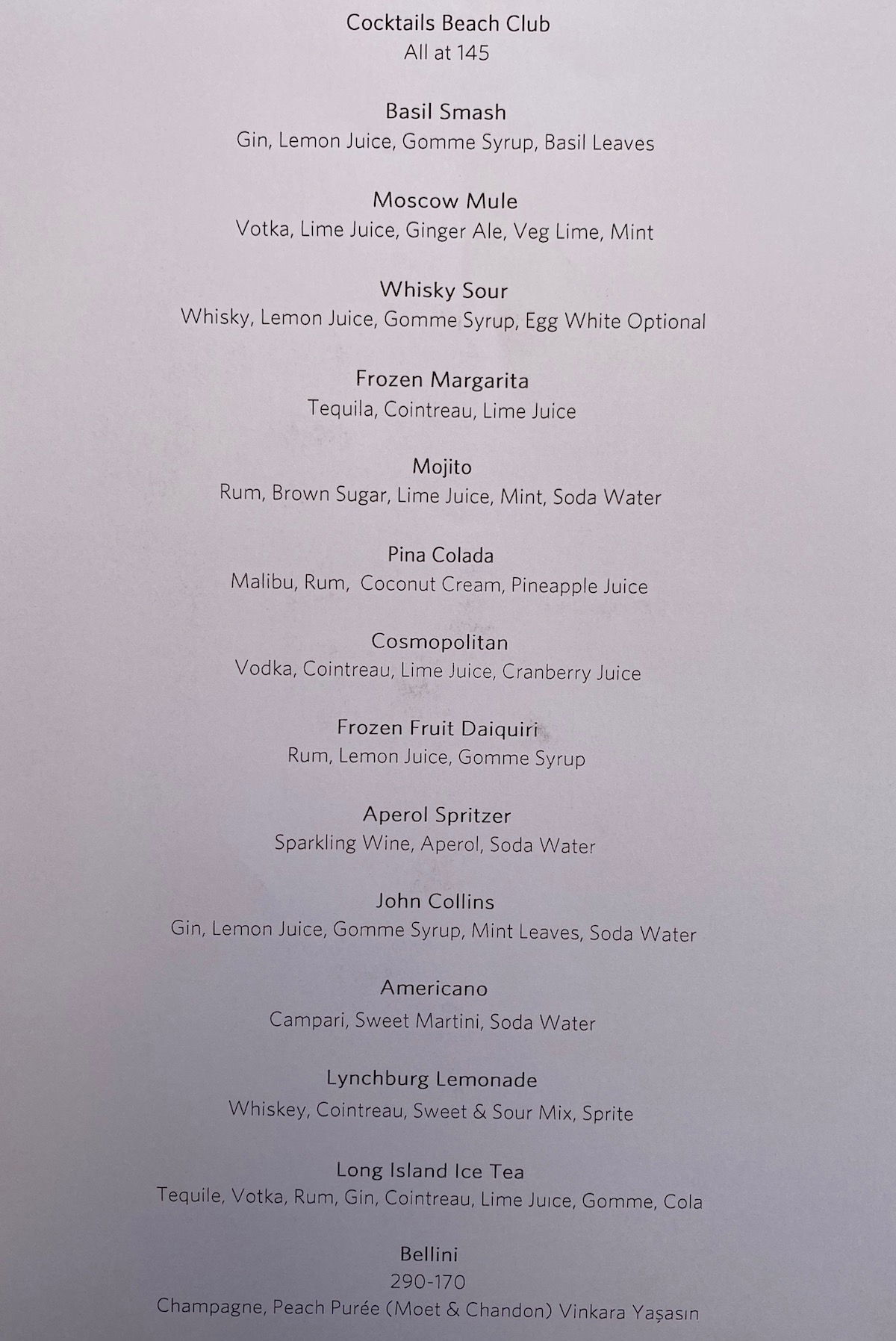 Ford had a basil smash to drink, which was his favorite drink here.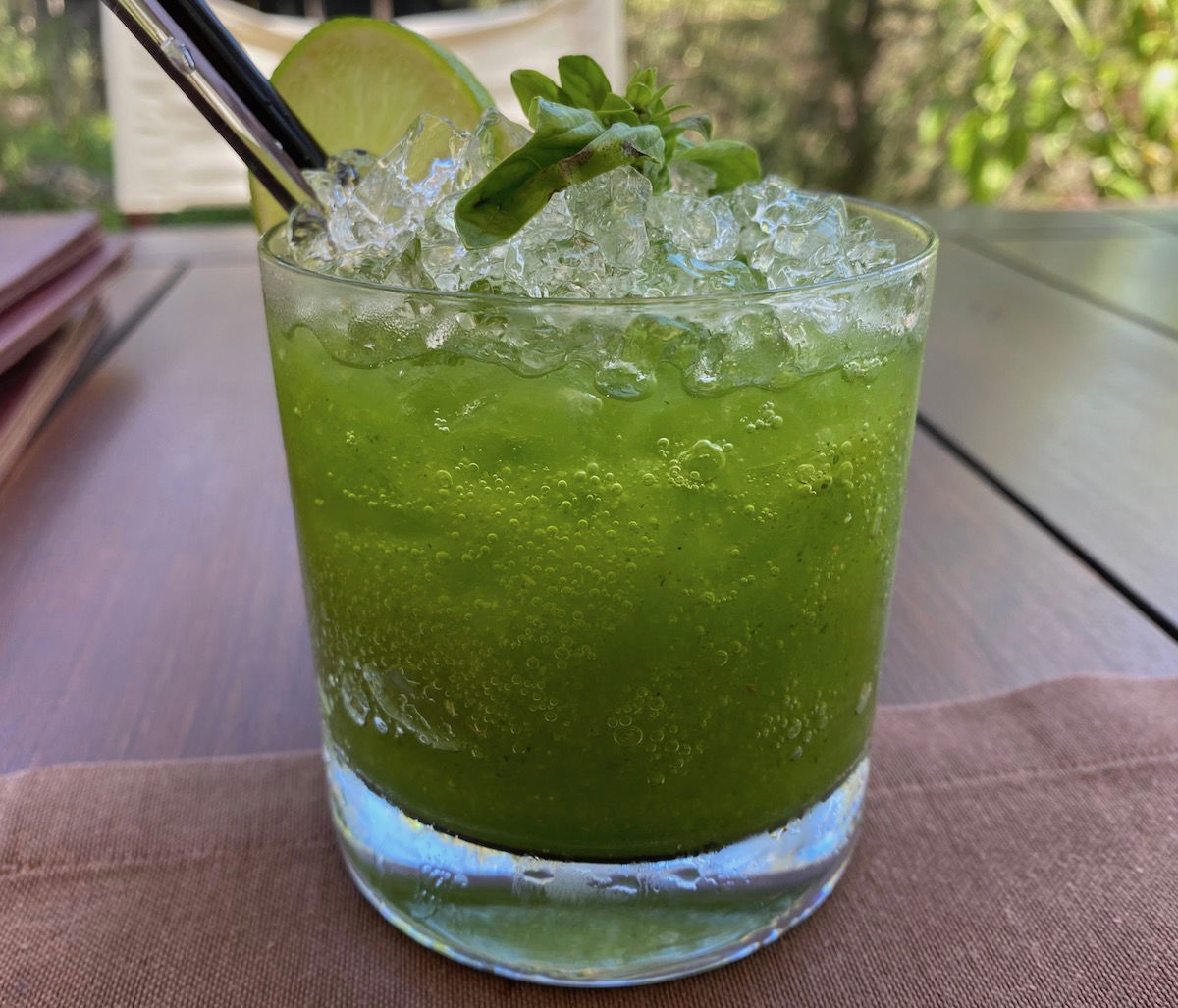 Amanruya beach club lunch drinks
To start I had a shepherd salad, and Ford had an artichoke rocket salad.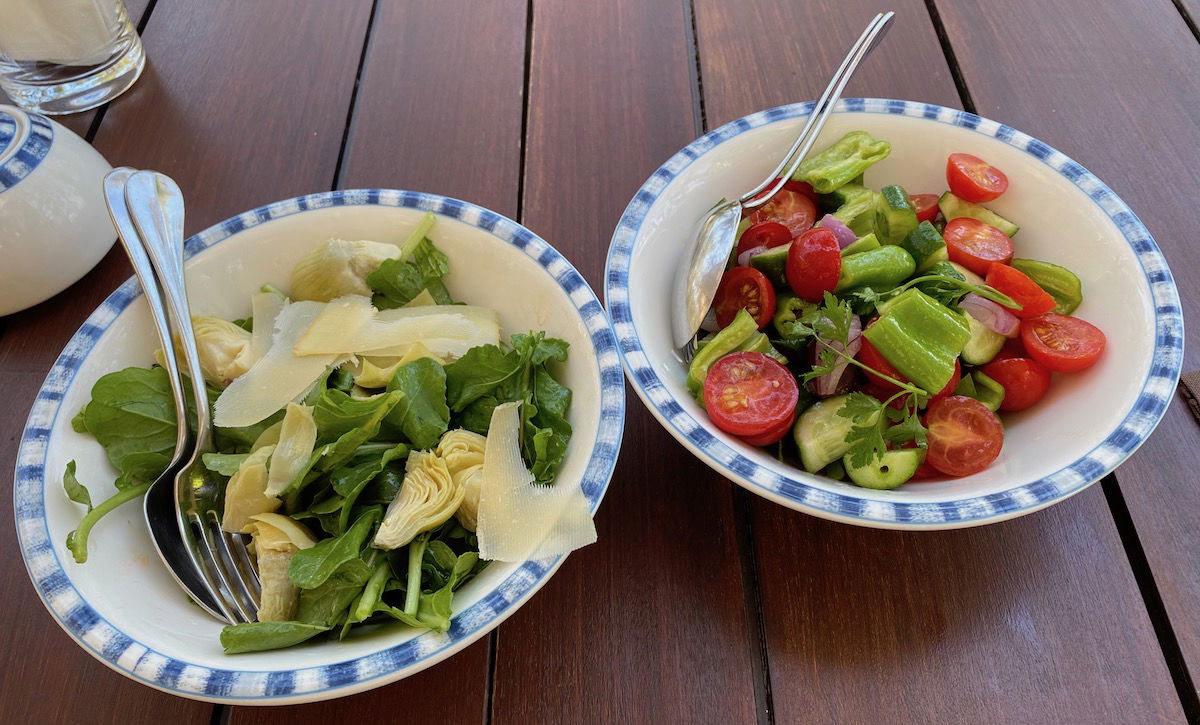 Amanruya beach club lunch
Then I had the vegan pide, while Ford had the meatballs.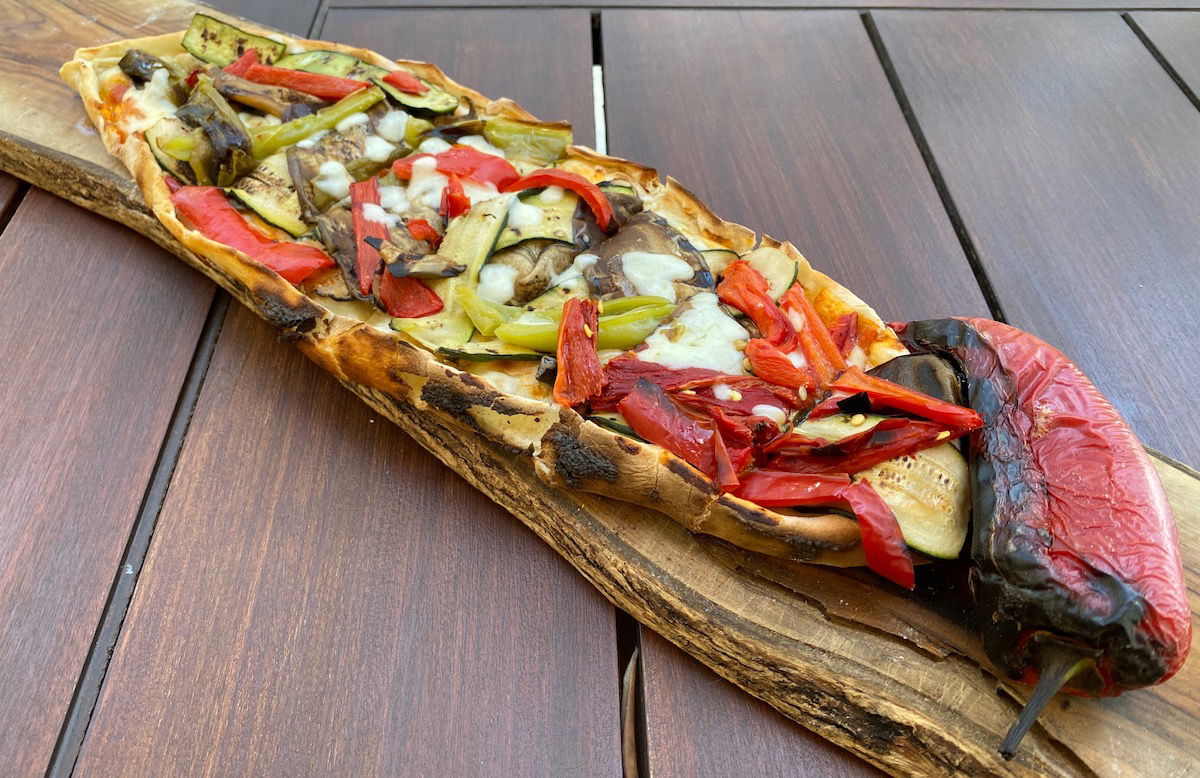 Amanruya beach club lunch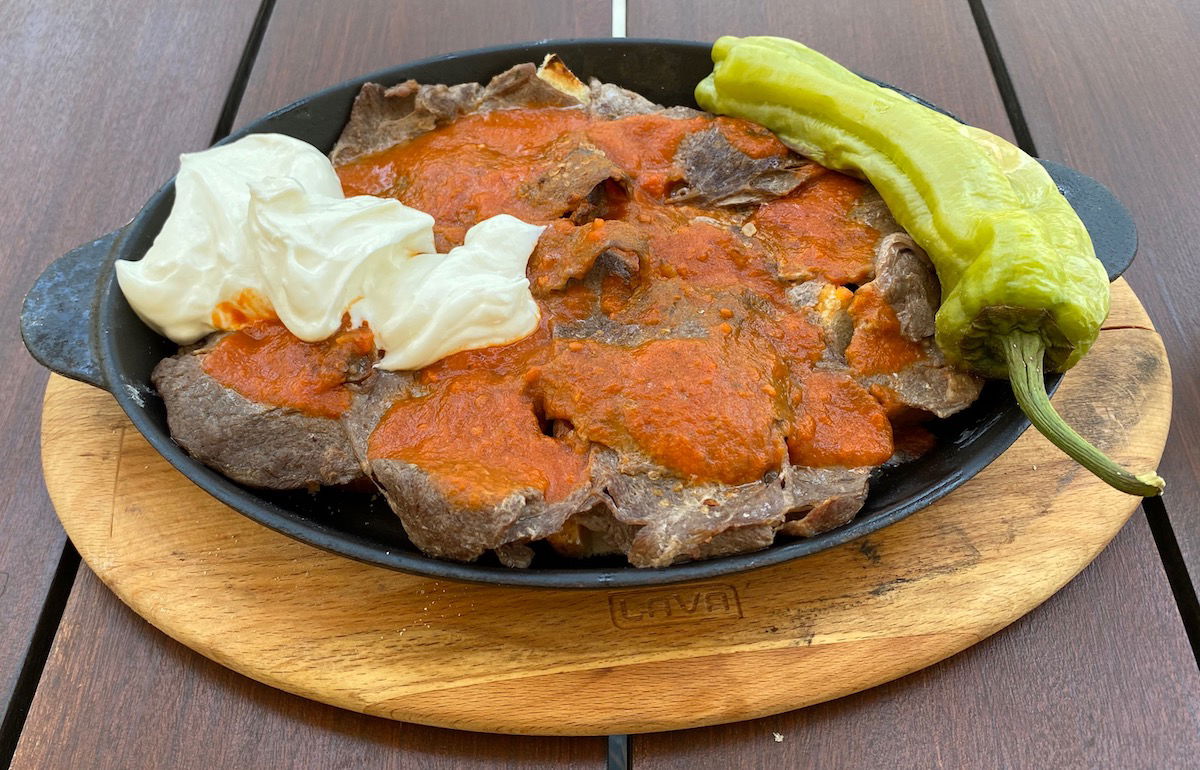 Amanruya beach club lunch
In general lunch was probably our favorite meal at Amanruya.
Dinner
We had dinner at Amanruya for two nights of our stay. The dinner menu in the restaurant read as follows: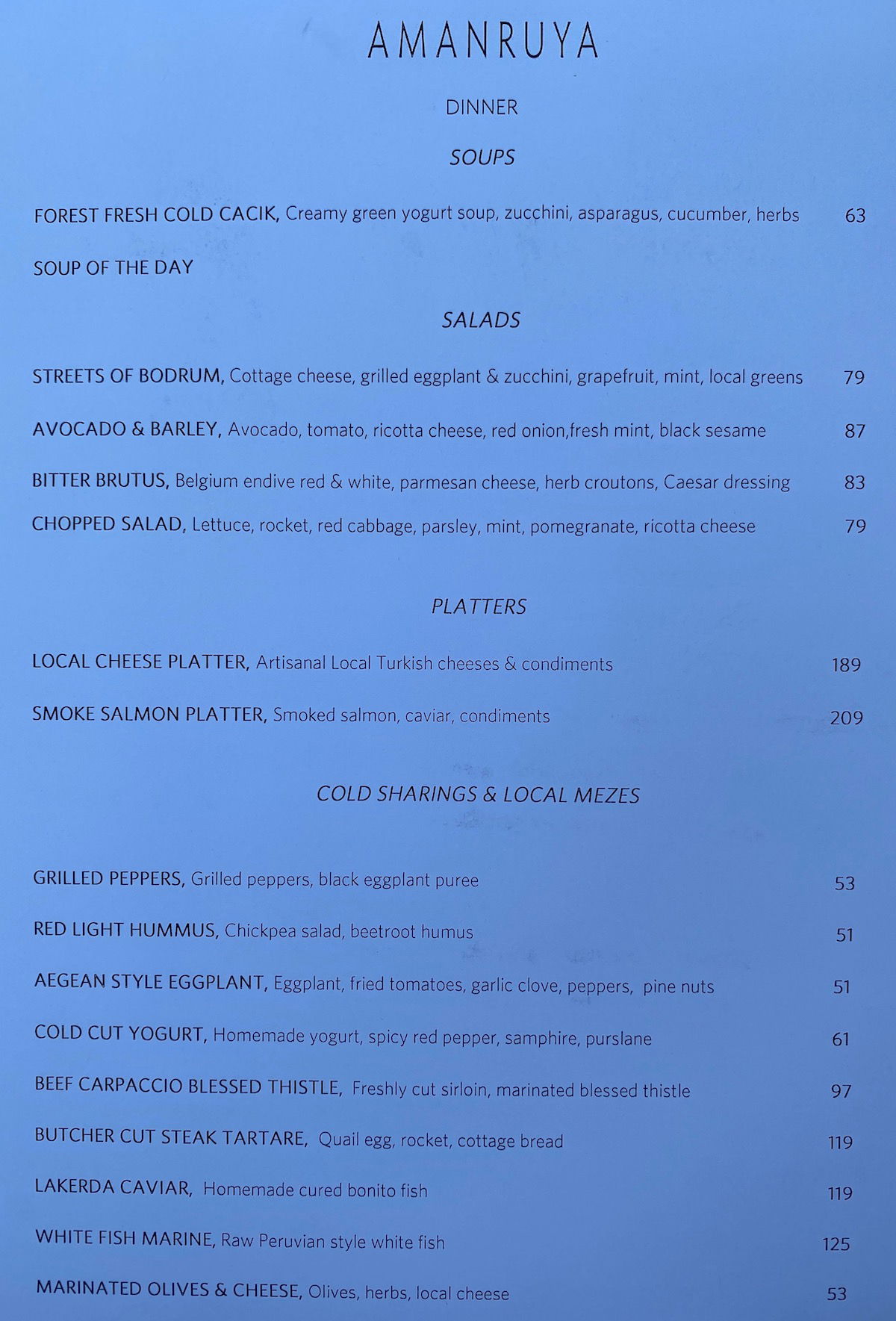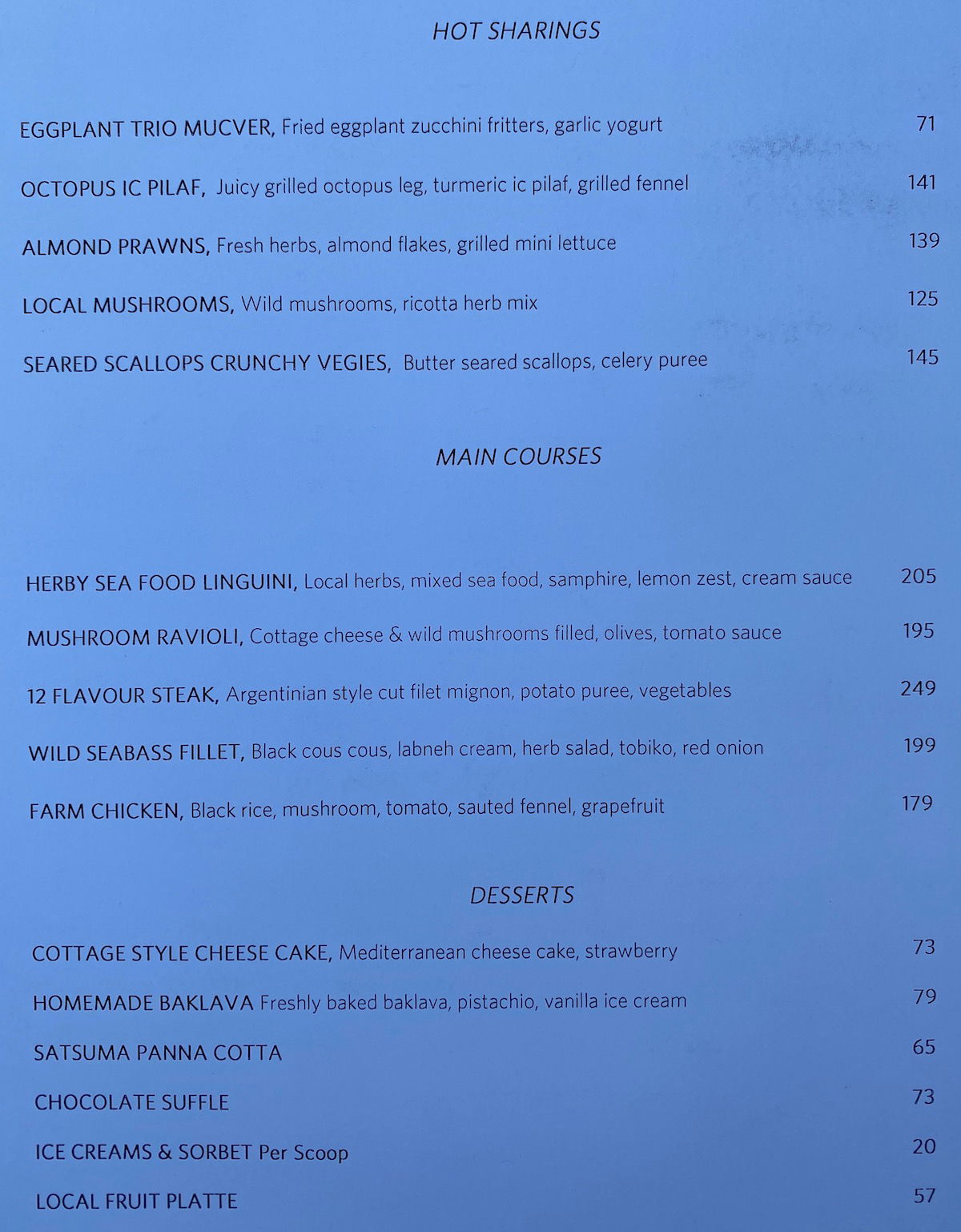 To start we split the hummus and eggplant.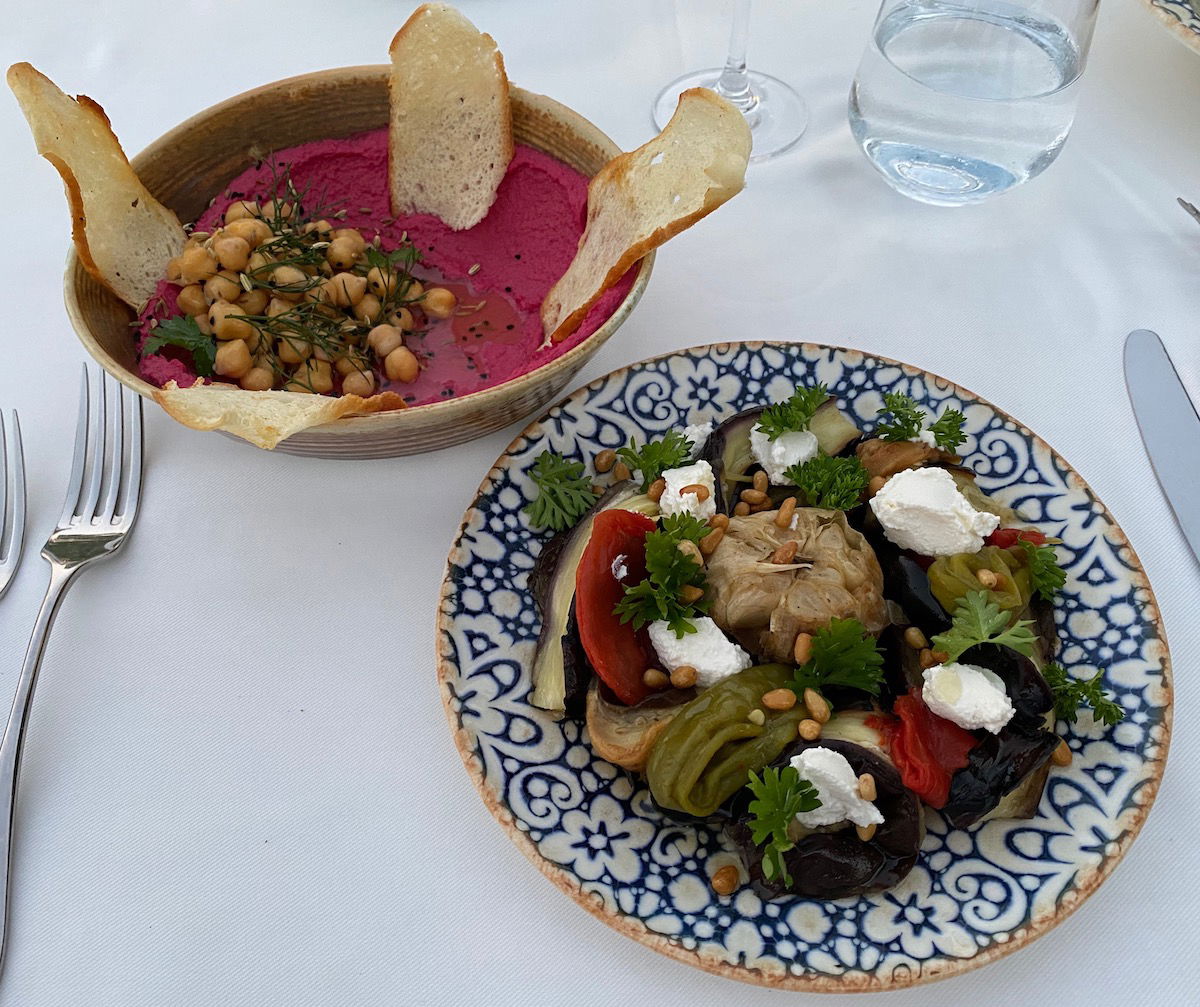 Amanruya dinner
Then for the main I had the seabass, while Ford had the beef tartare.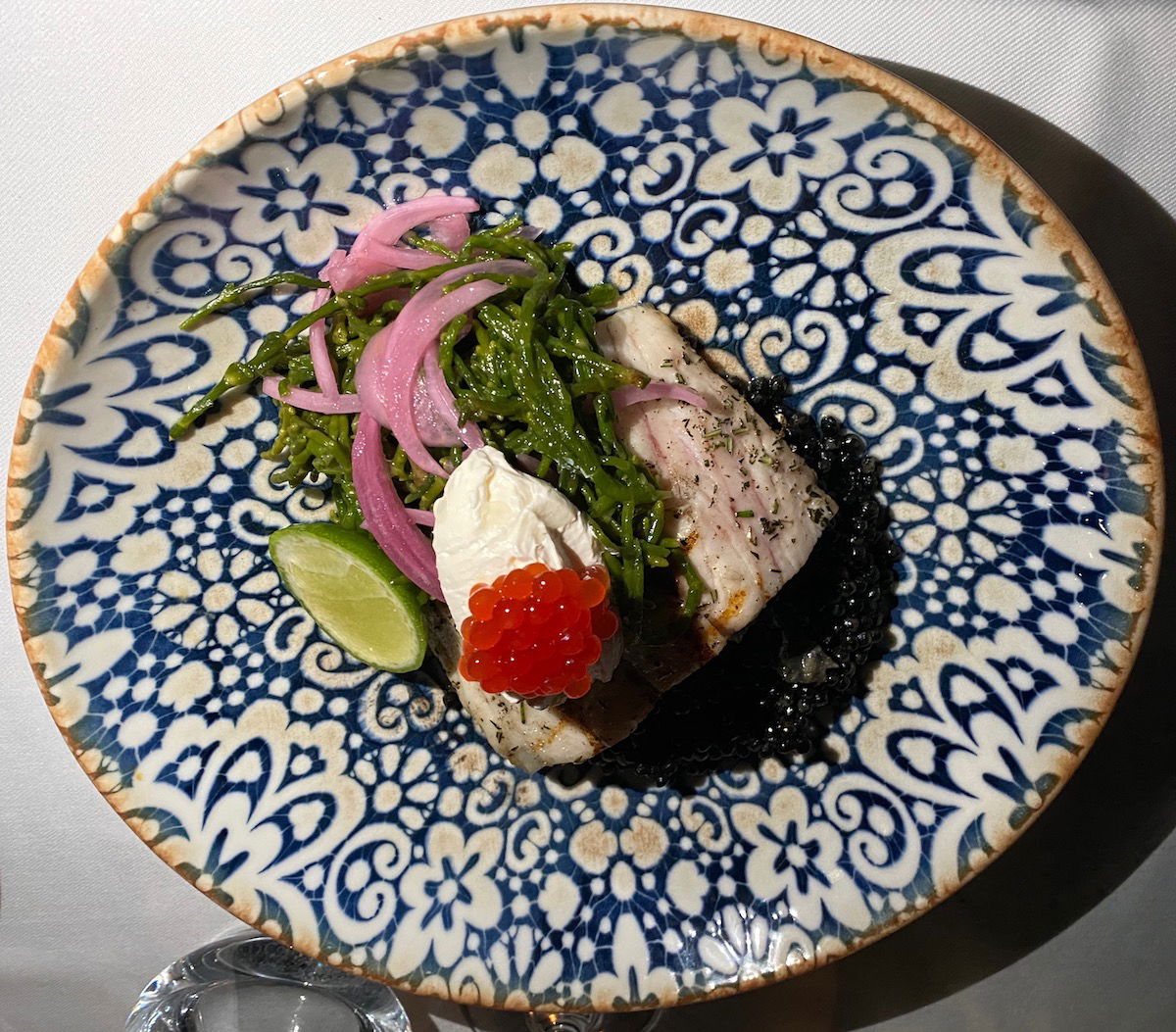 Amanruya dinner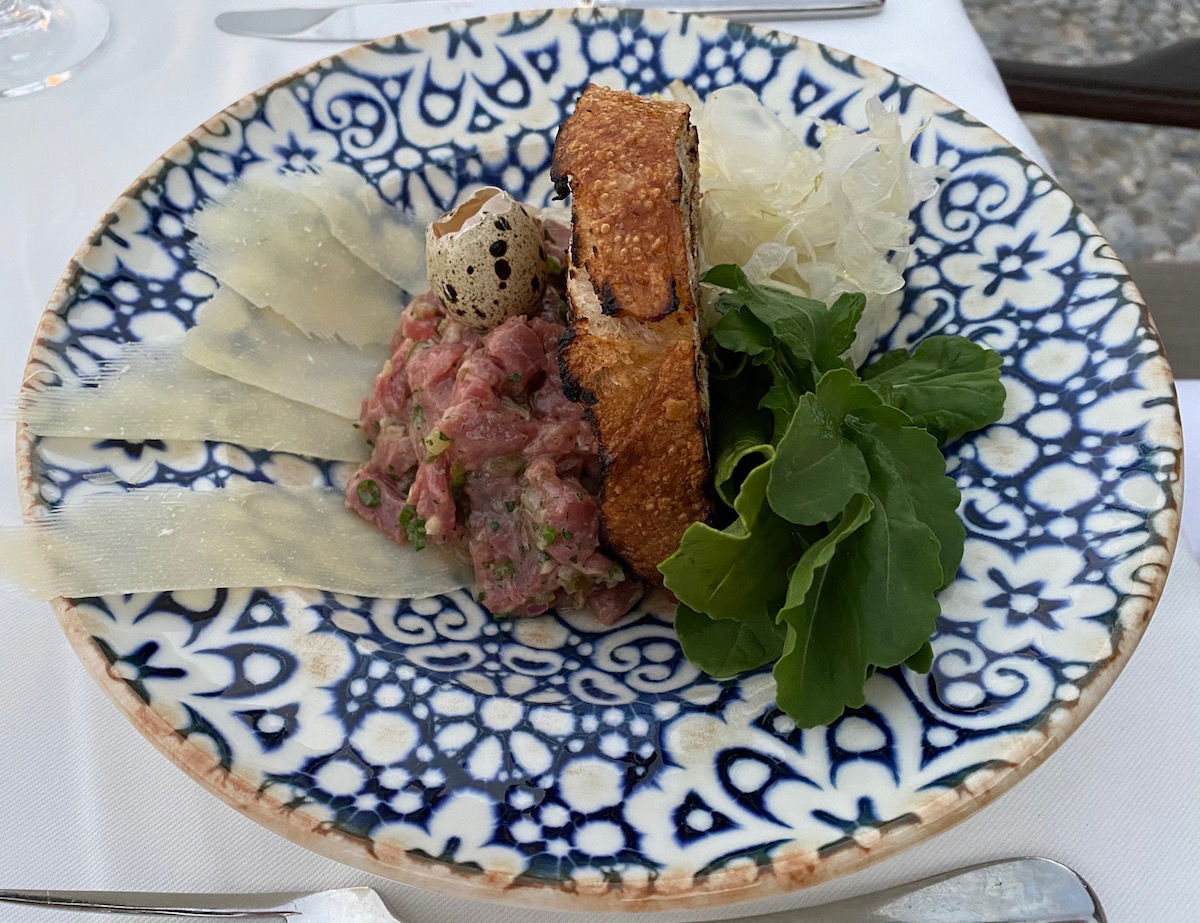 Amanruya dinner
On our last evening we decided to eat at the hotel again for dinner, and were informed there was a special barbecue that evening. This consisted of a buffet, which seemed bizarre at first, given coronavirus.
However, the buffet was staffed, so you simply pointed out what you wanted, and they then brought it to your table. There were a variety of starters, then a variety of meat options that they would prepare for you, and then some fresh fruit for dessert.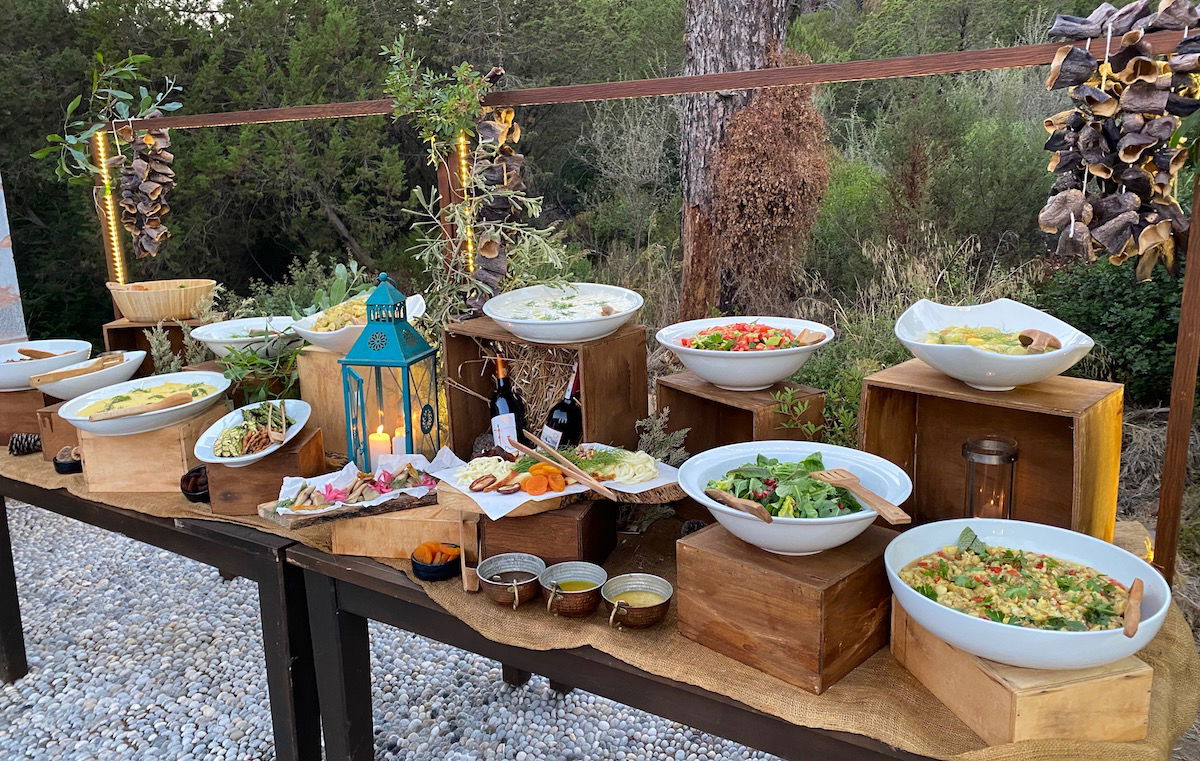 Amanruya barbecue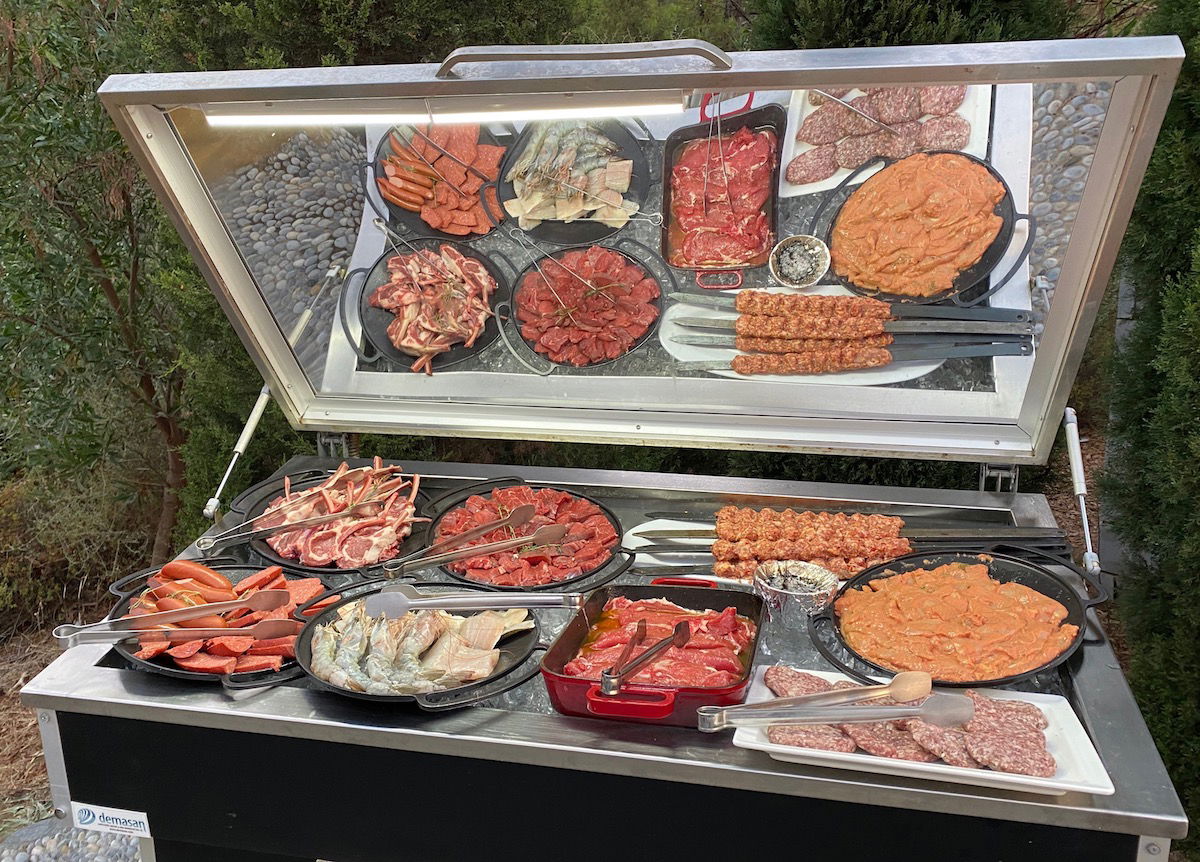 Amanruya barbecue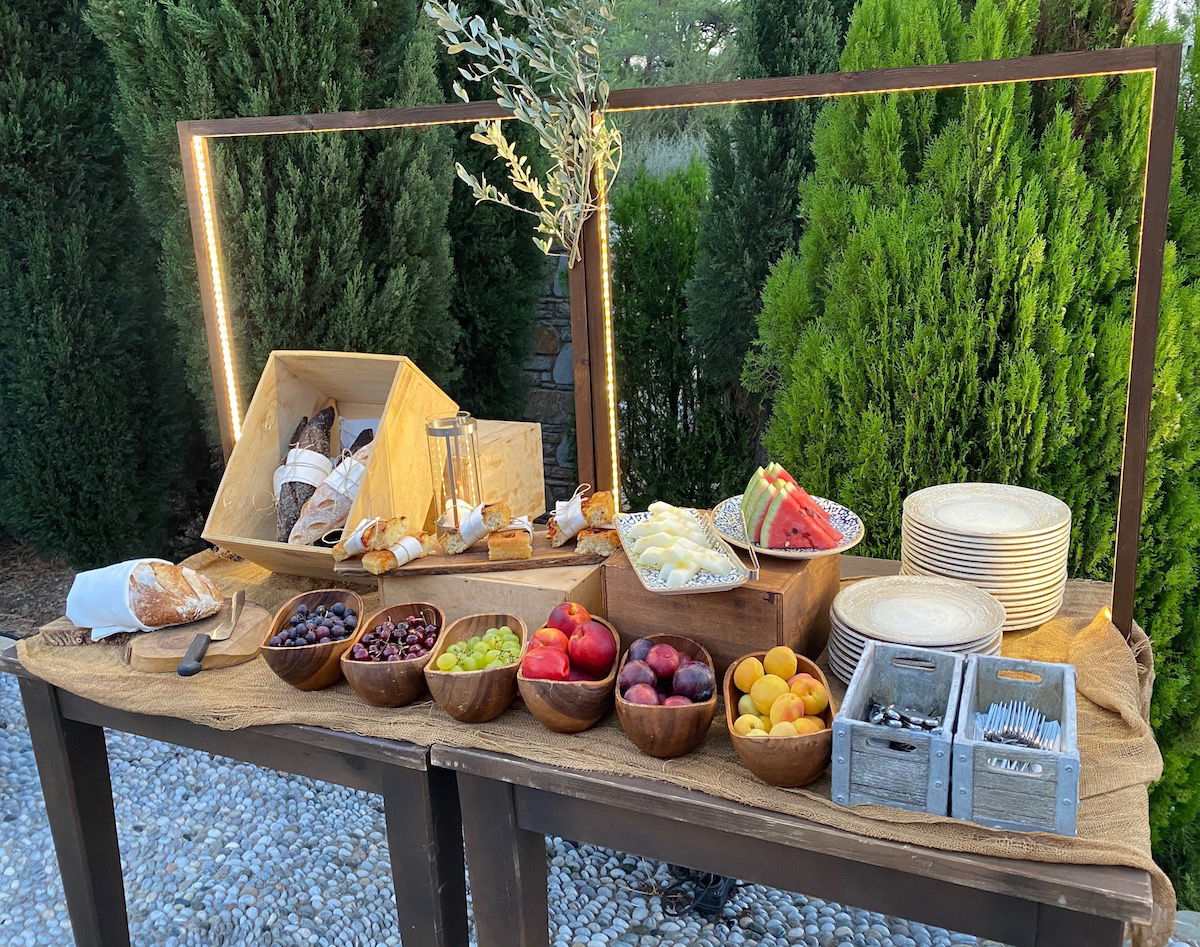 Amanruya barbecue
Personally I don't see the appeal to the meat just sitting outside for hours and being able to point at a raw chicken breast, but to each their own.
Frankly neither of the dinners at Amanruya were great, and we had significantly better meals outside the hotel.
Coronavirus precautions at Amanruya
When it comes to service at Amanruya, let's start with the positives. The coronavirus precautions were for the most part very good. Employees pretty consistently wore masks, and in some cases they even took it a bit further.
For example, when we checked in and were escorted to our room, the employee put on gloves and shoe coverings when walking inside, in addition to her mask.
We were handed a sheet at check-in explaining coronavirus precautions, and there was plenty of hand sanitizer throughout the hotel.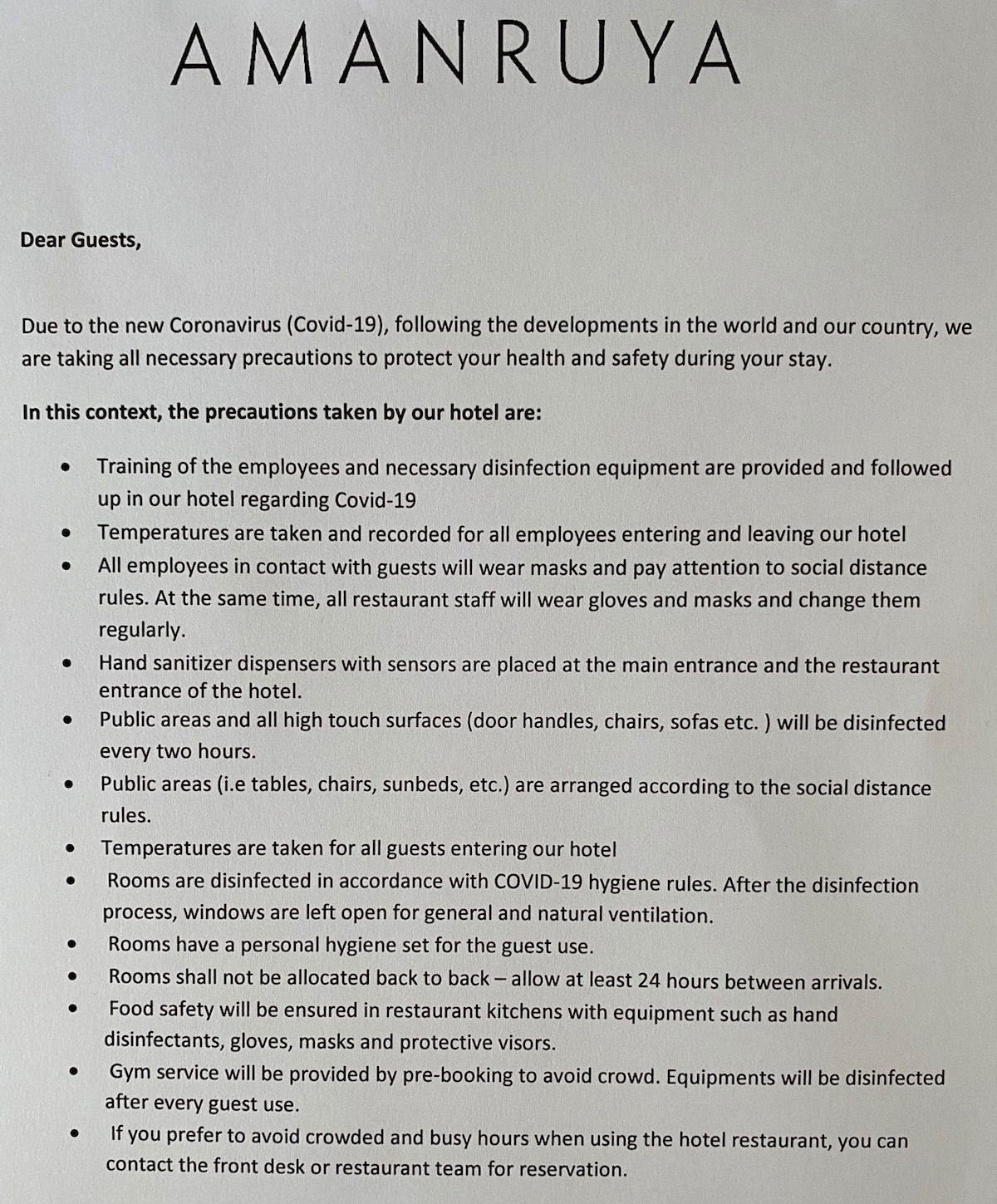 Amanruya coronavirus precautions

Amanruya provided plenty of hand sanitizer
Service at Amanruya
Let me acknowledge a couple of things before I talk about service at Amanruya:
These are challenging times, and I recognize a lot of hotels are understaffed and are struggling to adapt to new guidelines; I'll share my experience, but acknowledge that maybe this isn't usually how things are
A lot of my observations are based on service expectations that Aman has set around the globe; these aren't things I'd even dare to mention when reviewing other hotels, but when every other Aman does something a certain way, you kind of expect it here too
Before I give specific examples, a couple more overall observations:
The staff here didn't feel warm, and didn't show any sort of personality, and just about everyone seemed disinterested at best; this was such a stark contrast to EDITION, where everyone seemed to love their job, and you could see employees' smiles through their masks
In many cases Amans are almost over-managed, where there are at least a couple of management people constantly walking around at breakfast, lunch, and dinner, to check in on how everything is going, while there seemed to be no one in change here; we never met the GM, and no one introduced themselves as working in his place (also, for entertainment check out this TripAdvisor review, which claims that the GM threatened to kill a guest and send him to jail — personally I don't believe it, but oh my, what a review)
With that out of the way, let me give some examples of the service issues, all of which are minor individually, but add up:
Usually Amans have "invisible" housekeeping, where they always service your room when they know you're not in it, while here they had the opposite, where housekeeping was in our room just about every time we returned to it; if the hotel made an 8PM dinner reservation for us, they shouldn't be doing turndown service upon our return at 10PM, in my opinion
It was nearly impossible to get any service at the pool, which is bizarre, because it's such a beautiful space; we once waited over 30 minutes to try and order something, and then I had to walk all the way to reception to get them to send someone to the pool
The restaurant service was plain sloppy; for example, if you share appetizers and those are cleared, you'd think your plates and silverware with hummus smeared on them would be replaced so they're clean for the main, while in this case they were specifically left for the main course as well
Often we'd have to ask for things two or three times, or it would take at least 15 minutes from the time we sat down in a restaurant until we were acknowledged
The vibe of the hotel was just strange; other Amans have live music or at least local music, while here they were playing songs like John Legend's "All Of Me" at dinner, which just seems off
Those are just a few examples. And while we're at it, I might as well talk about service recovery.
The front office manager picked us up in a golf cart one day to drive us to the beach club, and he asked how our stay was going. I commented on how gorgeous the property was, etc.
"Do you have any specific feedback?"
"To be honest, the service isn't as good as at other Amans. I know it's a tough time for the industry, but there have been quite a few minor issues."
"Do you have any specific examples?"
"Yes, we were at the pool earlier and we spent 30 minutes trying to get service, but couldn't find anyone. We eventually had to go to reception to ask for them to send someone."
"I think our people have a hard time with the pool, they are always doing something else, and not many guests stay there."
Okay…? I'm sorry for liking your pool and wanting to order a drink there, I guess?
For what it's worth, we went to the pool again the next day, and had exactly the same problem ordering drinks.
Bottom line
Amanruya is a breathtaking property with an incredible sense of place. From the villas, to the pool, to all the other amenities, this property is physically flawless.
Unfortunately the service was a different story. I acknowledge that could have been because the hotel is struggling to cope with the current circumstances, and things have changed. But by comparison, we didn't have any issues at the other properties we stayed at (and we learned that they were understaffed as well).
Personally I also wouldn't recommend this place if you're looking for a beach vacation. The "beach club" here isn't exactly what you'd expect if coming to the Aegean.
In the end we had a good stay, because it was so nice to have a villa this gorgeous for four nights. And frankly I thought our rate was fair, particularly when you consider the rate was less than the paid rate would have been at Caresse or EDITION. But we were also excited to get back to the EDITION, where the staff were so delightful.