---
Before I review the hotels we stayed at in Bodrum, I wanted to talk a bit about my impressions of Bodrum in general. For the purposes of this post let's forget about coronavirus for a second, because I talked all about how coronavirus is being handled in Bodrum in a separate post.
In this post I wanted to talk about why I enjoyed Bodrum so much, and am already looking forward to returning once things normalize.
I love the Aegean, and I love Bodrum
Usually I'm someone who likes to go to new places when traveling, rather than returning to the same place. If there's one exception, traveling to the Aegean in summer would be it.
The Aegean has an incredible summer climate, unreal landscape, and some of my favorite food in the world.
In the past I've typically gone to Greece, which is why I was excited to see how Bodrum stacked up. Personally I loved Bodrum just as much as I loved Greek islands — it was different, in some ways for the better, and in some ways for the worse.
What made Bodrum so great? In no particular order:
Incredible food
I don't think I've ever eaten as well as I did during our time in Bodrum. I love Turkish food to begin with, and when you combine that with more of an Aegean influence, the food is simply sublime.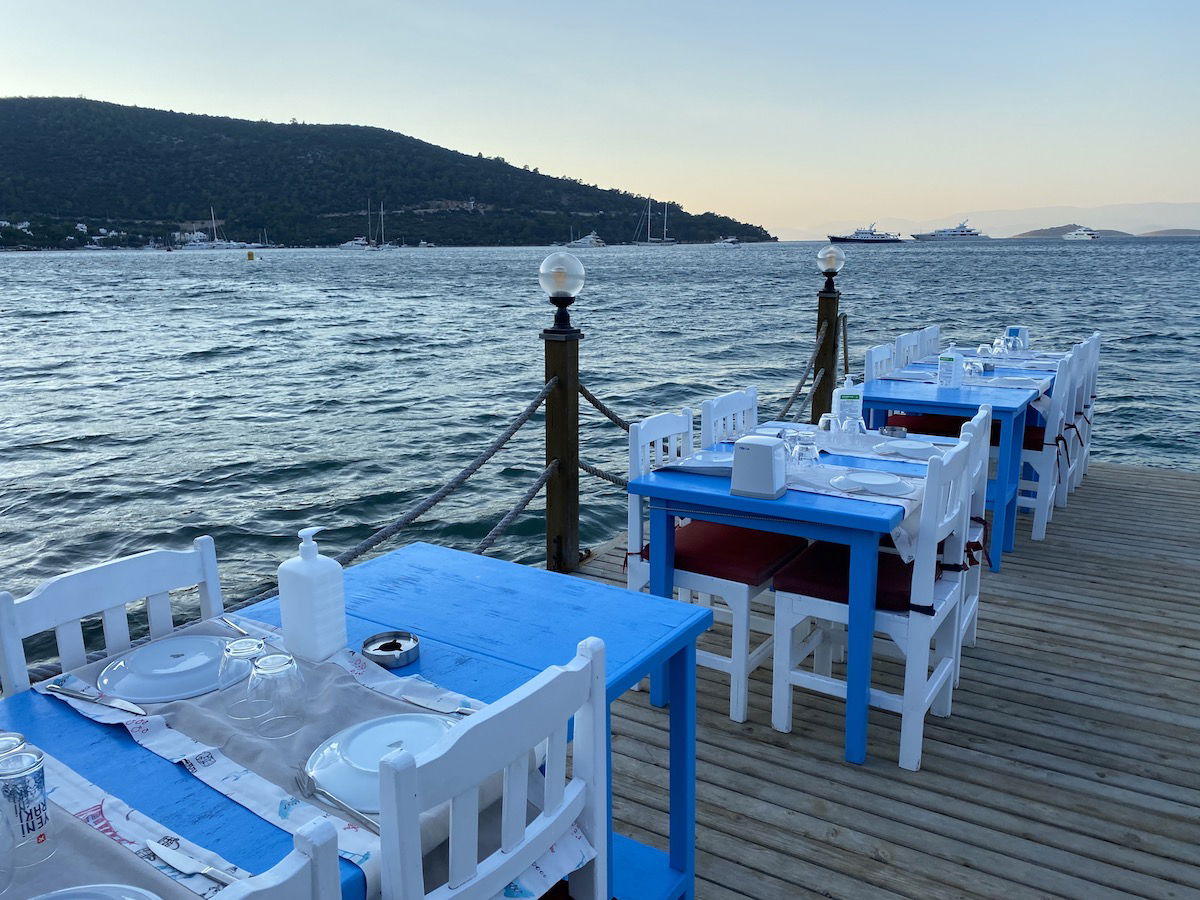 Just about every "traditional" restaurant we went to had the same setup. There was no menu, but rather they just ask you what you want. First you choose your mezze…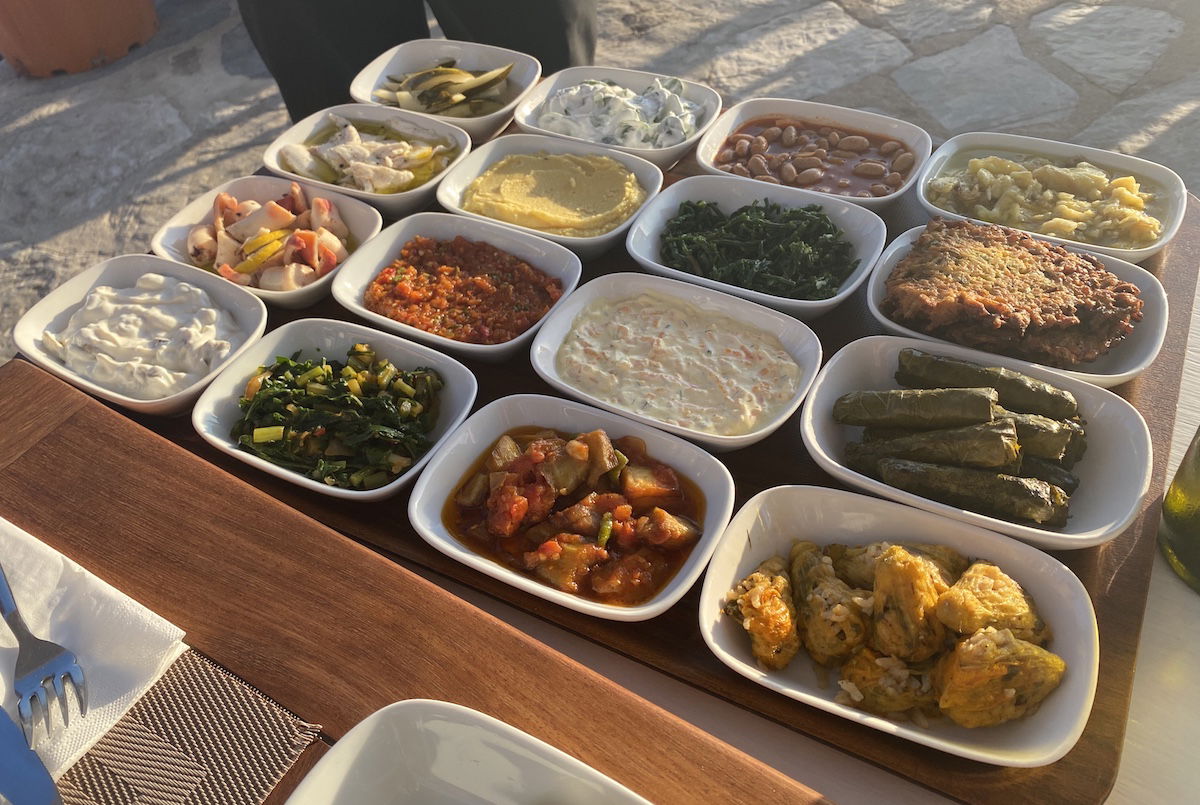 Then you can choose from salads, calamari, shrimp, etc…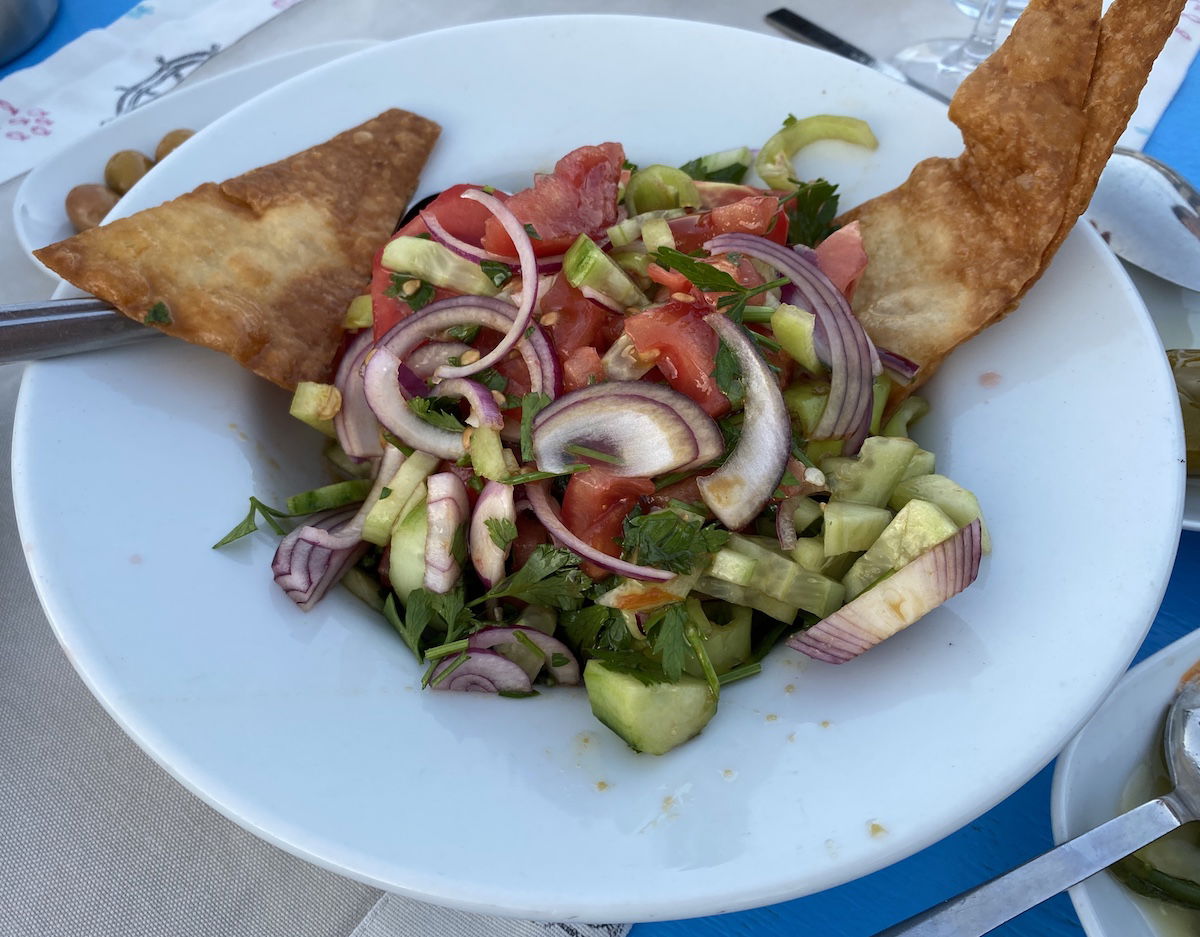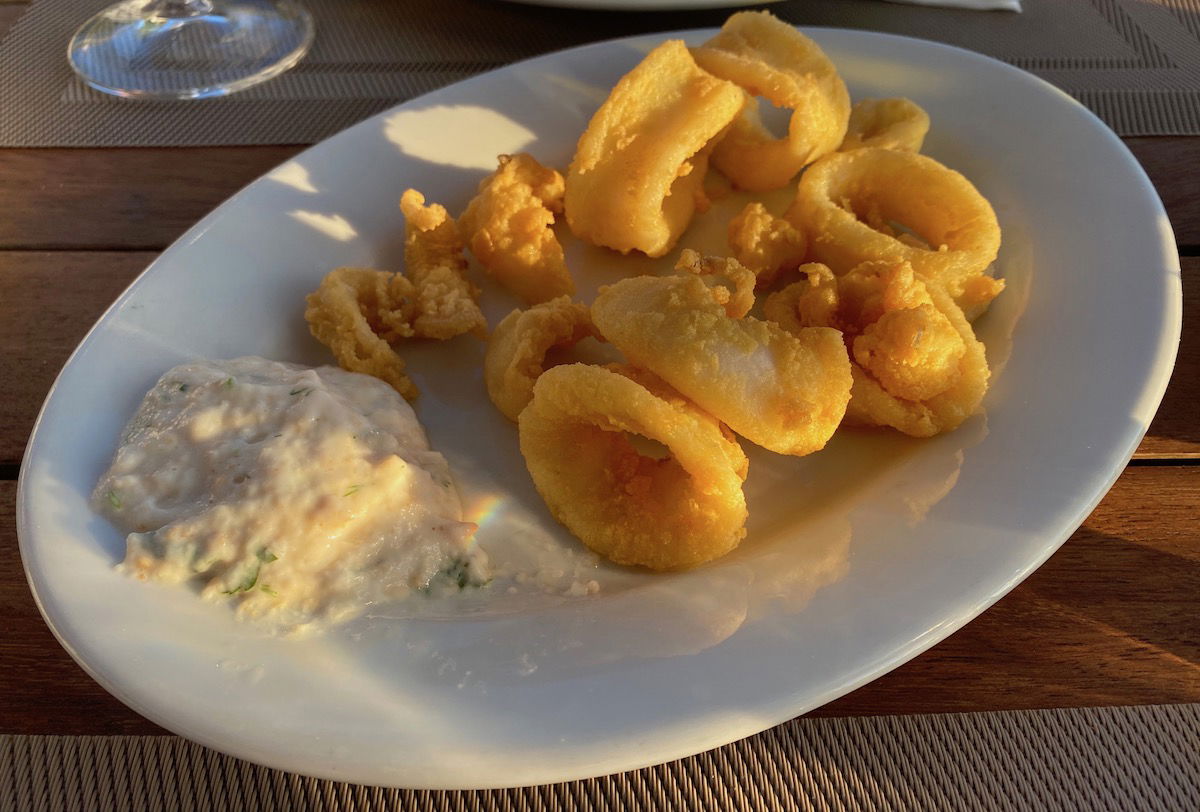 Then you pick out your fish…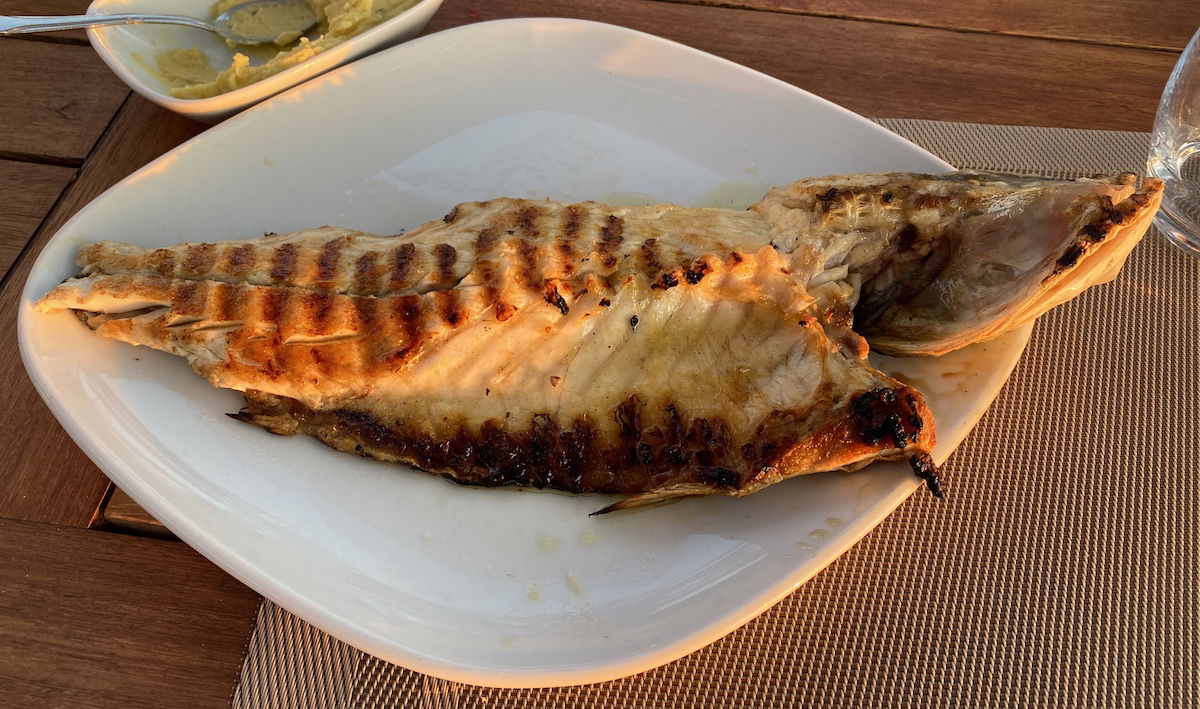 And then there's dessert…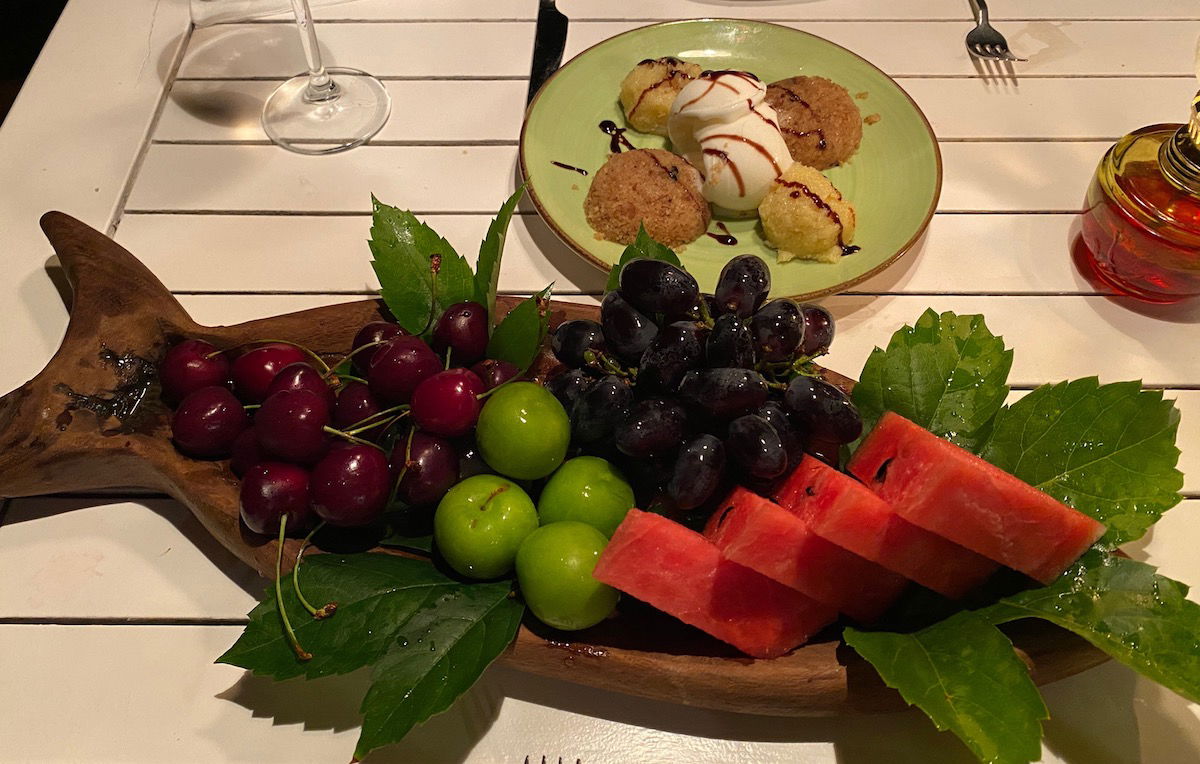 If you're not into fish, there are plenty of other great dining options as well.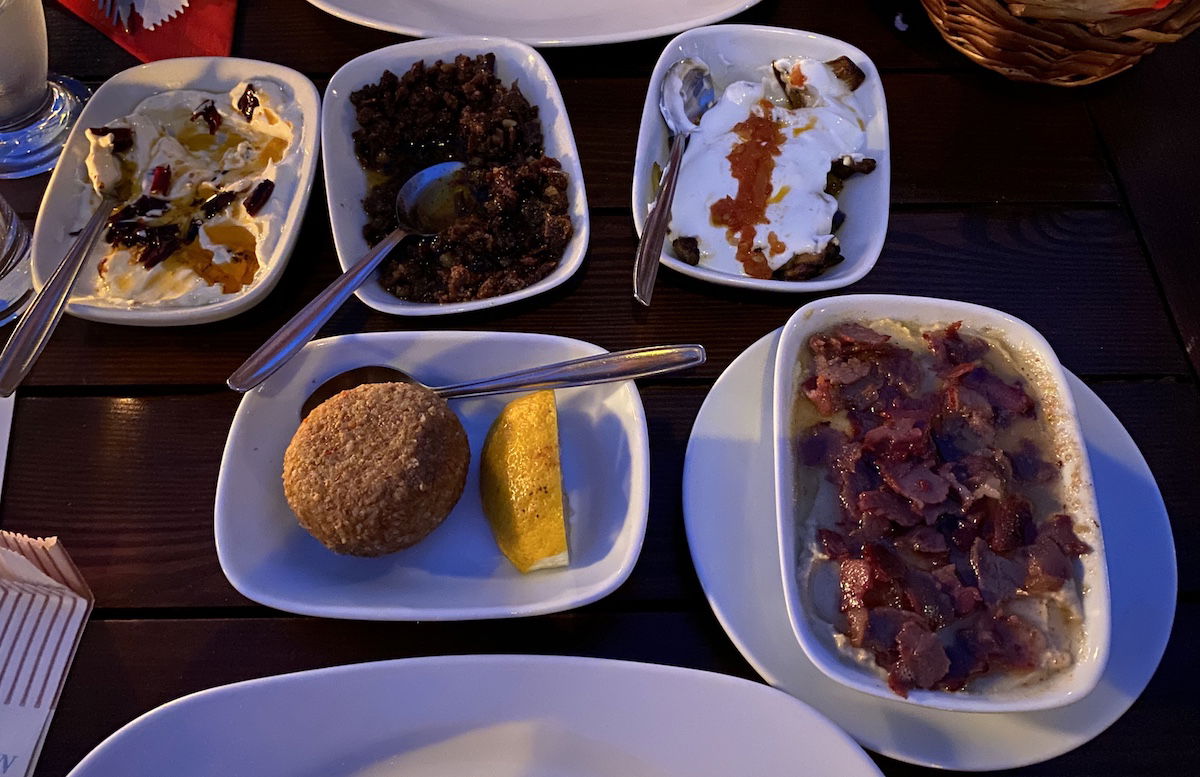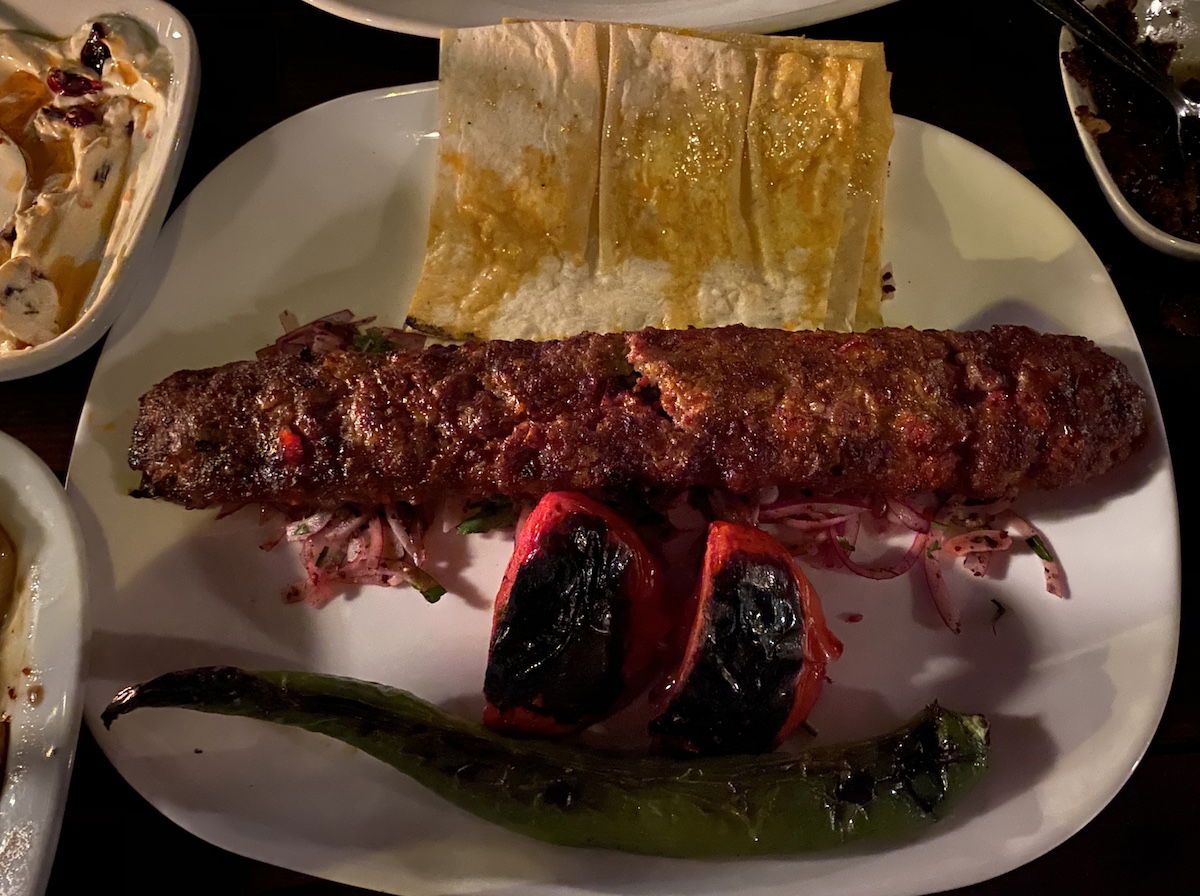 Turkish breakfast wasn't too bad either…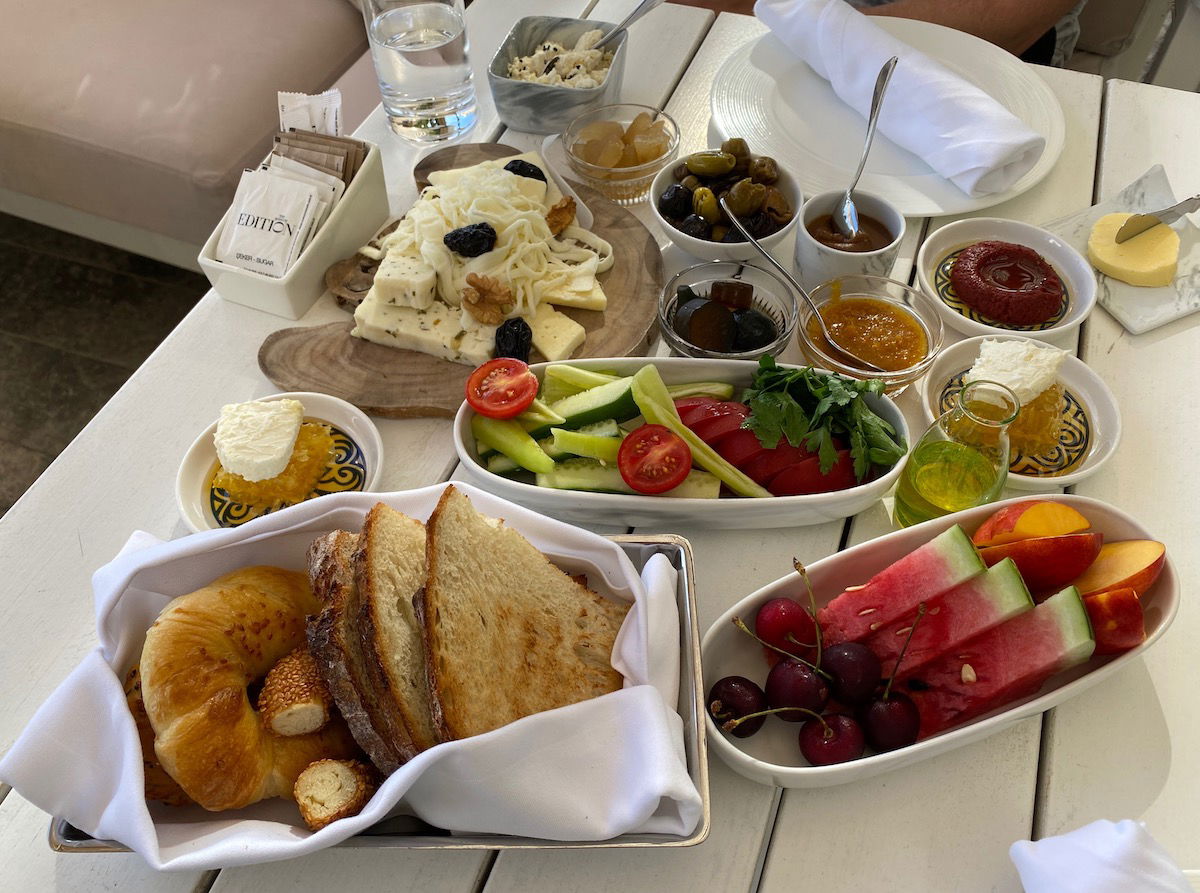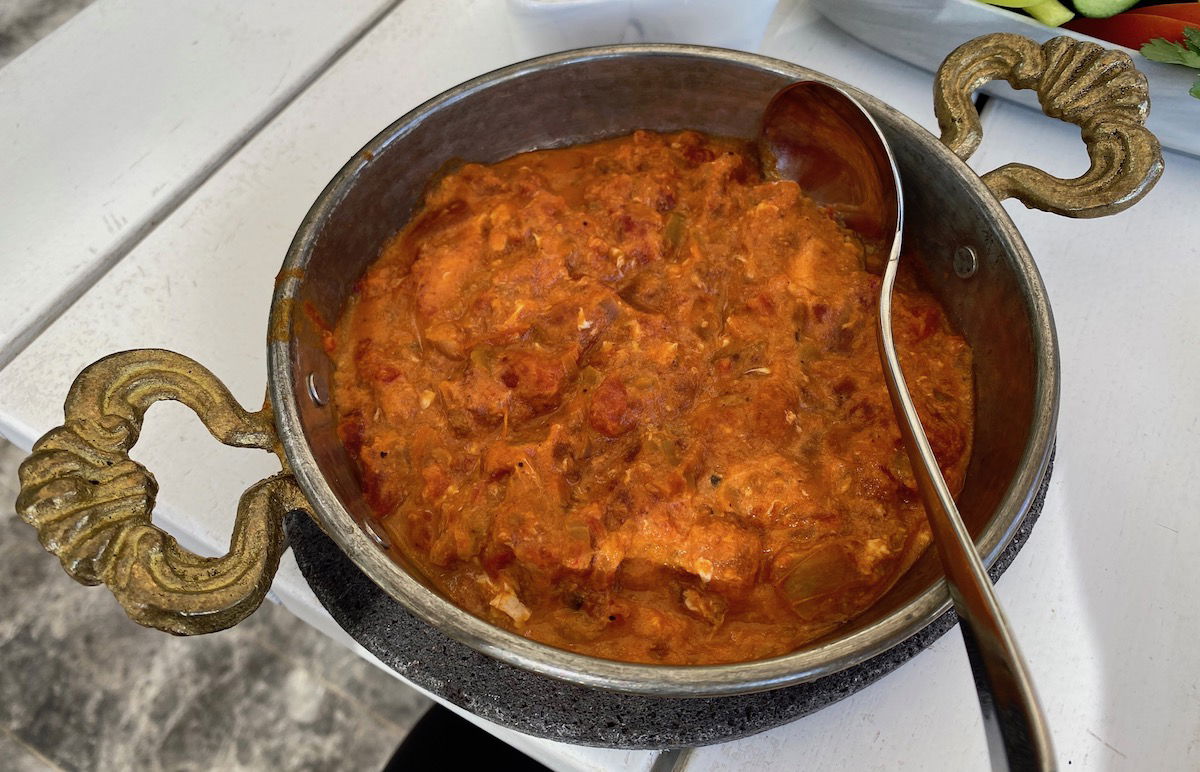 Friendly, genuine people
This is the point that I can't stress enough, and it's probably also what most sets Turkey apart from Greece in my opinion. To me Turkish hospitality is among the best in the world, and I was curious if that would also be the case in Bodrum, since it's a resort town.
I simply can't say enough good things about the people we interacted with, from taxi drivers, to people working at hotels, to people working at restaurants. Almost without exception, the people we interacted with were friendly, honest, hard-working, and no-nonsense.
For example, almost everywhere else I've gone, you'll find at least one taxi driver who tries to rip you off, tries not to use the meter, etc. That wasn't the case at all here.
Most places you have workers expecting foreigners to tip big just because they're foreigners. In most settings there wasn't even an opportunity to tip beyond a service charge. Across the board those working in hospitality weren't just professional, but showed genuine interest in guests.
This matches everything I've experienced with Turkish hospitality up until this point (whether from visiting Istanbul or flying Turkish Airlines), and I'm happy this practice is maintained even in a resort town.
Exceptional value, given the currency conversion
The Turkish Lira (TL) has devalued significantly in the past decade:
Currently 1 USD is about 7.2 TL
Five years ago 1 USD was about 2.7 TL
10 years ago 1 USD was about 1.5 TL
The currency has devalued by nearly 80% compared to the USD in the past decade. With that in mind, the USD goes pretty far here, especially if you're used to traveling to places where the EUR is used.
For example, most of the incredible meals we had, including a whole fish and a bottle of Turkish wine, cost under 100 USD.
Now, there are a couple of things I want to mention here:
It goes without saying that this currency devaluation is unfortunate for locals, and reflects bigger issues in the country, which is sad; my intent isn't to be gleeful about the extent to which the Lira has devalued, but rather to point out that for visitors paying in foreign currencies, Turkey offers great value
While the Turkish Lira has devalued by nearly 80%, don't expect that prices have gone down proportionally, especially in tourist destinations, as there's still a wealthy upper class in Turkey (which has largely gotten much richer over the past decade); for example, the EDITION Bodrum was charging $1,200+ per night for a standard room during our dates, and was filling the hotel primarily with Turkish guests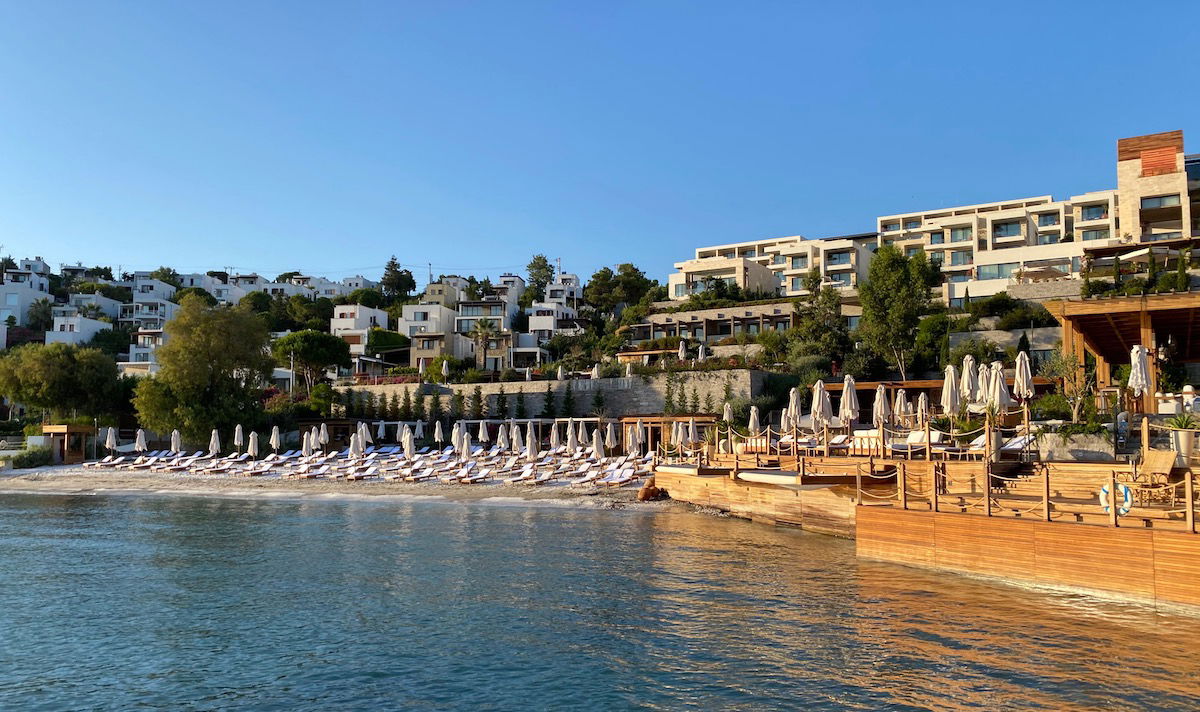 Incredible points hotels opportunities
Many of us seek out destinations where there are great points hotels, and that's definitely an area where Bodrum stands out. The Bodrum hotel market is growing fast, and there are several great options:
Marriott has three properties, including an EDITION, a Le Meridien, and a Luxury Collection (Caresse)
Hilton has an LXR property, which is Hilton's independent luxury hotel brand; this is the former Nikki Beach Bodrum
Hyatt has a Small Luxury Hotels of the World property (Marmara), and there's supposed to be a Hyatt Centric opening soon
The Marriott choices in particular are great, and I can't recommend the EDITION enough. It's probably my favorite Marriott property in the world.
If you're looking for non-points luxury hotels, there's an Aman and a Mandarin Oriental, and a Four Seasons is supposed to open next summer.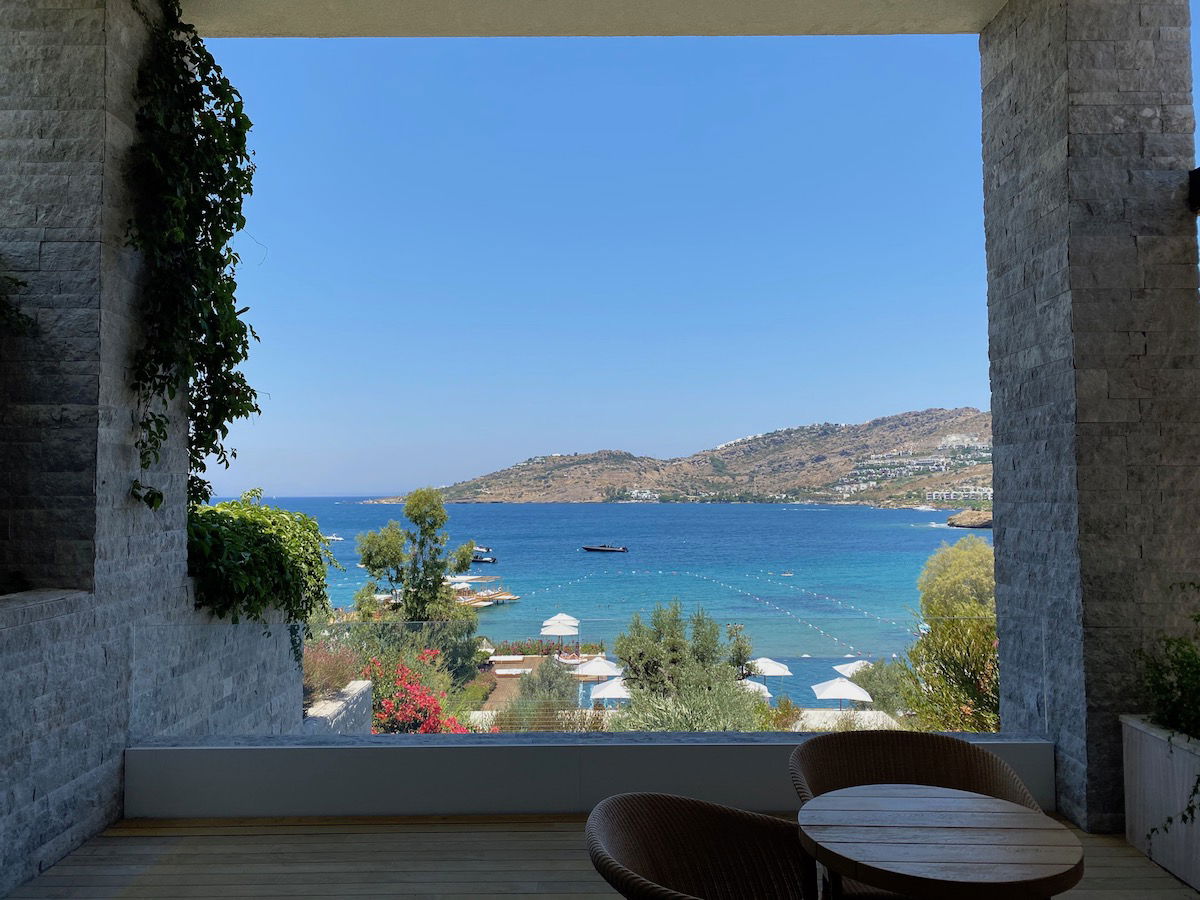 Bodrum is liberal and cosmopolitan
Bodrum is known for being a liberal enclave within Turkey. Personally I've found Turkey in general to be pretty diverse, but Bodrum was next-level in that regard.
I'm sure anyone who has been to Turkey can appreciate that it's not Saudi Arabia, or anything, but for those who may not have been and might have preconceived notions, I figure this is worth mentioning.
Some people in Bodrum party (obviously less now than in the past). Some people in Bodrum wear very skimpy clothing. Many people in Bodrum drink. And yes, there are even plenty of gays in Bodrum.
This is all true within the context of Turkey, though. In other words, you're not going to find something like Jackie O' Mykonos here, if that's your thing…
As a gay couple we never felt the slightest bit uncomfortable or judged (which isn't to say we weren't judged — people everywhere judge — but as long as I don't know about it, it's not my problem).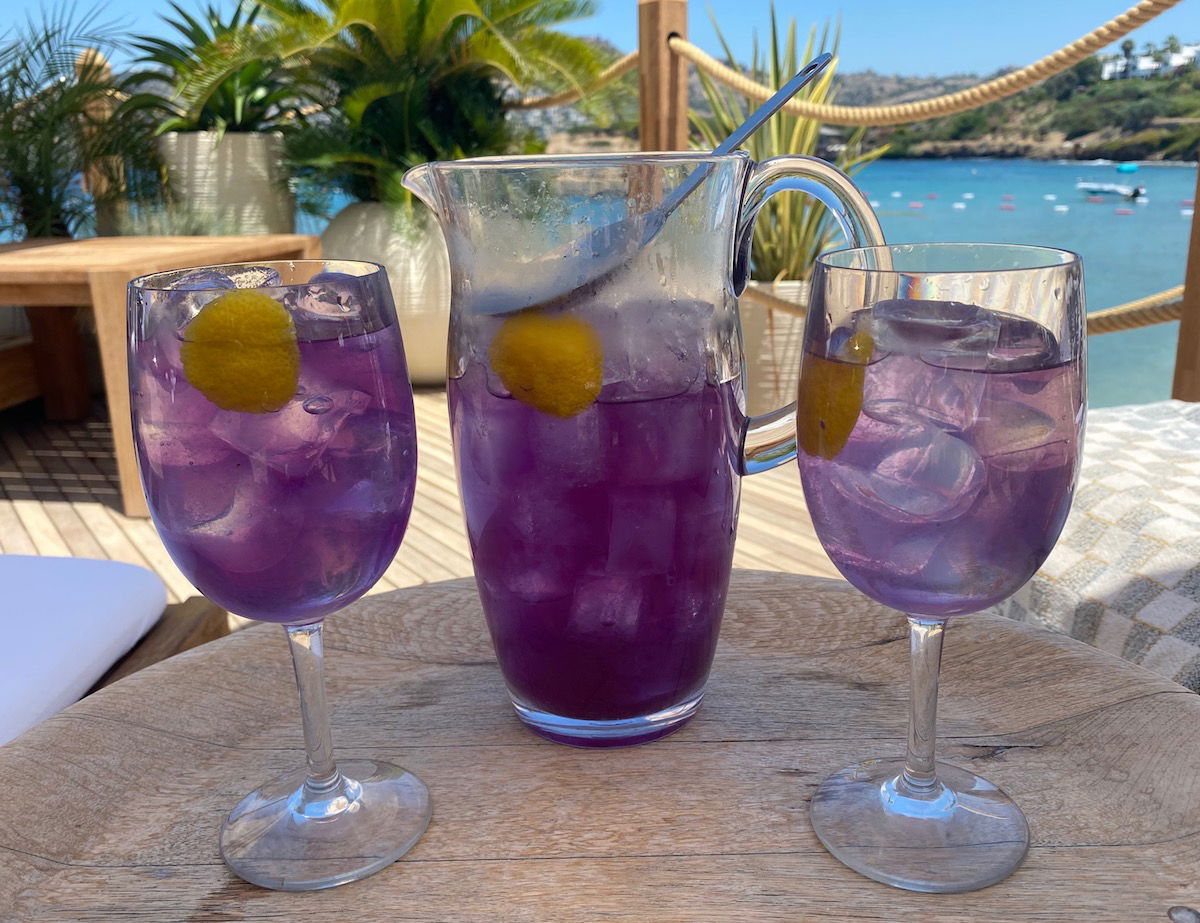 The perfect climate
The Aegean in general has the perfect climate in summer. It almost never rains, and while it gets warm, it's not humid.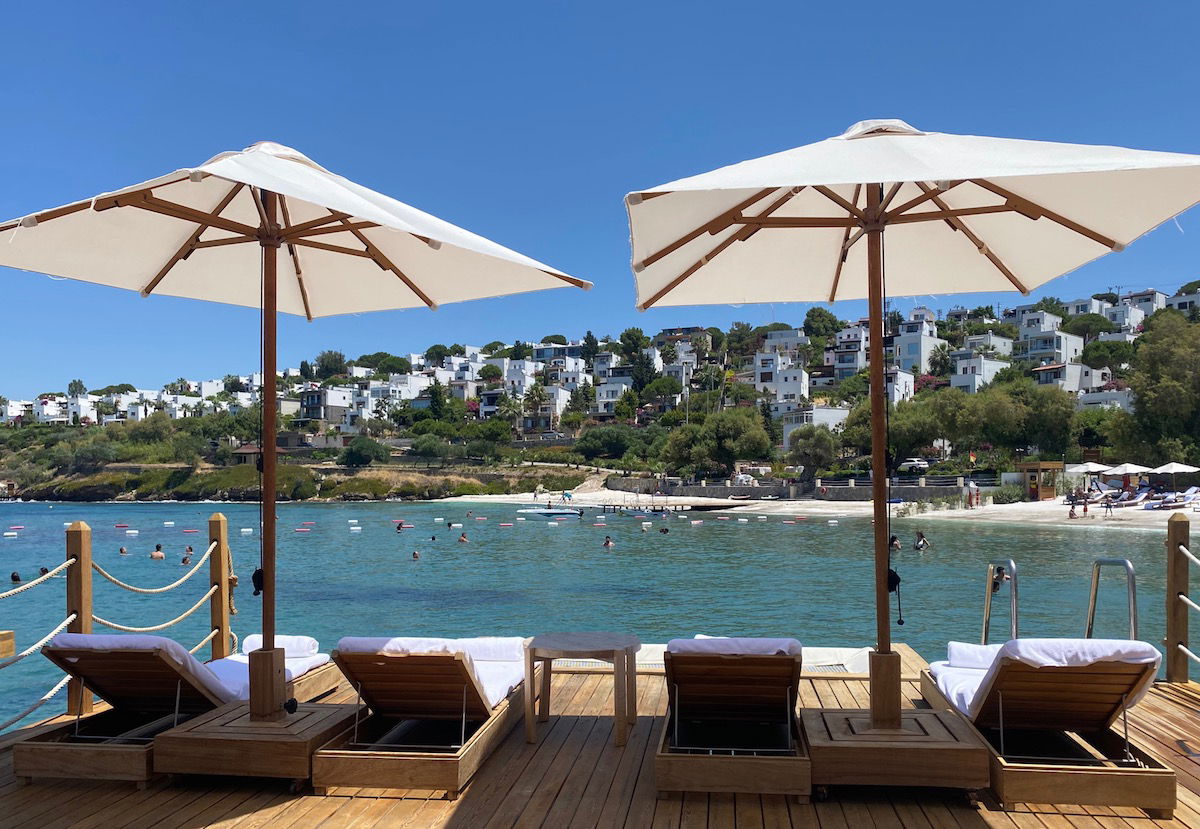 I recognize Turkey's problematic government
Let me acknowledge Turkey's problematic government, because I don't want to pretend that's not the case. However, I think the issue of deciding where to travel is much more nuanced than saying "I'm not going anywhere with a bad government." Because if that were the case…
Turkey is a country with 80+ million people, and on a personal level, punishing everyone for the actions of those at the top doesn't solve much, in my opinion. There are some glimmers of hope when it comes to politics in Turkey, and of things moving in the right direction — just look at Istanbul's mayor.
Bottom line
I had pretty high expectations of Bodrum, and even so, they were exceeded. Talk about a place with a perfect climate, amazing people, and some of the best food I've had anywhere. Add in the good coronavirus precautions that were being taken, and I felt comfortable there.
I'd highly recommend adding Bodrum to your travel bucket list, whenever you're comfortable traveling again.
If you've been to Bodrum, what was your experience like?