---
As I mentioned previously, I just wrapped up a trip with one of my best friends, Matt. We planned the trip day-by-day, which meant we've been writing the trip report more or less live. Matt will be sharing his thoughts as we go along as well — here's his seventh installment.
Greetings from the Lufthansa First Class Terminal. Just so you all know, unlike Ben, I got a remote gate, and so was driven in an S-class Mercedes Benz. The driver first brought me to the B gates, but then upon my request he took me to the FCT. I'll get a car transfer to my flight to LAX as well, so I'm batting 1.000!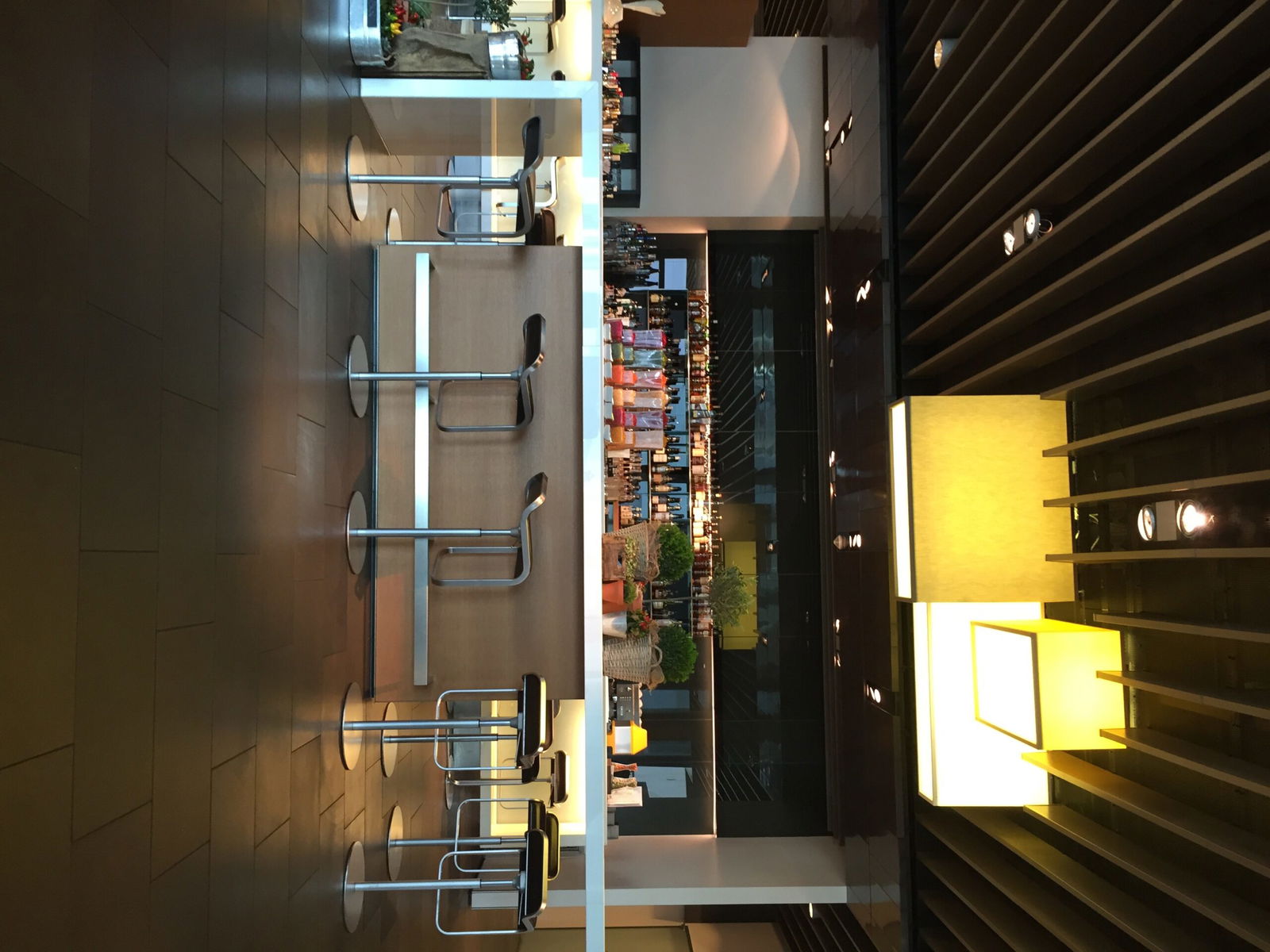 Lufthansa First Class Terminal Frankfurt
The point of this post, however, is the Park Hyatt Vienna — the last hotel on our trip throughout Europe (including an efficient stop-over in Dubai). Ben has already dubbed the hotel "incredible" in two different posts. The property was incredible, I won't disagree with him there. This is his blog after all. And really, who the heck am I? (Please, don't answer that.) Seriously though, the hotel was absolutely stunning. It is unquestionably as gorgeous as the Park Hyatt properties I have visited in Paris, Tokyo, Sydney, and Buenos Aires — which are among the most visually delighting hotels I have had the pleasure of visiting.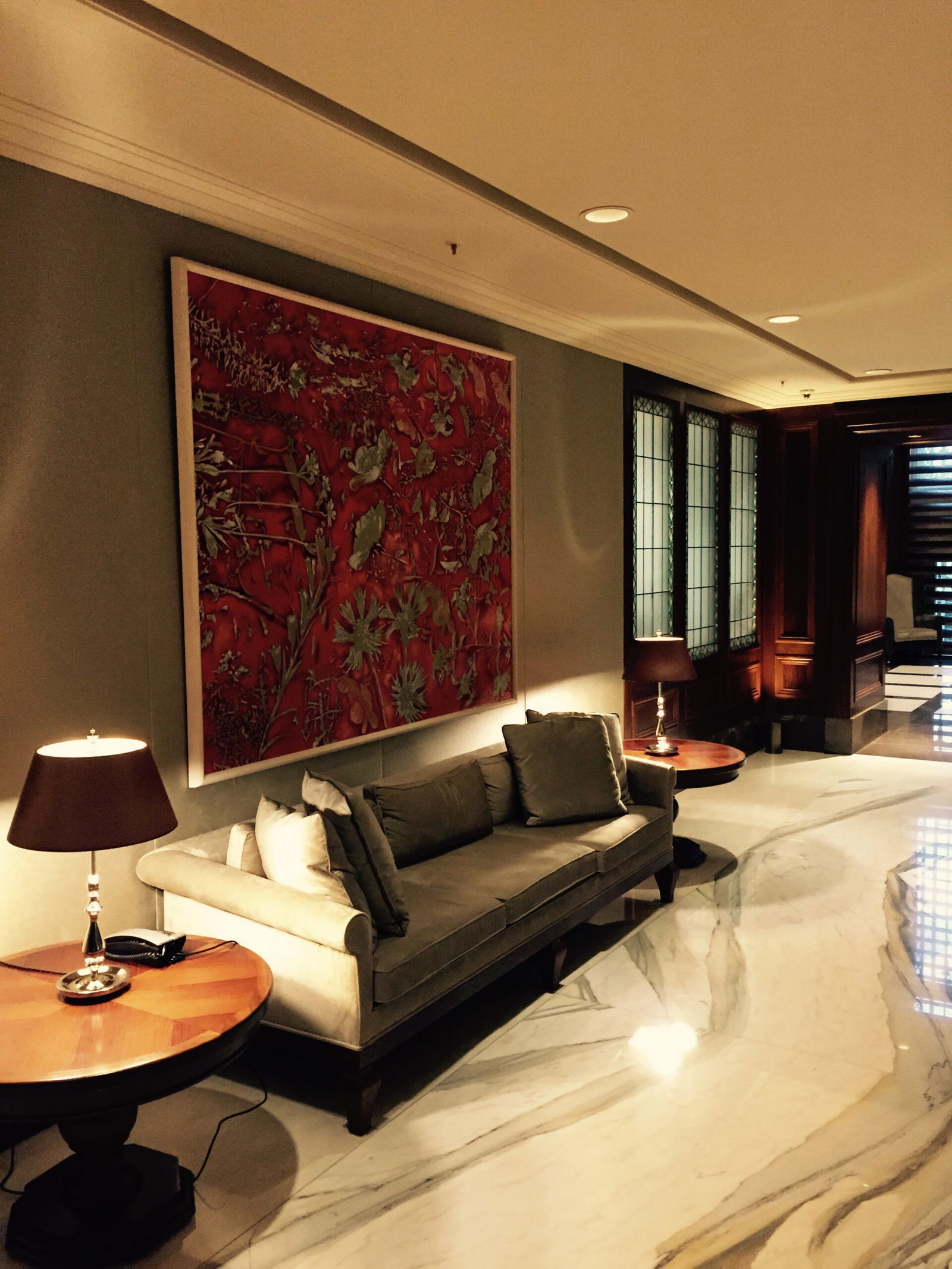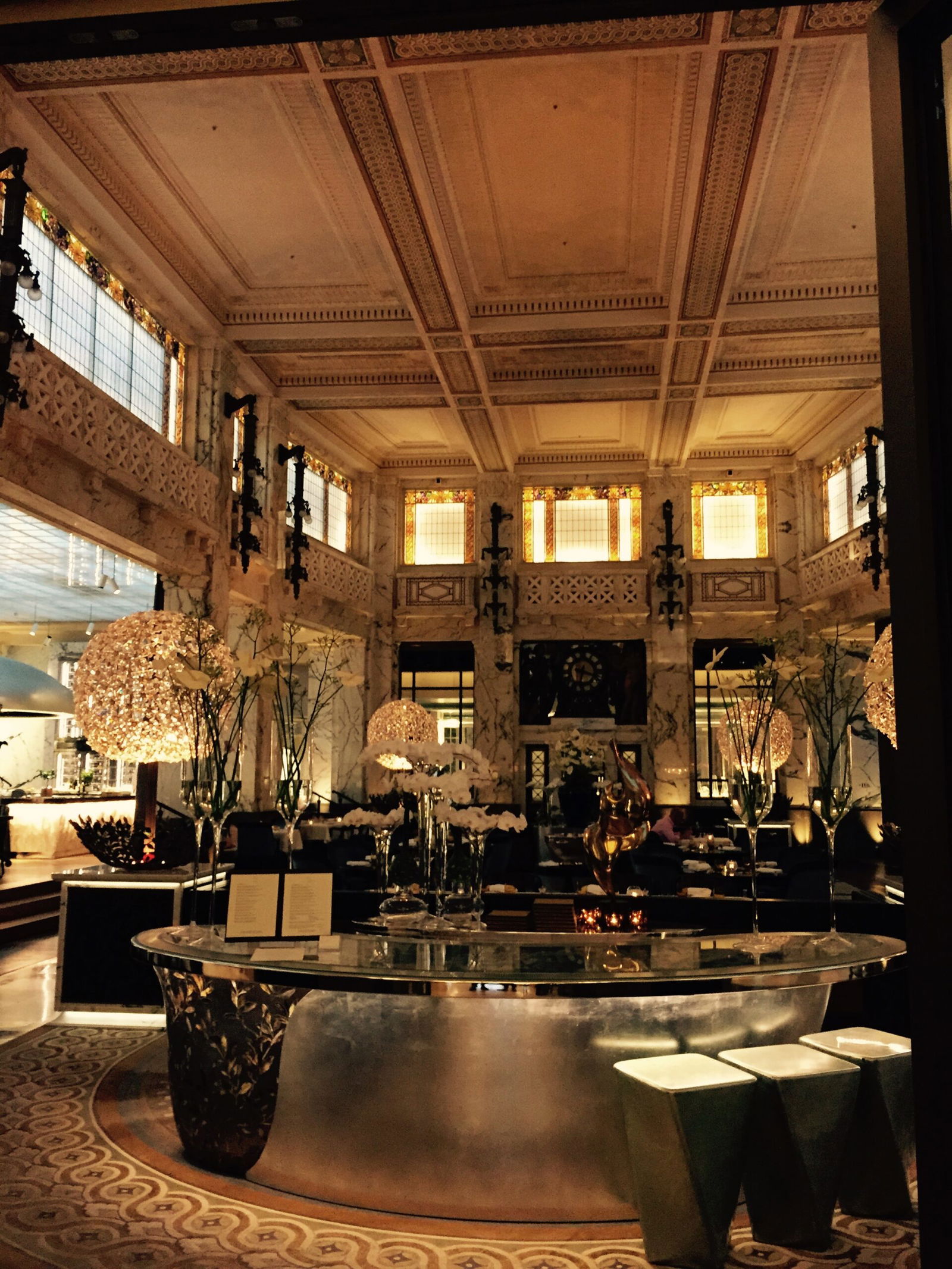 Each of these hotels, and especially Sydney and Tokyo, offered amazing service on top of excellent hotel design. I would not consider the service at the Park Hyatt Vienna to be incredible. It was at best inconsistent. There were highlights, which I will not undershadow, but at its lows (and there were many), the only thing that was incredible about it was just how bad the service was. This is so, I think, even setting aside that it is meant to be the — or one of the — most upscale hotels in Vienna.
Let's start from the very beginning. We arrived around noon. There was no bellman out front, but no bother, we wouldn't have asked for help with bags anyway. But there was no bellman to be seen, and Ben specifically noted this to me on the way in. This is nitpicky, so I won't even subtract points for it. We were helped promptly by someone at the front desk who verified Ben's credentials and asked us to accompany him to the suite we would be staying in to complete the check-in process.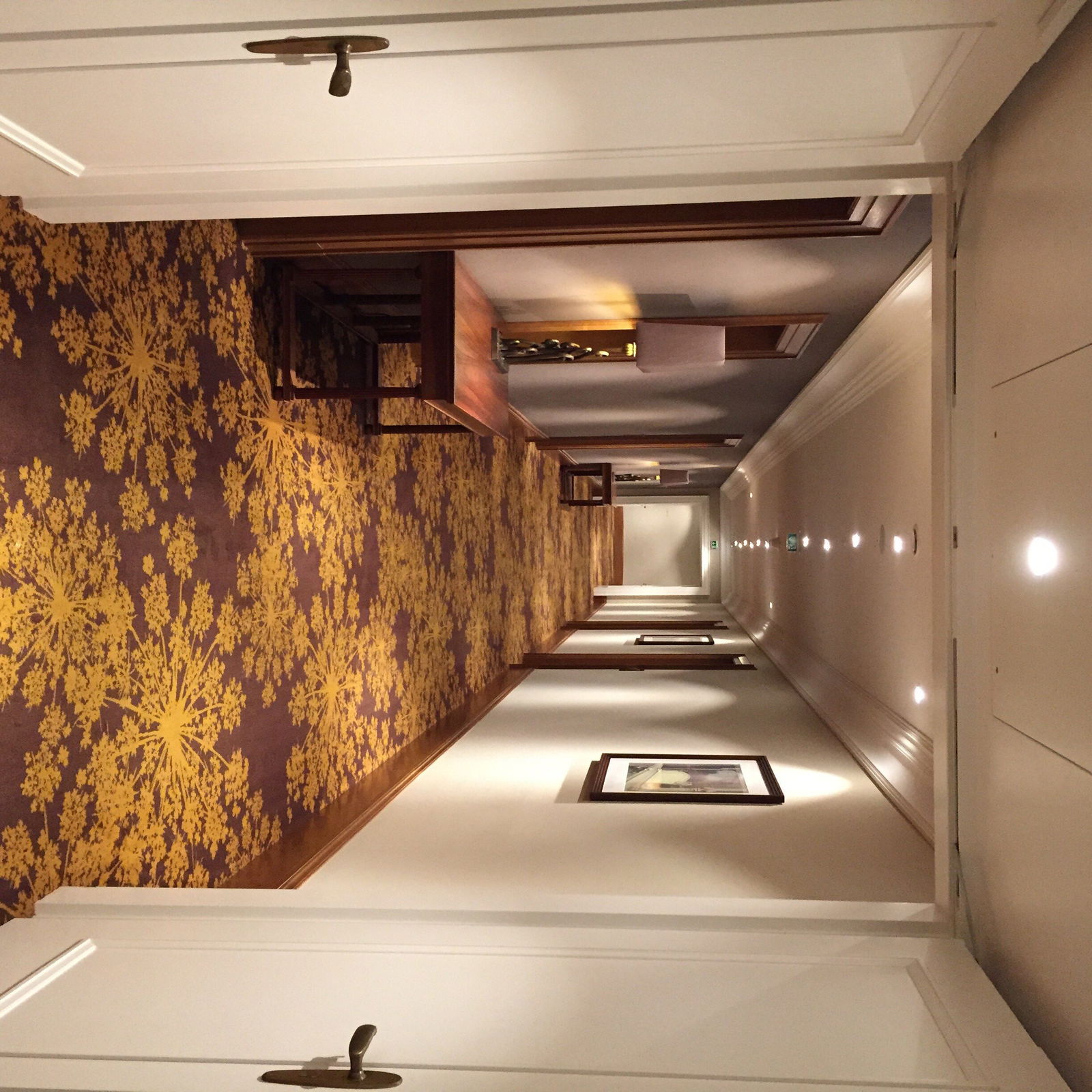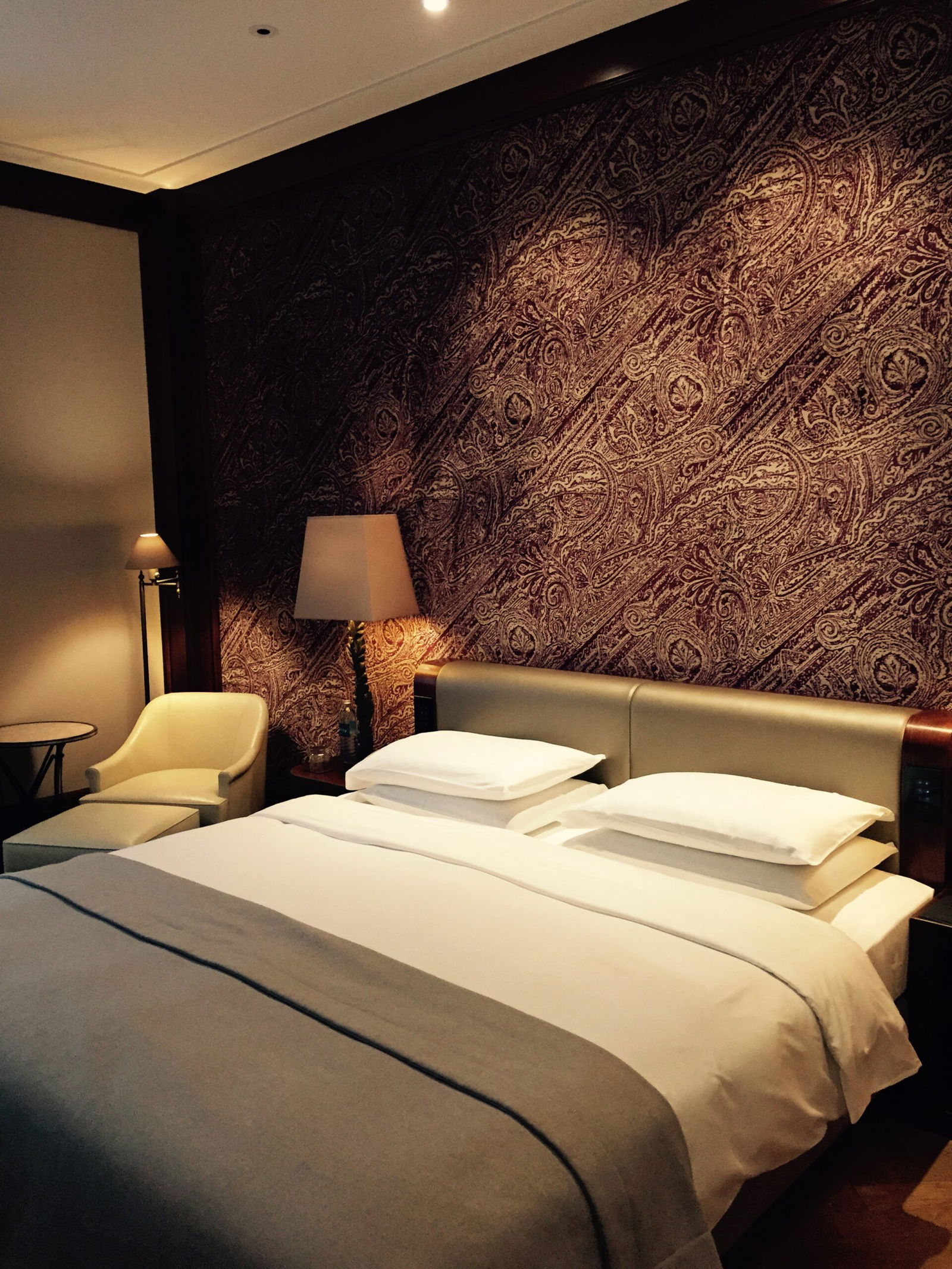 This is a really nice touch, something they did at the Park Hyatt Tokyo when I stayed in a suite there in 2013, but did not do at the Park Hyatt Paris (though I was in a suite there). I've never had this in a standard room. Let's act like this is a quiddich match — one point to PHV. The employee checking us in also asked whether Ben wanted points or a food and beverage amenity. Ben — classically — refused to decide and told me to pick something. I asked what the employee recommended, and he suggested I look at the menu and pick something, including "sparkling wine." Can you imagine what that did to me???
Instead of jumping at the idea of something bubbly, though, I decided to test the hotel a little. I told him to pick whatever he liked best. He appeared actively nervous at the thought, but promised to come up with something we would like. We returned back after a walk and a coffee to find not just a bottle of actual champagne (i.e., not Austrian sparkling), but also a pastry (which I think was cheesecake but who can be sure), and a large bowl of strawberries. This was on top of a very generous fruit bowl that was already in the room. Well done. Another point to PHV.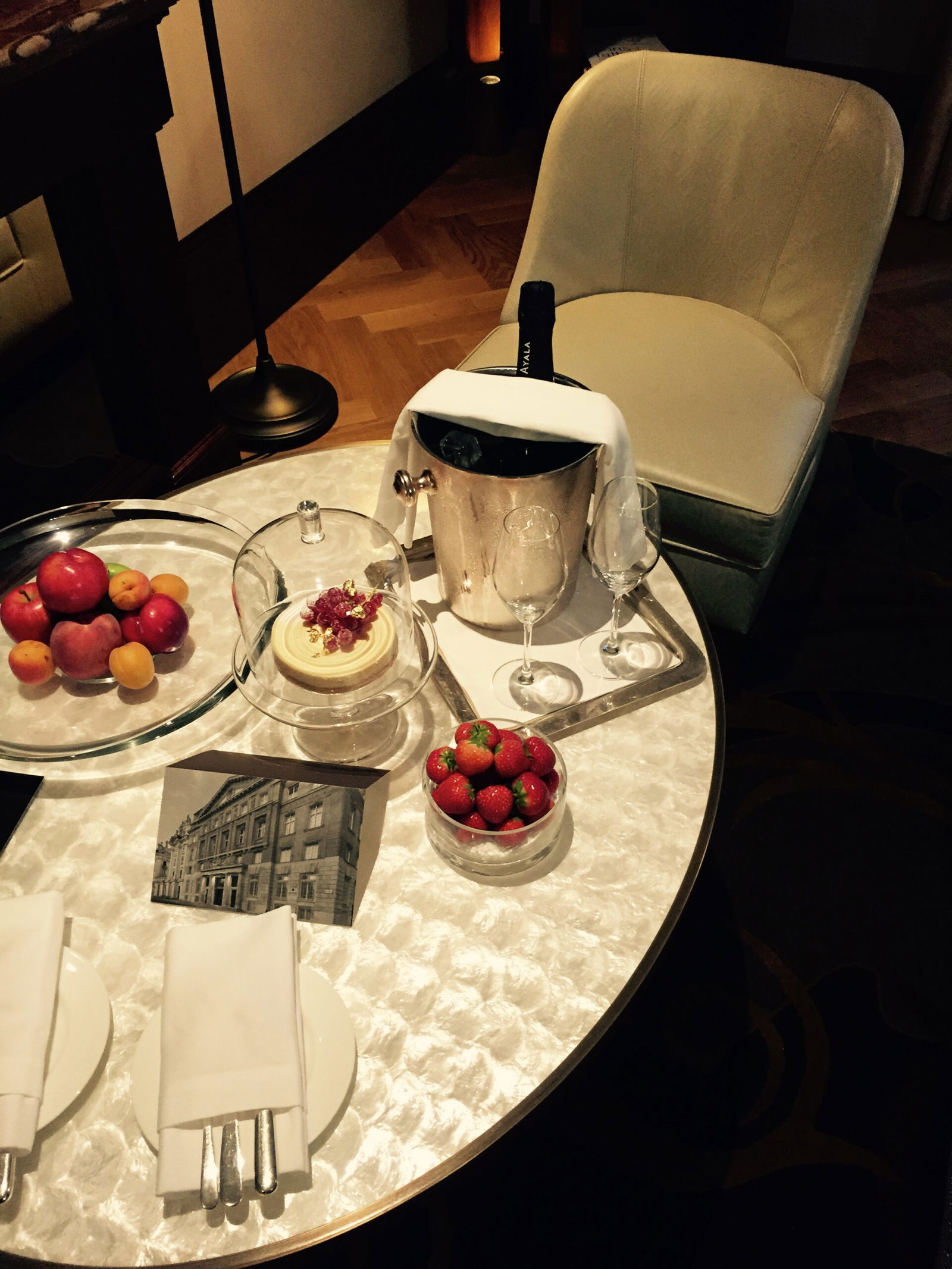 All was looking good as we went down for breakfast, too. The restaurant that serves breakfast at the hotel — The Bank — is arguably the most beautiful dining venue I have ever visited, at least of its general type. The service the first morning was laughably bad. Like Manchester security bad.
And this time their job wasn't to be "bad" like in Manchester; quite the contrary, it was to be fabulous. We ordered coffees when we were seated. They came. We went to the various buffet stations, and when we returned there were two more coffees. Four total. Why? We didn't order four coffees. We ordered two. If they accidentally sent out two, why on earth give us four? This is a restaurant in a hotel with rack rates for basic rooms in excess of $500, and that charges 33 euros for breakfast. It's not ok to leave two extra, unordered coffees on the table. This was just the beginning.
The check was also left no more than 5 minutes into our meal. There's time where that might be nice (an airport Doubletree, for example), but again, at a hotel of this calliber, I think it's simply unacceptable to do that. Especially in Europe where I generally have to plead with the server to get a check. Further, our dishes were literally never cleared. Why wouldn't we both want to pile a bowl and plate on top of the four coffees we had on the table?! Everything remained on the table until I finally suggested to the server that she take some of the dishes.
She didn't do so immediately, but came back later. Then when the egg white omelet with spinach I ordered arrived, there was no silverware, and no offer to provide me with some. It's not hard to look and see if a guest has silverware when dropping off food; is it? After around five minutes of no assistance, I decide to take them from the table next to us. I can honestly say, without even being the slightest bit hyperbolic, that I've had better service in short haul domestic economy. Minus (at least) one for PHV.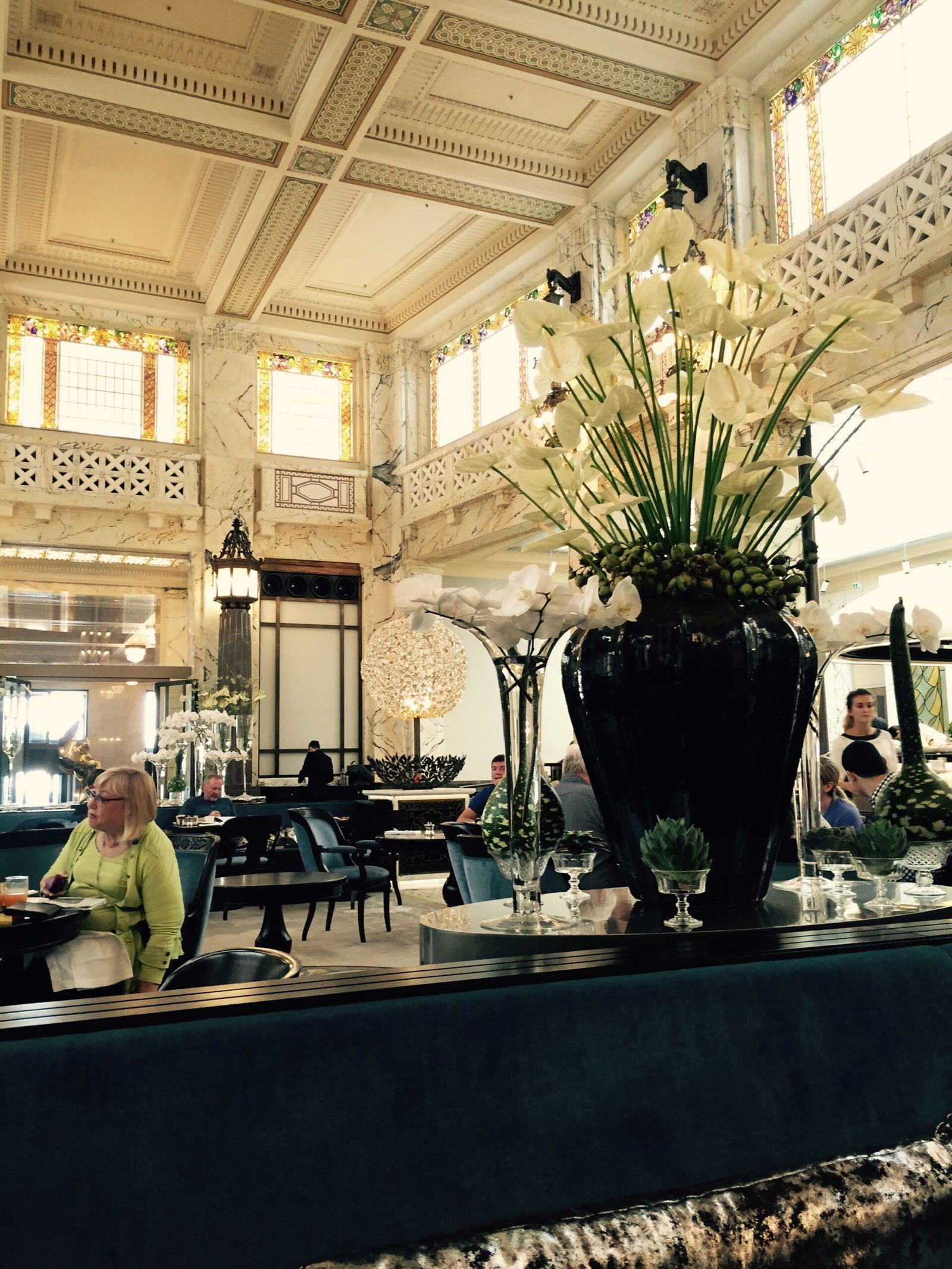 So I should note that I am actually not a snob when it comes to service. I rarely find anything to complain about when it comes to dining out in the U.S. or aboard. And I get that this is a moderate size hotel; there are always bad employees that haven't been weeded out, and everyone has bad days too. I'd forgive even a massive fail like that breakfast. But it continued.
We had drinks in the hotel later that evening. Service was again abysmal. My glass went empty and sat there for what was probably 20 minutes but felt like an hour. The lounge was not particularly busy, and there was plenty of staff. Again, unacceptable. Minus another point for PHV.
I also found the housekeeping and maid service somewhat bizarre. For example, initially when we checked in, there were bottles of water provided by the bed. They provided water when servicing the room and at turn down, but never placed them by the bed again. Yet they left water glasses by the bed. Why? Just odd.
In addition, I ironed a shirt and left the ironing board out. I don't think I've stayed anywhere, be it at a Westin, Sheraton, Hyatt Regency, etc., where housekeeping didn't return the ironing board to its proper place. I mean, the iron was unplugged. To be fair, I should have put it up myself, but I did it just before turn down so I figured, per my usual experience, they'd handle it. Nope. And not the next day after the room was serviced. It was there for 36 hours, through two turn down services. Again, not a huge deal, but just not amazing or incredible or what I'd expect from this caliber of property.
Breakfast the next day was very well handled. The server (someone different than the day before) was very attentive, and was at times even a step ahead of Ben and me. To be fair, however, Ben Instagramed a picture of the restaurant the prior day, and the hotel "regrammed" it, thanking him. It's unclear to me whether they recognized that he is a travel blogger, and that's why we were treated better, or that it was just an "on" day versus a miserably "off" day the prior morning. I'll say this is still a point for PHV.
Checkout was also a joke. There was an Uber on the way, and we assumed it would be easy to check-out quickly and just have them email a folio. Not so. The bill came out and we noted that it had breakfast charges on it. The front desk agent apologized, said as a Diamond guest that is included in our stay, and said he would remove it. He then ran the card on file, and presented an invoice still listing one of the breakfast charges. Seriously? It says BREAKFAST (literally in capital letters). I explained that the Uber was waiting, and Ben went out to explain to the driver we weren't ditching him. Meanwhile it took three people from the hotel to decide that they would need to refund the breakfast charge. Umm! That's some really out-of-the-box thinking.
So the hotel was great, and there were a couple moments where the service was simply excellent. There were also equally as many not so good and some terrible moments, however. Should a few instances of bad service spoil overall perceptions of a hotel? Maybe not. I'm not sure.
But I will be honest and tell you that in my opinion it spoiled my overall perceptions. The Park Hyatt Vienna is definitely not worthy to be placed alongside the Park Hyatt Tokyo, Sydney, or Buenos Aires. Even the Park Hyatt Paris, which is a fabulous hotel — and an amazing use of points as the Paris luxury market that has few points options — but definitely not one that I would ever say has excellent service, provides a more on point experience than than Park Hyatt Vienna.
I'm not saying it's a bad property, and I would absolutely return, but Ben's the use of the term "incredible" gave me pause. The building that houses the Park Hyatt Vienna is stunning, gorgeous, a visual ecstasy — all those terms. But the Park Hyatt Vienna is not incredible because despite having been open a year it does not provide consistently good service, let alone incredible service. I hope the hotel can get its act together — it has all the potential in the world.