---
As I mentioned previously, I'm currently on a trip with one of my best friends, Matt. We're planning the trip day-by-day, which means I'll be writing the trip report more or less live. Matt will be sharing his thoughts as we go along as well — here's his second installment.
Greetings from Manchester. Flying Emirates really helps set the stage for Dubai, because the city is as over-the-top as the first class experience on Emirates. And that's hard to do. Although we weren't in Dubai for that long, we managed to squeeze in many of the major Dubai experiences. The blingy-ist (and most filling) of them was tea at the Burj al Arab with our British/Australian ex-pat friend Robert. Ben has reviewed the tea here on more than one occasion, so I decided to share my thoughts.
Most readers are probably familiar with the hotel. It is the world's only self-proclaimed "seven star hotel." I'm not really sure what that means, however, since hotels from the Westin (and maybe even Best Western) to the Four Seasons George V identify as five star hotels. Stars aside, the hotel is certainly stunning. The lobby boasts what might be enough gold to irritate Midas — perhaps this is the hallmark of a seven star hotel? But there are fountains on the ground level that focus your attention up towards the atrium, which actually detracts from the gold because the ceilings of each floor are painted in different pastel colors. There's something surreal about the atrium in that it appears almost flat.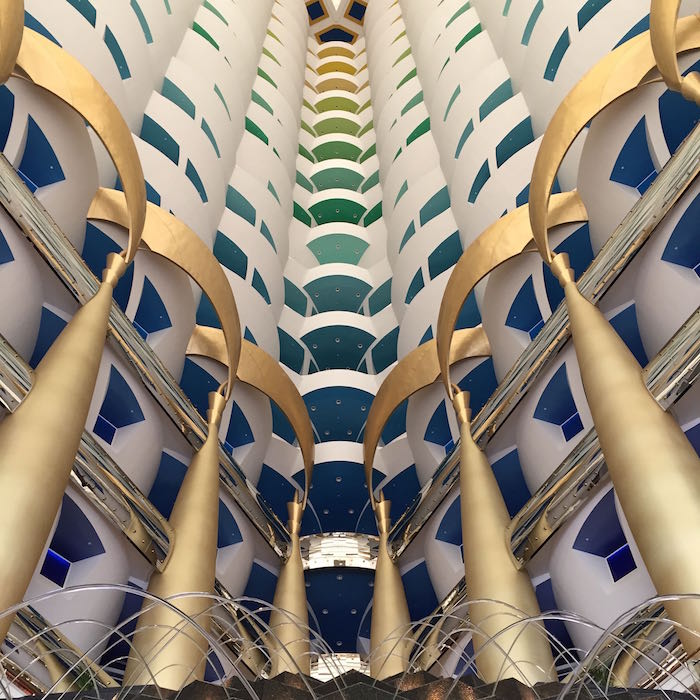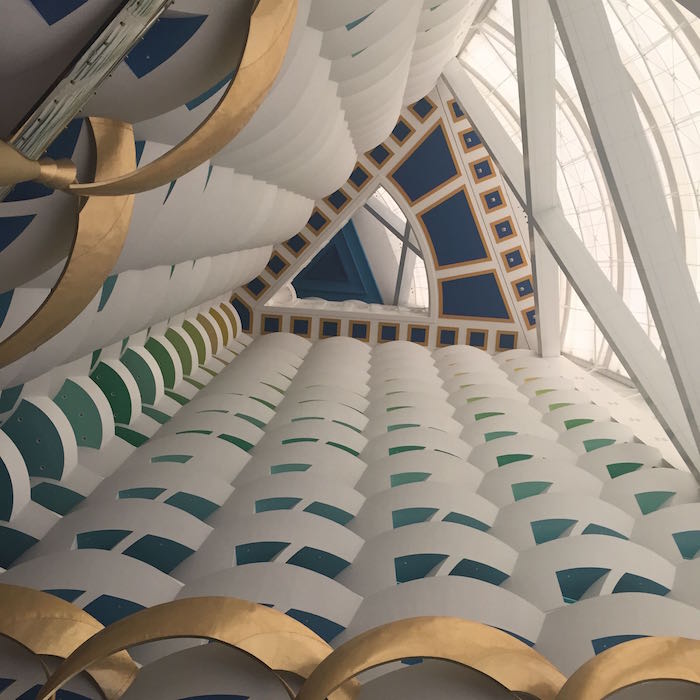 It looks so one-dimentional that you might mistake it for a contemporary Monet painting, but then you look down and the gold reorients you. You're most definitely still in Dubai. And Monet has never been to Dubai.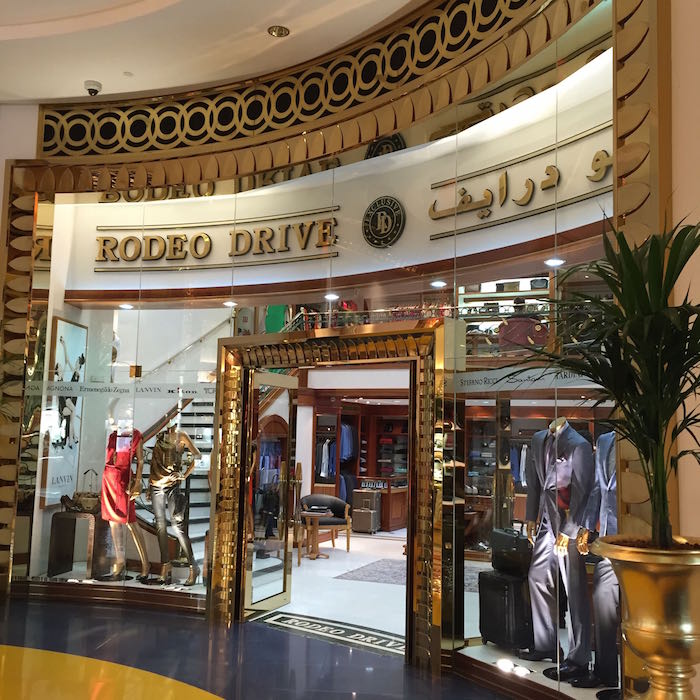 As a Los Angeles native, I was happy to see this excellent depiction of Rodeo Drive in the second floor lobby of the Burj al Arab. I do love that despite the fact Los Angeles is a relatively flashy city, it is quite humble when standing in the lobby of the Burj al Arab. Bling is all relative, I suppose.
We had roughly 20 minutes to explore the lobby while waiting for our 4:00 pm reservation at Sky Bar. After a quick elevator ride up to Sky Bar we were warmly greeted by the staff. For some reason, the staff was convinced I wasn't old enough to be there, but fortunately I had my driver's license and was able to convince them that I was a full half decade above drinking age. We were then whisked along to an amazing corner table with an unmatched view of the Persian Gulf and Dubai to the north.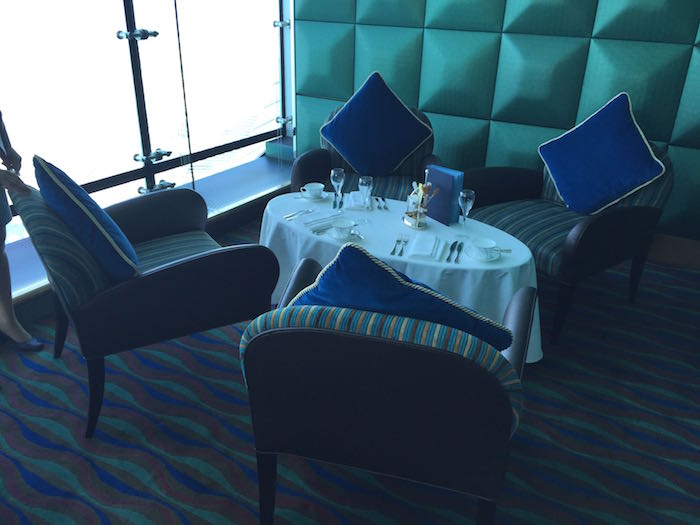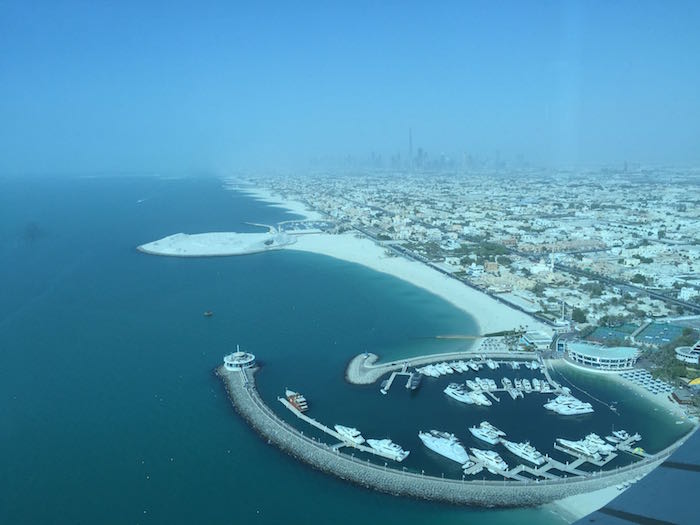 We were then given a tray of delicious dates — some with almonds and the rest with candied orange inside — and offered menus. Tea at the Burj al Arab is very understated, as one would expect. It consists of only seven courses, including a glass of champagne and as many tea / coffee drinks as one can stomach.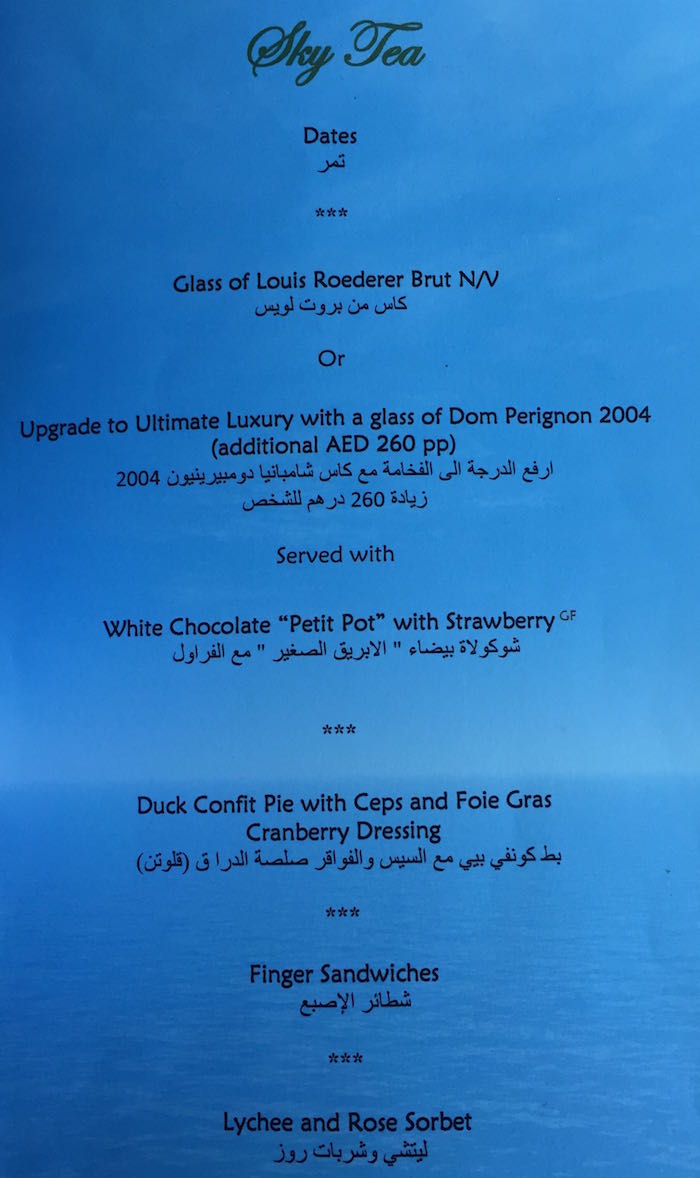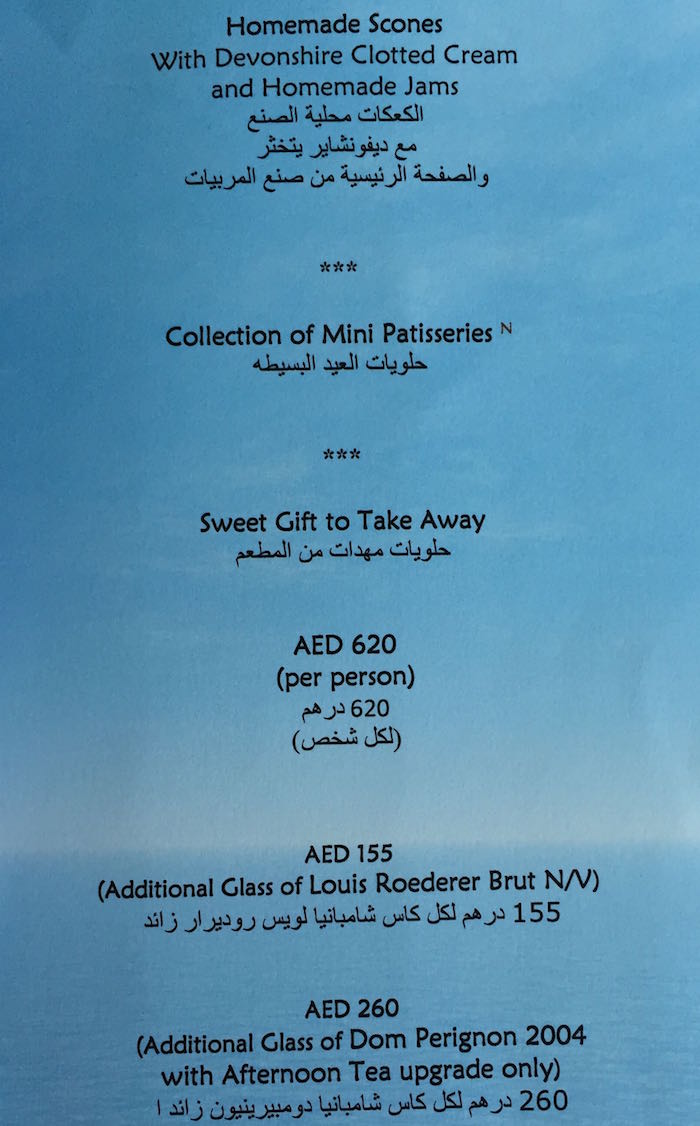 Burj al Arab Sky Bar tea menu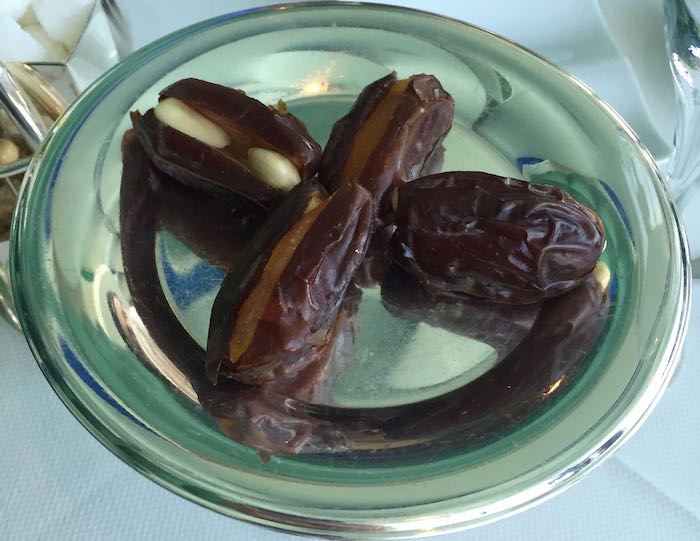 Dates with almonds and candied orange
We elected to forgo the 2004 Dom Perignon, both because we had imbibed a nearly deadly amount of the more drinkable 2005 Dom Perignon on Emirates flight 222 ~36 hours before and because we (correctly) anticipated that we would do the same on Emirates flight 17 to Manchester.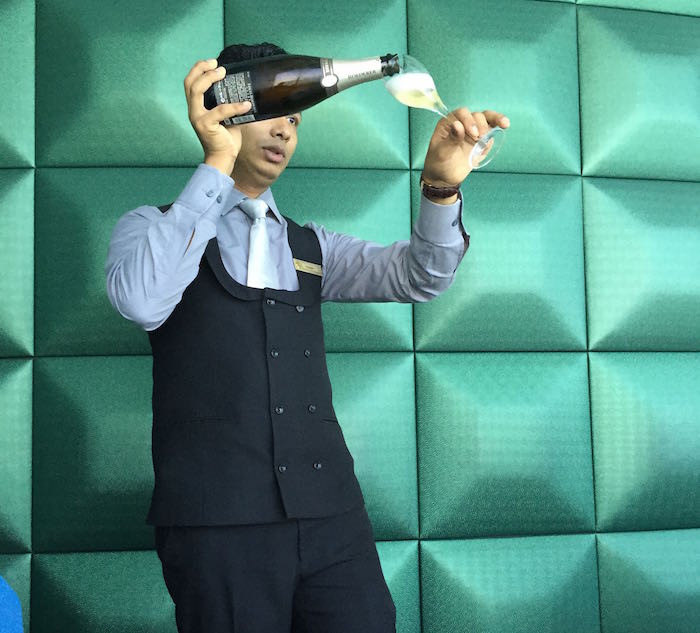 Proper pour but poor bottle orientation. B-.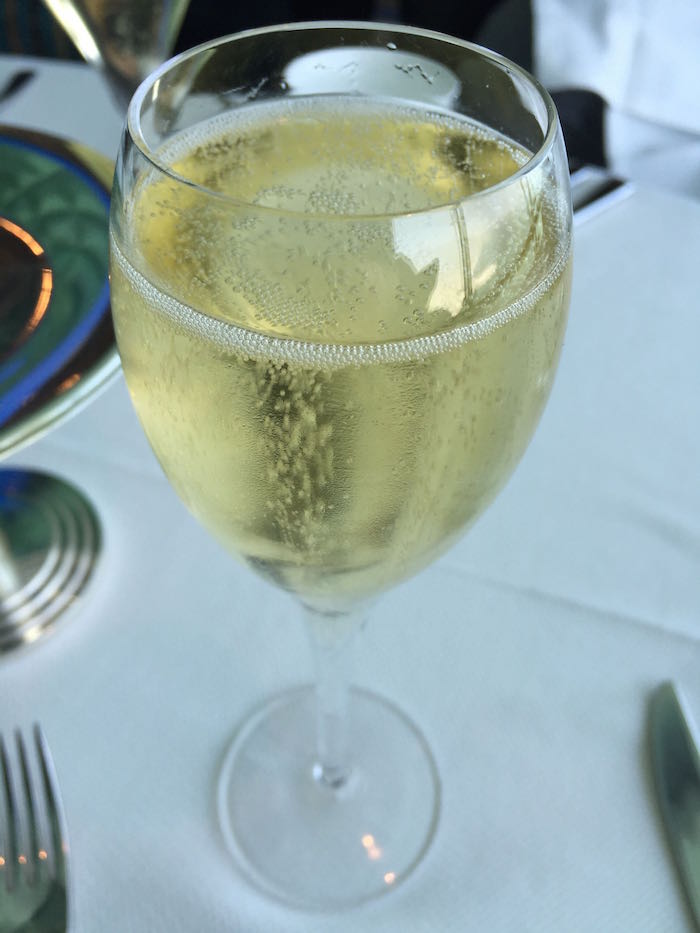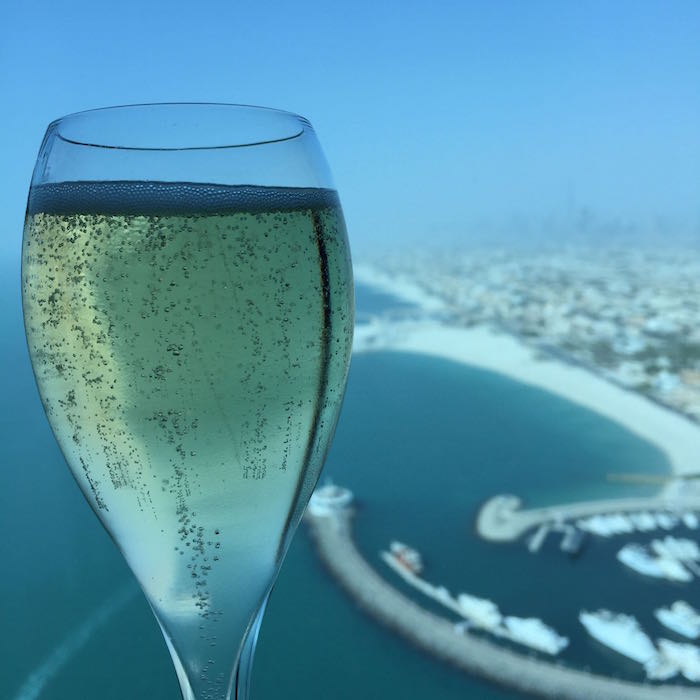 Ben and I hadn't eaten since breakfast at 6:30 am, so we were definitely hungry by the time the first menu item arrived. It was a white chocolate pot de crème with a strawberry compote and bits of what I think were shortbread cookie. I don't know if it was because I was so hungry, but I think this was my favorite menu item. The pot de crème was the perfect consistency, and the white chocolate flavor was not overpowering, as I sometimes find it can be. The shortbread cookie pieces were also amazing.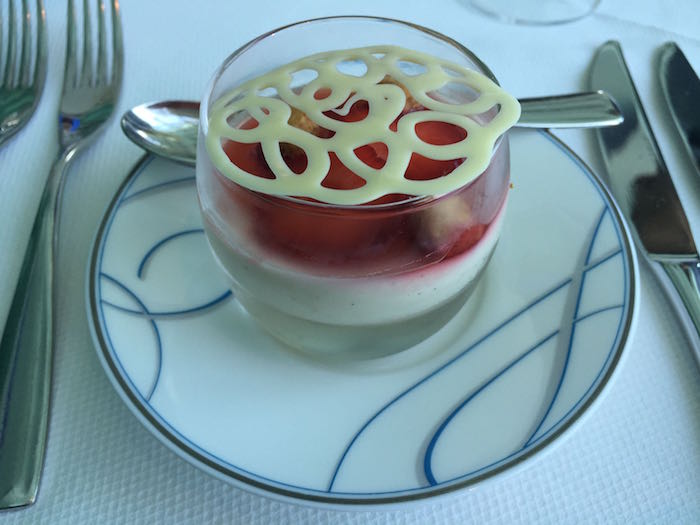 The second course, described as the chef's carvery item of the day, was certainly the most decadent. I'm not sure I understand what makes it a "carvery" item, however. It was a duck confit "pot pie" with foie gras and cranberry compote. I don't love duck, but the dish was very well done and small enough that I enjoyed it very much.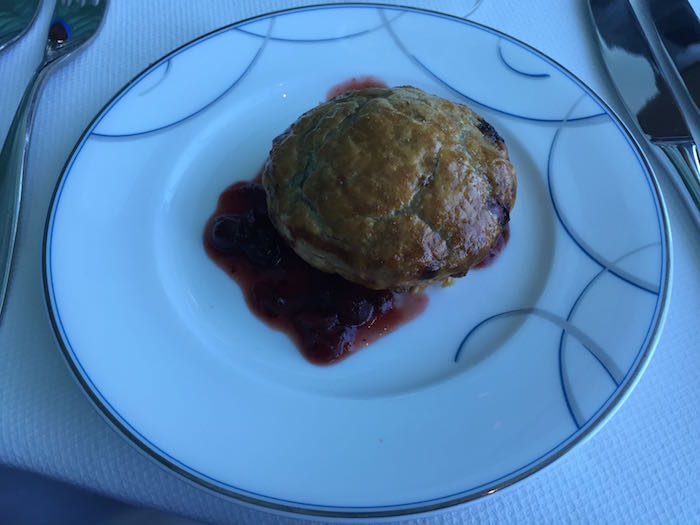 Much like Woody Harrelson's character in "True Detective" season one, I like my coffee strong and black. Ben is a wimp and loves his coffee to resemble (and presumably taste — I wouldn't want to try it) more like milk than coffee. He insisted that I would just adore the caramel iced coffee they serve during the tea service. Ben almost never offers advice when it comes to food, so when he told me to try something I had to do it, despite serious reservations because of the fact it is milk based. I'm happy to report that it was absolutely wonderful, but it was more like having a milkshake than a coffee.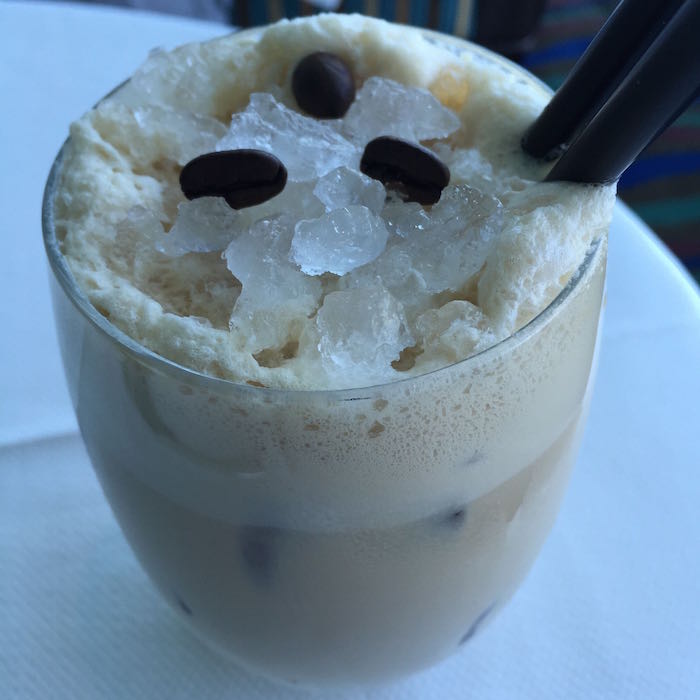 Following Robert's lead, I had a pot of chai tea next. It was really lovely. I enjoyed it without milk, as all caffeinated drinks ought to be enjoyed, tradition aside. Thanks.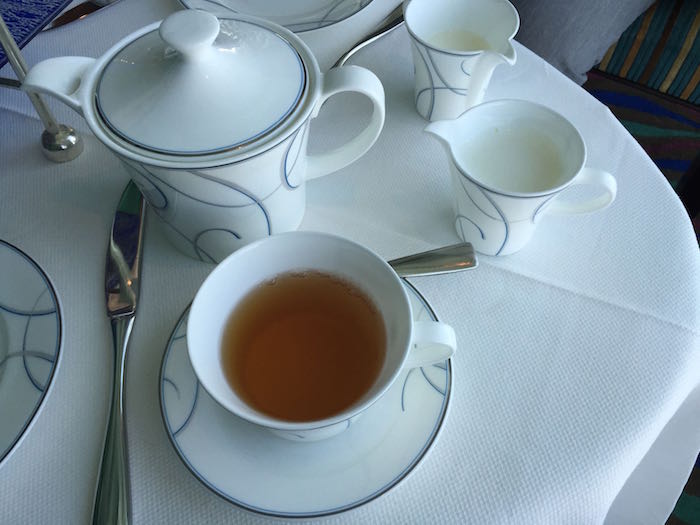 There were a number of traditional tea sandwiches that we were force fed after the duck pot pie. Then we had the lightest of the courses, a rose water and lychee sorbet. It was lovely and so refreshing.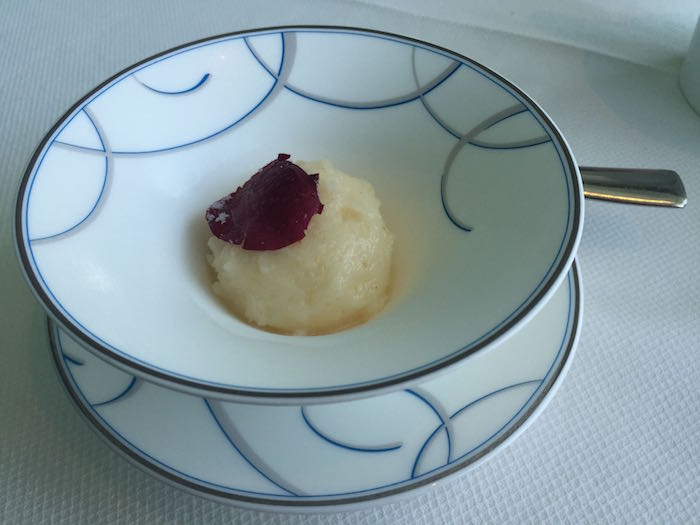 Our server, who was excellent, suggested that we try the cappuccino after the chai. He sold it by suggesting that it was dusted in gold. We were like: mmkay! When it came out, we were all a little disappointed. For a hotel that basically is gold, they did not offer a commensurately liberal dusting of gold on my cappuccino.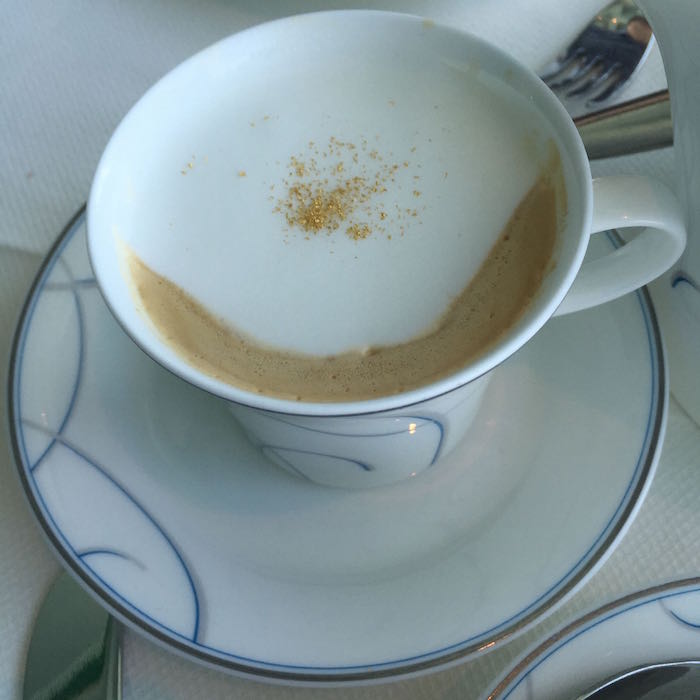 So at this point I was about to declare a state of emergency. I had undoubtedly eaten enough that there was no reasonable chance that anything could be appetizing. To put things into perspective, the service reminded me of that I recently had when I flew first on Great British Airlines.
But you know what? I'm not a quitter! I pushed forward to the scones and other assorted sweet items.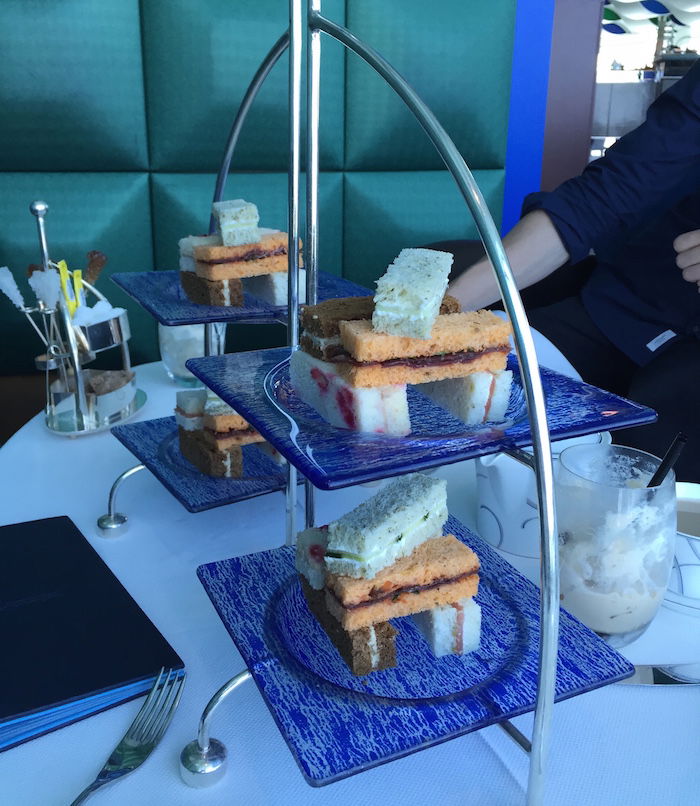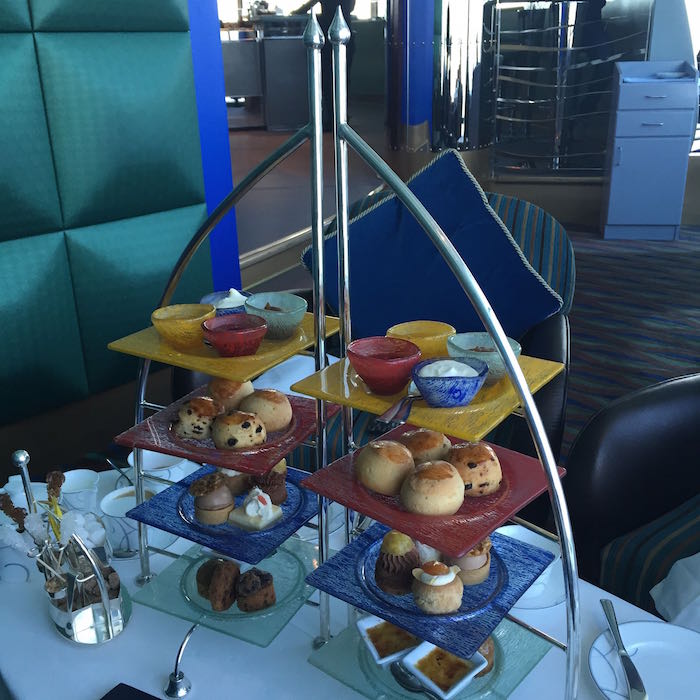 It's fitting that they offered foie gras on the menu today, because I literally made myself into a foie gras goose. The scones were excellent, with proper Devonshire cream and delicious date jam. I also enjoyed the camel's milk creme brûlée.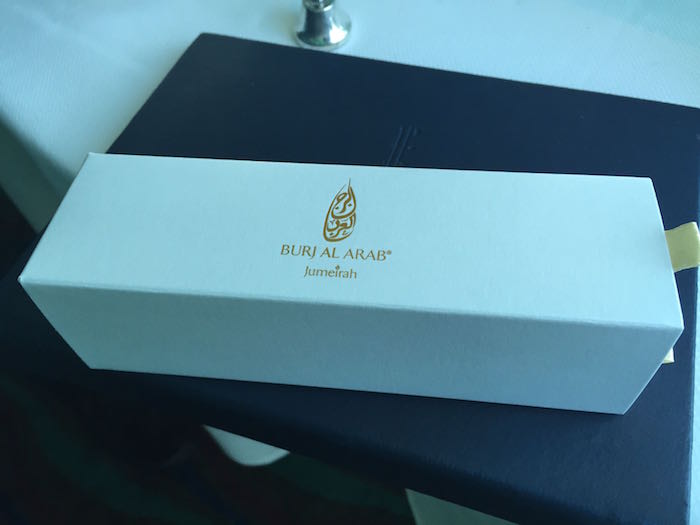 The server then came by and suggested that the largest course of them all was on its way. I literally almost fainted, but he was actually just joking. He offered us a box of petit fours (because obviously I wanted to eat more when I got home) that included a cute Burj al Arab pen. At a little past 6:30pm, our tea had concluded. We were of course told that we could stay as long as we wanted, and were invited to order a drink from the bar if we wished. Ben and I hadn't gotten much sleep, and Robert had a business trip the following morning, so we passed on the invitation and went our separate ways.
Overall, the tea experience at the Burj al Arab was fascinating and GWTW (defined here) fabulous. The service was impeccable — easily the best that we received in the UAE (aside from Emirates, obviously); the food, dessert drink coffee, and tea were delicious; and the views were unparalleled. It's definitely not an inexpensive experience (and as far as I know there are no miles and points options), but it is certainly worth it if you do not visit Dubai — or enjoy seven course tea service — often.
Preview of things to come: Several hours later we were unable to sleep and decided to go to DXB about 6 hours before our flight to Manchester, UK. I have lots to say about the Emirates ground experience and our flight to MAN. Stay tuned!