While I was looking forward to enjoying a daytime flight from Dubai to Manchester, we unfortunately didn't board in the most well rested state to fully enjoy the flight. As explained in a previous installment, due to jetlag we woke up in the middle of the night, and decided to just head to the airport. That means by the time we boarded our flight at around 7AM, we had already been up for about seven hours. But that wasn't going to stop us from enjoying the flight!
I've written extensively about the Emirates first class experience, so I'll focus less on the "hard product" in this review, and instead focus more on the "soft product."
Emirates 17
Dubai (DXB) – Manchester (MAN)
Tuesday, August 25
Depart: 7:25AM
Arrive: 11:55AM
Duration: 7hr30min
Aircraft: Airbus A380
Seat: 3E (First Class)
Upon boarding through the upper deck we were greeted by one of the Senior Flight Stewards (SFS), Ali, and one of the first class crew, who escorted us to our seats. As usual, the first class cabin on the A380 was looking mighty fine!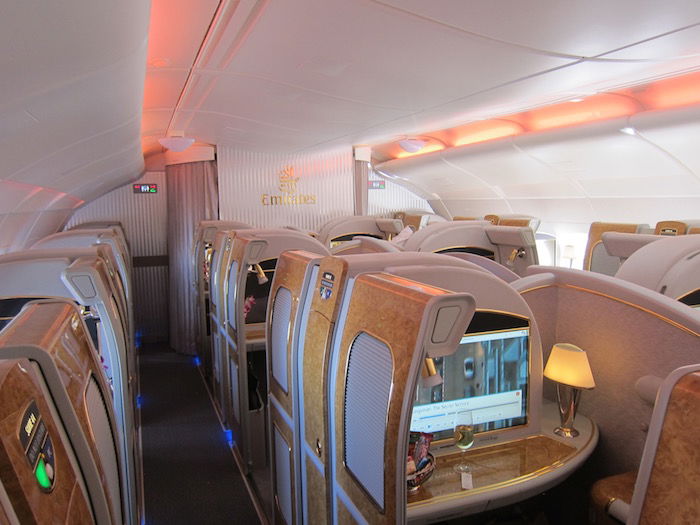 Emirates A380 first class cabin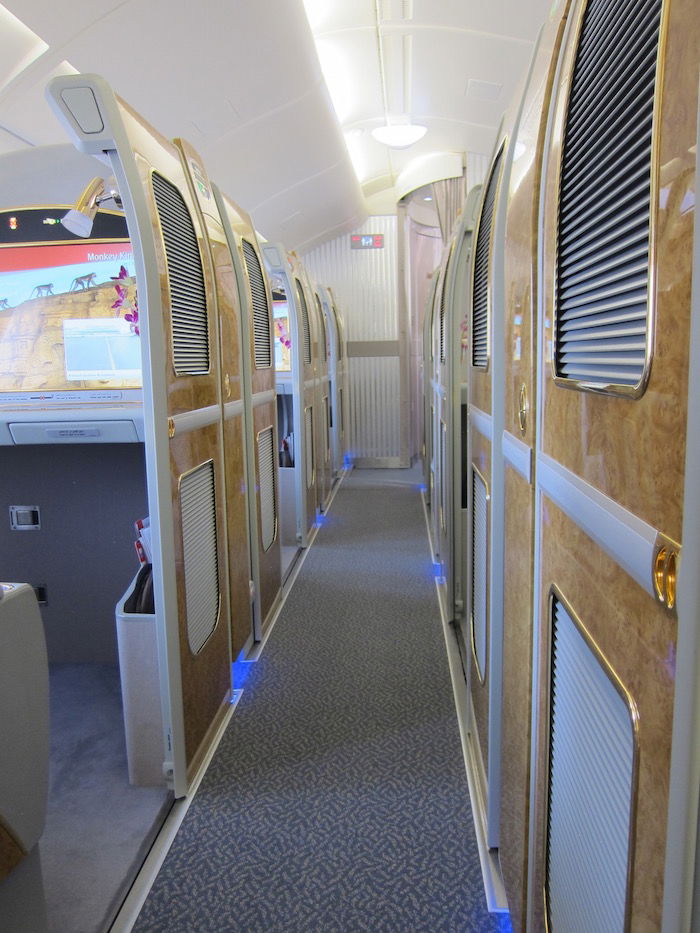 Emirates A380 first class aisle
I'm pretty sure I've mentioned this in a past review, but it's worth repeating. I always find it funny how there's a camera in the back of the first class cabin.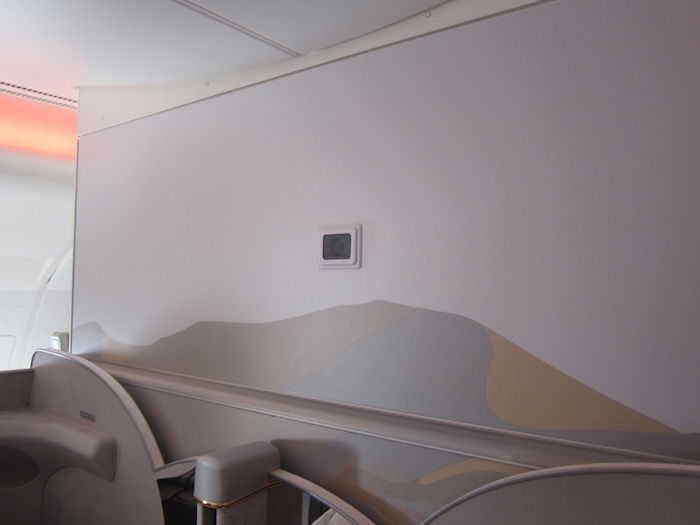 Emirates first class camera
We quickly settled into our seats, 2E & 2F. I find that service can be quite inconsistent on Emirates — sometimes you get amazing crews and sometimes you get mediocre crews. The good news is that you can usually almost immediately tell how good they are.
And in this case I could tell they were amazing. The flight attendant working my aisle was Emily, and she was fantastic. She quickly came by to introduce herself and make sure I was familiar with the functions of the seat, etc. Equally awesome was Patricia, who was working the other aisle, but also came by to introduce herself.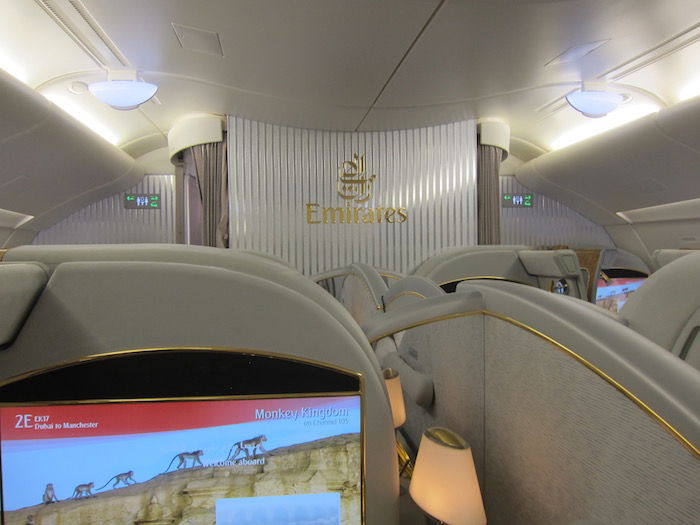 View of Emirates A380 first class from seat 2E
Moments after Emily and Patricia introduced themselves, the purser, Toby, came by to welcome us aboard as well. He explained that there were two other passengers in first class, seated in 1E & 1F. He asked if we wanted to move back a row to 3E & 3F to maximize privacy, which we of course were all in favor of.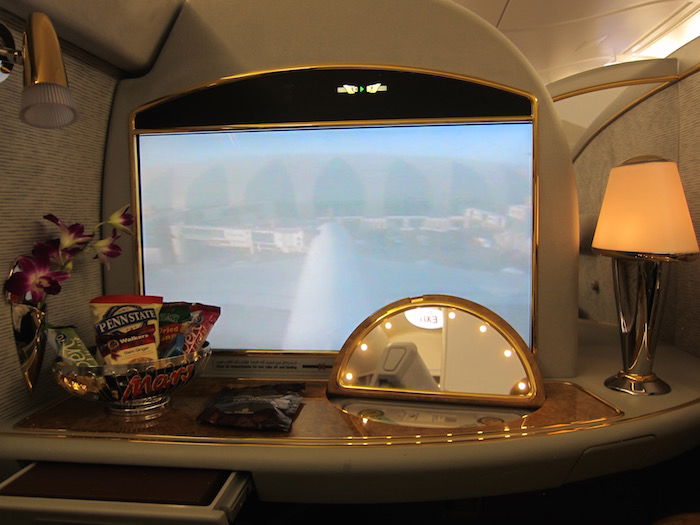 Emirates first class, seat 2E
He came back a moment later with a bottle of 2005 Dom Perignon — yum! While Emirates doesn't serve Dom on the ground in the US (since they'd have to pay taxes on it), in the UAE they serve it from boarding.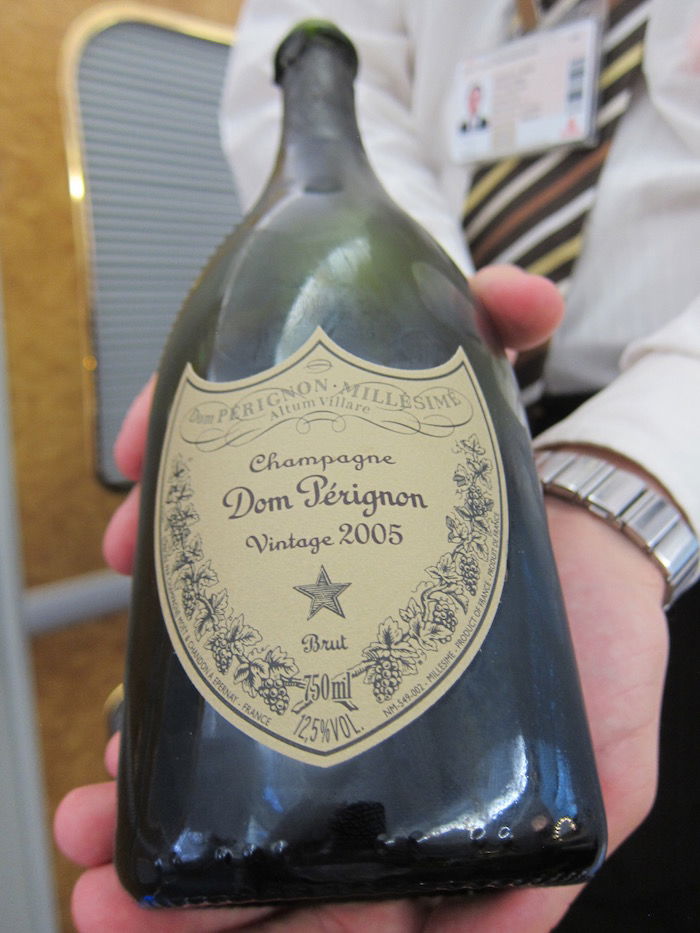 Dom Perignon 2005 in Emirates first class
I was amused that the label specifically said "Exclusively Selected For Emirates."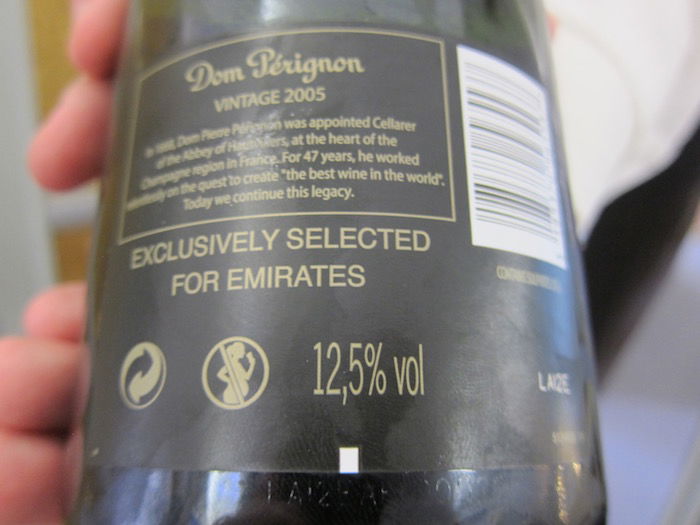 Dom Perignon 2005 in Emirates first class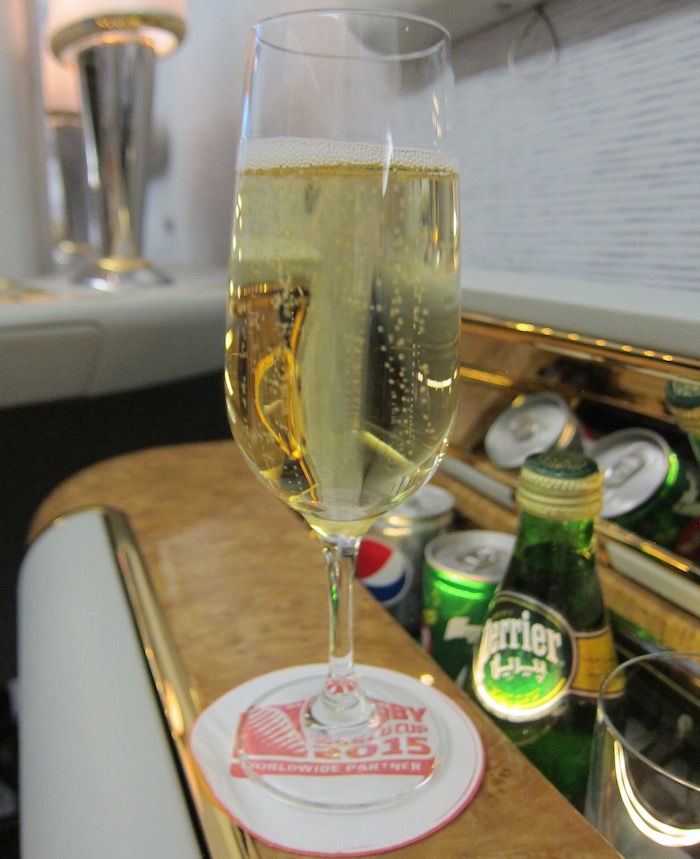 Pre-departure Dom Perignon in Emirates first class
Moments later the crew came by with Arabic coffee and dates, and refills were offered shortly thereafter.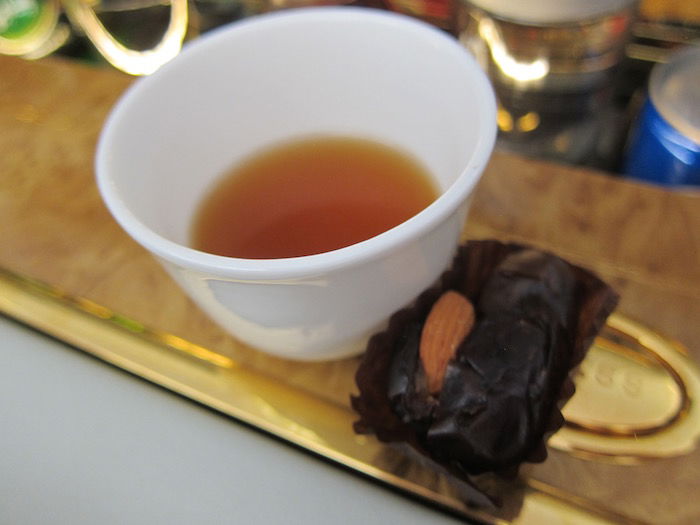 Emirates first class Arabic coffee and date
On daytime midhaul flights, pajamas and amenity kits are only offered on demand. So we both requested pajamas and amenity kits. It's worth noting that the case of this amenity kit was slightly different than from the previous flight. Apparently Emirates has a few types of kits now, to mix things up and make them more interesting.
I quickly headed to the shower spa to change into my pajamas, and upon emerging the crew insisted on hanging my clothing, which I thought was a really nice touch (and something which they typically don't offer, in my experience). The shower spa attendant on this flight, Chienee, was lovely as well. On longhaul flights Emirates has two attendants, while on shorter flights they only have one… not that there's all that much work on the shorter sectors.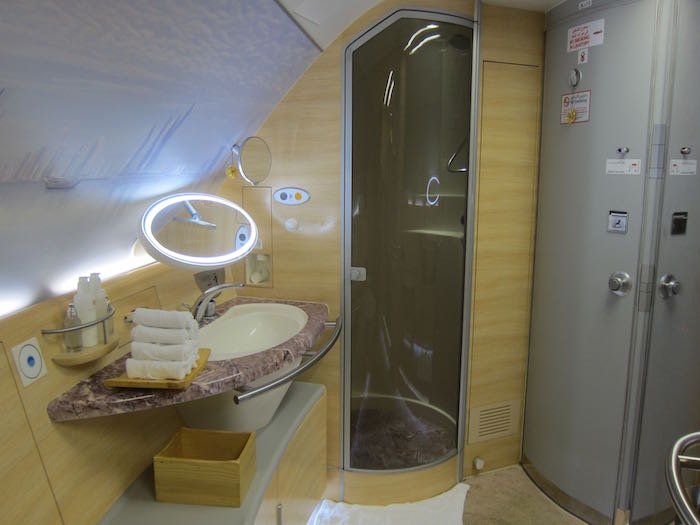 Emirates A380 first class shower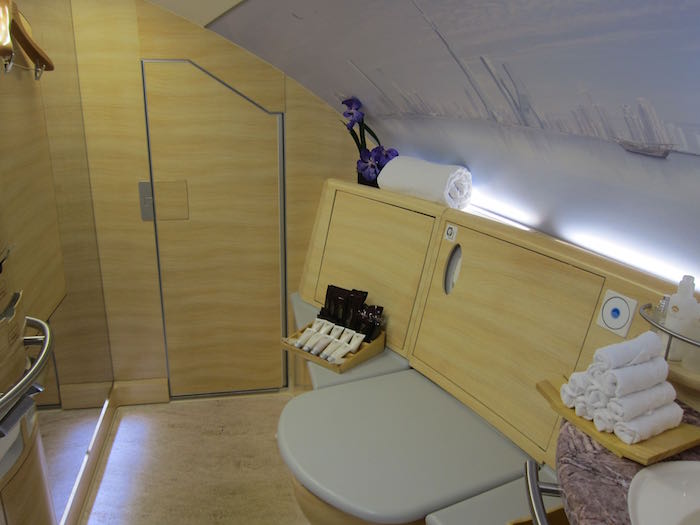 Emirates A380 first class shower
At around 7:20AM the captain came on the PA to add his welcome aboard, and inform us of our flight time of 7hr10min. He further explained that we'd be cruising initially at 34,000 feet, and would eventually be climbing up to 40,000 feet as we burn off some fuel.
We pushed back at 7:25AM, at which point the safety demo began to play. I had the tail camera on for taxi and takeoff, as I usually do, though there seemed to be so much condensation on this one so that I could barely see anything — usually I find them to pretty high definition, but that wasn't the case here.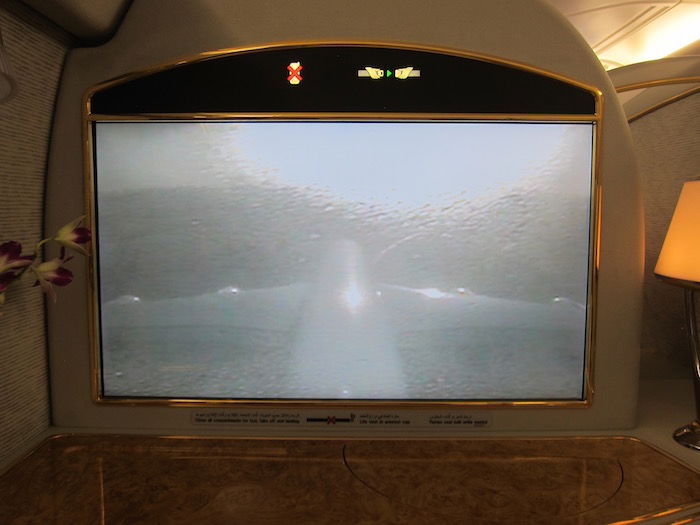 Emirates A380 tail camera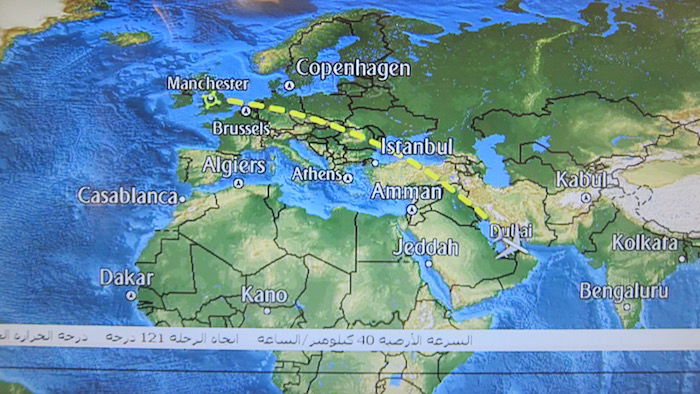 Airshow enroute from Dubai to Manchester
We taxied out to runway 30L, and at 7:45AM we were cleared for takeoff.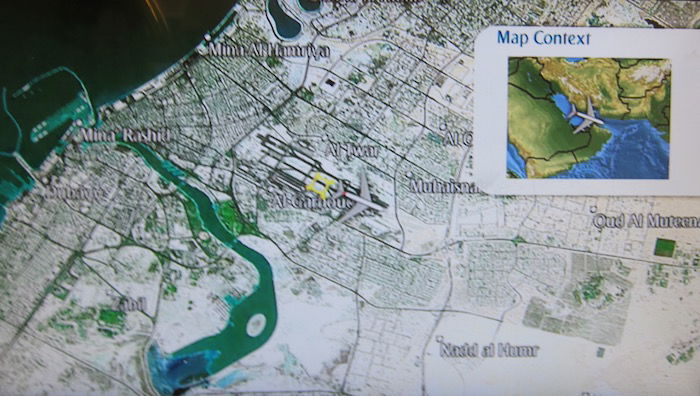 Airshow enroute from Dubai to Manchester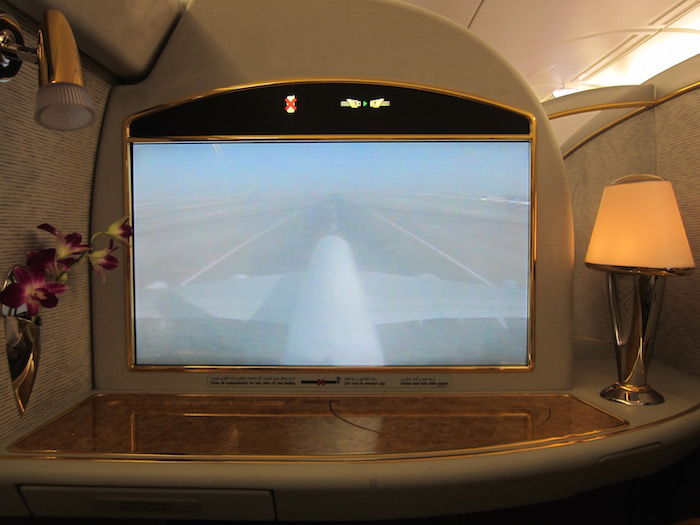 Emirates A380 tail camera taking off
Our climb out was smooth and gradual, as is the norm on the A380. A few minutes after takeoff the purser made the post-takeoff announcement, informing us that the crew came from 21 countries and spoke 19 languages (by comparison, our Dallas to Dubai crew came from 17 countries and spoke a mere 13 languages).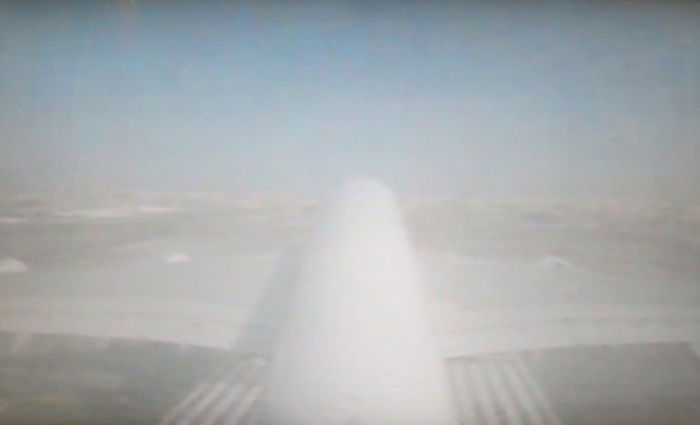 Emirates A380 tail camera shortly after takeoff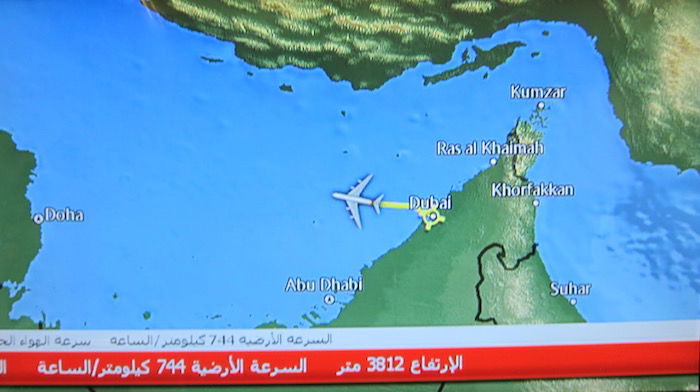 Airshow enroute from Dubai to Manchester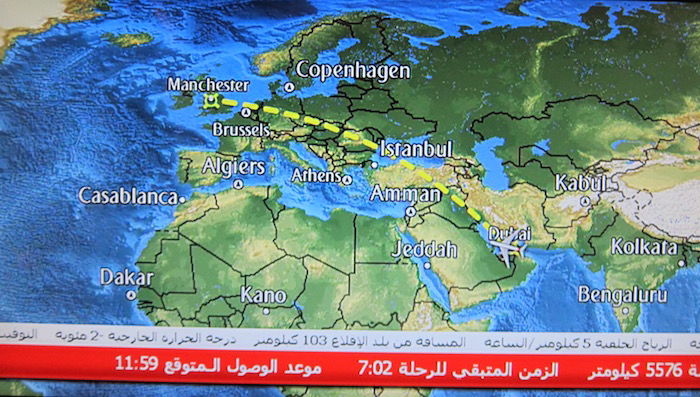 Airshow enroute from Dubai to Manchester
As we climbed out I browsed the super-extensive entertainment selection, which I almost never use on Emirates, even though it's among the best out there. There's simply too much fun stuff to do on Emirates! I did decide to watch Kingsman, upon Matt's insistence. Personally I didn't go as crazy as everyone else did over Taron Egerton the movie.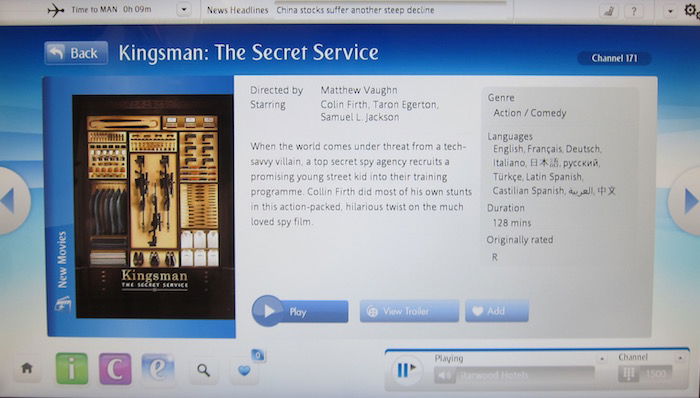 Emirates ICE entertainment selection
About 15 minutes after takeoff the seatbelt sign was turned off, at which point the service began. First Toby made his way around the cabin to offer us the menus for the flight. He explained the "dine on demand" concept, whereby we could order what we wanted when we wanted.
That was sort of a blessing, given that the menu for this flight has a continental breakfast selection and then a larger a la carte lunch selection. Since we had been up for so long, we were ready to go straight for lunch.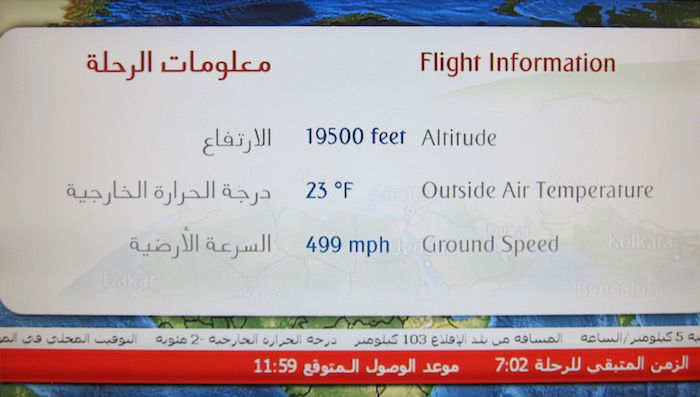 Airshow enroute from Dubai to Manchester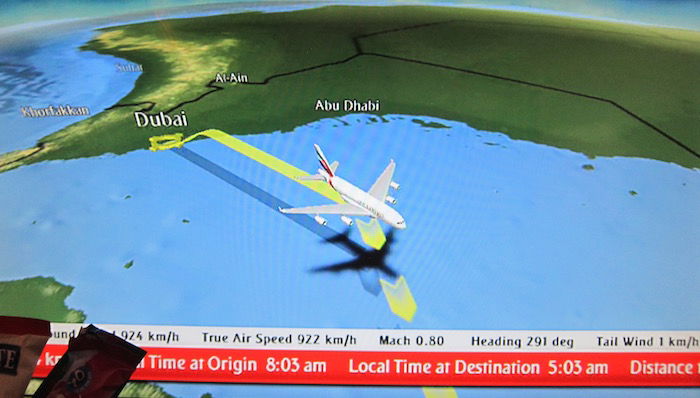 Airshow enroute from Dubai to Manchester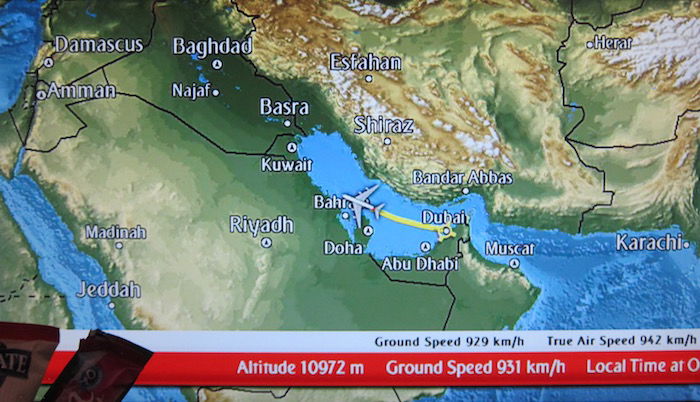 Airshow enroute from Dubai to Manchester
We started off with some more 2005 Dom, along with some mixed nuts and cold canapes.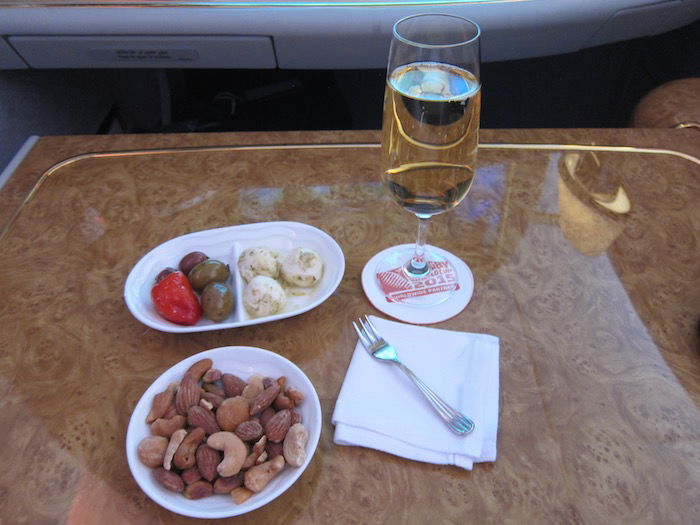 Emirates first class champagne, warm nuts, and cold canapes
That was quickly followed by some warm canapes, which were excellent.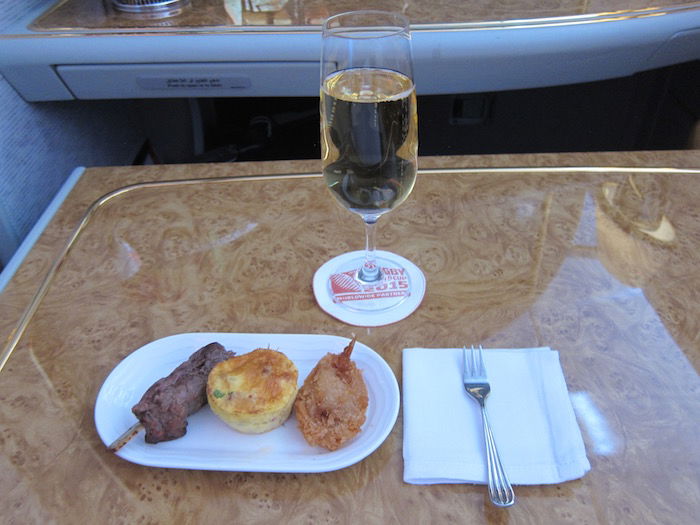 Emirates first class hot canapes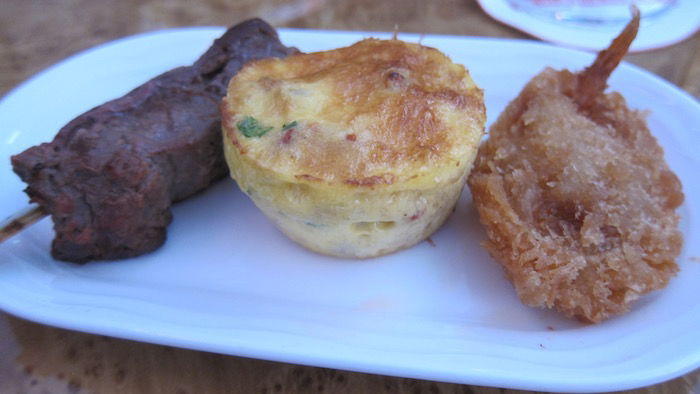 Emirates first class hot canapes
We weren't especially hungry, so decided just to start with some caviar. As usual, the table setting was immaculate.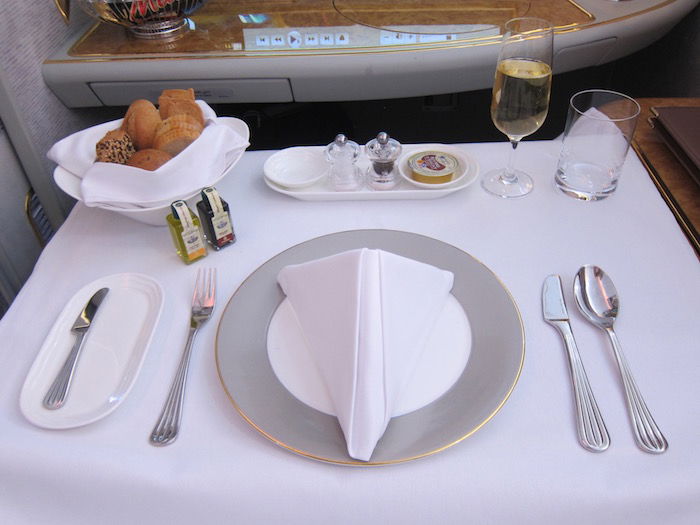 Emirates first class table setting
Emirates is unique in that they plate the caviar in the galley. Other airlines, like ANA, Cathay Pacific, Japan Airlines, etc., serve caviar directly in the tin. Apparently each "portion" of caviar is one entire tin.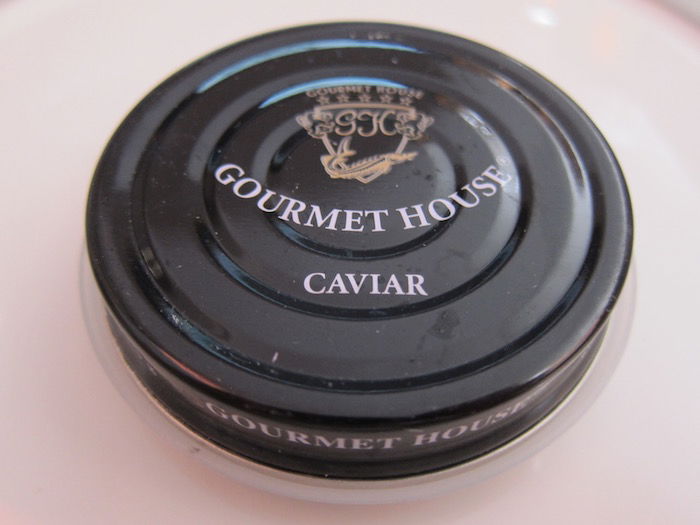 Emirates first class caviar
The presentation of caviar was excellent, as usual.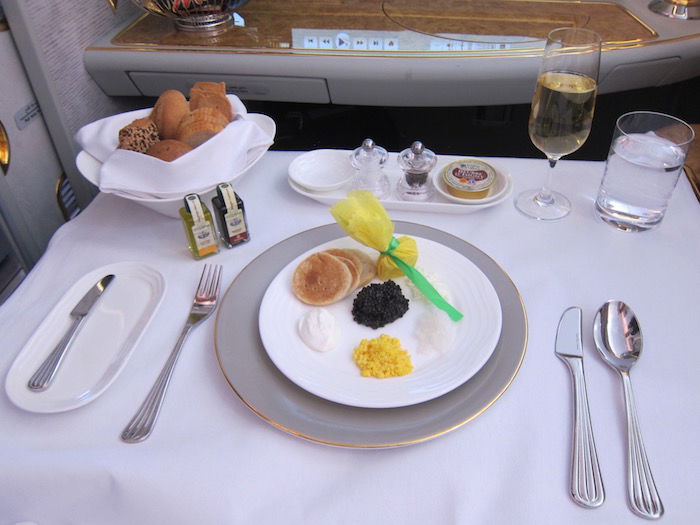 Emirates first class caviar service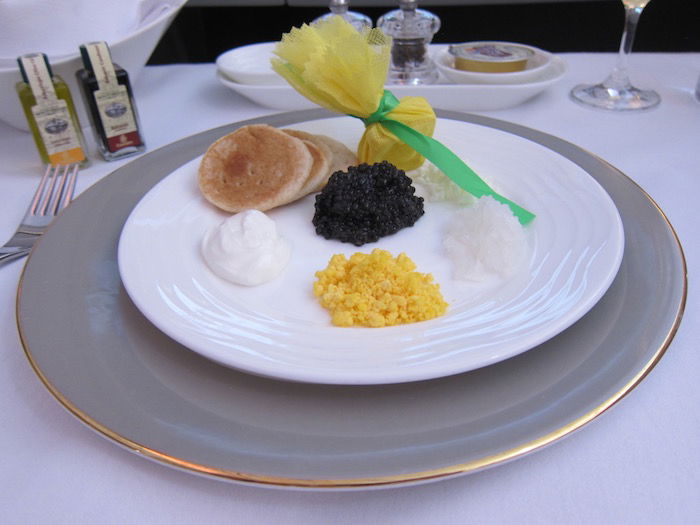 Emirates first class caviar service
We didn't want to eat anything else for the time being, so the service finished with a warm towel, box of Godiva chocolates, and toothpick.
Even though we didn't have much to eat at this point, I can't say enough good things about the crew. They were attentive, super friendly, and had an amazing attention to detail. For example, when I went to the lavatory my seat would always be "tidied up" and napkin would be folded. It was really, really impressive.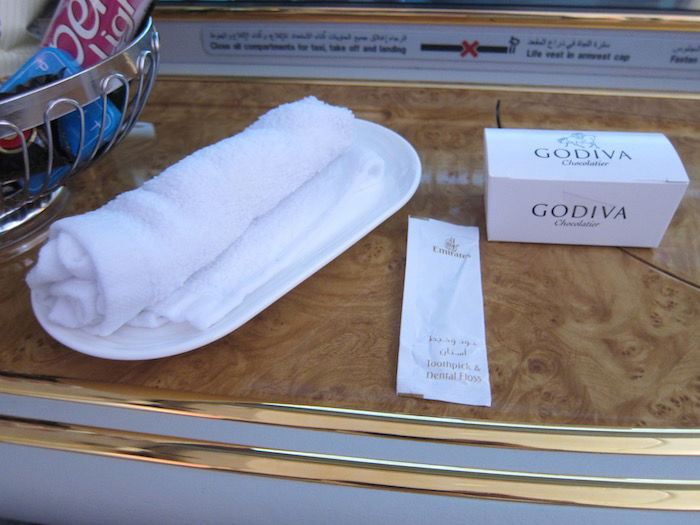 Emirates first class warm towel and chocolate
After the champagne and snacks we headed back to the bar, which is located at the back of business class. The business class cabin on this flight was fairly full, with no more than a dozen or so empty seats.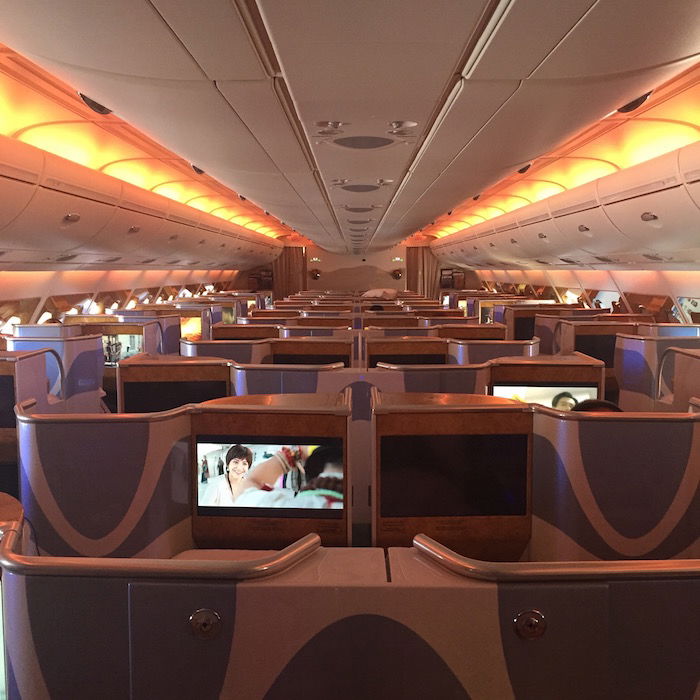 Emirates A380 business class cabin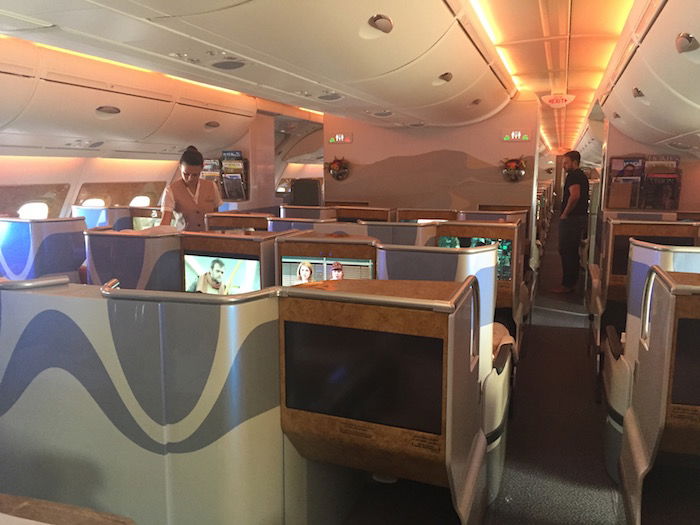 Emirates A380 business class cabin
Fortunately the bar was reasonably empty, given that it was still an early morning flight.
We had a fantastic time at the bar, and had the chance to chat with SFS Ali for a while, who was great as well. Time flies when you're having fun, so before I knew it we were halfway to Manchester.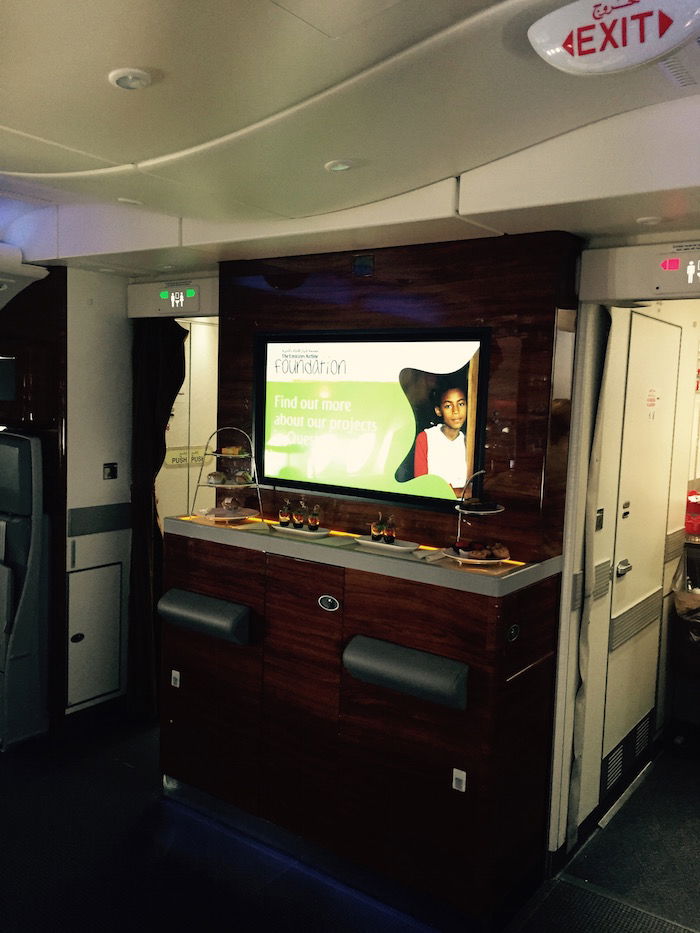 Emirates A380 business class bar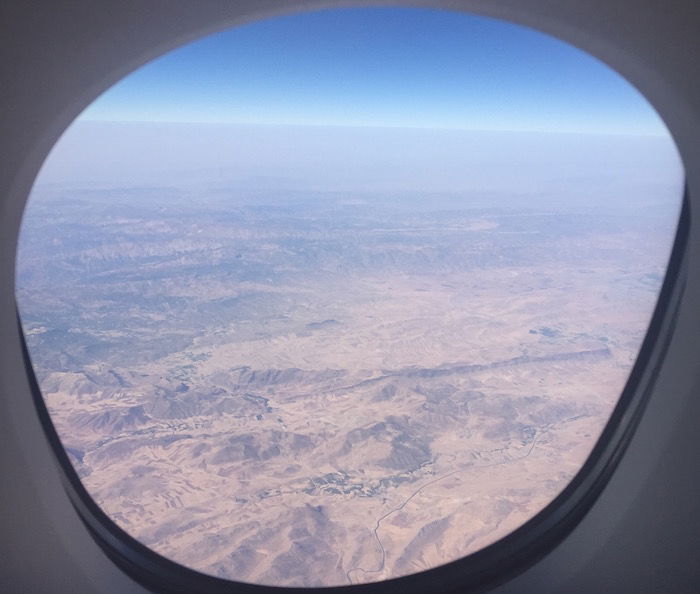 View enroute to Manchester
At that point we figured we'd finish our meal. Thanks to the awesomeness of the crew, we were able to place our meal order at the bar, so we could hang there until the meal was prepared.
Once again, service began with the table being perfectly set.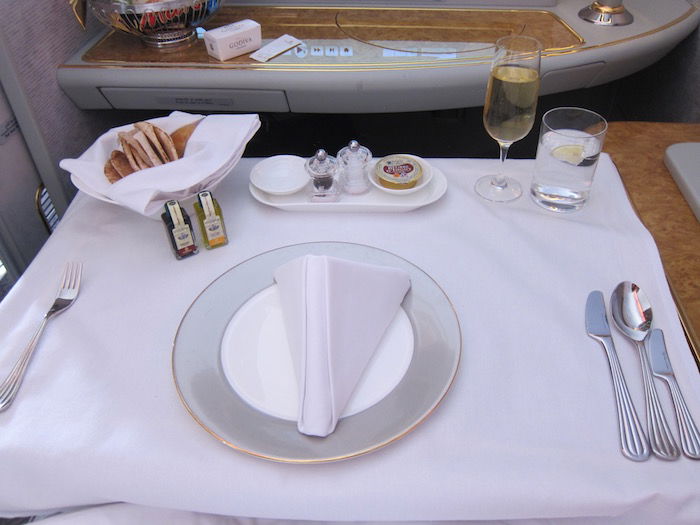 Emirates first class table setting
I had the Arabic mezze to start. Emirates does possibly my favorite Arabic mezze presentation.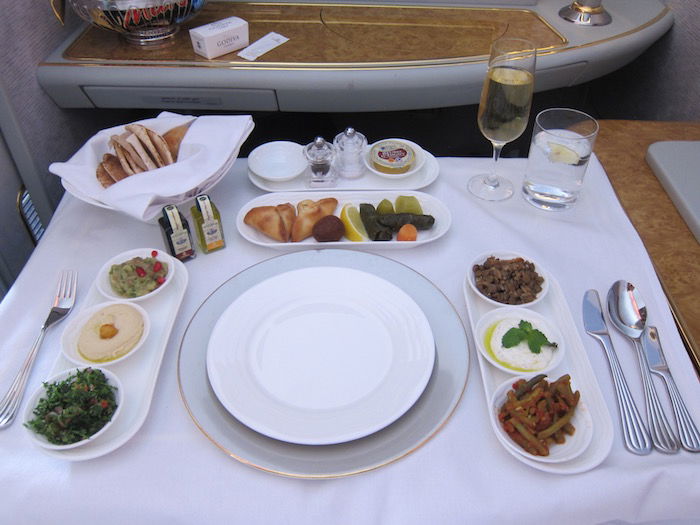 Emirates first class Arabic mezze
I had the seafood biryani as my main course, which was delicious, simple as it may be. It had both shrimp and white fish in it.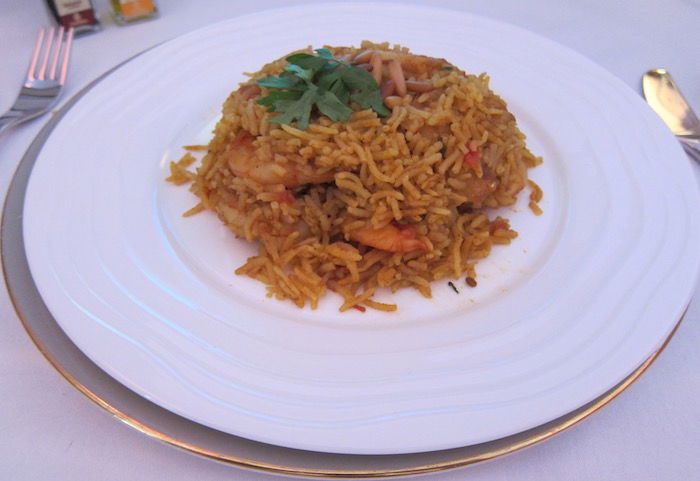 Emirates first class seafood biryani
Meanwhile Matt had an herb crusted tuna loin as his starter.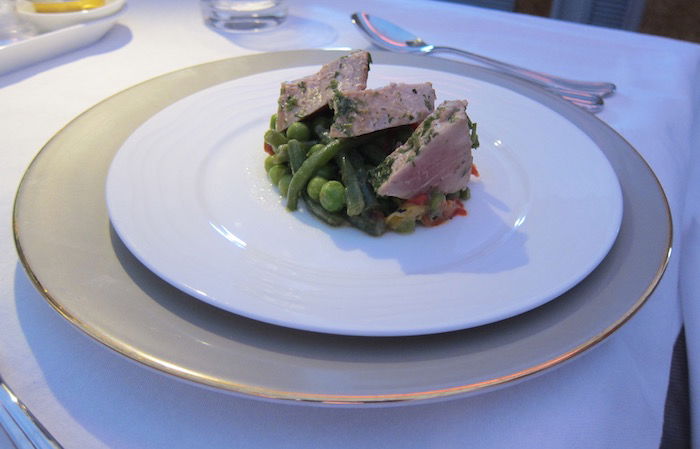 Emirates first class tuna loin
And then cod as his main course, which he said was fantastic.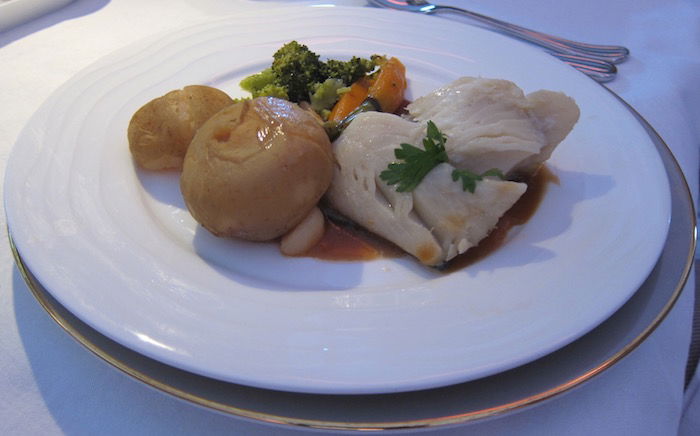 Emirates first class cod
At this point exhaustion started to kick in, and I was starting to feel the effects of our decision to get up so early. So I had my bed made in seat 3A, and was asleep within a minute.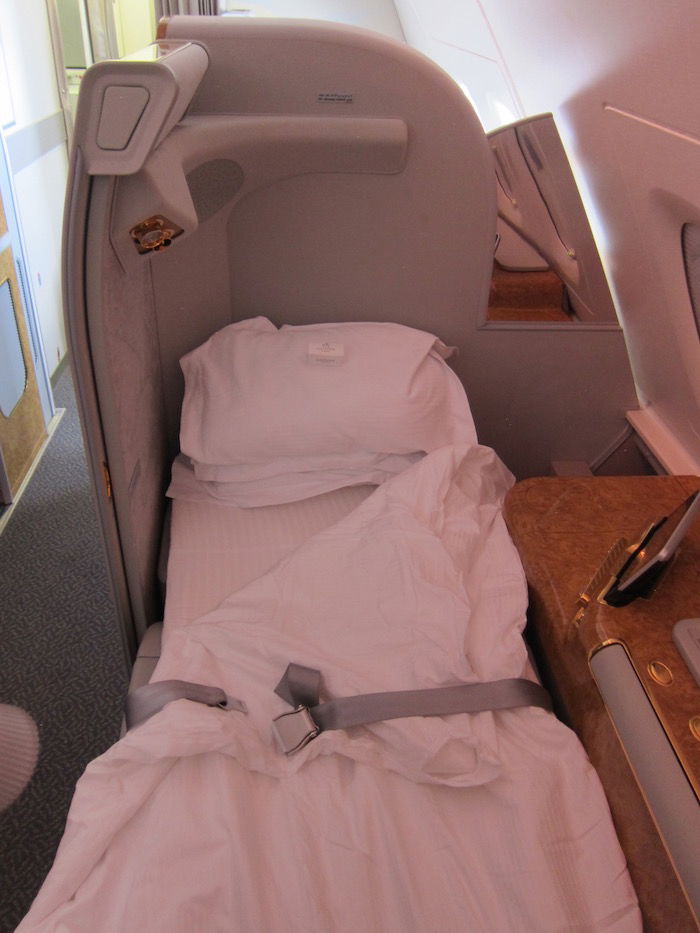 Emirates A380 first class bed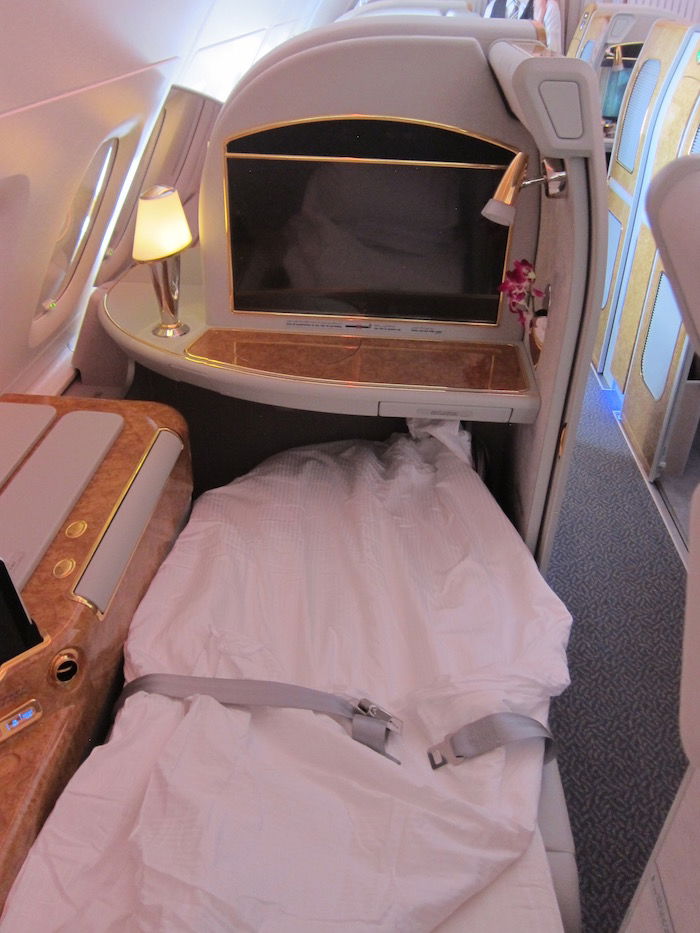 Emirates A380 first class bed
I asked the crew to wake me an hour out so that I could still shower, which they did. The shower was just what I needed after an all too fun, quick flight. Upon returning to my seat there was the usual fruit plate waiting for me.

Emirates post-shower fresh fruit
By the time I was done with my shower we were commencing our initial descent into Manchester. I changed back into jeans and a t-shirt, and stowed all my carry-ons.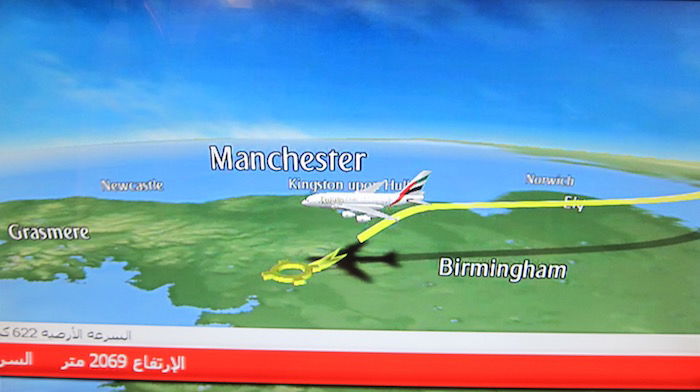 Airshow on approach to Manchester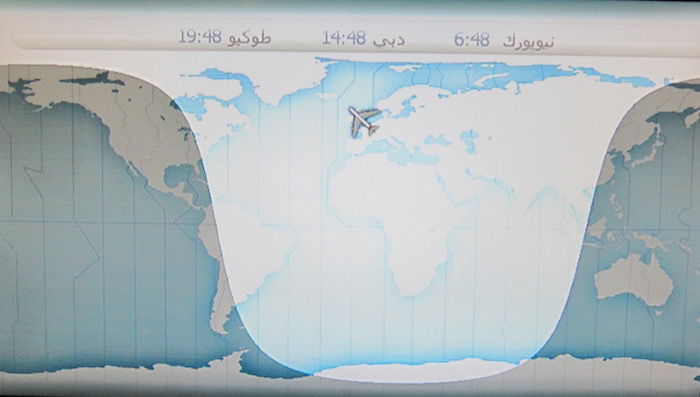 Airshow on approach to Manchester
The descent into Manchester was smooth, and we touched down on runway 23R at 12PM sharp.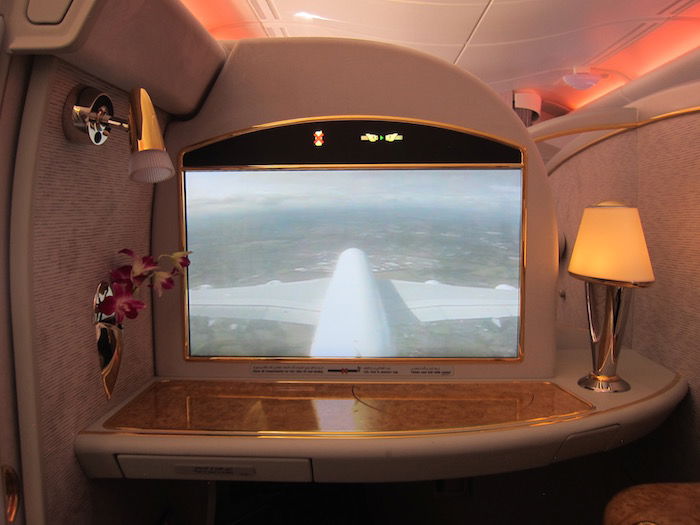 Tail camera on approach into Manchester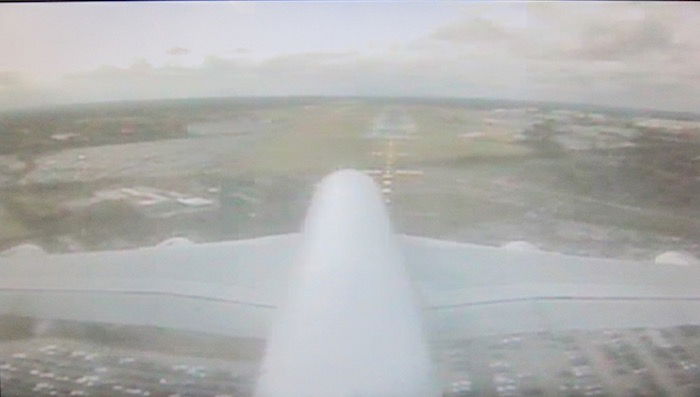 Tail camera on approach into Manchester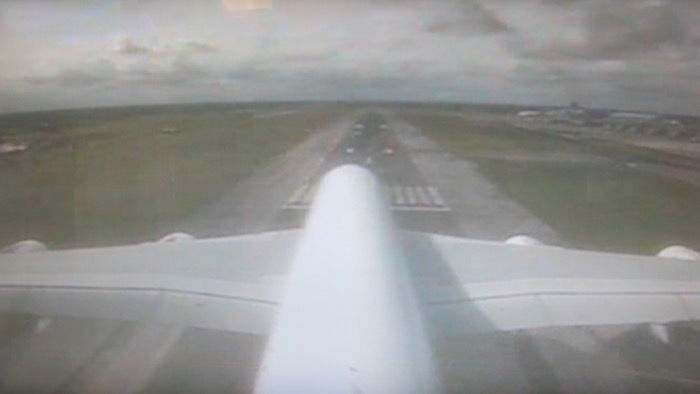 Tail camera on final approach into Manchester
We used up almost the entire runway to stop, and from there it was about a five minute taxi to our arrival gate.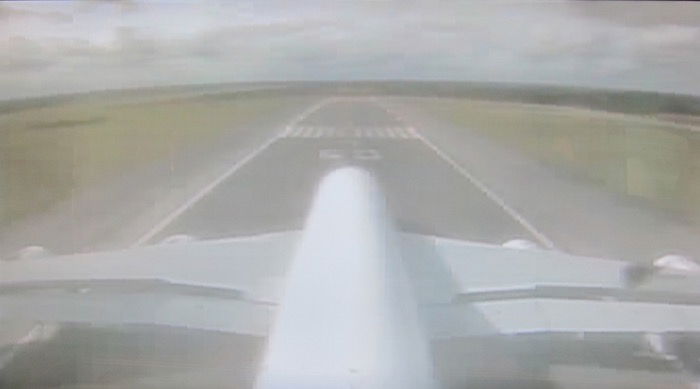 Touchdown Manchester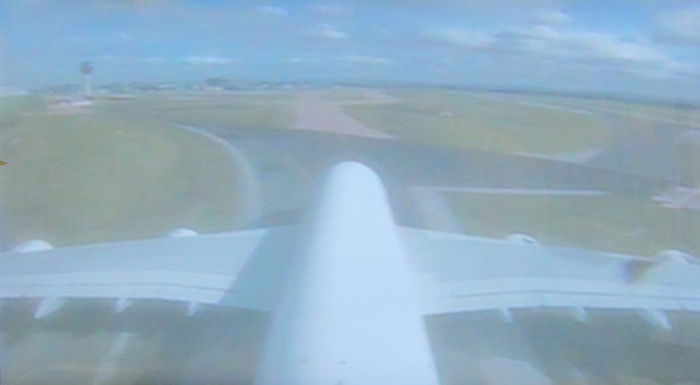 Taxiing in Manchester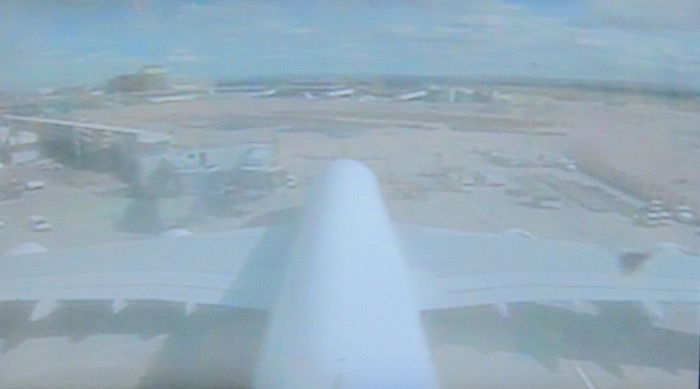 Arriving at gate in Manchester
We bid farewell to the fantastic crew, and headed towards immigration. Manchester Airport feels like a really small, regional airport, so it's sort of surreal landing there on an A380. And that doesn't even account for the fact that the "big three" Gulf carriers have seven flights a day there — incredible!
The immigration agent was quite rude and inquisitive, though after visiting Manchester I guess I see why she'd find it odd we were choosing to visit on holiday. 😉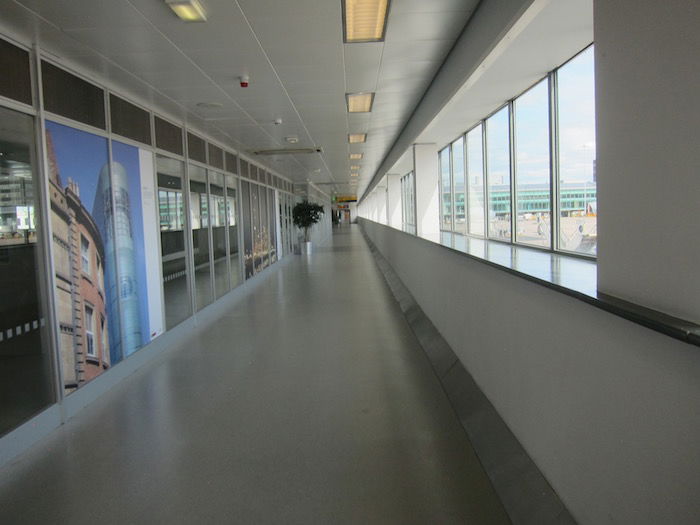 Manchester Airport arrivals hall
Emirates first class bottom line
Emirates offers one of my favorite first class products in the world. While the A380 doesn't have the most spacious first class seat, I love all the bling. And I also love the onboard shower and bar. The food on Emirates is also consistently excellent, as they have a huge variety of options, and unlike one of their major UAE competitors, they don't typically run out of food.
The thing that I find wildly inconsistent on Emirates is the service. Some crews are among the best in the industry, while others are positively mediocre. This crew was fantastic, possibly the best I've had on Emirates.
I know I've reviewed Emirates first class to death at this point, but if you haven't yet flown them, you really should (and that's quite easy to do using Alaska Mileage Plan miles, which are presently on sale with up to a 40% bonus).