As I mentioned previously, I just wrapped up a trip with one of my best friends, Matt. We planned the trip day-by-day, which meant we've been writing the trip report more or less live. Matt will be sharing his thoughts as we go along as well — here's his eighth installment.
After a brief stay in Paris, it was time for me to finally return home. I visited my parents before traveling to Dubai and Europe with Ben, so as I left Paris it had been nearly a month since I had been in Los Angeles. Traveling is awesome, but I was ready to be home. Initially, my plan was to leave Paris and go to New York in Lufthansa first class. I redeemed 62,500 Air Canada Aeroplan miles for the trip. Shockingly, space opened directly to Los Angeles on LH450, the 2:05 pm flight, which — like my flight to New York — was on a 747-8.
This route is next to impossible to redeem points for, even in advance using Miles & More points. I decided to go home before going to New York, that way I could do laundry, repack, etc. Good thing I decided to leave earlier instead of later, since Lufthansa's longhaul pilots are on strike now! By switching, I also ended up sharing the cabin with two famous female singers.
Even non-religious readers of OMAAT know that Ben loves Lufthansa. He likes it so much that Tiffany had to step in and share her own opinion of Lufthansa first class, lest readers suspect Ben was sugarcoating his reviews. I'm happy to report that my experience on Lufthansa, including a visit to the First Class Terminal in Frankfurt, was incredible — and not just in a Park Hyatt Vienna kind of way.
I initially started to write the entire trip as one report, but it started to read like a treatise. Thus, I will break the experience down into two parts. First, in this segment, I will briefly describe the short hop from Paris to Frankfurt and will review the First Class Terminal. Second, in a forthcoming post, I'll review the flight from Frankfurt to Los Angeles.
CDG-FRA in Lufthansa Business Class
I checked in online for my flights as soon as Aeroplan reissued the ticket, so I headed straight for security upon arrival at Charles de Gaulle. Security was a breeze, and I was on my way to the Senator Lounge. It was really quite drab, especially compared to the Senator Lounge I previously visited at Washington-Dulles.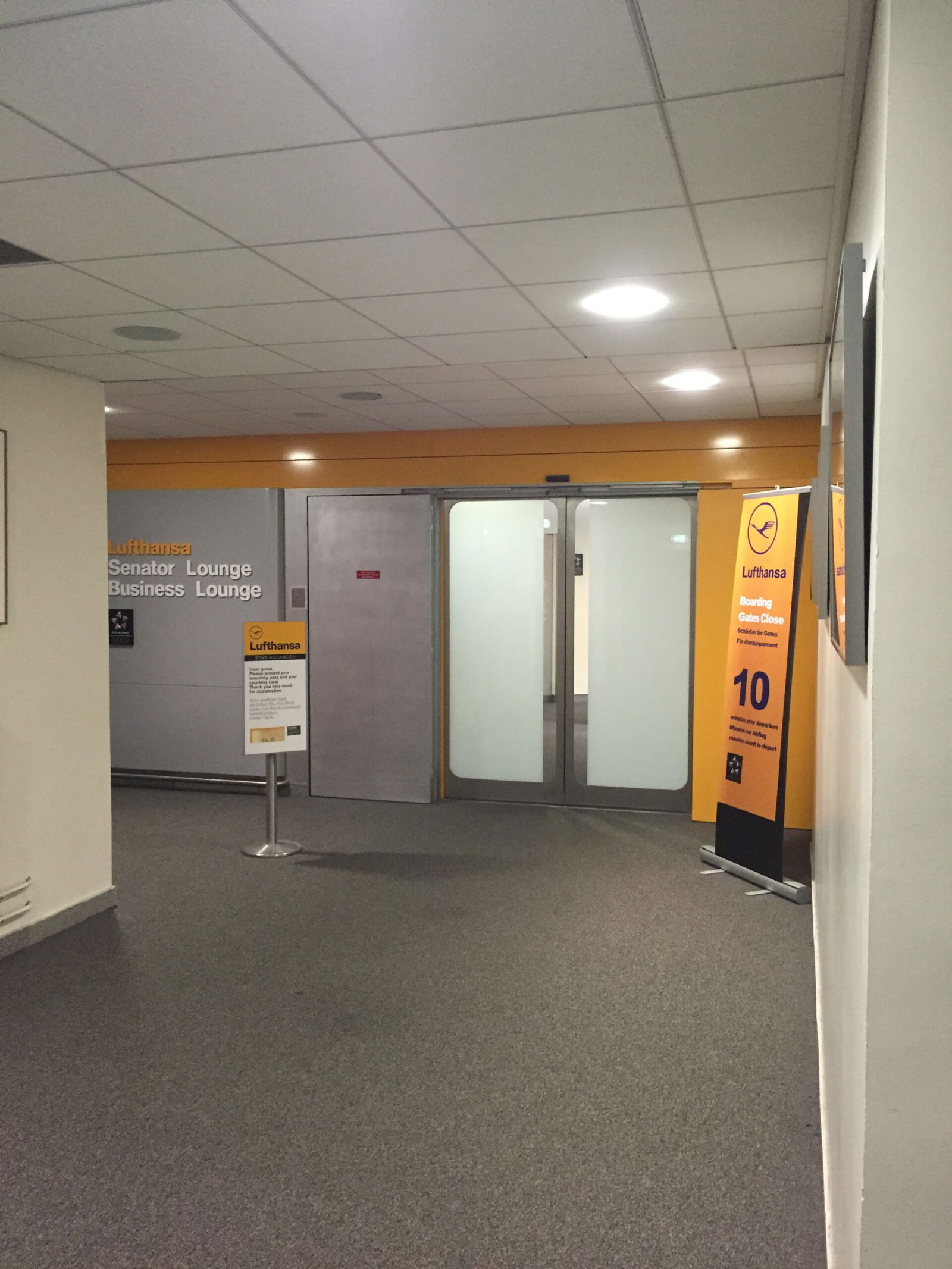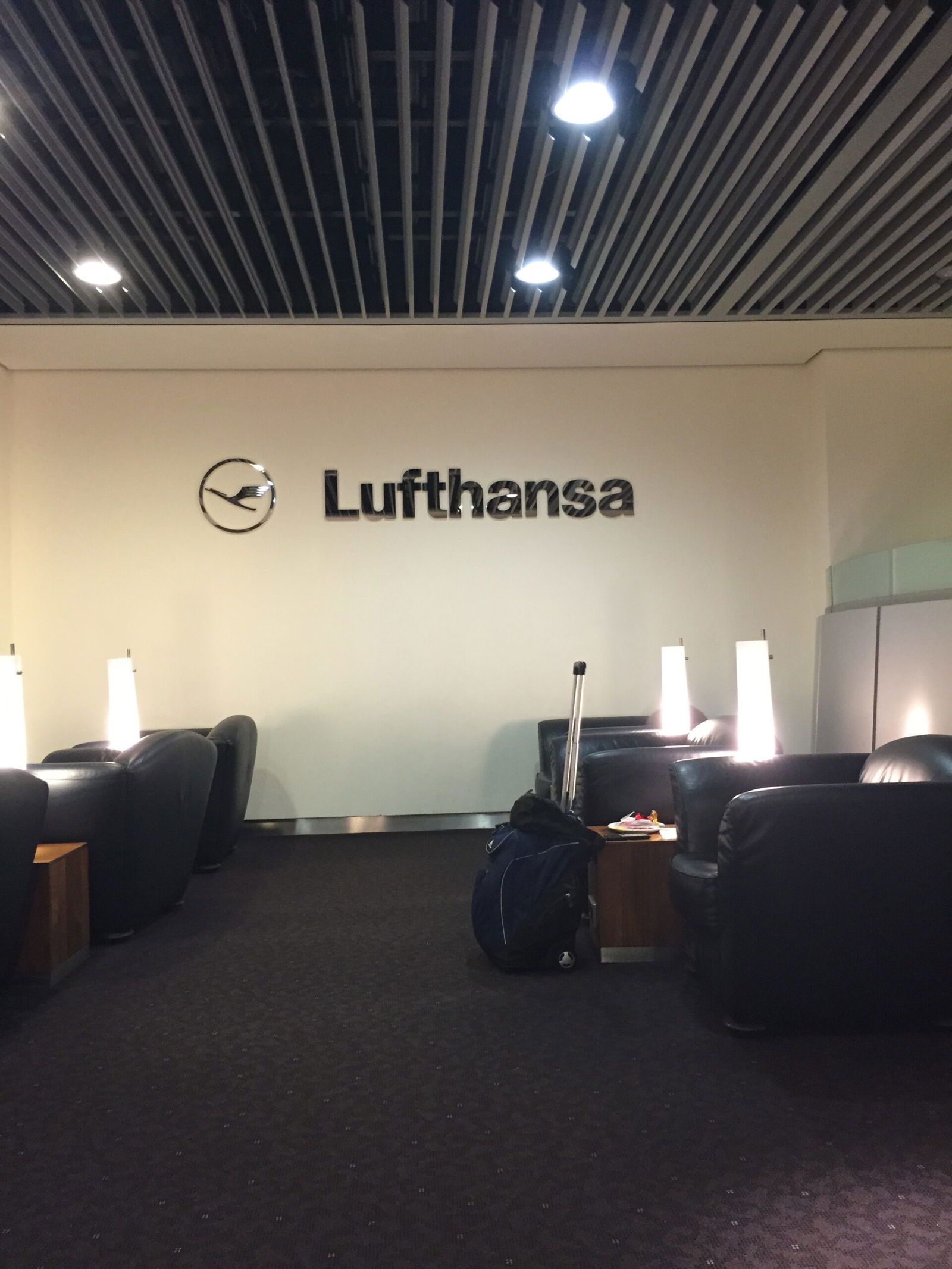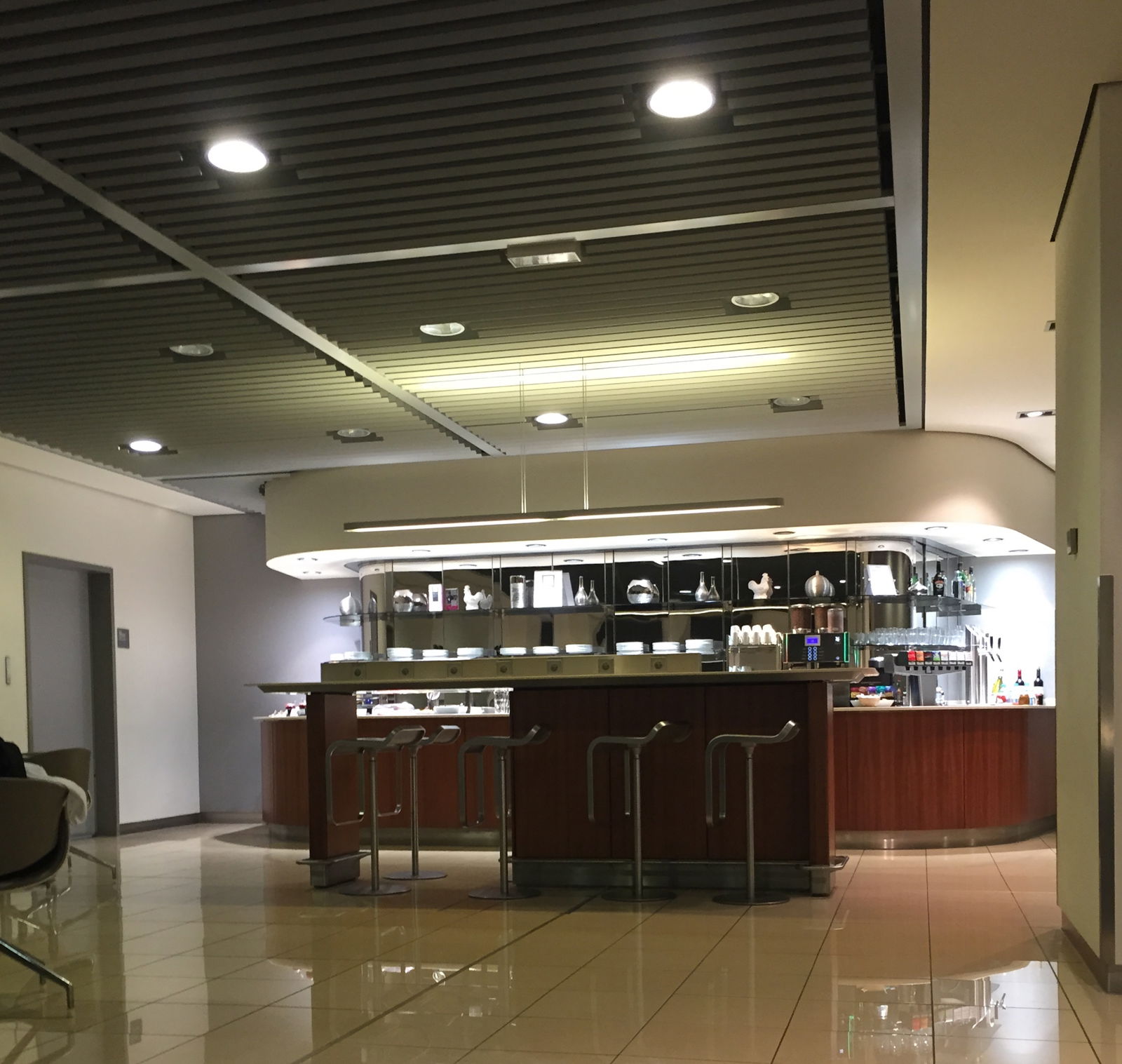 Nevertheless, it had a decent spread of food on offer. And it had water and coffee, which was all I needed at that point. I knew the real experience was yet to come.
We boarded on time. The curtain was placed such that were three rows of business on this flight, although there were actually only 5 passengers. I took my seat, 1F, and the next closest person to me in the first row was a gentleman seated in 1A. I was offered a selection of newspapers and magazines shortly after boarding, which I declined.
I hadn't slept much the night before, so I just wanted to rest. We must have been number one or two for departure, because we took off quite promptly after a relatively short taxi. The captain let us know that the flight was approximately one hour. In the U.S., that of course would mean a cup of coffee and a choice from the snack basket in first class. Not here. I was offered a cold meal consisting of cheeses and meat with grapes and a single tomato, along with blueberry yogurt topped with toasted coconut.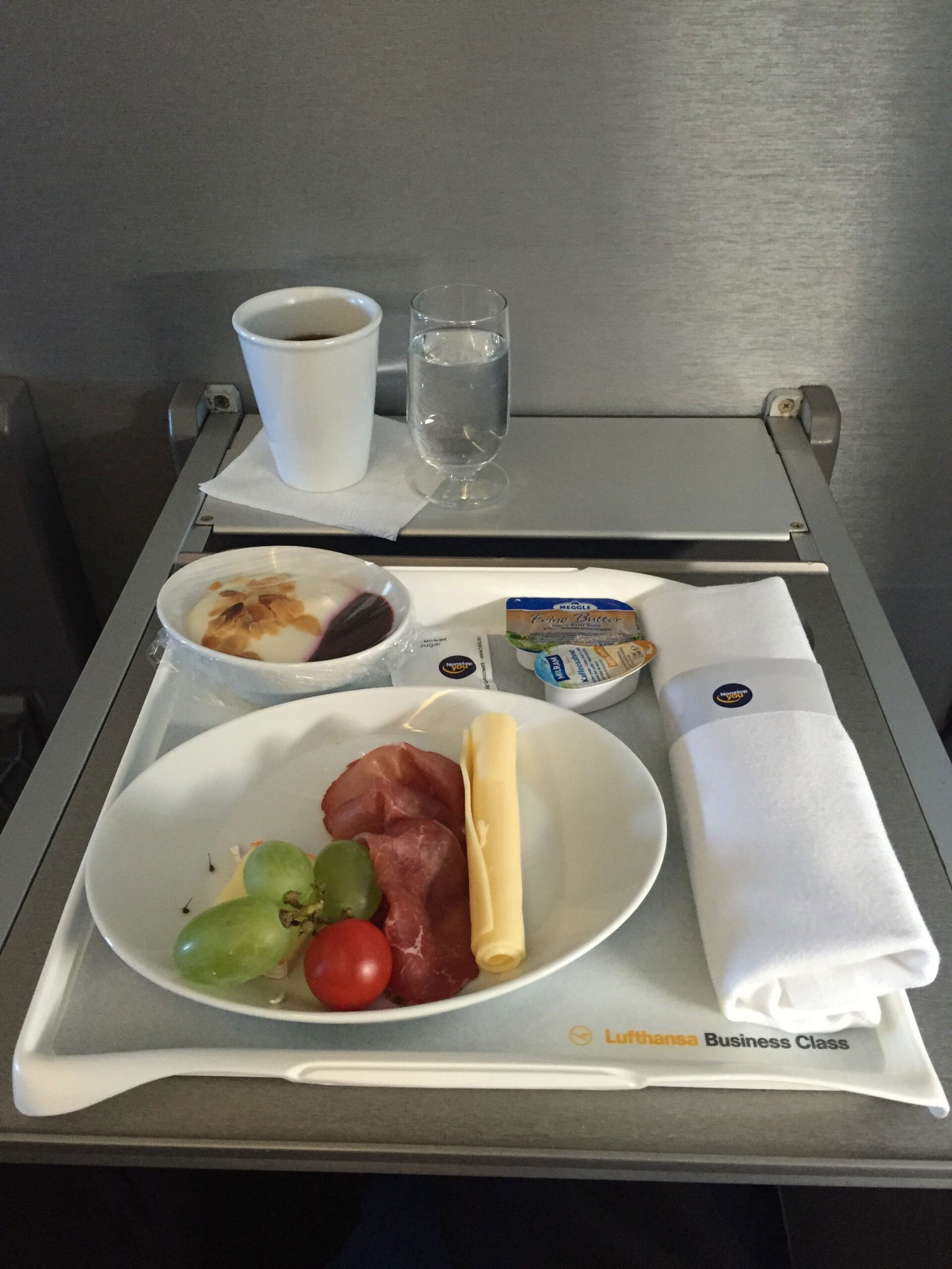 I also had coffee and still water, but declined an offer to select something from a pastry basket. I'm not going to lie and say that it was a fabulous meal, but it was perfectly fine, well presented, and much more than you could expect on an American carrier on a similar flight. (One exception might be Delta's shuttle service between LAX and SFO. Despite seemingly never being on time, I find the service on this route to be excellent.)
The view of Frankfurt on the way in made the city look lovely.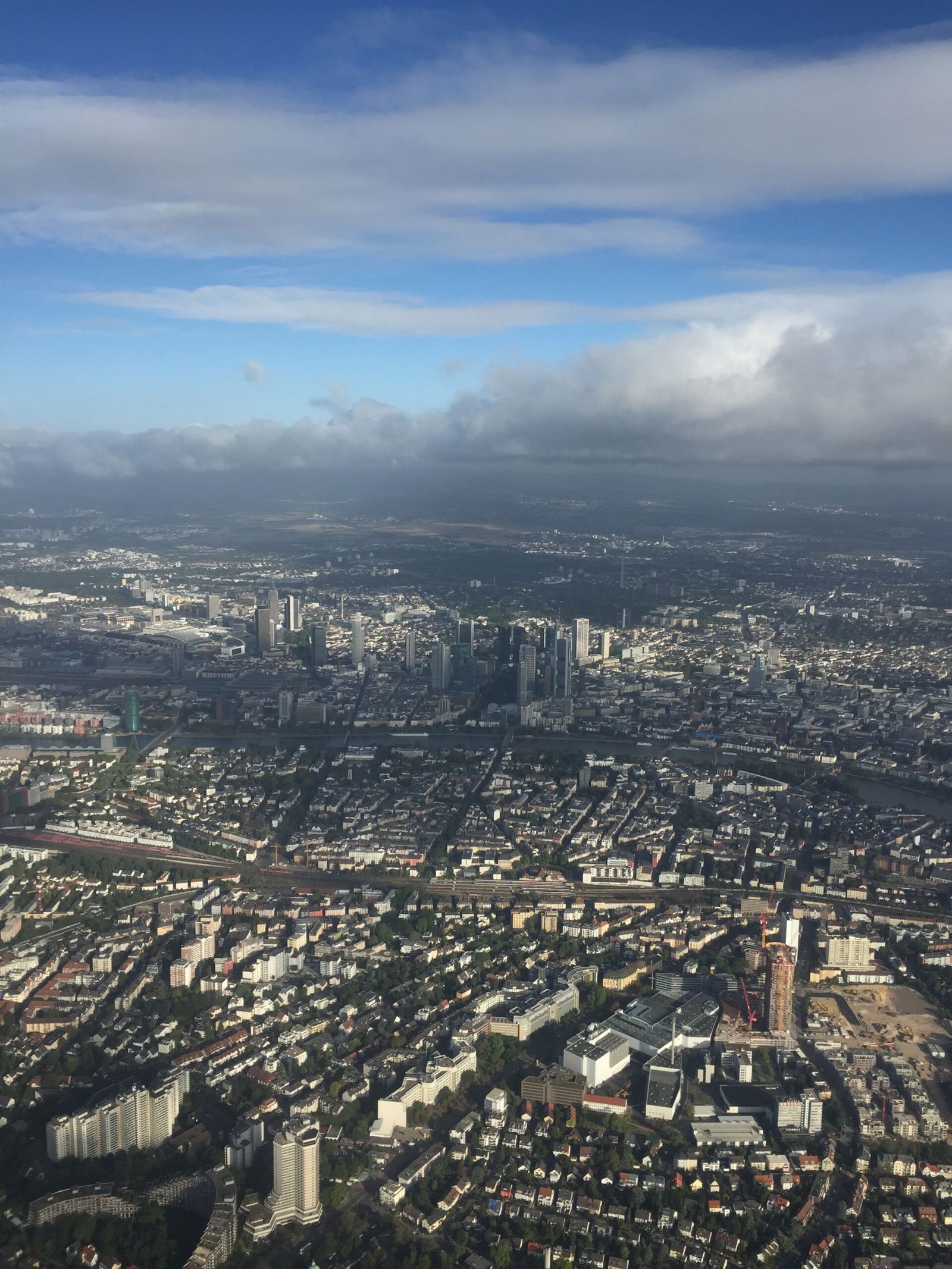 I loved the announcement made upon landing by the captain; he informed us that we had landed "safely and on time in Frankfurt." True enough. One of the flight attendants then informed us that were landing at an "outside station," i.e., a remote gate. Generally, this is not ideal because you have to be bussed to the main terminal. But as a passenger connecting in first class, I would be taken to the terminal by car.
As we deplaned, the flight attendant said to me, "Mr. [Matt], your car is waiting to the right of the plane. I am sorry, but you will be sharing it with Herr —." Oh no! I have to share a transfer in an S-class Mercedes-Benz? What is the world coming to? The gentleman I shared the car with was extremely friendly. He currently lives in Riyadh, Saudi Arabia, but calls the San Francisco Bay Area home.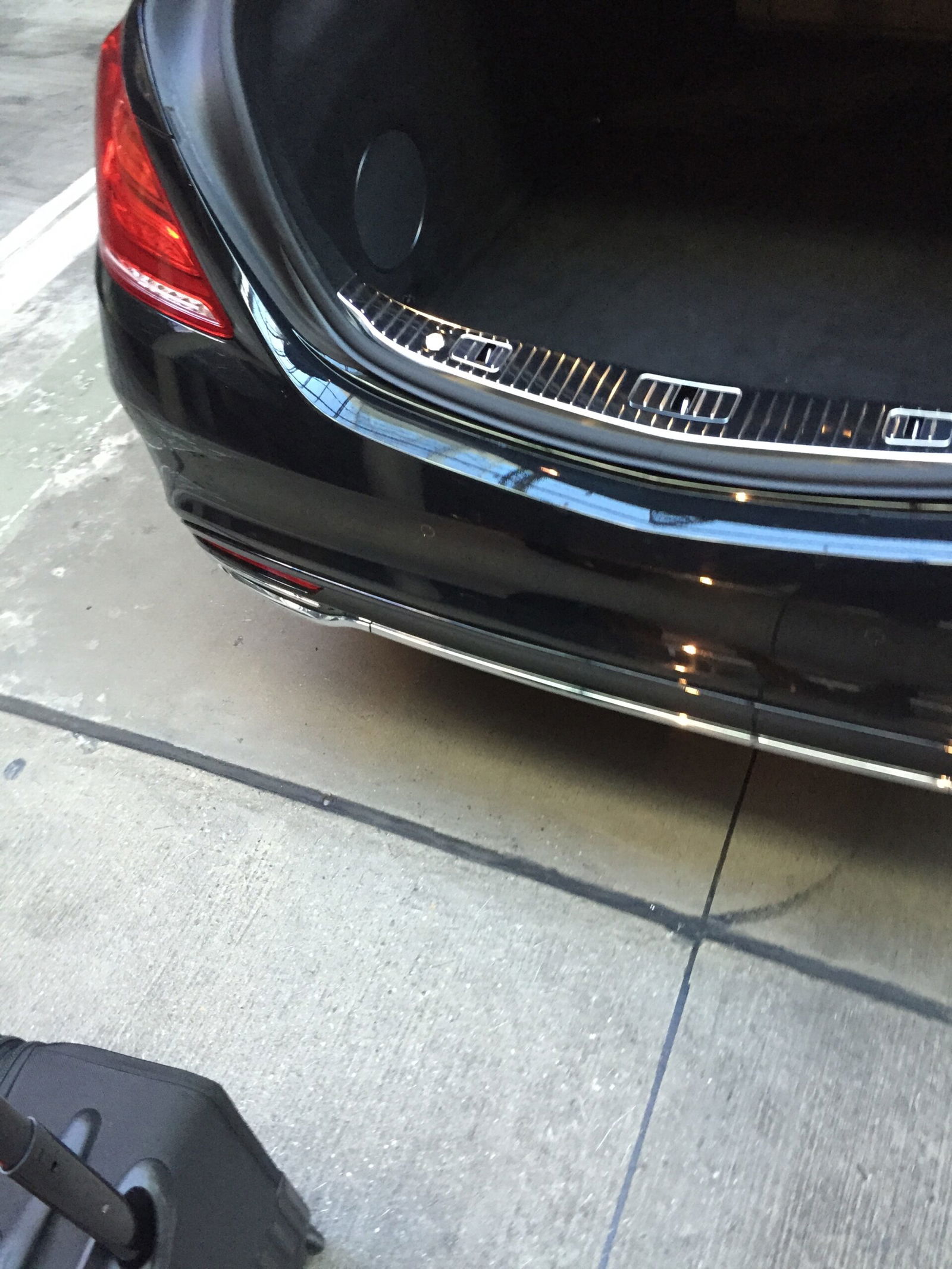 I felt awkward taking pictures with the other person there, so excuse the bad picture.
The driver initially took me to the B concourse, and informed me that there was a First Class Lounge in the terminal, and indicated that I would then be driven to my next flight from there. I mentioned to the gentleman in the car with me that I wanted to go to the First Class Terminal, and asked if he knew how to get there. He then spoke a few words to the driver in German. The driver then explained that he could not take me directly to the terminal, but could get me close. He took me to another location — I'm not totally sure where, but it was airside still — and explained that I simply needed to walk outside about 150 meters to the left and I would arrive at the terminal. He warned me that I would have to re-clear security, but advised me that this was unavoidable. Not a problem! Manchester security had purged me of most carry-on liquids anyway!
Lufthansa First Class Terminal Frankfurt
The minute I walked into the terminal I knew it was going to be great. The lower level entrance is incredibly sleek, which was certainly welcomed after Emirates' Las Vegas themed lounge in Dubai.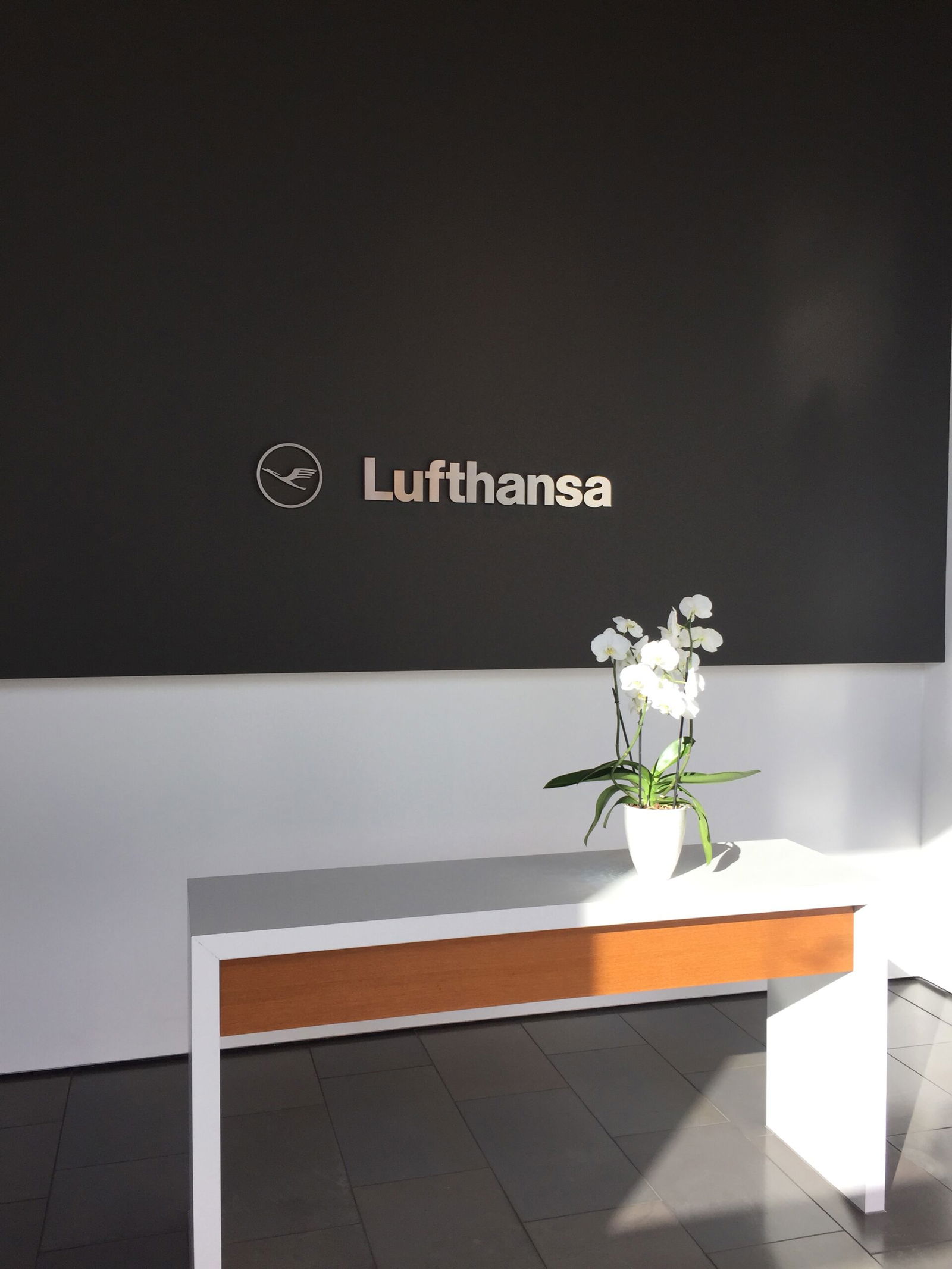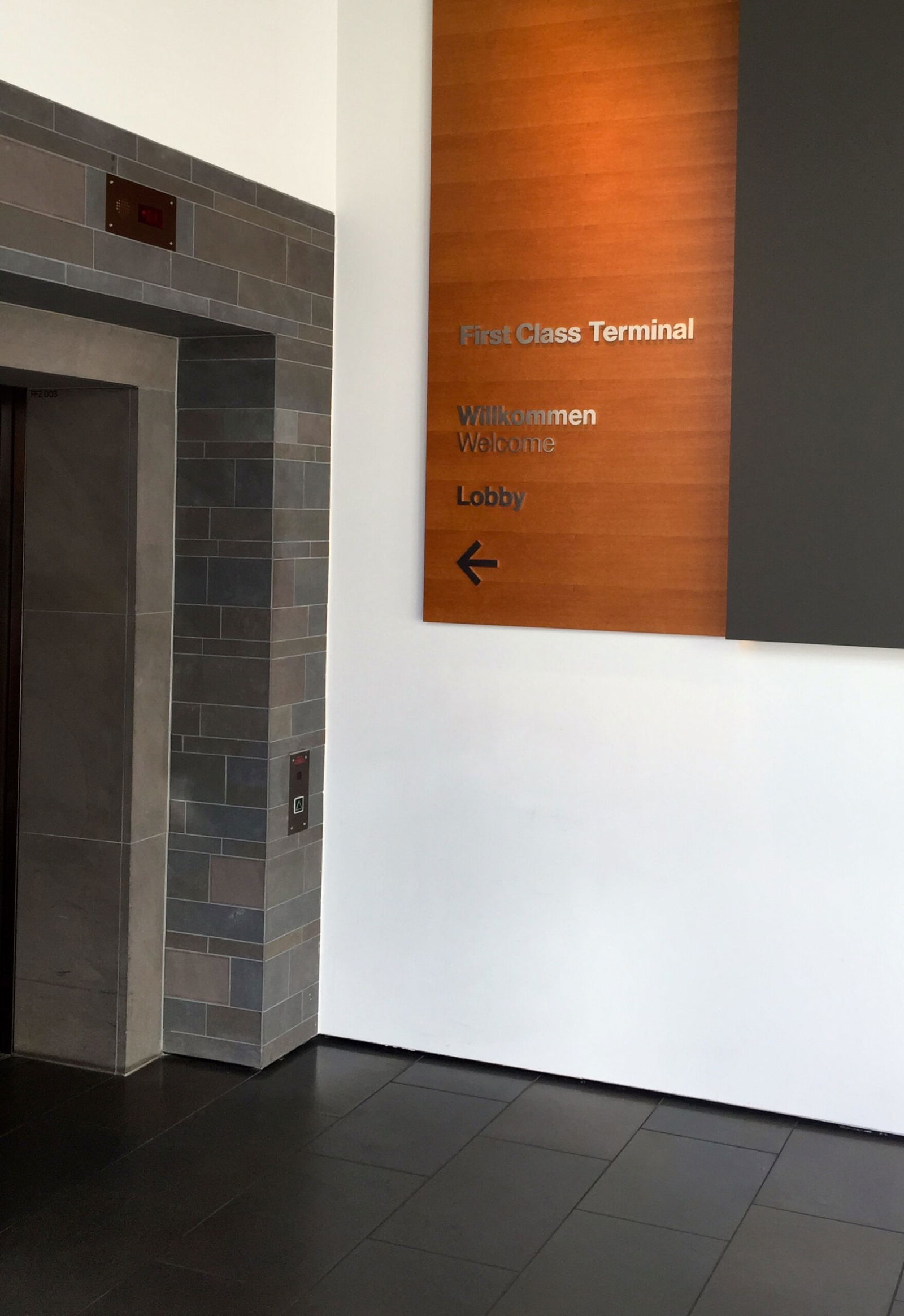 As soon as I walked off the elevator one of the agents met me halfway between the check-in desks and the elevator. I explained that I was on the 2:05 pm Los Angeles flight, and showed him my passbook boarding pass. He welcomed me, asked for my passport, and escorted me to the nearby security station. Not shockingly, there was no line. The terminal itself is very sleek and modern. I really appreciate the muted color scheme, which Lufthansa uses throughout their lounges and first class product. This kind of attention to overall detail is something that really stands out to me. I can't think of any other airlines that do this quite as well as Lufthansa.
There were a number of sitting areas that were all relatively sectioned off, but the entire lounge maintained a very open feeling.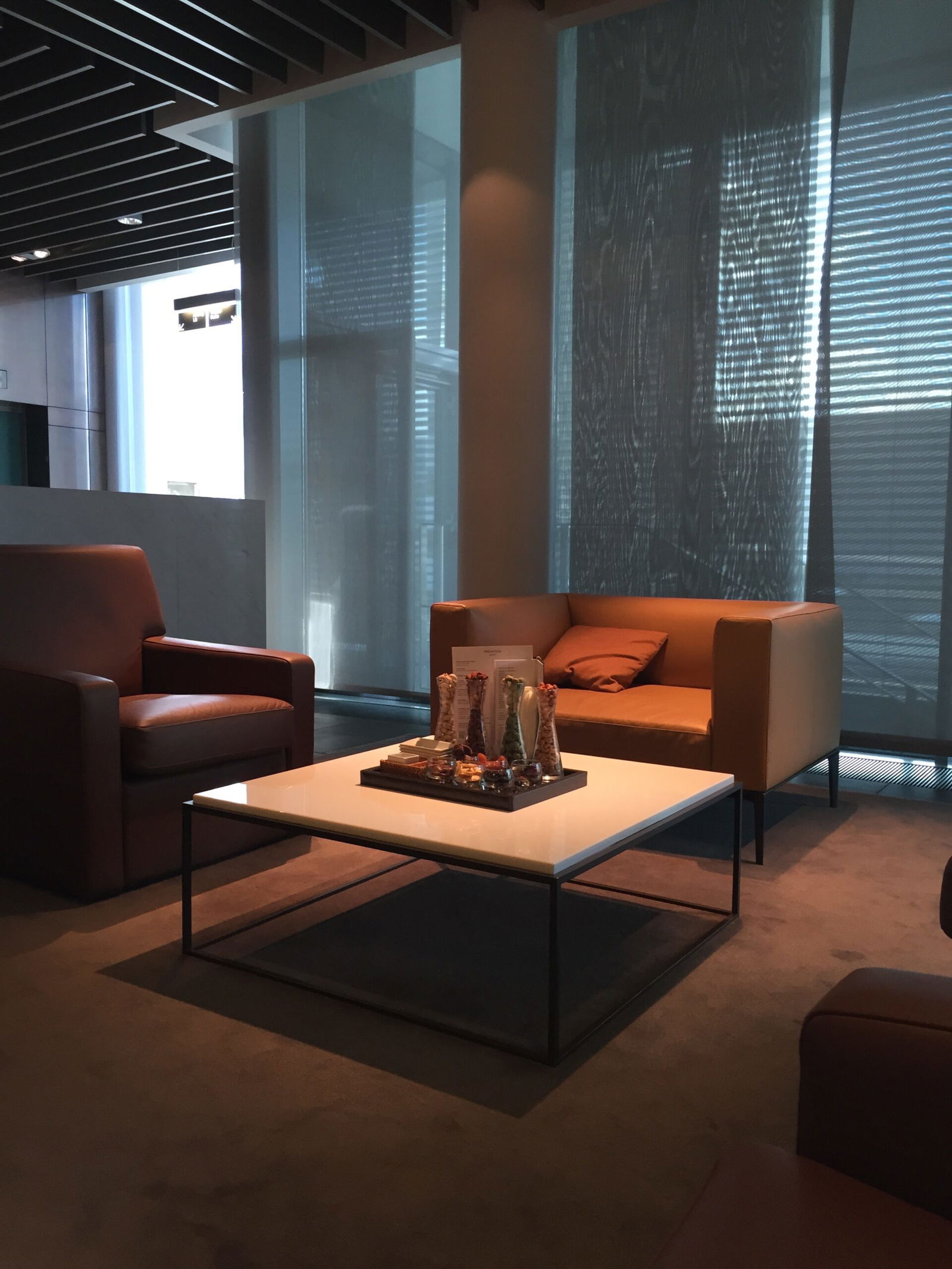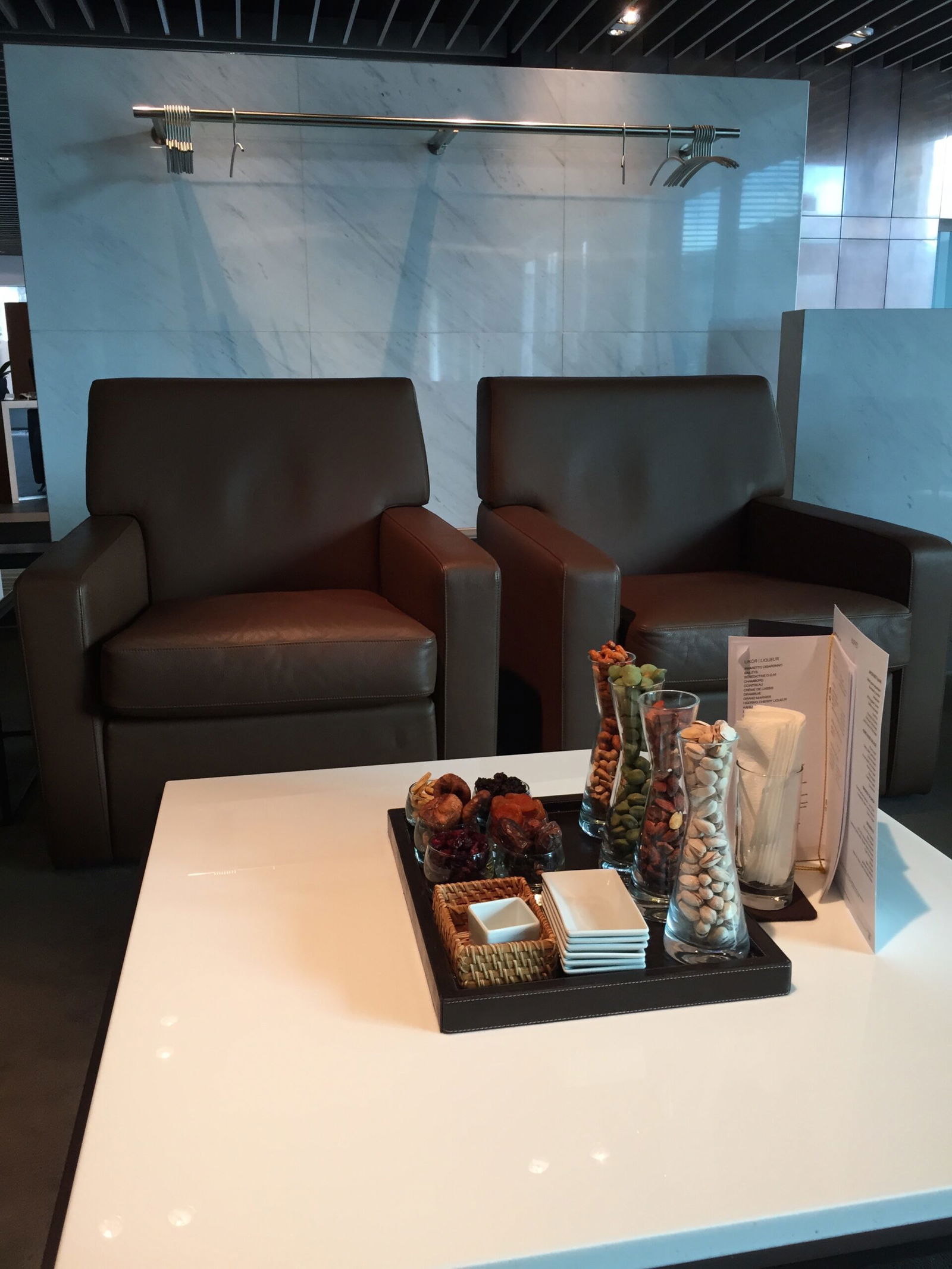 In the middle section there was a bar, although I never actually saw anyone besides staff go up to it.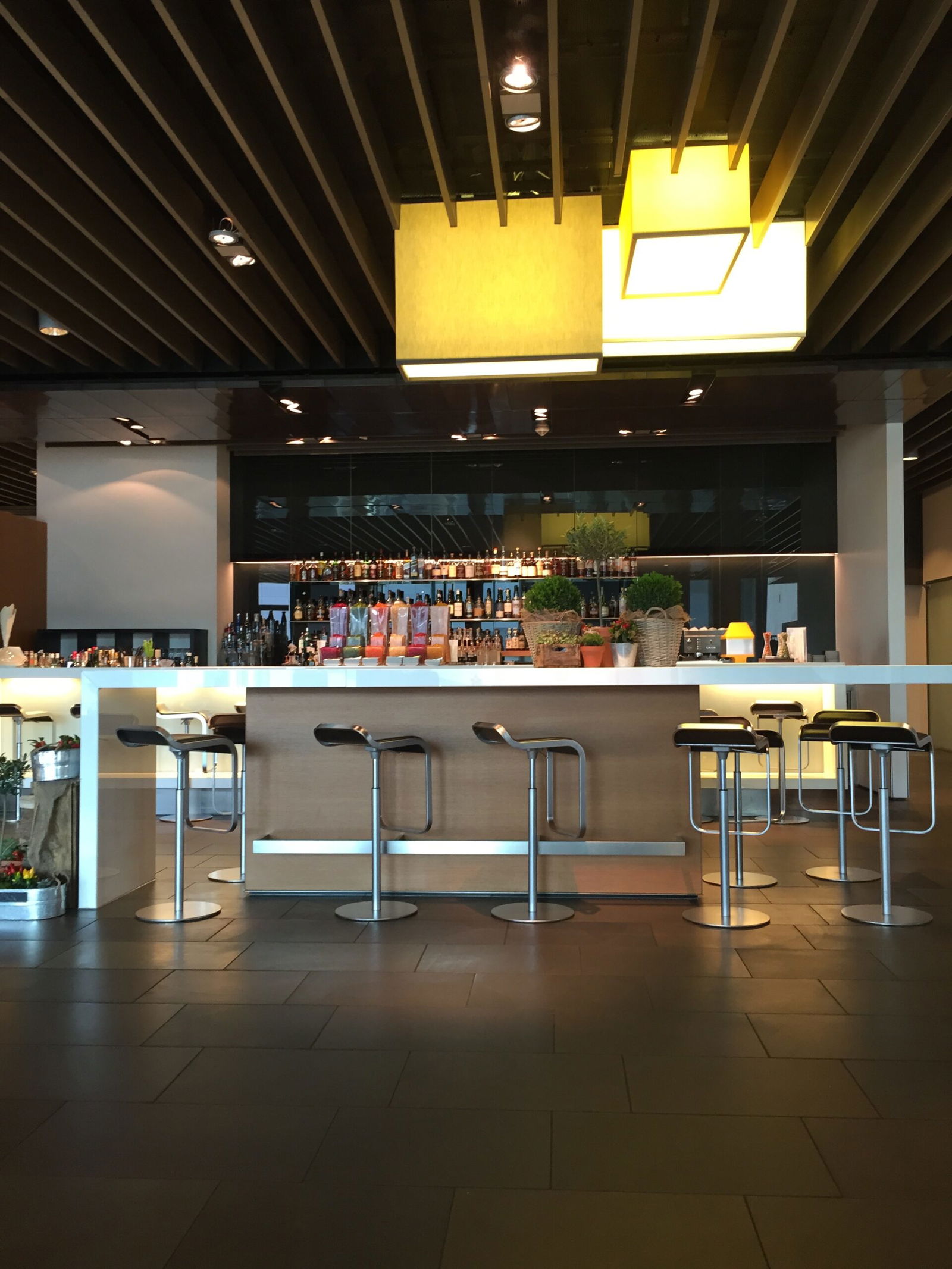 When I arrived, they were still serving breakfast. I had an "American coffee." After weeks in Europe, I'm still not sure what makes it an American coffee. I think it's basically a lungo, or as they call it down under, a long black. Name aside, it was quite good.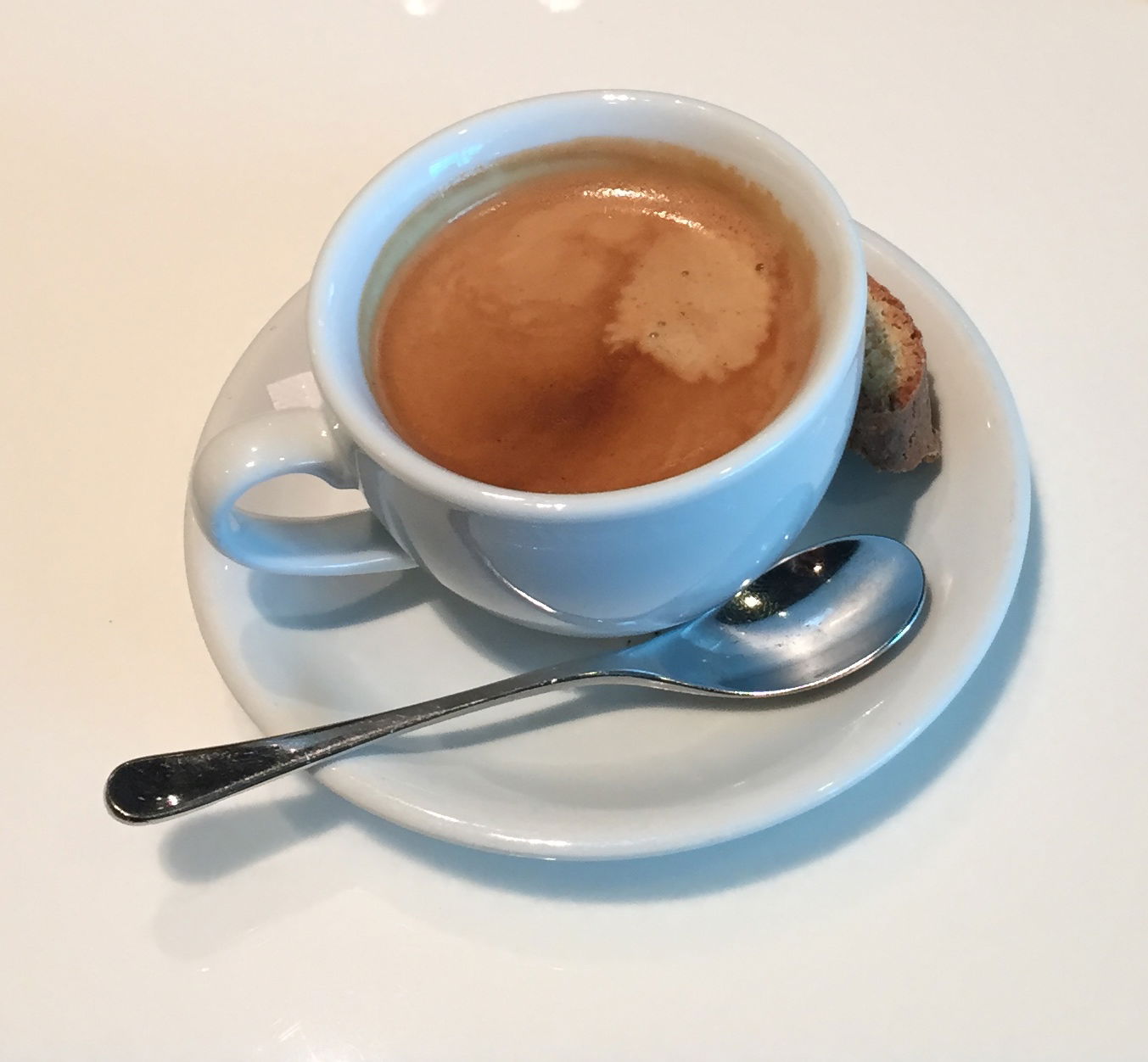 I wasn't really feeling breakfast. I took a picture of the breakfast menu, though.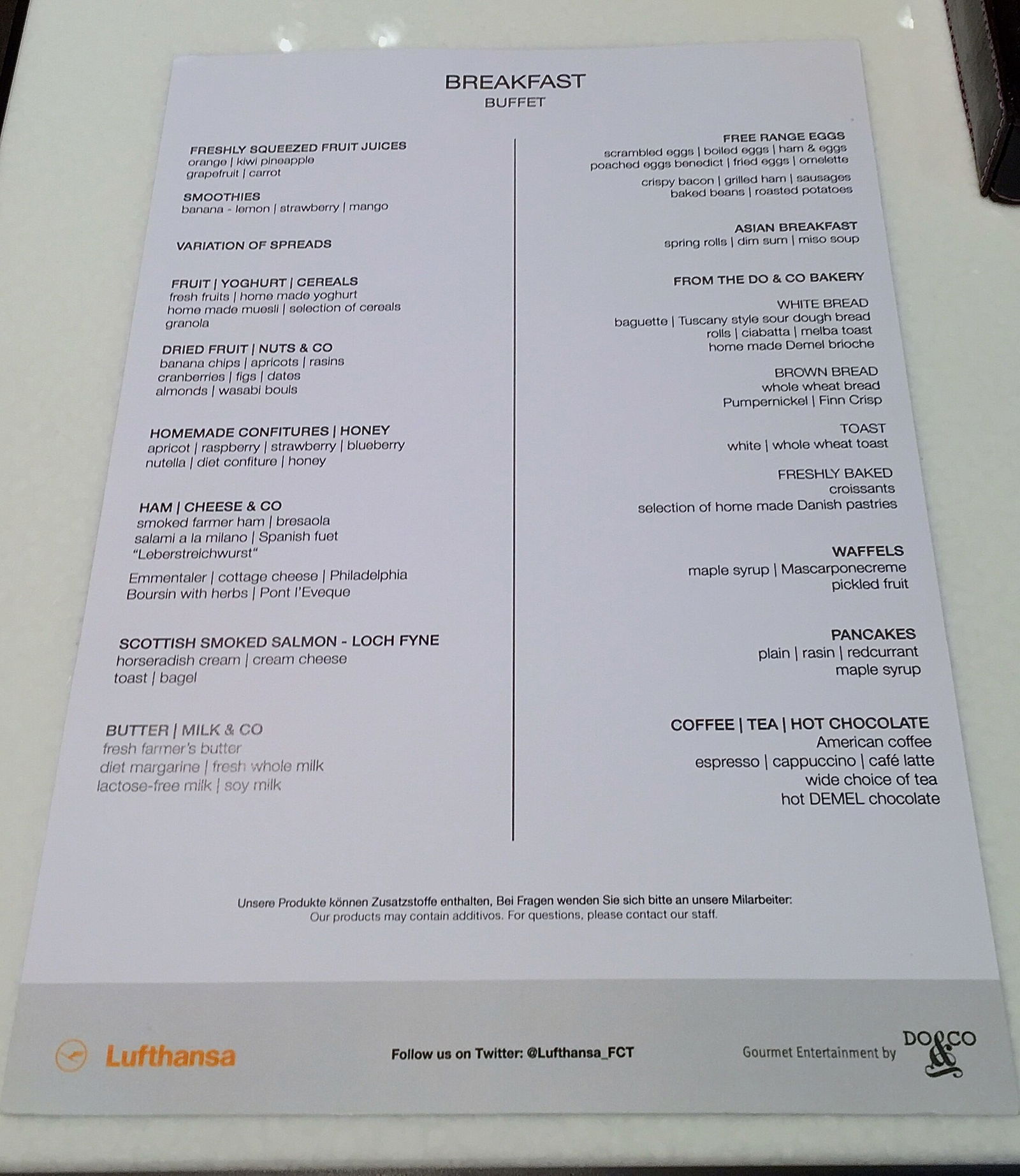 I then took a chance to look around the terminal. Ben has reviewed the terminal several times before, but I will still give a brief run through.
The lounge offers two "rest" rooms, which are basically just rooms with a bed. I didn't actually use one, but as far as I could tell both were open the entire time I was in the lounge.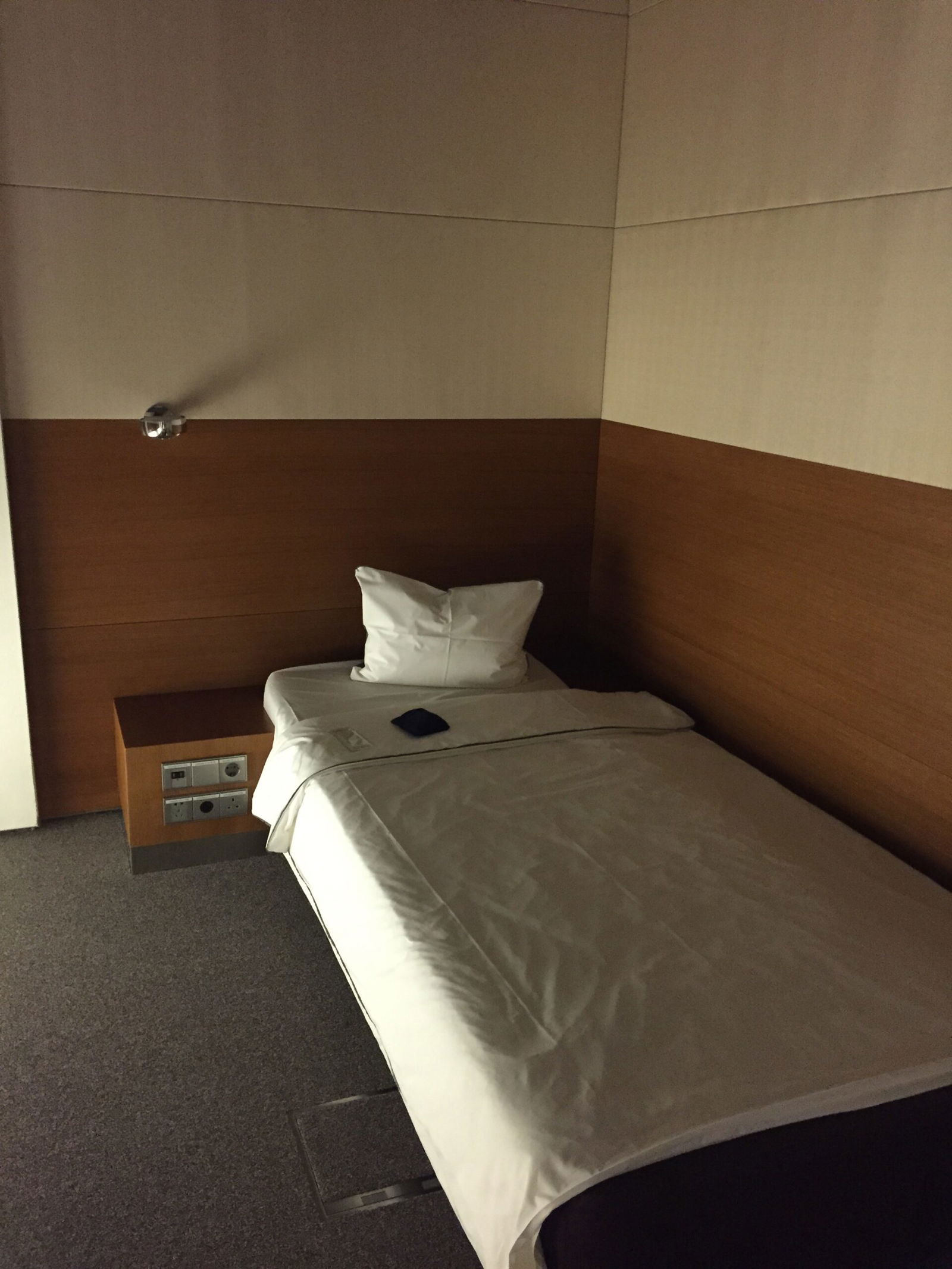 There were also separate bathrooms and shower rooms. I didn't check out the showers, but the bathroom facilities were massive and very clean. I also appreciate that there are eight or ten separate rooms each with a toilet and urinal.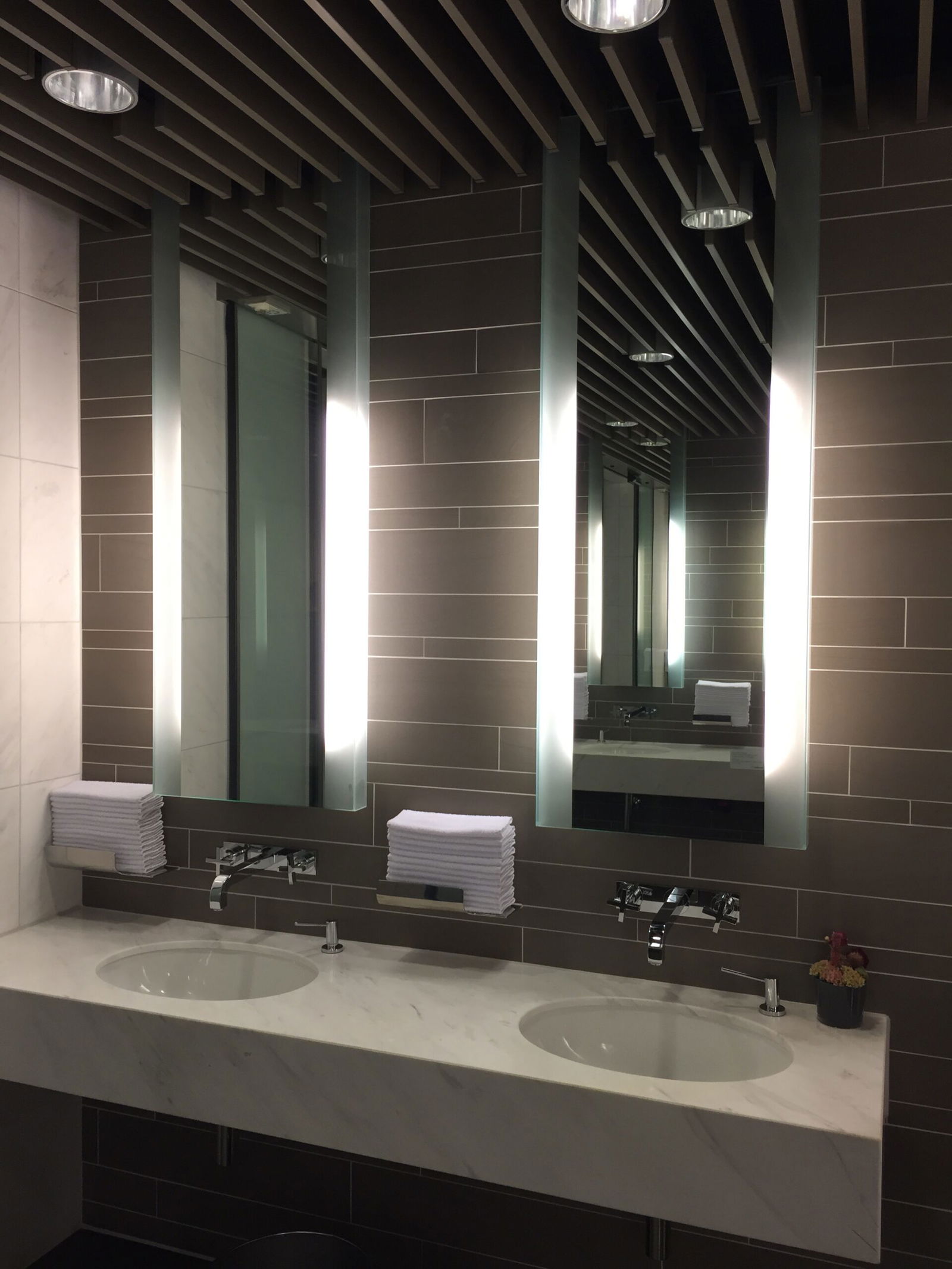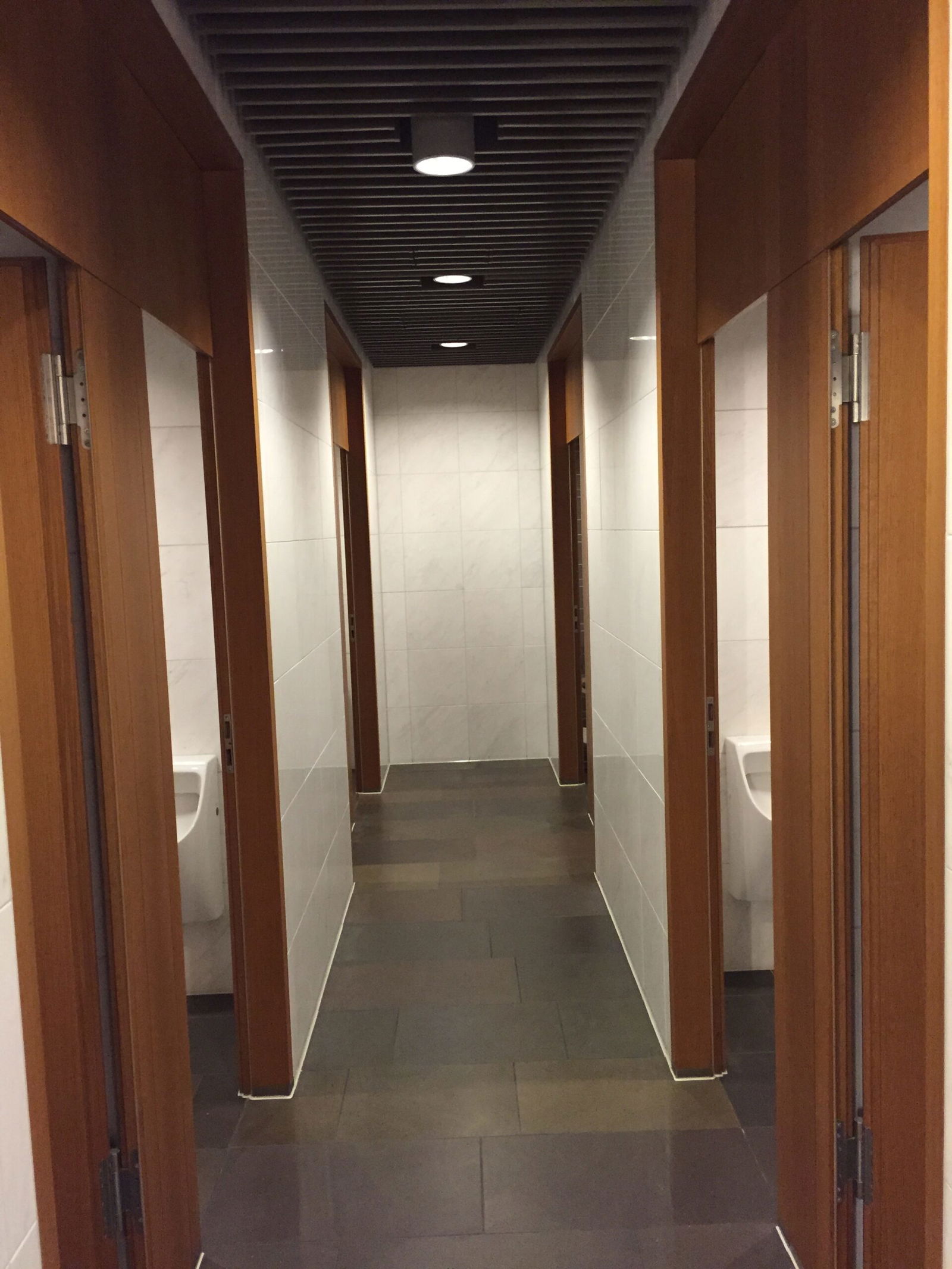 If you're looking to work, there are four or five "offices" available. I didn't use one, but if you wanted a private space to work or surf the interwebz, this is the place for you.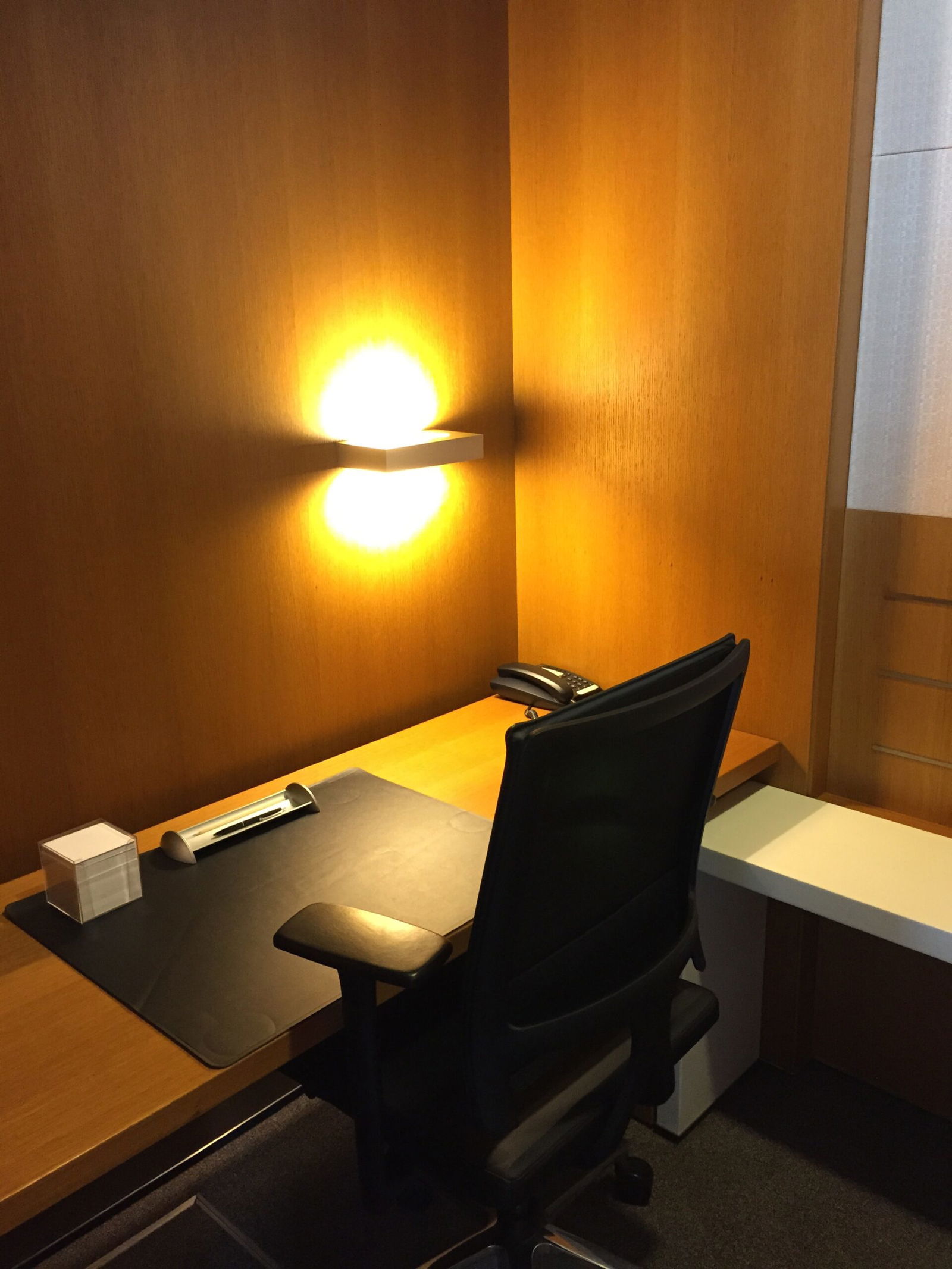 I was exhausted after walking around, so I decided to order a glass of champagne and poured myself some wasabi peas. Lufthansa was offering five different sparkling wines, four of which were champagne.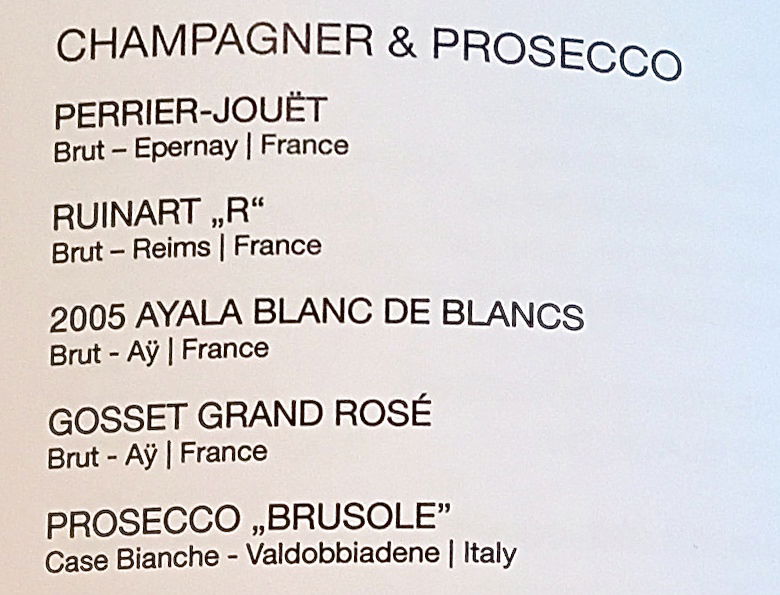 I really enjoyed the non-vintage Ayala brut that Ben and I had at the Park Hyatt Vienna as part of the generous welcome amenity, so I decided to start with the 2005 Ayala blanc de blancs.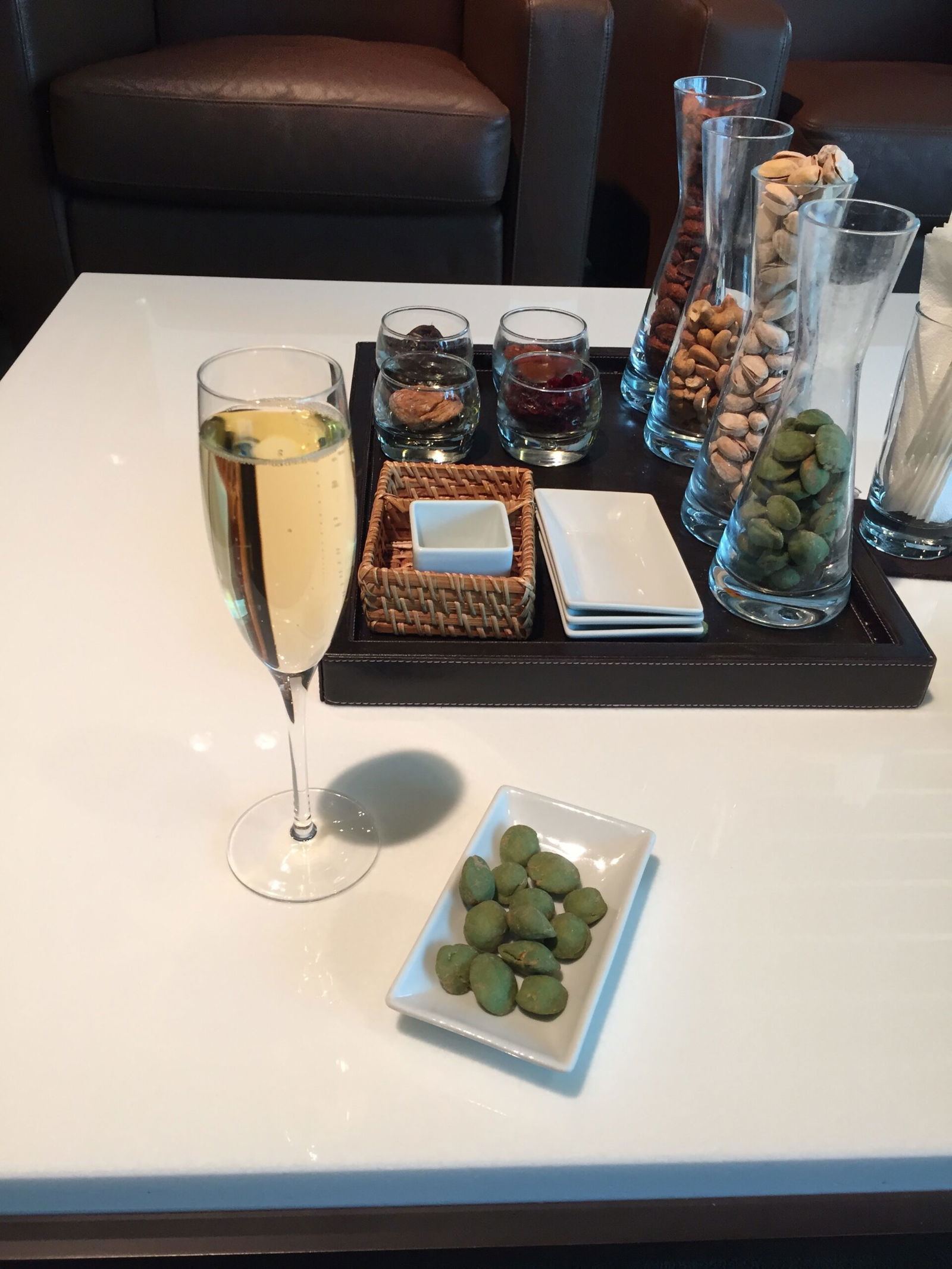 It was nice, although perhaps a little underwhelming overall. The 2005 vintage was an especially "ripe" one; indeed, much of the fruit rotted on the vine. I've explained that this has made 2005 Dom Perignon especially approachable out of the bottle today. Ben and I confirmed this, two or three times over, on Emirates. The Ayala, however, lacks much in the way of ripe fruit, especially for a blanc de blancs; it also had next to no acidity, and lacked any toasty lees flavor. And all of this despite being ten years old. Oh well.
I switched the the Gosset Grand Rose for the duration of my stay. For what it's worth, I'm not a huge fan of Gosset, but it is the oldest house in all of champagne. That is cool, I guess, but not as cool as making really delicious champagne. It is worth nothing that it was by far the most popular drink in the lounge. Almost everyone was drinking it, which somewhat surprised me.
I also decided I would eat something since I had only nibbled on my cold breakfast and it was approaching 11:00 a.m. There was a grilled king prawn special, which I thought would be good. I ordered that from my seat in the lounge area. About 15 minutes later, the server came back over and presented me with a piece of meat that was served alongside a potato and some vegetables. Umm, what? No prawn in sight! She explained that it was my Bison filet.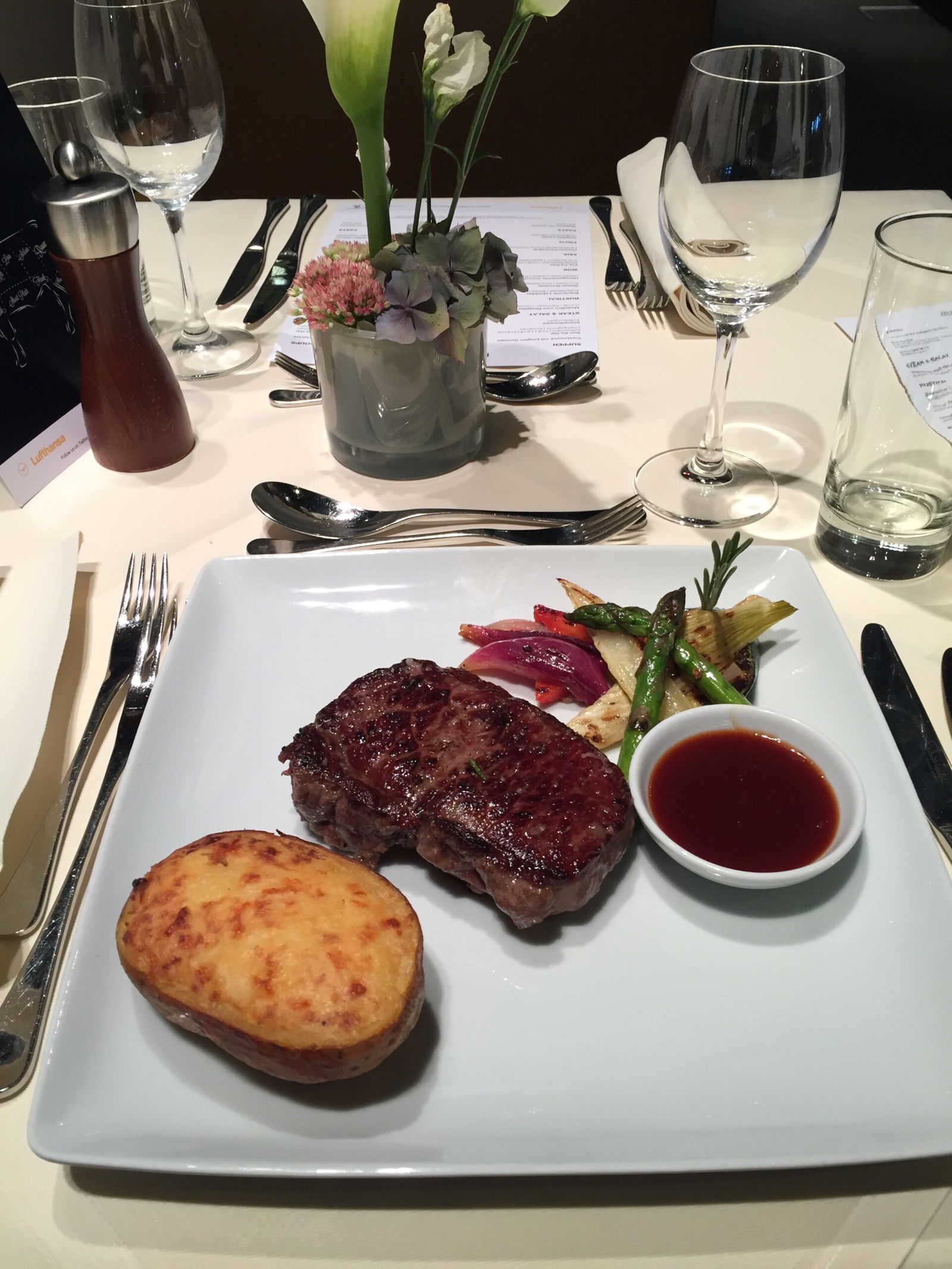 It honestly looked good, and smelled even better, so I didn't bother mentioning that I had no idea such a thing was even on offer, and hence couldn't possibly have ordered it. But, hello, the coffee table she set it down on was about six inches below my knees, and a full two feet from my body when seated in the club chair I was in. One of the other servers either thought the lady helping me was silly for not asking me if I wanted to take my meal in the restaurant, or saw the look of horror and confusion on my face, because he almost immediately offered to move me to the restaurant. As the photo above suggests, I took him up on the offer.
After eating the Bison filet, I walked around the buffet area. It was expansive. The food in the First Class Terminal and lounges in Frankfurt are all catered by Do&Co. It's worth pointing out that lounges in Munich are not catered by Do&Co, however. As I think the photos suggest, the food and presentation are absolutely phenomenal. There was a large cheese and charcuterie station.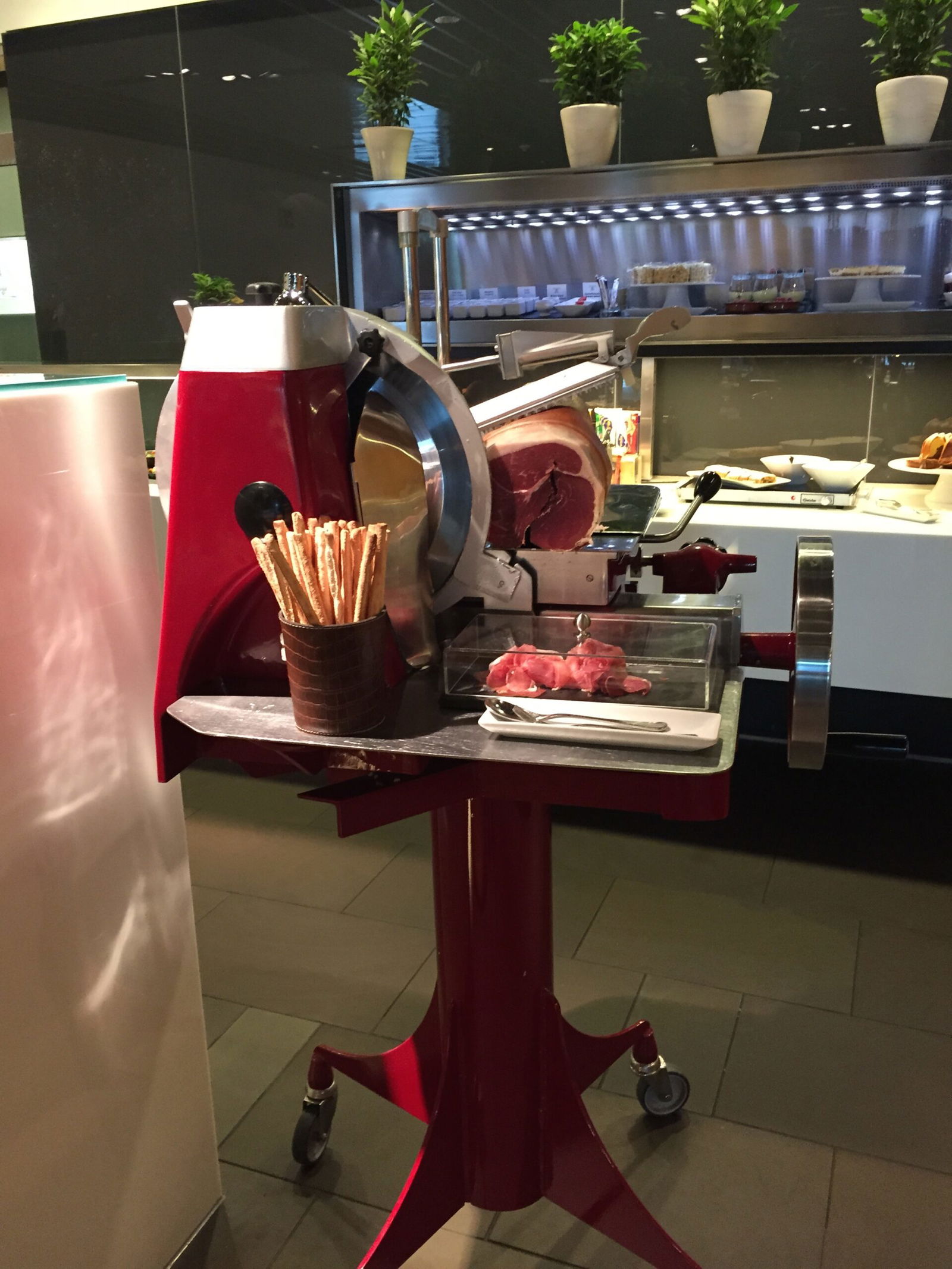 Freshly cut prosciutto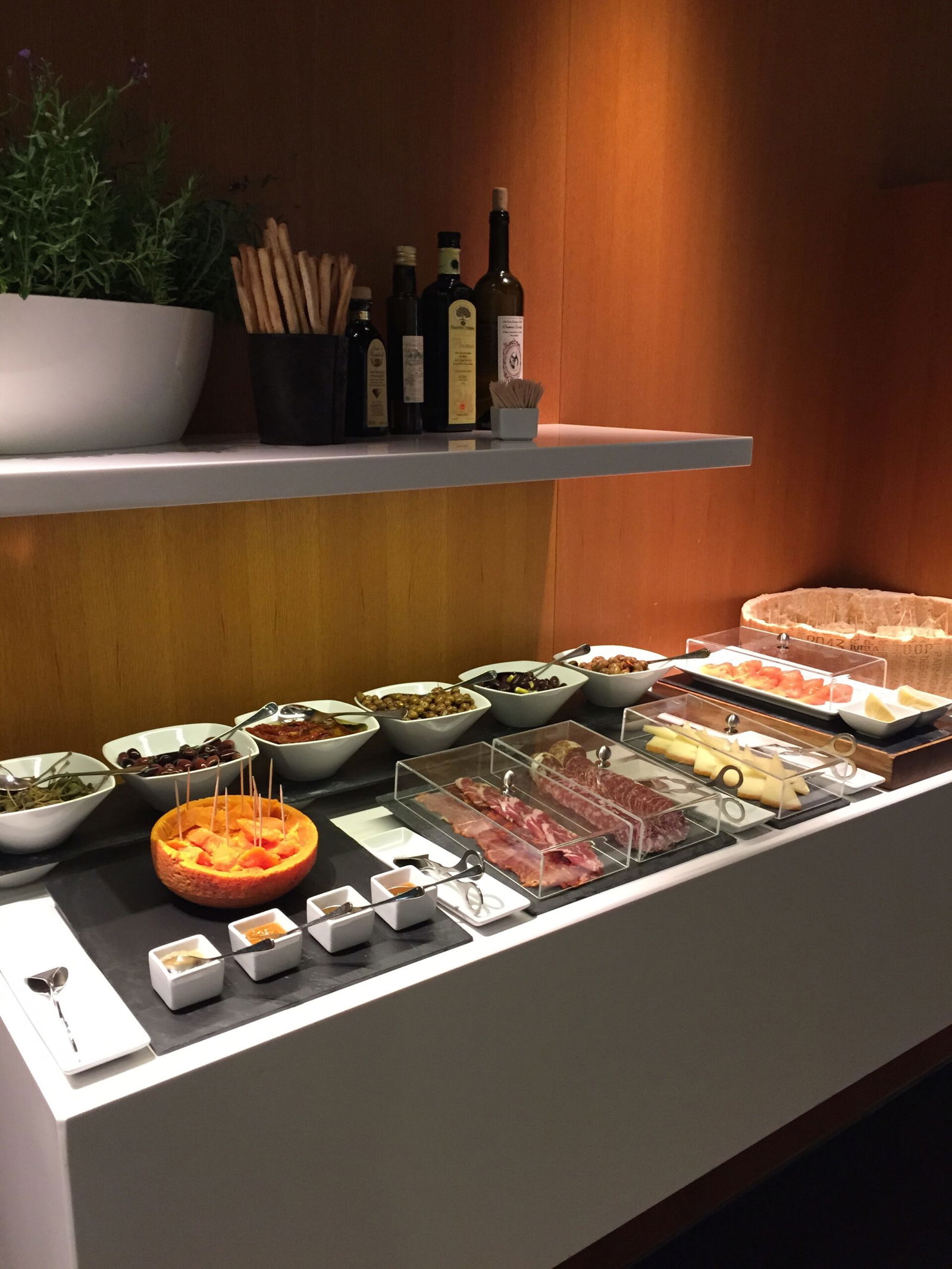 Charcuterie and cheese station
There were also a number of hot and cold dishes on offer. The menu lists most of them.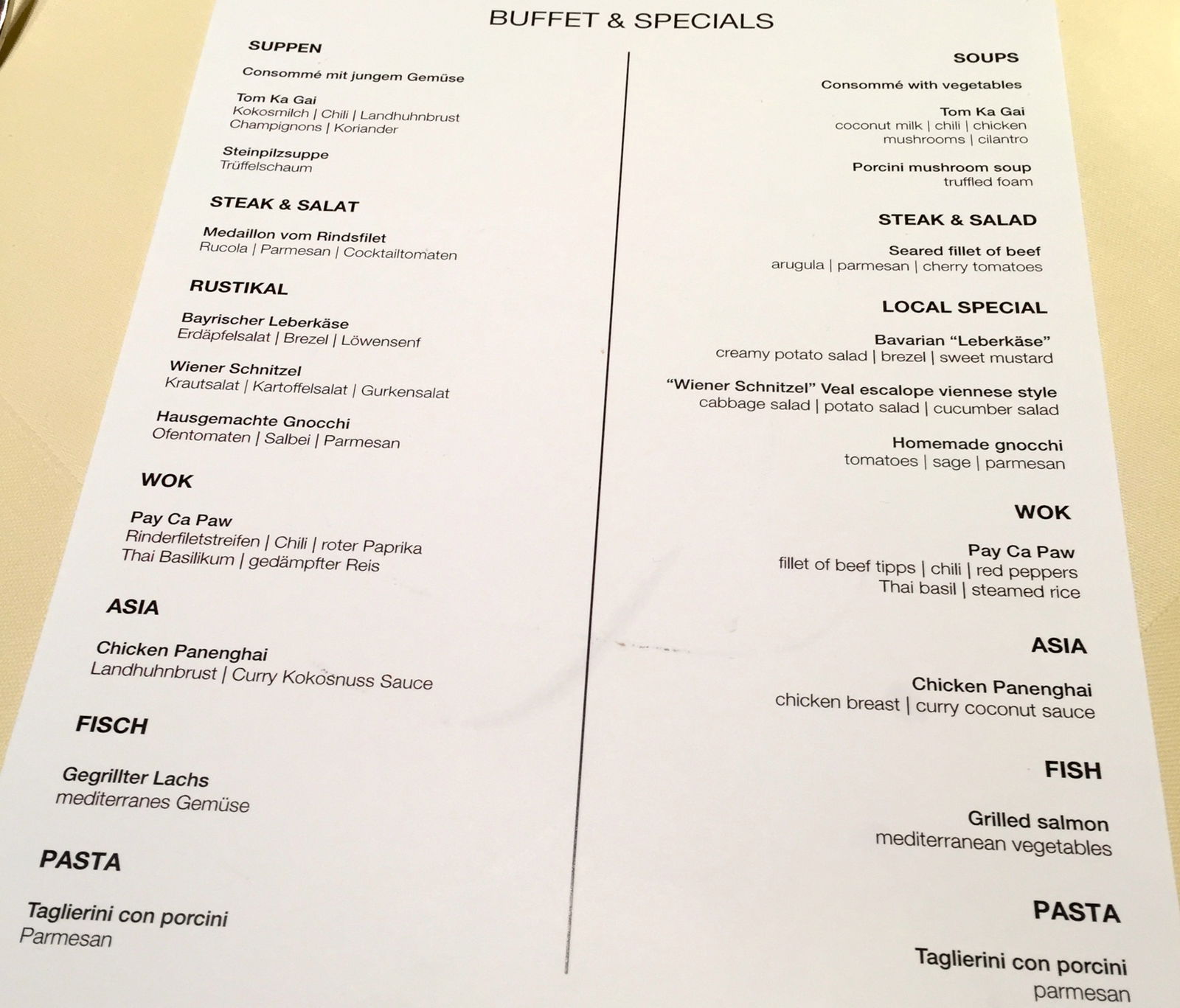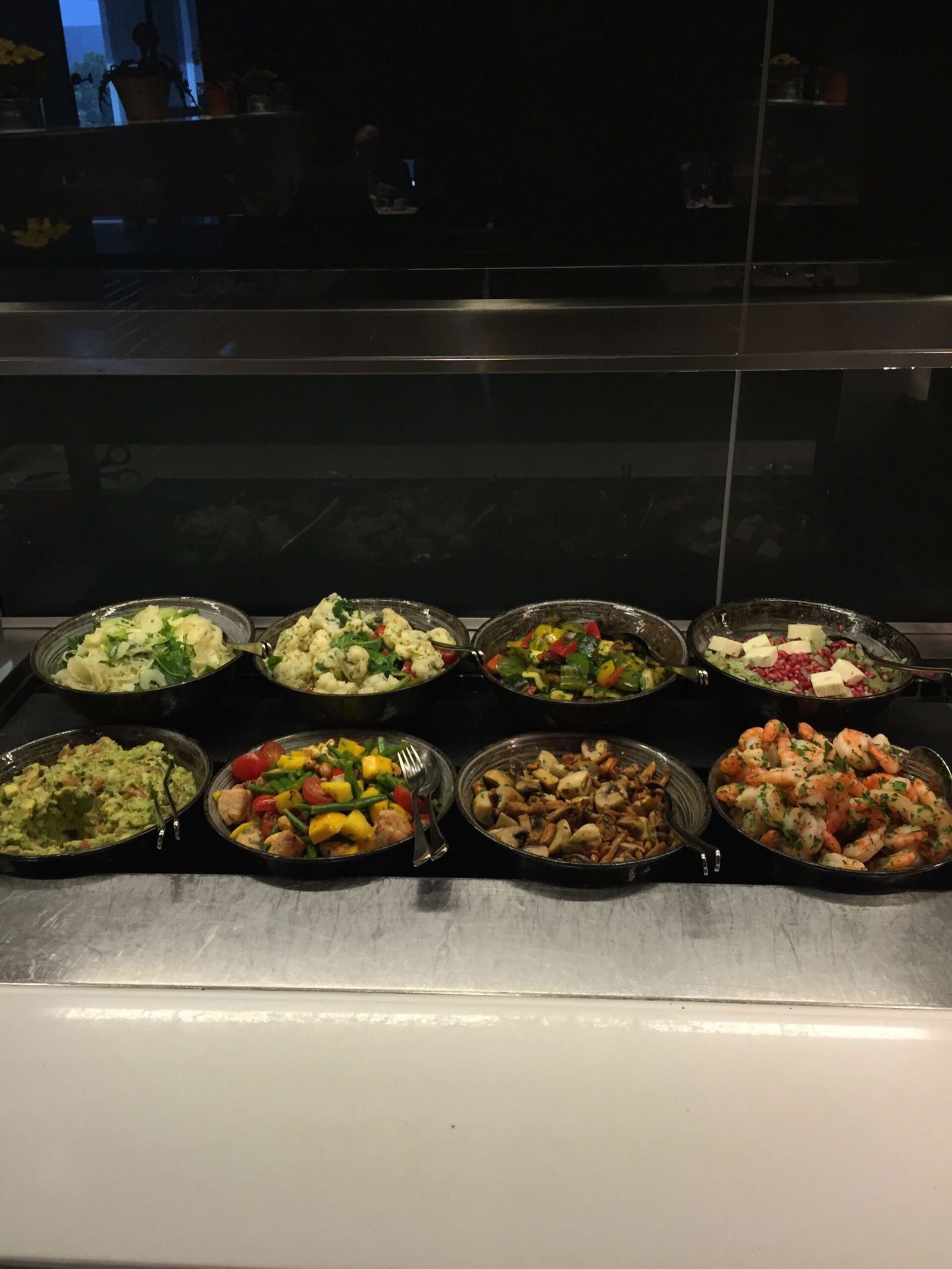 Assorted cold salads and grilled prawns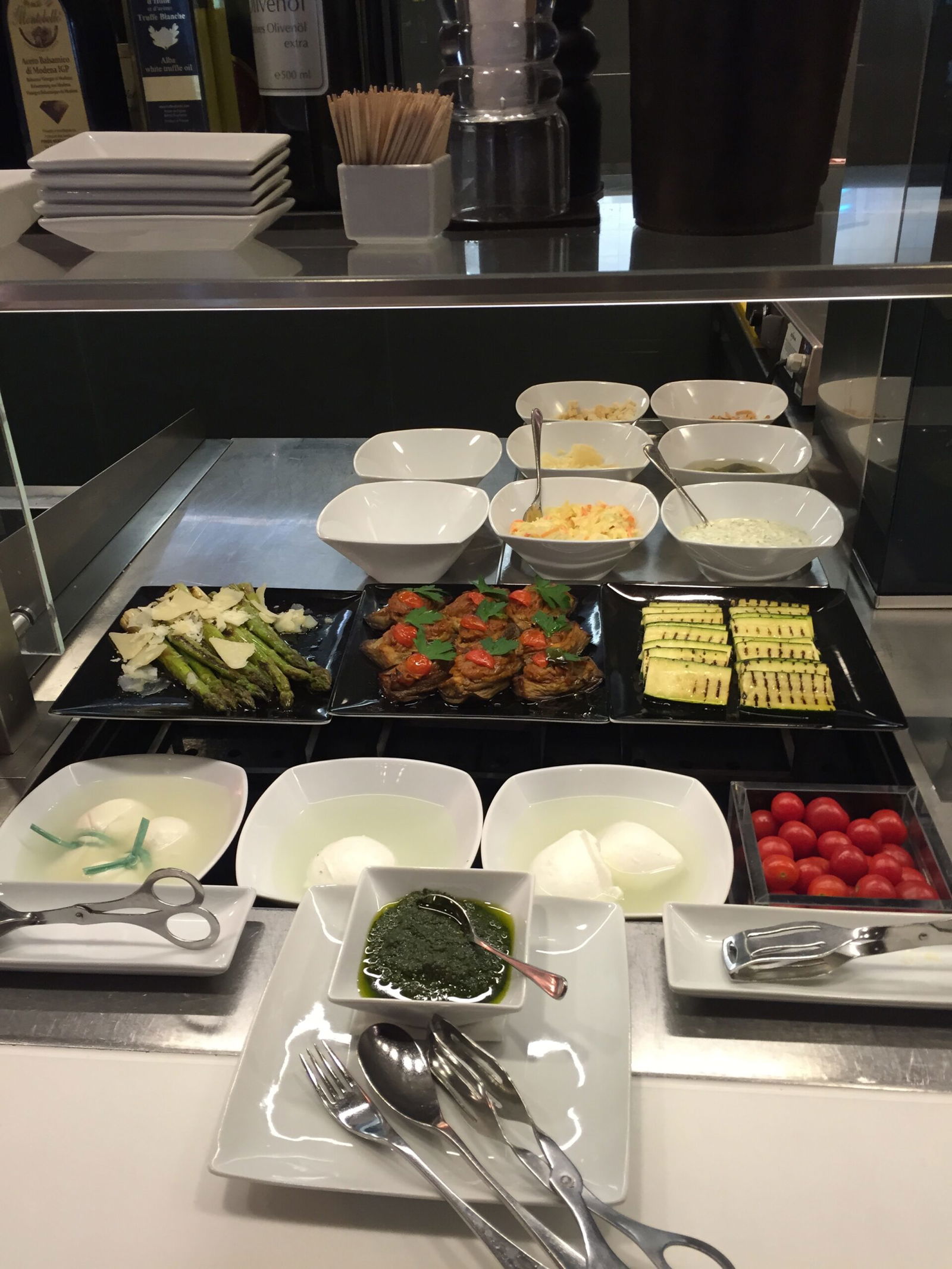 Antipasti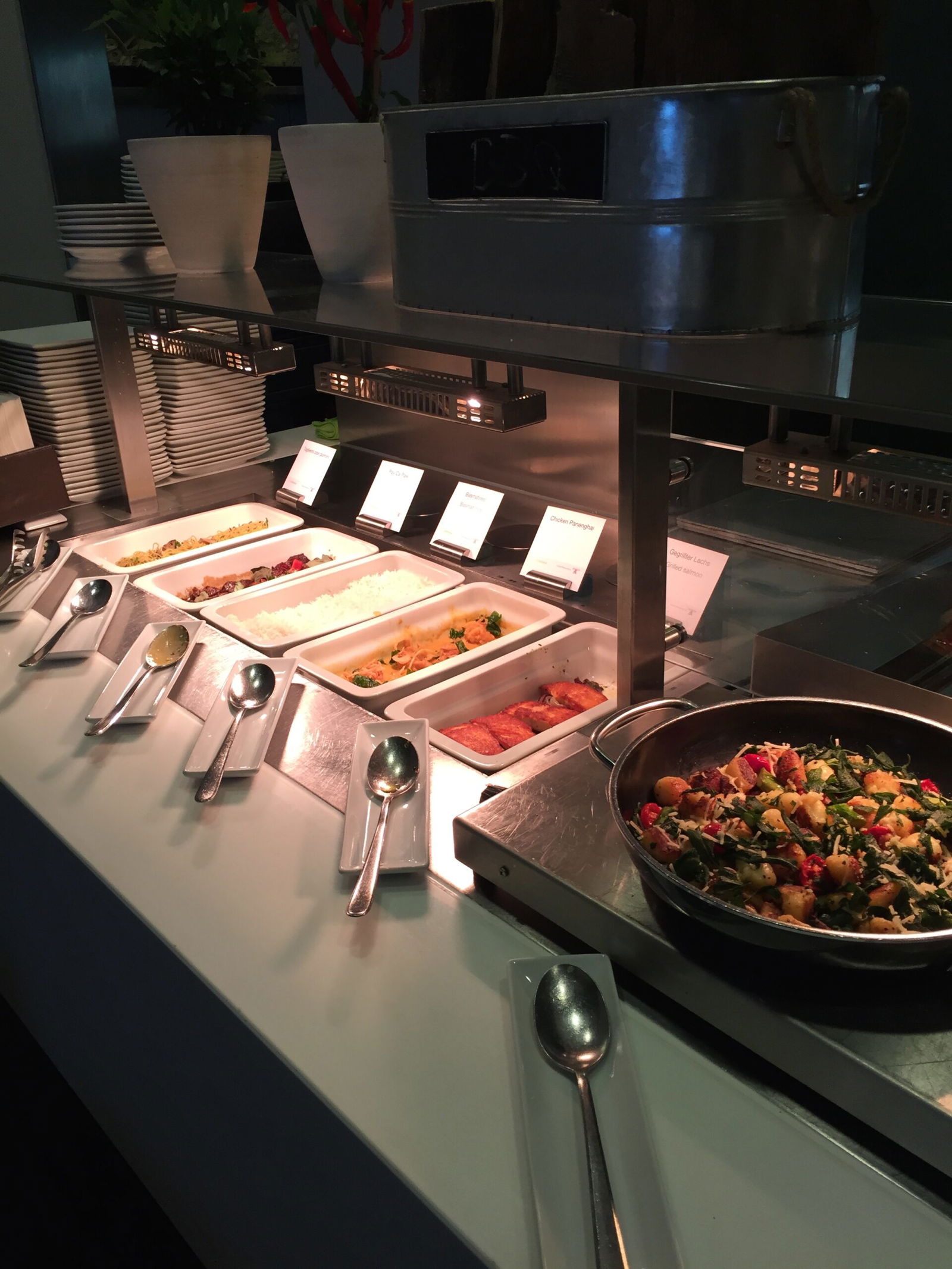 Warm dishes, including grilled salmon and chicken panenghai
There were also heaps of desserts, but I didn't try any because I figured I should save room for the caviar on board. 😉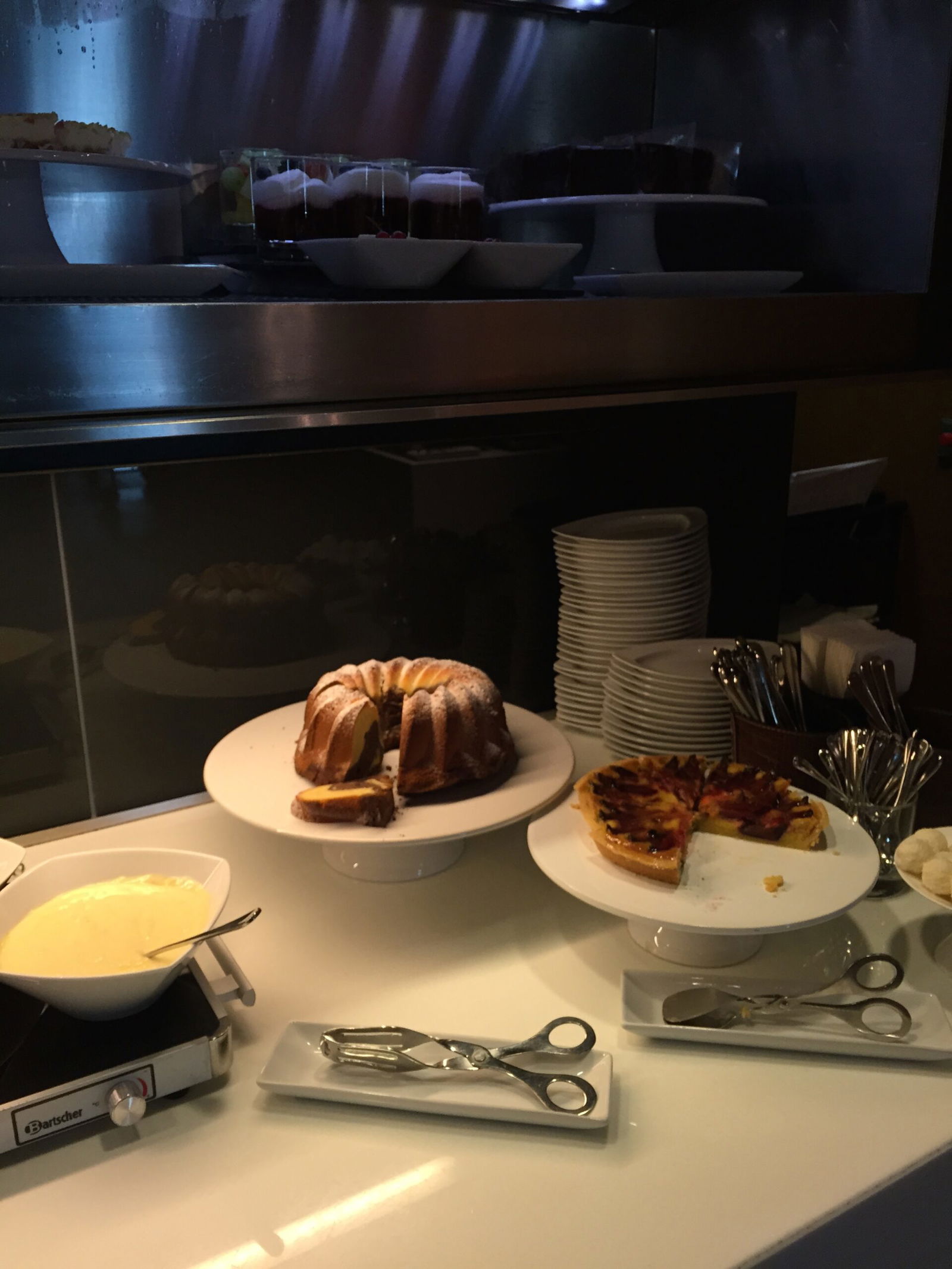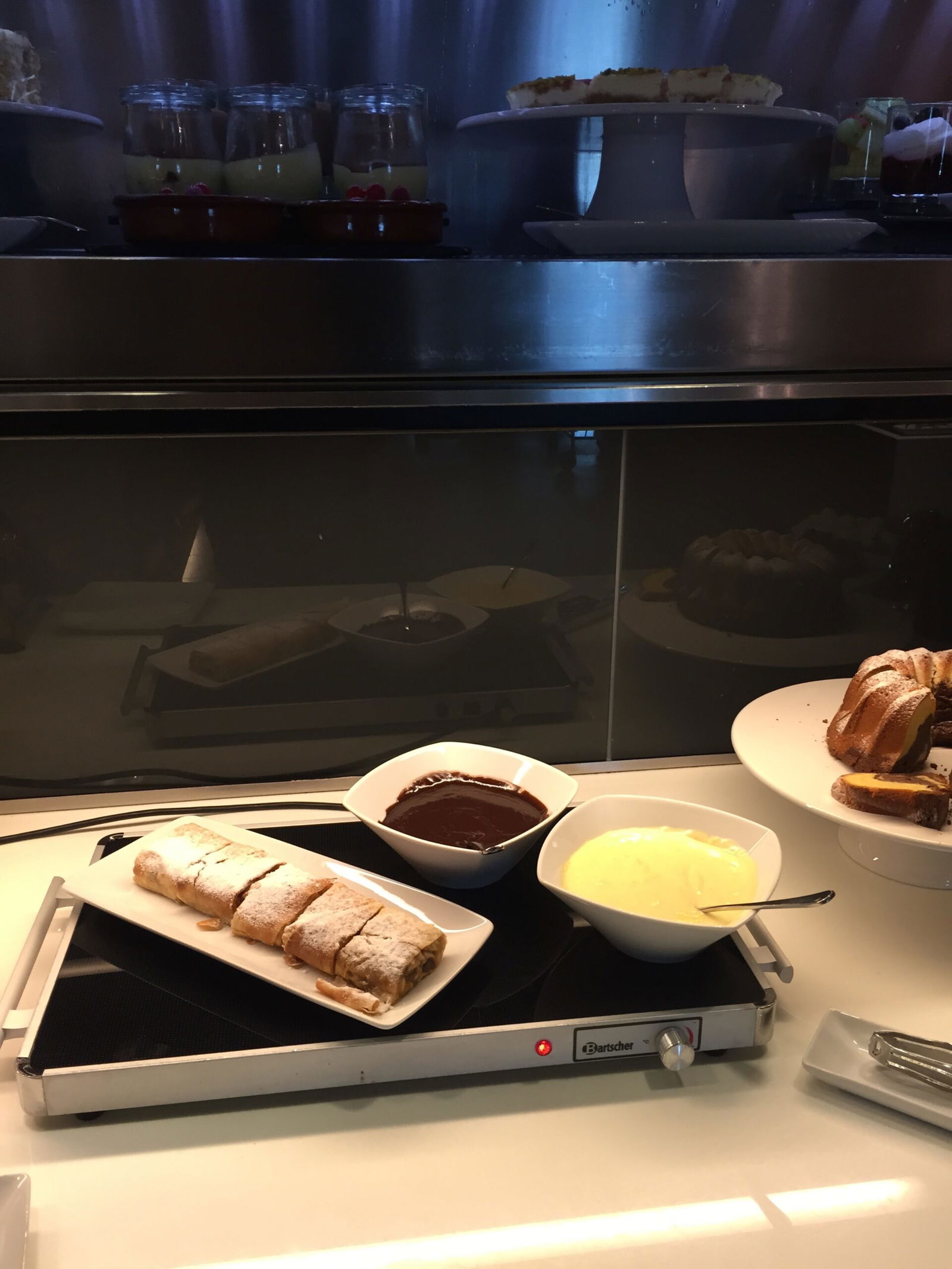 The thing that concerned me most, though, was getting one of those really cute rubber duckies. I wasn't afraid to ask.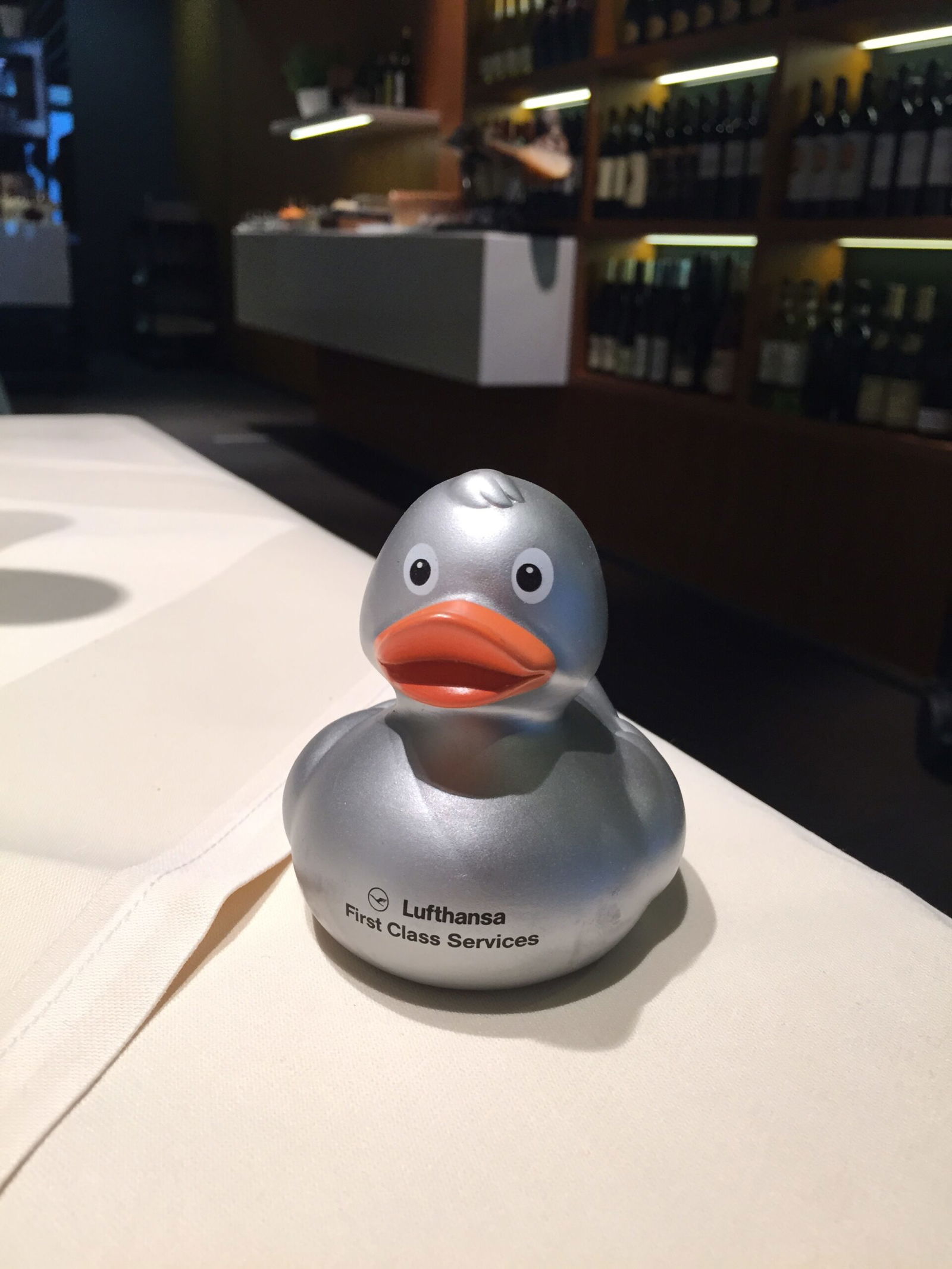 After all, they have plenty to spare.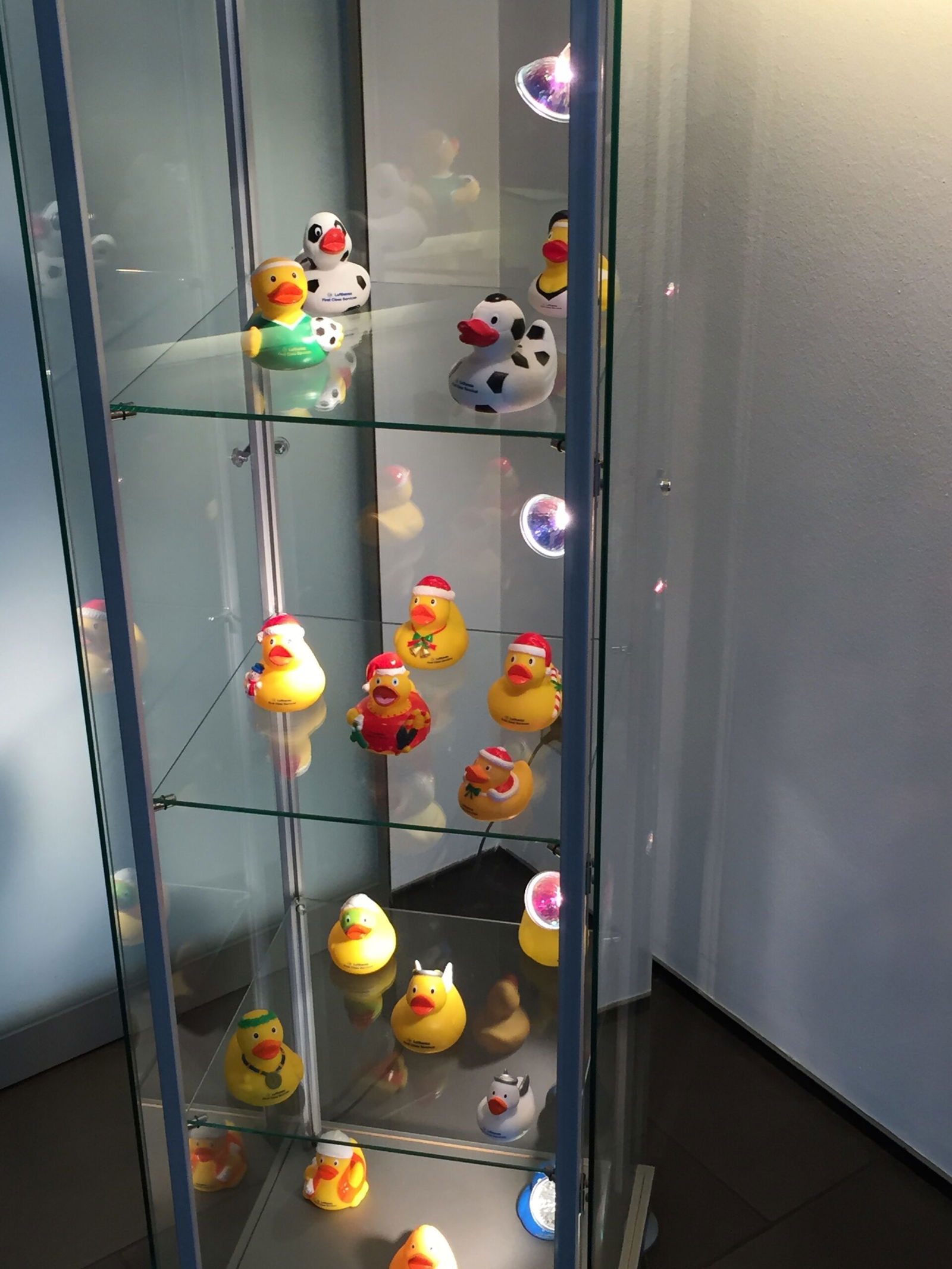 I finished eating and returned to my prior seat. There were probably only a handful of other people visible in the lounge, although based on the fact I shared my ride with 3 others, and the fact I saw four other people coming down for a transfer as I was leaving, they must have just been doing a good job of hiding.
At around 1:30, the agent who handled my check-in explained that they were still cleaning the aircraft and that he would fetch me when it was time to board. True to his word, about 7 minutes later he informed me and that the plane was ready for me. He sent me downstairs in an elevator, and greeted me as the elevator door opened below. The execution of the ground experience in the First Class Terminal is absolutely top notch, or at least it was on this occasion.
As I was waiting for the other three people on my flight to arrive, I saw four other people come down to security. Two of them were seated next to me in seats 3D and 3G. I didn't know that they were my cabinmates at the time, nor did I realize that one of them was a very popular singer, until another well known singer yelled her name out in the cabin shortly after I boarded.
I suppose the other two people were friends and/or family of said artist, but they were not seated in first class on the flight. Interestingly, two of the three people in my transfer car were also not seated in first. They were clearly a couple, so I assume at least one of them was a Miles & More Hon Circle member, as they get FCT access and car transfers even when not seated in first class. The other man in my transfer was in seat 2A right in front of me.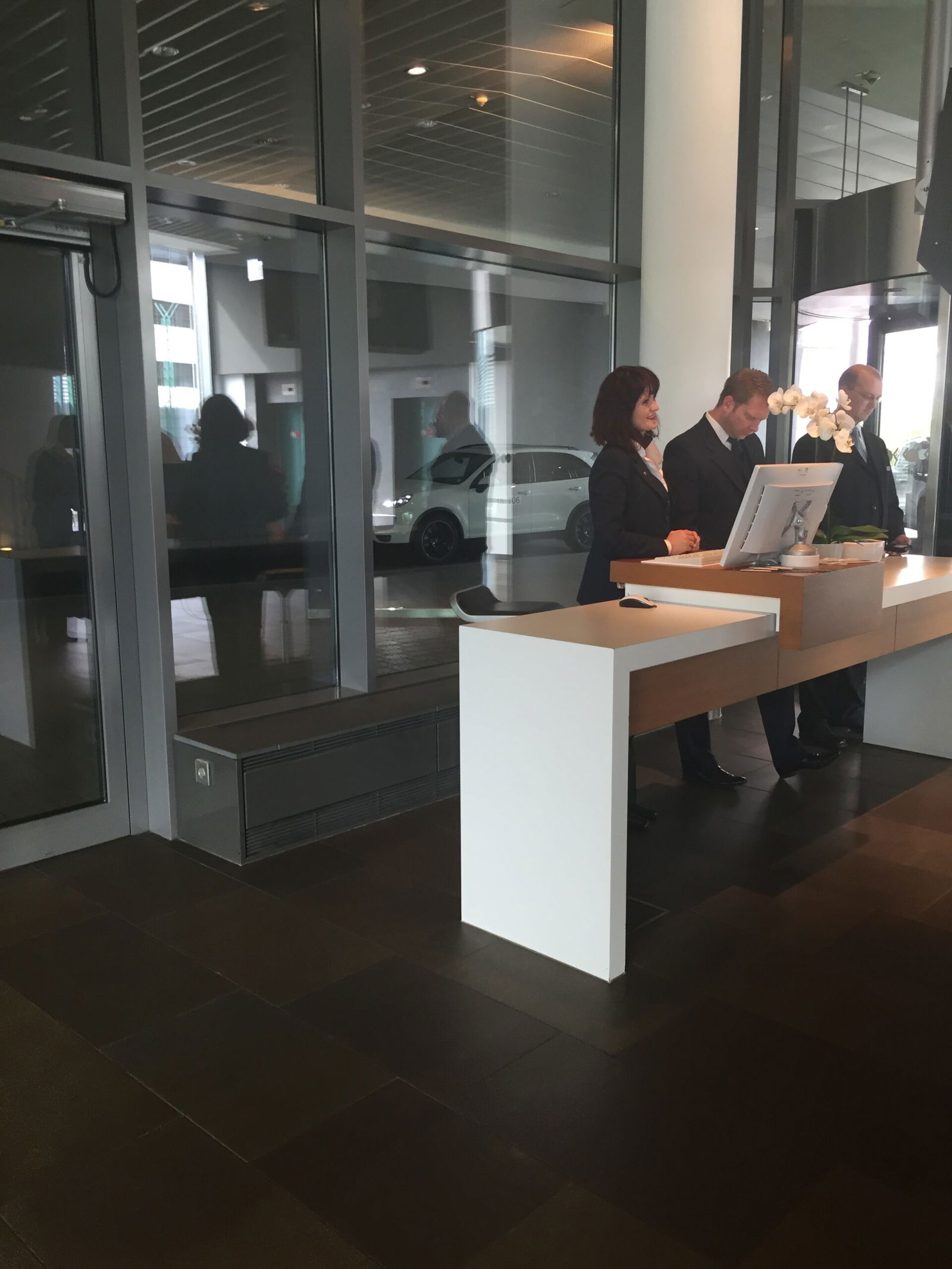 Car Transfer Waiting Area at First Class Terminal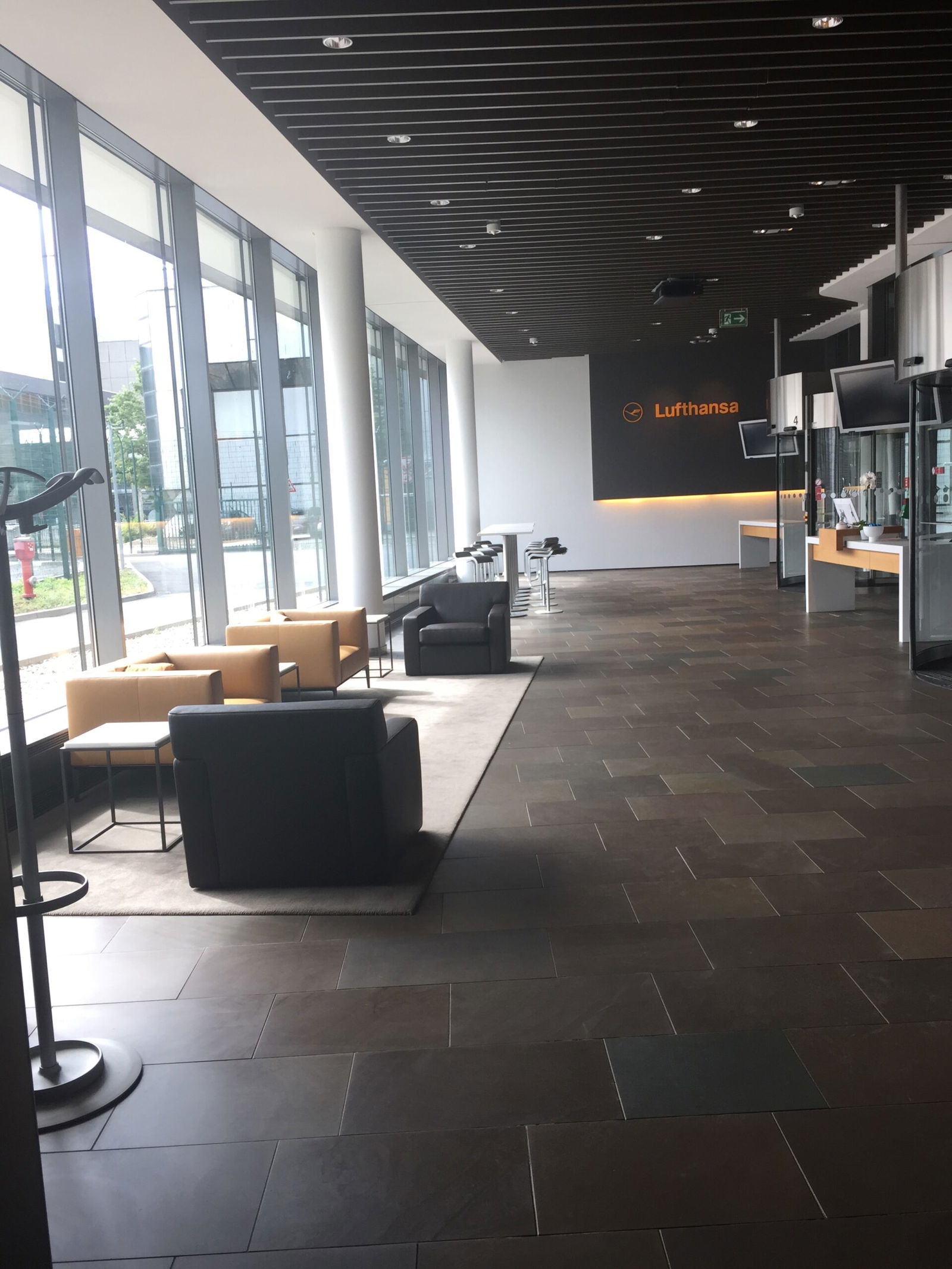 Car Transfer Waiting Area at First Class Terminal
I must say it was awesome to be driven both ways, and on my first Lufthansa first experience, no less. I am no doubt spoiled forever now.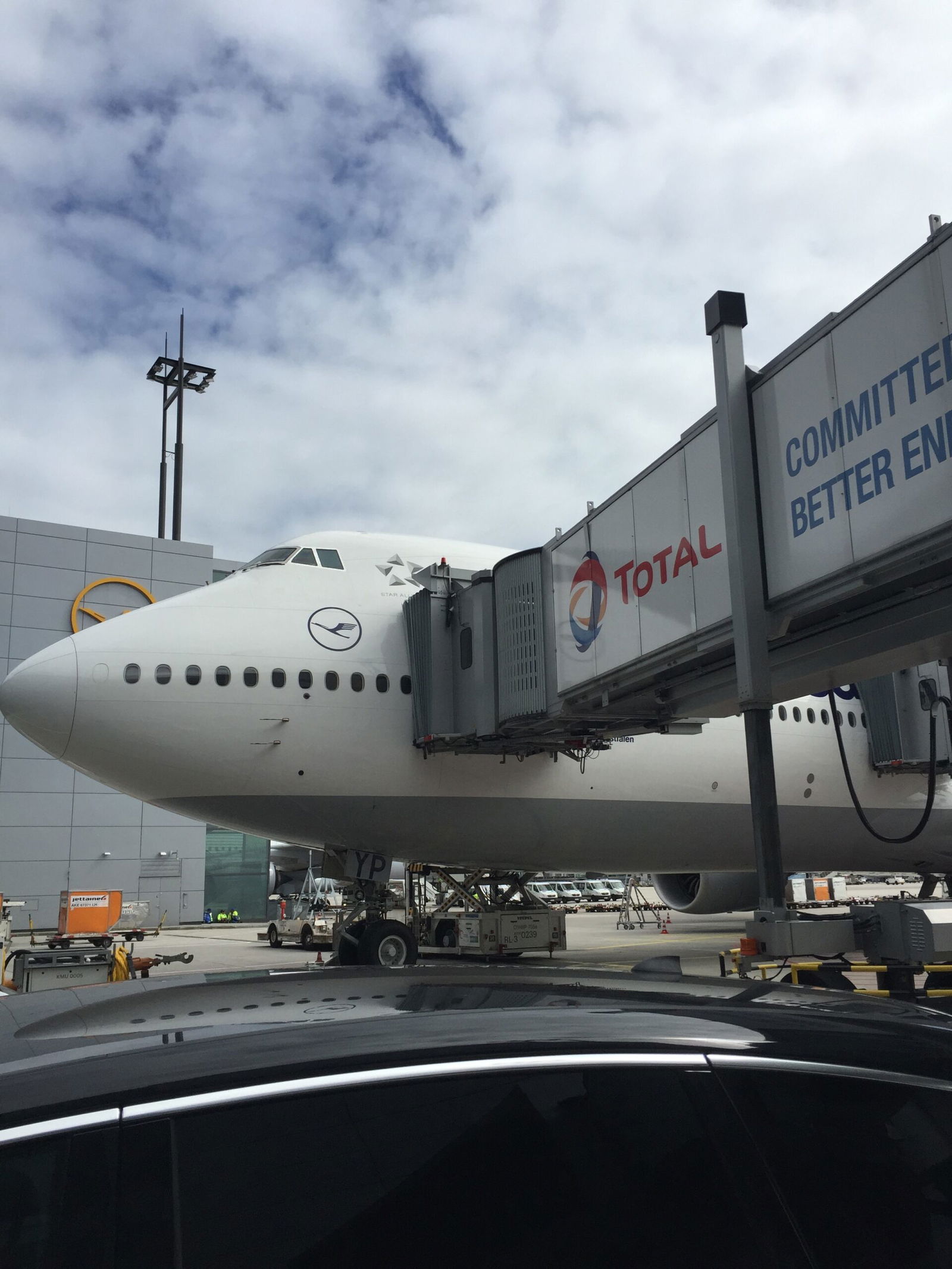 View from below the 747-8 that took me home (to LAX)
We were quickly boarded, and I was greeted by the flight attendant working my row. My review of the entire flight experience is coming soon.
I will reveal who I flew with in the next post. You can feel free to guess in the comments section. (HINT: One of them is a rock singer who still takes the last name of her late first husband on Twitter. The other loves Lufthansa first class, but hates being in the public eye.)