---
As mentioned in the previous installment, at 9:45AM the HON Circle agent informed me that my 10:10AM flight to Frankfurt was ready for boarding. I packed up my bags and followed the signage towards the F Concourse, where my departure gate was located.
That was about a 5-10 minute walk through some duty free shops.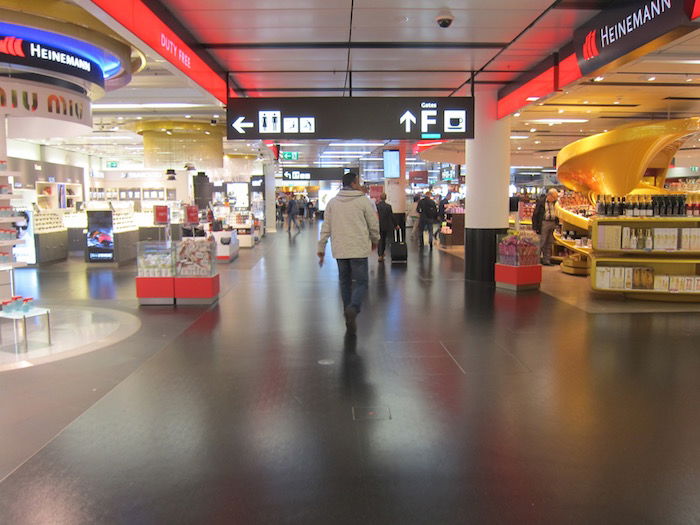 Vienna Airport terminal
The F gates are in one long concourse, and gate F4 was fairly close to the area where I entered.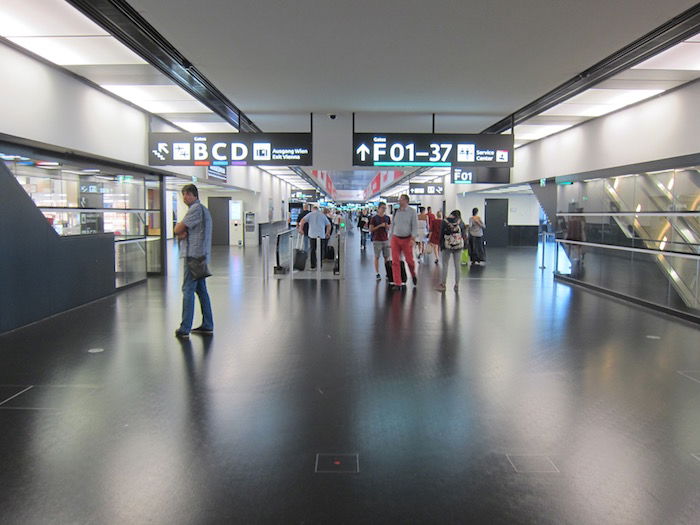 Vienna Airport terminal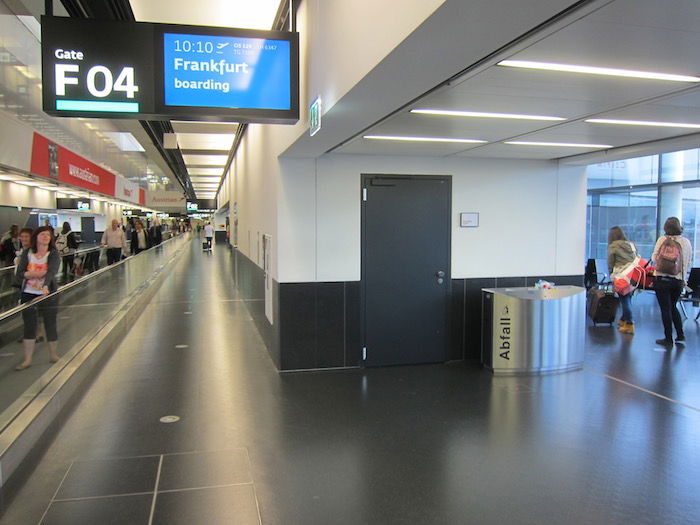 Vienna Airport terminal
By the time I got to the gate, boarding was well underway, with just one or two dozen passengers not yet having boarded.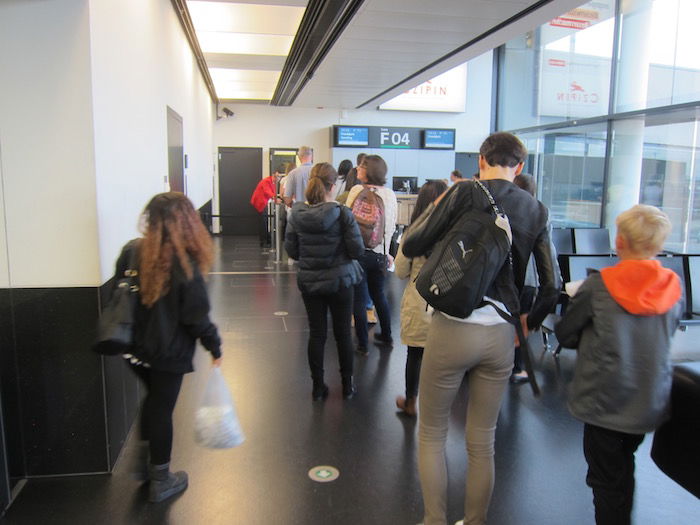 Vienna Airport, departure gate to Frankfurt
There were dozens of people backed up on the jet bridge, so it was another five or so minutes before I was actually on the Austrian A320, which was in the Star Alliance livery.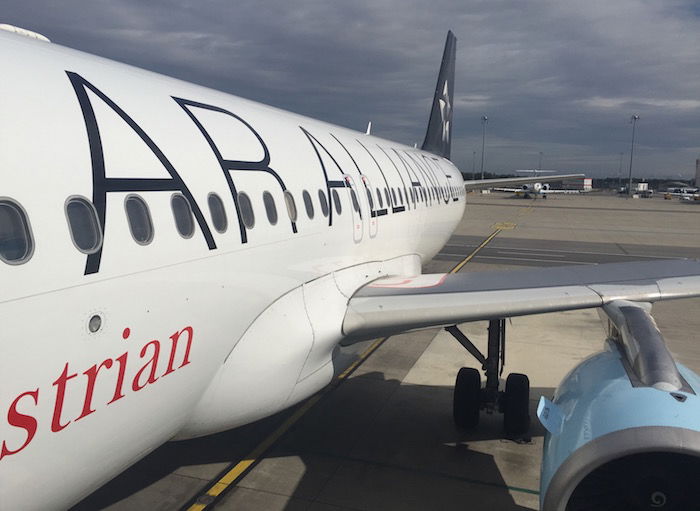 Austrian A320 Vienna Airport
Austrian 129
Vienna (VIE) – Frankfurt (FRA)
Friday, September 4
Depart: 10:10AM
Arrive: 11:40AM
Duration: 1hr30min
Aircraft: Airbus A320
Seat: 2D (Business Class)
Once aboard I quickly settled into 2D, the aisle seat in the second row. Intra-Europe business class is nothing more than economy with a blocked middle seat and better food & service.
Given that they just block the middle seat (and in the case of Austrian they don't even put a tray on the middle seat, or anything… it's just literally a seat that stays empty), the size of the business class cabin can be changed with every flight.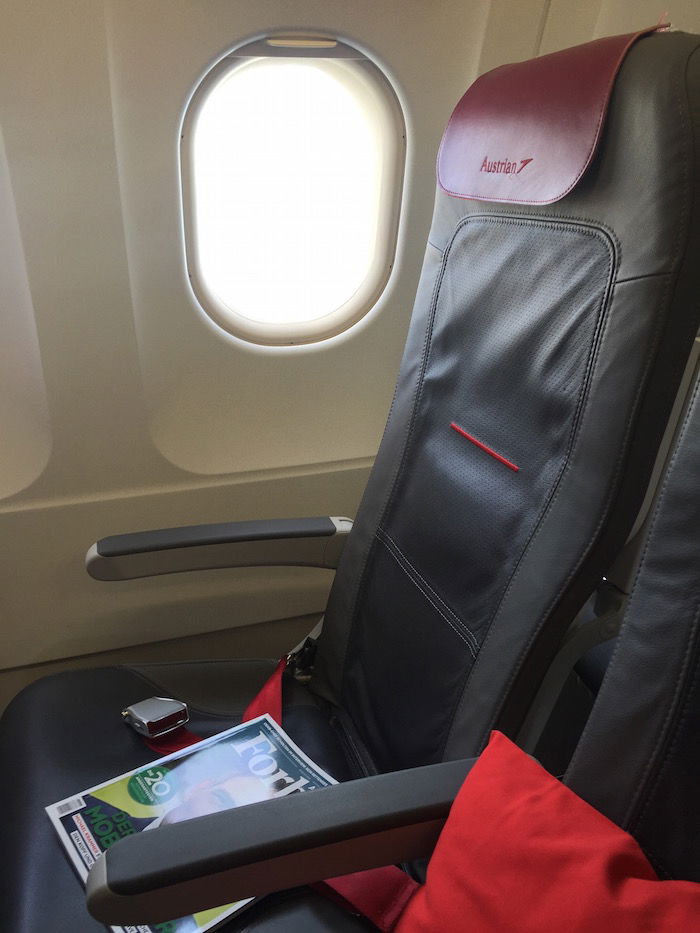 Austrian A320 business class seat
In this case there were a total of three rows of business class, for a total of 12 seats. Of those 12 seats, eight were occupied. Usually I prefer a window seat on the short flights within Europe given how good the views can be, though in this case all the window seats were occupied.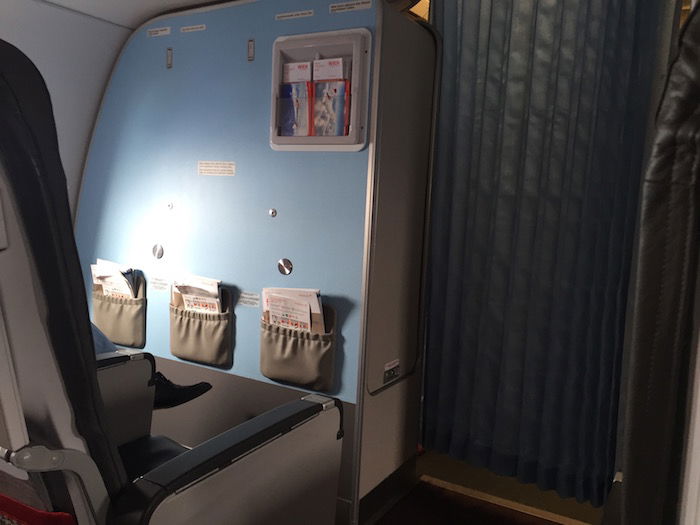 View of business class from seat 2D
One thing I was impressed by was that there was a pillow and blanket at my seat, which I haven't received on most other European airlines, like Lufthansa.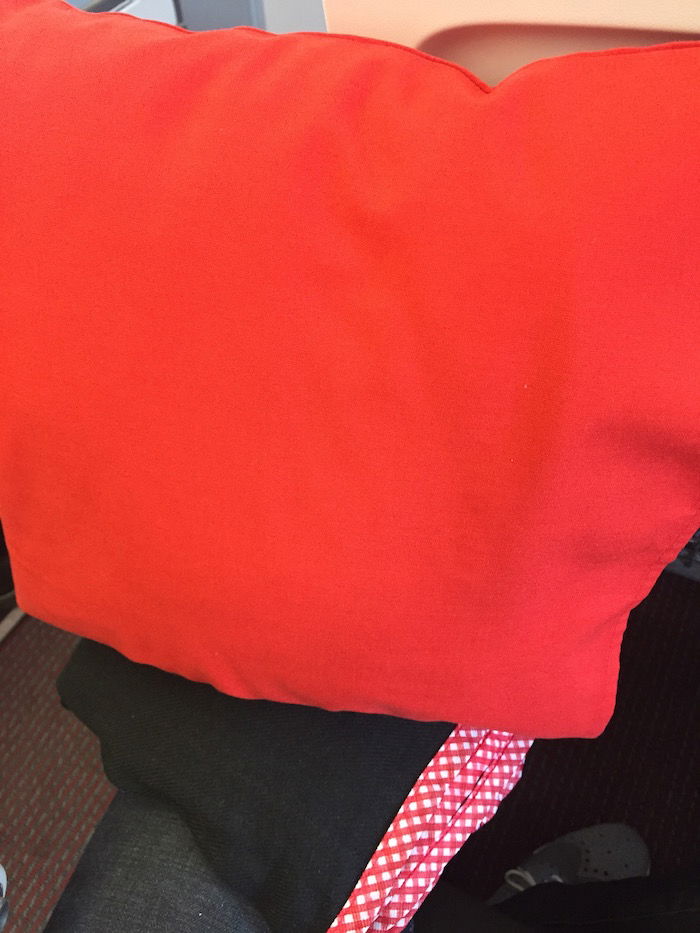 Austrian A320 business class pillow & blanket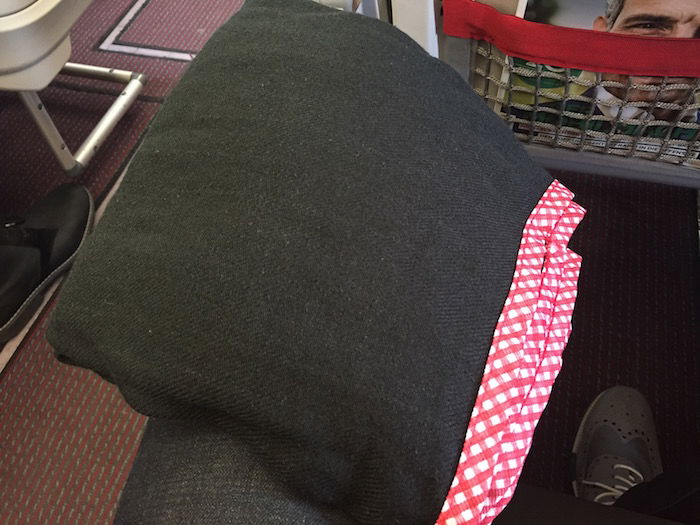 Austrian A320 business class blanket
During boarding, business class passengers were offered magazines and newspapers.
Once boarding was complete, the purser stood in front of the cabin to make the welcome aboard PA. Typically the purser will just sit in the jumpseat while making their announcement.
The funny thing is that this seems like it would be a nice personalized touch, though the purser had classic bitchy resting face. She was actually quite friendly, but I don't think it would have been humanly possible for her to look any more dissatisfied as she stood and faced nearly 200 people.
For those of you not familiar with bitchy resting face, see this video:
Anyway, about five minutes after our scheduled pushback time, the captain came on the PA to inform us of our flight time of one hour. Despite our late departure, he anticipated we would arrive on time.
Our taxi to the runway took about 10 minutes, at which point we were quickly airborne. I wish I had a window seat, because the views on the climb out were great.
About 10 minutes after takeoff the seatbelt sign was turned off, and about five minutes after that the purser was through the cabin with the lunch service. Austrian has spectacular intra-Europe catering. All else being equal I'd pick them over Lufthansa or Swiss for intra-Europe flights by a long shot, based on the catering alone. The food is catered by DO&CO, which has among the best food in the sky.
In this case they were serving some sort of veal, which was delicious.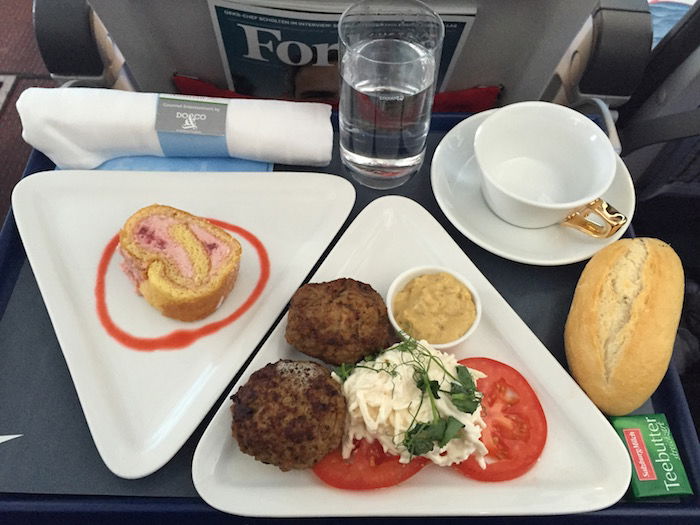 Austrian business class lunch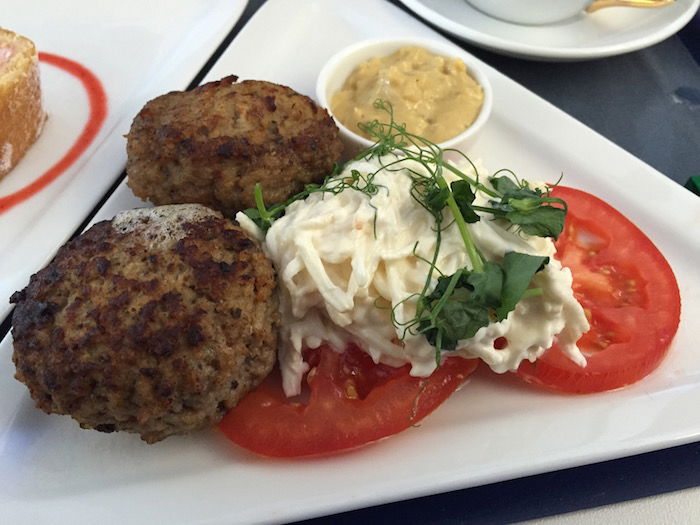 Austrian business class lunch
And then there was a strawberry pastry of sorts for dessert.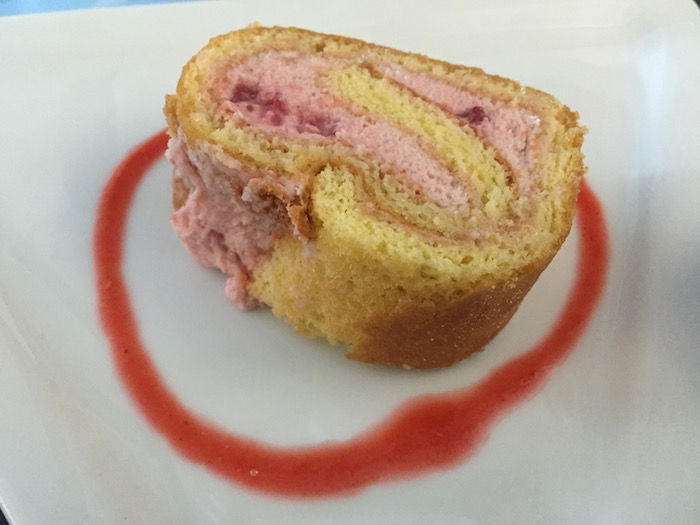 Austrian business class dessert
On top of that we were offered a selection of bread from a basket.
After the meals were served, the purser came through the cabin with drinks. I just ordered a still water. The purser was attentive, and even on such a short flight must have offered a handful of drink refills.
About 35 minutes after takeoff, the captain was once again on the PA to inform us that we were about to initiate our descent, and anticipated that we would touch down in Frankfurt within another 30 minutes.
We hit a bit of chop on our approach into Frankfurt, though touched down at 11:35AM, and were at the gate five minutes after that.
Yep, unfortunately we arrived at a gate, which you'd usually think is a good thing. But when connecting to/from Lufthansa first class, a remote stand is much better, as it means you'll be picked up plane side in a nice car. Oh well!
Austrian business class bottom line
Ultimately intra-Europe business class is sort of lackluster, given that it's economy with a blocked middle seat. That being said, as far as economy with a blocked middle seat goes, I don't think it gets better than Austrian business class in terms of the food. Austrian's longhaul business class has among the best catering in the sky, and their intra-Europe experience is just a small taste of that.
I'd definitely pick Austrian over Lufthansa or Swiss for intra-Europe travel.
What have your experiences been with Austrian intra-Europe?