As I mentioned previously, I'm currently on a trip with one of my best friends, Matt. We're planning the trip day-by-day, which means I'll be writing the trip report more or less live. Matt will be sharing his thoughts as we go along as well, so this is the first of his installments.
Greetings from Dubai. Ben wanted me to share my thoughts about Emirates A380 first class with you. That's a little shocking after my champagne post, but I assume he's just being nice. Or maybe he just wanted me to leave him alone for a few minutes on the trip. Probably both.
This was my first time flying Emirates and also my first time flying the A380. Those of you that have seen any of Ben's previous reports on Emirates know that it's the blingy-ist airline in the sky. Ben has been telling me for years that I had to fly Emirates. I basically hadn't — according to him — lived until around noon on Saturday when I boarded the plane. (Or maybe it wasn't until they opened the 2005 Dom once we were in the air?) Going into the flight, I wasn't really sure what to expect. I generally trust Ben's judgment on all things travel-related, though, so I figured I had to do it.
I have obviously read Ben's reviews of Emirates. I mean, we all know that the first class cabin looks like #richkidsofinstagram on crack. My initial impression was basically the painted nails emoji and the tongue-out emoji with one eye squinting. The suites themselves are not huge, but they're certainly more than large enough. There is more (high gloss) wood in the first cabin than in every gentleman's club in London combined. But it's actually less over the top in person than it looks in pictures, if that makes any sense.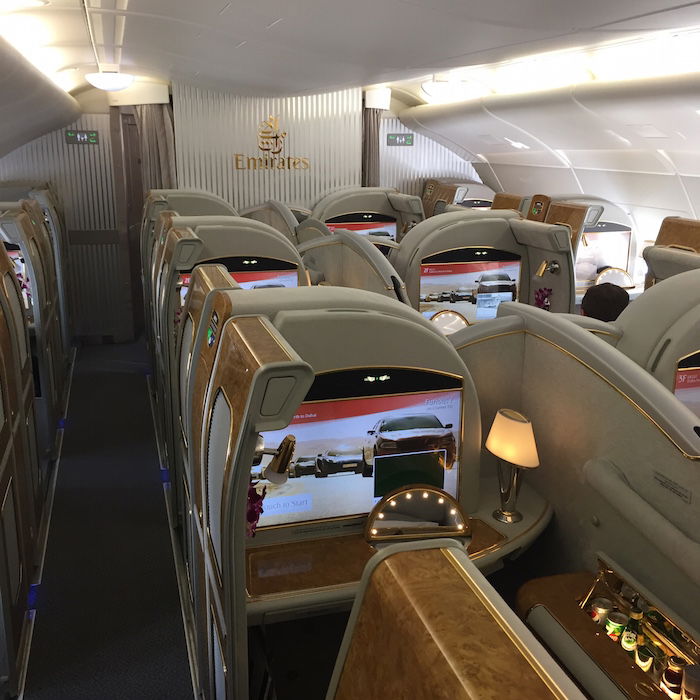 With respect to the A380, I knew it would be a great aircraft, but I'm not a size queen like Ben, so I always figured it would just be a big 747. I am happy to report that I was wrong,as usual. Both are solid products, but we could say the same about Apple and Samsung products. A 747 is like a Samsung phone — it works well and looks ok nice. But everyone knows it's no iPhone A380. The A380 was so much quieter than a 747 (or any other plane I've ever flown). For a plane that has a maximum take-off weight of 575 tonnes, it's incredible how quiet take off is. That makes for an incredible flying experience.
And it's especially good for when you've had a lot to drink so that you don't have to yell even louder to your travel companion or the flight attendants. I also could hardly feel the plane moving down the runway. (I had only had one glass of champagne at that point, so the feeling was probably somewhat objective.)
What really distinguishes the Emirates A380 is the way it is customized. Cathay Pacific is of course an incredible airline, but who wants to be banished to an incredibly spacious, doorless suite with an amazing bed for 12 hours when you could instead be standing at a bar or taking a shower?
Put simply, Cathay is fabulous; Emirates is gone with the wind ("GWTW") fabulous. Ben raved about the Emirates A380 bar to me for months years. With Emirates, he's sort of like a mom that is always talking about her baby. Yeah, ok, Ben, I get it, it's amazing. It's like nothing else. Blah. Blah. Having enjoyed a bottle of 2005 Dom Perignon, and done a tasting of Hennessy Paradis, Johnny Walker Blue Label, and Chivas 21-year something or other at the bar, I must say it is every bit as GWTW as Benji had said.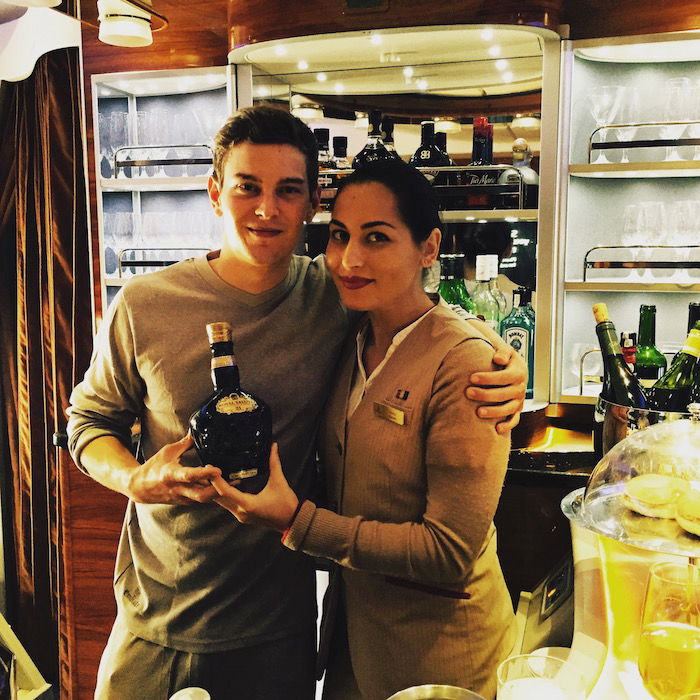 I also thought the food on Emirates was excellent. It's not just bling over substance. Ben and I both started with caviar and a mezze plate (which was huge).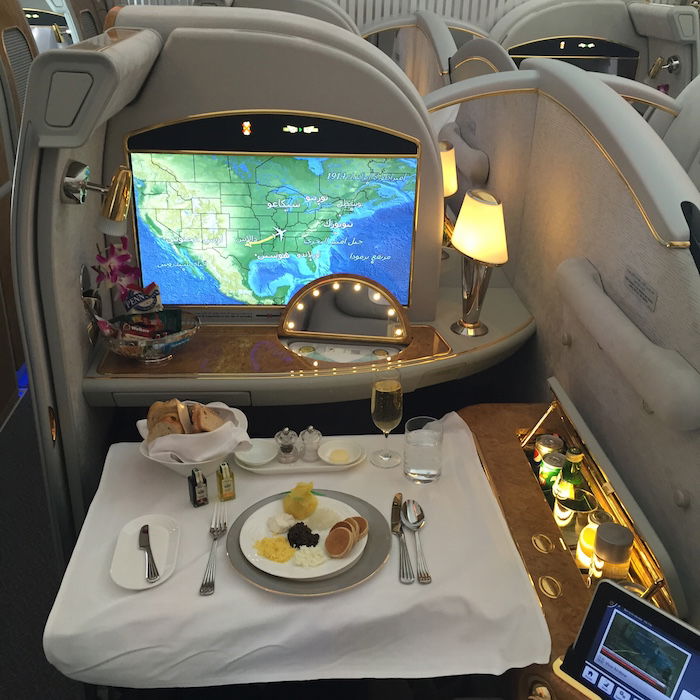 We enjoyed the excellent 2005 Dom with both pairings, and I also had a glass of 2007 Opus One, because who doesn't casually drink 2007 Opus One? We then went to bar and got way too drunk, and stumbled returned to our seats for dinner. We had another serving of caviar (because, again, who doesn't do that) with champagne, and steak with the Opus. The steak was OK, but nothing to write home about, but I did enjoy the roasted sweet potato and carrots it was served with.
I think we discussed dessert, but somewhere along the way I ended up in a bed that was set up for me in the window seat beside me. Five or so hours later I woke up in what felt like the Sahara desert, in desperate need of water.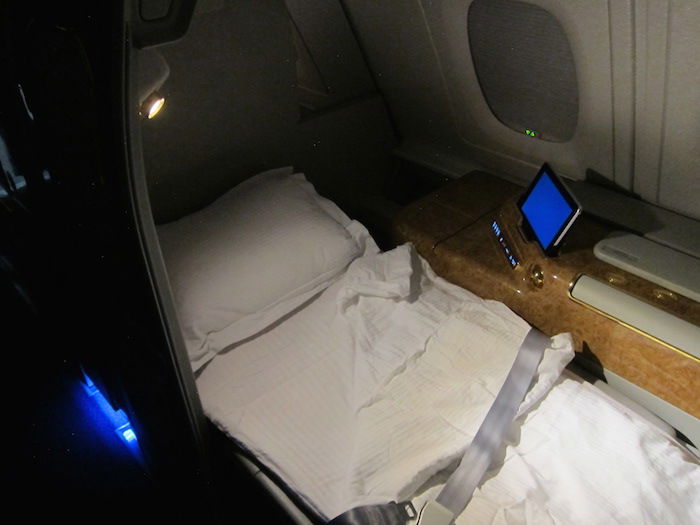 I then took a shower, which was just surreal. Cathay has nice bathrooms (especially on the refreshed 777s), ANA has bidets in the first lavatory, but a shower? Really? C'mon. Why? Well, for Emirates, I think the only question is why not? And frankly I can't think of any reason not to have a shower at 41,000 feet. I also especially love the fragrance they use in the shower lavatories. The only thing I felt was wrong with the experience was the five minute water limit.
Ben was sleeping throughout my shower, but after I was refreshed I took a flash picture of him sleeping, which didn't wake him up, and then tapped him to get him up so that he wouldn't miss his opportunity to shower. (What an amateur!)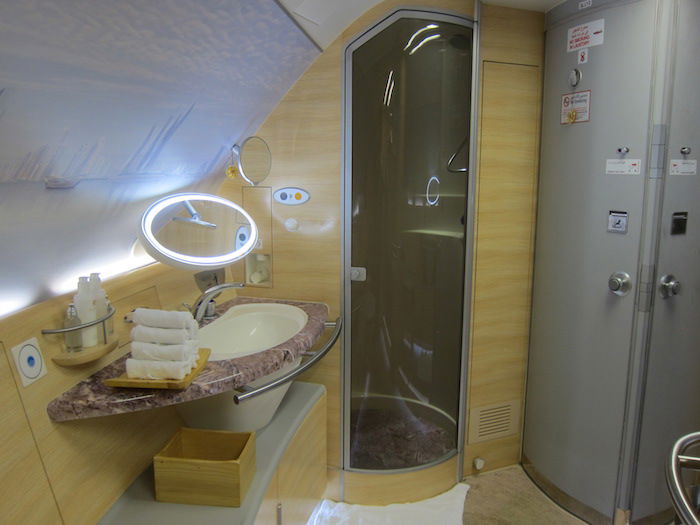 Then I had french press coffee (which is a nice touch), some tasty chicken curry, and more than two liters of water.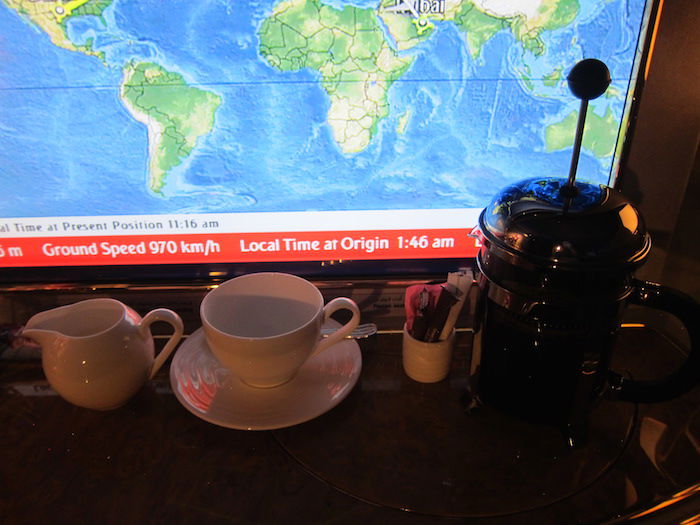 Overall, I loved Emirates. And not only as a novelty. It certainly holds its own with the likes of Cathay and ANA, but in a different way. The bar and shower really make the flight. Would I love Emirates on a 777? I hope never to find out, because even if it's great it won't be as great. Or more precisely it won't be as GWTW.
I'm off to see a ski slope in the 115 degree Dubai summer, and to have a 96 course tea at the Burj al Arab. Stay tuned for more!