---
In my last post, I reviewed the Lufthansa First Class Terminal. I won't repeat myself here, but I can sum it up by saying that it was easily the most impressive ground experience I have ever had. The level of service and the attention to detail rivaled that of a truly excellent hotel such as the Park Hyatt Tokyo. Boarding the plane, I questioned whether the on-board experience could be as remarkable.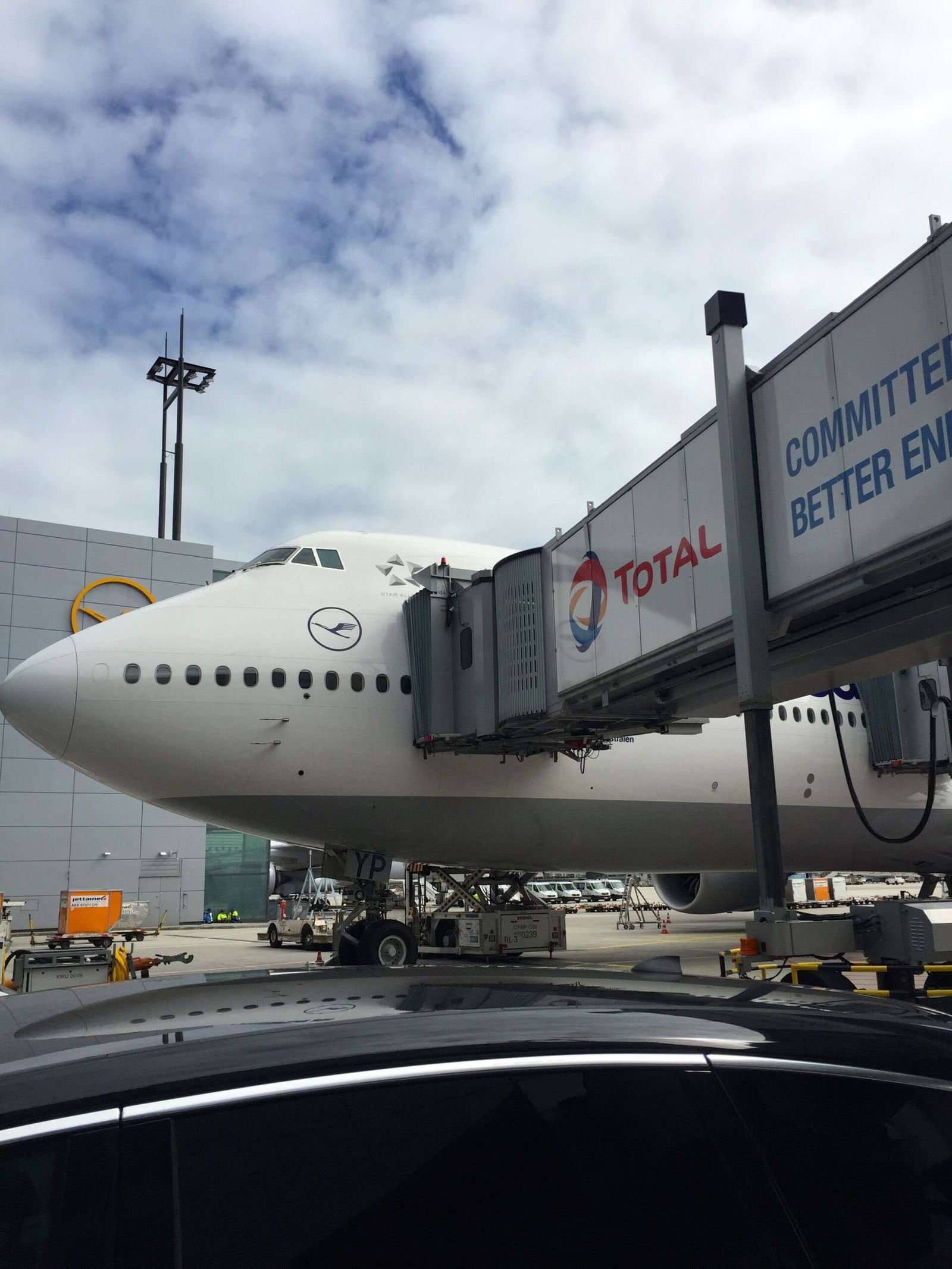 The 747-8 that took me home (to LAX)
Boarding and Initial Impressions
As I noted when discussing the FCT, Lufthansa does an especially good job of employing a set of uniform, soft, almost muted tones throughout their first class lounges and cabins. I really appreciate this, as you just sort of feel like you're moving from one room to another.
I had several other initial impressions. Although the hard product is not the most private, and the television screens are not the largest, the "open" suites are very well appointed. The seat itself is a durable cloth material, and the surrounding surfaces are covered in supple and clearly high quality leather, while the walls are covered in suede. There's something effortless and understated about the cabin that exudes class. Emirates may have doors, better champagne (at least consistently better), and a shower, but Lufthansa schools them on style.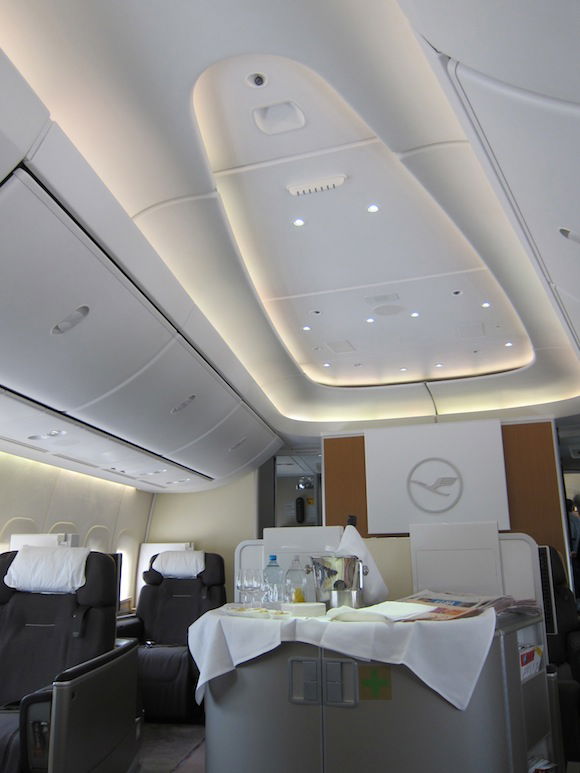 View of Lufthansa 747-8 First Class from Aircraft's Nose
The simple elegance of the cabin is perhaps best captured by the single red rose at each of the eight seats.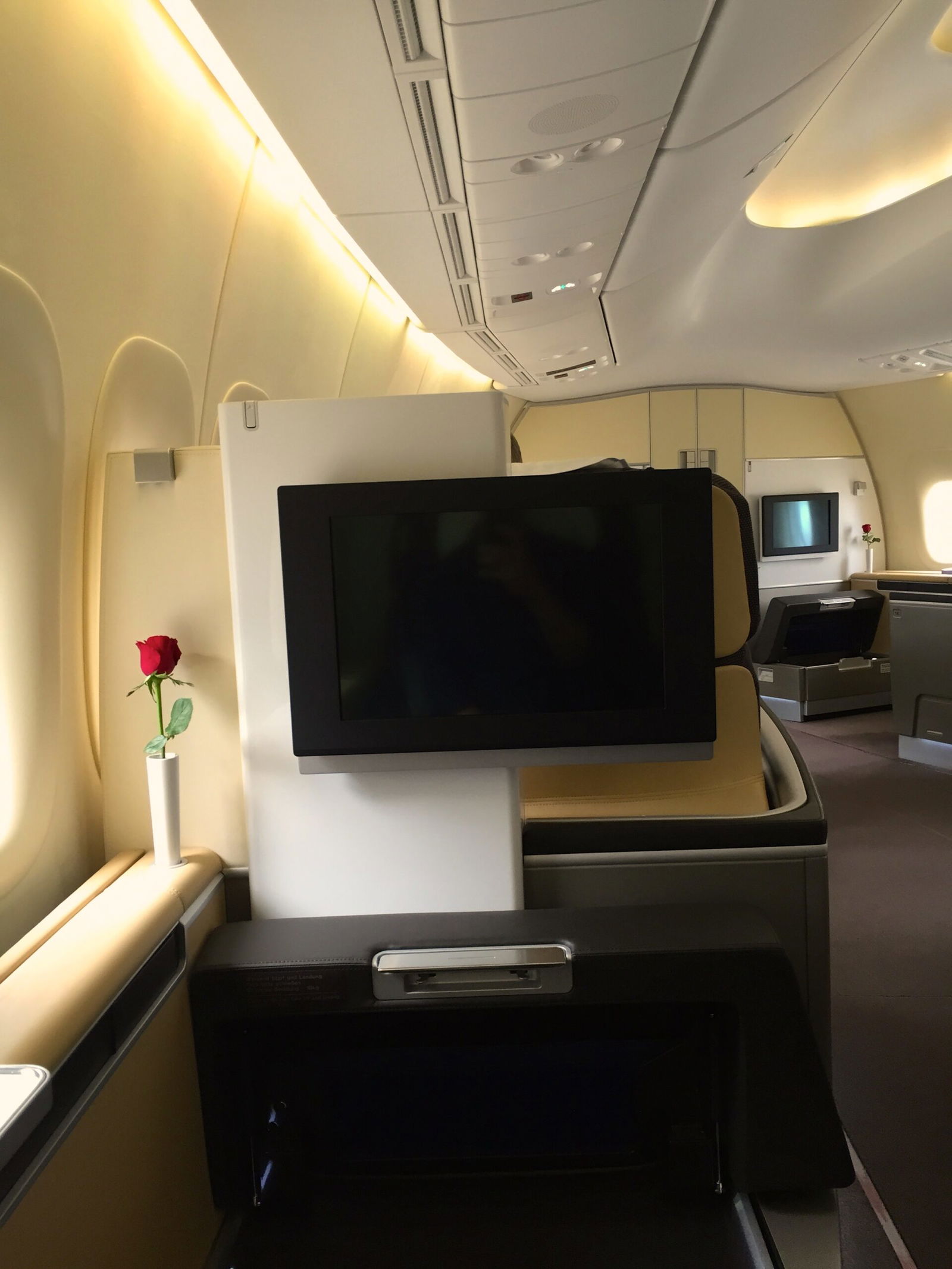 My seat — 3A
Because I booked this ticket five hours before departure and took the last seat, my only choice was seat 3A. This way my first time in the nose of a 747. While it was a fun experience, I can't say I prefer it to the upper deck of an A380. It was noticeably louder than the A380, but certainly nothing worth complaining about.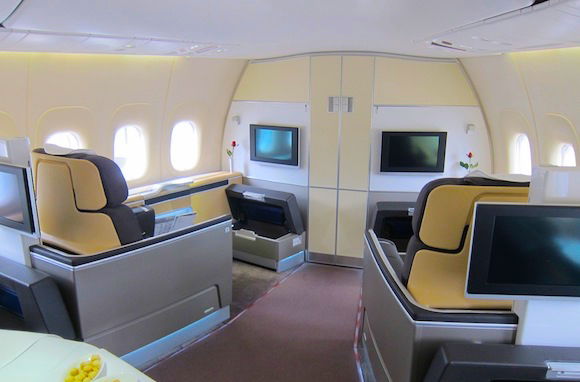 Another view of Lufthansa 747-8 First Class
I also liked the fact that Lufthansa has lockers on the 747-8, so that you don't have to deal with putting suitcases in the overhead bins. I placed my personal item in the overhead bin nearest my seat, and when the person sitting beside me had her partition up, it was not easy to get the bag out. So the lockers are much appreciated, if not necessary.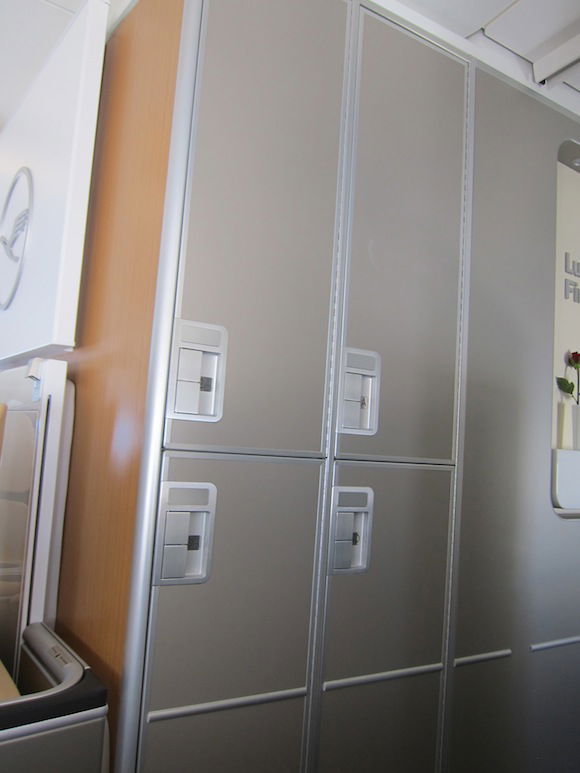 Lufthansa 747-8 First Class Lockers
As I boarded, the flight attendant that worked my aisle for the flight (although both ultimately did an excellent job and were attentive without regard to aisles) showed me to my seat and asked me if I wanted anything to drink. She proactively suggested… champagne. How could I say no? Things were off to a good start.
Lufthansa was pouring 2007 vintage Taittinger. It was not the Comtes de Champagne that you can find on Qantas, but rather the mid-tier vintage. It's a perfectly nice, relatively easy drinking champagne. I will note that British Airways was offering 2006 Taittinger brut and non-vintage Taittinger rose in the Galleries First Lounge at London Heathrow. It's not exactly groundbreaking when BA has equally good and arguably better options in what is essentially their OneWorld Emerald lounge.
Nevertheless, I do find it odd that one month I might get Krug, 1995 Charles Heidseick Blanc des Millenaries, or Laurent-Perrier Grand Siecle, and in another month I might get Taittinger Prelude or 2007 vintage. In some instances we're talking a price premium of roughly 200%. But like I said it is perfectly nice and easy drinking, so I don't fault Lufthansa for offering it. I availed myself of several refills throughout the flight.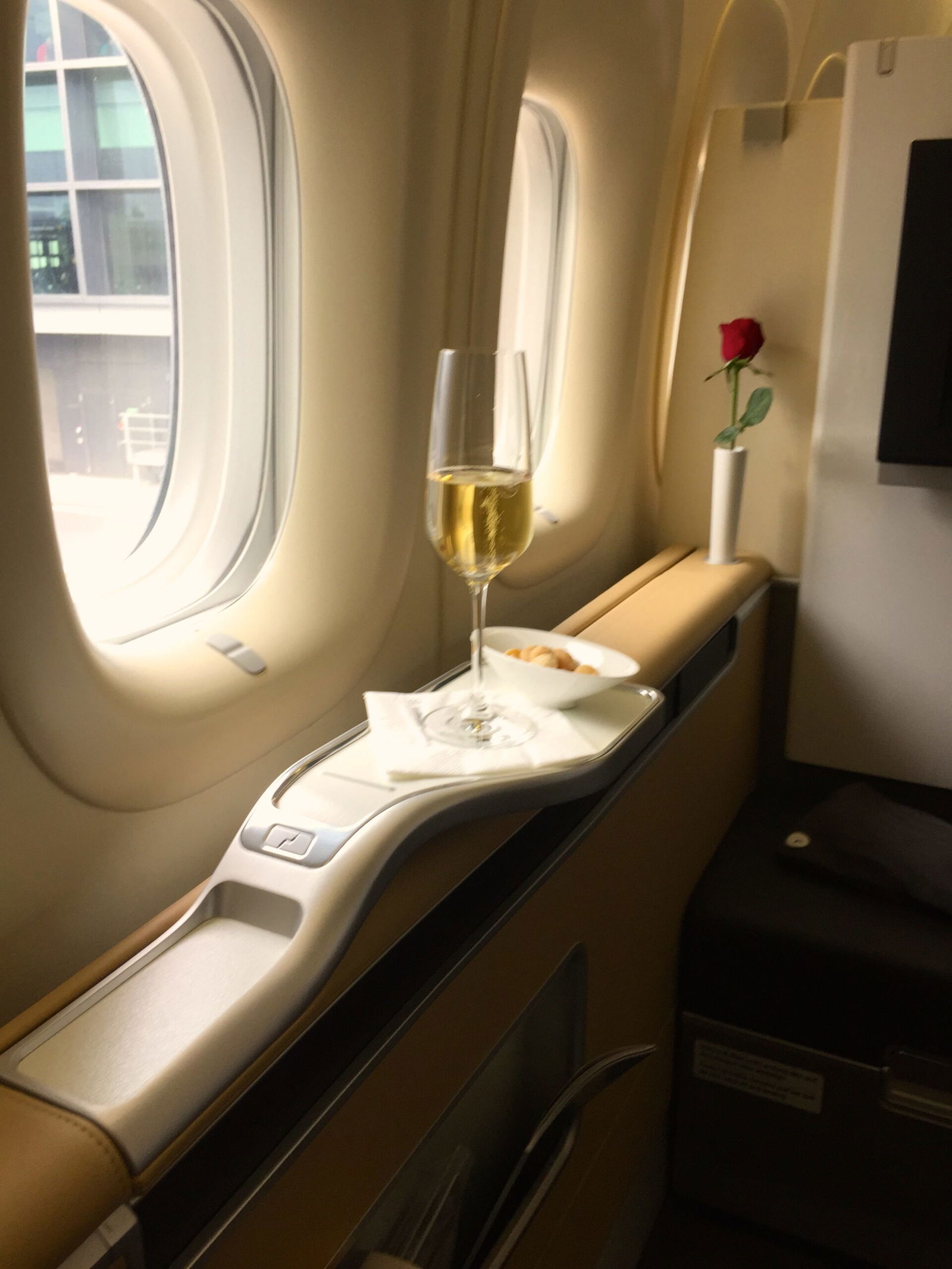 Champagne and nuts (a/k/a perfection)
The champagne was served along with macadamia nuts, as is always the case on Lufthansa. (Excuse some of the blurry pictures taken with my iPhone 6. Maybe the iPhone 6s will have an anti-blur function?)
After a relatively short taxi, we had a smooth take off and I was on my way home after an extended stay in Europe.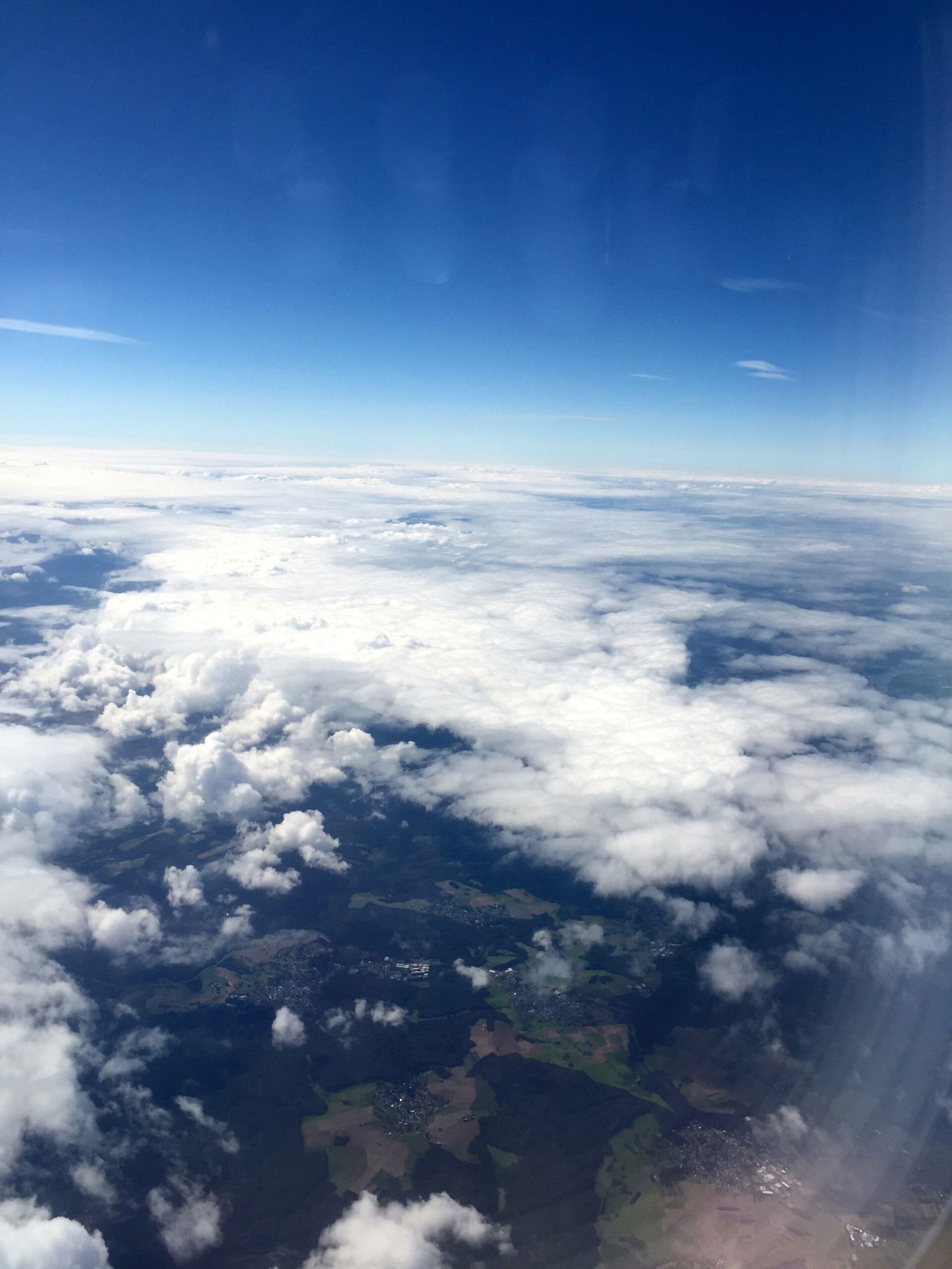 So I've left a little bit out of my boarding experience. I want this to be primarily about the flight and less about the gals I was with on the flight. But since I set the stage for the big reveal, it's time. Many of you guessed one of them; none of you guessed the other. I was the first to board, along with the man seated ahead of me. Shortly afterwards, a male and female boarded. From their accents I could tell they were American. The man was carrying several large Dolce & Gabbana bags. (Perhaps another reason to guess they were American?)
Just after that, another man and woman entered the cabin. They appeared to be a couple. The woman was seated next to me in 3D, and I recognized her from the immigration stand at the FCT. She quite genuinely said hello and asked me how I was doing. I had macadamia nuts in my mouth, so I was like, "oh hey!" with my hand and a sort of squirrel-with-nut-in-mouth smile. Moments after that, I heard the woman in 1K yell, "Oh my god! Sia?!" Well sh*t, I squirrel-with-nut-in-mouth smiled at Sia. Oh well. It could be worse. And for the most part I have thick skin and an elastic heart.
It then became clear to me that the other woman was Courtney Love.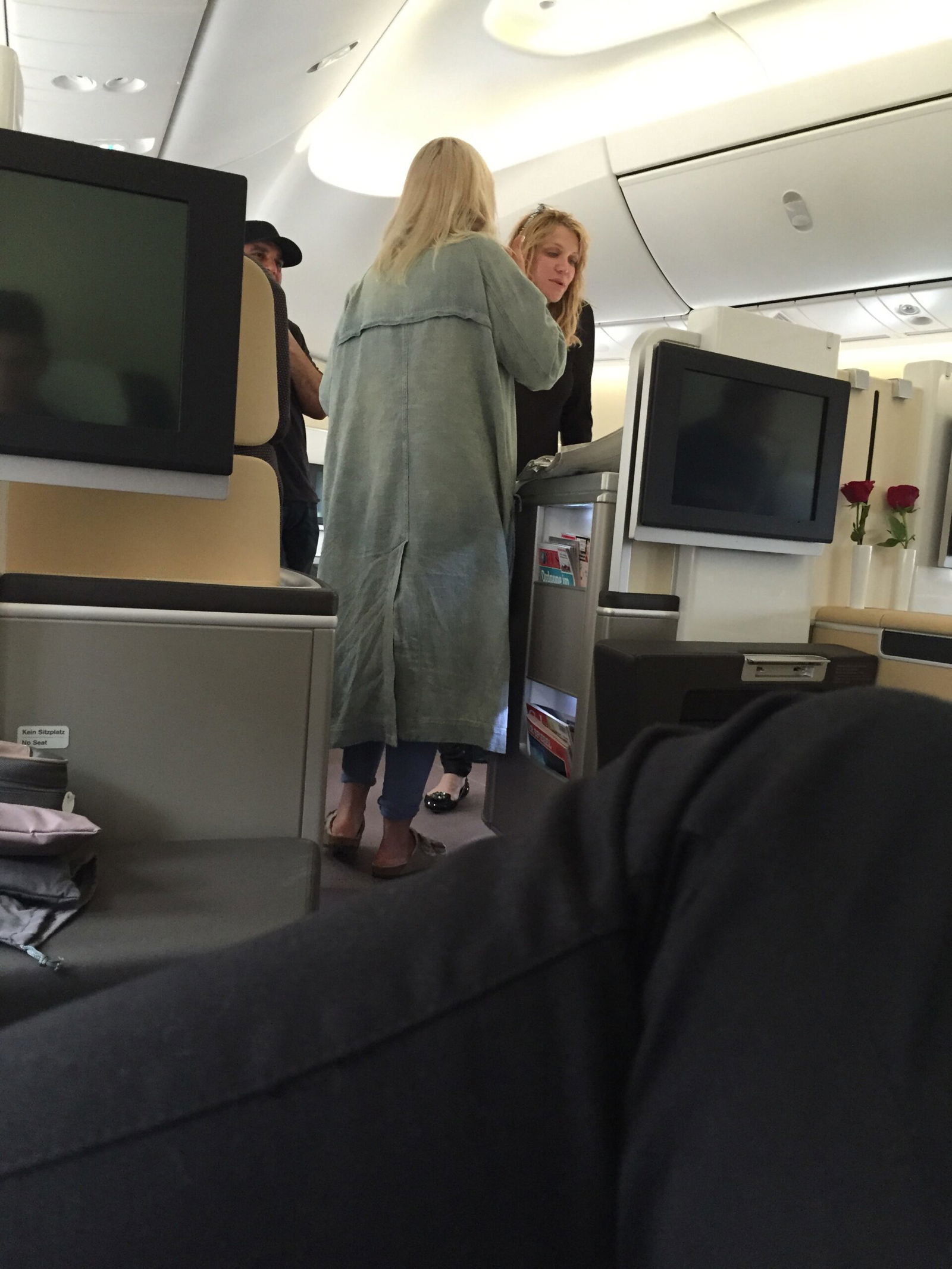 Courtney Love and Sia in Lufthansa 747-8 First Class
They chatted for a few minutes. It is obvious to me that Courtney Love doesn't care about — and perhaps enjoys — social media, so I don't mind posting this picture of her. Sia, on the other hand, is well know for disliking it. I'd say she might have given me one of the most genuinely kind seeming greetings ever when she boarded, too. So this picture of her back is the most I'll post.
Anyway, both were relatively uneventful cabinmates. Sia and her husband slept 90% of the flight, and as far as I could tell only drank water and hot tea. Courtney mostly slept. Her manager / handler was quite nice, and apparently an airline nerd as well. We chatted for some time in the galley about how he liked Etihad, hated British Airways, and thought Air France's new business class product was top notch. Can't say I disagree with any of that, really!
Amenties and In-Flight Entertainment
As anyone flying true international first class would expect, Lufthansa provides amenity kits and pajamas to its first class customers. The pajamas are perhaps my favorite of any I've tried — if only because they actually fit me. I found Emirates PJs were much too big, while Cathay's were fit for dolls, not humans. I also thought they were kind of cute and European-ish. They're also perfectly comfortable, and I look forward to using them at home! This is another way, aside from scents, to remember and relive fun travel experiences.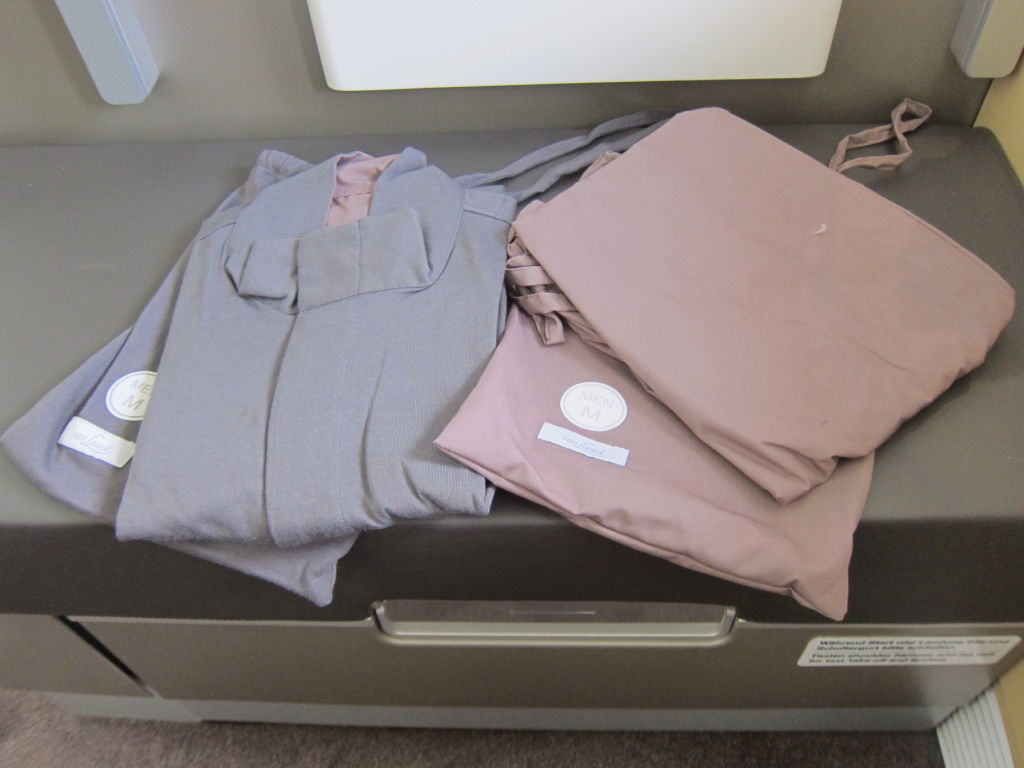 The amenity kit is also nice. It is made by Braun Buffel, which describes itself as a "German designer and maker of premium leather handbags and accessories with more than 100 years of tradition." The kit itself is very German. Simple, but well done, with clean lines. I prefer my Emirates first class kit, but mostly just because it is larger. This is unquestionably a durable amenity kit that that will endure a lot of travel.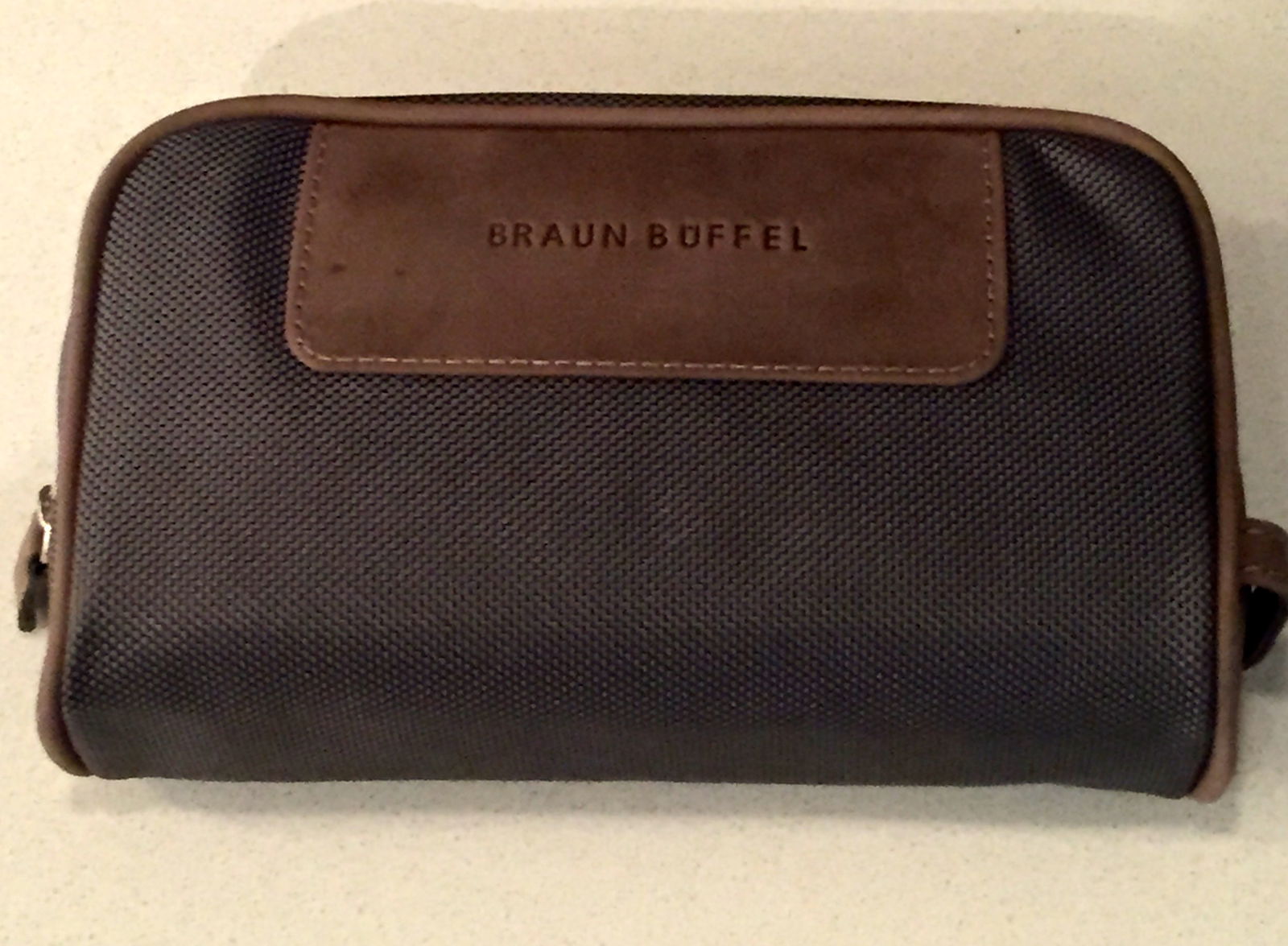 The kit came with all the regulars: eye shades, shocks, ear plugs, a tooth brush and toothpaste, a hair brush, etc. The best part about the kit, in my opinion, is the fact that Lufthansa provides La Prairie hand and face cream, as well as lip balm. These same amenities are offered in Swiss first too. It's little things like this that make Lufthansa's first class special.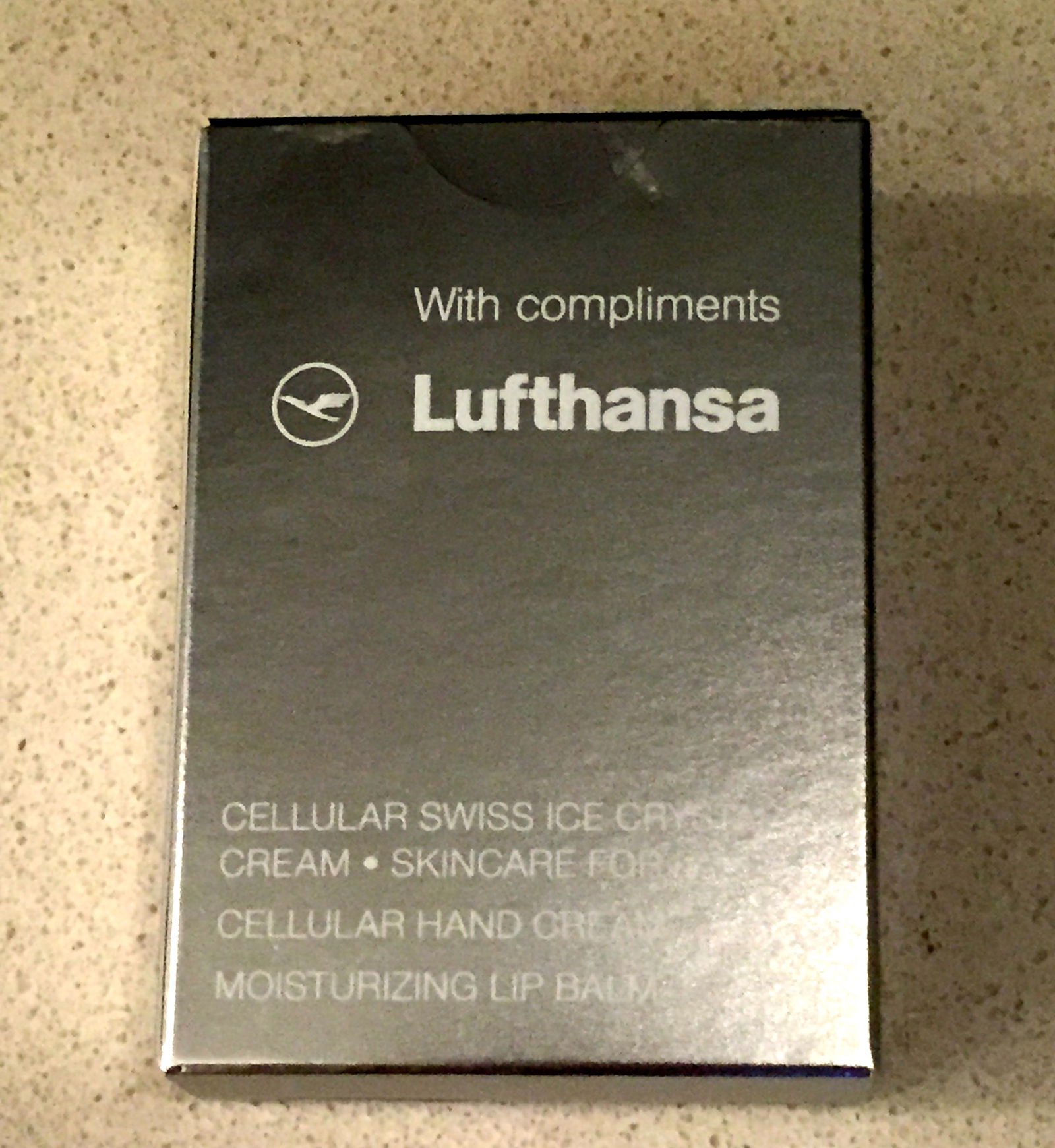 Ok, I've said all the nice stuff now. Lufthansa. WTF? Your IFE selection is TERRIBLE. I mean, if I were in economy, i.e., not being force fed food and wine or able to have a bed made, I have no idea what I would do besides feel like I should have been flying an airline that offered even halfway decent films. Lufthansa's movie selection made ANA look good; that's really, really hard to do.
The upshot is that Lufthansa offers unlimited, fast Wi-Fi through FlyNet (apparently provided by T-Mobile/Deutsche Telekom) for a reasonable flat rate of $19. The only issue I had was that it wouldn't connect on my phone. That's annoying, because I like to iMessage and because all my pictures of Courtney Love and Sia were on my iPhone. Apparently this is an issue for anyone with a U.S. network carrier. Lufty, have them fix it!!
Catering and Soft Product
A wise woman once said, "I'm just here for the caviar." And she was referring to flying Lufthansa first class. She was also referencing the fact that Lufthansa is the world's largest consumer of caviar, purchasing approximately 5% of all caviar that is produced in a given year. That's actually kind of phenomenal, and gives you a sense of just how expansive their first class network is.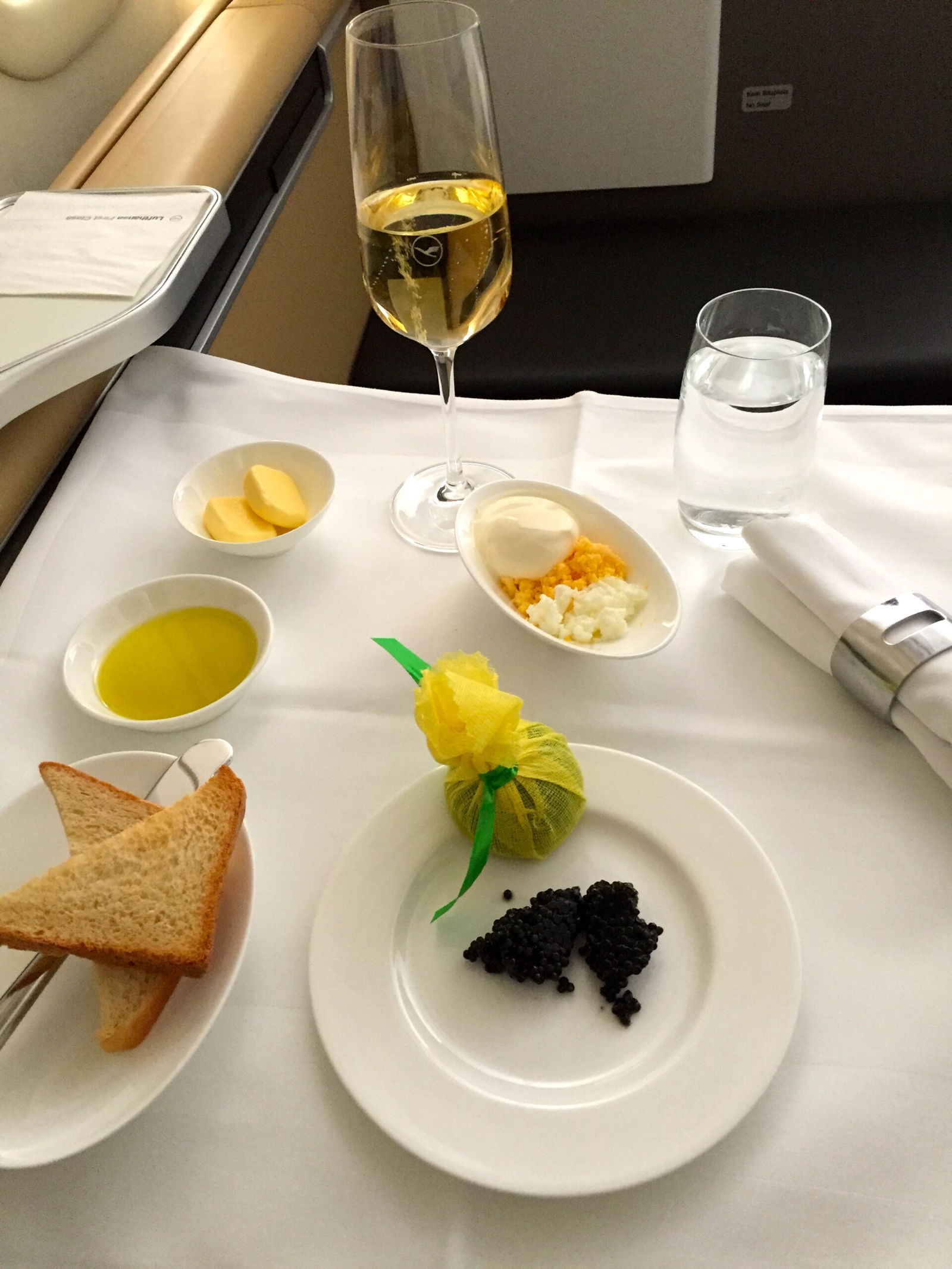 Naturally, I started with caviar. Even more naturally, it was accompanied by a glass of champagne. If I were going to be especially critical, I would say that I think Lufthansa should provide blini in addition to toast. Why? Because I prefer blini. It's not a game changer, but they're the only airline that serves caviar in first that I've flown that doesn't offer blini. It's also not difficult from a catering standpoint to provide them. Petrossian offers them for sale online and in their Los Angeles and New York locations. I've purchased them, and they taste fresh out of the oven if you zap them in the microwave for about 10 seconds.
The lack of blinis was mostly unnoticed, however. Not because I was watching a great movie (I wasn't). It was unnoticed because even while one of the flight attendants was serving caviar, the other was tending to my champagne glass and my water glass. I was drinking still water, and just after take off I asked for still water with lemon; the flight attendants always remembered that, and each time I asked for a glass of water they brought another lemon slice along with the refill. Little things like that are what take things from business class level service to first class service, and the crew on this flight was certainly aware of that.
I had eaten a bison filet on the ground, so I was particularly full. I did have a beetroot salad of some sort, but apparently did not take a photo of it. I'm just not quite top of my game yet! I'll get there though… maybe. At this point, I was ready for a nap. I was out late the evening before in Paris, and had only gotten a few hours of sleep. I asked the flight attendant to make my bed, and dozed off. I woke up over Baffin Island, which is the largest Canadian island, and part of Canada's largest territory, Nunavut.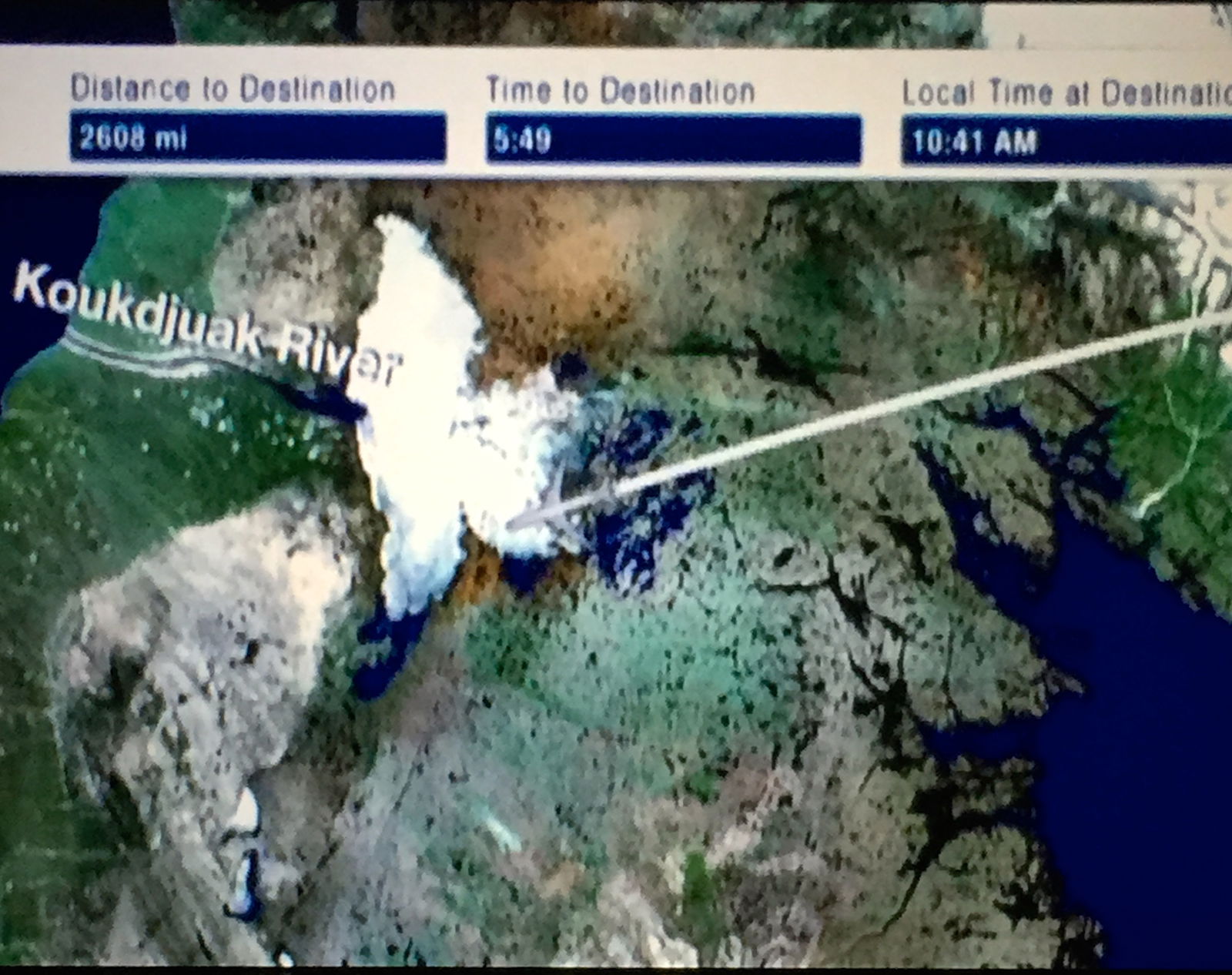 Watching the airshow was fun. Like Ben's dad, I enjoy the various renderings Lufthansa provides. His dad was onto something by saying he just wanted to enjoy the airshow and ambience — it was surely the most entertaining thing to watch on the plane.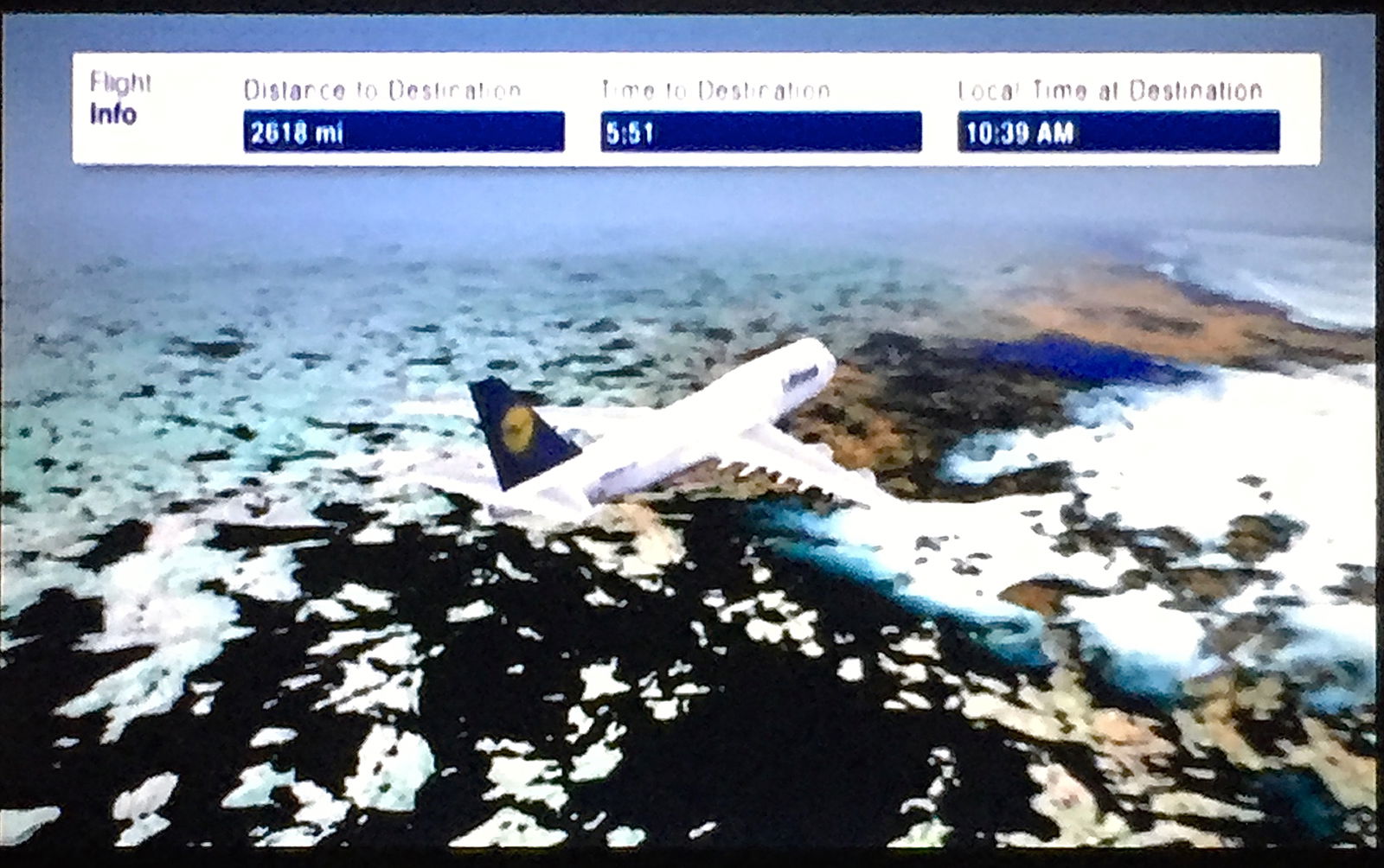 Sleeping made me hungry. Aside from skimming the IFE selection, it was one of the most difficult things I had done all day. I had mentioned that I wanted the lemon chicken early in the flight, and flight attendant informed me that they had kept it "warmed" for me. She explained that this is fine for an hour or two, but that it had been warm for many hours and that they wanted to make me a new one, which would take 15 minutes. I can usually wait fifteen minutes for almost anything.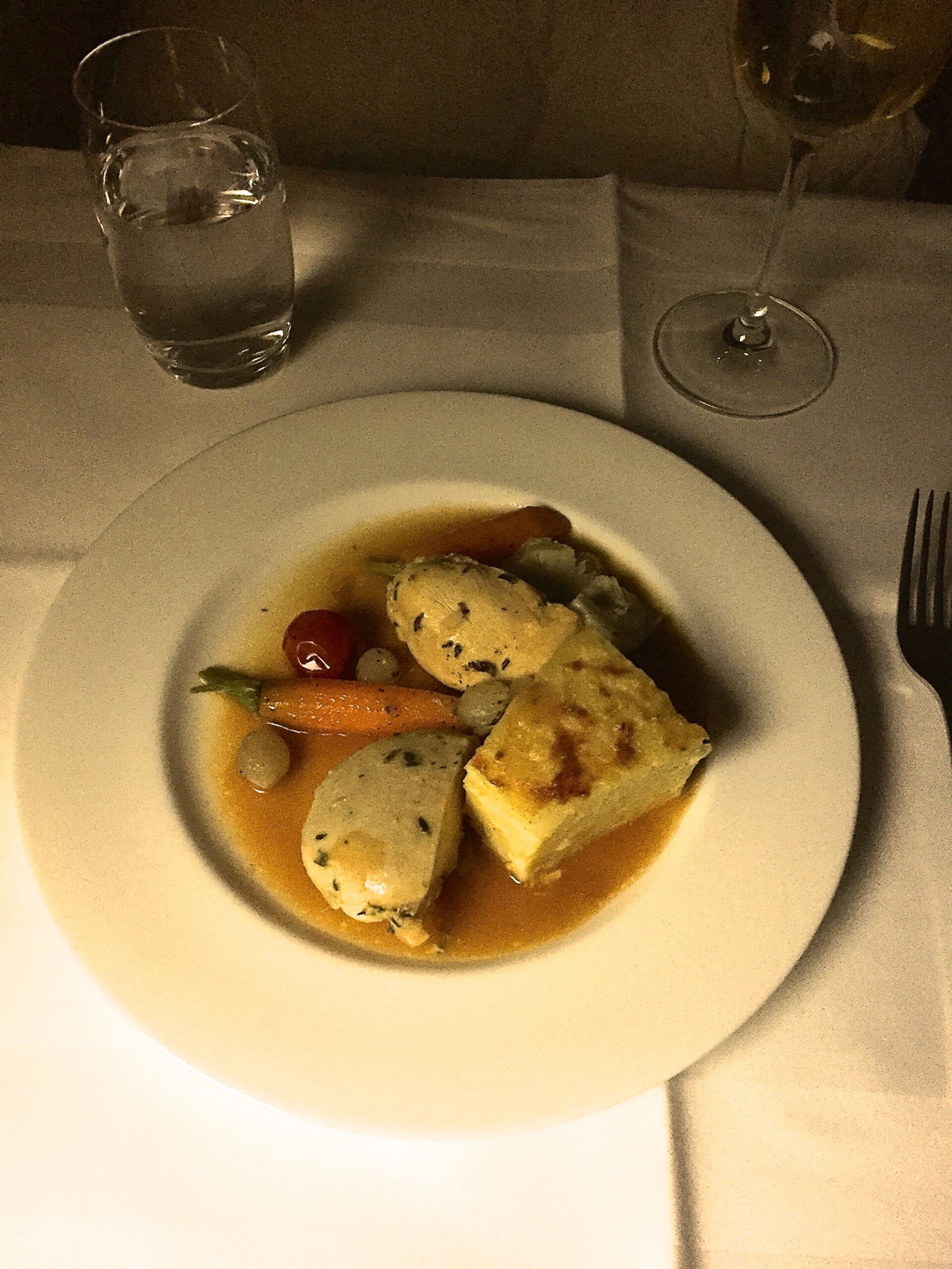 The chicken was very tender and flavorful. The meat was boneless and skinless, which was a real plus. I don't mind a bone-in, skin-on chicken breast if it's well prepared, but cooking, chilling, and reheating makes chicken skin completely unpalatable. So I can't quite understand why so many airlines serve skin-on chicken breasts. The lemon sauce that the chicken was served with was also very tasty, and light. It was basically just a good quality chicken stock with some herbs and lemon. When it's well executed, simplicity is all you need. There was also a polenta cake and some veggies, which were also good.
I should have had a cheese plate, because the cheeses looked excellent, but instead I just had a couple pralines.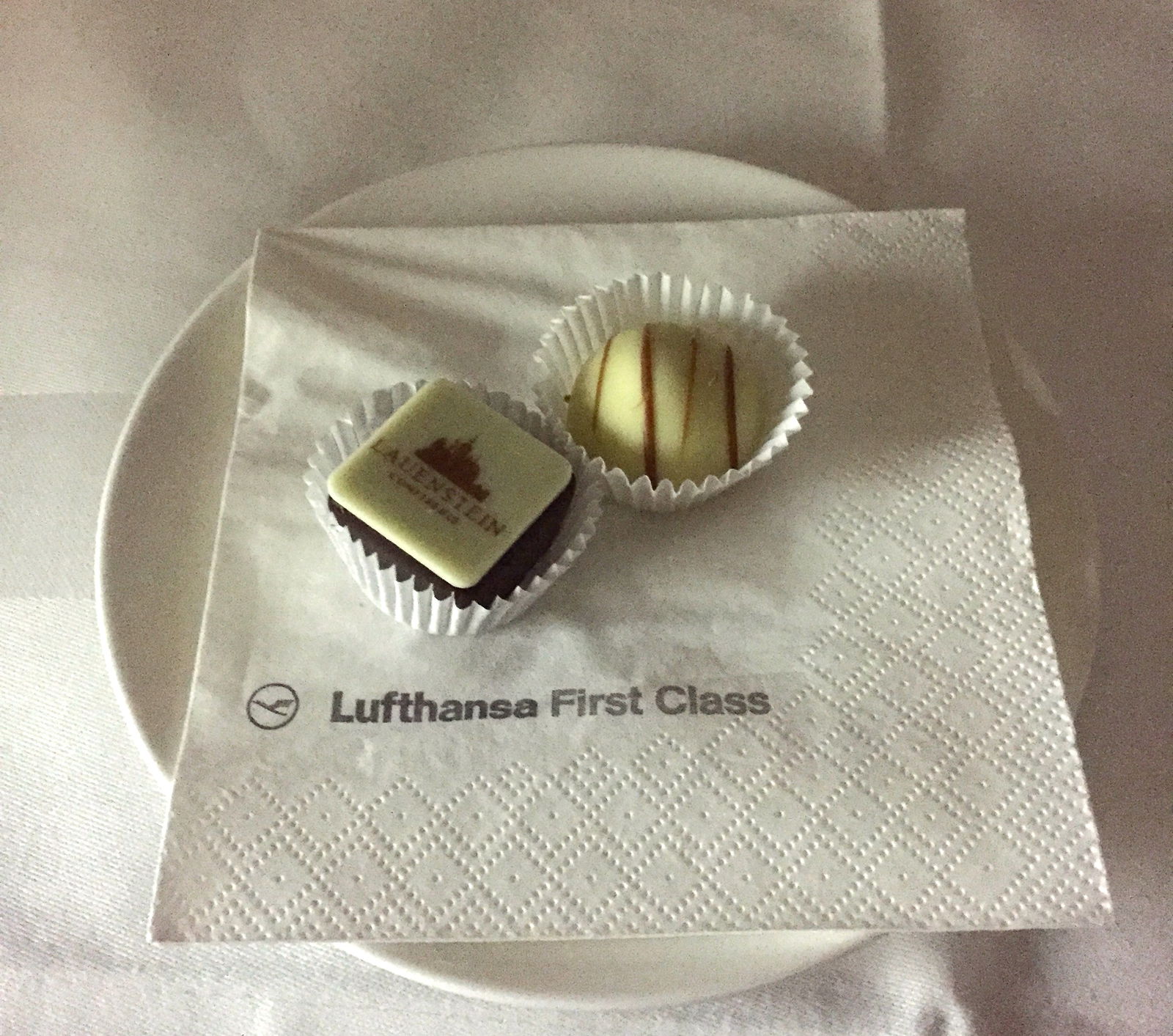 I then started to try and watch the movie A.I. Artificial Intelligence, but then I just went back to sleep. Oops. I woke again, and decided I needed to get a picture of something else, so I ordered some finger sandwiches. They were cute, and actually really tasty.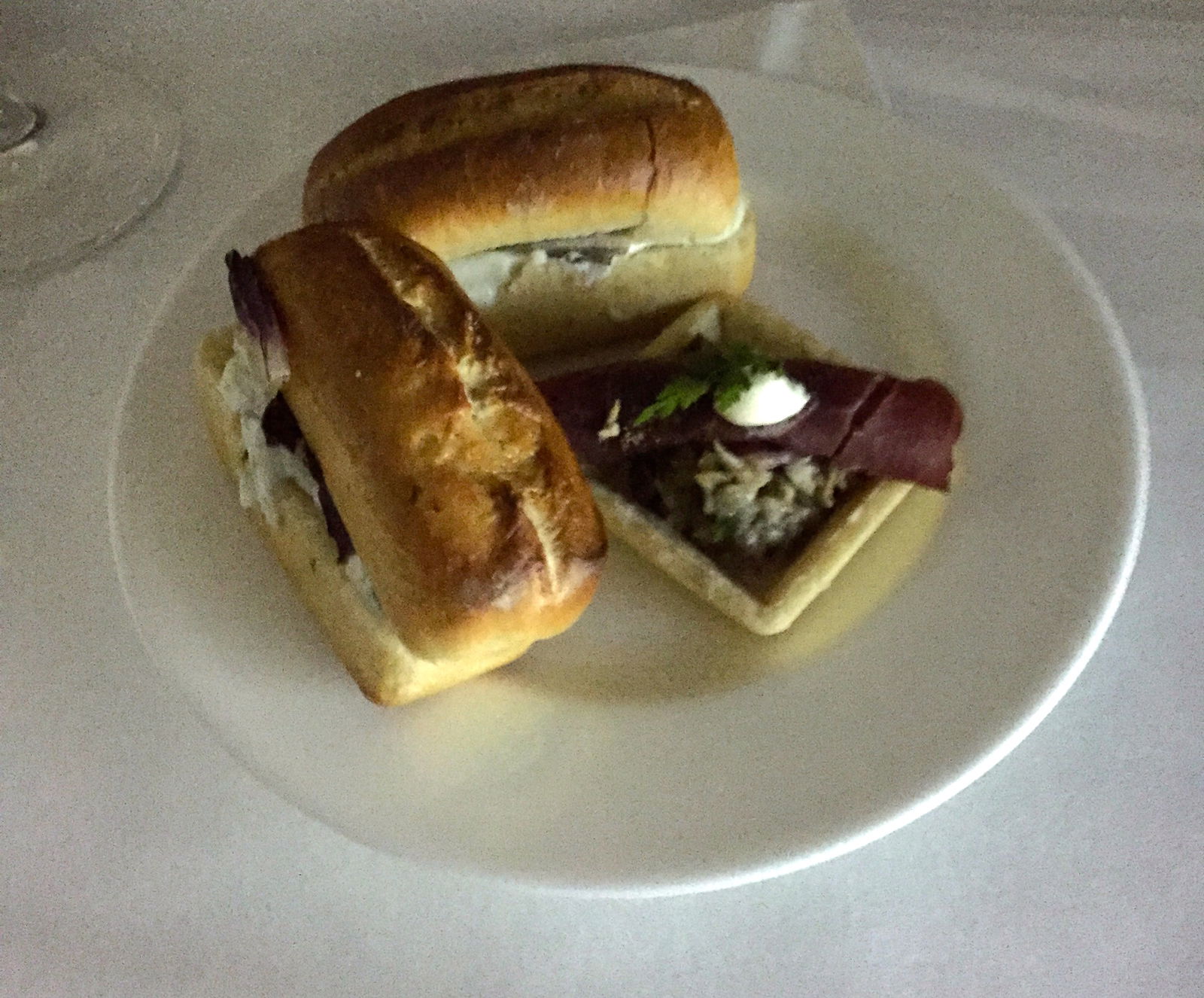 After nibbling on the finger sandwiches, I chatted with the crew a bit. The two ladies working first — who did not appear to be over 30 — were great company. They met working the 747-8 that was chartered to bring the German soccer team home after they won the World Cup. I was so excited to say my friend (as in, Ben) had just flown that aircraft to Newark a few days earlier! We somehow got to talking about United, and one of the flight attendants said she wished she could work for United because it was so young and hip. I was a little confused, and then I realized she was joking. She followed up with: "They're ancient!" It's more or less objectively true that longhaul United and American premium cabin crews are generally quite old, so I couldn't disagree!
And then it was time for everything to come to an end. Unfortunately. We were crossing the Nevada border, which meant we would be landing in Los Angeles very shortly. I got what I'd consider some (low quality) nice shots of the coastline and the westside of Los Angeles on the way in.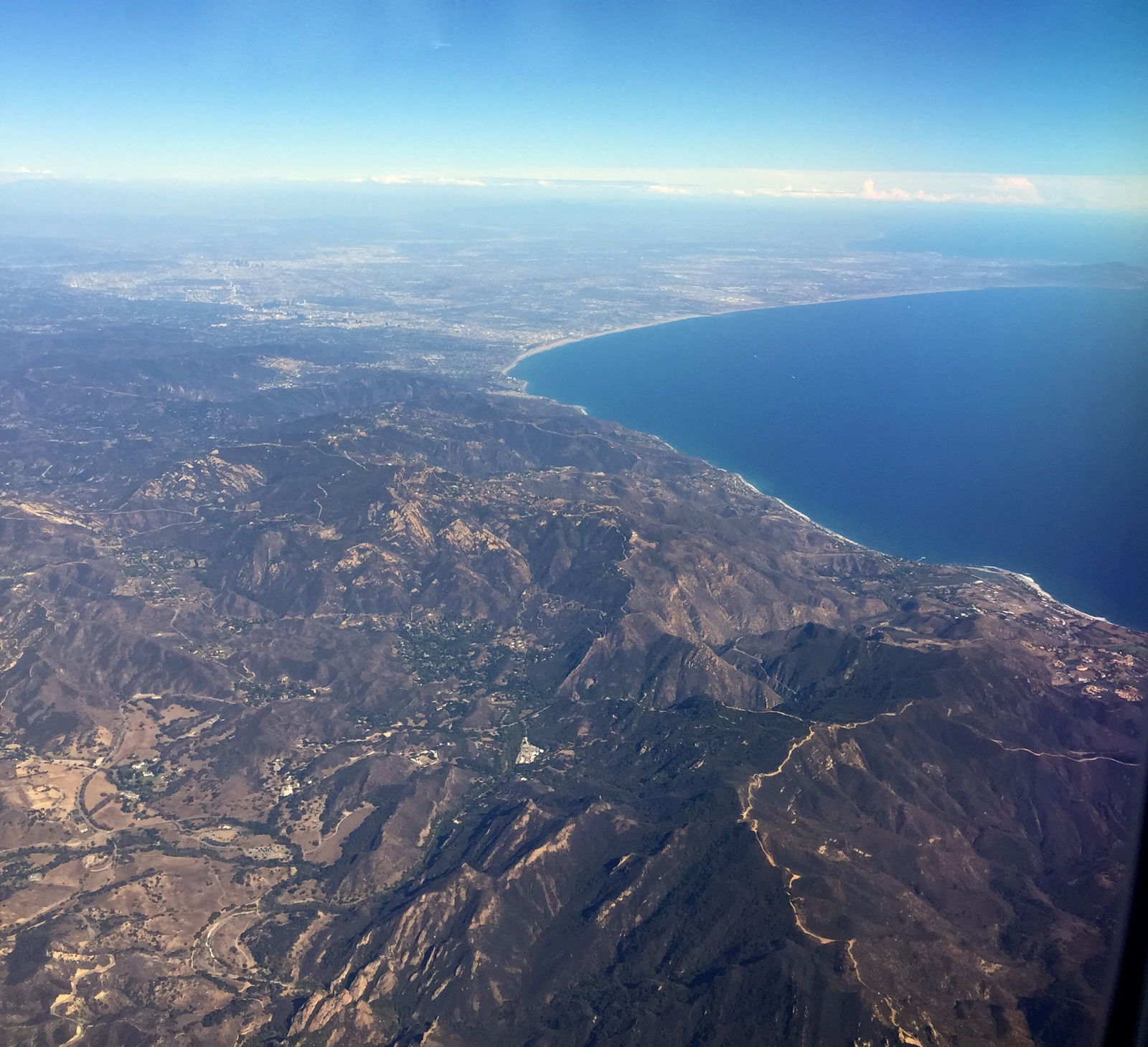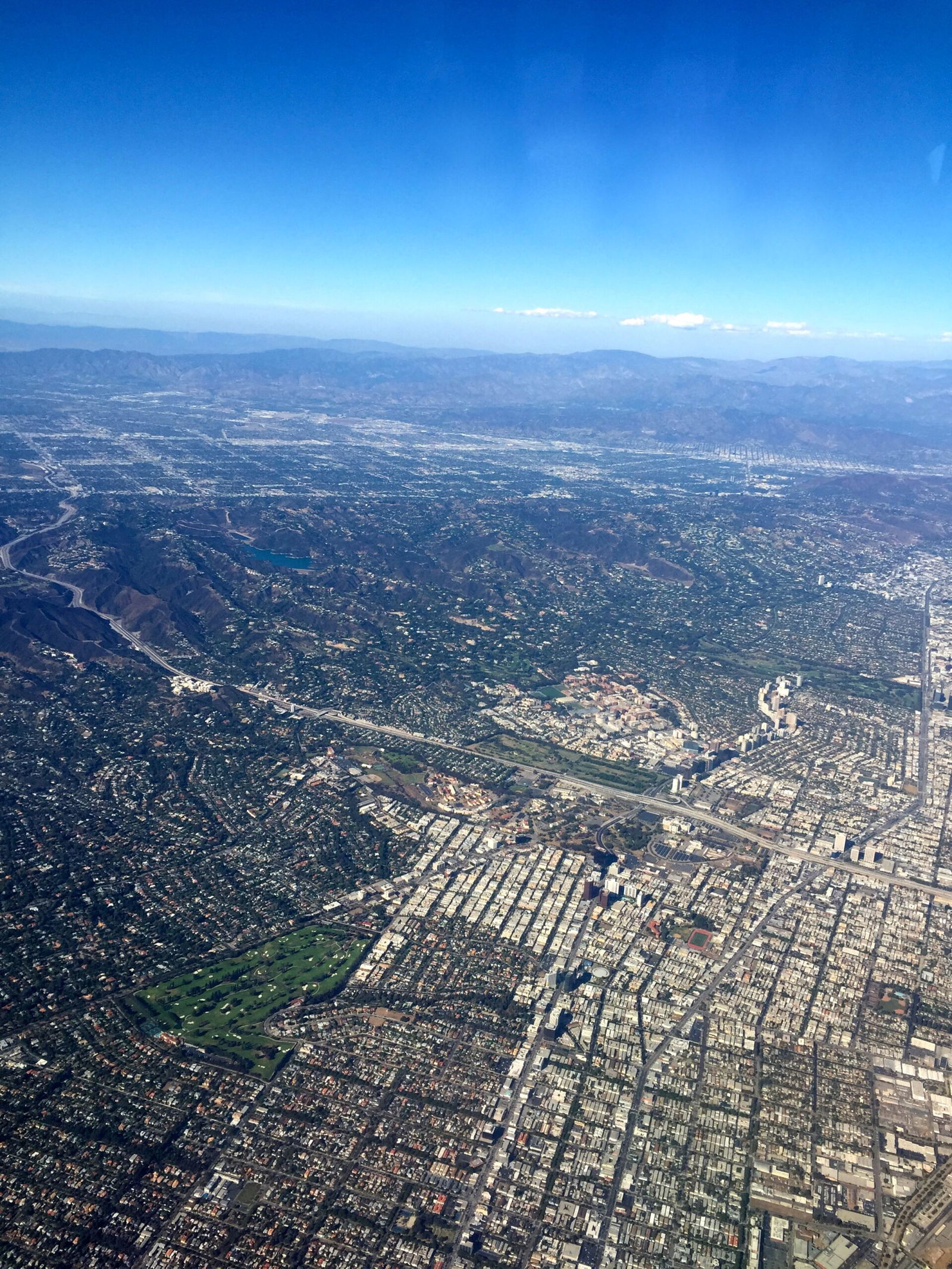 We landed at the new(ish) Tom Bradley International Terminal, which is the only thing world class about LAX. Ok… to appease Nick I'll be honest and say that Delta's remodeled Terminal 5 is also respectable. But there's definitely nothing else — unless you like it old and ugly. Because I have Global Entry, it took me all of 30 seconds to clear immigration.
I highly recommend Global Entry to anyone who doesn't have it. Although it costs $100 to apply, there are several cards that offer a Global Entry application fee rebate.
Bottom Line
Lufthansa does not have the best catering, nor does it have the best hard product. And they definitely don't have the best IFE. Nevertheless, I still feel compelled to say that it's a truly wonderful product. Lufthansa's ground experience and attention to the finer details really make its first class product shine. The cabin exudes elegance, and my on-board experience was every bit as tailored and personal as my ground experience at the First Class Terminal. Thus, while the component parts — aside from service — are, standing alone, not especially praiseworthy, the overall experience merges into something fantastic. The experience is the epitome of a gestalt. I wouldn't hesitate to recommend Lufthansa to anyone who reads this blog.
As far as this sporadic trip report goes, this flight brought me home. Home at last! Another wise woman once said that there's no place like home. Meh. Home is whatever. So I went to New York the following afternoon. Stay tuned for a review of American Airlines' A321 flagship service from LAX to JFK!