My college friend Brian lives in China, where he runs a tour company (aka the amazing food tour we took in Phnom Penh!). He and his wife flew back to Beijing last weekend, and when I saw his story on Instagram and how dramatically different the immigration experience is to even the "enhanced measures" in the U.S., I asked if he'd be willing to share the experience in a blog post.
There has been such a lack of real/trustworthy info about China's management of this pandemic. Hopefully seeing a first-hand account of the extreme measures being taken (even now!) helps to both explain why the new case count is dropping in China, and gives some insight into how seriously we need to be taking this virus. — Tiffany

---
I live in China, but I've spent the last seven weeks doing everything I can to avoid being there.
When the virus first started spreading, my wife and I left for a planned vacation on the beaches of Thailand. After seeing the situation worsen after we left, we cancelled our return flight and stayed in SE Asia.
It was a stressful time, as we own a tour company whose business completely stopped overnight, but we made the best of it while working with our team remotely and enjoying the freedoms outside of inevitable self-quarantine back home.
It was also stressful because we could never plan more than a few days ahead. Foreign governments were constantly implementing travel bans that made international travel difficult. While in the back of our mind the United States, my homeland, was a realistic last stop, that too became a risky move.
So in the end we decided to go back to China.
Why? Throughout our travels over the last seven weeks, the lack of awareness and severity from the general public has been very apparent. In China, where wearing face-masks is a daily habit for many, there is a strong culture of obedience.
The data behind the slowing spread of the virus in China is one thing, but understanding the government control and culture behind it was the most important factor in our decision.
So we went.
Arriving at the Beijing Airport
We arrived on Saturday, March 14, 2020. We flew from Bangkok, via Hong Kong, to Beijing, and landed at approximately 1PM local time. Although we had read some stories online, we weren't exactly sure what to expect or how long the arrival process would take. We did know we would be forced to quarantine for 14 days, likely at home.
1:20 PM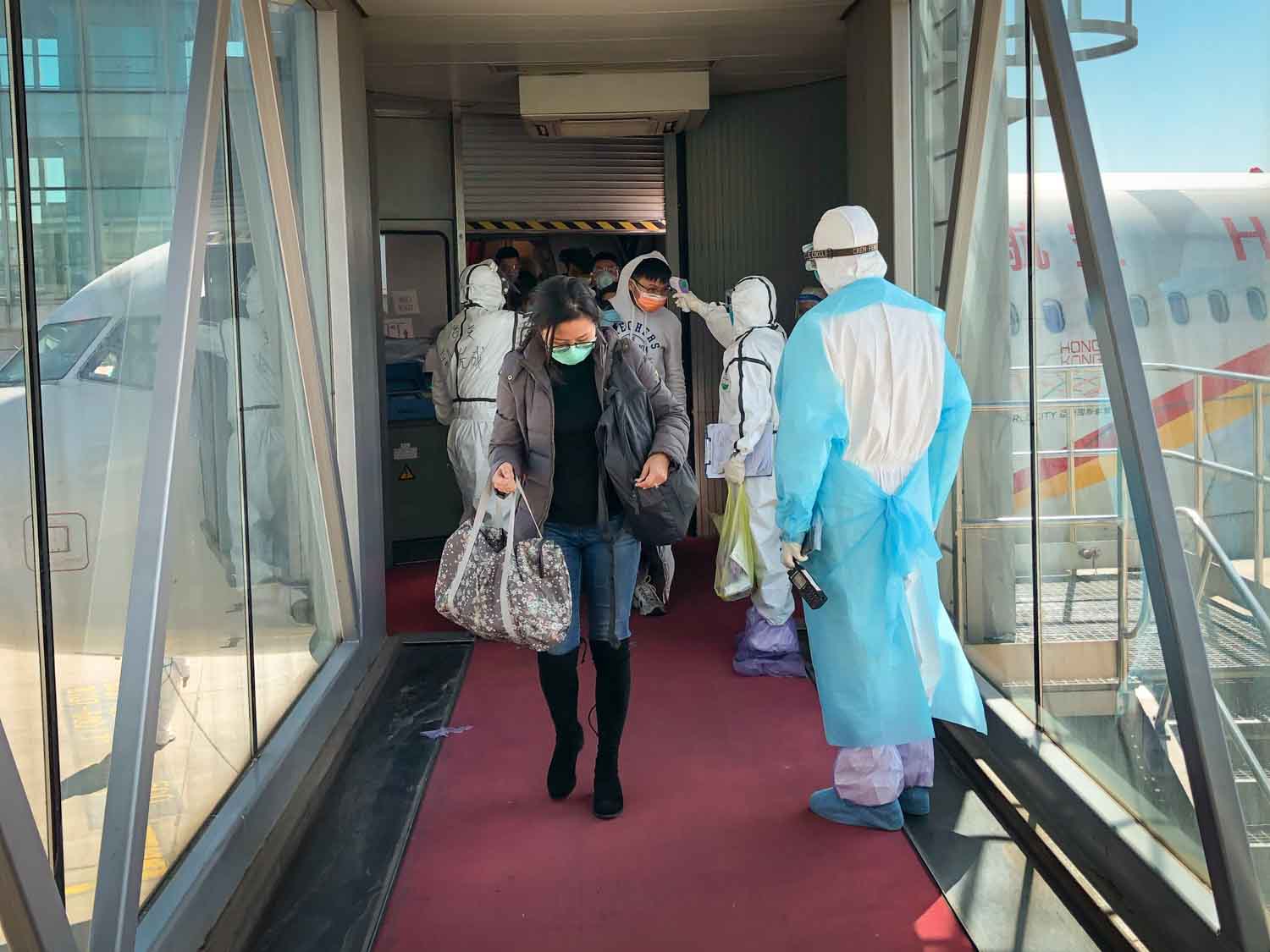 After sitting on the plane for about 20 minutes, passengers slowly started to alight. Airport staff were doing their best to control congestion and allow social distancing inside the airport, so they let us off the plane in groups of about 15 people.
Each passenger's temperature was checked as we stepped off the plane by three individuals in hazmat suits.
2:00 PM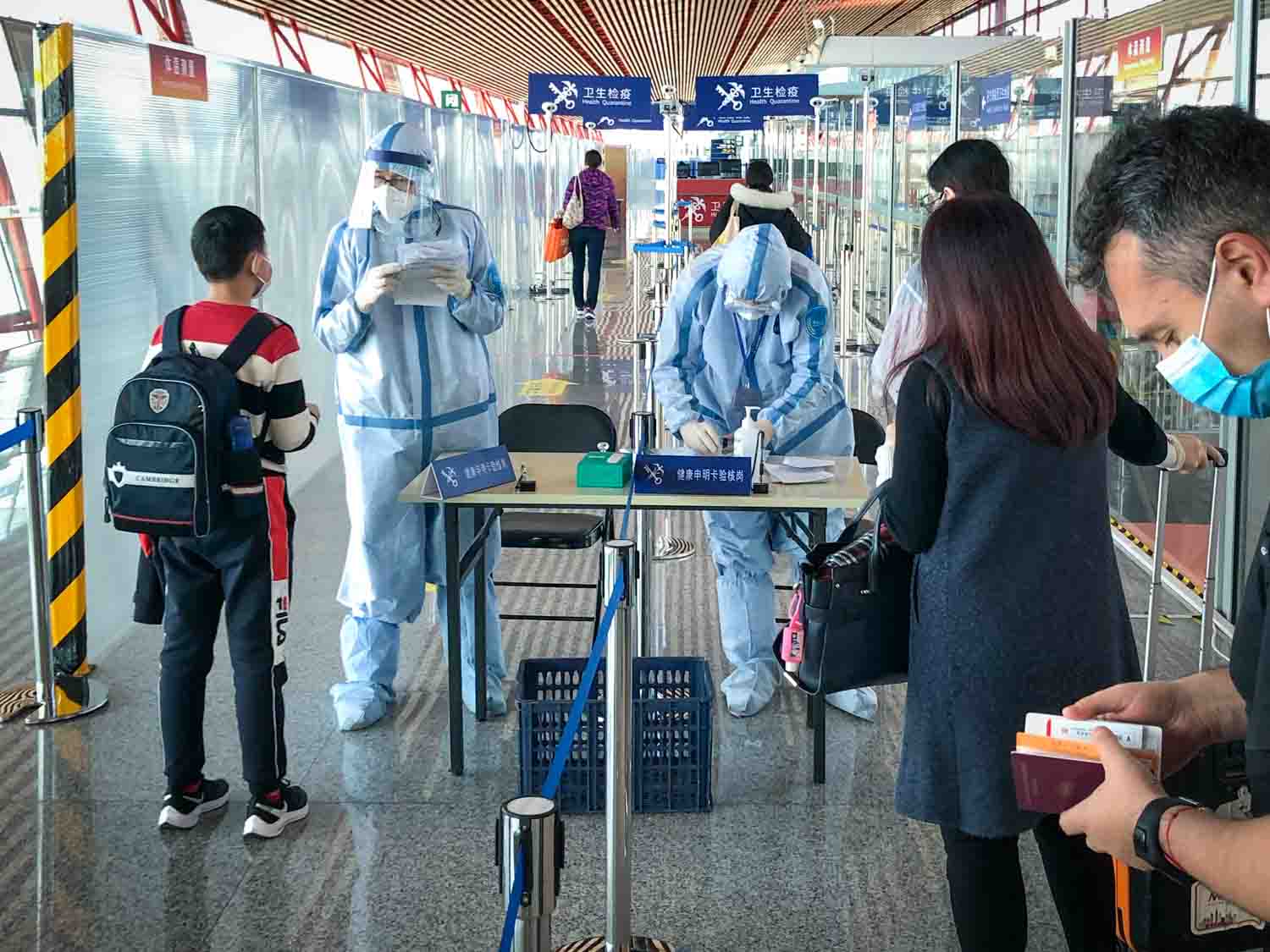 A short walk from the jetway, a station was set up where each passenger was individually evaluated. We each had to complete a form that outlined our recent travel history along with a declaration of any virus symptoms we have.
The form was given to a staff member who asked follow-up questions and took each passenger's temperature. Immediately following this station, each passenger walked down a long corridor with multiple temperature guns set up, where additional staff members watched monitors to assess individual body temperatures.
2:15 PM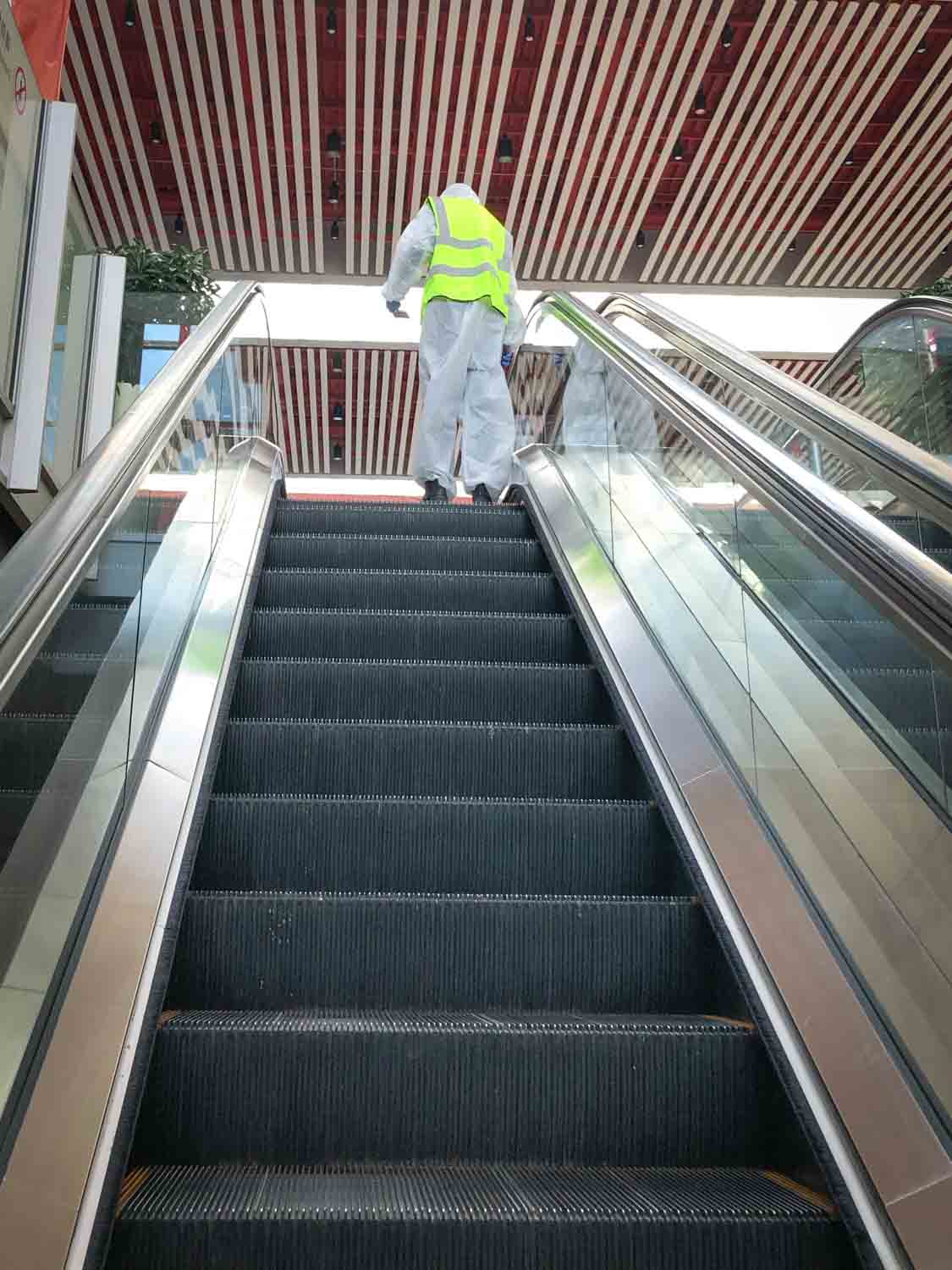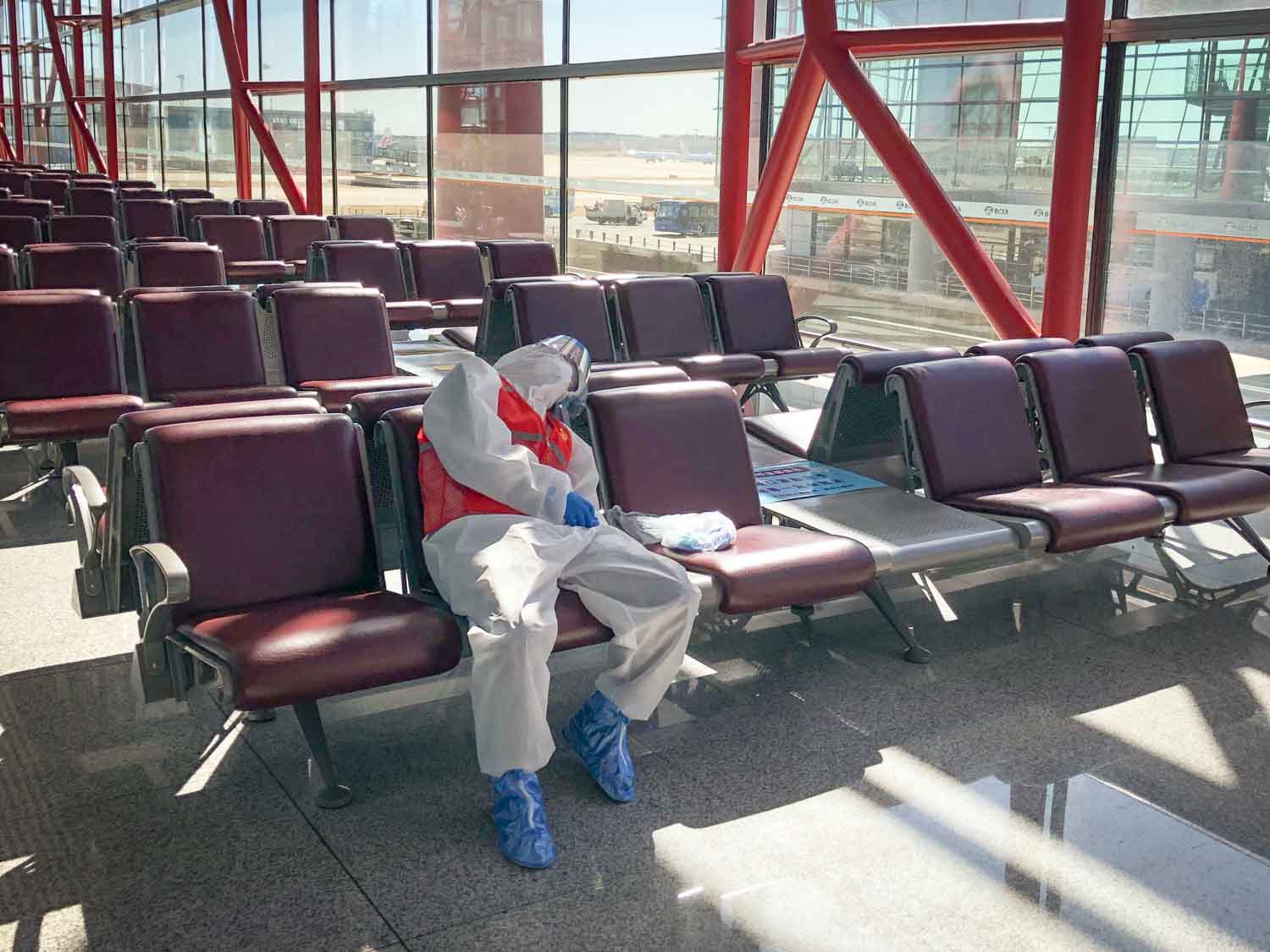 The airport was very quiet and the flow had been completely reorganized. All staff members, whether medical professionals or cleaning staff, were dressed in full hazmat suits.
After proceeding through make-shift passport control booths, we funneled into a room where our bags were lined up and waiting for us since we were nowhere near the traditional baggage claim area. This is when things started getting a bit strange.
2:45 PM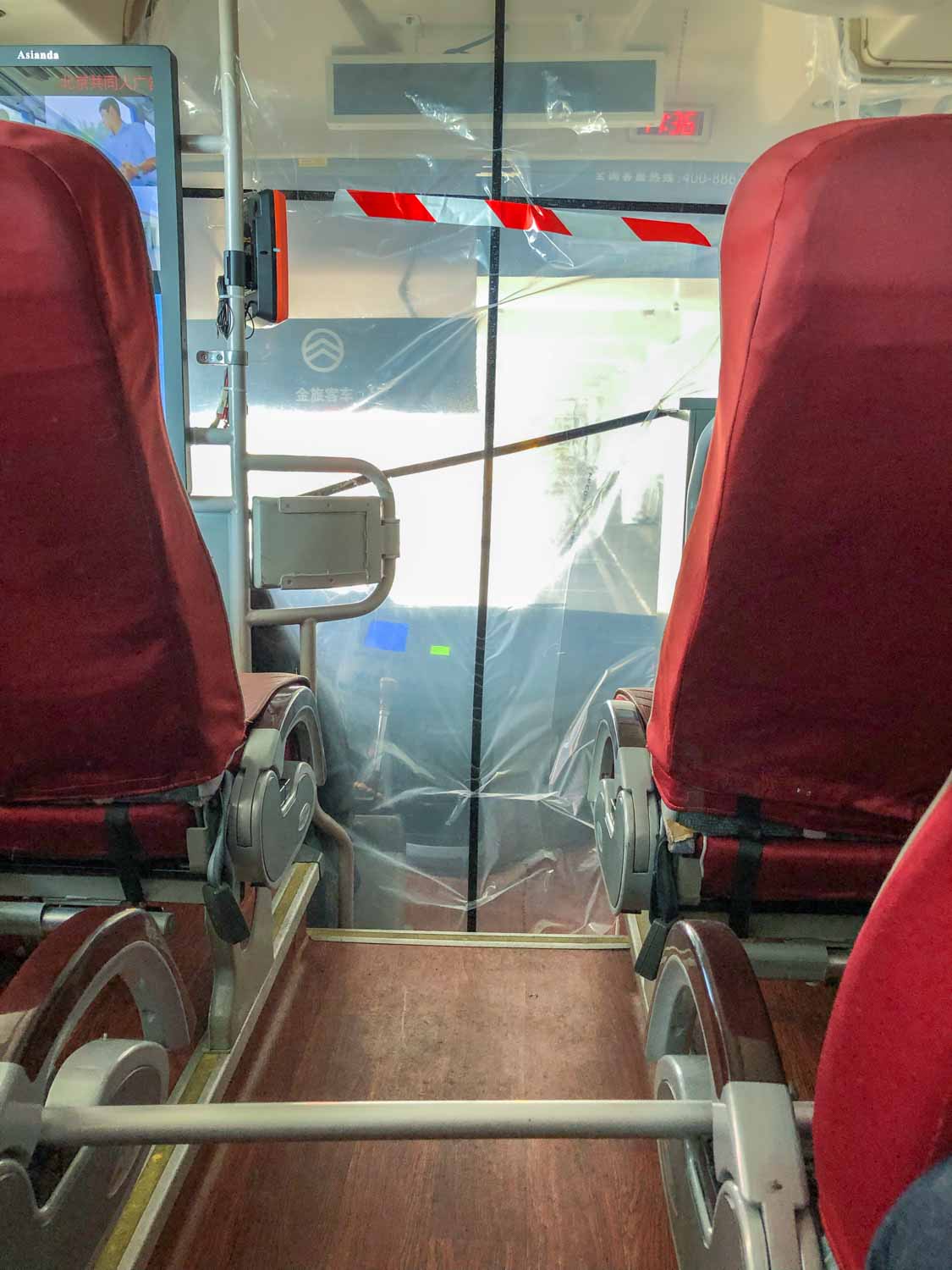 After grabbing our luggage, we were asked to wait in a line and it was initially unclear what it was for. After about 20 minutes, we boarded shuttle buses without being told where we were going.
The first two rows of the shuttle bus were blocked by a mop handle, and the driver, dressed in a hazmat suit, was separated by a layer of plastic. The shuttle was escorted by a police car until we arrived at our destination.
Additional off-site screening
3:15 PM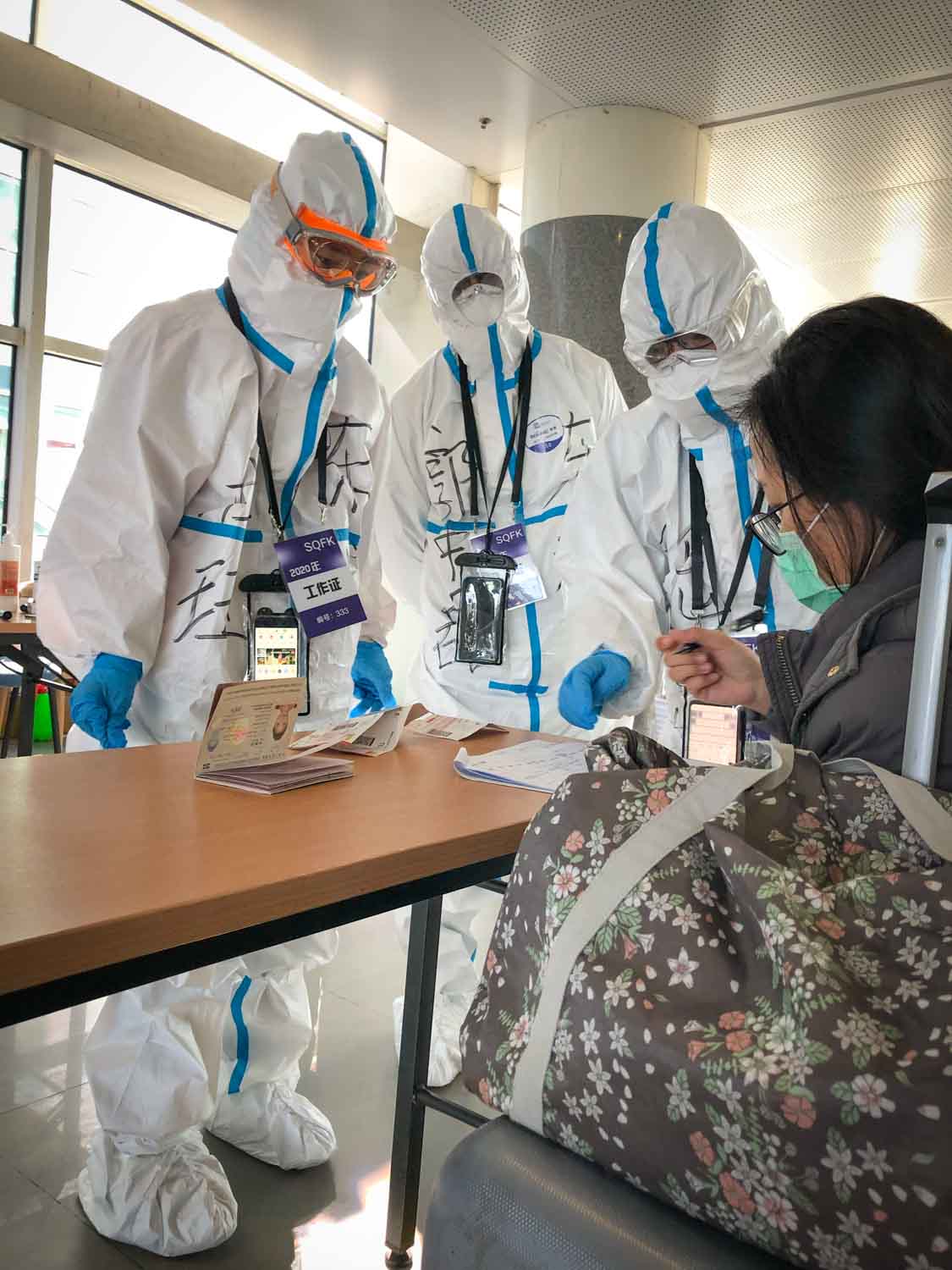 The destination was an off-site exhibition hall. Upon entering, there were stations set up for each district in Beijing. There was also a separate area for people transiting to other domestic destinations. After finding our district's table, we told them where we came from and where we lived, and then registered our passport and personal details.
In China, each building or community complex is overseen by staff members who we had already been in contact with regarding our arrival. Since at this time home quarantine was still an option, we were told that we would be allowed to go to our apartment for 14 day quarantine. However, we were not allowed to get there on our own, so we had to wait for a private vehicle to take us directly to our home.
3:45 PM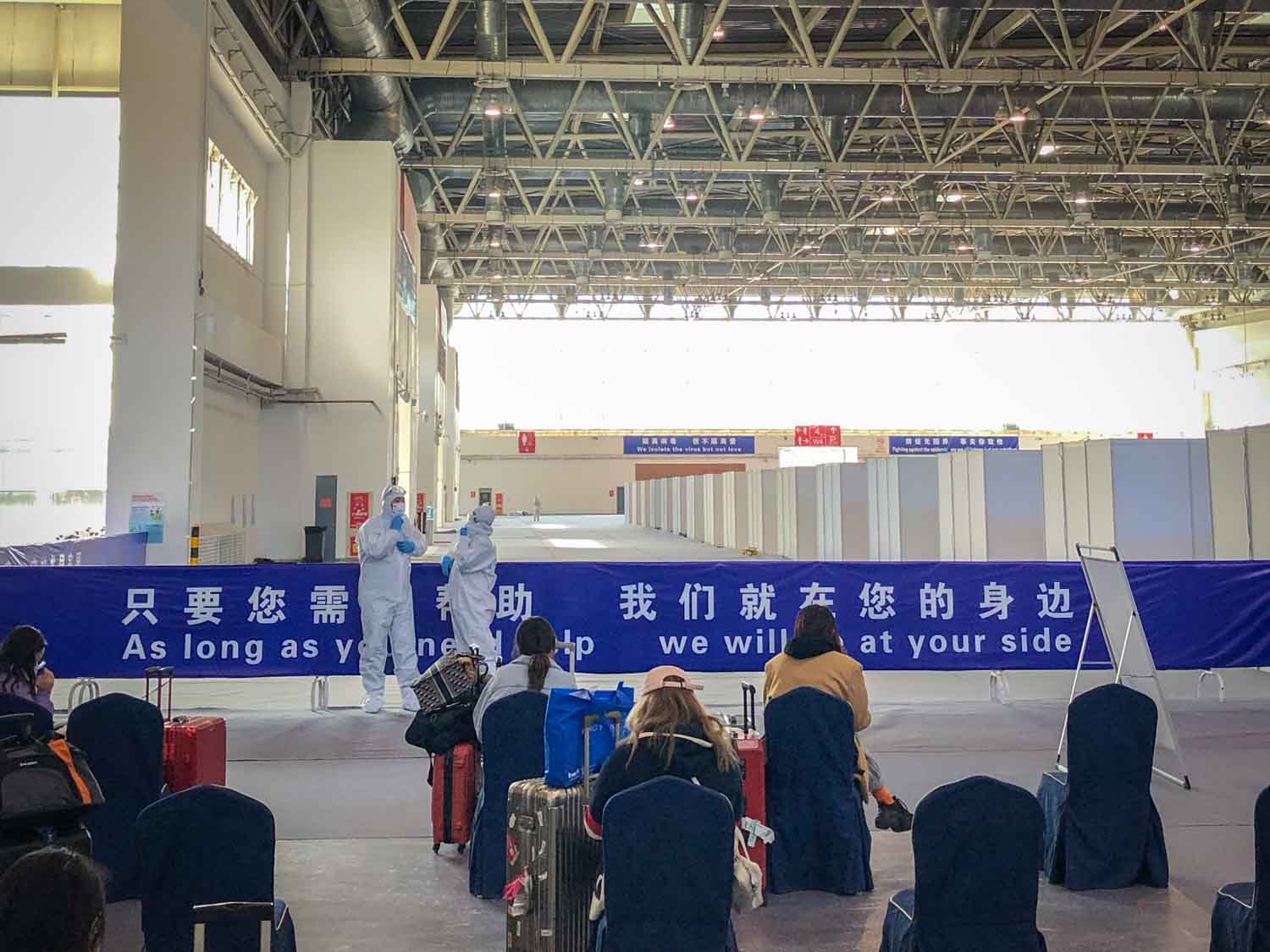 The waiting area was very large and chairs were spread out one meter apart from each other for social distancing. The room was also covered in different propaganda slogans, such as "As long as you need help, we will be at your side."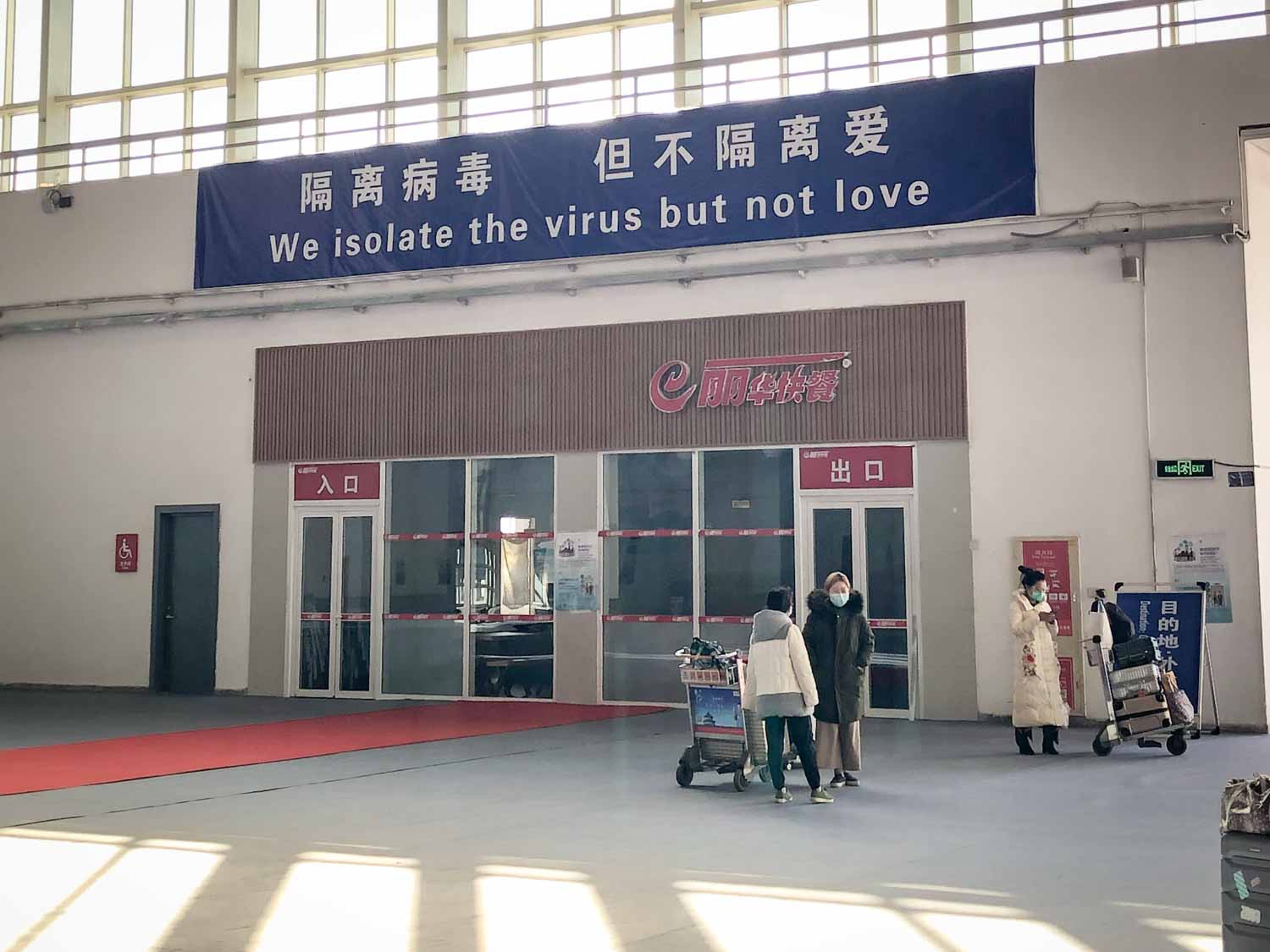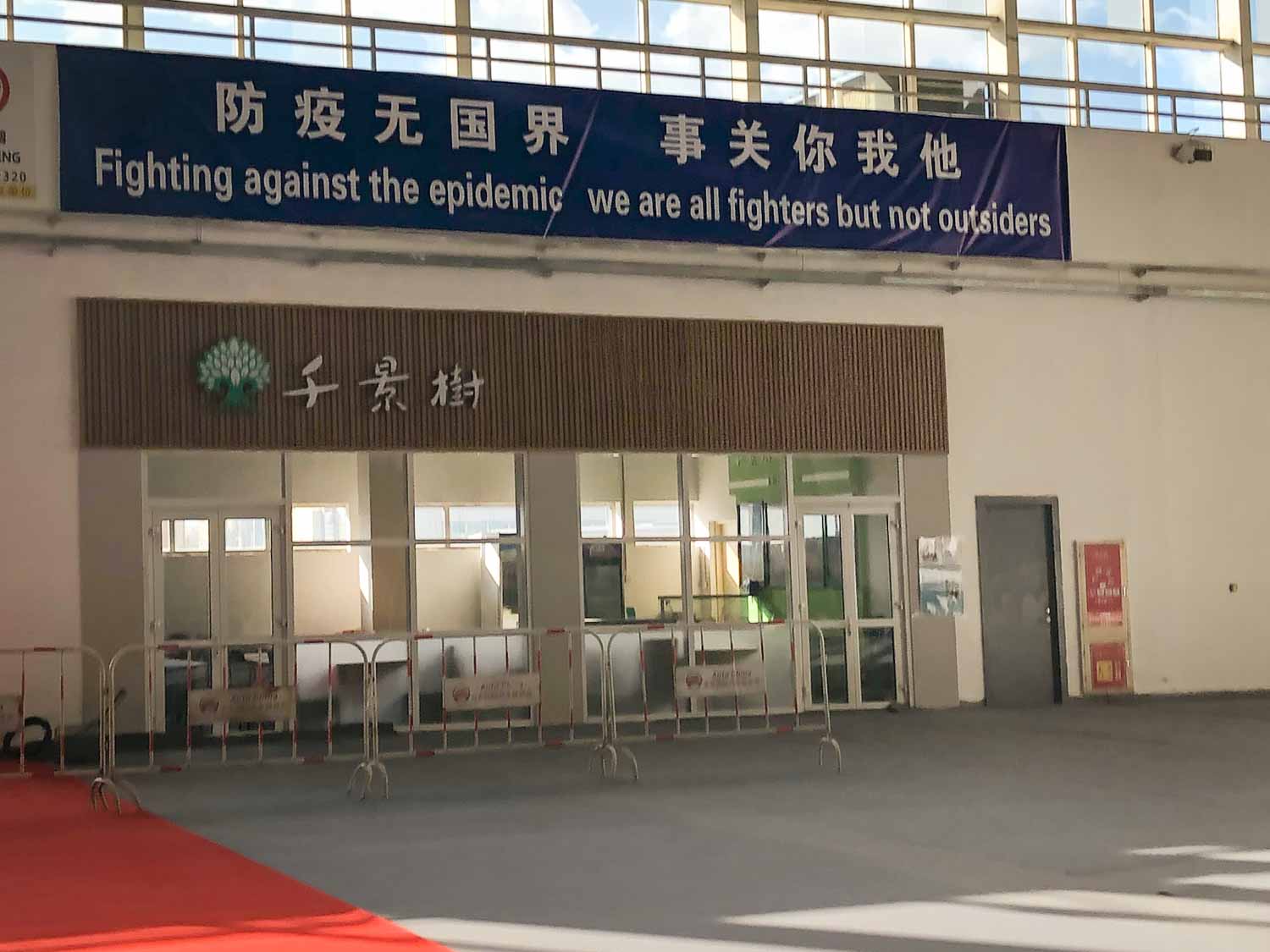 Another favorite was "We isolate the virus but not the love," and "We are all fighters but not outsiders."
After about 30 minutes we were told our transportation was ready to leave.
Going home to quarantine
4:30 PM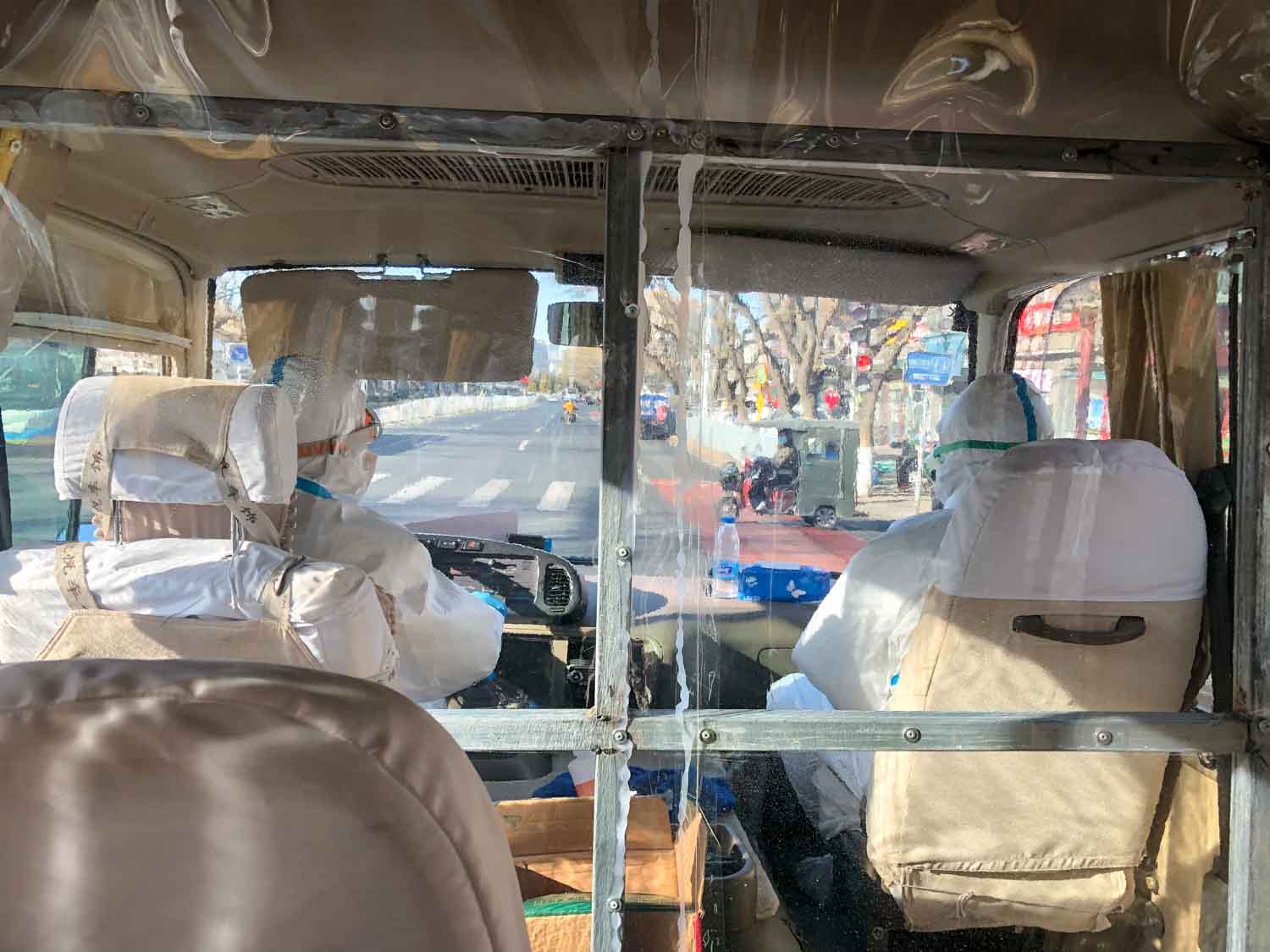 The shuttle bus had two staff members and again they were separated by a layer of plastic. There were a total of four passengers in the shuttle, and we were all going to the same district within a few minutes drive of each other – it was very well organized.
I noticed that the streets were not completely quiet, there was traffic on the roads and people on the sidewalks. While many restaurants and shops are still closed, parks are open and people were enjoying the fresh air.
Due to the strict quarantine rules that have been in place for almost two months, everyone with the virus is in a medical facility, and not in public.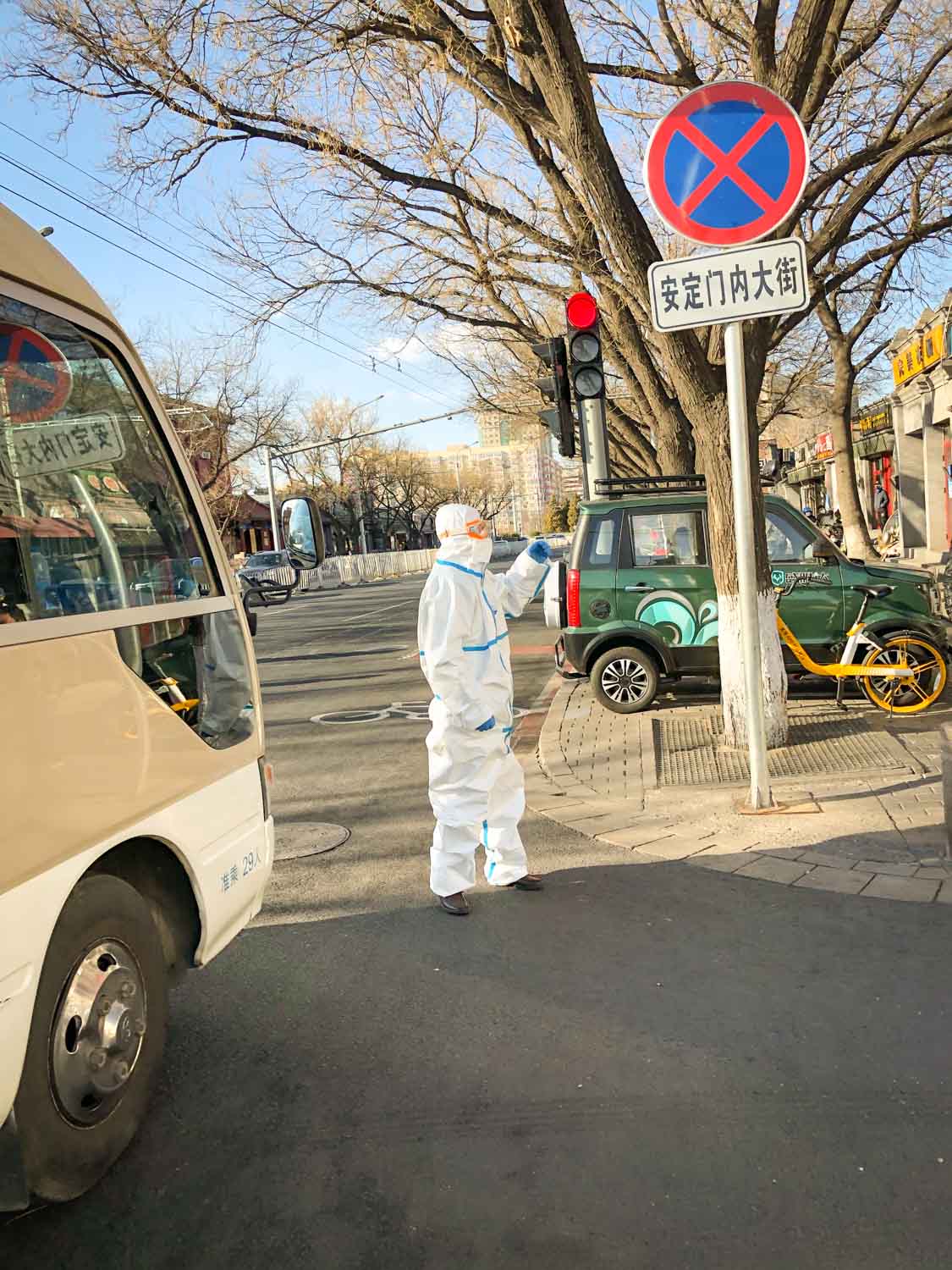 Upon arrival at our community, one staff member left the shuttle and escorted us.
We were met with management from our community, who were expecting us, to fill out more paperwork and contracts regarding our 14 day home quarantine.
We were given a thermometer which we need to use to report our temperature once per day, and were told that someone would stop by daily to check on us and take out our garbage.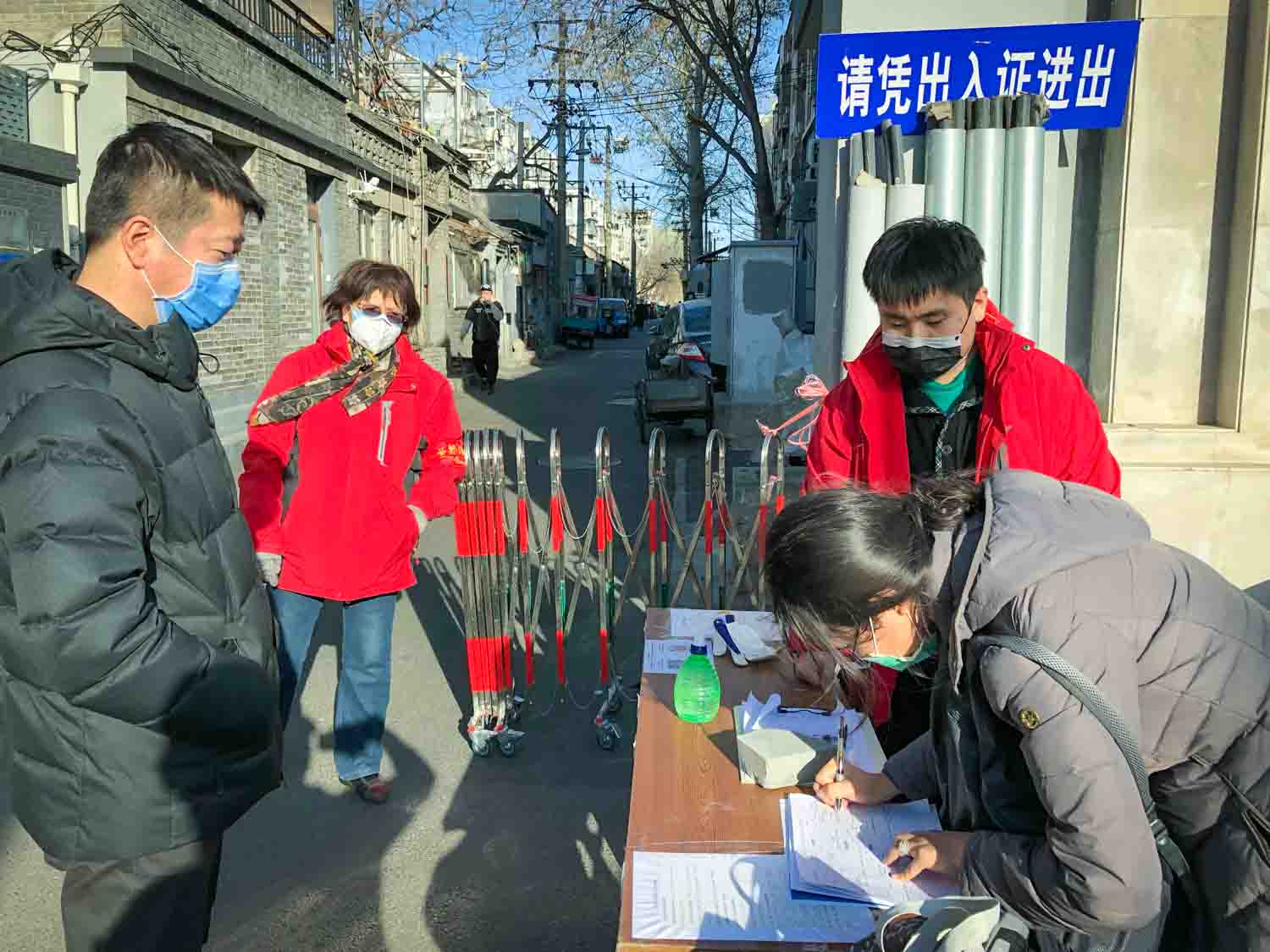 Since we live in a residential area, the road leading to our apartment has been recently blocked with a gate and security. Everyone coming in or out of that gate needs to show a special card that shows they are "clear" to pass. Their temperature is also taken each time they come or go.
We will not receive our "special cards" until our 14 day quarantine is over.
Thoughts on the quarantine
Food and grocery delivery is always very easy and common in China, and now is no different. We are able to order deliveries to our apartment, and delivery staff must first check in at this gate. They are then able to drop our delivery outside our door and we can collect it after they leave. There are no shortages of food or supplies and we have already had multiple deliveries.
While I'm looking forward to getting outside and walking around, life seems pretty calm. For seven weeks, everyone in China has been staying inside and distancing themselves. Medical facilities in places like Beijing are available and, from what I've read, very efficient in helping people who have the virus.
At the time of writing, the only new cases in cities like Beijing are from international arrivals which has prompted officials to require hotel quarantine for all arrivals (implemented just two days after we landed).
---
Brian Bergey is CEO of Lost Plate Food Tours, a culinary tour company based in China with tours throughout Asia and North America. He also co-founded Tourflow, which gives tour operators insights into their business through analytics and business intelligence. He is a regular speaker at industry events such as Arival and ITB.
Brian lives in Beijing with his wife, and can often be found where he grew up in Portland, Oregon.