---
On July 7 Singapore Airlines switched the reservation systems they used, and as a result gave us one of the greatest mileage redemption opportunities in a long time. Singapore Airlines is the holy grail of award redemptions. Ever since Singapore Airlines introduced their new first class product several years ago they've stopped releasing first class award space to Star Alliance partners for that product. At the beginning that wasn't a big deal since most flights were still operated by the old product (which I flew last year from New York to Frankfurt, for example), though as of this year all longhaul flights with a first class cabin feature the new product.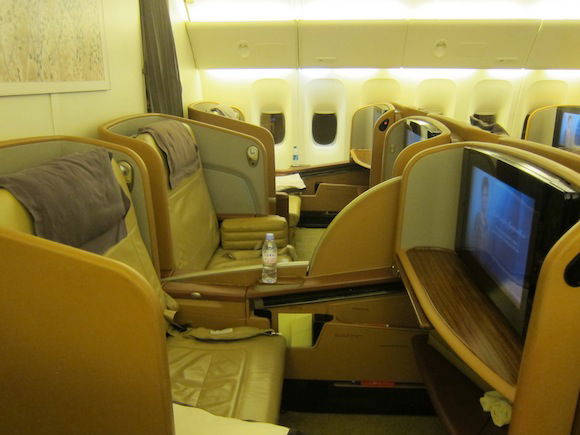 That means Singapore Airlines first class is off limits for Star Alliance flyers. It's worth noting, however, that members of Singapore's own KrisFlyer program can redeem for first class at reasonable rates, and they are transfer partners with American Express Membership Rewards and Starwood Preferred Guest.
Anyway, back to this "opportunity." For whatever reason during their systems switch over all of the award space that's regularly available to KrisFlyer members became available to their Star Alliance partners as well, so there was a period of about one day where Singapore Airlines first and business class was wide open.
With that in mind, after playing around with options for a while I managed to ticket the following for 160,000 US Airways Dividend Miles per person for a friend and I:
07/22 Singapore Airlines 61 Houston to Singapore departing at 5:30PM and arriving at 5:45AM (+2 days) [First Class]
07/24 Singapore Airlines 942 Singapore to Bali departing at 9:35AM and arriving at 12:05PM [Business Class]
07/30 Singapore Airlines 941 Bali to Singapore departing at 9:15AM and arriving at 11:45AM [Business Class]
07/30 Singapore Airlines 326 Singapore to Frankfurt departing at 1:55PM and arriving at 8:40PM [First Class]
07/31 Lufthansa 106 Frankfurt to Munich departing at 9:55AM and arriving at 10:50AM [Business Class]
08/04 Lufthansa 117 Munich to Frankfurt departing at 4:35PM and arriving at 5:40PM [Business Class]
08/05 Lufthansa 418 Frankfurt to Washington departing at 1:00PM and arriving at 3:45PM [First Class]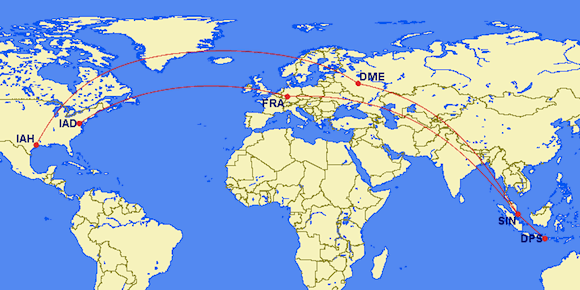 Now, there were a few things that made this especially awesome:
We had three longhaul segments in Singapore Airlines first class (the flight from Houston to Singapore stops in Moscow)
We would get to fly the Lufthansa 747-8, which is their newest airplane
We would get to visit two of my favorite places on earth, Bali and Berchtesgaden
We would get to fly with my favorite flight attendant, Janesis, from Moscow to Singapore
The timing of this couldn't have been better, since I had been talking to Janesis to try and get on another one of her flights after the amazing flight I had with her from Singapore to Tokyo. I was literally going to pull the trigger on a KrisFlyer redemption to Singapore via Moscow just to fly with her, though this ended up being a much better option.
The last thing to point out regarding this redemption is that Lufthansa only releases first class award space two weeks before departure, so at first I had booked that flight in business class. As luck would have it Lufthansa opened up first class award space exactly two weeks out, so we were able to make that change. We really lucked out there, since US Airways doesn't allow any changes after departure.
As far as the hotels go, I'll cover my reasoning behind choosing them in each individual installment.
Sit back, relax, and get ready for some Diet Coke and Krug! And of course if you have any questions let me know.