---
I was a bit torn as to where to stay in Bali the last two nights. I've stayed at the Grand Hyatt and while it's reasonably nice, I'd rather try something new. Hilton has the Conrad which looks nice, though I'd prefer to wait till I'm Honors Diamond courtesy of the Citi Hilton Reserve Card before staying there. Starwood has the St. Regis, Westin, Laguna Resort, and W. The St. Regis was outrageously expensive and the Westin and Laguna Resort get pretty bad reviews. The W was available on Cash & Points for $150 plus 8,000 per night, given that it's a category six hotel. While that's by no means cheap, it was better than paying the revenue rate of $400+ per night, so I decided on that. I should also mention that there's a Westin, Sheraton, and Le Meridien opening in Bali in the next year, which I'm very excited to try once they open. I'm especially excited about the Westin, given that it's in Ubud, an area of Bali I'd really like to stay in.
Anyway, we booked a car from the InterContinental to the W for ~$16USD, and it took about an hour. The W is located in Seminyak, which is maybe on the opposite side of the airport as the InterContinental.
The entryway to the hotel must be half a mile long, though I wasn't able to grab a picture of it. This resort also had the most serious (or serious looking?) security, with metal detectors, a gate, and agents that performed mirror checks under the car.
Once we arrived at the resort we were welcomed and directed to the open air lobby for check-in, where we were asked to take a seat.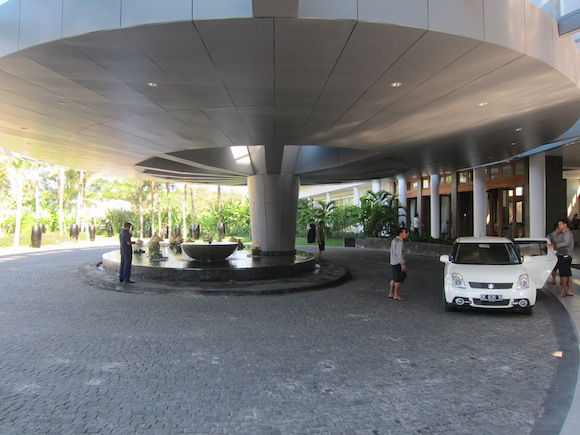 Hotel driveway
The lobby was stunning. I don't think any pictures I've seen of the place do it justice.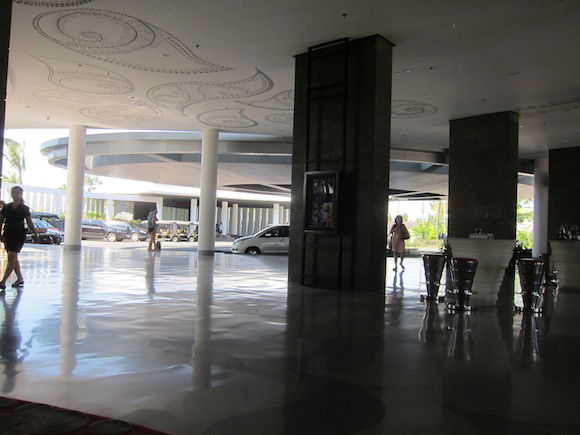 Lobby
At check-in we were helped by a friendly associate that acknowledged my Platinum status and informed us we had been upgraded to a "Spectacular Ocean Facing Retreat." It's worth noting that the hotel only has a few suites, so Platinum upgrades beyond that are very rare. The associate also offered us our choice of Platinum amenities, and we selected breakfast, which would be served in Fire Restaurant between 6:30AM and 10:30AM.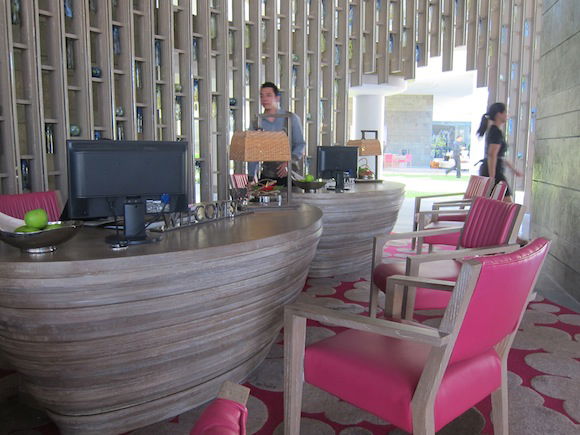 Check-in desk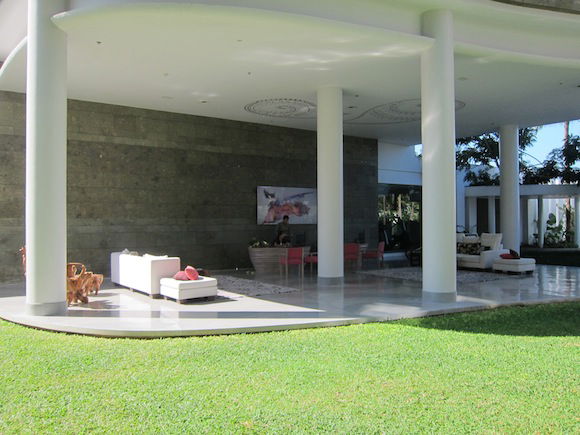 Concierge desk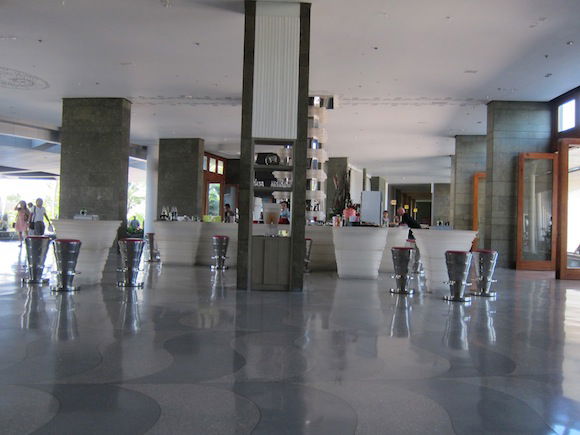 Lobby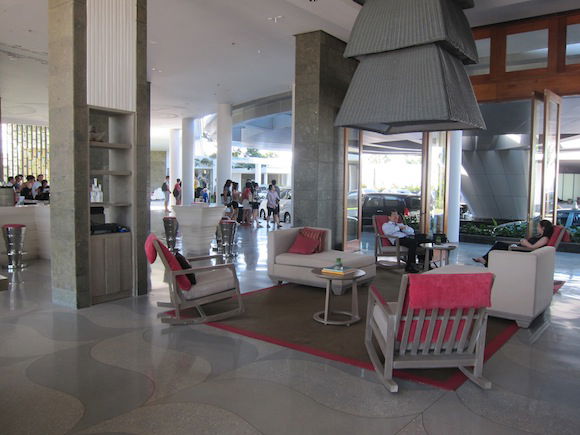 Lobby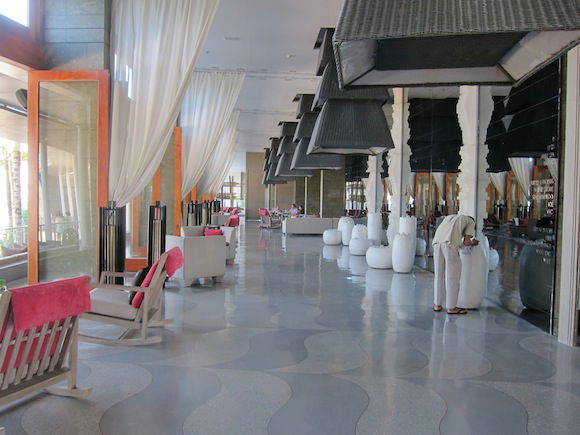 Lobby
We were directed to the elevator, which took us to our room on the 4th floor. While the resort as a whole is beautifully designed (in my opinion) the actual floors with guest rooms seemed a bit "bare" to me.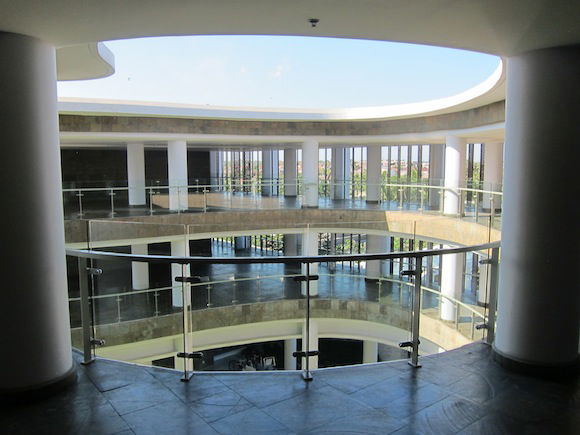 4th floor
Our room was 428, located at the end of the hallway on the left side.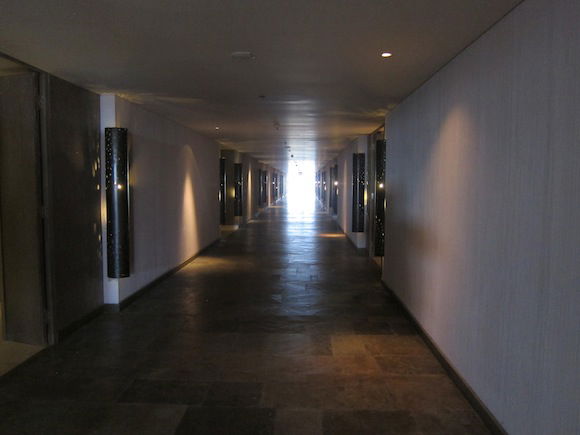 Hallway
The room numbers are written on rocks attached to a rope and while it looks nice, I can't say it's the most practical system.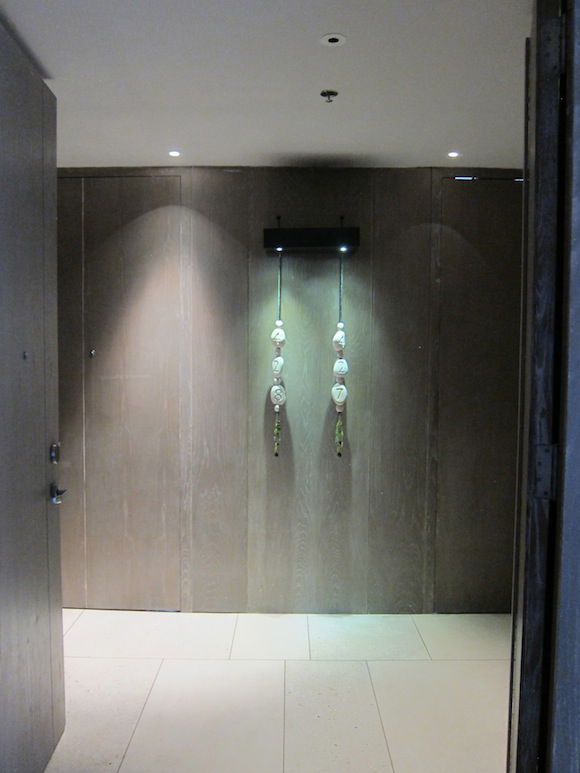 Room 428
The room was really nice, with a king W Signature Bed, desk, and couch.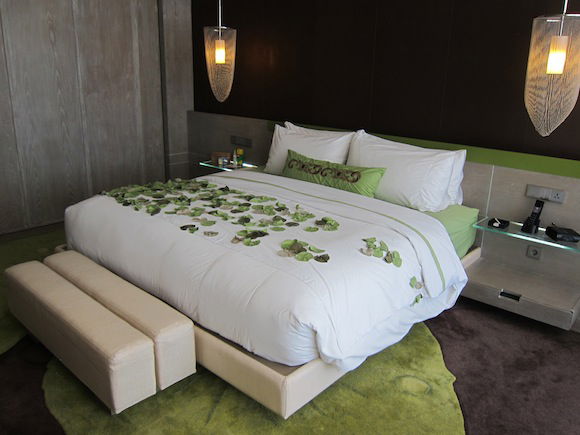 W Signature Bed
Next to the bed was some bug spray, which was surprisingly enough free (hey, hotels love to nickel and dime).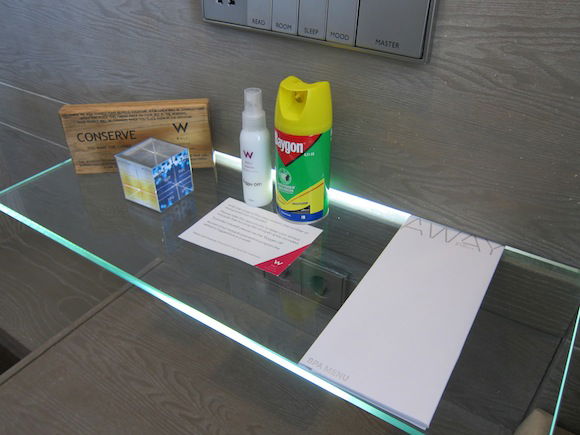 Bug spray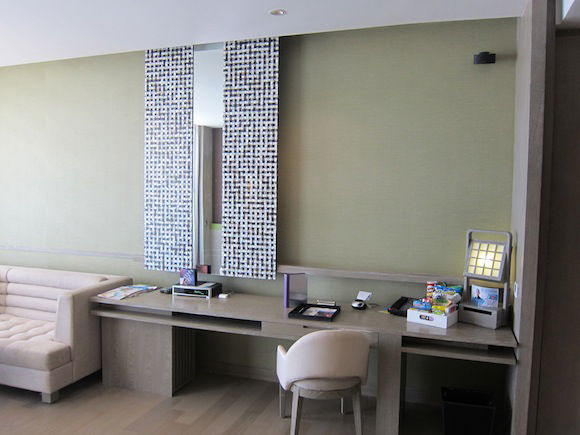 Desk
I hate couches in hotel rooms with two seats, given that they're not long enough to lay down on and not big enough to comfortably seat two people trying to have a conversation. So I was happy to see a larger "L" shaped couch in this room.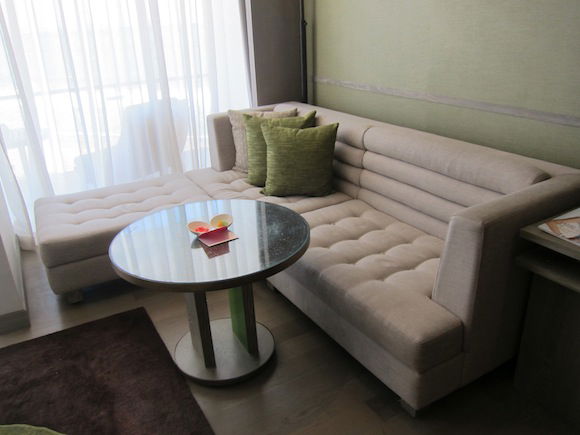 Couch
There was also a small welcome amenity of sweets — nice touch!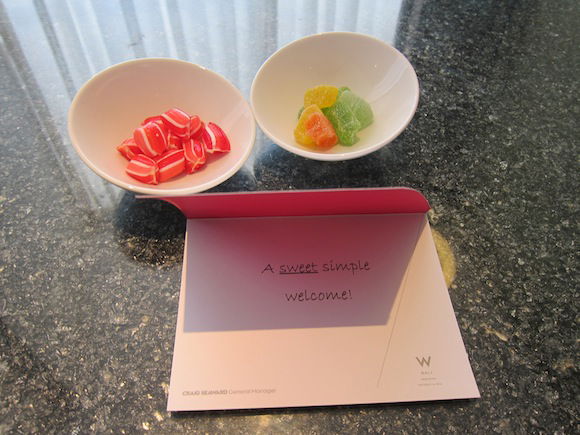 Welcome amenity
Back towards the entrance was the minibar and bathroom.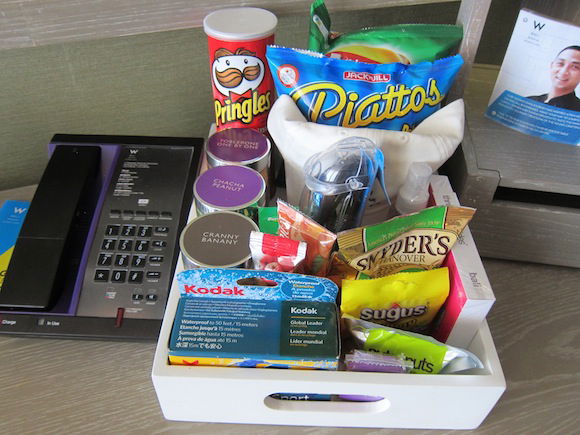 Minibar snacks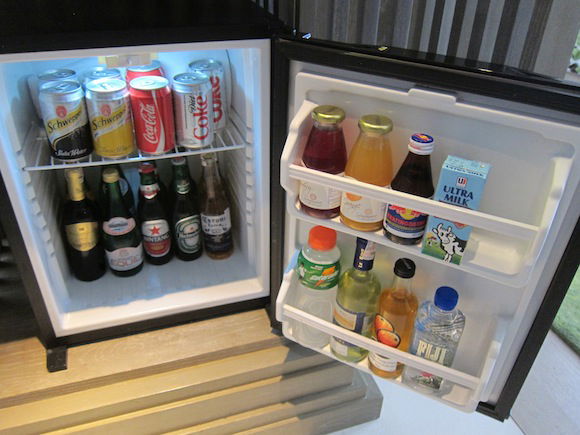 Minibar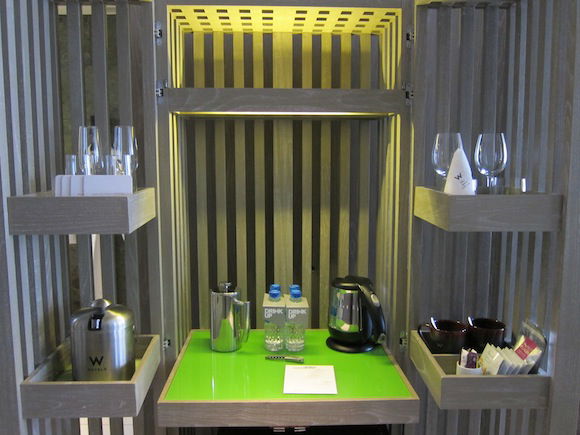 Minibar area
The highlight of the room was no doubt the shower, which featured double sinks and a massive shower with enclosed bath tub. While I usually prefer enclosed showers (as I've ranted about in regards to the W Santiago), in this case the shower was impressive enough so that it wasn't even a negative.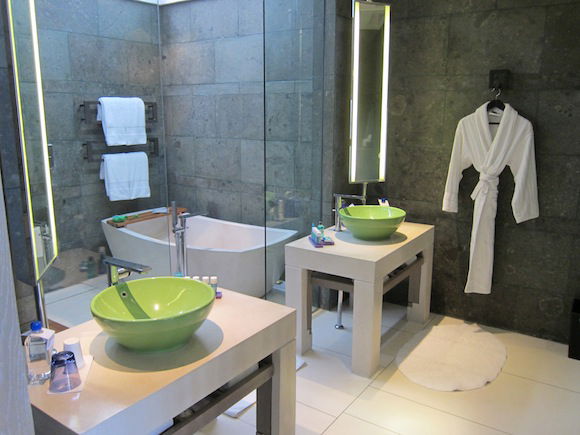 Bathroom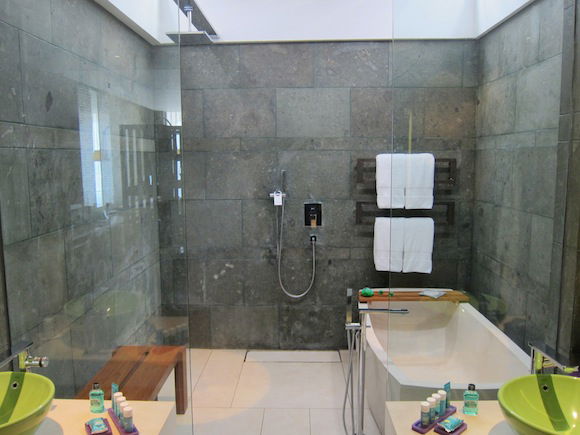 Shower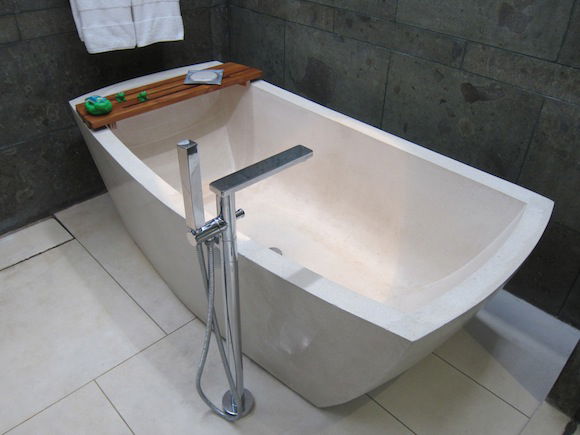 Tub
There were also some rubber frogs in the bathroom — perhaps competition for the rubber ducks in the Lufthansa First Class Terminal?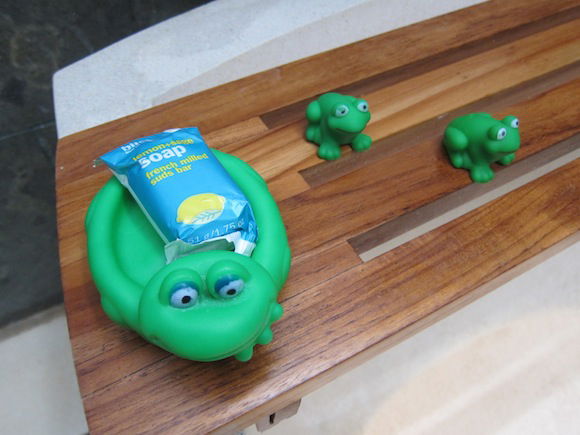 Rubber frogs
The bathroom was stocked with Bliss toiletries.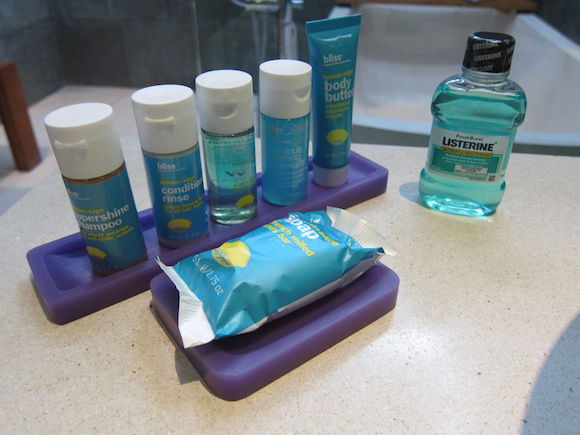 Bliss toiletries
The toilet was separated from the rest of the bathroom and had a pretty creepy/cool decoration at the top.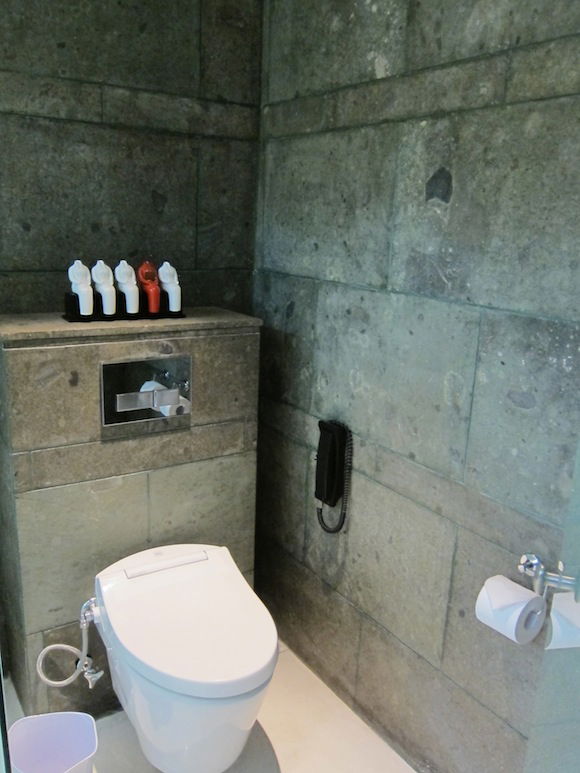 Toilet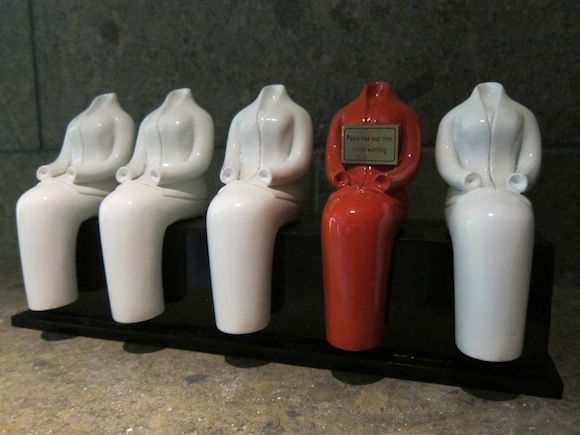 "Please take your time, I enjoy watching"
The room also had a very nice balcony overlooking the resort and ocean.

Balcony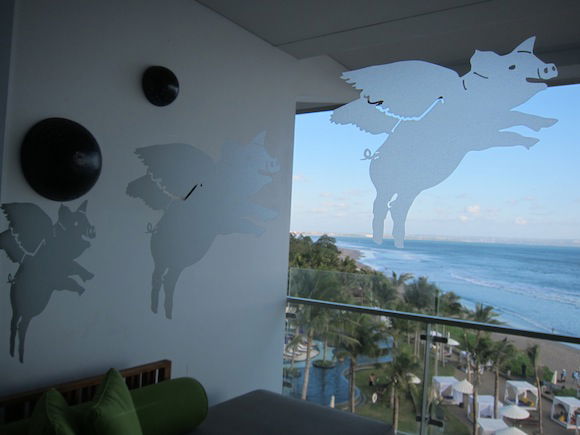 Decorations on window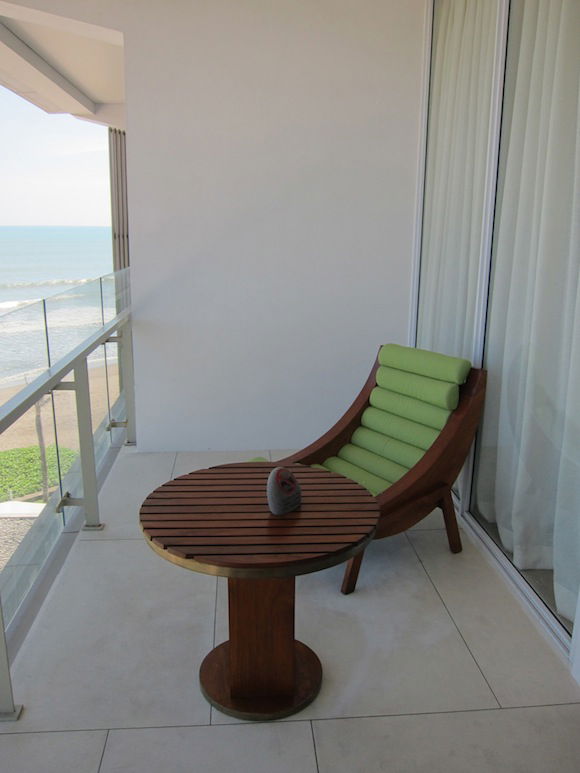 Balcony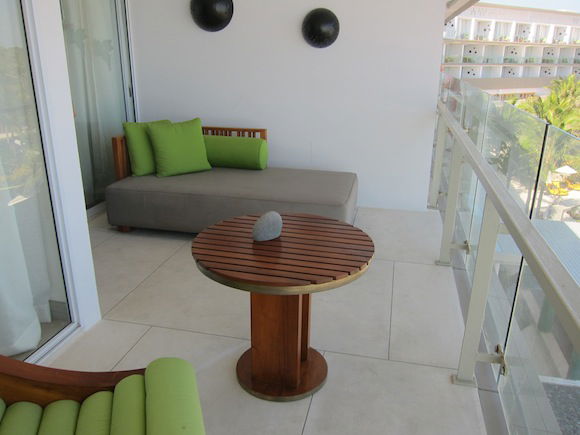 Balcony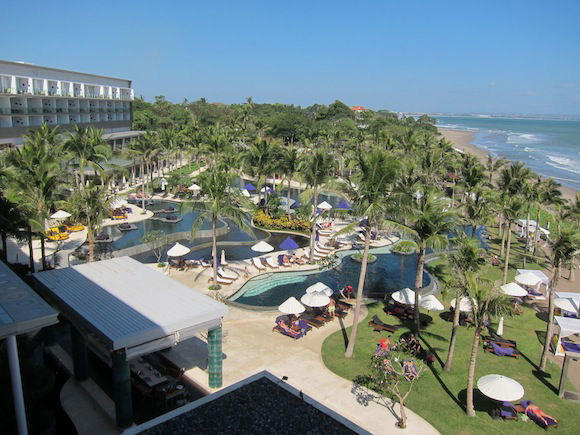 View from balcony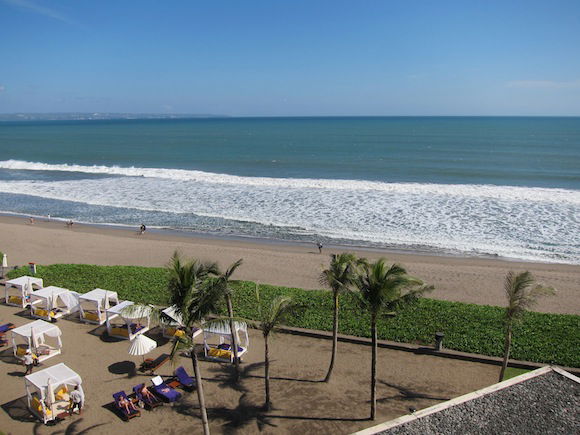 View from balcony
The one confusing aspect of the room was that the website listed it as being 689 feet. I can't imagine it was even half that big. Come to think of it, I guess that's in line with how everyone else exaggerates… never mind!
The resort grounds were all beautiful as well, though at times I felt like there was more style than substance. For example they had several layers of water, and at times I didn't know whether they were pools or just decorative bodies of water, since it seemed like some were and some weren't.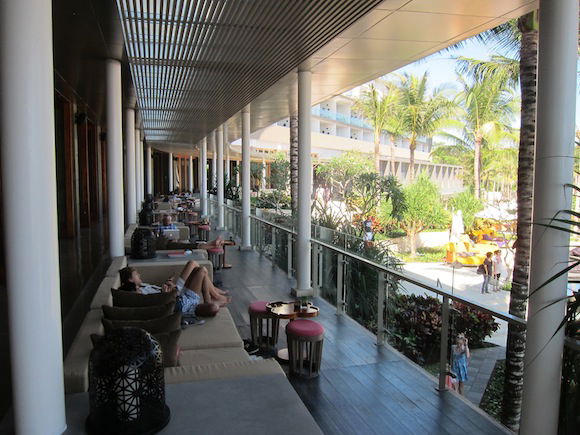 Lobby overlooking pool and ocean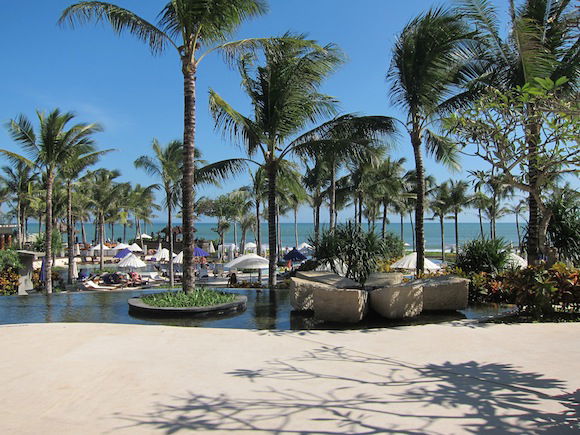 View of pool and ocean from lobby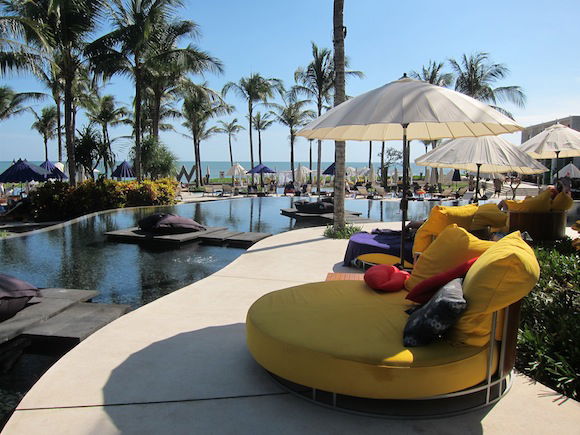 Pools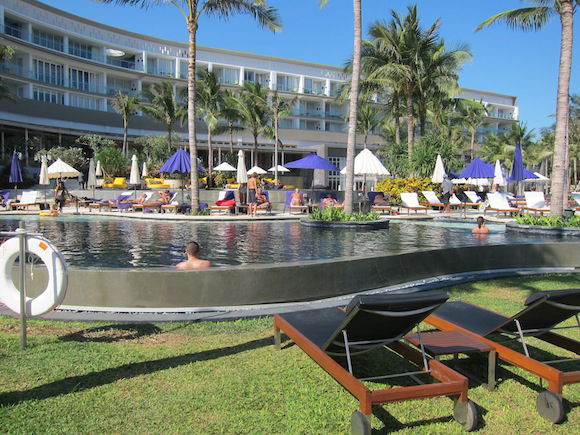 Pools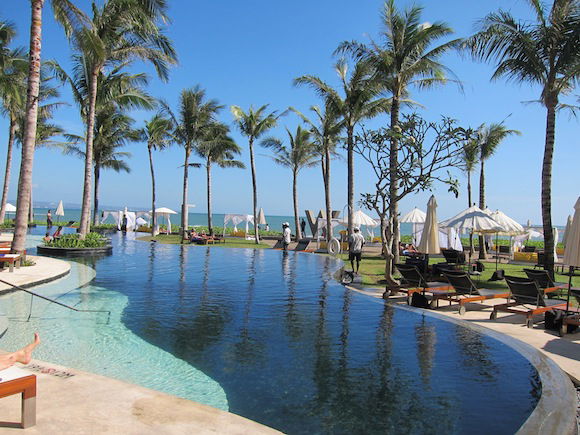 Pools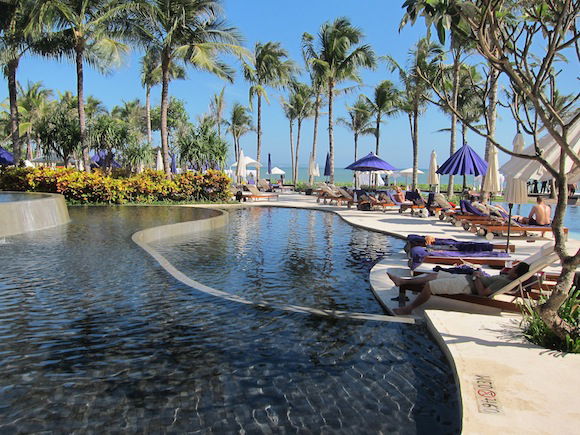 Pool (and decorative body of water on top… maybe?)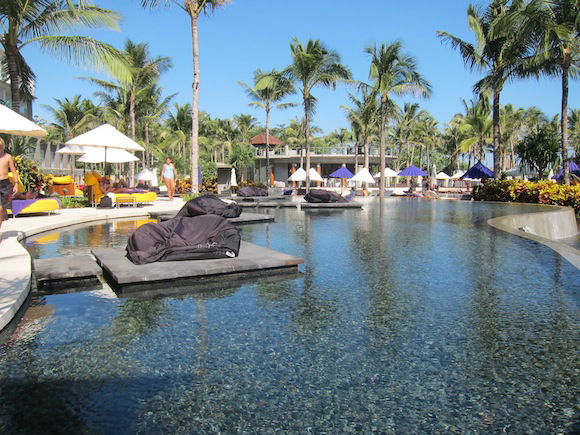 Decorative body of water… I think?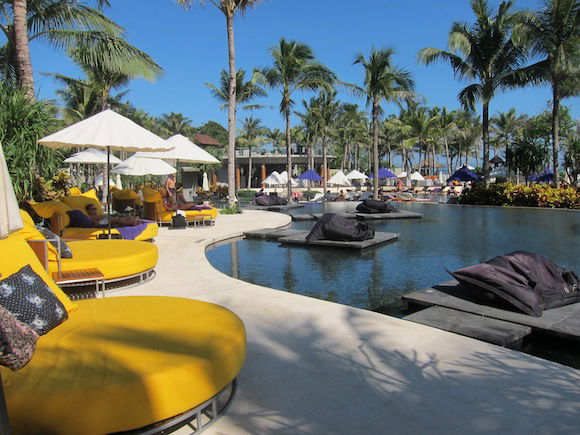 Resort
While the hotel is on the water, the ocean isn't really swimmable in this area, so I saw very few people actually in the ocean or on the beach. They did have some sand towards the back of the resort just short of the actual beach.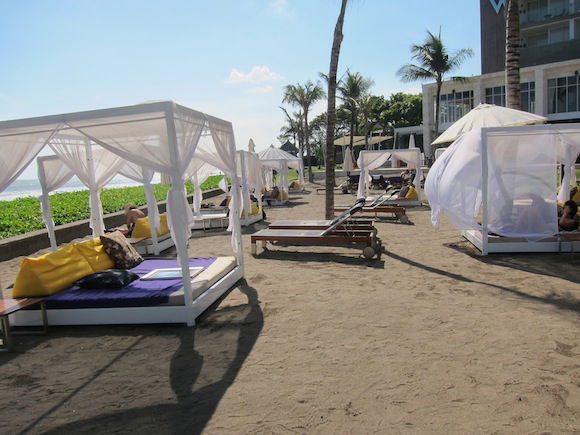 Sand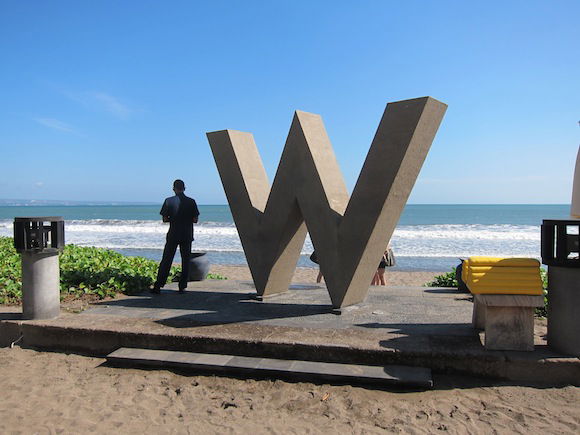 "W" sign by ocean
The hotel also has a nice gym with plenty of modern equipment, and it's open 24 hours a day.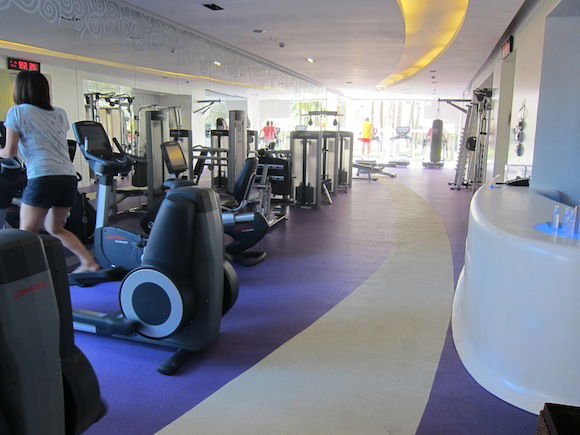 Gym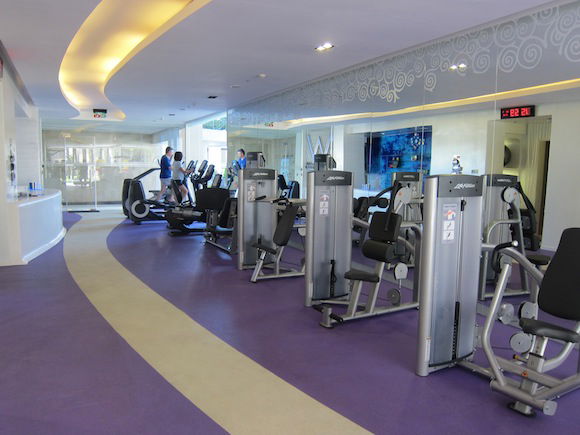 Gym
The Platinum breakfast was in Fire Restaurant, and the spread was fantastic. The weather was very nice both mornings and we could sit outside and hear the ocean while enjoying breakfast.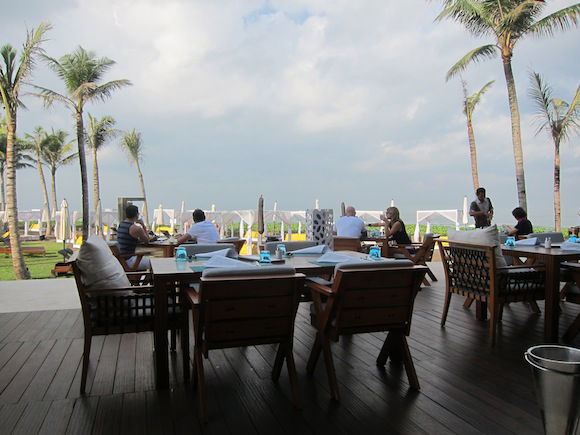 Restaurant seating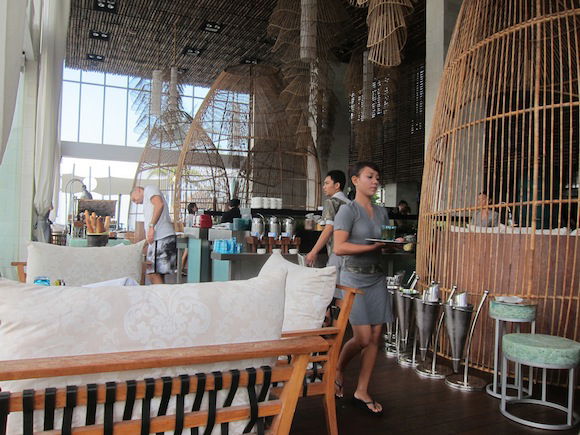 Restaurant seating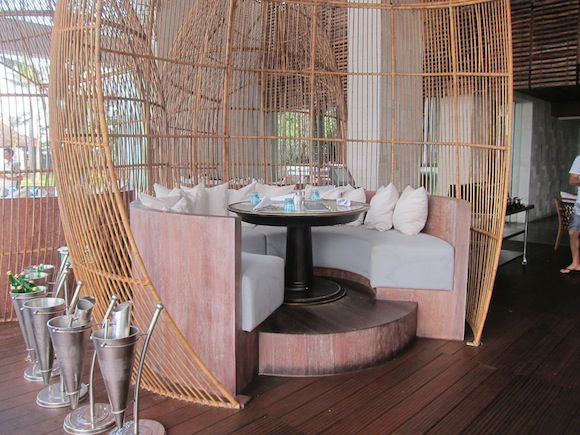 Nice seating, eh?
I'll simply say the breakfast was spectacular. I mean, they even had chocolate cake for breakfast. Chocolate cake. For breakfast. Let's just say I made up for all those times growing up when my mom told me I couldn't have a cookie before dinner.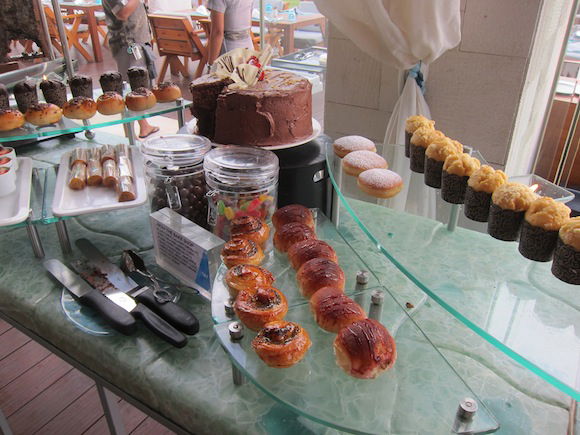 Breakfast spread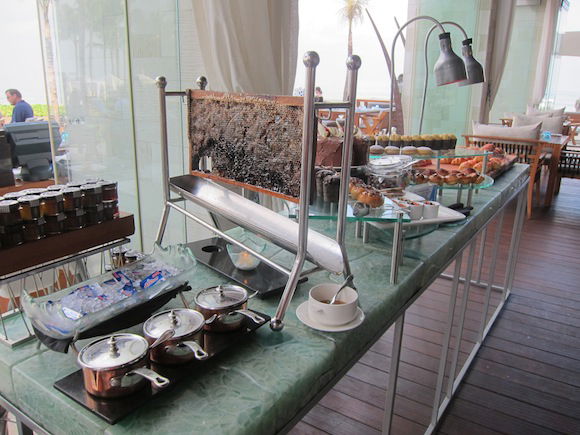 Breakfast spread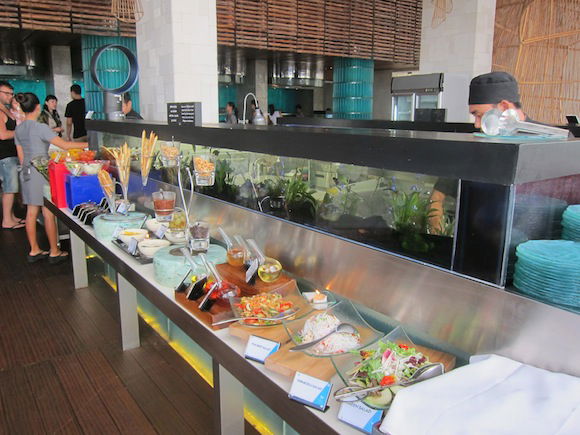 Breakfast spread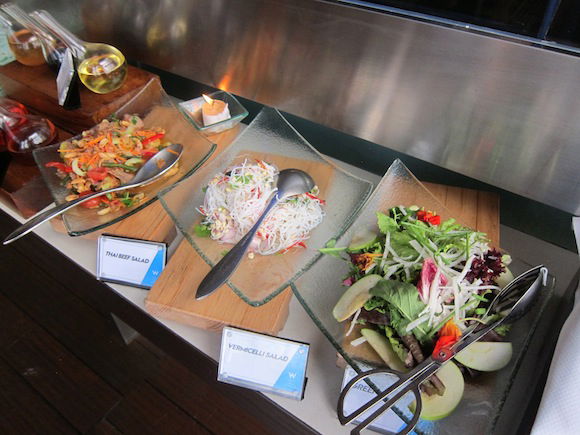 Breakfast spread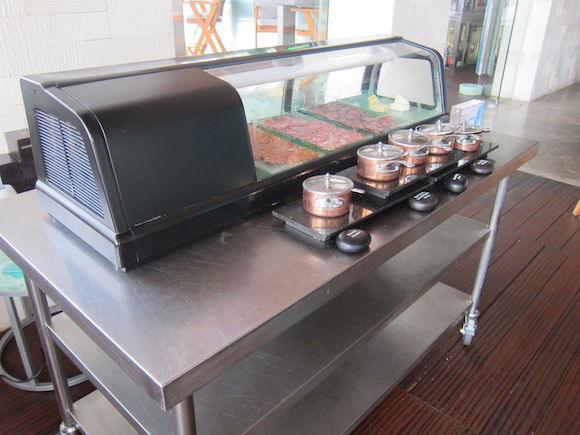 Breakfast spread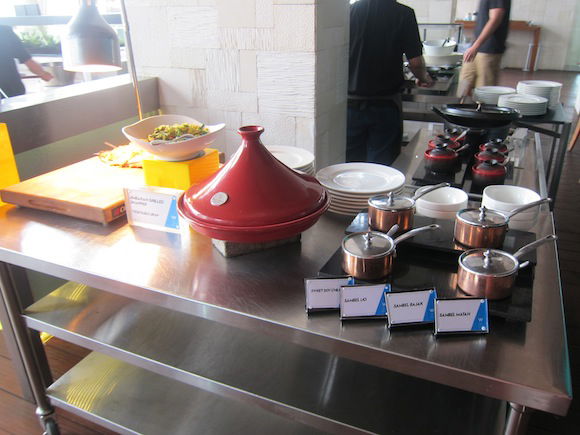 Breakfast spread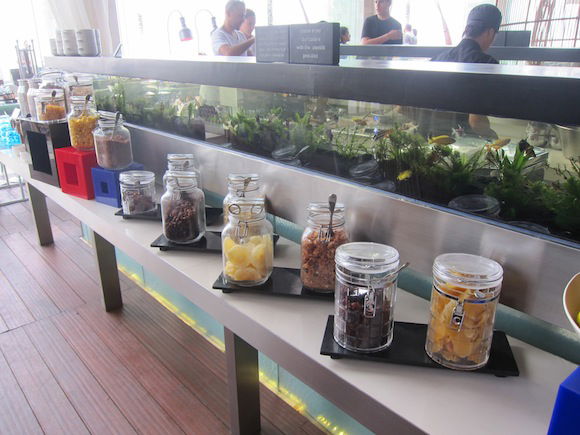 Breakfast spread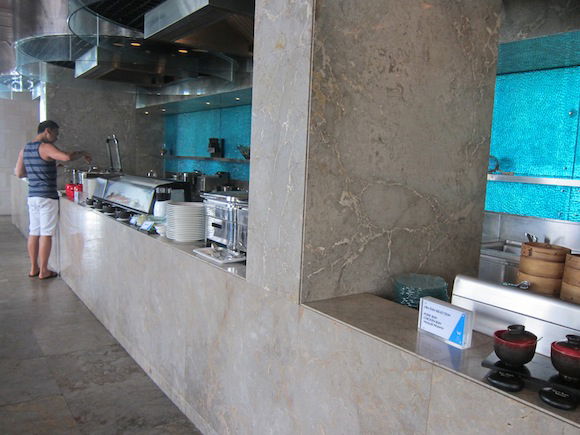 Breakfast spread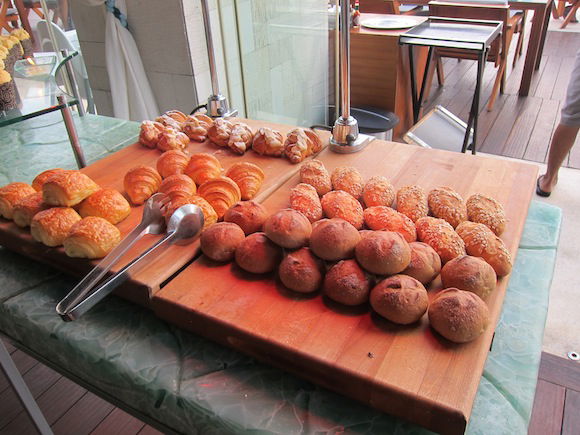 Breakfast spread
Now, with the obvious stuff out of the way, let me share a few more thoughts. First of all, I like the location of this hotel. Seminyak has a lot of great dining options and attractions only a few minutes from the hotel, so it's much more "lively" than Jimbaran Bay.
Next, this is physically truly beautiful resort. That being said, it could have been in Cabo, Phuket, Mallorca, or Laguna Beach, and I wouldn't have known the difference. The hotel had as much substance as an episode of "Keeping Up With the Kardashians." I know a lot of people like to attack me for not staying at "local" hotels, but the fact is that I think a lot of chain hotels are able to integrate local culture into the hotel experience. The InterContinental, for example, has incredibly friendly, sincere, and authentic service, and you get a sense of pride from the employees in sharing their "community" with you.
I realize it sounds like I'm about to rip apart the employees, but that's not the case. They were all exceedingly polite… within the typical "W" structure. Let me step back for a second. If I weren't a full time blogger or pilot, I'd love to work in the hotel industry. And one of the things that fascinates me the most about large hotel chains entering new markets is how they train local employees who have (most likely) never stayed at a hotel before on what their brand stands for and what kind of an experience they want to deliver to guests. Especially for more unique brands like W, Andaz, Aman, etc.
In my opinion the service at this resort was what you'd expect from W. The employees were all hip, cool, and helpful, though didn't give off the genuine vibe I feel at the InterContinental, for example. The reason I love Bali so much is because of the people, as I find them to be among the friendliest and most genuine in the world. While the employees here were friendly, I can't say they were genuine. After all, W calls their employees "talent," and acting doesn't involve being yourself.
So I realize I'm rambling, but let me try to sum it up in a sentence — the W is beautiful and the employees are friendly, but the resort really doesn't deliver "Balinese hospitality." That's not to say I wouldn't return for a night or two to relax, but I certainly wouldn't spend the majority of a Bali vacation here.