---
We spent the night before the flight at the Sheraton North Houston Airport, where we checked out at 4PM. I knew that Singapore Airlines uses the United Club for their premium passengers in Houston, and I had no interest in spending any time there since a hotel room is much nicer. So we were dropped off at terminal D at around 4:15PM, just a little over an hour before our flight.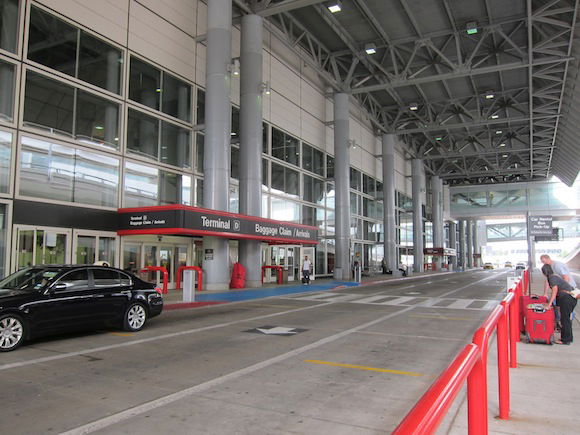 Terminal exterior
Singapore's check-in counter is at the far left of the terminal, right next to the Qatar Airways counter.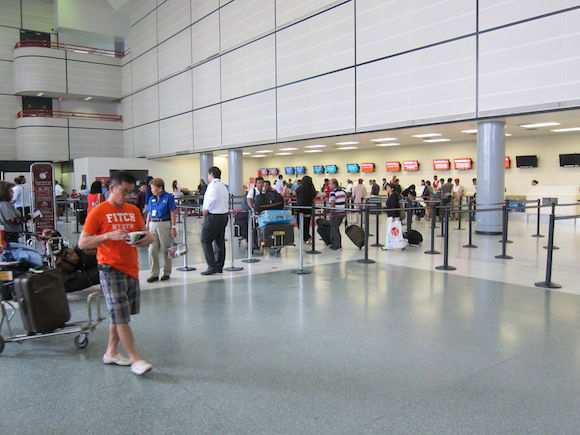 Terminal interior
Another first class passenger entered the line right before us, so we had to wait about five minutes before we were helped. The contract worker was super-cheery (and super-Texasy, y'all!), and invited us to enjoy the — and I quote — "Continental Presidential Lounge."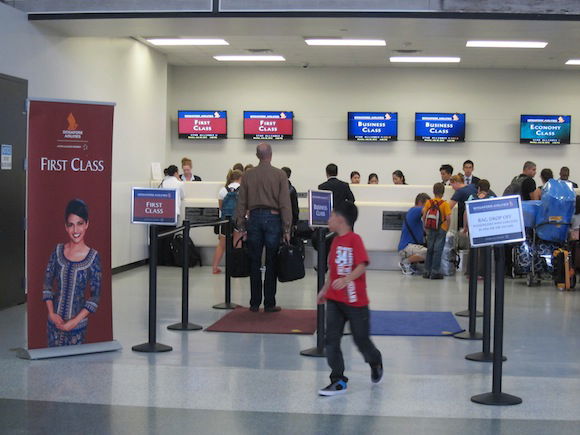 First class check-in
By the time we cleared security it would only be about 10 minutes till boarding, so we decided to head straight to the gate, given that the United Club is in a different concourse.
Security was a bit of a pain. As usual I politely requested a pat down in place of going through the full body scanner. I was directed to stand to the side, as the agent said "opt out male assist." That means a male passenger "opted out" of the full body scanner, and they need a male agent to do a pat down, for those of you not familiar with TSA lingo. She didn't yell loud enough, though, so I'm not sure if anyone actually heard her. I noticed there were several TSA agents just standing around, yet after five minutes I still wasn't helped. I said "excuse me ma'am, could you please call for a male assist again?" She looked at me like I was from a different planet and said "don't you be telling me how to do my job." I said "I'm not, I just notice a bunch of agents standing around over there and I don't think they heard you earlier." She then responded with "well how do you know I didn't call them again?" Um, because I'm standing right next to you and I would've heard you call them, unless the TSA has now integrated a telepathy course in their basic training? Rather than tell her that I just said "I do have a flight in less than an hour, so if you could call them one more time I'd appreciate it."
She ignored me, though after another five minutes the lead TSA agent came over and the agent I had been talking to says to him "make sure you give him a real good pat down, he's frustrated."
After that delightful experience we made it to the gate at around 4:45PM, and within 15 minutes first and business class boarding was announced.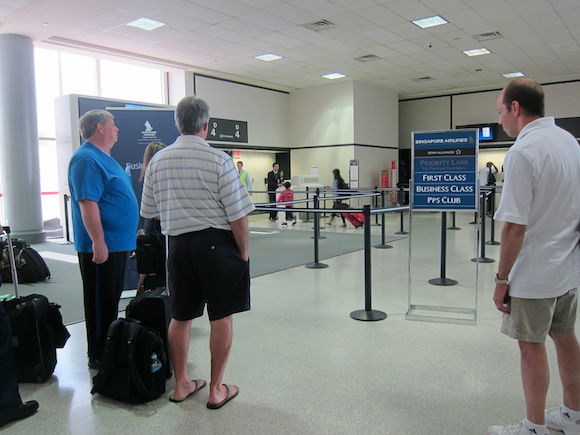 Gate
Singapore Airlines 61
Houston (IAH) – Moscow (DME)
Sunday, July 22
Depart: 5:30PM
Arrive: 2:00PM (+1 day)
Duration: 11hr30min
Aircraft: Boeing 777-300ER
Seat: 1D (First Class)
At the door we were greeted by the leading stewardess, who directed us to our seats in the center section of row one (and before anyone grills me for using the terms "leading steward/leading stewardess," please understand that's the job title at Singapore Airlines and what their name tags say).
The cabin consists of two rows in a 1-2-1 configuration, so it's a fairly intimate cabin. While the seats aren't enclosed and don't have doors, I do find the cabin to be very elegant in terms of finishes, colors, etc.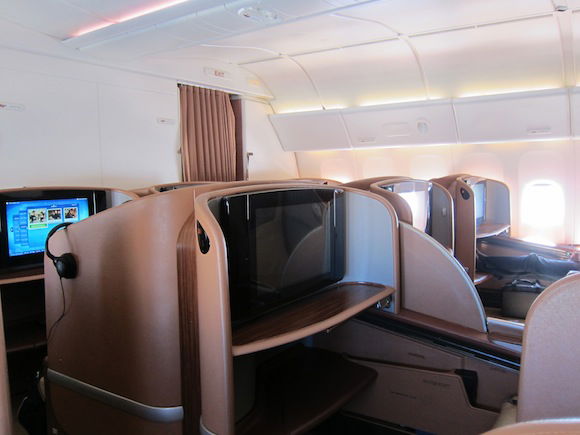 First class cabin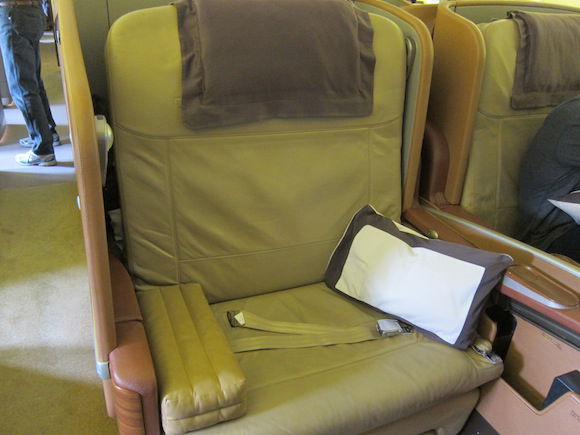 My seat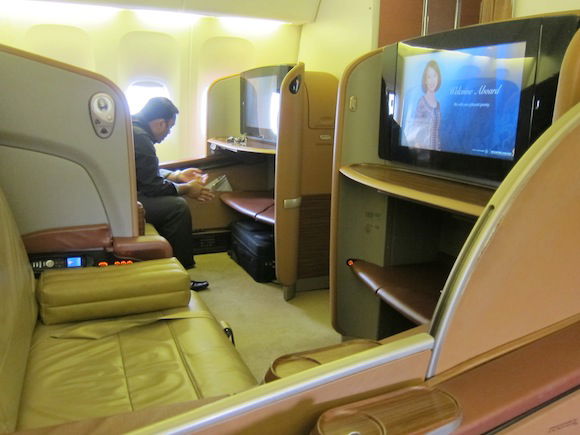 View from my seat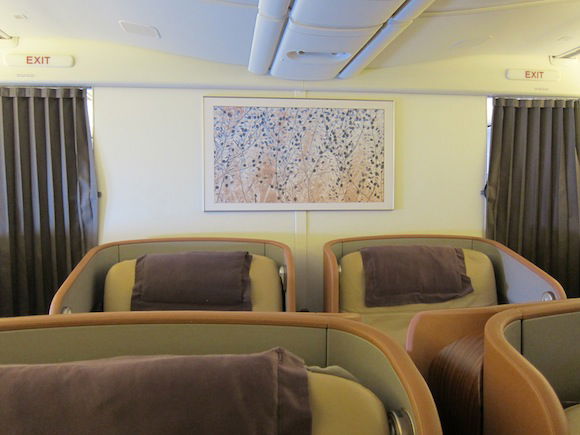 First class cabin
To make the cabin feel more spacious there are no overhead bins, though there's ample space under each seat, even for my rather large bags.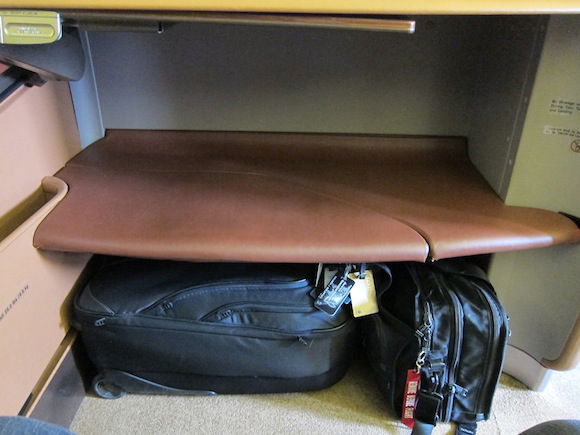 Ottoman
The seat also has plenty of storage space. There are huge magazine pockets, and also enclosed storage departments for phones, glasses, etc., in the center console.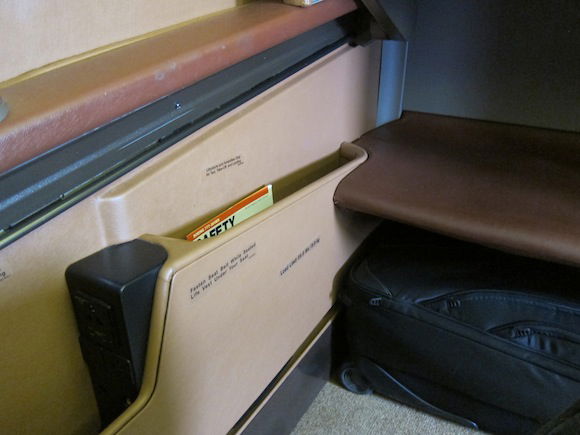 Ottoman and storage units
On the right side of the seat are the entertainment and seat controls. There's also a "pad" of sorts, which can act as an armrest. When Singapore introduced their new first and business class, both products were the widest premium cabin seats in the world. As it turns out they might have been a bit too wide, so they later added that pad so you didn't feel like you were sitting on something as wide as a park bench.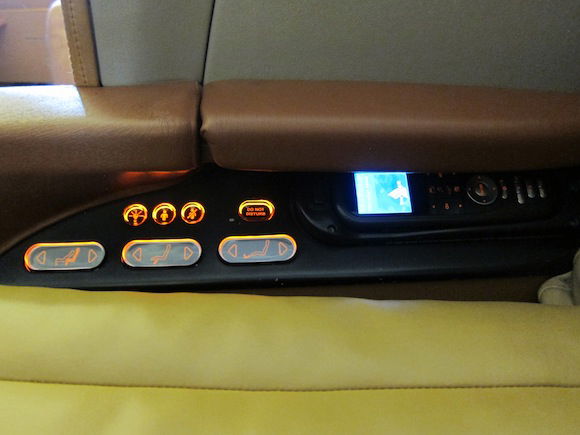 Seat and entertainment controls
Within minutes of settling in the leading stewardess appeared to introduce herself and offer a pre-departure beverage. I ordered a glass of Krug, though was distraught to learn they only served Dom on the ground. Completely unacceptable (yes, folks, I'm kidding). So I went with Dom.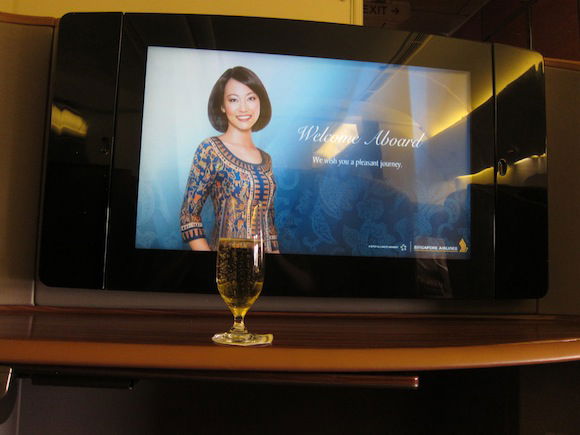 A pleasant journey indeed!
The leading stewardess returned with Givenchy pajamas, a Kiehl's amenity kit, socks, slippers, eyeshades, the menu, and headphones. The beginning of every Singapore Airlines flight is kinda like Christmas for me.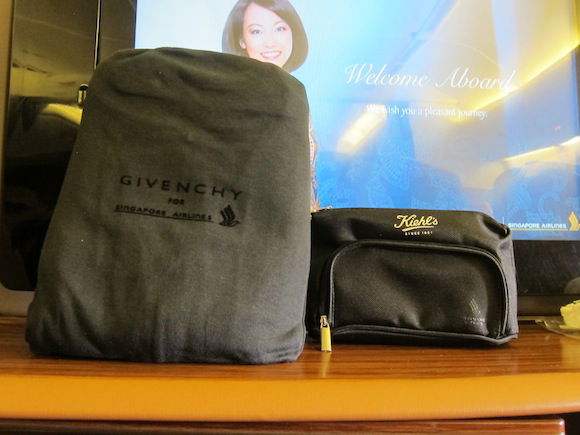 Amenity kit and pajamas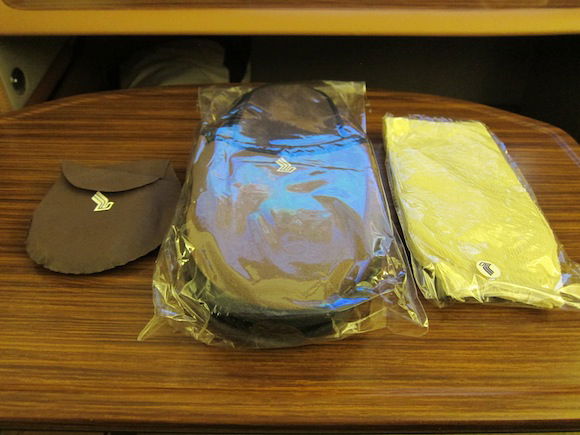 Eyeshades, slippers, and socks
I immediately changed into the pajamas, as we did have a 24 hour flight to Singapore ahead of us, and I wanted to be sure I had fresh clothes for when we landed. For those of you that are pajamaphiles I'll mention that Singapore's aren't my favorite. They're fine, though they're a bit rough, heavy, and scratchy. I far prefer those on Lufthansa and Swiss, which are my favorites, given how soft and light they are. As a matter of fact I'm wearing a pair as I write this (though it just occurred to me that what I'm wearing as I blog probably isn't something you guys need or want to know).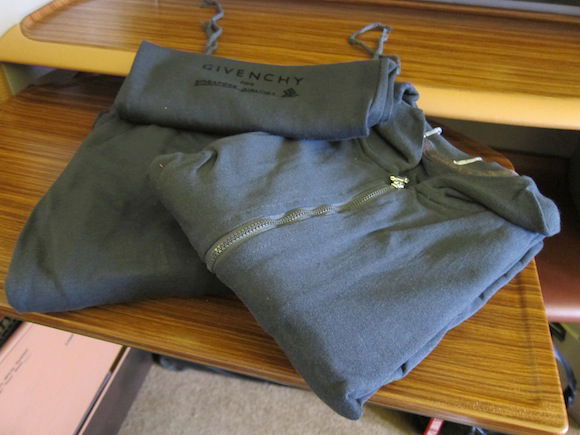 Pajamas
Moments later I was offered my first of what must have been a dozen hot towels. I promise not to post any more pictures of towels after the initial one, though!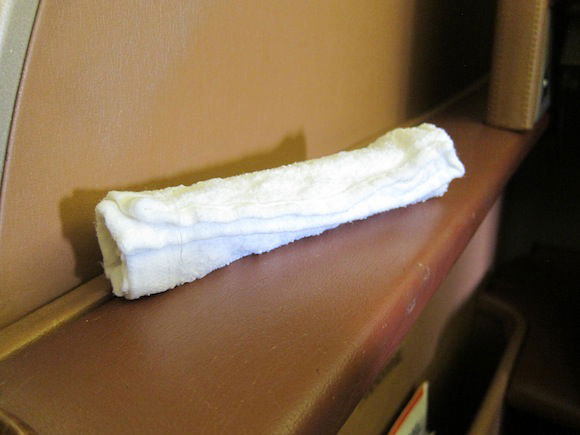 Hot towel
As boarding finished up, five of the eight first class seats were taken, so it wasn't too full of a load. Shortly before pushback the leading stewardess also took dinner orders. Unfortunately they had run out of both of our first options, which was kind of surprising given that they had only taken the order from two other passengers. Maybe they cater two of each option and both passengers went with it?
Right before we pushed back the captain came on the PA to welcome us aboard and advise us of our flight time of 10hr30min, which was an hour under our scheduled block time, so he anticipated that would put us into Moscow early. Unfortunately we had a bit of a delay on departure due to weather, though ended up only pushing back about 15 minutes late.
Our taxi to the runway was quick, and by around 6PM we were airborne and enroute to Moscow.
After a pretty bumpy climb the seatbelt sign was turned off around 15,000 feet, at which point the flight attendants began their "performance," starting with closing the curtains between business and first class. Before the service started I browsed the entertainment selection to see what I wanted to watch with dinner, and eventually decided on a few sitcoms.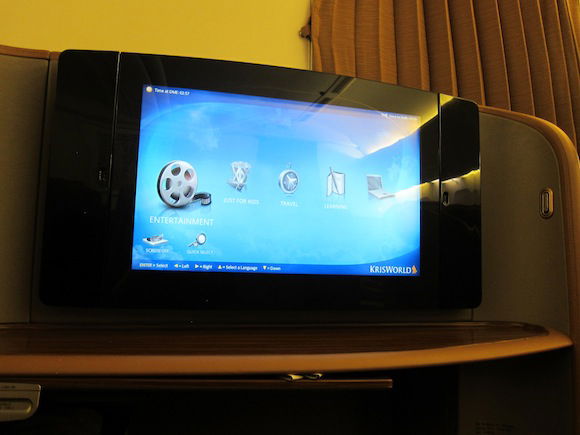 Entertainment system
Dinner service began about 30 minutes into the flight. The dinner menu read as follows: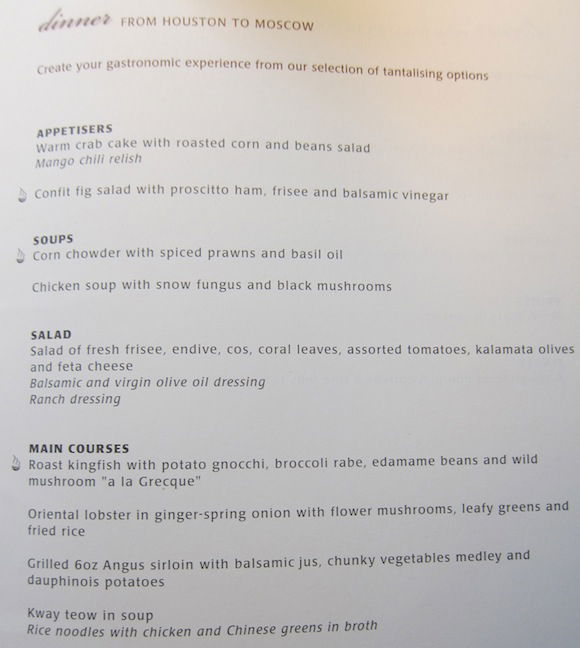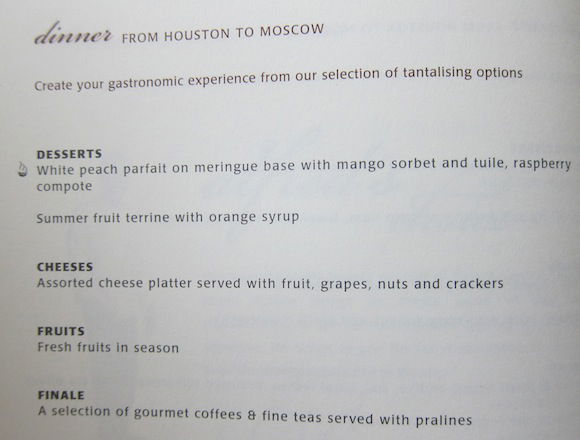 And since this is Singapore Airlines I'm of course obligated to share the wine list: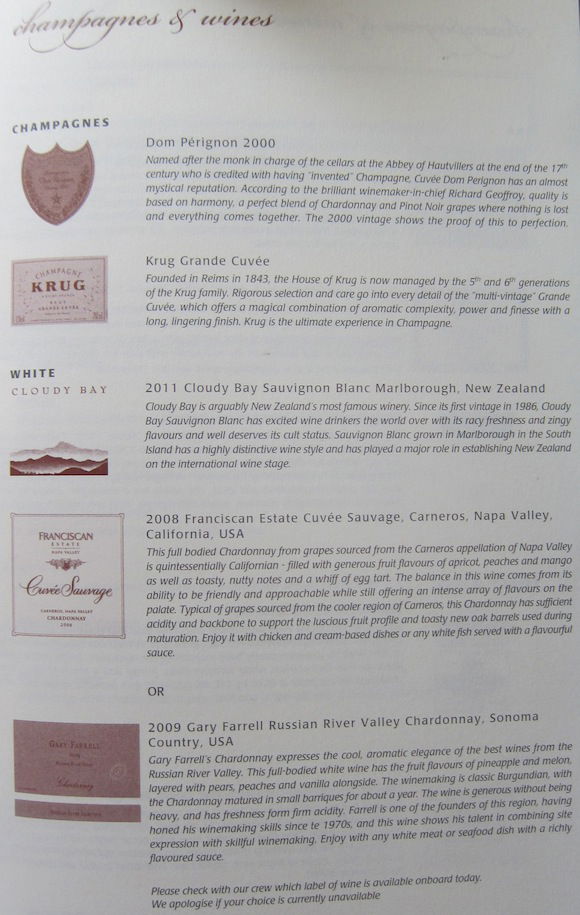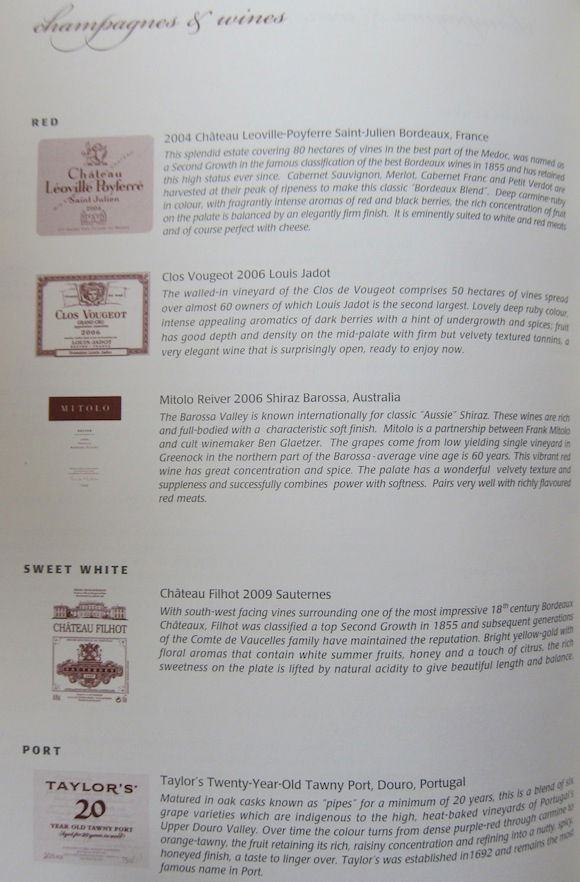 Service started with warm nuts and a drink. It's worth noting that when the leading stewardess took my drink order she asked if I wanted nuts with that, which I of course accepted. She followed that up by asking what kind of nuts I wanted. I think I'm in love!
I also liked the "art" she made of the lemon, whereby she twirled the skin of the lemon.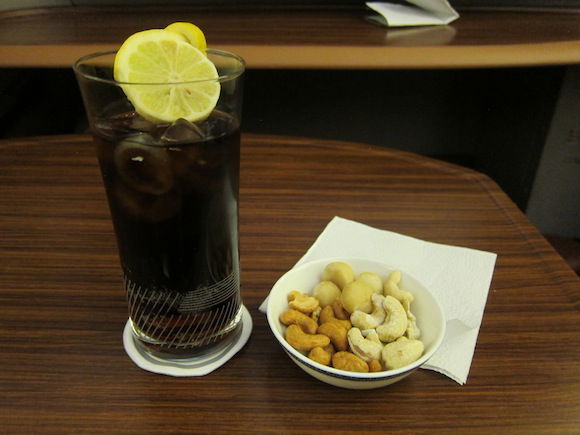 Diet Coke and warm nuts (notice the lemon "art")
The service started with the table being set. I know I'll sound completely nutty for saying this to anyone that hasn't flown Singapore first class, but the "precision" of the table setting was one of the more lackluster ones I've seen on Singapore. Every Singapore flight is a "performance" for the crew, and that includes facing logos towards the passengers, making sure everything is placed symmetrically, etc. The more you fly Singapore first class, the more you begin to notice details like that. I know, it's the ultimate first world observation…
Once the table was set I was also offered bread, and I chose a piece of garlic bread and a roll.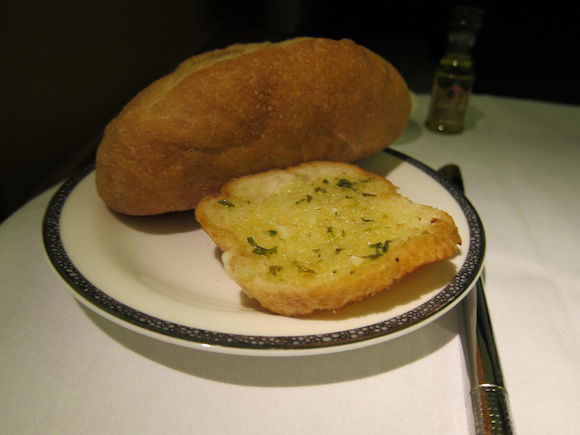 Bread
For the starter I selected the crab cakes, which were delicious. While Lufthansa frustrates me with how complex they try to make their meals, this was "simple" (by international first class standards) and tasteful. It might have been my favorite part of the meal.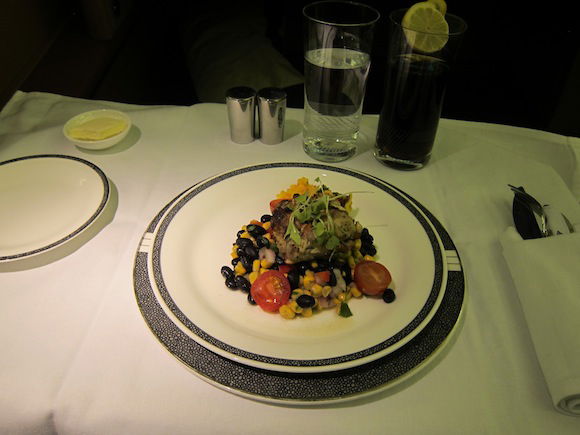 Warm crab cake with roasted corn and beans salad
The next course was soup, which was a small bowl of corn chowder with spiced prawns. It was surprisingly spicy, and had a kick to it.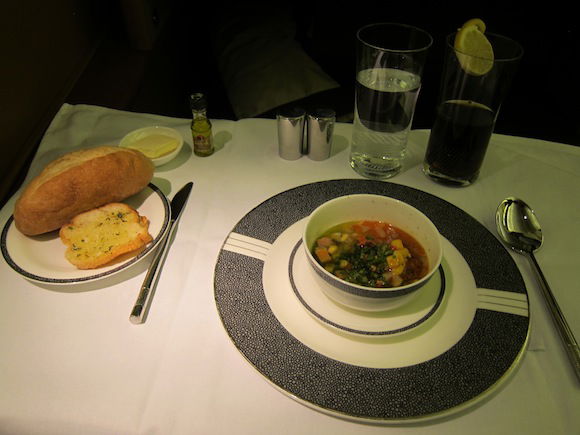 Corn chowder with spiced prawns and basil oil
The next course was the salad, which was also very good.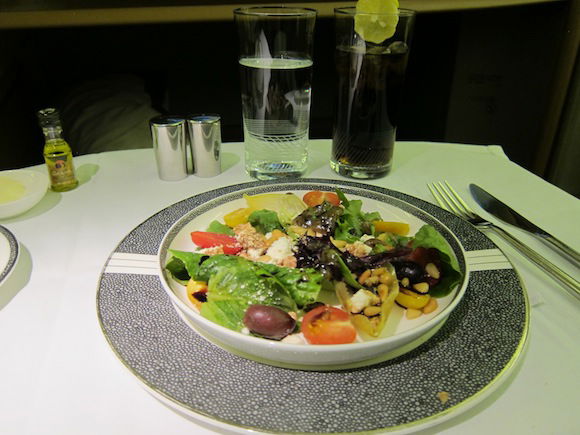 Salad of fresh frisee, endive, cos, coral leaves, assorted tomatoes, kalamata olives, and feta cheese
For the main course I had requested the sirloin, though unfortunately they had already run out of it, so I went with the kingfish instead. While Singapore usually allows you to "Book the Cook" whereby you can select your entree in advance, this feature isn't available out of Houston and Moscow.
The entree was the most underwhelming part of the meal as it lacked flavor and was dry. Very dry. I only had a few bites of it, and when I told the leading stewardess I was finished she showed great concern and insisted on getting me something else. I was full, so told her I'd just like dessert instead.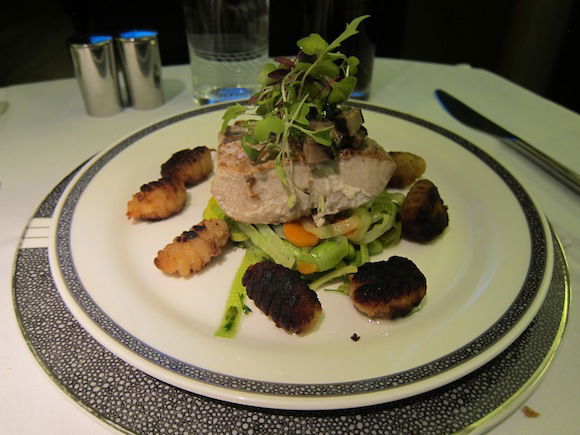 Roast kingfish with potato gnocchi, broccoli rabe, edamame beans, and wild mushroom
My friend ordered the lobster, which he enjoyed.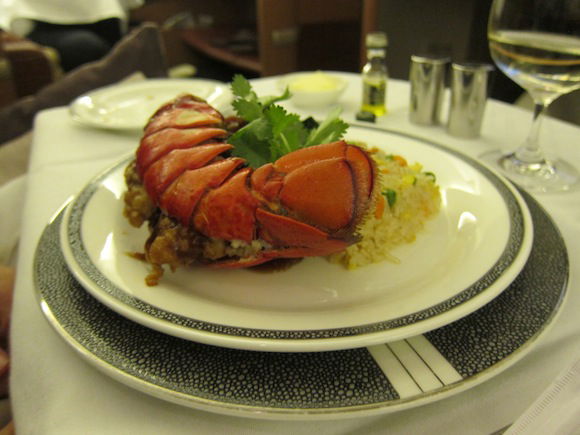 Oriental lobster in ginger-spring onion with flower mushrooms, leafy greens, and fried rice
For dessert I had a peach parfait with mango sorbet. Now I don't exactly know what part of my dessert was the "parfait," though it was delicious.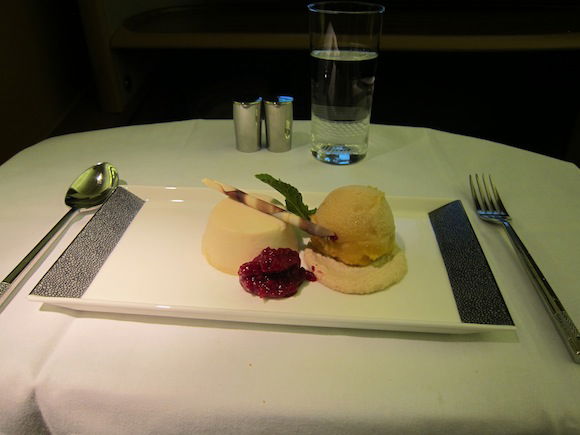 White peach parfait on meringue base with mango sorbet and raspberry compote
I finished off the meal with some tea and a praline.

Tea and a praline
The entire meal service took about two hours, and we were over Indiana by the time it was complete.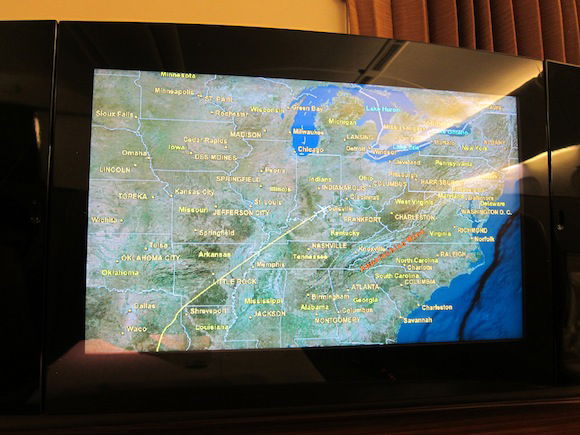 Airshow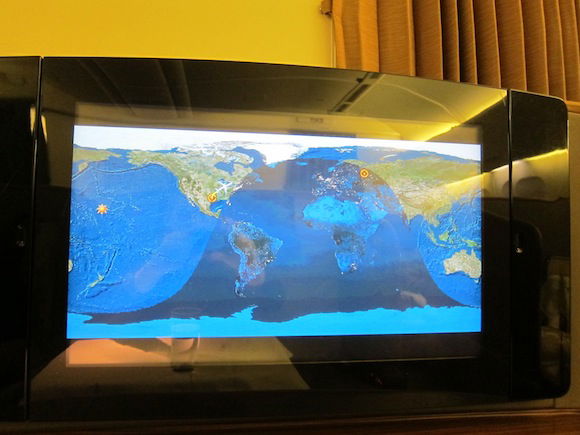 Airshow
I was tired after such a big meal, so requested turndown service so that I could get some sleep. I went to the lavatory to brush my teeth, and by the time I returned my bed was made with a bottle of water placed at my seat. Singapore's first class seats "flip over" in order to go into the bed position, so there's no way to convert it into a bed or bring it back up without getting out of your seat.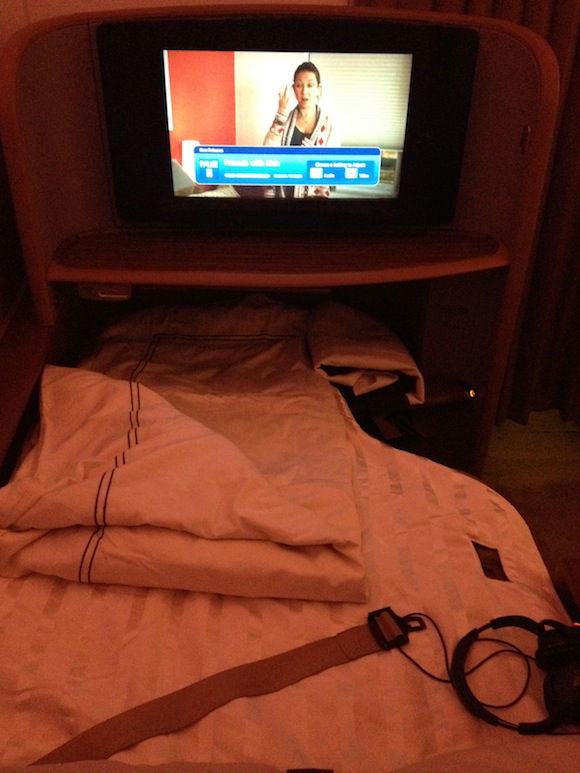 Bed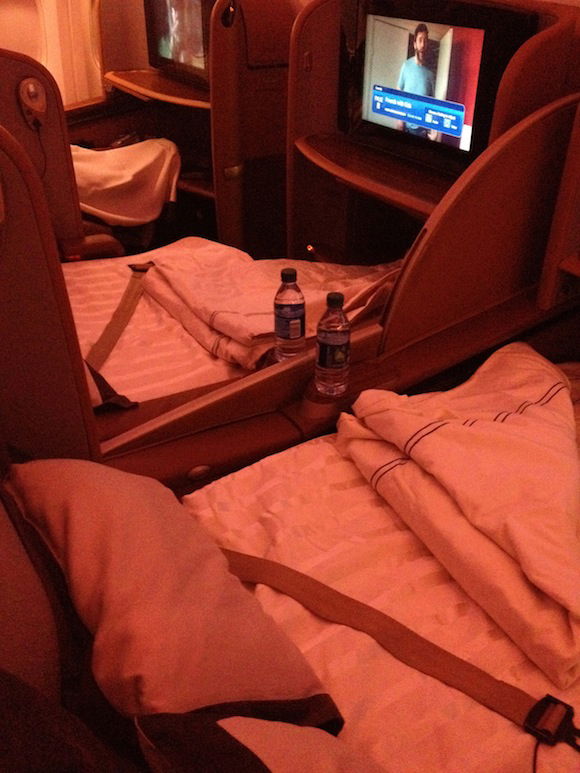 Bed
I conked out almost immediately, though unfortunately it was more of a snooze than a night of sleep, since I woke up less than three hours later, as we were approaching Greenland. The bed is incredibly comfortable, though. I love how much space there is, though the mattress pad could be a bit more "padded" for my preferences.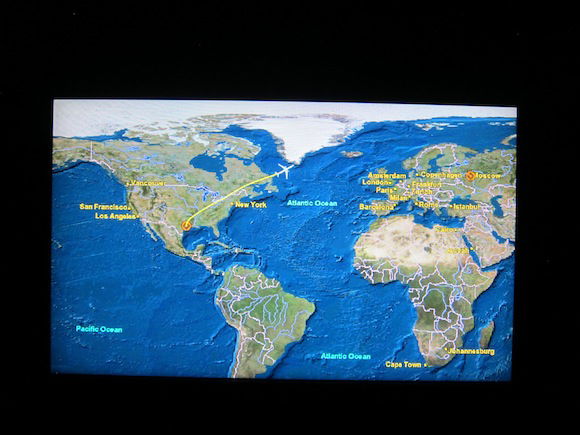 Airshow after waking up
For whatever reason I couldn't fall back asleep, so I decided to watch a movie. I eventually settled on "Friends with Kids," which was hilarious. Though don't listen to me, because I'm constantly told I have horrible taste in movies (and music).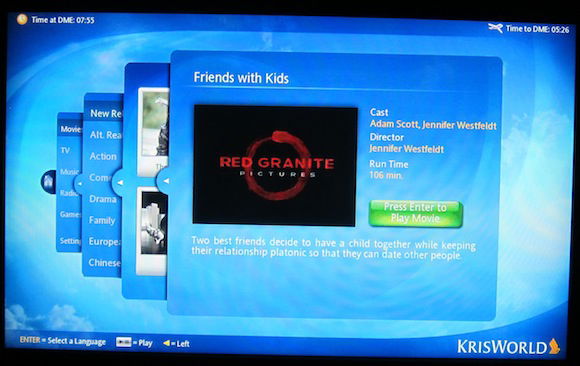 Entertainment selection
As the leading stewardess saw I was watching TV she came by and asked if I wanted anything to drink or eat. I order some Baileys, which she promptly delivered.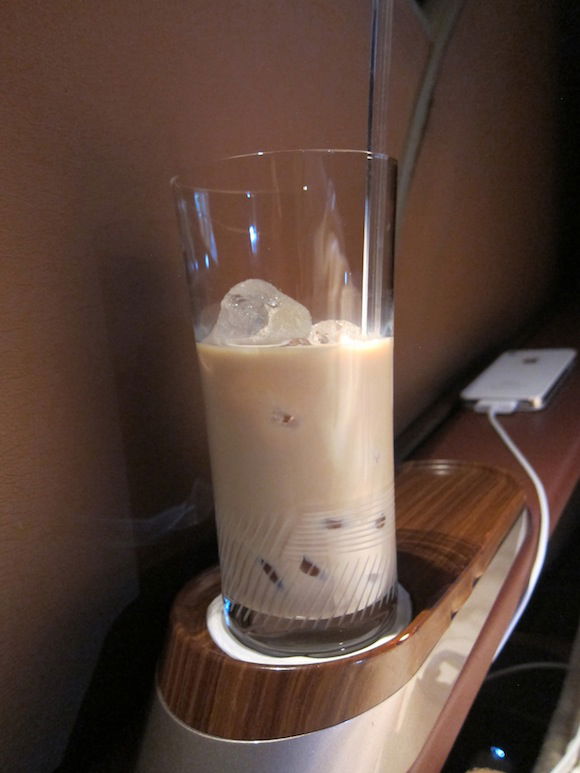 Baileys
She also brought a snack basket by my seat, which contained some of the items from the "light bites" menu: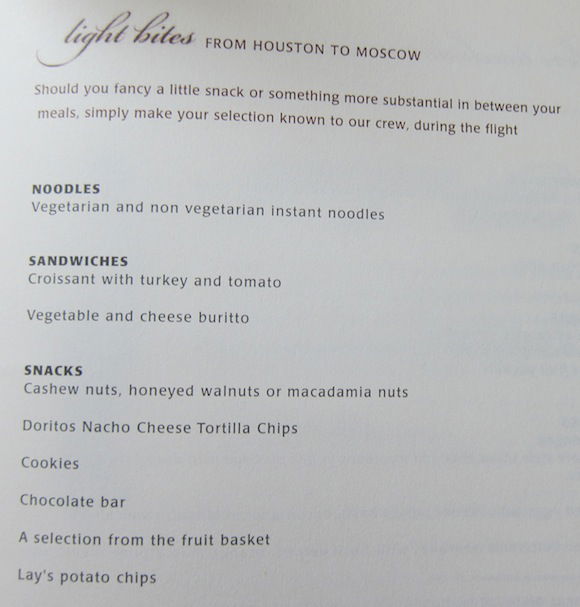 I simply chose some berries, a Kit Kat, and Biscoff, which she insisted on plating, much to my amusement.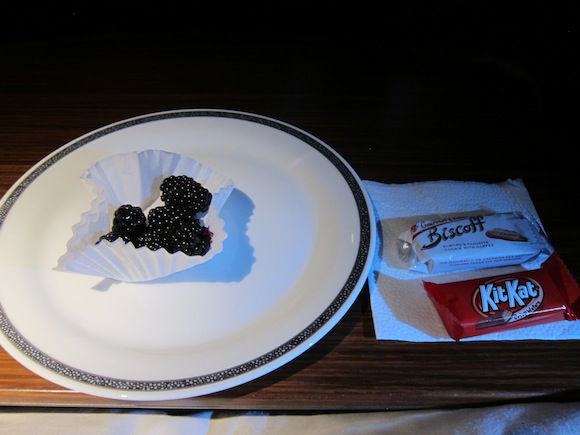 Snack
After the movie I managed to fall asleep once again for a couple of hours, and woke up about 90 minutes out of Moscow, at which point the breakfast service began. The menu read as follows: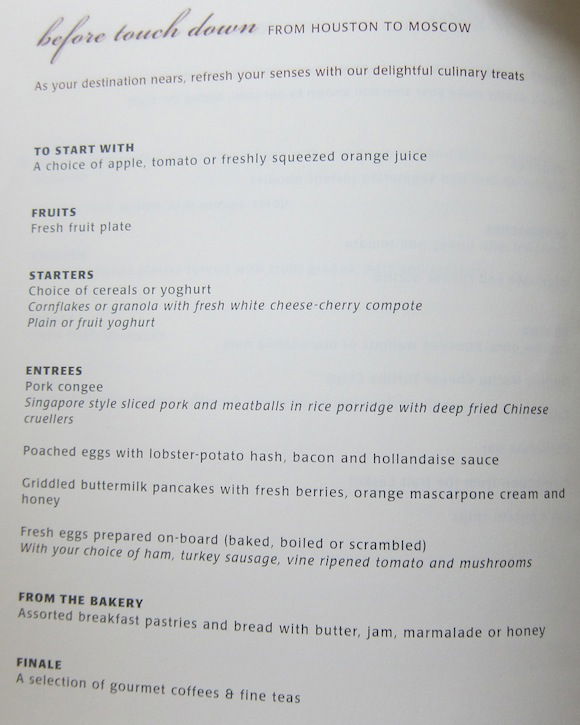 The service began with freshly squeezed orange juice, and was followed quickly by my table being set. The first course consisted of fresh fruit, which had all of my favorites.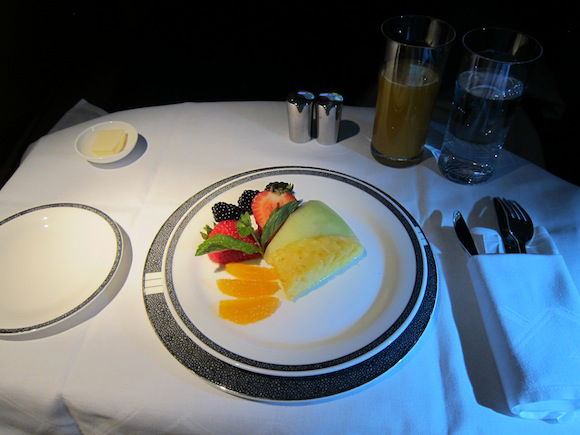 Fresh fruit
Then there was the option of cereal, yogurt, etc. I ordered strawberry yogurt. The breadbasket was also brought around at this point, which had several types of danishes, breads, and croissants.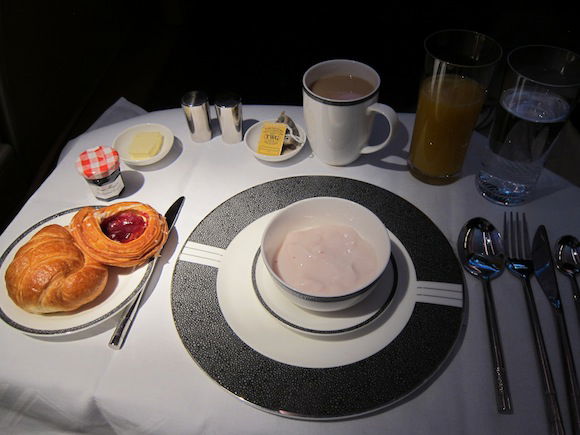 Strawberry yogurt
For the main course I ordered the pancakes. They were amazing, as good as you'd find anywhere on the ground. It definitely ranks as one of my top five airline breakfasts ever.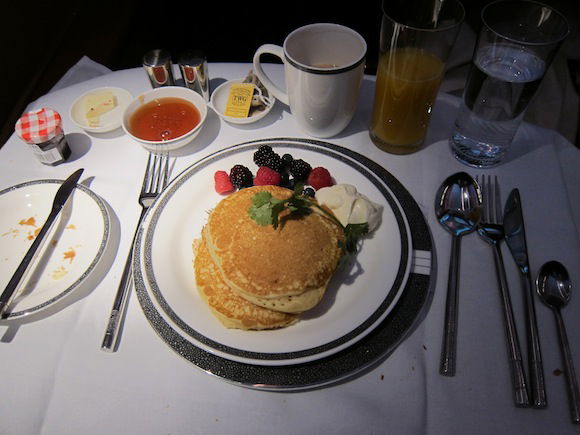 Griddled buttermilk pancakes with fresh berries, orange mascarpone cream, and honey
About 30 minutes before landing the captain came on the PA to advise us of our updated arrival time, which was 1:45PM. At this point I changed back into my jeans and t-shirt, and packed up the pajamas, amenity kit, etc. The menus and headphones were collected, and cabin was prepared for landing.
For the approach I switched to the empty aisle seat, 2A, as I was curious to see what the Russian landscape looked like (answer: not different than anywhere else in Europe, at least around Moscow), and also what kind of traffic there was at Moscow Airport.
The approach was rather bumpy due to some large clouds, though it still looked like a beautiful day outside.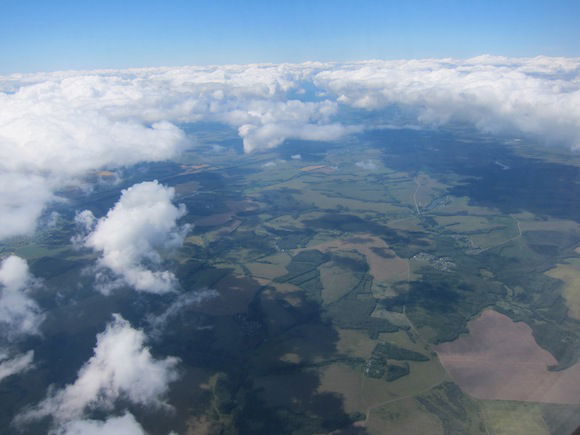 View on approach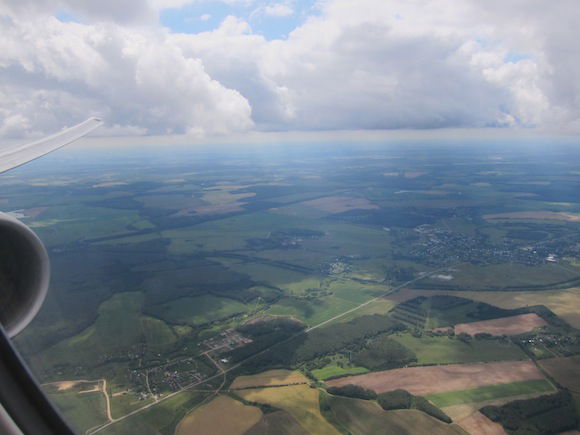 View on approach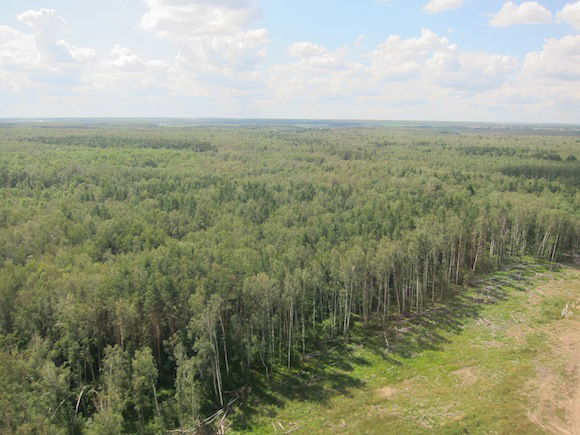 View on approach
Okay, the coolest (or weirdest?) part about Moscow Airport has to be the airplane graveyard. Right as you exit the runway you see dozens of "parked" planes just sitting on the grass.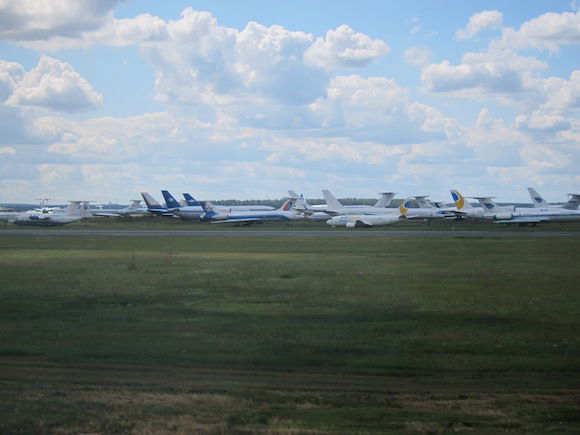 Airplane graveyard
The plane types are just so damn cool in Russia for an airplane geek like me, since you see so many aircraft types you don't see in other places in the world. It's also kind of funny when you see dozens of airplanes from an airline (like Transaero) that you've never really heard of before.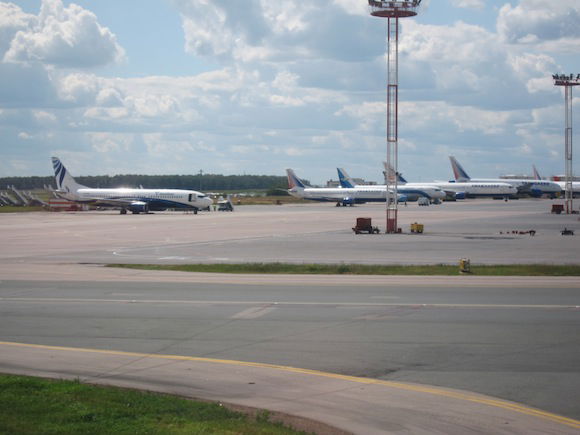 Planes in Moscow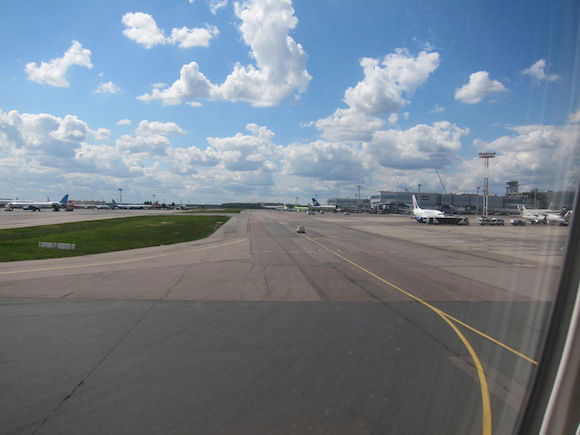 Pulling into the gate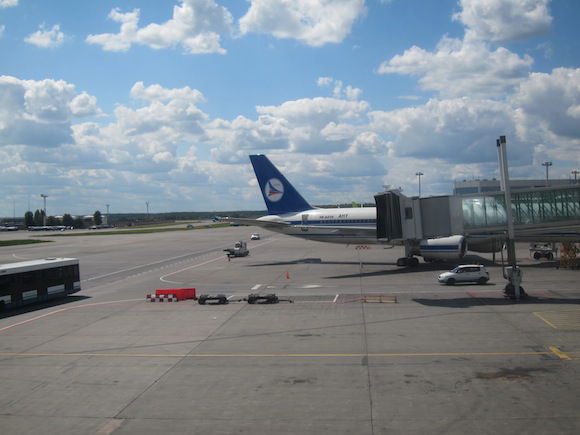 At the gate
As we pulled into the gate I was ready to hit the ground running and get a shower before our 10 hour flight to Singapore.
On the whole this was an awesome flight. And compared to just about any other airline it was an exceptional flight. But compared to the other Singapore Airlines flights I've taken the service was a bit sub-par. Yes, the flight attendants smiled and were friendly, but they didn't quite have the attention to detail that I've experienced on other Singapore Airlines flights. For example, on most Singapore flights I've taken my bed is "tidied up" every time I use the restroom, while that never happened on this flight. That's just one small example. So while the service was good by just about any other airlines' standard, it was by far the weakest of the three flights I took. Though admittedly the other two crews really hit it out of the park, so stay tuned for that.