Gate B4 was maybe a 10-minute walk from the lounge. This gate actually has a joint security checkpoint with a few other gates, and in tonight's case the Airbus 380 to Paris was also leaving from the same area, so queues were rather long. After a roughly 15 minute wait I was through security and in the gate area for my flight to Tokyo Narita.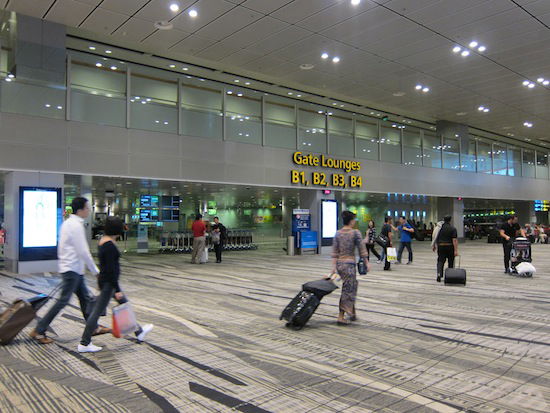 Terminal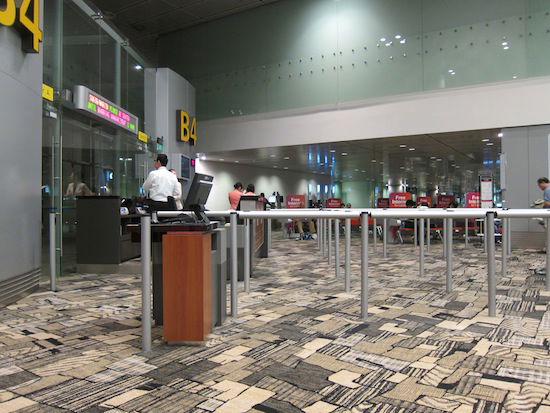 Departure gate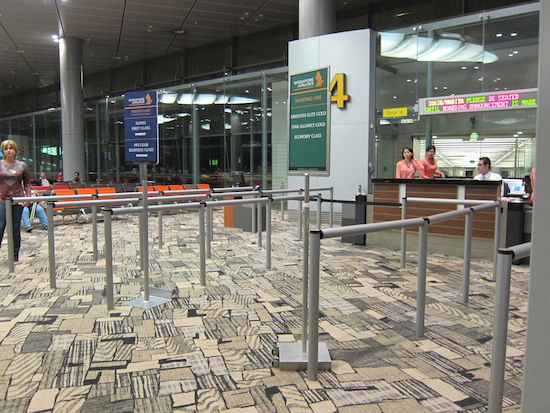 Boarding lanes
The flight was running a bit late, and at 11:45PM boarding was called, starting with first and business class.
The 777-300ER uses two jet bridges, with the first one being exclusively for first class passengers, while the second one is for business class and coach passengers.
Singapore 638
Singapore (SIN) – Tokyo Narita (NRT)
Monday, April 30
Depart: 11:55PM
Arrive: 8:00AM (+1 day)
Duration: 7hr5min
Aircraft: Boeing 777-300ER
Seat: 2A (First Class)
Before I even stepped foot on the aircraft (or for that matter before the crew saw my boarding pass) both the in-flight service manager and leading stewardess welcomed me aboard by name – "Mr. Lucky, welcome aboard, it's such a pleasure to have you flying with us tonight. Please, allow me to escort you to your seat."
As Wong Chin, the leading stewardess, escorted me to my seat she said "Mr. Lucky, you are our only first class passenger tonight. It will be my pleasure to pamper you all the way to Tokyo."
Look, my last flight on Singapore Airlines from New York to Frankfurt wasn't very good, though after being on the plane for less than a minute I remembered why Singapore Airlines is the best in the world.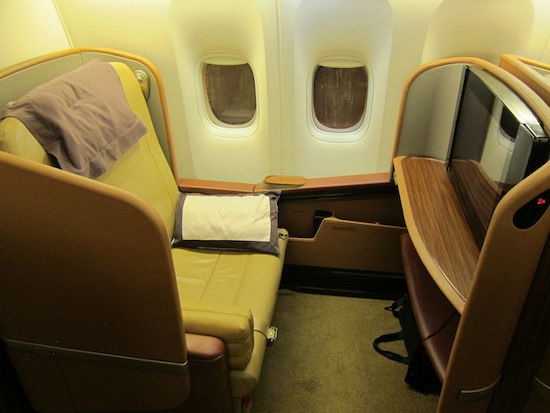 My seat, 2A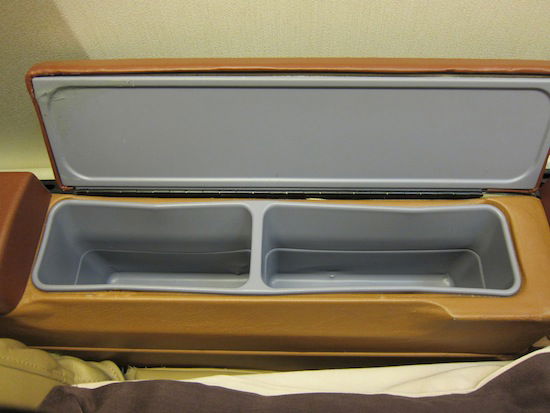 Storage compartment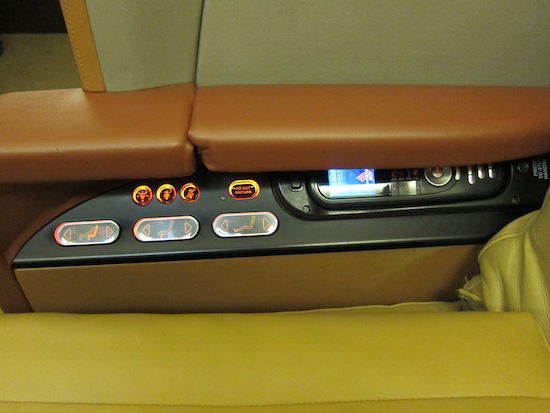 Entertainment and seat controls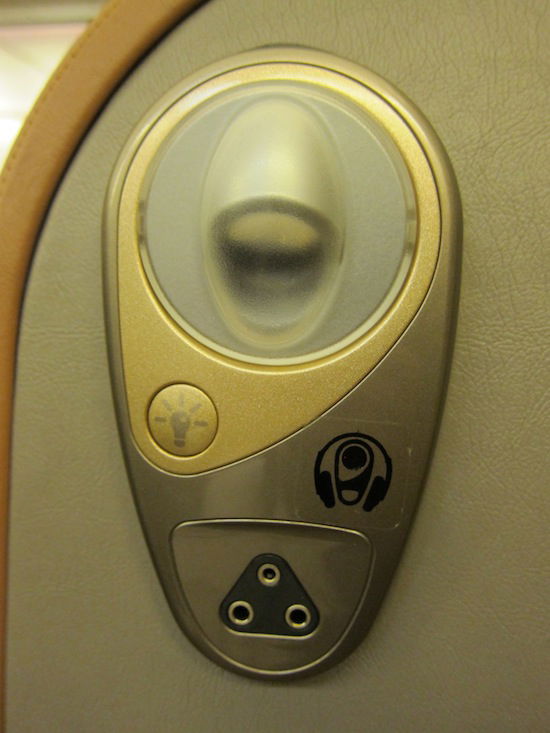 Reading light
It's interesting to note that the cabin doesn't have any overhead bins to make for a more spacious feel. That's nice in theory, though in practice it can be tough to stow both a carry-on and a personal item underneath the seat in front of you. Fortunately in this instance the cabin was empty, so I placed my carry-on underneath the seat across from me.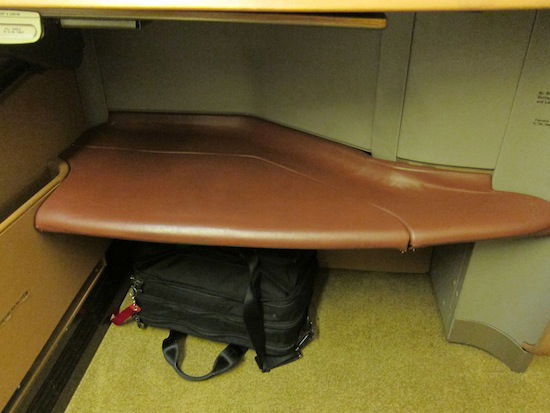 Ottoman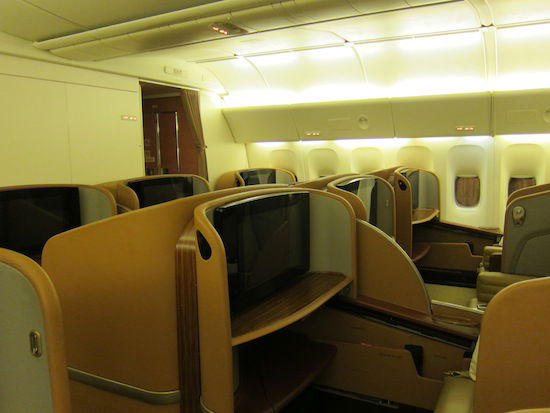 First class cabin
As I settled in Wong Chin came by and said "Mr. Lucky, the captain has asked me to extend a welcome to you aboard and wanted to let you know our flight time to Tokyo Narita will be 6hr25min. What beverage may I offer you to get your flight off to a good start?"
I ordered a glass of champagne, and with a smirk and smug sense of pride, Wong Chin responded with "Mr. Lucky, I have two options for you tonight, we have Dom or Krug. Which may I have the pleasure of serving you?"
I ordered a glass of Krug, which was served minutes later by the leading steward.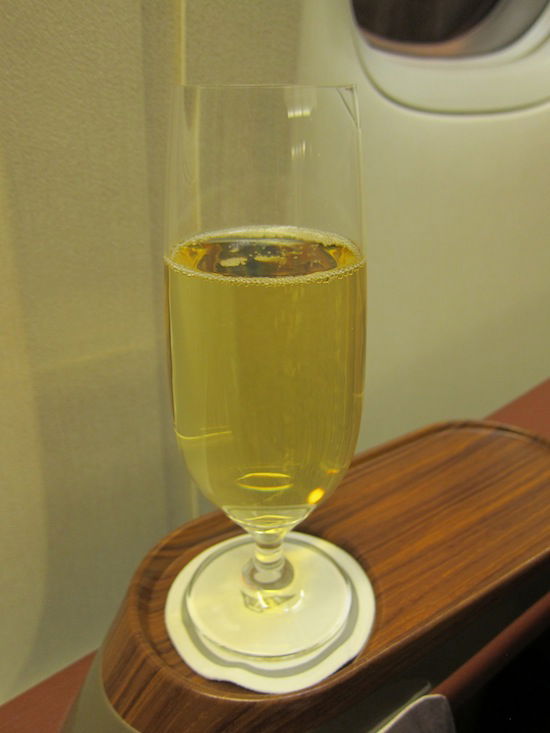 Krug
Meanwhile Wong Chin offered me newspapers, magazines, headphones, a hot towel, an amenity kit, socks and eyeshades, Givenchy pajamas, and the menu for tonight's flight (which I'm embarrassed to admit I completely forgot to snap a picture of).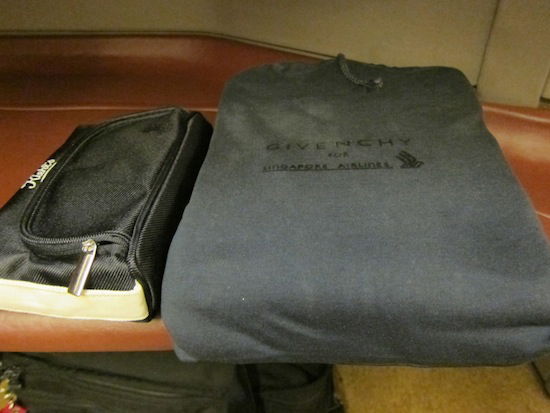 Givenchy pajamas and amenity kit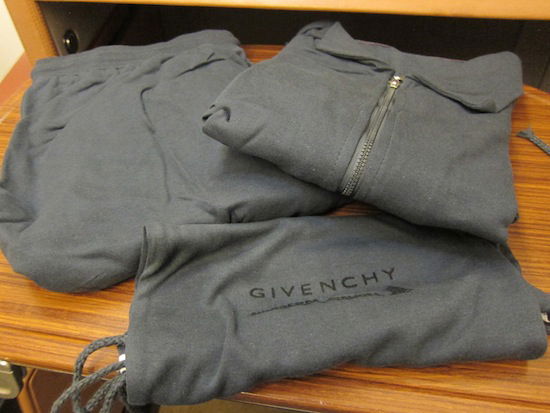 Givenchy pajamas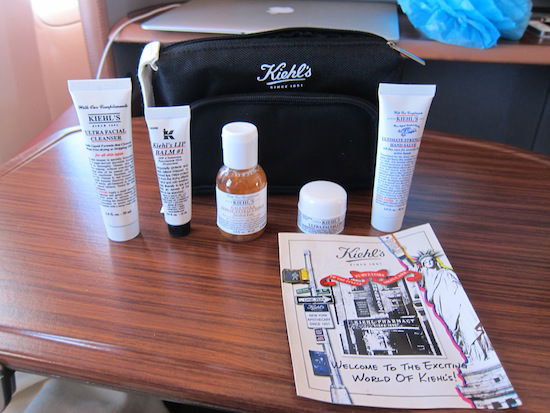 Amenity kit contents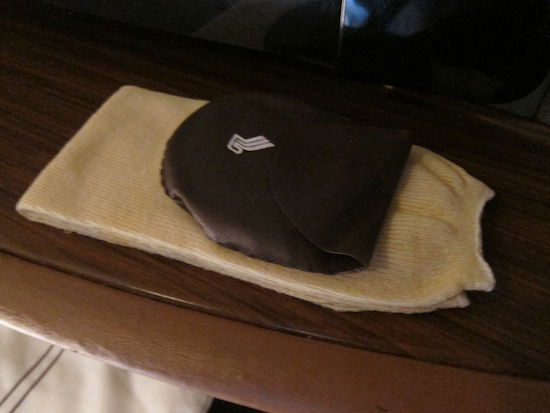 Socks and eyeshades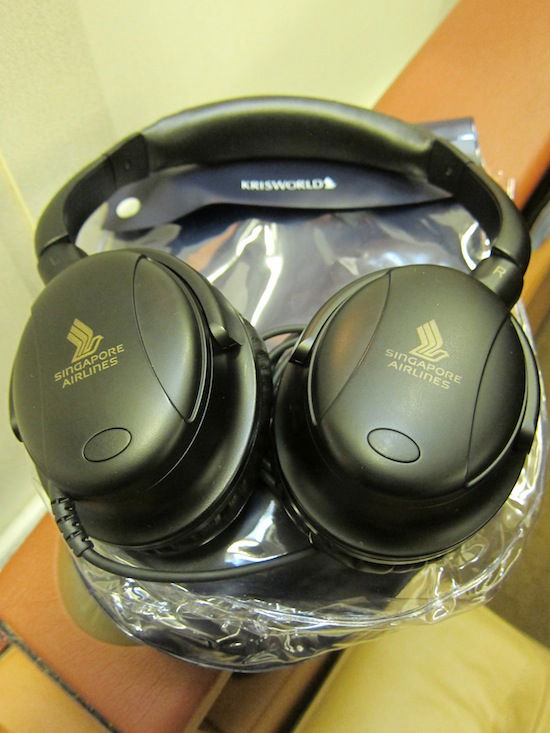 Headphones
Wong Chin explained that the meal service on the flight is breakfast, and asked whether I wanted it served after takeoff or before landing. Now, I fully knew this coming in, though I do find it somewhat disappointing that Singapore Airlines doesn't offer a "midnight snack" type option. First of all, 6hr25min is a borderline longhaul flight, and longer than many east coast to Europe flights, where they serve two meals.
It's not that I wanted two meals, but rather if I was actually hungry after takeoff, would I want scrambled eggs at midnight? Thai Airways, for example, offers both a midnight snack and breakfast on their flights from Bangkok to Tokyo, which are over an hour shorter than this flight.
So while it was no big deal and I fully knew it coming in, I do still find that a bit underwhelming for an airline like Singapore Airlines. In fairness they do have a "Book the Cook" menu from which I could have ordered in advance, though if I had ordered a dinner-type entree it would have been strange to have it served with an appetizer of fruit and cereal.
Back to the flight, though. I explained to Wong Chin I'd like to eat prior to landing in Tokyo Narita, and already made my selection immediately as to maximize sleep time.
Lastly Wong Chin asked whether I wanted to have my bed made in another seat, so that I could then return to 2A to have breakfast. I asked to have the bed made in 1A, which was done promptly after takeoff.
Meanwhile my glass of Krug stayed full, and the leading steward commented "you're our only passenger, we're counting on you to finish the bottle."
While I was dead tired, I just had the biggest grin on my face as the door closed. I had the cabin all to myself and had three flight attendants to myself (the leading stewardess and leading steward full time, and the in-flight service manager for most of the flight). The level of service was almost comical at times, as I'll explain in a bit.
Before pushback I changed into pajamas. One of the things I love about Singapore is that as you leave the lavatory they always insist on hanging your clothes. Most airlines won't touch your clothes, let alone hang them neatly, but Wong Chin was standing outside the lavatory waiting for me with two hangers as I emerged, not to mention opened and closed the door for me.
At around 12:15AM the safety video played and we started our taxi to runway 20C. It was quite a long taxi to the runway, and we followed a Qantas Airbus 380 all the way to the runway, where we were eventually cleared for takeoff.
About 20 minutes after takeoff the seatbelt sign was turned off and all three of the flight attendants worked on making my bed. I conked out in almost no time, and slept for three hours solid.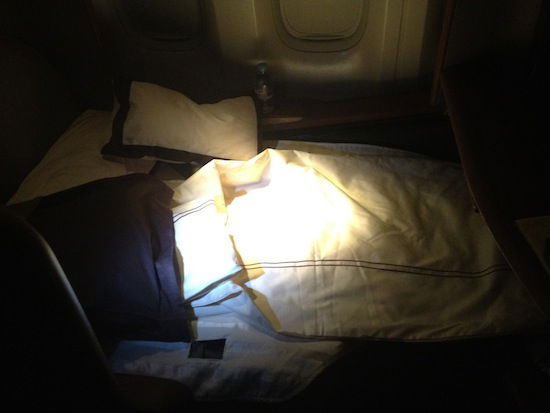 Turndown service
Now, a few quick words on the seat. Singapore's first class cabin on the 777 consists of eight seats in a 1-2-1 configuration. While the product is great, I think Singapore almost screwed themselves over with their new business class product, since it's also in a 1-2-1 configuration and almost equally comfortable. So the seats are actually really similar. I reviewed the business class seat on my Los Angeles to Singapore flight last year, and you can see that review here. So while first class is more spacious, it really isn't a huge difference. The real benefit to flying Singapore first class is the food and service.
There are both pluses and minuses to Singapore's first class bedding. I don't find the seat to be especially well padded compared to the likes of Qantas, Cathay Pacific, JAL, etc., though on the plus side they give you three large pillows, which really help.
As I woke up I noticed one of the many small touches that sets Singapore Airlines apart. When I went to sleep I kind of just threw the slippers I was wearing since the beginning of the flight on the floor. However, when I woke up they were perfectly positioned so that if I needed to get up I could easily slip into them. This happened each and every time I got up. So impressive.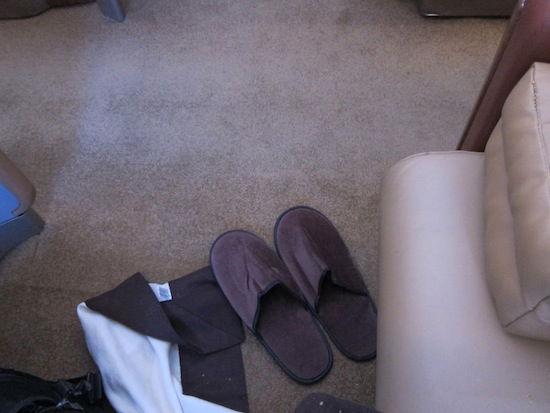 Within a minute or two of waking up Wong Chin appeared and said "good morning Mr. Lucky, I trust you had a restful snooze. May I offer you something to drink, maybe a cup of delicious hot cocoa?" I might not be a five year old, though I can appreciate a good cup of hot cocoa, so gladly accepted.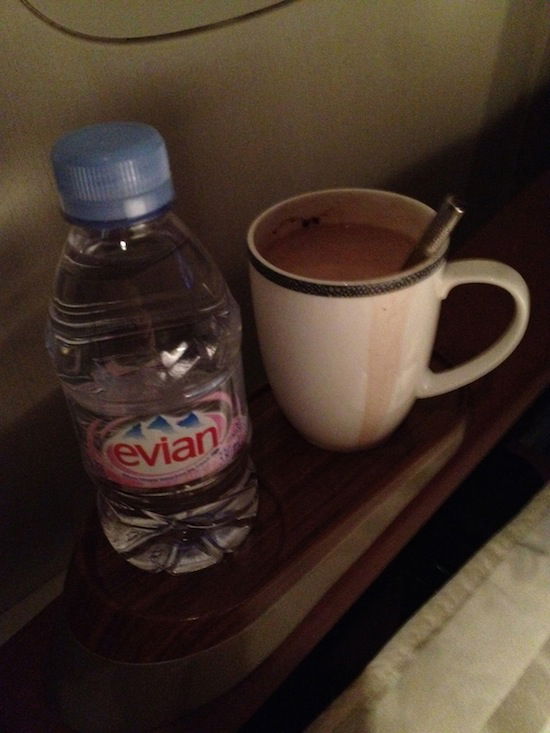 Hot cocoa
The flight was just too good to sleep any more, so with about three hours to go till Tokyo Narita I decided to watch a couple of sitcoms, including "Curb Your Enthusiasm" and "The Big Bang Theory." The KrisWorld entertainment system remains among the best in the sky in terms of the selection of movies, sitcoms, CDs, etc. My only complaint is that the system is turned off for takeoff and landing, unlike other airlines which let you start watching movies on the ground.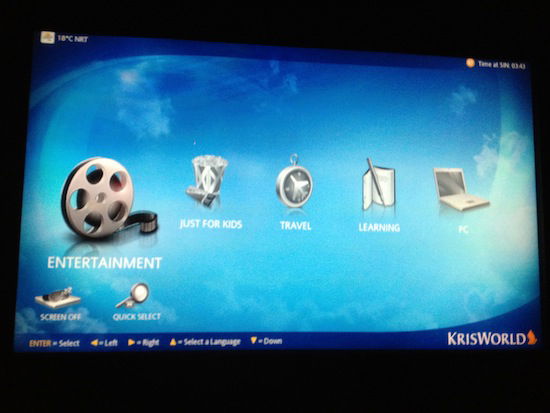 KrisWorld entertainment system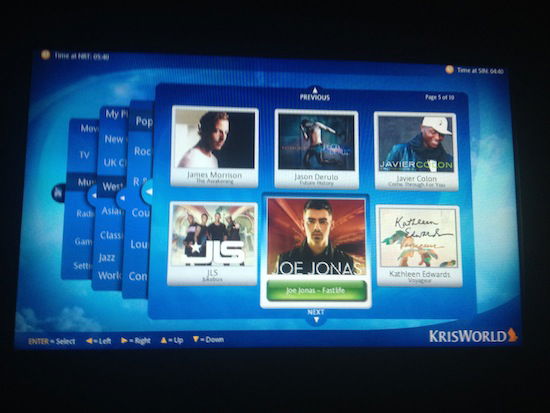 KrisWorld entertainment system (notice my excellent taste in music)
Every five minutes or so Wong Chin came by to check on me to make sure there wasn't anything else I needed.
I decided to take a quick walk to business class to see how full it was back there, and as I did so Wong Chin walked back with me to open all the curtains for me. She was truly the best thing ever. As I walked back, she said "Mr. Lucky, have you had a chance to see what I set up for you in 2A?"
I hadn't, so I walked back there with her, and was truly astounded. She had drawn me the following card: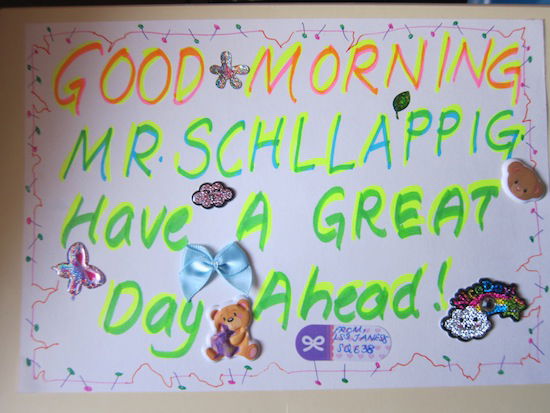 Awesome!
As part of the following display: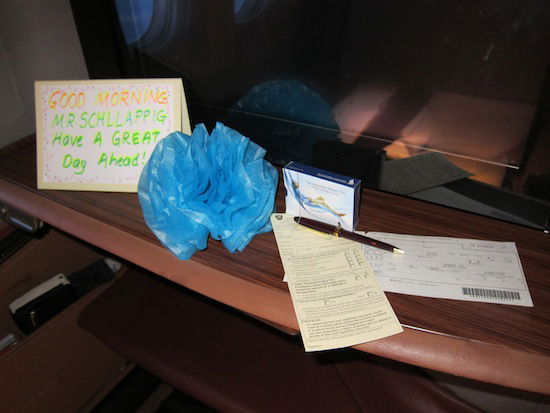 Awesomer!
Not only did she do the writing, but the border was hand drawn as well. Furthermore, she made me a paper flower, and set up the landing forms and playing cards in such an intentional manner.
I was truly astounded, and as she saw my reaction she just stood there and smiled. "Mr. Lucky, taking care of nice passengers like you is my passion. When I set this up the in-flight service manager asked me what I was doing, and I said 'making my passengers smile.'"
Truly un-friggin-believable. There's no other way to describe it. I explained to her that I was having a pretty rough week but she completely turned my mood around. I further explained that I was going to place it on my desk in my office as a reminder to smile every morning. She said "oh Mr. Lucky, I thought you were just going to throw it away. In that case, may I decorate it with some more stickers?"
I mean seriously, where do you find a human being this nice? Her passion for making people smile is entirely contagious.
About 90 minutes before landing I requested to have breakfast, which started with some freshly squeezed orange juice as well as a fruit plate.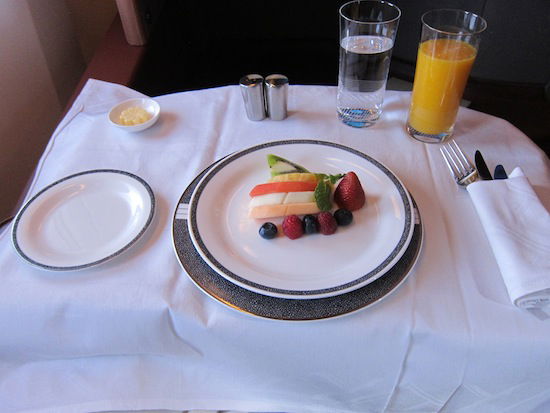 Fruit plate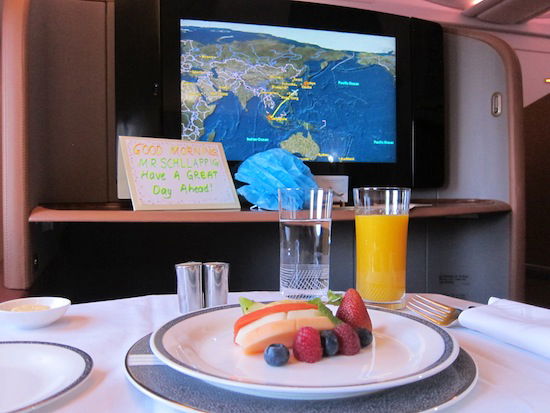 Approaching Tokyo
The next course was cornflakes, the delivery of which was hilarious, given that they basically set up an assembly line in order to serve me. Wong Chin brought the actual bowl with the corn flakes, while the leading steward stood right behind her to pour the milk, while the in-flight service manager stood right behind him to ask if I wanted any sugar on top of my corn flakes. I wish I could have taken a picture of three people at the same time trying to serve me corn flakes.
Following the corn flakes the breadbasket was brought by, which consisted of croissants, danishes, etc.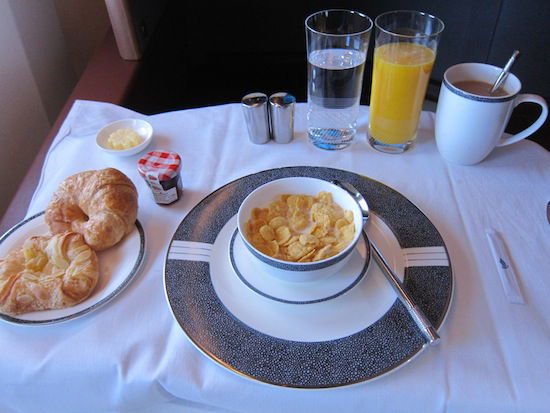 Corn flakes
Then the main course was scrambled eggs with toast, chicken sausage, and mushrooms.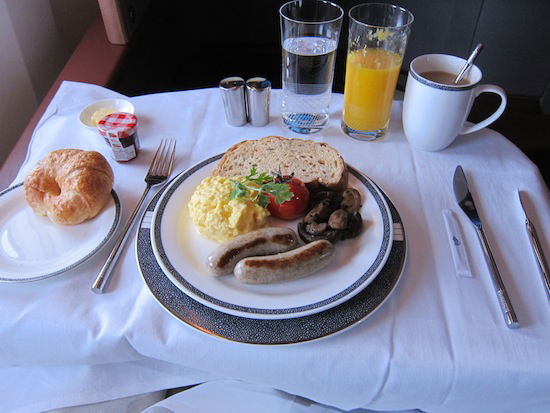 Scrambled eggs
I had the chance to talk to Wong Chin for a bit, and I asked her what her favorite destinations were. Her response? "I don't really have a favorite, I just like flying with my good colleagues and nice passengers like you."
About 30 minutes before landing the seatbelt sign was turned on and the flight attendants were asked to take their seats by the captain due to turbulence. And there was indeed turbulence which had us thrown around pretty good. Fortunately I managed to change back into my clothes, with the help of Wong Chin, before the turbulence hit.
Our approach into Tokyo was smooth, and we touched down about 15 minutes behind schedule. We had a lengthy taxi and ended up parking right next to the Lufthansa Airbus 380 which I flew to Tokyo just a few months ago.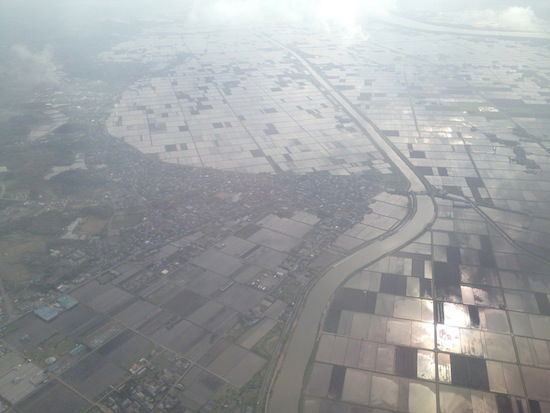 On approach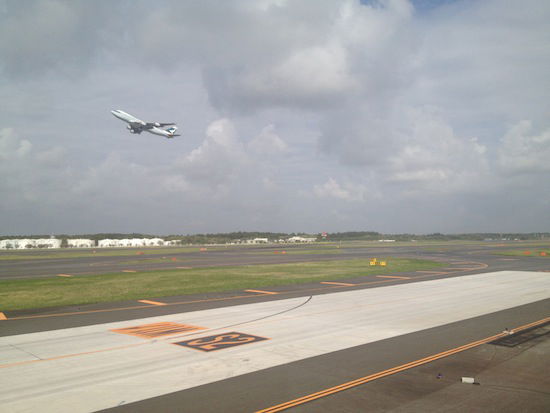 Taxiing in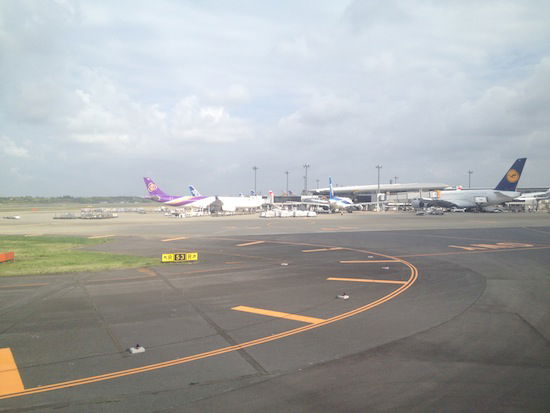 Approaching Star Alliance terminal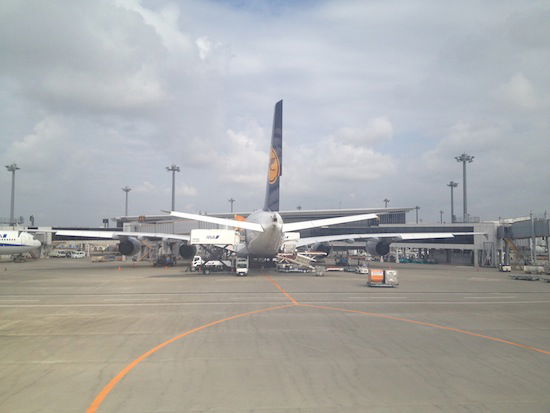 Lufthansa A380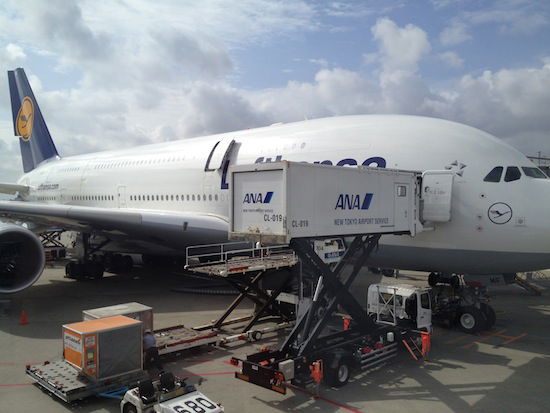 Well hey there!
As soon the seatbelt sign was turned off the curtains were closed to the first class cabin, which is pretty funny when there's only one passenger. Wong Chin and six other "Singapore Girls" lined up to bid me farewell, and so ended one of my best flights ever.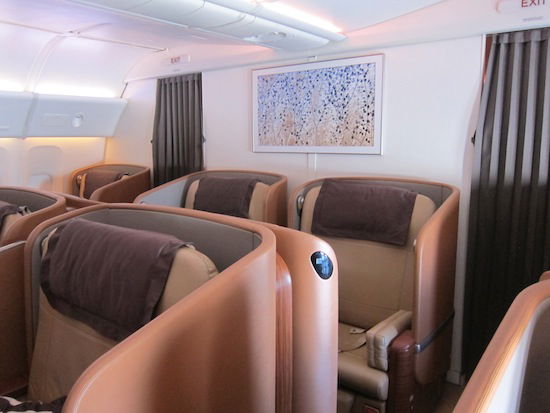 First class cabin upon deplaning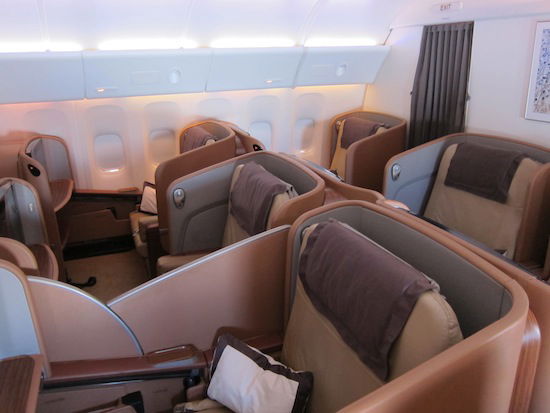 First class cabin upon deplaning
Singapore Airlines isn't always the best in the world. At times the service can be robotic. But when they're good, there's not an airline in the world that can compete with them. Not one.
That's why I plan on redeeming a lot more of my Membership Rewards points for travel on Singapore Airlines over the coming months/years.