---
Singapore Airlines 326
Singapore (SIN) – Frankfurt (FRA)
Monday, July 30
Depart: 1:55PM
Arrive: 8:40PM
Duration: 12hr45min
Aircraft: Boeing 777-300ER
Seat: 2D (First Class)
From the moment we stepped onboard I could tell it would be a fantastic flight. At the door we were greeted by the leading steward and leading stewardess, who directed us to our seats in row two.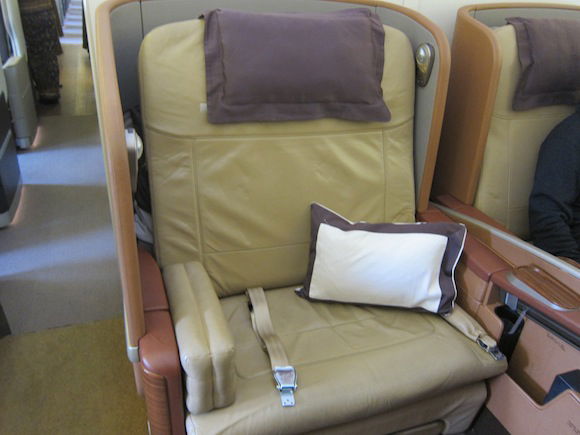 My seat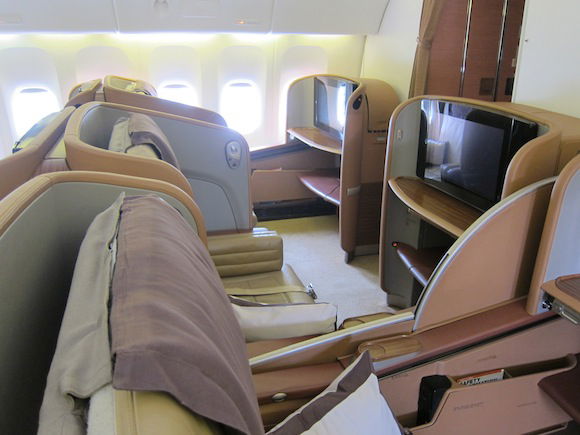 Cabin
While (almost) all Singapore crews are polished, this crew definitely had the "charm" factor. As soon as our bags were stored the leading stewardess informed us we'd have the row to ourselves, as there was only one other passenger in first class.
She offered us beverages, and I went with a glass of Krug. What I find the most telling of a good Singapore first class flight is whether the crew introduces themselves or not. As soon as we were served pre-departure beverages, both the leading steward and leading stewardess came by our seats together, introduced themselves by name, and informed us of the flight time of 12 hours. They said we shouldn't hesitate to ask if there's anything at all we wanted. Moments later the in-flight supervisor came by our seats to welcome us aboard as well, and promised to take great care of us.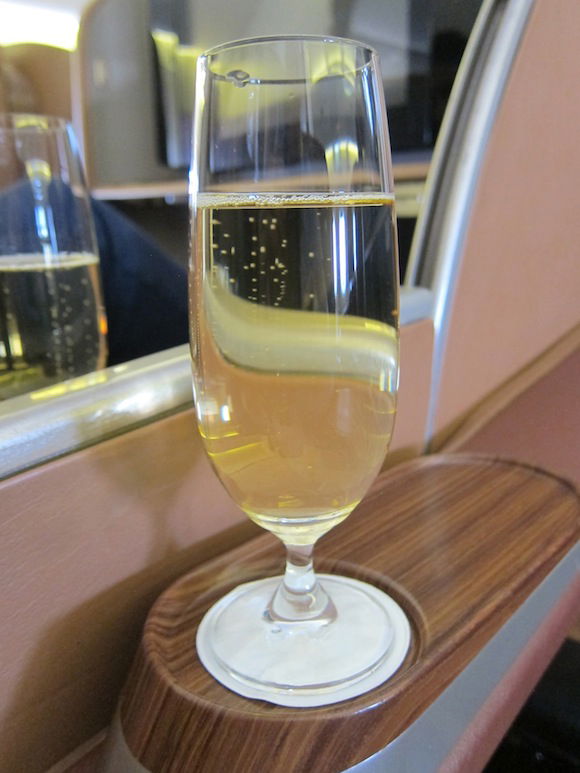 Krug
The pre-departure service was an experience in and of itself as usual. We were offered beverages, newspapers, magazines, pajamas, amenity kits, slippers, eyeshades, and hot towels.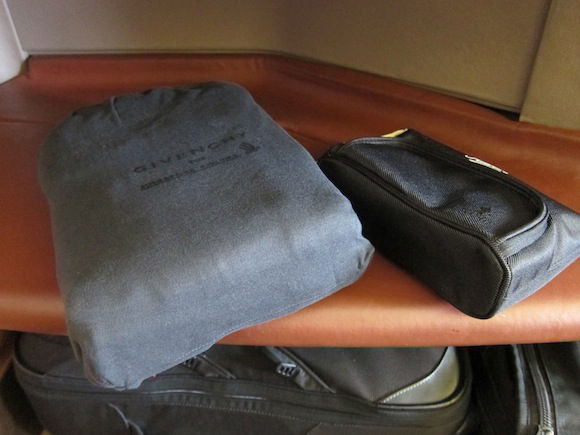 Pajamas and amenity kit
It's the little touches that set apart a fantastic crew from a good crew, and one way to tell is by the way the crew phrases different aspects of the service. For example, instead of saying "what do you want to drink?" it was instead phrased "Mr. Lucky, what would you like to drink to get your flight off to a good start?" Instead of saying "do you want a newspaper or magazine?" it was instead phrased "Mr. Lucky, may I offer you some reading materials to keep you entertained while on the ground? Perhaps the Financial Times or Time Magazine?"
Before pushback I quickly changed into my pajamas, and as I emerged from the lavatory the leading stewardess was waiting there with a clothes hanger, and simply said "Mr. Lucky, allow me."
Within about 10 minutes of us boarding the departure announcement was made, and we began our taxi to the runway. Our taxi was pretty quick, and within about 15 minutes we were airborne. 10 minutes after that the seatbelt sign was turned off and service began.
The leading steward and stewardess worked so well together, and were almost on the level of Janesis, Ivy, and Toon, that I had from Moscow to Singapore. The service was brilliantly coordinated, and at every step of the way it was just apparent how well they were communicating with each other to deliver a flawless experience.
Service started with drinks and nuts. I ordered a Diet Coke and was served both cashews and macadamia nuts.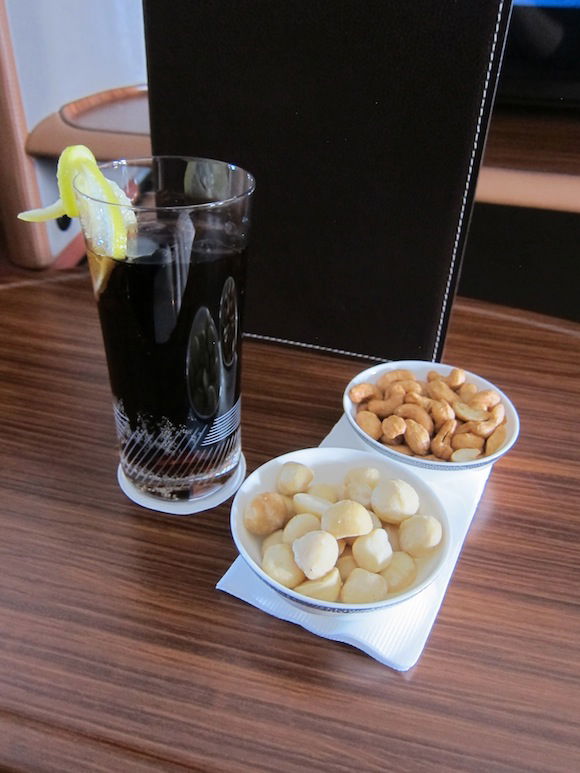 Diet Coke and nuts
At that point meal orders were taken. The German guy seated in row one wasn't eating right away, so we had all three crew members to ourselves.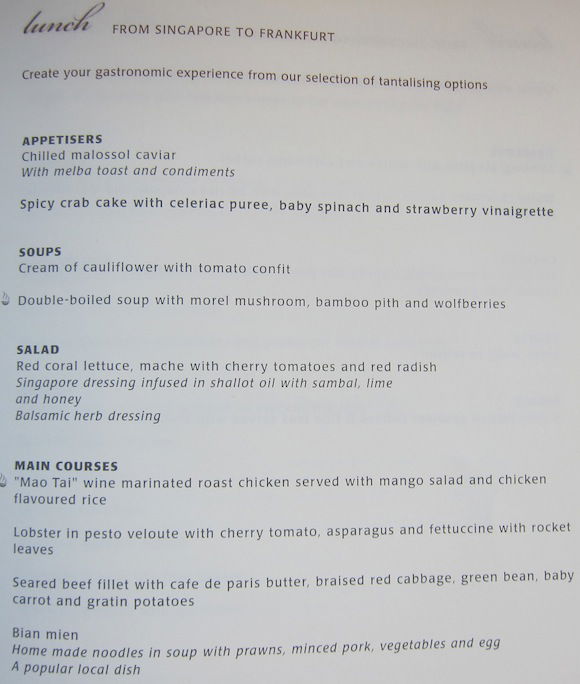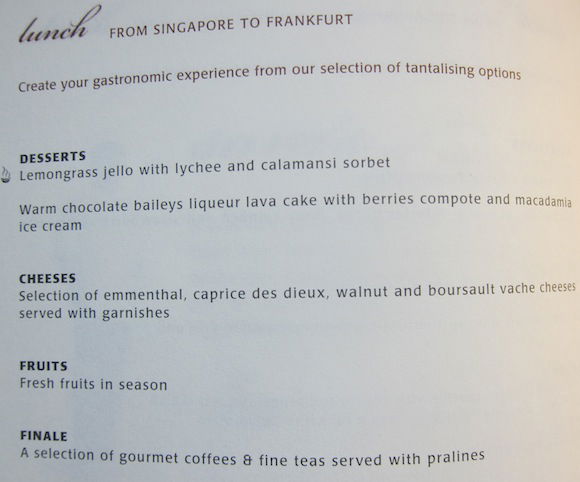 The service was "head tingling," if that makes any sense. You know when you're watching someone be so detail oriented that you get that tingling feeling in your head? Well, I had that throughout the service. My tray table was arranged with amazing precision, and at every interaction the crew was sure that the logos were facing me and that everything was plated symmetrically. When my Diet Coke was empty it would always be replaced with a fresh glass so that I had plenty of ice. Every time a dish was served, the leading stewardess would point at it after placing it down and say "please enjoy, Mr. Lucky."
Anyway, while I found the food rather underwhelming out of Moscow, the food out of Singapore is fantastic.
For the appetizer I had crab cakes, which were delicious and had a kick to them. I was offered bread with the appetizer, and I found the bread selection to be especially good out of Singapore.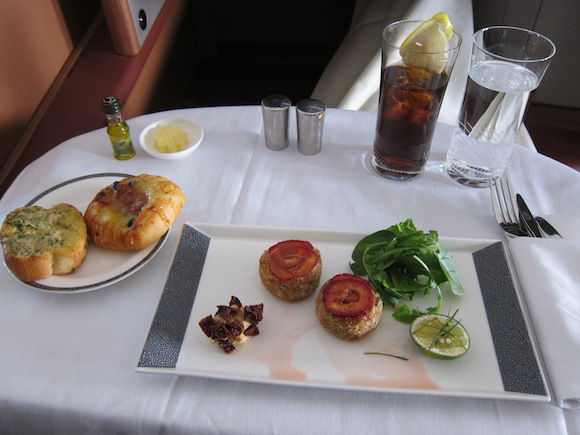 Spicy crab cake with celeriac puree, baby spinach and strawberry vinaigrette

The next course was caviar, once again plated beautifully.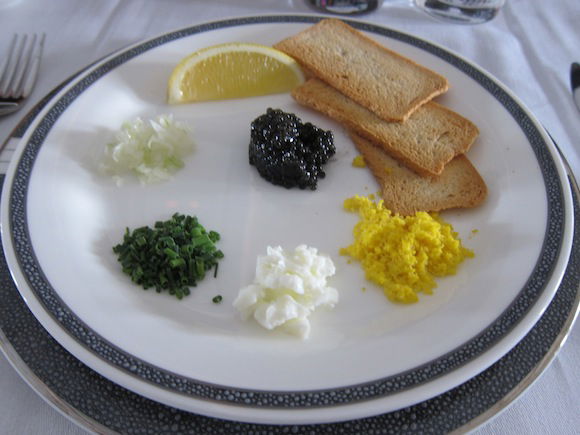 Chilled malossol caviar
After that I was served cauliflower soup, which was once again great.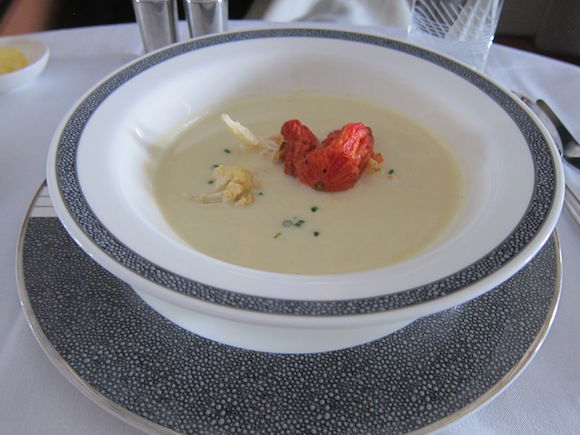 Cream of cauliflower with tomato confit

For the main course I ordered the lobster with fettuccine. This entree was spectacular (though I realize it may not look like it). Literally the best thing I've ever had on a plane, which I wasn't expecting.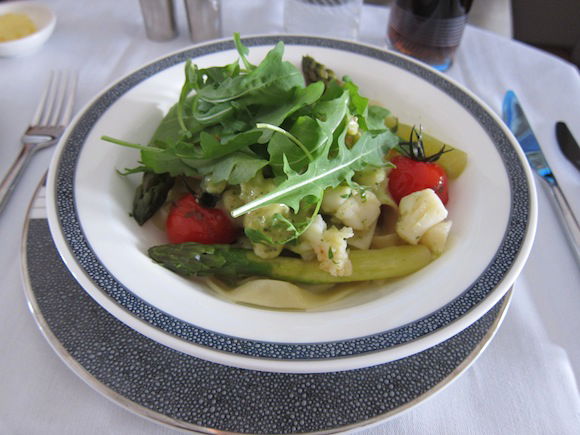 Lobster in pesto veloute with cherry tomato, asparagus and fettuccine with rocket leaves
The dessert was equally awesome, a Baileys lava cake with macadamia nut ice cream. I love nuts, I love chocolate, and I love Baileys. How did they know?!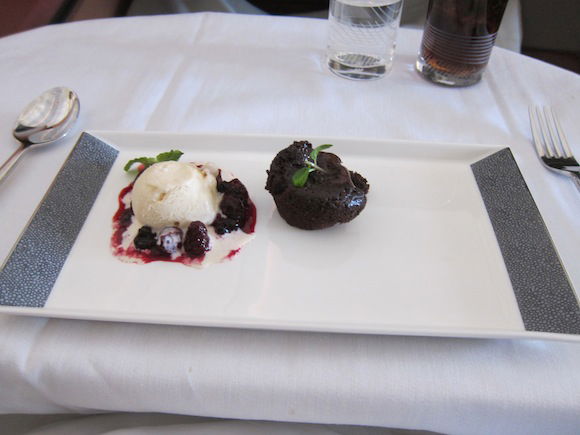 Warm chocolate baileys liqueur lava cake with berries compote and macadamia ice cream
The meal finished off with a selection of pralines and a bottle of water.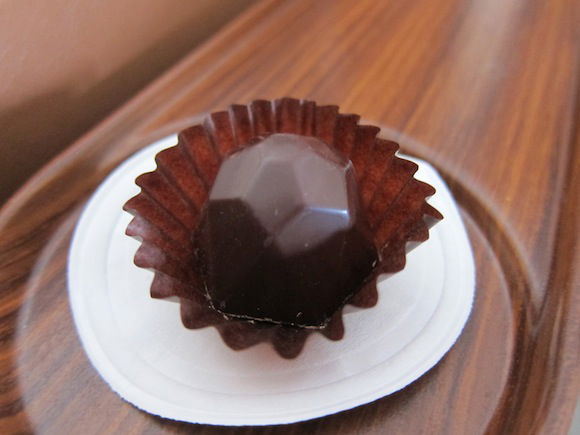 Praline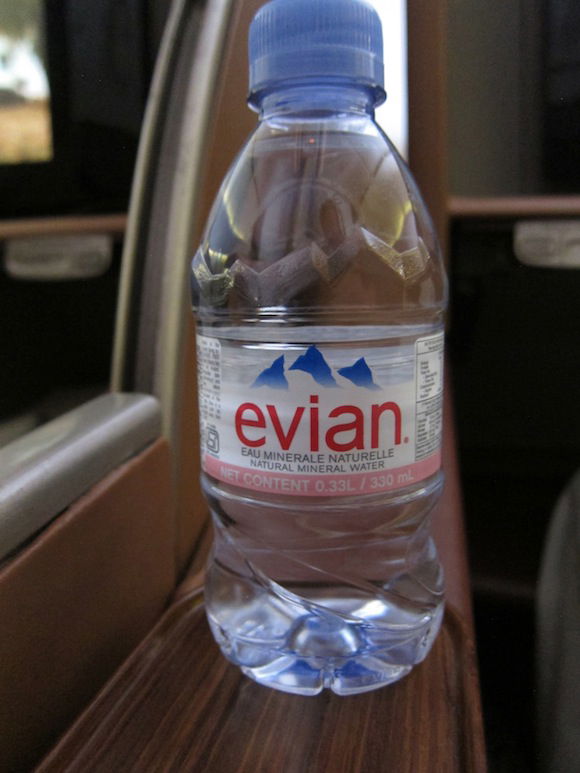 Water
Lunch was done about two hours into the flight, so we had 10 hours to go to Frankfurt. 12 hours is the perfect flight length, in my opinion – it allows two hours on both ends to eat and watch a movie, and eight hours to get a full "night" of sleep.
I requested turndown service after lunch, which was quickly taken care of, and slept for about eight hours, till we were two hours out of Frankfurt.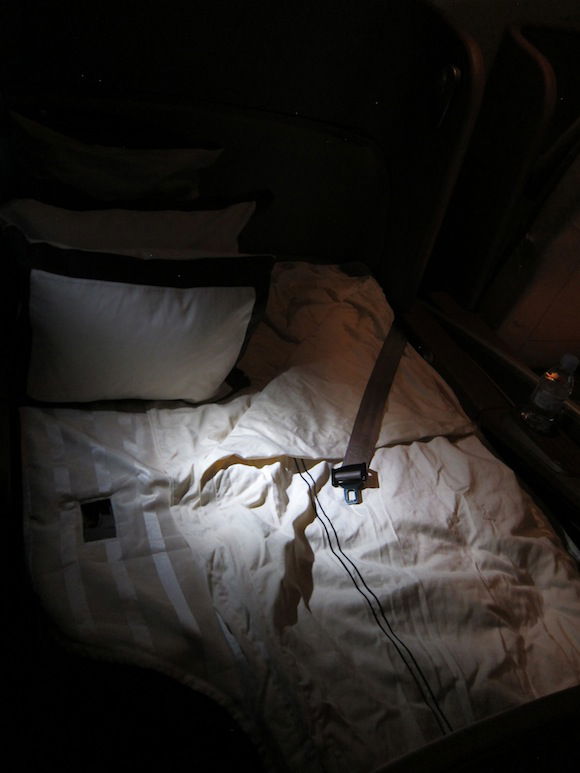 Turndown service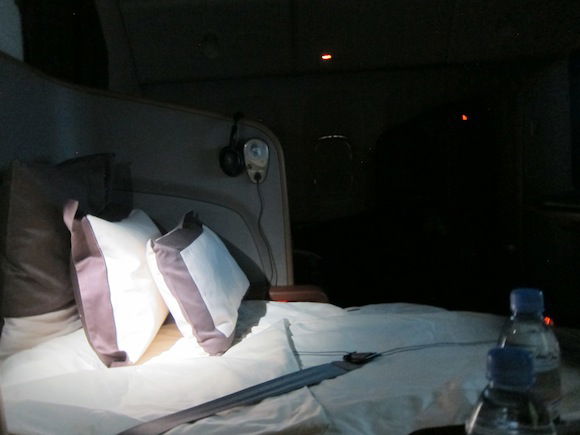 Turndown service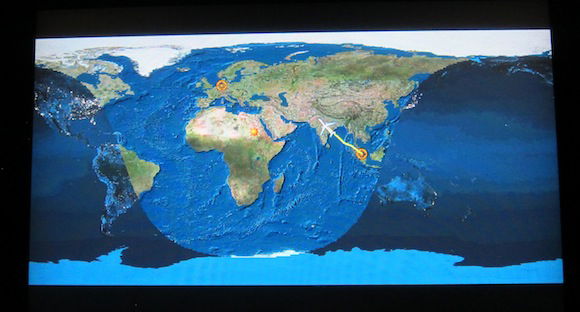 Airshow when I fell asleep
At this point I decided to watch a movie, and selected "The Five-Year Engagement." It was hilarious, and kept me entertained all the way to Frankfurt.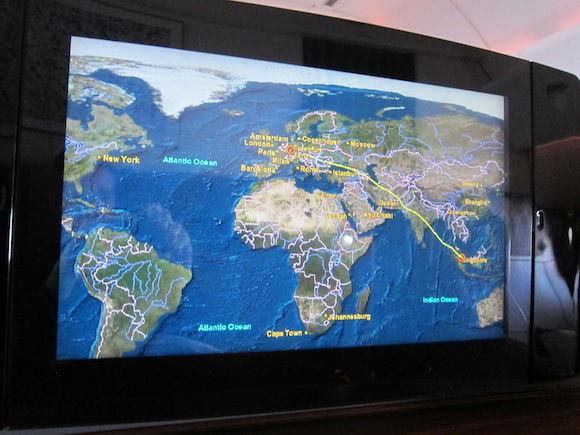 Airshow after waking up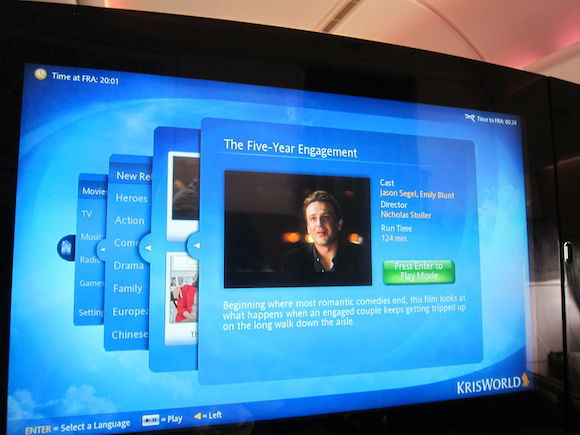 Entertainment selection
About 90 minutes prior to landing the pre-arrival meal service began. The menu read as follows: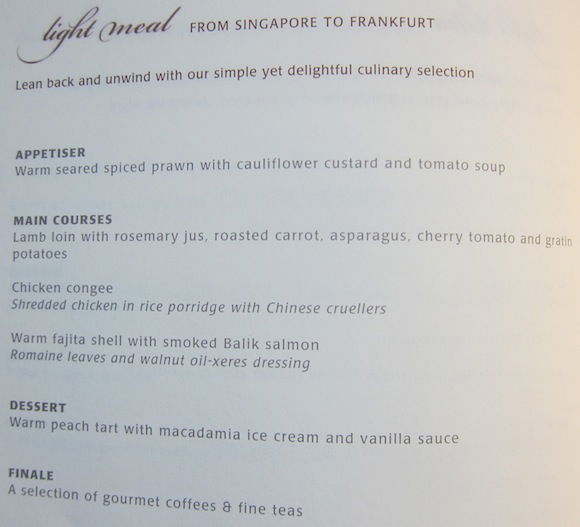 And for anyone that's interested, the snack menu (which I didn't take advantage of) read as follows: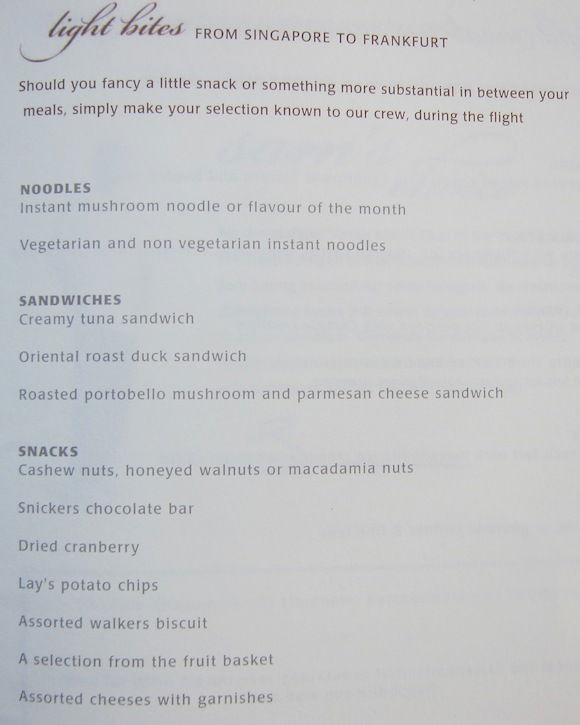 The starter was tomato soup with a massive prawn, which was delicious.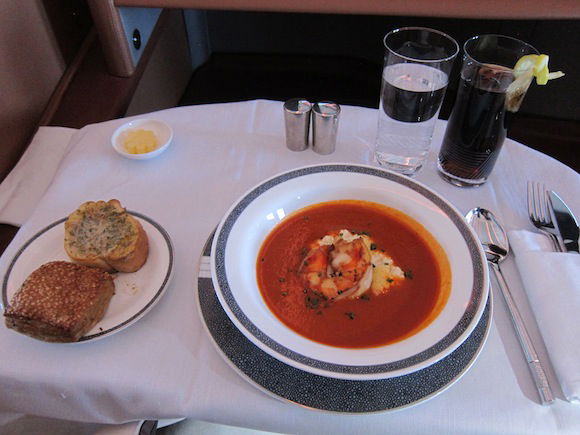 Warm seared spiced prawn with cauliflower custard and tomato soup
Then for the main course I ordered the fajita bowl with balik salmon. I know, it doesn't sound "gourmet," but it was damn good. Nothing beats a simple, well executed meal on a plane.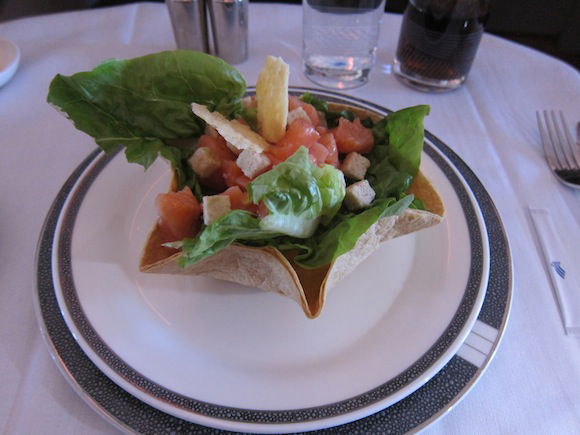 Warm fajita shell with smoked Balik salmon
My friend ordered the lamb loin, which he enjoyed.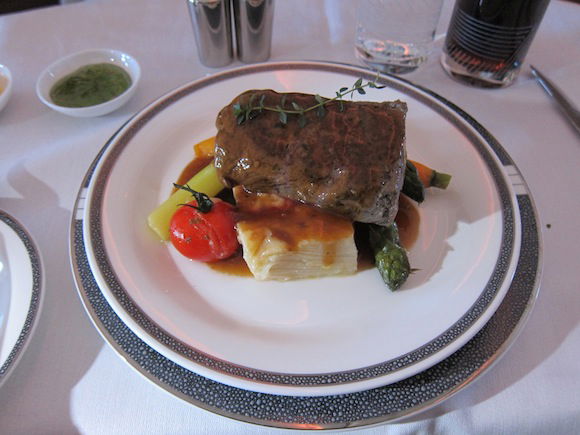 Lamb loin with rosemary jus, roasted carrot, asparagus, cherry tomato and gratin potatoes
For dessert I ordered the warm peach tart with ice cream.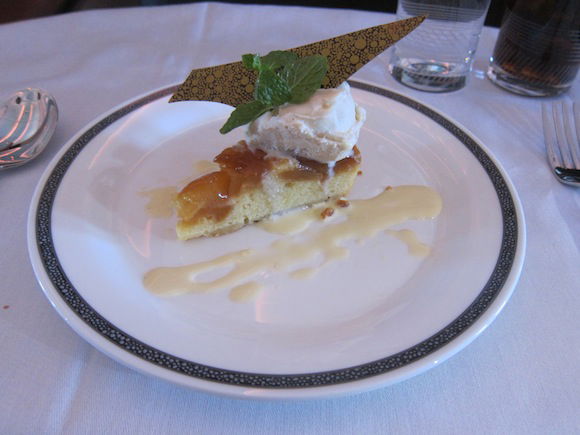 Warm peach tart with macadamia ice cream and vanilla sauce
The two dining experiences on this flight couldn't have been any better, in terms of the quality of food, pace of service, etc. Heck, I'd say the entire flight couldn't have been better – amazing service, great food, perfect flight length, and a fantastic seat.
About 30 minutes prior to arrival I changed back into my jeans and t-shirt and restowed my carry-ons. The friendly crew bid farewell to us on the descent, and wished us a pleasant onward journey.
The sun was slowly starting to set during our descent, and the views on the approach were beautiful, especially of Frankfurt and the Rhine.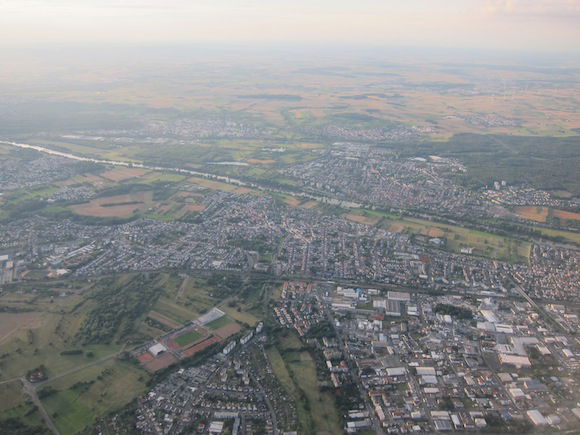 On approach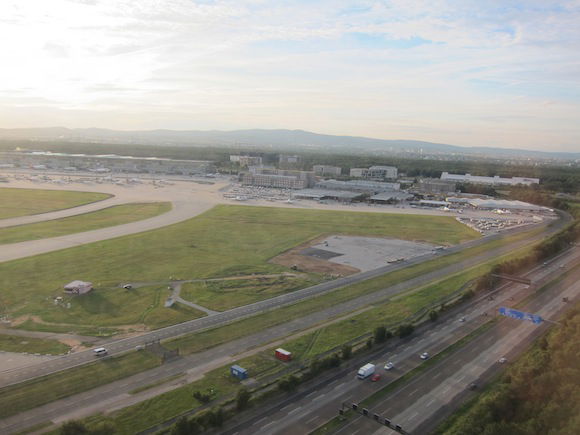 Final approach
After a smooth touch down we held short of the parallel runway, waiting for a China Southern 777 to land, which took about five minutes.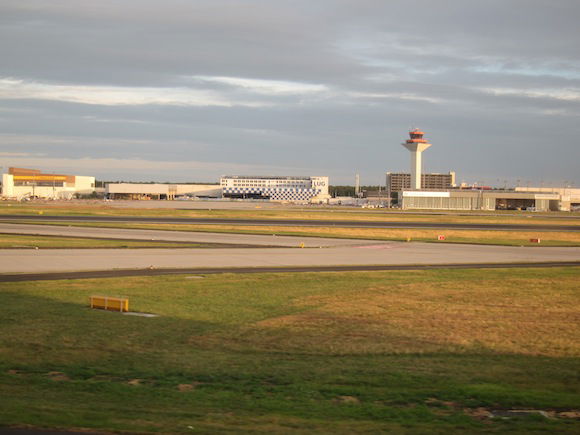 Frankfurt Airport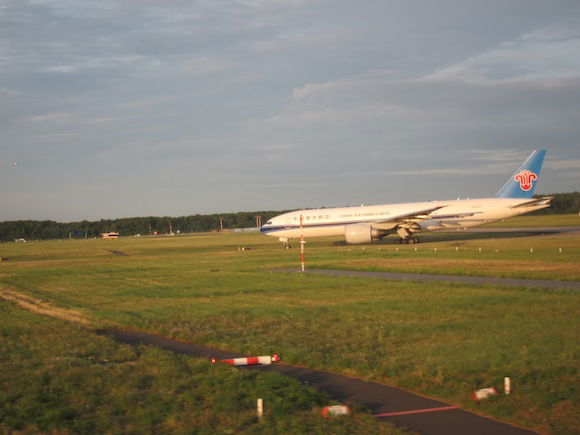 China Southern 777
As much as Frankfurt ranks as one of the most poorly designed "first world" airports, it's just such an awesome airport as far as traffic goes. For one I love Lufthansa, so seeing their entire fleet in one place gets me pretty excited. But beyond that you have airlines from everywhere. And there's something incredibly organized about the airport's disorganization. For example, we parked right next to an ANA and Thai 777-300ER. Three Star Alliance 777-300ERs from Asia all parking next to one another is pretty sexy.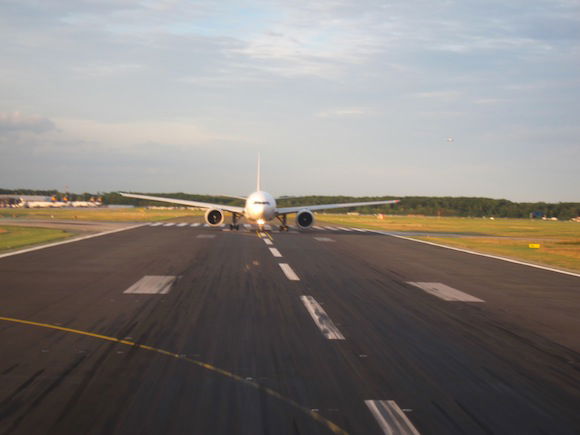 Crossing the parallel runway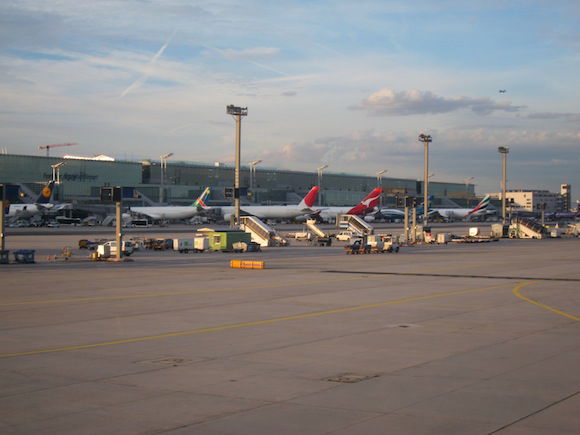 Terminal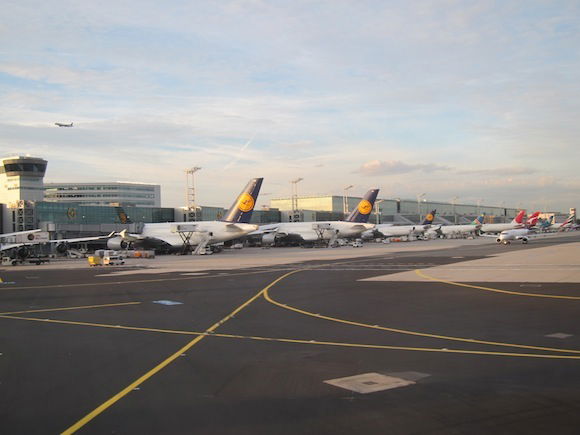 Terminal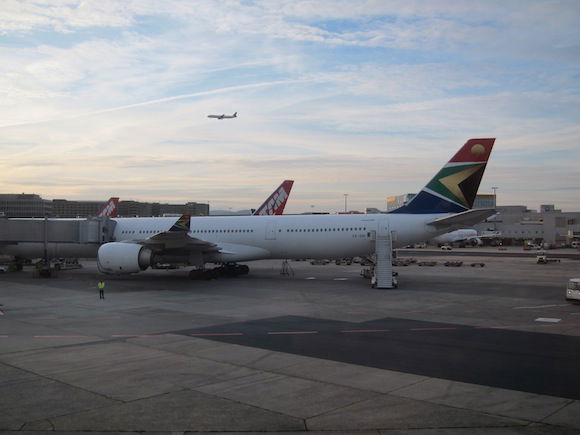 Terminal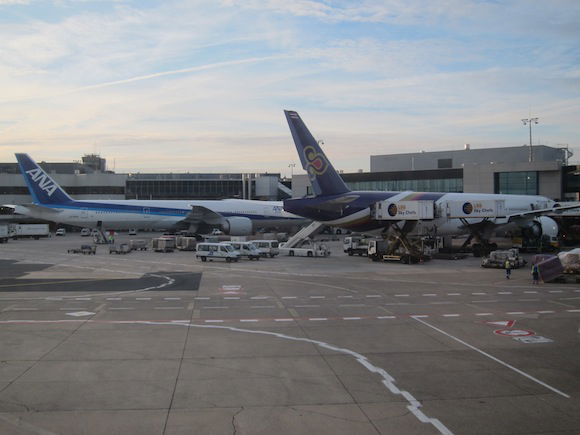 Terminal
The more time I spend at Frankfurt Airport, the more tempted I am to reconsider my plans of moving to the First Class Terminal.
Anyway, the flight was perfect. Simply perfect. It's rare that I can't even find one thing to complain about, but this flight was one of those.