I should start with two (random and only mildly related) pieces of information. First of all, despite jetsetting around the world right now, I'm having a crappy week, so I was kind of looking forward to the solitude of being on an airplane for 24 hours, without too much human intervention. Second, I'm a bad drinker. I usually don't drink alcohol, though I can't turn down a glass or two of Dom/Krug on Singapore. More than anything else it's the beauty of the glass, bubbles, etc., that I like, as opposed to the actual alcohol.
You know I'm a lightweight when I start making animal noises in the Singapore Airlines Private Room after two glasses of champagne. Oy. This is why I stick to Diet Coke with lime. Anyway, on to the actual flight…
As many of you guessed in my previous post, I just flew from Singapore to Tokyo Narita on Singapore Airlines in first class. I redeemed 51,000 KrisFlyer miles for the one-way ticket, which I got through a Membership Rewards points transfer.
In theory the flight I was on, SQ638, was entirely uninteresting. It's a redeye flight with simply a breakfast service, though the service was out-of-this-world amazing. Hands down the best I've ever had on any airline ever. And this isn't just the bottle of Krug I polished off talking.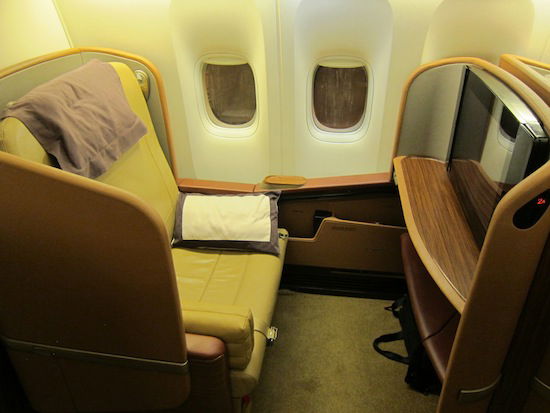 As I boarded the in-flight service manager and leading stewardess welcomed me aboard by name before even looking at my boarding pass. As I was escorted to my seat (2A), the leading stewardess, Wong Chin said with the biggest smile on her face "Mr. Lucky, you have first class all to yourself tonight, and I promise to pamper you." Oh, the possibilities…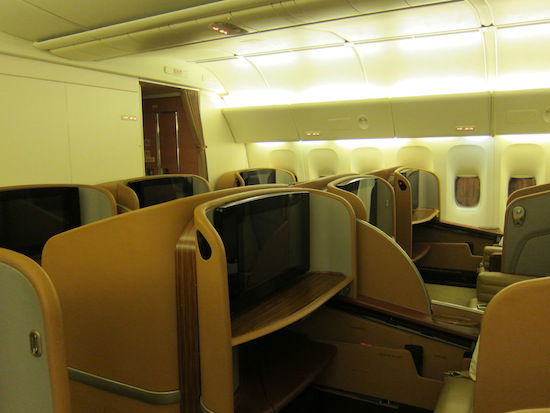 And she did proceed to pamper me nonstop, even though I slept for most of the flight. At boarding she presented me with newspapers, magazines, a pre-departure beverage (when I ordered champagne she had a smirk on her face and obvious pride as she said "Mr. Lucky, would you prefer Dom or Krug?"), hot towels, pajamas, and the menu.
Singapore Airlines only serves breakfast on this flight so she asked whether I wanted it after takeoff or before landing, and I went with the latter. She asked if I wanted to already make a selection so that she could have it prepared for me when I wake up, and I went with the scrambled eggs.
While I was assigned seat 2A, Wong Chin set up my bed in 1A so that I'd be able to leave my original seat in the upright position for breakfast. After a nice nap I woke up and within two minutes Wong Chin appeared and said "Mr. Lucky, did you enjoy your rest? May I get you something to drink, perhaps some hot cocoa?" What am I, five years old? Actually I guess I am, cause I was totally in the mood.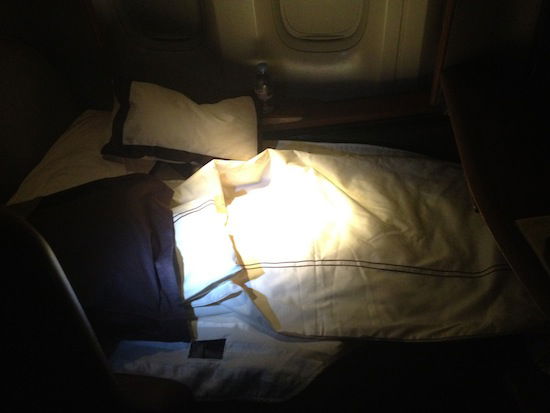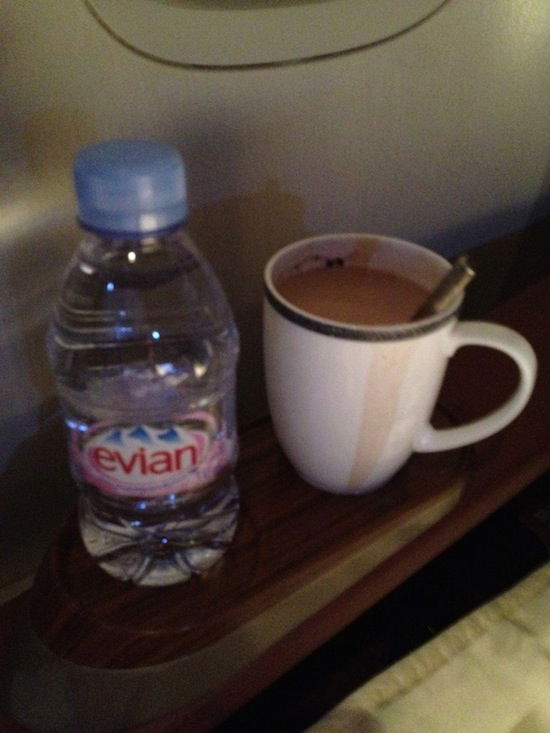 Then I went back to seat 2A, where Wong Chin had set up the following display (and note that border is hand drawn as well, and she made the flower display out of paper on her own):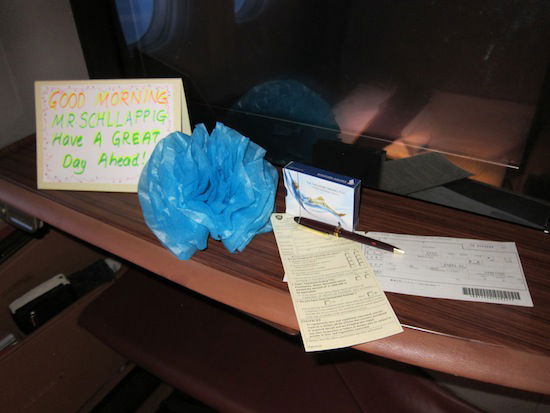 As soon as she saw that I was back in seat 2A she came over and said "Mr. Lucky, I took the liberty of setting up a little display for you. I hope you have an amazing day."
It was truly heartwarming. There's good service and then there are people that just want to make you smile, and Wong Chin fits in the latter category.
We talked for a few minutes, and her attitude was so refreshing — "Mr. Lucky, I love my job and interacting with passengers. When I set up the display the in-flight manager asked me what I was doing, and I said 'making my passenger smile.' That's my passion."
I kept stressing to her how amazing she was and how touching the gesture was, and said I'd put the note on my desk in my office as it would put a smile on my face every morning. She responded with "Mr. Lucky, in that instance may I put some more stickers on it for you?"
10 minutes later she returned with this: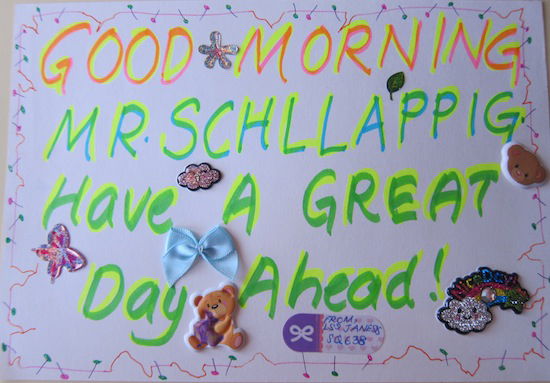 While airlines, hotel chains, etc., might be large, faceless corporations, it's individuals that deliver the experience. And while some might call me naive for thinking this, at times I'm genuinely touched by actions like this.
Stay tuned for the actual trip report, as this is only the top of the iceberg as far as the service goes.