---
After an amazing flight from Moscow we arrived at terminal 3, only a few minutes walk from the Silver Kris Lounge. Terminal 3 at Changi is probably the most impressive terminal in the world. It has more shopping and amenities than any other airport I've transited.
Another thing I love about Changi Airport is that you clear security at the individual gate, as opposed to most airports where you have to clear transit security as soon as you get off your flight. I far prefer the Changi system since I'd much rather go to the lounge and shower after a long flight than first queue for security.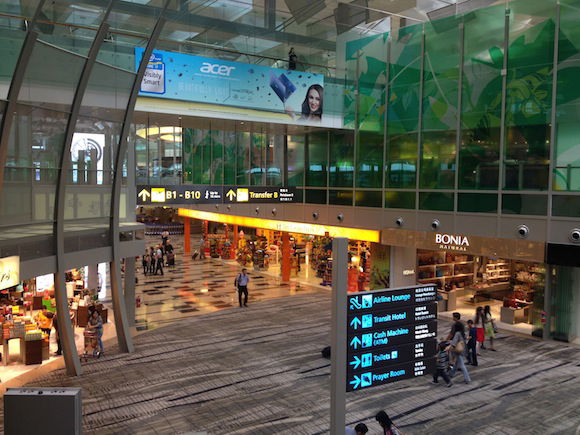 Terminal 3 Changi
At the entrance of the Silver Kris Lounge are several agents that just peek at your boarding pass as you walk in (they don't usually scan them), and they initially only invited us to use the business class section, since our connecting flight was in business class. However I reminded them we were arriving in first class, so they invited us to use the first class section. Singapore also has The Private Room, though that's only reserved for outbound Singapore Airlines first class passengers, so we were only able to use that on the return.
The first class lounge is quite nice and reasonably quiet, as it's populated mostly by Star Alliance first class passengers and Singapore's top tier flyers.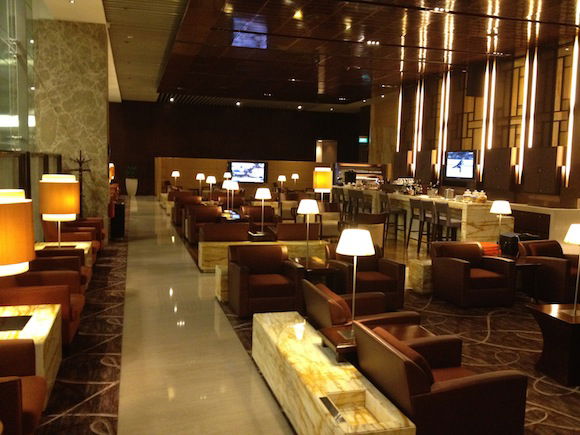 First class lounge
I headed straight for a shower room, and upon my return powered up my laptop to catch up on some emails. After getting a bit of work done I checked out the buffet which was pretty extensive. I wasn't hungry, though couldn't resist some Ben & Jerry's.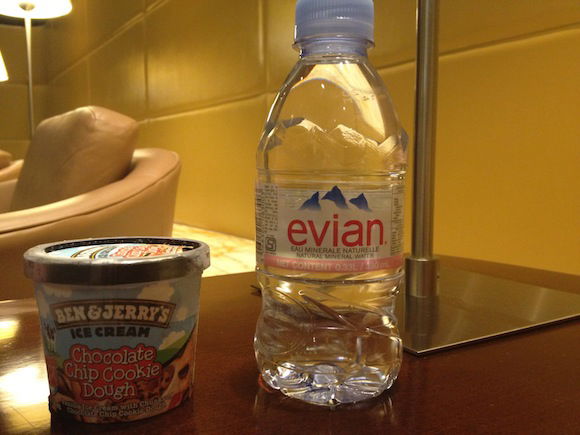 It might be 8AM, but why not?
Unfortunately our connecting flight was leaving out of terminal 2, so we had to take the tram there. We were departing from gate E11, where there was quite a queue for security. The one downside to security at the gates is that they don't seem to have a premium lane anymore, so we had to queue for about 15 minutes.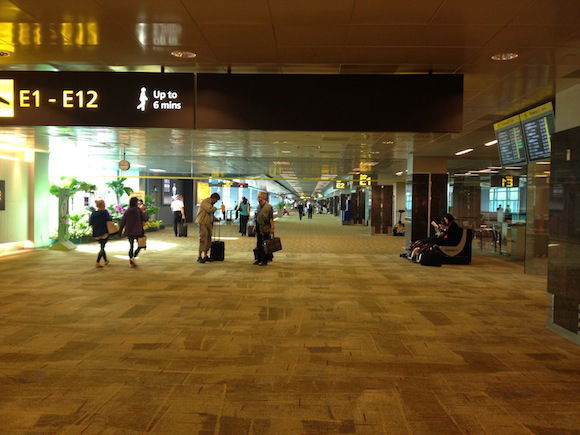 Terminal 2
As soon as you're through security at the gate, an agent already checks your boarding pass and passport, so you don't have to show anything to board the plane.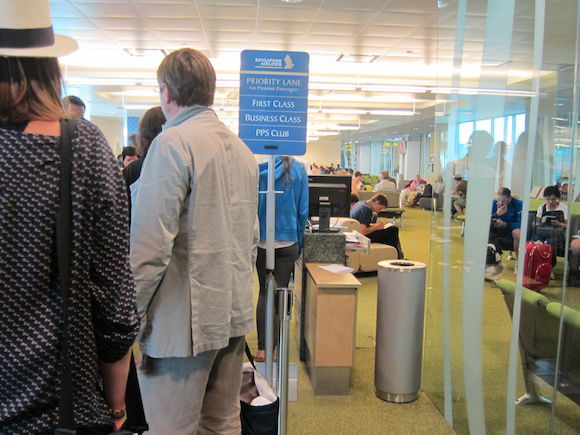 Gate
At around 9:15AM boarding was announced, which was a free for all.
Singapore Airlines 942
Singapore (SIN) – Bali (DPS)
Tuesday, July 24
Depart: 9:35AM
Arrive: 12:05PM
Duration: 2hr30min
Aircraft: Boeing 777-200
Seat: 16C (Business Class)
Singapore's service on intra-Asia flights is very robotic and scripted, but not in a bad way. They have so many people to serve and the flights are so short that they're just going through the "motions," though in typical Singapore style with smiles and charm.
I settled into my seat, 16C, which was an old recliner seat with plenty of legroom. There was a pillow and wrapped blanket waiting for me at my seat.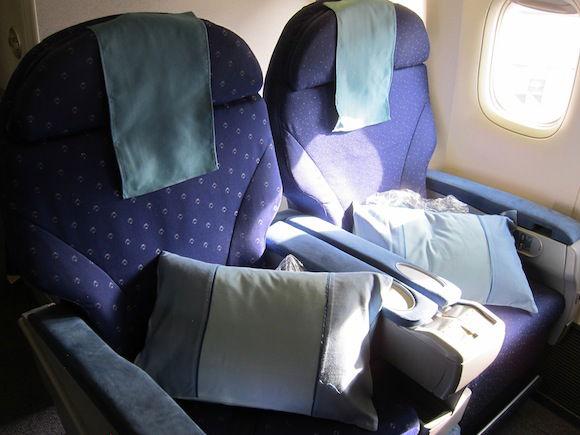 My seat, 16C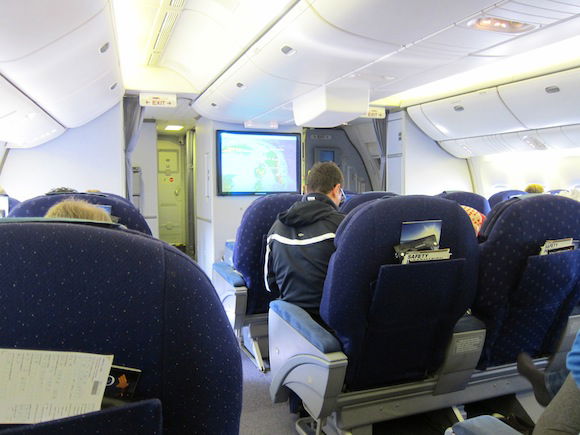 View from my seat
Within moments of settling in I was offered a drink, magazines, and newspapers. I selected an orange juice, and was later offered a refill which I declined. The most impressive part of the service has to be that they serve everyone as they board, as opposed to waiting till everyone settles in. No clue how they keep track of everyone, but they do!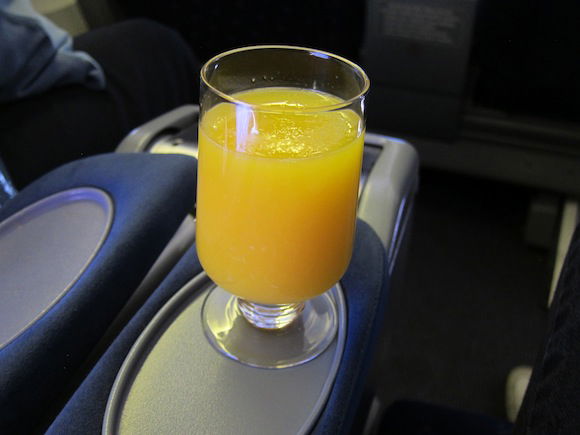 Pre-departure orange juice
Shortly before push back the captain came on the PA to advise us of our flight time of two hours, which he anticipated would put us into Bali on-time. We had a rather long taxi to the runway, though I do love looking at Singapore Airlines' planes, so we could've taxied all day for all I cared.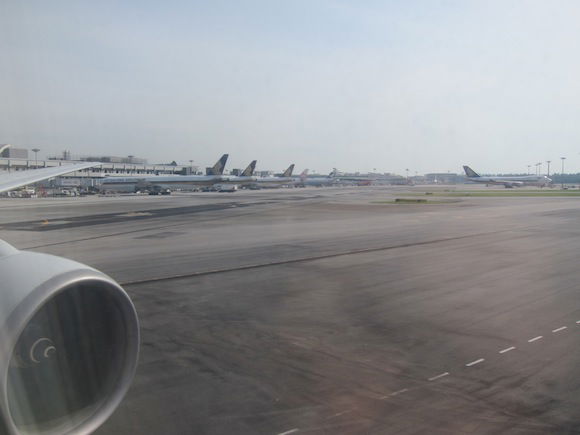 Taxi to the runway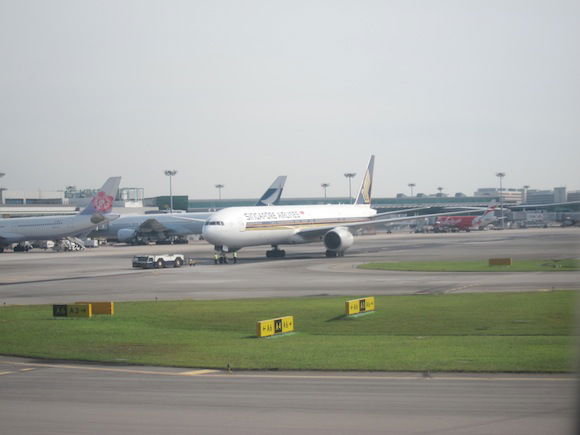 Taxi to the runway
By the time we made it to the runway we were number two for takeoff, behind an Emirates 777 which was the 1,000th one ever delivered (it had a big logo on the back of the plane indicating that).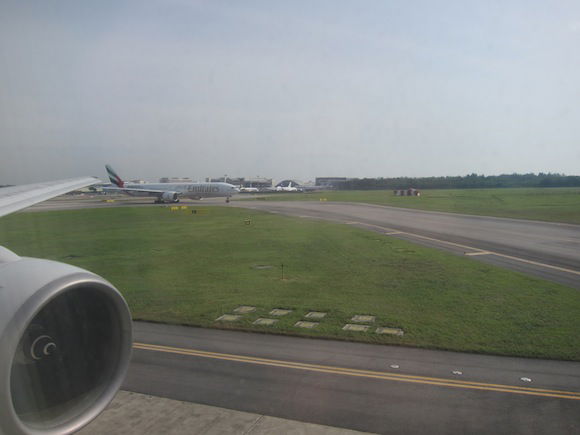 Taxi to the runway
About 15 minutes after takeoff the seat belt sign was turned off and service began. The menu, which was in the seat back pocket, read as follows: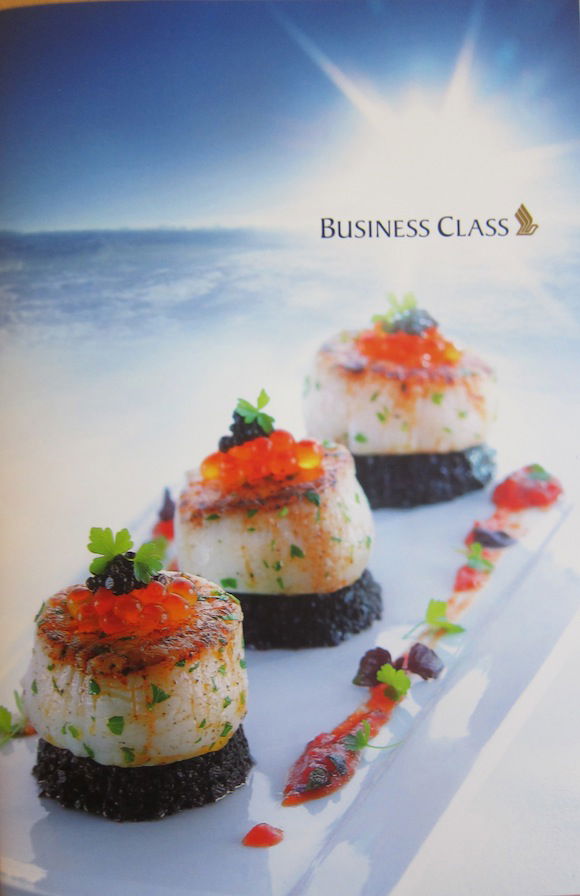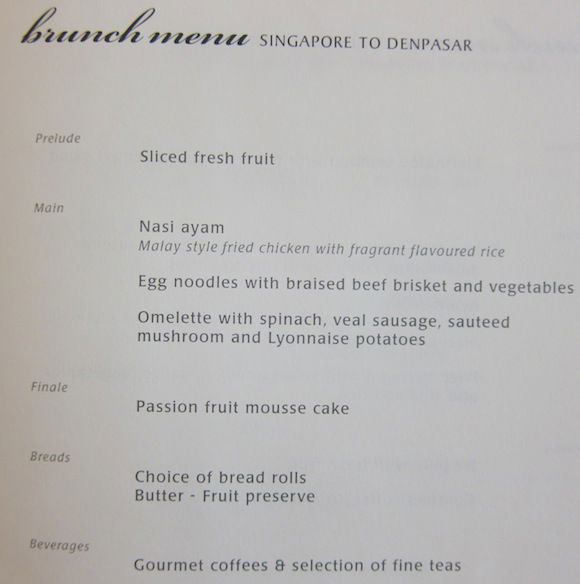 And the wine list read as follows: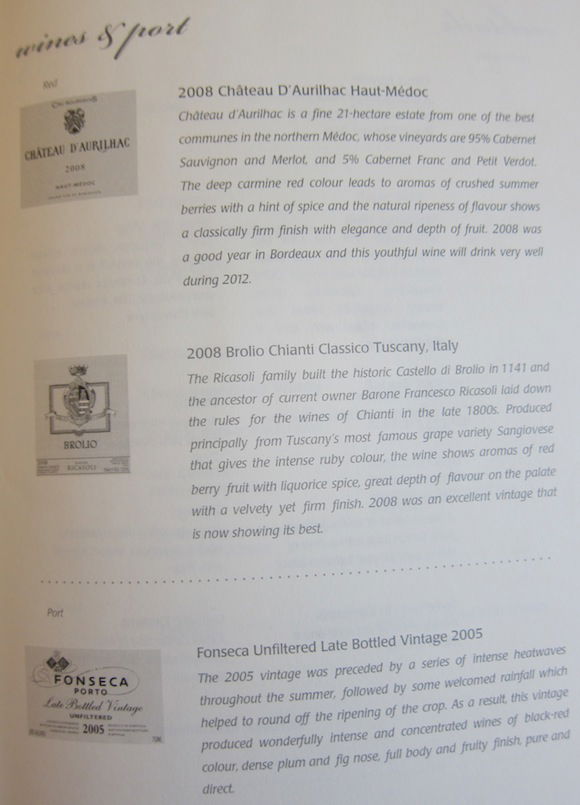 The service started with a selection of juices off a tray, which was followed quickly by a cart with the meals. Singapore doesn't take meal orders in short-haul business class, but instead comes around with the cart and takes orders and plates the meals in the aisle.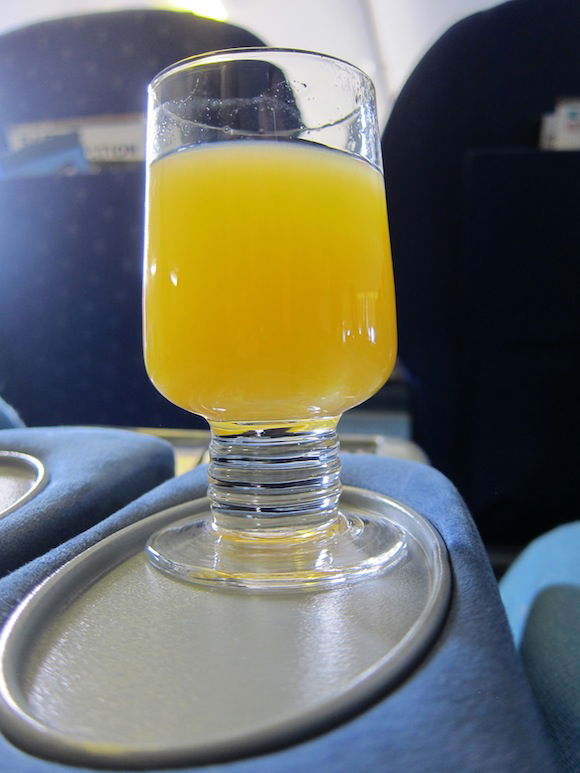 Orange juice
For the main course I selected the beef with noodles, which was delicious.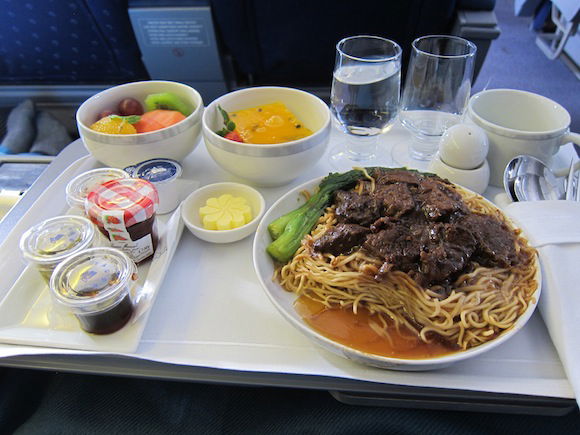 Egg noodles with braised beef brisket and vegetables
My friend had the Malay style fried chicken, which he wasn't especially fond of.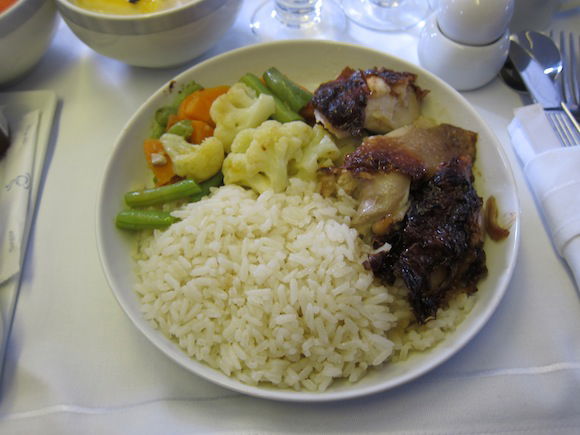 Nasi ayam
After brunch we had about an hour to go to Bali, so I reclined to try and get some rest. Almost all the passengers in business class seemed to be connecting from Europe, and they mostly conked out for the entire flight. The seat reclined maybe 150 degrees, so was extremely comfortable for a short-haul seat.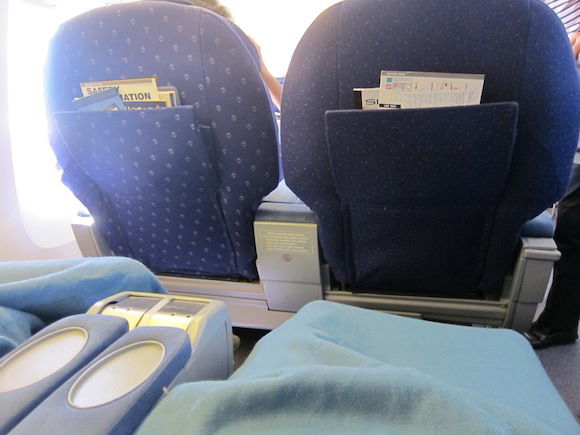 Seat reclined
As I woke up we were beginning our final descent into Bali, with great views on approach.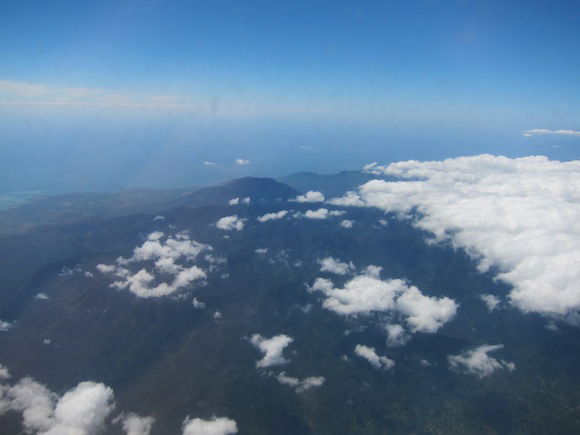 Approaching Bali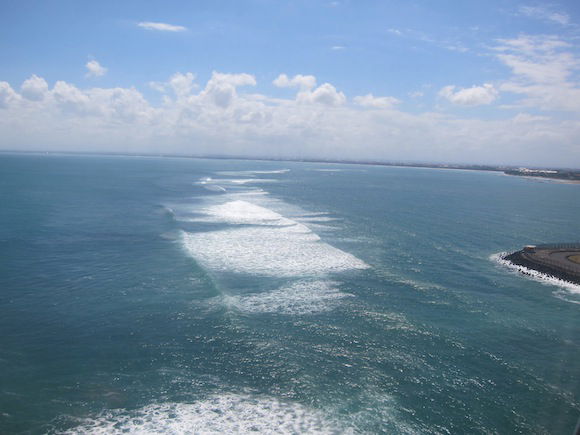 On final approach
After a smooth touch down and quick taxi we made it to our gate.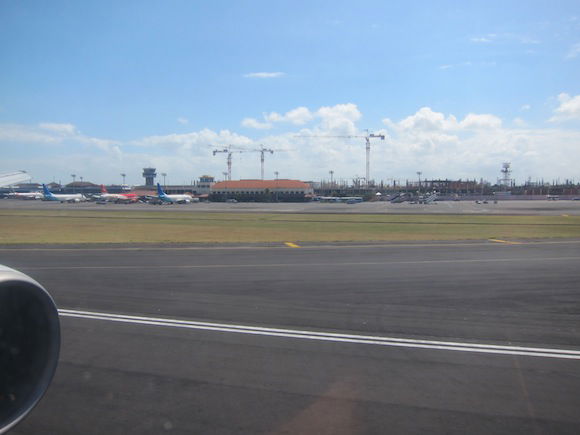 On the ground in Bali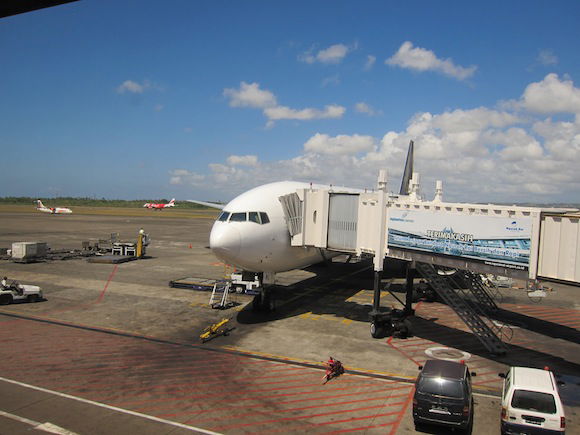 Our plane
Immigration was reasonably quick and before 12:30PM we were in a car on our way to the InterContinental (they include an airport car transfer for club guests).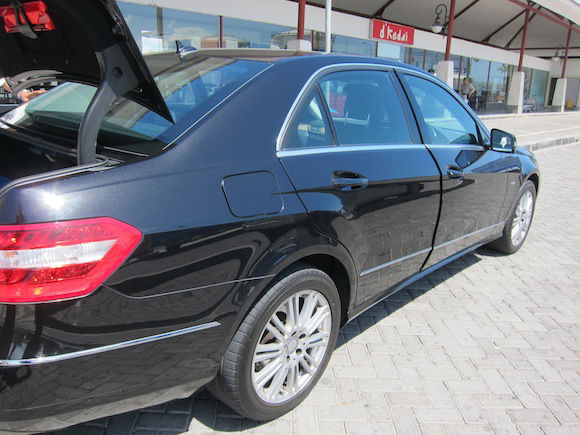 Car to the InterContinental
On the whole Singapore regional business class is a pleasant experience. The product is somewhat aged and "no frills," but for such a short flight it beats what's offered in Europe and the US by a long shot.