---
We left the hotel at about 6:45AM for our 9:15AM departure, and made it to the airport in under 45 minutes, while rocking out to the greatest hits of 2006 courtesy of Bali's top 40 radio station.
The Bali Airport exterior is pretty unique, and it's about a five minute walk under the covered walkway from the drop off area to the terminal.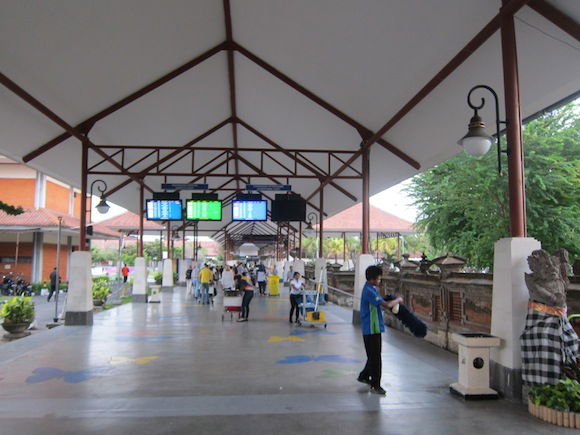 Walkway to terminal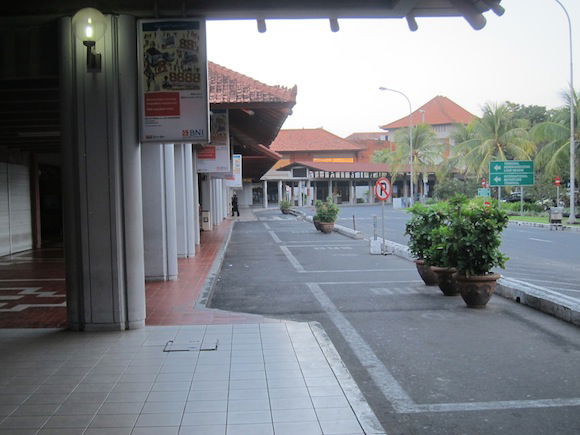 Terminal
In Bali all bags are screened before even entering the terminal, and the queue took about 30 minutes to get through. At that point we were at the Singapore Airlines check-in desk, which is located at the far end of the terminal.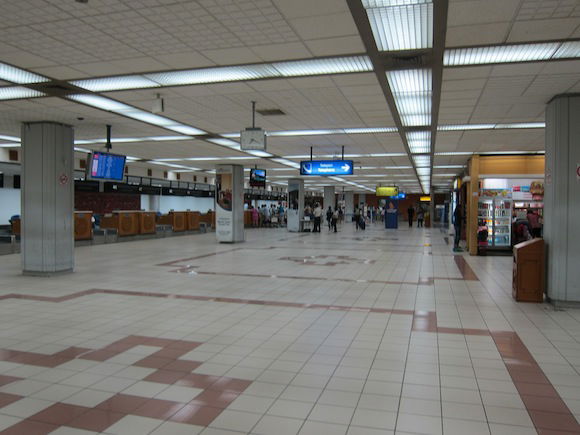 Terminal
Check-in was efficient and within a few minutes we cleared immigration and security. We headed straight for the Premier Lounge, which is the contract lounge used by most airlines in Bali. Unfortunately it's located at the opposite end of the terminal as the Singapore gate, so it's about a 10 minute walk between them.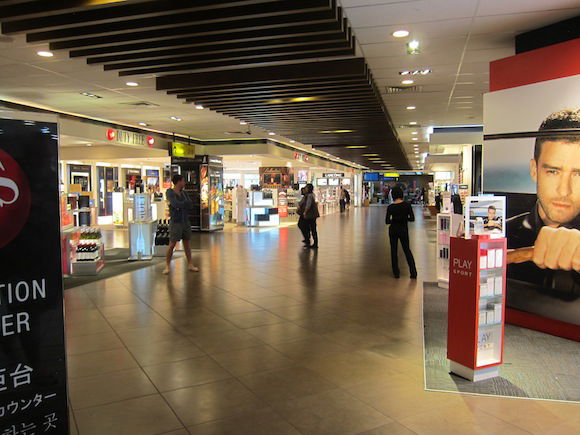 Duty free shopping
The lounge is on the second floor and there's no elevator, so the lounge has some "bag carriers" that help you carry your bag up and down the stairs.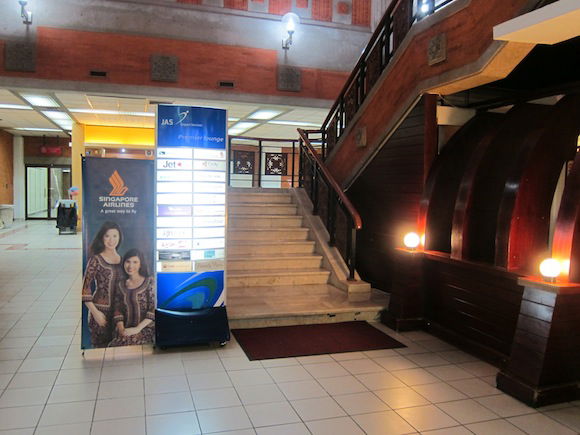 Premier Lounge entrance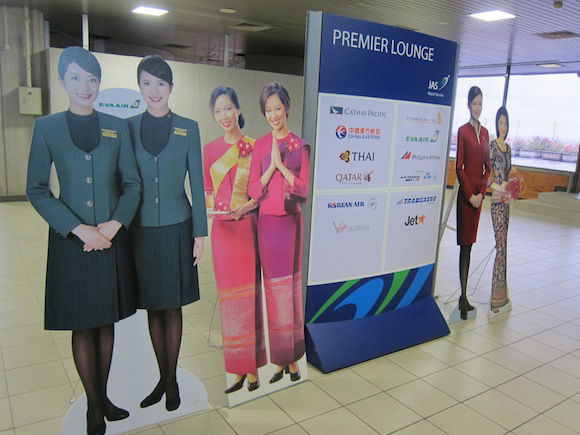 Premier Lounge entrance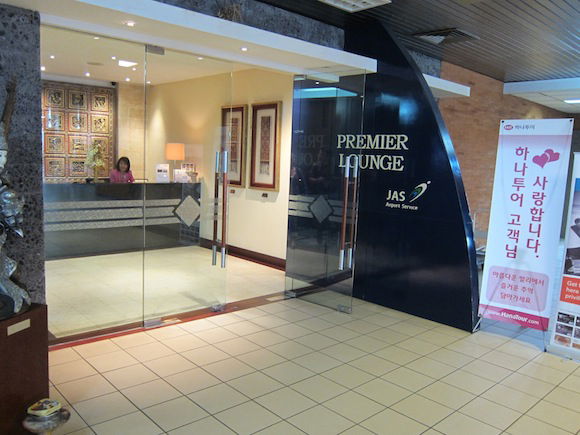 Premier Lounge entrance
This is definitely one of the nicer contract lounges out there, with plenty of seating, and even a very nice balcony overlooking the runway.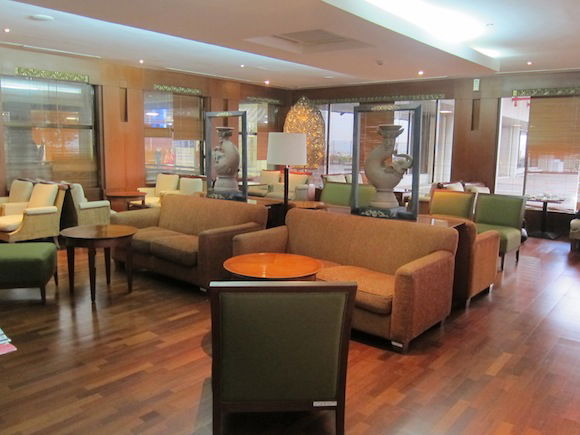 Premier Lounge seating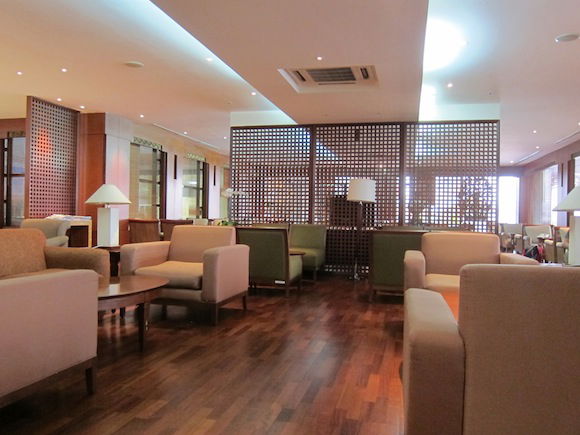 Premier Lounge seating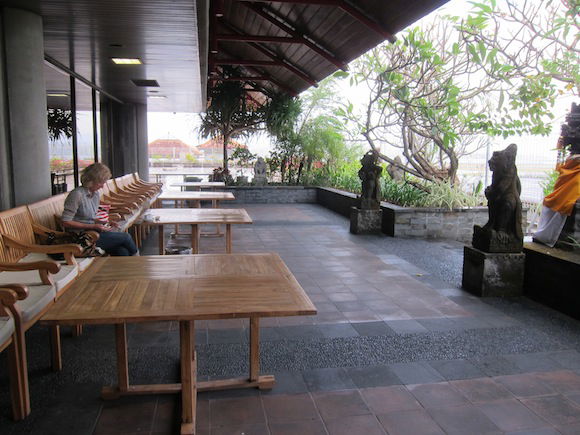 Premier Lounge balcony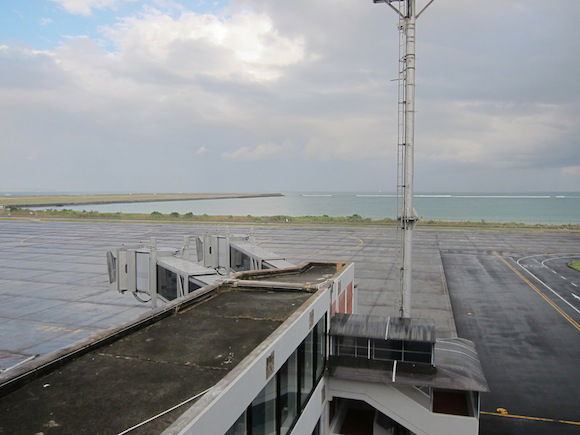 View from Premier Lounge
There's also quite a nice buffet with fruit, yogurt, omelets, etc.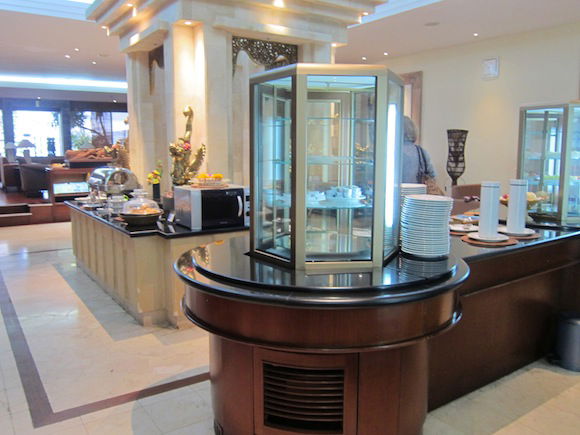 Premier Lounge food service area
At around 8:40AM we headed to the gate, where boarding was just being announced.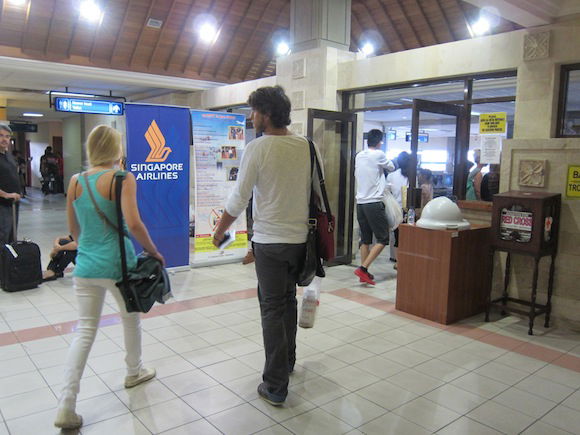 Departure gate

Departure gate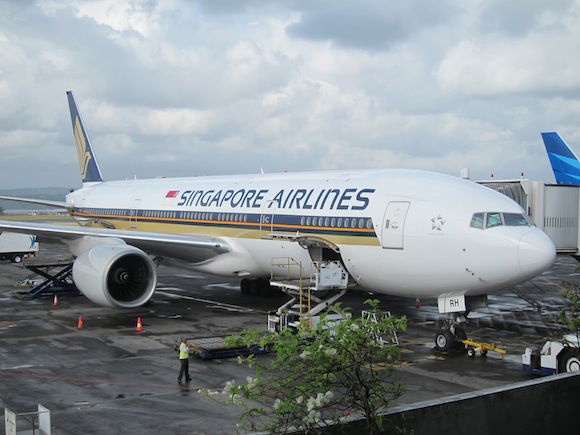 Our 777 bound for Singapore
Singapore Airlines 941
Bali (DPS) – Singapore (SIN)
Monday, July 30
Depart: 9:15AM
Arrive: 11:45AM
Duration: 2hr30min
Aircraft: Boeing 777-200
Seat: 15H (Business Class)
Once aboard we were welcomed by the friendly and polished crew, who directed us to our seats in row 15. The aircraft featured the standard regional business class seats, which are extremely comfortable for such a short flight.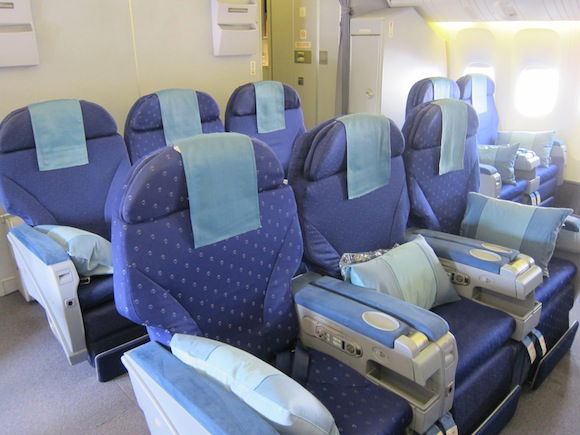 Business class

My seat, 15H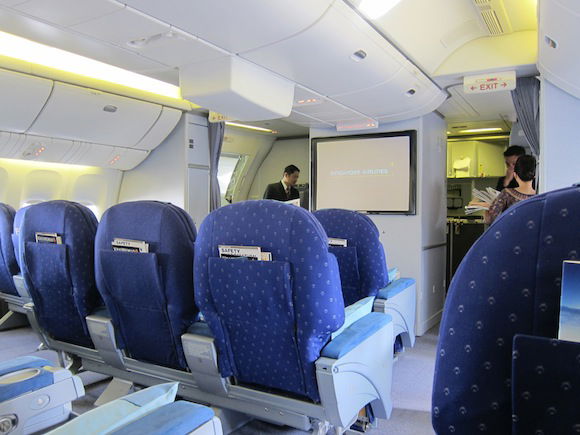 View from my seat
Within moments of settling in I was offered a pre-departure beverage, newspapers, magazines, hot towel, etc.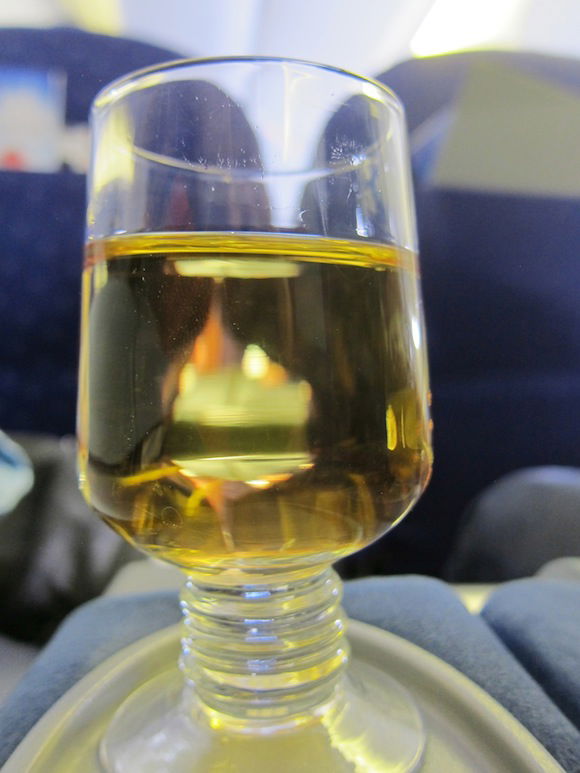 Apple juice
Within 20 minutes boarding was complete, with business class about half full and coach nearly full. As departure time approached the captain came on the PA to advise us of our flight time of two hours, anticipating an on-time arrival in Singapore.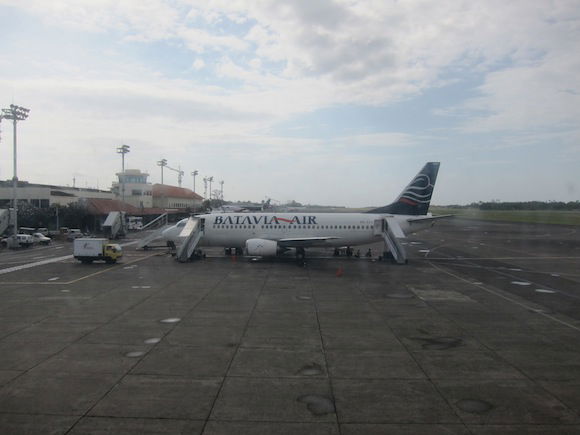 Traffic in Bali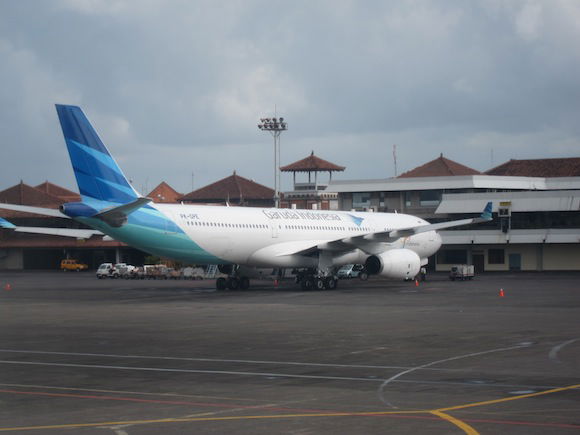 Traffic in Bali
We quickly taxied to the runway, where we were immediately cleared for takeoff.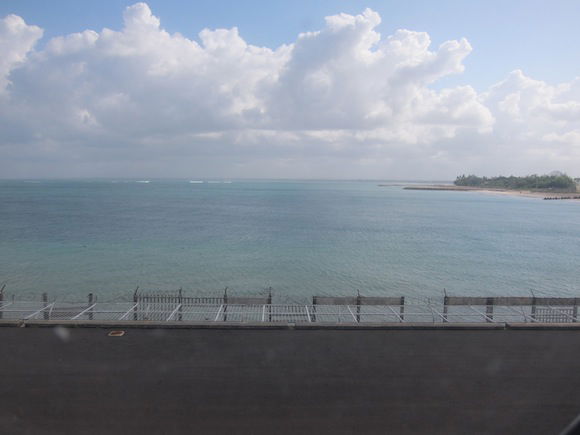 View from the end of the runway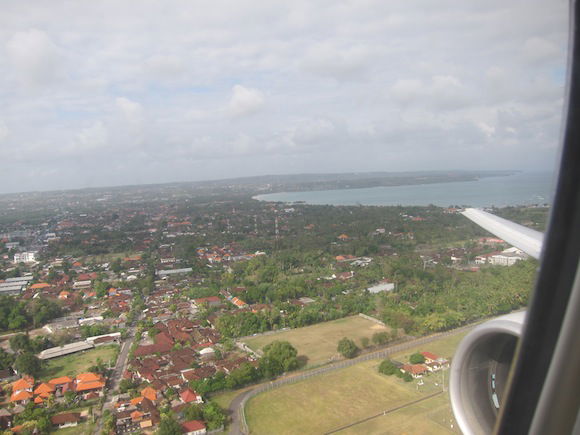 View after takeoff
As we climbed out I played around with the entertainment system, though unfortunately they only had shows that were on a "loop," as the on demand system was turned off.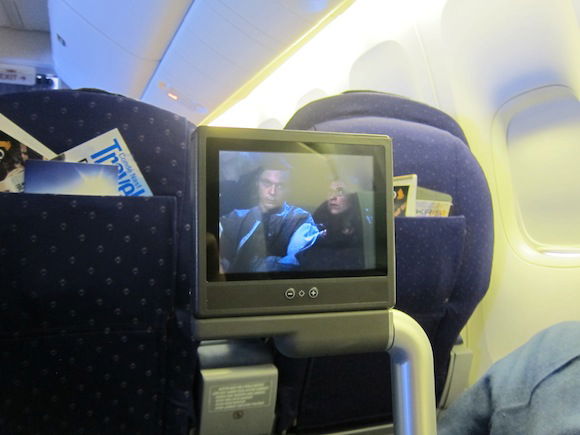 Entertainment
About 10 minutes after takeoff the flight attendants jumped into action and began the meal service. The breakfast menu read as follows: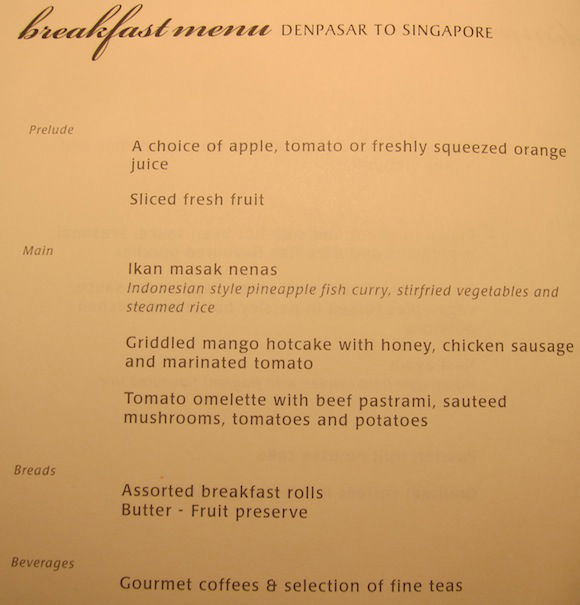 On intra-Asia flights service is done by cart, so they first rolled down the left aisle to serve everyone, and then our aisle. I selected the omelet for breakfast, though once I was served it decided to just eat the fruit and a chocolate croissant. There are some airline meals that make me go "uh oh, this one won't end well," and for whatever reason the omelet looked (and smelled) like one of those to me. I wanted to save my appetite for the Singapore to Frankfurt flight in first class anyway, given that Singapore's catering out of their hub is phenomenal.

Omelet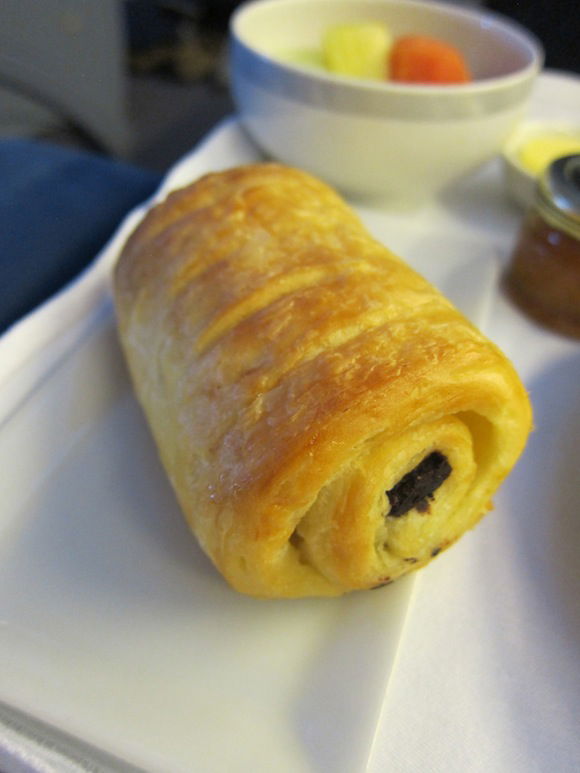 Chocolate croissant
My friend selected the mango hotcakes, which he said were bland though edible.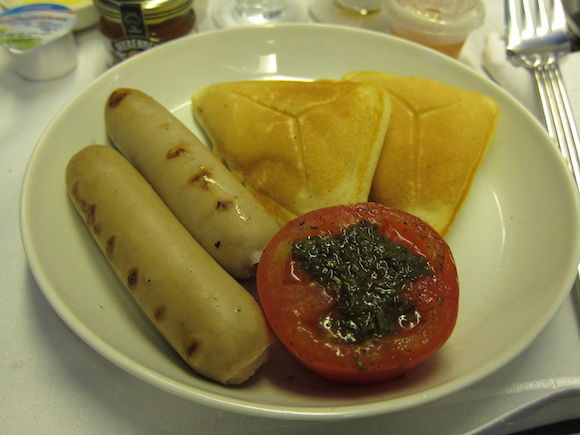 Griddled mango hotcakes
After breakfast I reclined my seat and slept till we were about 15 minutes out of Singapore, at which point the flight attendants prepared the cabin for arrival.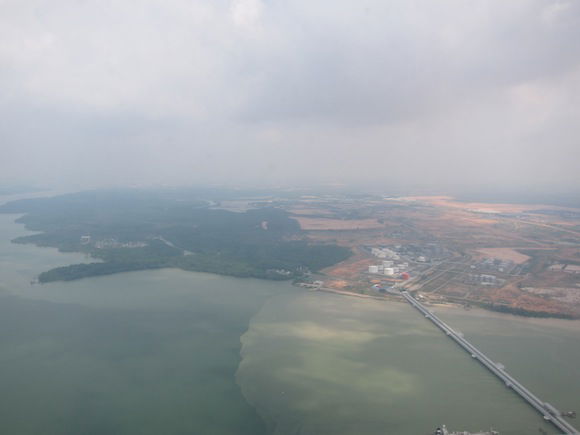 View on approach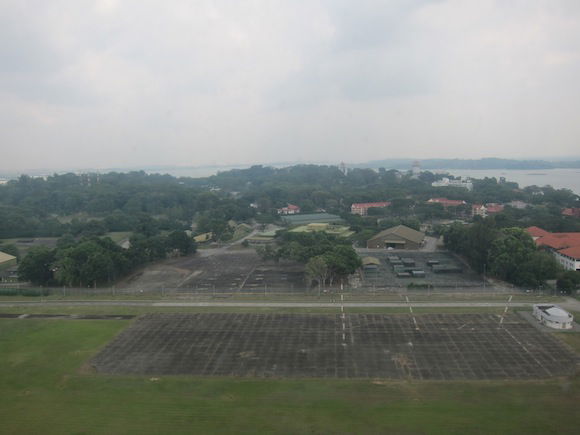 View on final
Unfortunately we landed at the far end of the airport, so had a ~15 minute taxi to our arrival gate, in terminal 2. On the plus side there was plenty of awesome plane spotting to do on the taxi in, and we still arrived on-time.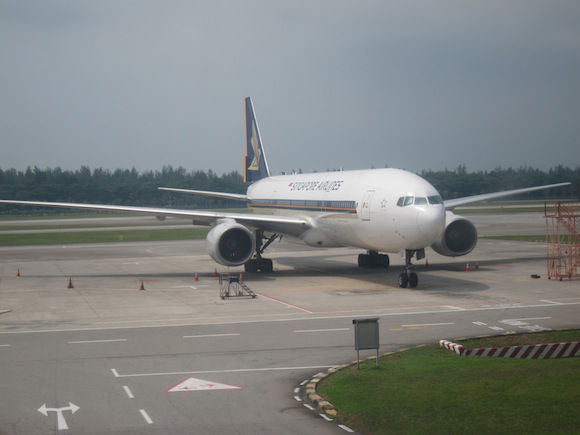 Singapore 777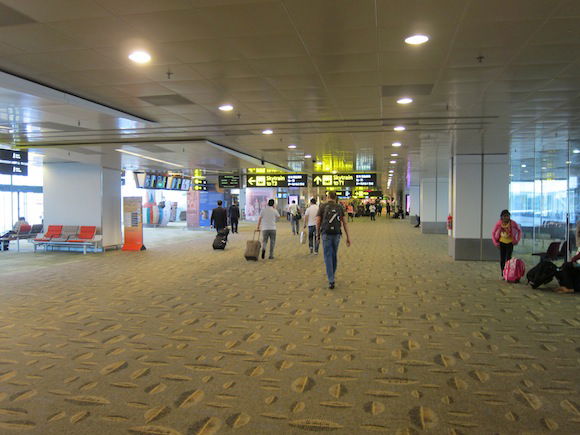 Terminal 2
Upon arrival we took the tram to terminal 3, where we visited The Private Room for a couple of hours before our connection.