---
After landing in terminal 2 we took the tram to terminal 3, where we headed straight for the Silver Kris Lounge. The lounge has one entrance for all three sections (business class, first class, and The Private Room), and then they direct you to the appropriate lounge.
Typically they use the color of the boarding passes to determine which lounge you have access to — coach passengers have green boarding passes, business class passengers have blue boarding passes, and first class passengers have red boarding passes. The catch is that when we checked in at Bali Airport, they didn't have any red boarding passes, so even our first class segment was printed on a blue (business class) boarding pass.
As a result we were directed to the business class lounge, though I explained to the agent we were in first class, and she eventually agreed with us.
Then we walked towards the first class section of the lounge, where there are more agents to verify one has access to the first class section. Before I could even open my mouth they gestured for us to walk away, and I really had to be assertive before they would let me explain to them we were in first class and just had our boarding passes printed on the wrong card stock. Begrudgingly one of the agents walked us to the ticketing desk, where we had to wait 10 minutes for our boarding passes to be reprinted. As we walked there we somehow got to talking about how I last flew Thai Airways to Bali, and she commented "oh, they're much cheaper than us, aren't they?" For real?
After waiting for 10 minutes and finally having our red boarding passes we headed back to the first class lounge, where we were admitted without so much as a smile or welcome. I had to specifically ask about access to The Private Room, since they didn't offer it. When I asked an agent simply gestured for us to follow her, as she walked us there. While Singapore Airlines can be amazing in the air, I find their ground staff to be indifferent at best.
I was in The Private Room back in April for an entire evening, so you can read more about that here if you'd like.
Anyway, while it's not quite as exciting as the Lufthansa First Class Terminal in Frankfurt or Thai First Class Lounge in Bangkok, it is a very nice space, and more than anything else I love how quiet it is. There weren't more than a couple of other people in the lounge both times I was there, so that's part of what makes this a great lounge in my opinion.
I spent about an hour getting caught up on emails, which can be challenging given that the Wi-Fi is S-L-O-W. It's quite amazing that a lounge like this in a city like Singapore can't have decent Wi-Fi speeds.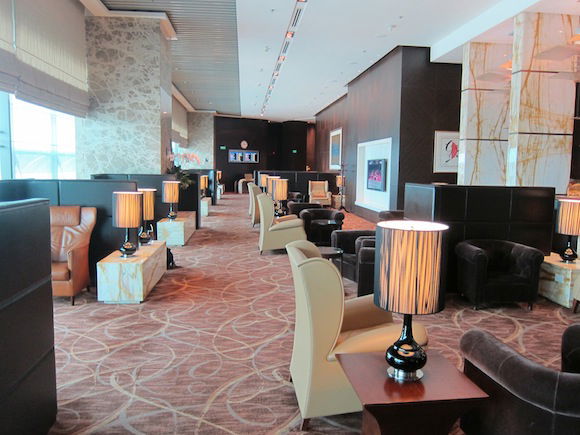 The Private Room

The Private Room
I knew there would be a feast aboard the Singapore to Frankfurt flight, so resisted the temptation to have lunch in the lounge.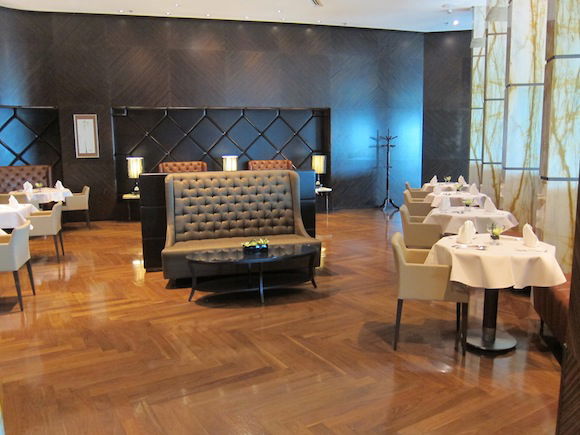 The Private Room dining area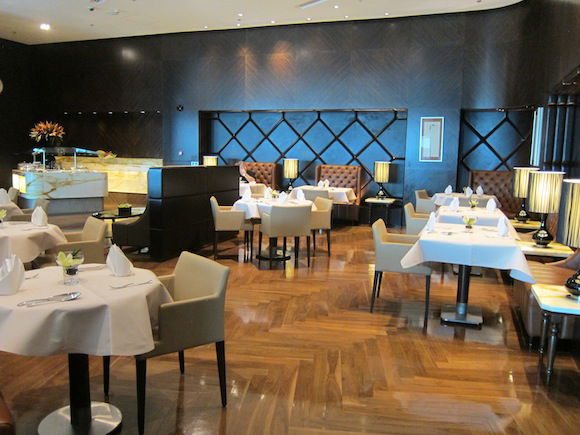 The Private Room dining area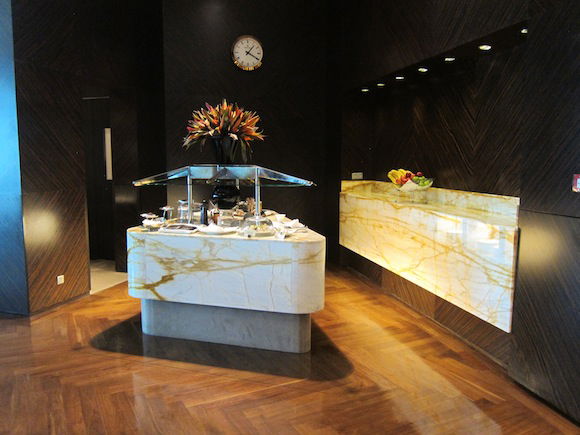 The Private Room dining area buffet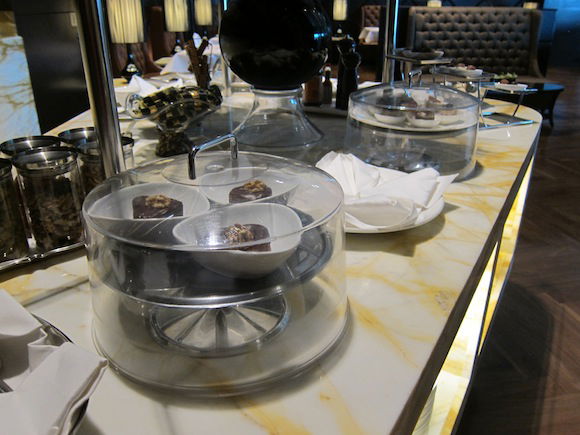 The Private Room dining area buffet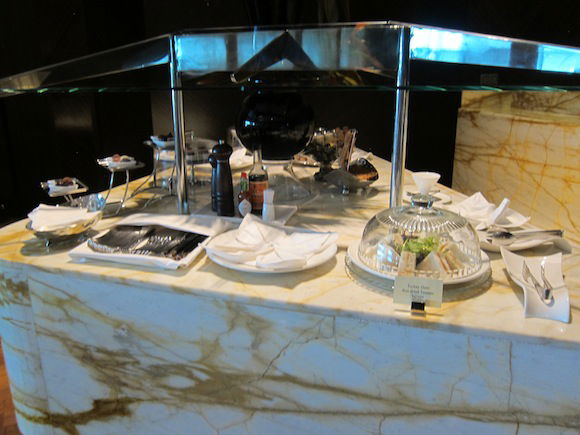 The Private Room dining area buffet
Our layover was only a bit over two hours, so with about an hour to go till departure I decided to take a quick shower so I'd be fresh for the long flight to Frankfurt. While the showers themselves are nice, the shower rooms leave a bit to be desired. This is one of the few first class lounges where there's not an actual toilet in the shower room, which seems odd.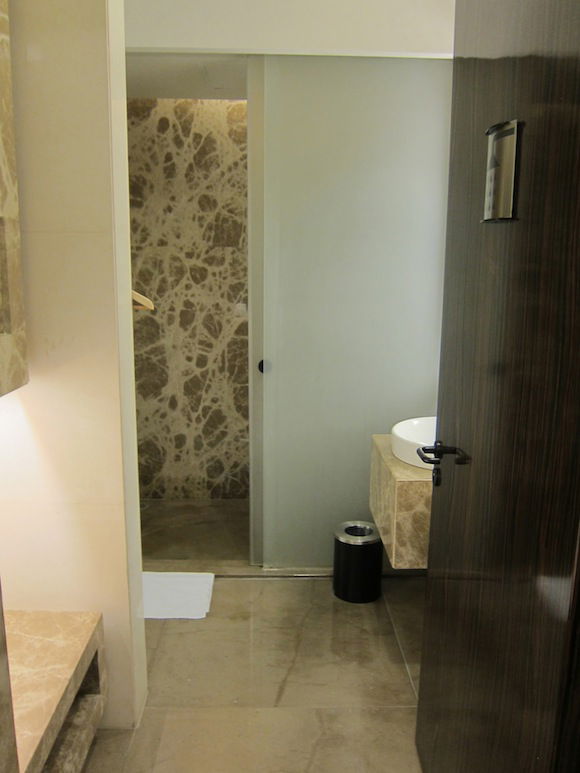 Shower
We left the lounge about 30 minutes before departure given that our gate was only a five minute walk away. One of the unique things about Changi Airport is that security is at each individual gate. Therefore it pays to get to the gate last in order to avoid queuing for a long time. By the time we got to the gate they announced the "last call," and we were aboard in a matter of minutes.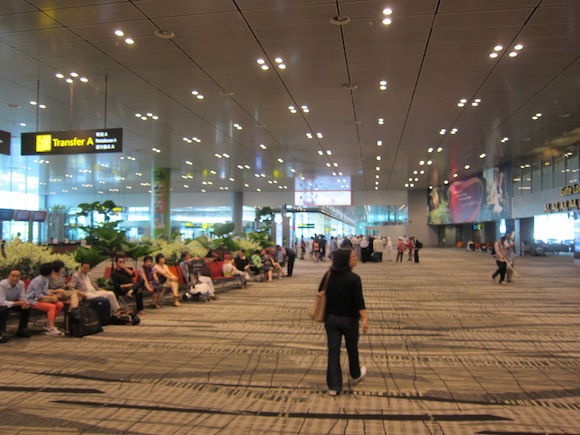 Terminal 3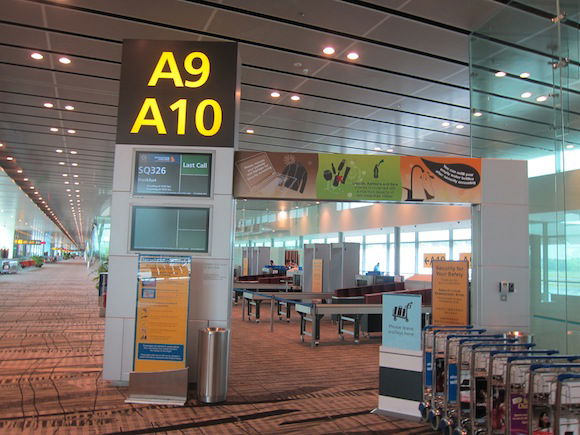 Departure gate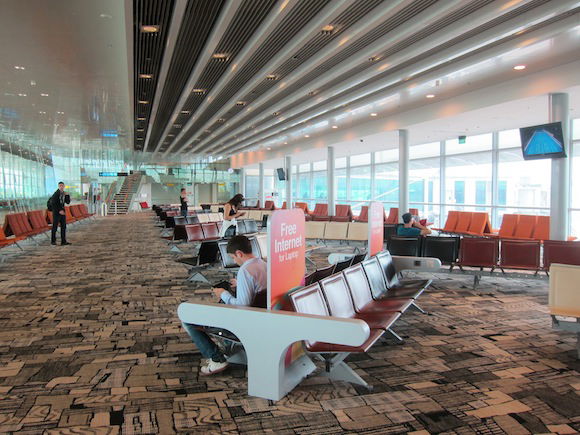 Departure gate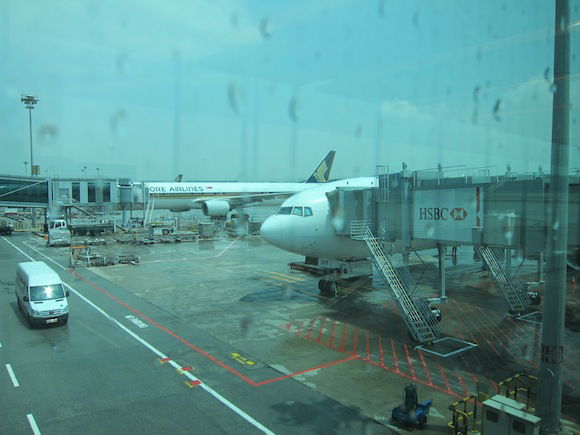 Our plane to Frankfurt
As it turned out waiting to eat was a good idea, as the meal I had aboard this flight was probably my best ever (on an airplane).